Discover 10 beautiful fall wreaths to make this fall that are made from natural elements.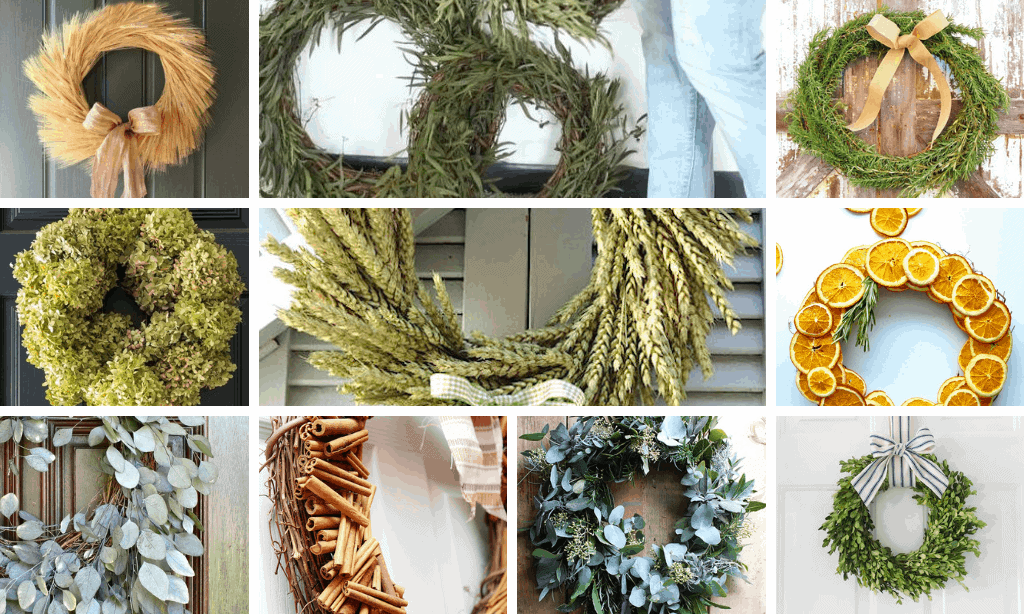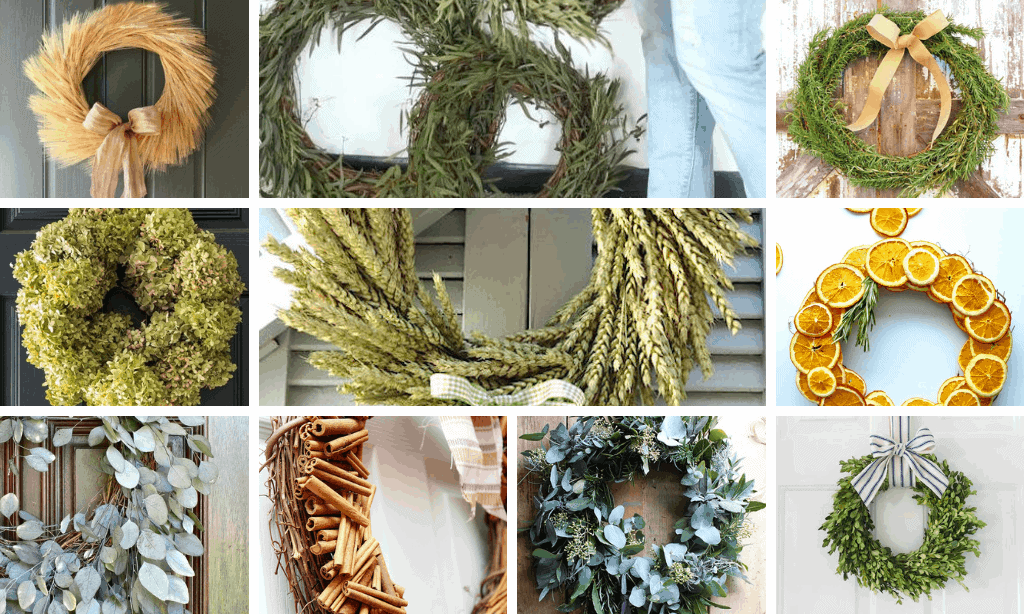 It may be July, but as soon as the summer heat sets in, I start dreaming of the cooler fall days ahead. Pumpkin patches, hot drinks, fires in the wood stove and cozy blankets sound all the more  exciting.
If you have been hanging around here a while, you know I love all things natural, for home uses, and my decor.
There are just so many beautiful things outside, that sometimes spending extra money on expensive decor, is unnecessary. A trip to the woods, and a little creativity and time, can yield the most beautiful results.
Dried fruit, dried flowers, wheat, eucalyptus, cinnamon sticks and boxwood clippings can all be used to create a beautiful first impression on the front door, without loud colors and elements that are too season specific.
I love that all these wreaths could also carry over between seasons.
Dried Hydrangea Wreath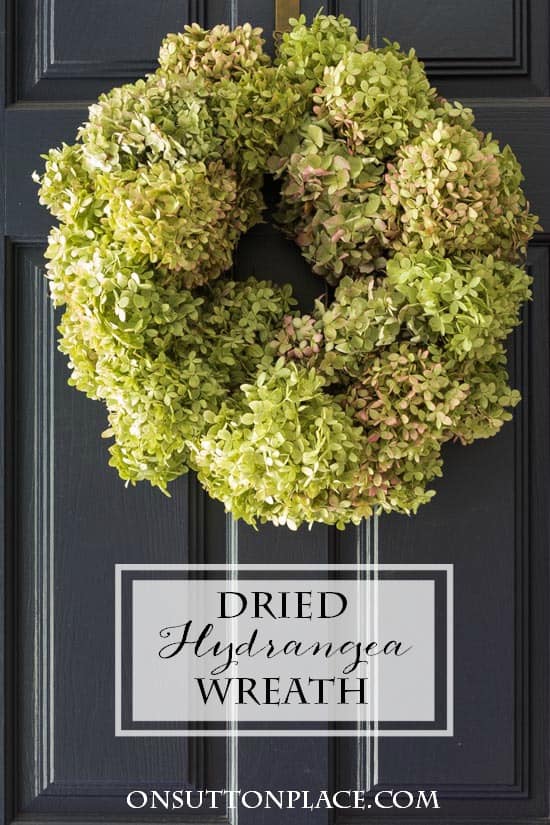 This Dried Hydrangea Wreath by On Sutton Place is perfect for fall. After the plants have been at work blooming all summer long, a little effort to preserve them, and bind them into a wreath, creates the most beautiful result.
Harvest Wheat Wreath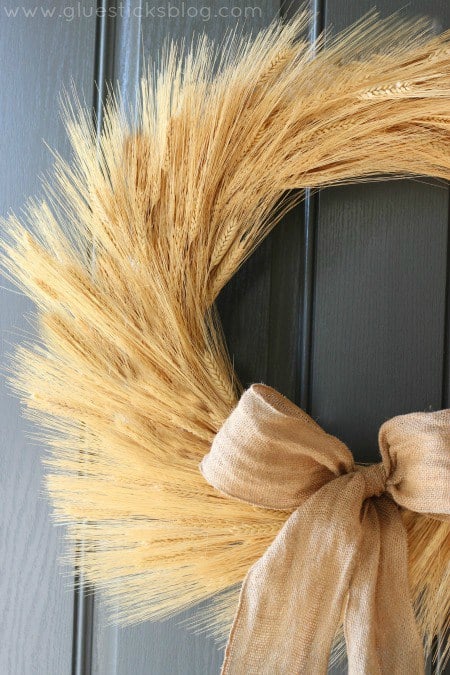 Harvest Wheat Wreath by Glues Sticks Blog
What says fall better than a hearty wheat harvest? I love how this blogger takes something mundane and celebrates it with this gorgeous creation.
I would definitely put one on my front door this fall!
DIY Eucalyptus Willow Wreath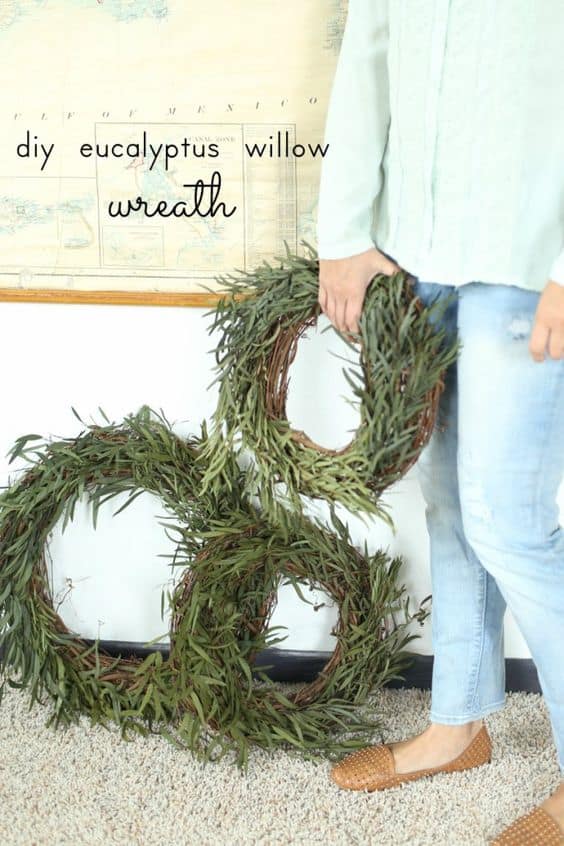 I'm a sucker for green in my home decor, and this Eucalyptus Willow Wreath from Homestead 128 does not disappoint.
I love that is a little messy and unfussy.
Perfect for a farmhouse front porch!
Just sayin'.
Cinnamon Stick Wreath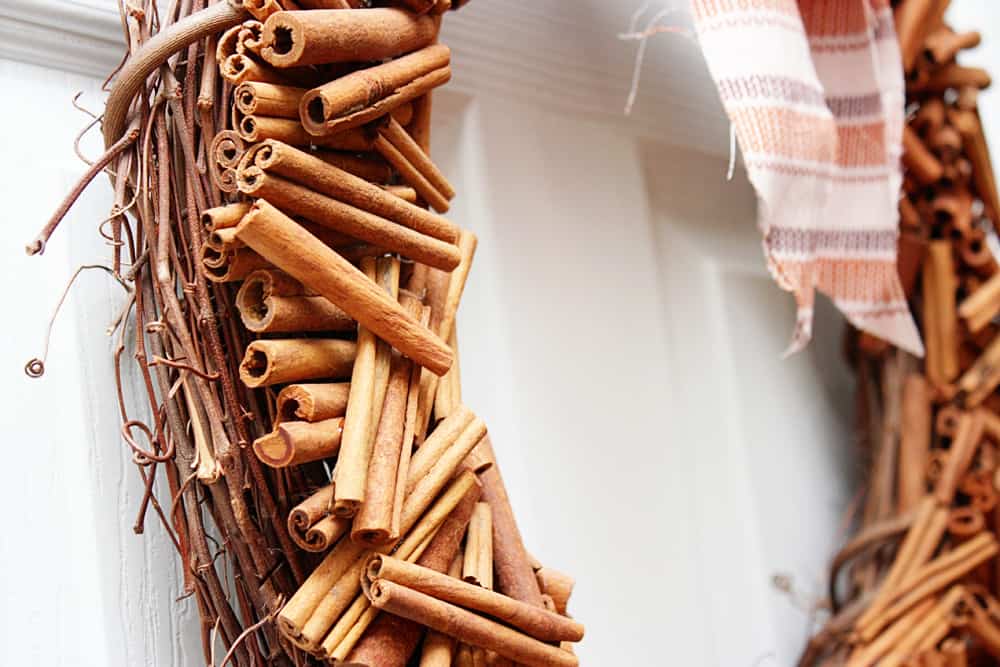 This Cinnamon Stick Wreath from Consumer Crafts is perfect for fall and winter.
I can only imagine that it has the most delicious smell also!
Boxwood Wreath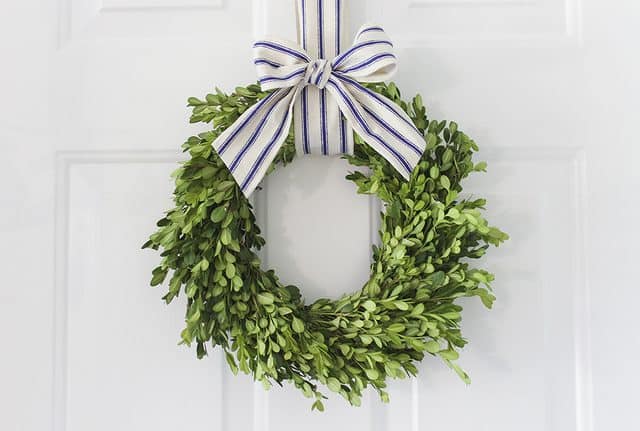 I love a classic boxwood wreath. The bright green is really perfect for all seasons.
And that blue and white bow?! Perfection.
Fall Wheat Wreath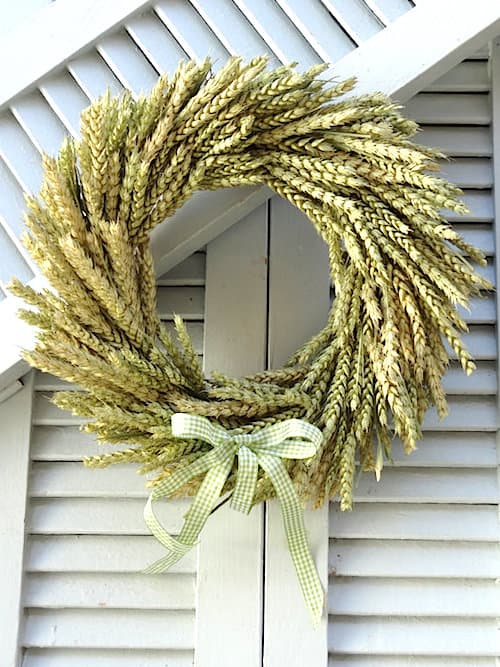 This Fall Wheat Wreath from How to Make a Burlap Wreath is a slightly different interpretation of the wheat wreath, and every bit as beautiful!
I like how full it looks, and the little gingham bow.
Foliage Wreath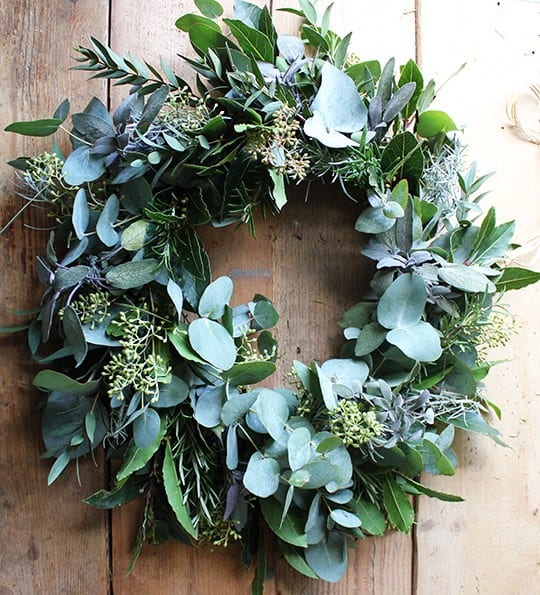 More green done right in the Foliage Wreath from A Quiet Style.
I love that she mixes many different plants, to there are varied shades of green and textures.
Dried Citrus Wreath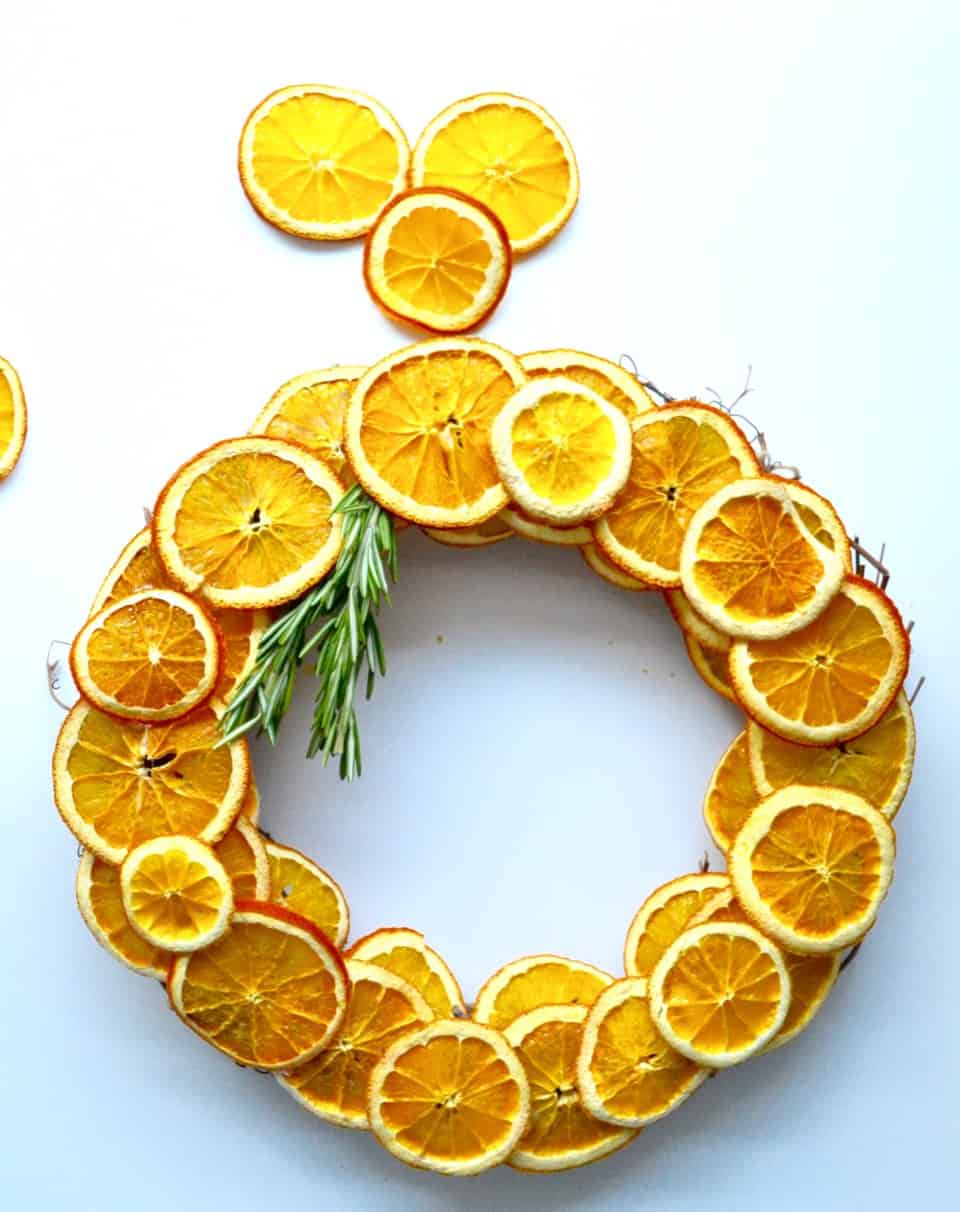 I don't usually use orange in my home but this Dried Citrus Wreath from Twine and Table has me reconsidering that.
I love that she added the little sprig of rosemary.
Perfect for fall and winter!
Eucalyptus Wreath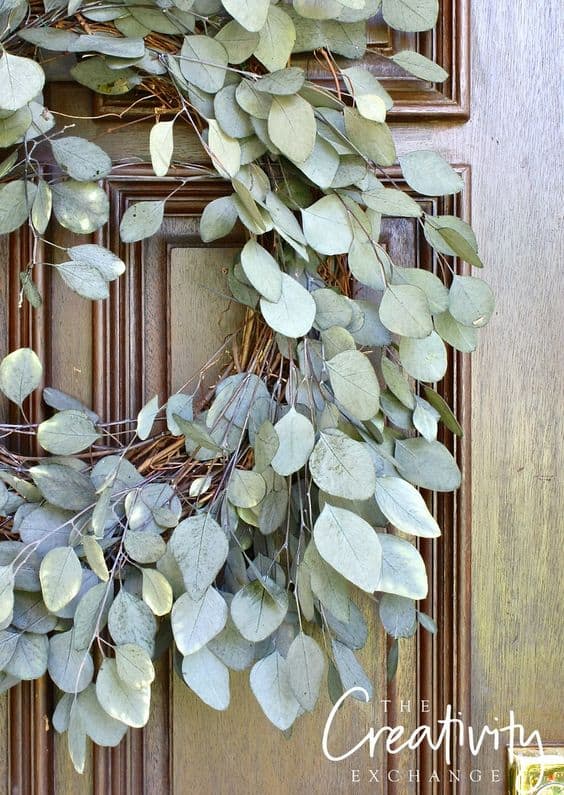 I love the muted green in this simple Eucalyptus Wreath from The Creativity Exchange.
Rosemary Wreath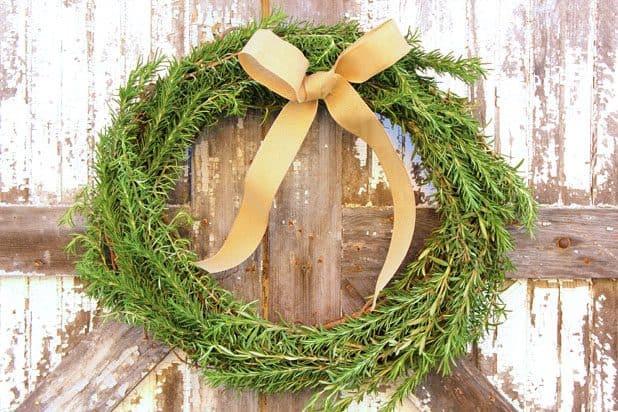 I could see this beautiful Rosemary Wreath from Ehow looking great on a front door, but it would also look pretty in a kitchen or bedroom.
After seeing all these, are you ready to get out your garden shears and floral wire?
I know I am!
Pin it for later: