We have made a ton of progress on our bedroom makeover, and I am loving it so far!
Everything feels so much lighter and brighter!
It was a hassle selling all the old furniture, sleeping on the mattress on the floor for a month and having all of our clothes piled in the closet, with no dresser to store them in.
But, I am so glad I did it!
It just makes no sense to keep things around that you don't like. I don't know why I thought I had to be stuck with any and all items I acquired at some point.
If I used to like something, and no longer do, it's ok to get. rid. of. it!
Ok, I will get off my soapbox now!
I found a lovely antique dresser on Craigslist for $50 and painted it with Miss Mustard Seed's Milk Paint in Shutter Gray. I plan to share a tutorial on that at some point.
My husbad found a small dresser at an auction for $1. I painted it with white chalk paint, and we are using it as a night stand.
I sewed the gray and white buffalo check pillow shams on the bed. A tutorial for that will be coming. I found the white rectangular pillow at IKEA, and I just love it!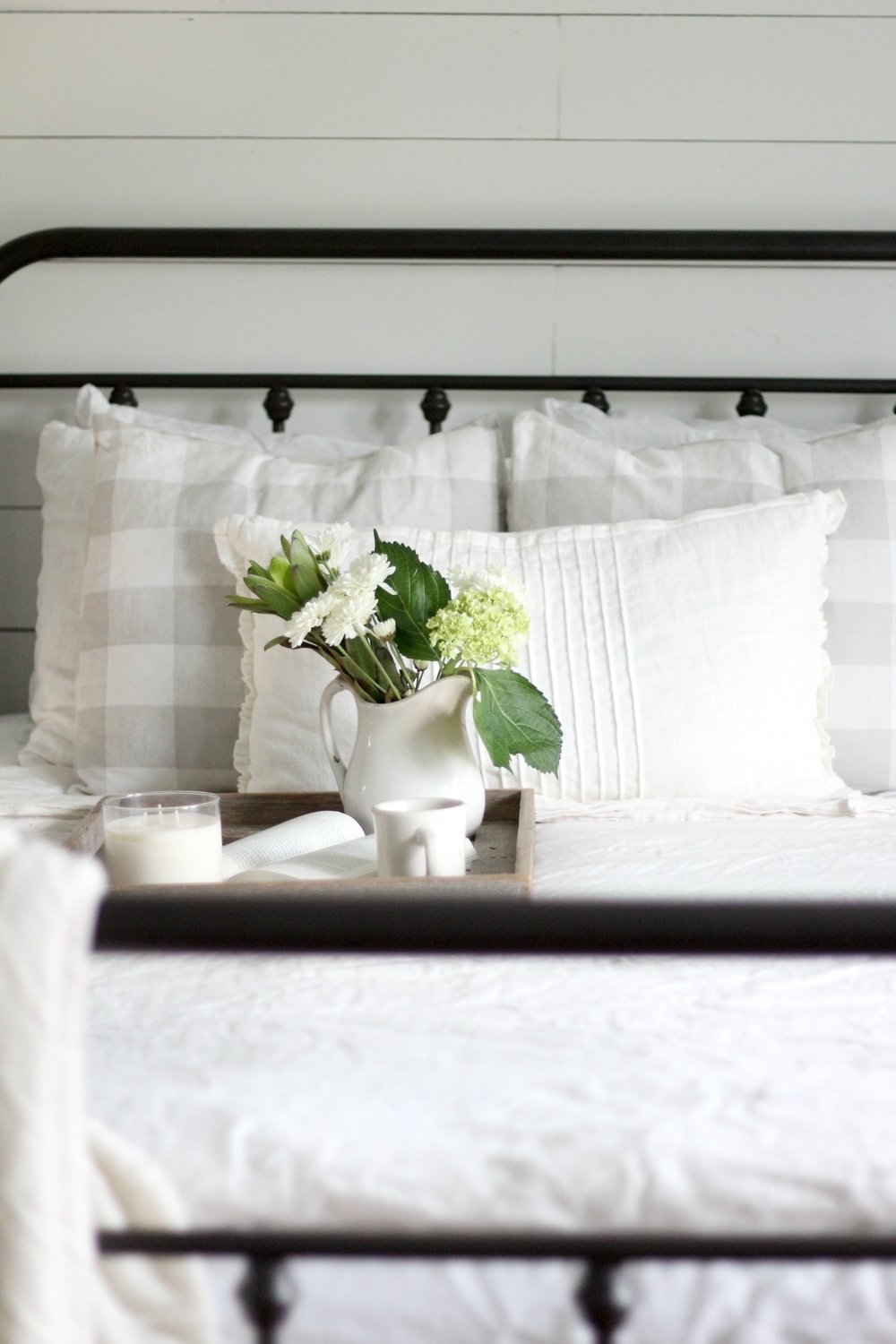 As for all the things we still need to do, the list is pretty long. We need to find a small dresser for my husband's side of the bed. We also have to hang the new light fixture, pick out lamps for the nightstands, fix up an old armoire and find a few more accessories.
Its at that stage where it looks good enough for me to neglect it for a while. 😬
Once, on a TED talk, I heard that procrastinators end up with the best ideas because they mull things over for so long. I'm just going to go ahead with that excuse for not finishing any of my projects. I just want to make sure I think about it long enough to make the most informed design choices. 😉😆
I wil update you with any room progress as it comes. Thanks for following along!
Check out the other posts for this makeover here: