We are celebrating our last Christmas season in our beloved farmhouse of ten years. See how we made special memories with a fancy dinner and beautiful centerpiece from FTD Flowers.

Ten Years of Christmas in the farmhouse on Boone
This post is sponsored by FTD Flowers. All opinions are my own. 
For the last 10 years, we woke up Christmas morning in our 1920's Craftsman Bungalow farmhouse on Boone Street. The first Christmas, it was just Luke, myself and our 8 day old newborn. Two Christmases later, we woke up with a two year old toddler, and newborn baby girl number two.
Fast forward eight more years, and three baby boys, we're in a whole new season of life. The oldest girls are 10 and 8, and the rambunctious three boys need a little more space to roam.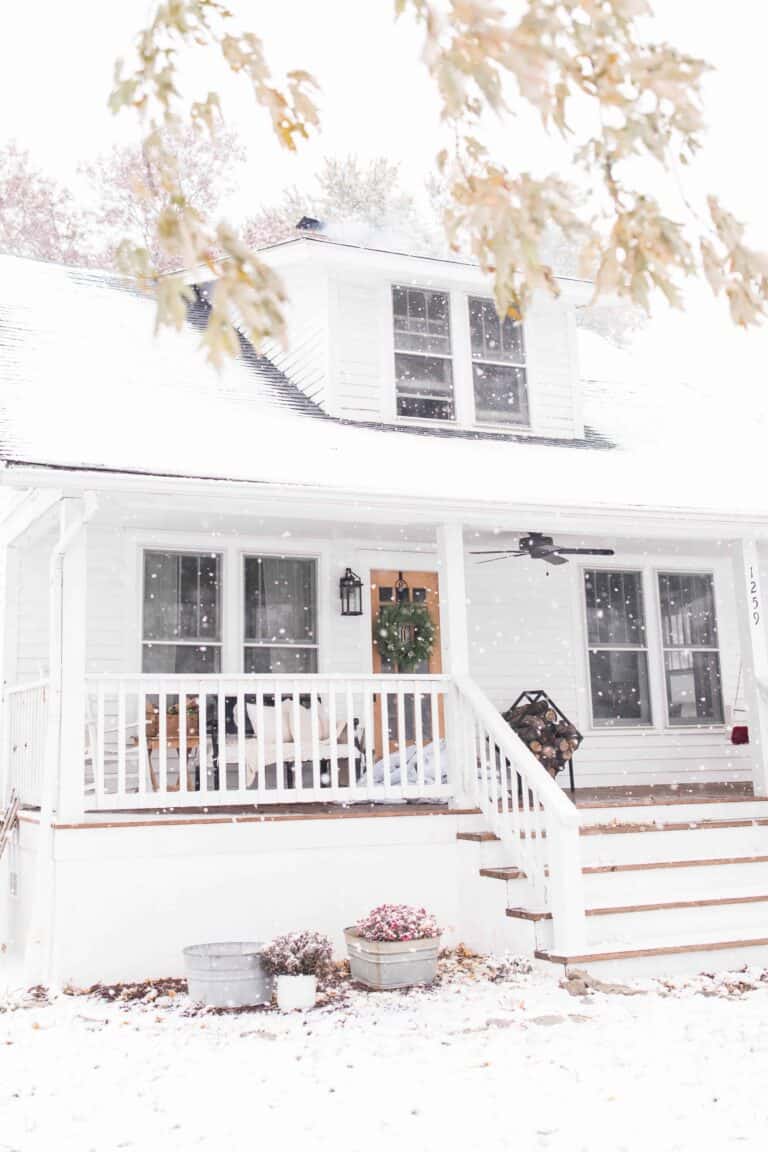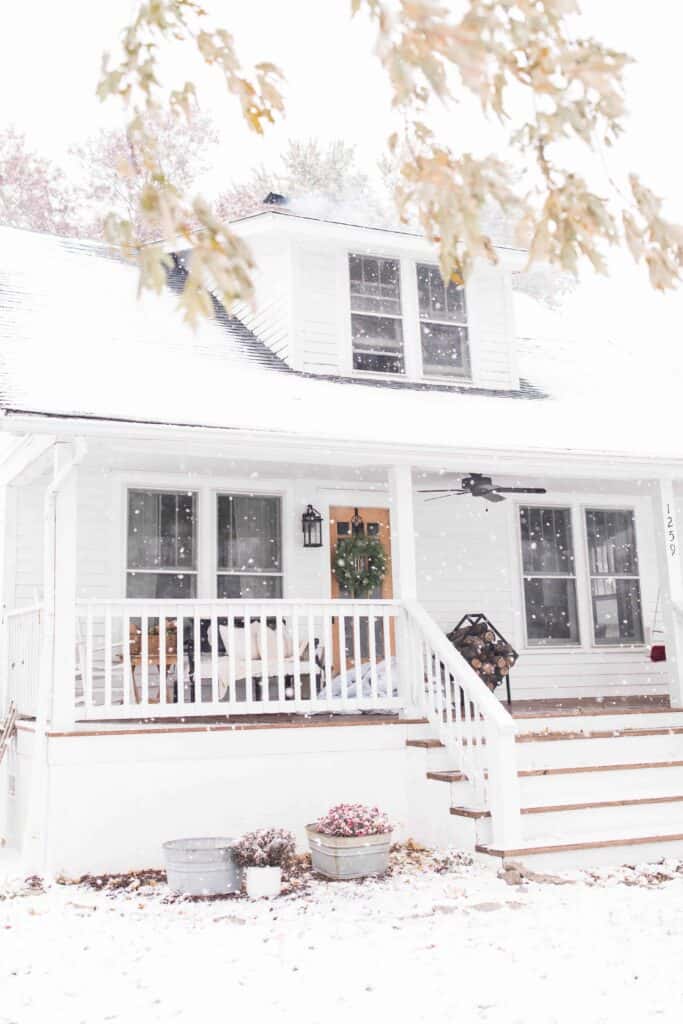 For the past few years we've been searching high and low for a farmhouse on some acreage. We want a new place to make our own, one where we can have a dairy cow and big old white barn. We spent a couple evenings each week "driving around" and looking for properties, but nothing felt just right.
A few months ago, I came across a listing for a 2700 square foot folk victorian style farmhouse on seven acres. It had a big white barn, two tiny cottages and an old brick silo. It looked a little out of our price range, and further from town than we were originally hoping for, but I knew we had to take a look. Fast forward a few weeks, and we had a contract on it.
A Special Celebration for our Last Christmas in the Farmhouse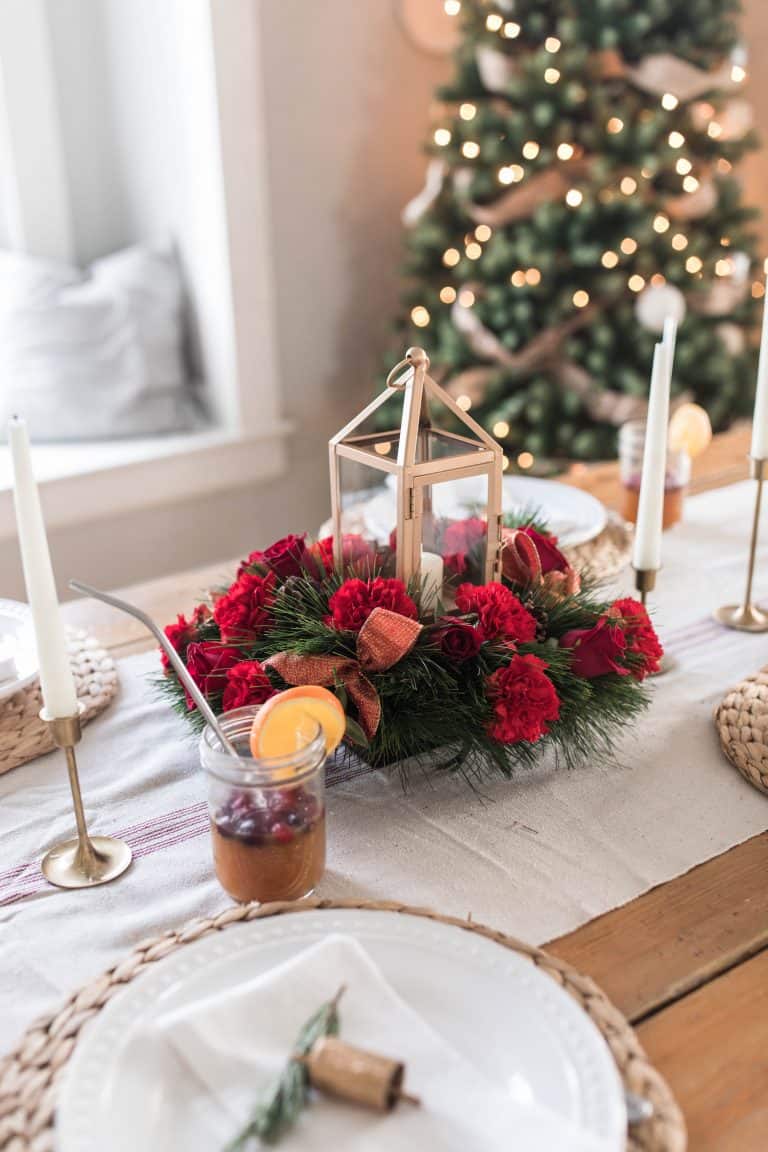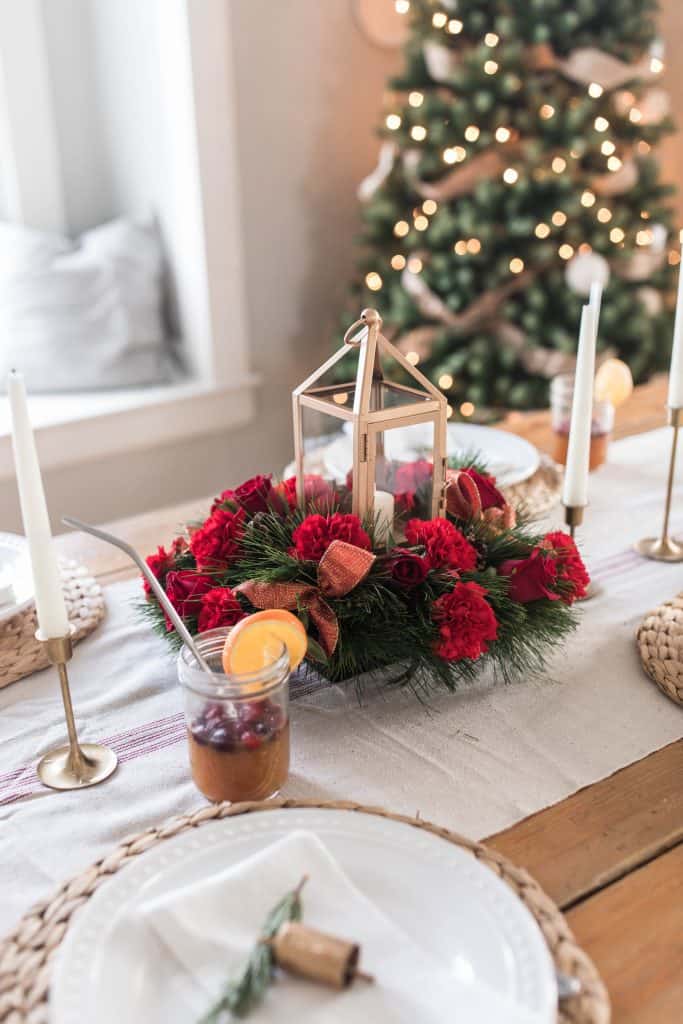 Although we knew this day was coming, it is a little bittersweet to be celebrating our last Christmas in this home. Its where we brought our babies home, and spent the first decade of our married life.
To make this last holiday season special, I decided to have a fancy dinner just for our family. So often, we only dress up the table, and make a nice meal when company is coming. As our family transitions in this new season of life, with a whole new set of traditions, I hope this special event makes a lasting impression on their hearts and memories.
The look on my second daughter's face when she saw the special way we were celebrating this holiday season in our home was priceless. She is my one that always wants to light candles, pull out the nicest linens and have a "fancy dinner".
Of course we will still be celebrating a quick Christmas morning in our home, but the day is otherwise spent running around from one holiday gathering to another. This early celebration was a great way to slow down and really cherish time together as a family.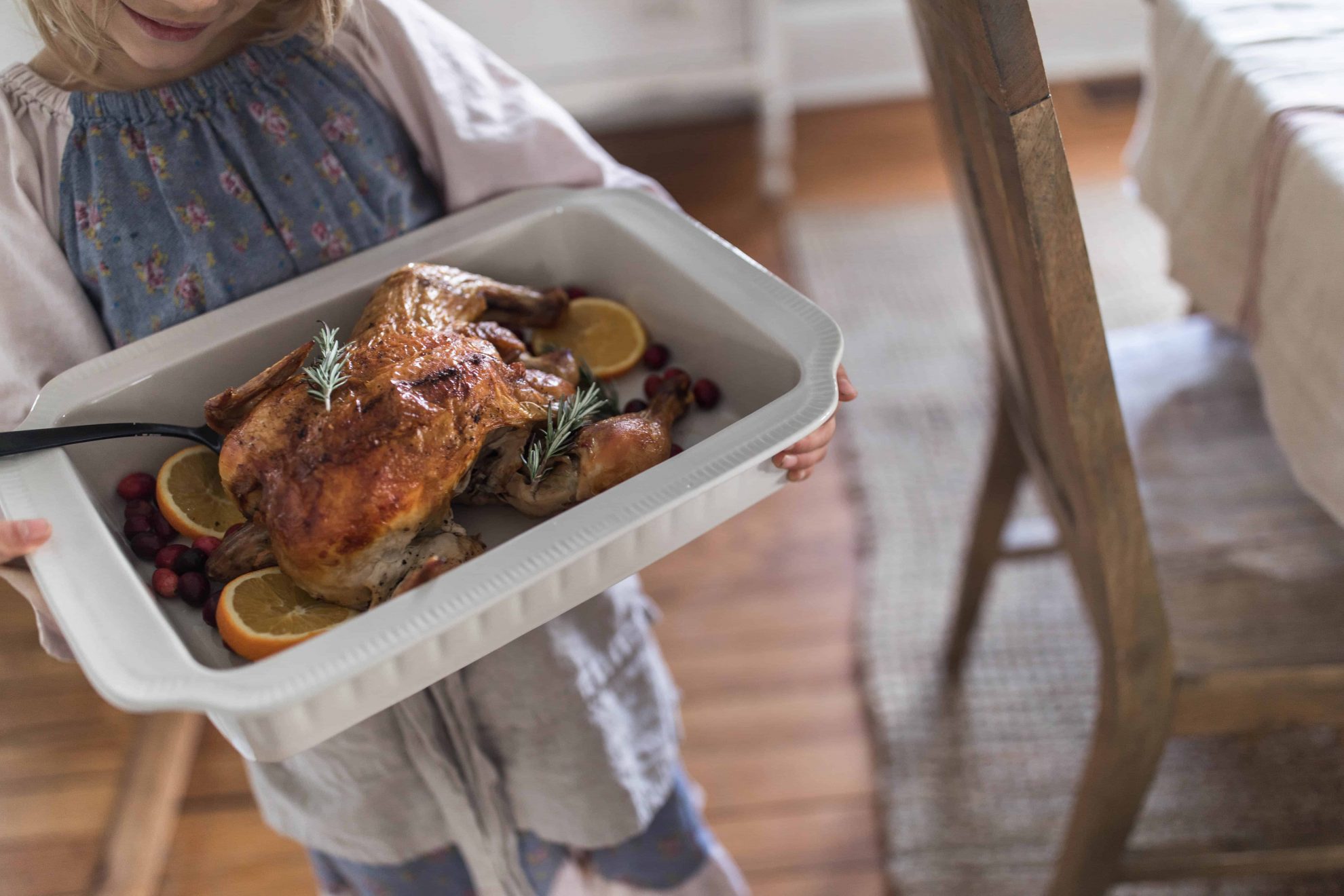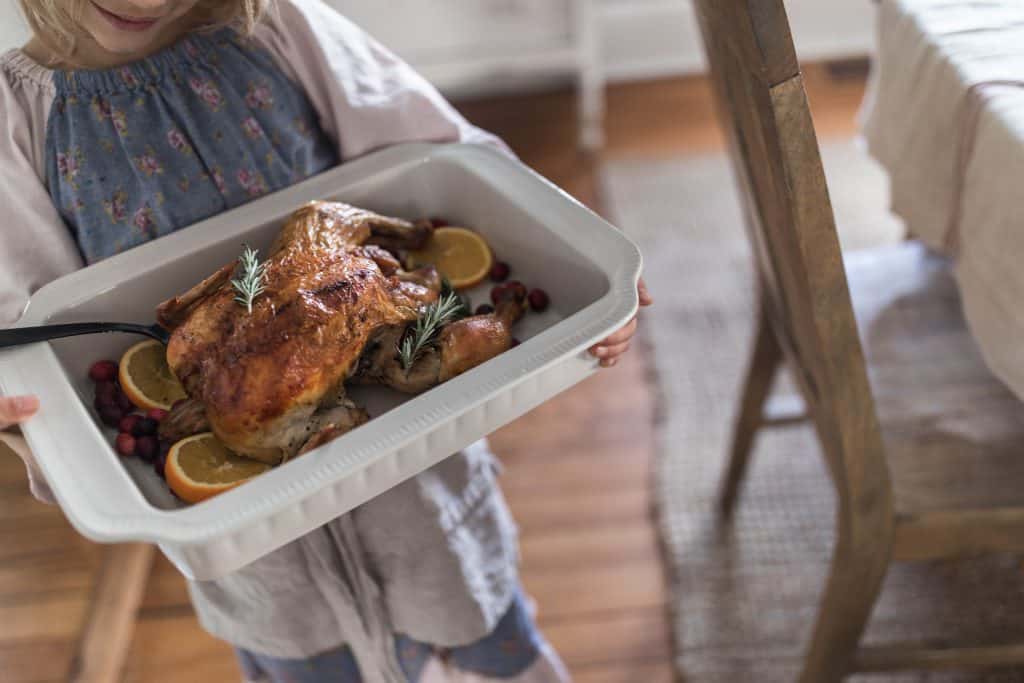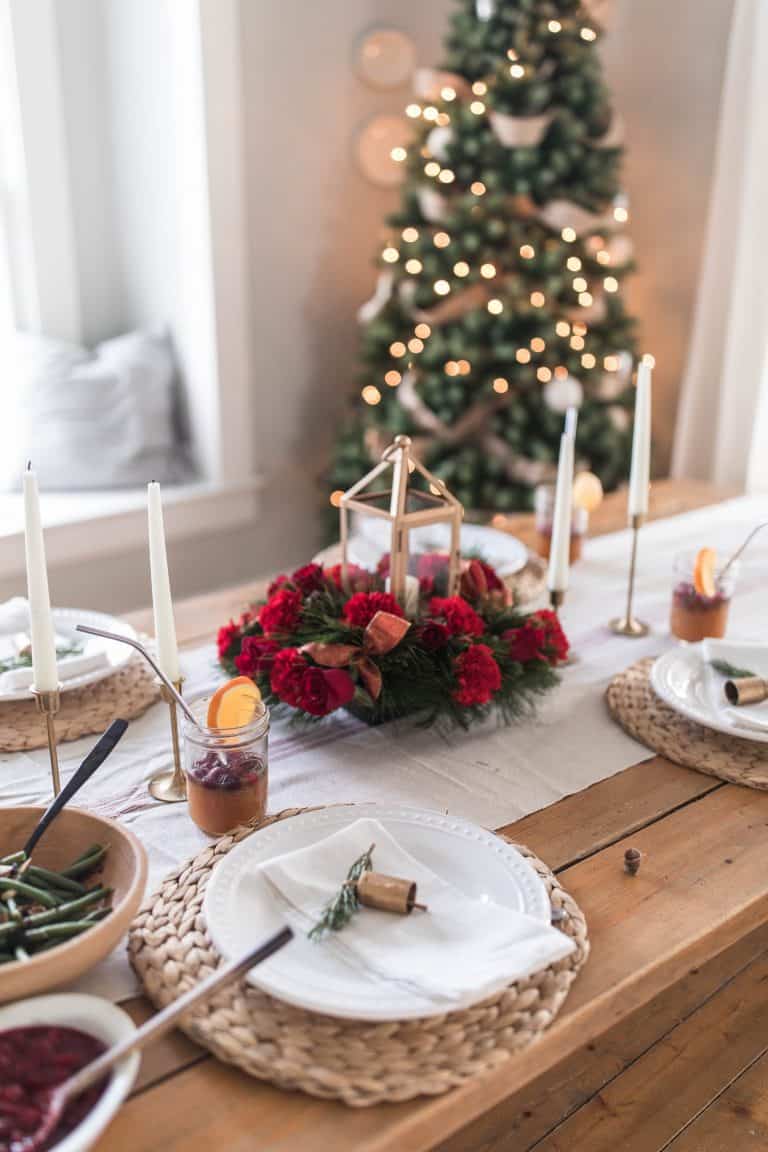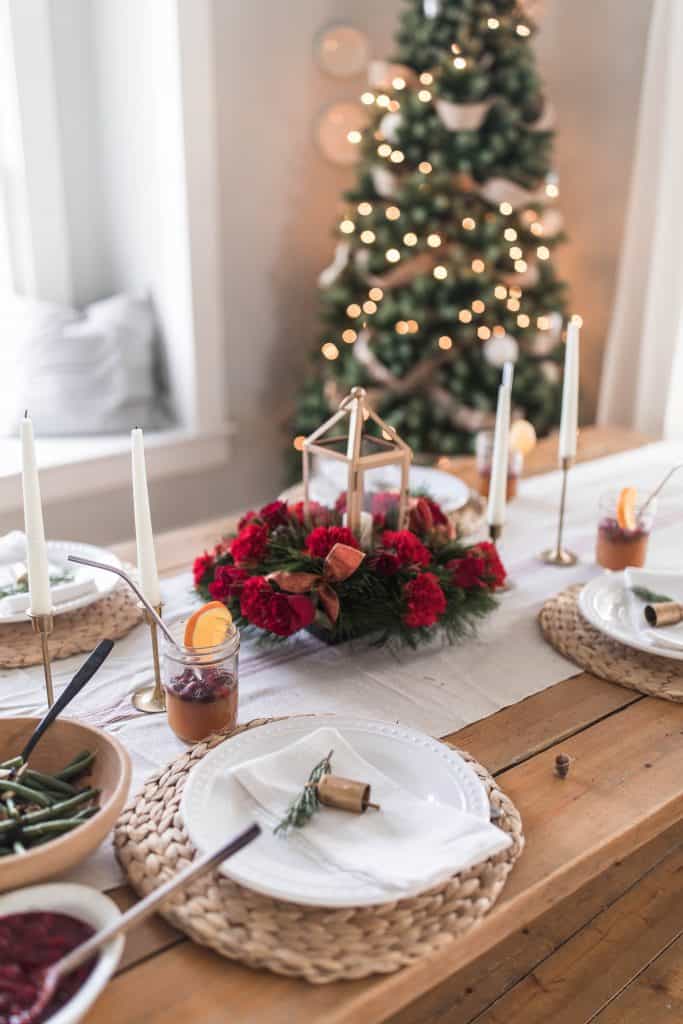 Our Christmas Table
For the special occasion, I dressed up our big farmhouse table with an arrangement from FTD Flowers. The Beautifully Bright™ Centerpiece set this meal apart from the others with the red roses, pine cones, greenery, ribbon, a brass lantern and a candle. To complement the beautiful centerpiece, I brought in some brass candlesticks. We normally eat with the same non-fancy dishes, but the special occasion called for something a little finer. I keep a stash of more "breakable" plates in a secret place for times like this.
Little bells and rosemary on each place setting add a simple and festive touch. I also brought out the barely used napkins. Anytime one makes it into the regular rotation, it quickly turns dirty and dingy. Our last celebration in this old farmhouse called for the nicer linens! I even added one of my handmade grain sack table runners.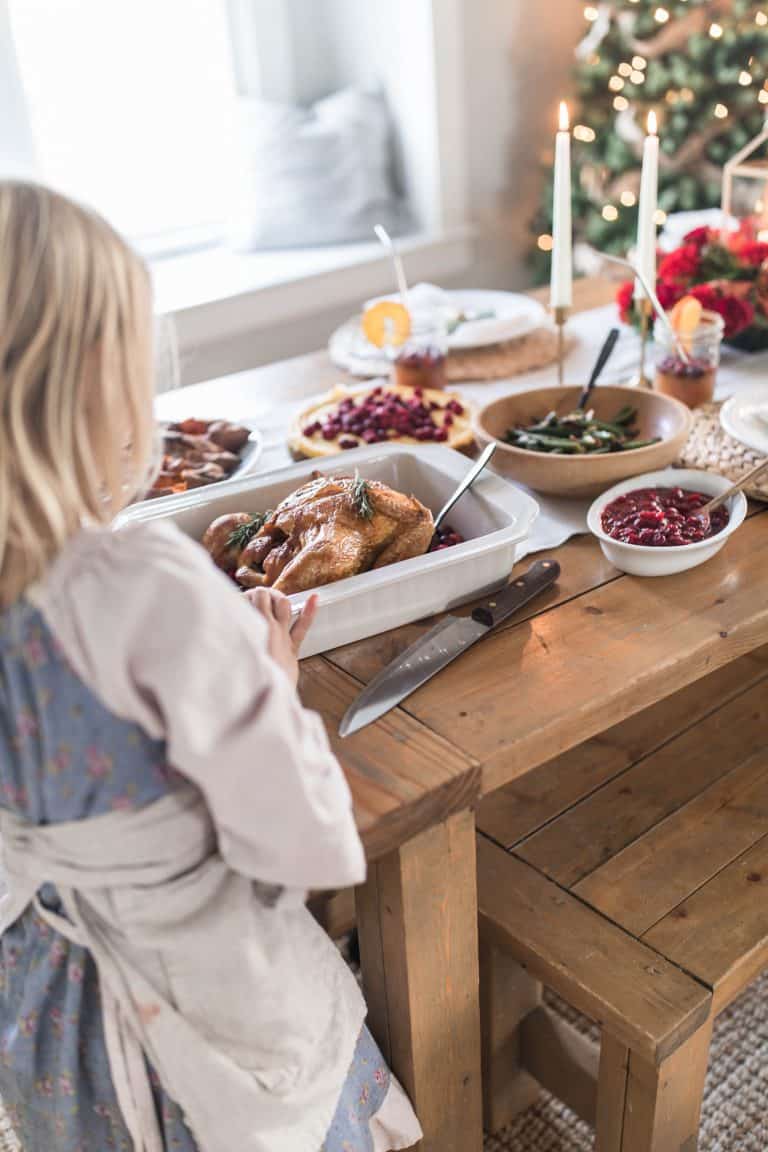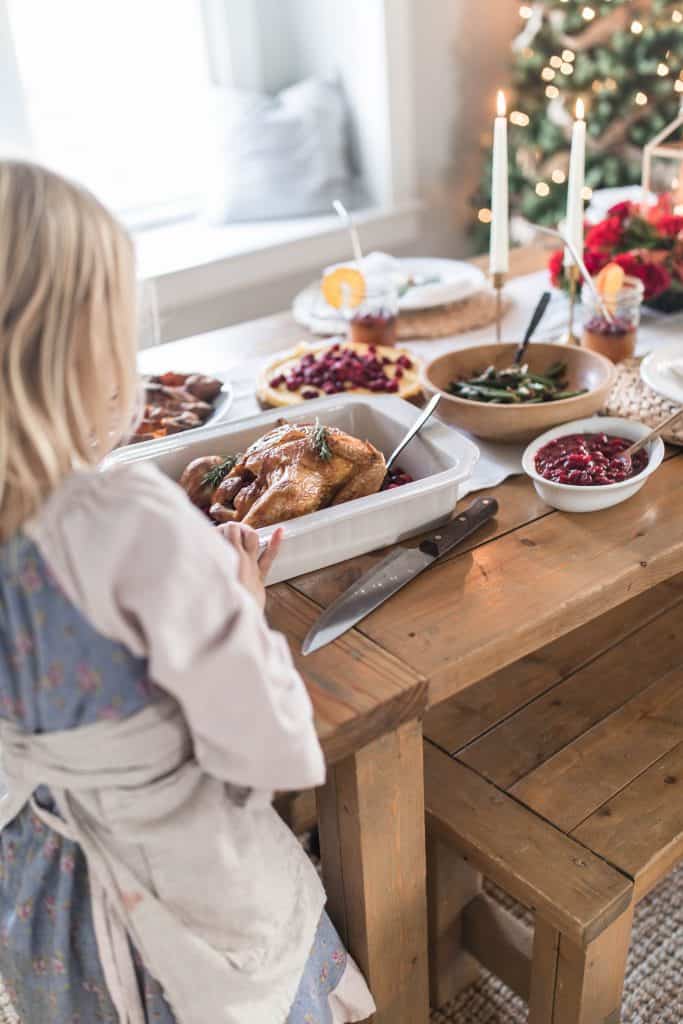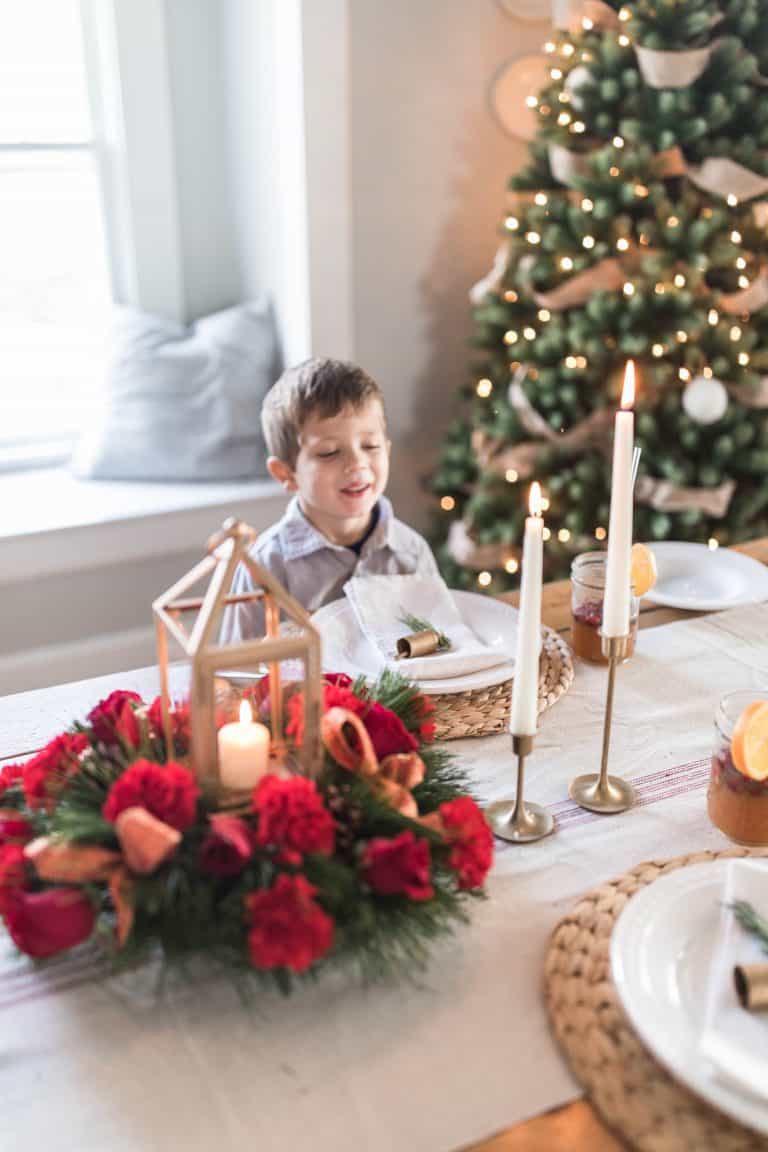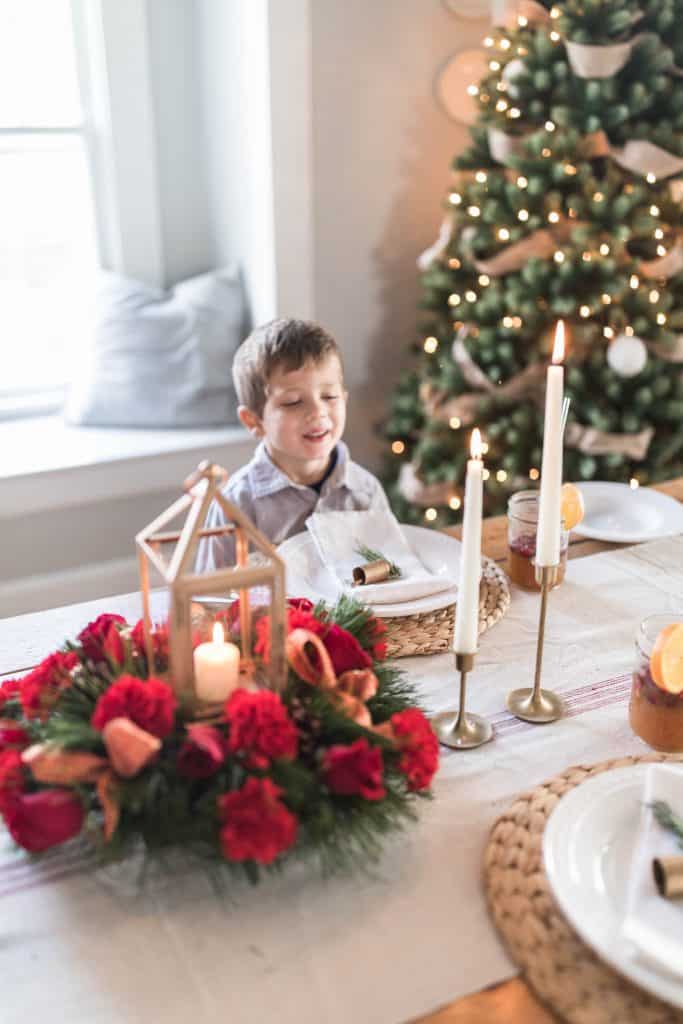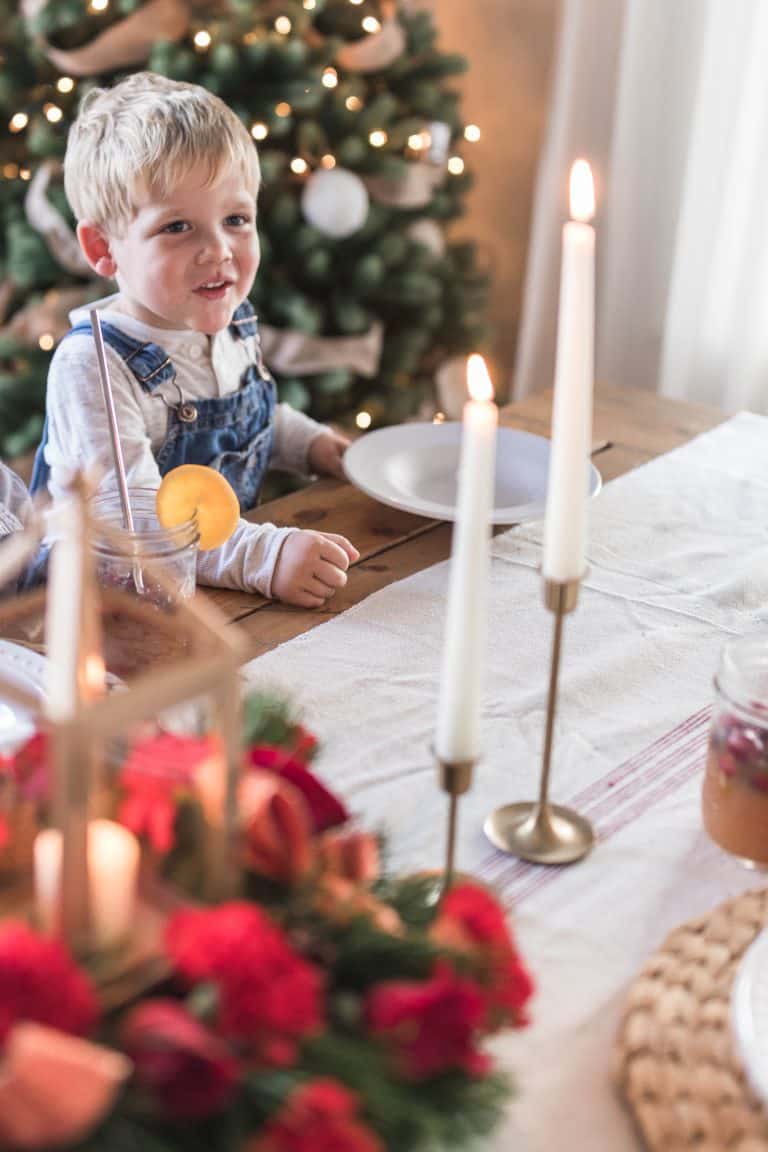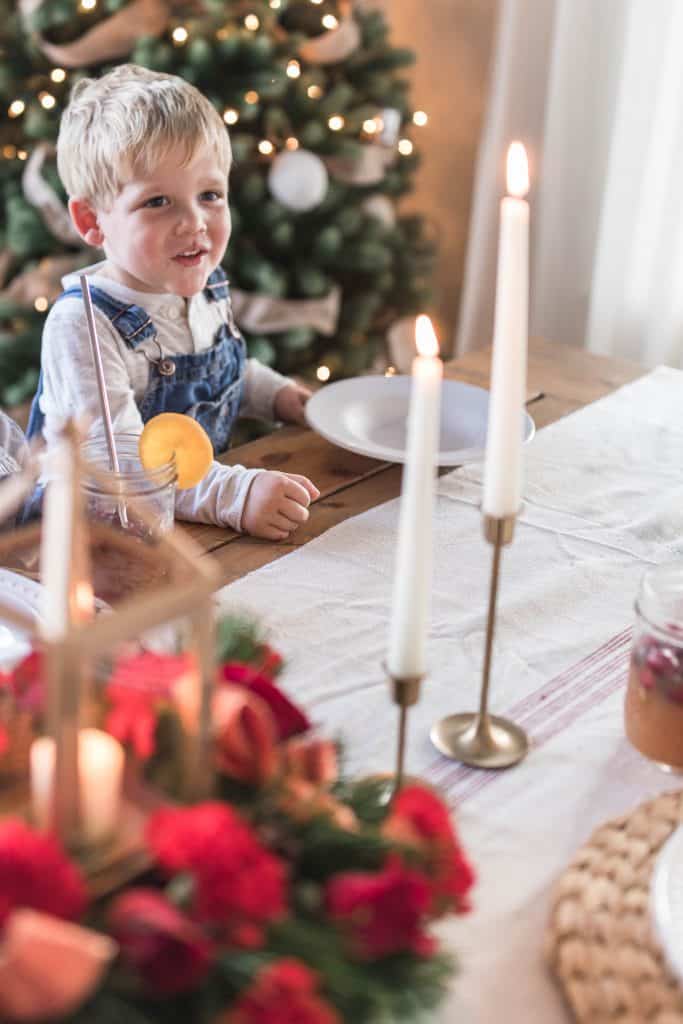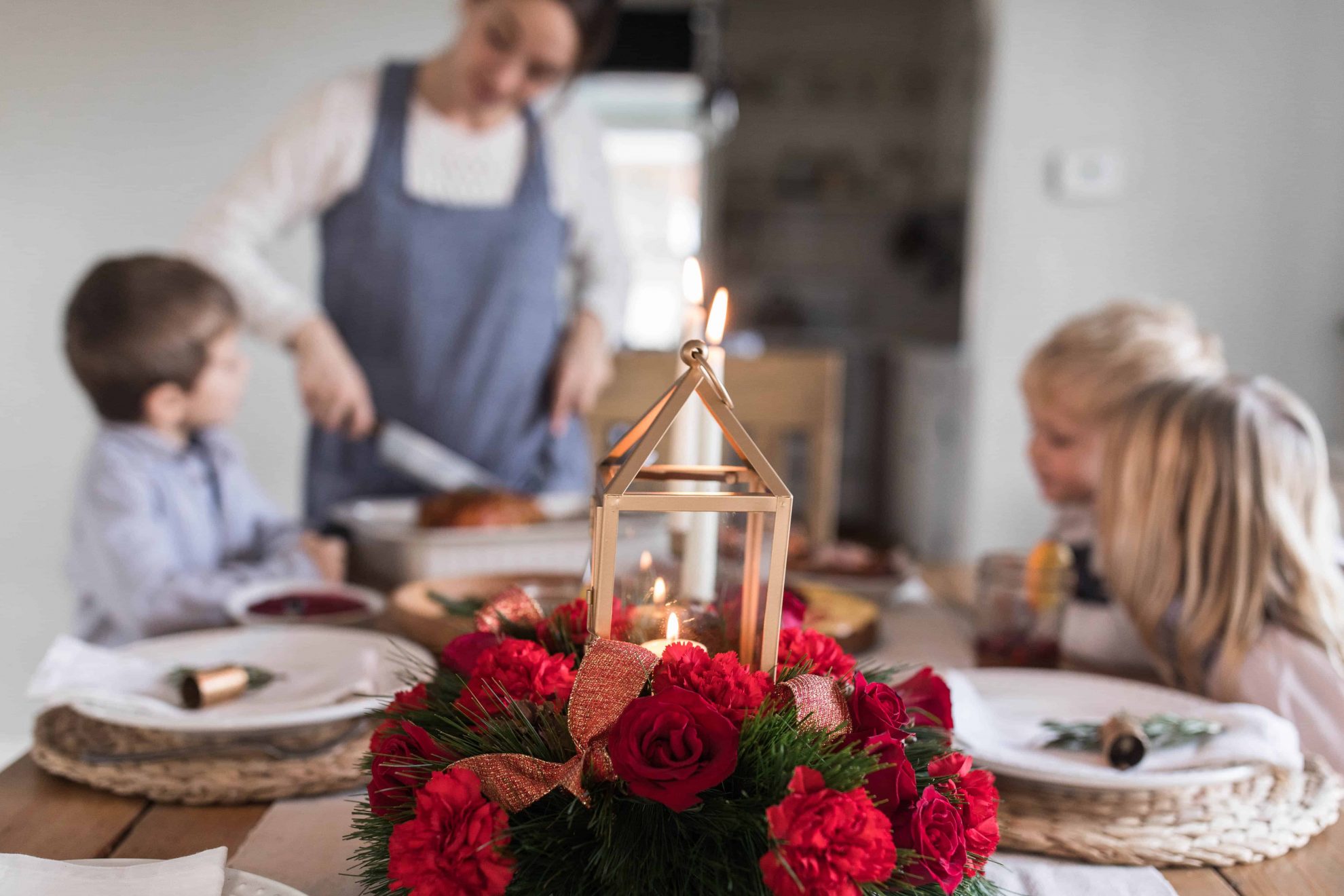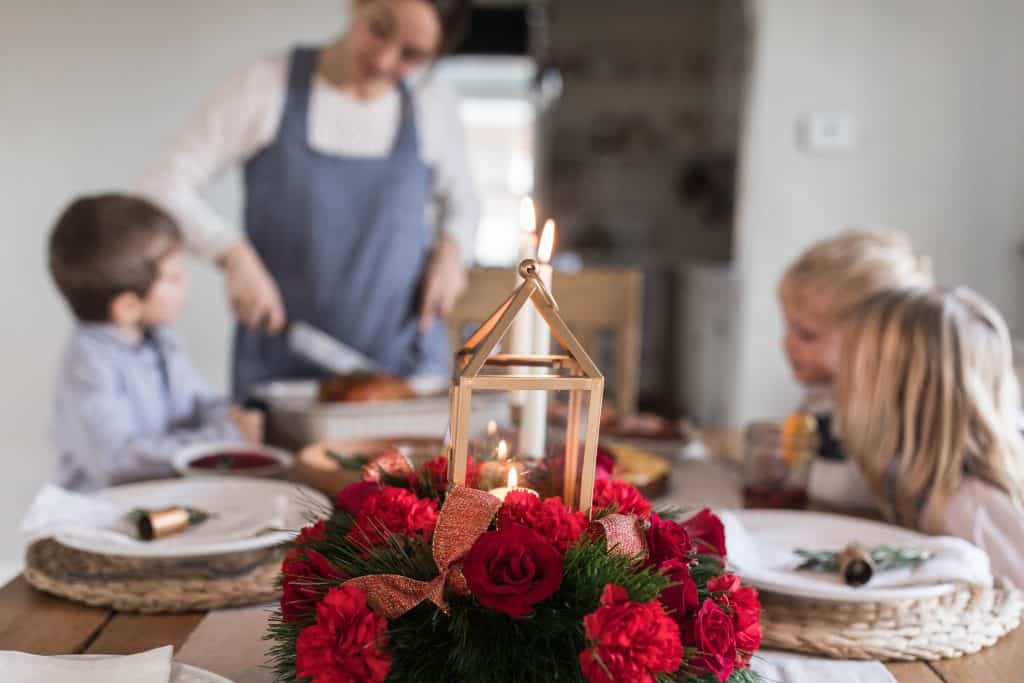 Our Christmas Menu
We make chicken and potatoes often in our home, but I wanted to make this meal just a little fancier. A touch of fresh rosemary for the chicken, homemade cranberry sauce with orange zest, and toasted almonds to jazz up the green beans. I made a homemade cheesecake with raspberry topping for dessert. Can you guess what was the kids' favorite part??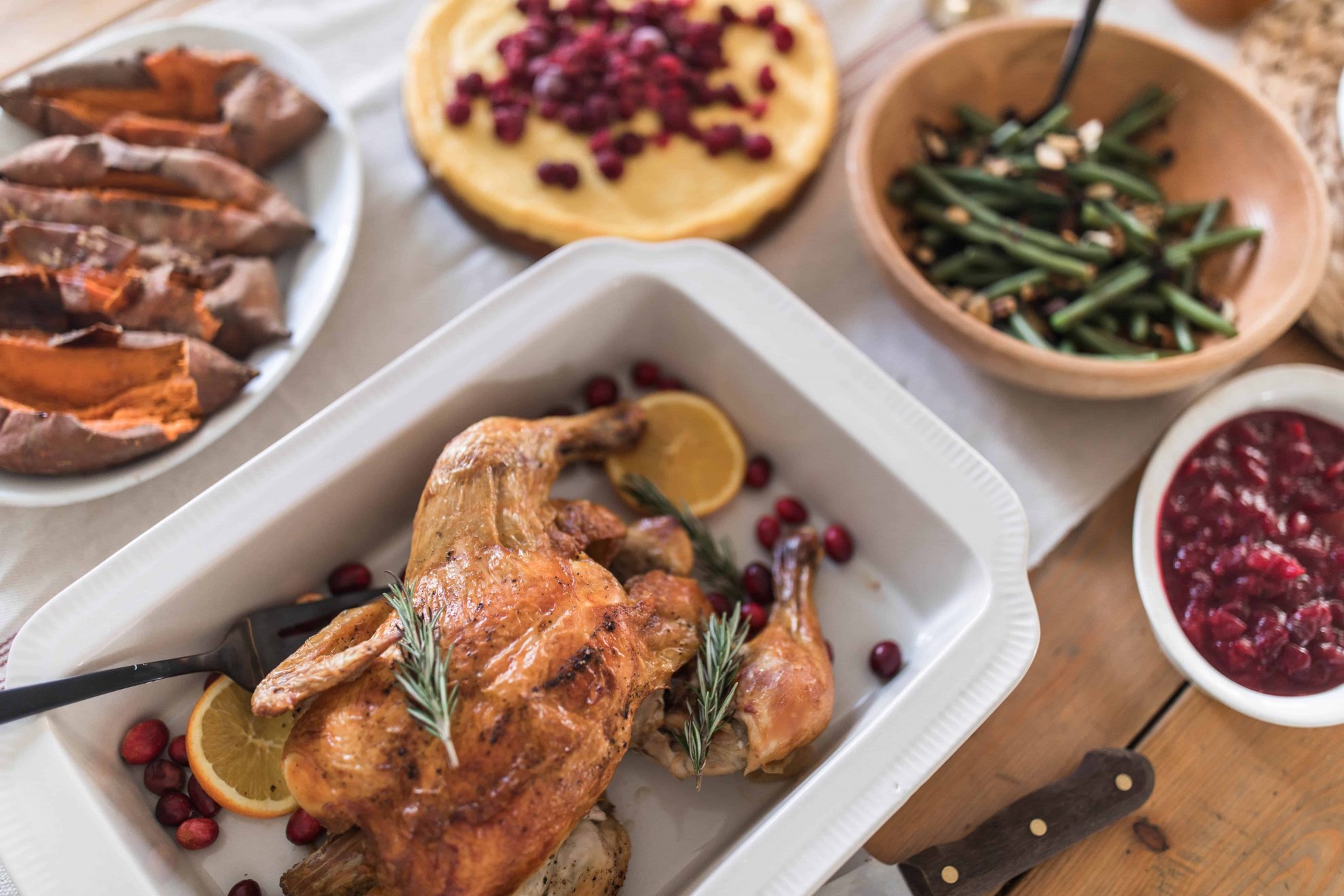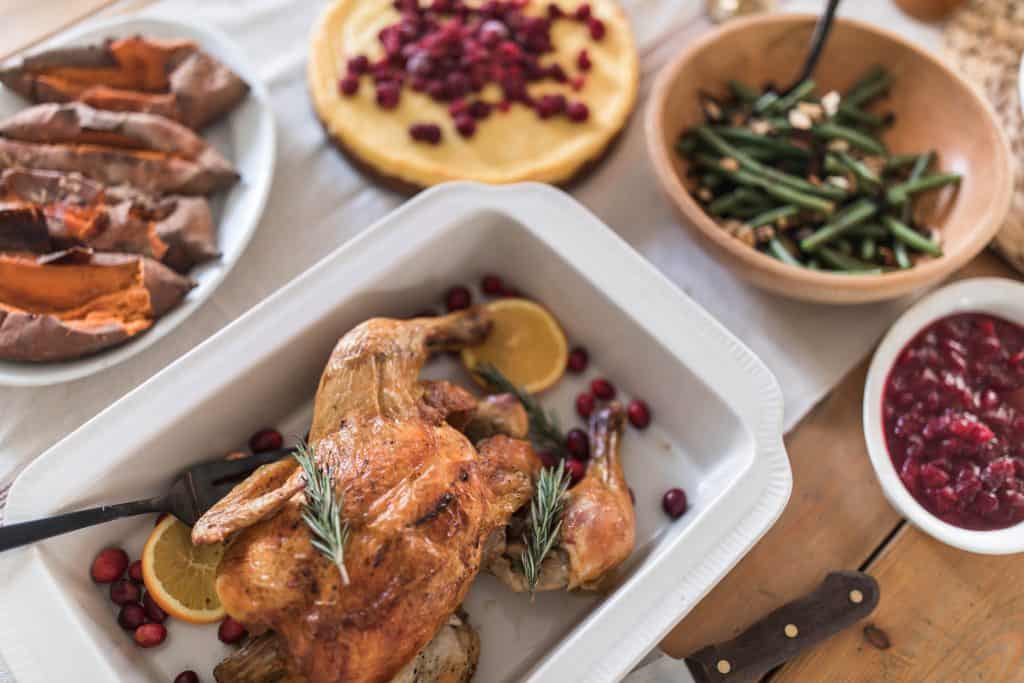 On the menu
Roasted chicken with fresh rosemary
Homemade cranberry sauce with orange zest
Green beans with toasted almonds
Baked sweet potatoes with butter and a touch of brown sugar
Cheesecake with raspberries
Apple cider with cranberries and orange slices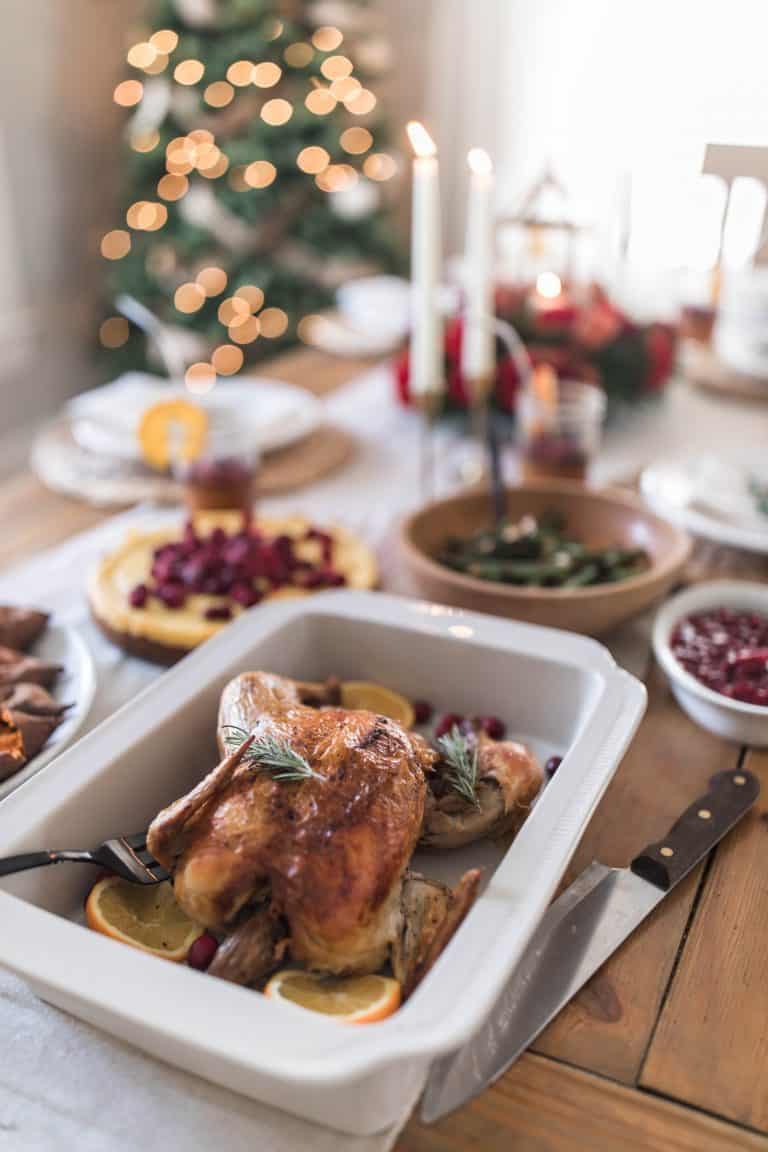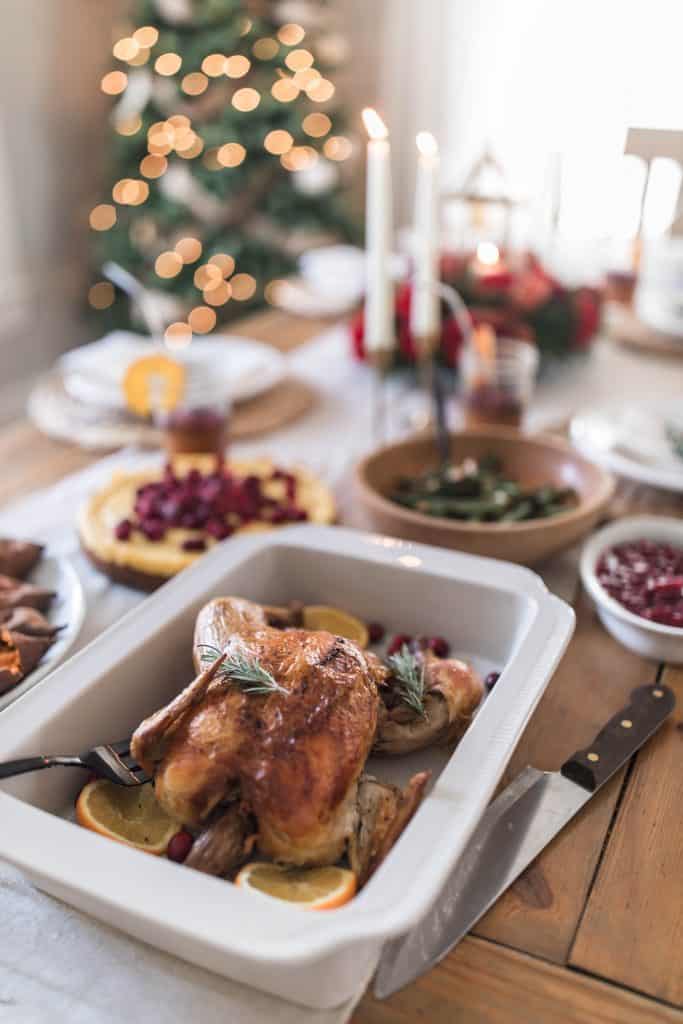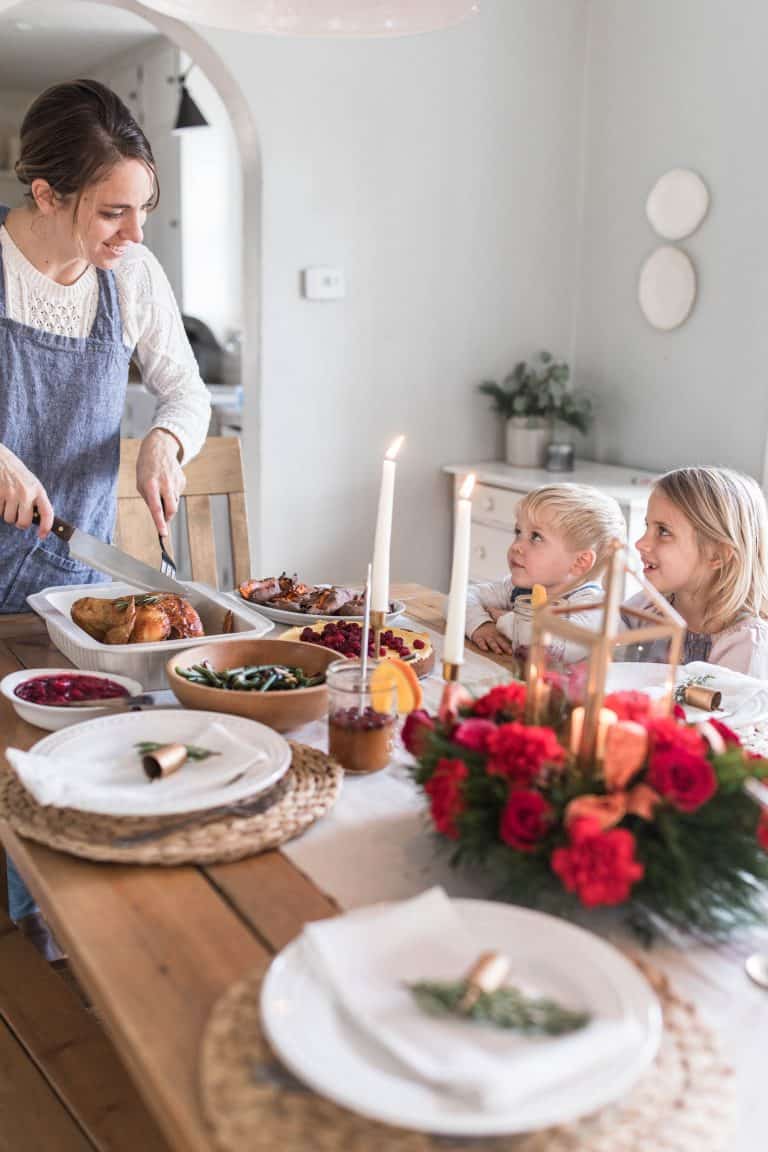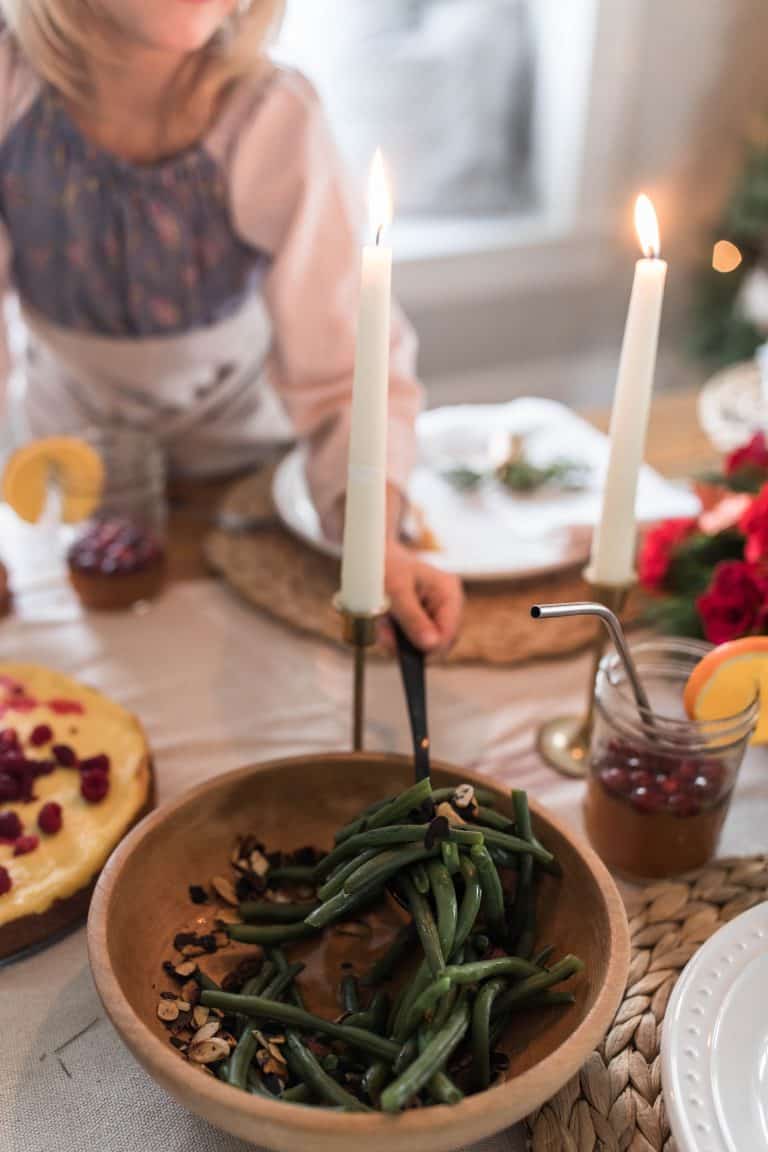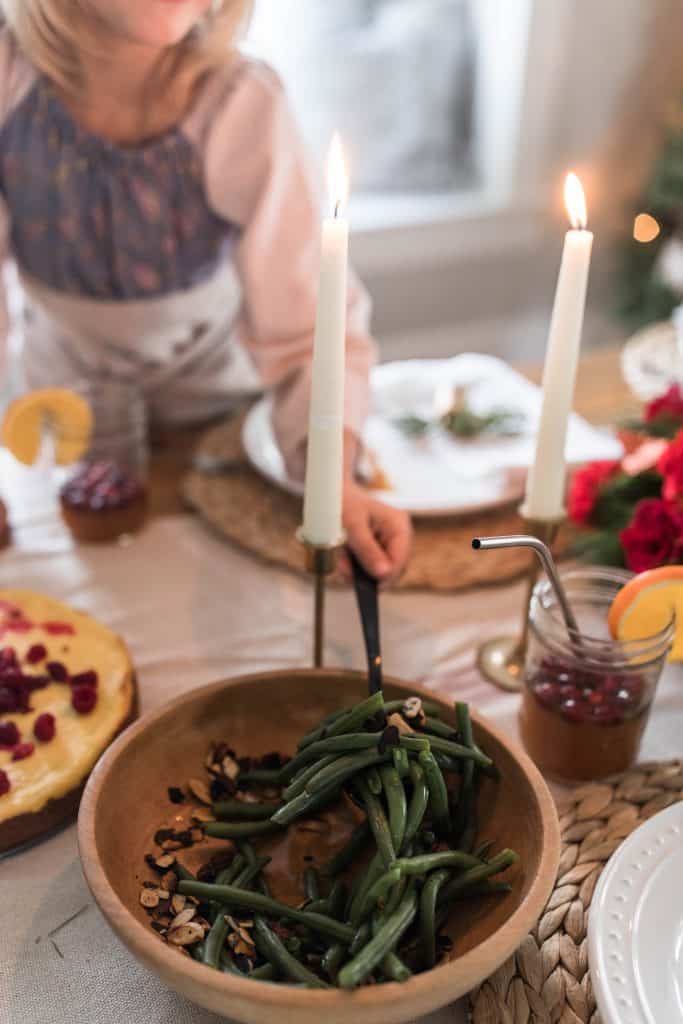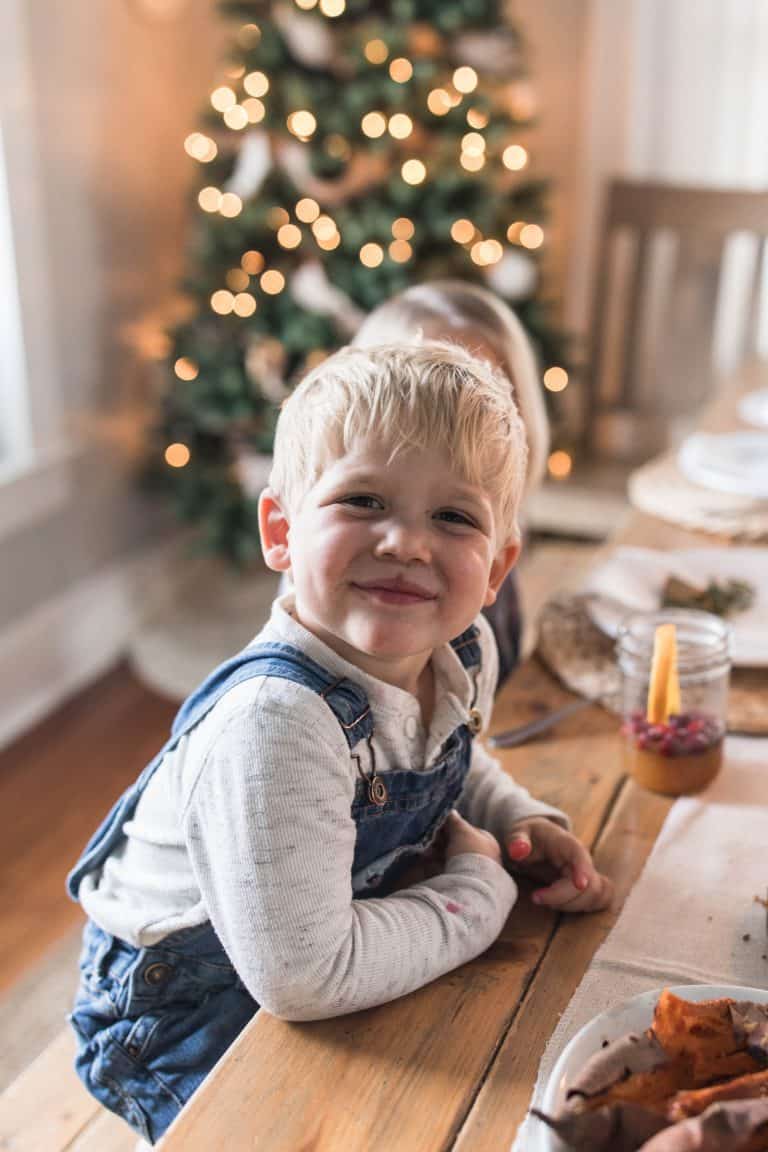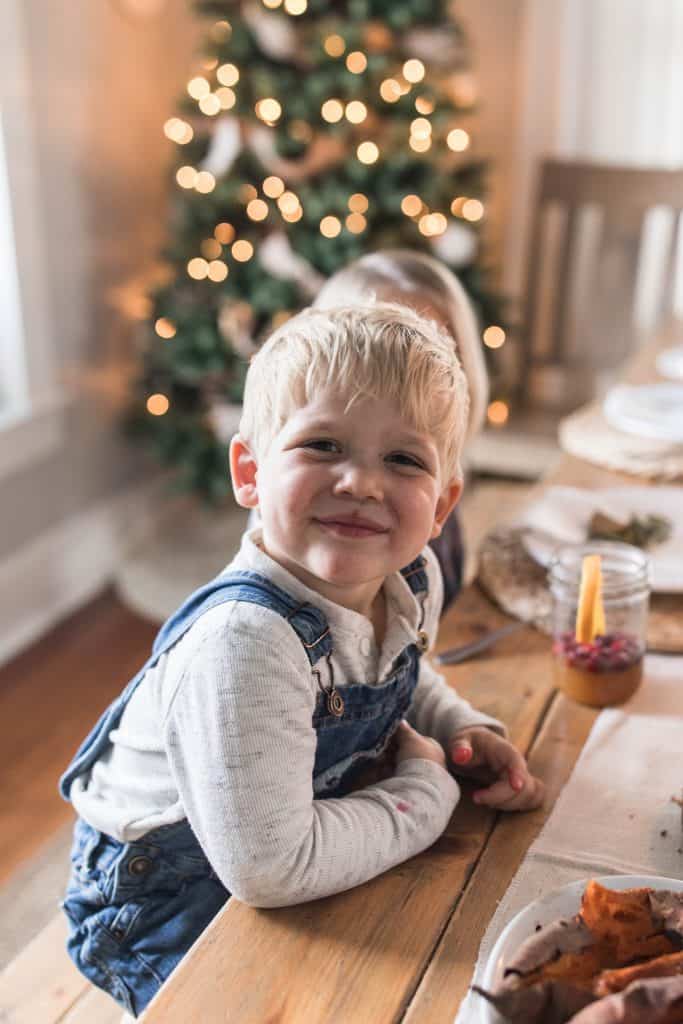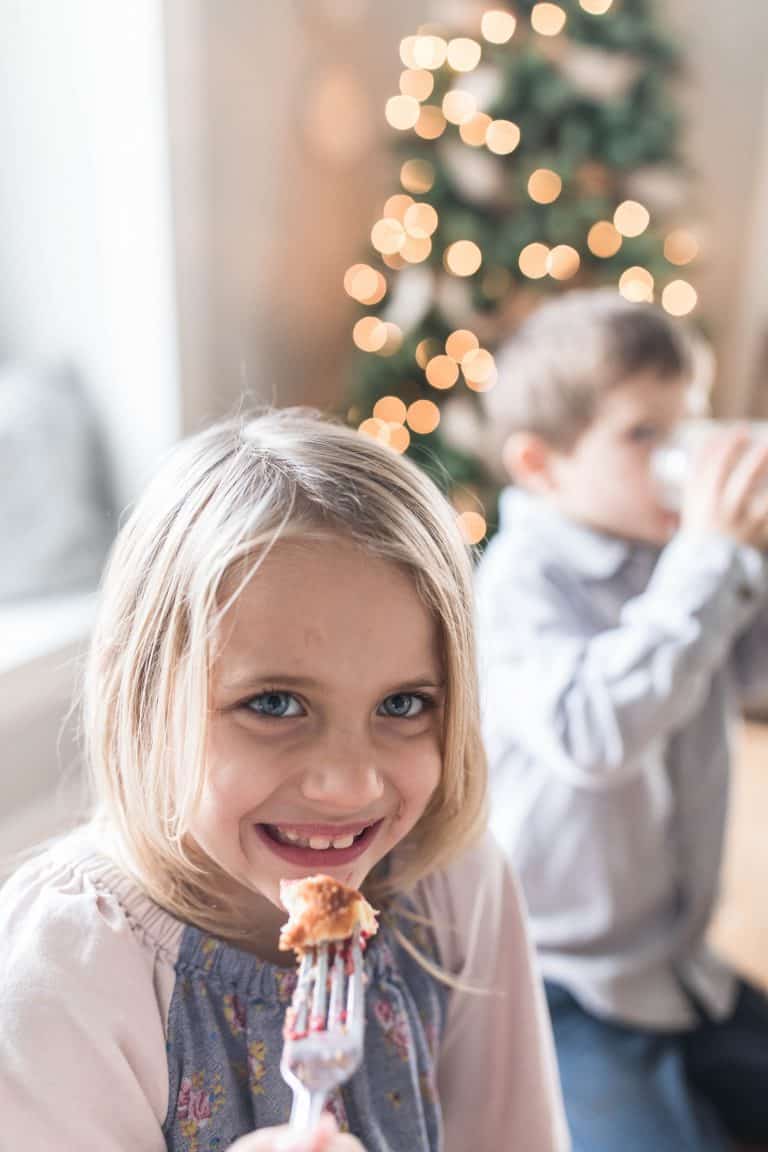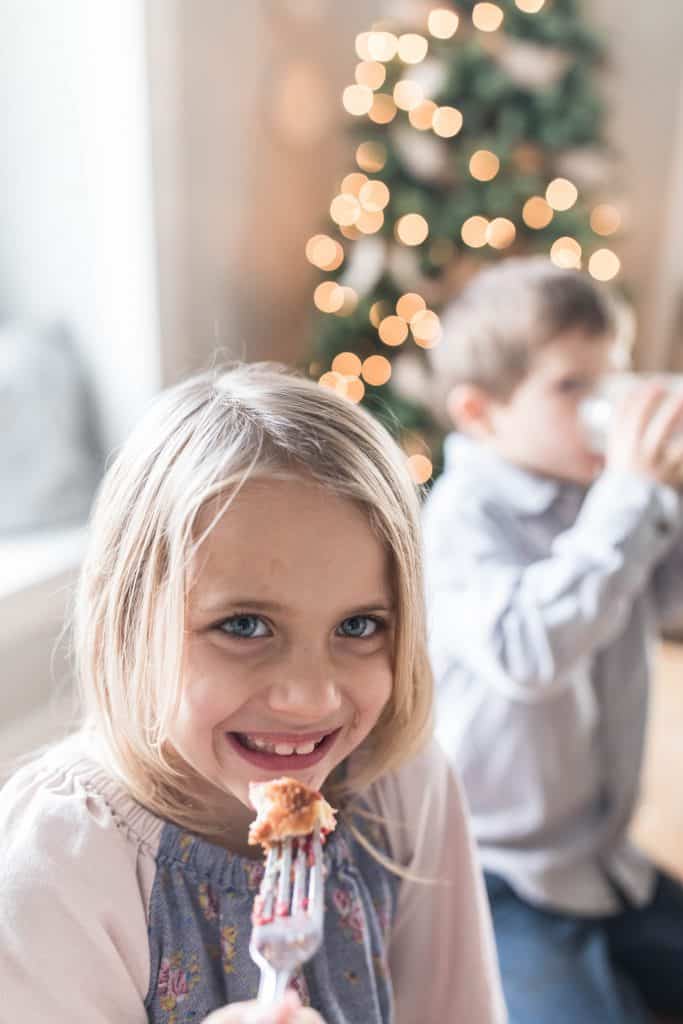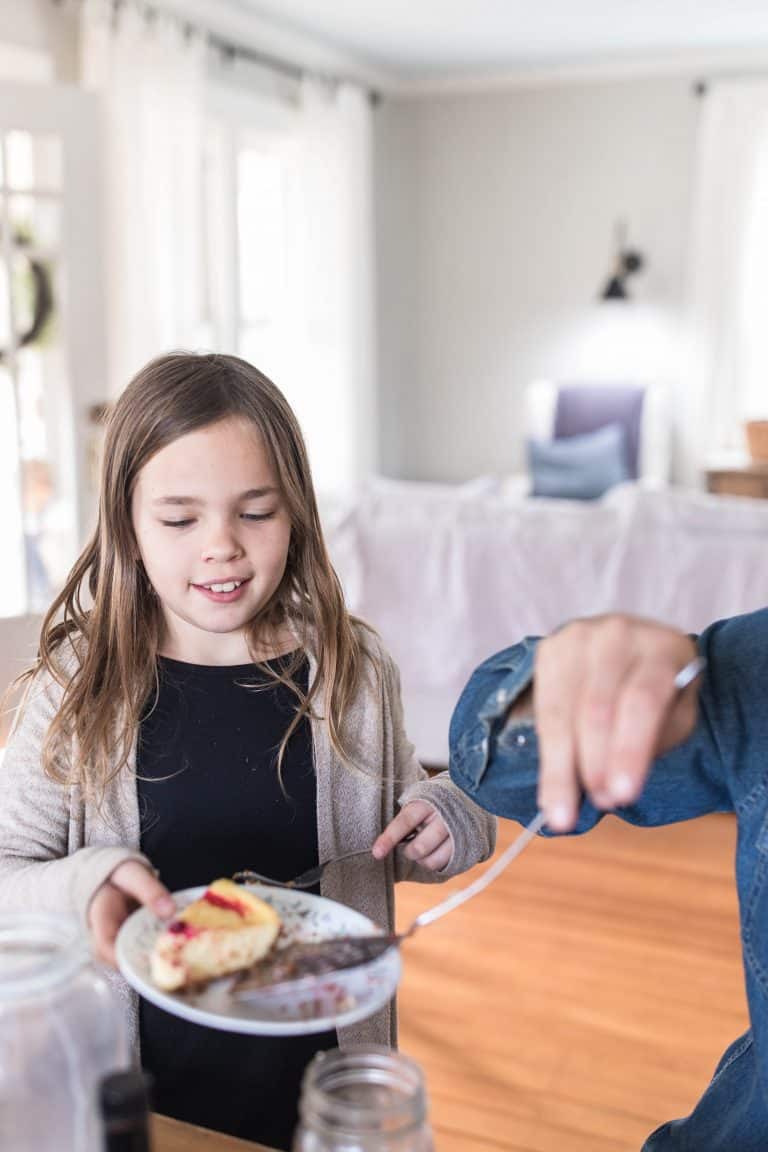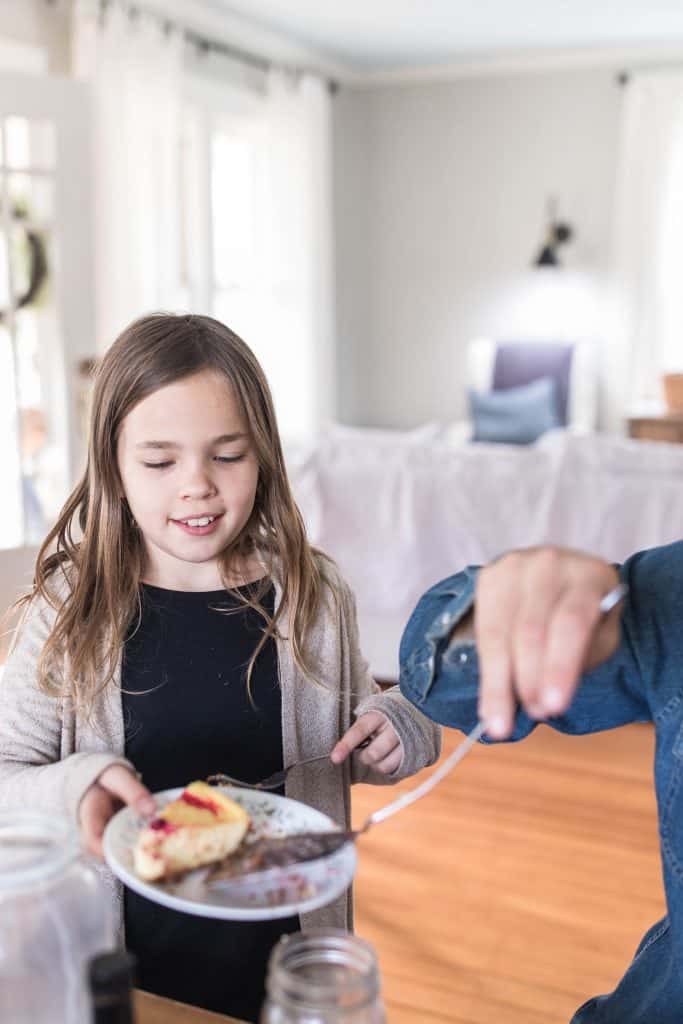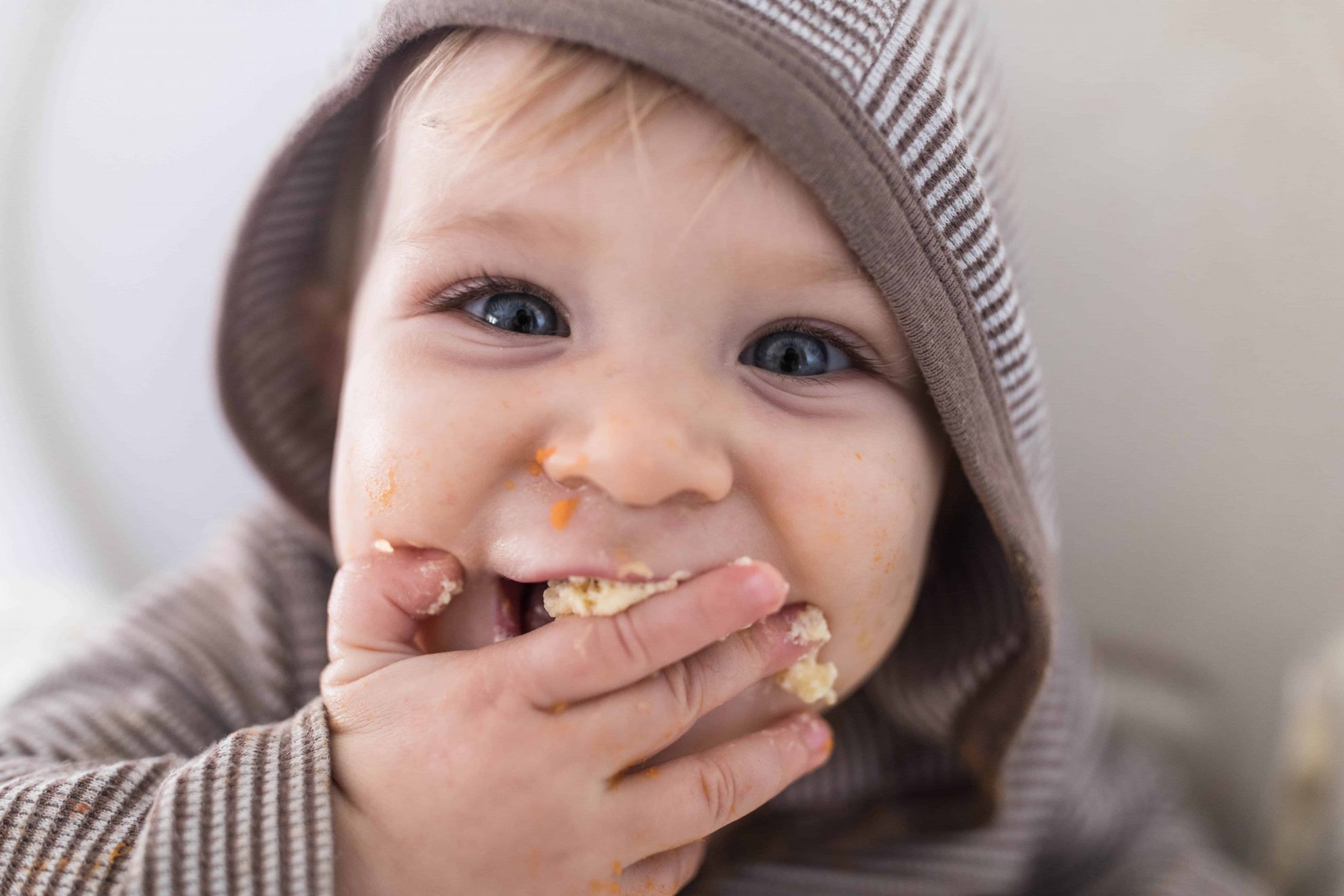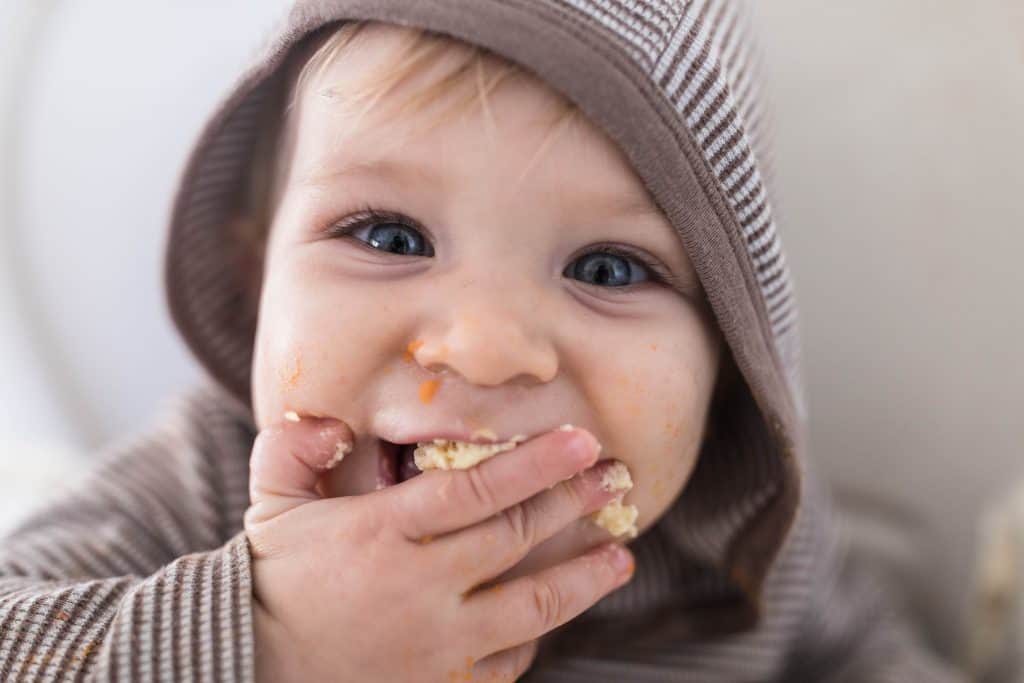 After our special Christmas gathering
My husband invited his grandma over to share in this special celebration with us, but she was sick with an awful cough. This move is especially hard for her, because she won't be able to drive herself all the way to our new home. For the past ten years, she has came over at least twice a week. We still plan to drive out every single week and spend time with family, but change is always hard.
The beautiful flower arrangement from FTD Flowers made the perfect gift to show our love for her. I love it when something can serve two purposes, and I could think of no better way to use the centerpiece for our celebration and for gifting.
Click the following link to receive 20% off your own order at FTD.com!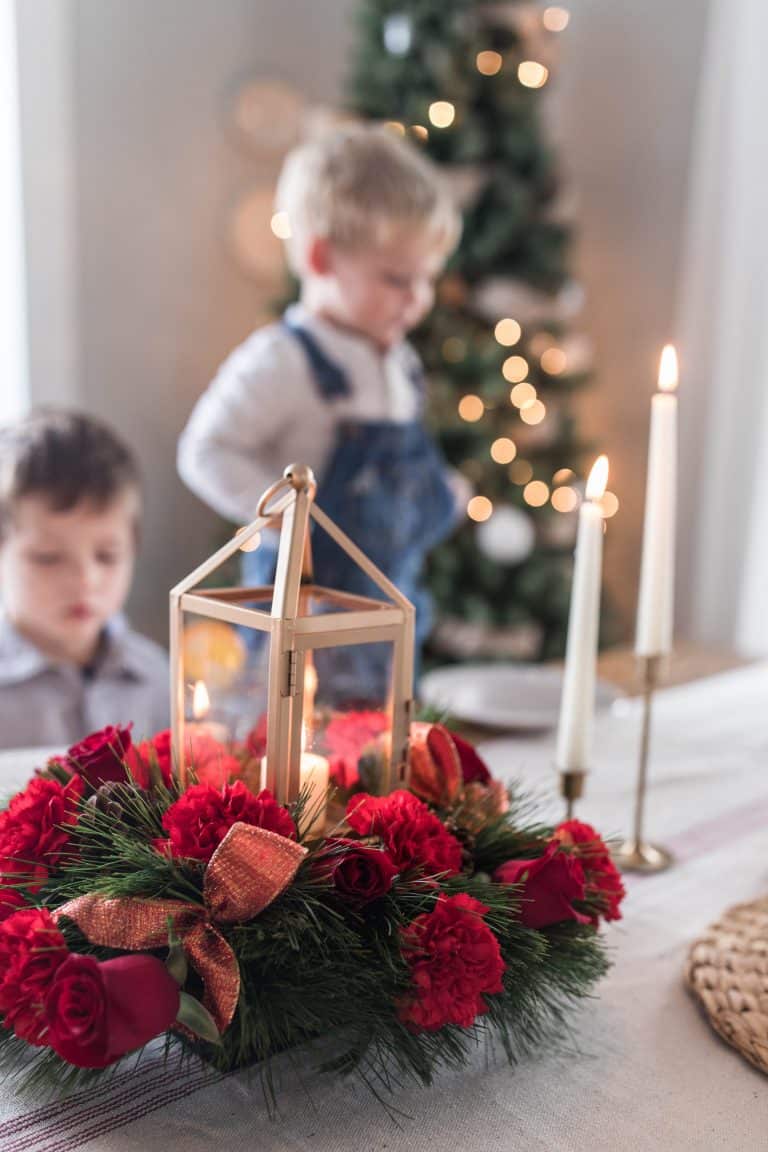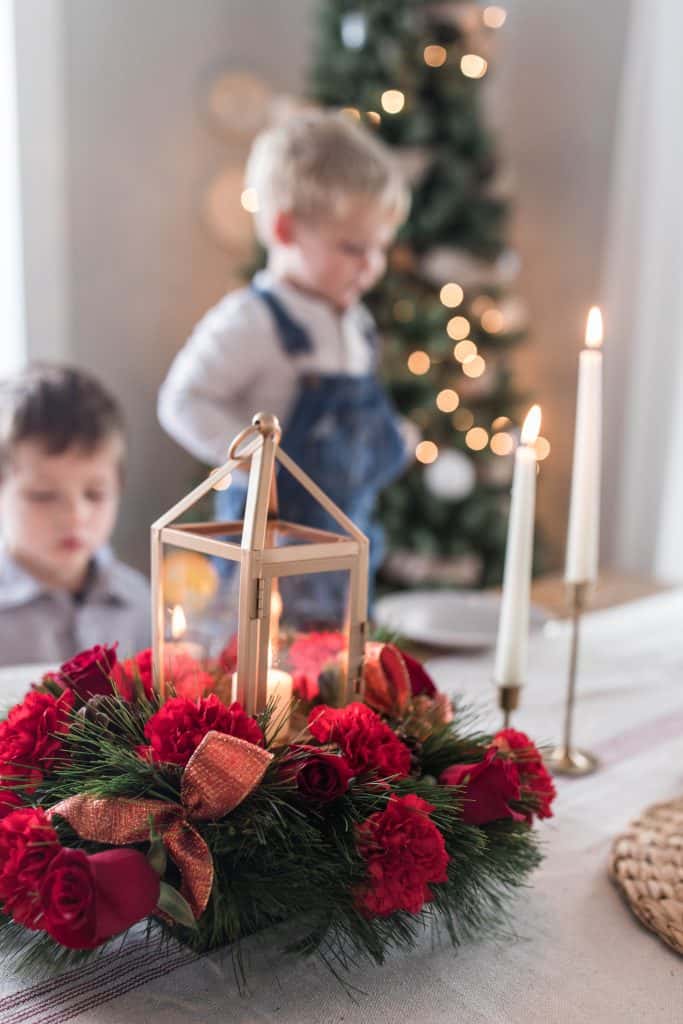 How do you make the holidays special?
What kind of traditions do you have in your family, to make the holidays special? Let me know in the comments below.