We are excited to announce that baby #6 will be joining our family this October. Will we have another home birth, or find out the gender? I can't wait to share some of the details with you!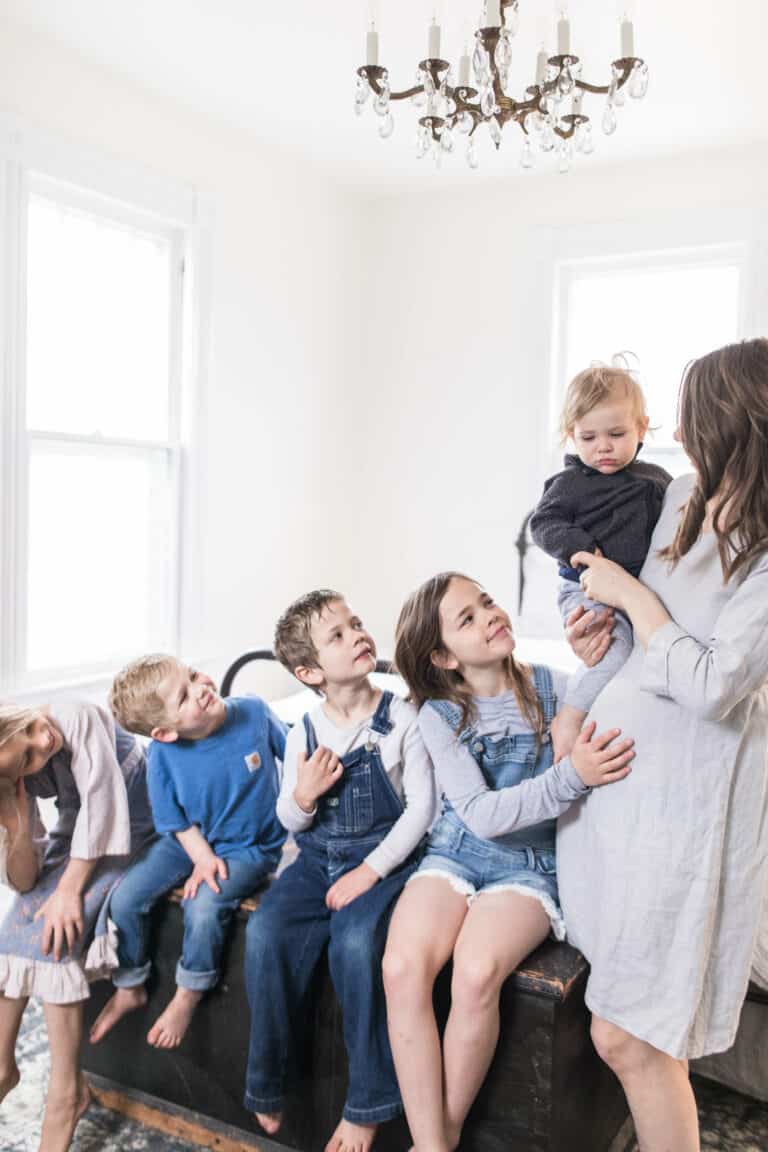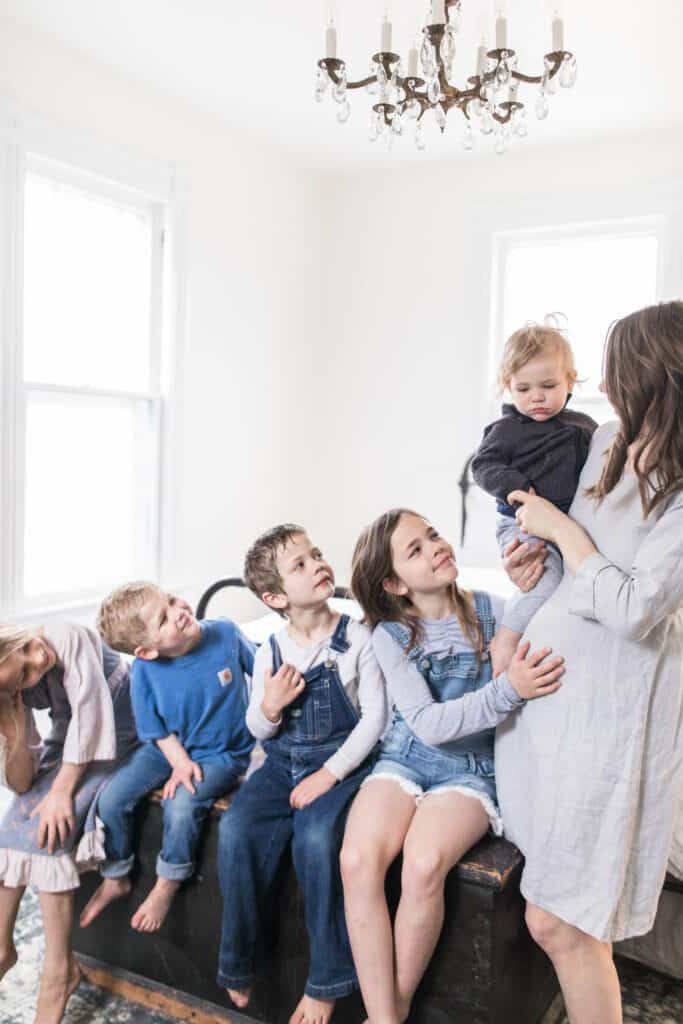 Watch our pregnancy announcement video
Will we find out the gender?
No, we will not. We found out the gender with our first two babies, and we kept it a surprise with the last three. I love dreaming about the gender the entire 41 weeks.
It gives me an exciting surprise to look forward to in labor!
When am I due?
I am due on October 15th. I have gone past the due date with 4 of 5 kids, with the exception being a hospital birth that was induced (different story for a different day). I never expect to have kids "on time" My third and fourth were both more than a week past. I find that going into the birth process not expecting to go on time makes it way less of a stressful event. When I went into labor with Micah one day past the due date I was shocked that he was coming so early. I had fully planned to go 41 weeks +.
My boys were all over 8 and a half pounds, and none of them were harder to birth than my smaller girls. I am totally fine going past the due date again.
Why am I showing already?
Ok, I'm sure no one would be rude enough to actually ask this question (well maybe on Youtube, people can be crazy over there!) but you might be wondering.
This is my sixth baby in 10 years. I am the worst about diligently repairing my muscles after birth. I have diastasis recti for years now. There are exercises you are supposed to do between pregnancies to prevent that.
Because of this, when my baby grows beyond the size of a blueberry, my ab muscles hold nothing back.
With babies 3, 4, 5 and now 6, sadly, I have had complete strangers ask about my pregnancy at 12 weeks gestation. My belly button has already popped, you guys.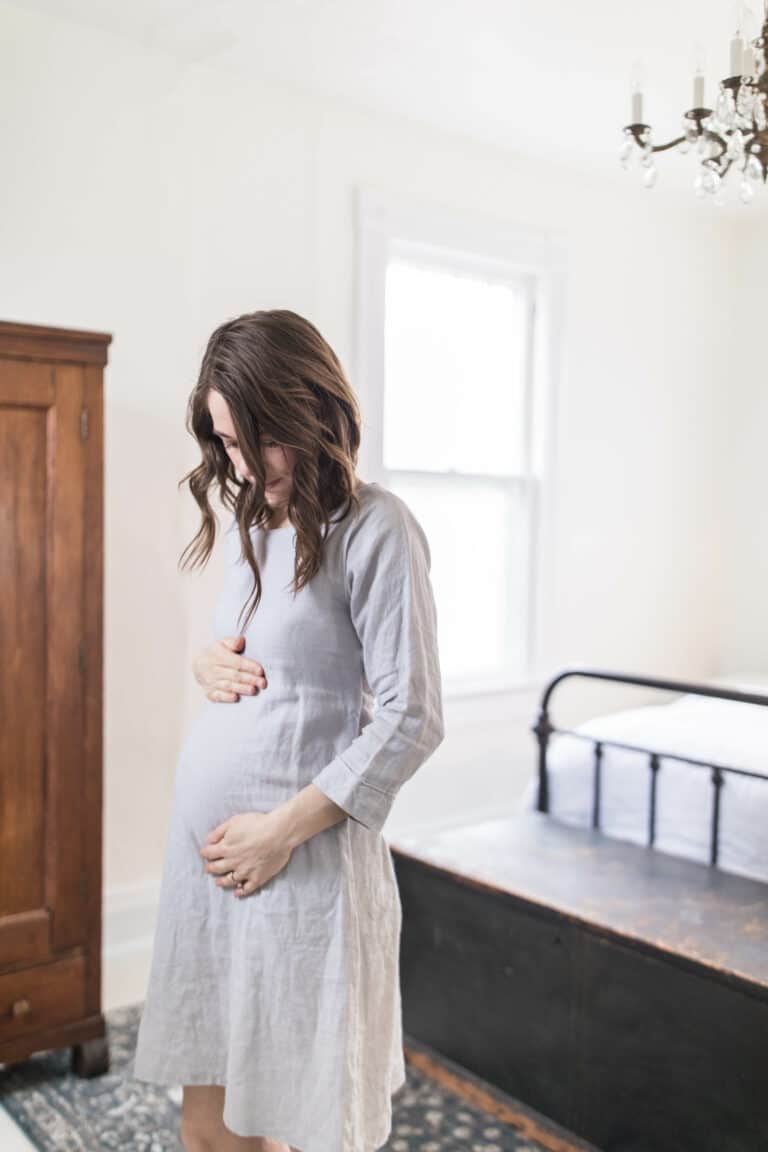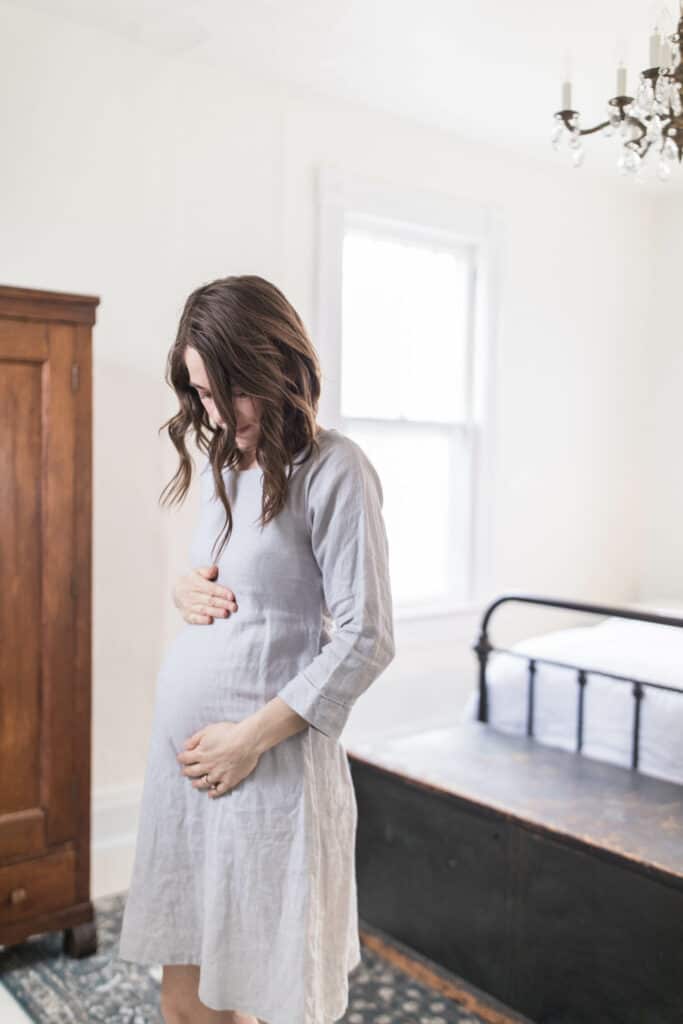 Did I have morning sickness in the first trimester?
I felt nauseated off and on from about 6 weeks. I still am experiencing the occasional nausea now, at 13 weeks, but it is mostly tapering off. It is a relief to get back to my normal diet and energy levels. I have never thrown up with any of my pregnancies, but the whole first trimester I just feel tired and nauseated. It is definitely not fun!
I would take the third trimester over the first any day.
Will we have another home birth?
As you all know we moved to our new farmhouse in January. The last thing on my mind during the whole crazy house selling and moving process was whether or not my midwife would travel to our new location. I wasn't planning to be pregnant anytime soon.
Well surprise surprise, this became a fairly immediate concern when I got that positive pregnancy test just weeks later.
I reached out to our midwife, and though the location is slightly out of the range, she and the nurse that normally attends my birth actually live closer to this location than our last! So, barring any unforeseen circumstances, we are planning a home birth here in the new farmhouse.
You can see my last home birth story here: Introducing Micah Bobby Gene- My Bradley Method Home Birth Story
Was this pregnancy unplanned/were you surprised?
I can't say it was unplanned, because we don't do a whole lot of planning in general in this area. I was surprised though! This is our seventh pregnancy (one miscarriage) and I have never gotten pregnant while nursing a baby overnight. Every other time I have been pregnant it was only after I cut out the night feedings, and gave my body an eight hour stretch without any nursing sessions.
Micah still nurses three or four times a night, so although I knew it was possible, I wasn't expecting it. Normally I am pretty aware of what is going on with my body, but we were so busy with the move I just wasn't paying any attention to the signs that I should have normally noticed.
It was a very happy surprise though!
Did you have an ultrasound?
I didn't share a whole lot about this, but with Micah I avoided ultrasounds completely. I just felt for that particular pregnancy that getting the tests done wouldn't change any outcomes. With this baby, I went in for my first appointment at 12 weeks pregnant. When I told the midwife how unsure I was of my dates, she asked if we could do a quick measurement.
With home births, midwives can't legally deliver babies before 38 weeks or after 42 weeks. It is too risky to be outside of the average 40. For this reason, I consented to a very quick measurement. I definitely didn't want to risk being wrong and going into labor outside of the normal range. She put the wand on for a moment, and moved it around until the full baby was in the frame. She measured and saw that I was 12 weeks and 1 day.
It definitely made me more relieved and excited to tell the kids after seeing that little baby jump around on the screen!
I haven't decided if I will consent to the 20 week scan or not, but it is something I will prayerfully consider and make the decision later.
Do we have names picked out?
We are the WORST when it comes to this. Although clearly I am pregnant for an entire nine months, you would think it comes as a surprise to us that we have to select a name at the end! Haha.
With our last three, we literally had no boy names picked at the time of birth. When they all three came out boys, Luke and I looked at each other dumfounded like, "What are we going to call this kid?"
Our first born son didn't have a name for three days.
Now if it is a girl, we have several contenders! We have always loved the names: Rosalie June, Anna Elizabeth, Lydia… and so many more I can't even think of right now. We could name another five girls no problem! Boys on the other hand, I feel like my sister and I have already claimed the best boys names and there are none left. That being said, I know if its a boy we will come up with something. We just probably won't even talk about it until that fourth boy is staring us in the face.
We literally called Micah "Rosie June" the entire pregnancy. When he came out he didn't look so much like our little Rosie any more!
Birth Story Junkie? I shared a few of mine on the blog:
Introducing Micah Bobby Gene- Our Bradley Method Home Birth Story
The Arrival of Jude- a Home Birth Story
Baby in the Van Story- Eli's Exciting Arrival!
Thanks so much for stopping by the farmhouse, and sharing in this exciting time in our lives!