I just put the finishing touches on my fall capsule wardrobe and the whole thing only took an hour! Every piece is in the neutral color palette and can be easily mixed and matched. I chose a lot of denim, tan, black, white, gray and stripes to tie the looks together.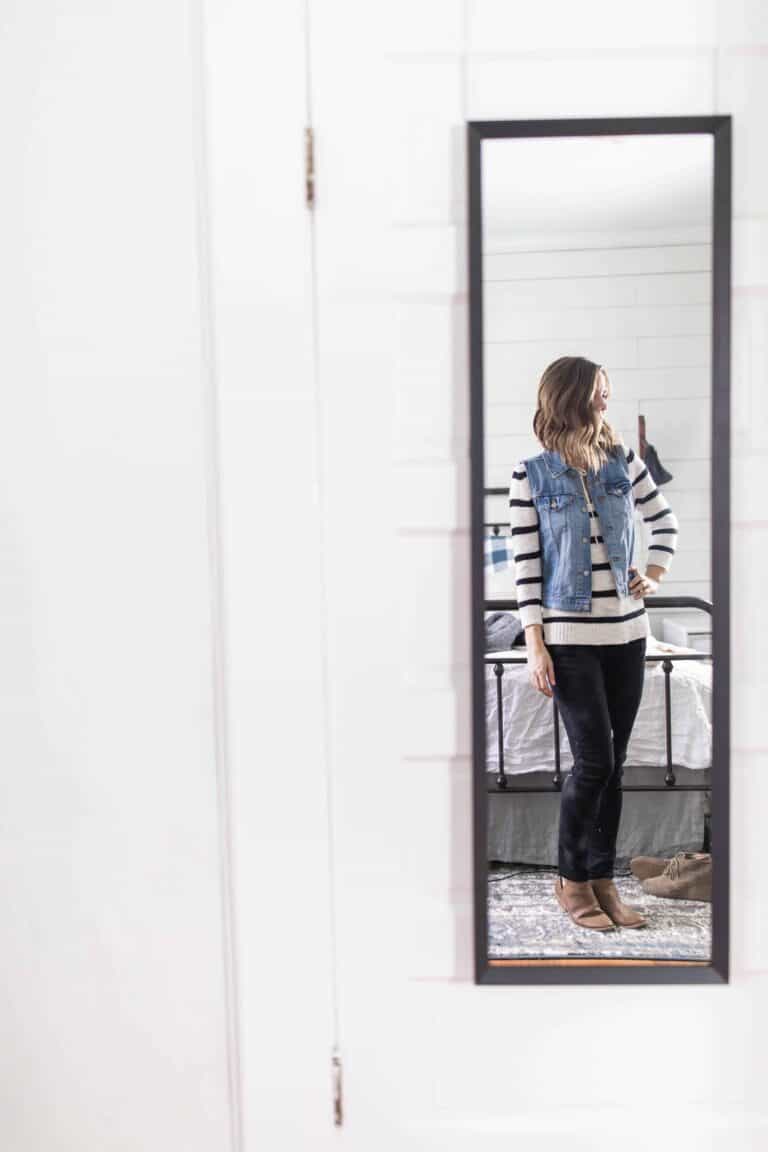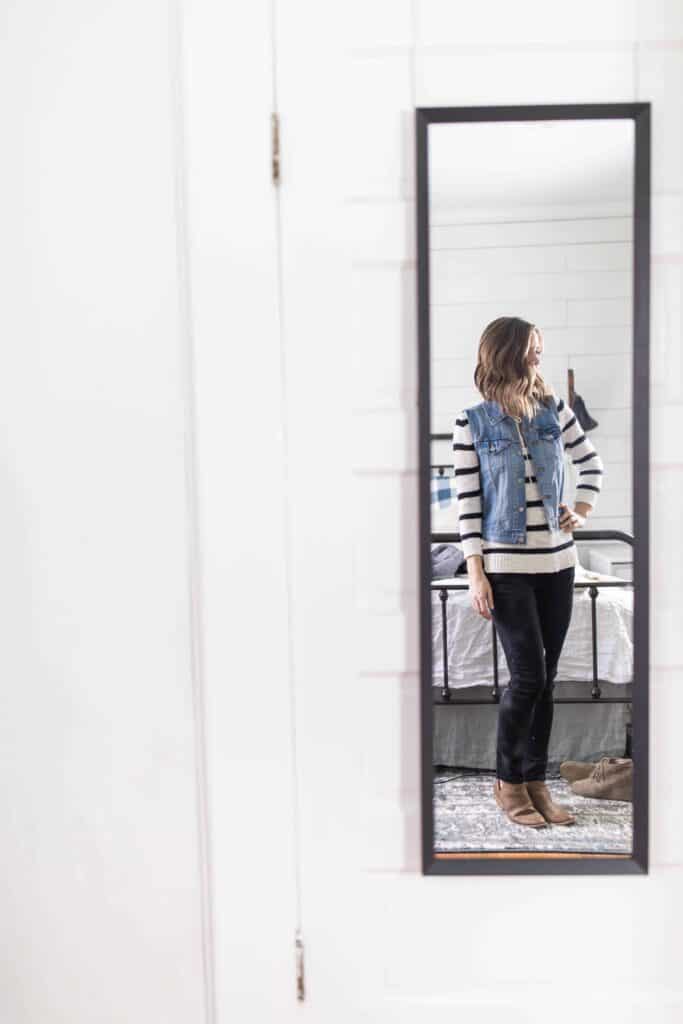 Some links are affiliate links, which means I make a small commission at no extra cost to you. See my full disclosure here.
Capsule Wardrobe Fall 2018 Video
Click here http://bit.ly/FARMHOUSE_thredUPNov18 to get an extra 30% off your first order with thredUP with promo code FARMHOUSE30 at checkout! (Applies to first-time US customers only and to items $150 or less. Excludes Goody Boxes. Redeemable online only. Offer expires 12/31/18).This video is sponsored by thredUP!
Capsule Wardrobe Fall 2018 the pieces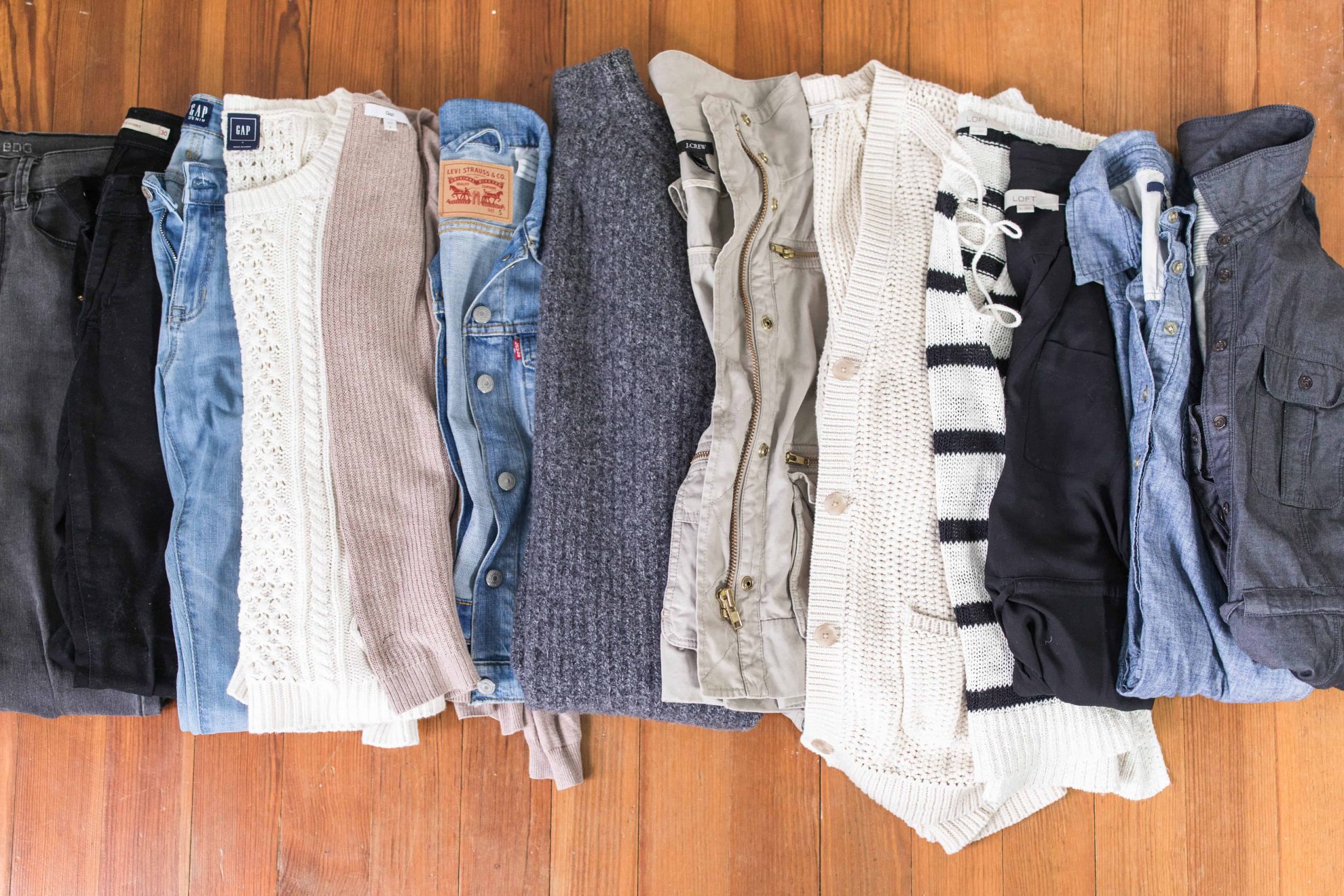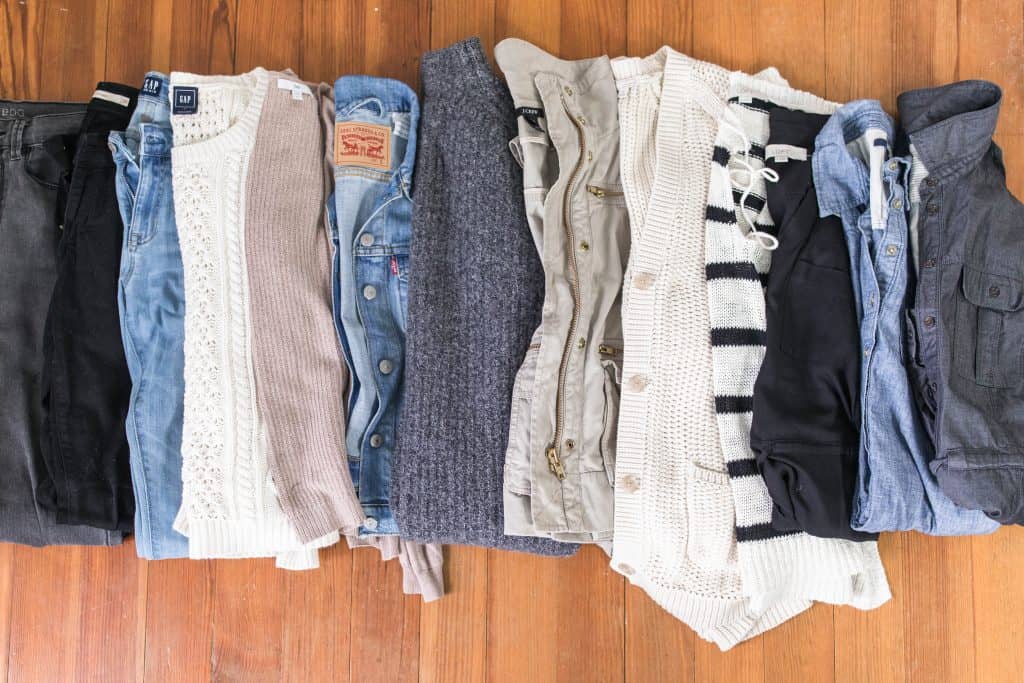 The idea of the capsule wardrobe has intrigued me ever since I heard of the concept. I have been doing it in some form for the last several years without even realizing it. My husband calls it my "uniform". I basically just wear the same two or three outfits over and over for an entire season. I'm not a very high maintenance girl.
This year I decided to do a capsule wardrobe, so that I could still be simple and minimal with my wardrobe, yet have more options. Goodbye uniform and same outfit 25 days in a row! Haha.
My style is casual, neutral and hopefully slightly trendy (i.e. not super mom-ish). My whole goal with fashion is to look put together with minimal effort. For this collection I went with a neutral color palette, of black, white, tan, cream, gray, a little stripe and a whole lot of DENIM!
When Thredup contacted me to a video for them on my youtube channel, I thought it was the perfect opportunity to spend a little time putting together my very first capsule wardrobe.
Tips for Putting together a capsule wardrobe
Create a Pinterest board with outfit inspiration.
Decide on a color palette.
Pick staple pieces that will last for many years.
Choose items that can mix and match interchangeably. The goal is to swap out one item to have a whole new outfit.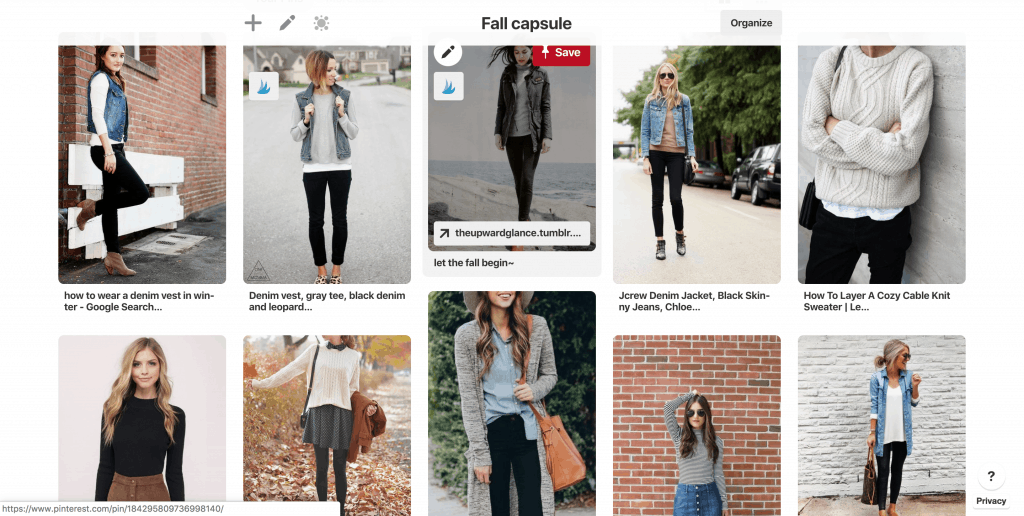 Tips for shopping thredup
I was a little skeptical of Thredup in the beginning, because it is all secondhand clothes. Thrift shopping has historically been a waste of time for this busy, business-owning, mom of 5. Walking into 18 thrift shops to find one decent sweater for a bargain price, just isn't worth it. I would rather pay full price, and spend more time working on my business or reading to my kids.
I am actually ridiculously pleased with my Thredup experience and will shop there again for my wardrobe. (By the way, Thredup sponsored my Youtube video, but they did not pay me for a blog post. I just had such an awesome experience putting together my fall collection that I wanted it to live in more places!) The whole process of putting together this wardrobe took about an hour on a Friday evening, the clothes all look brand new, AND I bought quality staple pieces that will last me for years to come.
Set your sizing- This tells Thredup not to show you the size 0 jeans, if you're a size 6 petite. Less search results= less time spent.
Search specific brands- This way you can trust the fit an quality of the pieces you choose.
Search specific pieces- Searching for "denim Levi's vest" will narrow the search results even more!
Clothing
Denim vest- 1
Black jeans- 1
Light wash jeans- 1
Medium wash jeans- 2
Stripe sweater- 1
Plain long sleeve shirts (one black, one white, one gray)- 3
Long knit button up sweater- 1
Cable knit pullover sweater- 1
Button down dresses- 3
Denim button downs- 2
Jean jacket- 1
Staple tan jacket with pockets- 1
Pullover wool turtleneck sweater
Tan cardigan- 1
Shoes
Accessories
Faux leather purse
I'm not much of an accessories girl, can you tell?! I literally own one watch and I never wear it. I bought a necklace for an event once and it broke, and that is the extent of what I own.
The combinations
Cable knit sweater, denim vest, jeans (any color), booties
Swap out the cable knit sweater for a wool turtleneck from option 1.
Linen dress, denim vest, wedges
Long sleeve shirt, denim vest, jeans, tennis shoes
Cable knit sweater, light wash jeans, tennis shoes
Stripe sweater, denim jacket, black jeans, wedges
Turtleneck wool sweater, jeans, booties
Button down dress, cardigan, wedges
Long sleeve shirt, long knit cardigan, jeans, tennis shoes
Ok, you get the idea! There are about a thousand ways I could mix these pieces up for a new outfit every day of the week!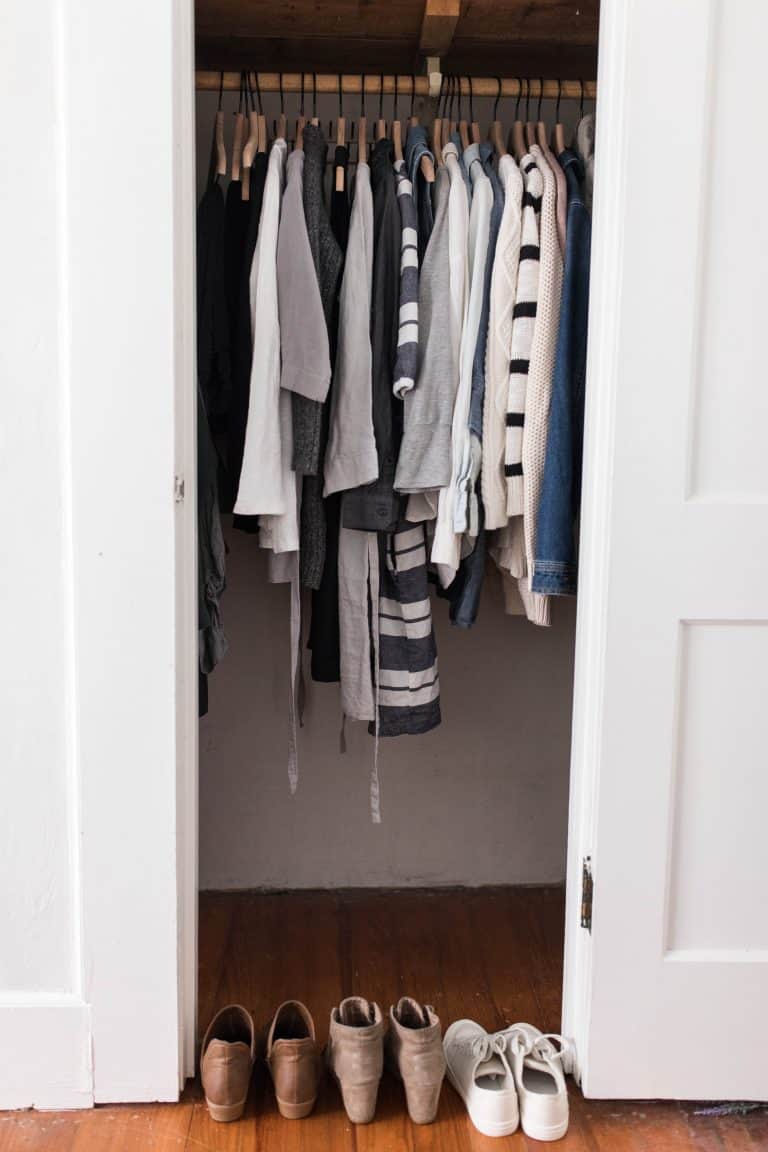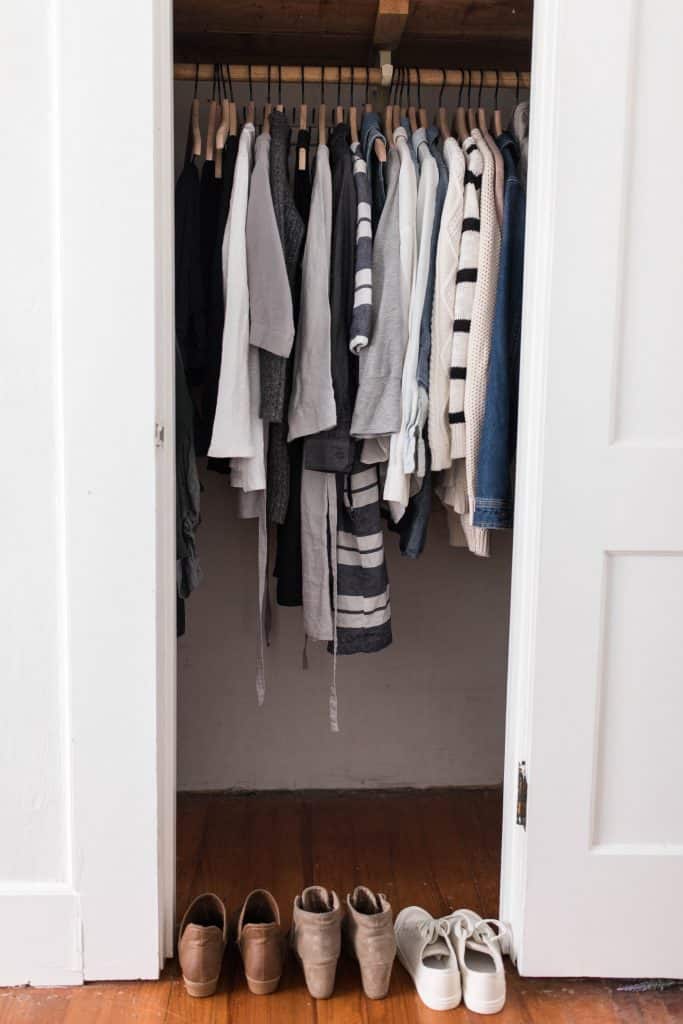 This capsule wardrobe was so fun to put together! I hope you are inspired to do the same, to look put together without much time and effort!
Pin it for later