Fluffy, crumbly and sweet, these chocolate and coconut sourdough scones are the most delicious, most decadent breakfast. Long ferment them or make and bake them right away.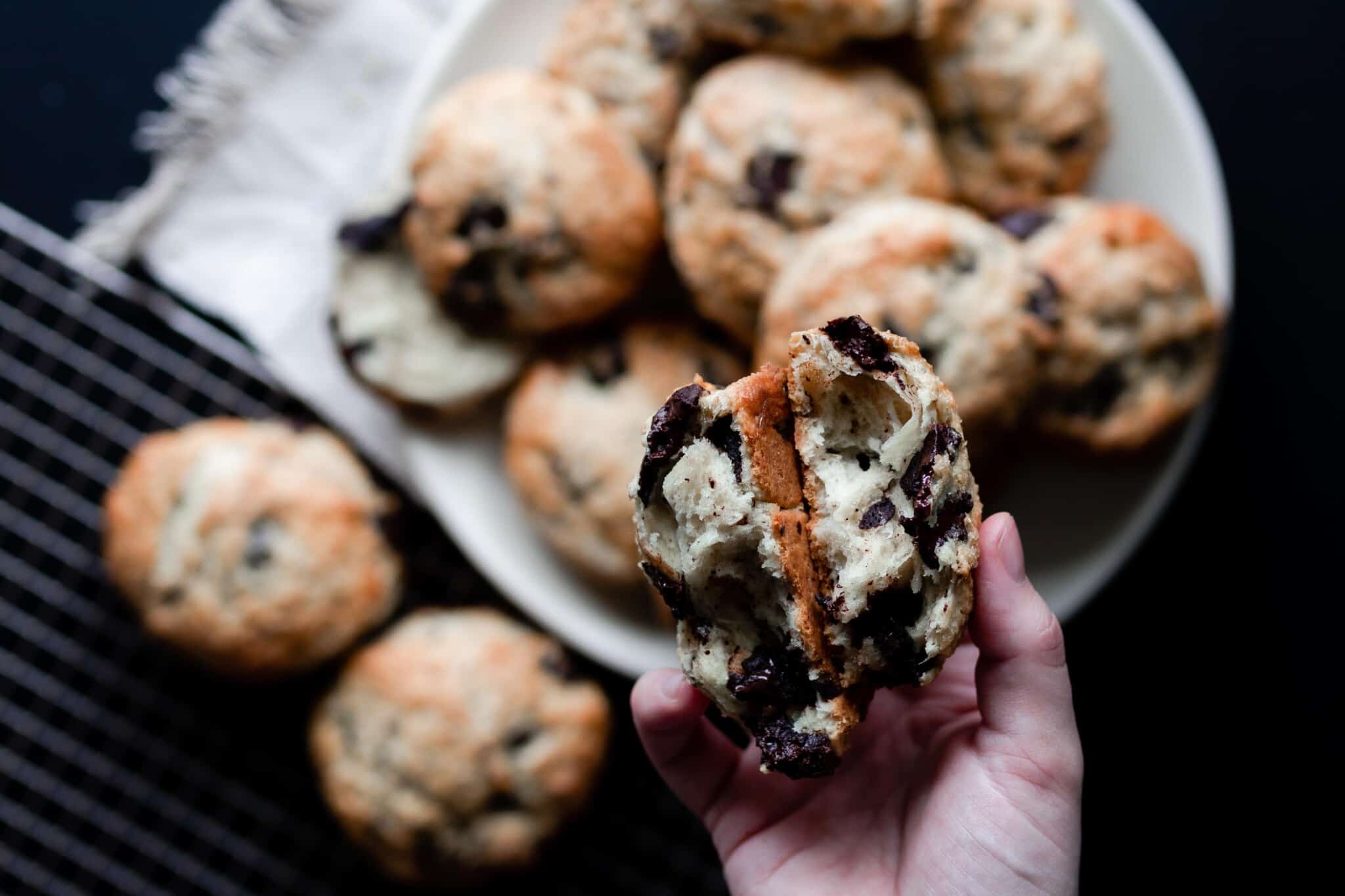 It's coming up to the season where being in the kitchen baking becomes a bit more challenging. Summers in Missouri can be pretty warm, and standing in a warm kitchen baking tends to happen less and less.
So, I'm milking these cool weather days and baking as much as possible as long as I can stand it.
Lately, I've been making these chocolate and coconut scones over and over. Coconut is one of my favorite flavors (I also love it in popsicles, cookies, and even brownies), and combining it with chocolate, tangy sourdough, with just a hint of sweetness, and you have yourself an amazing treat.
Most of the time, when I use all-purpose flour, I long-ferment the grains to make them healthier and more digestible. With this recipe, I give you both options. You can easily whip them up and bake right away, or you long-ferment them.
Either way, you are on your way to a delicious treat… I mean breakfast.
Slather them with homemade butter or strawberry jam, a side of fresh fruit, and farm fresh eggs.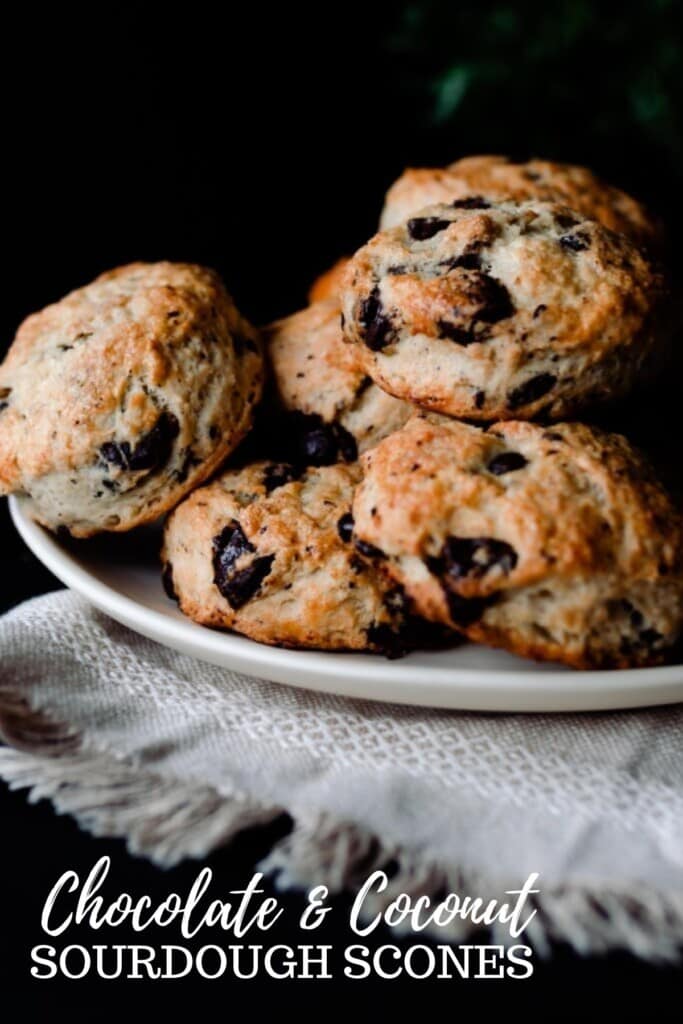 Sourdough Scone Tips:
The trick here is to make sure the butter is very, very cold (if you're unsure if the butter is cold enough, you could put it in the freezer for 5-10 minutes). This is the secret to light and fluffy scones.
Keep your coconut cream and eggs in the fridge until ready to use.
Tossing the chopped chocolate in 2 tbsp of flour will help prevent the chocolate from just sinking to the bottom of the scone.
Turn the cookie sheet around in the oven at 10 minutes to achieve even browning.
Make sure you get coconut cream and not coconut milk.
If you are not a fan of coconut, you can substitute the coconut cream for heavy cream and/or leave out the coconut flakes.
This post contains affiliate links, which means I make a small commission at no extra cost to you. See my full disclosure here.
Tools you will need:
Stand mixer
Baking sheets
Rolling pin
Measuring cups and spoons
Biscuit cutter: I usually just use a wide mouth mason jar.
Parchment paper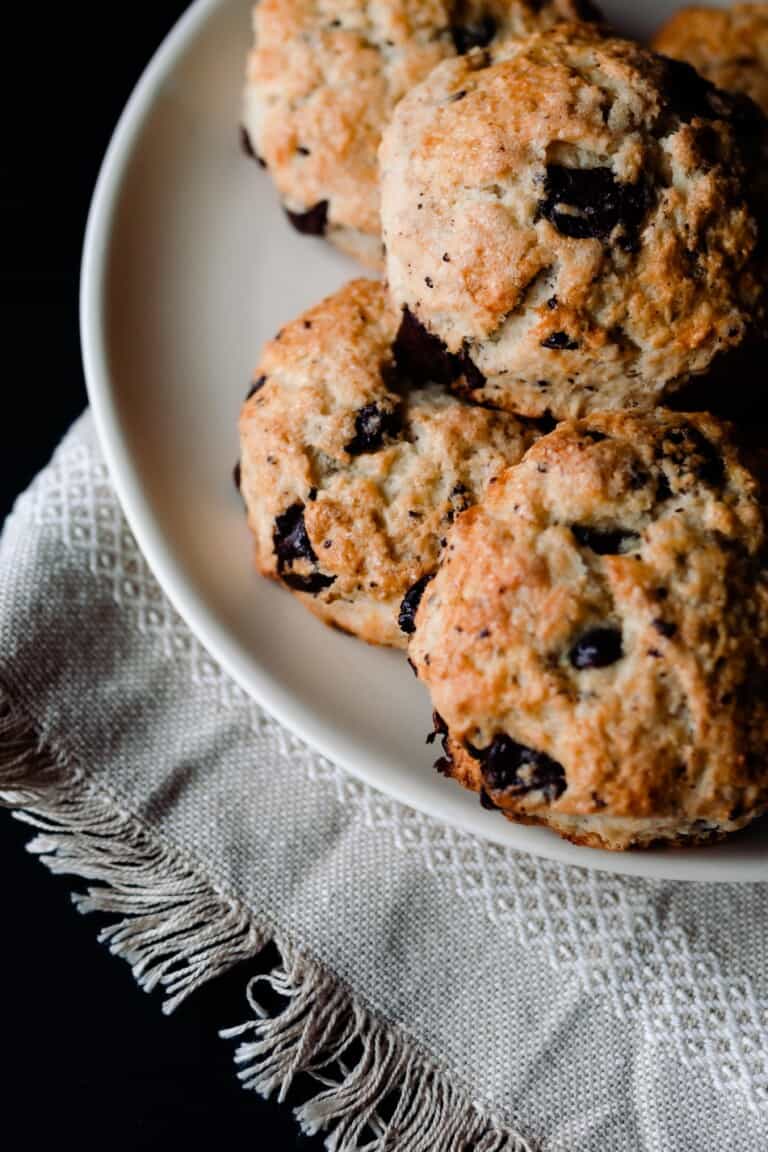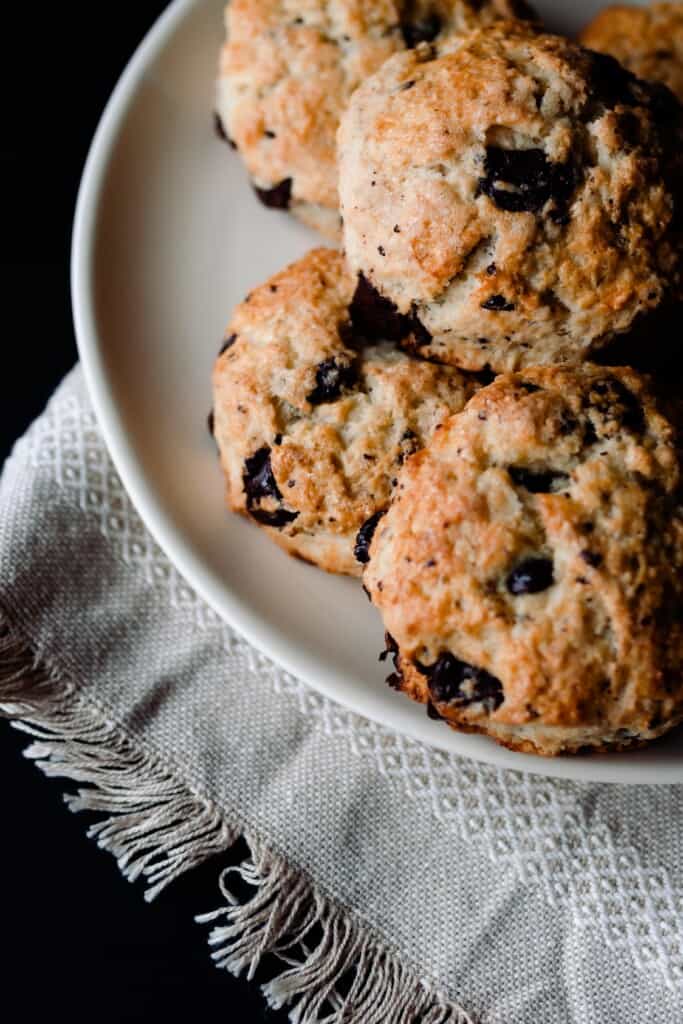 How To Make Sourdough Scones
Preheat the oven to 400 degrees F.
Prepare two cookie sheets with parchment paper and ensure the oven racks are in the lower third and upper third of the oven.
Give the chocolate a rough chop and toss it in 2 tbsp of flour to coat and set aside.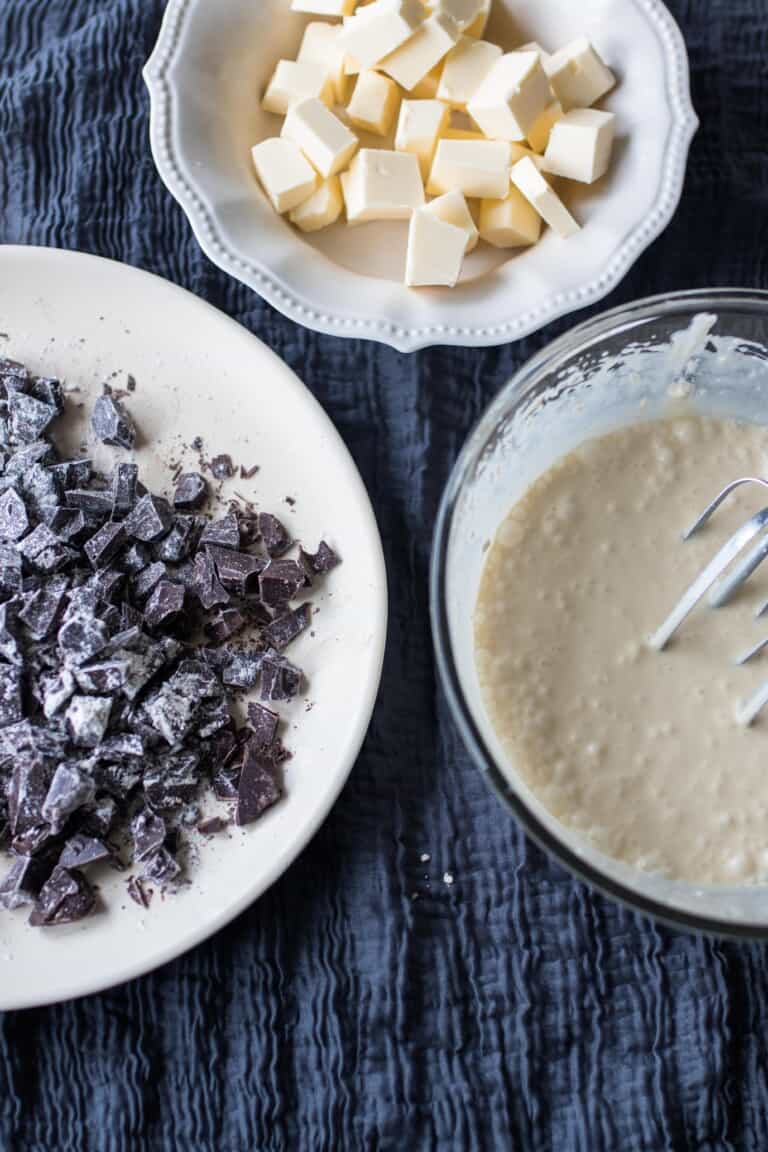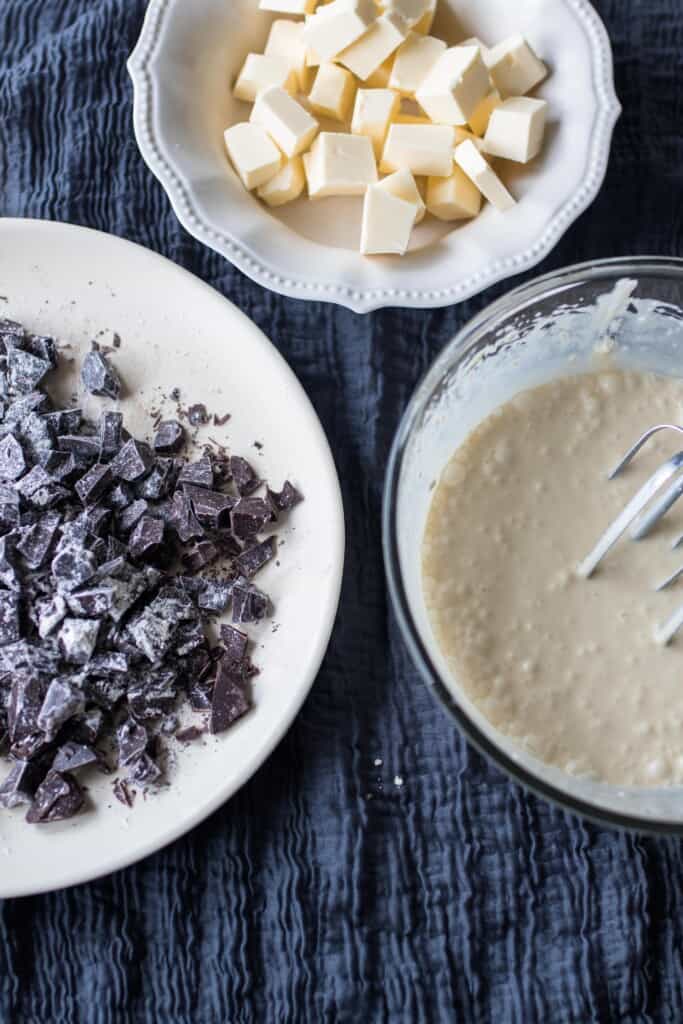 In the bowl of a stand mixer with the paddle attachment, quickly mix together
the flour, unsweetened shredded coconut, baking powder and salt.
Cut up very cold butter into 1⁄2 inch cubes. I would recommend putting the butter in the freezer for five minutes if you're not sure if it's cold enough.
Add the cold butter and run the mixer on low until the butter is broken down to the size of peas but no smaller. Be careful not to overmix at this stage.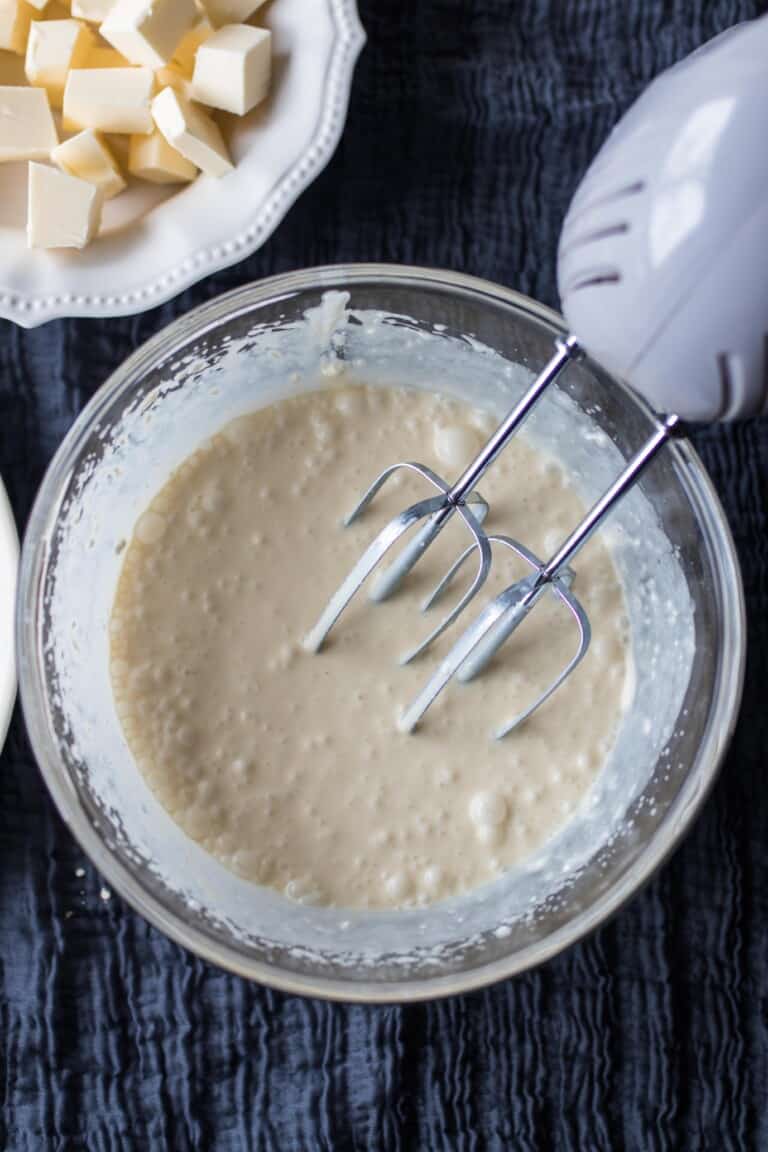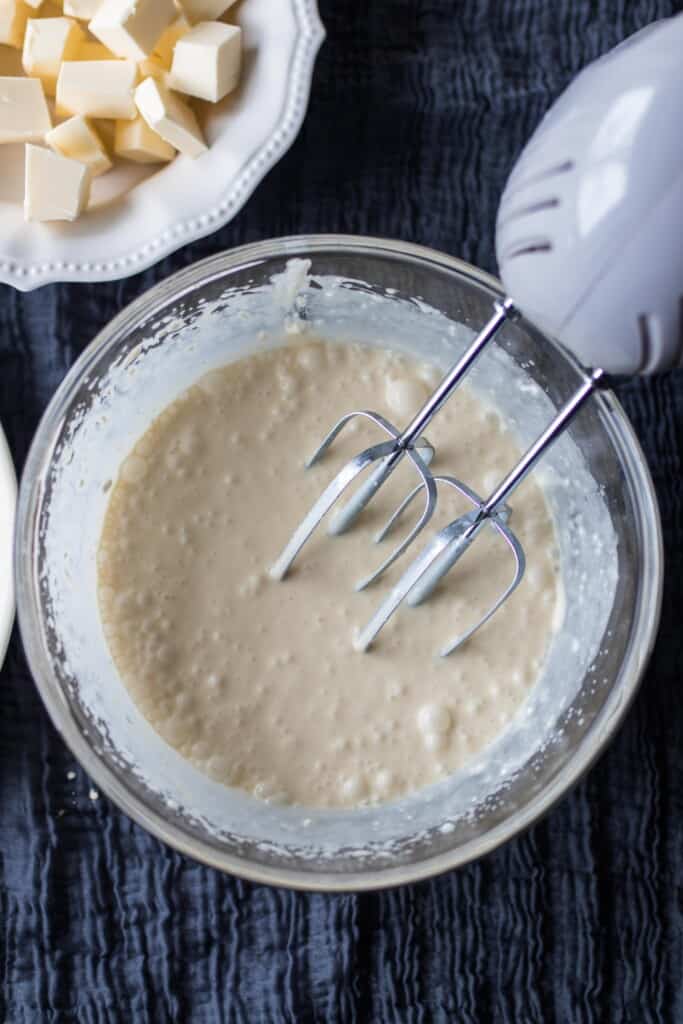 In a separate, medium-sized bowl, whisk together the coconut cream, eggs, maple syrup
and sourdough starter.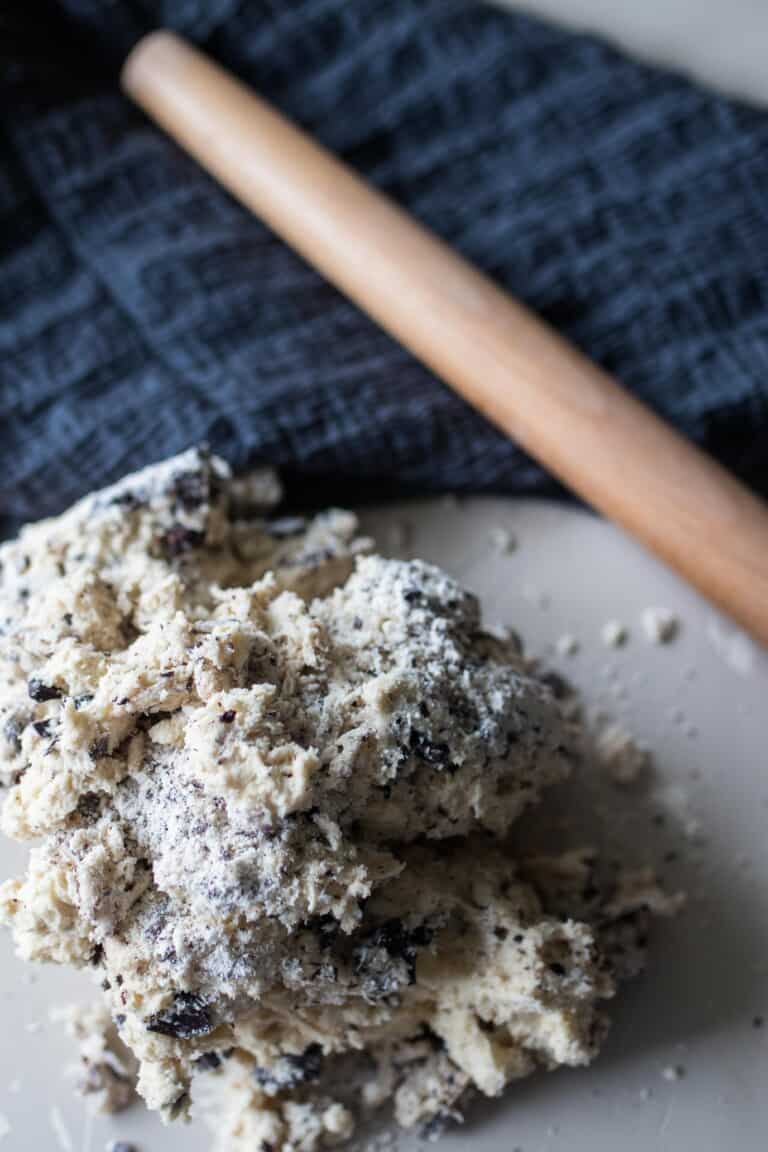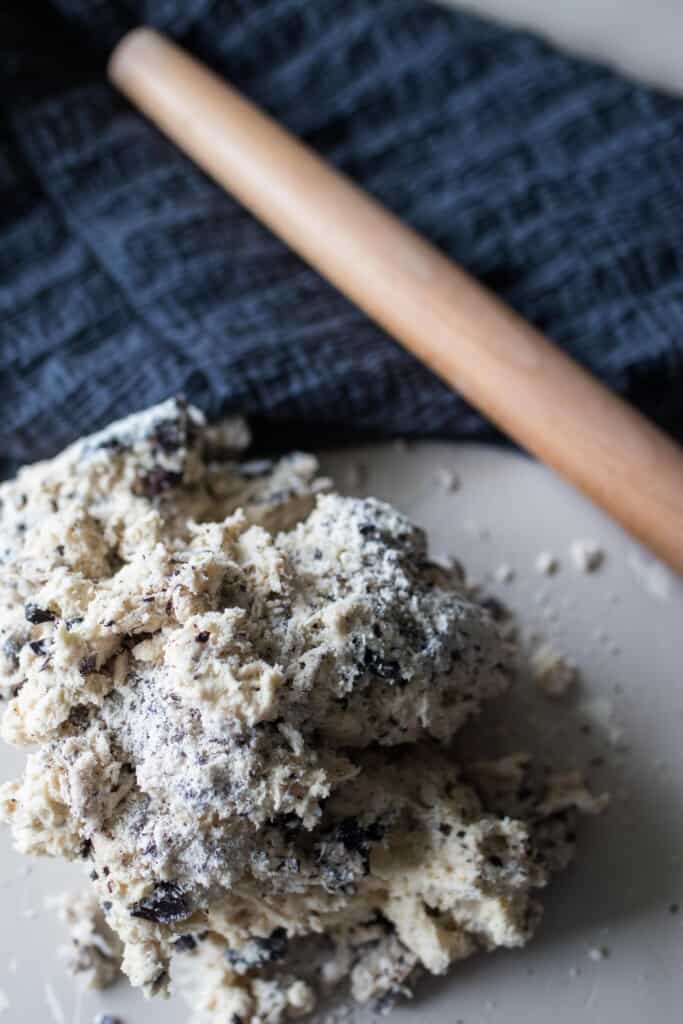 Pour the wet ingredients into the dry ingredients until just combined, then add the chocolate and stir again. There may still be some dry flour at the bottom.
Dump the dough out onto a lightly floured cold counter and knead the dry flour until incorporated, being careful not to over knead. You want to see bits of unincorporated butter visible in the dough.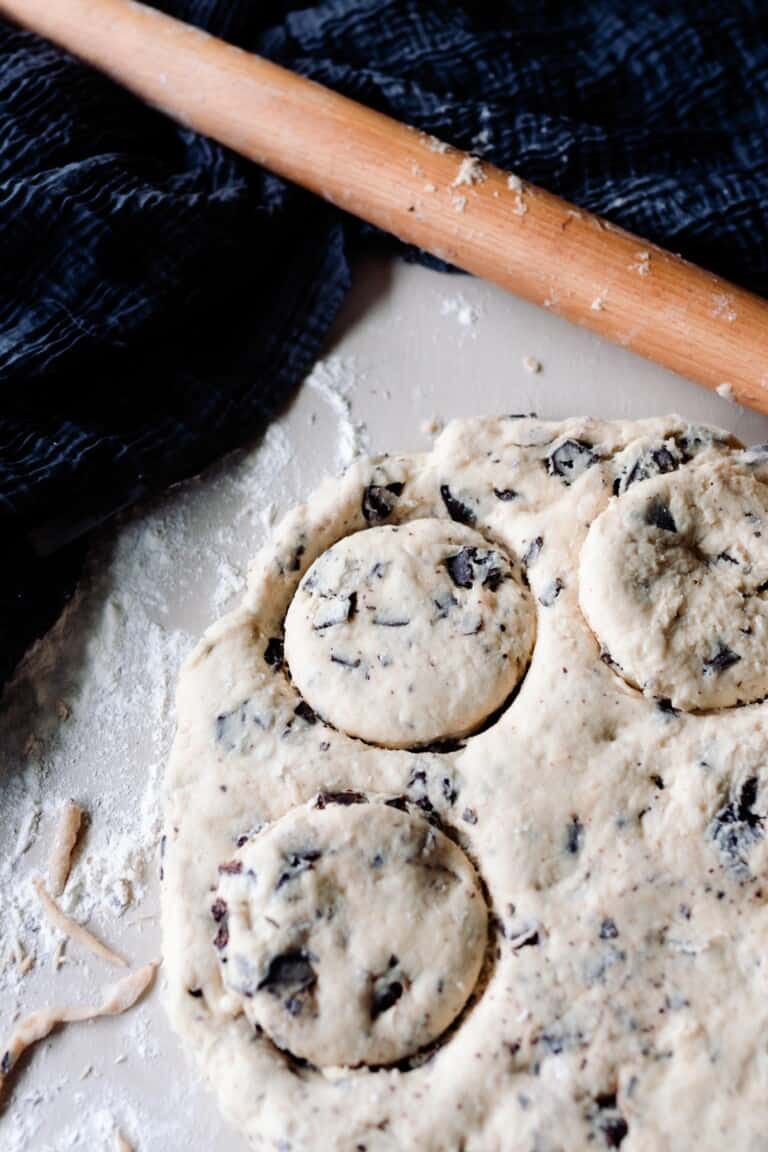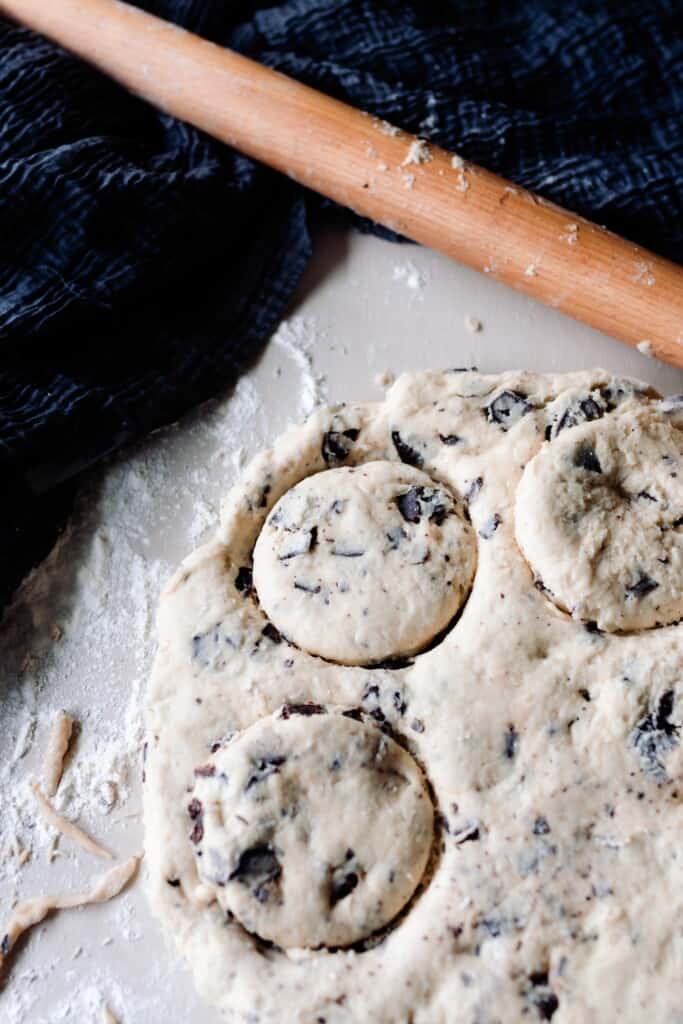 Roll Out Dough, Cut, & Bake
Flour a rolling pin and roll the dough out to a sheet approximately one inch thick.
Cut the dough with a round cutter sized approximately three inches across. I used a kitchen glass for this.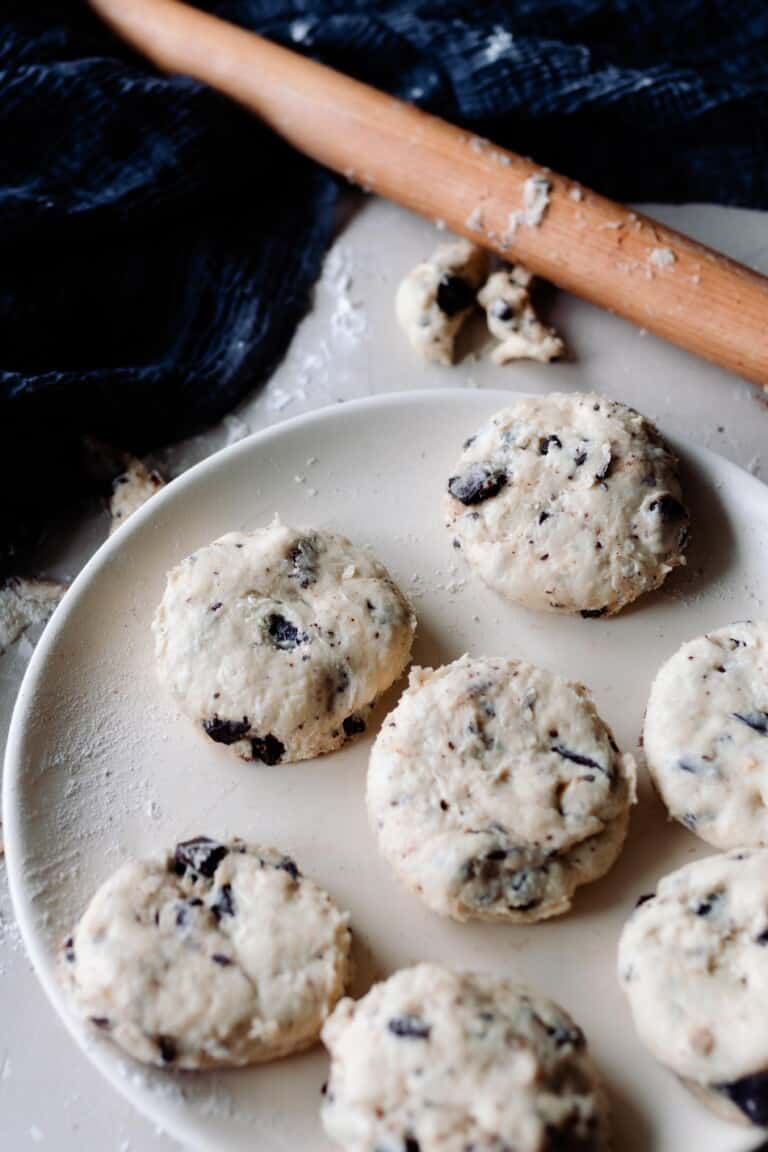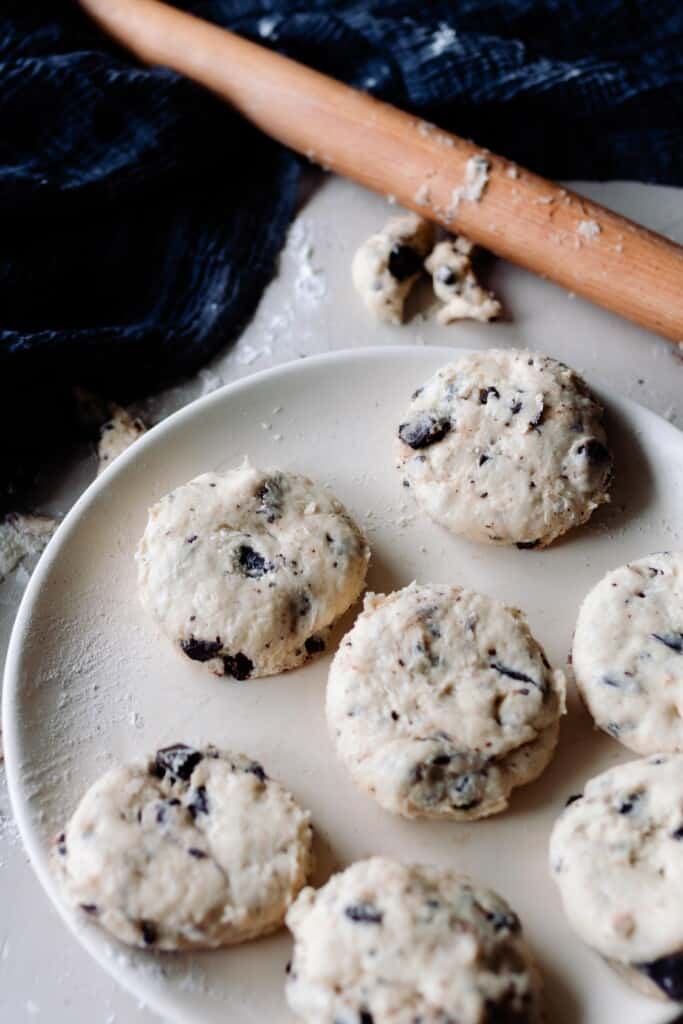 You will need to reroll the dough a few times to cut more scones. Arrange the scones across the two prepared cookie sheets and brush lightly with whisked egg wash, then sprinkle generously with sugar.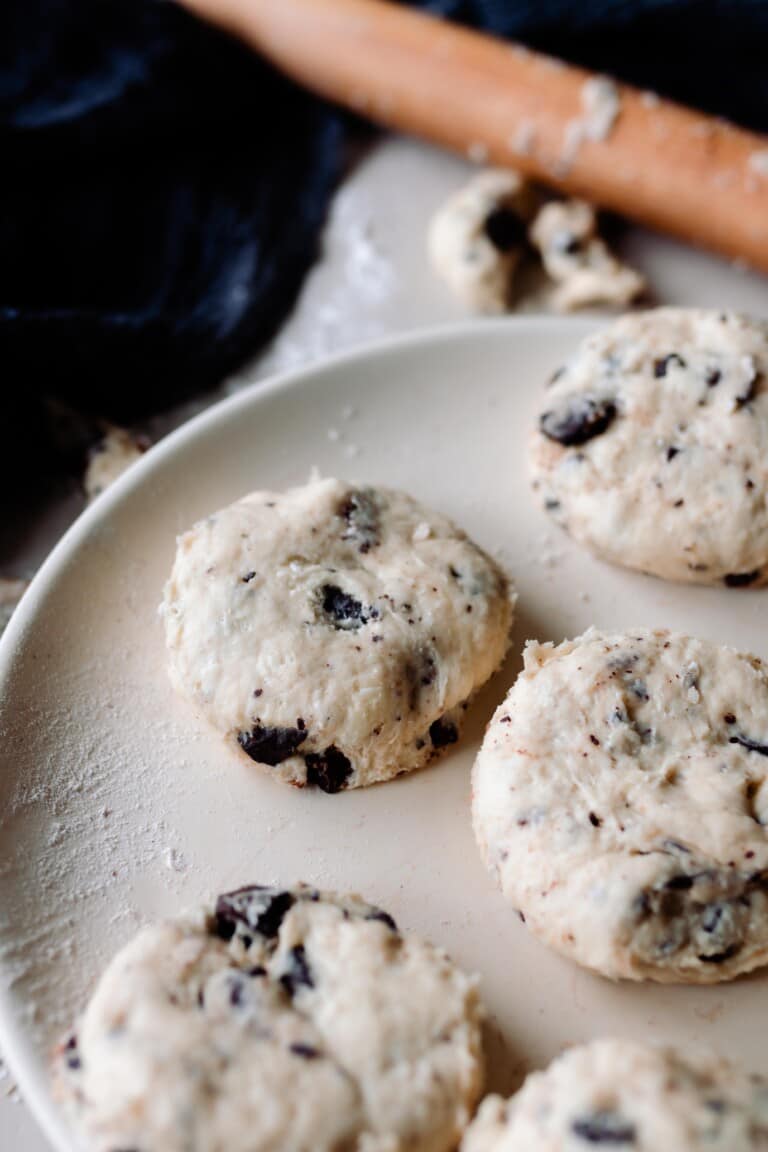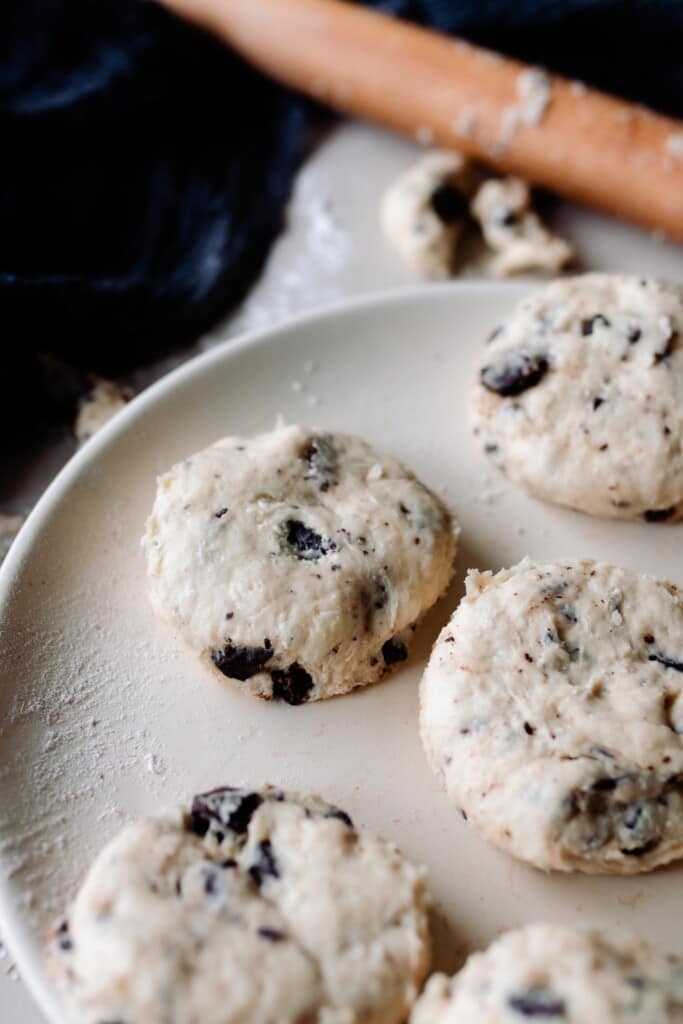 Bake for 20-22 minutes and switch the sheets in the oven halfway through the bake time to ensure the scones brown evenly.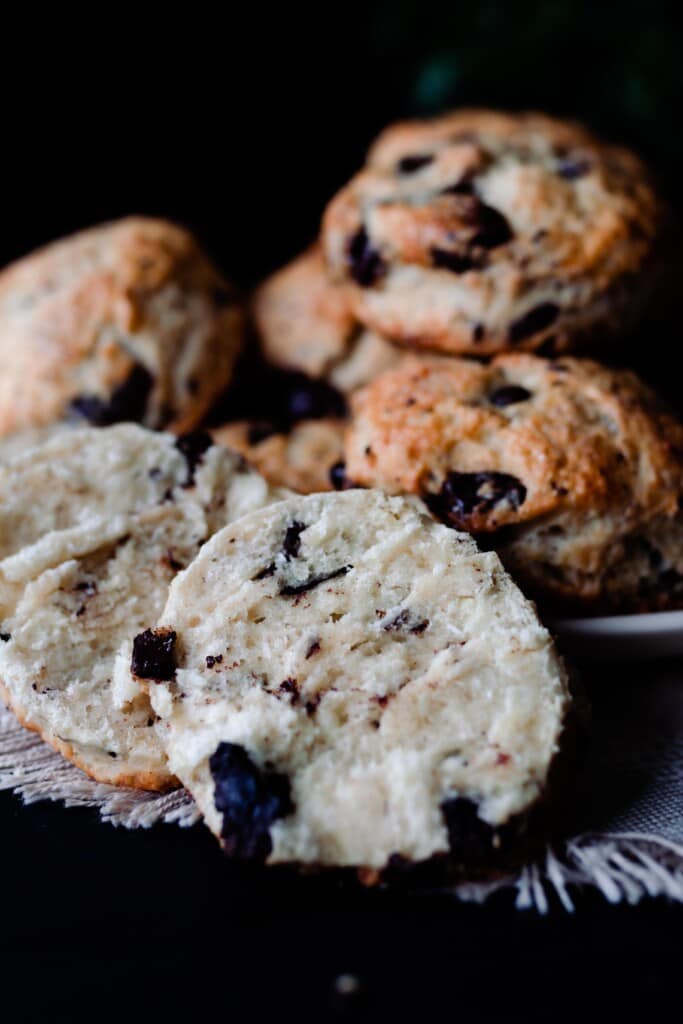 Long-Fermented Sourdough Scones
Prepare the scone dough using the directions above, omitting the eggs and the baking powder.
Place the dough in a large bowl, cover with a towel, and allow to ferment in a warm place for 8-12 hours.
Once you have allowed it to ferment, uncover the dough, sprinkle with baking powder, and add eggs. Knead it together until well combined. Be carful not to over knead.
Roll out on a floured, clean surface with a floured rolling pin.
Cut and bake per instructions listed above.
Find More Sourdough Recipes From The Farmhouse
If you try this recipe and love it, I would love if you could come back and give it 5 stars! Tag me on Instagram @farmhouseonboone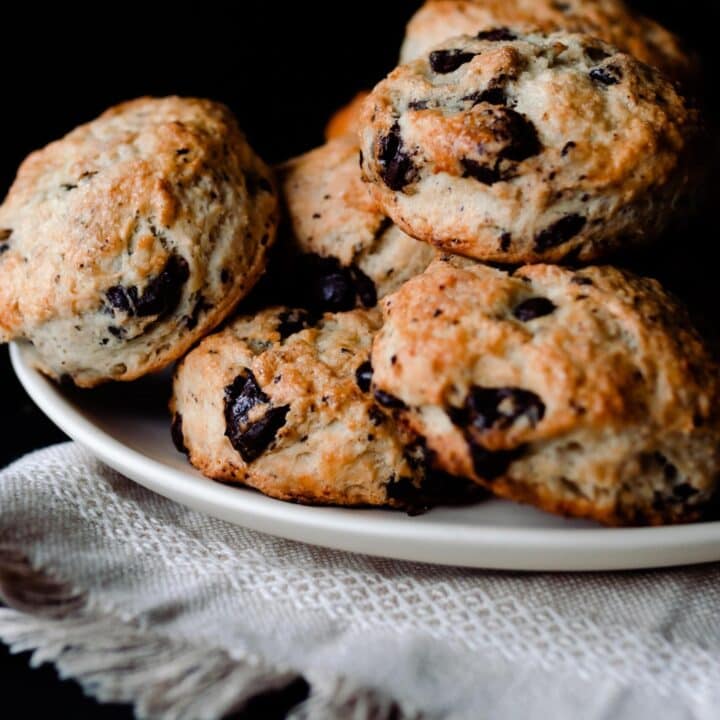 Chocolate And Coconut Sourdough Scones
Ingredients
Dry Ingredients
3 3⁄4 cups all-purpose flour
1⁄2 cup unsweetened shredded coconut
2 tbsp baking powder
3 teaspoons unrefined sea salt
8 oz roughly chopped bittersweet or dark chocolate (plus 2 tbsp of flour to coat the chocolate)
Wet Ingredients
1 cup cold butter, large dice
1 cup heavy whipping cream or cold coconut cream (from a can)
4 large eggs
3 tbsp maple syrup
1⁄2 cup of sourdough starter
To Top the Scones:
1 egg, whisked for egg wash
Sprinkle of sugar