Join me as I take you through my craft cabinet organization. I take this once super cluttered area to something that is super organized, clean, and easy to use.
This post is sponsored by Walmart and the new 'Home Edit' collection. All opinions are 100% my own.
Today was a busy homemaking day. I had all the regular things, like laundry, dishes, cleaning, and cooking. But also, I desperately needed to still take down the Christmas decorations and get my craft cabinet organized. 
I've tried organizing it before, and it just becomes a mess again. I don't have the luxury of having a craft room, and every single craft item I have gets stored in this one cabinet near the stairs.
Before…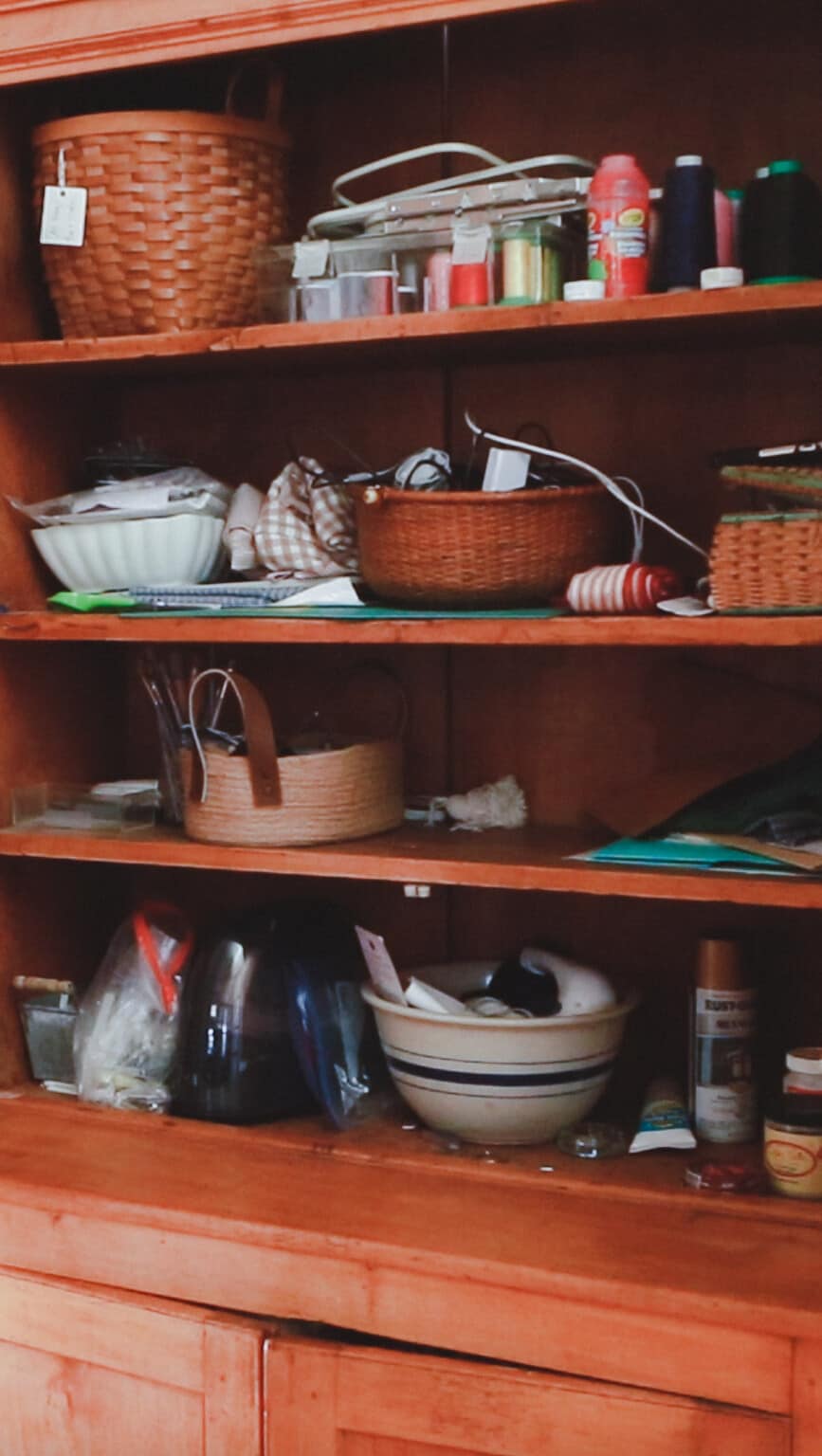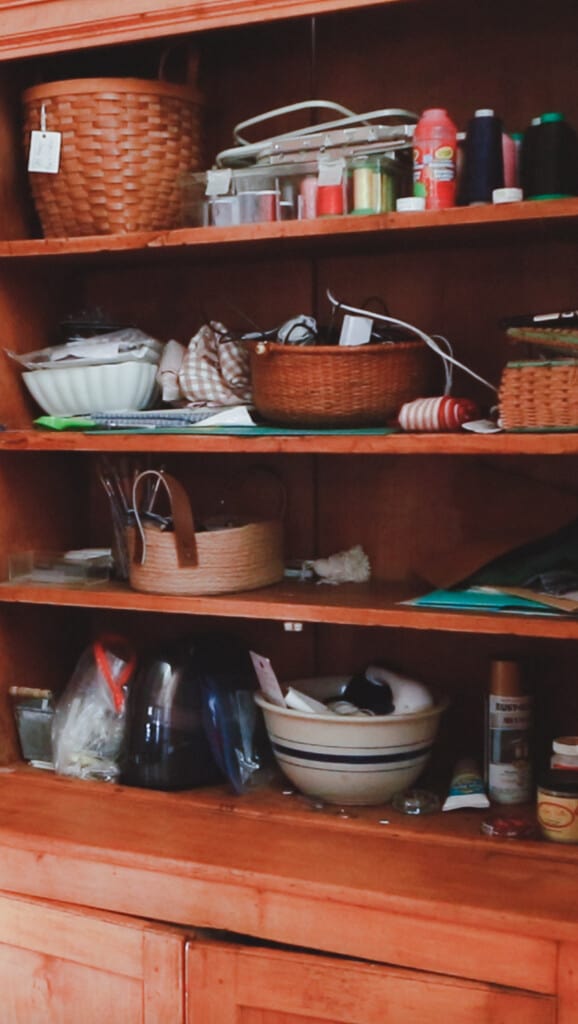 Thankfully, Walmart just launched a brand new organizing collection with The Home Edit, Clea and Joanna. They have made organizing so easy and beautiful and have included ways to organize every problem room in your home.
There is the Bathroom Edit, the Laundry Edit, the Pantry Edit, the Multipurpose Edit, etc. All various types of bins and turntables that fit together. It is like a modular storage system. The best part is that they are clear, so you can always see exactly what is in each container.
So, I thought this would be the perfect solution to my constant problem area… the craft cabinet. But I can also see how these storage containers would work really well in other areas of my home.
I love all the possibilities of excellent organization!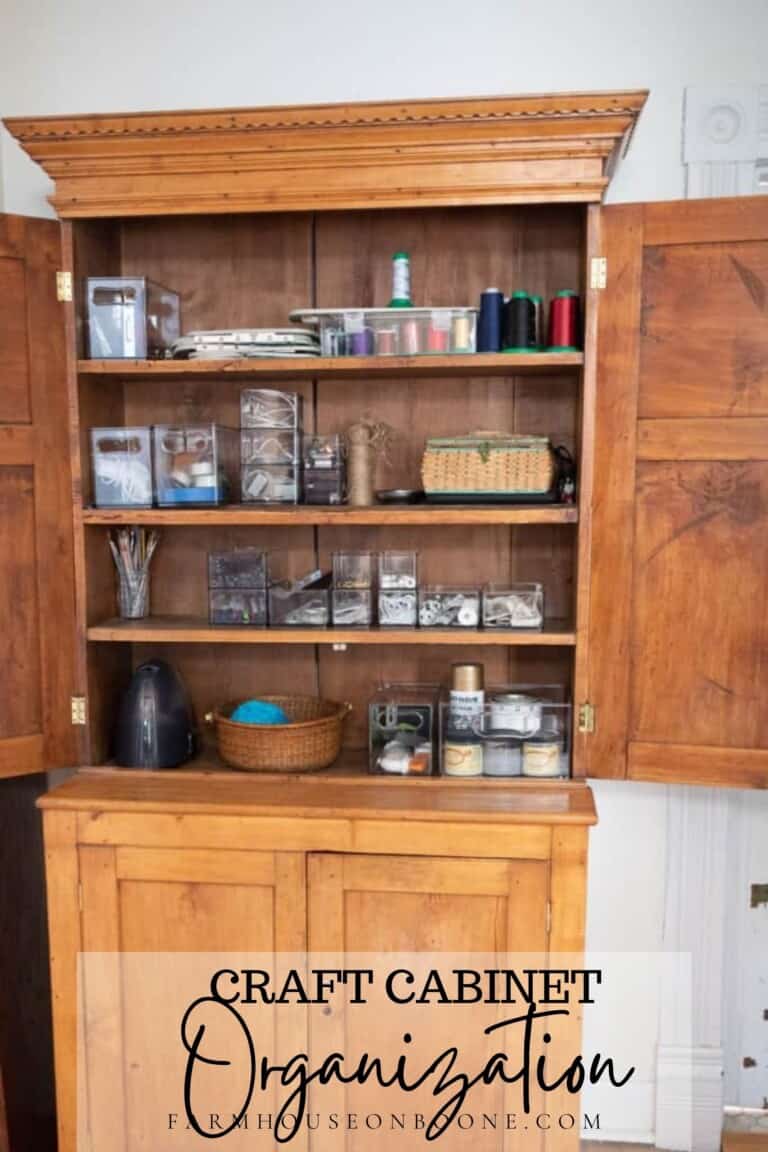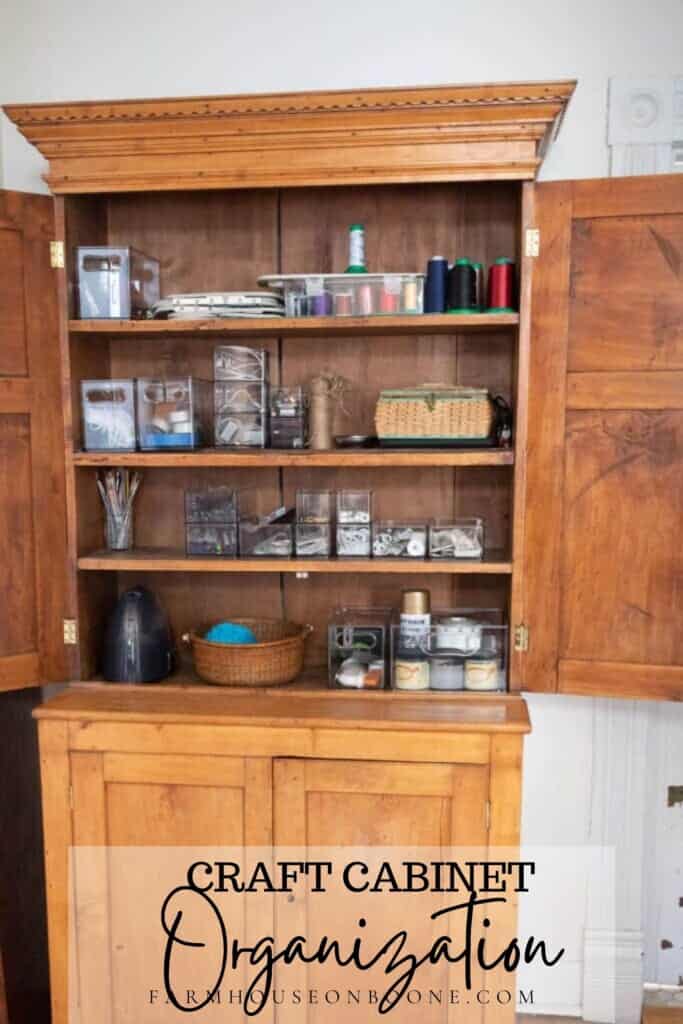 Tips:
Make sure you give yourself enough time to really get organized and not stress through the process. It may take more than a day if you have an entire room to organize – or only an hour or so if you have a small cabinet.
Take everything out to start. It's much harder to try to organize as you go, rather than take everything out, tossing things that need to go during the process, and then organizing it by category or however you want to do it before placing it back into the cabinet.
Group like items together for easy access.
This post contains affiliate links, which means I make a small commission at no extra cost to you. See my full disclosure here.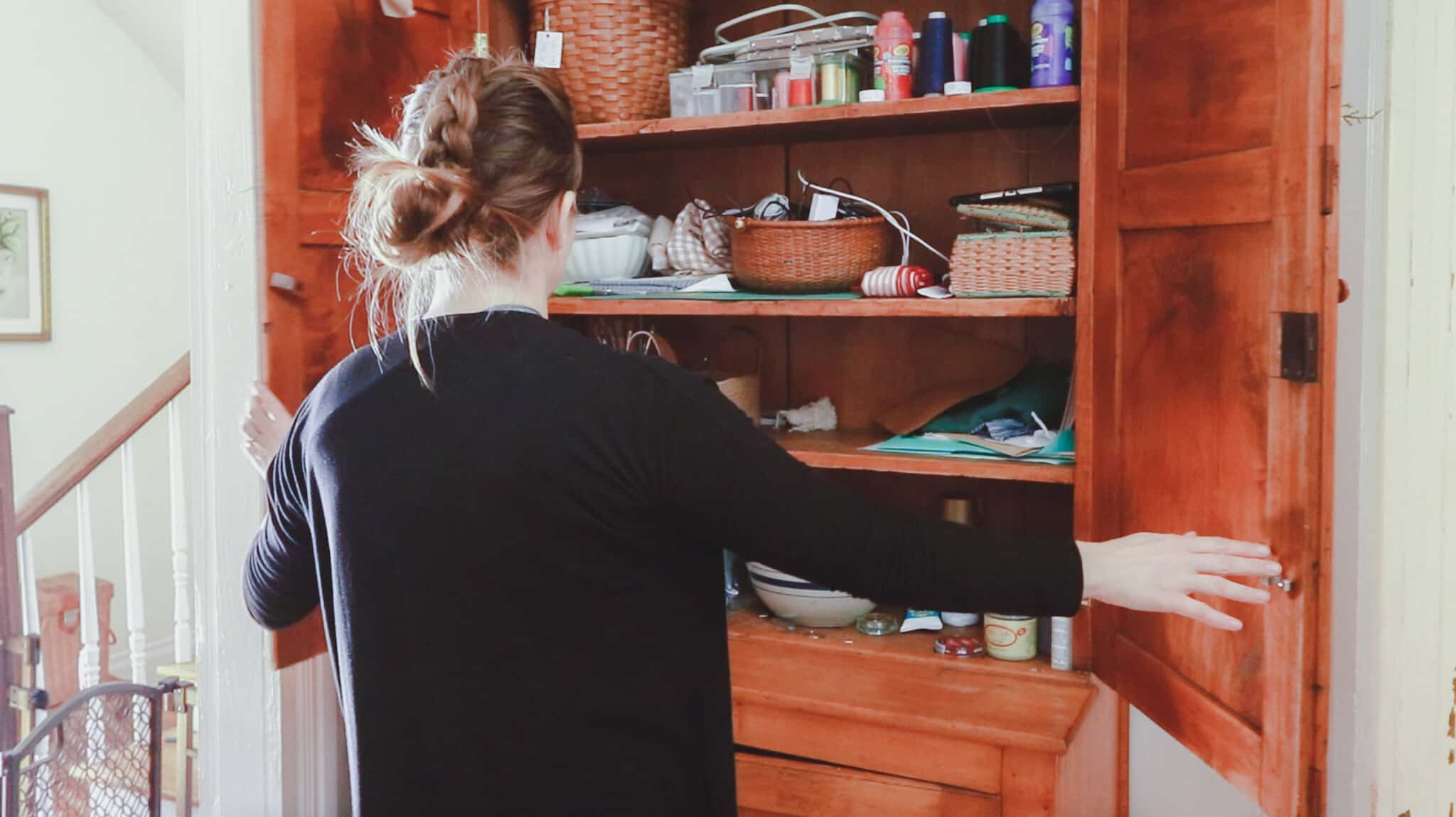 How do you organize a craft cupboard?
This will all depend on what types of crafts you have and how you choose to organize them. I recommend trying to organize things by type of craft. You can also organize by color, shape, purpose, etc. 
You want a system that works for you and that is easy to keep tidy.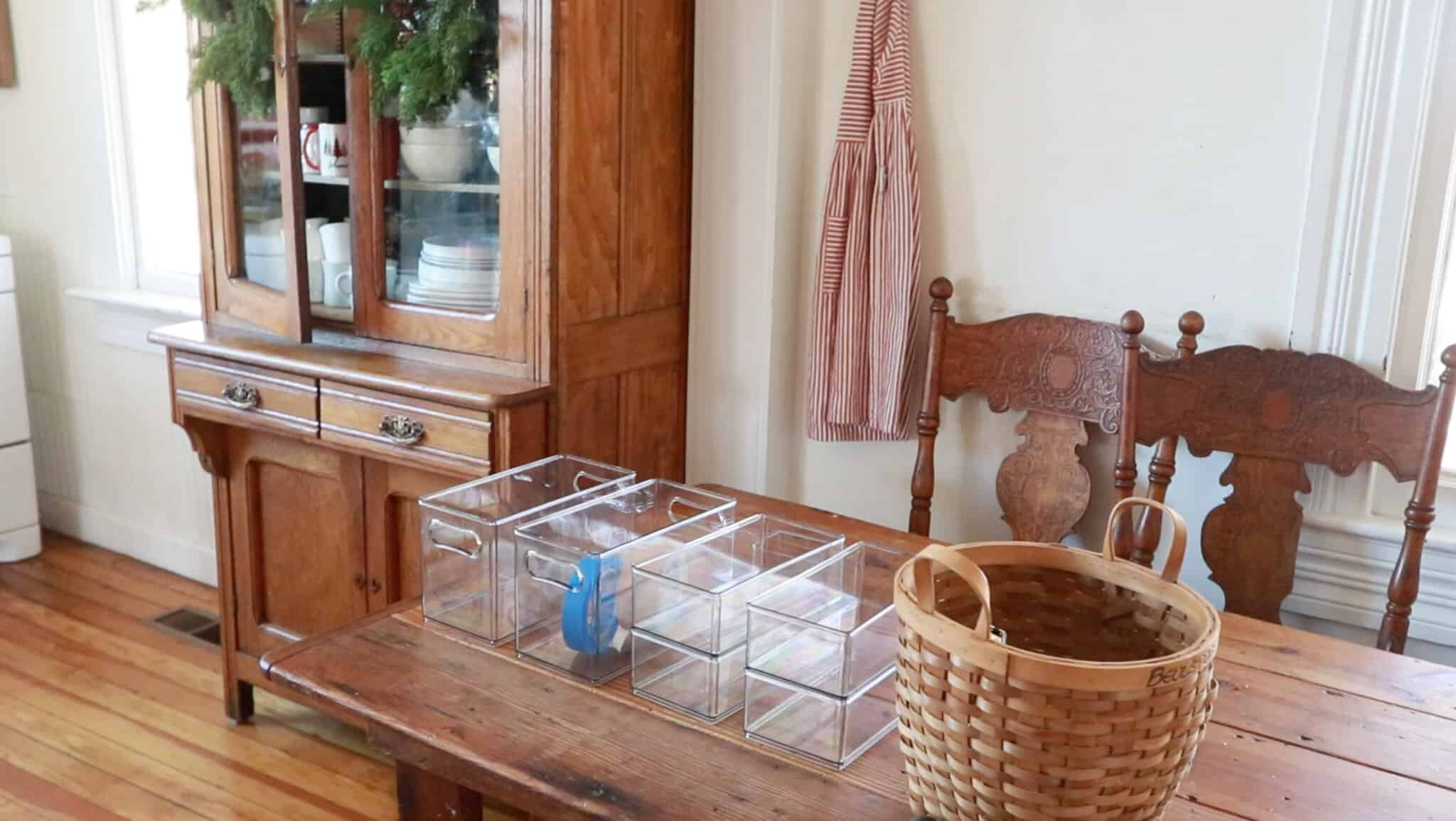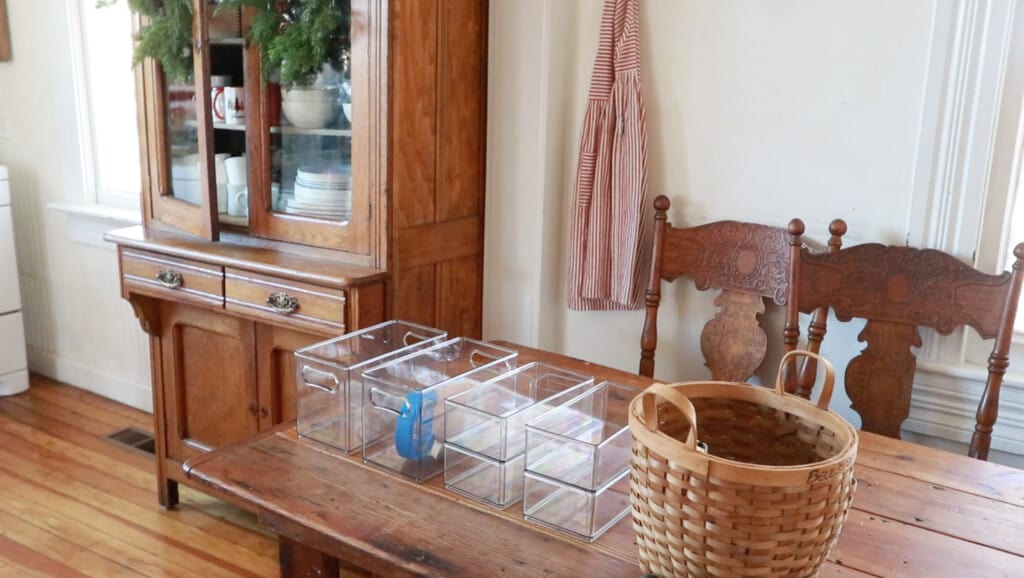 How do you organize craft supplies in a small space?
The best thing you can do is utilize vertical space. Try stackable bins or adding some shelving. This allows you to use space that would have been wasted previously.
Another tip is to downsize and reduce the amount of things you have. Most of the time, we have too many things and decluttering can really help organize and clear up more space.
If your space contains drawers, instead of just throwing things in the drawers, try adding drawer organizers to keep things tidy and in their place.
Shop The Post: Craft Cabinet Organization

My Favorites From The Collection
The Home Edit 8 Piece Multipurpose Edit, Plastic Storage System
5 Piece Pantry Edit, Plastic Modular Storage System
The Home Edit Ornament Organizer Box, Holds up to 64 Ornaments
The Home Edit 5 Piece Laundry Edit, Plastic Modular Storage System
10 Piece Plastic Bath Edit, Plastic Modular Storage System
The Home Edit Low Wall Turntable, 10" Plastic Modular Storage System
Everything: Narrow Bin, 10" x 5" x 6" Plastic Modular Storage System, 2 Pack
The Home Edit Everything: Large Bin, 10" x 10" x 6" Plastic Modular Storage System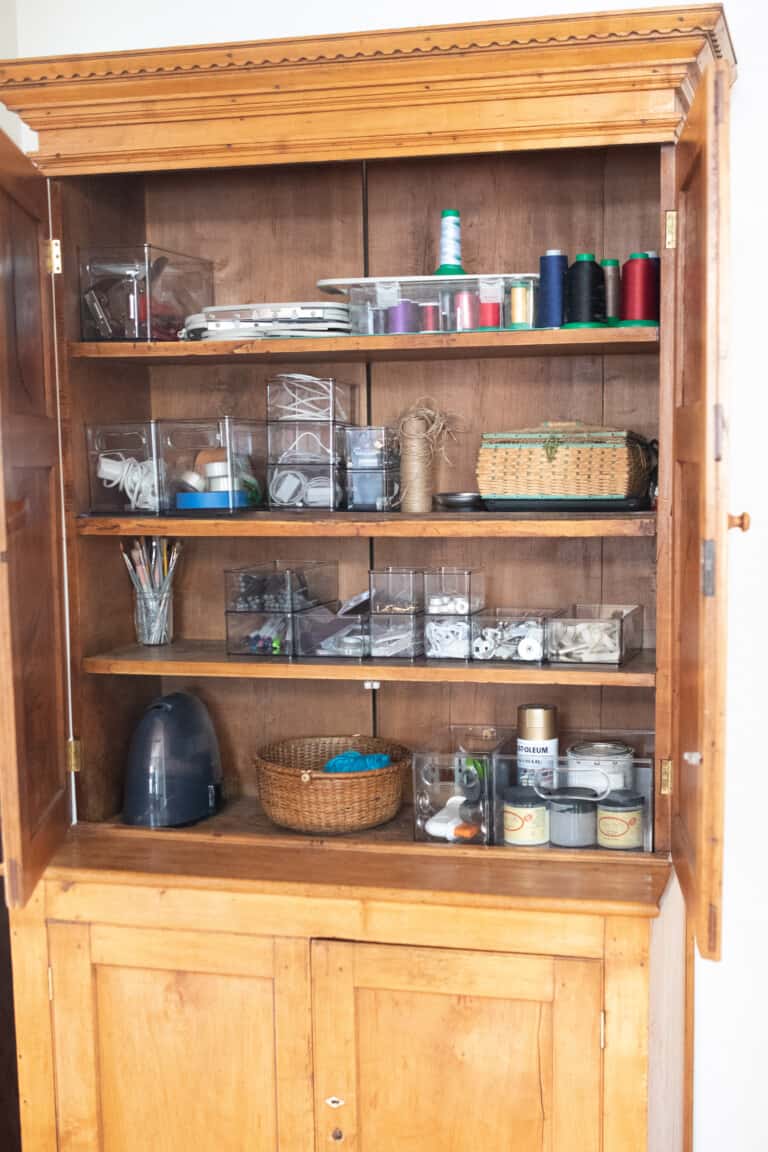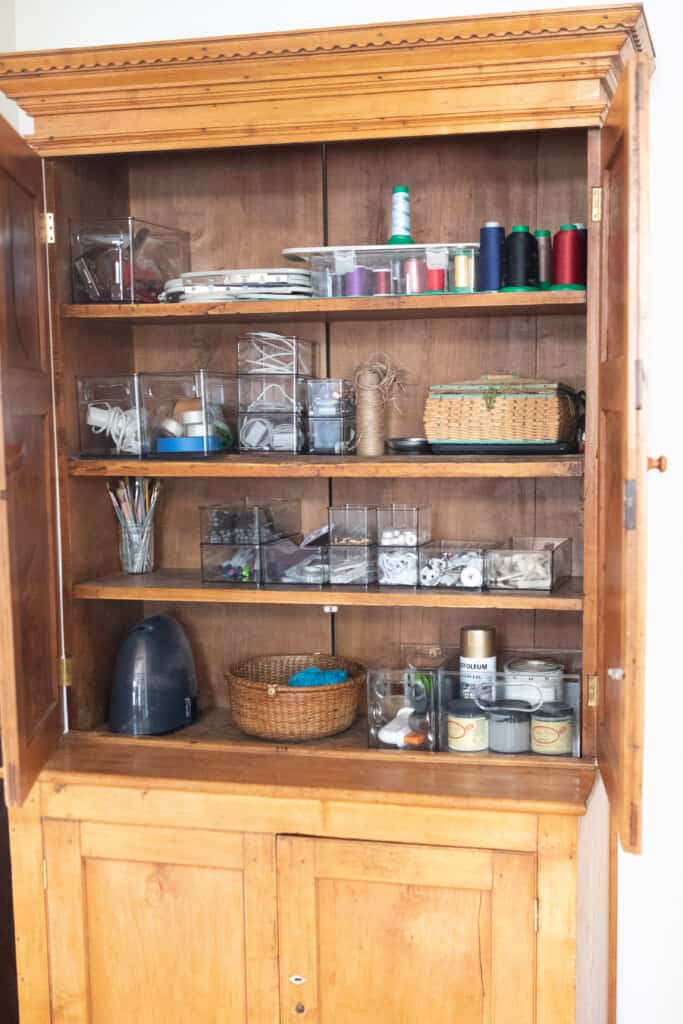 Craft Cabinet Organization
First, I decluttered several things we no longer needed. I really only kept things that we use on a regular basis or will use in the future.
Next, items were grouped together based on use, or if they were the same type of item (i.e. paint, glue, markers) or for the same craft (i.e sewing).
Then, everything got a home in clear, plastic, stackable storage containers. The stackability really helps increase the space available for other items. I used: The Home Edit 8 Piece Multipurpose Edit, Plastic Storage System, Everything: Narrow Bin, 10" x 5" x 6" Plastic Modular Storage System, 2 Pack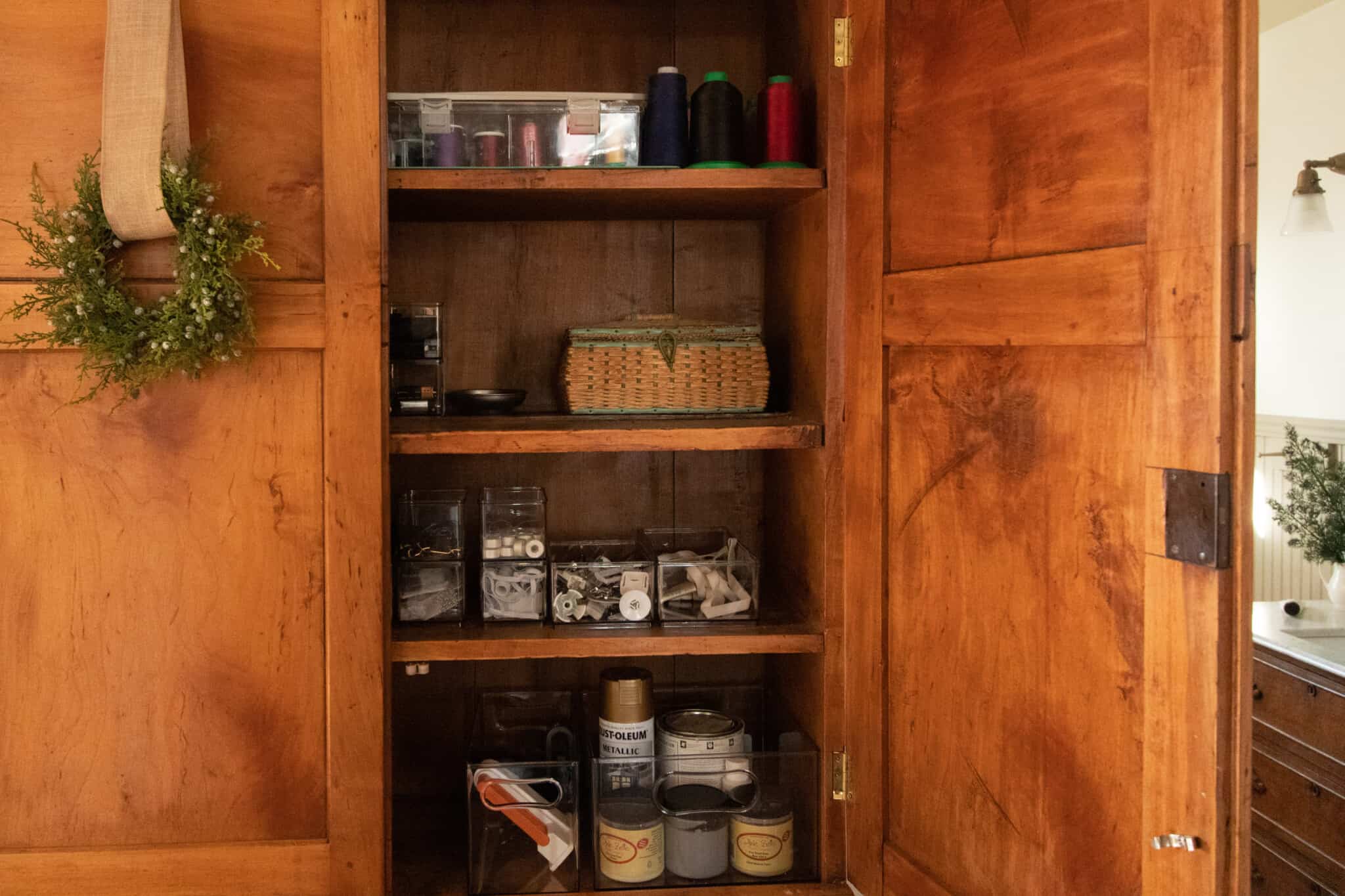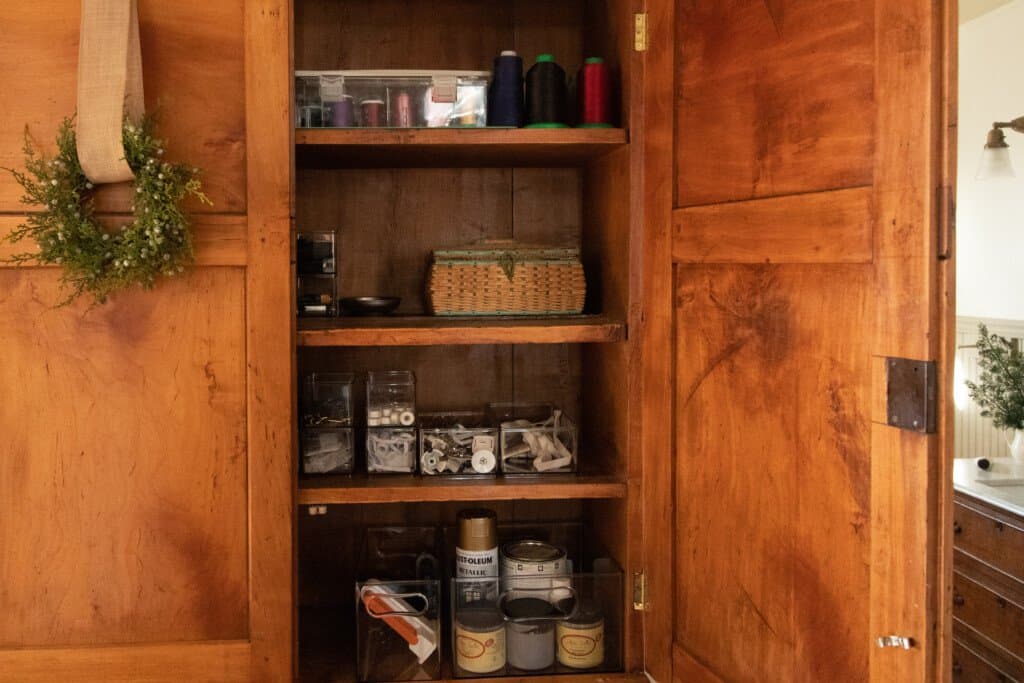 I separated the big basket of chargers into separate bins for android, apple, misc. chargers, and charger blocks. 
Each container was placed into the craft cabinet based on category. Keeping all the sewing items together, paints and paint brushes, adhesives like tape and glue, etc.
All the organizing allowed me to have more space to also add a few other miscellaneous household items, like pens and batteries. Organizing and doing inventory can easily be a dreaded task, but with the right tools and tips, I think you'll find the result to be incredibly satisfying and relieving!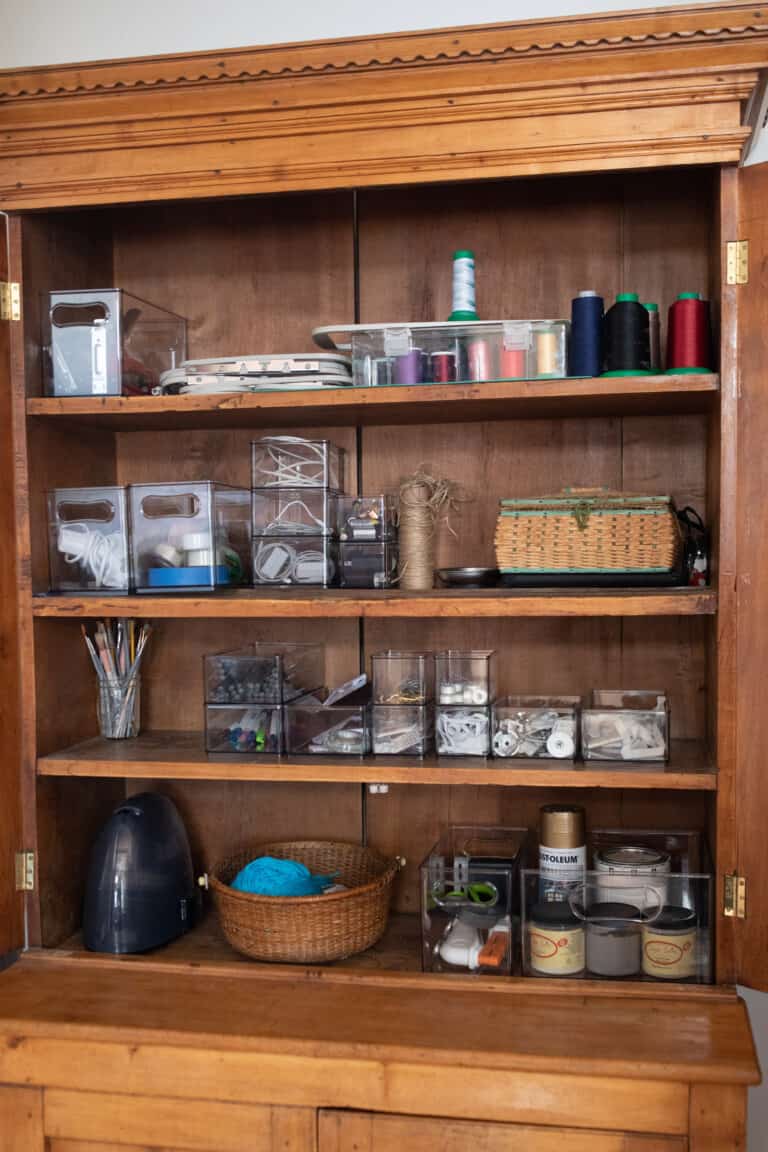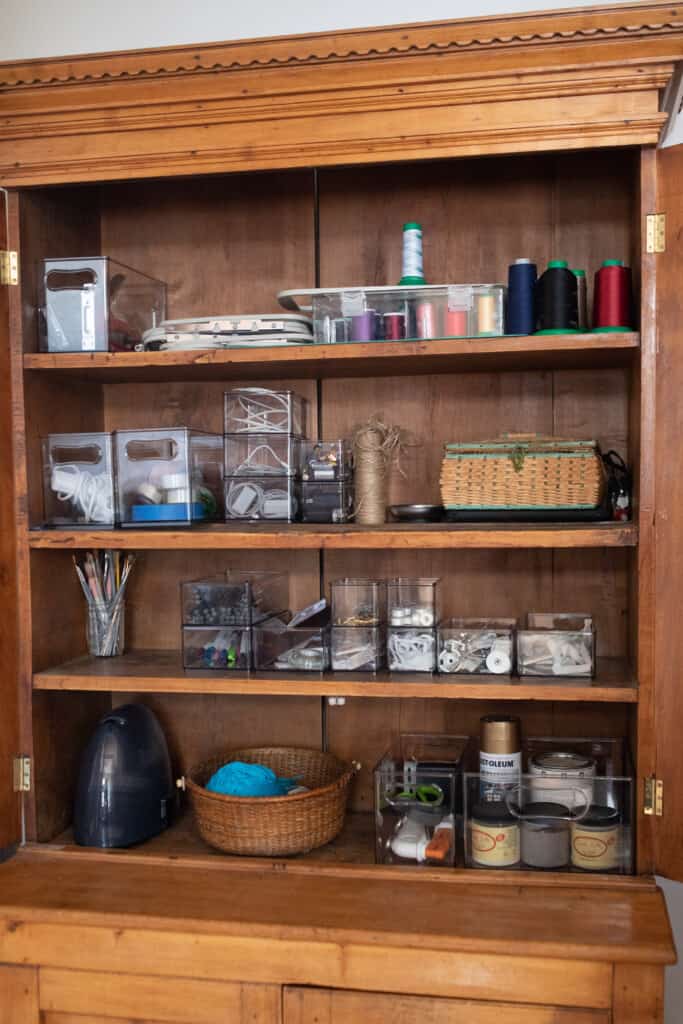 Not only is the craft cabinet organization aesthetically pleasing, but also super practical. Everything has its place and when I'm trying to do a quick project, I won't be standing in front of the cabinet trying to find the items I need, taking up way more time than necessary.
Time is of the essence as a mom.
Thank you Walmart for sponsoring this post. Make sure to check out the new Home Edit line to help you organize and declutter this year.
Find More Organizational Ideas: