Ok friends, the following pictures are slightly difficult to share.
We have lived in our 1920's bungalow for almost nine years now, and the front porch has been in dire need of a renovation the entire time.
So, although, we have been super busy painting, ripping up carpet, tearing out an entire bathroom, installing new quartz countertops, building new built-ins and painting some more, we completely neglected the exterior of our home.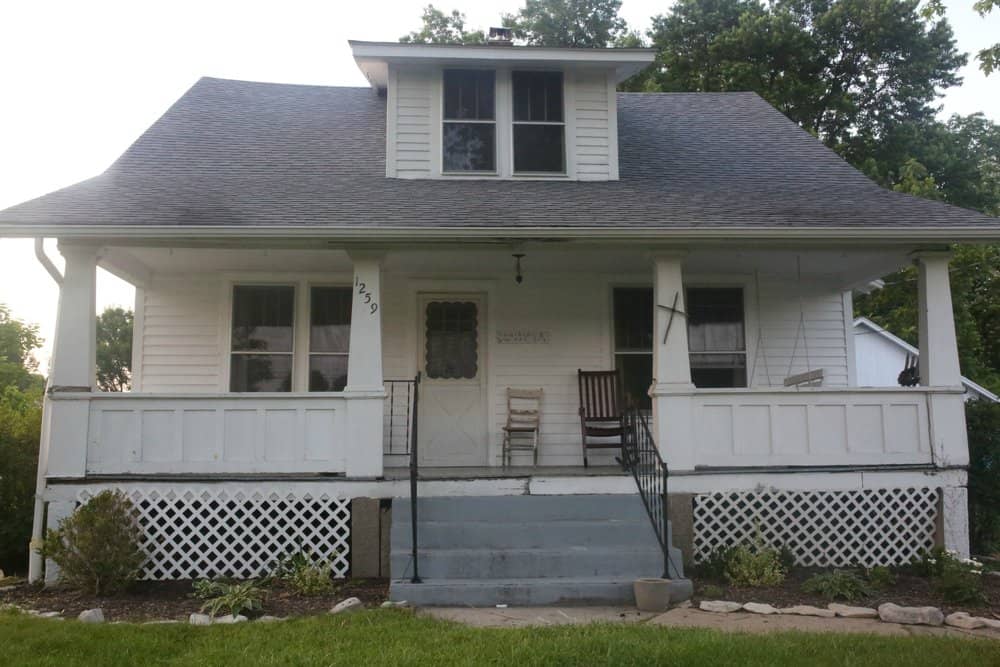 Oh sure, when you just look at it from the prospective of a casual passerby, it may not look like it is in complete ruins.
But, when you step a little closer, it obviously needs a pretty big overhaul.
And the curb appeal is sorely lacking.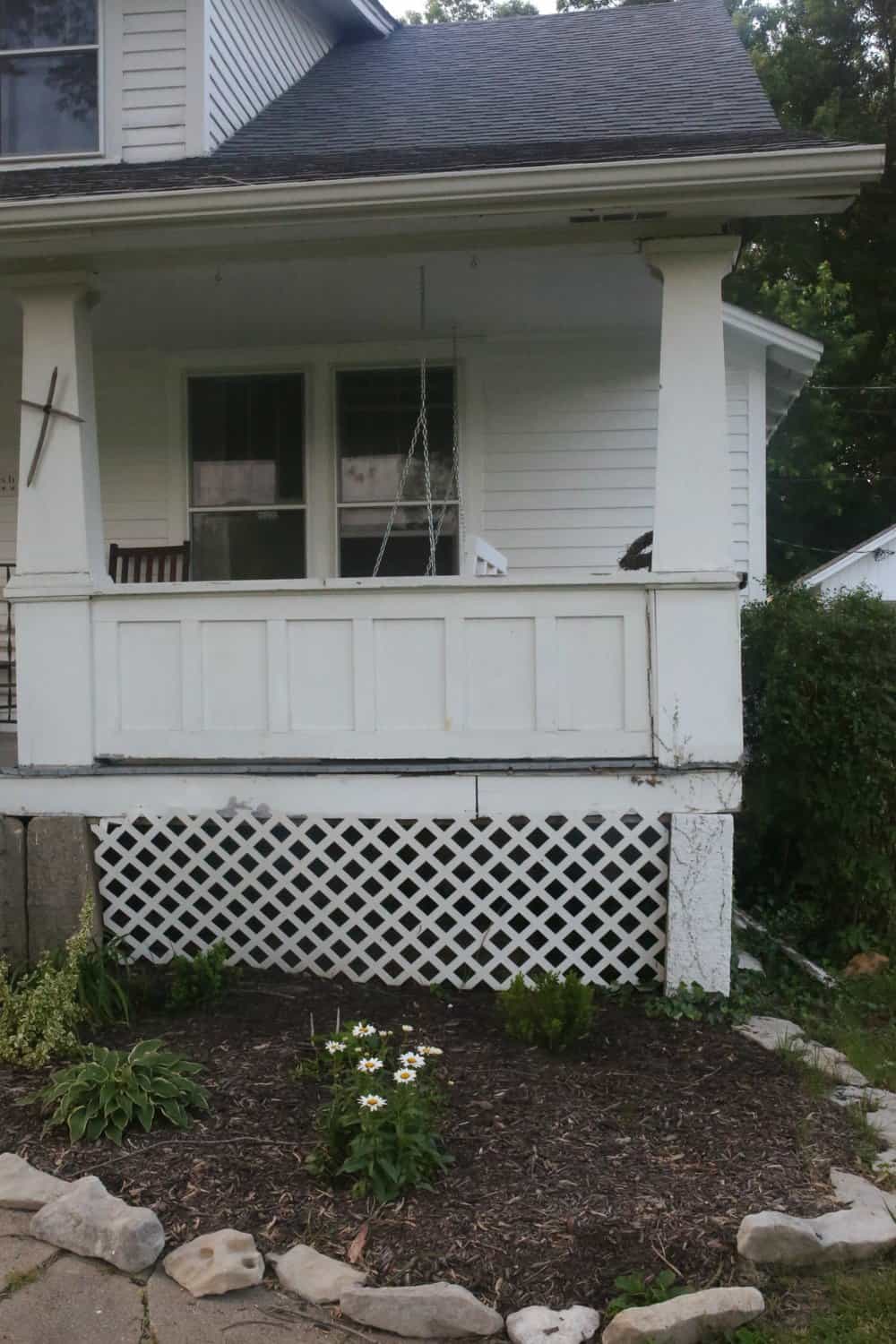 Currently the old craftsmen pillars are no longer tight between the railing and the roof, because the porch has become un-level over the years.
Last time we had a storm, the pillar on the far right actually blew out and was on the ground.
So, they're not doing much for support.
The boards around the front of the porch are water damaged and chipping.
As you can see in the photo below, they are even falling off in some areas.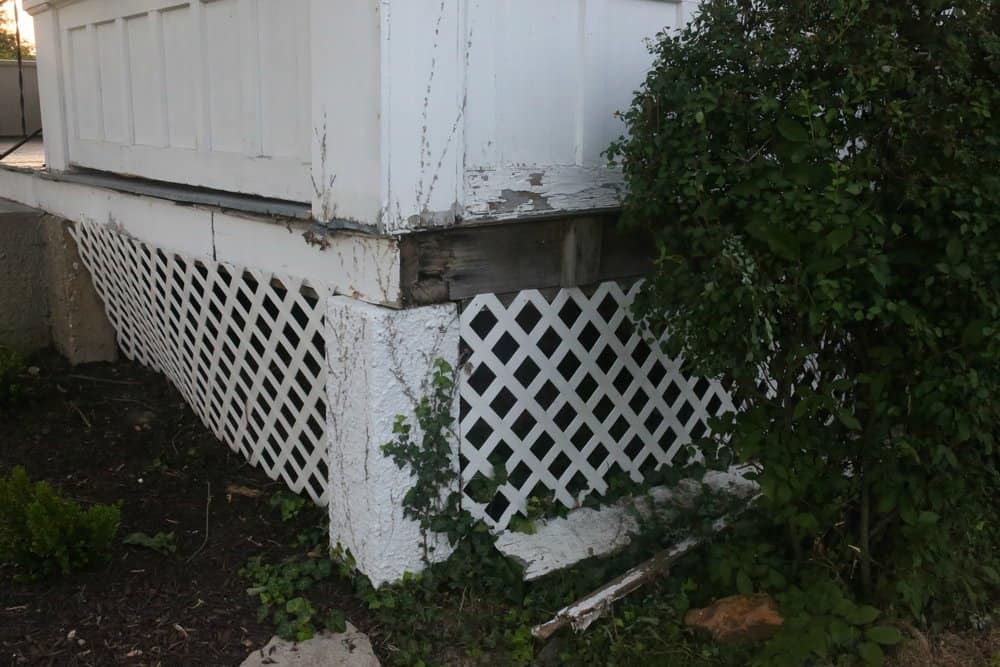 The lattice below the porch has been falling off for a while now, and is pretty much just propped up there.
Yikes.
Well that is all about to change!
I'm sure this will be one of those projects that when it is finished I will say "why the heck did we wait so long to do this?"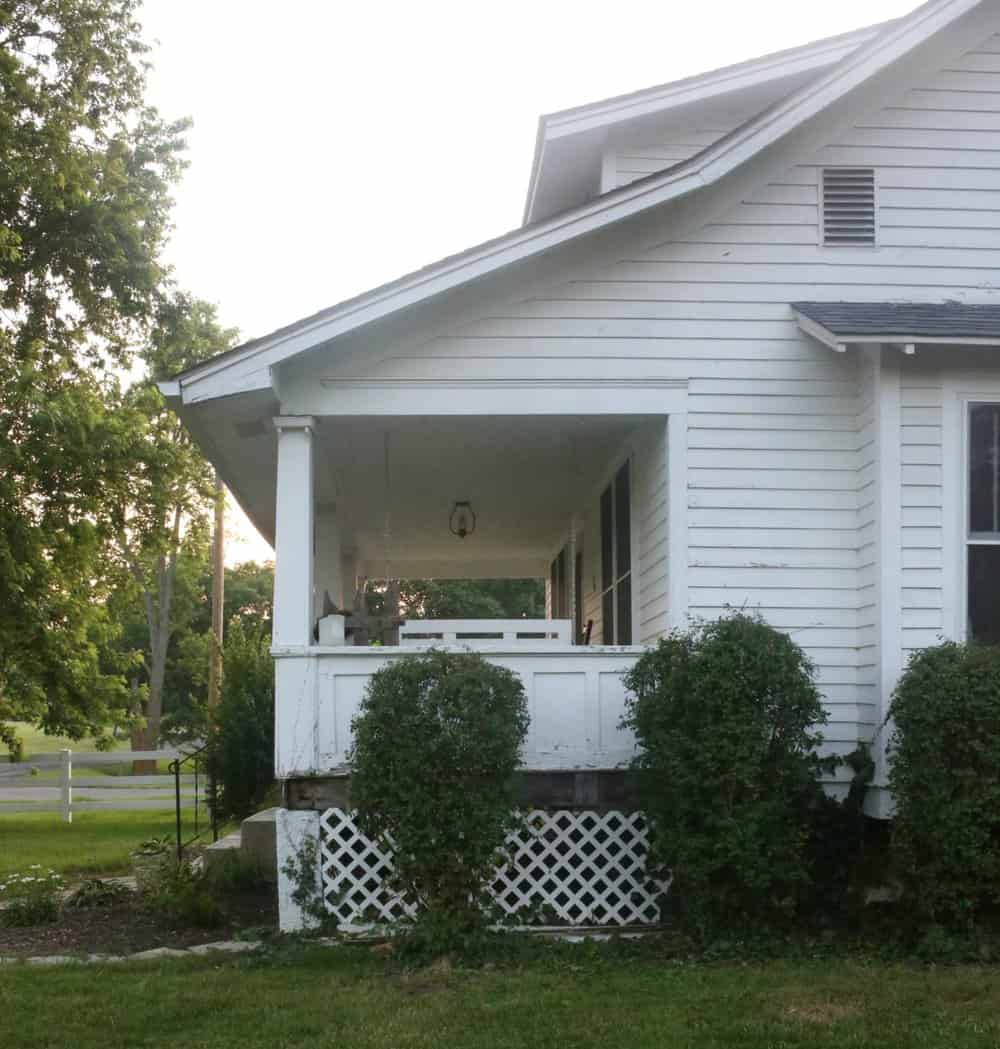 I have partnered up with Lowe's Home Improvement to completey remodel this thing and add some much needed curb appeal.
We have always purchased all of renovation supplies from Lowe's, from the lumber we used to build our bathroom vanity, front porch swing and farmhouse table, to the premade upper cabinets we used for our farmhouse built ins.
When we did the shiplap wall in our master bedroom, the employees there were more than happy to cut my four sheets of plywood into 6″ strips. I felt kind of bad asking, but judging by the popularity of shiplap on Pinterest, I bet they're used to it by now!
I stopped by to do the same thing for the plywood we used to cover the popcorn ceiling in my daughter's room. They're going to know me by name before long!
We have quite a few items on the checklist for this makeover.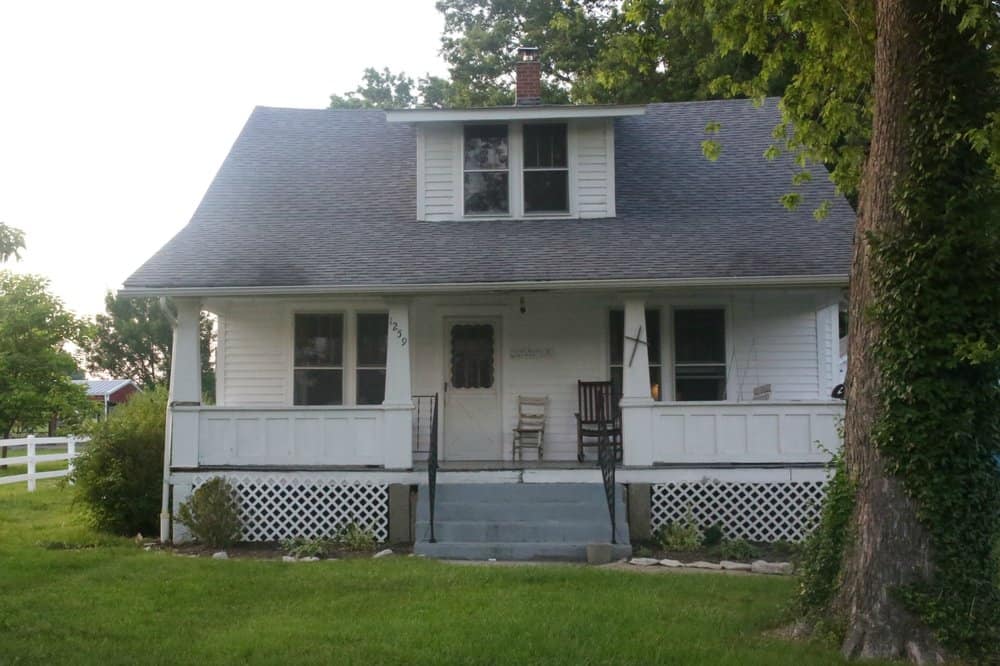 Curb Appeal Checklist
Remove old pillars
Rip up the old flooring
Take off the lattice
Remove old iron stair railing
Remove the solid railing around the porch
Take off old screen door
Paint the original door
Install new flooring and stain
Add new pillars
Build new railing
Cover the steps with wood and paint
Add new rocking chairs
Replace the old light fixture and wire in another one by the door
Add solid skirting around the porch
Add hanging plants
Spruce up the landscaping and concrete walk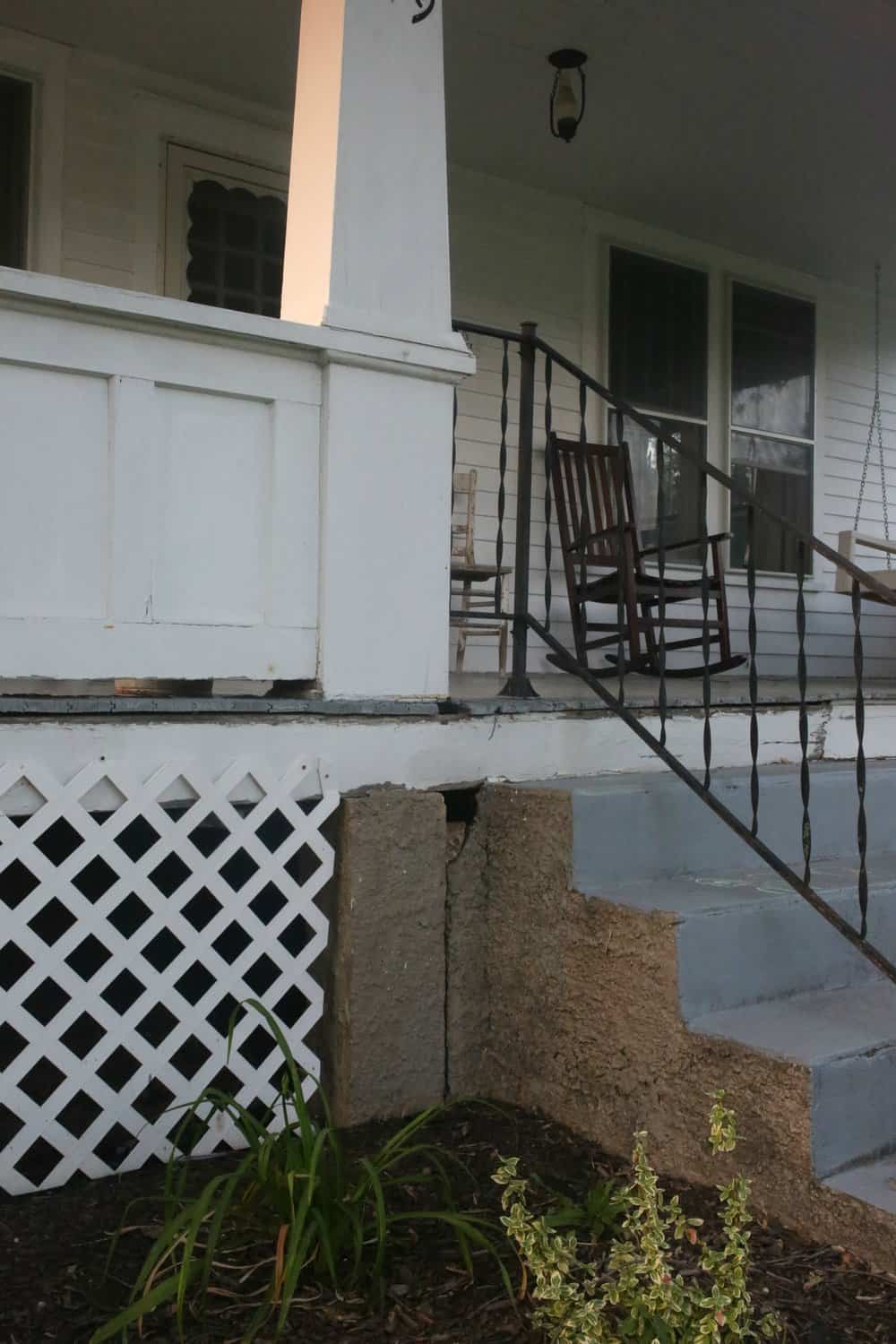 We obviously have our work cut out for us!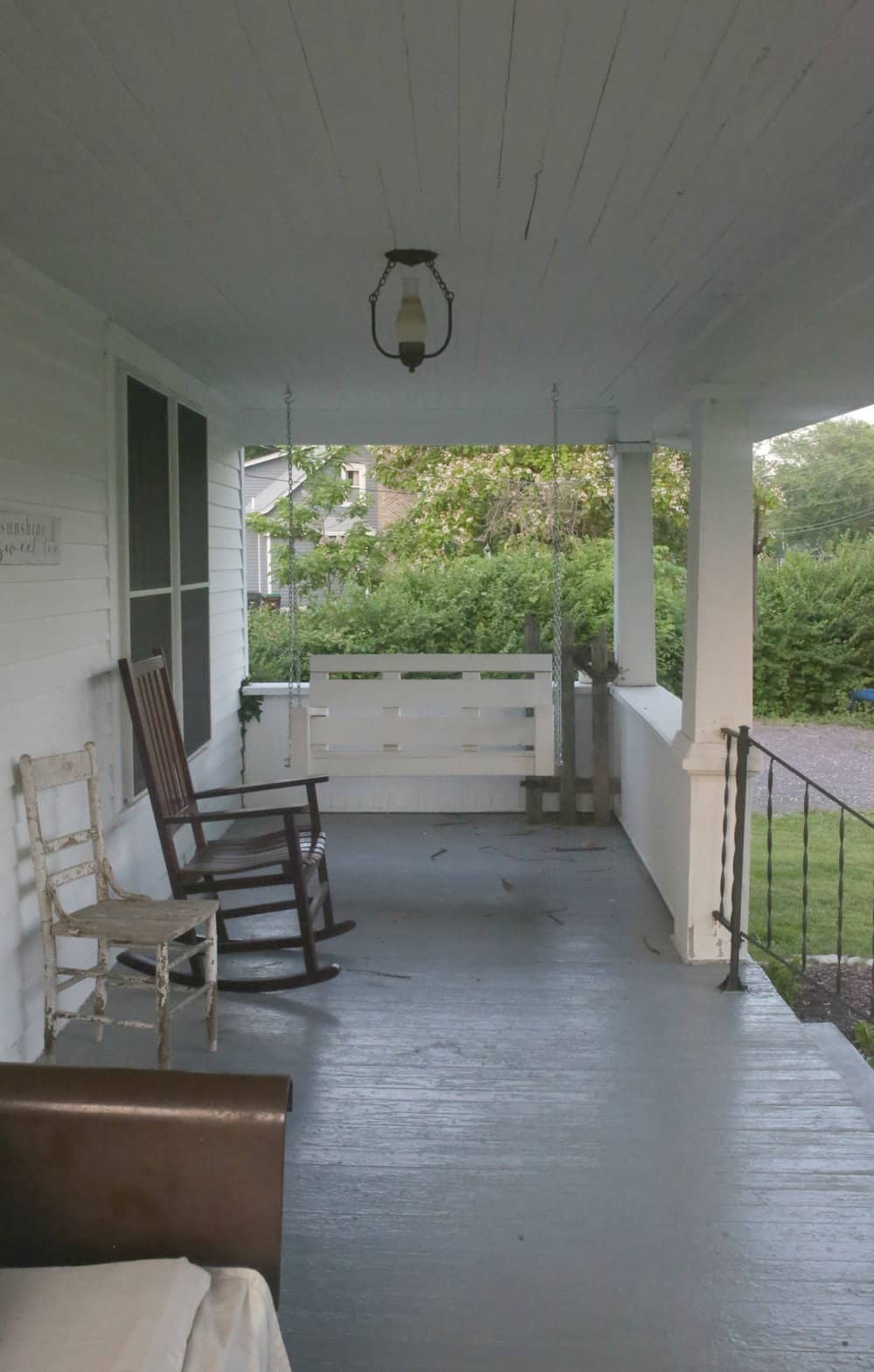 I am going for a modern farmhouse style porch design with this makeover.
Think white rocking chairs, lantern style light fixtures, ticking stripe pillows, stained wood and green plants.
I am going to stay in my usual color palette of gray, black and white with some blue accents and green plants.
I am thinking about Valspar Gravity for the door color.
BUT, if you have followed along with any of our other renovations, you may know that I am very prone to changing my mind on design decisions, all the way up until the last minute.
I created this inspiration board for our project.
I may make some slight tweaks and changes, but this is the basic look I am going for.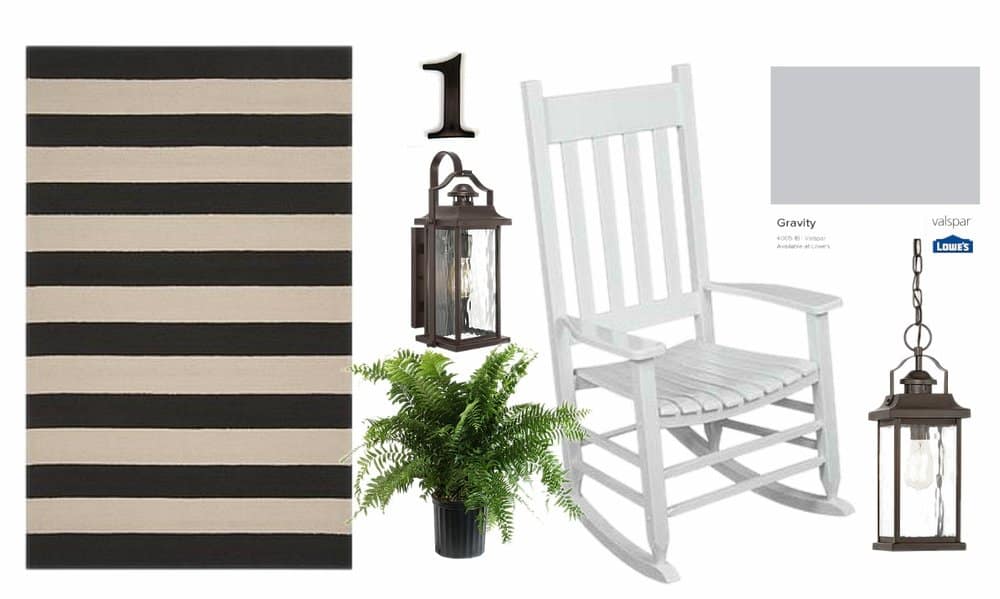 Product Links
Kichler Bronze Outdoor Pendant Light
Garden Treasures White Patio Rocking Chair
Approaching this project you can bet I was doing a ton of pinning and inspiration searching.
Here are six beautiful porches that have the modern farmhouse vibe I am going for.
I love the open handrail, gray door and simple black pendant on this porch.
Via Paul Moon Design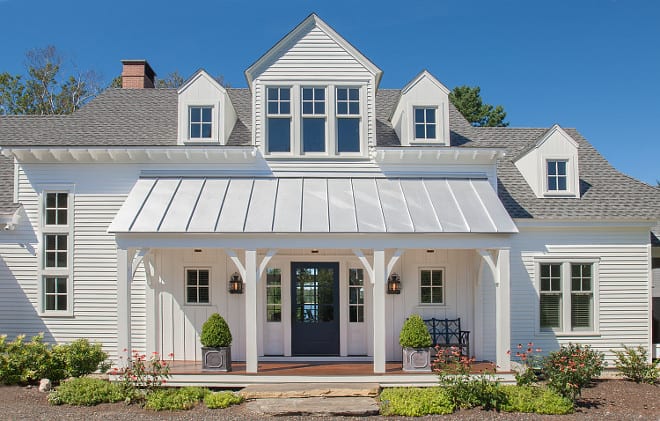 I love the pillars on this porch. I also love the lantern style fixtures that frame the door. The landscaping and tin roof complement the porch well.
Via Home Bunch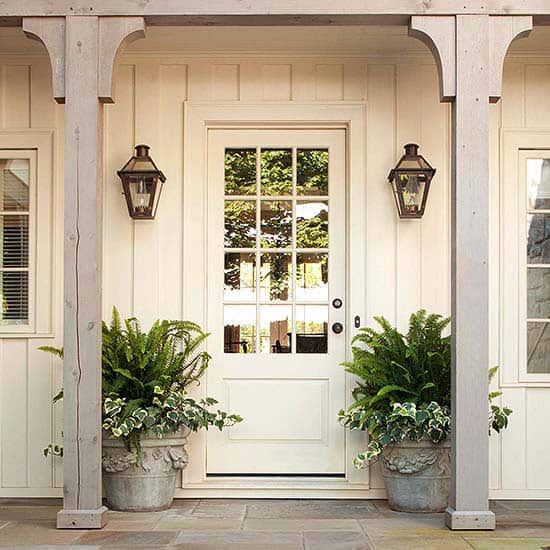 The gray, black and white color palette of this porch are exactly what I am going for with our farmhouse porch remodel. I also love the plants, light fixtures and gorgeous front door.
Via Better Homes and Gardens
The pillars, black light fixtures and simple black chair have so much farmhouse charm. I also love the green plants in the tin planters.
Via Deja Vu Designs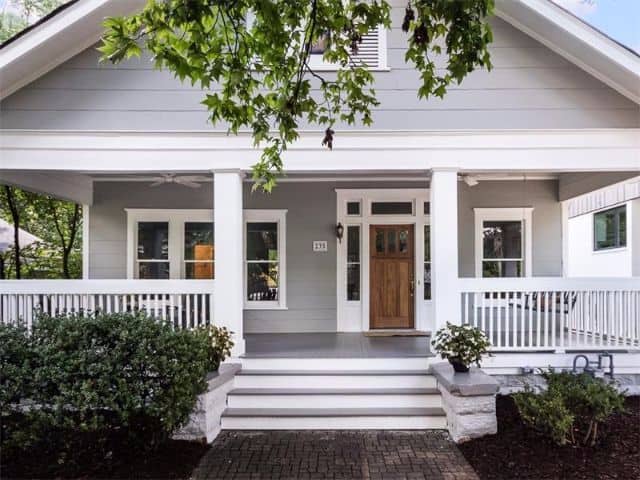 I love the gray, white and wood color palette of this craftsmen porch.
I like that the handrail makes this porch look more open than the solid railing that our porch currently has.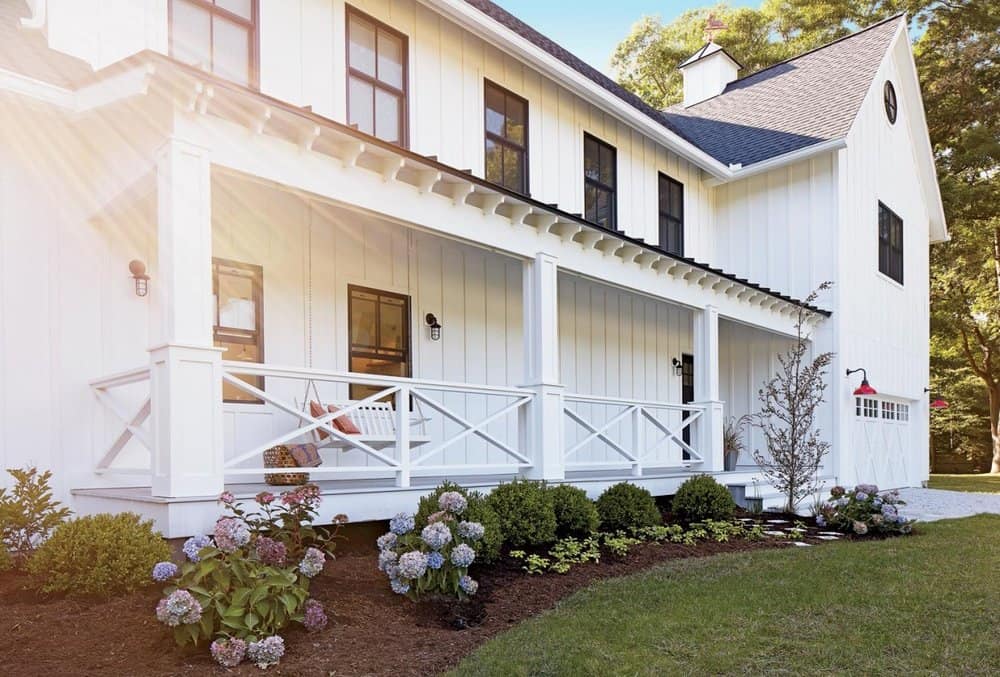 Now I know our craftsmen porch will never quite have as much farmhouse charm as this porch does. But, I do love the porch swing, light fixtures, x-style railing and the beautiful hydrangeas.
This whole thing is what my farmhouse dreams are made of!
Via Chicago Mag
I absolutely cannot wait to tear into this thing and get this party started.
Staty tuned for the demo!
Pin it for later:

This post was sponsored by Lowe's. See my full disclosure HERE.