This homemade date sweetened ice cream is as creamy and delicious as unhealthy, sugar laden, store bought ice cream. Step into the farmhouse to see how we make it.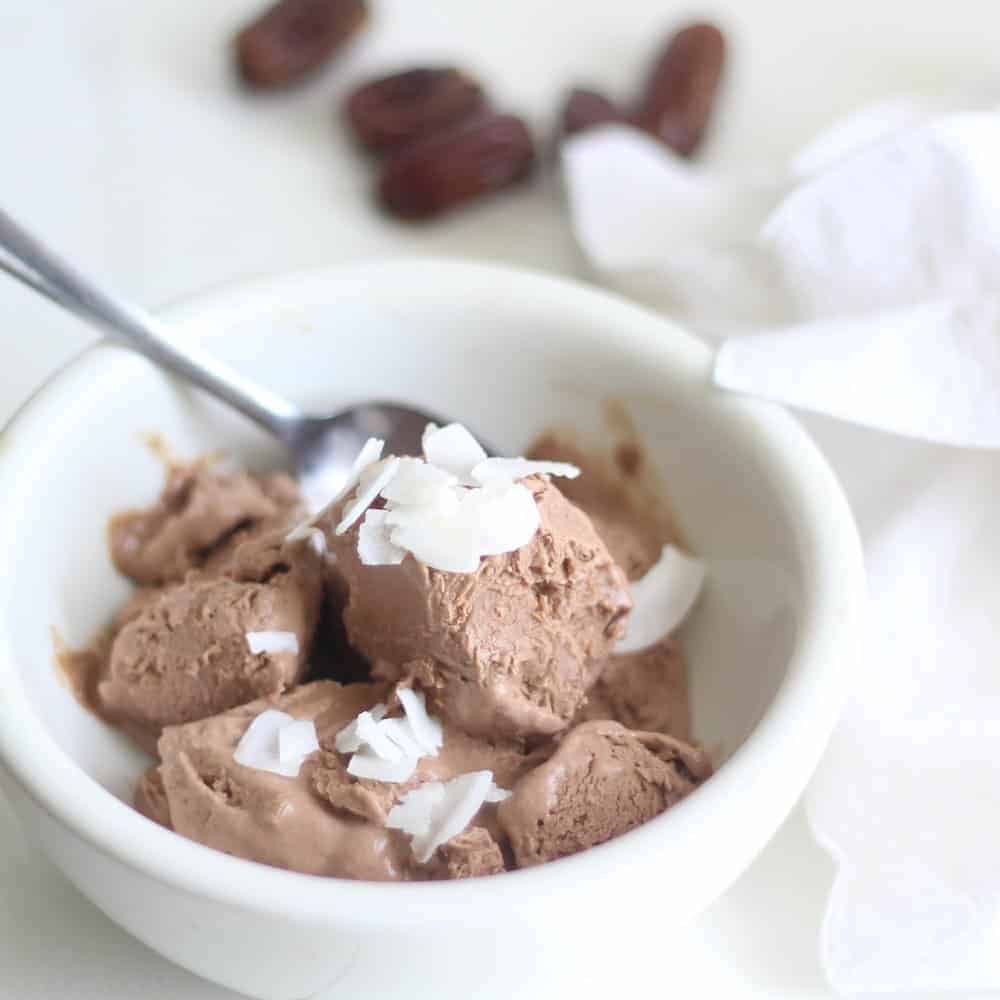 I had to tinker around with the idea of ice cream sweetened only with dates before it became the creamy, delicious, seriously as good as ice cream with sugar, recipe that it is today.
The first time I tried it I threw dates straight out of the pantry into the blender with the other ingredients. It's not hard to imagine what happened there. We had mildly sweet ice cream with bits and pieces of dates throughout.
I discovered that I had best results when I soaked the dates in a portion of the coconut milk, from the recipe, overnight.
I have more recently found mushier dates on Amazon that can be thrown straight into the blender without pre-soaking. My local Aldi also has a brand that are pretty consistently mushy. The ones I get from Kroger definitely have to be presoaked. If you open the package and the dates don't readily squish between your fingers, you will have to allow them to first soak up some coconut milk.
This ice cream is so surprisingly delicious. If you are looking for a dessert that you can feel good about giving your kids, this one is it. Dairy free, sugar free, all natural…all the stuff you could want, and still tastes amazing!
FREQUENTLY ASKED QUESTIONS
Why not use dairy milk?
Ice cream sets up best when it is high fat. I have made ice cream with cream only and its delicious. We get raw milk, and I skim it from the top, so cream is limited. I like to save it for my coffee. 🙂
Can I use less coconut oil?
Again, the fat thing. But, I do think it would set up with half that amount. We just like our super creamy.
Could I get leave out the raw egg yolks?
You probably could, but I haven't tried it. I imagine it would just be a little less creamy. Let me know how it goes, if you decide to try it!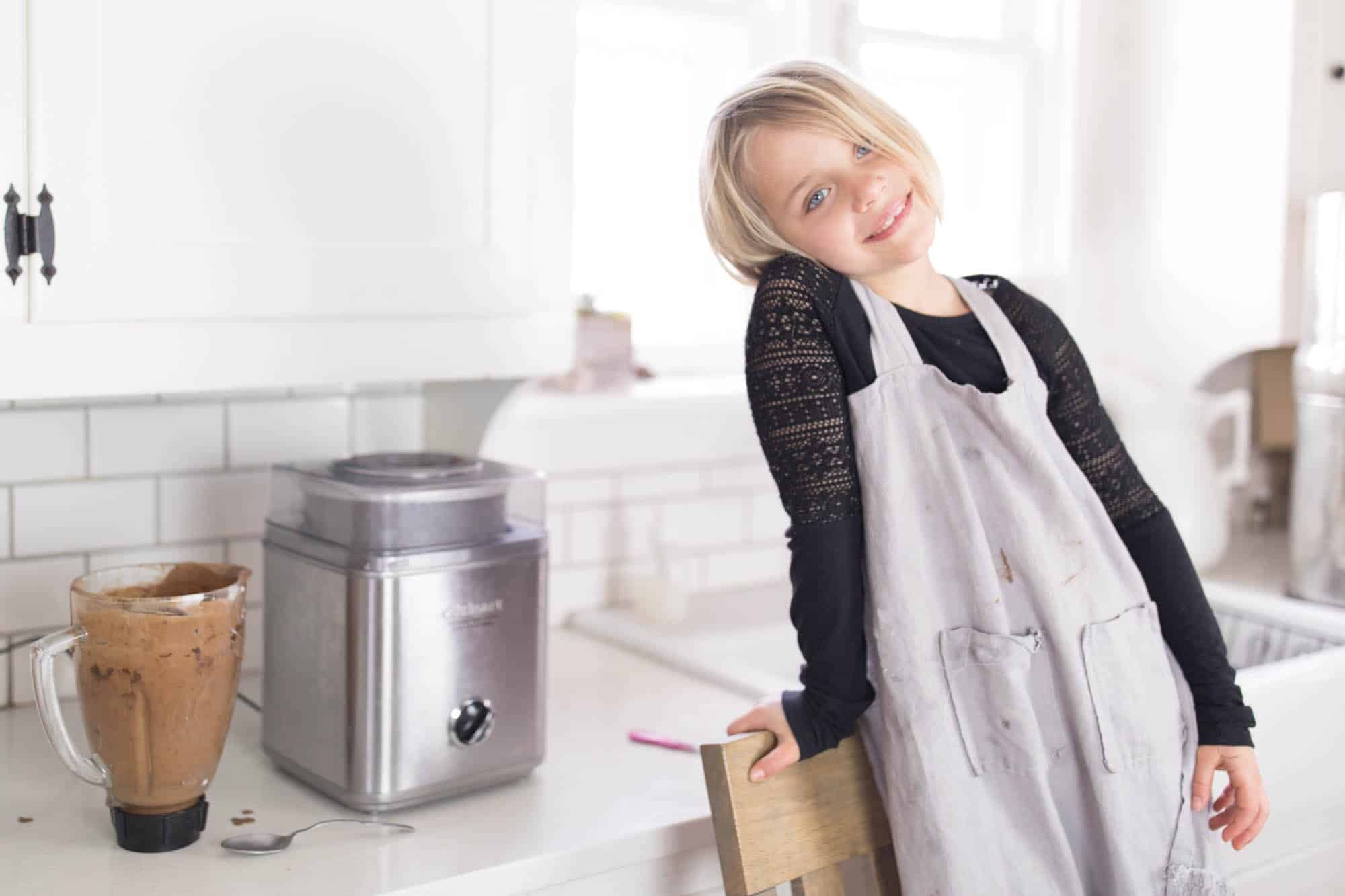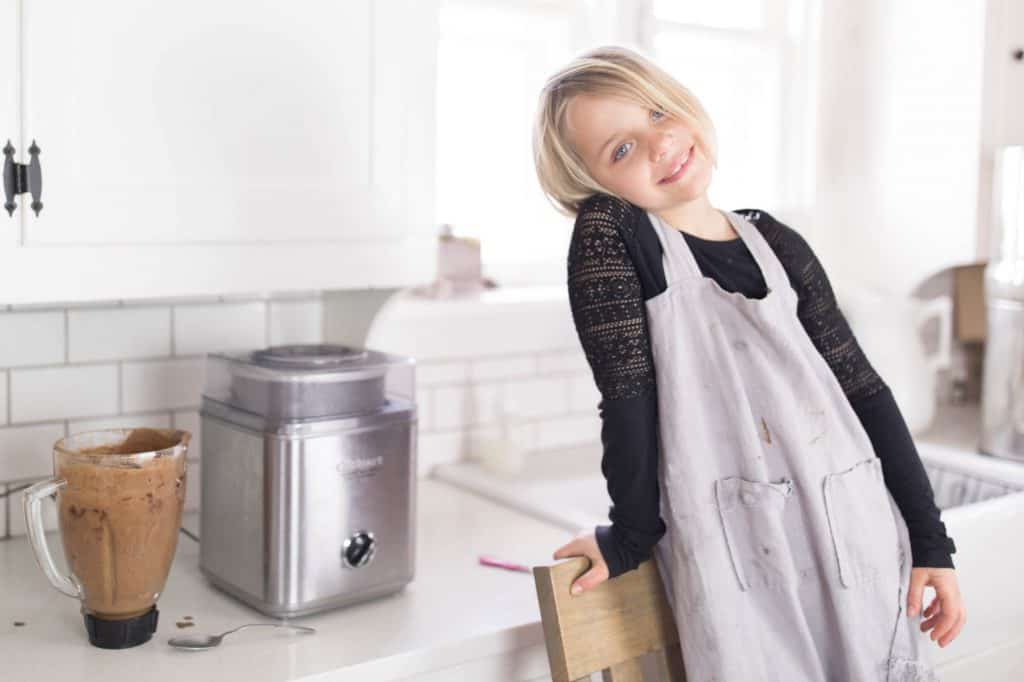 Date Sweetened Ice Cream Recipe Video
 Date Sweetened Ice Cream Basic Recipe
2 cans coconut milk
8 ounce package pitted dates
1/2 cup melted coconut oil
3 egg yolks
1/2 teaspoon vanilla
The Variations
The wonderful thing about the basic recipe is you can adjust it to make so many different flavors. Chocolate peanut butter, pumpkin spice, vanilla, chocolate…I imagine you could even get crazy and do something like a key lime pie or butter pecan. Oooh my wheels are turning now.
Use the printable recipe card at the end of this post to see recipes for some of our favorite  variations!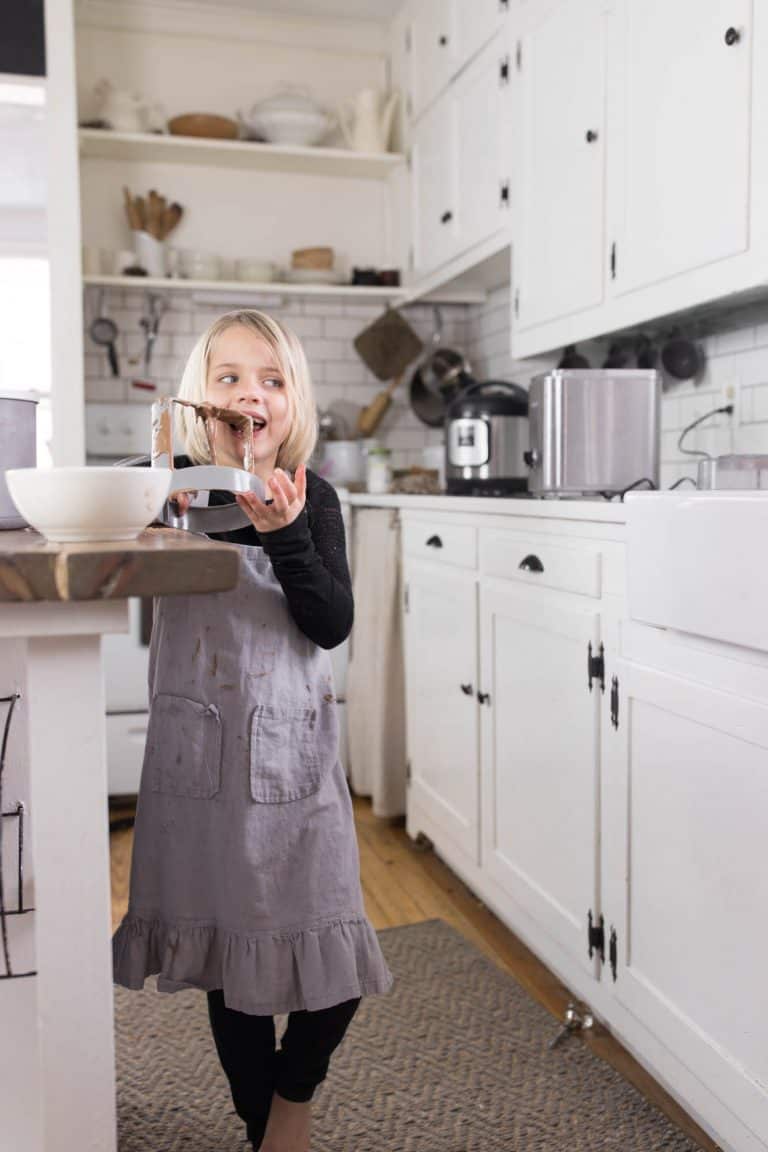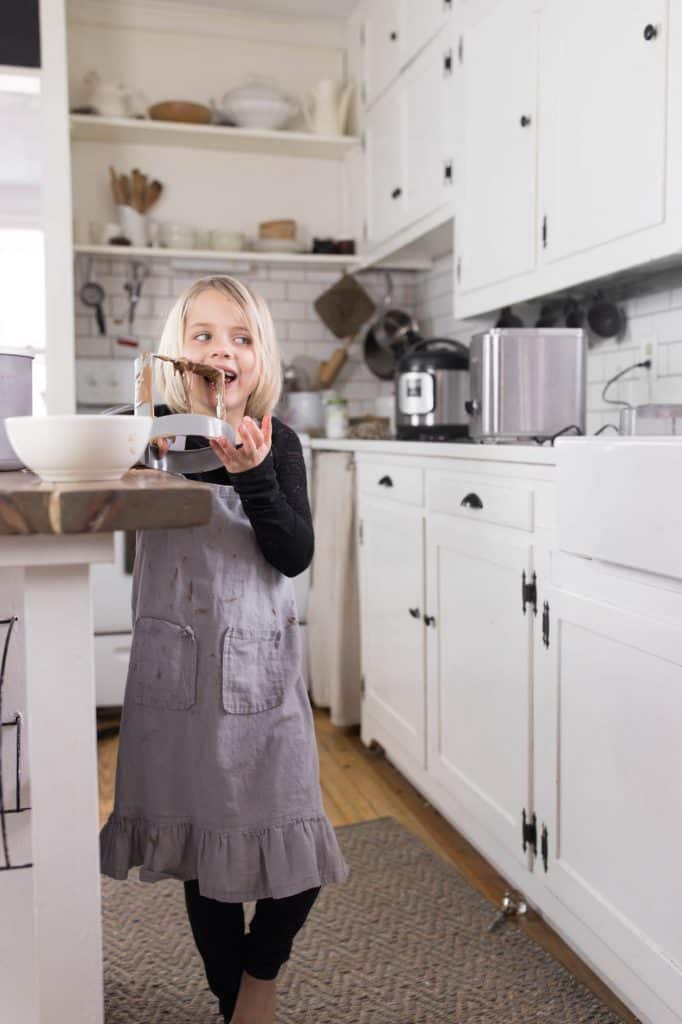 The process
If the dates are really dry, soak them in the coconut milk, in the refrigerator, overnight. If they are mushy, move straight on to the next step.
Put all the ingredients into your blender. Blend on high until the mixture is creamy, and no chunks of dates, remain.
Put everything into your ice cream maker and give it about 30 minutes to harden up.
If you don't have an ice cream maker, you can put the mixture in a 9 by 13 pan, and allow it to harden for about eight hours. I love my Cusinart 2 Quart Ice Cream Maker. I bought it two or three years ago and have made a lot of ice cream in it!
Where to get coconut milk
I prefer to get my coconut milk at either Trader Joe's, or online from Thrive Market. Since TJ's is about an hour away, I normally resort to the latter.
Thrive Market has a really great price for organic coconut milk. You have to be a member to get their prices, but I save so much money on a lot of staples it's totally worth it. If you order through my link you can get 20% off your first three orders!

Read about my blender in my recent Top Ten Kitchen Essentials Post.
Make the apron my daughter is wearing with this tutorial: DIY Pinafore Apron for Girls
Print the recipe
Click HERE to download and print.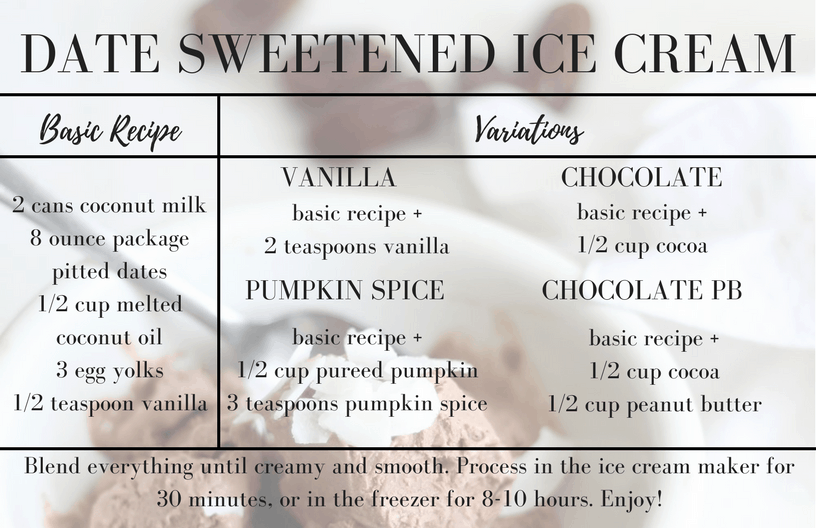 Pin it for later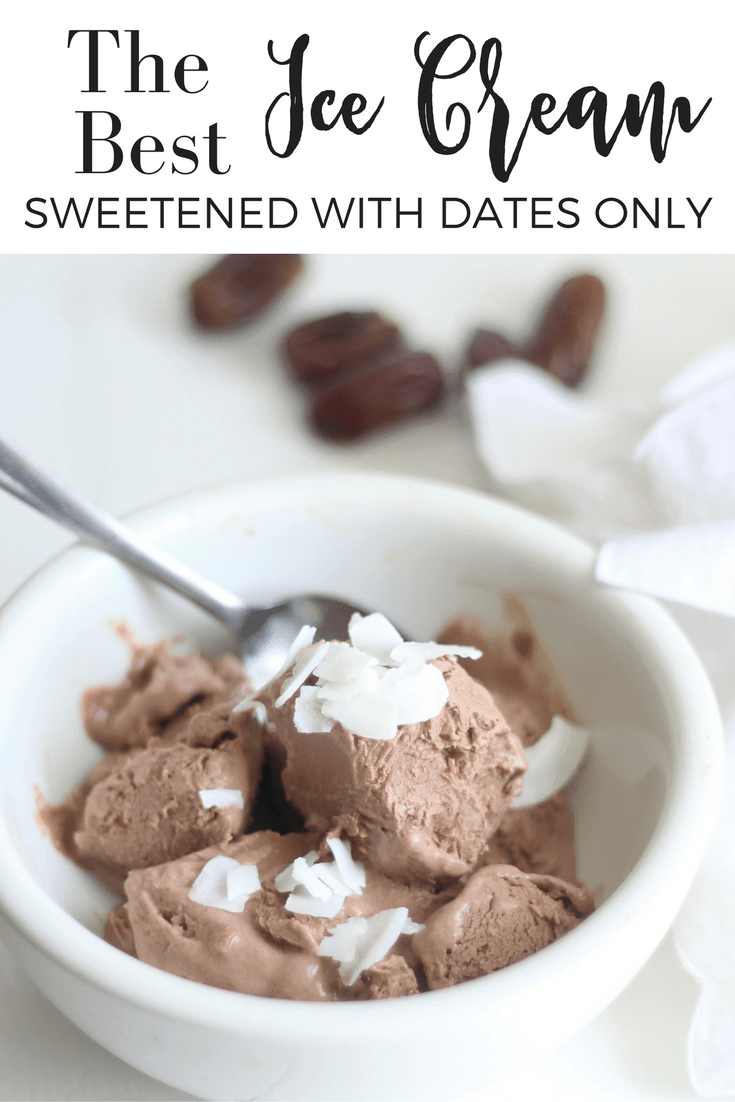 This post contains affiliate links, which means I make a small commission at no extra cost to you. 🙂
Thank you so much for stopping by the farmhouse!