Join me for a little tour of our farmhouse in the fall. Add a little fall refresh to your home with natural decor. Crunchy leaves, grasses, and bowls full of hand-picked apples add all kinds of cozy to your home.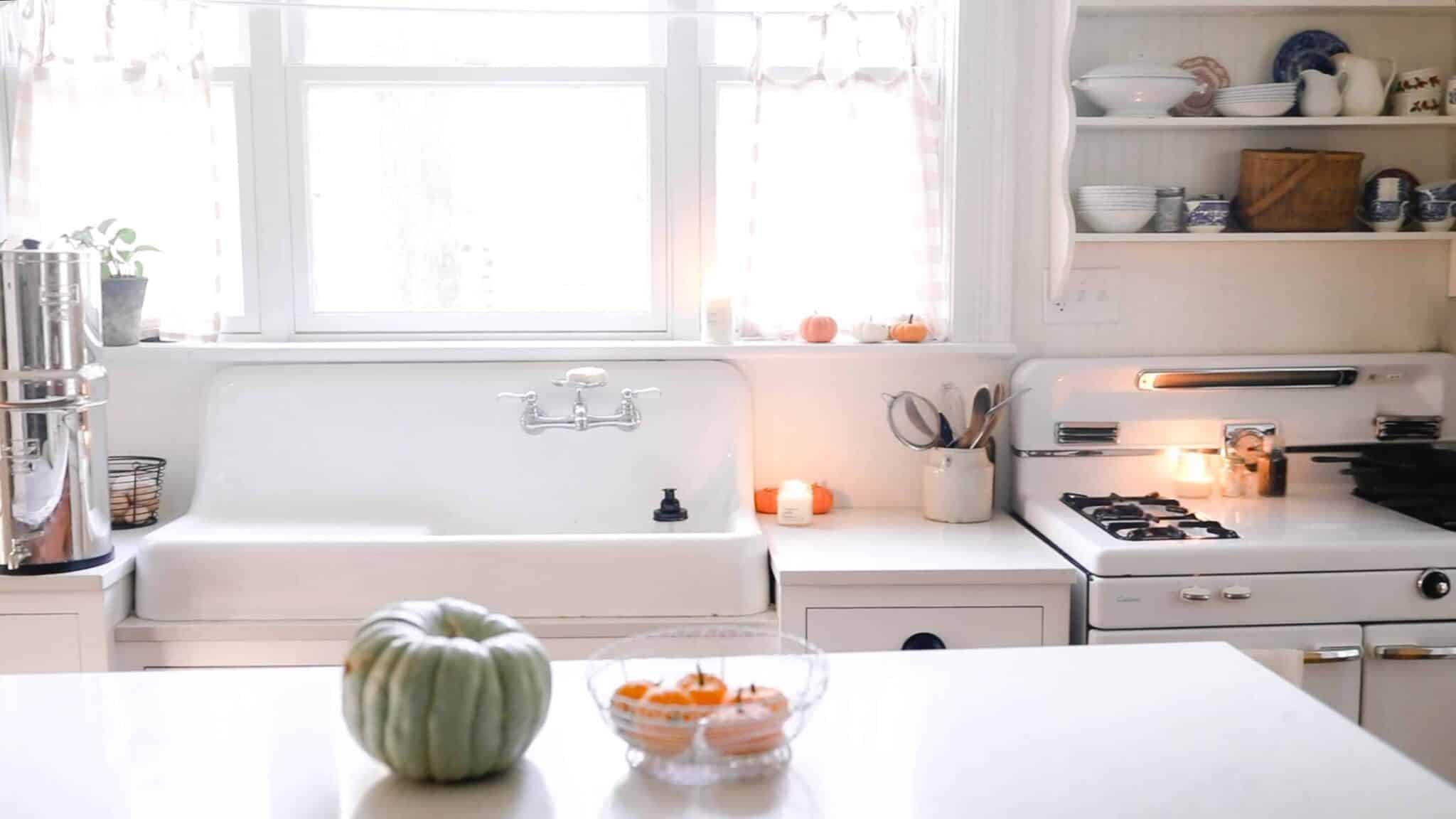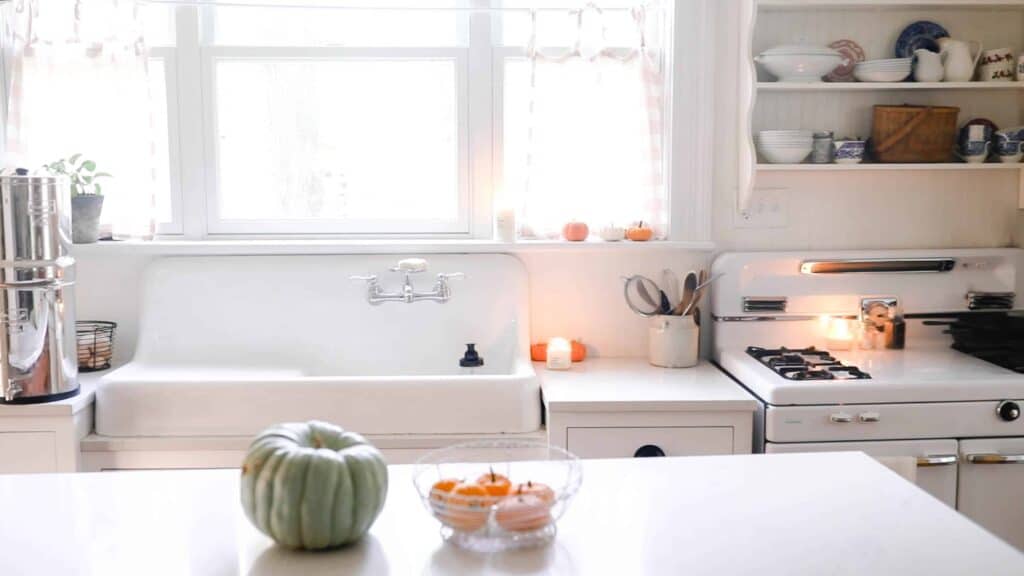 With temps dipping into the 40s and 50s at night, it is definitely starting to feel like autumn here. Soups bubbling on the back of the stove, pumpkins on the porch, and heavy knit blankets draped over the couch bring warmth and coziness.
This was something I told myself I wasn't going to do. Honestly, tours like this take a lot of work. Getting the house clean and ready for show is hard enough, then coming up with the decor can really be a lot.
But with the new wood-burning stove and faux fireplace project installed, I just couldn't help myself.
When it comes to home decor, many people go out and buy new decor every year. I'm just too practical for that. Rather than spend lots of money on decor, I try to utilize what I already have as much as possible. This really goes for any season or holiday throughout the year.
Fall may just be one of my favorites. There's something about the weather cooling and the dark coming earlier that gets me excited to sit by the fire knitting a project or reading a good book.
Fresh-picked apples sitting in an antique bowl on the table, with a beeswax candle flickering nearby, simply makes me nostalgic. 
So, join me for a moment, while my house is still clean, to see how I added simple touches around our farmhouse to add layers of coziness.
Watch The Fall Tour
This post contains affiliate links, which means I make a small commission at no extra cost to you. See my full disclosure here.
Fall Farmhouse Tour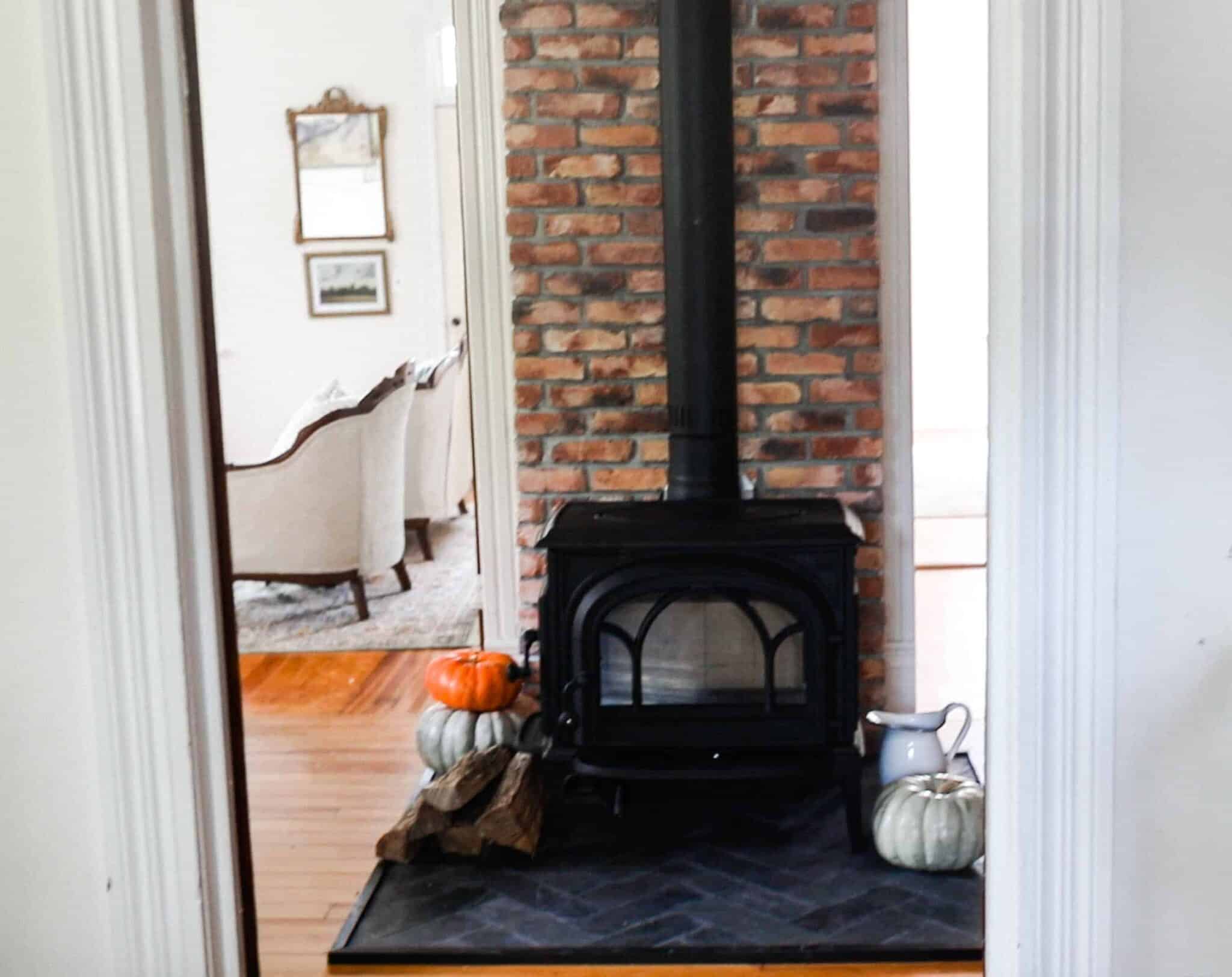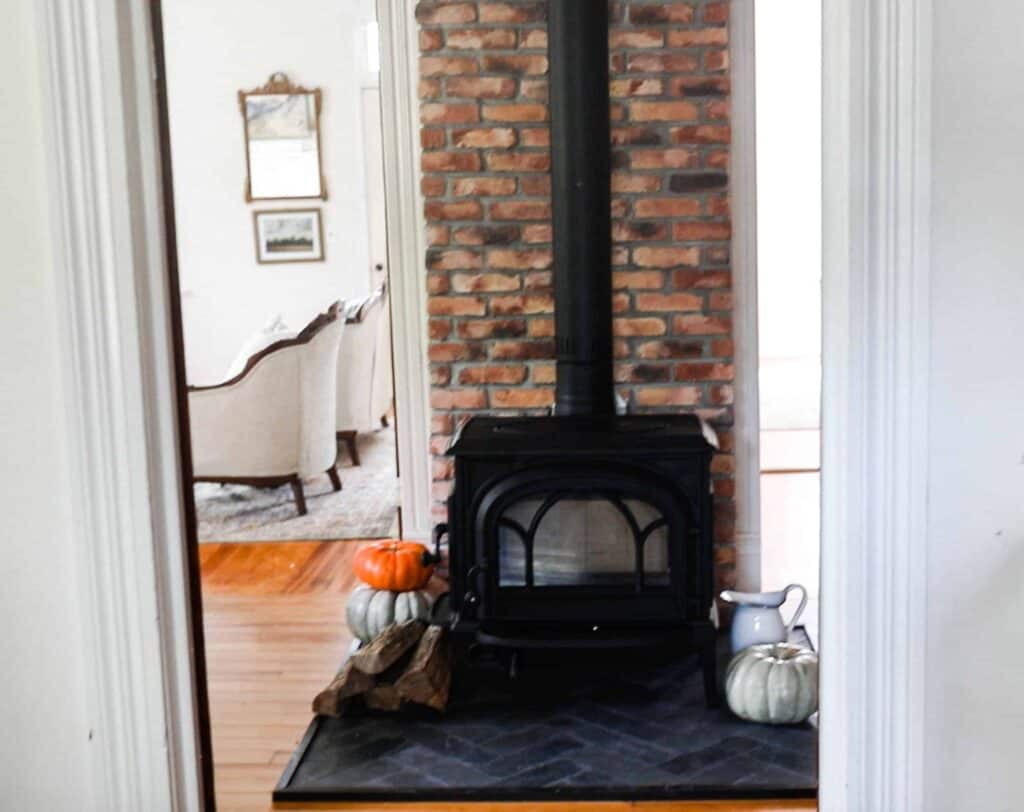 When you first enter the house, you are greeted by the beautiful wood-burning stove with a handmade, herringbone slate hearth pad and the Chicago, antique-styled brick chimney.
To add a fall touch, I set a few logs next to the stove and stacked a couple green and orange pumpkins on the hearth.
We just tried to keep that area really simple and cozy.
The Living Room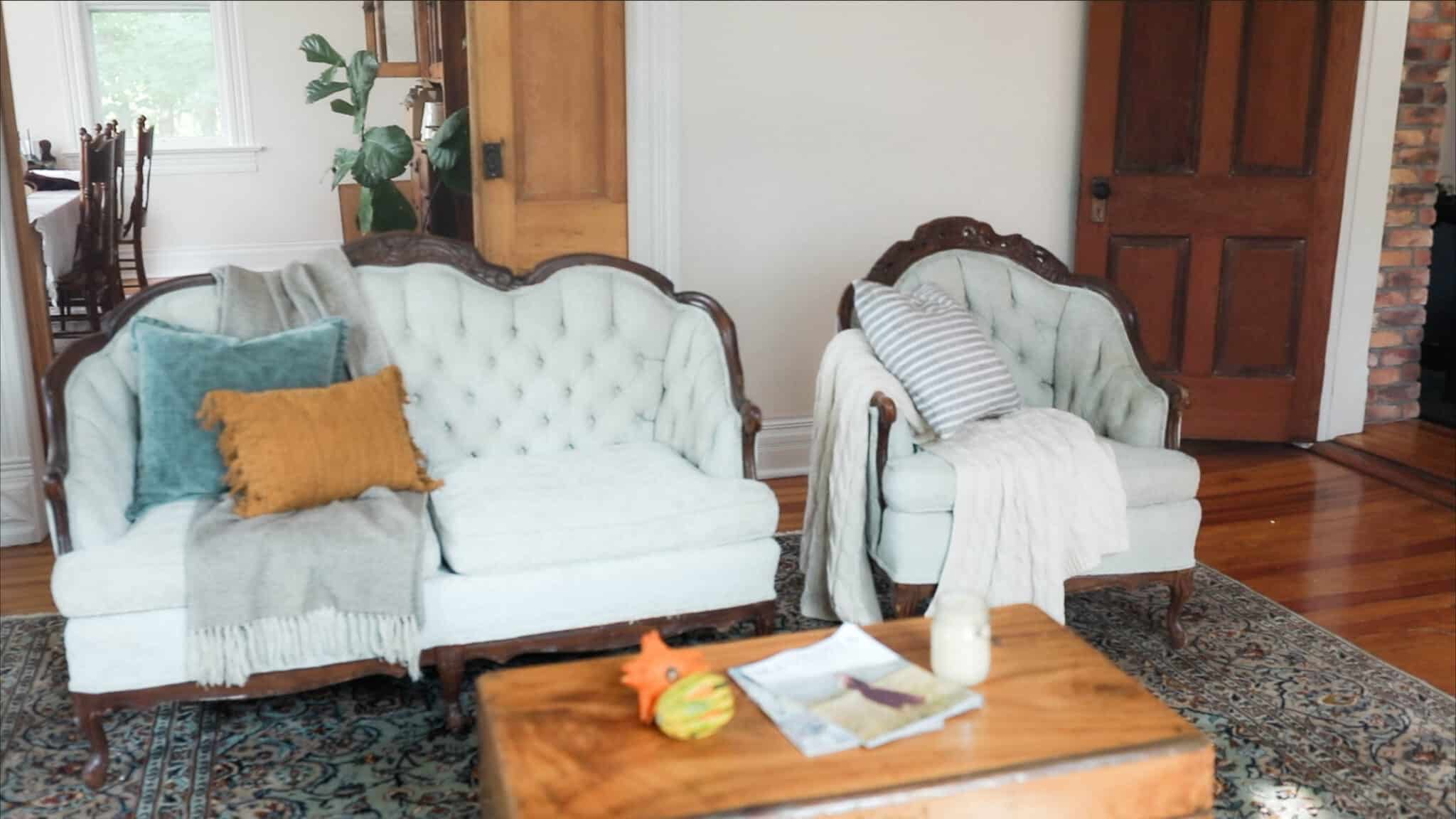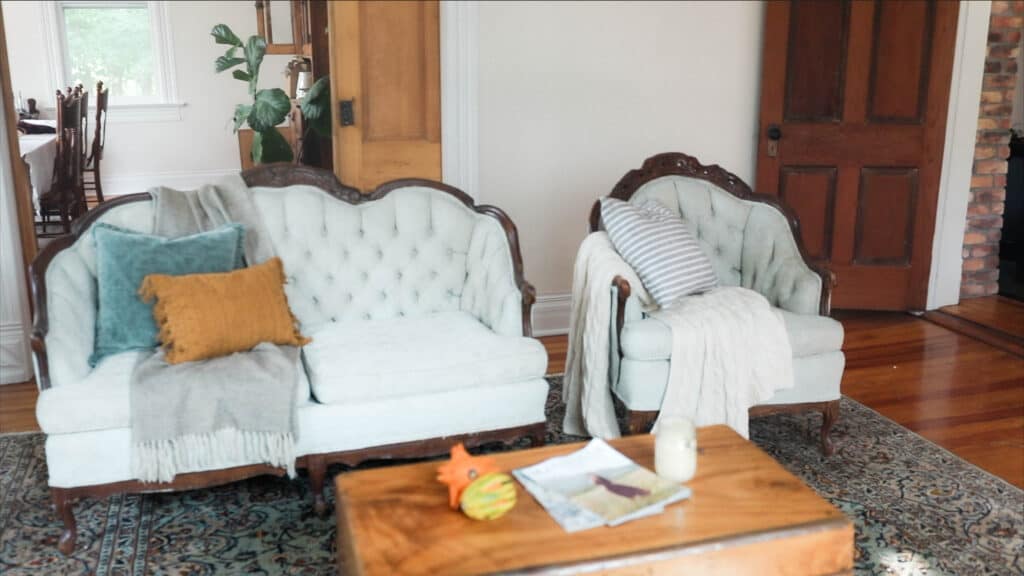 To the left of our entryway is the living room.
Some cozy, cable-knit blankets were tossed onto the chalk-painted, antique furniture with a textured gold pillow and a denim and green pillow.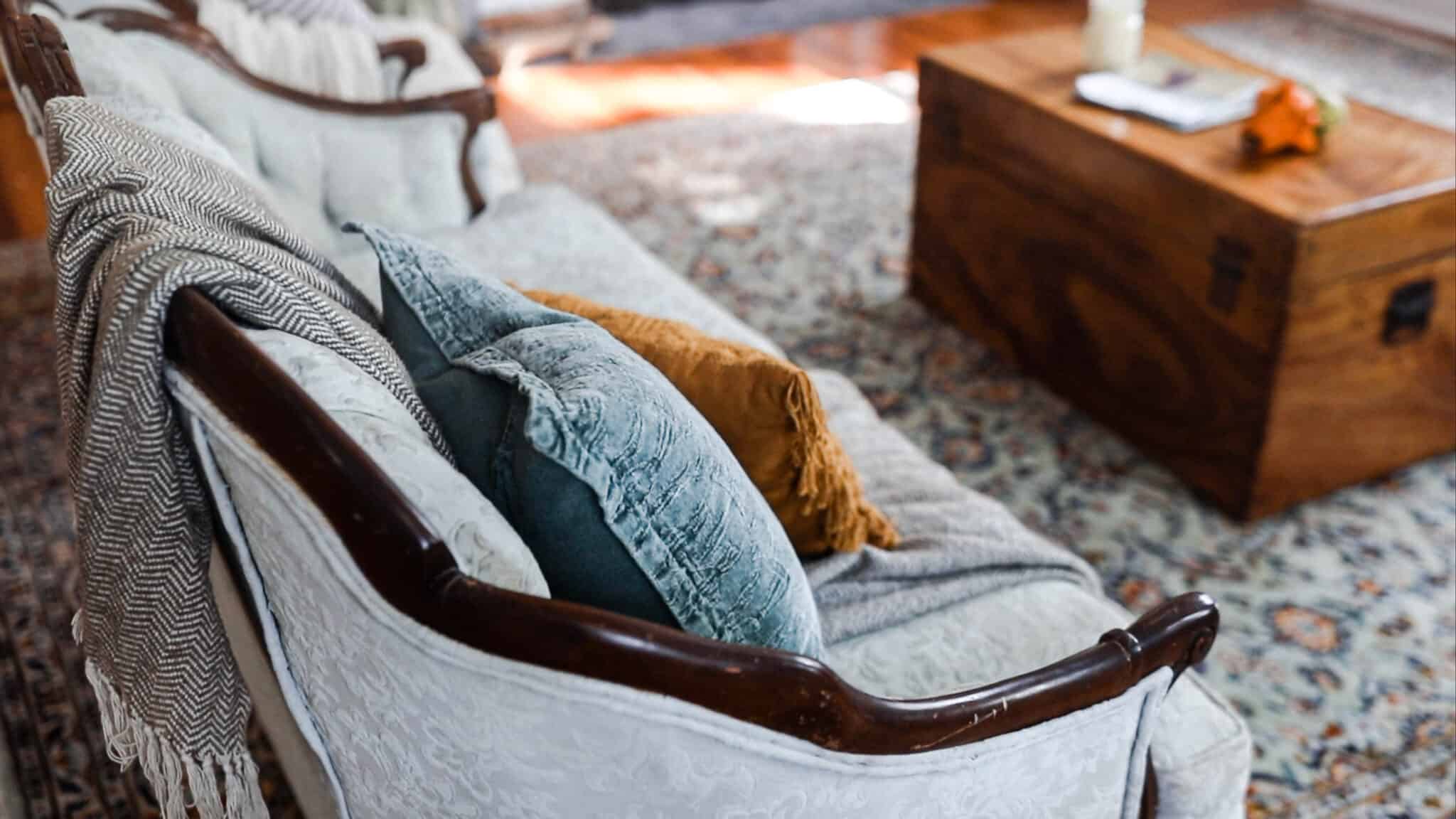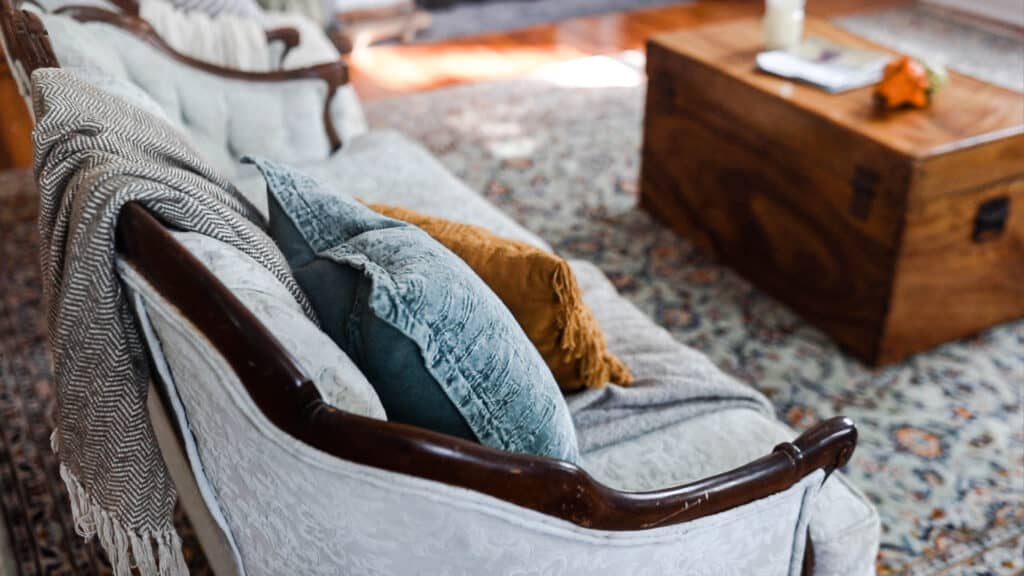 Blankets and pillows get tucked into a thrifted basket next to the faux antique fireplace, along with stacked white and orange pumpkins.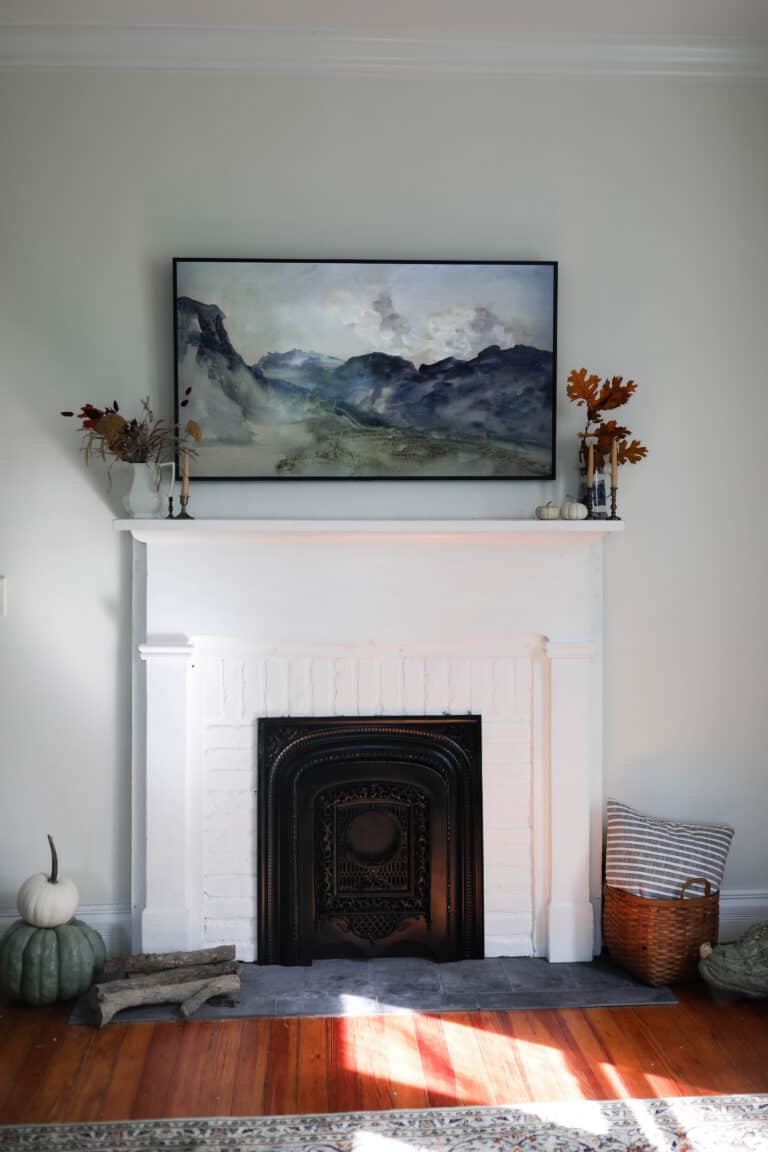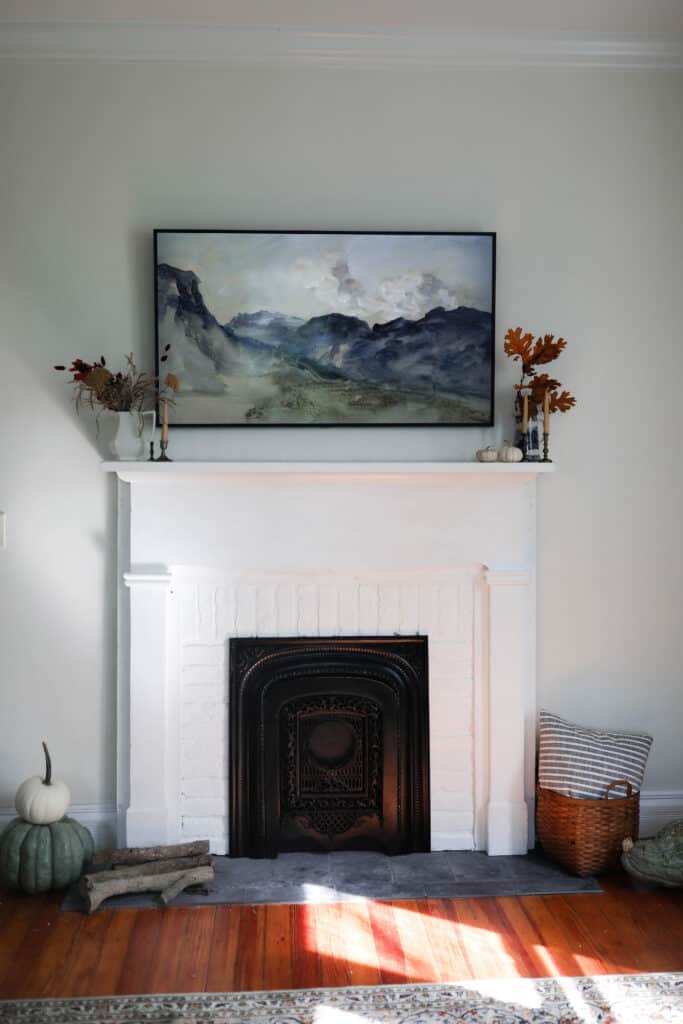 Dried florals collected from around the farm are placed in antique vases. For zero dollars, grab some dried leaves, foxtails, and other grasses you can find. Dried eucalyptus also works well in the fall.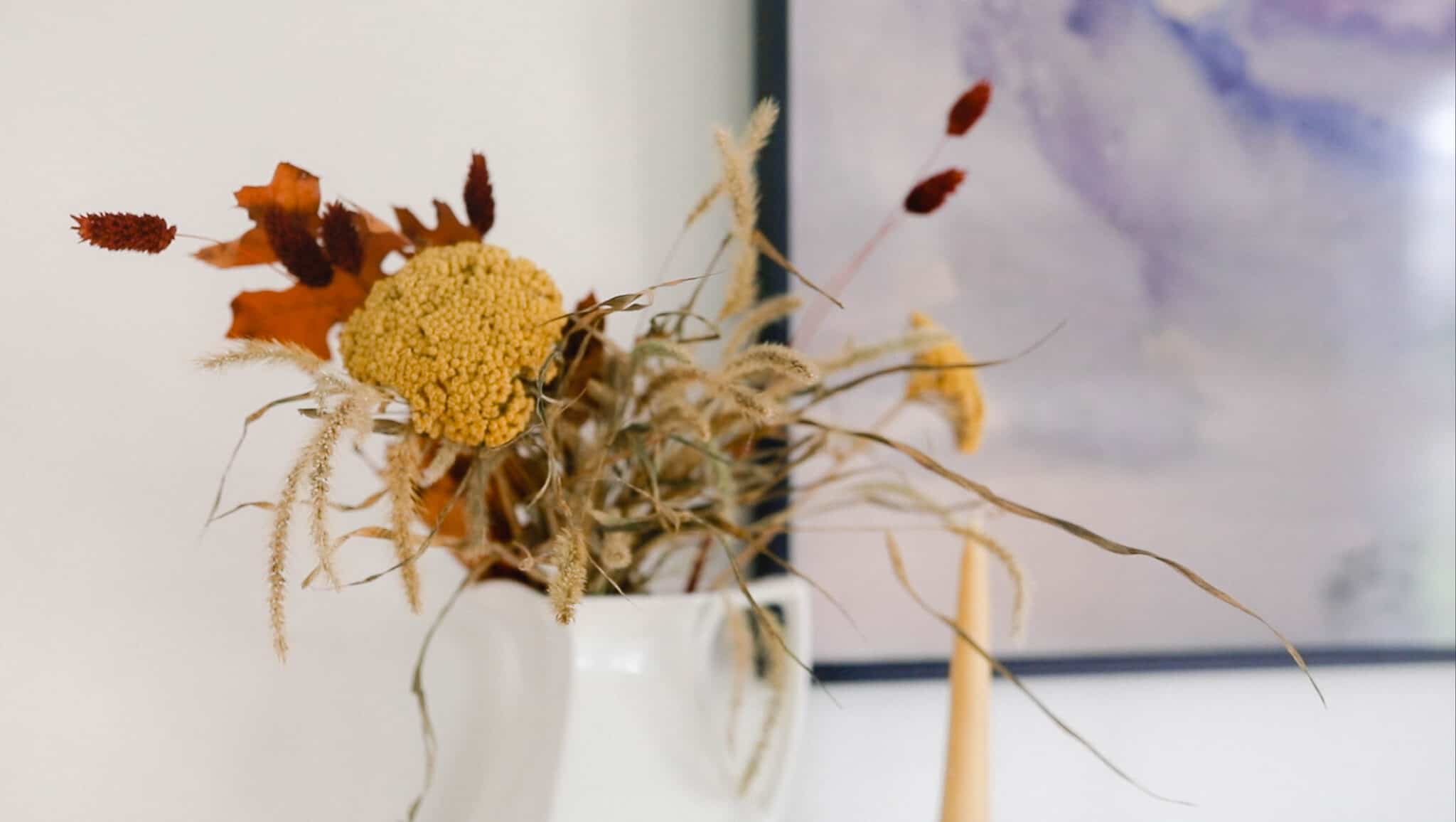 Beeswax taper candles (find the tutorial in my book) are nestled in antique brass candlestick holders.
We still have a full blown makeover planned for this room, including a new couch, curtains, and some paint, but we can still make it feel festive before it all comes together.
Dining Room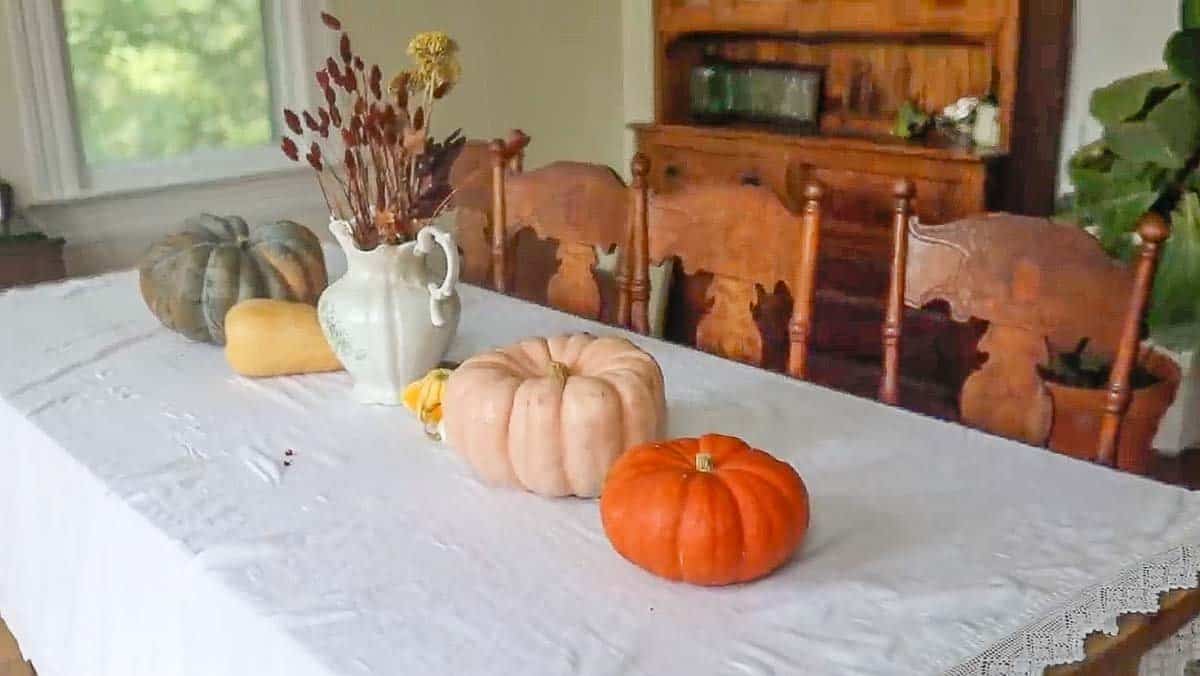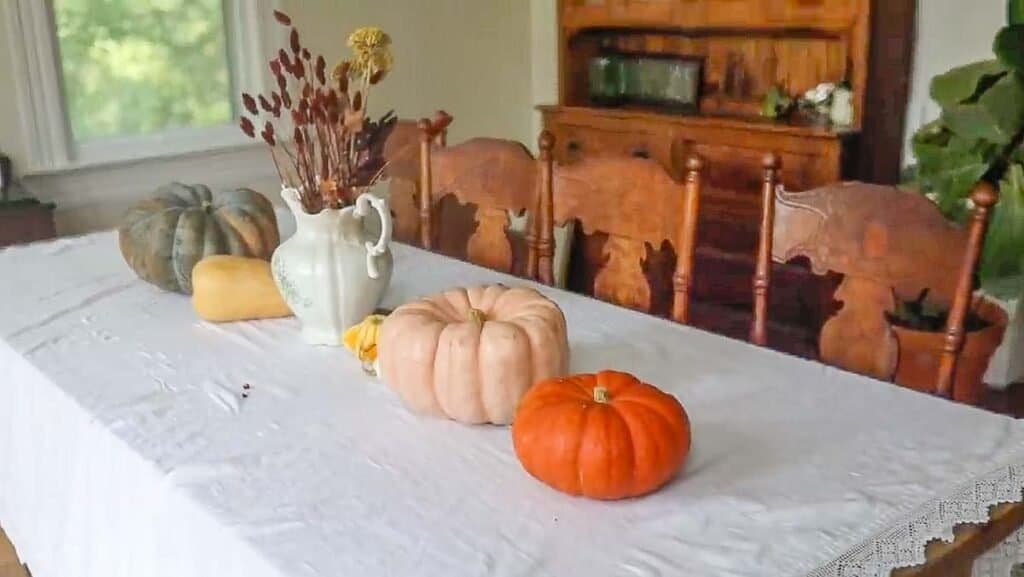 In the dining room, there wasn't much to do. We added an antique linen table cloth with colorful pumpkins down the center, along with an antique pitcher full of dried florals.
Simple Fall Touches To The Kitchen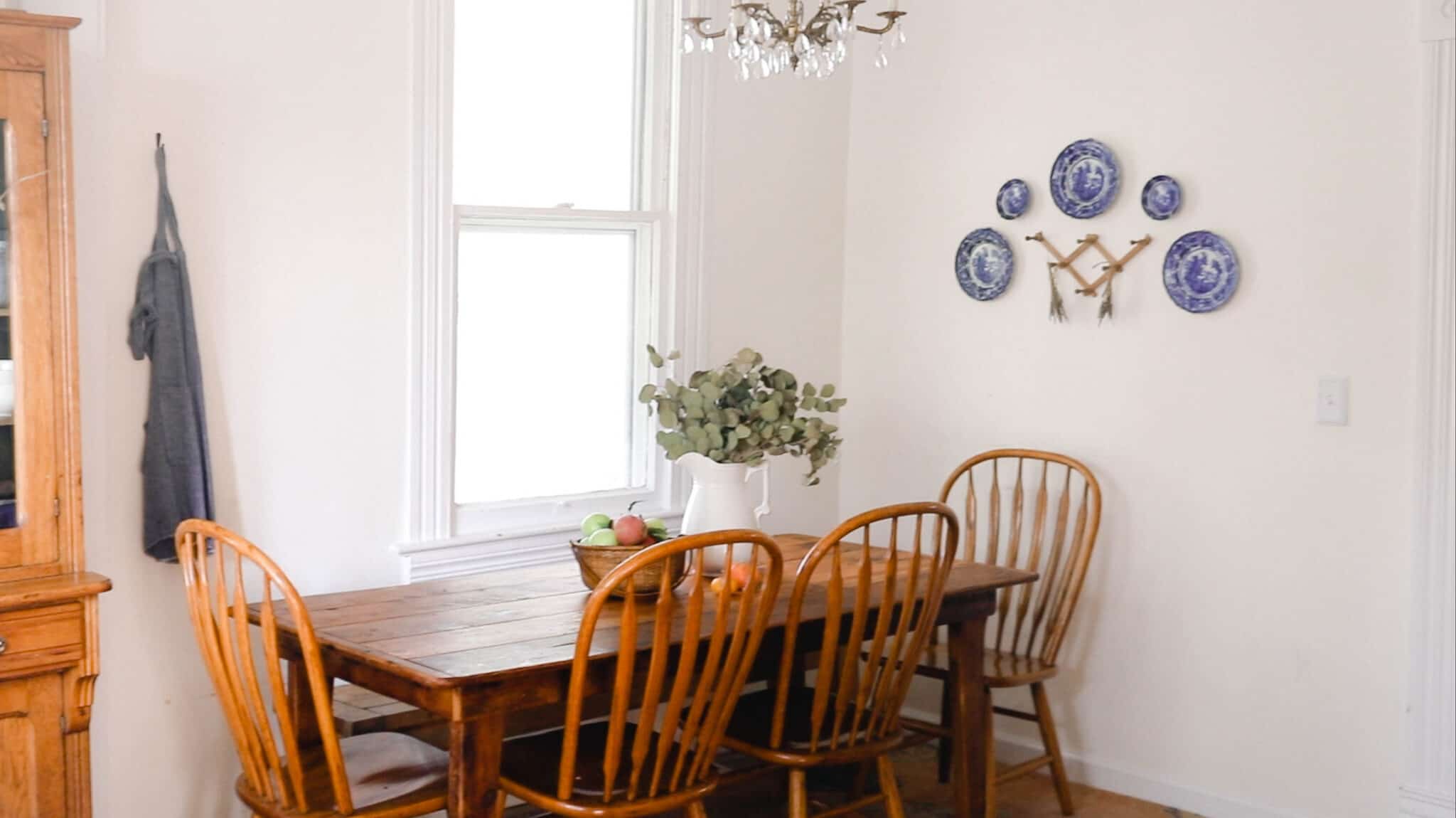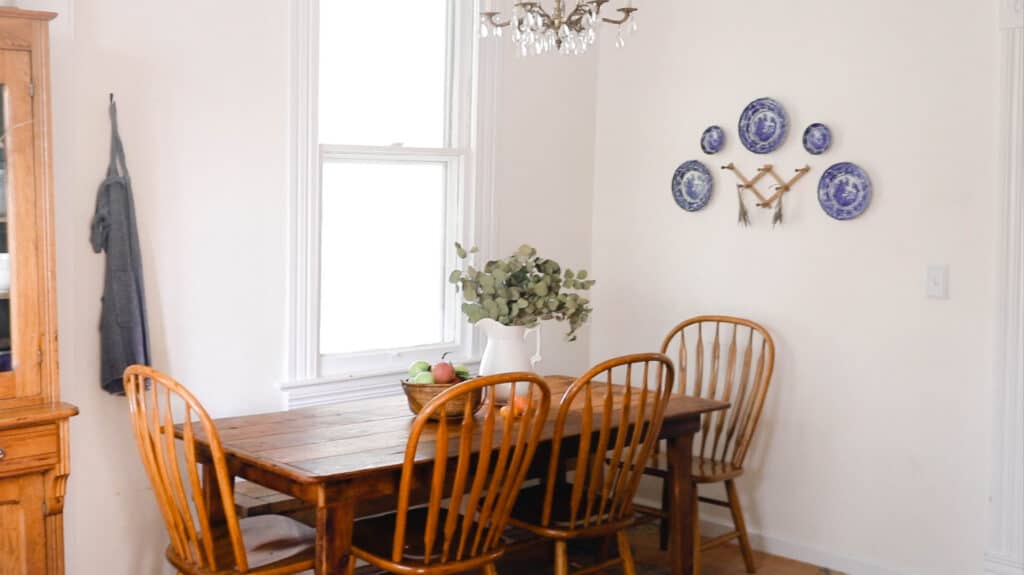 In the kitchen, I swapped out the small lavender wreaths that hung on the hutch with more seasonal grape vine wreaths, embellished with eucalyptus and pine cones.
I also cozied it up with candles, pumpkins, and some harvest spice essential oils in my diffuser.
The kitchen table was set with a basket full of freshly picked apples. Leaving some of the stems and leaves on the apples adds a layer of texture and color. A few small pumpkins and a pitcher full of eucalyptus finish it up.
Fall Inspired Bedroom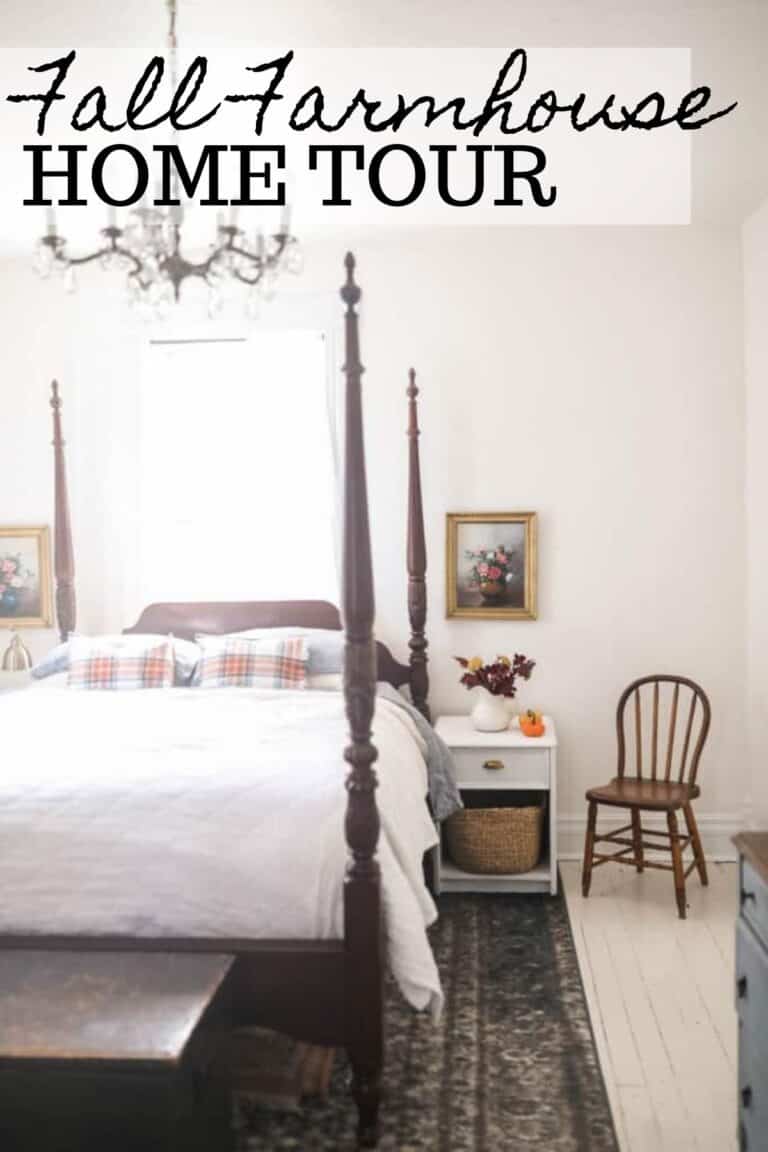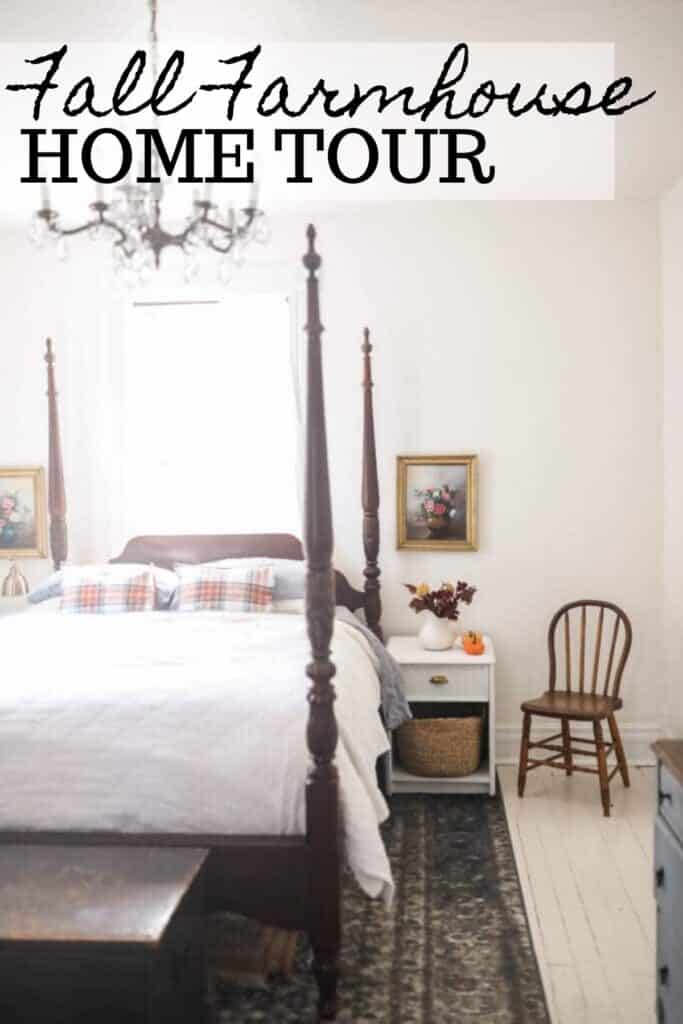 In the master bedroom, I swapped out the peach and cream linen duvet for a white duvet with a big fluffy insert, and blue sheets.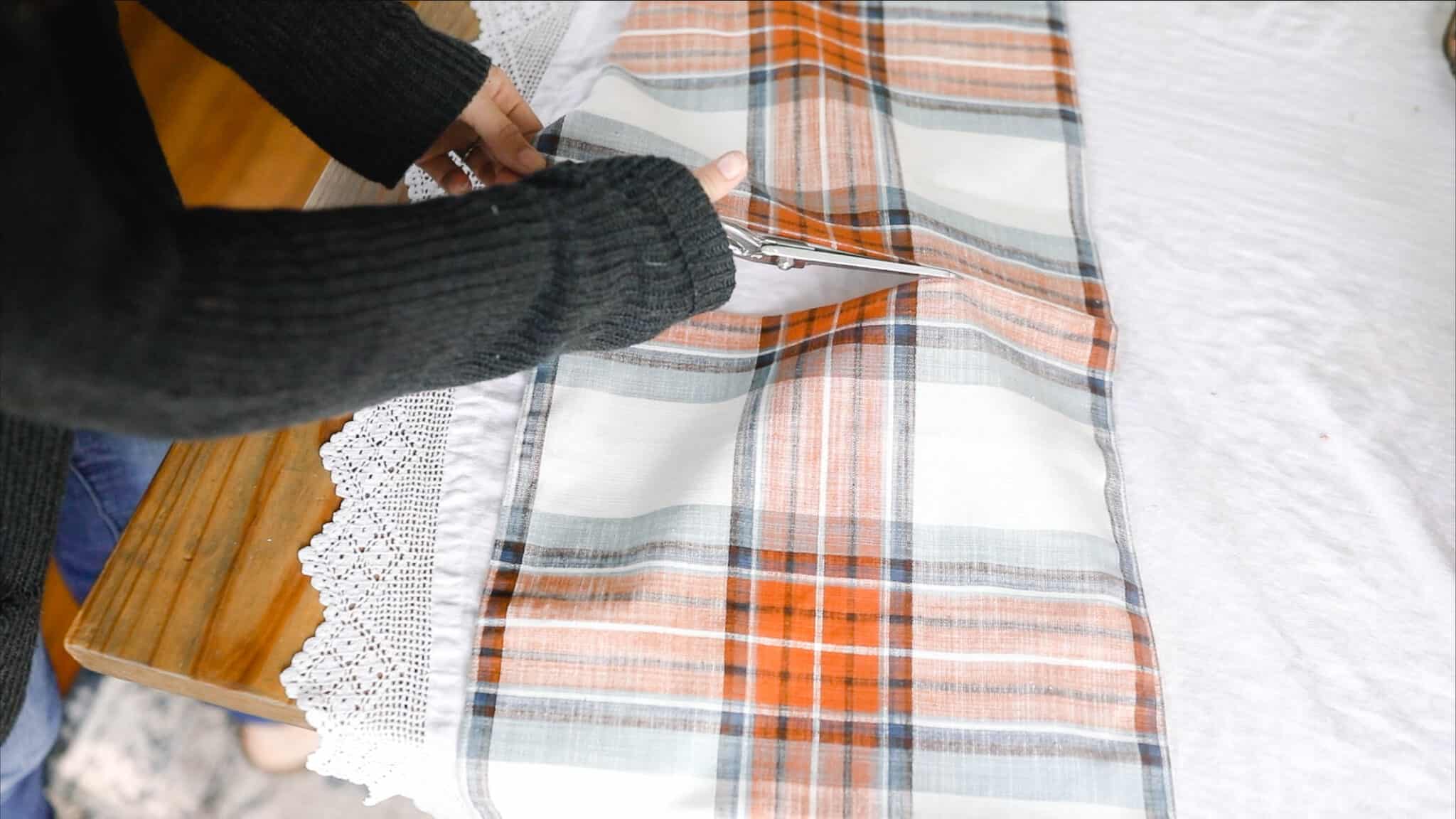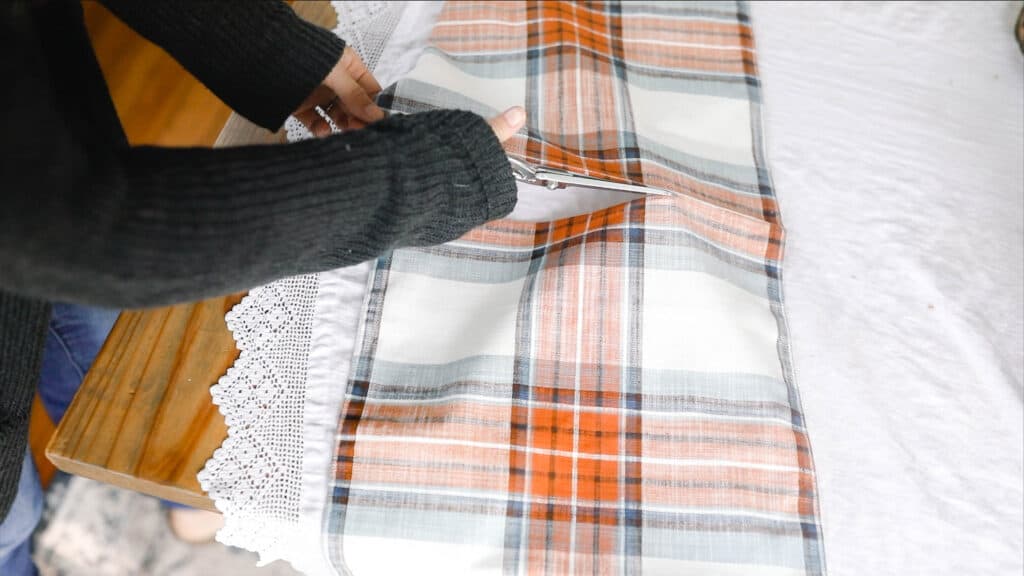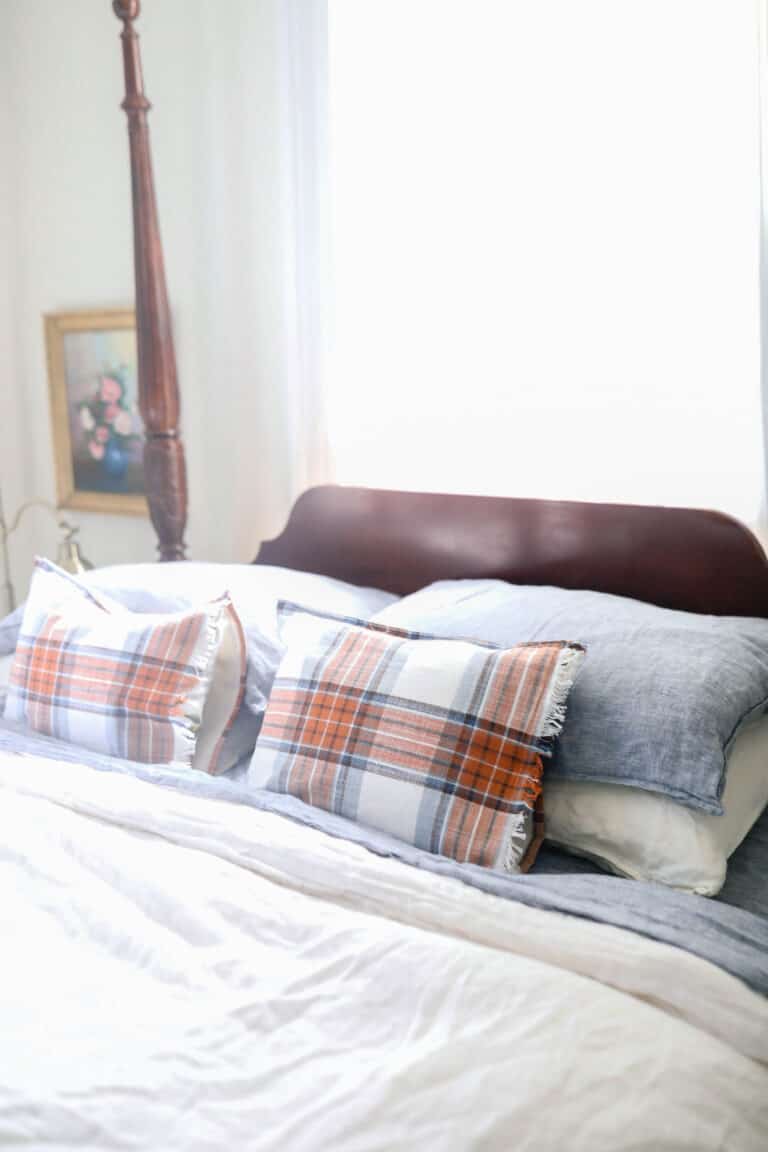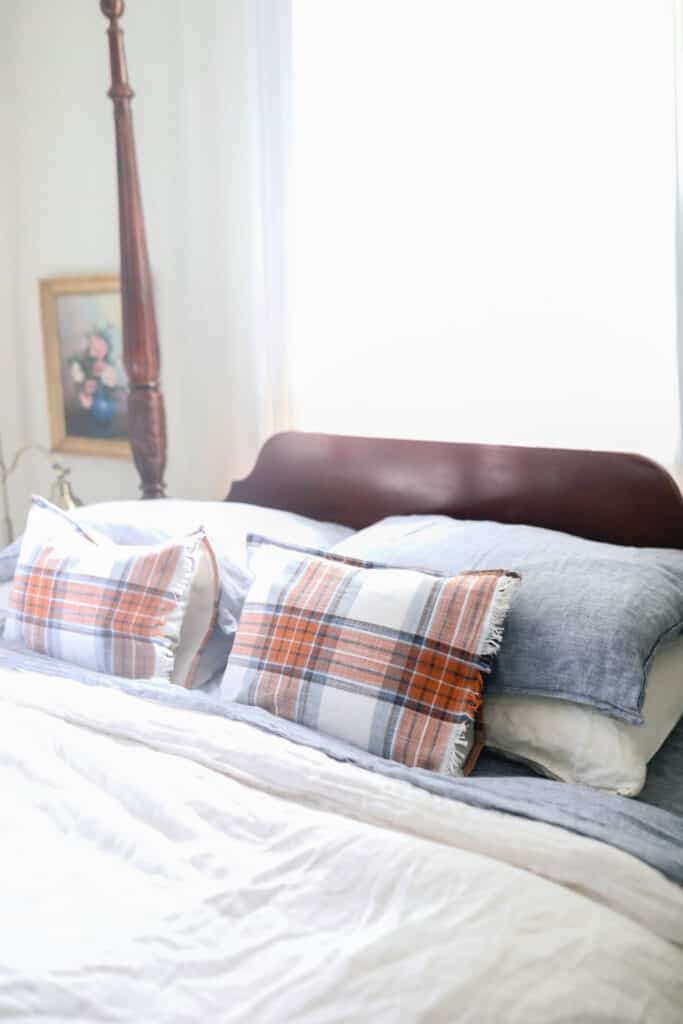 I swapped out the spring floral pillows I made from a table runner for a fall inspired one. I actually found a fall table runner from Target in the same size, and decided to create a simple slipcover that would fit the previous pillows. In less than 20 minutes, two beautiful and festive pillows were created.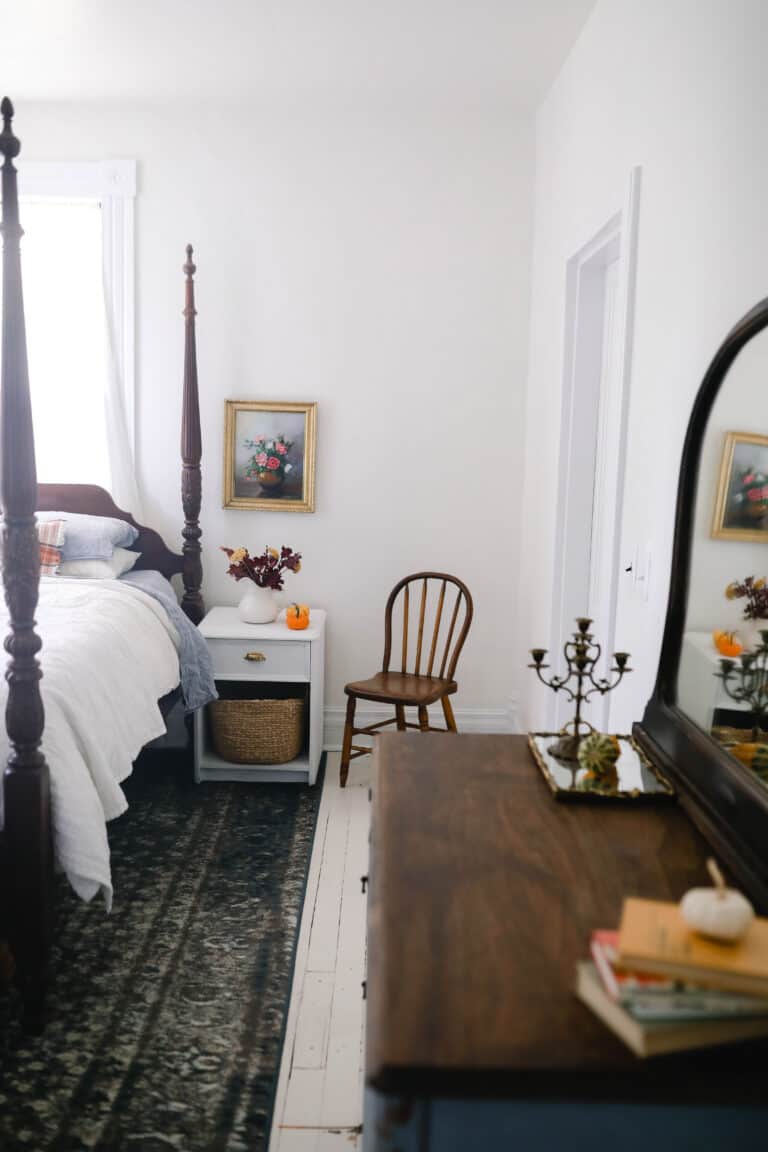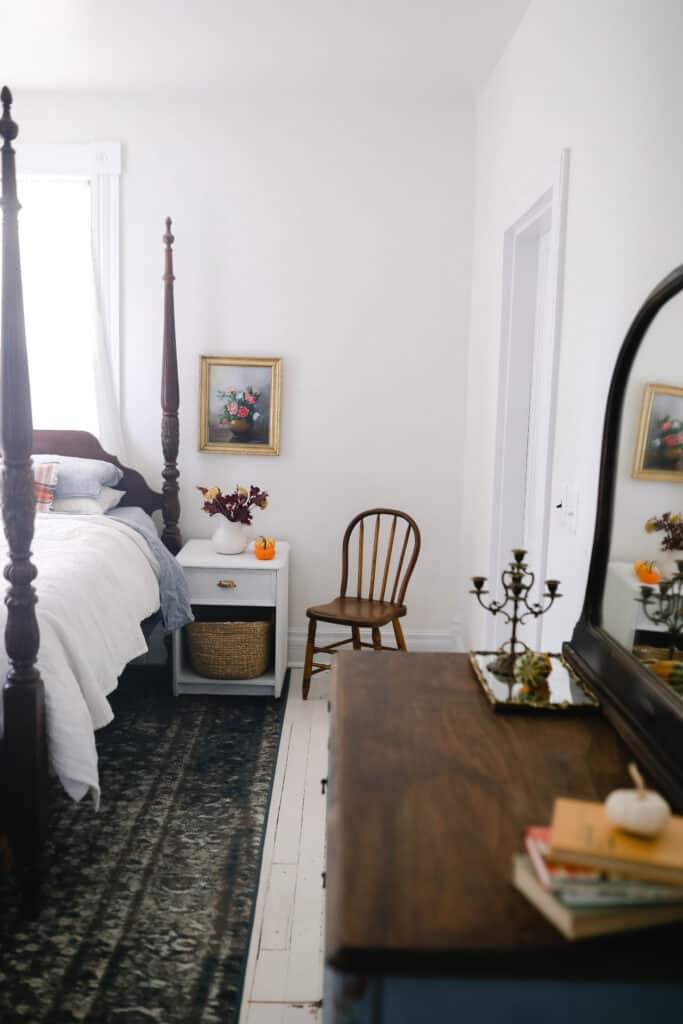 Dried florals in antique ironware pitchers, as well as small pumpkins, grace the nightstands.
Mini pumpkins and gourds get nestled on the dressers and on vintage mirrors.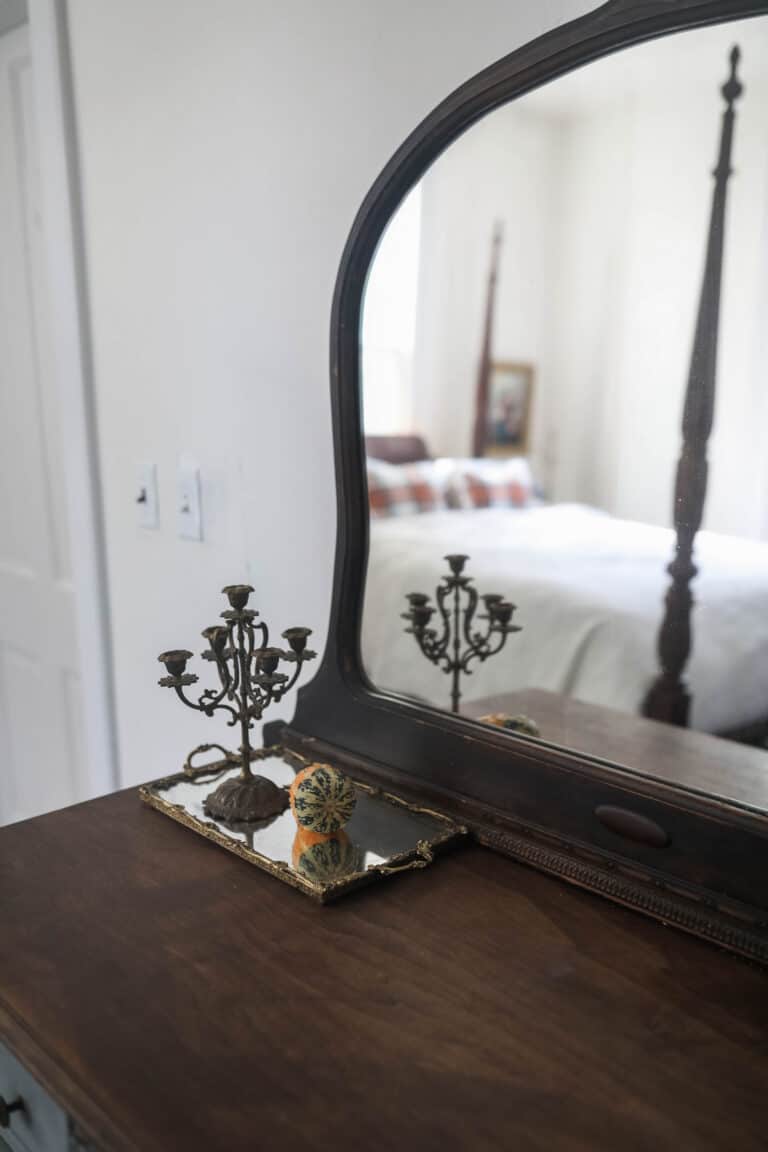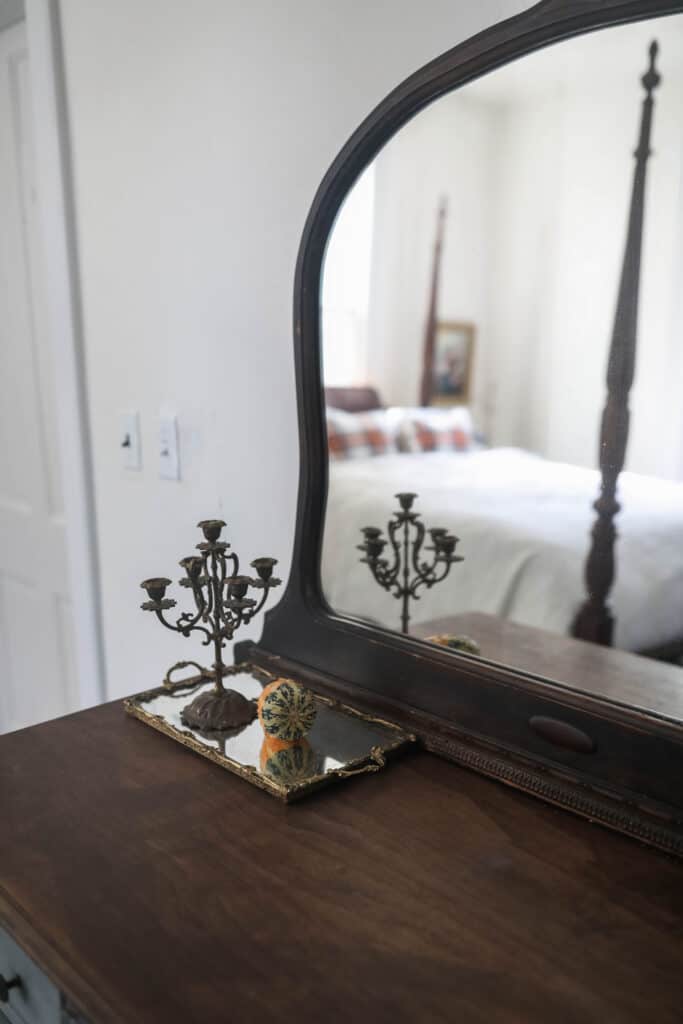 Front Porch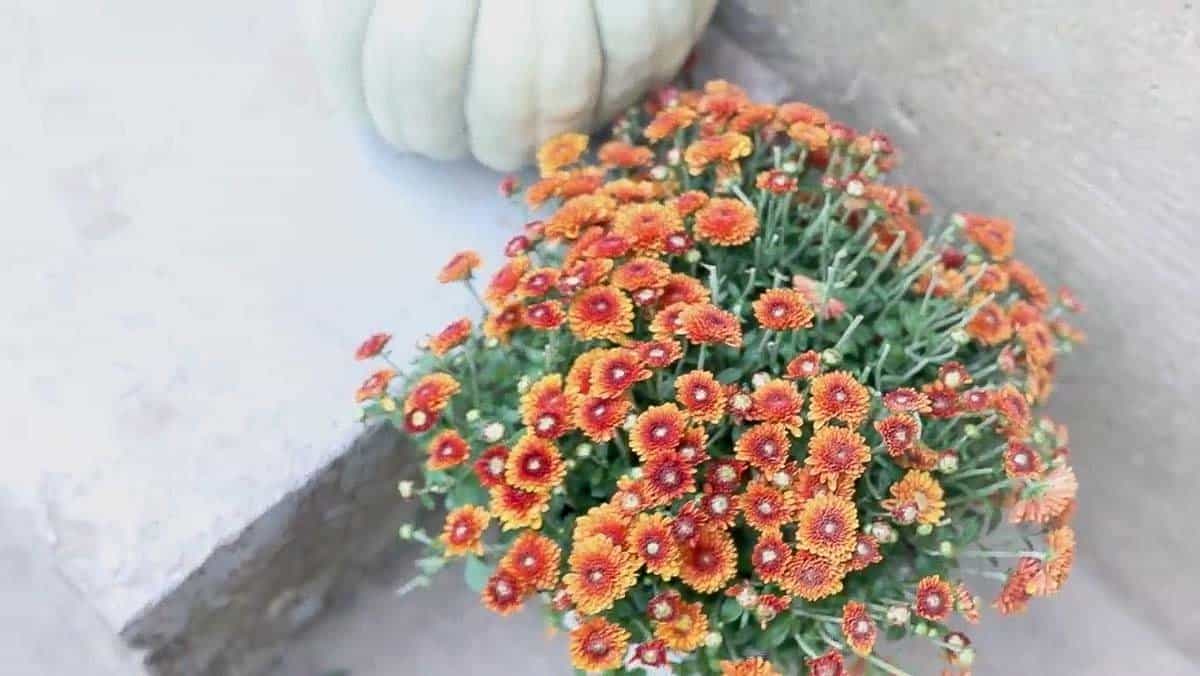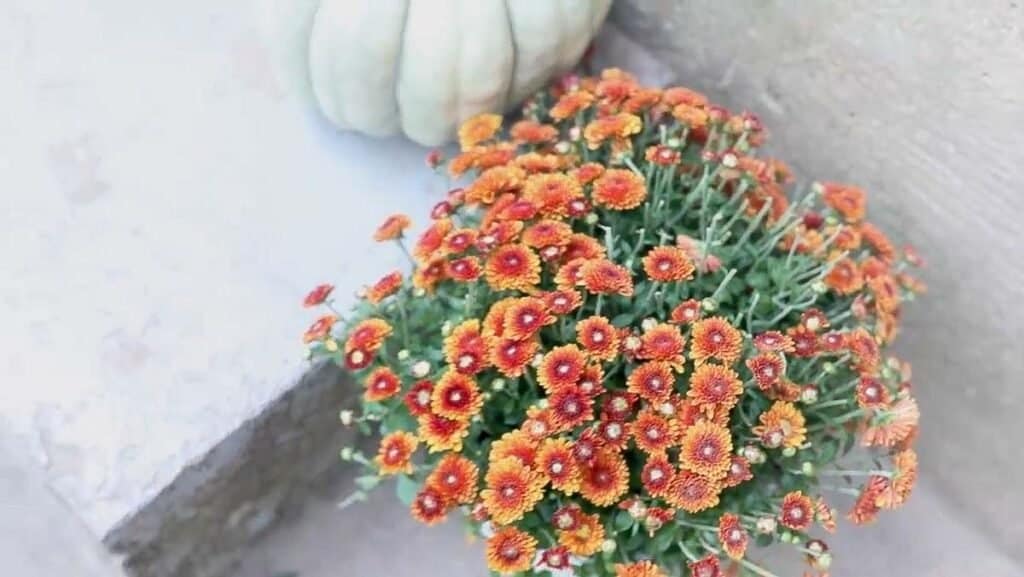 To really cozy up the front porch, I stacked pumpkins up the stairs, along with some orange mums in large stone canisters. Logs are stacked, ready for fires in the wood-burning stove.
Simple and beautiful.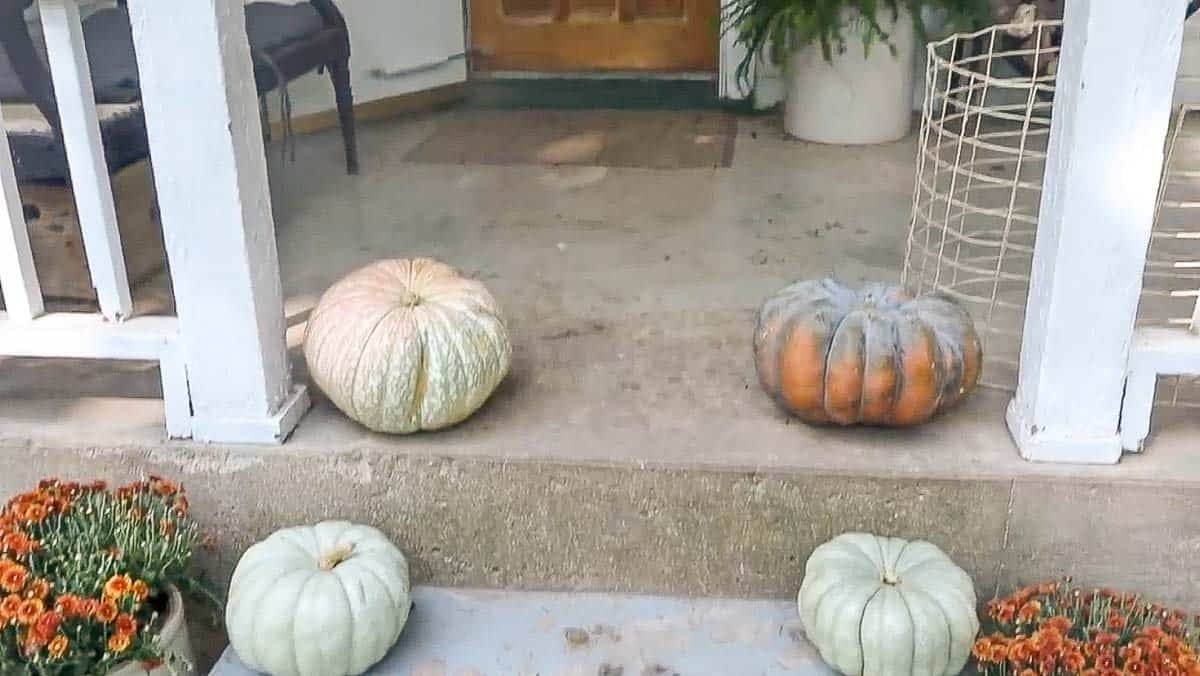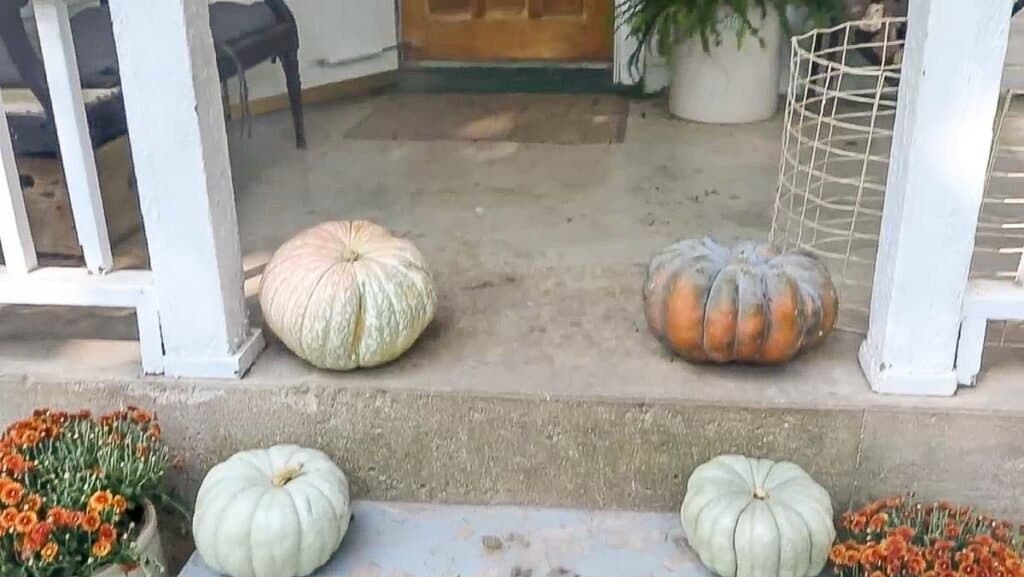 I hope you enjoyed this simple and beautiful fall tour, and that you feel inspired to look around your area to decorate for the seasons. You don't need to spend a lot to cozy up your home.
Pin It For Later