It has to get a whole lot worse before it gets better! And that is what I have for you today, folks.
If you thought my blue tile, calla lily bath insert, fake stained glass window and Hollywood vanity light were eye sores, wait until you see what I have for you today!
Here is what our bathroom looked like before: You can check out the post with all the befores and original design plan here.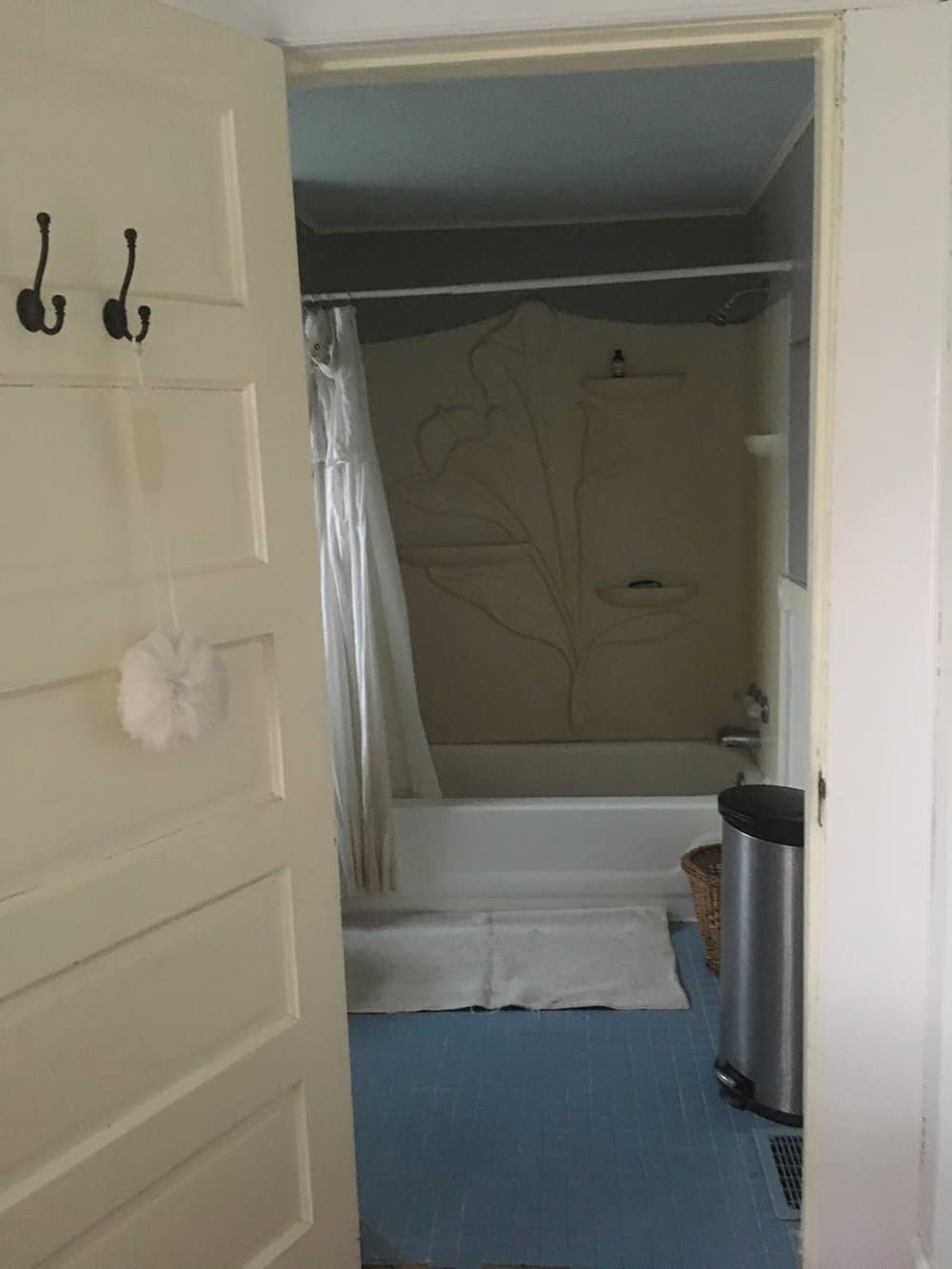 You can check out the post with all the befores and original design plan here.
Behold, the demo…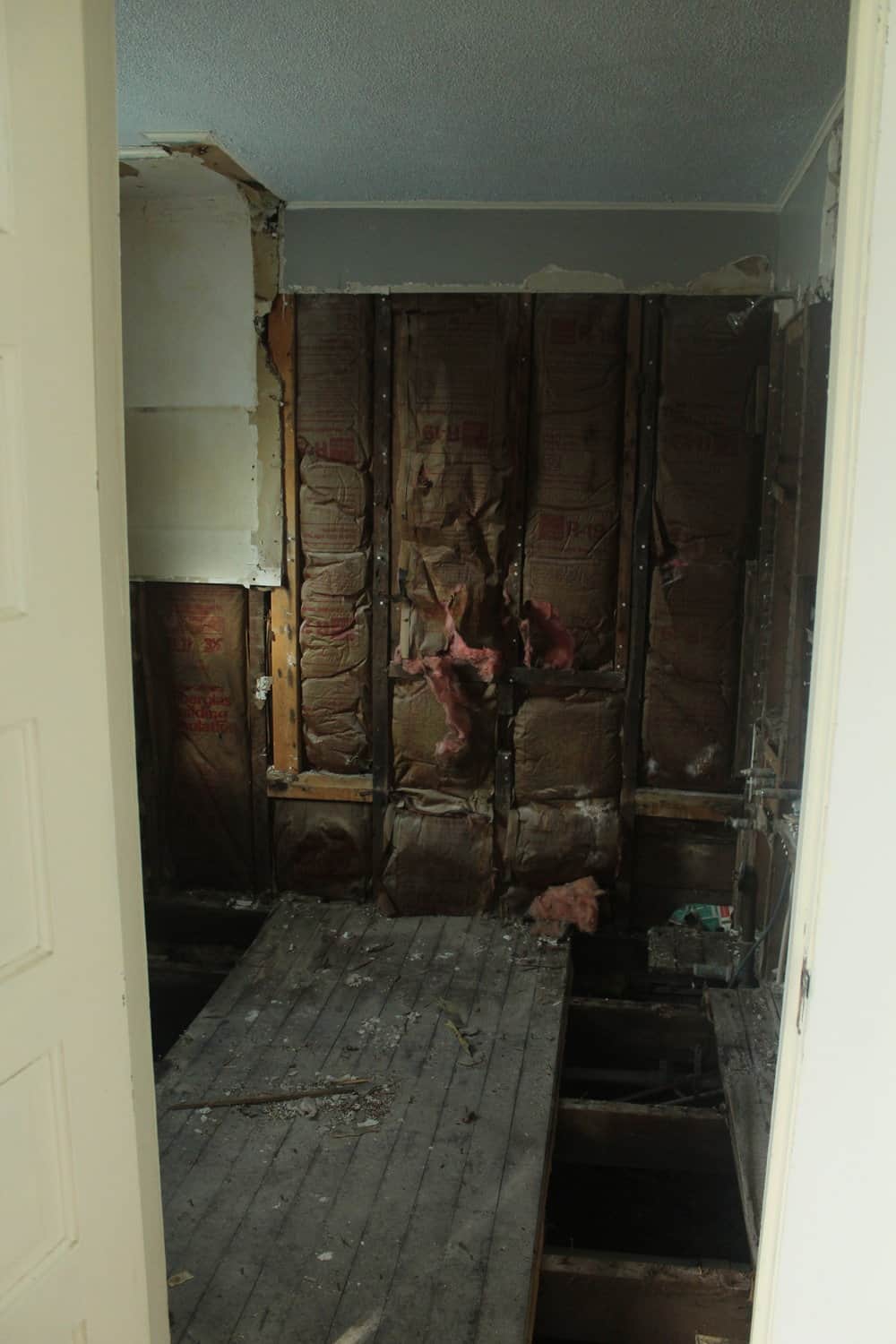 Now this is the first time we have actually demoed a place.
In our kitchen renovation last winter we ripped out the old back splash, counters, sink and floor, but we left most of the room pretty intact. As you can see, that was not the case with our bathroom.
I couldn't see any way around a total gut. The floor was too ugly to be dealt with, and an original window was covered with an ugly vinyl calla lily shower insert?!
Can you tell I can't get over that?
And I was actually kind of hoping the hardwood floors would be salvageable. That's obviously not happening, but I think a little tile will be a nice change of pace in our, otherwise completely hardwood floor covered, house.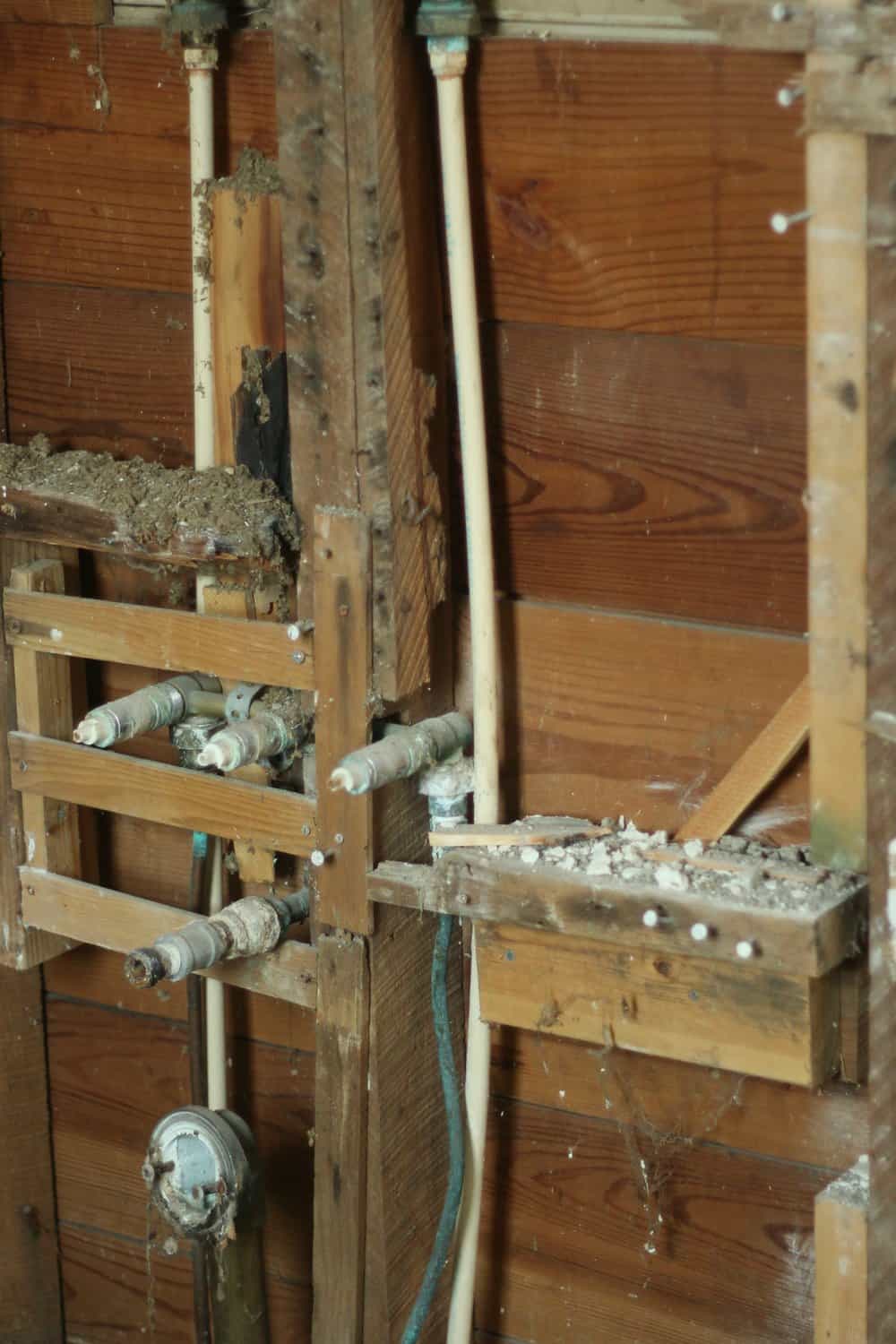 Our house is almost 100 years old, so behind the walls look what is there..the beloved, coveted SHIPLAP! But, of course, we can't actually get to it and use it.
I know people are saying it is apparently way overdone and too trendy, but I can't get over it. I still love the stuff, and we will probably be covering the walls right back up with it!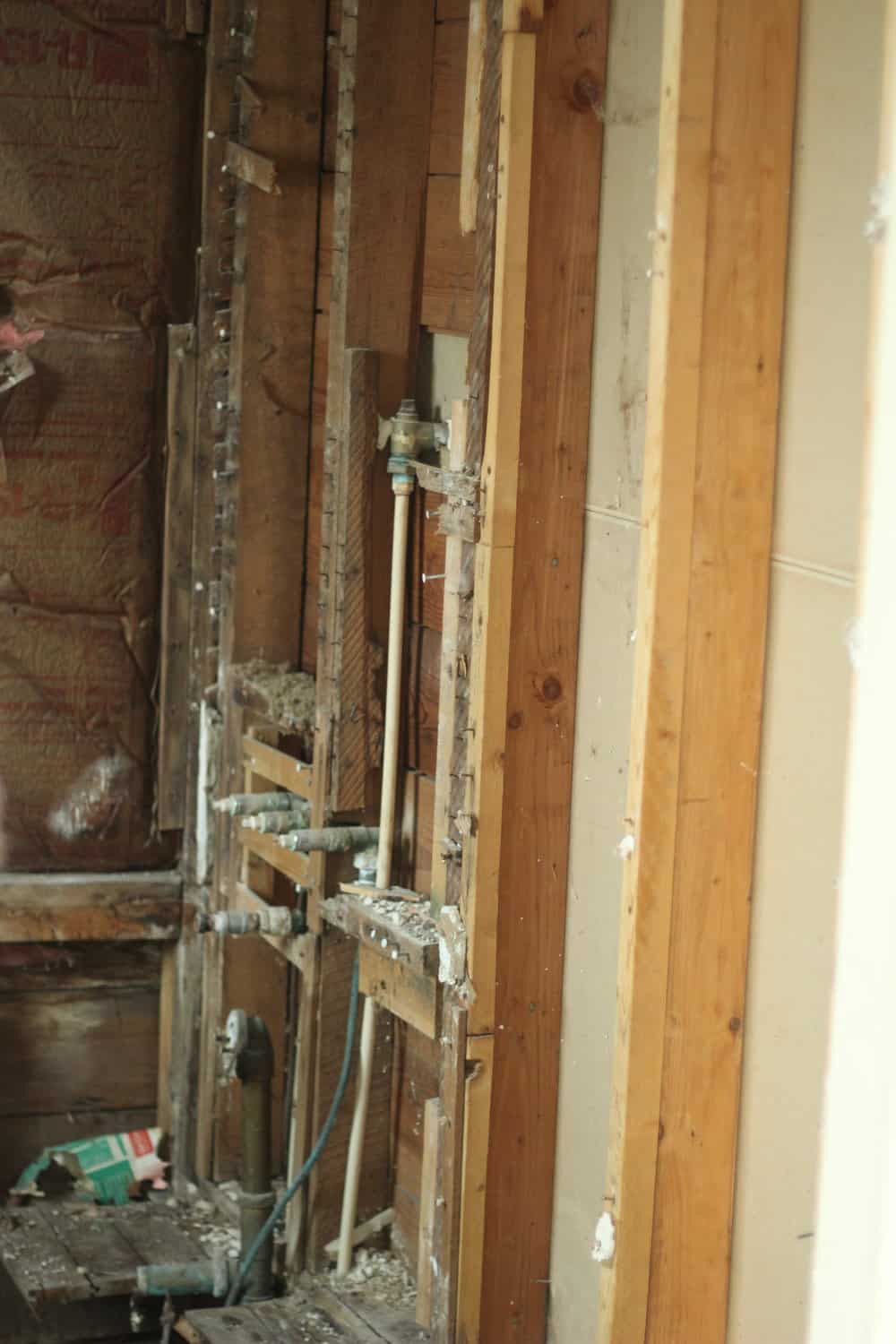 It is obvious, after ripping into the walls, that there was a doorway that was covered up at some point, as well as the window that I mentioned before.
That is what is so interesting about old houses. It makes me wonder about all the people who called this place home and invested their time and money into sprucing it up.
It also makes me wonder what the people who live here 50 years from now will do with it! They will probably say, "Ugh! Why was it ever a thing to nail all these boards all over the wall? What were these people thinking?" Just like I say about the wood paneling in the laundry room and popcorn ceilings everywhere
"Why was that ever a thing??"
But is there ever a way to avoid a home looking dated in 20 years? I don't think so.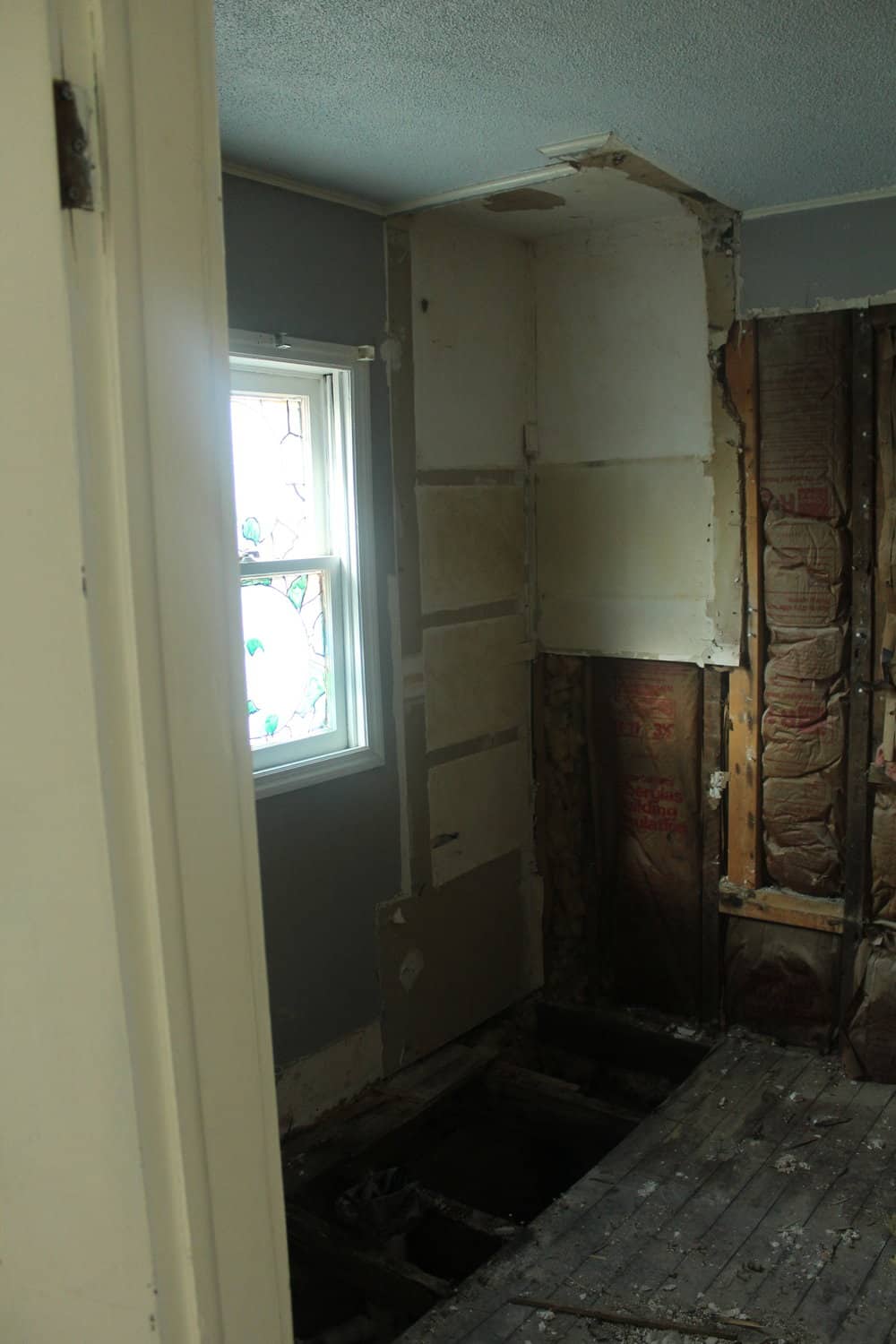 I was surprised to see that our little "stained glass" window was actually centered on the wall. With the closet in the corner before, it appeared to be situated more to the back.
We found planning a new layout in this space to be pretty challenging.
Since the door isn't centered in the room, it would be hard to fit anything on either side of it.
I wanted the vanity to the right when you walk through the door, but since the door isn't centered, you would walk right into it
For some reason i thought it would be a little easier to plan the layout once everything was out, but it was just as difficult.
Here is what we think will work the best: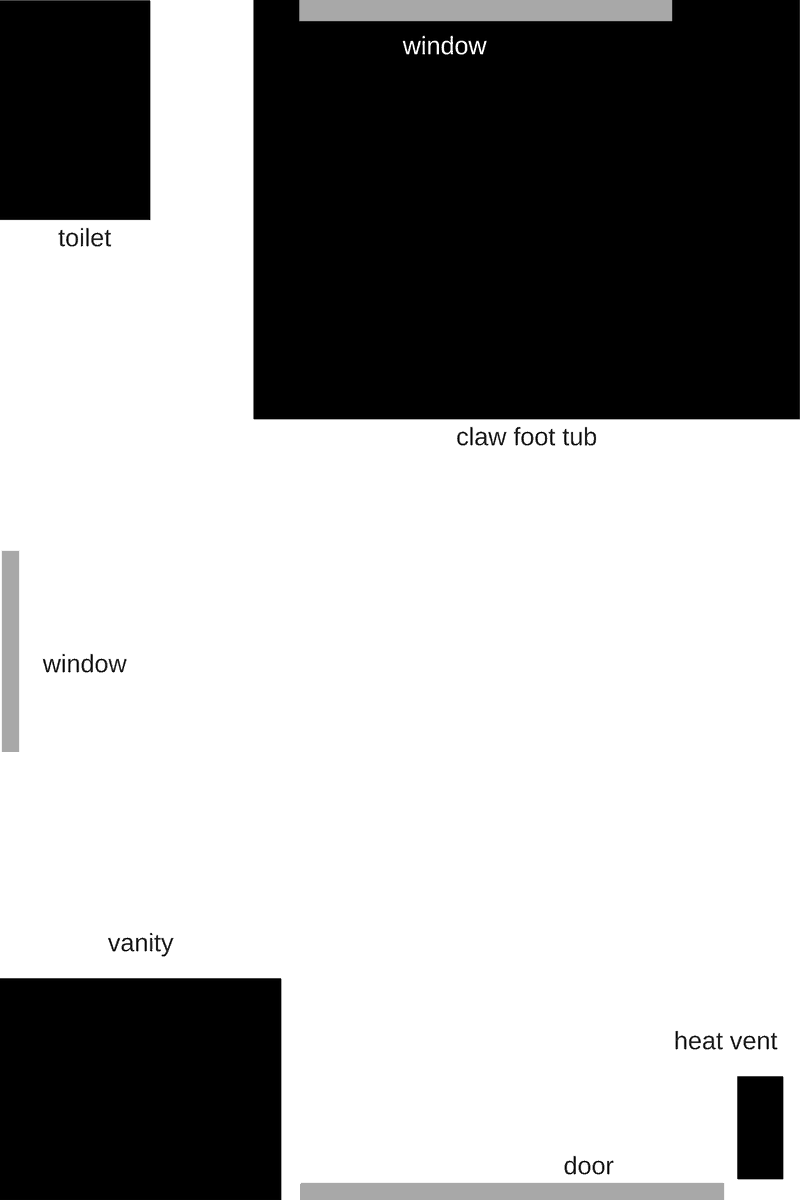 It definitely wasn't what I had originally planned, but we measured and studied this room for at least an hour, and this is the best we could come up with.
We thought about slanting the tub in the corner, but I had my heart set on it sitting below our new window.
We are going to put new windows in, so they can both match. We will also add the farmhouse trim, to match the rest of the house.
I still haven't 100% decided on the tub, tile and walls but I'm going to be forced to make a decision pretty soon here. You would think this wouldn't be a problem when I have had 8 years to think about it.
I'm still loving the part where the possibilities are completely open, but I'm going to have to get over that soon, so we can have our bathroom back!
I can't wait to bring you some progress on this space in the next couple of weeks. Stay tuned..