See our farmhouse girls room makeover full of DIY projects. Tutorials included for bedding, wall art and planked ceiling.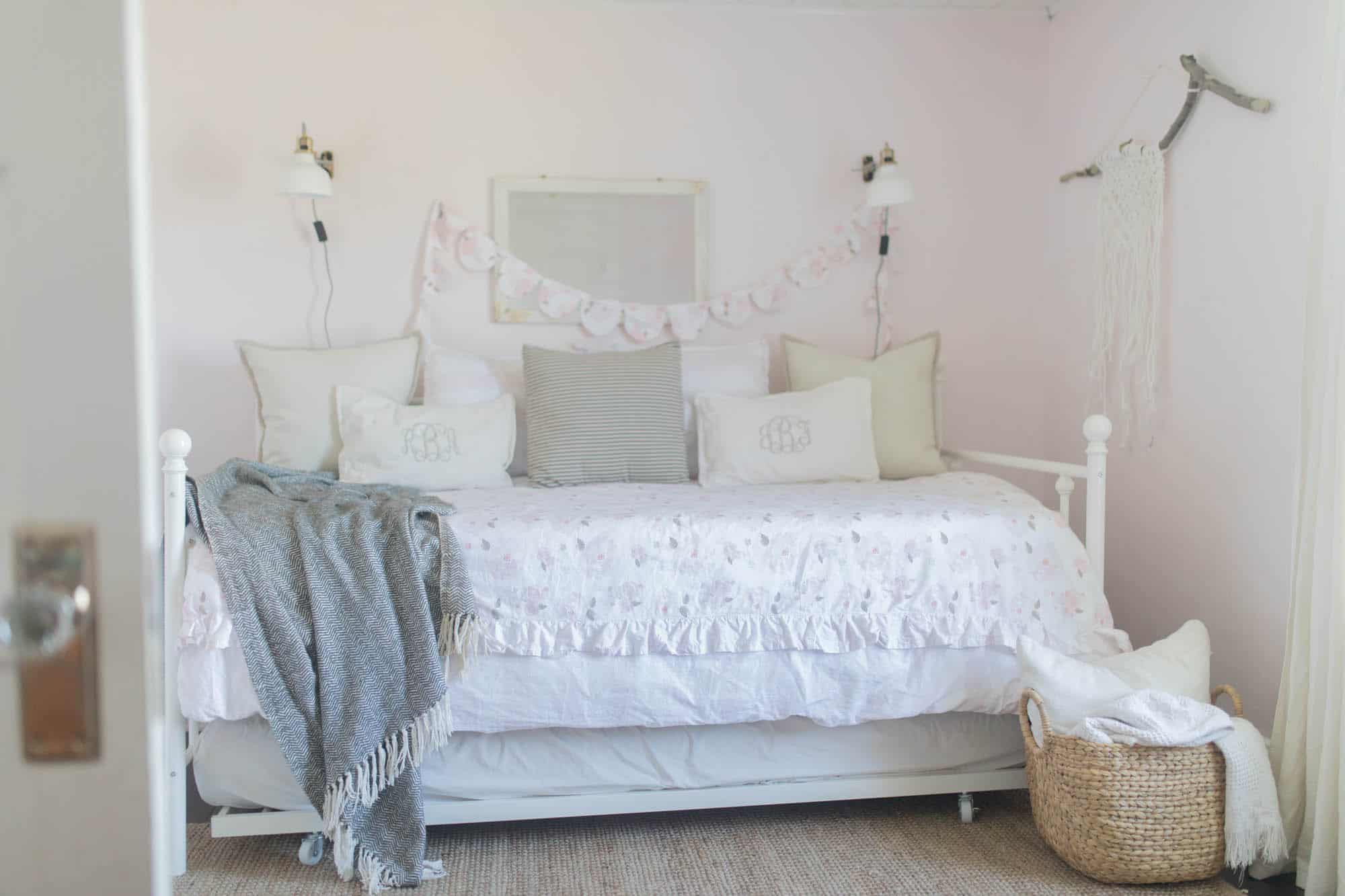 I want to invite you in to see our farmhouse girls room makeover.
This room has stumped me for as long as I can remember. I have some very, let's just say, creative girls. Usually walking in this room involves moving aside piles of cardboard boxes, washi tape and colored pencils.
On top of that, the girls' room is very tiny with short ceilings.
It is a very tricky space to work with.
I wanted to make this room whiter, brighter and a little more cozy. I brought in a new rug and replaced the dark bunk beds to accomplish that goal.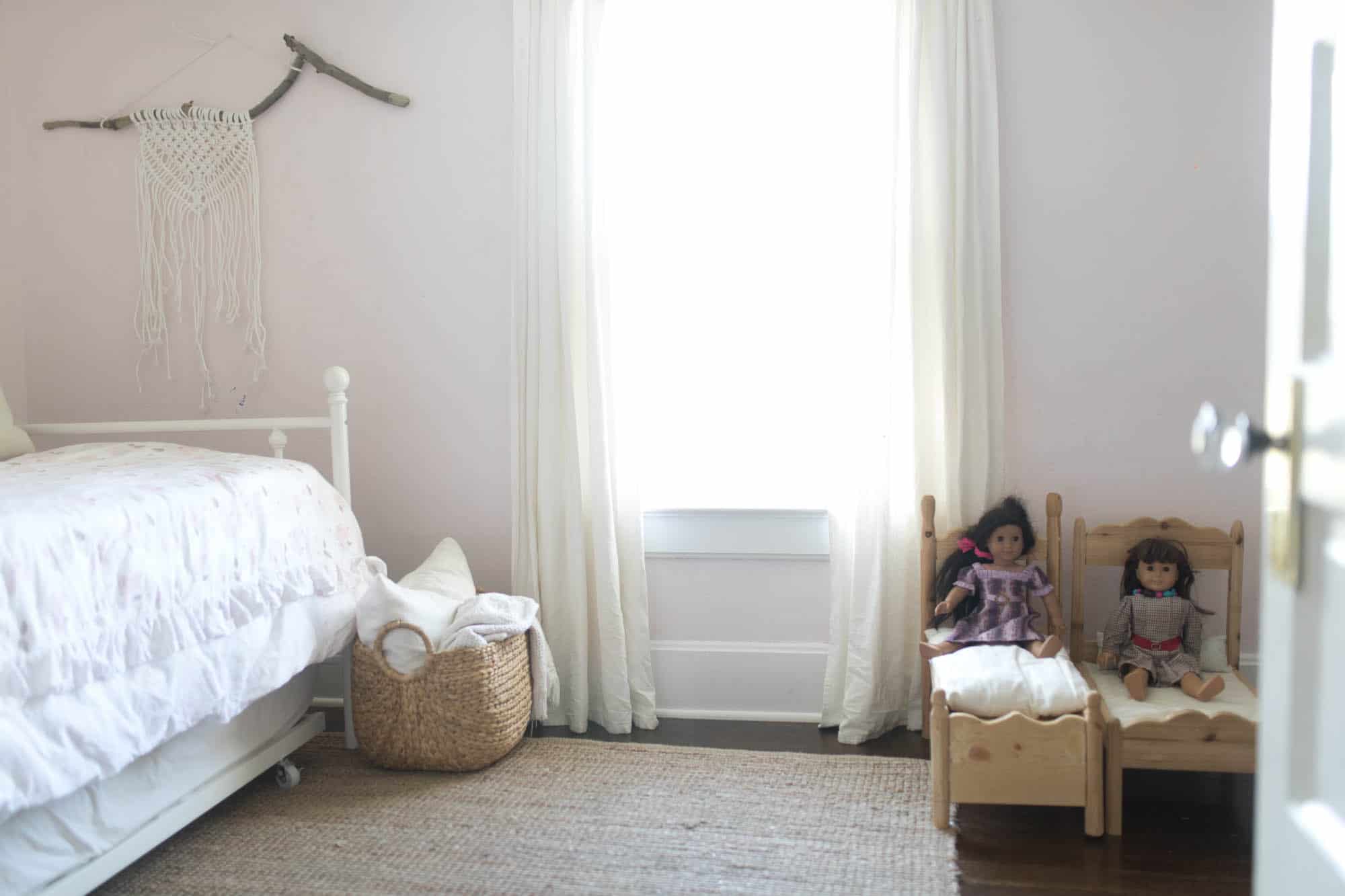 Changes we made in this room
We planked the ceiling to cover up the old popcorn ceilings.
We brought in an organic mattress from Savvy Rest. More on why I chose to go organic HERE.
I made new duvet covers. I offset the soft pastel watercolor fabrics with some black accents, to make the bedding a little more modern.
My girls like to remind me that they aren't babies anymore. I am apparently in denial. HOWEVER, they do still love to play with American Girl Dolls. So, maybe they aren't as grown up as they think they are. My husband's grandpa made the girls wooden doll beds. They will treasure them forever.
We swapped out the dark color bunk beds for a white trundle daybed.
I added a vintage mirror above the daybed and made fabric bunting to drape over it.
We brought in two IKEA RANARP Wall Lamps to go behind the bed.
I added a jute rug from Target. It is hard to tell in these photos, but it actually has little sparkly ribbons weaved through it. My girls chose this rug themselves. I liked the natural fibers. They liked the sparkles.
I made the white monogrammed accent pillows with bleached drop cloth. I also made the the pink and white stripe pom pom trim pillows.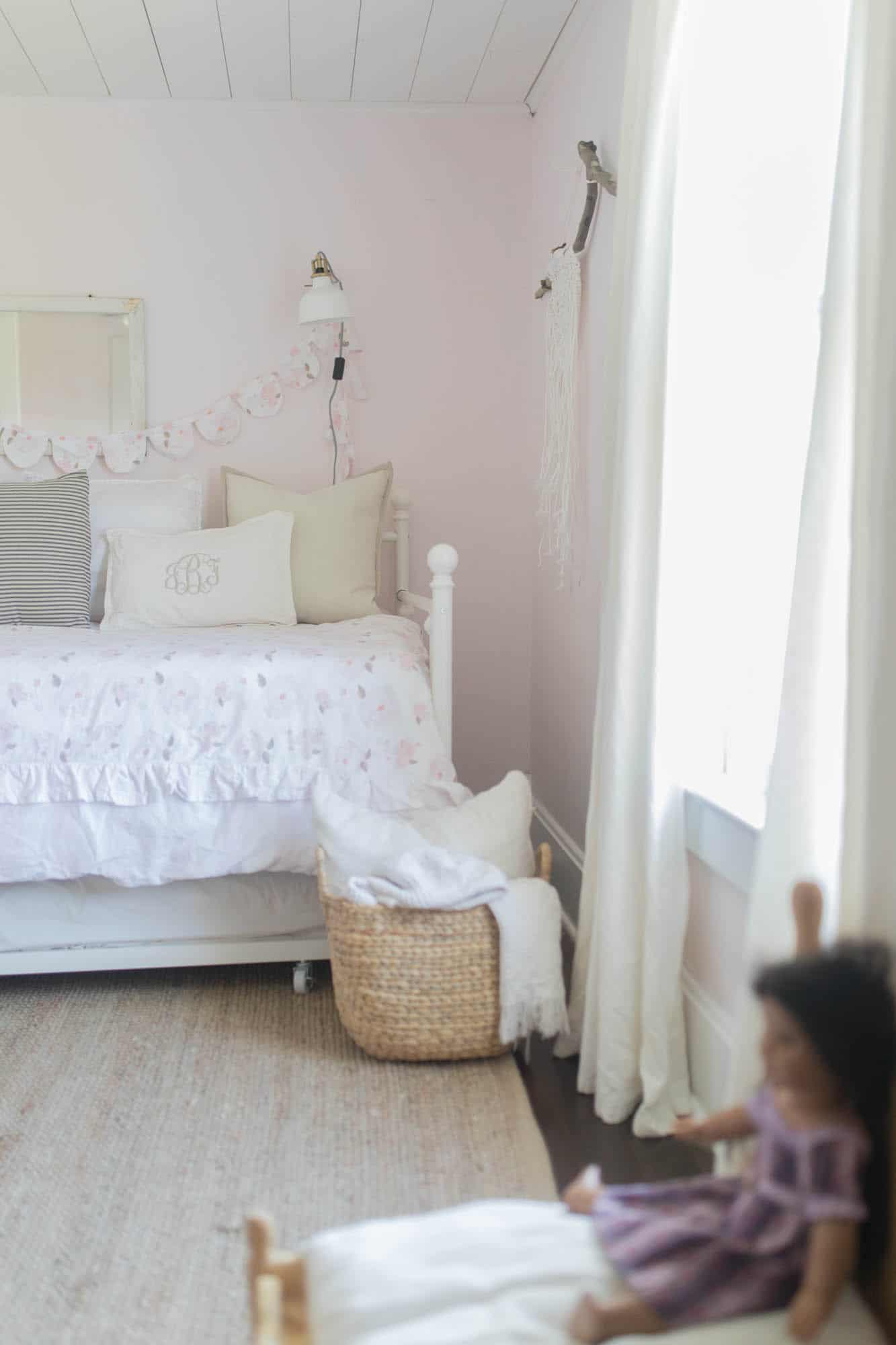 Tutorials for DIY projects in our farmhouse girls room makeover
Planked Popcorn Ceiling with Plywood
How to Sew Ruffle Duvet Covers
How to Make the Ticking Stripe Pillow
How to Bleach Drop Cloth (Monogrammed Pillows)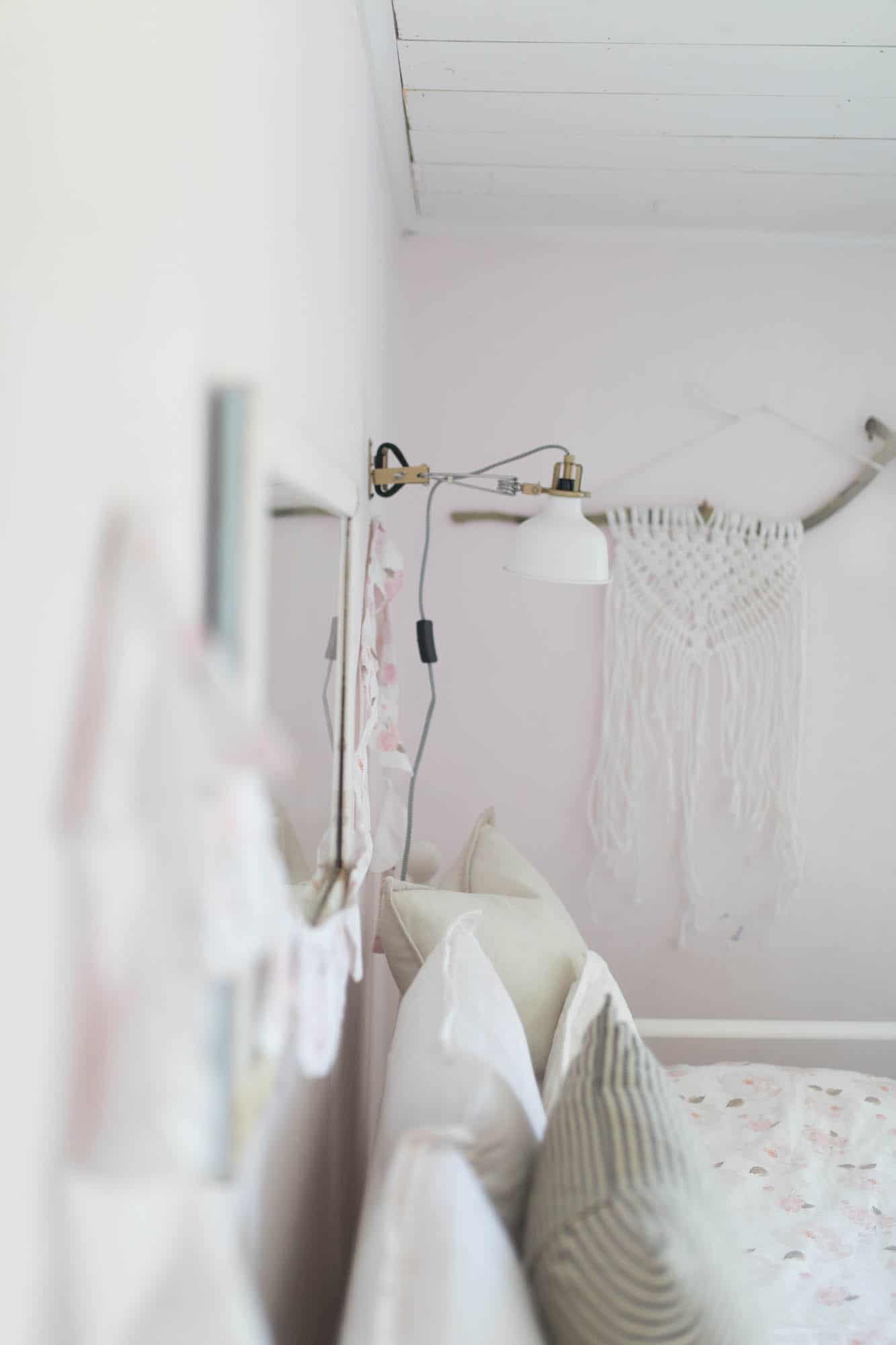 Things you do not see in this bedroom makeover
The first is a flush mount light fixture makeover. 850 beads, lots of paint and many hours in, I found out it was a horrible idea. #noteveryDIYgoesasplanned It's still hard for me to talk about. 😉 You will never see the end result of that one. Epic fail.
On a happier note, in the corner not pictured we have a little studio set up where we record videos for my girls' Hey, Crafty! Youtube Channel. It doesn't really match with the rest of the room, but in a small house, every corner has to be utilized. So, little home studio it is! My crafty girls have so much fun with it, and I can count it for homeschool.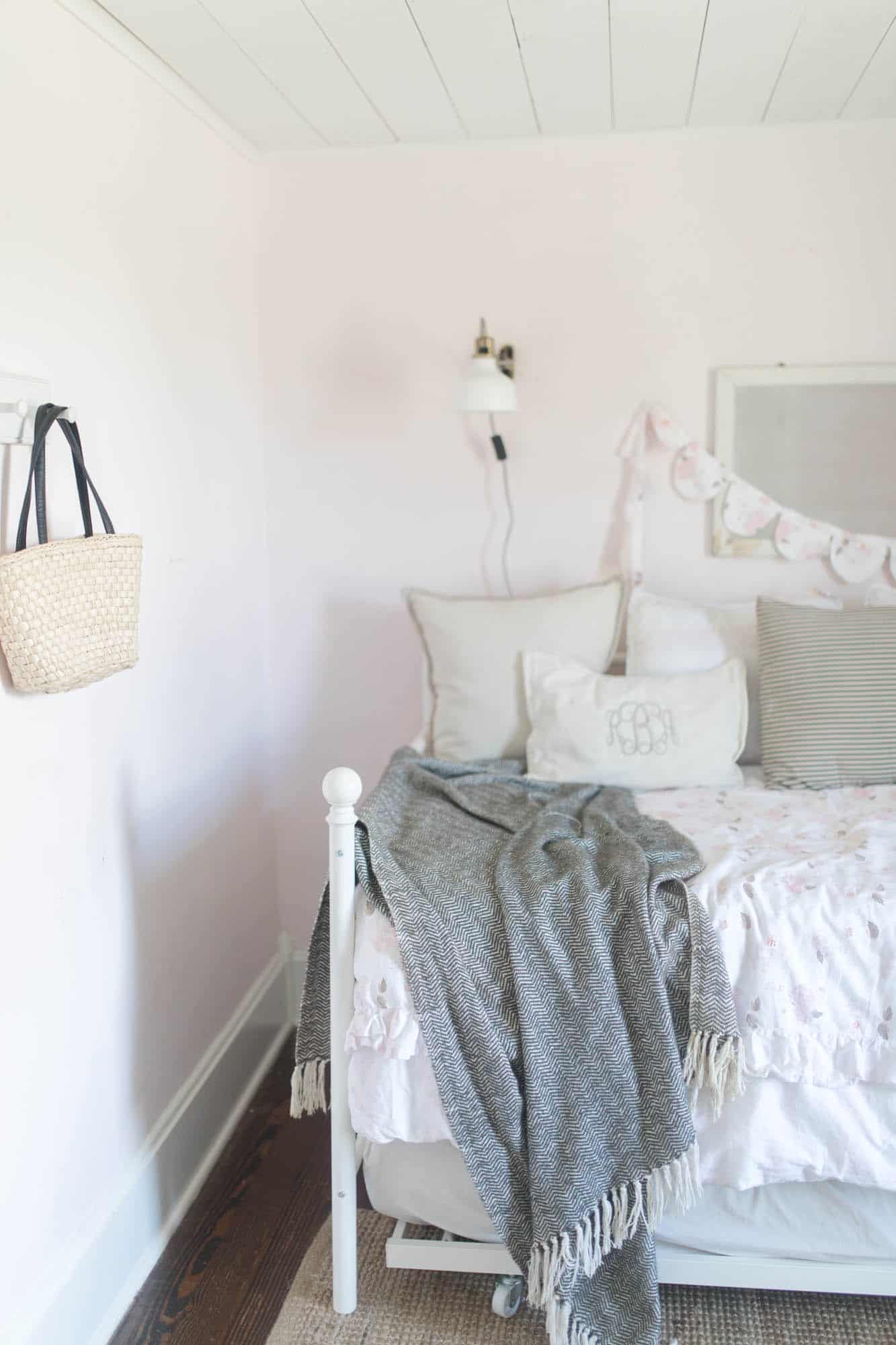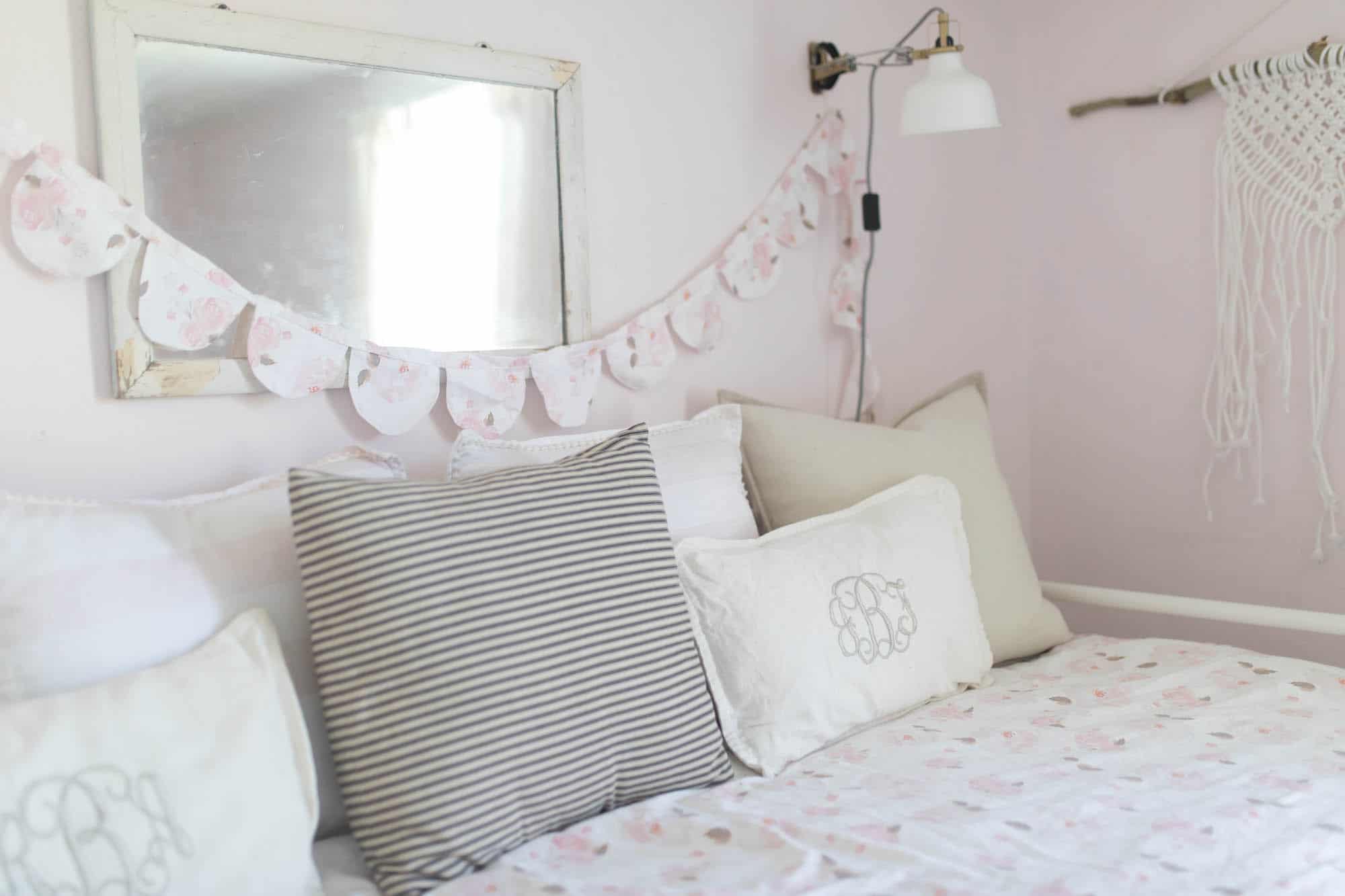 This room will always be a bit of a creative mess and a work in progress, but I think the makeover made the room more cozy and functional.
What do you think of the changes in our farmhouse girls room? How do you deal with decorating in small spaces? Let me know in the comments below.
Shop the girls room

This post contains affiliate links for your shopping convenience. See my full disclosure HERE.