This Farmhouse Laundry Room Organization Cabinet Makeover was a long time coming. I am so ready to show you the changes I made.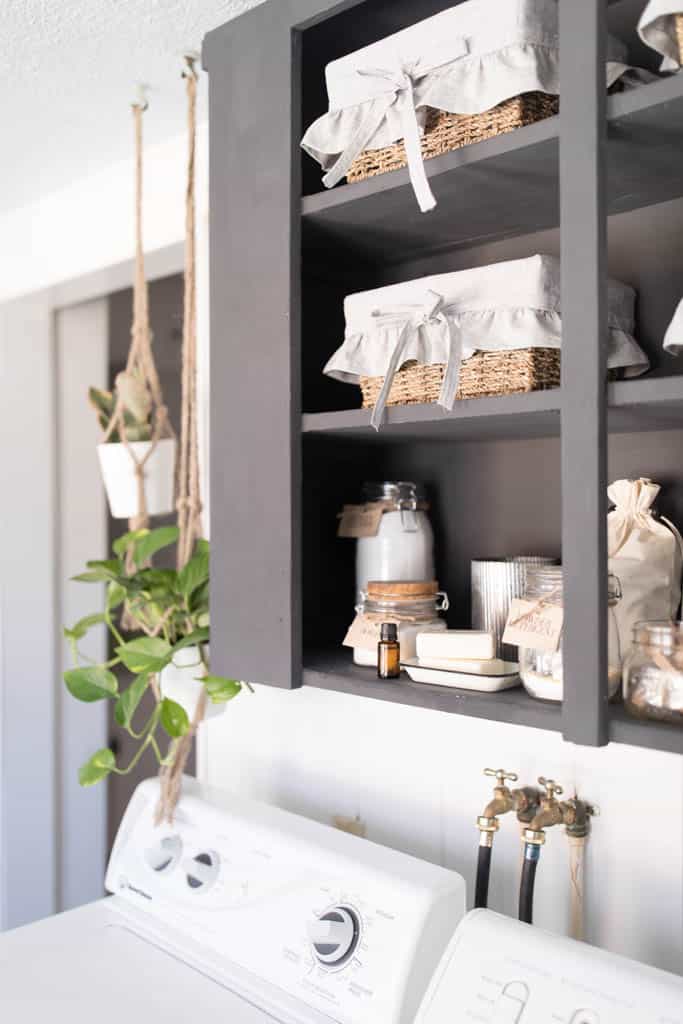 I have a tendency to neglect ugly things behind closed doors. My Spice Cabinet Organization and Pantry Organization with Mason Jars posts proved this. If I can hide the mess away I am pretty darn good at ignoring it. If you ever come over to the farmhouse, never look under the bed, ok?
The same holds true for the laundry room. We have lived in our home for almost 10 years now, and I never took the time to makeover laundry room. I always planned to, but other things somehow always climbed their way up the priority list.
I promised you all in my last organization video that I would tackle the laundry room next. Nothing motivates like telling a whole bunch of people you're going to do something. With the pressure on, I started planning my next big organization project.
Lets take a look at the before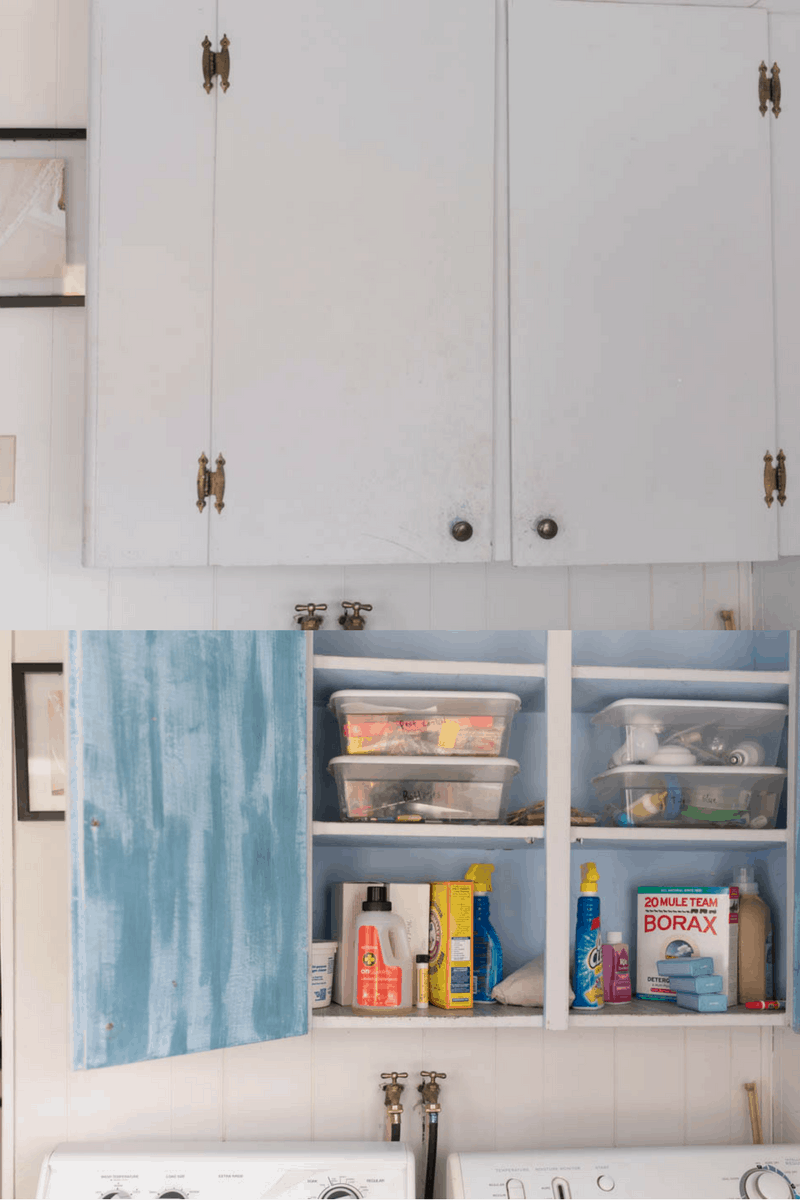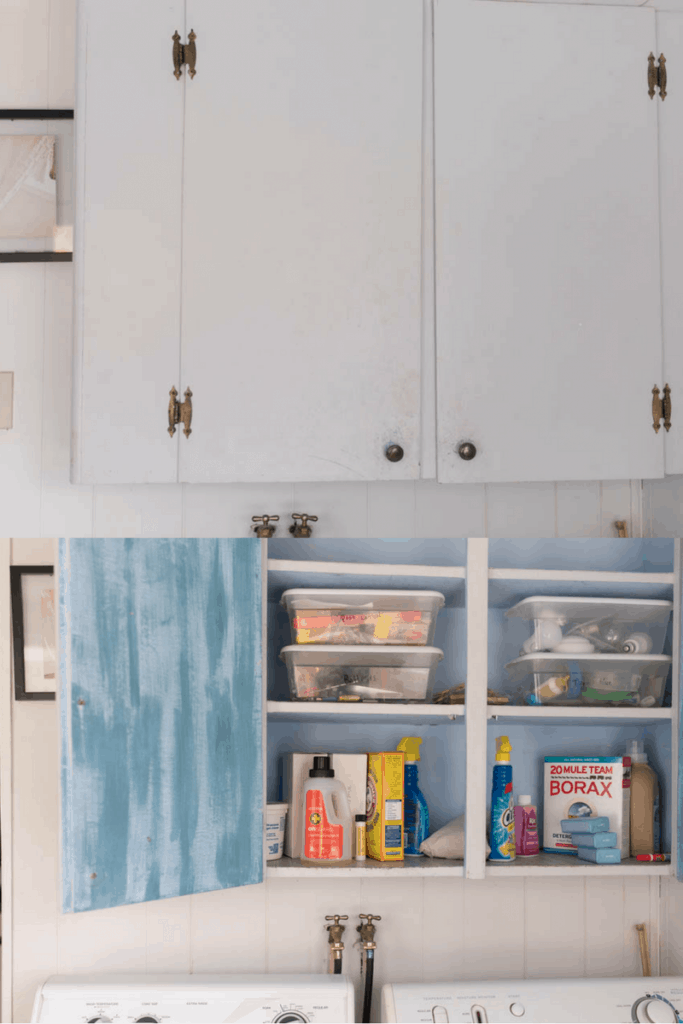 The people who lived in this house before us devoted many hours of their lives to sponge painting the cabinet doors an electric blue. (I had to throw that adjective in there, because "blue" just doesn't suffice). I devoted myself to painting the outsides, but remember my "closed door" problem? Yep, the backs of the doors stayed that way for going on 10 years now.
I thought through the look I wanted to achieve, and scoured Amazon for the right baskets, jars, paint and fabric that would fit the bill. Of course a few DIY projects popped into my mind.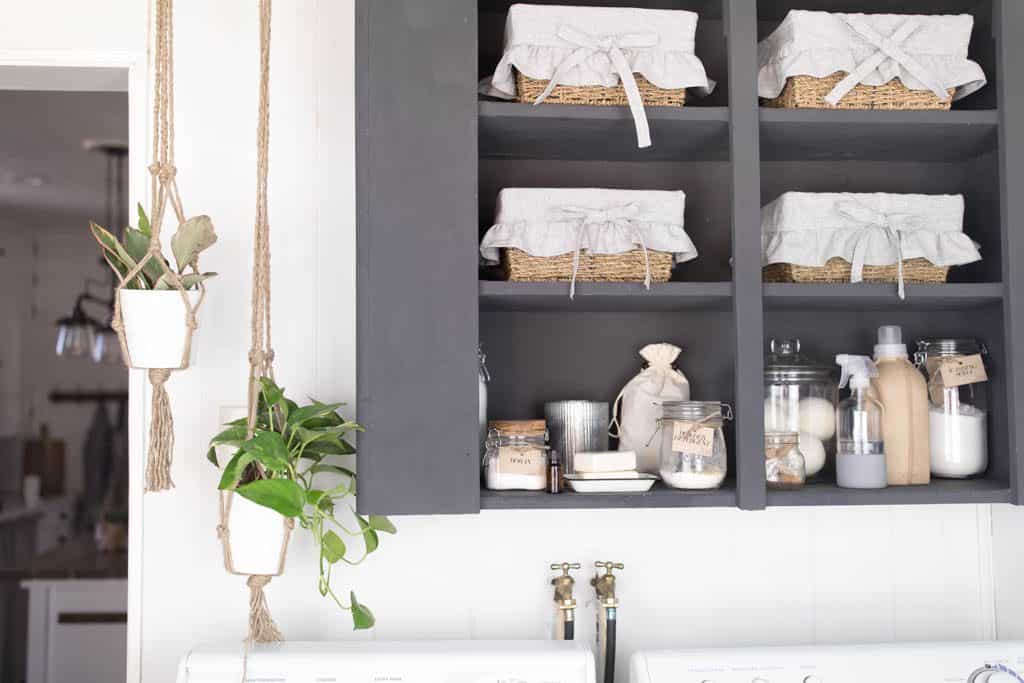 I snagged up some linen white chalk paint, seagrass baskets, and two yards of a linen blend fabric. My plan fell into place pretty quickly.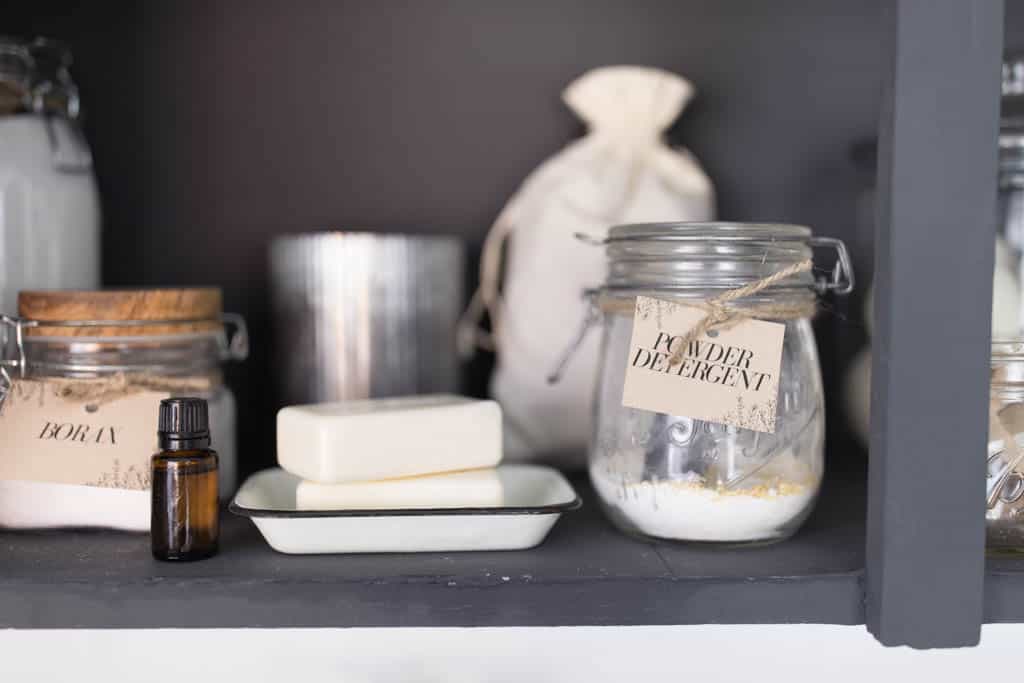 But, as it often goes with me, my plans are never set in stone. I like to just start working on something and see where the process takes me. Well this time around, it took me to a whole new paint color about halfway through the project. I jumped ship and painted over the linen white chalk paint with a bold charcoal gray instead.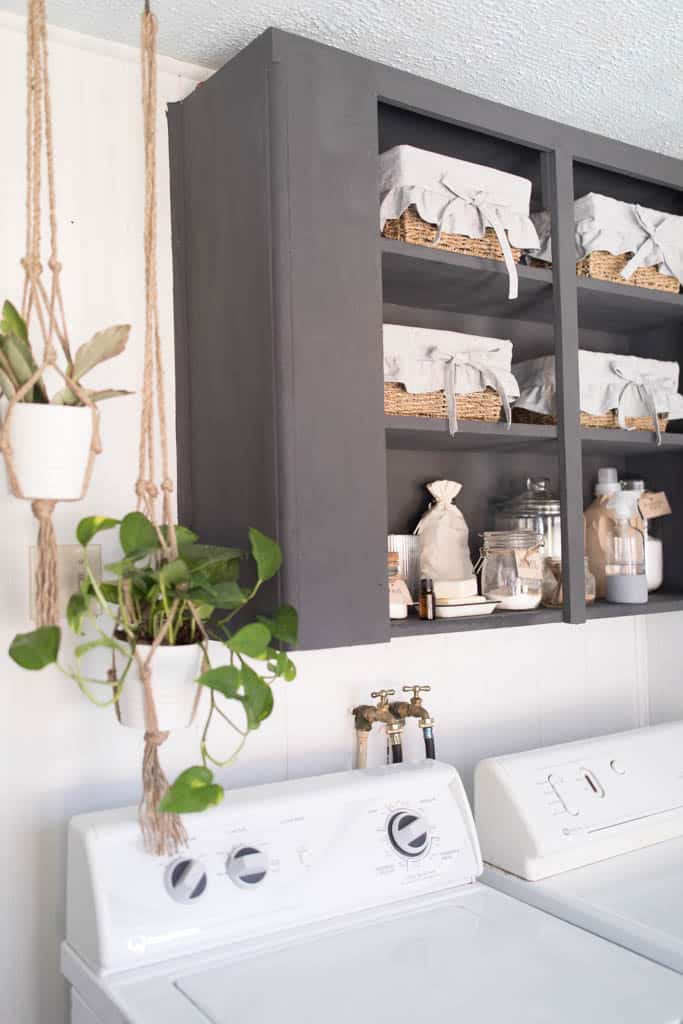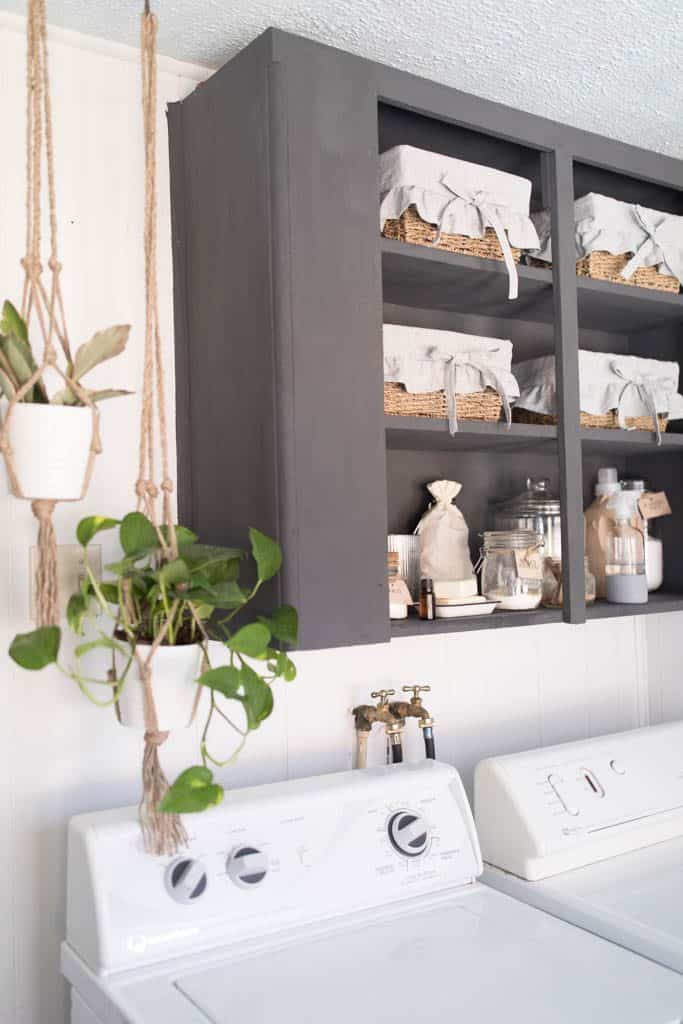 When you look through my laundry room from the back of the house, and into the kitchen there are touches of black. Swing arm wall sconces above the sink, black cabinet pulls, etc. The charcoal cabinet really pulls everything all together.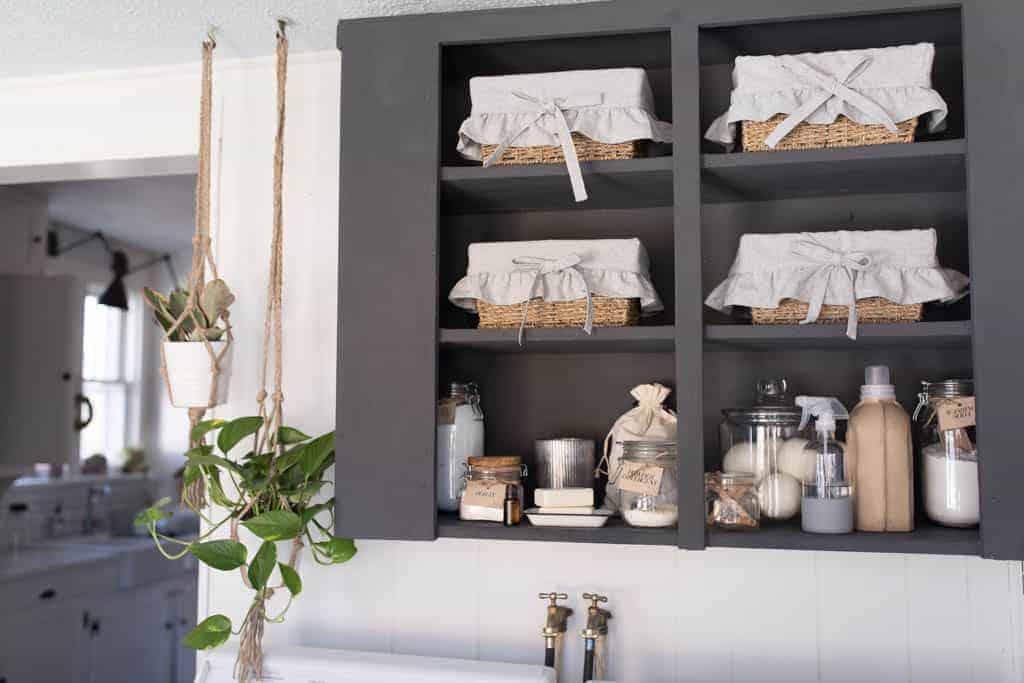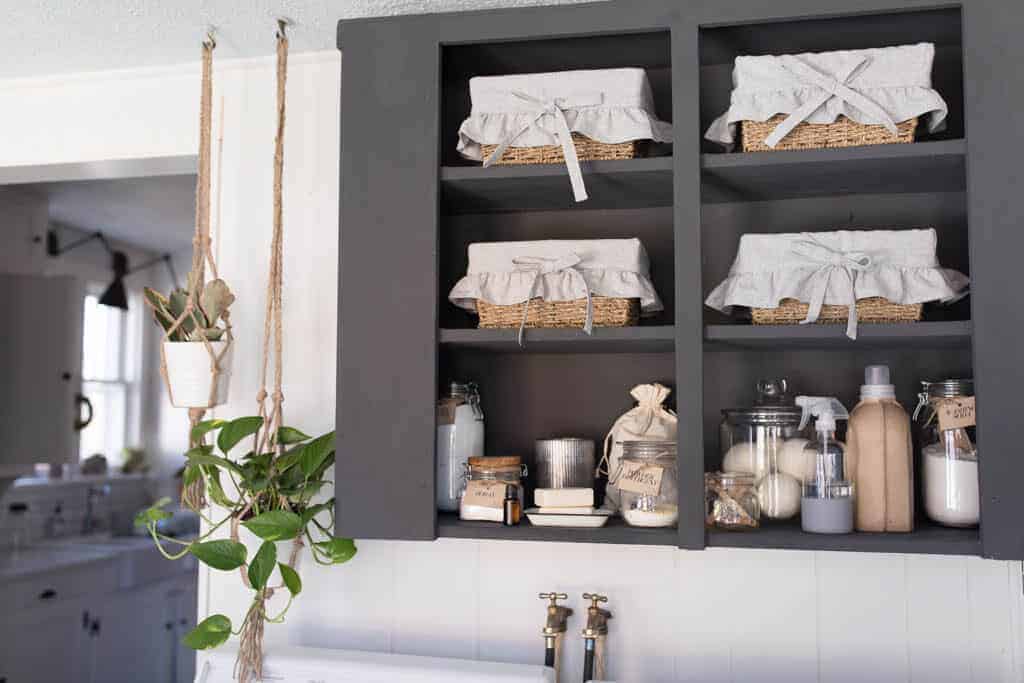 Farmhouse Laundry Room Organization Cabinet Makeover
I crafted some custom linen ruffle liners for the baskets. (Tutorial on that coming soon!)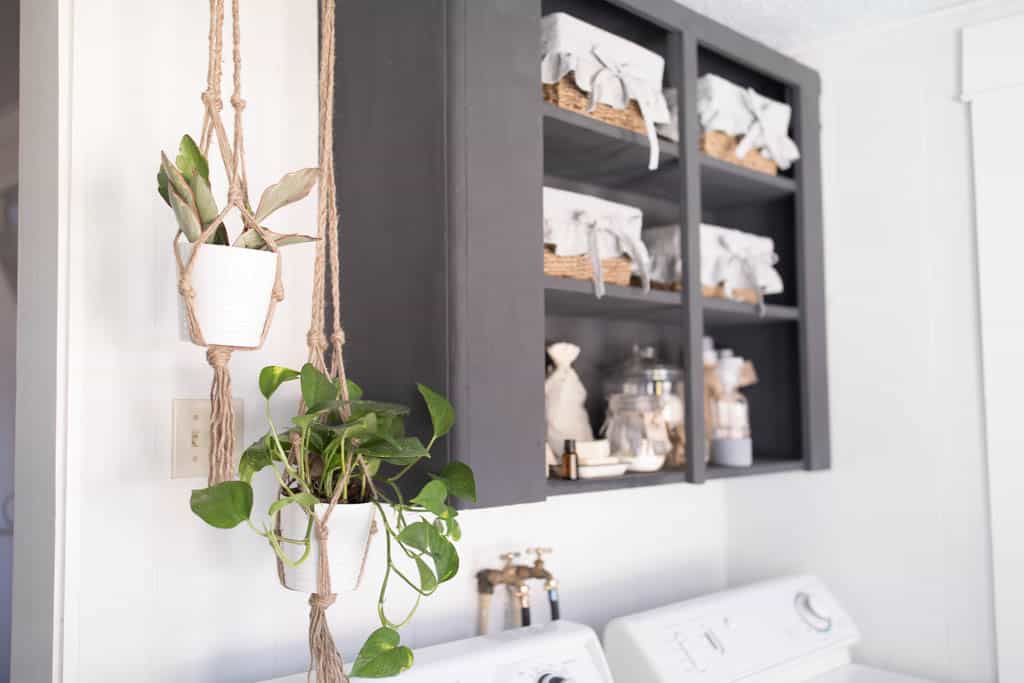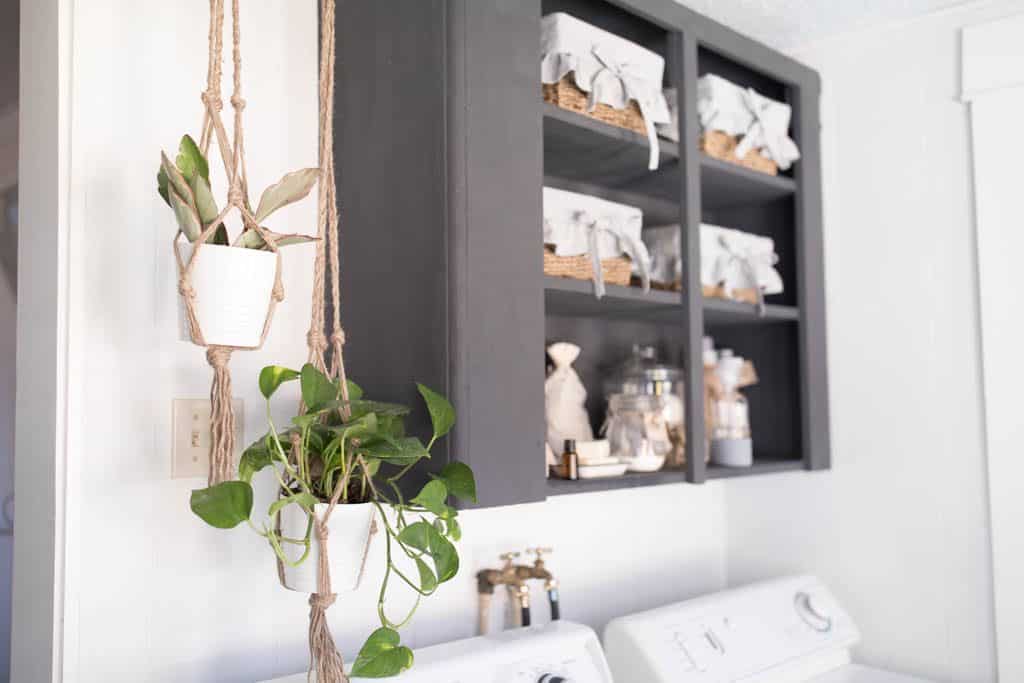 I poured my dry laundry goods, like my borax, washing soda, and oxygen cleaner into Le parfait Canning Jars, and added some cute labels. (Don't forget to snag up the free printable labels below!)
I just love the way all my pretty laundry room items stand out against the dark charcoal gray color. So much so, that I decided to leave the doors off! I love the clean minimal look.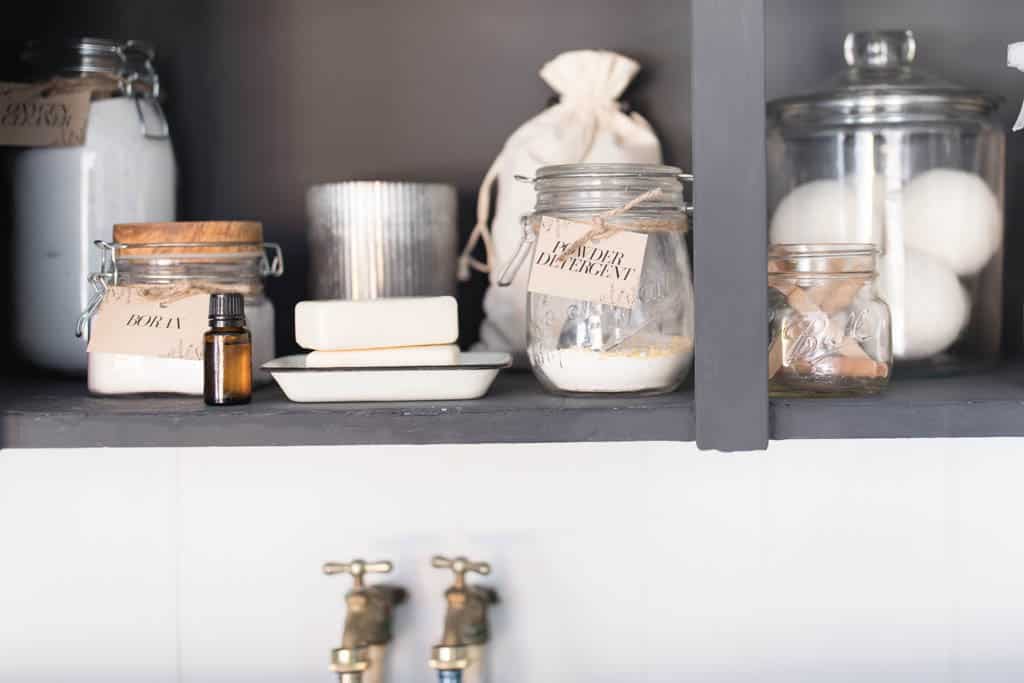 Wool Dryer Balls, Vintage Clothespins and Lavender Essential Oil (to go on my dryer balls) all now sit proudly on display.
I added the jute plant hangers to bring balance, and some fresh natural elements.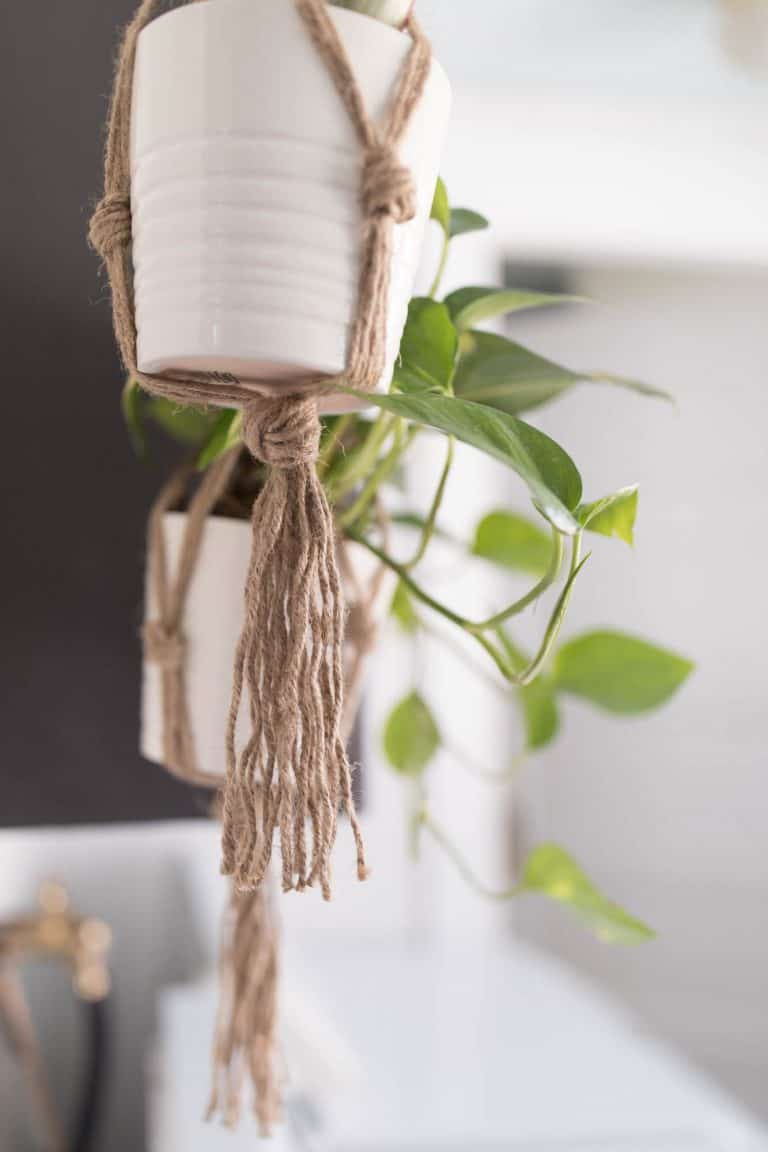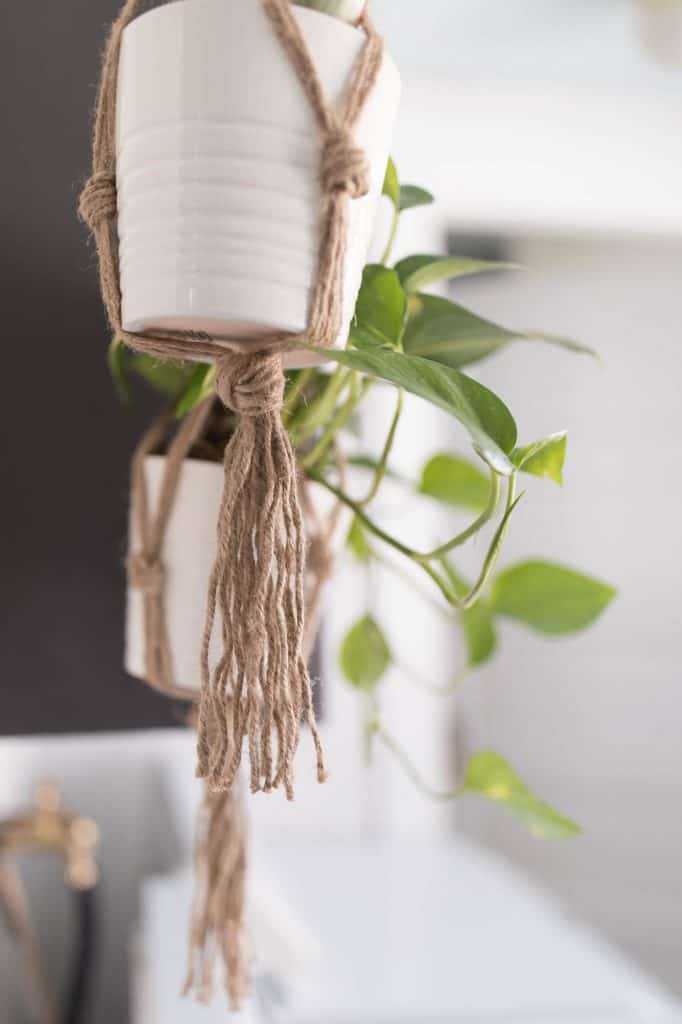 I poured my liquid spot remover pre treatment into my glass bottle from Grove, to make it fit in better with the neutral color scheme!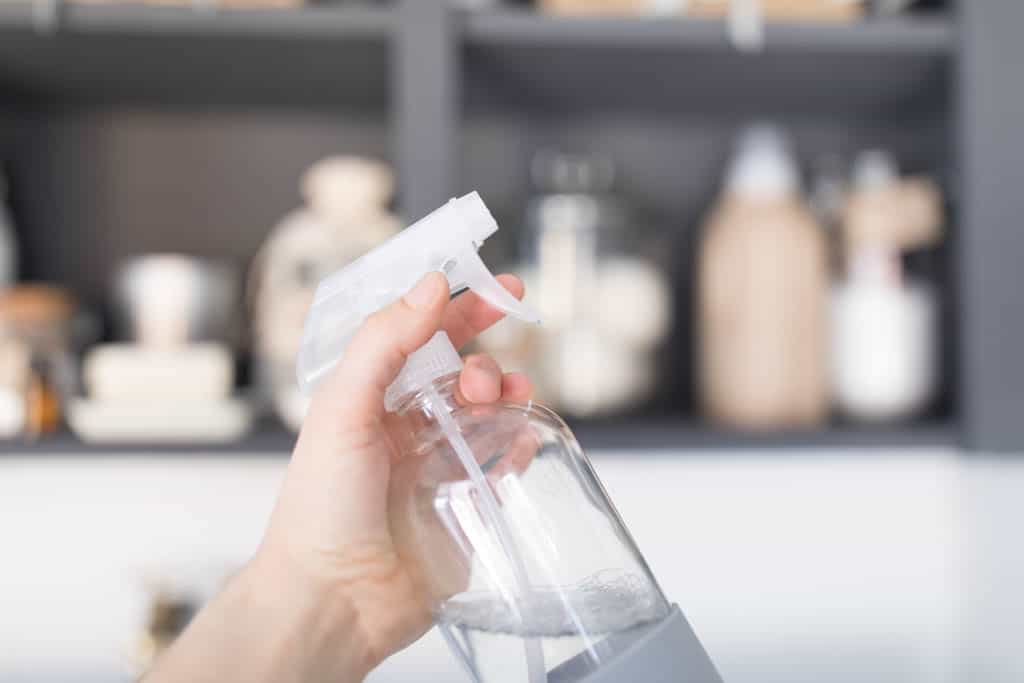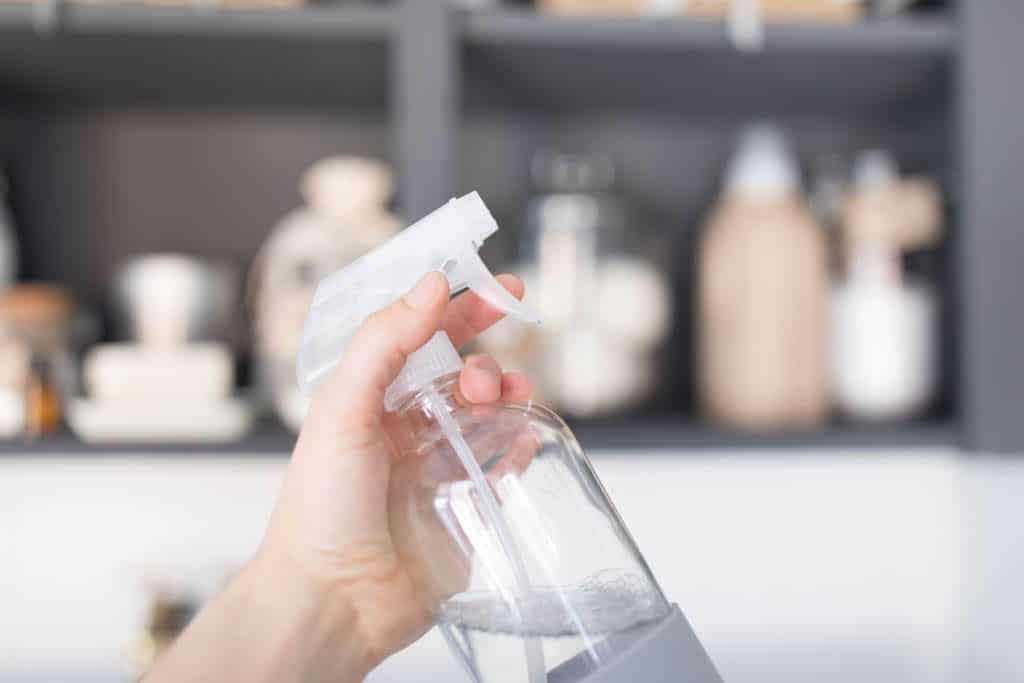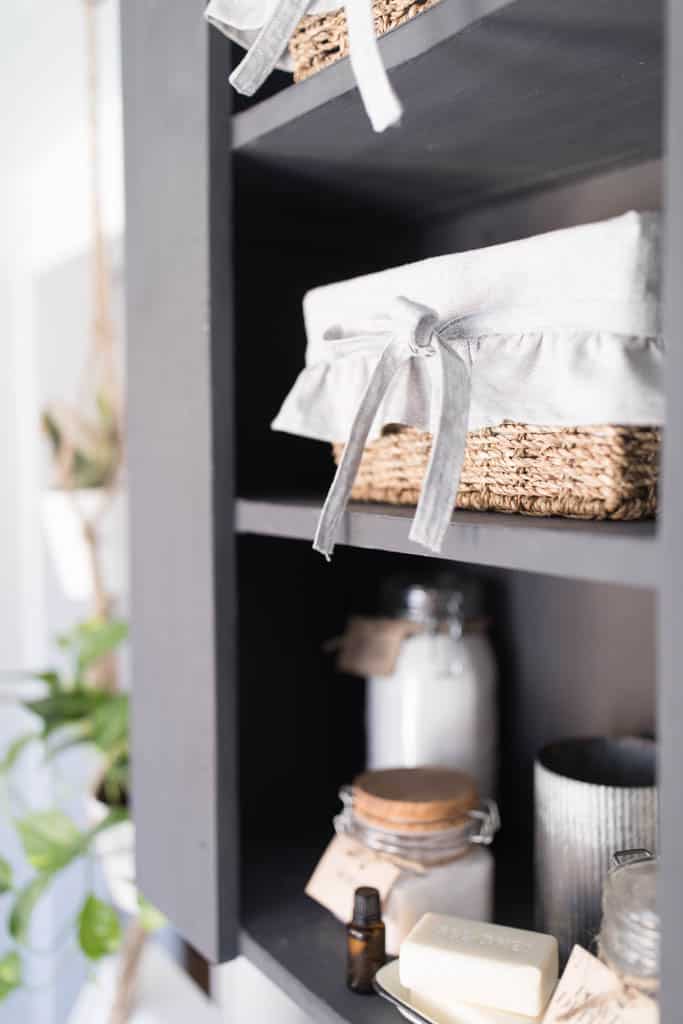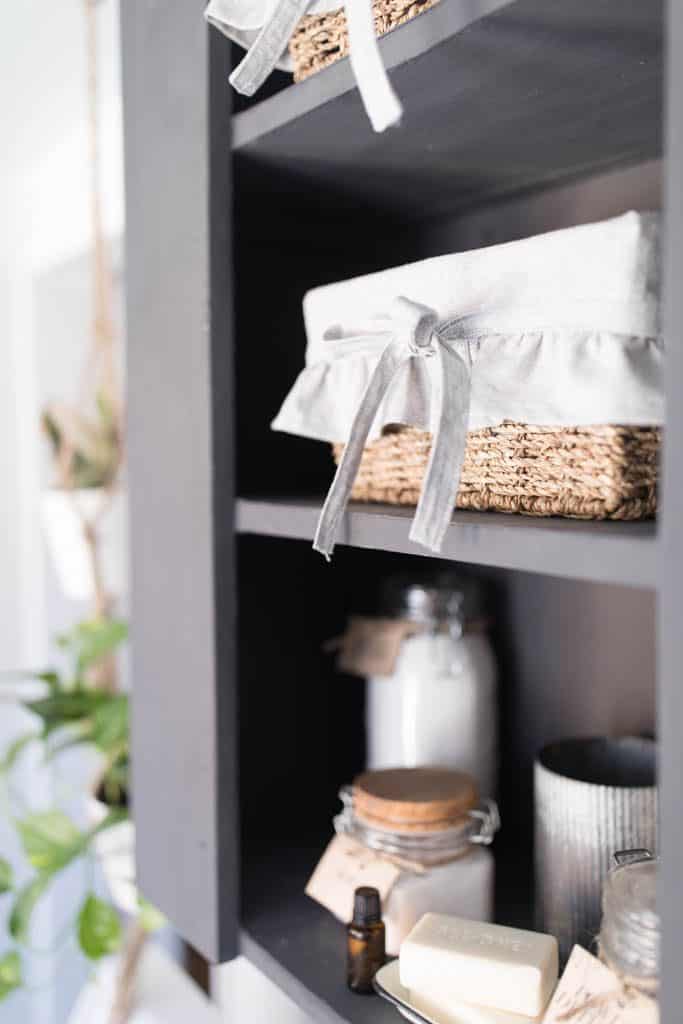 All finished!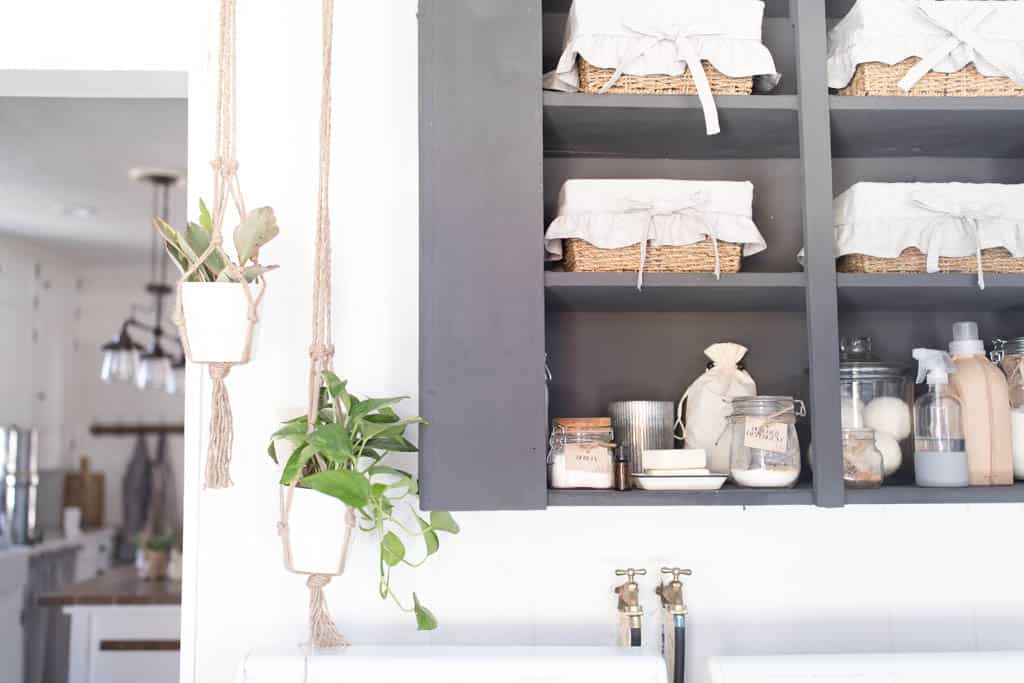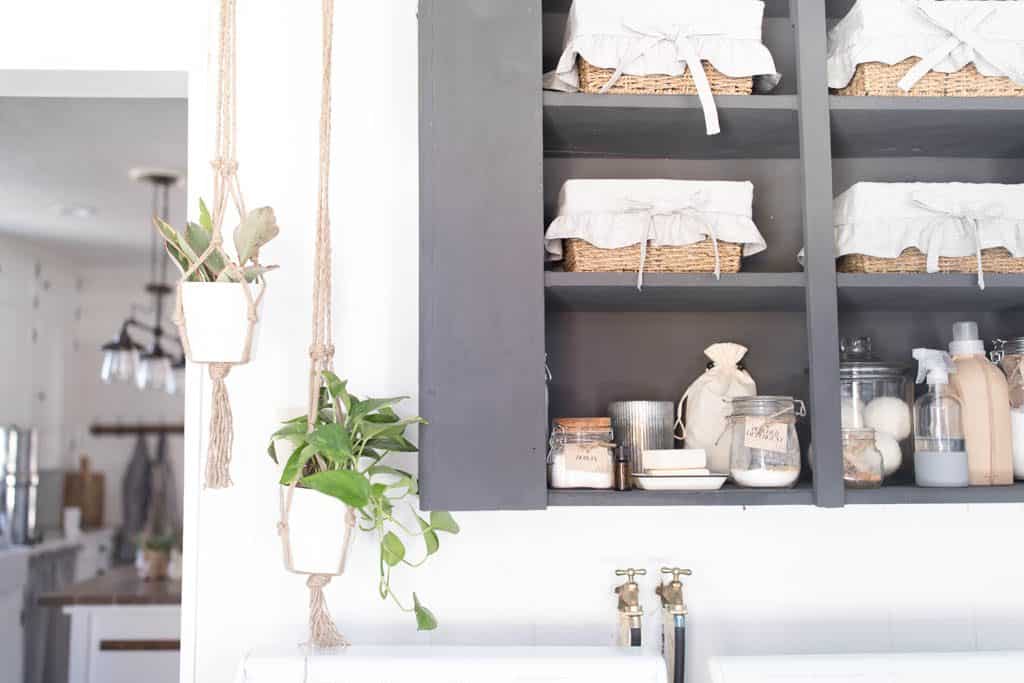 This project turned out better than I expected! It was simple, but made such an impact. I now LOVE hanging out in my laundry room!
Grab your farmhouse laundry room free printable labels
[thrive_leads id='13392′]
Shop the look Farmhouse Laundry Room Cabinet
Le Parfait Jar, Small (I took out the orange gasket)
Dr. Bronner's Bar Soap (great for laundry!)
Glass Spray Bottle (This one linked is from Amazon, but I purchase mine from Grove. See Below.)
Seventh Generation Laundry Detergent 
Wool Dryer Balls (This one linked is from Amazon, but I purchase mine from Grove. See Below.)
Linen Fabric for Baskets (I have the color charcoal)
I purchase natural cleaning supplies, glass spray bottles, dryer balls and laundry detergent from Grove Collaborative. Get your free gift for signing up here.
This post contains affiliate links, which means I make a small commission at no extra cost to you.
Thanks for stopping by the farmhouse!
Pin it for later