I teased around about our farmhouse bedroom master tour in my last post and video, but I am finally ready to share it with you. I'm also going to bring you some cozy bedroom decorating ideas.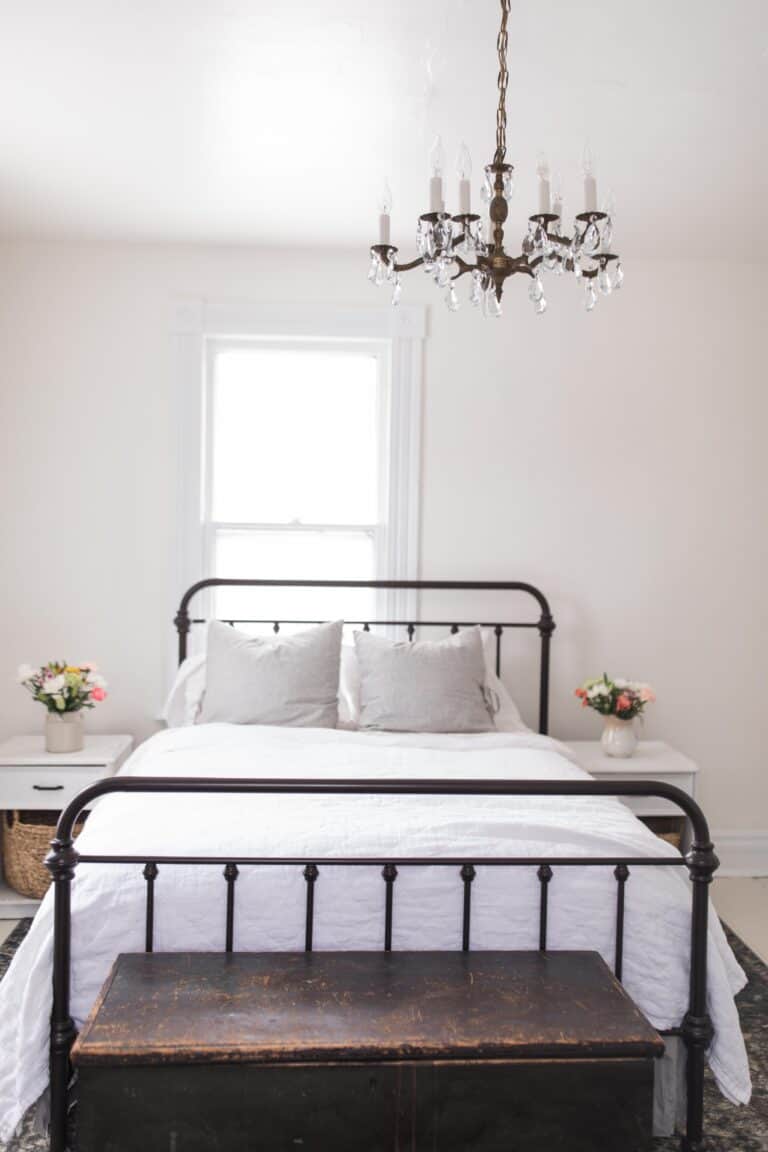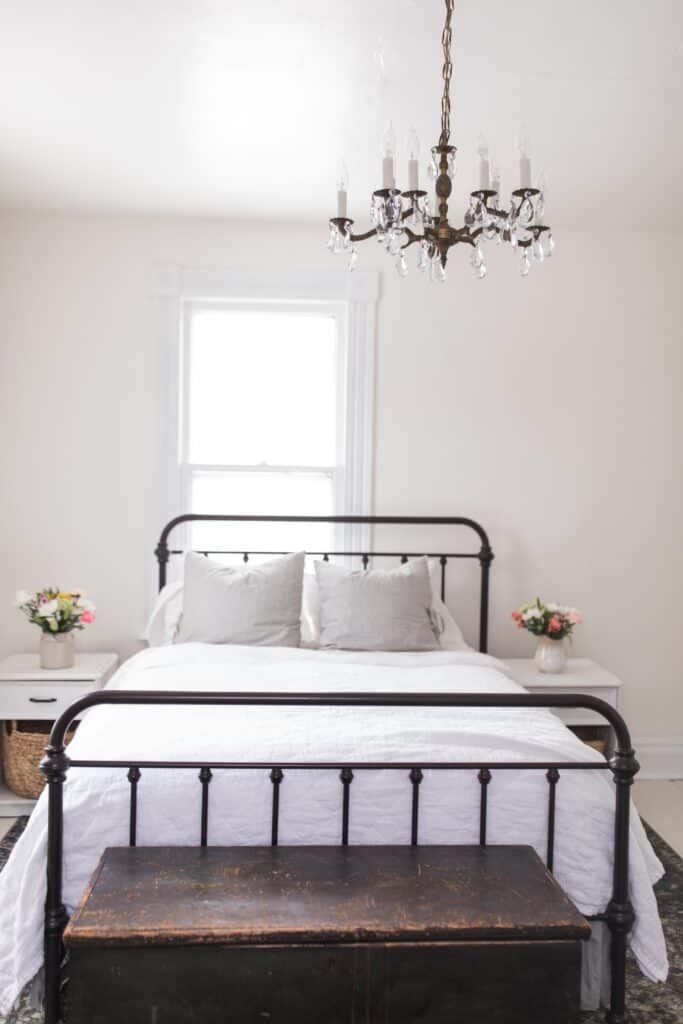 This post is sponsored by Brooklinen. All opinions are my own.
It was hard leaving our last home where everything was done and pretty, and move to a home that wasn't. I had a vision, and knew this place could be even prettier than the last, but I knew it would be a while before we got there. We love this beautiful Victorian farmhouse and felt plenty up to the challenge. Not to mention, I can't wait to sink my toes in the dirt on this seven acre property this summer.
We've been here just over a month now, and one of the first rooms we tackled was the master bedroom. This area in our home is our sanctuary. When the kids rooms are full of doll clothes, blocks and dinosaurs, this little paradise is organized and cozy. I can't believe how much it already feels like home, and how far we've come. Let's drop in a little photo of the before for dramatic effect.
Farmhouse Master Bedroom Reveal | COZY BEDROOM DECORATING IDEAS Video
Our farmhouse bedroom before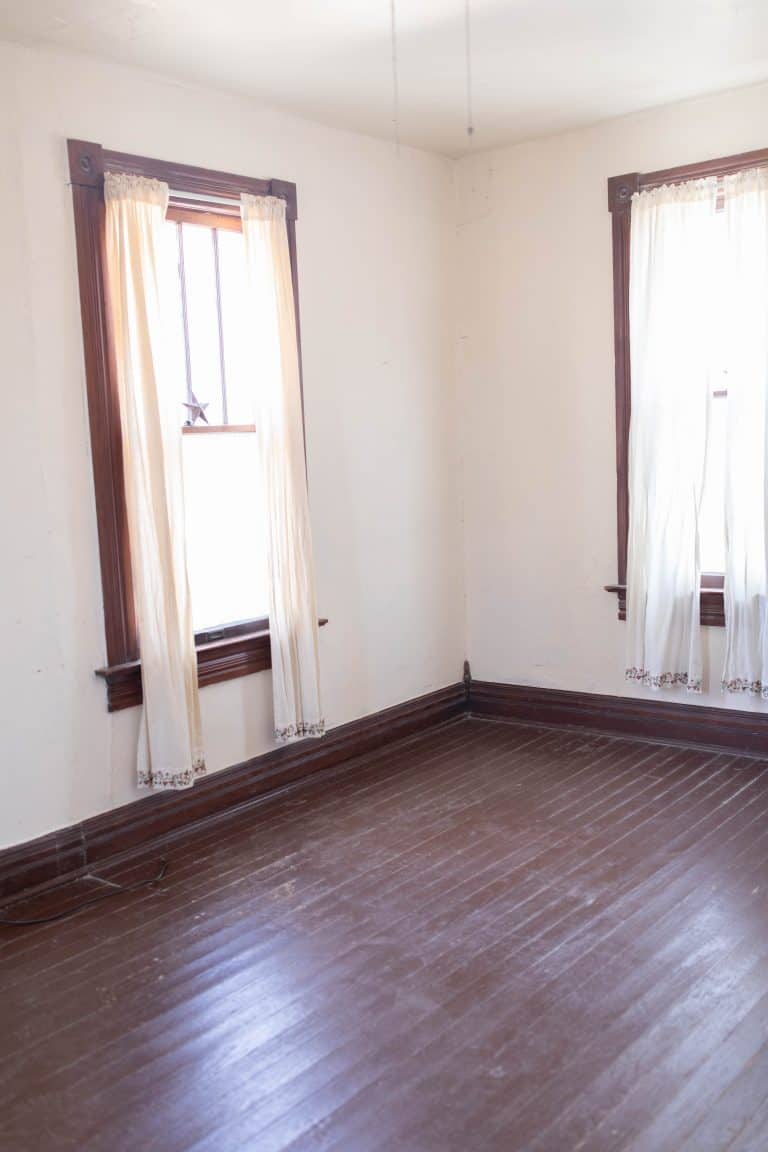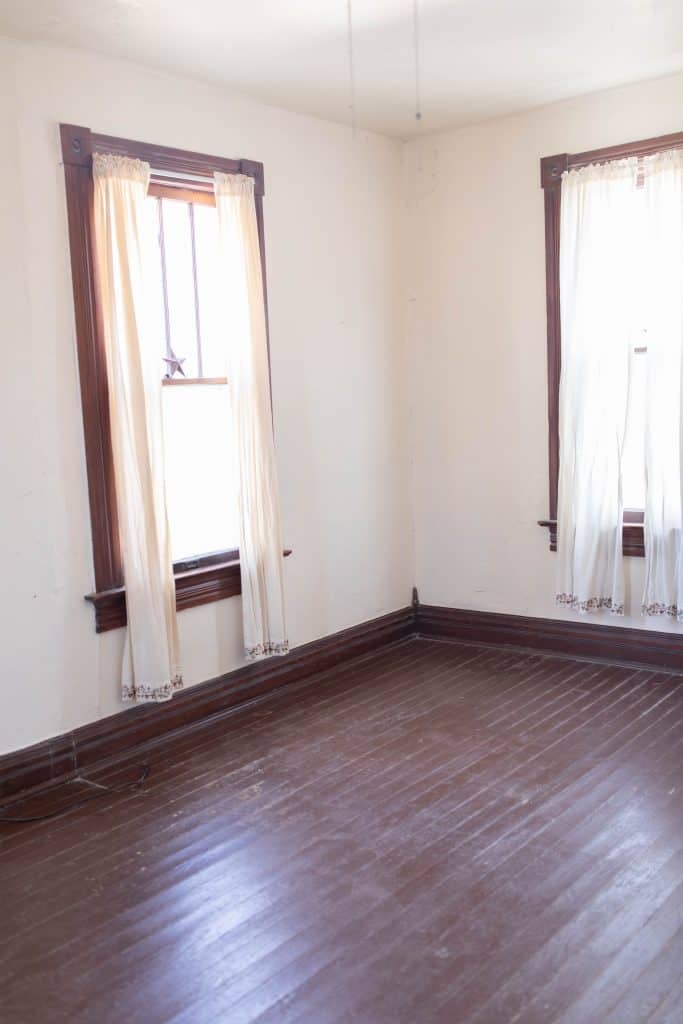 Not exactly the inviting, light and bright space that it is today. Let's first talk about my tips for making the master bedroom cozy.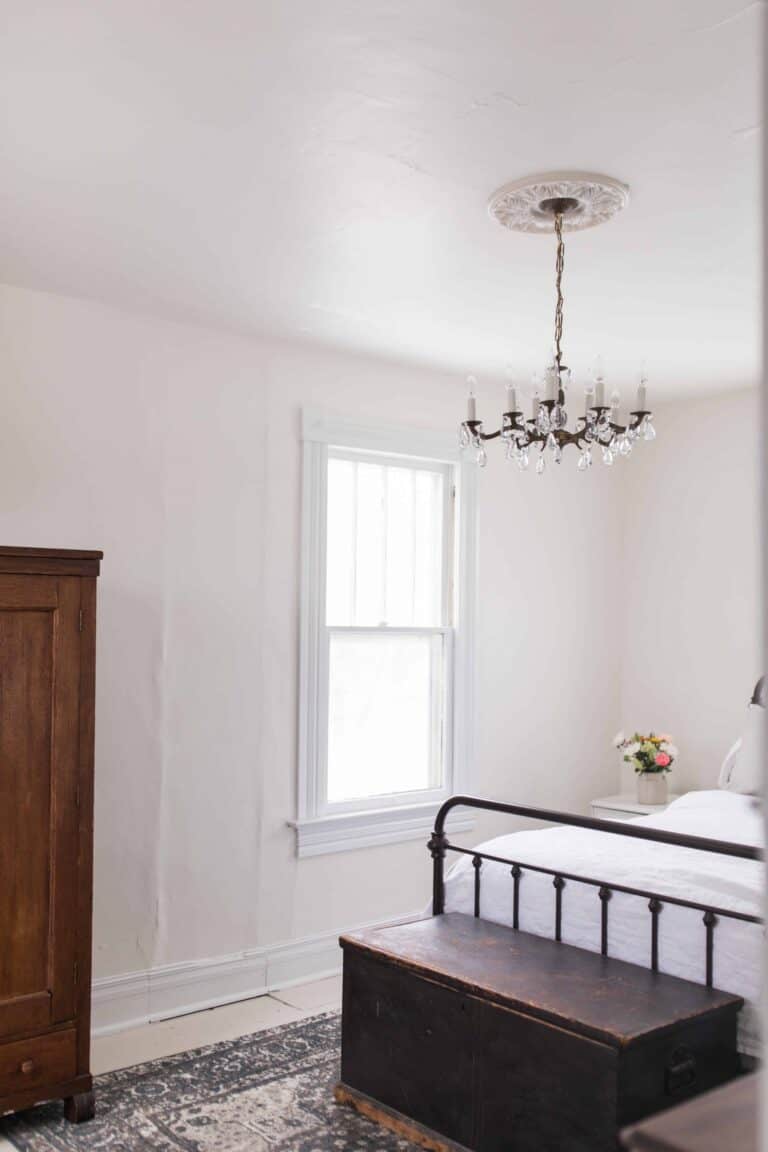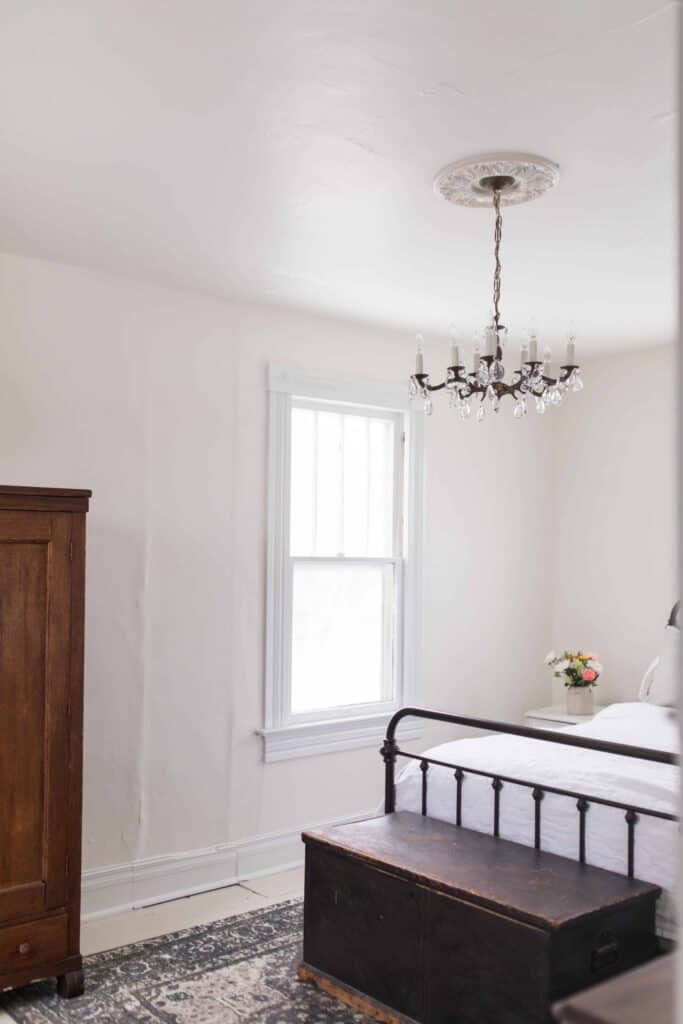 The master bedroom that we left in the last house took time to really get it how we want it. We added a shiplap wall, brought in cozy textures and really made it our own. I expect this room to be the same. It is cozy now, but it will take me a while to get the Victorian farmhouse vibe that I am going for.
Cozy Bedroom Decorating Ideas
Use mismatched furniture
This took me way too long to figure out in my last house. I would say it was years that I knew I didn't like our bedroom but was afraid to ditch the set and start bringing in pieces that felt more collected and personal. A perfectly matched set can feel formal and stuffy. Take your time. Peruse antique shops, Craigslist and Facebook marketplace, to assemble pieces together, but aren't too matchy matchy.
For this room, we brought in an antique armoire that I found on Marketplace. The deep wood pops against the light and bright paint colors in the rest of the room. At the foot of the bed, we have an antique wooden chest. It really needs to be spruced up, but I am actually loving it in its current chippy state. The pop of black plays well with the iron bed.
The two night stands were a chalk paint makeover that I did years ago, and the blue antique dresser was a milk paint project. Everything in here was collected over years to make this bedroom one of a kind.
Layer the bedding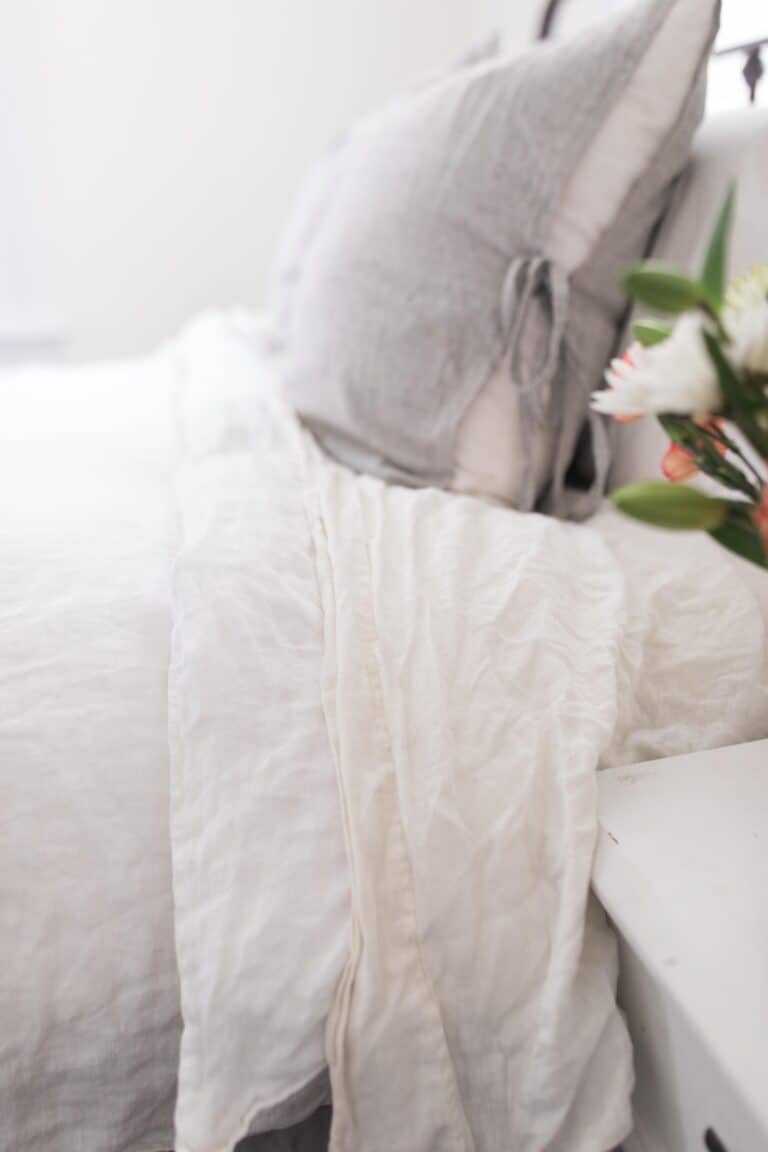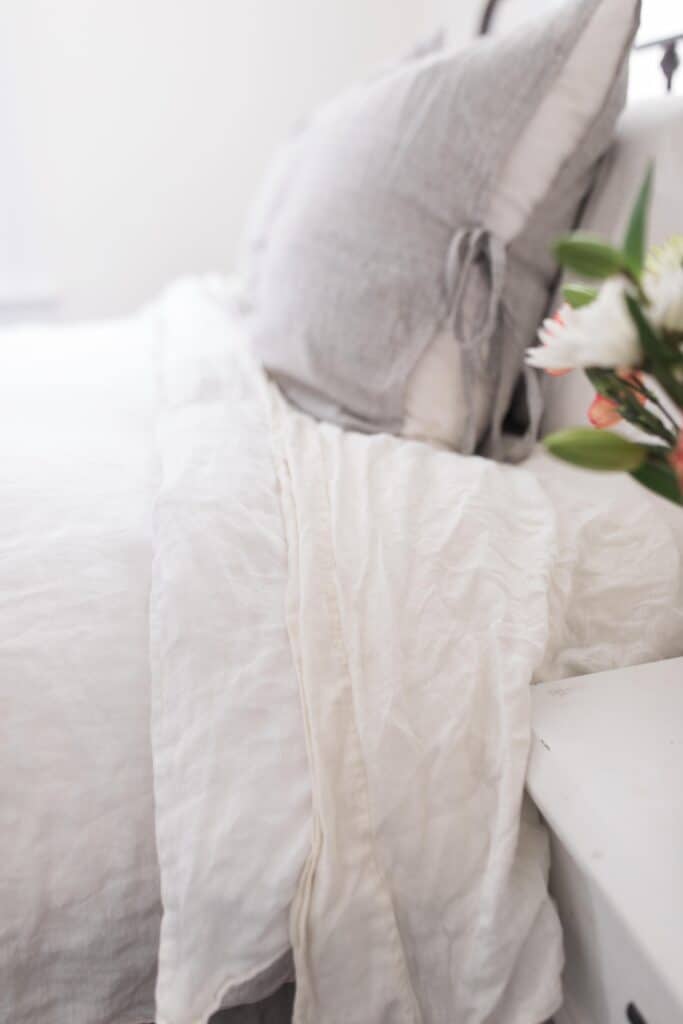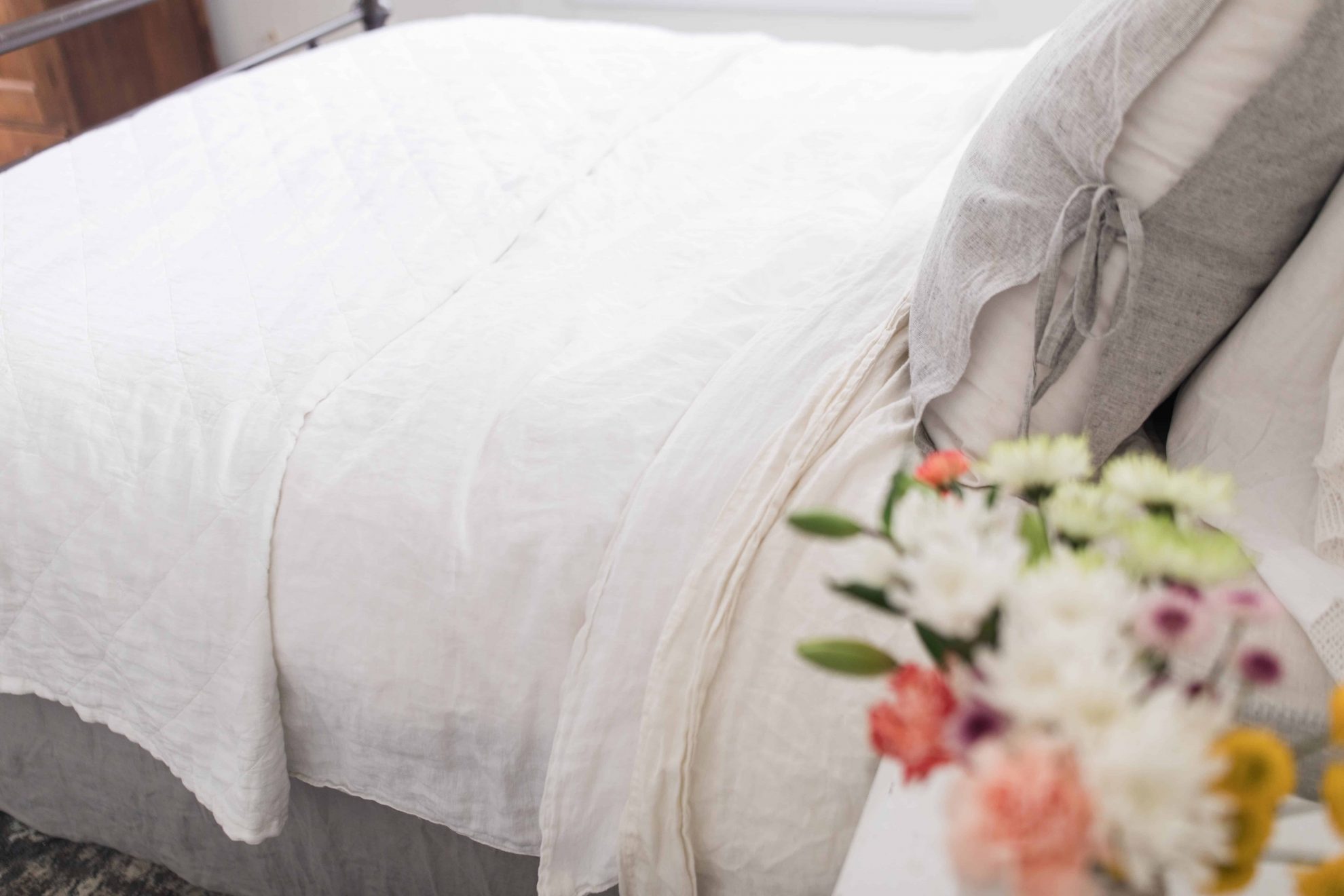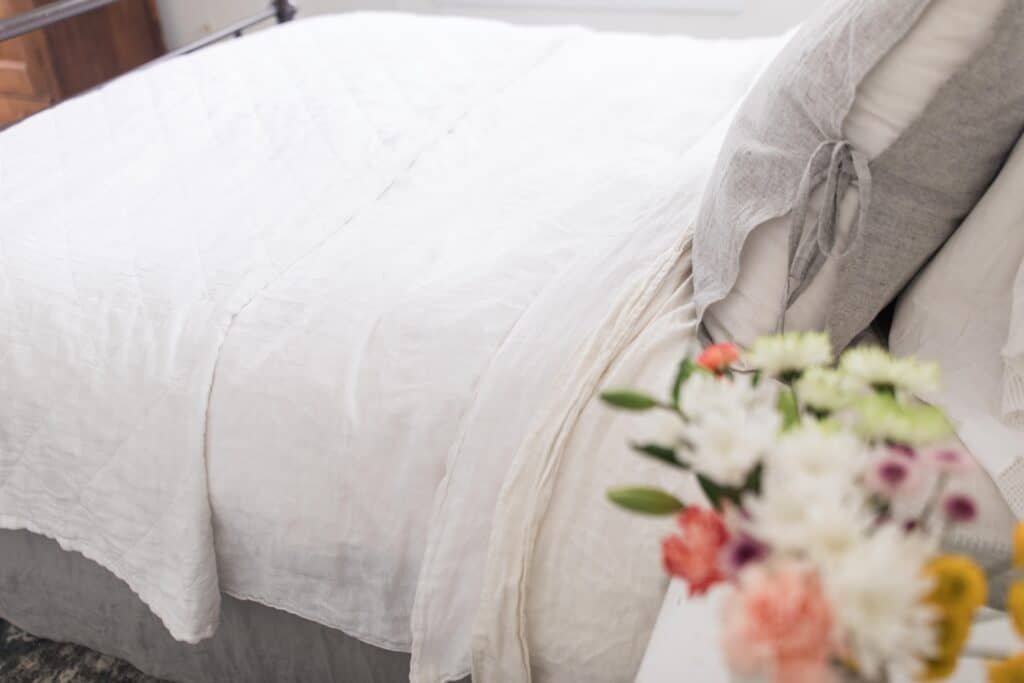 What says cozy more than a plush bed full of layers? I love the charm and simplicity of flax linen, so I chose bedding from Brooklinen's linen collection. We went with the Linen hardcore Bundle. I love Brooklinen's bundles because you can mix and match the colors! It comes with four pillowcases, a fitted sheet, a flat sheet and a duvet cover. If you want a little touch of pink or blue in your cozy master bedroom, you can get the sheets in one of those shades and then choose a gray, white or cream duvet. It's versatile, and the entire color collection (15 options!) goes well together, so you really can't go wrong.
We went with the cream sheets and a bright white duvet. I like the idea of the warm cream to tie in the creams throughout the room, like in the wall color and the rug. I love white, but wanted to break it up a little with another warm shade. The cream linen sheets from Brooklinen are the perfect choice, next to some of the brighter whites in the room. Linen is perfectly imperfect, and looks lovely with its crinkly wrinkles.
We also have the down comforter from Brooklinen. It easily fits inside the linen duvet, and I like the seasonal versatility of a duvet/comforter combo. I'm sure this upstairs bedroom of our Victorian farmhouse will get plenty warm this summer, so we will stash the comforter in our antique wooden chest and just go with the duvet and light linen quilt.
Speaking of a quilt, we also have the linen quilt from Brooklinen. I love the way it looks pulled down over the mattress at the foot of our iron bed. It looks cozy and adds texture. The stitching detail is simple, yet breaks up the duvet. It is an added layer of coziness.
We also have Brooklinen's plush pillows. It had been a while since I replaced the pillows on our bed, and WOW I forgot what I was missing. No wonder I always felt so comfy at a hotel, but not at home. These are a must.
If you're interested in checking out Brooklinen for yourself, you can get $20 off with my code "farmhouse20" on an order over $50.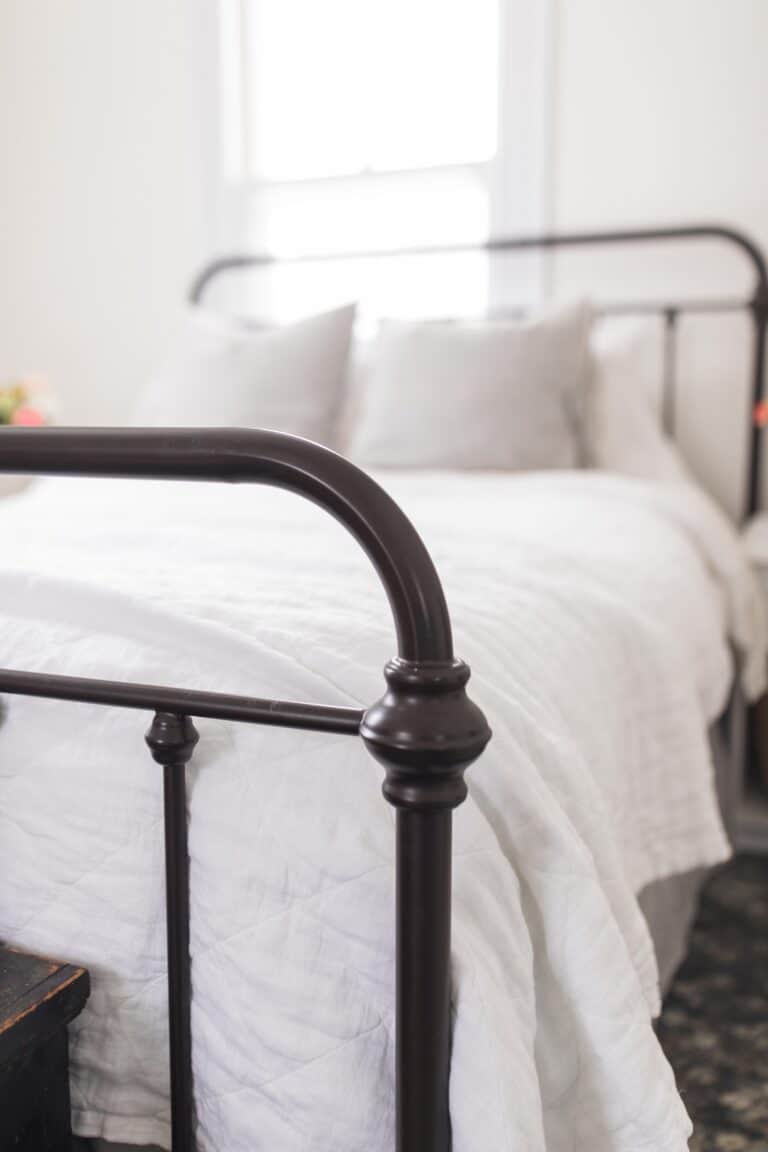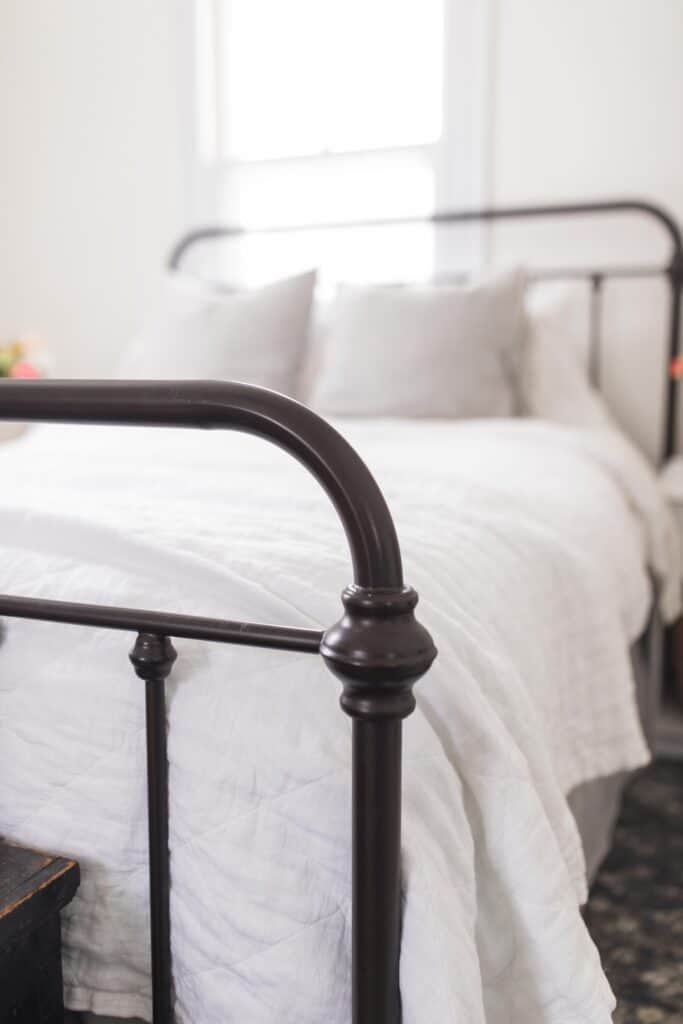 So, to recap the cozy bedding essentials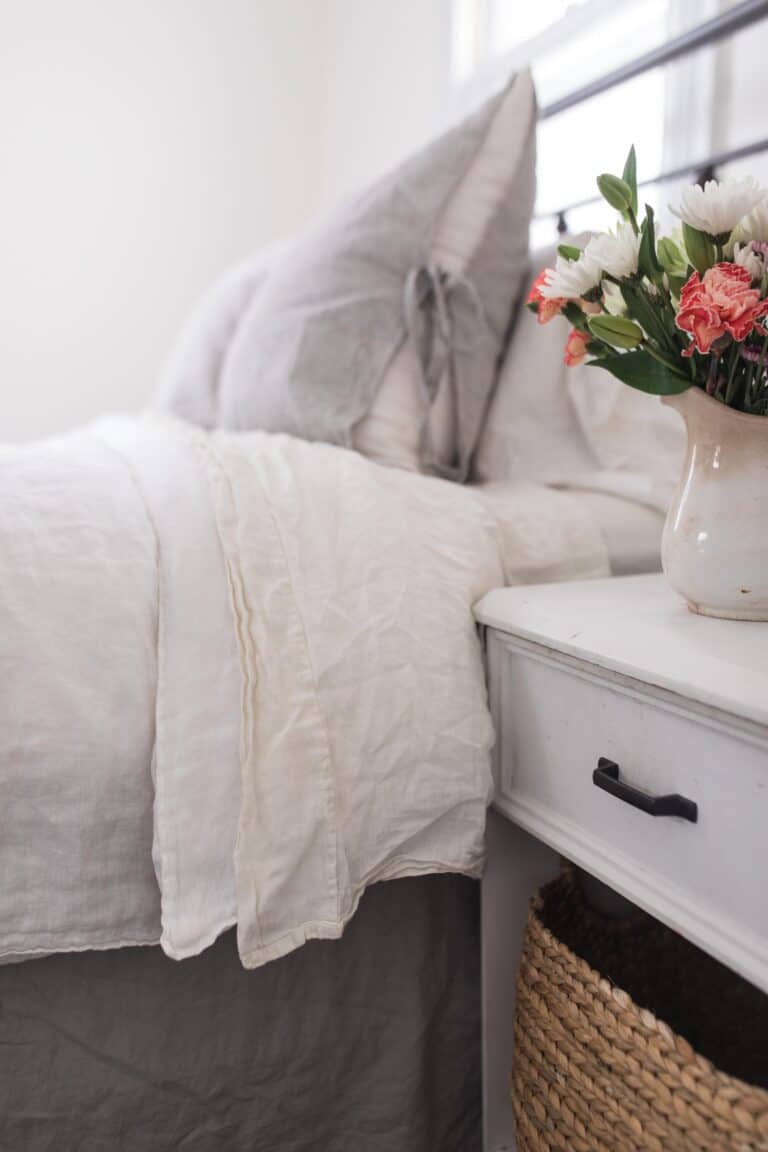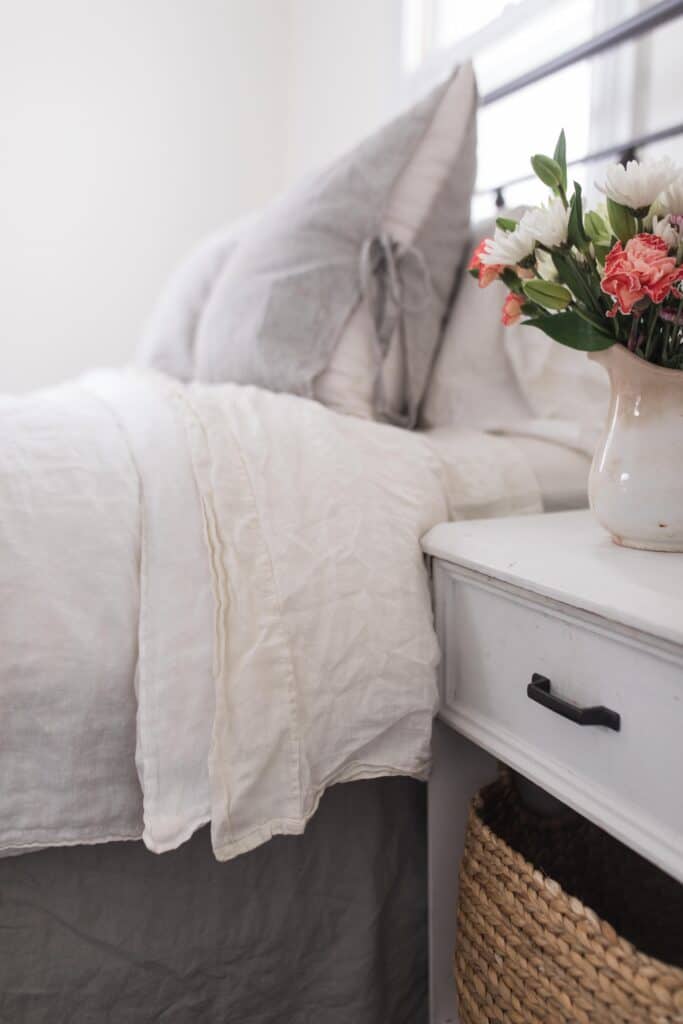 Add a large area rug
In our bedroom we went with beige painted floors, because it was the one area in the house where the wood wasn't in good enough condition to sand and make new. I actually really love the color and it makes the room feel eve more peaceful. I break up the light colored floors, and add some coziness, with a large area rug. Blue is a calming color, so this vintage inspired rug adds to he cozy peaceful vibe.
The key is to make sure that the rug is large enough to fit the bed and nightstands on it.
Use serene paint colors
In this room we went with Benjamin Moore White Dove on the walls and a bright white for the trim and windows. I like the wall color is soft and peaceful, yet still is off-white enough to highlight the white trim. The millwork in these old Victorians is definitely something to show off! I think the cream linen top sheet from Brooklinen really pairs nicely with the off white paint color. Both add warmth.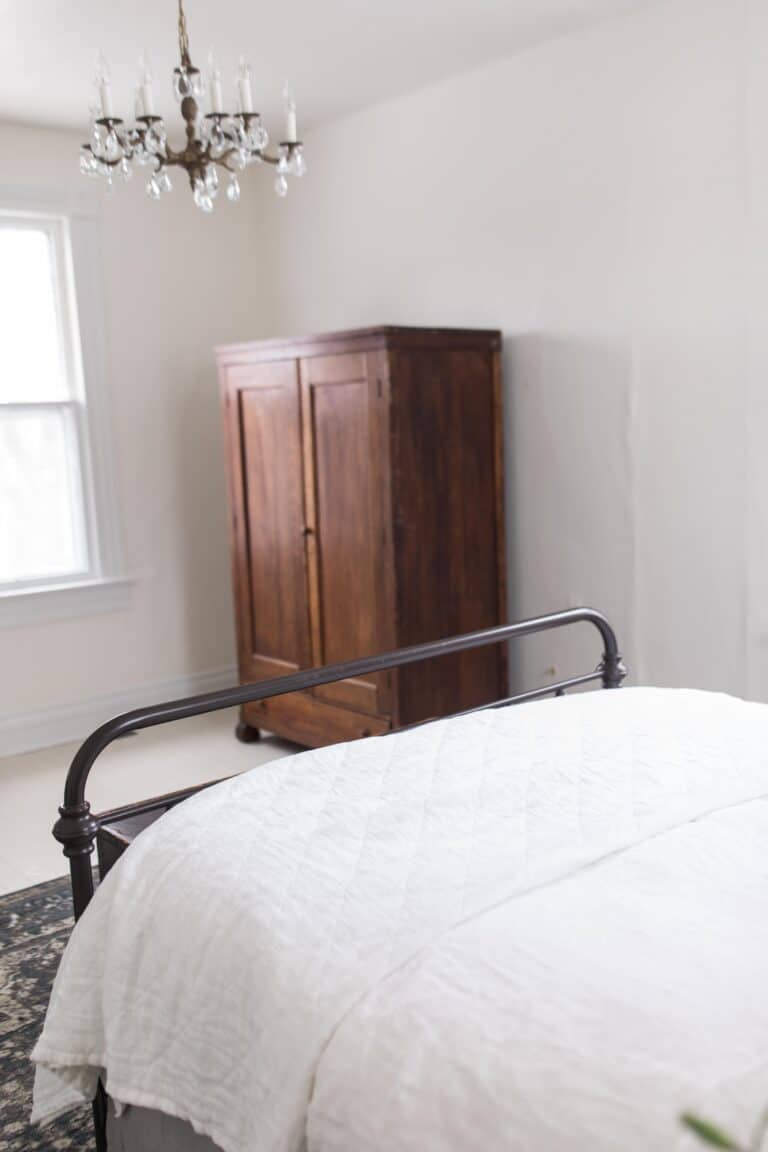 Add a Chandelier
Ok this isn't really a cozy bedroom tip, but how could I wrap up this post without mentioning it?? I found this beauty at an antique shop and it adds instant character and charm to our cozy farmhouse bedroom. major score! The only hiccup was this old house had no light switch, which we only remembered after taking down the dusty ceiling fan. Doh. A quick visit from an electrician and we were all squared away.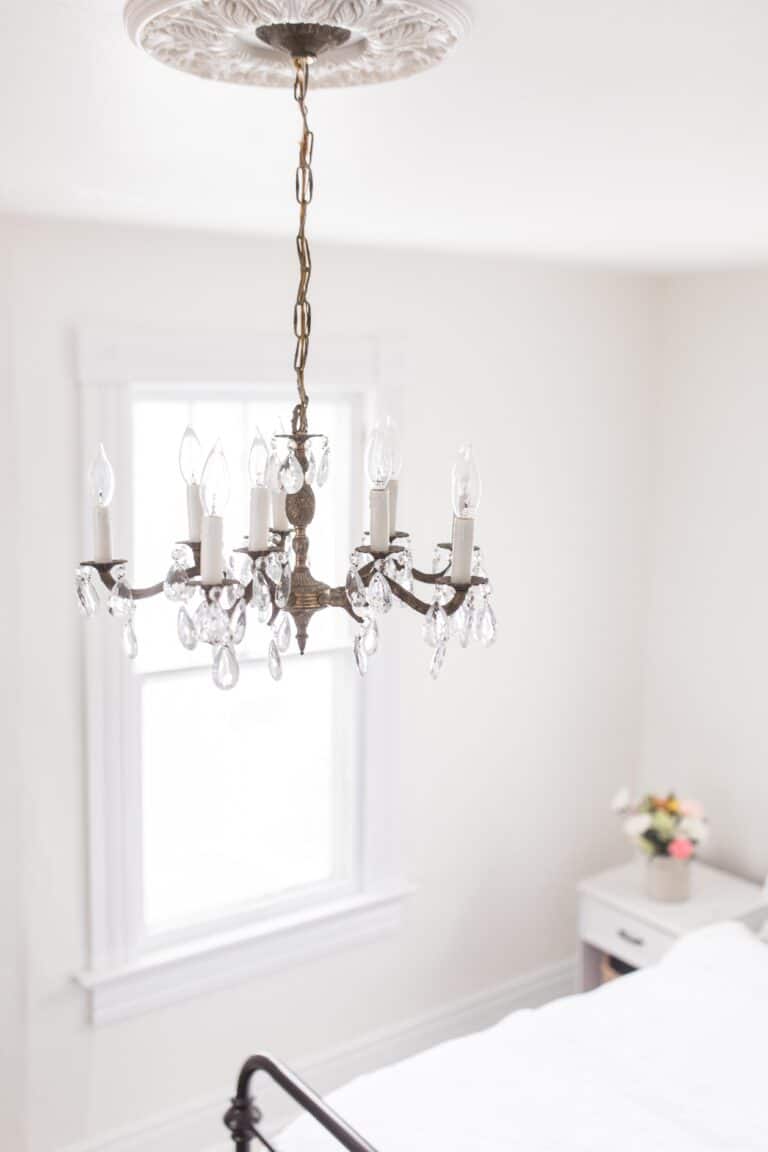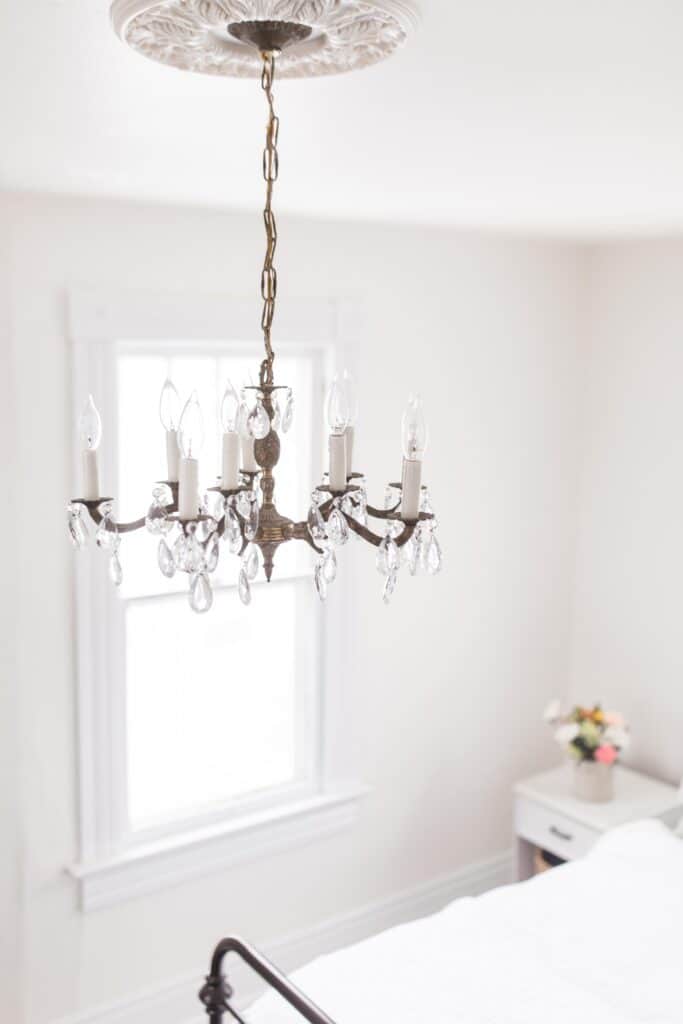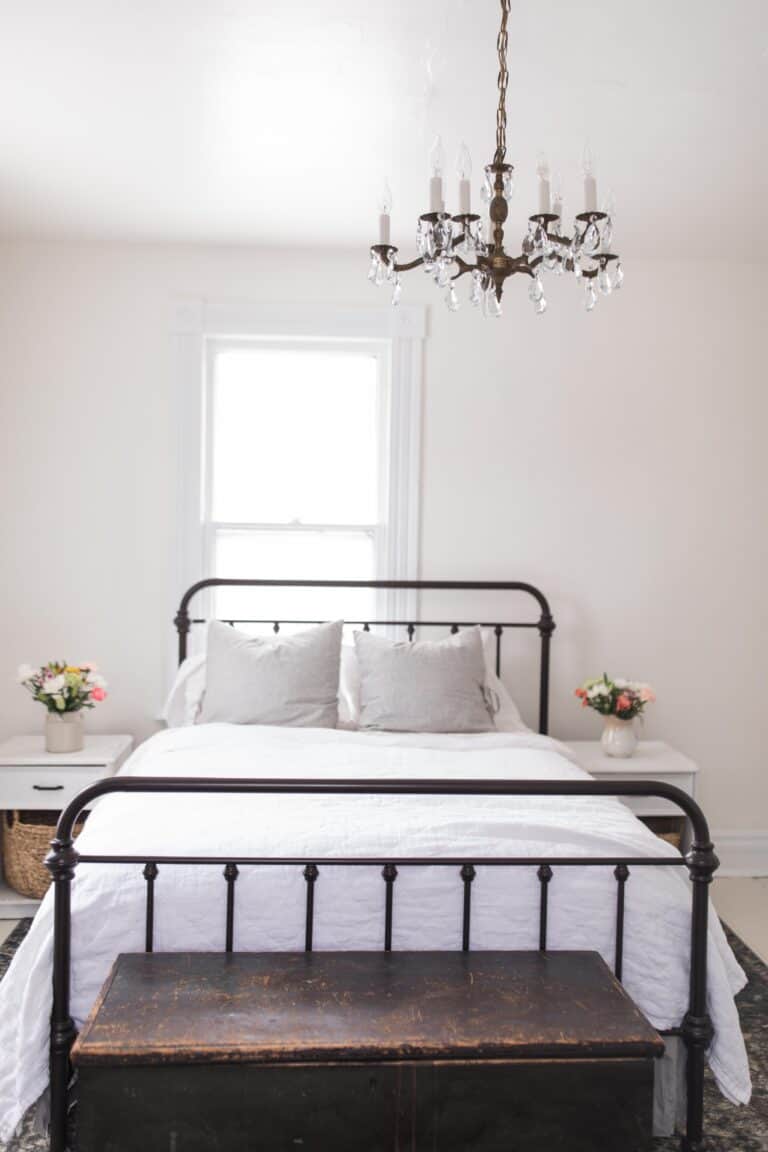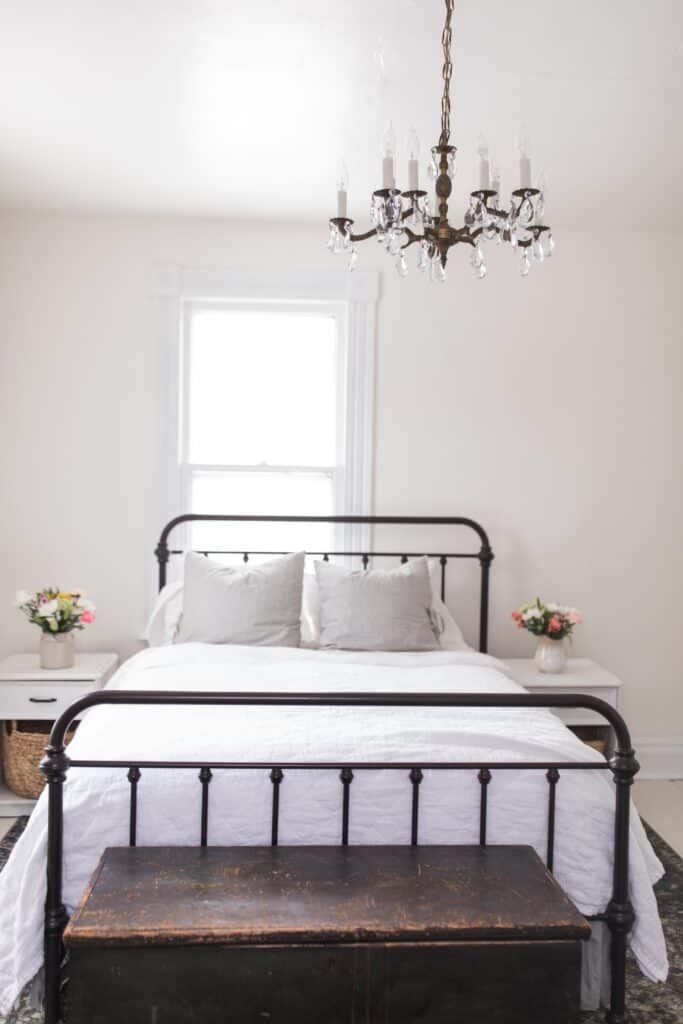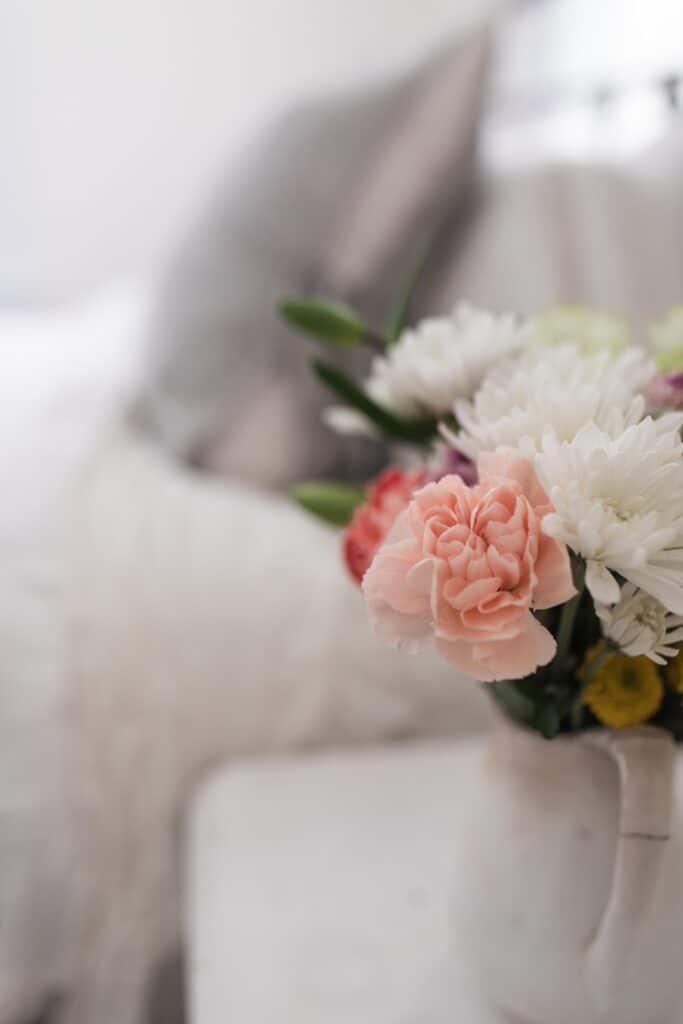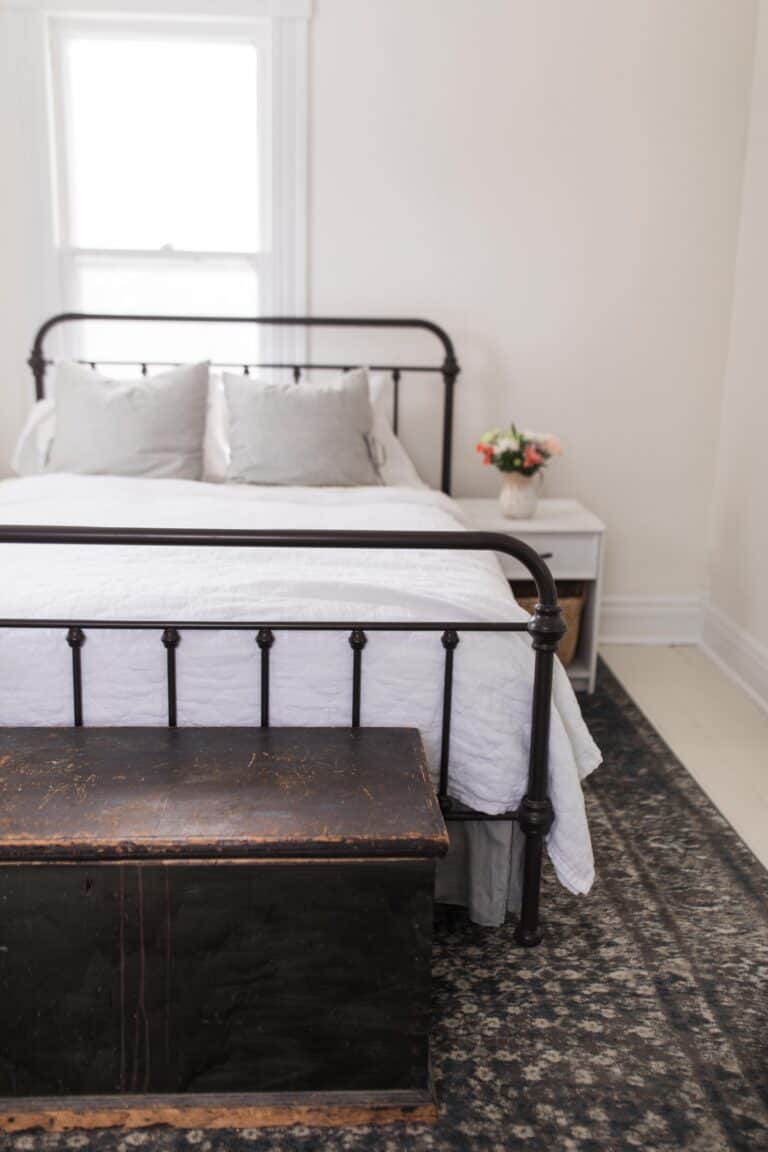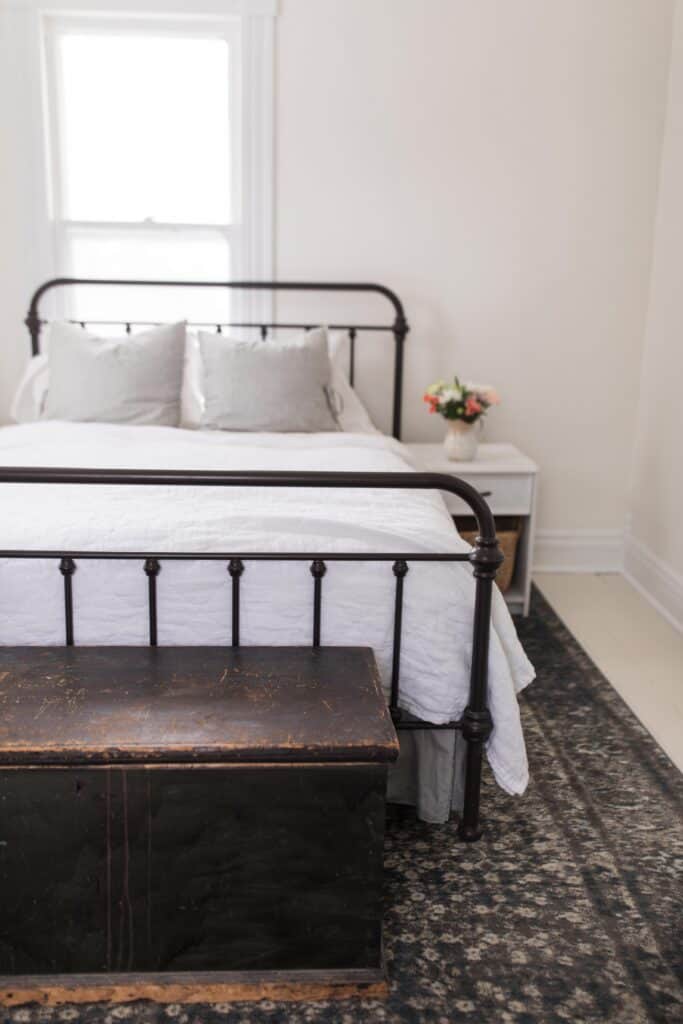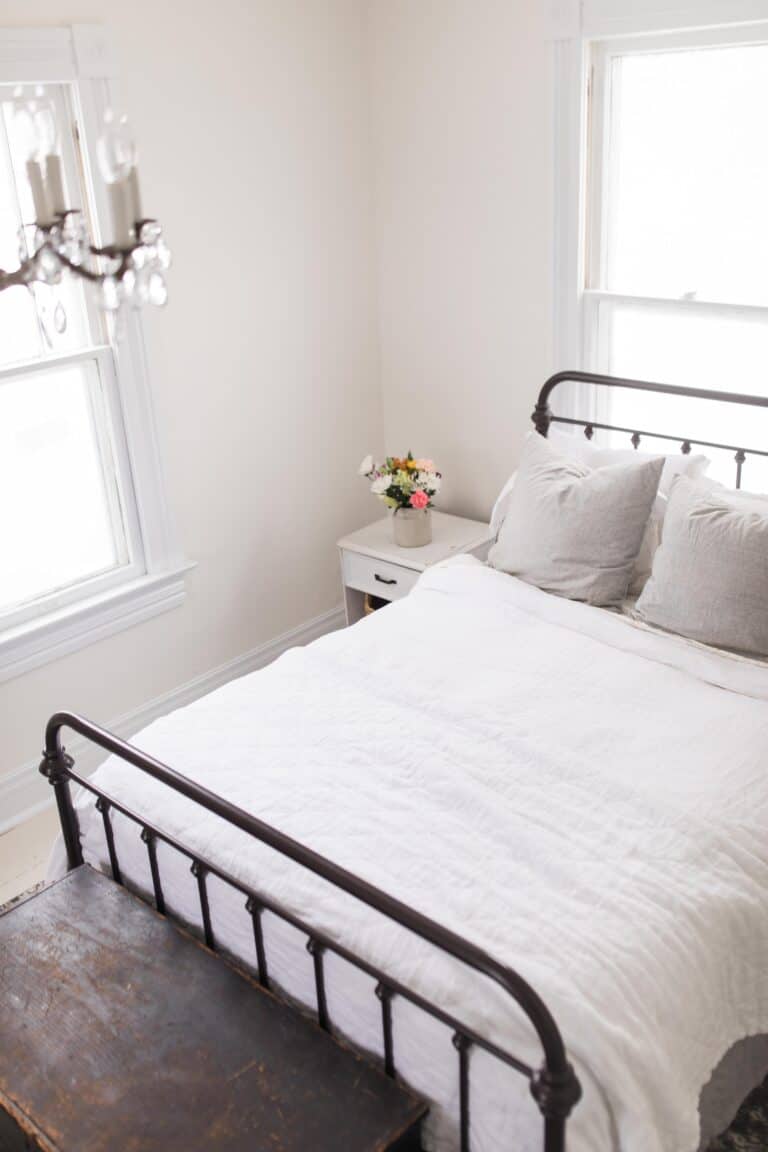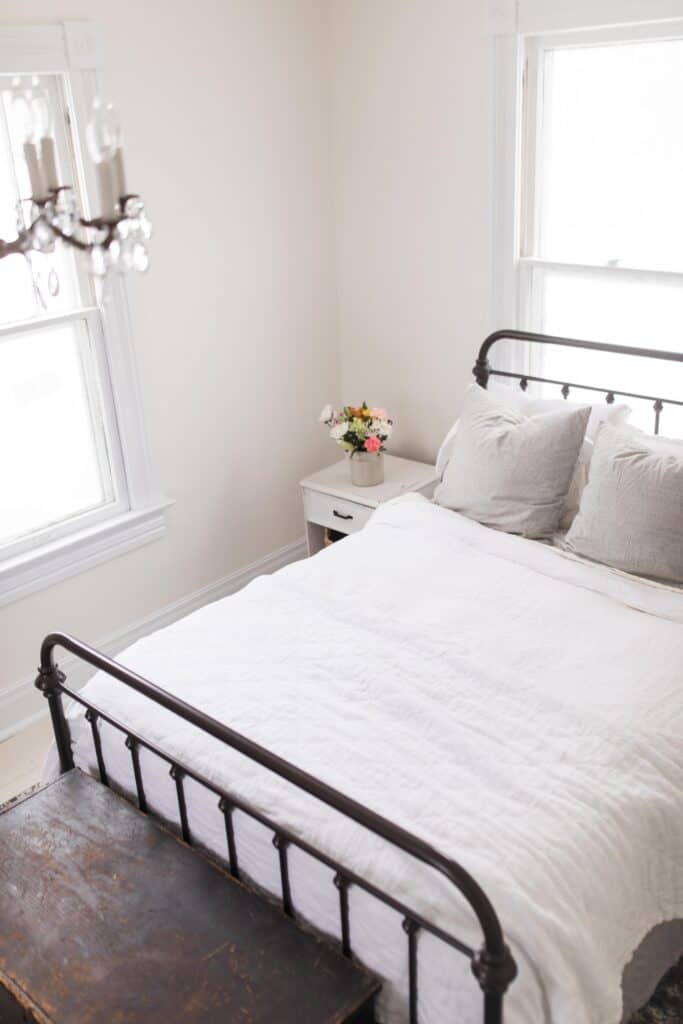 Catch up on more of our farmhouse restoration
Come See our New Farmhouse | Farmhouse Restoration Before Tour
Farmhouse Restoration Update- The Hardwood Floors
Reveal After all the Paint and Refinished Floors
Farmhouse Kitchen Design Plans
Visit Brooklinen for your cozy bedroom needs
Don't forget! You can get $20 off + free shipping on an order over $50 at Brooklinen with my code "farmhouse20"
Thank you so much for stopping by the farmhouse!
Pin it for later