This is a sponsored conversation written by me on behalf of Dutch Boy. The opinions and text are all mine.
Come see our colorful farmhouse mudroom makeover. We used one of Dutch Boy's 2019 Trending Color Palettes to spruce up this tired room and add new life again. A dried thistle wreath and pink tulips tie the colors together, while antique wooden crates add charm and functionality.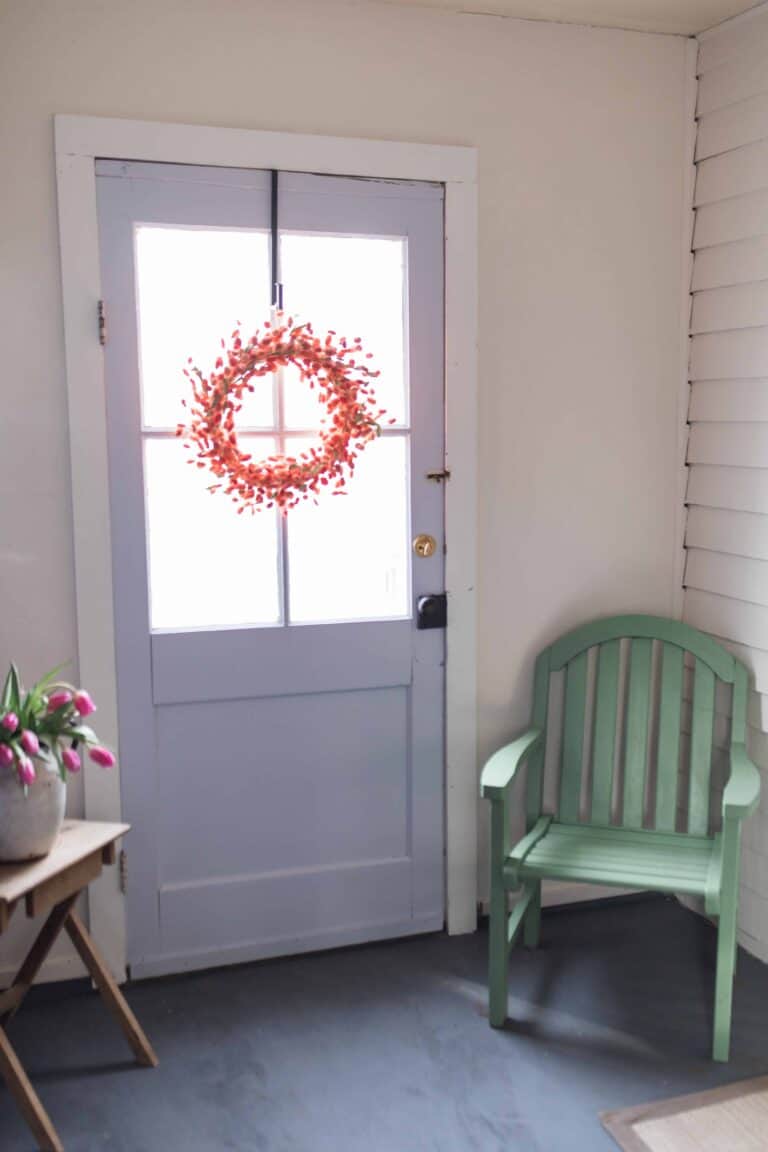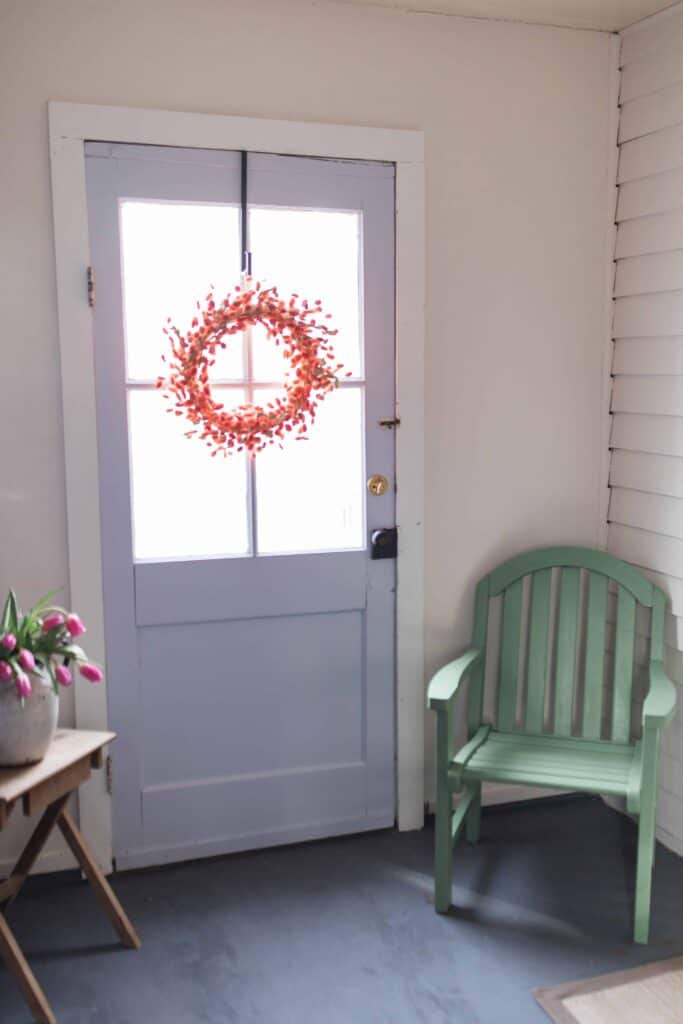 When we first walked through this 100 year old farmhouse that would eventually become ours, my eye was instantly drawn to the mudroom off of the kitchen.
I have a Pinterest board called "dream home" and the whole thing is peppered with mudrooms with a second entrance and full of storage. At the time we were still living in town, and my dream was to have a place where the kids would have space enough to roam and get dirty. I pictured them coming in through the back door into a mudroom, where they could drop their shoes, coats and gloves.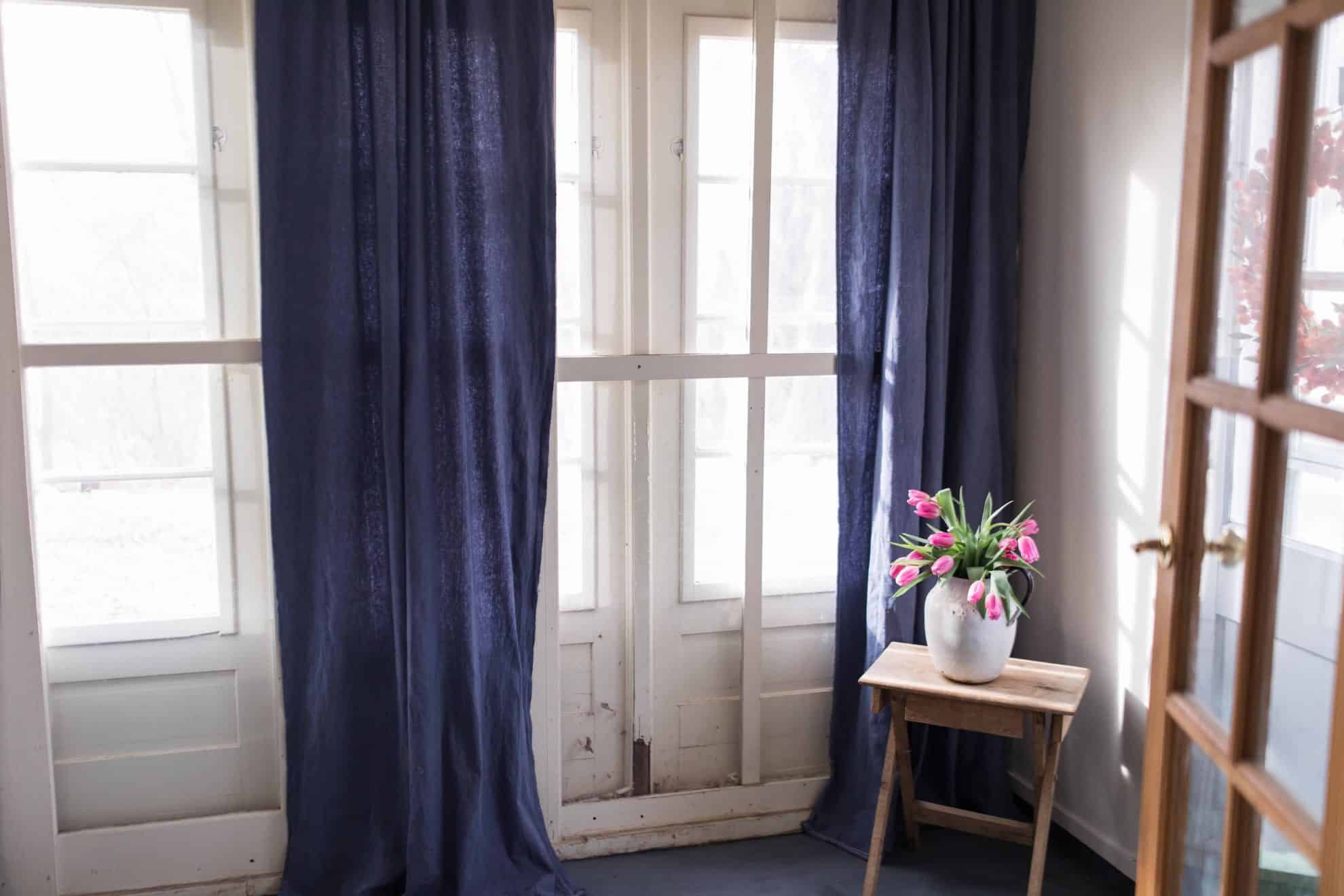 The mudroom in the back of the house was one, among many other reasons, that we chose to move forward with this property. The windows on the back wall let in the natural light. The French doors open straight to the kitchen, and, of course, there is that separate entrance.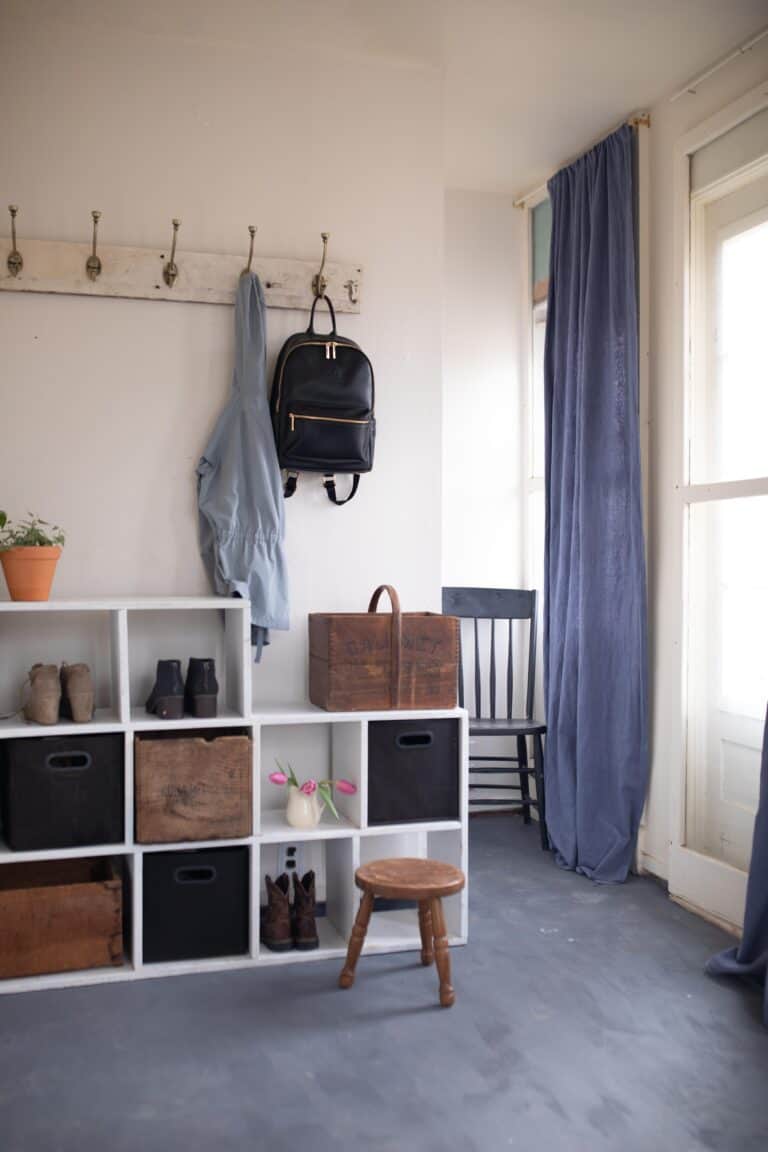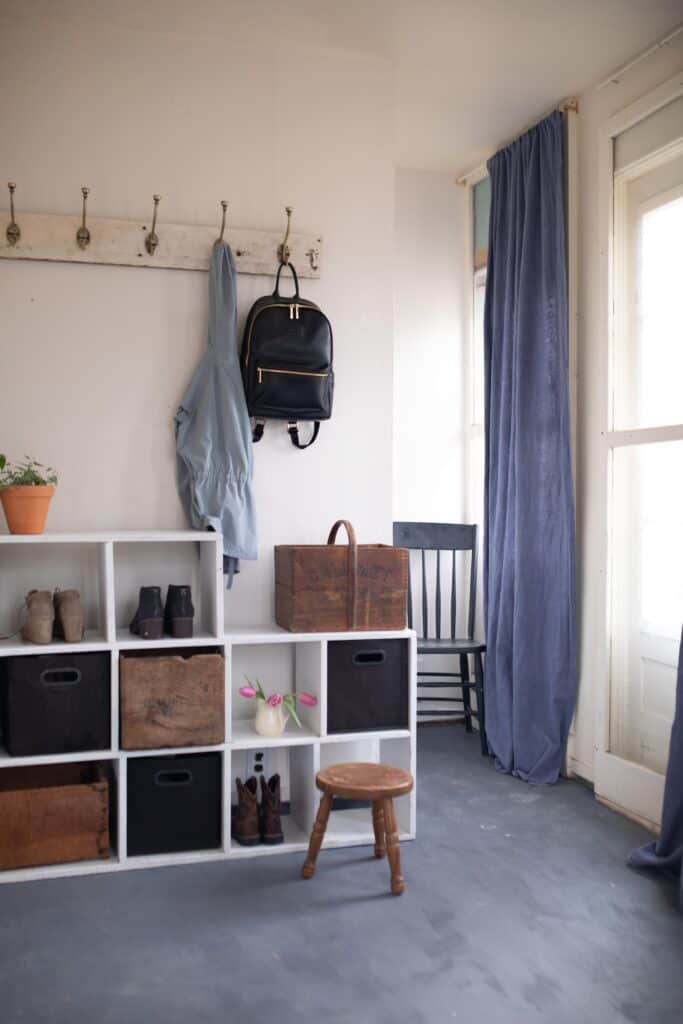 Our farmhouse mudroom before
Just like every other room in this old farmhouse, the mudroom required a little vision, and elbow grease, to make it shine up like new again. I wanted to bring in character, charm and a little color!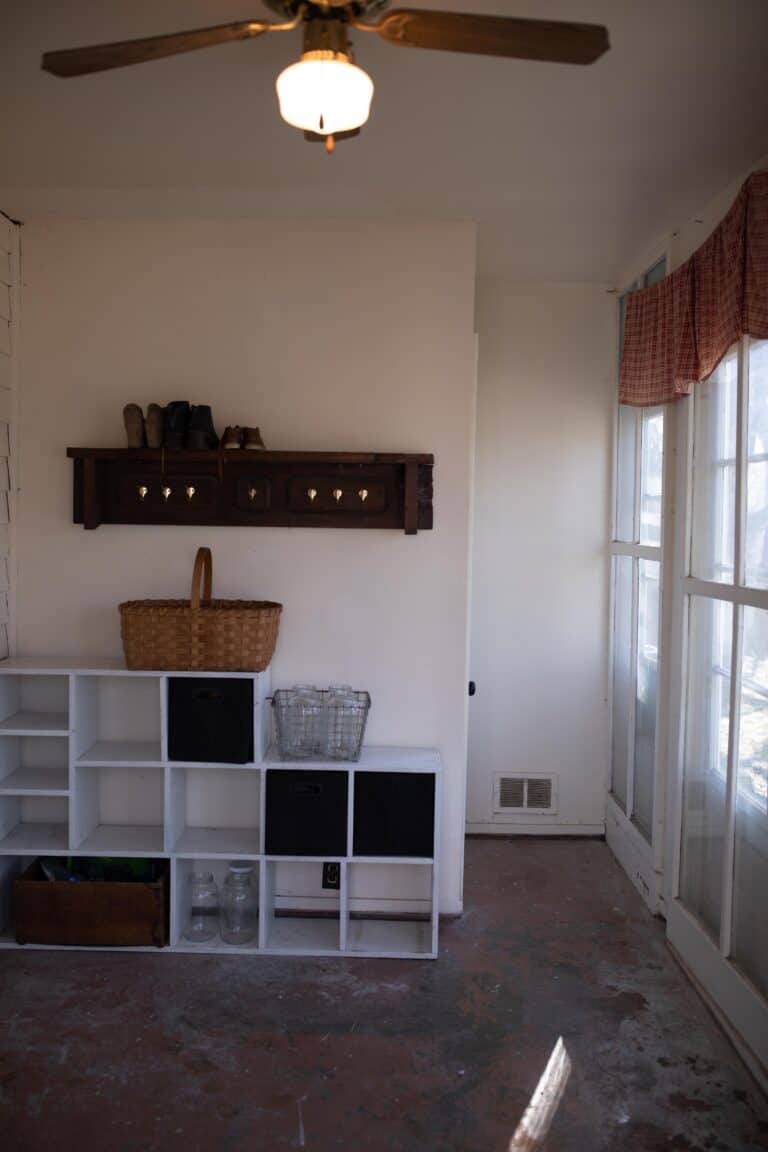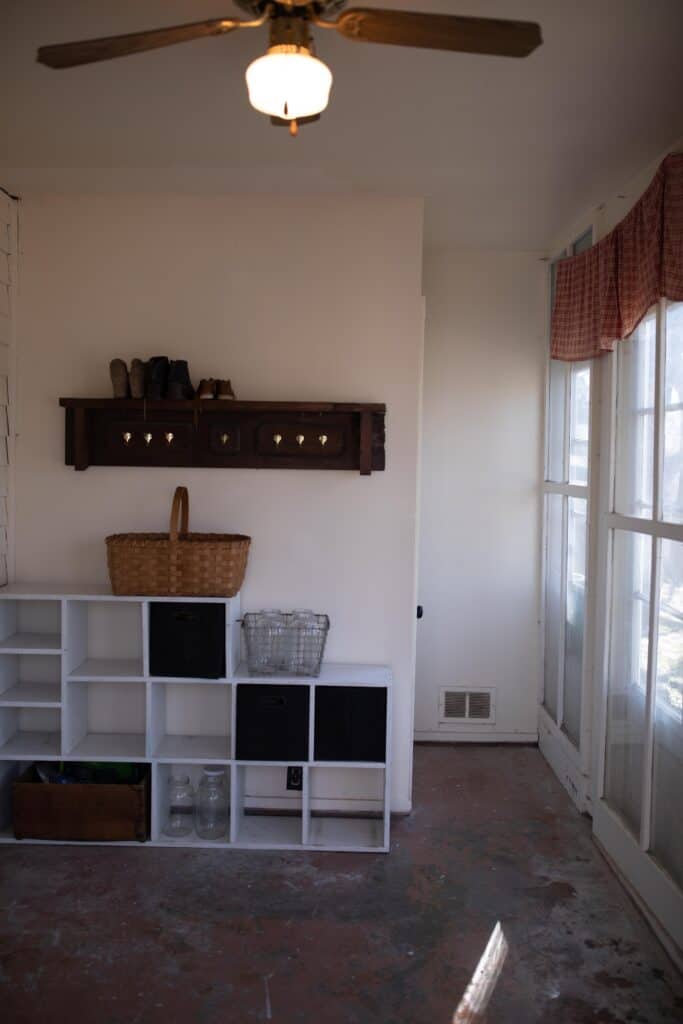 Before the walls were a yellow-y off white that didn't do a whole lot to compliment the natural light coming in. The coat rack, and brown trim around the windows and doors, were heavy and dark.
The original windows in the back of the house were covered at some point with an extra layer of windows. I mentioned on my Youtube channel that I didn't know why they had done this, and several people told me that it was probably an extra layer of insulation for drafty windows.
Given that this room is pretty cold, I didn't want to remove them. I knew we needed some kind of curtains to add to the insulation, and break up the weirdness that is two layers of mismatched windows.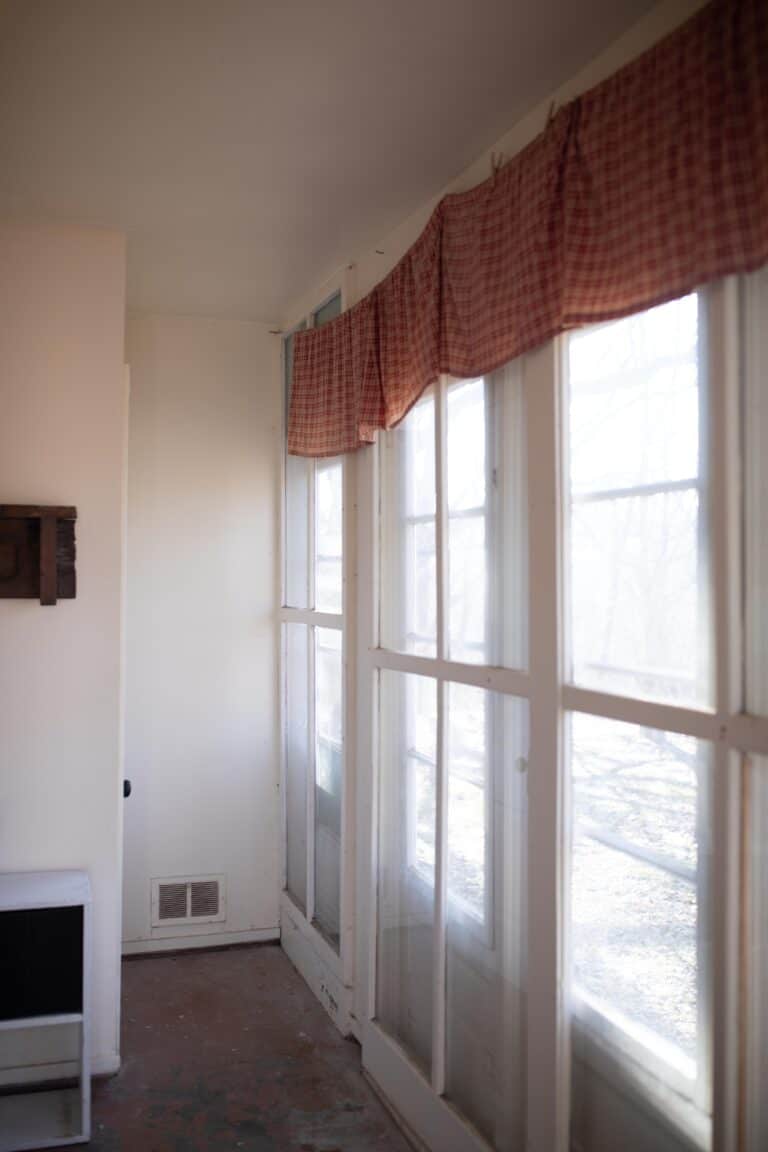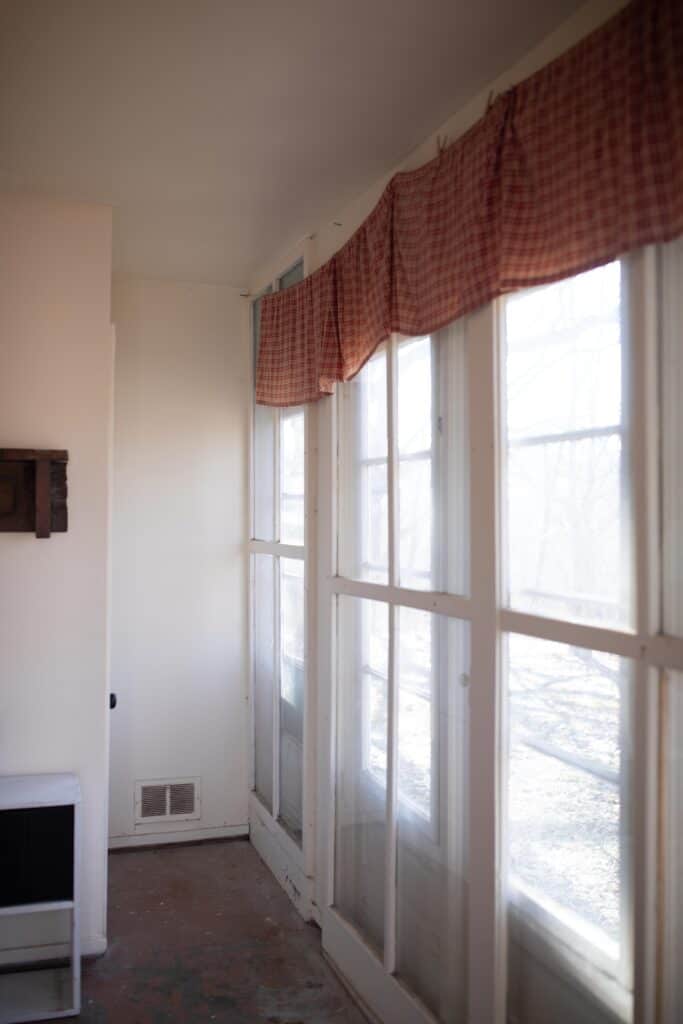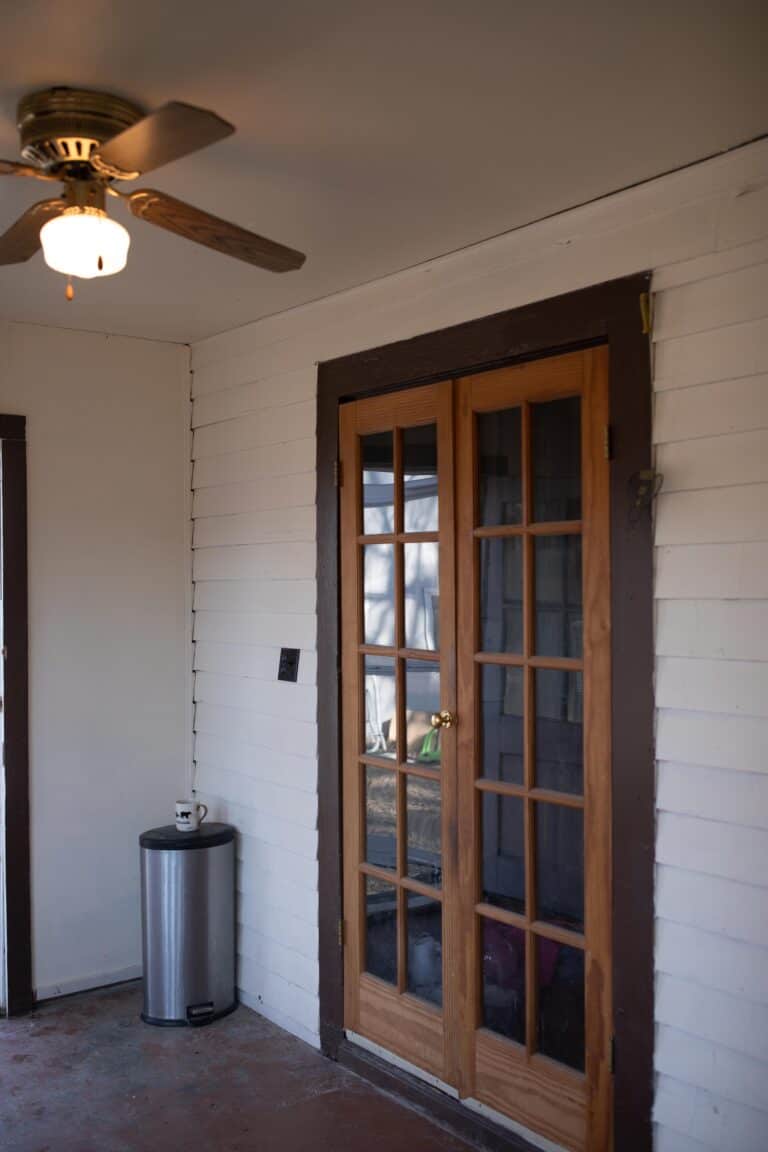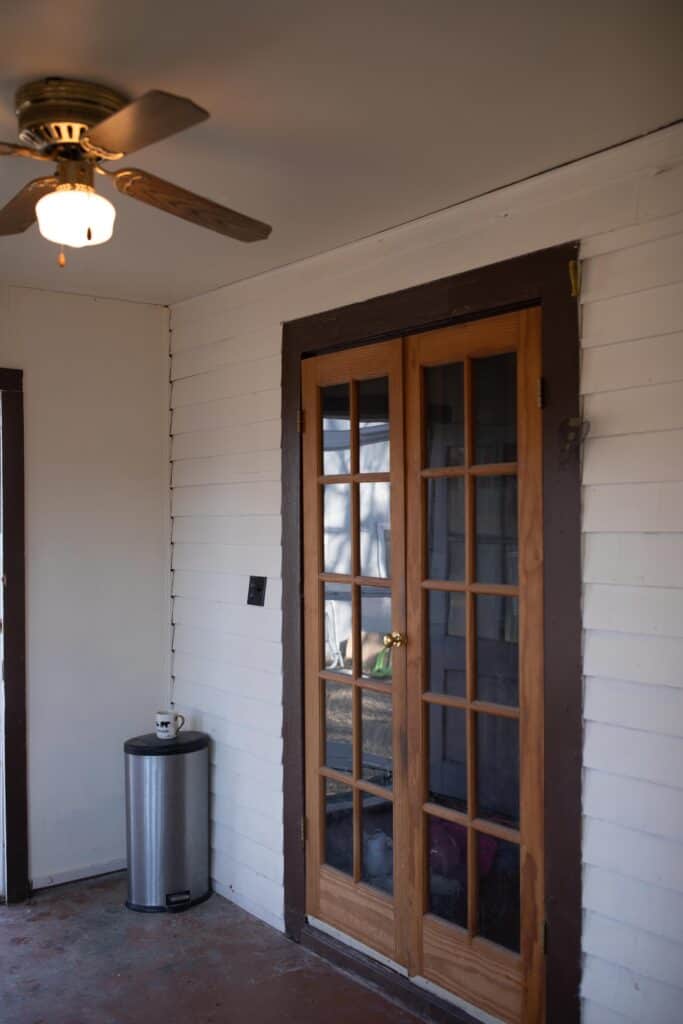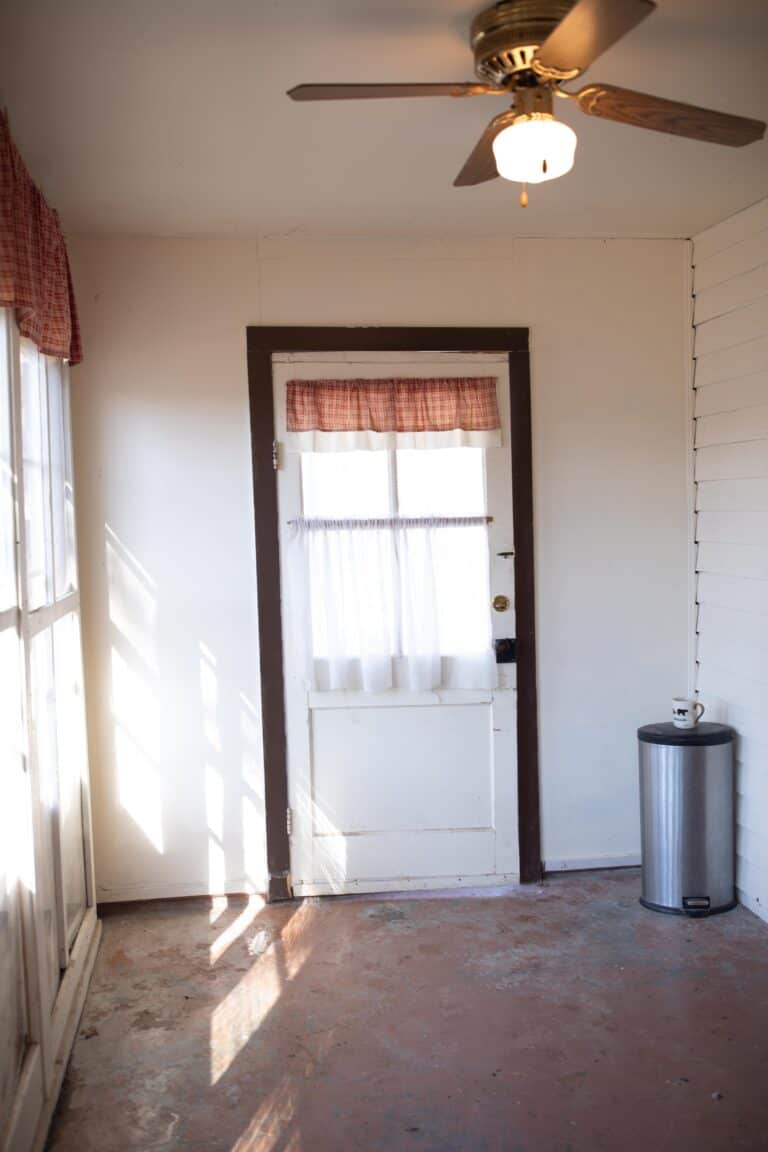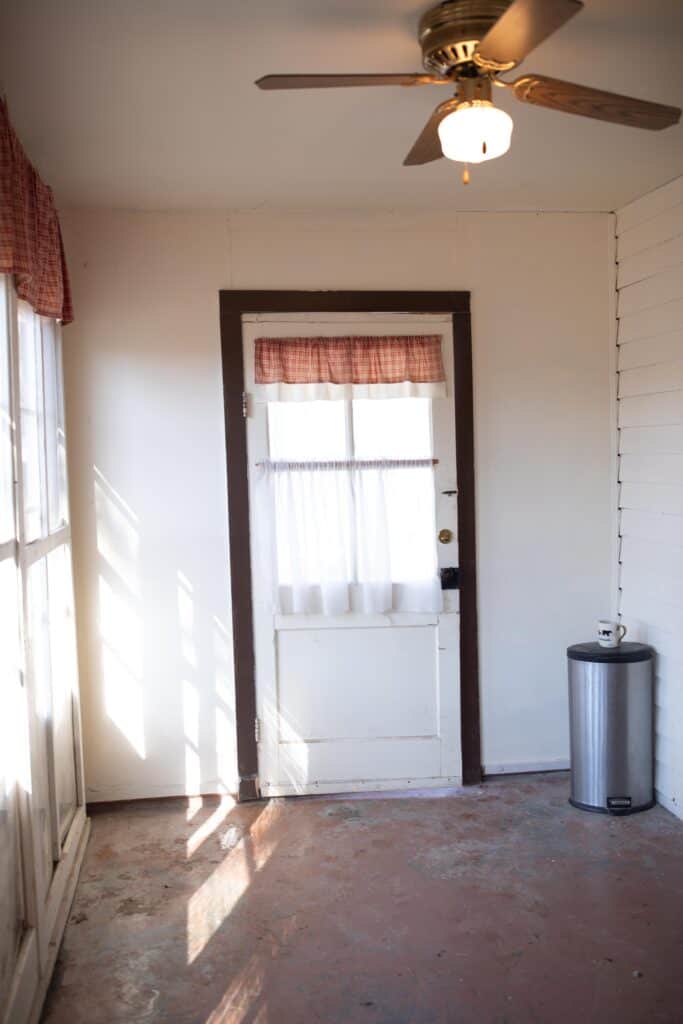 The Dutch Boy Homestead Color Palette
For this project I used the Dutch Boy Homestead color palette to bring new life into our farmhouse mudroom. I love the warmth and simplicity of the colors together. They remind me of all the beauty that will blossom outdoors when spring rolls around, basil from the garden, lilacs and berries. Of course, with us wanting to turn our seven acre property into our own little homestead, I was so excited to give the color palette a try!

Our mudroom needed a few more pieces to make it functional, and what better place to look than our old turn of the century barn?! When we moved in, it was already chock full of treasures. This could be a good thing or a bad thing depending on how you look at it. For the purpose of our farmhouse mudroom makeover, it was a very good thing.
I drug out an old chair and a few pieces of scrap wood.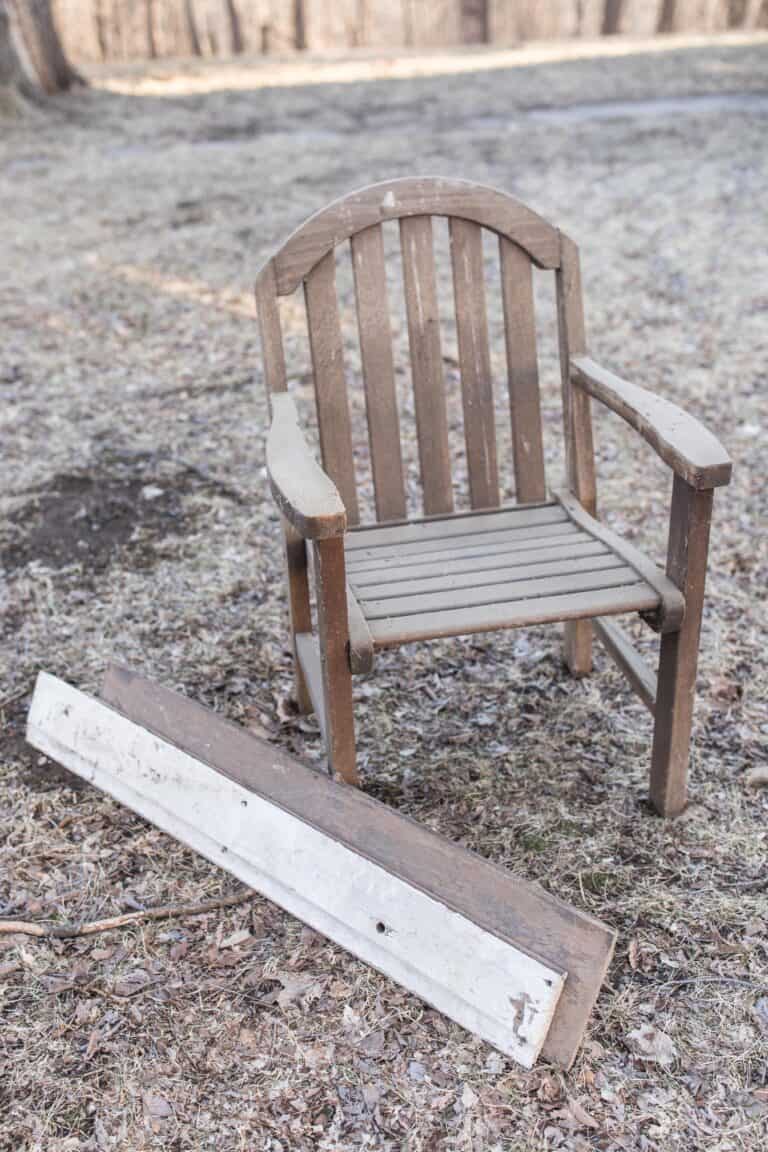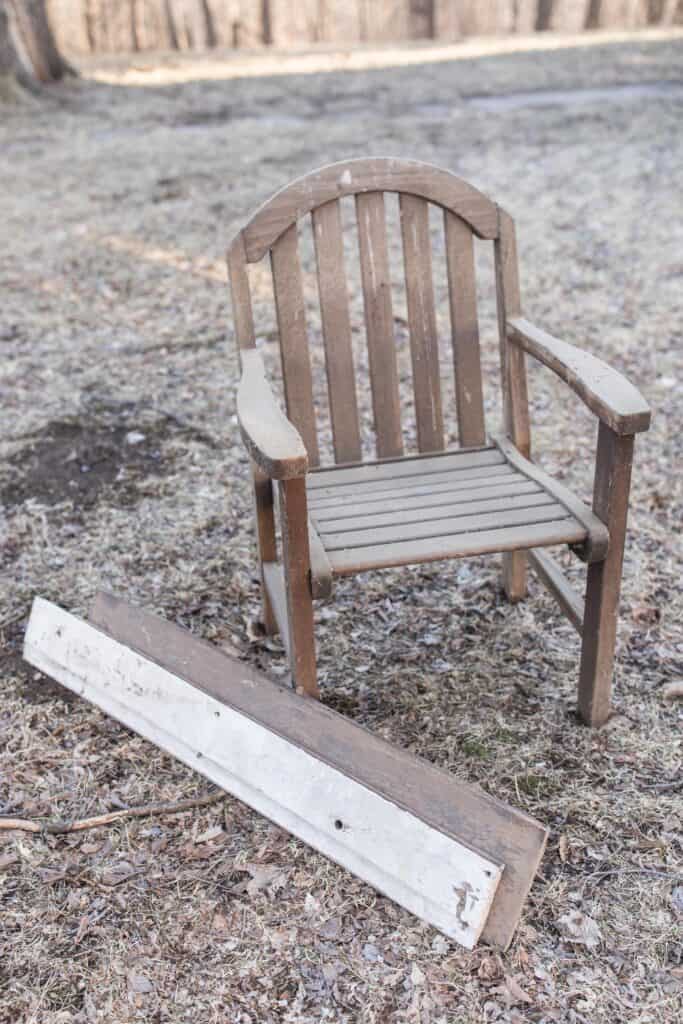 For the chair I used Dutch Boy's 2019 color of the year, Garden Patch. It reminds me so much of spring, and I get giddy just thinking about it. My plan is to not wear shoes for months. Toes in that garden dirt only!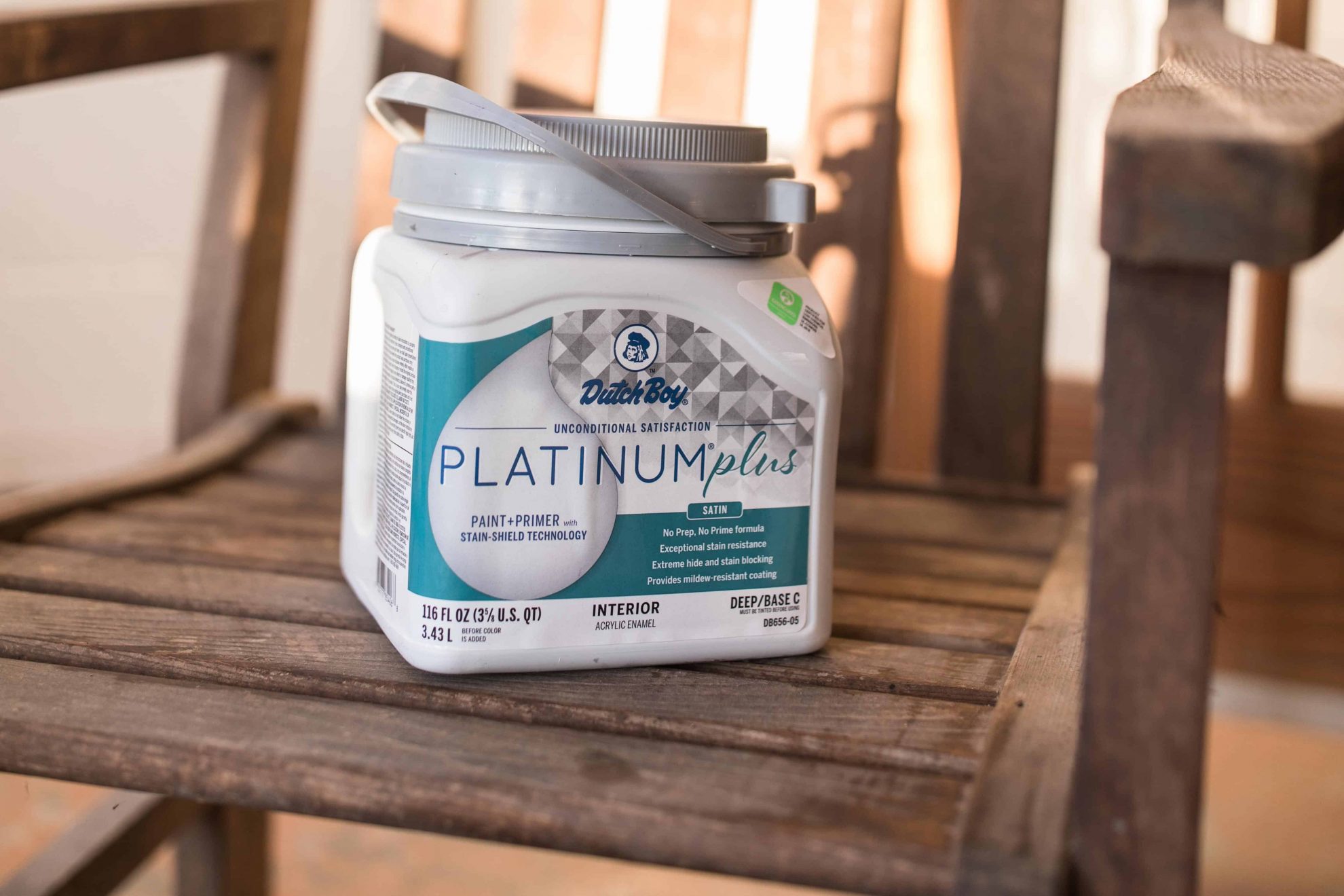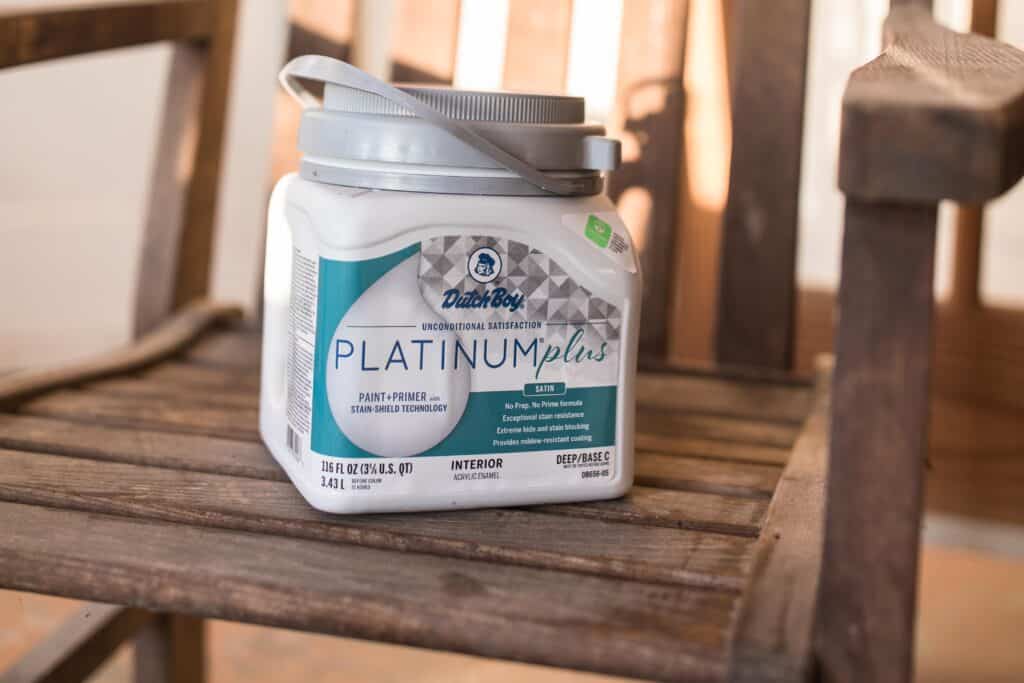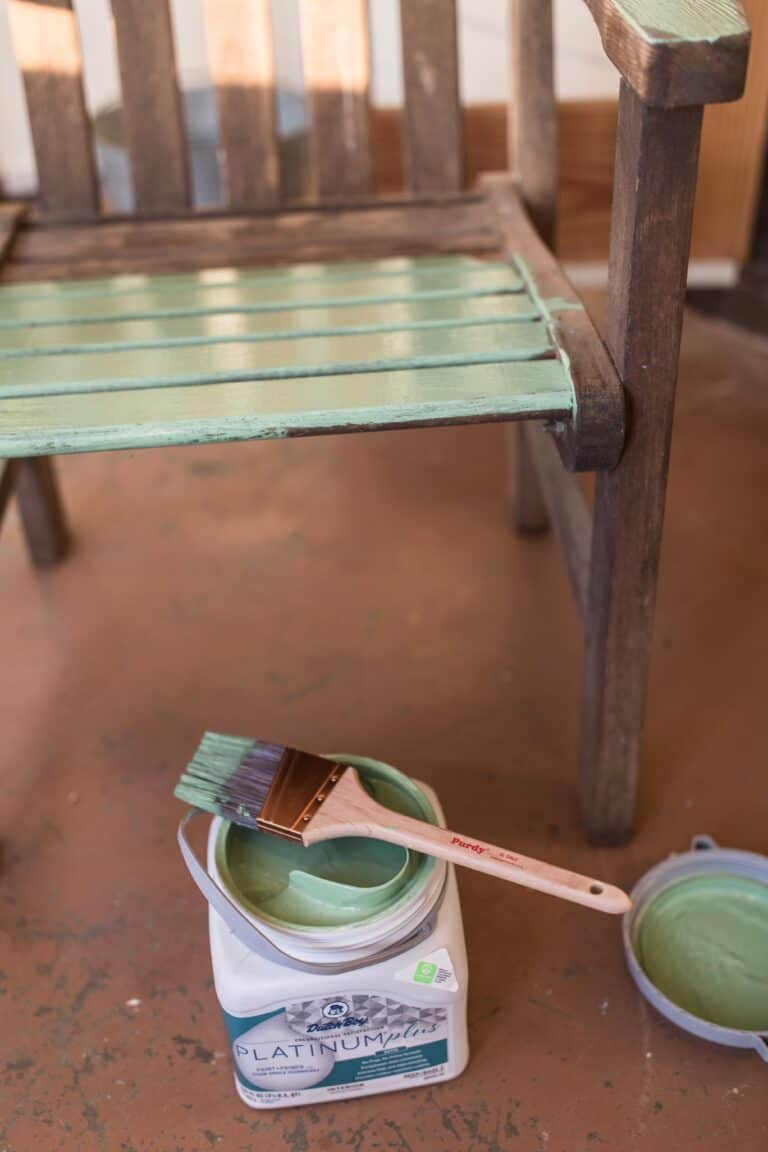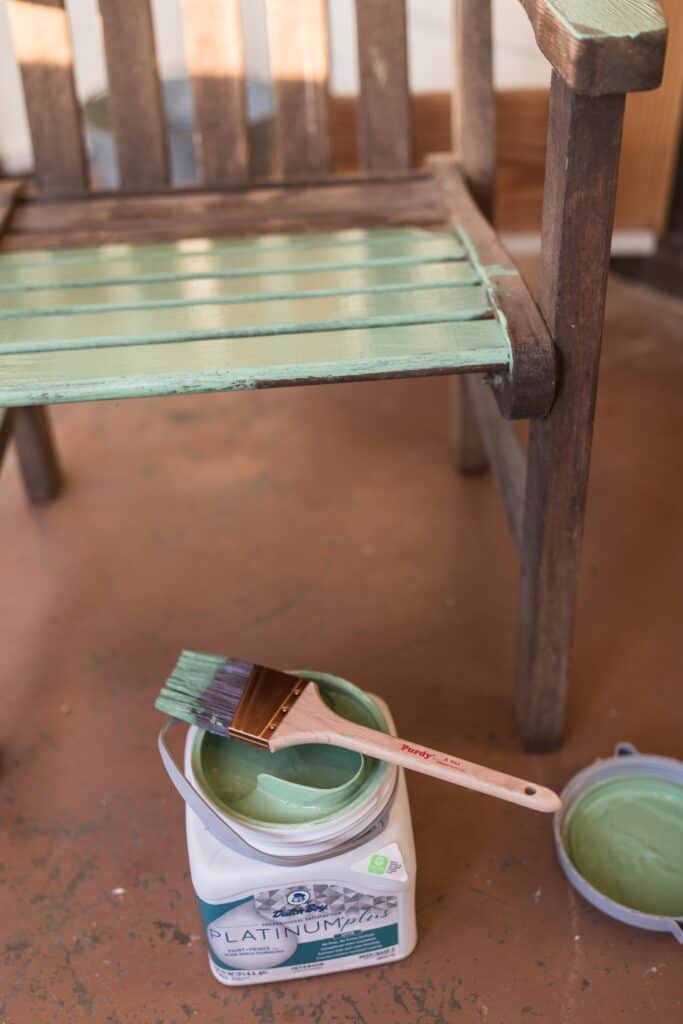 The Dutch Boy paint covered the old chair beautifully with only one coat, and I right away knew I was on the right track with these gorgeous homestead inspired colors.
I gave the exterior door one coat of Dutch Boy Silenced Blue, also from the Homestead color line.
(Right before taking this picture we were outside enjoying our new little homestead, and mama slid down the muddy hill on her bottom. Don't mind the messy pants, and tired baby. ;))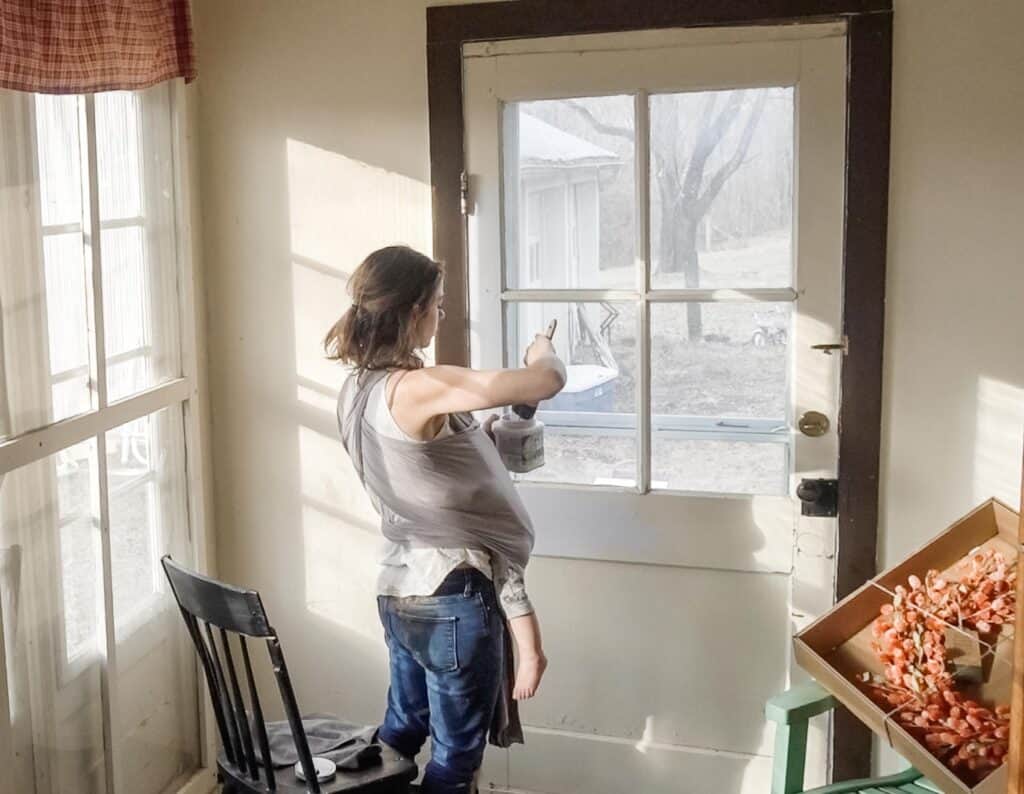 For the walls, I went with Dutch Boy's Antiquated Lace. It had the warmth I was going for without the yellow undertones. It truly has the feel of vintage lace, which is more than fitting for our Victorian era farmhouse.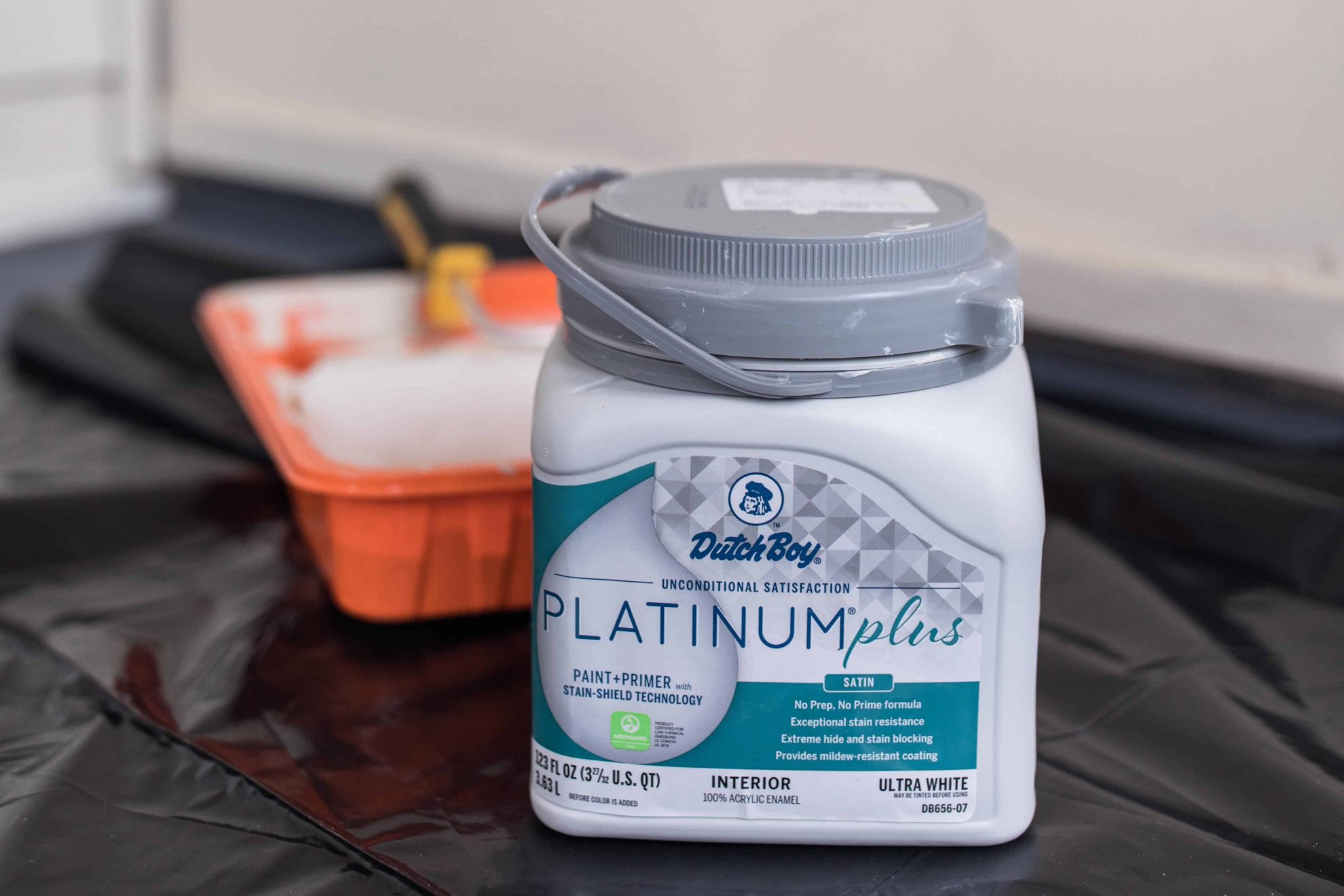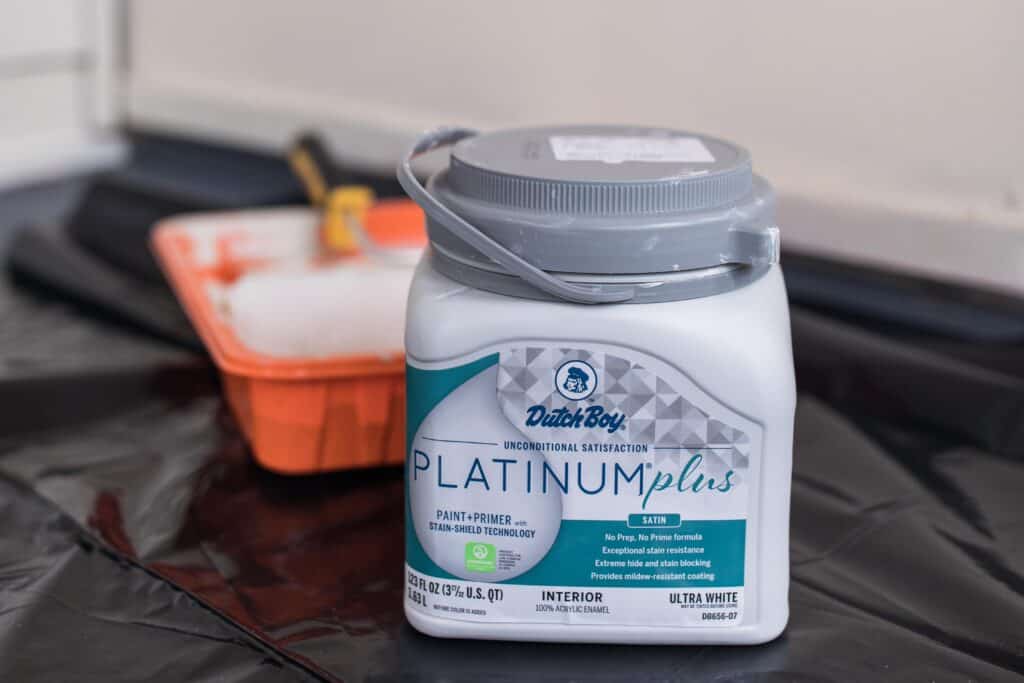 I am in love with Dutch Boy's Twist & Pour® containers. No more searching for a paint can opener, and then a hammer to shut it again. I didn't know what I was missing with lids like this. They make pouring, opening and closing the paint a breeze.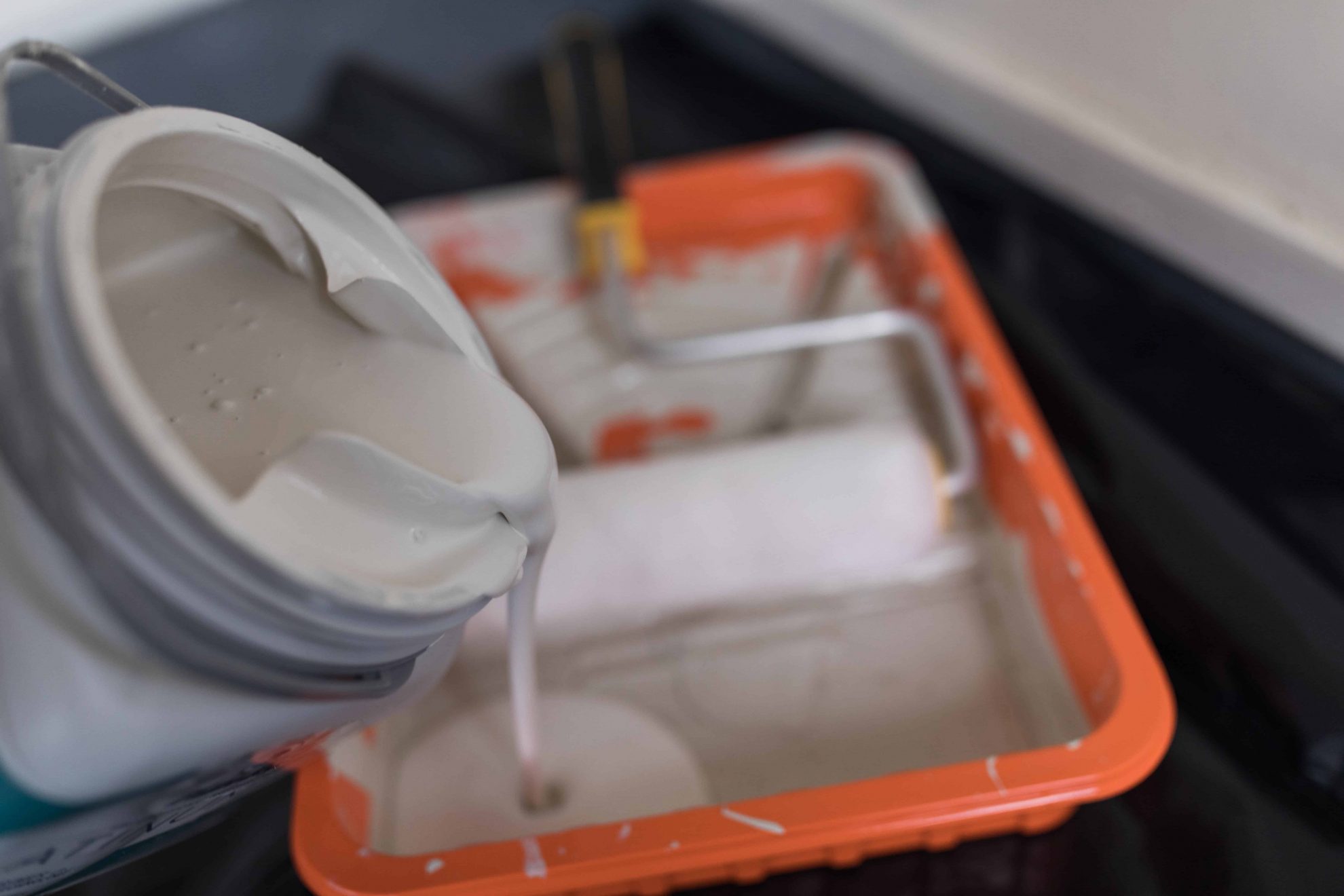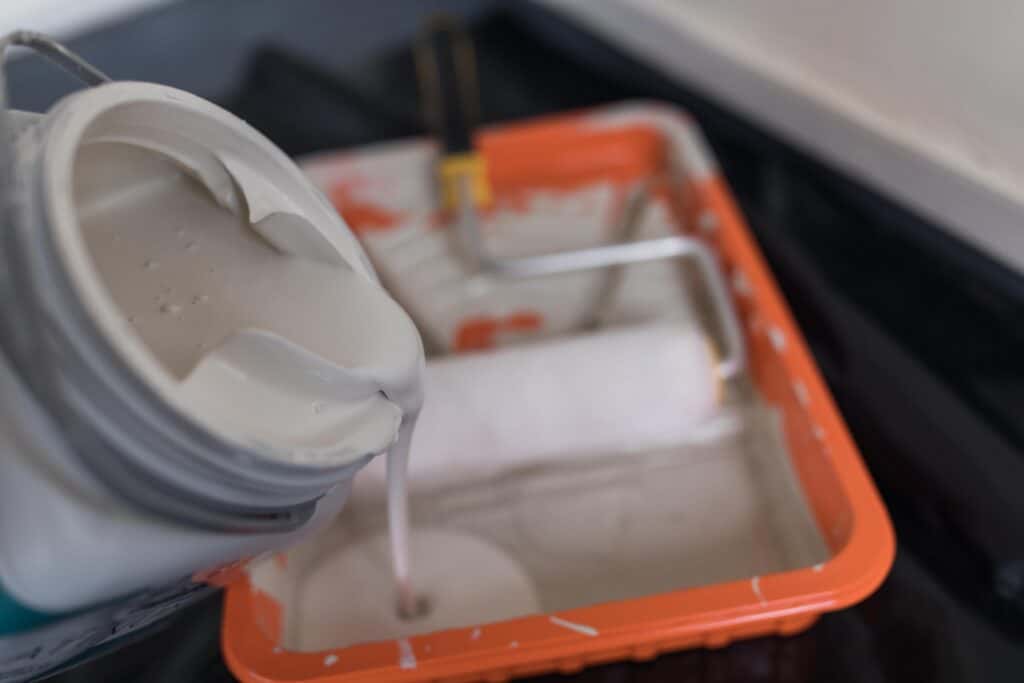 Behold, antiquated lace next to my fresh white trim.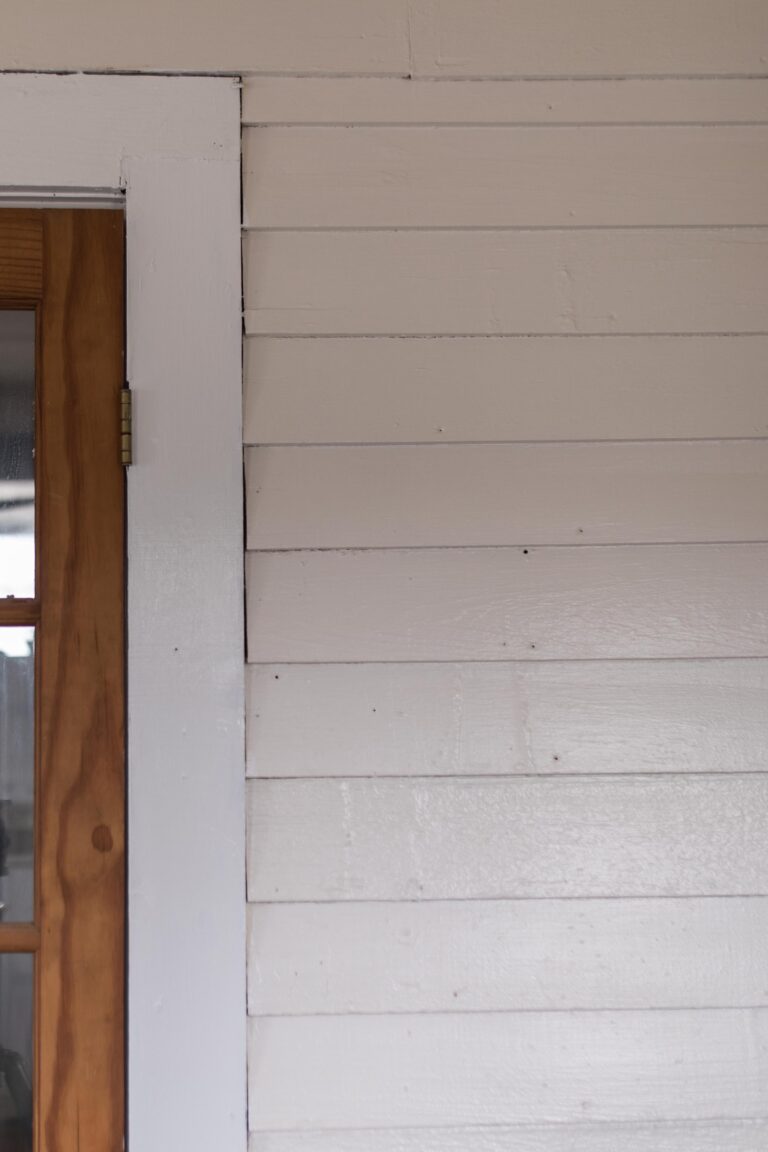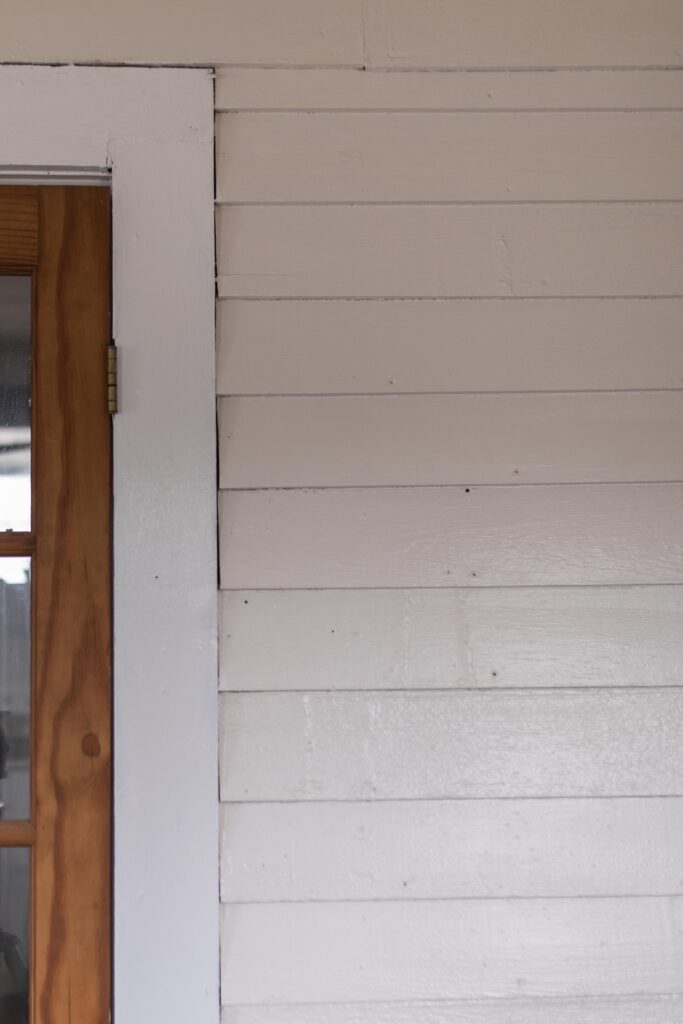 Dutch Boy Homestead Color Palette After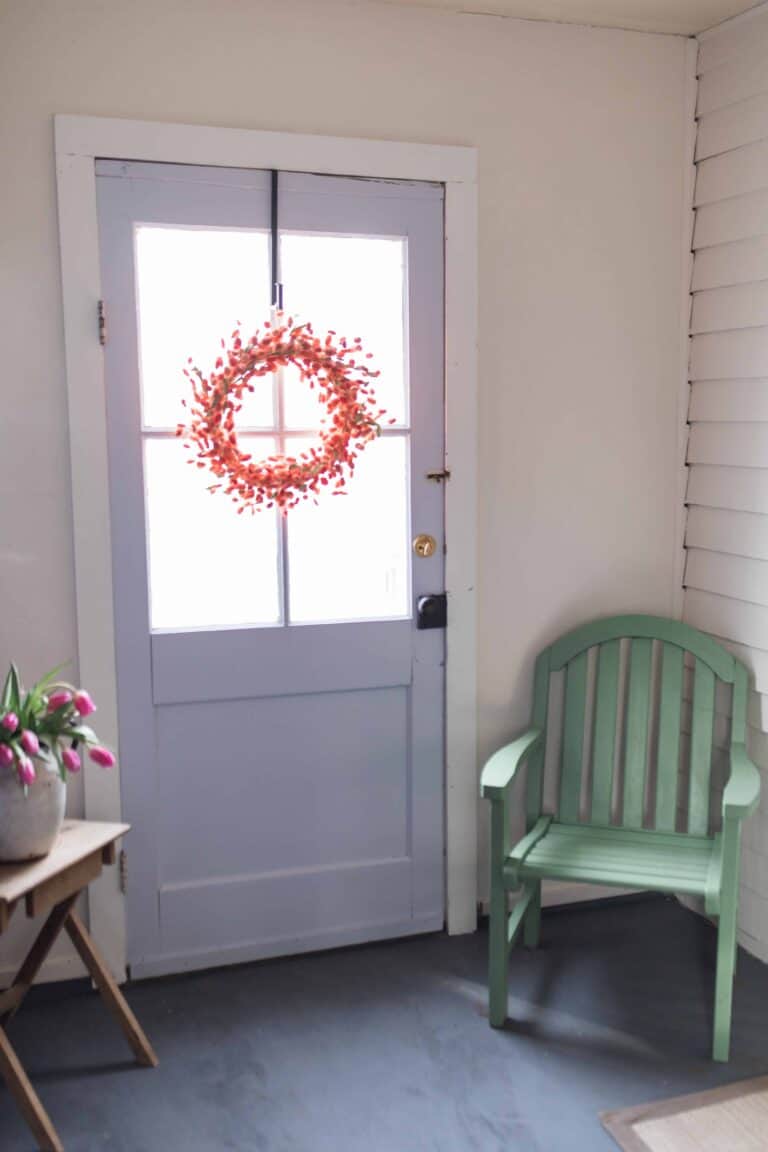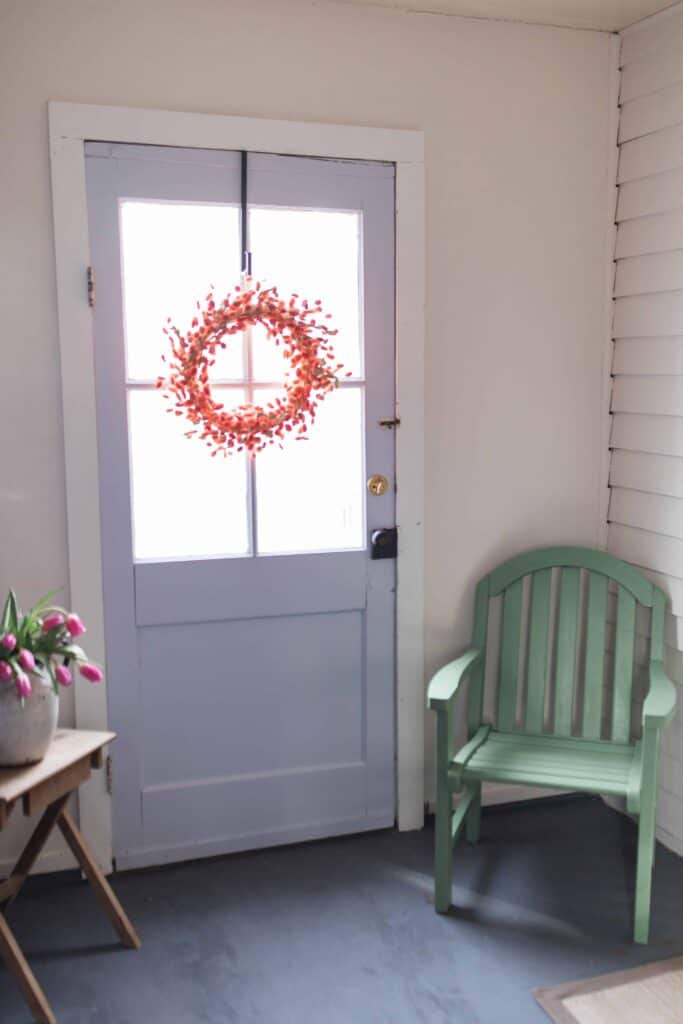 My oh my, how I love the colors in this room! The soft blue and muted green next to the warm lace color on the walls. I'm in homestead heaven with this one.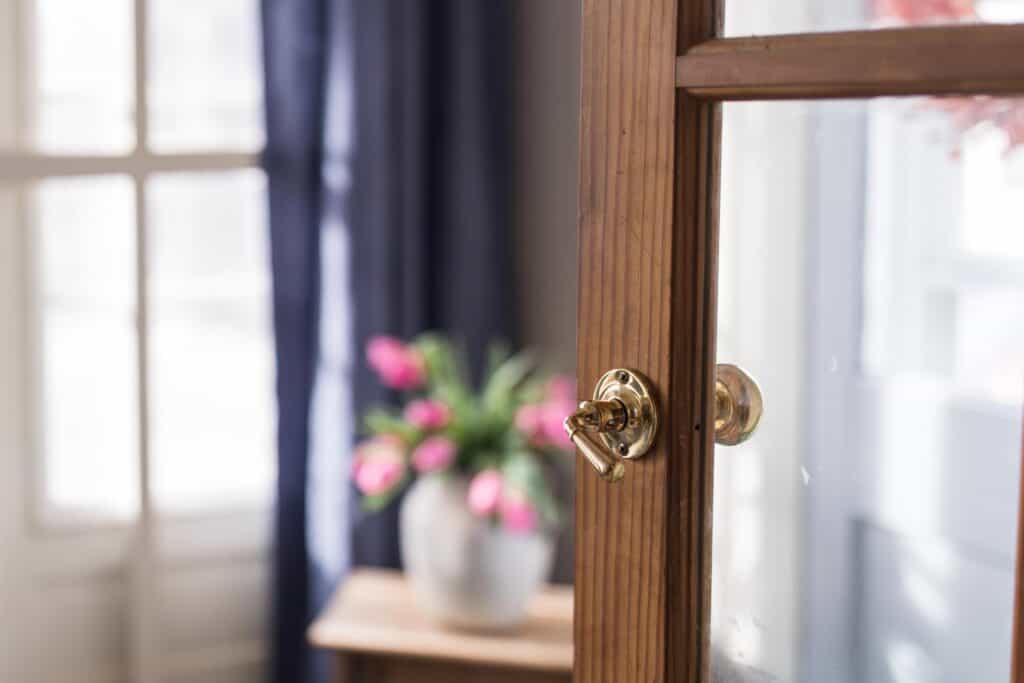 I brought in more of those warm farm living colors with the dried thistle wreath and fresh pink tulips. For the wall of windows I colored drop cloths with navy blue fabric dye. The color compliments the soft blue door, and will also hide dirt better than the natural color would have. This is a mudroom, after all.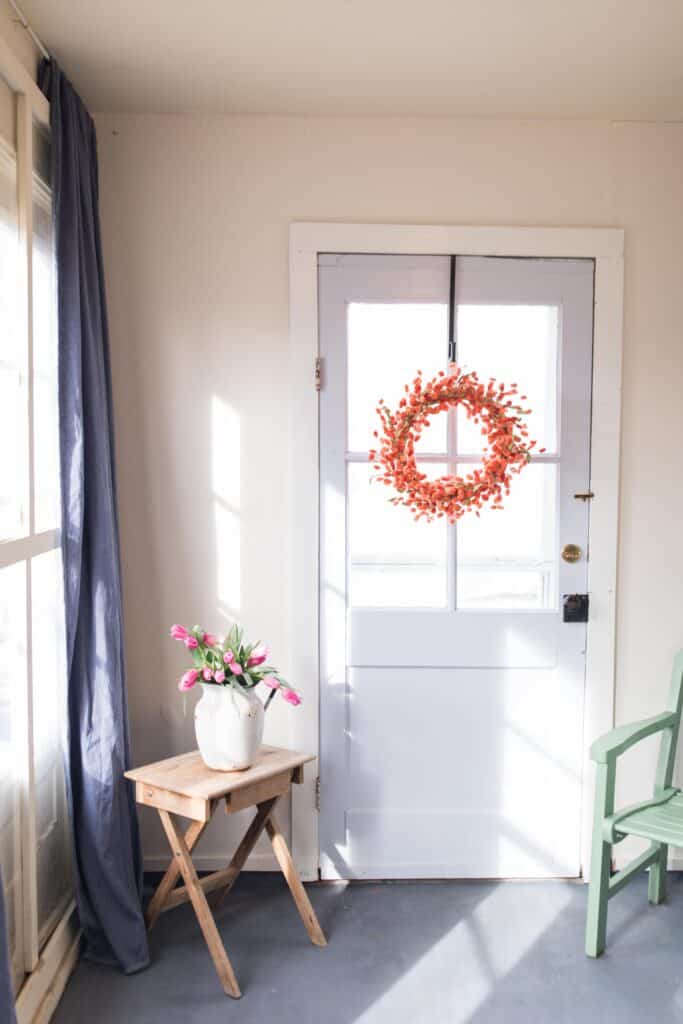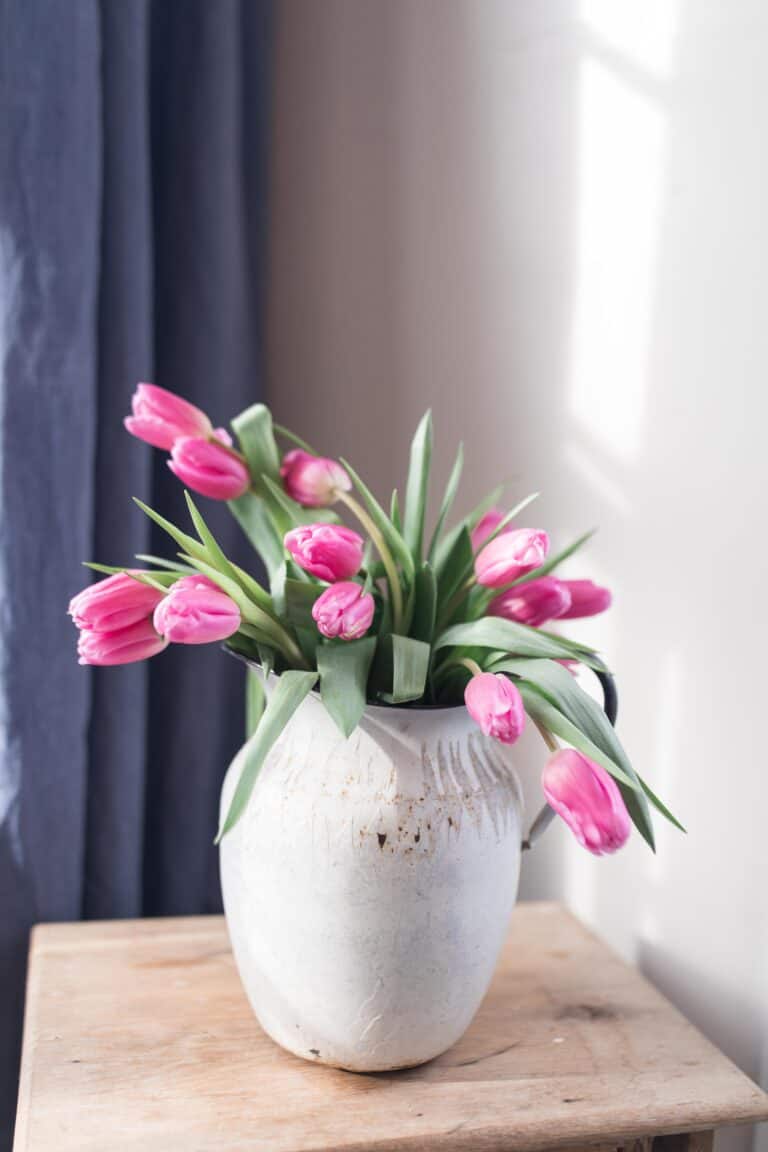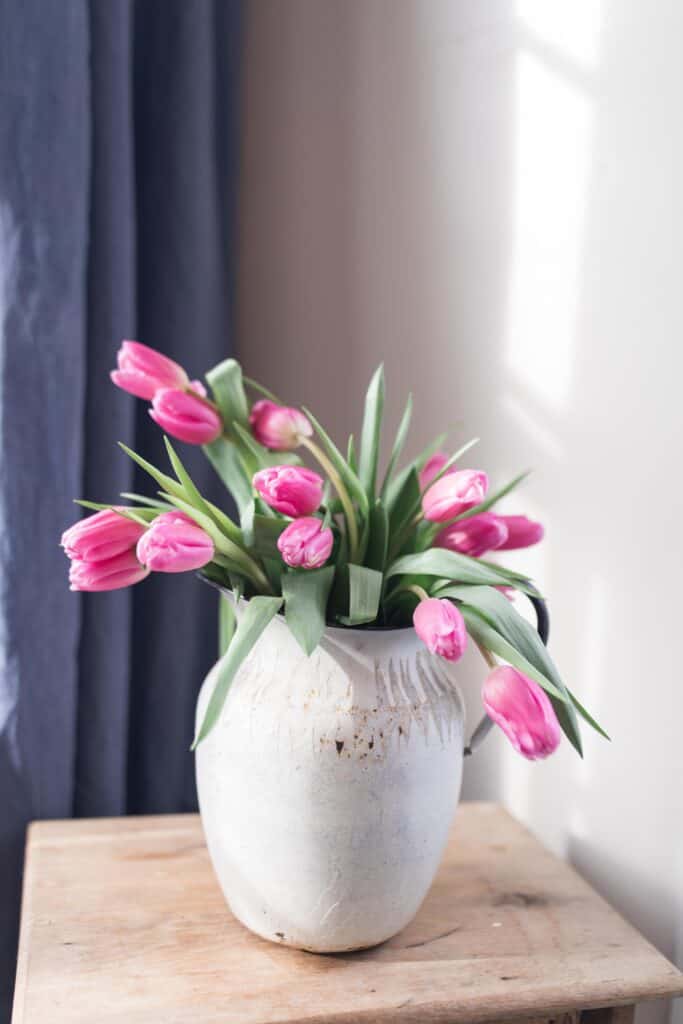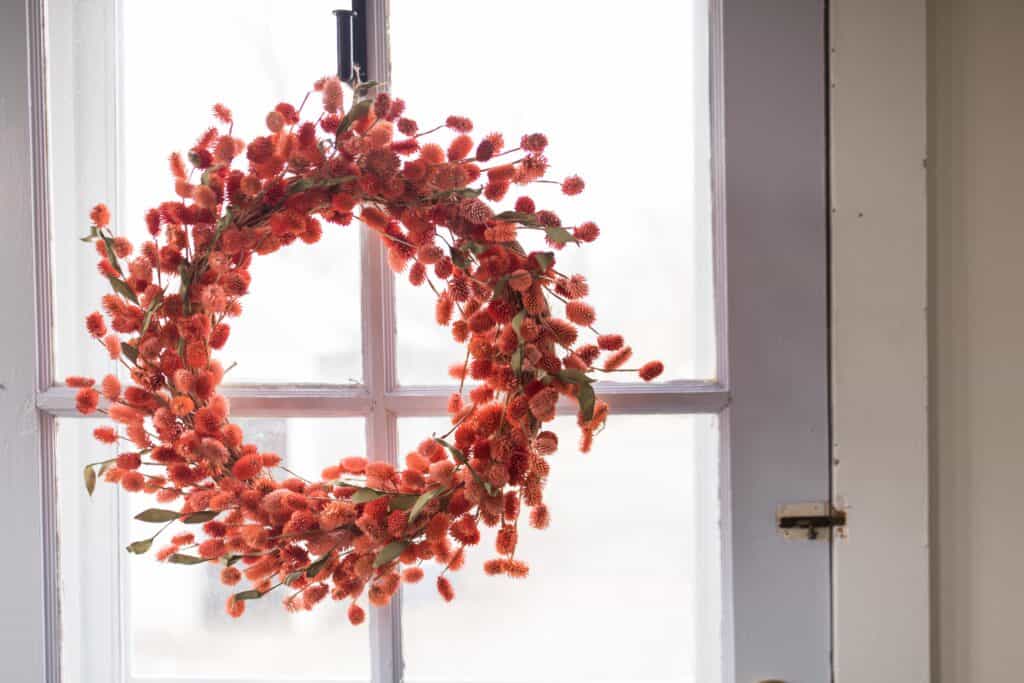 For proper mudroom storage a coat rack is in order. I simply screwed antiqued brass hooks to a piece of salvaged wood. I love how the coat rack looks next to the Dutch Boy Antiquated Lace walls.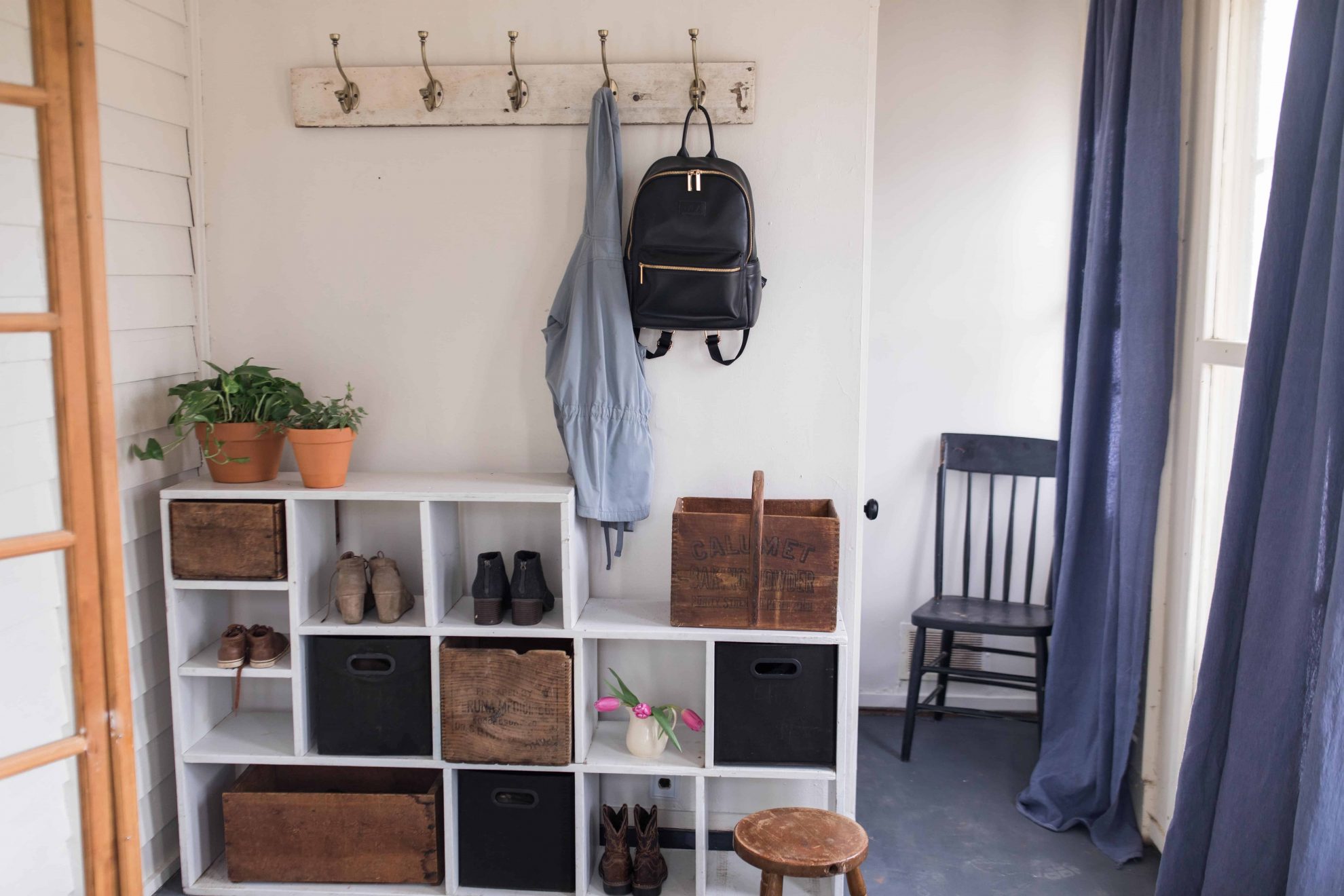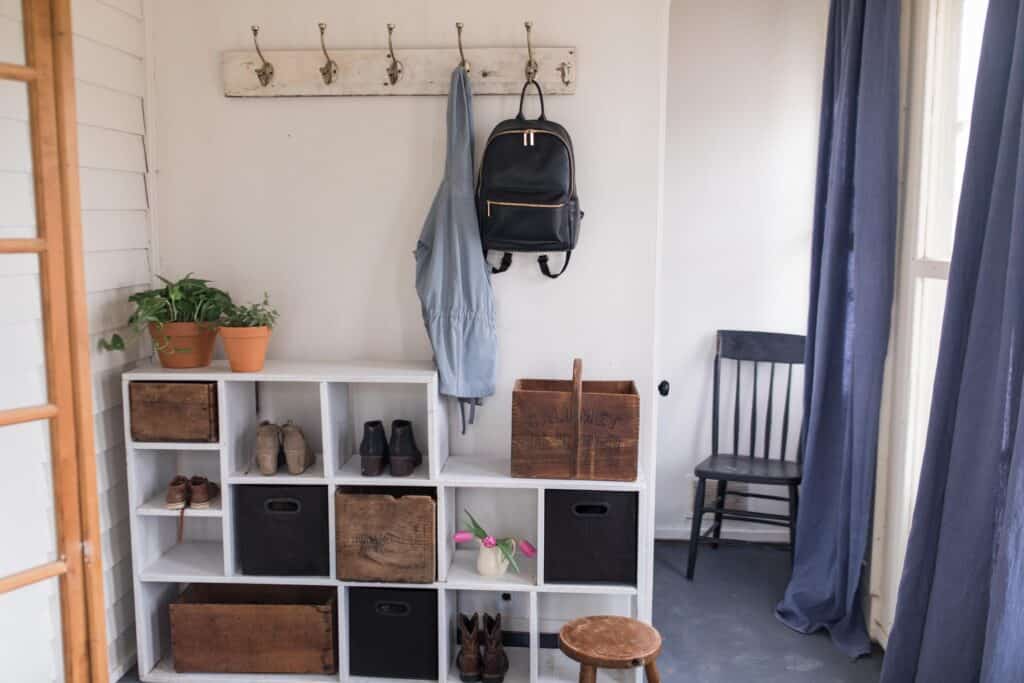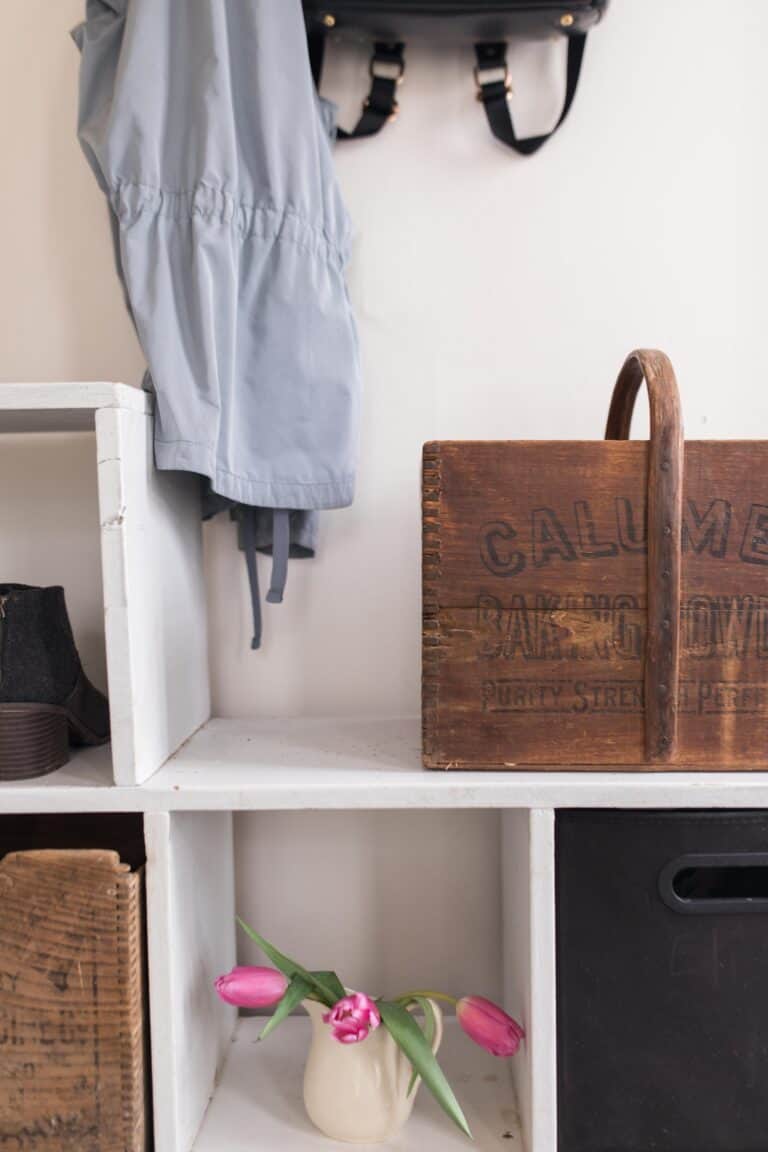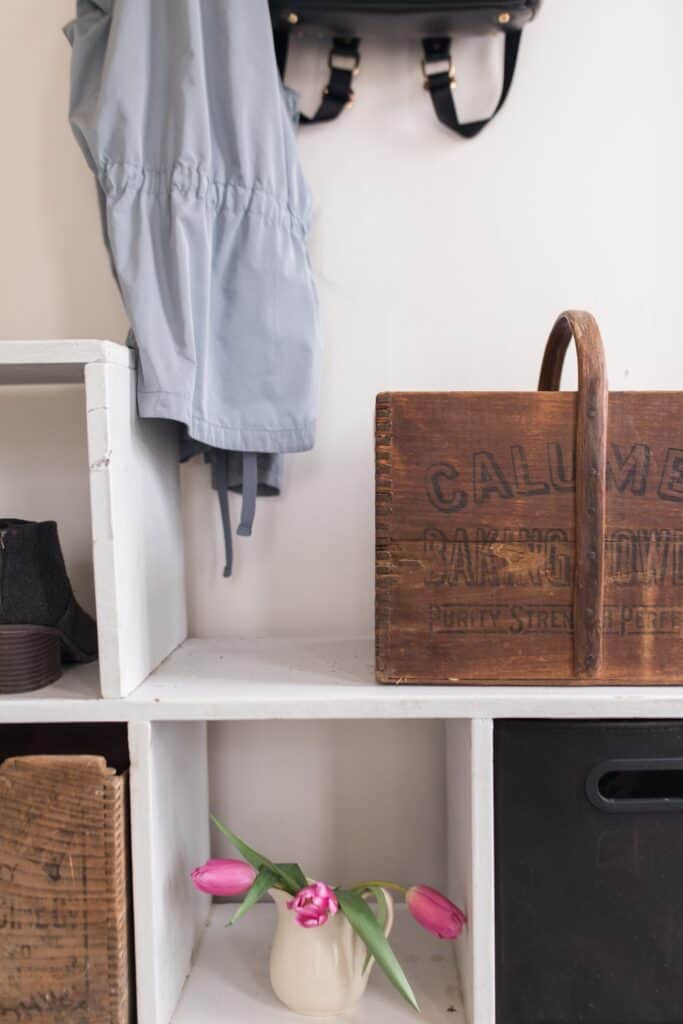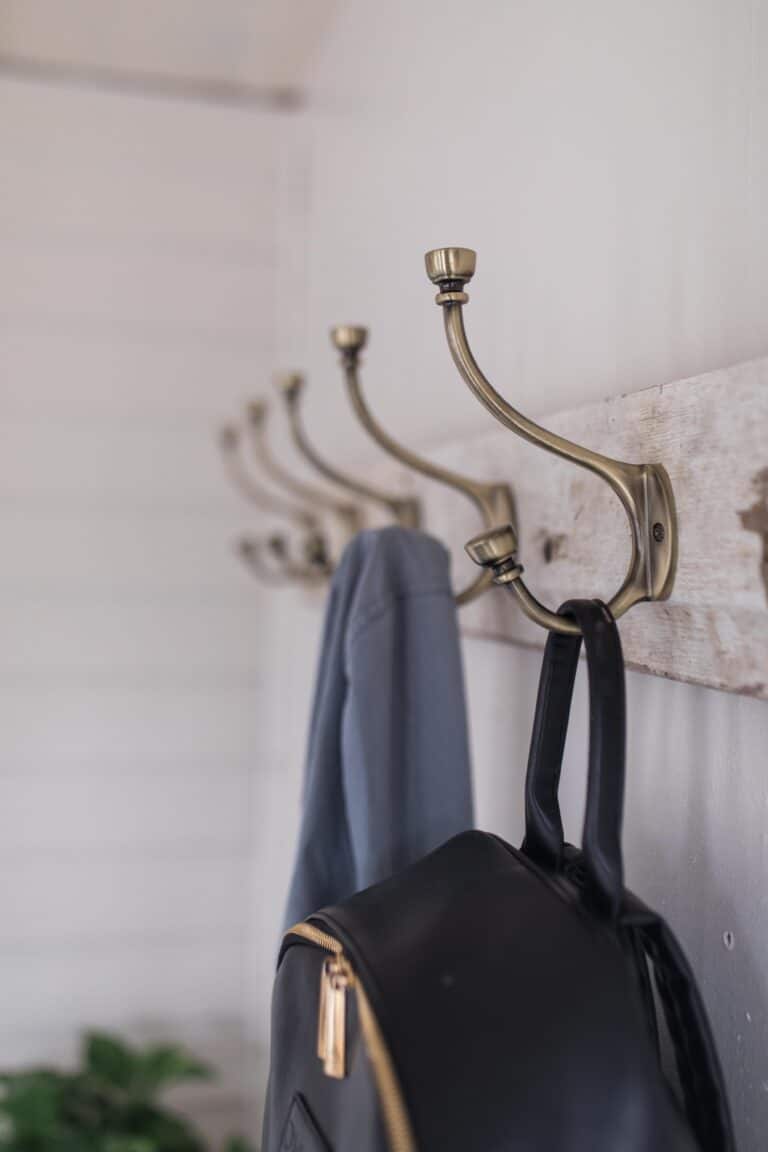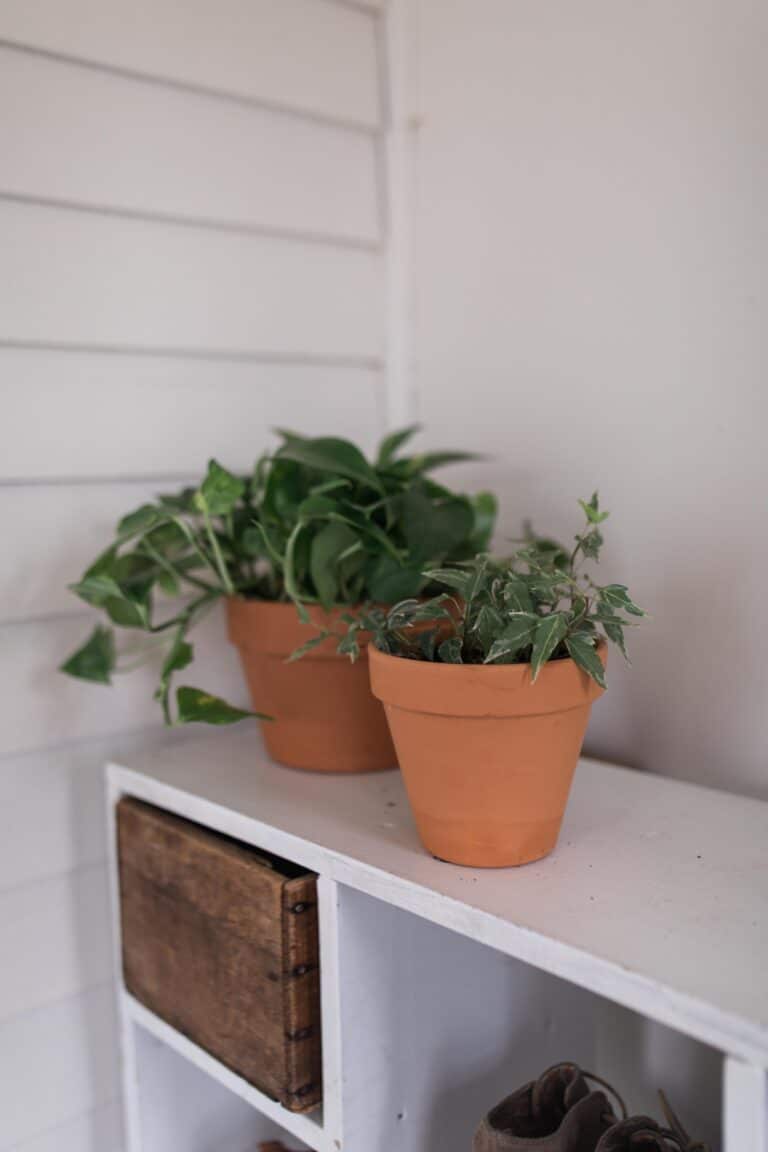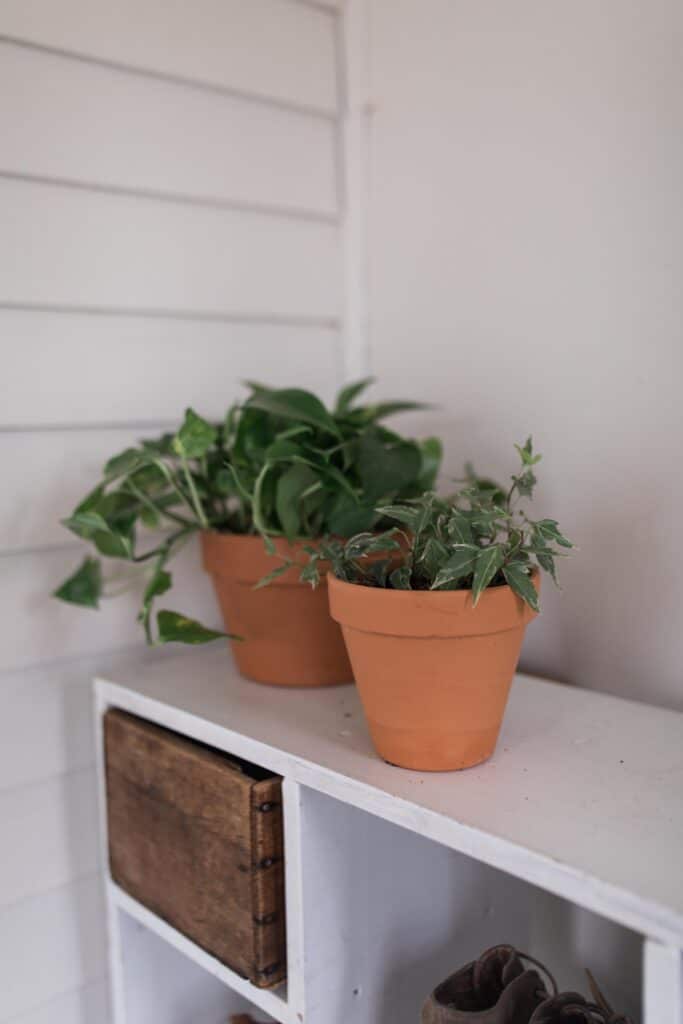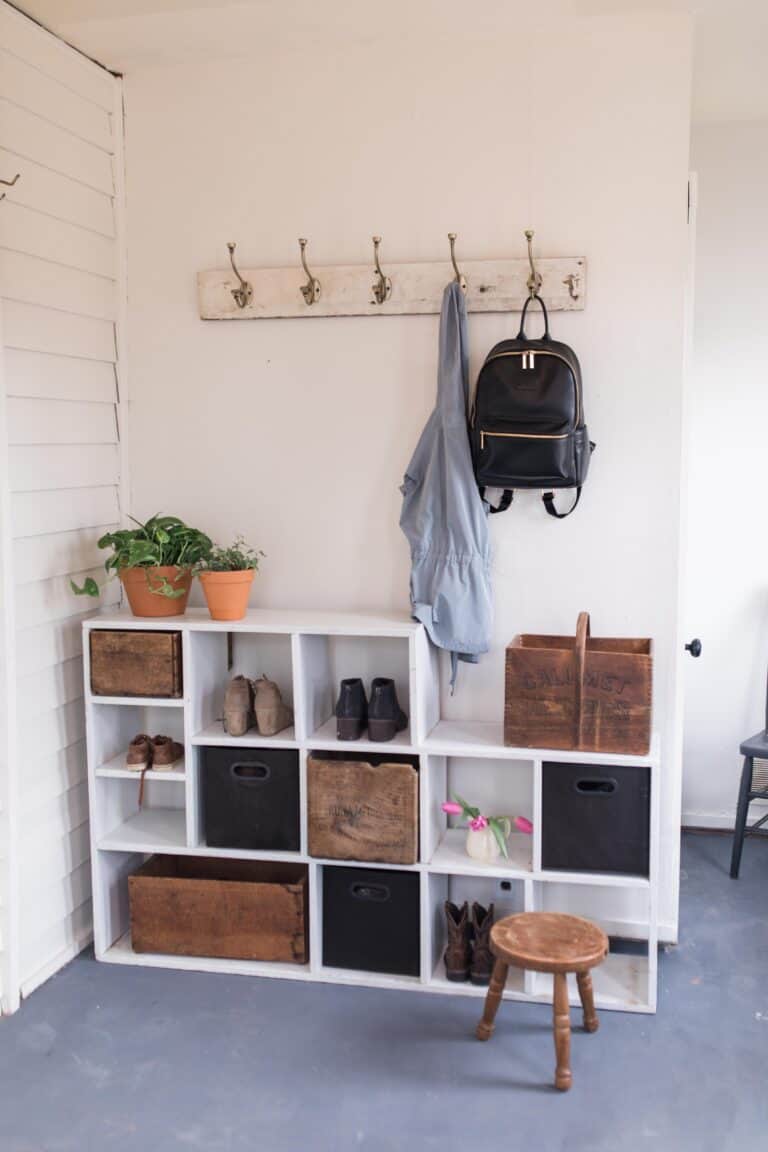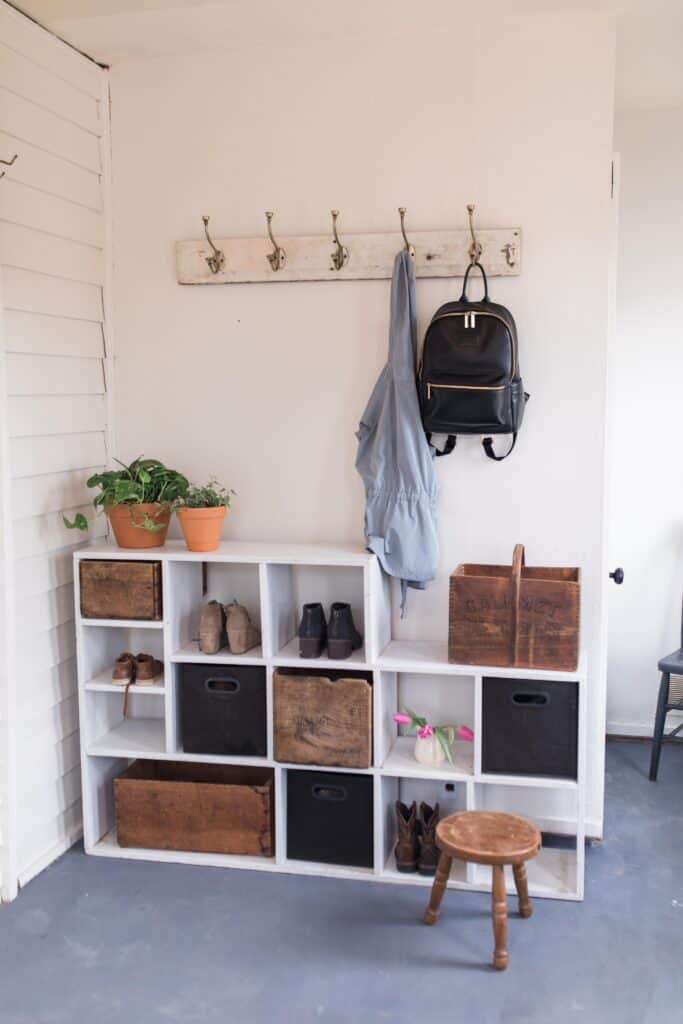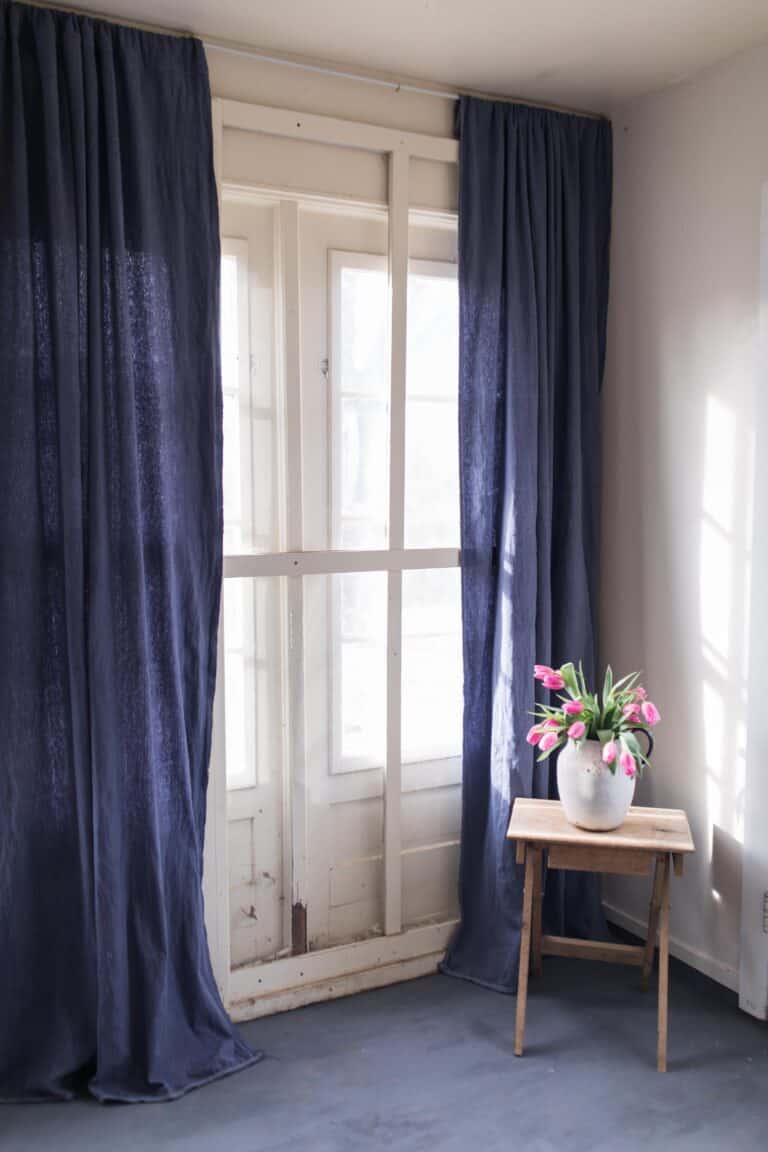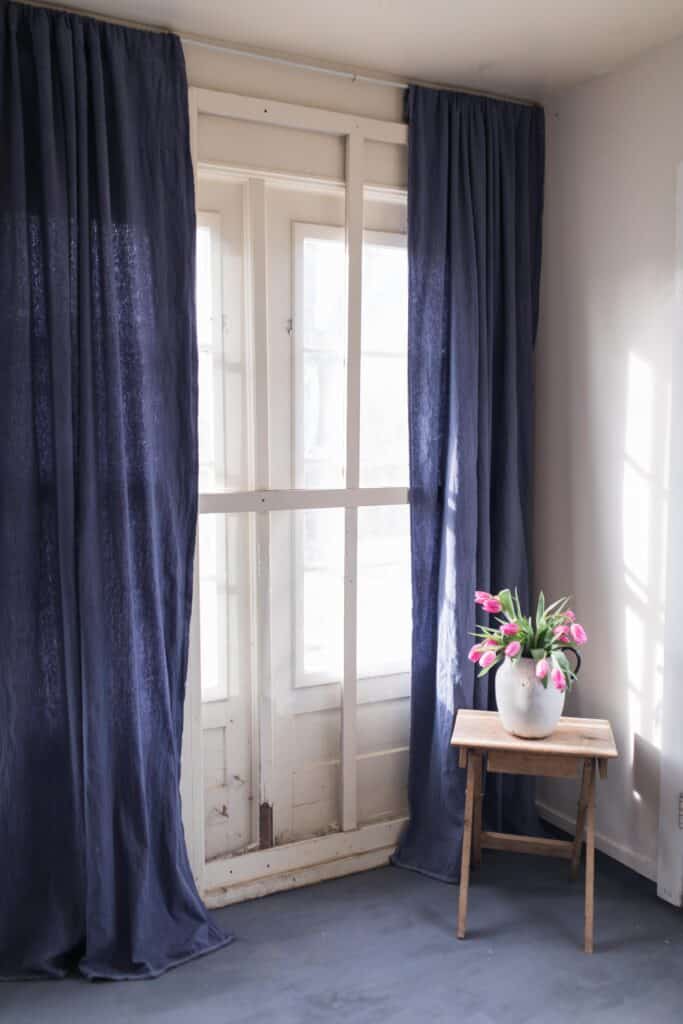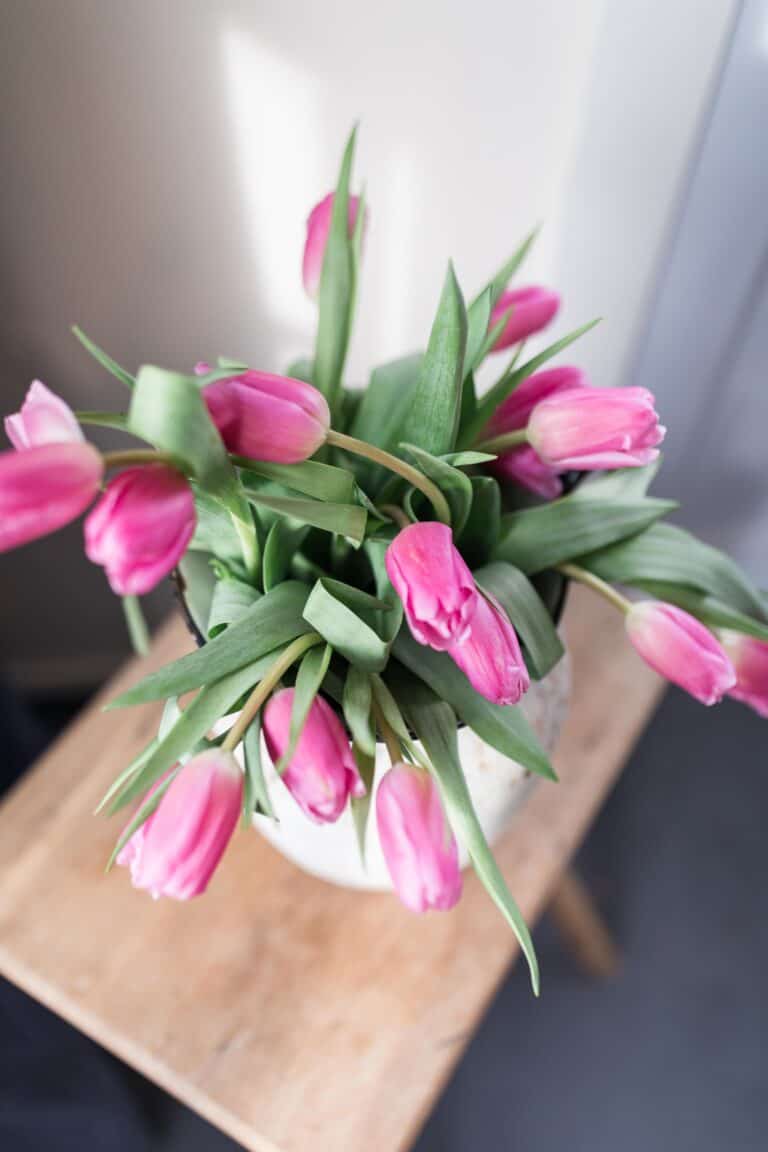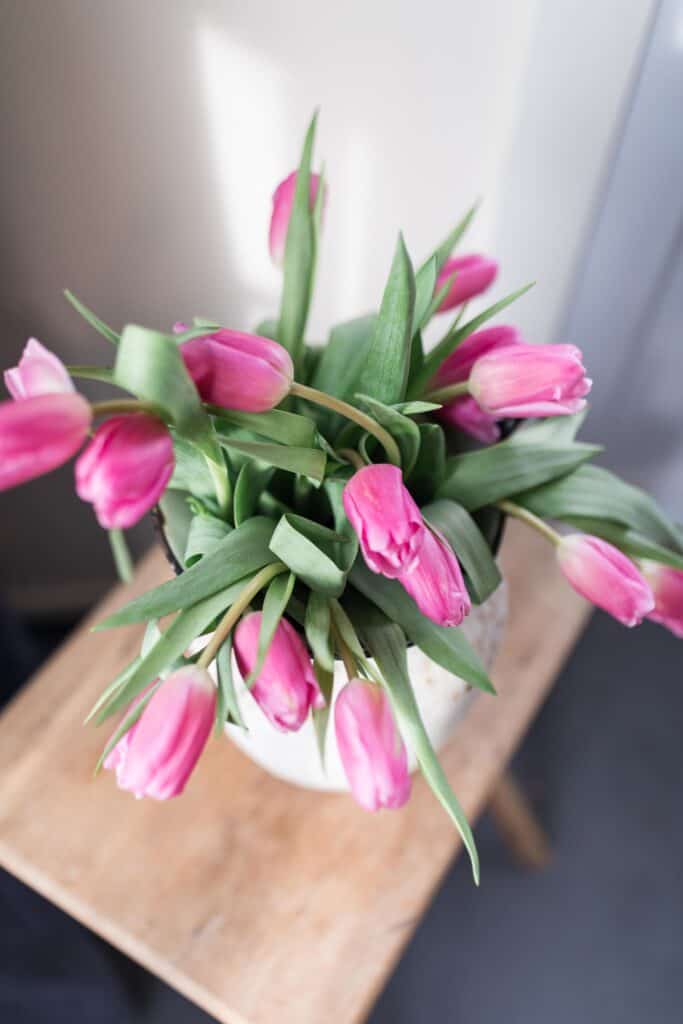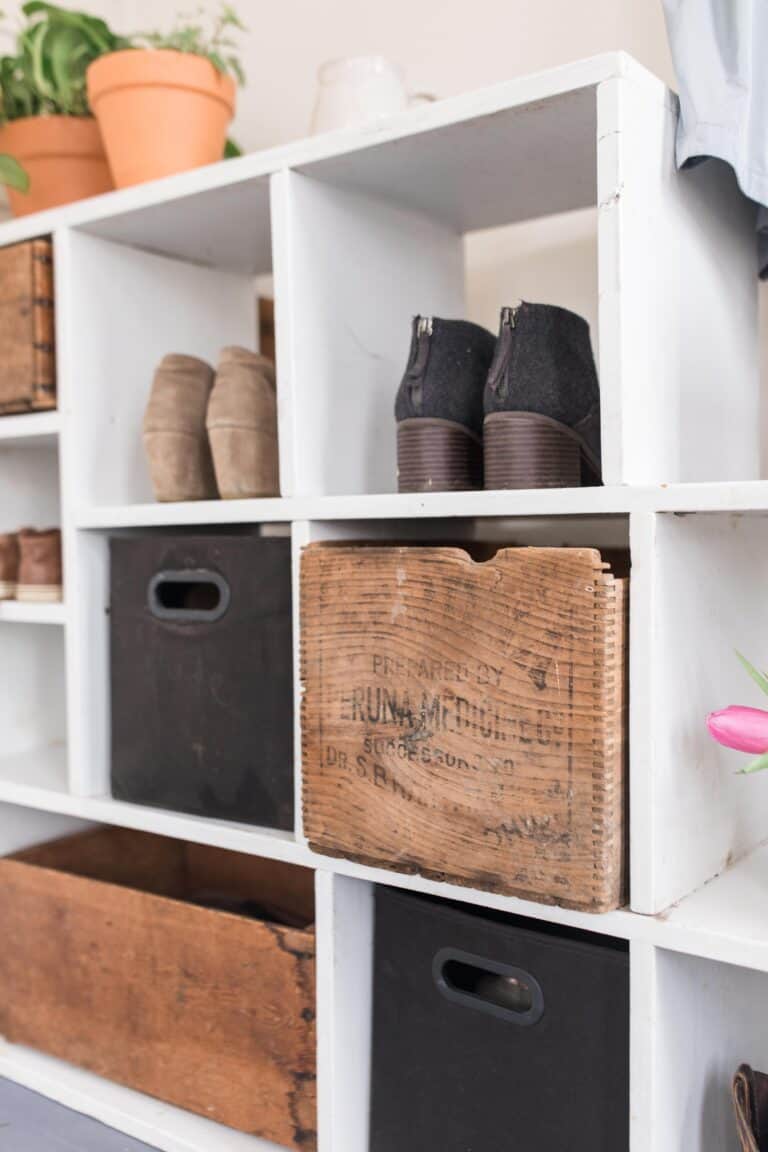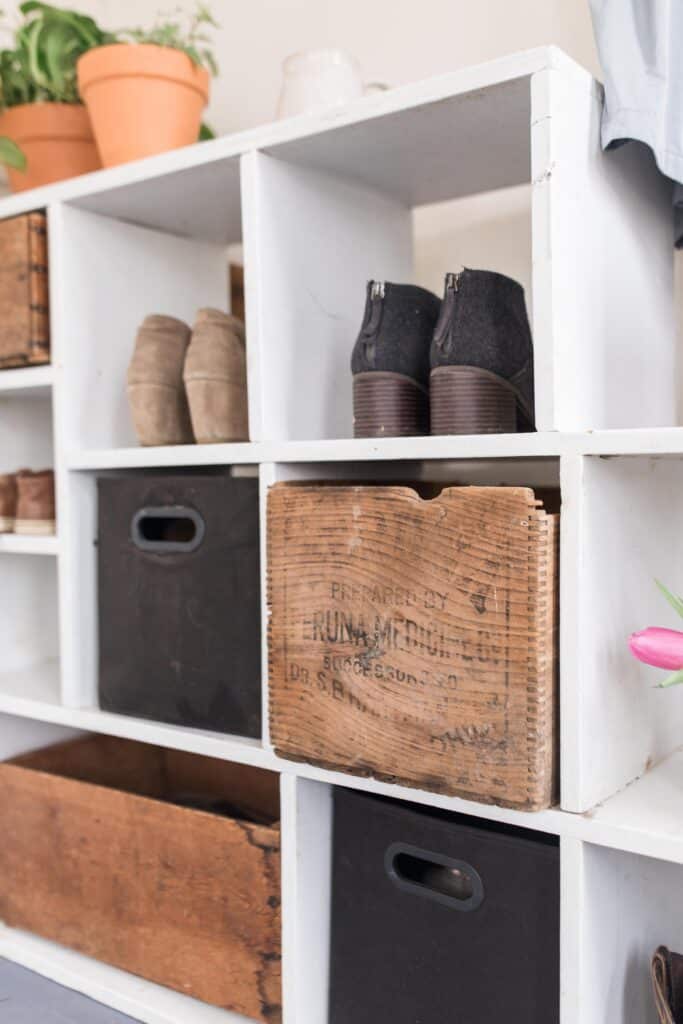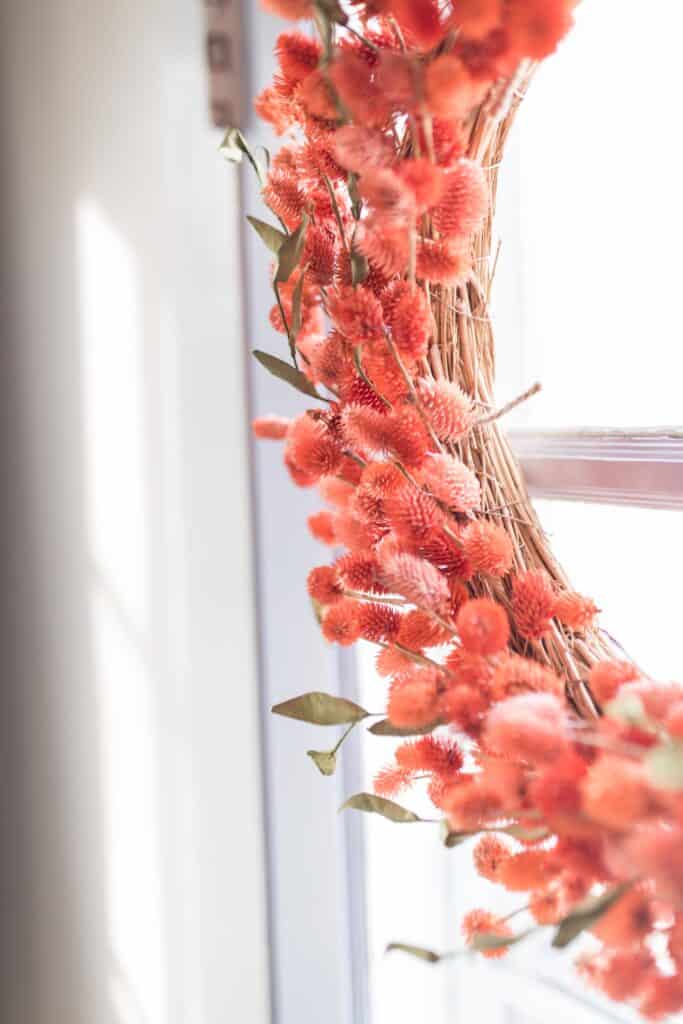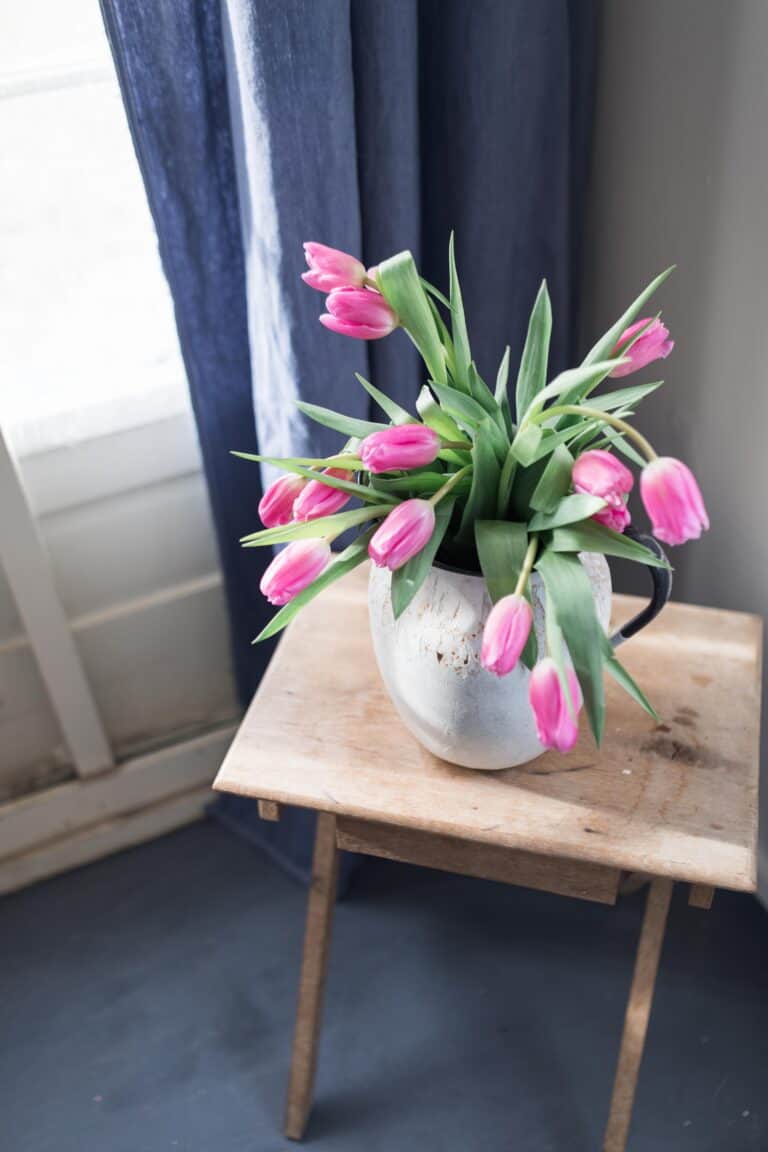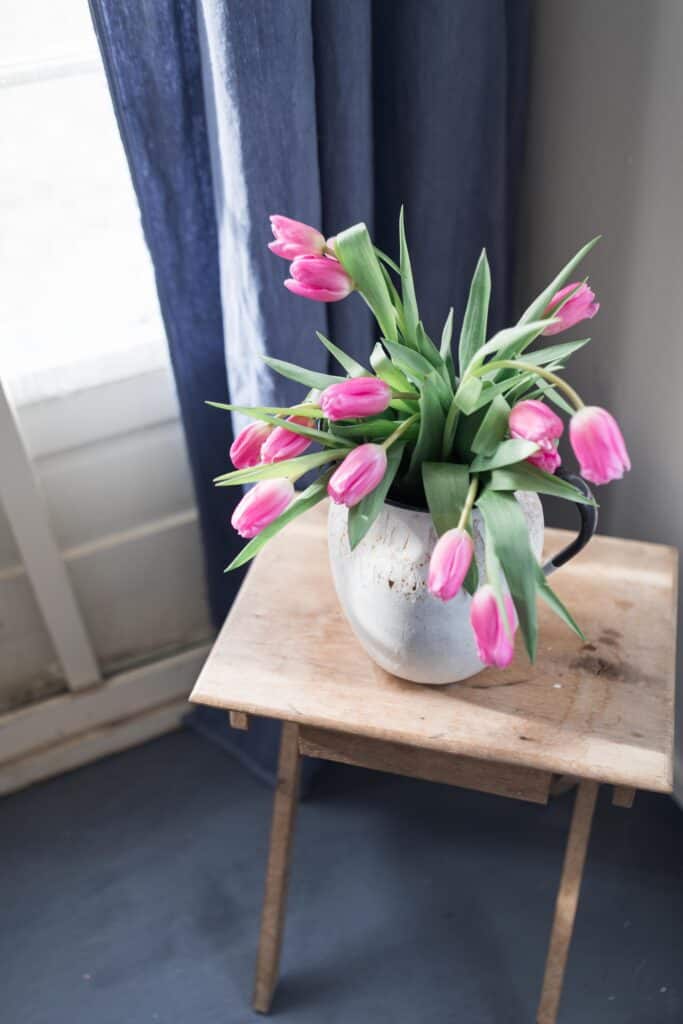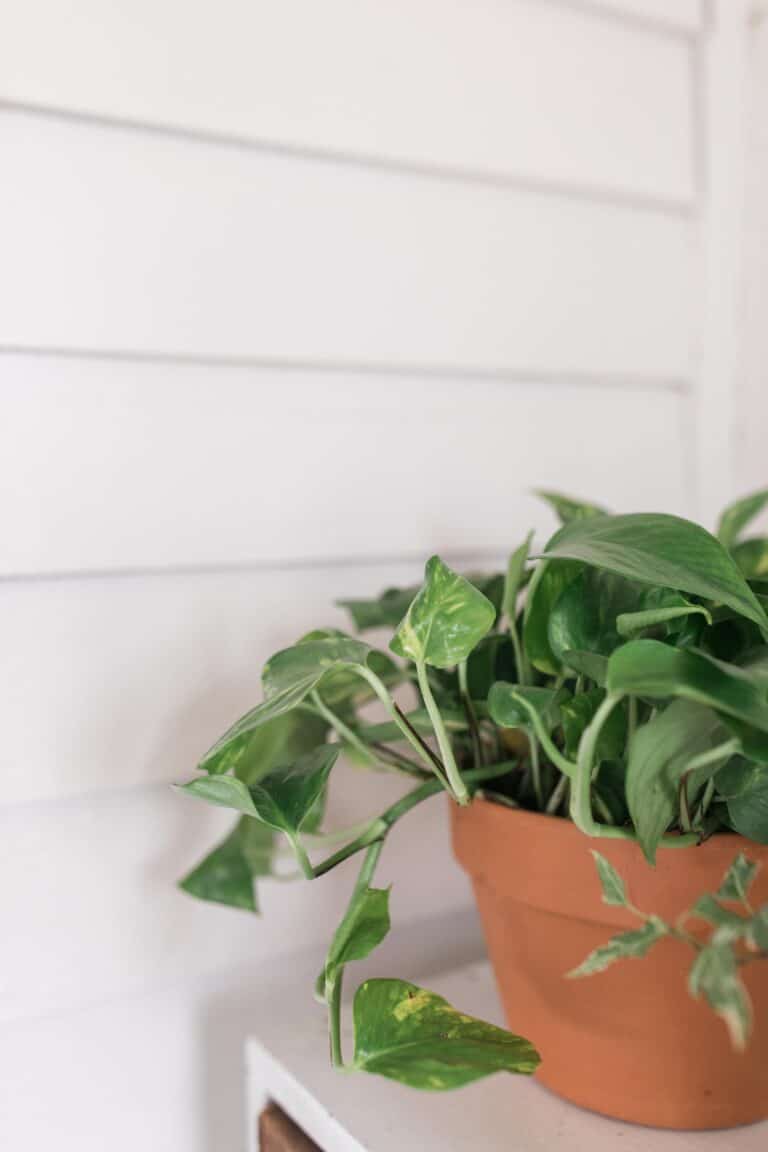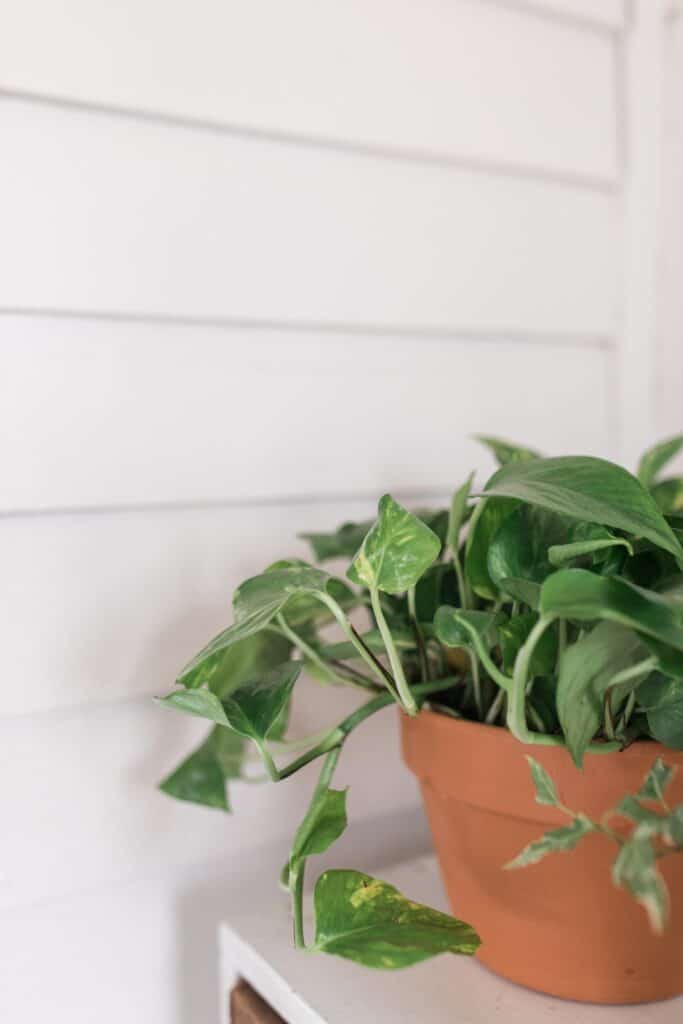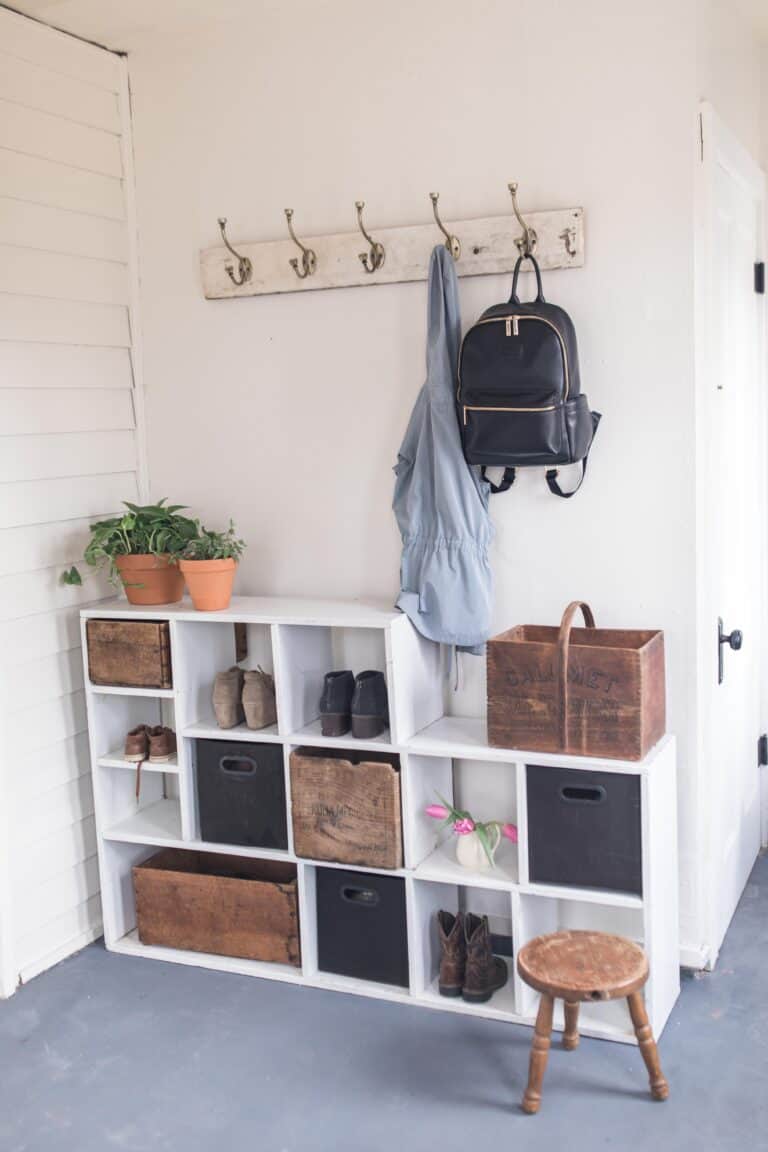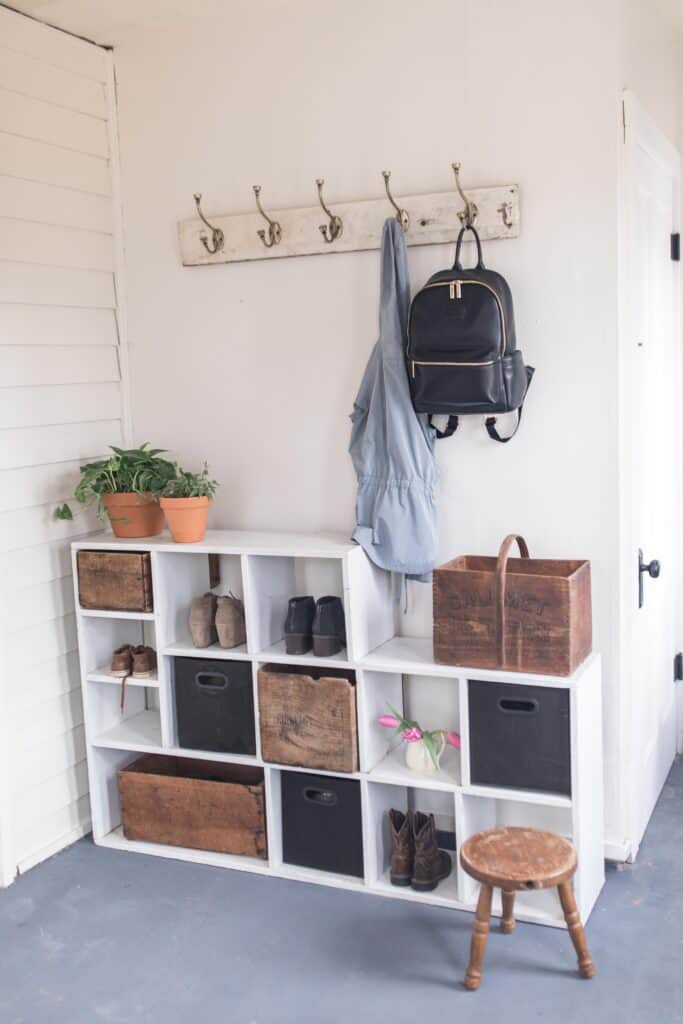 Well, safe to say I am in love with this mudroom of ours. I plan to stuff the crates full of gloves and hats in the winter, and swimsuits in the summer. This room will bridge the gap between outdoor living on our homestead, and the cozy interior of our farmhouse.
Make sure to check out the Dutch Boy Homestead colors, and the other 2019 trending Color Palettes they have carefully curated to instantly revamp any space in your home!
Follow along with the rest of ur farmhouse restoration
Come See our New Farmhouse | Farmhouse Restoration Before Tour
Farmhouse Restoration Update- The Hardwood Floors
Reveal After all the Paint and Refinished Floors
Farmhouse Master Bedroom Tour in the new Farmhouse
Farmhouse Kitchen Design Plans
Pin it for later