Learn how to make Drop Cloth Rag Ball Homemade Christmas Ornaments with this simple video tutorial.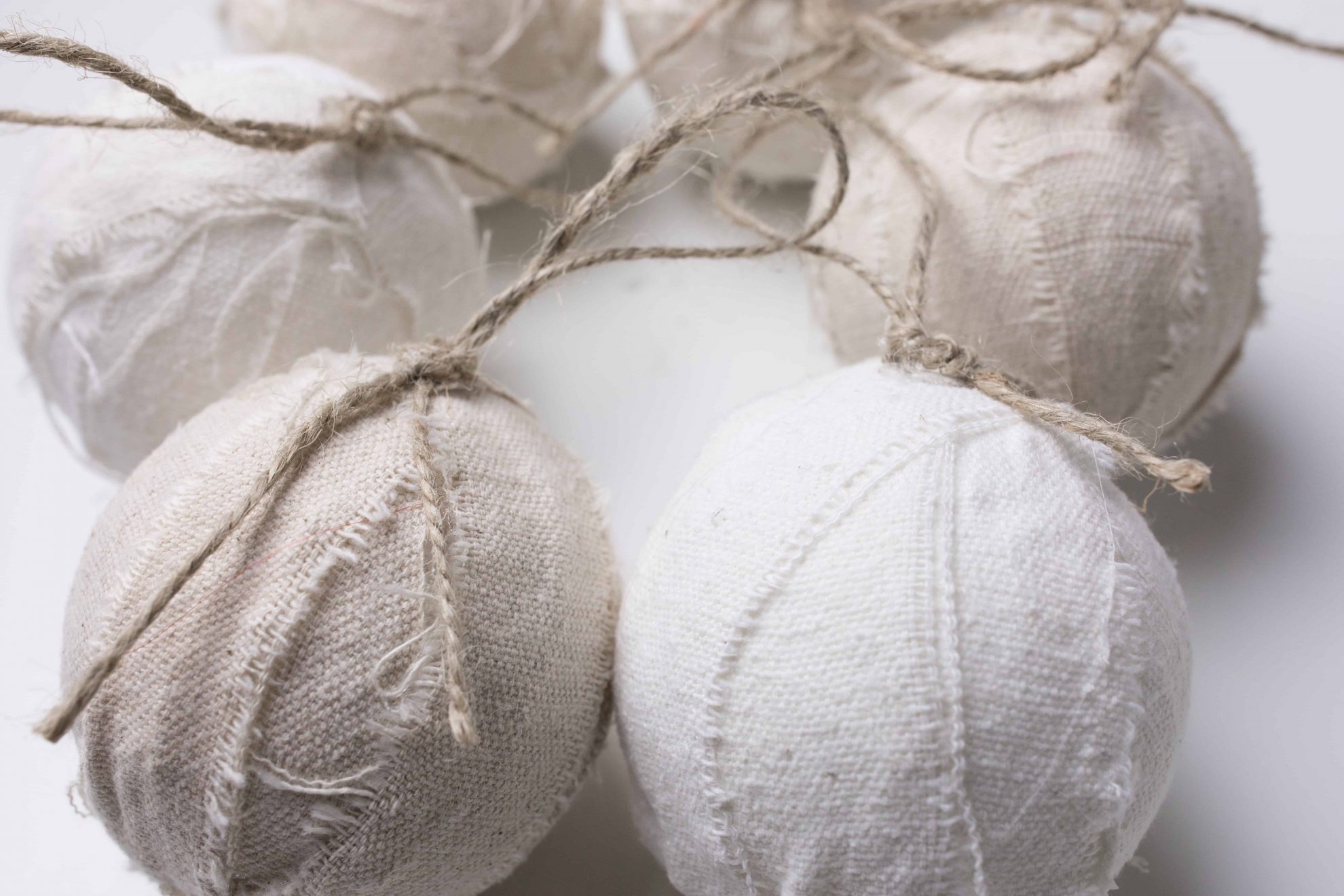 Learn how to make Drop Cloth Rag Ball Homemade Christmas Ornaments with this simple video tutorial.
As a lover of all things simple and minimal, homemade Christmas ornaments seem to be the only way for me to get the look I want.  Last year I was so unimpressed with the store bought options that I left the tree bare with only some white lights.
Plus, I just don't like spending a ton of money on Christmas decorations.
My vision for Christmas decor this year is all about the Scandinavian style, which I wrote about in my last post.  Think greenery, like boxwood, eucalyptus, and cedar coupled with wood tones and white. Lots of natural elements and neutral colors.
Find my Scandinavian Christmas Pinterest Board HERE.
Here is a little snapshot of some of the inspiration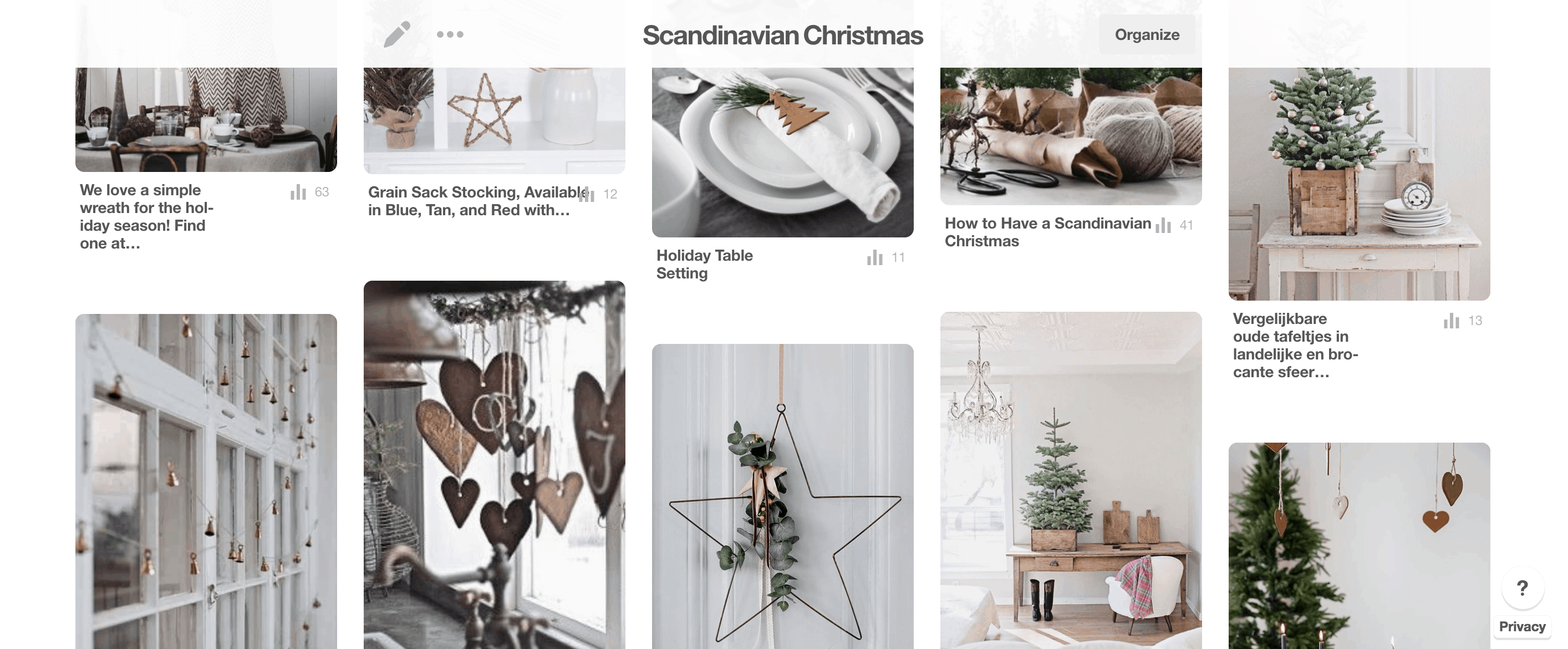 This color scheme led me to thinking about my beloved drop cloth and the loose weave linen look that it has, both bleached and unbleached. I already use drop cloth all over my home for curtains, slipcovers and pillows.  Why not try it on ornaments?
Watch the video tutorial

This project is super simple!  It only takes a fe minutes to make each one.
Start with this drop cloth.  If you plan to bleach some, like I did, so you have a mix of white and off white make sure to get the drop cloth I linked.  It is 100% cotton.  Some brands are not, and aren't bleachable.  Read more on that, and the tutorial for bleaching, HERE.
If you have some laying around from other projects, you won't need a whole lot for each ornament.  If you don't have any from other projects, you may want to get your hands on some.  There are so many things you can make with it!  Search 'drop cloth' on my blog for all my tutorials.
Cut a one inch strip of drop cloth.  I like to snip mine a little at the top, and then tear it the rest of the way.  This gives it that stringy look.  If you want the cut to be a little cleaner, just cut it all the way.
Put a little hot glue on a 3″ styrofoam ball and attach the end of a drop cloth strip.  Just start working your way around the ball, until the entire thing is covered.  I kind of cross over back and forth, which you can see in the video tutorial above.
Once the entire ball is covered, take a 10″ piece of jute twine and make a little loop.  Tie a knot in the end and glue it onto the drop cloth covered ball.
Repeat. Repeat.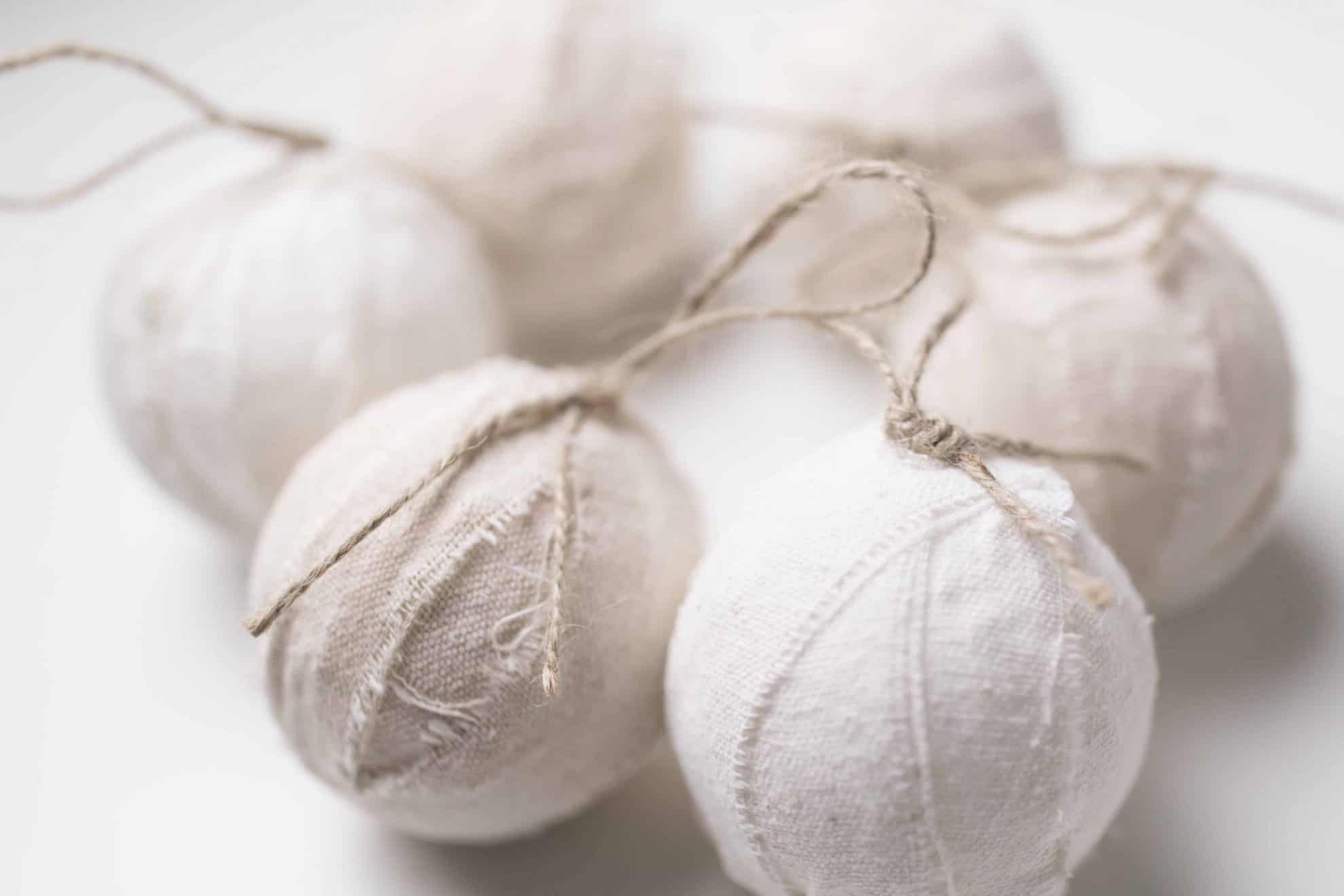 Shop the supplies

Pin it for later