This healthy strawberry lemonade recipe is the perfect drink for summer. Sweetened with honey and made with sparkling water, it is nutritious and refreshing!
Watch me make this recipe with my friend, Lauren Fast:
Who doesn't love a refreshing drink for those hot summer days?
I have been a little obsessed with lemon lime seltzer water for almost a year now. It has no sweetener, but is somehow still so satisfying. I just love taking a cold can from the refrigerator and enjoying the refreshing taste of the lemon and carbonation.
MY LATEST VIDEOS
The funny thing is I have never been a soda drinker, so it wasn't like I took up the habit to break a pop addiction.
In keeping with my newfound love for bubbles, I thought it would be fun to make a lightly sweetened homemade lemonade with sparkling water, instead of still water.
I added in strawberries to make it a little more fun and summery.
The Ingredients
1/2 cup hot water, to dissolve the honey
1/4 cup honey
4 cups chilled sparkling water
1 pint strawberries, sliced
3 large lemons, juiced
Instructions
Dissolve 1/4 cup of honey into 1/2 cup of water.
Add the honey and water mixture to a half gallon jar or pitcher.
Squeeze the juice from three large lemons into the jar.
Add the sliced strawberries.
Pour in the four cups of chilled sparkling water.
Serve chilled over ice.
Variations
Substitue sparkling champagne for the sparkling water and honey to make a refreshing summer adult beverage.
Make blended strawberry lemonade by substituting the sparkling water for still water, and blending the mixture with four cups of ice.
Most of the kids in my area went back to school this week, but we are holding on to the last days of summer. It is still hot outside, so we will be enjoying this refreshing summer drink and playing in the hose.  The beauty of homeschooling!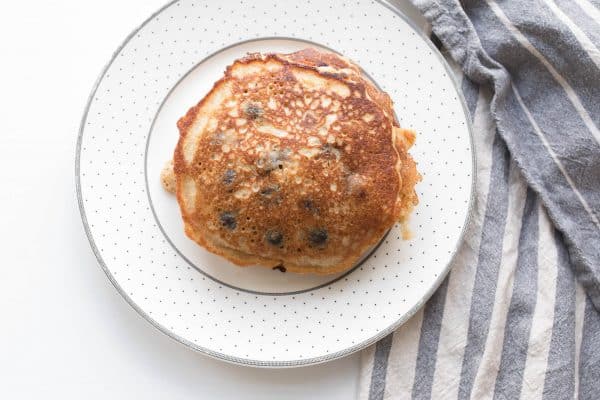 2

cups

sourdough starter

2

eggs

1/4

cup

melted coconut oil

melted

2

tablespoons

honey

1/2

teaspoon

salt

1

teaspoon

baking soda
2

cups

sourdough starter

2

eggs

1/4

cup

melted coconut oil

melted

2

tablespoons

honey

1/2

teaspoon

salt

1

teaspoon

baking soda
Mix the starter, eggs, coconut oil, honey and salt in a glass bowl. Add the baking soda last, and watch the starter foam up. That's my favorite part. 🙂

I like my sourdough pancakes to have that crispy fried edge. To do this, I start by preheating a tablespoon of coconut oil in my skillet. After it is hot enough o produce a sizzle, I pour a ladle full of batter right onto the hot oil. At this point, I turn the stove down a bit so that the pancake has a chance to cook through without the bottom burning. Remember that "flip only one time" rule.

After the top is nice and bubbly, give it a little flip. Allow it to cook another 30 seconds on the other side.

If we plan to add blueberries and chocolate chips, we like to put them on the uncooked side while the cakes are cooking. I find that if the chocolate actually makes contact with the skillet, they tend to stick.  This is why I don't stir them into the batter. Same goes for blueberries.
Pin it for later: