Dying drop cloth to make curtains is super easy and inexpensive. All you need is dye, water, and salt to create a beautiful color on the drop cloth.
Some links are affiliate links, which means I make a small commission at no extra cost to you.
A Bright Project
If you have been following along for awhile, you would know that we are restoring our old farmhouse. Well, one of the first rooms I decided to tackle was the mudroom. It is in the back of the house, so my plan is to use this room as the kids entrance. They can come in drop their muddy shoes and wet coats without tracking it throughout the house. The mudroom was pretty dingy when we first moved in, so I wanted to spruce it up with some paint and curtains to break up the huge wall of windows. I decided to go with a navy blue color, because I know if I put anything close to white curtains, they would need to be constantly washed. Usually I like nice and bright curtains, but a navy was a practical and pretty solution as well.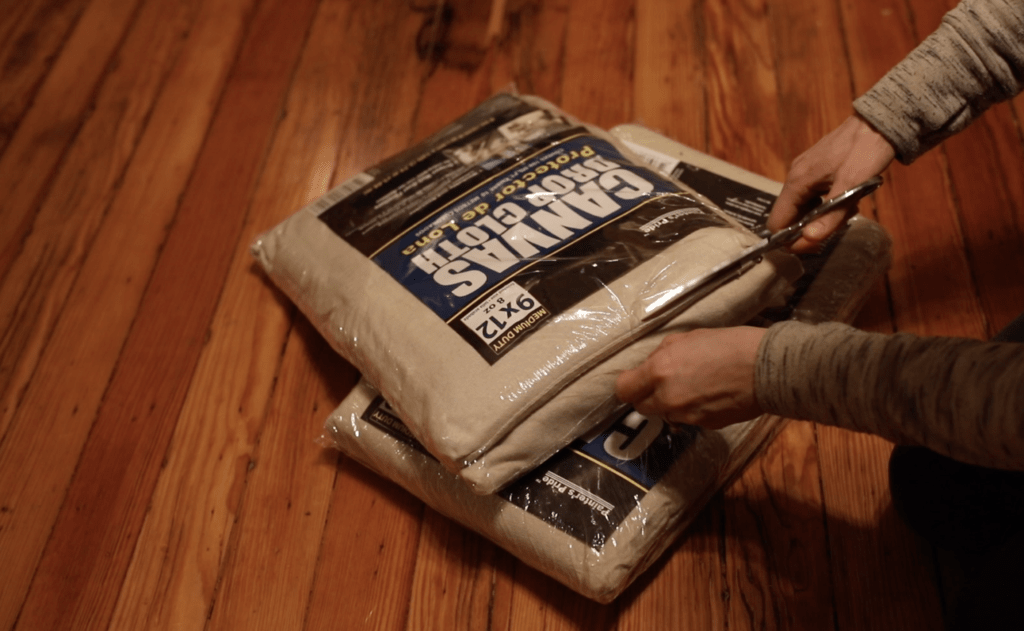 Drop Cloth
Usually, I buy a brand of drop cloth that is a 100% cotton canvas off of Amazon because I find that it dyes and bleaches really well, but I was in a hurry to get this project done so I just picked up two packages of drop cloth from my local hardware store. It actually took pretty well to the dye.
The drop cloth came in 9 foot by 12 foot fabric pieces. I cut the 9 foot by 12 foot fabric pieces in half, so that I would have 4 fabric pieces each 4 1/2 foot by 12 foot. I didn't want to crowd the washer, so I dyed them in four separate loads.

The Dye
I was hoping to have three 8 ounce containers of dye for each package of drop cloth, but my local craft store did not have six bottles of the navy blue dye that I was hoping for, so I just grabbed two blue denim dyes and three navy dyes. I wanted the color of my drapes to be consistent, so I combined all five containers of dye in a mason jar, and then separated them into two mason jars. This made it easier to split them into four equal parts for four different washing sessions. I just put half of the divided dye into each load of wash. This was just my simple way of dividing five containers of dye into four wash cycles, all while keeping the dye even.
How to Dye and Sew Drop Cloth Curtains Video

How to Dye Drop Cloth – The Process
Turn the washer on the small load setting and the temperature to the hot setting. Allow the washer to fill.
Add a large stock pot of boiling water.
Add about a cup of iodized salt.
Add the dye and allow the washer to swish around a few times to incorporate it.
Add the drop cloth. (Don't overcrowd the washer. I only added half a drop cloth at a time.)
Allow the washer to swish around a few minutes to make sure the drop cloth is fully submerged in the dye/salt water.
Allow the drop cloth to sit for 30 minutes in the water.
Finish the cycle.
Hang to dry.
Repeat. Repeat. Repeat.
When you are all done dying your drop cloths, run your washer through one rinse cycle to remove any excess dye.
I really love how the color turned out. It is actually the color I was going for. I didn't really want a super dark navy. I just wanted something that would hide stains and I think it all came out in a really beautiful color.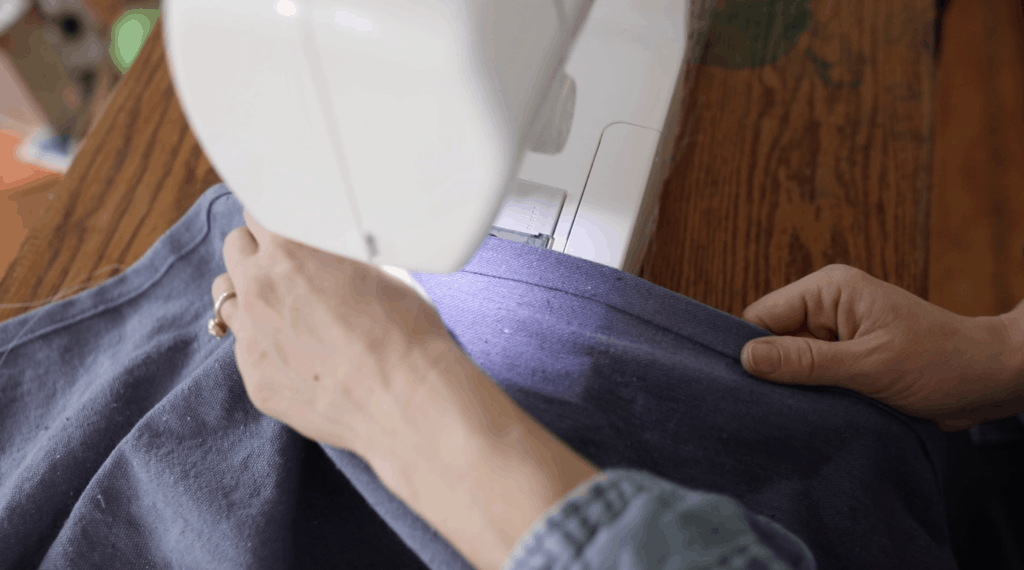 How to Sew a Drop Cloth Curtain
First, I measured the window from floor to ceiling. I wanted my curtains to go all the way above the windows and all the way down to the floor, so the length measured right at a 100 inches.
Now the cool thing about drop cloth, is that the side seams are already completely hemmed and the bottom of the fabric as well, so all I add to do was sew a hem down the sides of the fabric that I cut in half. I wanted the curtains to be 50 inches wide, so I made sure the width of each fabric was cut about 52″ wide so that I would have room to sew a hem. I just fold the fabric over an inch and then again another inch, ironed it flat, pinned it in place, and then sewed all the way down the fabric to create a hem. I show you how to sew a hem in this video tutorial.
To make sure that I had enough room to sew a casing for the curtain rod, I cut the fabric so it would be about 104 inches long. To create the casing for the curtain rod, I folded the fabric over an inch and ironed it flat. Then I folded the fabric over 3 inches and ironed it flat. Then I sewed all the down the fabric to create a rod pocket for the curtain.
And that's it
It was super basic and all it took was a some dye, a side hem, and a little pocket at the top for the curtain rod. I really love how the curtains add a little color to the mudroom and a little bit of warmth. Plus, the curtains break up the huge wall of windows in the mudroom and make them look a little less awkward.
Other Simple Sewing Series Posts
Basic Sewing Essentials for a Beginner
How to Thread a Sewing Machine
Simple Sewing Tutorials
Simple Fall Peasant Dress for Girls
Easy Girls Dress Sewing Tutorial – Bow in the Back Summer Dress
Pin it for later