Learn how to make sourdough English muffins with this simple video tutorial.
I have already confessed my sincere love for my bubbly 6+ year old sourdough starter that I talked about in this post.
I use it in my kitchen often. Pancakes, english muffins, waffles…I have even attempted Sourdough Doughnuts.
I love the way sourdough adds a depth of flavor to baked goods that just isn't there in store bought bread products.
MY LATEST VIDEOS
Plus, I have a satisfaction cooking with a starter that I made and maintained with my own two hands. I hope to pass it down as a family heirloom.
To me, it is valuable to learn how to make something in your own home that you just can't buy in the store. Artisan style.
I get really excited by things like this.
Why Sourdough
Grains have gotten an undeserved bad rep in the health food community.
Have you ever heard of phytic acid? Basically, its an antinutrient found in grains, beans and nuts that interferes with the absorption of certain nutrients. They are present on grains to keep them from spoiling.
There is a reason they are there, but there is also good evidence that our bodies weren't meant to handle them. Proper preparation of grains eliminates most, if not all, of the phytic acid in offending foods.
But, did you know traditional cultures thrived on grains? The key difference between the way they consumed grains, and the way we do in our modern society can be summed up in two words: proper preparation.
It was necessary for folks to ferment grains for them to rise into delicious bread. Before yeast was isolated and sold in little packets, sourdough starter was a valuable commodity in homes and families, passed down for generations.
These days we've lost that art. And, what have we found? People can't handle grains anymore.
Read more about sourdough starter, how to make it and why I love it HERE.
But for now let's talk about the topic at hand.
How to Make Sourdough English Muffins Video Tutorial
How to Make Sourdough English Muffins
I love Sourdough English Muffins because they taste like bread and work like bread, but take about 1/10th of the work making sourdough bread takes.
And for this busy momma, that's a recipe for a great…well..recipe.
I can whip them in no time. And my family can enjoy a healthy bread that is so much cheaper than sprouted whole grain bread from the store.
Sourdough English muffins work great for sandwiches with meat and cheese, or smothered in butter and honey for breakfast.
Sourdough English Muffins Recipe
The night before you want sourdough English muffins stir in a glass bowl:
2 cups flour
1 cup water
1/2 cup fed sourdough starter
Cover it with a towel and let it sit at room temperature for 12- 24 hours. You can get away with a longer in the cooler months and the fermentation process can take less time in the summer if your house is hot.
This is what mine looked like after 24 hours in a 68-70 degree house.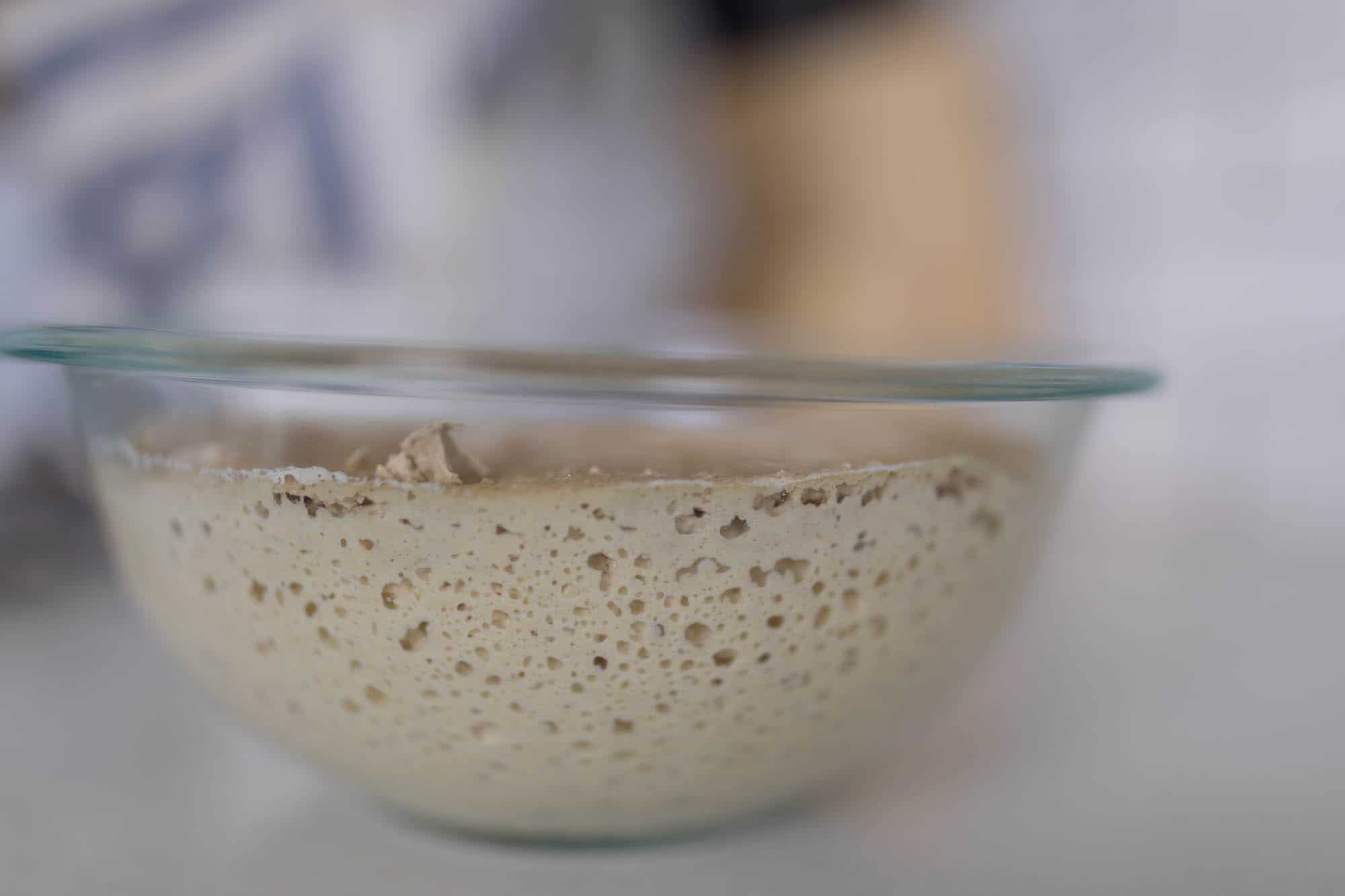 Look at those delicious bubbles!
After it has fermented, add to the mixture
Honey 1 tablespoon
Salt 1 teaspoon
Baking soda 1 teaspoon
Preheat your cast iron skillet on low and add a little coconut oil.
Mix the ingredients together until they are fully incorporated. You will probably have to use your hands for this. The dough will be pretty thick.
Divide the dough in 12 equal parts and drop it in your cast iron skillet.
Keep it on low for about 10 minutes so the dough has a chance to rise.
Let them cook until doubled in size. Turn the skillet up to about 3 or 4 (not quite medium) and continue to cook until they are browned slightly on the bottom.
Don't try to flip them until they come up easily from the pan. The goal is to only flip them one time.
Cook them on the other side until browned.
These English muffins have a tendency to cook on the outside before the inside is full done. So, be sure to not turn the skillet up to high.  If they are browned on the outside, but still not done on the inside, throw them in a 250 to 300 degree oven for 10 minutes or so.
After they are cooked all the way through, slice them open and Enjoy!
A word on flour
Over the years I have fed my starter with all of the following at some point: freshly ground whole grain white flour that I ground in my own mill, all purpose flour, ancient einkorn, unbleached all purpose, store bought whole wheat flour….and probably some others I can't remember.
The point is my sourdough starter still bubbles away despite the flour choice.
Enjoy your Sourdough English muffins!
Check out my other sourdough recipes and posts
How to Make a Sourdough Starter from Scratch 
Our Favorite Sourdough Pancake Recipe
Healthy One Pot Meal- Sourdough Skillet
Pin it for later