Learn how to make curtains with this simple sewing tutorial. These beautiful, Pottery Barn inspired tie-top curtains are the perfect way to frame out your windows and add farmhouse charm. Follow my tips below to make these DIY curtains.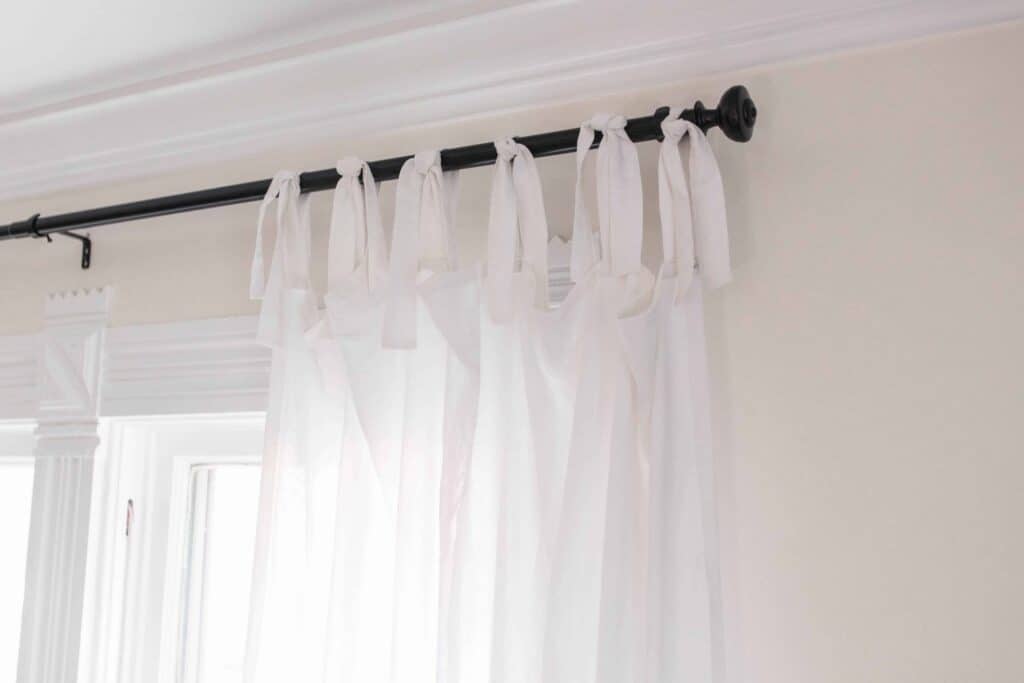 This post contains affiliate links, which means I make a small commission at no extra cost to you. See my full disclosure here.
Today, I want to show you how to make these really simple and really pretty tie-top curtains. They are perfect for a look that is inspired by Pottery Barn, without the Pottery Barn price tag.
Don't worry if you're not an accomplished seamstress: this tutorial is perfect for a new sewer.
If you are brand new to sewing, I have an entire, free sewing course that will walk you through everything to get you started, and teach you how to start sewing. Did I mention it is completely free?
As you may know, I love making things in my own home; it is one of my passions. And I love the drape and the flow of linen, I love the look of ties and ruffles, and you will see these features all over my home.
Sometimes, you'll even see them on me — recently, I shared this really adorable Shirred Dress Tutorial that had ties and ruffles!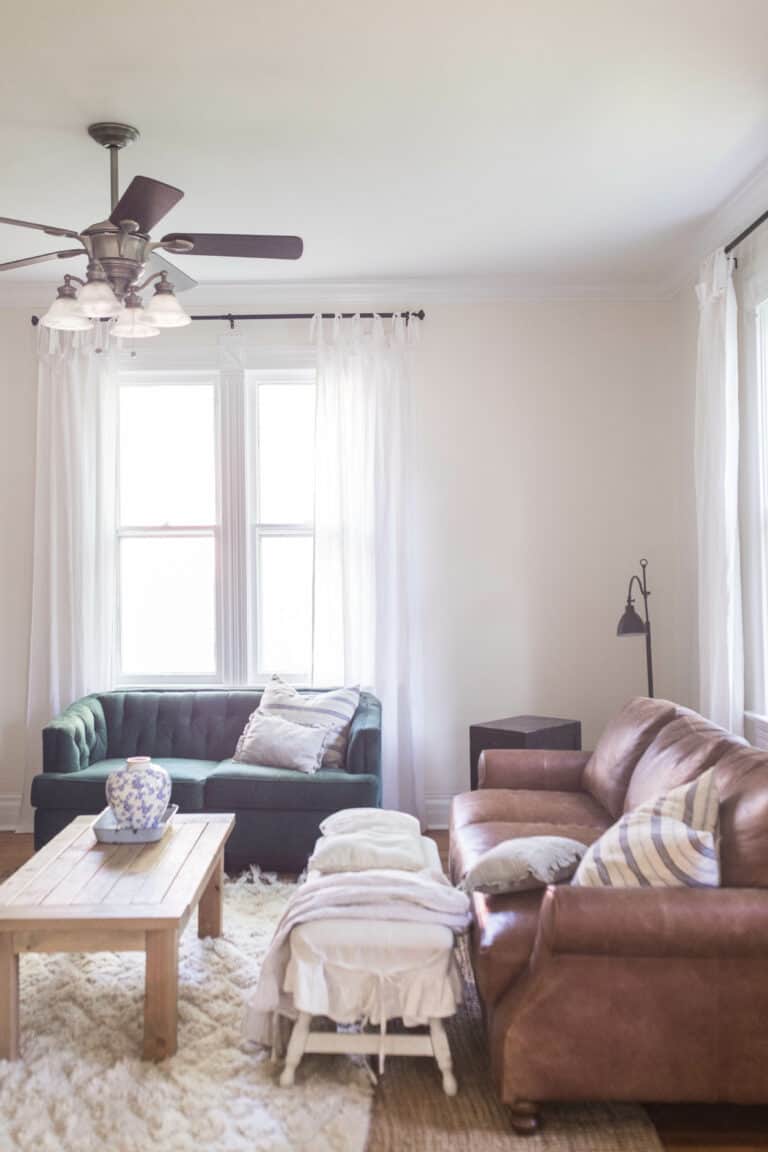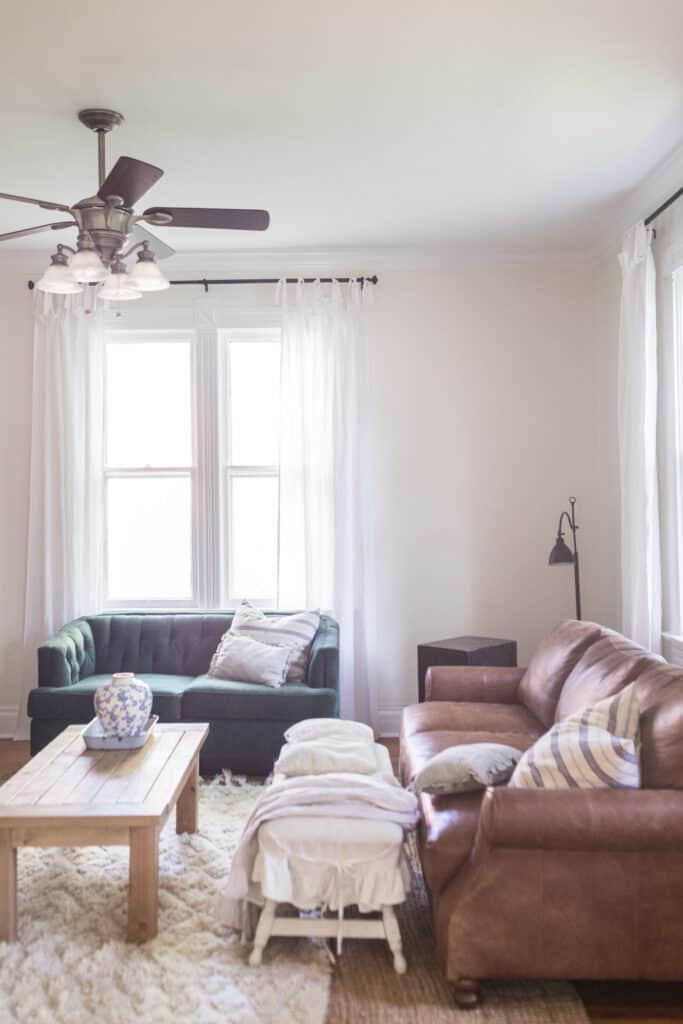 We started rearranging and decorating our living room, so I wanted to make some beautiful curtains for it that incorporated these loves of mine. I'll give you a full tour of our living room soon, since we have added a few things.
Actually, I wanted to get some tie-top curtains, but since our new farmhouse has really tall ceilings, I couldn't find anything available online that would meet the height I needed.
So I created these DIY curtains myself, and I love how they add such a nice, draped linen texture. They really are so beautiful on the windows.
Tips for making Top Tie Curtains
Treat your fabric how you plan to treat it. For example, if you plan to wash and dry your curtains, do that before sewing. I personally wash my linen on cold and hang to dry, so that would be the procedure I do before sewing.
Always double-check your measurements.
Use the first panel you cut as a template for the next panel.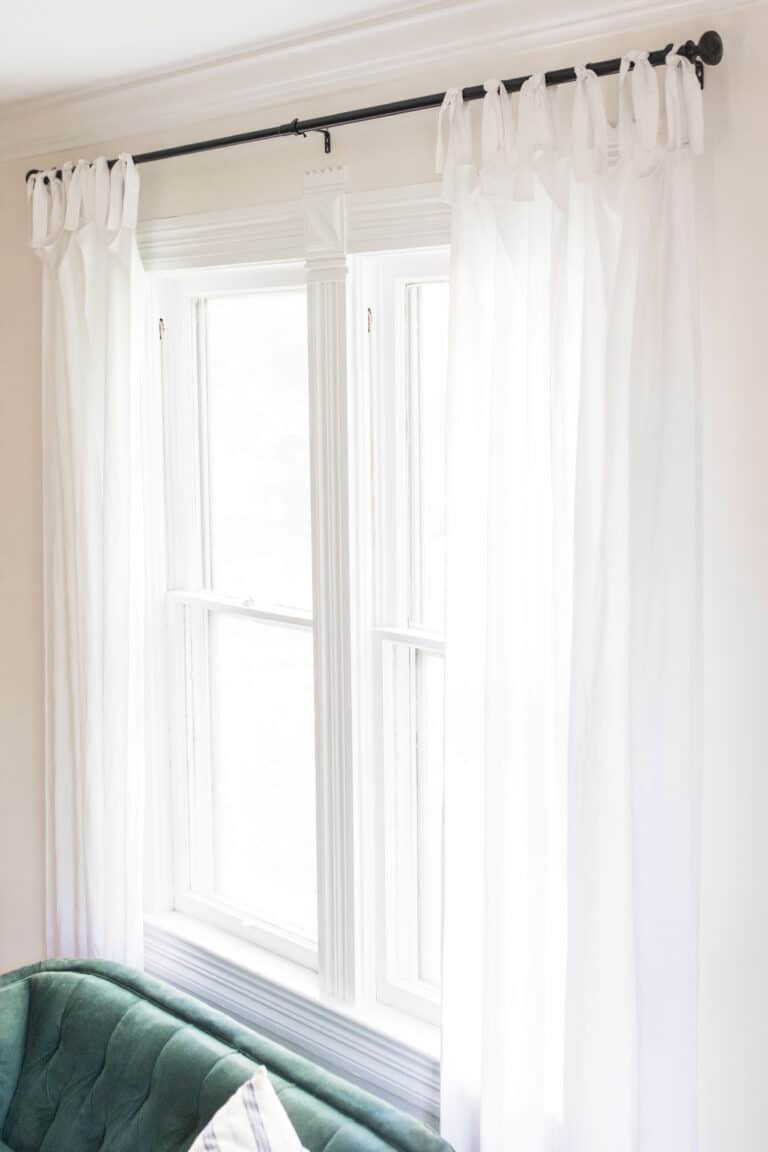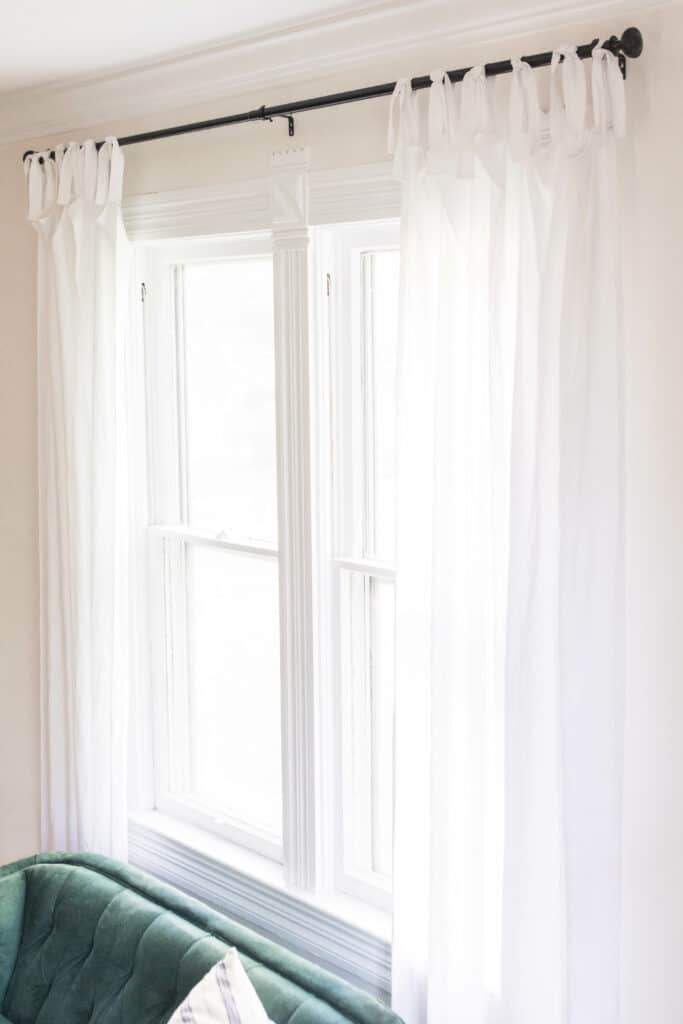 Supplies You Will Need:
7 yards linen fabric (for 104″ – 112″ in length curtains)
I used Kaufman Brussels Washer Linen Blend 52″ wide
116″ for the main panels (Cut 2)
17″ by 3.5″ for the tie tops (Cut 24)
Thread to match the color of your fabric
Iron
Pins
Fabric scissors
How To Make Curtains – Tie Top Curtain Video Tutorial
Check out some of our favorite sewing projects:
How to Dye and Sew Drop Cloth Curtains
DIY Ticking Stripe Curtain Sewing Tutorial
Easy Girls Dress Sewing Tutorial- Bow in the Back Summer Dress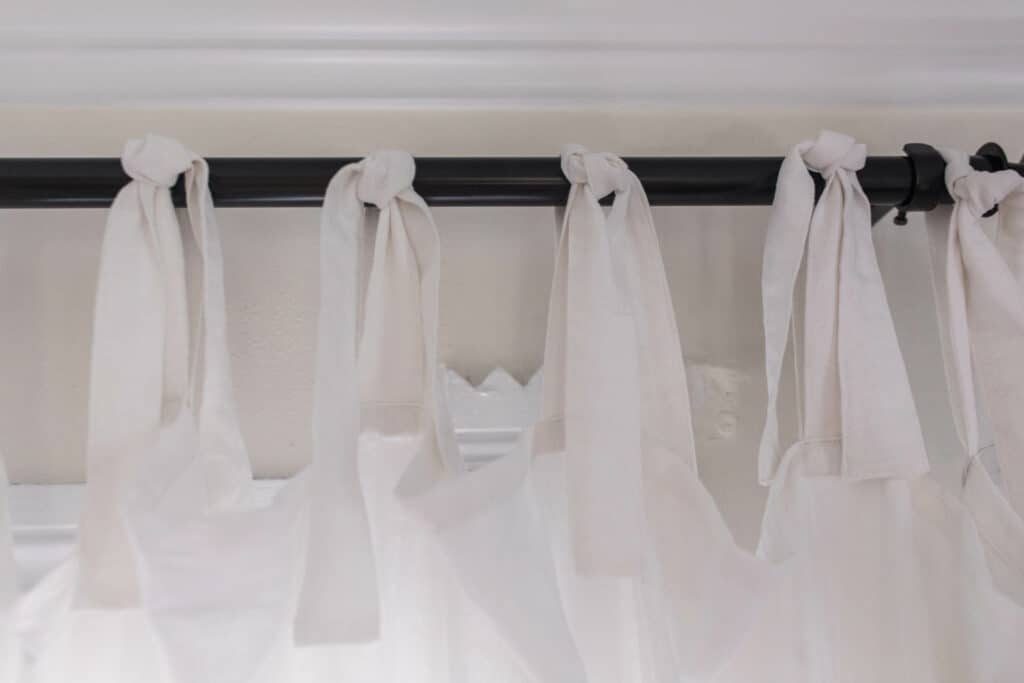 How To Make Curtains – Tie Top Curtains Step-By-Step
Cut out the ties:
Cut out 24 pieces 3.5″ by 17″. When cutting the ties, make sure to go off of the width of the fabric. You don't want cut down one of the long sides, because we are using the full 52″ width of the fabric. Cut from the bottom of the fabric, not one of the sides.
Cut out the main panel:
Measure your windows: I like to measure about 4 inches above the window trim, all the way down to the floor. I like to frame out the windows and make them appear larger.
Take the length that you want, then add 6″ for the bottom hem, 1″ for the top hem, and subtract 3″ to compensate for the length of the ties. For me I had 112″ total length + 6″ (3″ X 2 for the bottom hem) + 1″ (1/2″ X 2 for the top hem) – 3″ (length that the ties add) = cut 116″ length by 52″ width (the width of the linen).
So I cut out 2 panels at 116 inches long. The easiest way to cut the panels is to take your measuring tape and go down the length of the fabric, pulling it through until you get to 116 (or whatever length you need), then make a little notch. Do the same on the other side and make a little notch, fold it in half, and see if the notches line up. Then, cut to connect the two notches.
After you have gotten the first panel cut and made sure everything is correct, you can use that panel to create the second panel.
Sew the ties:
Fold one edge of the tie under about 1/2 inch, and then fold it in half lengthwise, right sides together, and then sew along the long edge, leaving both ends open. Make sure to backward and forward stitch at the beginning and the end.
Turn it out using a safety pin, so the raw edges are tucked inside. Press it flat with an iron, making sure the seam is pressed over nicely on the side.
Top stitch all the way around each tie, leaving one raw bottom edge left open (it will just be tucked into the curtain panel). A top stitch is just a stitch that goes around the edge of something to make it look nice and give it extra durability.
Repeat that with all the ties.
Sew The Main Piece:
Fold over the long sides about 1/2 inch and press it. Fold it over another half inch, and press so the raw edges are nicely tucked in and you are left with a clean edge. Do this on both long sides.
For the bottom hem, we want to make a nice, big hem, so fold over the bottom edge 3 inches and press. I like to do this just in case the curtains are moved to a different room, or they get washed wrong and shrink and I need to make the curtains a little longer. A large hem gives you a little wiggle room.
Fold that bottom over again 3 inches to hide the raw edge. Press.
Fold the top edge over about 1/2 inch and press. Fold over another 1/2 inch and press.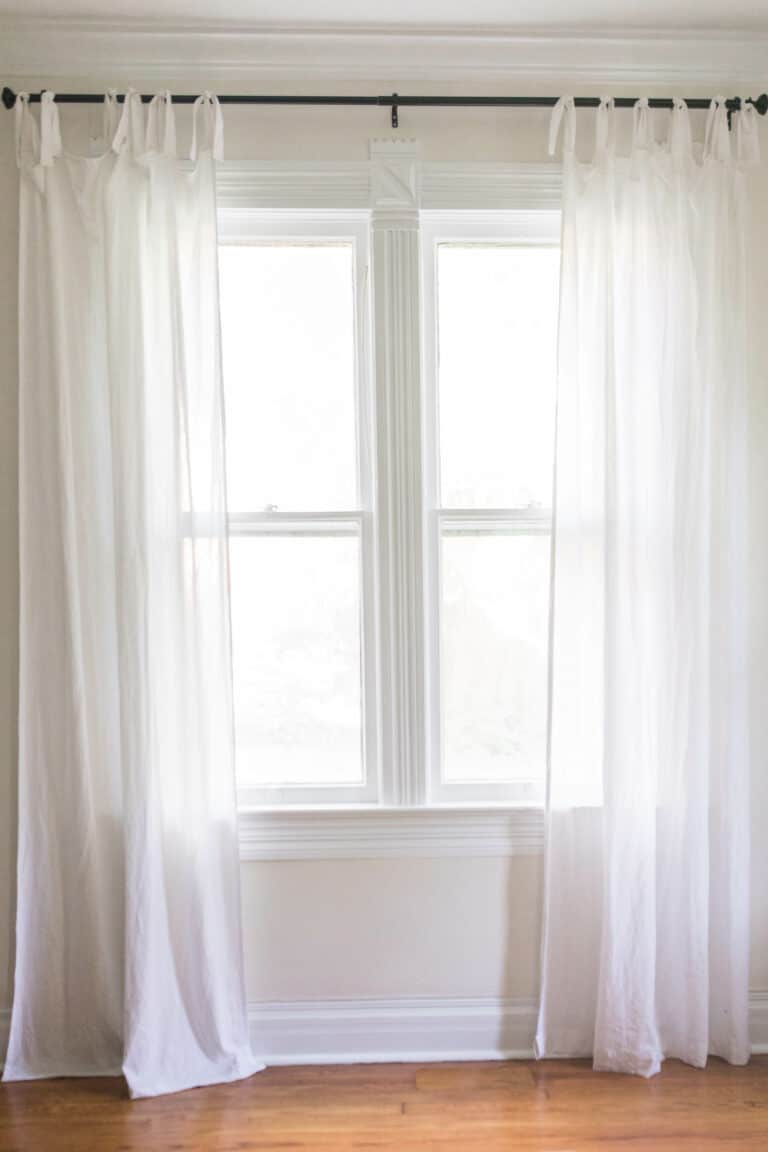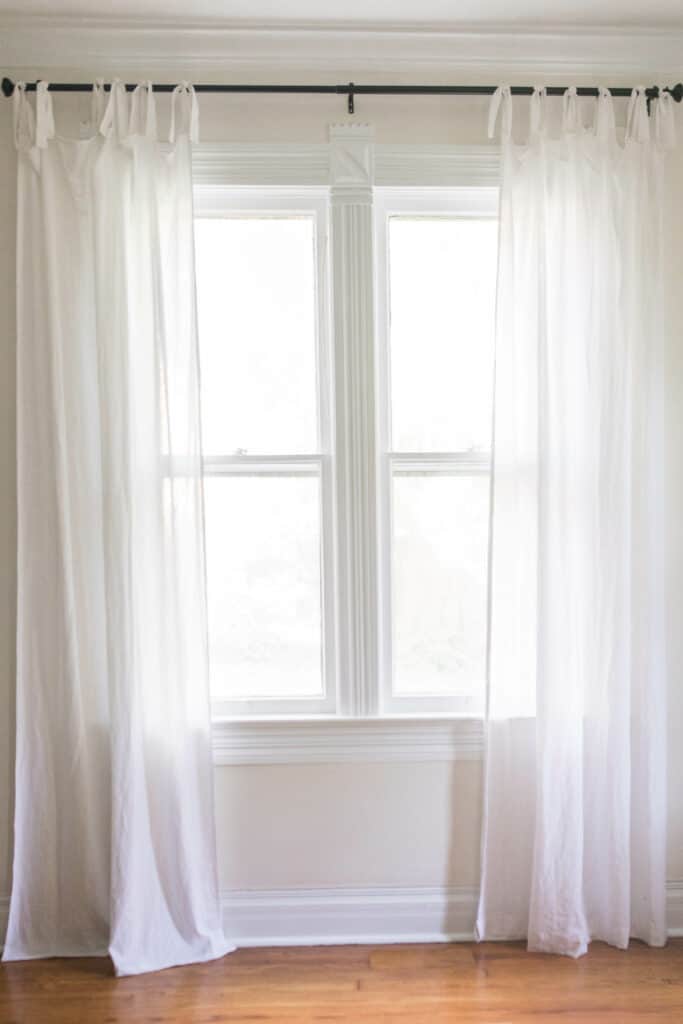 Sew The Ties:
Place two ties underneath the top fold before hemming it down. The key to getting them evenly spaced is to first know we are doing 6 sets of ties. Start by placing one set of ties flush with one end, and another set of ties flush at the other end.
Space the remaining four inner ties evenly. I did this by measuring from the inner edge of the tie all the way to the inner edge of the other tie and divided by 5. Since my fabric was 52 inches wide, I placed my ties about 10 inches apart. You don't have to be super exact as long as they are pretty evenly spaced.
Tuck the raw edge of the ties under the fold and pin.
Sew a hem all the way around the curtain panels. I like to sew it as close as possible to the bottom fold. I like to put my piece upside down so the bobbin thread is on top, which is not technically right, but this ensures I don't miss the hem at all and then I make sure to get all 12 ties.
Once you have sewn a hem all the way around the curtain panel and sewed in the ties, you will want to pull the ties towards the top and put a top stitch on each tie.
Another option would be to serge all of the raw edges of the ties and then just sew them already facing up in place on the top hem. Then, you could bypass tucking them in, sewing, and then flipping them over and sewing.
Once you've sewn all the way around, hang and enjoy your curtains.
Pin It For Later