We love making white chicken chili from dried beans in the farmhouse. Hearty, cozy filling, and made with gut healthy homemade bone broth, this soup is a fall staple in our home.
This post contains affiliate links, which means I make a small commission at no extra cost to you. See my full disclosure here. 
I am on a fall recipe roll lately. Since sweater weather and cozy blankets get just about everyone excited, its only natural.
You know what I love about fall more than anything else? Soup. Soup. And more soup.
I love it so much. Its easy, filling and I can incorporate every single food group into one magical little dish. During the summer I still make soup (because the bone broth factory doesn't get shut down on 100 degree days!) but no one is ever overly excited to eat it.
I usually knock the thermostat down a few notches on soup making day, so I don't get as many groans when I bring a piping hot stainless pot and six heavy ironstone bowls to the table.
It all goes down a little easier with cast iron cornbread or homemade whole grain sourdough bread.
During the fall, I have a glorious excuse to keep a perpetual pot simmering on the stove. Cold weather.
Sure, autumn brings with it the need to pack up more than five pairs of flip flops and ten bare feet in the van for every outing, but at least I can make soup to my heart's content.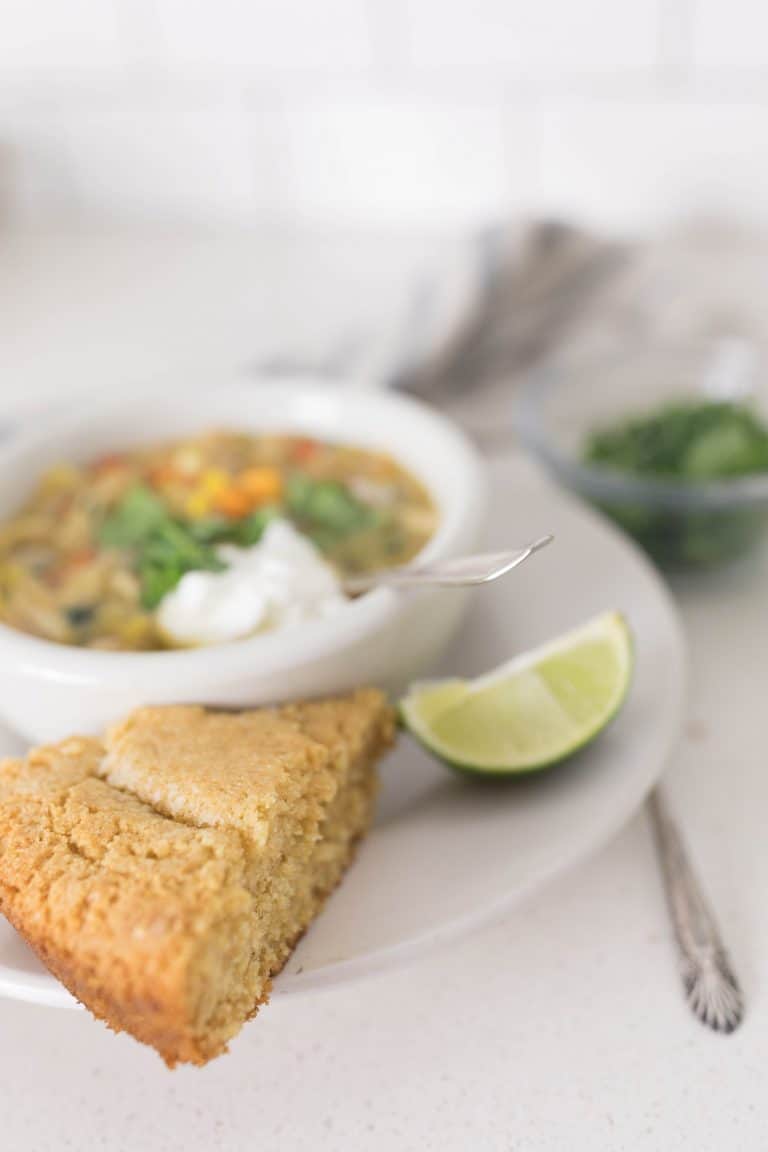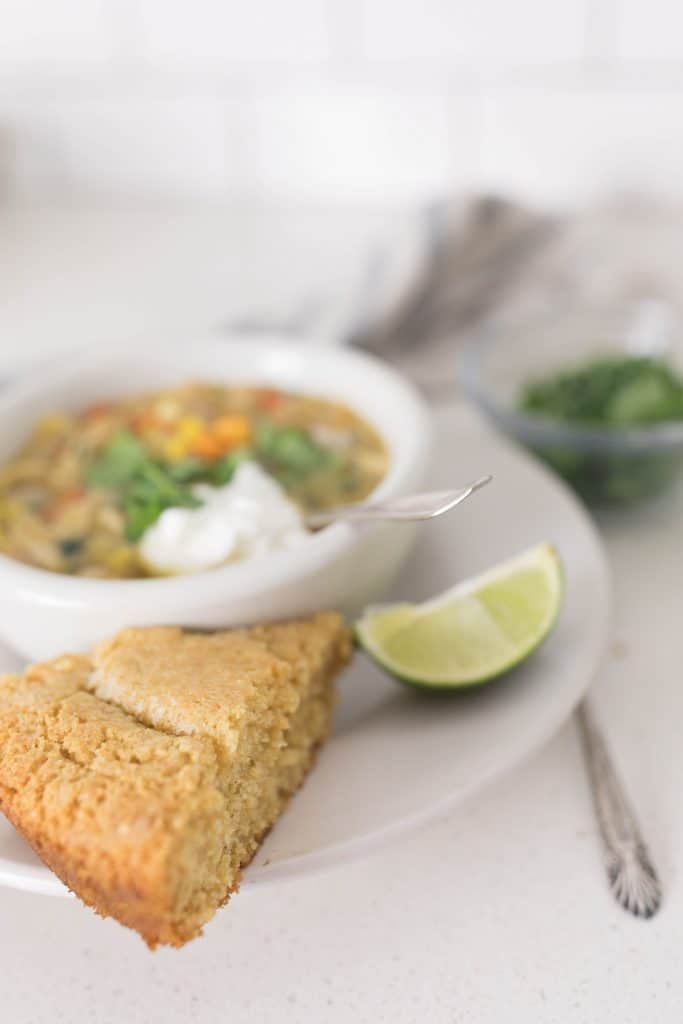 White chicken Chili
White chicken chili is my current favorite, because I don't really have to serve anything else with it for my family to feel full.
When I make tomato soup, or butternut squash soup, I usually have to come up with something protein-y to go with it, or my hungry gang of growing hooligans complains that they're hungry less than an hour later….or while I'm still doing the lunch dishes.
With the chicken, beans and broth, this soup (chili, whatever you want to call it) keeps us all going until the next meal, when I pull the pot right back out to go for round two. Because why cook twice when you can cook twice as much once?!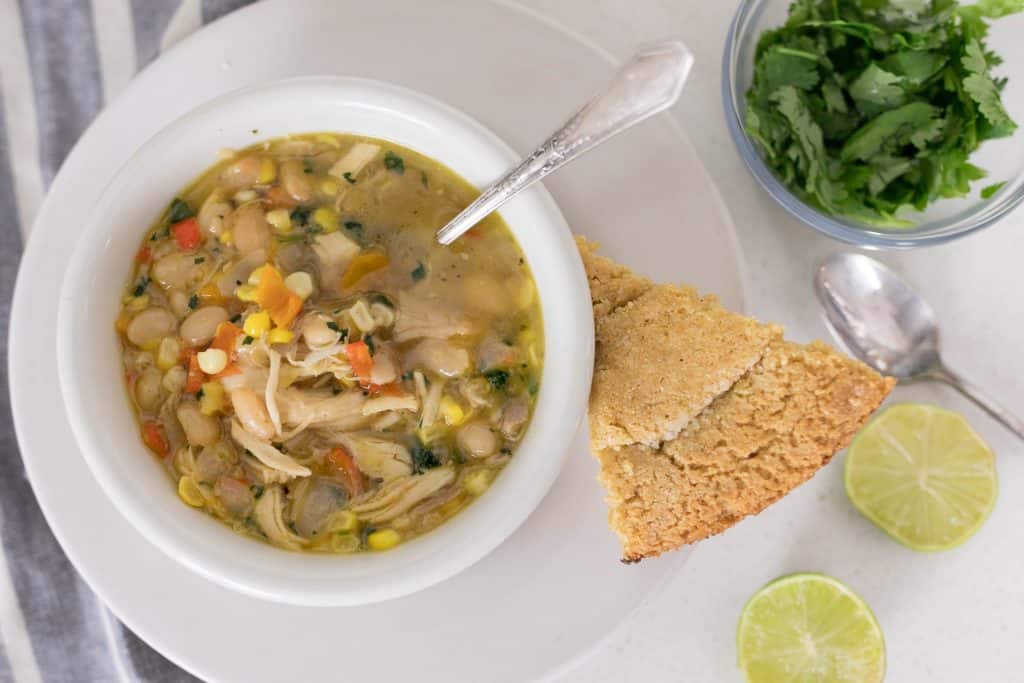 Why is bone broth good for you
Bone broth is rich in minerals, calcium and magnesium, and very easy to digest. Its also a great source of amino acids. I first became aware of its incredible gut healing properties when reading the GAPs book by Dr. Natasha Campbell Mcbride.
Since we make a lot of whole chickens, we end up with a lot of bones for bone broth. And I never let a bone go to waste without first getting all of the gut healthy gelatin out of it!
I shared how to make bone broth in the Instant Pot in this post.
For this recipe, I cook everything in bone broth to get more of the good stuff into my family's bodies. The white beans soak up the bone broth like little broth sponges. We end up going through almost a gallon for this one recipe. It serves our family for two meals.
Some of my favorite soup recipes
Roasted Red Pepper and Tomato Soup
Hearty Healthy Homemade Potato Soup
Roasted Garlic and Butternut Squash Soup
White Chicken Chili from Dried Beans Video
White Chicken Chili from Dried Beans Recipe
Serves 8
I make this big old batch of white chicken chili one time and it carries us through two full meals, with a little to spare.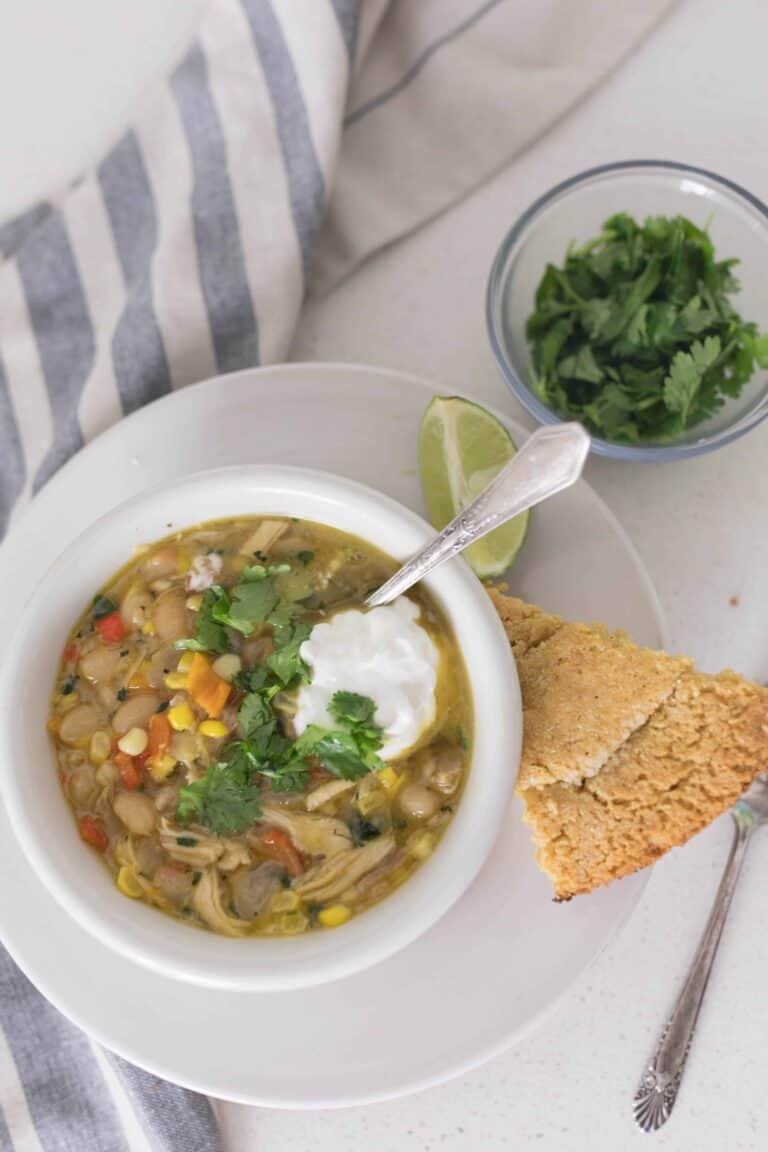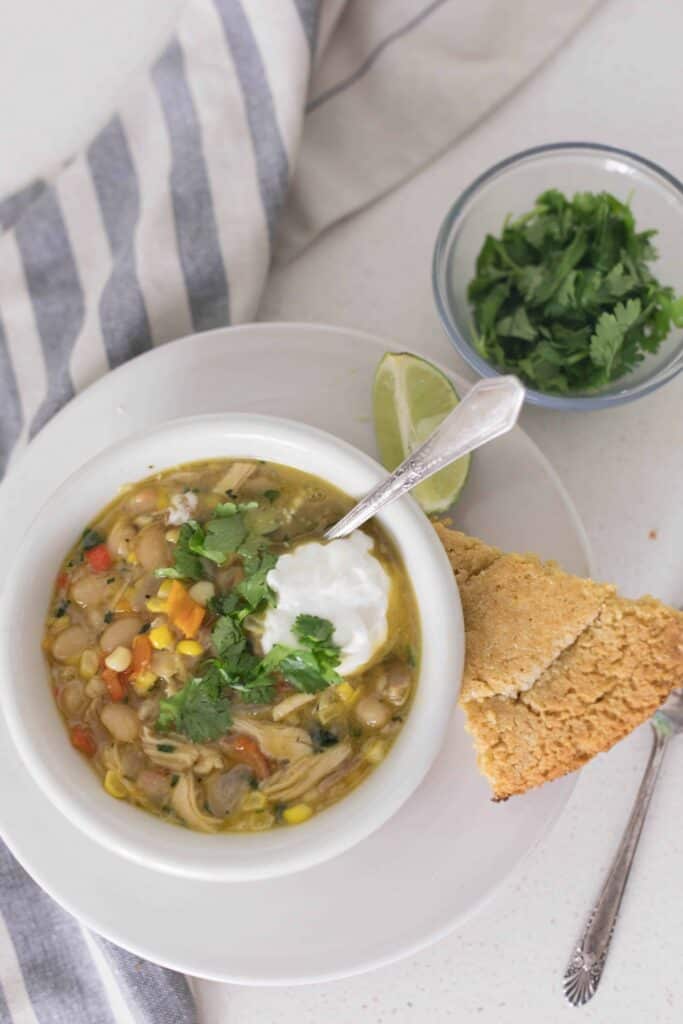 White Chicken Chili from Dried Beans Ingredients
Chicken
1 whole chicken
1.5 cups water
Beans
1 pound great northern beans
1/2 gallon bone broth
Veggies
1 whole bulb garlic, minced
3 large bell peppers (or 10 small sweet peppers), diced
2 cups sweet corn
2 onions, chopped
More Bone Broth
After beans cook all the way through, add anther quart of homemade bone broth.
Seasonings
2 tablespoons salt
1 tsp cumin
freshly ground black pepper
juice from one fresh lime
1/2 cup chopped fresh cilantro
White Chicken Chili from Dried Beans Instructions
Place a whole chicken in the Instant Pot with 1.5 cups filtered water on high pressure for 45 minutes. (You can also cook it in a Crock Pot on low for 8 hours or high for 4 hours.
Meanwhile, get one pound of dried and rinsed great Northern beans going in a large stockpot with a half gallon of bone broth. Allow them to simmer for 2-3 hours, or until they are almost soft.
Pull the chicken out of the pressure cooker, or slow cooker, and pick all the meat from the bones. Roughly chop it.
Once the beans are almost done, but not mushy, add the chicken, diced peppers, minced garlic, chopped onion and sweet corn to the pot.
Add two tablespoons salt and freshly ground black pepper.
Allow it to simmer for another 30 minutes to an hour.
Once the soup is about 5-10 minutes out from being served, add the chopped fresh cilantro and lime juice.
Add more salt to taste. (We ended up using 3 tablespoons total).
Serve warm with a dollop of sour cream, shredded cheddar cheese and a big old slice of Cast Iron Einkorn Cornbread.
This meal is so delicious and easy, it is surely going to be a fall staple for our family. I love all the immune boosting and gut healing benefits of homemade bone broth, especially to arm us during cold and flu season.
I also love how frugal this meal is. Bone broth seems like free food, because we already used the chicken for the meat. And then beans are probably cheaper than ramen noodles ounce for ounce. And not to mention actually filling.
I think I shall make more of this tomorrow.
Happy soup making!
Print the Recipe White Chicken Chili from Dried Beans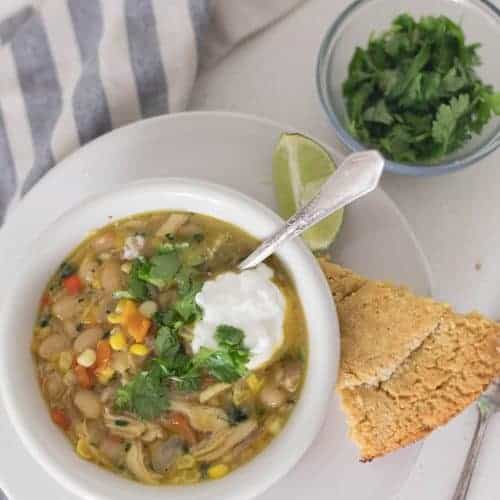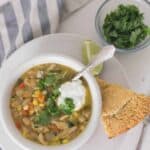 White Chicken Chili from Dried Beans
We love making white chicken chili from dried beans in the farmhouse. Hearty, cozy filling, and made with gut healthy homemade bone broth, this soup is a fall staple in our home.
Ingredients
Chicken
1

whole chicken

1.5

cups

water
Beans
1

pound

great northern beans

1/2

gallon

bone broth
Veggies
1

whole bulb garlic

3

large bell peppers

or 10 small sweet peppers, diced

2

cups

sweet corn

2

onions

chopped
More Bone Broth
After beans cook all the way through

add anther quart of homemade bone broth
Seasonings
2

tablespoons

salt

1

tsp

cumin

freshly ground black pepper

juice from one fresh lime

1/2

cup

chopped fresh cilantro
Shop this post
Pin it for later