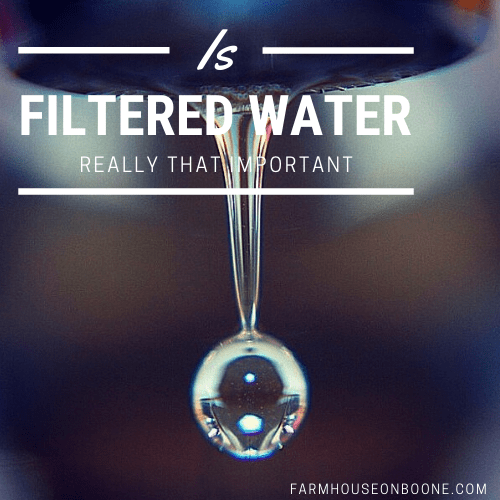 This article is going to shed some light on the importance of filtered water and why we believe the Big Berkey Water Filter to be one of the Best Water Filters on the market for the average family.
Although there may be other filters that are "better" in terms of filtration down to the microns, we will discuss why we have chosen The Big Berkey to be the editors pick. This decision was based on many factors from price to size, and even its amazing ability to actually filter the water and why you need to get one for your family as soon as possible.
Most people have no clue what's in the water that they are drinking on a day to day basis and don't ever stop to wonder how it may affect their health.
Water filters are becoming increasingly popular choices for homeowners, business owners, and just about anyone else with a vested interest in improving their quality of life. On the surface, it's easy to describe what they are and what they do; it makes your water… better, right?
But when pressed, you might struggle to explain exactly which types of impurities they remove, and you might be unsure how the basic water filters you can buy at your local big box store differ from the best water filters that can only be ordered online.
Hopefully by the end of this article you will understand why I chose to invest in the Berkey line of water filters for my family and why you should to. You simply can't be cheap on your health.
If you don't understand how a water filter works that's completely okay. Most people—even water filter users—don't really understand how they work, or why they're supposedly beneficial. If you don't understand how water filters work, you will most definitely think to yourself.. is it really worth buying one?
This article will help you understand water filters from top to bottom, inside and out. You'll learn how water filters work, the different types of water filters that exist, what you should look for in a water filter, and whether or not they're worth the investment.

How Do Water Filters Work?
First, let's talk about how water filters work. Generally, the term "water filter" refers to any device or mechanism that improves the purity or quality of the water we drink. Most cities make use of a water treatment plant (part of it shown above), which is an enormous facility that processes and distributes water to the homes in that city.
Most of us rely on those facilities to make our tap water 100 percent safe to drink—but water treatment plants aren't always sufficient. Household water filters serve as an extra layer of protection, giving you filtration and/or purification right before you drink the water.
What does a water filter remove?
So what exactly does a water filter remove? That depends on what type of water filter you're using, but generally, these impurities can fall into one of several main categories:
Sediments and debris
These are the most obvious sources of impurities in water, and are responsible for the "hardness" of your water. Extra sediment in the form of minerals or debris can give your water a bad taste, a bad texture, or otherwise make it unpleasant to drink.
Heavy metals, including lead
Metals not only interfere with the taste of your drinking water, but they can also result in severe negative mental and physical health effects.
Bacteria, viruses, tiny parasites, and other microorganisms
These nuisances can work their way into your water ordinarily. A sufficient filter should be able to remove these before you drink them, preventing them from harming your health.
What types of water filters are there?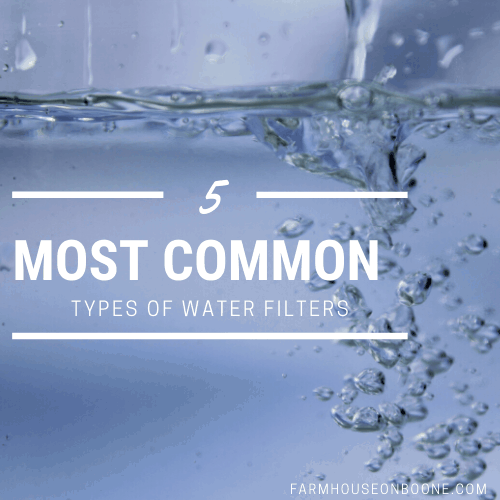 That said, the exact materials a water filter can remove (and how it removes them) will depend on the type of filter you're using.
Although there are many different types of filters on the market, the 5 most common types of filters to consider are listed below:
Mechanical water filters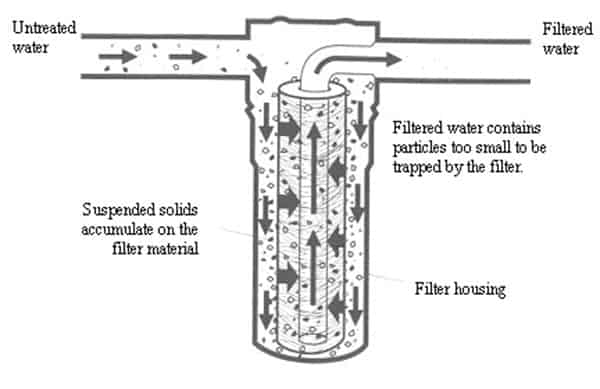 Mechanical water filters are probably the most straightforward of the bunch. They rely on an absolute physical barrier, which allows water to trickle through, but prevents certain particles from passing.
There are several potential design structures here, including mesh filters (like the kind you'd find in a water treatment plant), and ceramic filters, which rely on complex pore structures to filter finer pathogens.
Usually, mechanical filters are rated based on the size of the particles they're capable of removing, in microns.
A 5-micron filter will remove nearly all particles that are visible to the naked eye. A 1-micron filter will remove particles that are so small, you can't see them without a microscope.
A 0.5-micron filter will remove even very small organisms and particles, like giardia and cryptosporidium.
Absorption water filters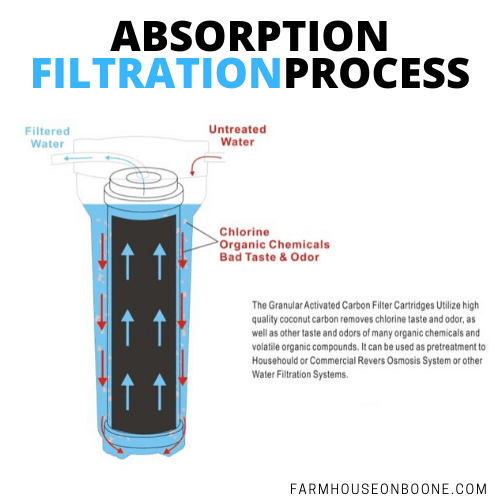 Absorption water filters rely on a slightly different process, attracting particles away from the stream of water and trapping those particles so they don't end up in your water.
Most absorption filters rely on the use of activated carbon, which has an incredibly ornate and massive internal surface that can be used to trap chemicals and other impurities.
This method is advantageous because it can capture a wider range of possible contaminants, and can trap an incredible number of contaminants before needing to be replaced.
Sequestration water filters
Sequestration water filters are slightly less common because they rely on a method of chemical isolation.
For example, some filters rely on a compound called polyphosphate (which is used in many food products) to chemically remove calcium and magnesium, which can cause corrosion and interfere with the taste of your water.
Sequestration only removes some types of chemicals, and doesn't eradicate them; accordingly, it's not a popular type of water filtration when it comes to improving the quality of your drinking water.
Ion exchange water filters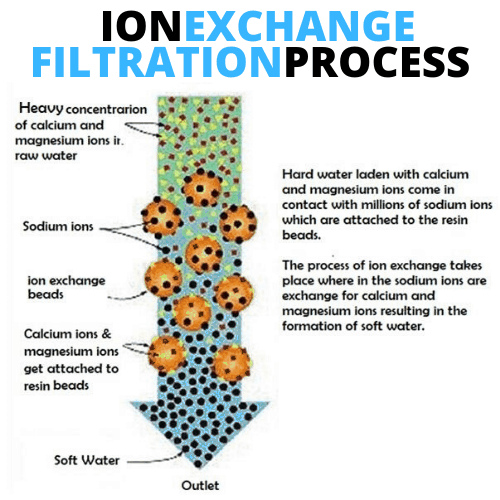 Ion exchange is a process designed to soften hard water, and as the name suggests, it relies on the transfer of different chemical ions.
For example, hard water frequently features ions like calcium or magnesium; the ion exchange process replaces them with basic sodium or hydrogen ions, which are safe.
This method physically removes the chemical contaminants.
Reverse osmosis water filters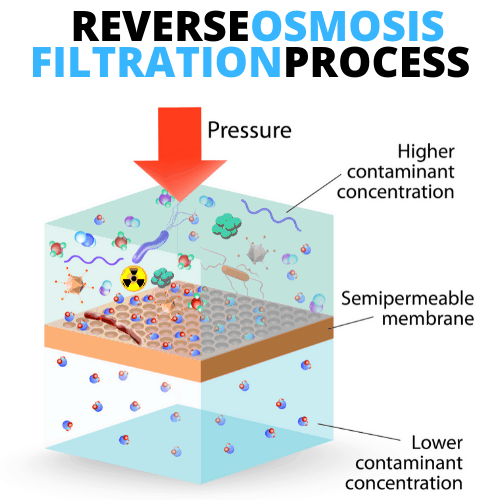 There's also reverse osmosis. The main feature of this method is a partially permeable membrane, which is designed to remove unwanted molecules, ions, and larger particles, while allowing pure water to pass through.
For this method to work, the water needs to be under pressure; water needs to be forced through the membrane. It's one of the most thorough filtration methods, and is often used in combination with other methods (like mechanical or absorption filtration) to achieve 99.9 percent purity.
Some water filters rely exclusively on one method of filtration, but the best filters have a hybrid approach, using multiple methods simultaneously. By themselves, each filtration method has its own set of advantages and disadvantages.
In addition, water filters can be installed and used in several different ways. For example, you might have a water filtration system built into your house's plumbing, filtering your water automatically from the inside.
These systems are convenient, but they tend to be expensive. More commonly, homeowners install water filters on their sinks, or rely on pitchers and external containers in which they can filter their water.
Why Buy a Water Filter?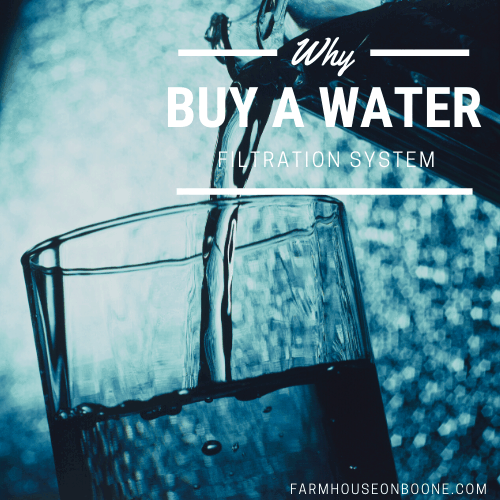 So what's the real benefit of buying a water filter? You know a water filter can remove certain impurities from water, but why would you buy a water filter? What benefits do water filters provide?
We'll explore these questions in this section, noting the shortfalls of conventional water treatment, and the quality of life improvements that a water filter can bring.
Is municipal treatment enough?
As we mentioned, water treatment plants at the municipal level are designed to filter water to the point where it's potable for residents drinking it. Though different water treatment facilities may use slightly different approaches, typically, this process includes multiple levels of filtration.
First, water is passed through thick screens made of mesh; this step is designed to remove major particles like sticks and leaves. Then, water is forced through sand-based and biological filters to remove microorganisms like bacteria and protozoa.
Finally, water is treated with some kind of disinfectant. Sometimes, this means treating the water with a small amount of chlorine to sterilize it. Other times, it means utilizing ozone gas. Some other treatment facilities use ultraviolet (UV) light to kill any remaining pathogens.
With this three-pronged approach, you might expect the water from municipal treatment to be completely potable. However, there are a few issues with this assumption. First, while large-scale water treatment is often reliable, it isn't perfect; flaws in the filtration system or lack of oversight could result in dangerous contaminants in the water.
Second, and more importantly, this doesn't account for the quality of your city's infrastructure.
Even if the water is perfectly pure and sterile when it leaves the water treatment facility, it still needs to work its way through a network of pipes to get to your home.
In many cities, these pipes are dozens of years old; small cracks can cause untreated sewage to leak into surface waters, and aging pipes can deteriorate with passing water, causing heavy metals and other contaminants to work their way back into the water.


The advantages of buying a water filter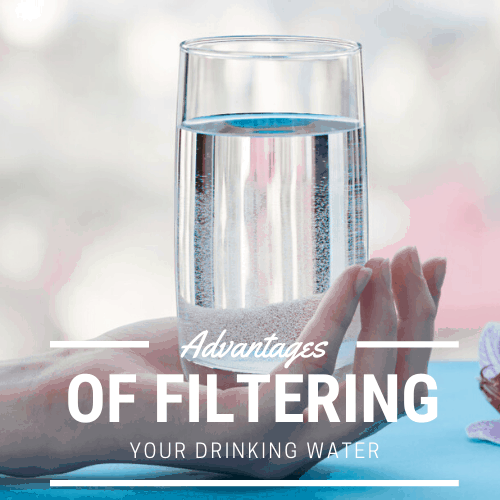 There are many good reasons to buy a water filter, and chances are, many of them will apply to you. Some of these are outright passive benefits, while others will allow you to live your life in new (and better) ways. These are some of the best advantages:
Better tasting water
If you've always gotten your water from the tap and you've never had purified water, you'll notice the difference immediately when you take your first sip. Oftentimes, tap water has a vague taste or smell to it, but it's hard to notice when you're used to it.
This taste and these odors are typically due to impurities in the water; copper and other metals can give the water a metallic taste, minerals like calcium can make it grittier, and certain microorganisms might give it a very slight foul taste. Getting a water filter will make all your drinking water taste instantly better.
Better textured water
For many people, the texture of your drinking water also matters. Most people can tell the difference between "hard" water and "soft" water when presented with the two options back-to-back; hard water tends to have a gritty or rougher texture than soft water, which is smoother by comparison.
Hard water is a result of high concentrations of dissolved minerals, such as calcium and limestone. While the presence of these minerals is not generally considered harmful, they can make your drinking water less pleasant to deal with—and leave behind a residue known as "scale."
Higher water consumption
When your water tastes better and feels better, you'll be naturally more inclined to drink it frequently.
You'll make it your beverage of choice, and will drink more glasses of water every day.
Obviously, water is important, but the benefits of drinking a healthy amount of water are more positive and more extreme than people realize. For starters, adequate hydration helps your body work more efficiently, allowing you to improve your athletic performance or even think more clearly.
Adequate levels of water will also help your kidneys and digestive system work correctly, mitigating health problems you might encounter later in life. Drinking water frequently can also help you manage your caloric intake and food cravings, ultimately mediating your weight.
Better coffee, tea, and food
If you're like most people, you like to start the day with some kind of hot beverage, like coffee or tea.
There are many competing theories as to the ingredients and preparation methods that results in the best finished product, but no matter what, 90-plus-percent of your beverage is going to consist of water.
If you use better, purer water for your beverages, you'll end up with better drinks.
The same is true for many varieties of food preparation; if you're boiling, poaching, or using water in any other way during your cooking, higher-quality water will improve the final results.
Reduced health risks
Municipal water treatment filtration is required to provide water to the general public that is potable and free from health risks. However, this doesn't guarantee that the water you're drinking is completely safe.
Remember, aging infrastructure and the path your water takes from treatment facility to home can introduce new, unsafe materials; this is one reason for the Flint water crisis, where 100,000 residents were exposed to unsafe levels of lead in the water.
Long-term lead poisoning can lead to extreme mental and physical health risks, from headaches and nausea to death. If you're planning to drink water from a natural source, like a lake or a stream, your health is an even more important consideration; these direct water sources tend to be rife with harmful microorganisms and particles that may harm you if not filtered out.
How much time do you spend thinking about the health of your family? If you have a spouse and/or children, buying a water filter can give you confidence that they're drinking from a safe, healthy source.
This is an especially important consideration if you have young children; certain contaminants, if chronically present in your water, can have detrimental effects on their development. Sometimes, these effects are subtle, and hard for the medical community to notice. If you install a good water filter, you can rule out at least one potential source of exposure.
If high-quality, purified water is a priority for you, you might be used to buying bottled water or purified water. This can be extremely inconvenient, especially if you're making trips to the grocery store every week.
A water filter will save you the hassle, giving you instant and consistent access to clean, purified water. This is also the case if you decide to take a trip to an area whose water quality is unfamiliar to you; if you take a portable water filter with you, you can guarantee that your drinking water is safe.
Lower costs
The average cost of a water bottle in the United States is $1.45, with the average person drinking 167 bottles per year. Do the math, and that comes out to $242.15 per year spent on water. It's possible to get a water filter for much less than this, ultimately providing you with even better-quality water for much less.
Environmental friendliness
Water bottles are flat-out bad for the environment. Every water bottle you consume and discard is a waste of plastic. Even if you recycle the plastic, you're still contributing to an unnecessary cycle of energy expenditure that will, in some ways, hurt the environment.
Plus, you have to factor in the carbon emissions associated with shipping those water bottles from a bottling facility to the store, and from the store to your home. Overall, the environmental impact of a home water filter is much, much lower.
Untreated water potential
Having your own portable water filter also opens the possibility to more adventures and more routes of exploration. Assuming your water filter is designed for untreated water, you can use it to turn water from a local stream, lake, or pond into perfectly drinkable water.
This is indispensable if you're planning a camping trip, if you're going hiking or bicycling, or if you're just exploring a new area.
What's the Best Water Filter to Buy?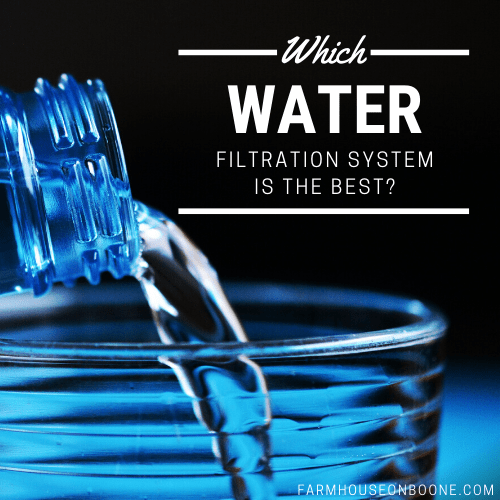 Now that you know how water filters work and why they're so beneficial, you can start looking at the best water filter options available in the market. There are thousands of options here, and all of them seem to say the same things in their marketing campaigns, so how can you tell the difference between these products?
In this section, we'll explore some of the factors you should consider most when making a purchasing decision, and introduce you to the Berkey Water Filter line—a suite of products that offer some of the most robust features of any water filter on the market.
Factors to consider when buying a water filter
When shopping for a new water filter, these are some of the most important factors to consider:
Filtration method(s) and capabilities
The most important factor is the filtration method, and what the filter is capable of removing from your water.
In some cases, you'll encounter water filters that use a single method, or an outdated method, to filter water; for example, a water filter that only uses a mechanical filter won't be able to filter chemical elements the same way a product that uses reverse osmosis or activated carbon would. For the most part, hybrid filtration systems are better.
You may also find minor differences in the particles, chemicals, and other impurities that different types of hybrid filters can remove. Pay attention to the filtration power and capabilities of each water filter you consider.
Ease of installation and use
Some filtration systems are needlessly complicated, requiring you to completely change your interior plumbing, or requiring you to take complex action every time you want a drink of water. The best water filters for most people are ones that can be set up in a matter of minutes, and used intuitively.
Ideally, your water filter will have some kind of spigot, or a pitcher-like structure, which allows you to dispense and drink water easily.
Portability of your filtration unit
Some water filters are designed to be affixed to your interior home plumbing; these will not help you if you're traveling overseas, going camping in the woods, or trying to bring your filter to the office. For most consumers, it's a good idea to get a water filter that's at least somewhat portable—especially if you plan on filtering untreated sources of water.
The size of the unit
This is important for several reasons, and not just for portability. For example, the size of the unit will determine how much water you can filter at any given time; bigger units will allow you to filter several gallons at once, and will provide water for a large group of people simultaneously.
This may not be a major concern, however. For example, if you live alone and plan on traveling by yourself, a smaller filter may be not only adequate, but advantageous.
The Aesthetics of your filter
Depending on when and how you're using the water filter, aesthetics may matter. For example, if you're getting a water filter for the office and this unit will be seen by your clients, you'll want to invest in a unit that presents a good impression.
A hefty, well-made water filter made from stainless steel or a similarly impressive material will make you look much better to your clients. You might also have a personal style or taste that pushes you toward a certain type of unit.
Brand reputation
You should also consider the reputation of the brand you're buying from. Different water filtration brands have different levels of commitment to quality and customer service; some are known for making incredible products with great filtration capabilities, and are more than willing to correct any mistakes.
Others may develop and distribute lackluster products, and may be difficult to work with. Make sure you check online reviews, and if possible, get a recommendation before buying from a given provider.
Cost Of Your Filter
Obviously, you'll also need to think about the cost of your unit—but don't skimp to save money. Oftentimes, you get what you pay for, and more expensive water filtration units offer more filtering capabilities (or other useful features). Generally, you can expect to spend at least a few hundred dollars on a filter that significantly increases your water's quality.
The Berkey Water Filter Line
While there are many different brands and models of water filter to choose from, the Berkey line is one of the best available. Every Berkey water filter uses a combination of multiple filtering methods, so it's capable of filtering both treated water (which you'll get from the tap) and untreated raw water, like you'd find in ponds, streams, lakes, and unfamiliar water supplies.
As we established, filtration potential is your biggest concern when buying a water filter, so let's take a look at the materials that Berkey water filters can handle.
VIRUSES
Berkey filters remove 99.999 percent of viruses.
Exceeds Purification Standard (Log 4): MS2 Coliphage – Fr Coliphage
PATHOGENIC BACTERIA SURROGATE
Berkey filters remove 99.9999 percent of pathogenic bacteria surrogate
Exceeds Purification Standard (Log 6): Raoultella terrigena
TRIHALOMETHANES
Berkey filters remove 89.8 percent of trihalomethanes.
The following are also removed to levels below lab detectable limits:
Bromodichloromethane
Bromoform
Chloroform
Dibromochloromethane
INORGANIC MINERALS
The following are removed to levels below lab detectable limits:
Chlorine Residual (Total Residual Chlorine)
Volatile Organic Compounds (VOCs)
Alachlor
1,1,1,2-Tetrachloroethane
1,1,1-Trichloroethane (TCA)
1,1,2,2-Tetrachloroethane1,1,2-Trichloroethane
1,1,2-Trichlorotrifluoroethane
1,1-Dichloroethane (1,1-DCA)
1,1-Dichloroethylene (1,1-DCE)

HEAVY METALS
Aluminum (>75%)
Antimony (>97.5%)
Barium (>80%)
Cadmium (>99.5%)
Cobalt (>95%)
Chromium (>95%)
Chromium 6 (>99.85%)
Copper (>95%)
Lead (>97.5%)
Mercury (>98%)
Molybdenum (>90%)
Nickel (>95%)
Vanadium (>87.5%)
MISCELLANEOUS:
Arsenic (>99%)
MBAS (>96.67%)
Nitrites (>95%)
Selenium (>97.5%)
Thallium (>99.5%)
Berkey water filters also remove rust, silt, sediment, turbidity, foul tastes, and odors.
Berkey water filters remove all these without removing some of the important minerals in water, which have nutritional value (and provide a pleasant taste to your water as well).
In addition, all Berkey water filters are constructed with a plastic spigot, making it easy to dispense water into the vessel of your choice. They're also designed to be incredibly easy to set up and install, and are constructed of highly polished 304 stainless steel.
Types of Berkey Water Filters
You'll find there are several types of Berkey water filter available. While all of them offer most of the capabilities listed above, each one is designed for a slightly different purpose and slightly different audience. They mostly differ in size:
Travel Berkey
The Travel Berkey water filter is ideal for 1 person, and its individual replaceable filters will last up to 3,000 gallons.
It measures 18 inches tall, and holds 1.5 gallons (5.7 liters). It weighs 9 pounds with 2 Black Berkey Element filters.

Big Berkey
The Big Berkey water filter is ideal for 2-3 persons, and its individual replaceable filters will last up to 3,000 gallons.
It measures 19.25 inches tall, and holds 2.25 gallons (8.5 liters). It weighs 9 pounds with 2 Black Berkey Element filters.

Royal Berkey
The Royal Berkey water filter is ideal for 4-5 persons, and its individual replaceable filters will last up to 3,000 gallons.
It measures 23 inches tall, and holds 3.25 gallons (12.3 liters). It weighs 11 pounds with 2 Black Berkey Element filters.

Imperial Berkey
The Imperial Berkey water filter is ideal for 6-7 persons, and its individual replaceable filters will last up to 3,000 gallons.
It measures 26 inches tall, and holds 4.5 gallons (17 liters). It weighs 12 pounds with 2 Black Berkey Element filters.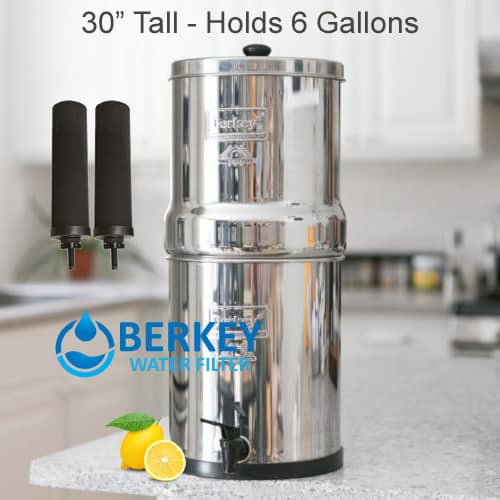 Crown Berkey
The Crown Berkey water filter is ideal for 8+ persons, and its individual replaceable filters will last up to 3,000 gallons.
It measures 30 inches tall, and holds 6 gallons (22.7 liters). It weighs 15 pounds with 2 Black Berkey Element filters.
If you're choosing a filter from among these options, your best bet is to choose the filter system based on the number of people using it.
For example, if you're getting a filter for personal use in your travels, the Travel Berkey water filter is best, but if you're getting a water filter for your family of 4, the Royal Berkey will be best.
Learn more about the Berkey water filter
How to Setup a Berkey Water Filter
How to do a Berkey Red Dye Test
How to get a Berkey Water Filter for a Deal​
How To Clean A Berkey Water Filter​​
Water Filter Basics
Filtered water will work wonders for your family but if you don't know how to use it then you may run into trouble. Listed below are some general outlines that fit for MOST filter systems but are more specific to the Berkey System. We recommend finding a guide specific to the type of system you are using if you run into issues setting up your filter system.
How to Use a Water Filter Correctly
Water filter systems are typically straightforward, but there are some important steps you'll need to follow to make sure you're using them correctly. If you don't install them correctly, use them correctly, or maintain them on a regular basis, the quality and consistency of their filtration may be compromised.
How to install a water filter
Water filter installation complexity will depend on the type of filter you install. If you want to install a system that's linked to your plumbing, you may need to hire a professional to install it. Making an error in your plumbing could not only prevent your filter from working properly, but also compromise the integrity of your entire water system.
Fortunately, most water filters aren't so complicated. They consist of a self-contained system, and can be installed and set up by an average consumer. Some mechanisms require you to attach the filter directly to your faucet. These typically have a universal attachment, as well as conversion components for older faucet systems.
If you're using a standalone unit, setup is even easier. Generally, there's a main unit where water is stored and dispensed, and a space for a replaceable filter (or two) to do its job. Installation usually involves giving the unit a precursory clean, then preparing and installing the filter itself.
How to prepare a water filter for its first use
If you have a new water filter, you'll usually need to prepare it before you use it for the first use.
This is because certain components of certain types of water filters, like activated carbon, can leave residue in your initial water filtration.
Usually, manufacturers recommend that you soak your new filter in water, fully submerged, for a period of a few minutes.
You may also be asked to rinse the filter for some time, artificially going through a handful of filtration cycles, before you begin drinking the filtered water.
These instructions vary by manufacturer, so refer to those instructions to ensure you're following proper procedures.
After you install your water filter, you may wish to test the water to make sure your system is doing what it claims to do.
You can purchase a basic water testing kit from most major online retail outlets.
Just make sure you buy a testing kit from a reputable brand with good reviews; otherwise, you may not get reliable results.
What kind of water can you treat with a water filter?
Be aware that not all filters are made to treat all kinds of water. Some low-end water filtration systems are only qualified to filter water that's already been treated by a municipal water treatment facility. If you attempt to use one of these filters to make potable drinking water from an untreated source, like a stagnant pond, you may be putting yourself at risk of harm.
Water filtration systems like the Berkey lineup are designed to filter any kind of water. They can be used to treat fresh water from any source, including natural bodies of water, and are also approved for household use.
How to change your water filter
Periodically, you'll need to change your water filter. Mesh mechanical filters, activated carbon, and even reverse osmosis membranes all have a finite capacity; eventually, they'll trap so many particles, chemicals, and microorganisms that they can't possibly hold anymore. At this point, the filter will not do its job; particles will pass through to your drinking water, compromising its effectiveness.
Fortunately, it's easy to fix this problem. You'll need to pull out the original filter and replace it with a new one. This procedure will vary slightly depending on the nature of your system and its original manufacturer, but it's rarely complicated. Make sure you follow the proper procedures to prepare your new filter for use (i.e., soaking and rinsing it).
The replaceable Black Berkey Purification Element filters for Berkey water filters are designed to process 3,000 gallons before they need to be changed. Most people drink about 58 gallons of water per year, but if you're enjoying purified water, you'll probably drink more than that.
Even if you and your family collectively drink 5 gallons a day (which is a ton), the 2 filters that come with your water filtration system will last over 3 years. Other models of water filters require replacement much more frequently, with some brands suggesting you replace your filters every month.
If you have water testing kits available, you may be able to run tests to determine when your water filter begins to fail.
General cleanliness and maintenance
It's also important to keep your water filter system clean and in good condition. If there are any complex parts, like a spigot, you'll want to disassemble the unit and give it a thorough soaking and cleaning. Otherwise, you'll want to gently clean the inside of your system with warm soapy water, the same way you'd clean any other dish.
Be sure to consult the procedures and recommendations provided by your manufacturer. If you lose the paperwork that accompanied your original water filter purchase, you should be able to contact the manufacturer for a replacement. Failing that, you can probably find the correct maintenance information online.
Conclusion
For most people, a good water filter is an investment that will pay off, both in the quality of your water and in terms of overall costs. With the right filter in place, your water will be purer, and therefore less risky to drink.
It will be tastier, and therefore increase the amount of water you drink during the day. It will also be comparable to the flavor and purity of bottled water, helping you save money and reduce your ecological footprint.
The only caveat is you have to choose a filter that's capable of filtering out the particulate matter, chemical impurities, and biological microorganisms that would otherwise interfere with your water drinking experience. We recommend the Berkey water filter due to its versatility, water filtering capabilities, and reasonable cost.
If you want to save money and don't want to pay full price for your water filter system I recommend either waiting for them to go on sale or checkout my page where I explain How to get a Berkey Water Filter for a Deal