Learn how to hang plates on a wall with this simple trick. Plates on a wall are pretty in a dining room or kitchen. Follow my simple trick below for hanging plates on a wall without plate hangers.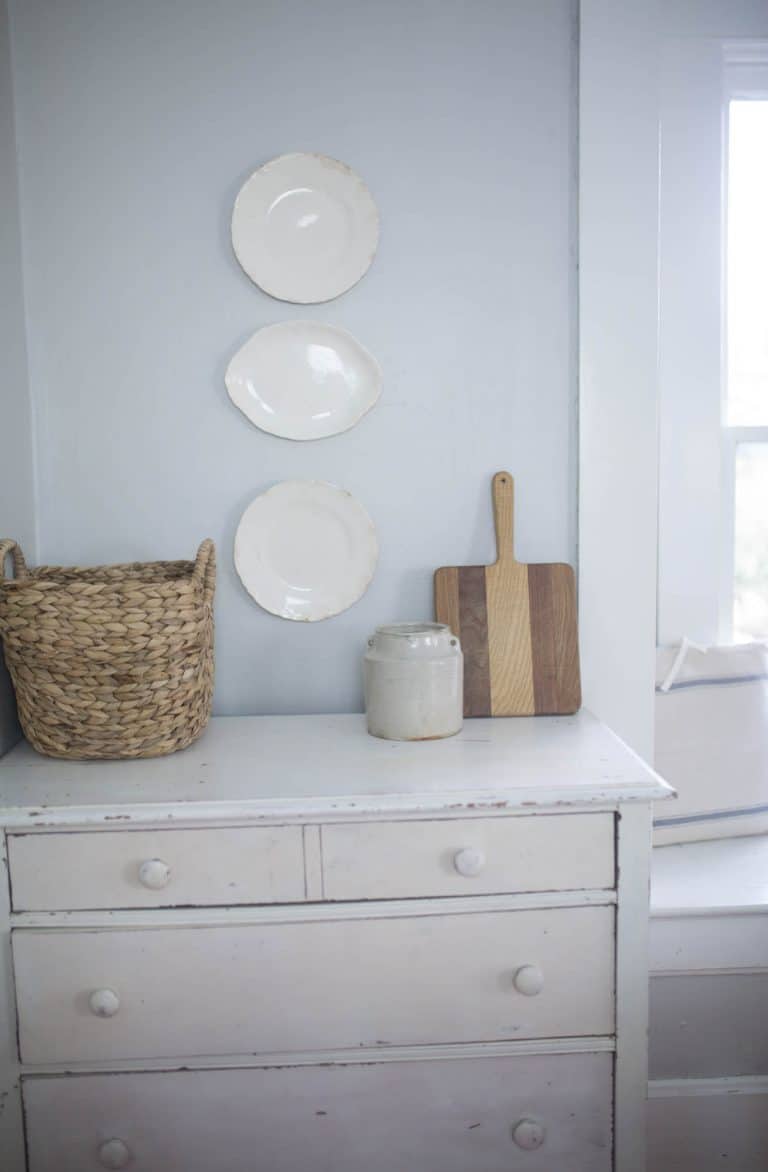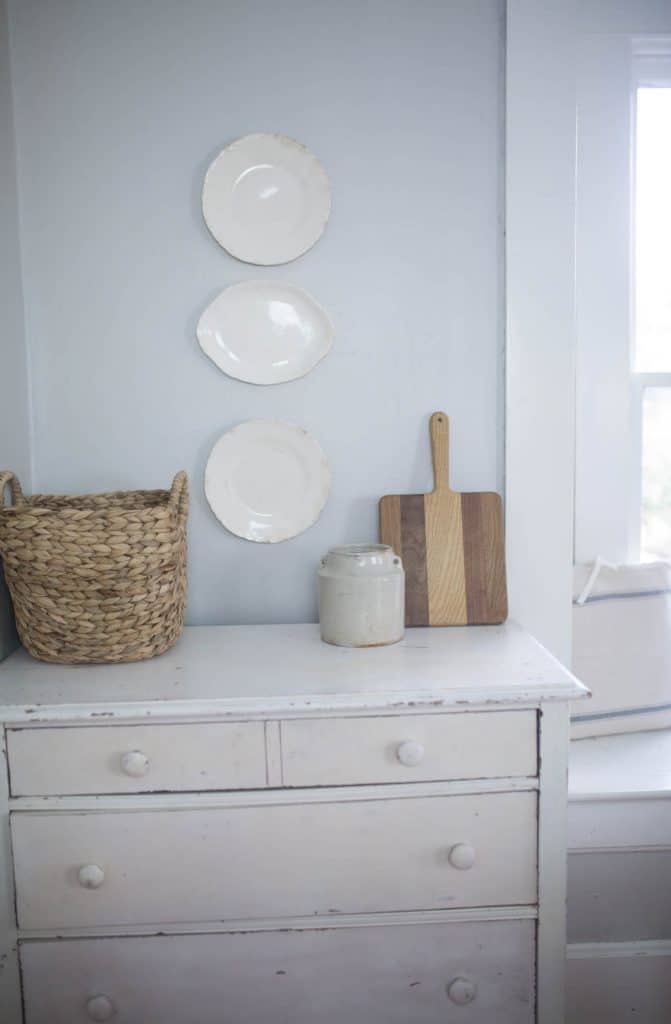 Learn how to hang plates on a wall, simply and easily, with this tutorial.
Watch the video below to see me explain the process in my own dining room.
This post contains affiliate links, which means I make a small commission at no extra cost to you. See my full disclosure here.
Plates as subtle wall art
I tend to be a minimalist when it comes to decor. Gallery walls can be done well by many, but when I do them in my home, they just look cluttered.
I am not the kind of person that thinks every single wall in a house needs something on it to be complete.
A simple plate arrangement with a few farmhouse plates looks subtle and minimal.
They add a little interest without making me feel like I am in a Cracker Barrel.
I have three ironstone plates on either side of the window seat in our dining room. For tips on where to find plates like this see my post on How to Find Farmhouse Decor at the Thrift Shop.
I usually only pay a couple bucks for each plate.
Tips for Hanging Plates On A Wall:.
Make sure the back of your plate is very clean so the adhesive has a clean surface to attach to.
If you have small children in your home, you could hang the plates with a hook rather than a nail for more stability and a less likely hood of a child hitting a plate down.
Find beautiful plates on the thrift store or antique store. You can find my Farmhouse Antique Shopping Tips here.
How To Hang Plates On A Wall Video Tutorial
Hanging plates on a wall is easy and I love just how beautiful and simple it looks.
I get THESE disc adhesives on Amazon Prime. I know there are lots of other ways to do it, but these are so simple to use.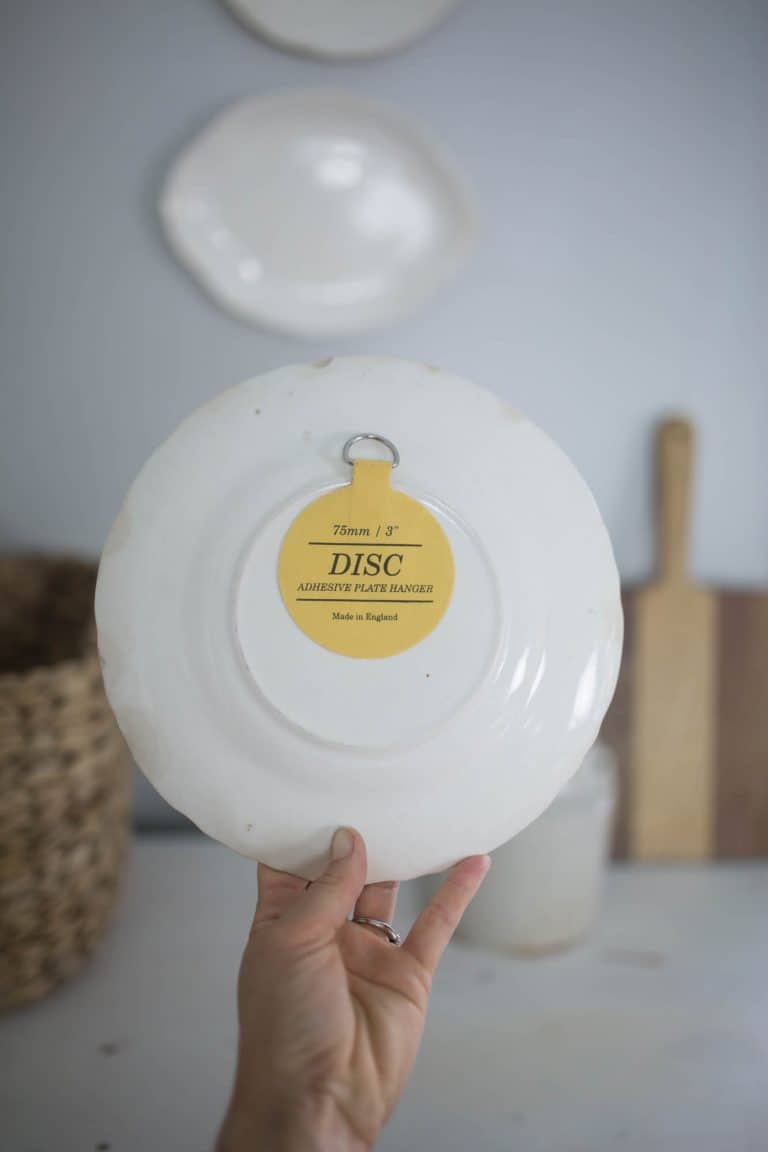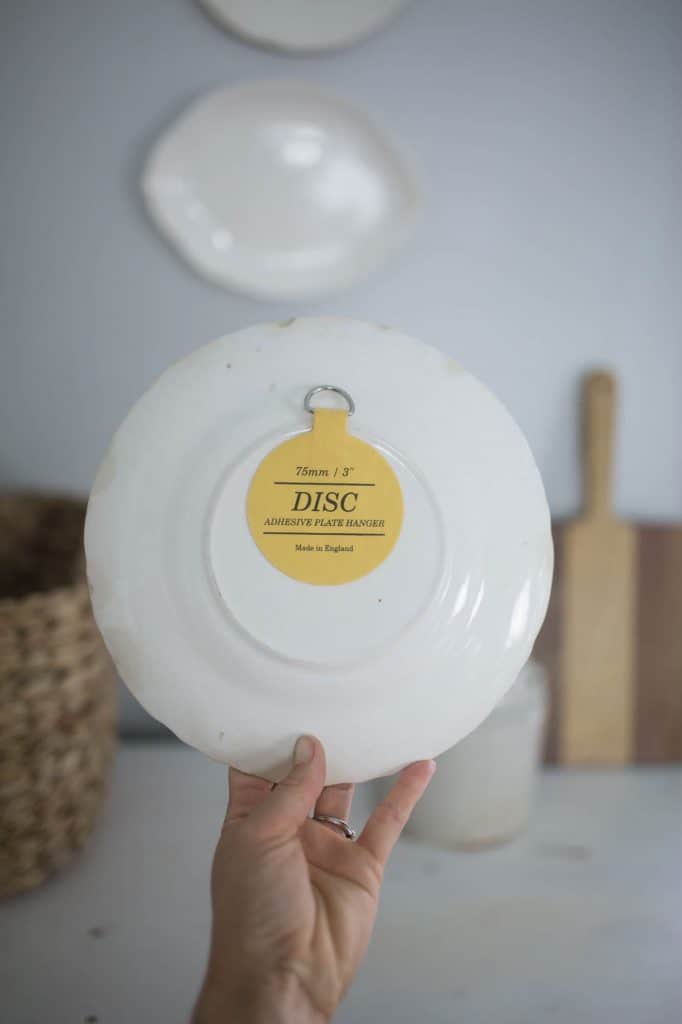 How To Hang Plates On A Wall Tutorial
Step One
Make sure the back of the plate is super clean. Any dust or grime will prevent the glue on the disk from sticking like it should.
Step Two
With a little warm water, activate the glue on the back of the discs.
Do this by dipping a few fingers in a little water and then rubbing the back of the adhesive plate discs.
Allow the wet glue to set up for 3-5 minutes.
Step Three
Center the disc on the back of the plate. Make sure that the d-ring hardware is straight, also.
Allow the plate disc to sit on the plate for 24 hours.
Step Four
To hang the plate, drill a drywall screw into the wall, leaving it about 1/4″ from going all the way in.
Slip the d-ring hardware right onto the screw.
Make sure to use wall anchors if you have plaster walls, or if you aren't screwing into a stud.
You could also use a small hook, like this, instead of a drywall screw, if you're worried about something, or someone (ie kids ;)) knocking the plate of the wall.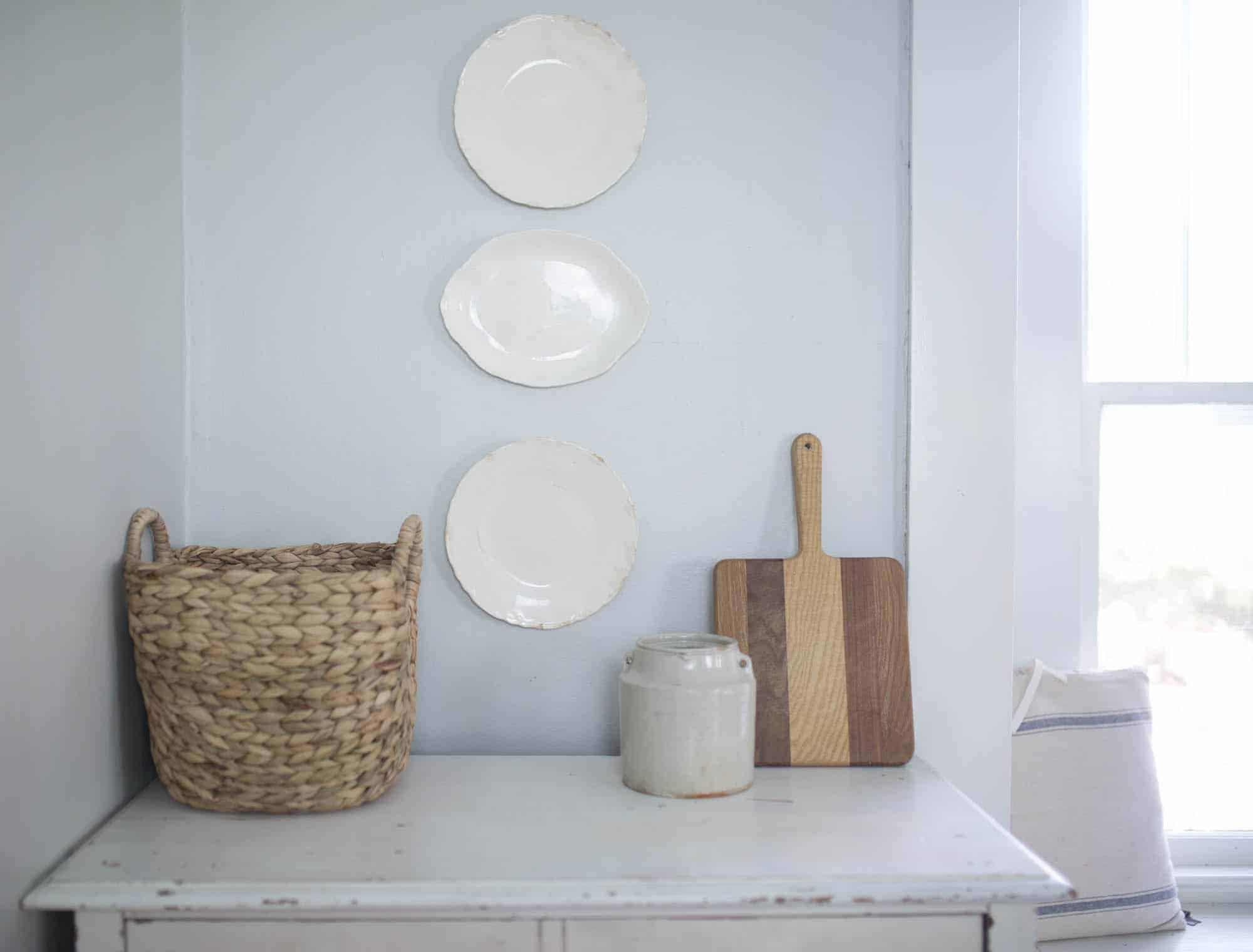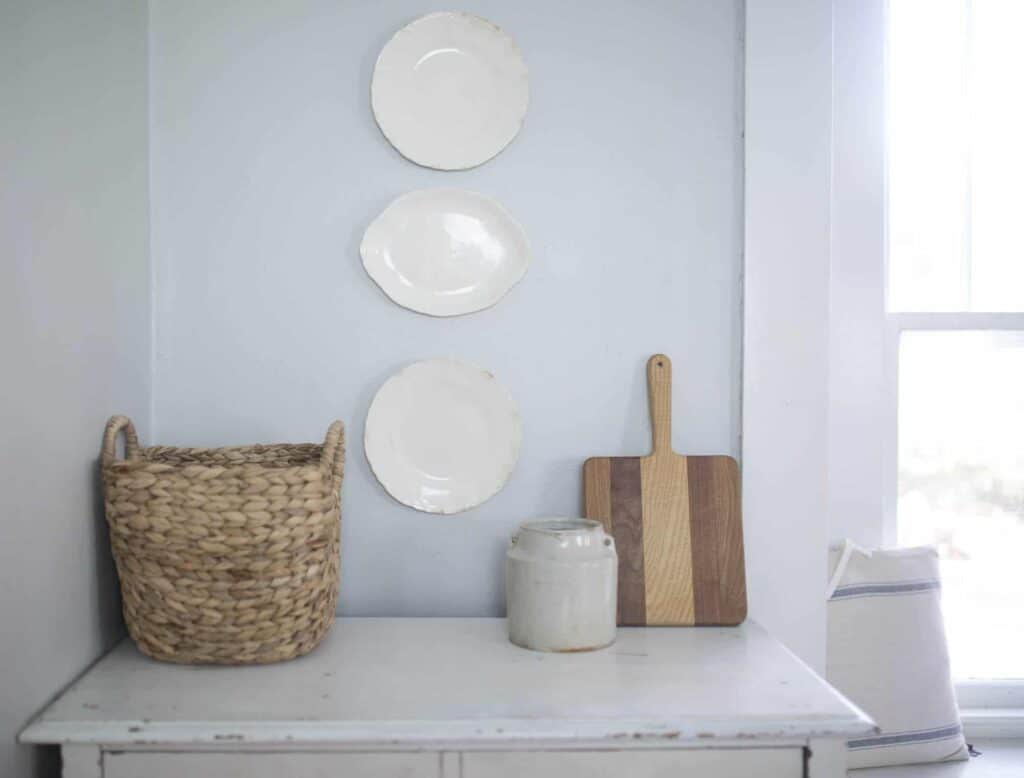 What size adhesive disc do you need for your antique plates?
1 1/4″ for plates up to 4 in diameter
2″ for plates up to 6 in diameter
3″ for plates up to 8 in diameter
4″ for plates up to 12 in diameter
5 1/2″ for plates up to 6.5 lbs in weight
(Sizes taken directly from the packaging for the Invisible English Disc Adhesive Large Plate Hanger.)
Shop this post
I have never had one of these discs fall off one of they plates. The hold is super strong.
Tell me in the comments below…where are you planning to hang some plates in your home?!
Thank you for stopping by the farmhouse!
[thrive_lead_lock id='10866′]Hidden Content[/thrive_lead_lock]
Check out more farmhouse decor inspiration:
Pin it for later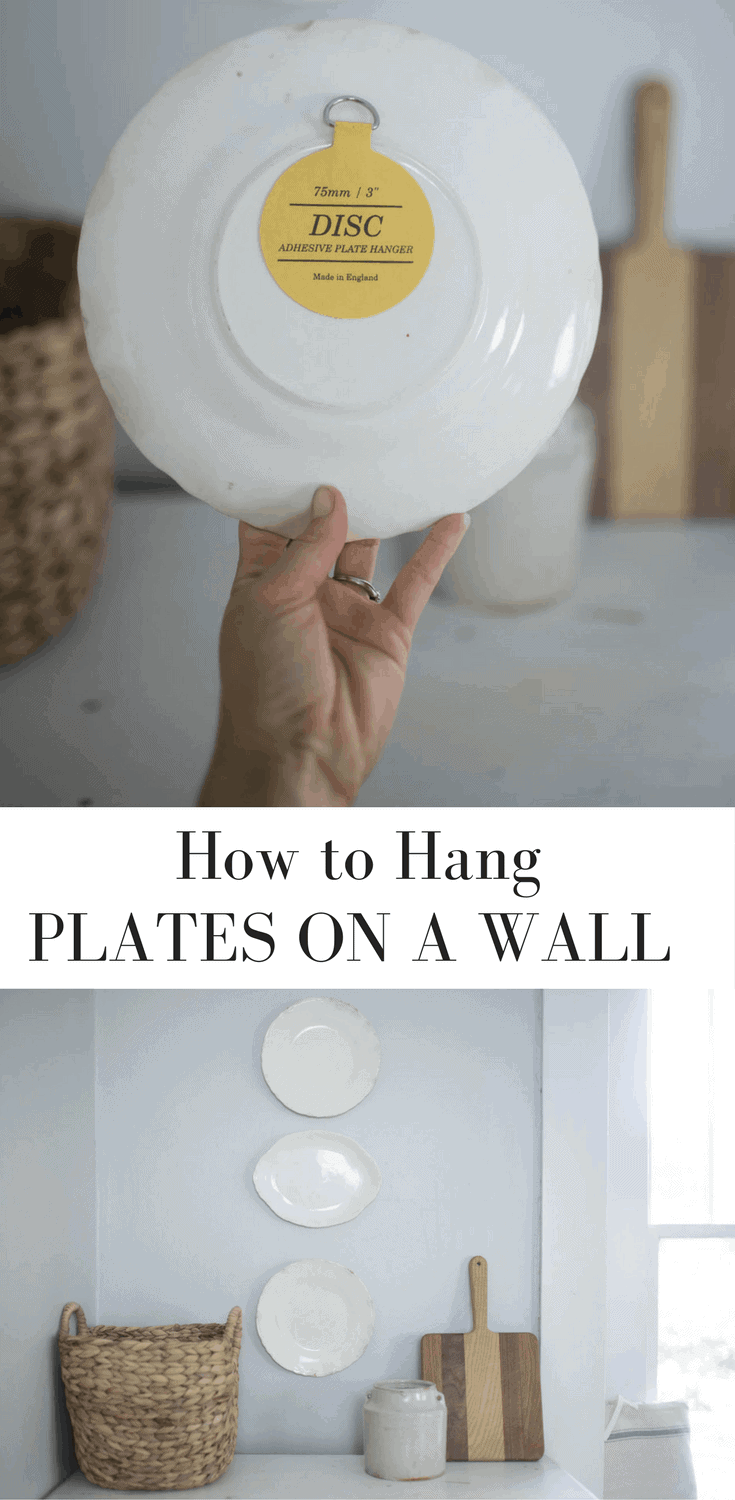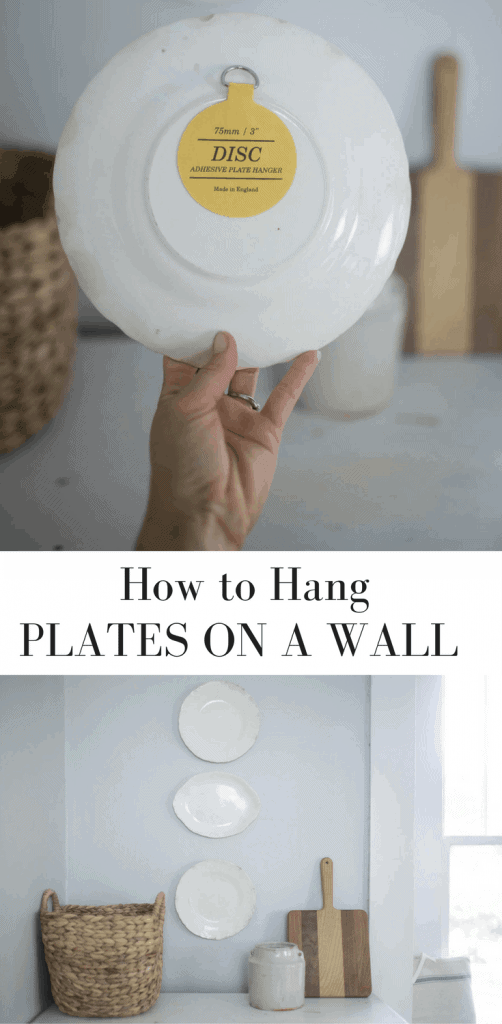 This post was updated July 2019