Today, I sat down to tell you guys all about my favorite grains to mill, and my favorite places on the internet and community to buy whole grains. Milling whole grains really isn't as hard as some people think, and it gives a ton of nutritional value to the meal. Learn how to make wheat flour at home with just a few simple steps.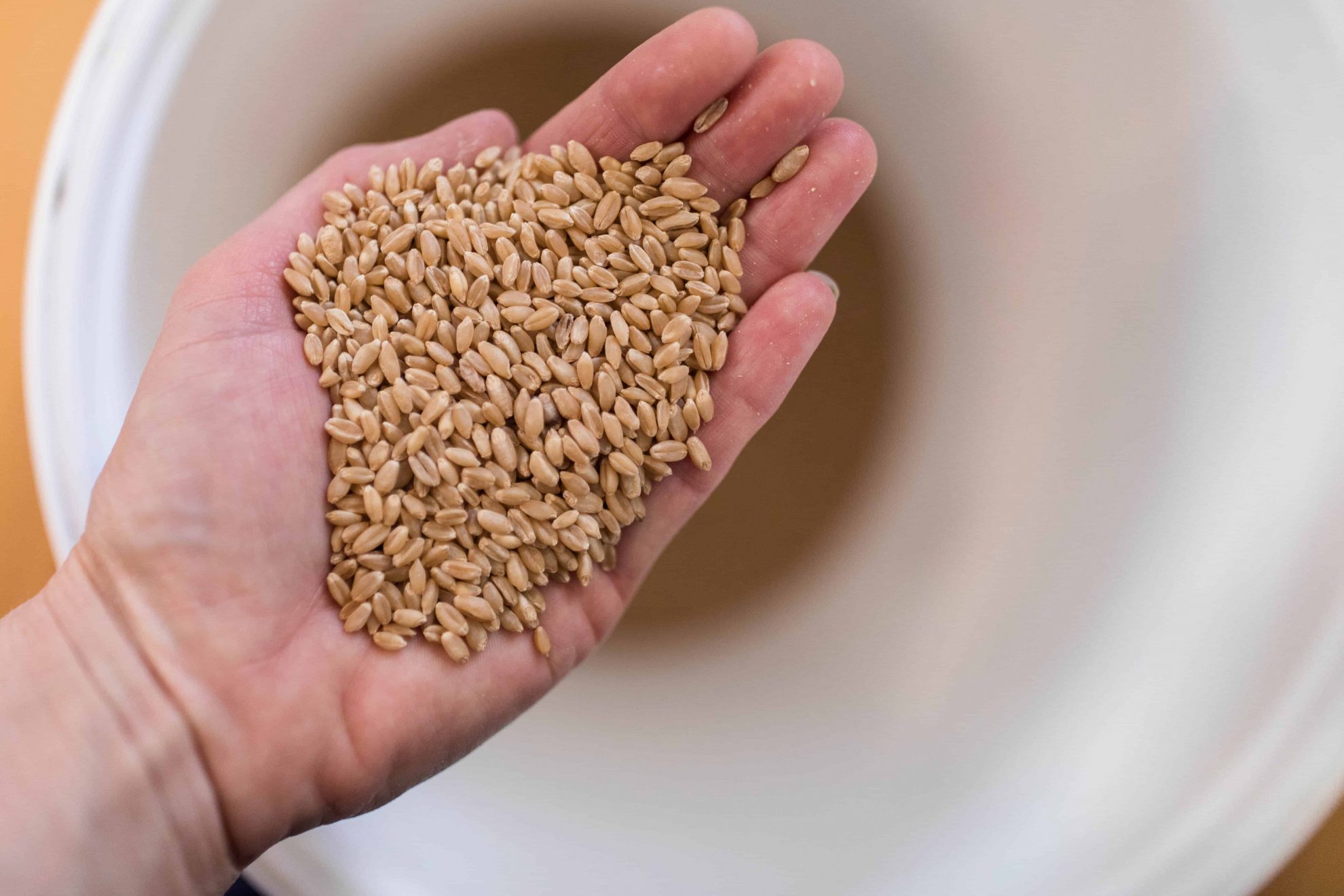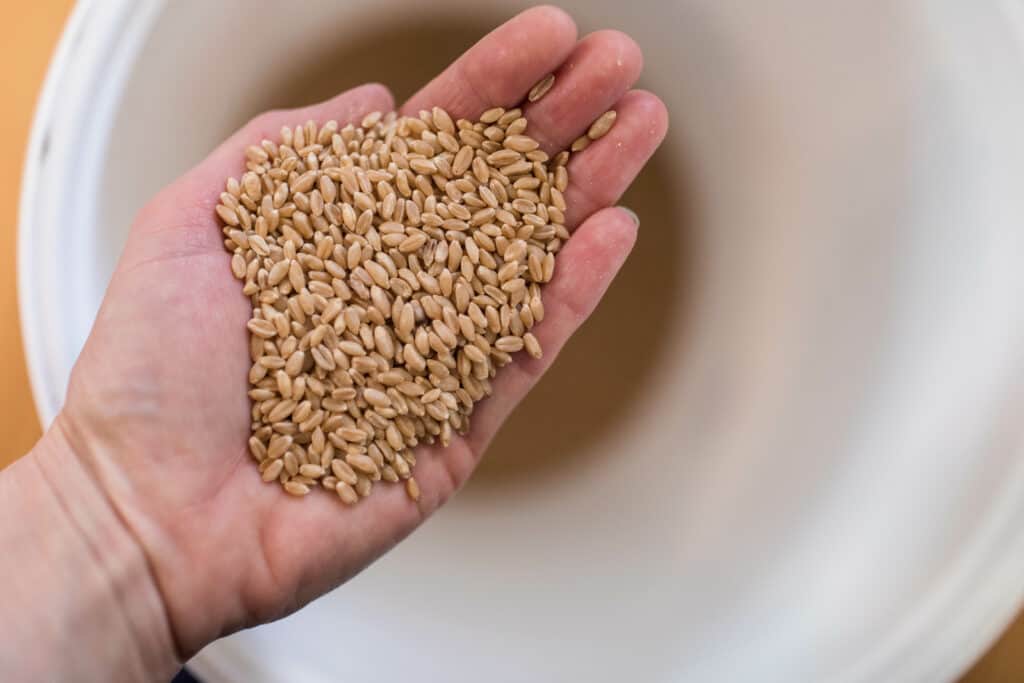 This post contains affiliate links, which means I make a small commission at no extra cost to you.
How to Make Wheat Flour at Home | MILLING WHOLE GRAINS Video
How to Make Wheat Flour at Home
About 8 years ago, I bought the grain mill I have now. I became interested in milling my own grains after I heard that over time, even a couple of days, milled grains lose a ton of their nutritional value as they sit in the cupboard. Once I heard this news, I became interested in buying bulk grains and milling them at home. I figured it wouldn't be that hard to mill my own grains once I had the tools.
I honestly have not looked at grain mills available on the market today, because the grain mill I have had for years is still in good condition. However, after searching around on the web, I have found several grain mills that look notable. On Amazon, I found a NutriMill that is very similar to the one I own.

How to Use a Grain Mill
On the NutriMill I own, there is a lid that goes on the very top, that you can take off. Inside is a place where you pour in the grains. They will flow down through two holes, and into a bowl at the bottom of the NutriMill. Simply use the handle to pull the bowl out from under the NutriMill, twist the lid, and there is flour inside. The two knobs on the front allow you to choose the coarseness of the flour, and also how fast the grains will be ground.
The bottom knob controls the coarseness and the top knob controls the speed.
Determining the Coarseness of the Grains
For my sourdough starter recipes, I use the medium-coarse setting to grind my whole grain wheat. I use this setting for most everything. When I am making cornbread, I will use the coarsest setting to make cornmeal. You can do a finer coarseness, especially if you are using the flour to make pastries, cakes, cookies, or pies. The finer you want the grain to be, the longer it will take to mill.
Where to Store a Grain Mill
In our old farmhouse, I used to store my NutriMill in the basement, because I do not use it all the time. I would get out my mill once or twice a week to make some flour for my sourdough starter and that was it. At our new house though, Luke and I are thinking about building a little table for it in our pantry to mill the grains in there. We have never had much counter space in our homes and a grain mill is not something I want to keep on my counter, so I am glad I can store it in our pantry.
Where to Store Whole Grains
When I buy bulk whole grains, I simply transfer them from the bag they came in into a 5-gallon bucket with a twist top lid. I discovered twist top lids for my 5-gallon buckets a few years ago. I used to use the lids where I would have to snap on the lid and pull it off, but they were really hard for me to get on and get off. Now, all I have to do is just twist off the lid to get to the whole grains, and twist the lid back on to keep the grains airtight and safe from mice and other small animals.
Ask me how many flour bugs I found in my wheat when I thought just rolling up the bag was sufficient. Trust me, it's not – especially for long term storage!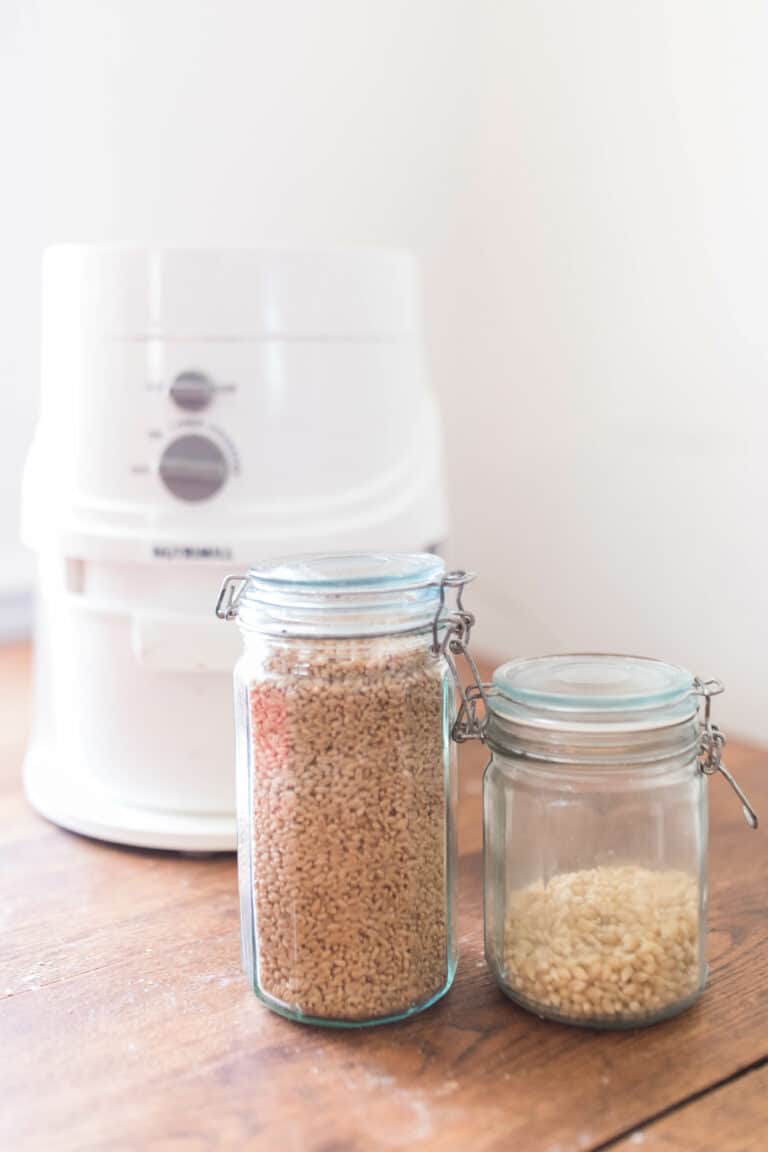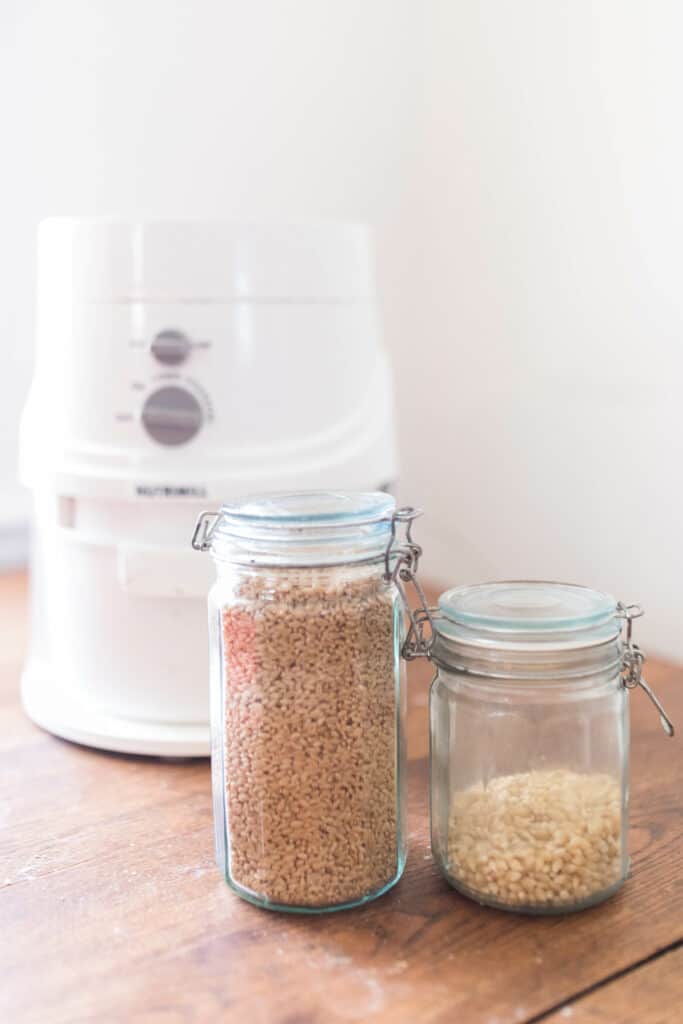 Types of Whole Grains
Hard White Spring Wheat
The most common grain I mill is Hard White Spring Wheat. You can buy Soft White Spring Wheat and even Soft Red Spring Wheat. Soft wheat is really good for pastries, such as cakes and biscuits. They have a lower gluten content, so the flour is not suited for bread. I have purchased the soft wheat before and used it for deserts, but I do not make desserts very often, so I prefer to just buy hard wheat and use it for everything. However, if you do a lot of baking, I would definitely recommend purchasing both hard and soft wheat.
Here is the wheat I get: Prairie Gold Organic Hard White Spring Wheat
Einkorn
I also really love to mill whole grain einkorn. Einkorn is an ancient wheat grain that is easier to digest and healthier than modern wheat. It is a good source of protein, iron, fiber, and B vitamins. Modern wheat has been genetically altered for higher yields and more gluten. Most people can't digest modern wheat very well, but are able to digest ancient einkorn much more easily.
Popcorn
The other grain that I mill is popcorn. I know it is a little unusual, but years ago I read you can mill popcorn. Now, I am hooked. I love to mill popcorn into cornmeal to use for cornbread. I put the NutriMill on the coarsest setting and the popcorn runs right through. I use the same popcorn I buy at Aldi that we also eat for a late night snack popped in some coconut oil on the stove.
Oats and Rice
In the past, I have experimented with milling oats to make oat flour and rice for rice flour to make pancakes, but because of my love for sourdough, I mainly just mill hard wheat.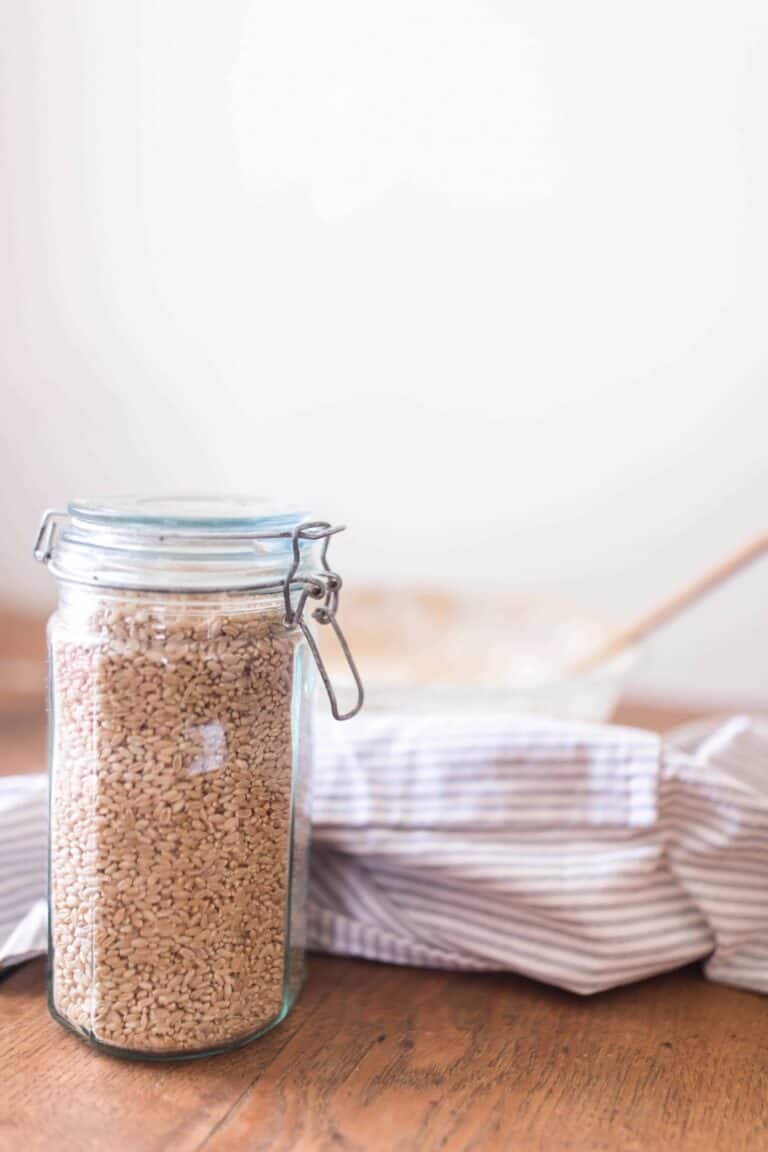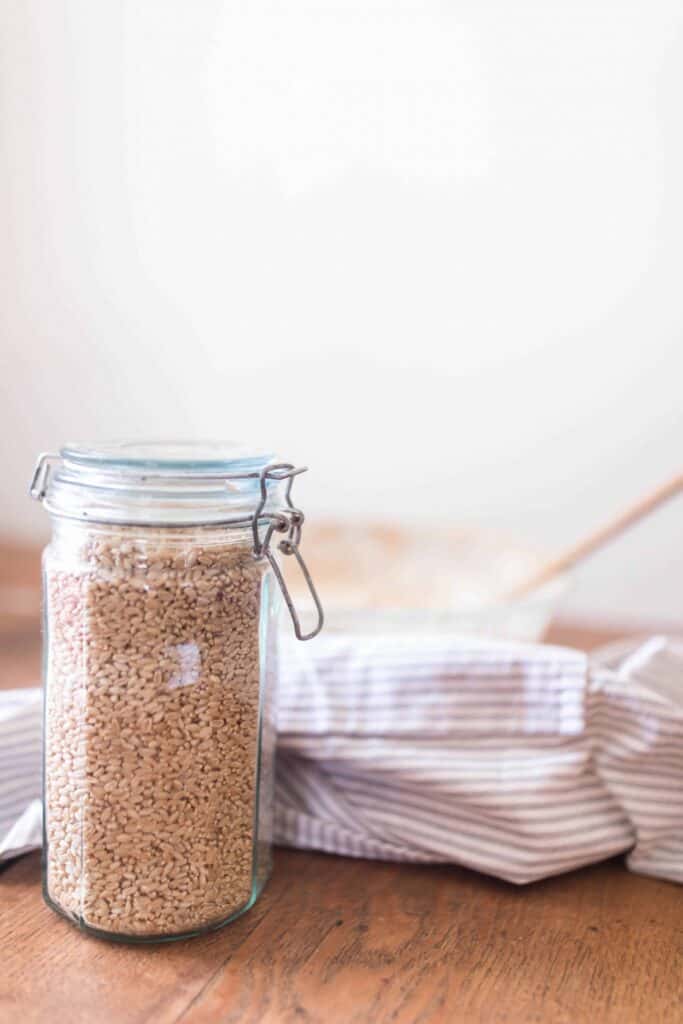 Where to Buy Whole Grains
Amish Community
When we lived in our old farmhouse, my sister and I would drive to an Amish community not too far away and purchase grains in bulk from their store. We would drive there every six months and buy a couple gallons of raw honey, a couple gallons of coconut oil, a couple pounds of raw butter, 50-pound bags of oats, hard red or white wheat, and a 10-pound bag of popcorn.
I haven't found the local Amish community near our new area, so I only drive out to the old one for honey very rarely.
Country Life Natural Foods
A couple of years ago, a lady I know started a co-op with Country Life Natural Foods, which is based out of Minnesota. I began to order from there along with a group of other women. Orders of $500 have free shipping, so that is always the total amount we aim for. All I have to do is give her my order and drive to her house to pick it up. Country Life Natural Foods has some pretty great prices, so that is where I now buy organic hard wheat. Country Life Natural Foods also sells bulk beans, oats, dates, figs, and nuts, among other things. So now I pretty much exclusively buy my grains from this co-op.
Azure Standard
In some areas, people have available the Azure Standard co-op which is based out of Oregon. I have ordered from them before, but their prices were high for me. Depending on where you live, those might be very competitive prices. However, everything is a little cheaper in the Midwest so getting prices that were cheap for Oregon, was still really expensive for me.
UPDATE: I got on the Azure Standard website to grab a link for this post and found they had a great price on organic raw cheese. I signed up for the local drop again.
Jovial Foods, Thrive Market, and Amazon
Another grain that I like to buy, that I mentioned above, is einkorn. I have bought it from Jovial Foods, Amazon, and Thrive Market. Thrive Market is a great place to buy a whole bunch of healthy food supplies. I have a membership there that is $50 a year, but for the number of items I purchase, it is totally worth it. It saves me a ton of money, and sometimes has cheaper prices than Amazon, where I also have a prime account.
Reasons to Mill Flour at Home
I know milling your own grains sounds really complicated, but it is actually so simple and it is also the only way to get fresh flour. Even if you are buying flour from your local store that says it is freshly ground, it still probably wasn't ground that hour, or even that day or week.
Obviously, I highly recommend milling your own flour. It is really great for making your own sourdough starter. The hard red or white wheat is what I use to feed my sourdough starter and keep it healthy and active. Milling your own grains is cheap, too. When you buy a 25 or 50-pound bag of wheat berries, they will keep for a very long time, possibly years when stored properly. If you keep the grains in the 5-gallon buckets with the twist top lids, you don't have to worry about them going bad. If you break down the prices between the whole wheat flour you can buy at the store, compared to the co-op, the co-op is much cheaper. All you need to do is secure a local source, and you will have freshly ground, healthy and nutritious flour.
Shop the supplies I use for milling grains at home
Nutrimill Grain Mill (the one I have)
Wondermill Grain Mill (highly reviewed)
Prairie Gold Hard White Spring Wheat (this is what I use)
Gamma Seal Lid
Azure Standard
Jovial Foods Einkorn
Thrive Market- Get 25% off your first order with my link. (You can get a 30 day free trial with this link.)
Country Life Natural Foods Co-op
Pin it for later