The Berkey water filter is by far the best affordable way to get healthy filtered water to your family. I do have a few simple ways to get the original filter system even cheaper. Read all about my tips for getting a great deal on a Berkey water filter below.
This post contains affiliate links, which means I make a small commission at no extra cost to you.
Ever since I started sharing videos in my kitchen on my Youtube channel, people have been asking me about the big silver thing sitting out on my countertop. It may take up a little valuable countertop real estate, but read on to find out why I am totally ok with that.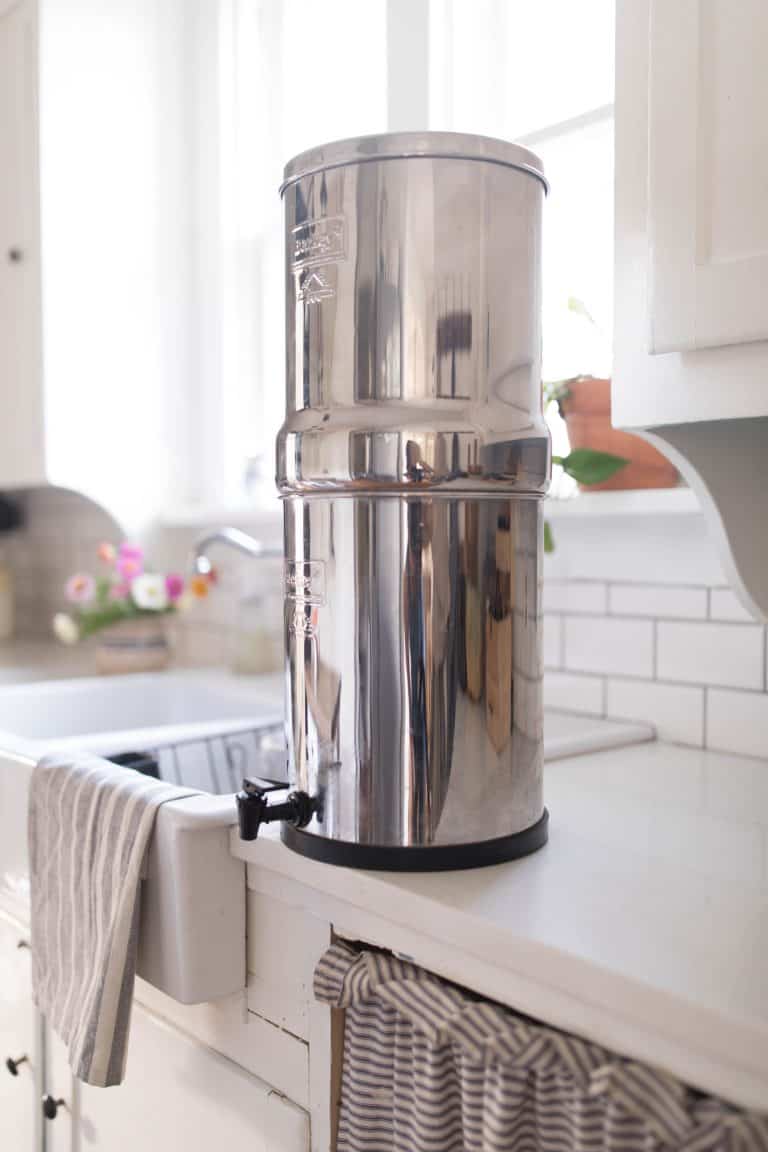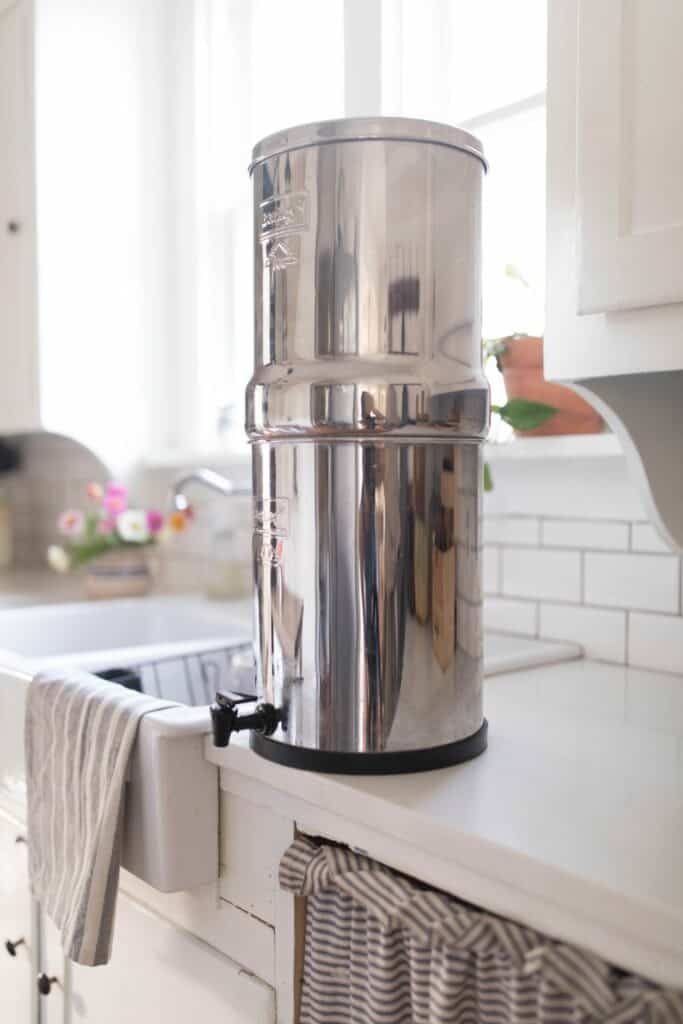 Why we Love the Berkey Water Filter
Price- I didn't want to have to replace filters every few months. Some of the other systems are a little cheaper up front, but they require changing out the filters ever few months. Examples are the Brita water filter. Berkey did some math and posted the cost per gallon on their website. This is what they found. The Berkey filter cost per gallon is approximately 1.6 cents. Most of the other major brands averaged between 6 and 8 cents. That's quite a cost savings when you drink a lot of water over the course of ten years!
Filter quality- The number one reason we even decided to look into water filters was because the city water we were drinking before was full of junk no human should put in their body. The Berkey met all the requirements, and then some. Unlike other systems, it even filters out viruses and bacteria. You could literally filter pond water through it and still drink it! We are on well water now in the new farmhouse. We had the water tested and nothing exceeds any of the dangerous levels, but we still love using our Berkey to ensure we are getting the healthiest water possible.
Testing- The Berkey system allows you to test the filters to be sure they are working properly. One time my second daughter knocked the whole system off the counter. I was advised to run the "food dye test" to be sure they didn't have any hairline fractures that would compromise the filters. I love that this is a possibility with the Berkey. With other filter son the market, you just have to hope that they are filtering properly and it's hard to know when they have outlived their functionality.
Read my full review here: Berkey Water Filter Review
How to Get a Great Deal on a Berkey Water Filter
Bundle Sales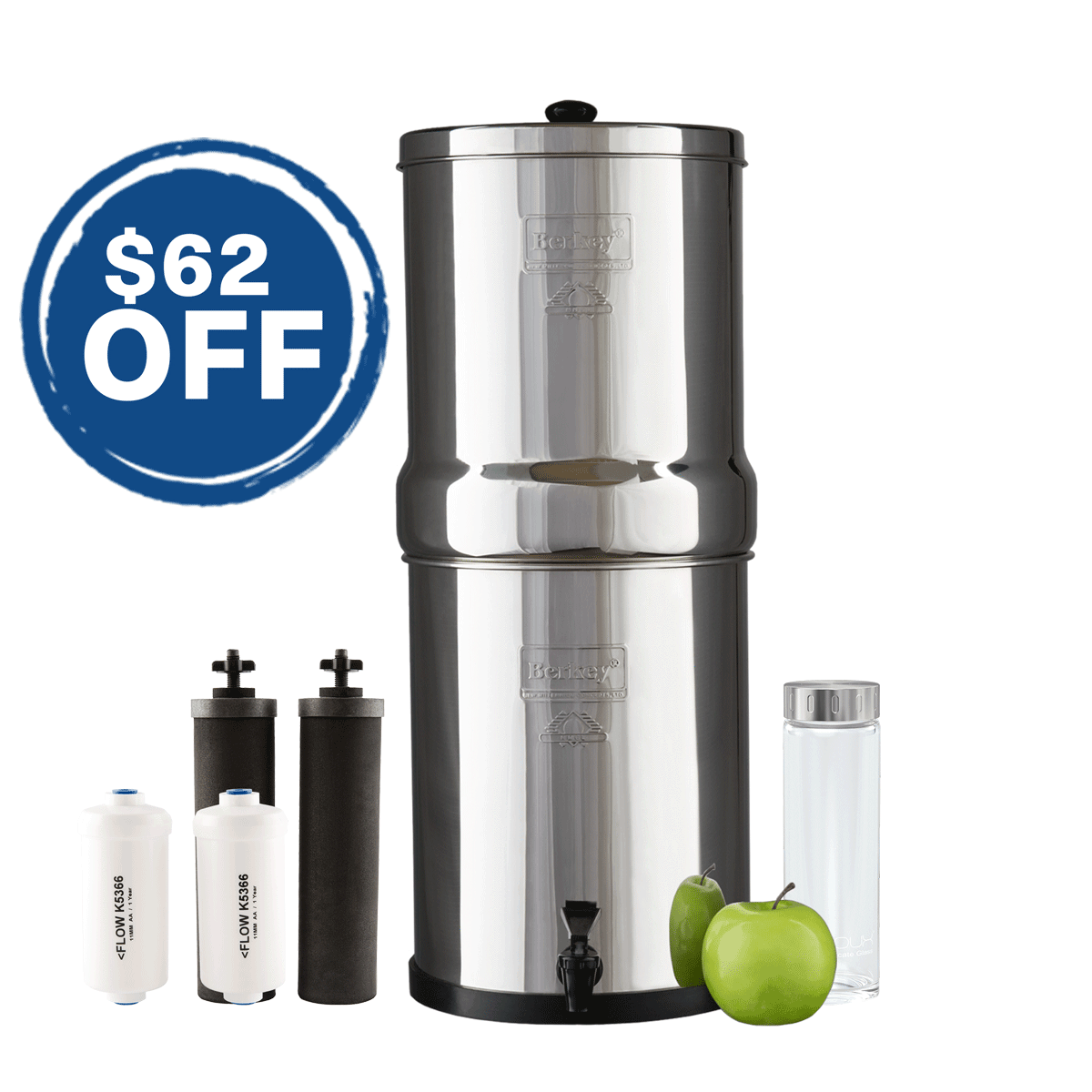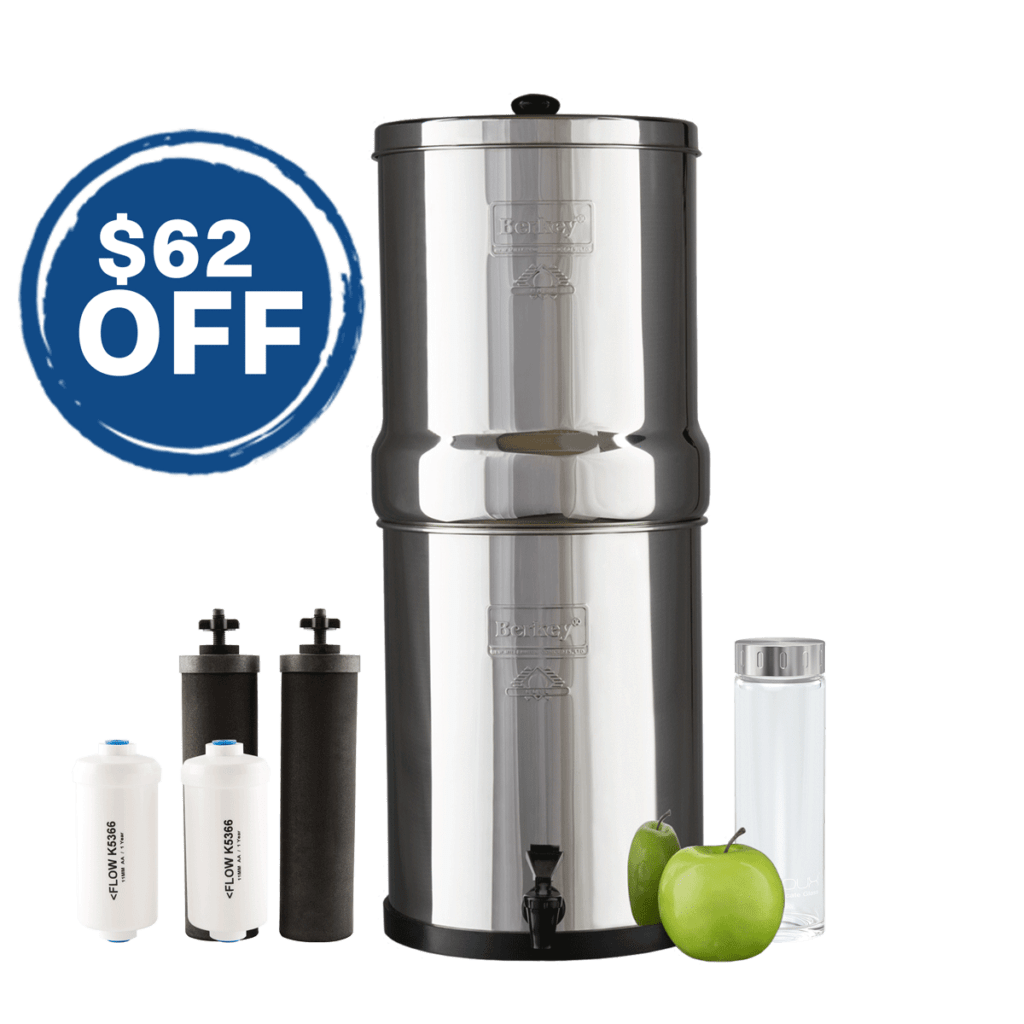 Berkey used to only bundle sales a few select times per year. Recently, they started sharing a year round bundle with some major savings, if you plan to purchase the optional fluoride filters (which I recommend). The bundle comes with the Berkey unit itself, two black filters, two fluoride filters, a stainless steel spigot and a glass water bottle.
You can find the bundle sale here: Berkey Bundle Sale (For reference, we have the Royal size for our family of 7)
Check your local Facebook Marketplace
Just to be sure this was a legitimate option, I did a quick search on my local buy, sell, trade. Sure enough, there were a few people selling their Berkeys.
Not sure why they would do that! But they do exist 😉
If you don't want to drive too far out of the way, you could ask them if they would be willing to ship, assuming you pay about 10 bucks extra.
Make sure to do the food dye test on the filters, if you do decide to go this route to make sure the filters weren't dropped or damaged. You can read more about the dye test in this post.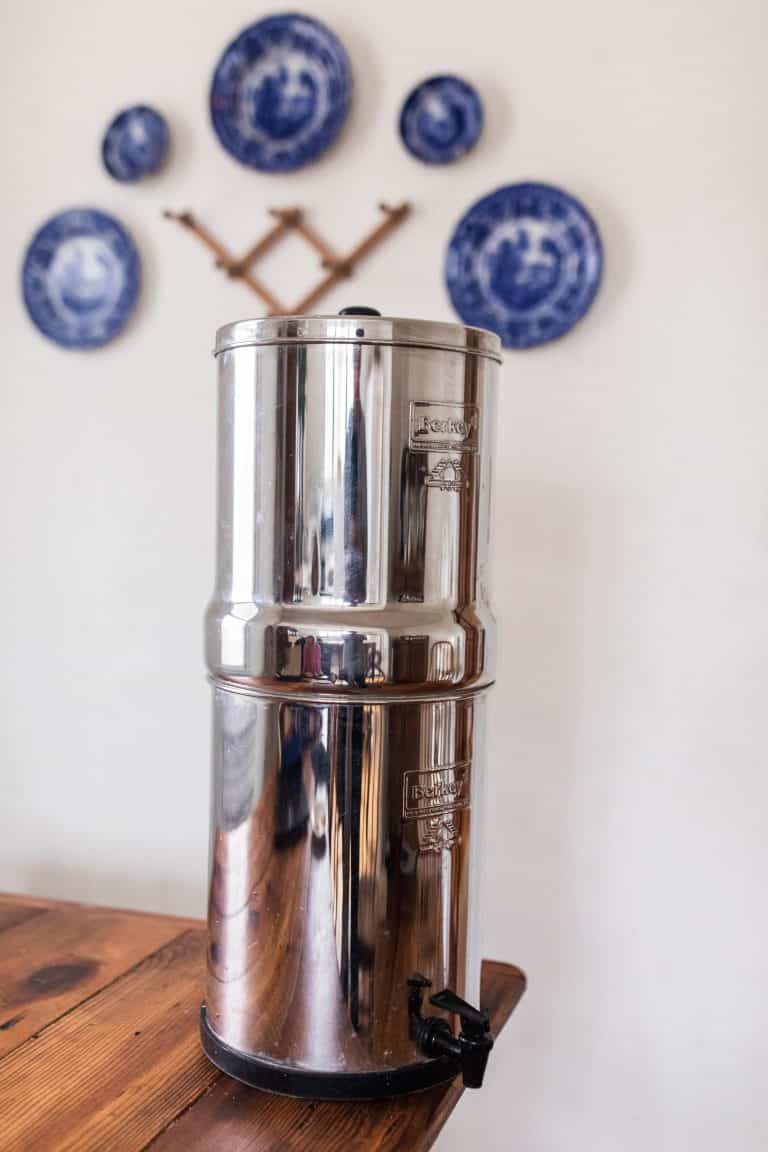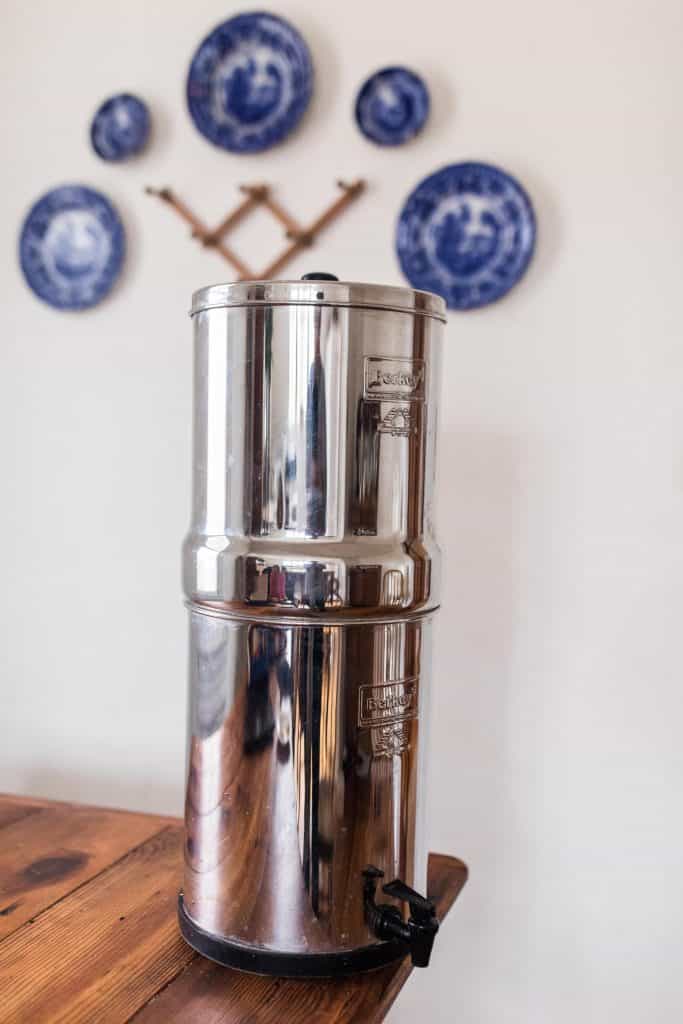 Scratch and Dent Sale
The Berkey website offers a special deal for units that have a few cosmetic imperfections. Likely they were scratched and/or dented somewhere between the place they were made and the warehouse where they are shipping them from. Our Berkey has seen lots of wear from kids, and home projects (just note the paint all over the back), so maybe a dented up unit wouldn't have been so bad. Check out the scratch and dent sale HERE.
Consider the Berkey Light
The Berkey Light is made of BPA-free poly material, as opposed to the stainless steel in the traditional model. It is a cheaper way to house the black carbon filters. This is actually what I did when we first purchased the Berkey nearly nine years ago. I wasn't ready to invest quite so much in a filter, so this seemed like the better option. I did eventually upgrade to the stainless steel model, thus wasting any money I saved buying the Berkey Light originally. It did serve us well for a few years though. In my opinion, if you have it in your budget, go straight for the stainless!
DIY it
Not saying this is the best option, but it is actually a thing people do. The best part of the Berkey water filter is the black carbon filters, and the optional fluoride and arsenic filters that do such an amazing job at transforming unhealthy water into something pure and refreshing. The unit that you see on my countertops is essentially just a housing unit for these amazing filters. There are people on internet-land that have made tutorials on how to DIY the housing. You still of course have to purchase the filters.
Build Your Own Stainless Steel Berkey
This option is for the ultra frugal. Me personally, I like the sleek look of the actual Berkey. 😉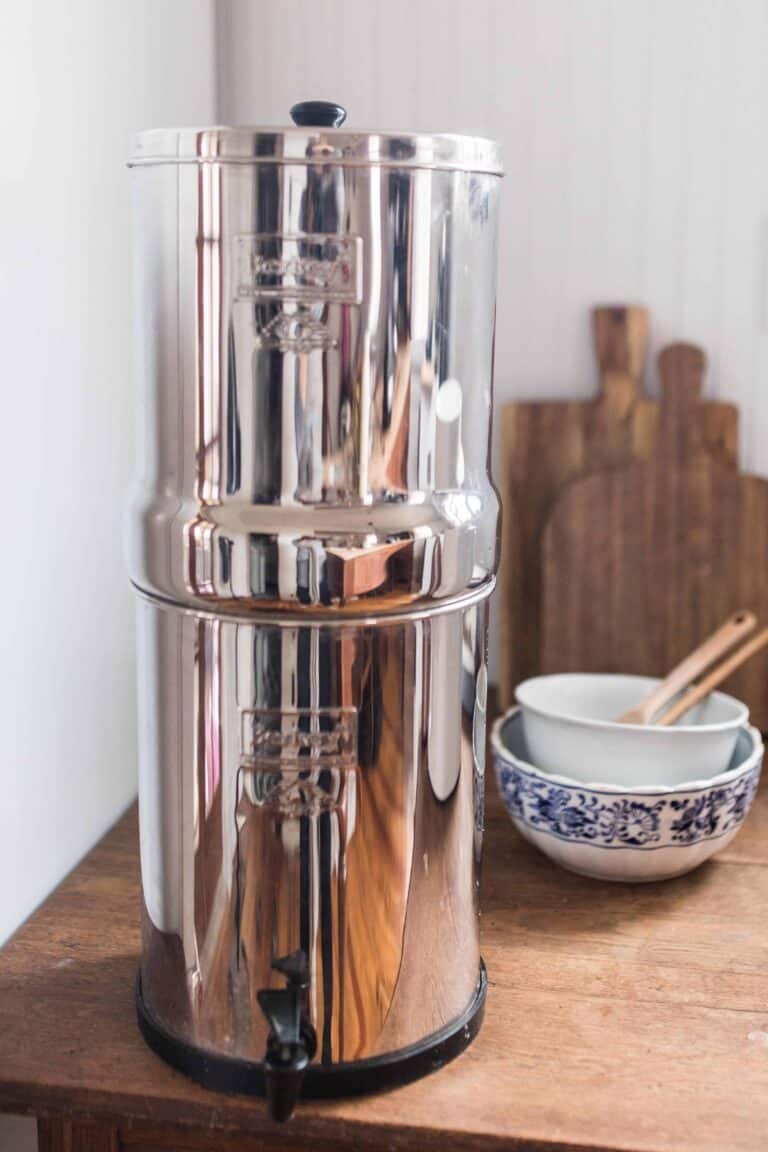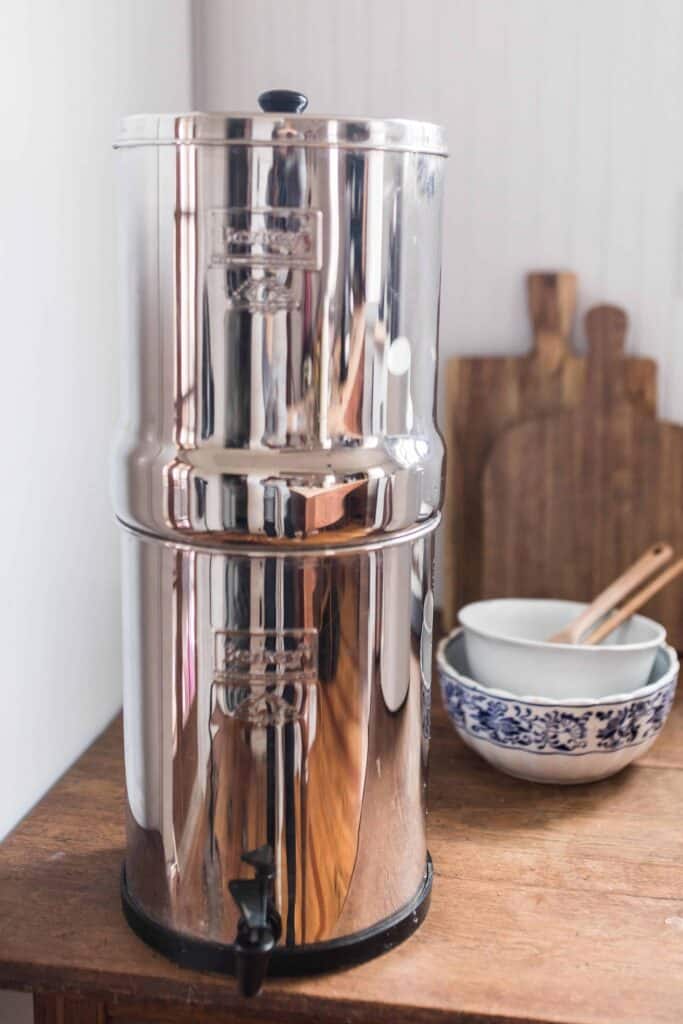 Shop the Berkey Water Filter Deals
The Berkey Bundle Sale (We have the Royal)
Read my other Berkey water filter posts
How to Clean a Berkey Water Filter
How to Assemble a Berkey Water Filter