Learn how to halter break a calf the easy way. With just a little time and a few tools, you will be on your way to leading your calf around the farm.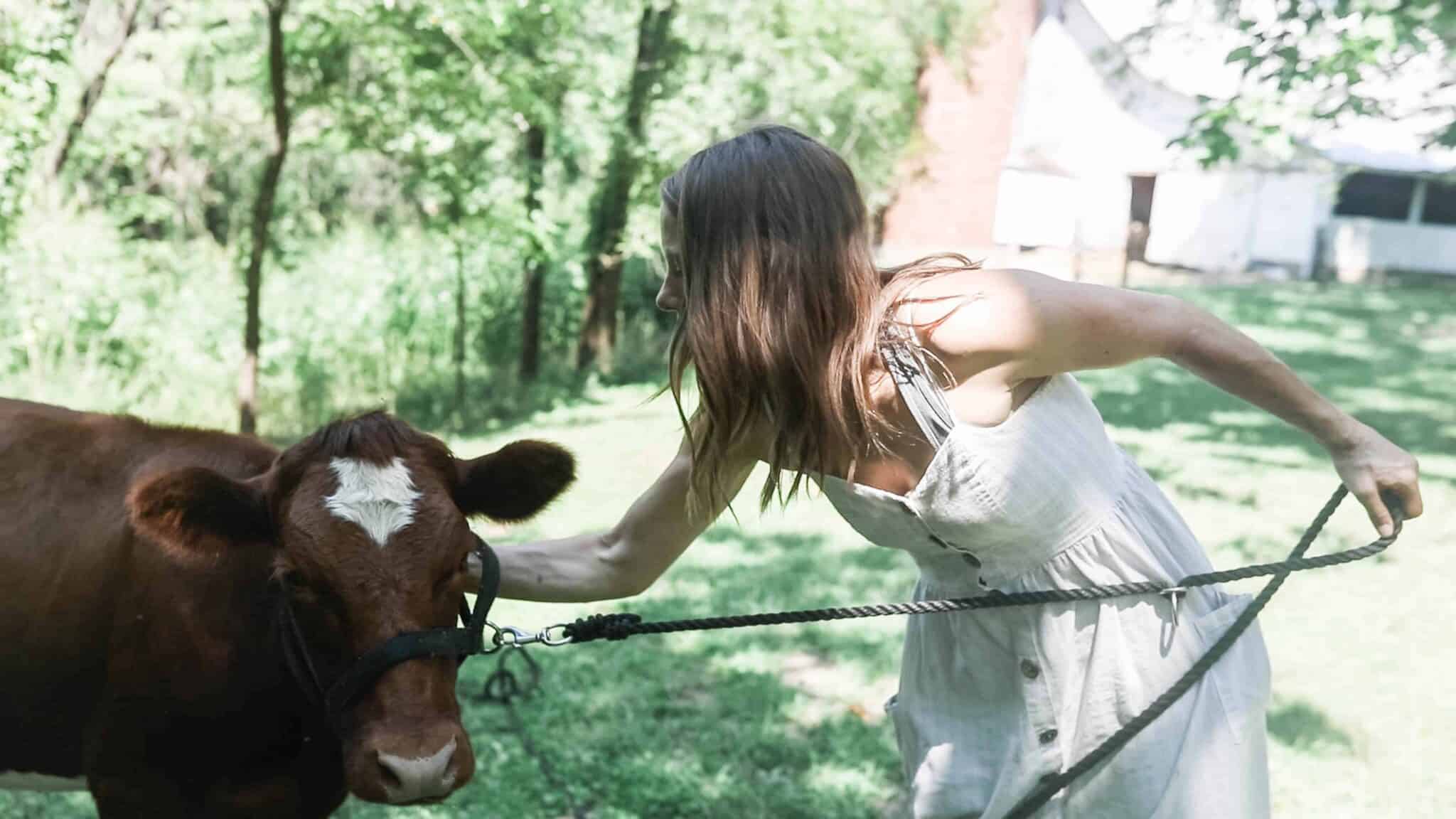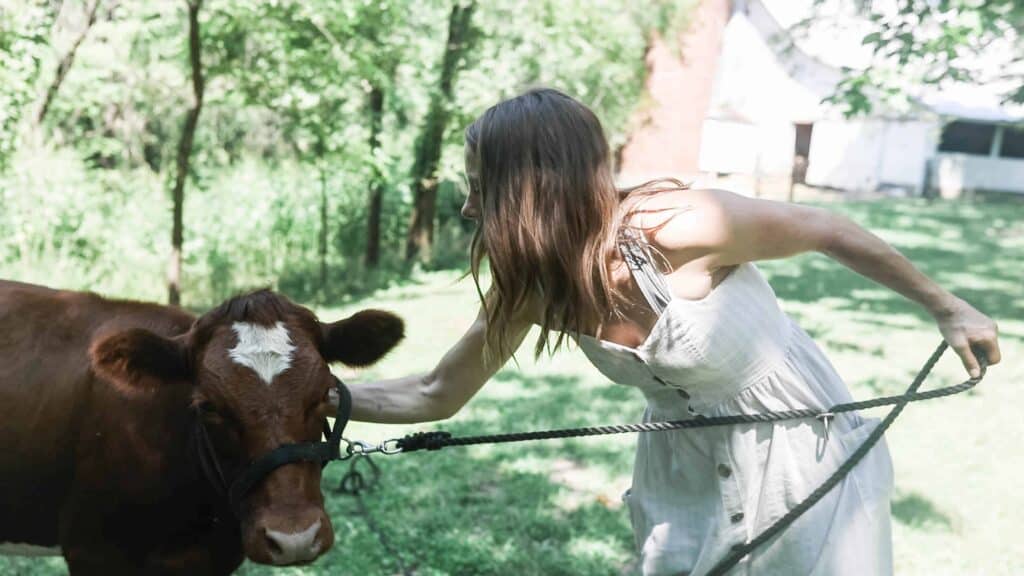 Growing up, our family was always involved in 4-H, and we would halter train steers to show at the county fair. 
In order to do that, we needed to train them to a halter so we could walk them and position them. The judge would determine if the calf was good for meat and give us a score based upon that determination.
There is so much that goes into showing them. If you are in 4-H, you totally understand. You have a show stick, you want them to stand high and proud, and you primp them to show off their beauty. 
Yep, you want your cow pretty.
But for Bessy, we want to halter train her because I will be milking her when she is of age to have a calf. At that point, I need her to hold still for me, to be calm, and to allow me to pull her udders and not get upset about it.
Another reason is that we are planning to get our property fenced. We are currently waiting for the fencing guy to come out and do it.
I still want her to be able to access grass and forage some leaves. The best way to do this is by tethering her. We can tie her up in different areas to graze, then move her around to new locations.
This can be done only when we are home supervising her, otherwise she could become tangled.
This post contains affiliate links, which means I make a small commission at no extra cost to you. See my full disclosure here.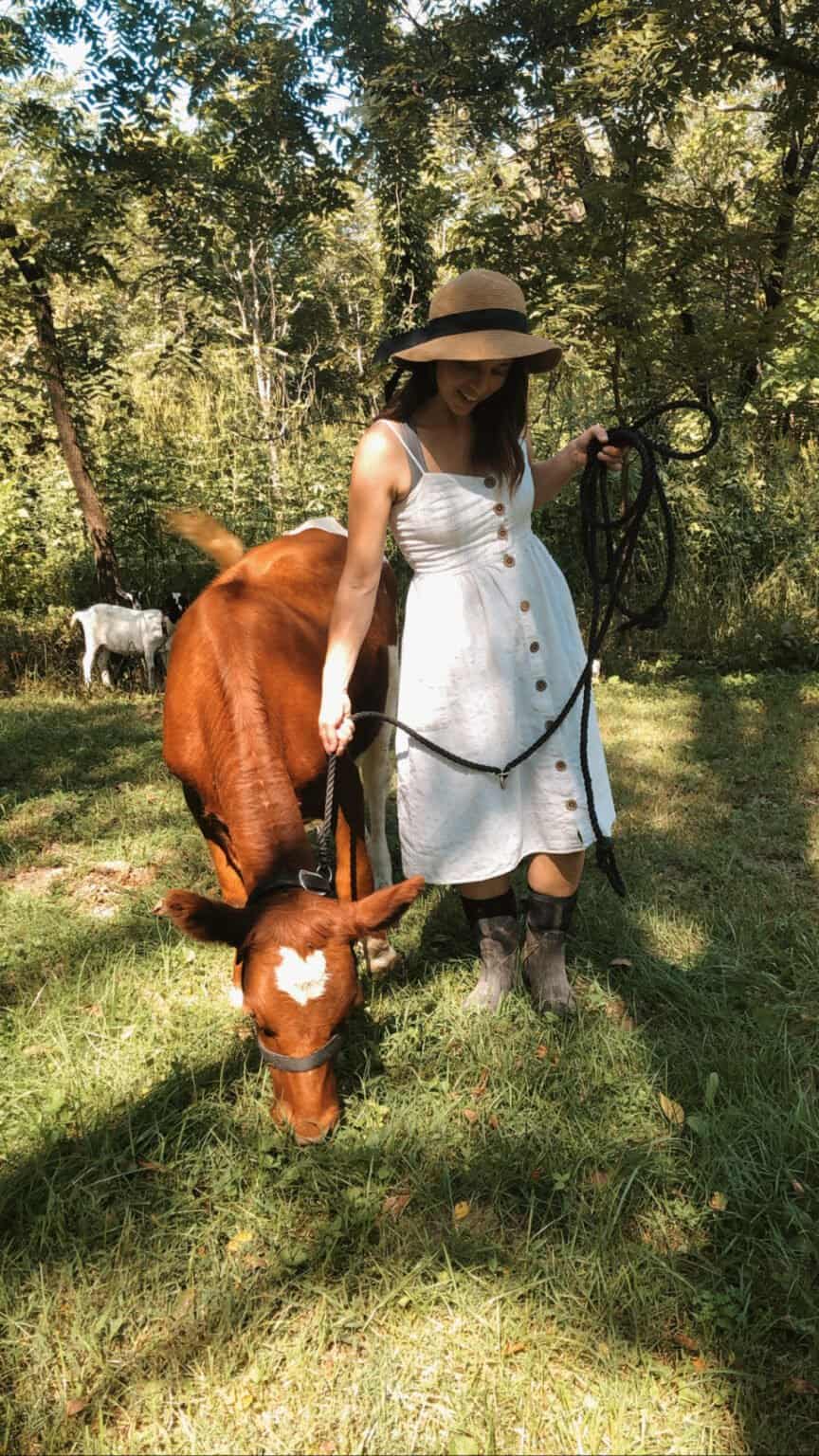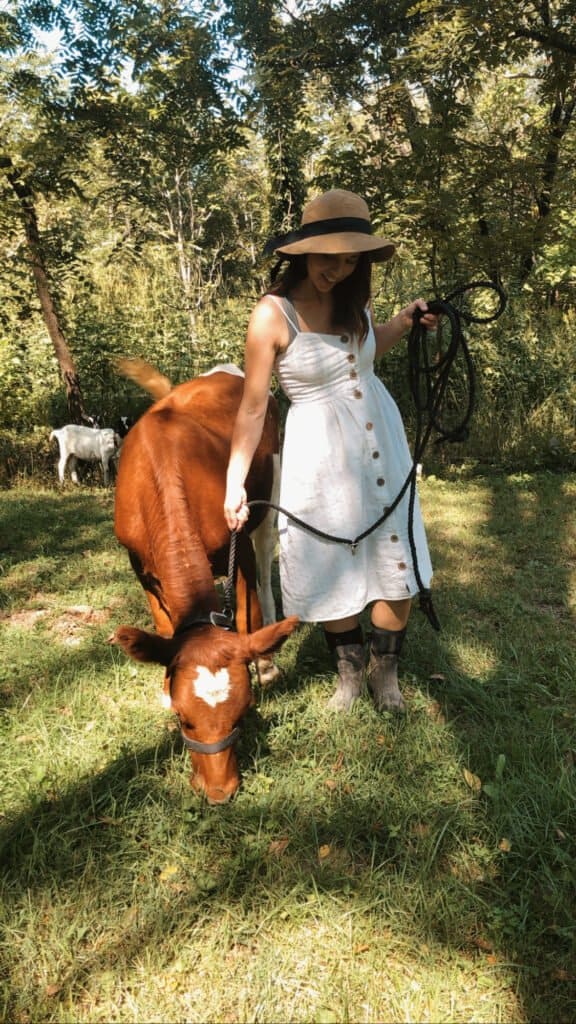 How To Halter Break A Calf
Start Young: What age to halter break a calf?
You can start as young as a few months old.
Growing up, we would get steers that were around a year old. Bess is four months old now, and I started halter training her at three months. It was so much easier to start earlier rather than later.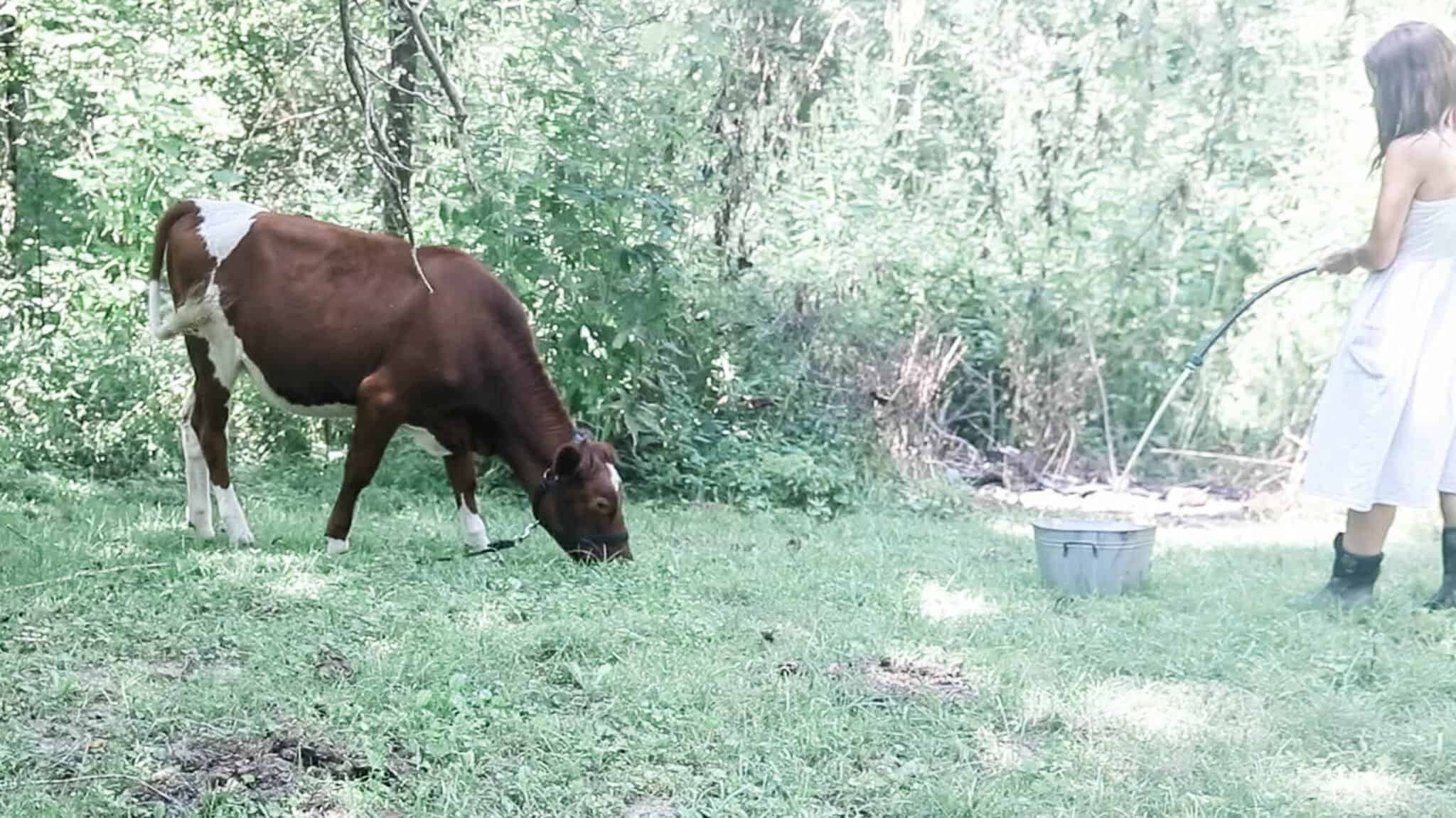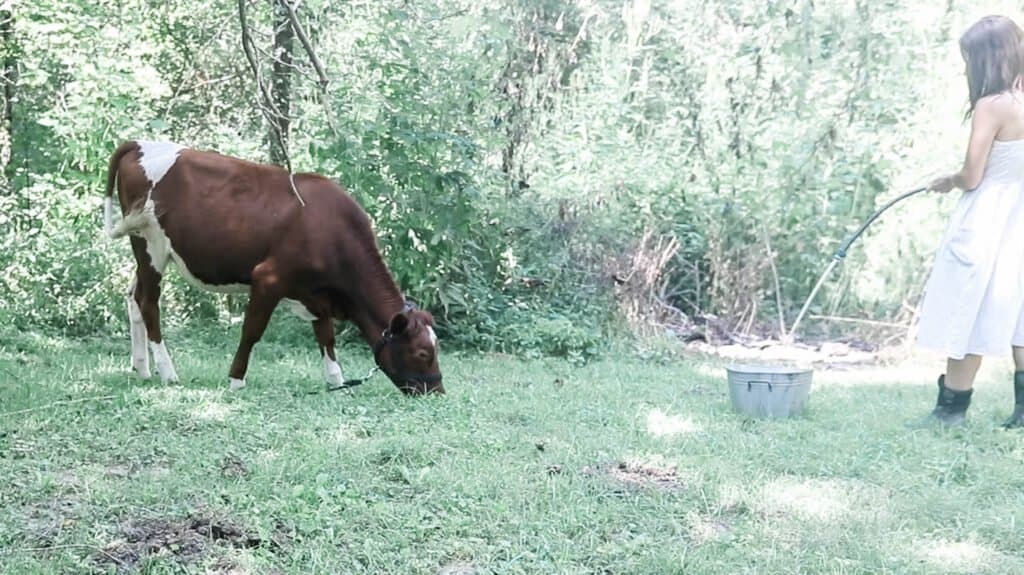 Step 1: Catch The Calf
This can definitely be a challenge. When I was a kid, my dad would kind of lasso the calves. If you have a rope halter, you can loosen it, put part of it around their neck, and catch them that way.
This may be the only thing you get accomplished on the first day.
Step 2: Halter The Calf
When we first started, we just used a rope halter. Then, I went out and picked up a nylon halter for her. This type of halter is a little more comfortable on her, since we plan to leave it on her all the time.
This makes it easy to approach her in the morning and simply clip the lead rope to the halter, then walk her to pasture for the day. You're not going to want the hassle of haltering her every day.
Can you leave a halter on a cow?
Yes. As long as it fits correctly, and you are around to keep an eye on her, then you can easily leave it on the cow all the time. However, cows can get their halters stuck on things, which is why I recommend supervising.
Bess is very good at getting her leg or hoof out of the lead if she needs to, unlike the goats.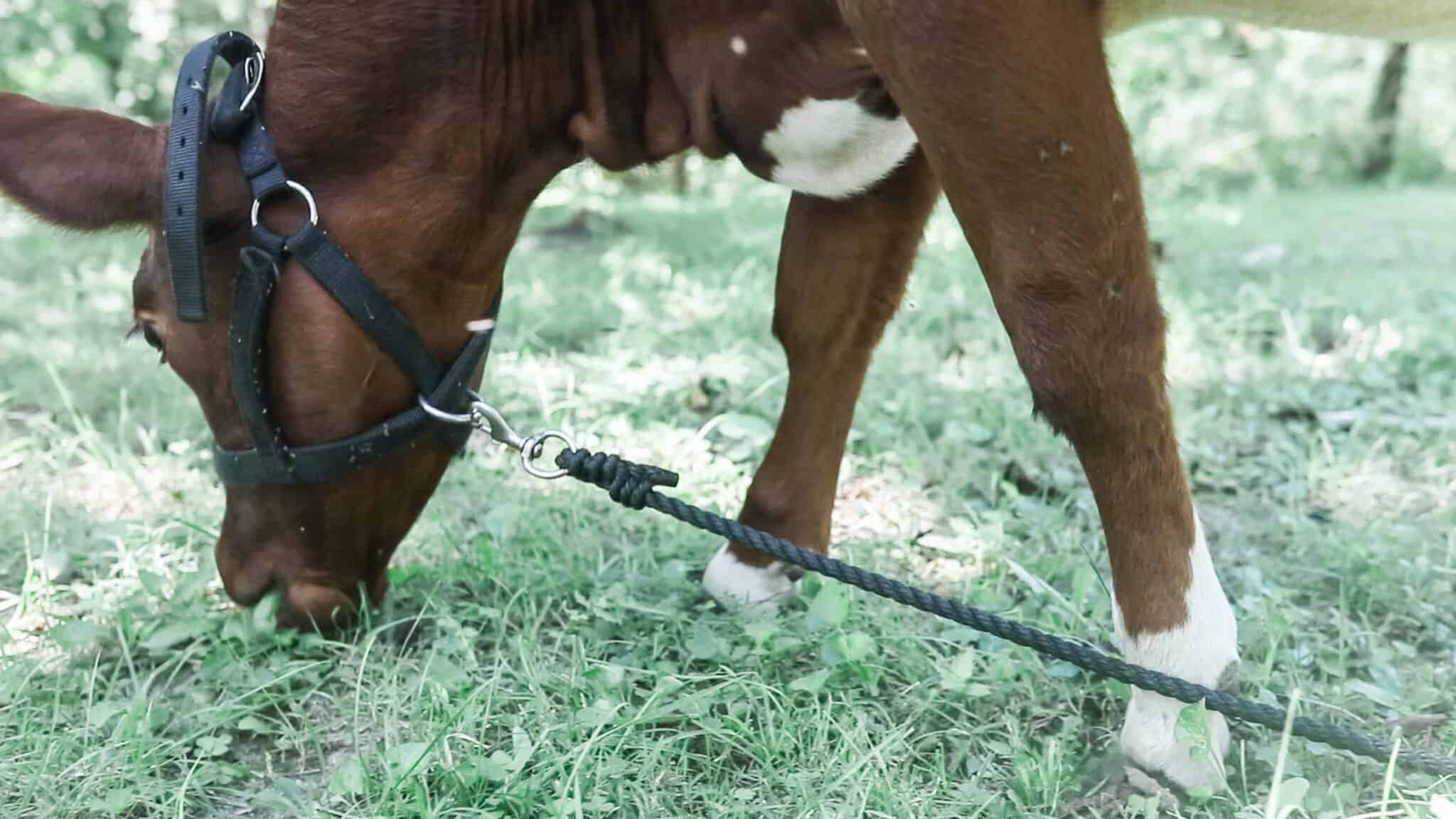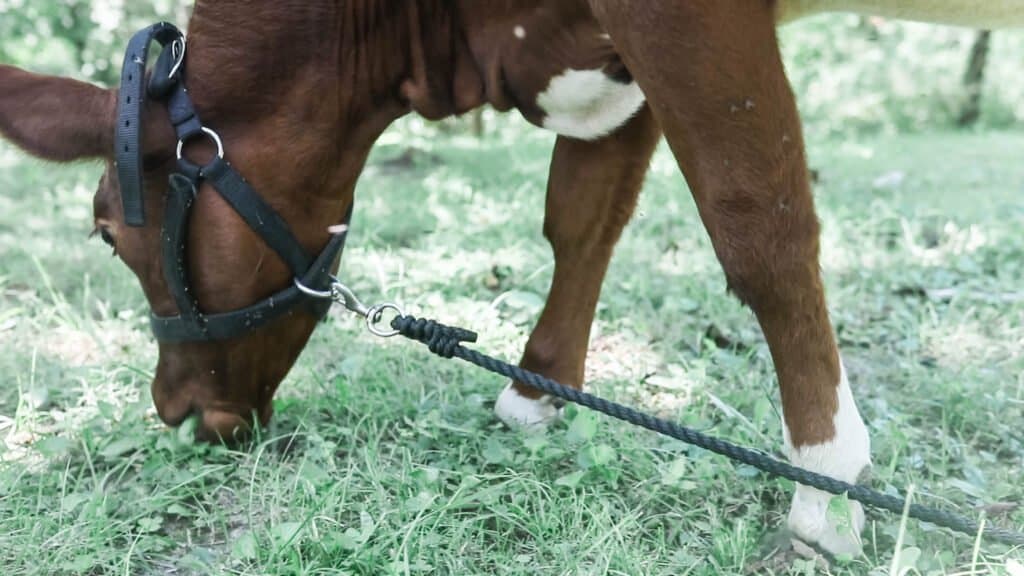 Step 3: Tie Them Up
Next, I tied her up in her pen with some fresh water and hay. I got her there by just pulling her really hard, because let's be honest, they are stubborn and are questioning why you are trying to lead them.
After we tied her up to a fence post, we left her there for a few hours (don't worry, we were supervising her). This teaches them to get used to having the halter on and the consequences of when they pull.
The calves will learn the tension they feel when pulling, but also learn that when they lean into it, they will feel more comfortable.
I tied her up in the mornings for a few hours for about three days, and on day four, I was able to start leading her out of the pen.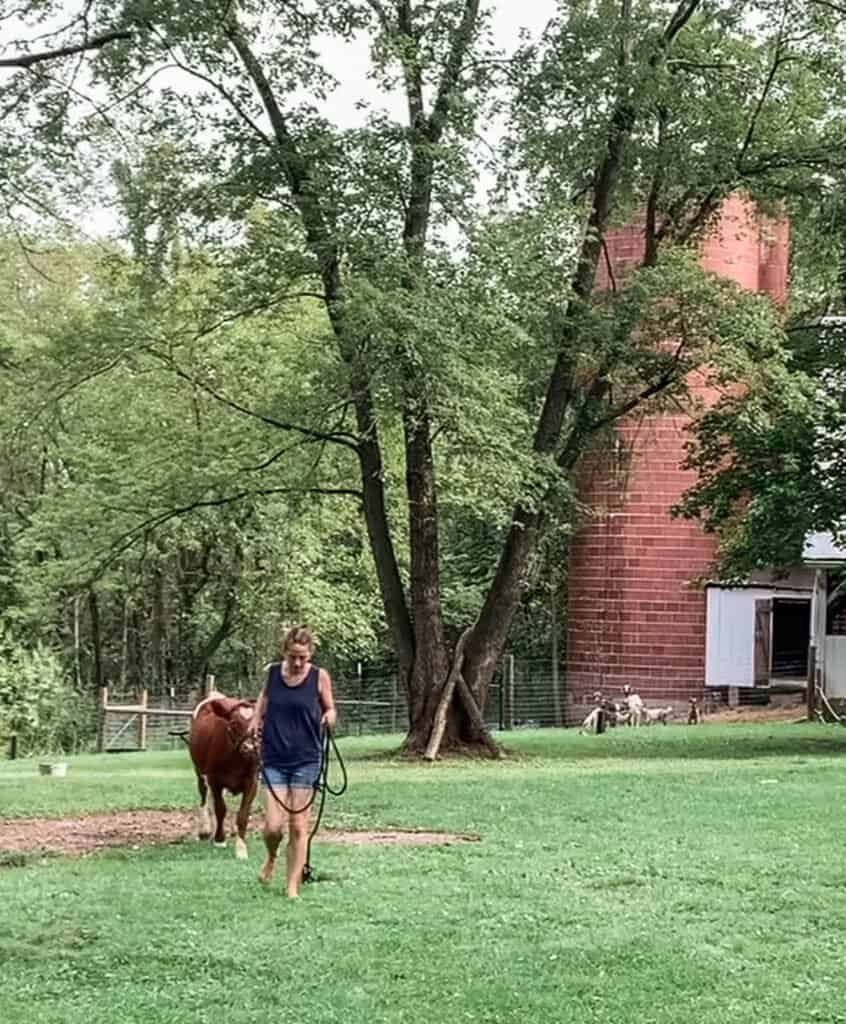 Step 4: Continue Working With The Cow
Now that they are letting you lead them out of the pen, continue working with leading them different directions. Get them used to walking with you, and if needed, show them you are in control.
This process can be quite simple, as long as you start early. The older the cow, the more challenging it will be. They only get bigger and more stubborn.
Tips For Halter Training A Calf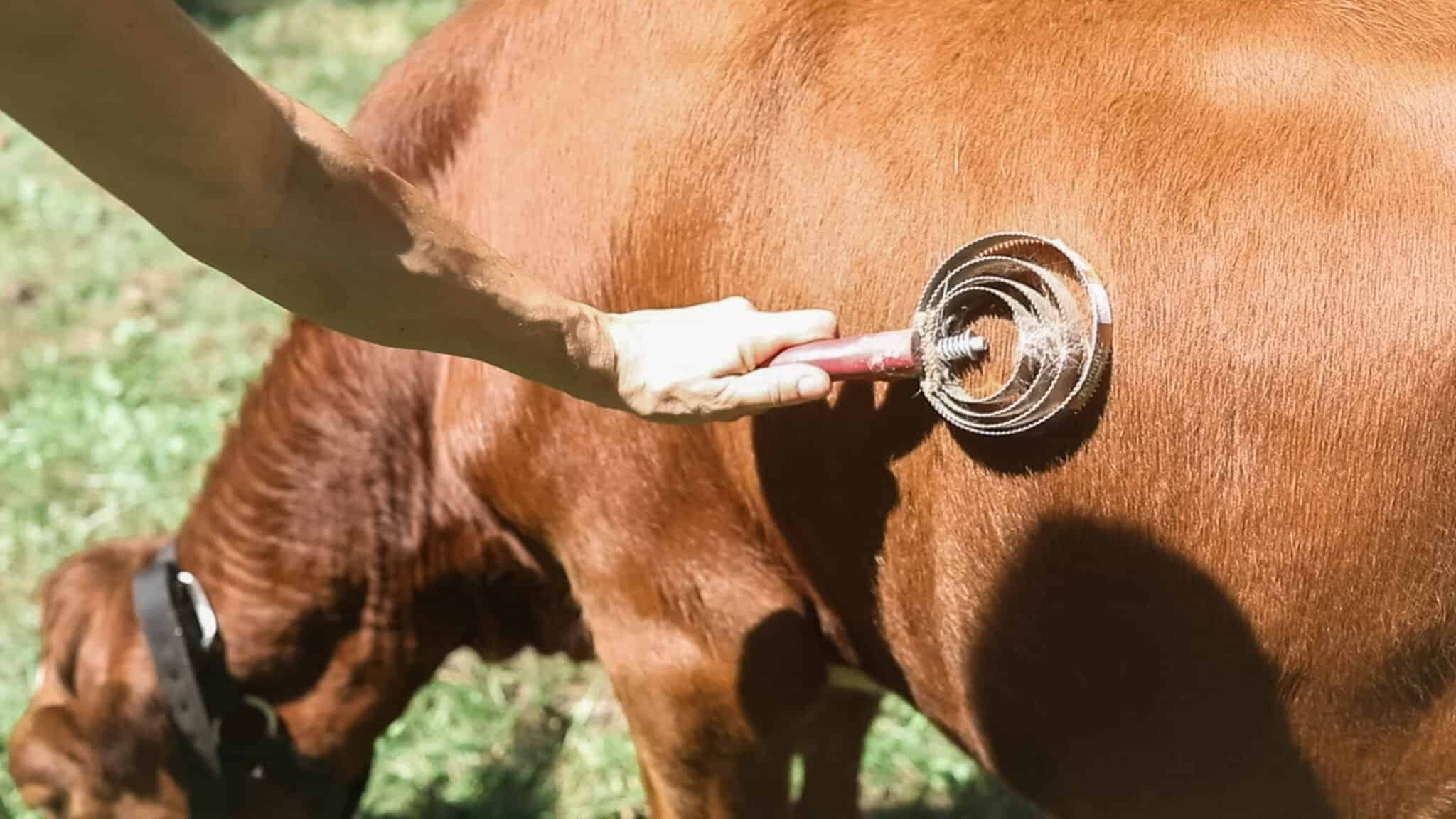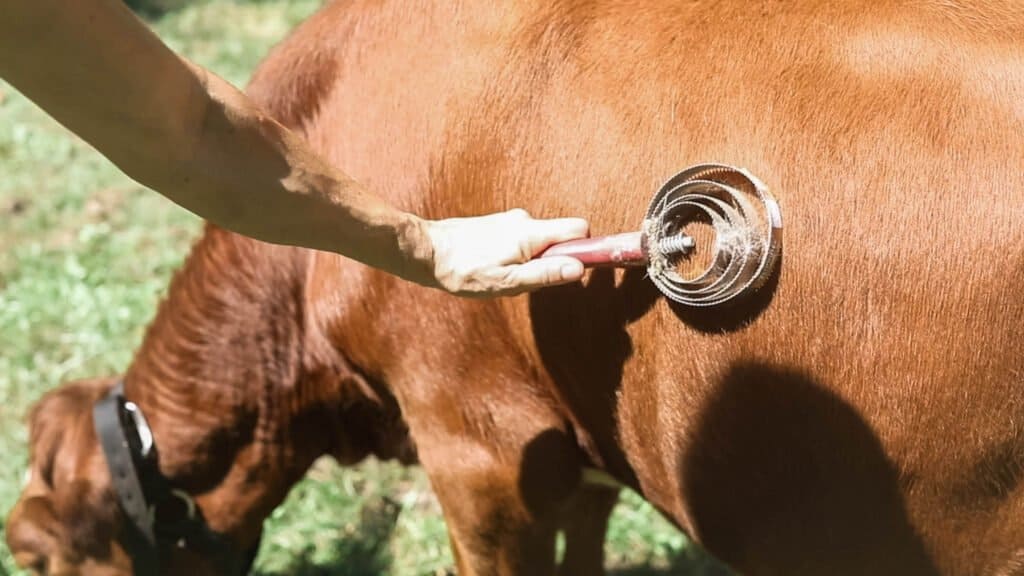 Get The Calf Used To You
One of the best tips I can give is to let the cow become comfortable with you. Be in their space, get a curry comb to brush them, be the one to give them water and hay, or clean out their stall. That way, they get used to you.
I go up and put my arm around her, lean into her, just being in her space and touching her.
I would recommend doing this without the kids at first. And always take great care with kids and large animals. I've seen Bess headbutt Jack Jack with a lot of force.
Show You Are In Control
You never want them to think that they can pull you. If they are ever getting into a situation where they start to get jumpy, get them out of the situation and pull them away.
My biggest hurdle when it came to halter training Bessy was actually our dog, Jack Jack. Whenever he came around, he made Bessy really nervous, and it could easily become a sketchy situation.
Thankfully, after a week of them sorting out their feelings, they are much more friendly towards one another.
Keep Lessons Short And Positive
Calves, much like kids, have short attention spans, so keep lessons short. Dairy cows are like a family member, and you want them to love you as much as you love them. So keep the interactions positive. Short and sweet!
There you have it. Halter training a calf doesn't have to be a challenge. Start young, follow a few steps, and give your calf lots of love and attention. You will be on your way leading your cow around the pasture in no time.
Find More Homesteading Posts:
Pin It For Later