Learn how to use Instant Pot in this beginner's guide. Perfect for those who want to get an Instant Pot, or those who have one, but aren't sure how to use it. We are taking this intimidating kitchen gadget and making it an easy and essential tool in your real food kitchen.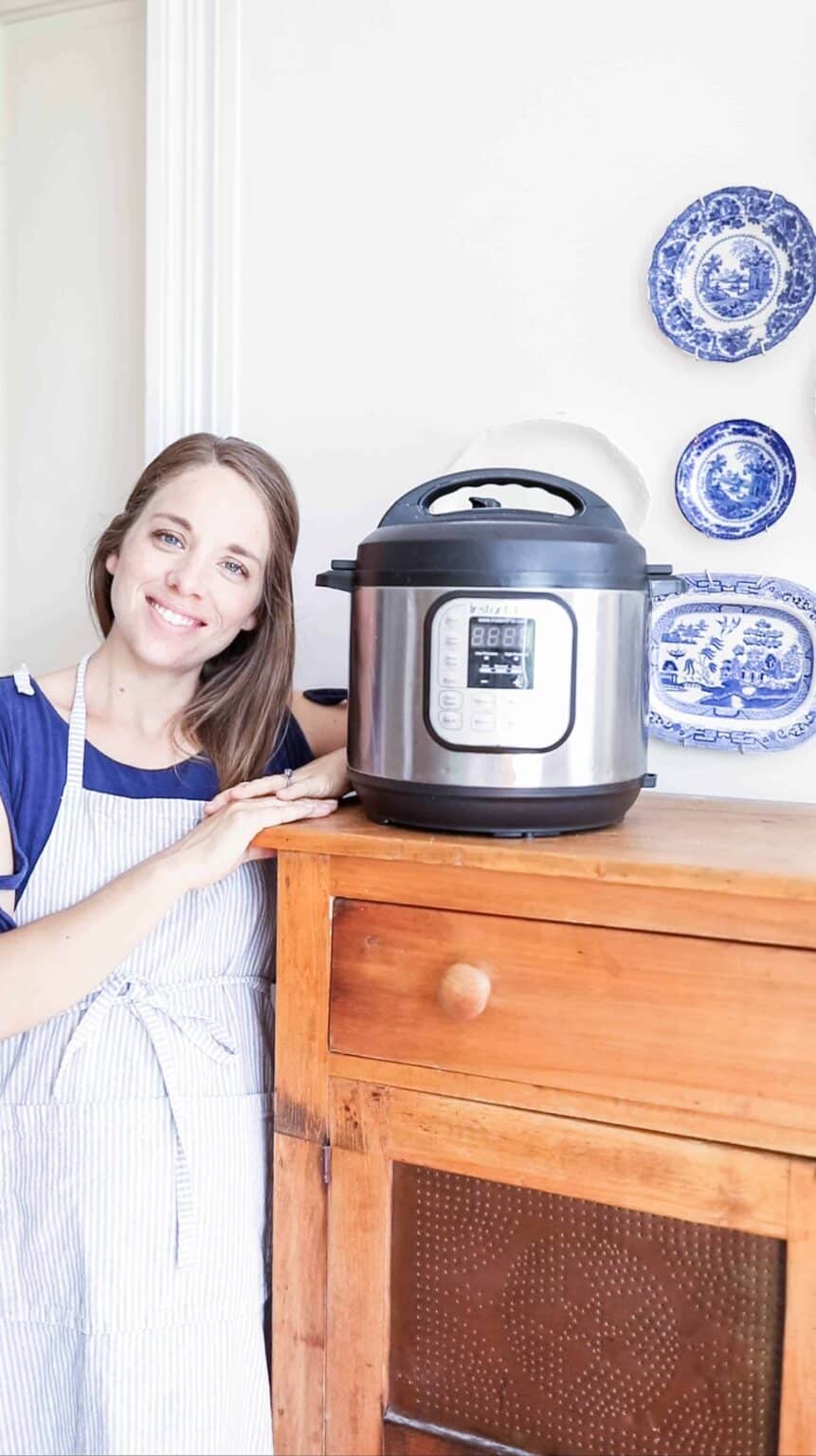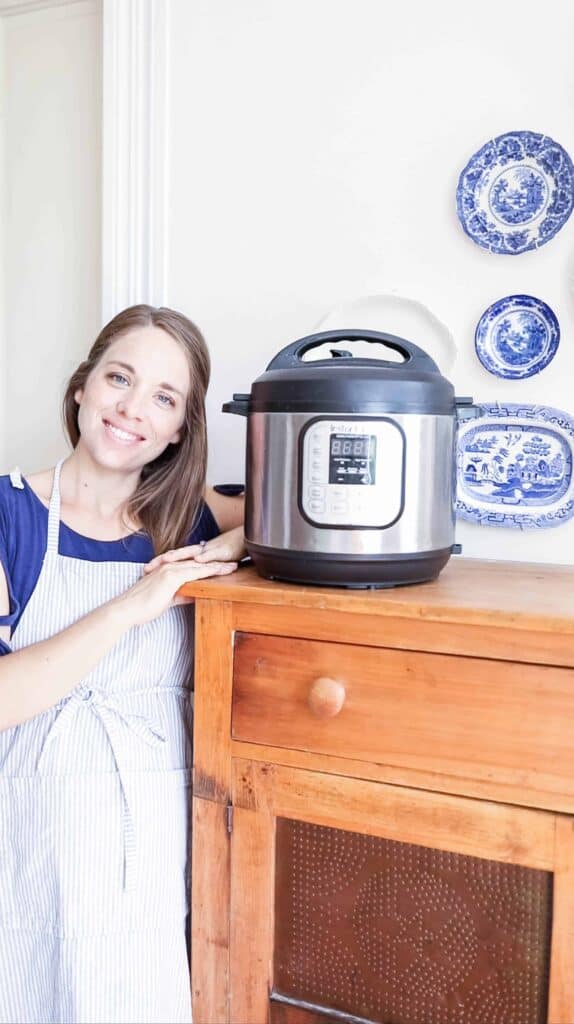 I've shared quite a few videos here and on my YouTube channel about the Instant Pot and how we incorporate it into our kitchen for feeding our family, so today I want to answer a lot of the basic questions I get a lot about the Instant Pot.
Most of these questions are on how the Instant Pot works. I totally get it – I've been using mine for a little over two years now, and it was really intimidating at first.
Honestly, everything was going well in my kitchen, and I didn't really want to learn anything new. But I'm really glad that we brought the Instant Pot into our kitchen and I made myself figure it out, because it has really made my life easier in so many ways.
The one reason I would never go without it in my kitchen is for bone broth. Sure, you could cook it on the stove, but it will take forever to get the deep, rich bone broth that gels. But with the IP, my bone broth always gels (seriously, I have never had it fail), and it takes way less time than cooking it on the stove.
You just set it, let it work its magic, and come back to it in a little bit. No making sure it is simmering, or preventing it from over boiling.
Even if you can't get to it right away when it's finished, it goes onto the warm function and stays warm for you. It is really nice.
Traditional Yogurt and raw milk yogurt is also so easy and perfect to make in the Instant Pot. When you make yogurt at home, it is so difficult to keep yogurt at the perfect temperature for as long as it needs to be, but the IP yogurt function does that for you.
It also can make up to a gallon of yogurt at a time, which is amazing for my large family, and it makes it perfectly Every. Single. Time. Can you see yet why I can't live without this thing?
So let's dive in and learn about this kitchen gadget.
Tips for using the Instant Pot:
Always remember if a IP recipe says it take 10 minutes to cook, that means 10 minutes at pressure. When figuring out how long a recipe takes, you have to add in pressure up and pressure down time.
Everything needs liquids to cook in the IP. It will not come to pressure without liquids.
The saute function is a super handy way to brown meats before cooking, and you can do it all in the same pot.
Get extra accessories if you plan to use this kitchen tool frequently.
How To Use Instant Pot Video Tutorial

How To Use Instant Pot Basics:
Overview:
The IP comes with a stainless steel insert. This is one of the things I like most about it.
I stopped using the Crock-Pot/slow cooker in our home awhile ago after reading studies that showed that the Crock-Pot insert can be coated in certain chemicals and leach them into food. This isn't a problem with the Instant Pot.
The steel insert also includes measurement guides indented on the inside, and has a max fill line. I don't pay too much attention to either of those things, UNLESS I'm making something predominantly liquid.
When you're making things that have a high liquid content, like soups, beans, stews, or oatmeal, you would want to be careful not to go over that max fill line. Otherwise, you might end up with a mess all over your kitchen.
Silicon ring:
The ring is important in creating the seal that allows the IP to come to pressure. Mine is really discolored at this point. To get it clean and rid the smell of meats, you can clean it with lemon essential oils and let it dry in the sun.
Certain things can be made without the ring; for foods that don't need come to pressure, like yogurt, I leave the ring out.
The ring fits tight in the lid. Press it down in between the thin bar.
The lid:
On the top of the lid, there is a knob that indicates a sealing and venting option. This is important for when you start the instant pot and you want it to come to pressure – you will want to make sure the knob is on sealing.
You then place the lid on the IP and twist it from open to closed. It will make noise letting you know that it is closed. It also has a safety mechanism on it that will not allow you to turn it on and come to pressure without it being closed.
When food is done cooking and you need to do a quick release, you flip the knob from sealing to venting. This will cause the steam to release, therefore releasing the pressure which allows you to remove the lid.
Be very careful when flipping the knob – that pressurized steam can easily burn you. Wear an oven mitt or use a wooden spoon to turn the knob when doing a quick release of pressure.
You do want to be cautious with you IP. See safety tips below.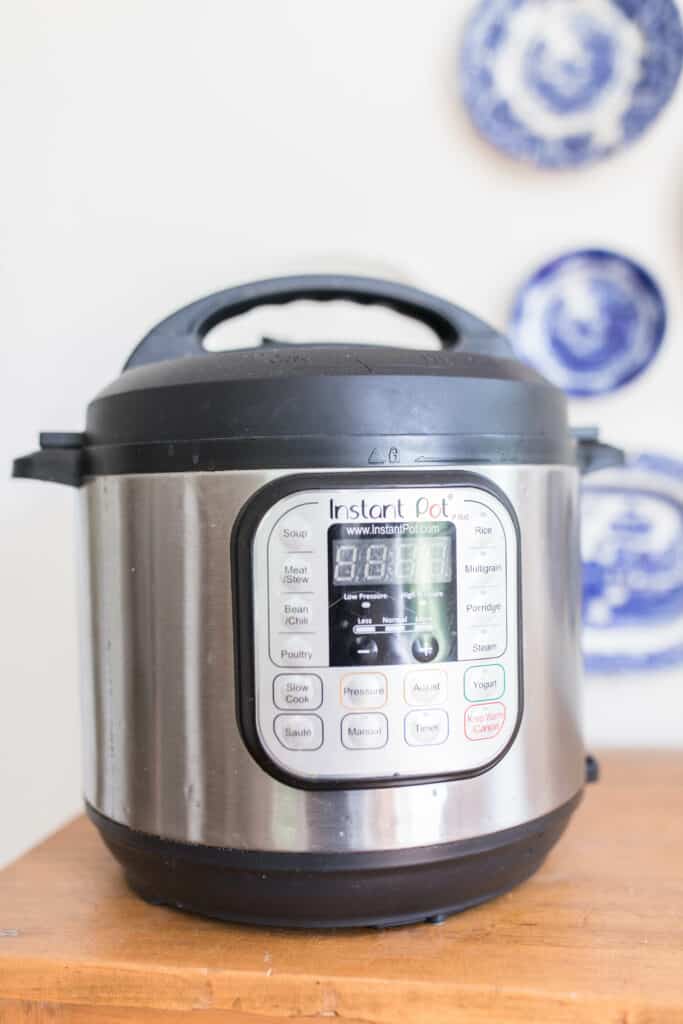 How To Use Instant Pot
Put your food in. Let's say a whole chicken, because this is one of my favorite recipes.
Add 1 cup of water or liquid of choice. You have to add in at least one cup of liquid for it to create enough pressure.
Place the lid on and twist to close.
Turn the knob to sealing.
Then you press the manual button, and adjust the time using the more or less buttons to whatever time you want it to be. I cook everything on high pressure except for broth and yogurt.
Alternatively, you can use one of the preset buttons. See below for what those are and how to use them.
When the timer beeps, allow the IP to naturally release or quick release based on recipe.
Natural release vs quick release:
Recipes may call for quick release or natural release. Natural release is when you just allow the IP to sit until the pressure has come down enough for you to be able to open the lid. This usually takes 10-20 minutes after the timer has gone off. Some recipes may call for a specific amount of time.
Quick release refers to when you switch the knob from sealing to venting when the timer goes off. This instantly releases the pressure. You will know by the steam coming out forcefully. Sometimes, if it is really coming out, I will place a cloth on it to keep it from spurting liquids.
Some recipes may even call for both. They will say something like "allow the Instant Pot to naturally release for 10 minutes and then pop the knob over to venting."
You'll know it's safe to open the lid when the float valve in the lid has dropped down.
Cook time consideration:
One thing you have to take into consideration when it comes to the Instant Pot is the cook time. A recipe may say a cook time of 5 minutes, like my hard boiled eggs, but that is just cook time. You will have to factor in the pressuring up and pressuring down time in your total time.
The more water content the recipe has, the longer it will take to come to pressure. Usually it will take 5-10 minutes, or even longer to come to pressure.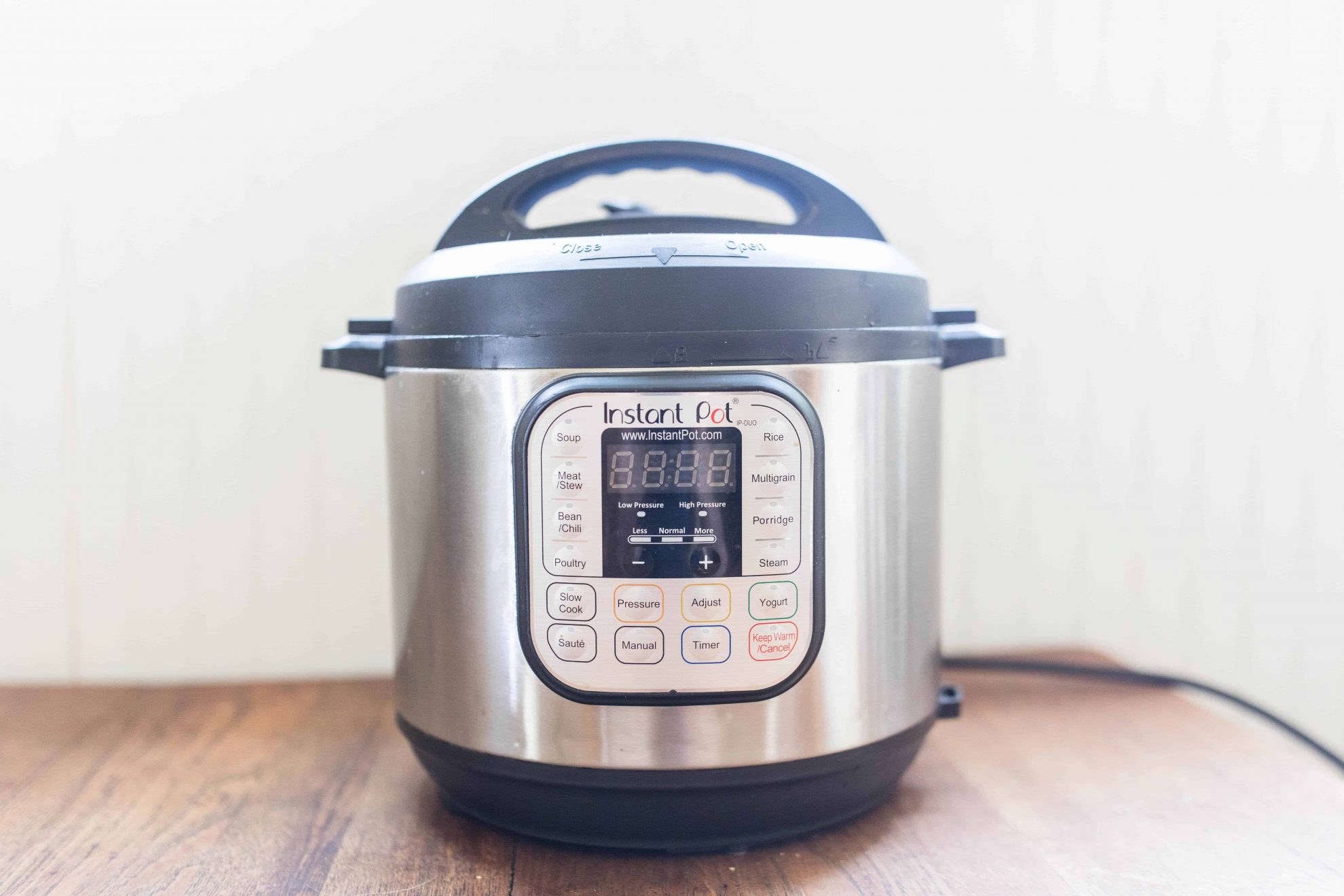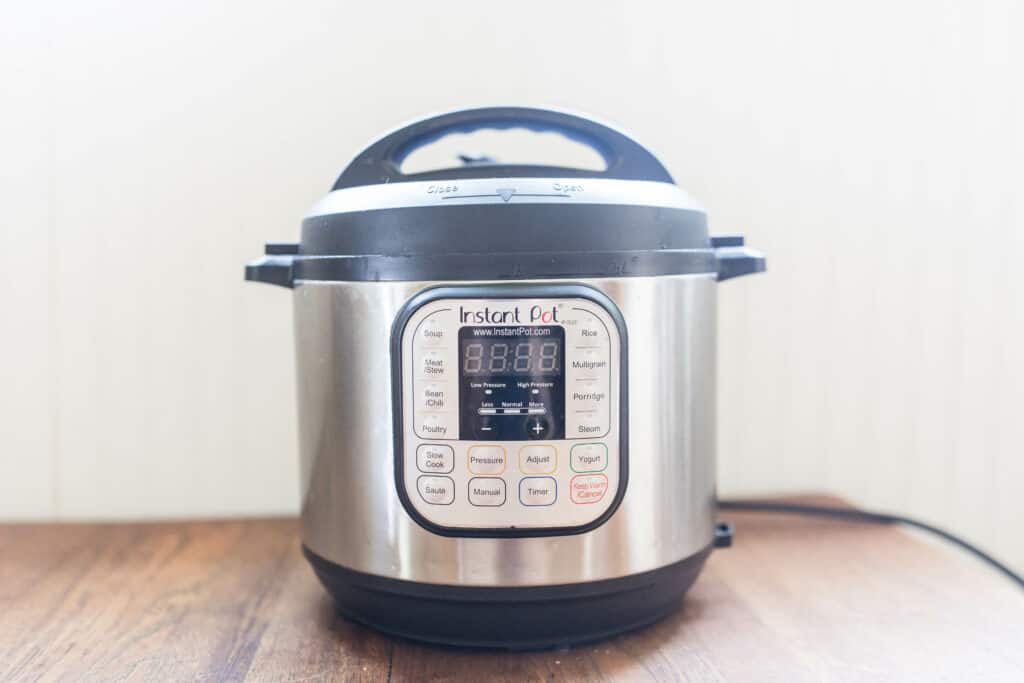 How to set the Instant Pot Preset Buttons
The IP has preset buttons, like the poultry button. It remembers what you set it at the last time, and will keep it there whenever you use it. So, say you always cook a thawed 4-pound chicken on high pressure for 30 minutes, you can save it on the poultry button. Just push the button to adjust to the time you want, and then it will remember those settings for the next time.
All the buttons look fancy and complicated, but they really aren't. They just make it faster and easier to use the IP. You could also just use the manual button just as easily.
One of my favorite buttons is the yogurt button; you can find my whole tutorial on how to make yogurt in the Instant Pot here. Also, I love the soup button, because it automatically changes the pressure to low and I love making bone broth with this preset.
How to use the saute function on the Instant Pot:
This is a great way to make one-pot meals to saute peppers and onions, or brown meat. That way, you don't have to dirty another pan for a recipe.
I like to use this button to brown meat before cooking to add more flavor and give it more depth. It is also great to use when making yogurt to get milk to temperature (if you are not using raw milk) or to get raw milk just warm enough to get the gelatin to dissolve.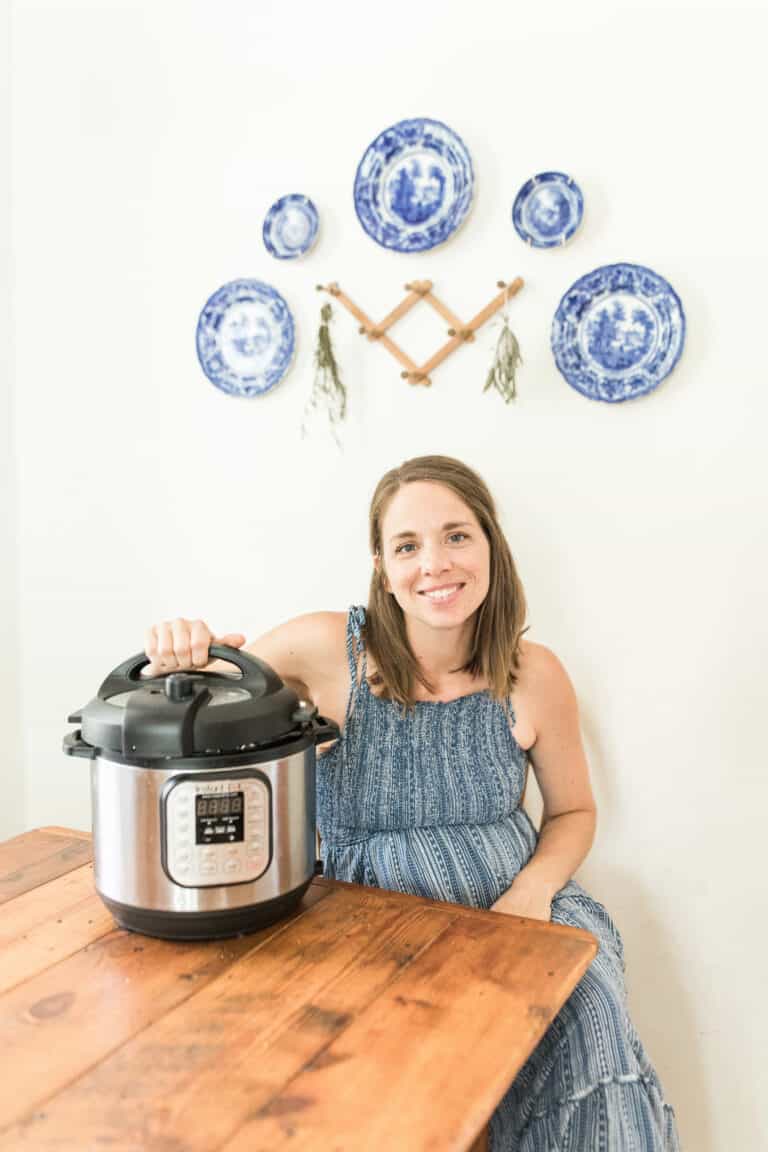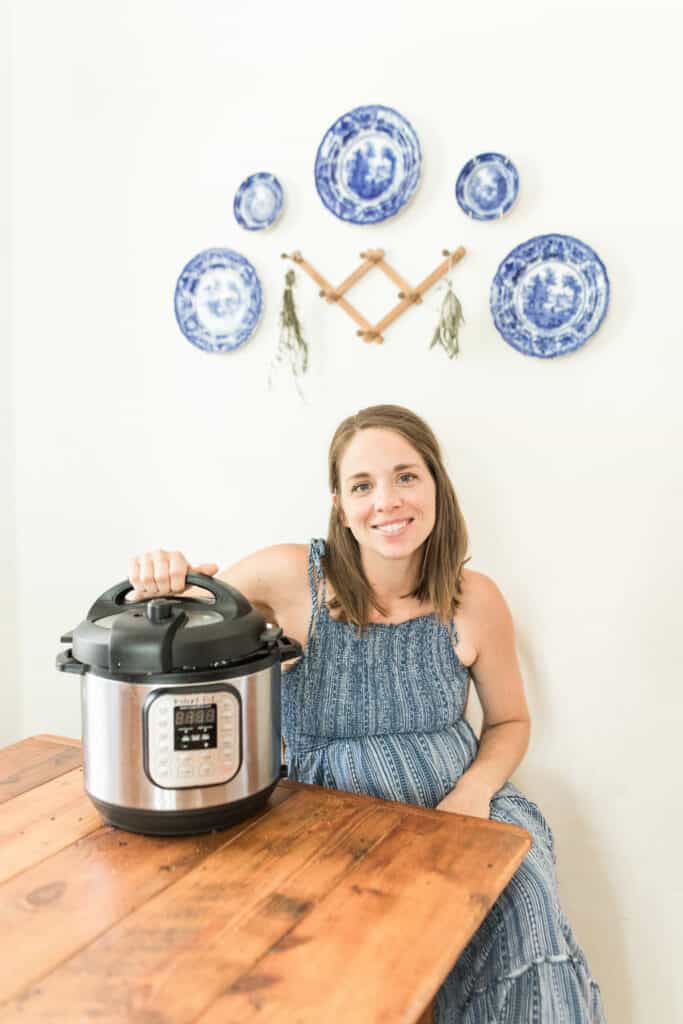 How To Use Instant Pot FAQ
Is the Instant Pot safe?
Yes. I know many old school people that are used to the older style pressure cookers are wary of the new pressure cookers, because the old ones could be unsafe.
The Instant Pot has multiple safety mechanisms in place to keep you safe while using it. You can not even turn it on unless the lid is on the right way, and it makes a noise so you know it is locked in place.
For some safety precautions, I like to push the IP all the way to the back of the counter against the wall, just to make sure if for whatever reason it were to fall forward, it wouldn't fall off the counter top and somehow unlock.
The IP can get really hot and is pressurized, so be cautious around it. Even when just switching the knob to venting for quick release can be slightly dangerous and could burn you with the steam. I used to wear the baby in the Moby wrap while using the Instant Pot, but now I try not to, just to be on the safe side.
When releasing the pressure, make sure no one else is near the Instant Pot, just because the steam can come out pretty forcefully, and, well, it's steam. Steam is super hot and can definitely burn you, so exercise caution. I like to pull it out from under my cabinets before releasing the pressure, too. This is just because it is a lot of moisture, and I wouldn't want it to damage my cabinets.
The sides and metal part of the lids gets really hot, so you wouldn't want to touch those parts while it is on. You will have to use oven mitts to take out the stainless insert.
I can say that we have never had any issues with ours, however, just be cautious around them.
What are the best things to cook in the Instant Pot?
Instant Pot Accessories
Additional stainless steel insert – this is great for when you are making yogurt and it ferments for 24 hours and it is occupying the insert during that time. I have an additional insert so I can also make a whole chicken.
Glass lid – I like this to make yogurt, or whenever I'm using the Instant Pot as a slow cooker.
My friend Cami and her sister Marcie created a book called Mastering The Electric Pressure Cooker, which is a great resource for all things pressure cooking.
Pin It For Later