Take a peek at our farmhouse decked out in Summer  florals and other soft touches.
I am so excited to be teaming up with some of my friends to bring you the Joyful Summer Home Tour.
If you are stopping by from Whitelane Decor or My Vintage Porch, welcome!
Be sure to check out all the lovely homes linked at the bottom of this post!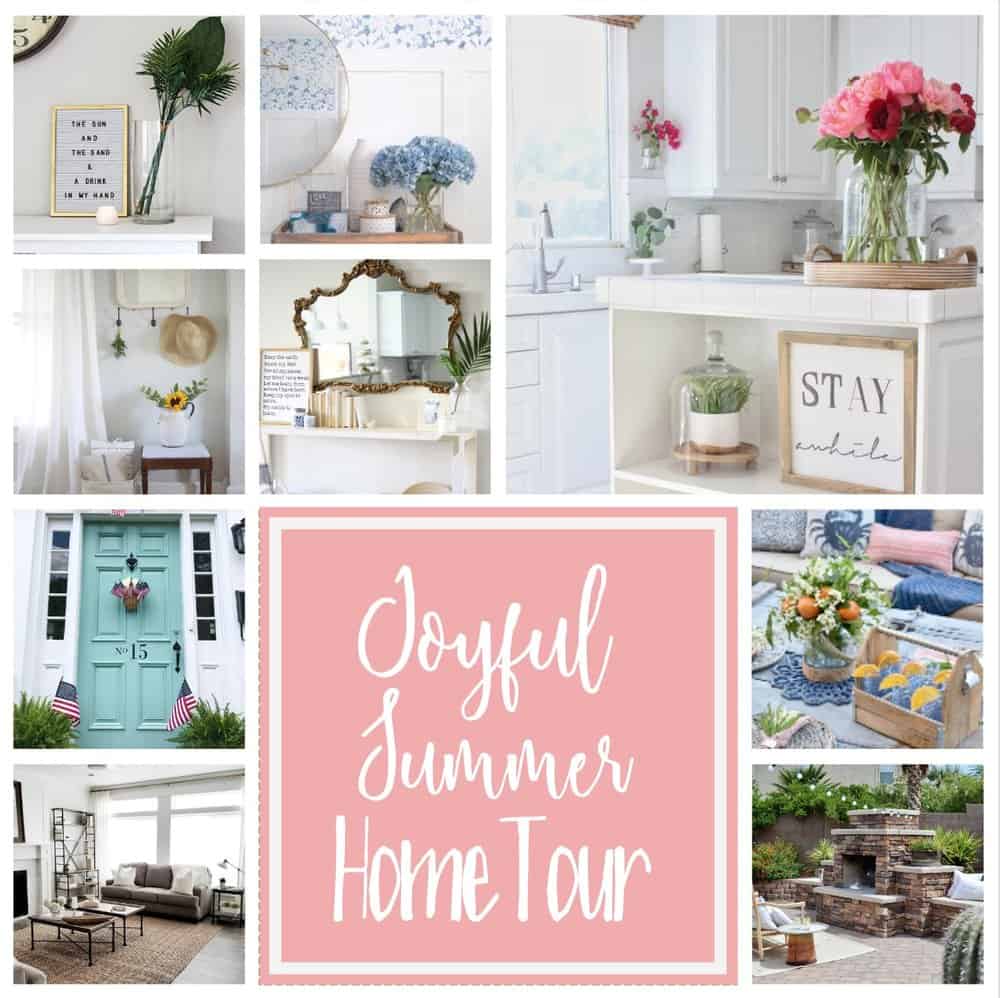 This post contains affiliate links. See my full disclosure HERE.
I Love Summer
As I type, my windows are open and the bright sunshine is pouring in.
I love summer.
Several years ago, I probably would have said that autumn is my favorite season of the year.
I do love cooking hearty winter squash, picking pears and apples, and going on scenic drives to see the leaves in all their shades from red to yellow, but the older I get (and more kids I have) the more I love summertime.
I love the long easy days.
Kids don't like wearing shoes? Go barefoot. Kids bored? Send them outside with a running garden hose. Not sure what to make for dinner? Throw some meat and veggies on the grill.
I love our jungle of a garden, that is usually exploding with cucumbers, herbs, tomatoes and rows of cut flowers, by mid July.
I always keep seasonal decor simple, but I hardly changed a thing for my summer tour. We've been too busy playing outside.
Welcome to our farmhouse in the summer!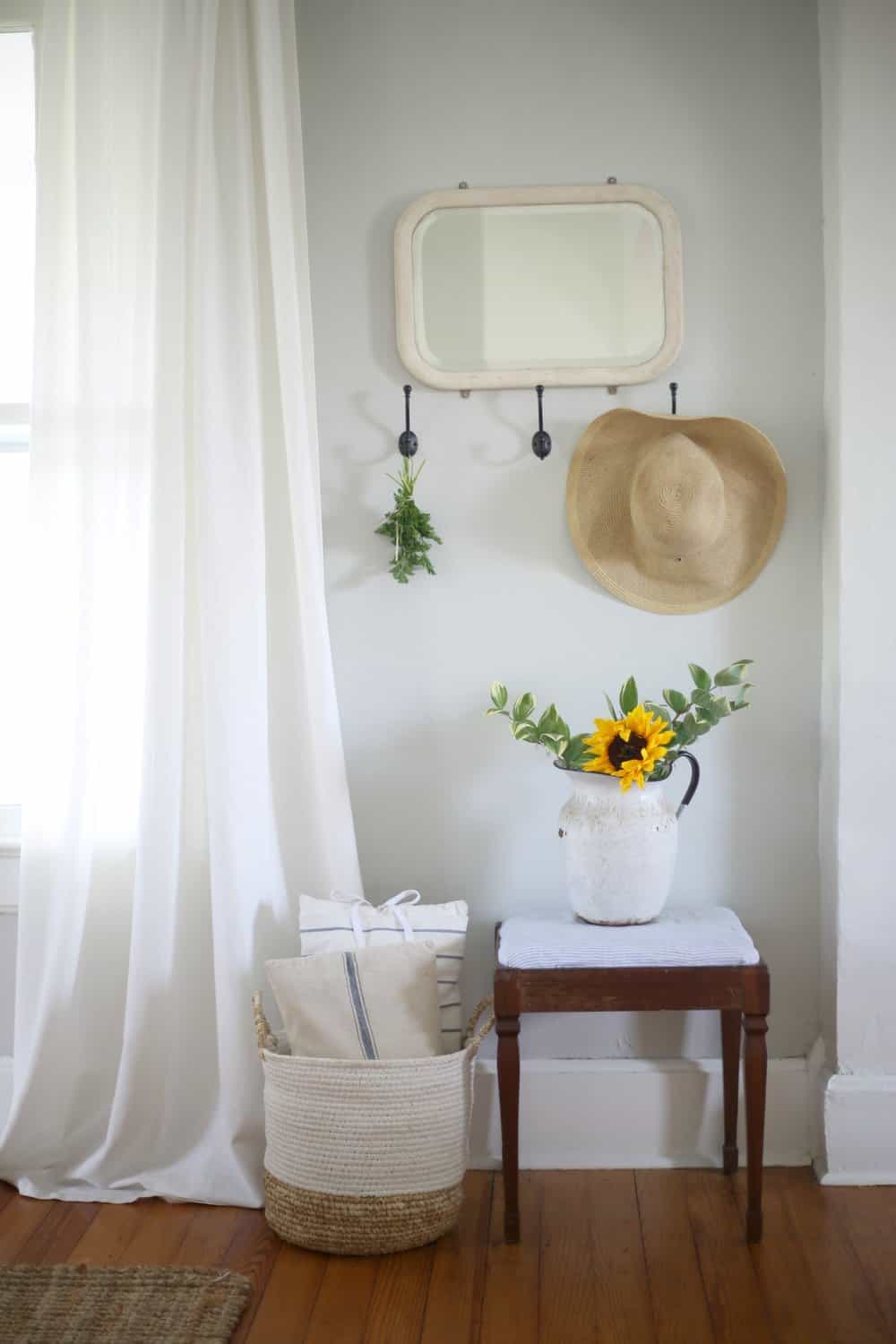 Front Entryway
For the entryway, I added some greenery, and a bright yellow sunflower, to an antique enamel pitcher.
I hung some parsley, from the garden, on one of the hooks.
Maybe if my straw hat is hanging there I will actually remember to grab it, and wear it, before going out in the hot sun all day.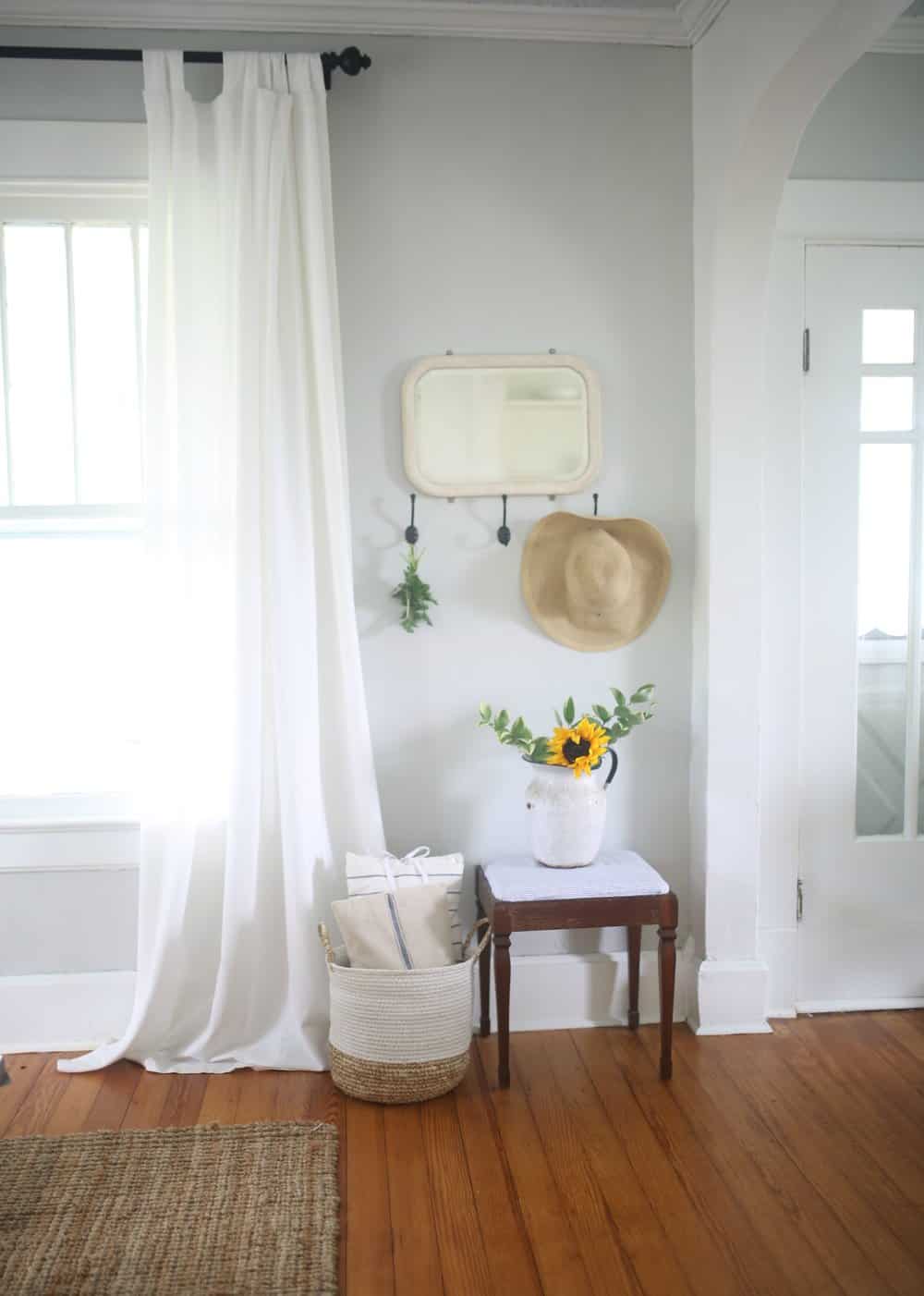 Dining Room
I added cilantro and parsley, from the garden, to some small ironstone pitchers, on our farmhouse table.
I also stuffed some sunflowers in my one gallon ironstone pitcher, that I snagged for 3 bucks at a garage sale. I never was one to spend much money on antiques and home decor.
My husband and his grandpa built our big table a few years ago, and I'm positive we will treasure it forever.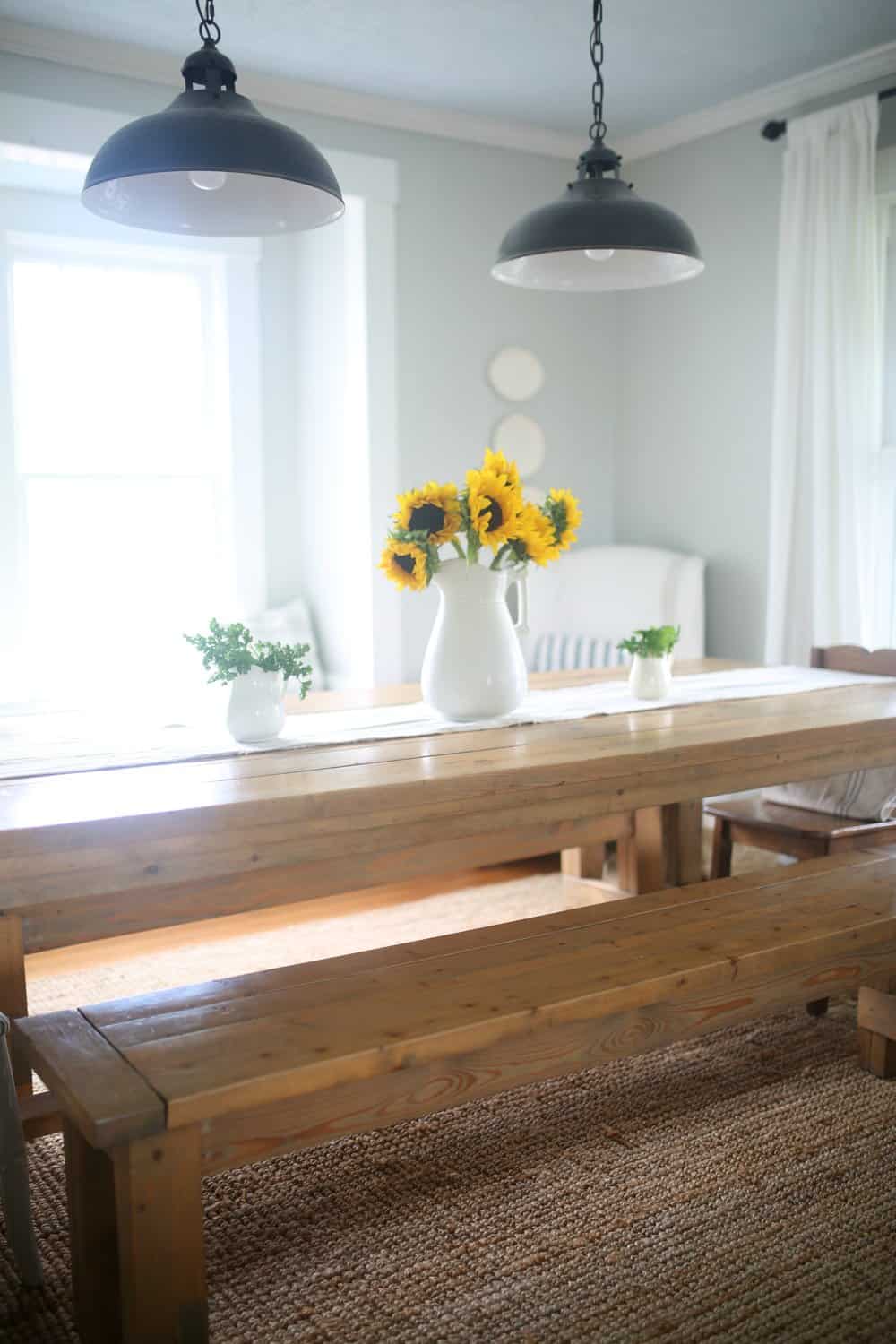 I didn't really add anything new to my wingback chair, that sits in the corner of the dining room.
You can find a tutorial on how to make the linen throw blanket HERE, how to make the simple blue striped pillow cover from an Ikea tea towel HERE, and how to sew a slipcover for a wingback chair HERE.
That's a lot of projects in one little corner! 😉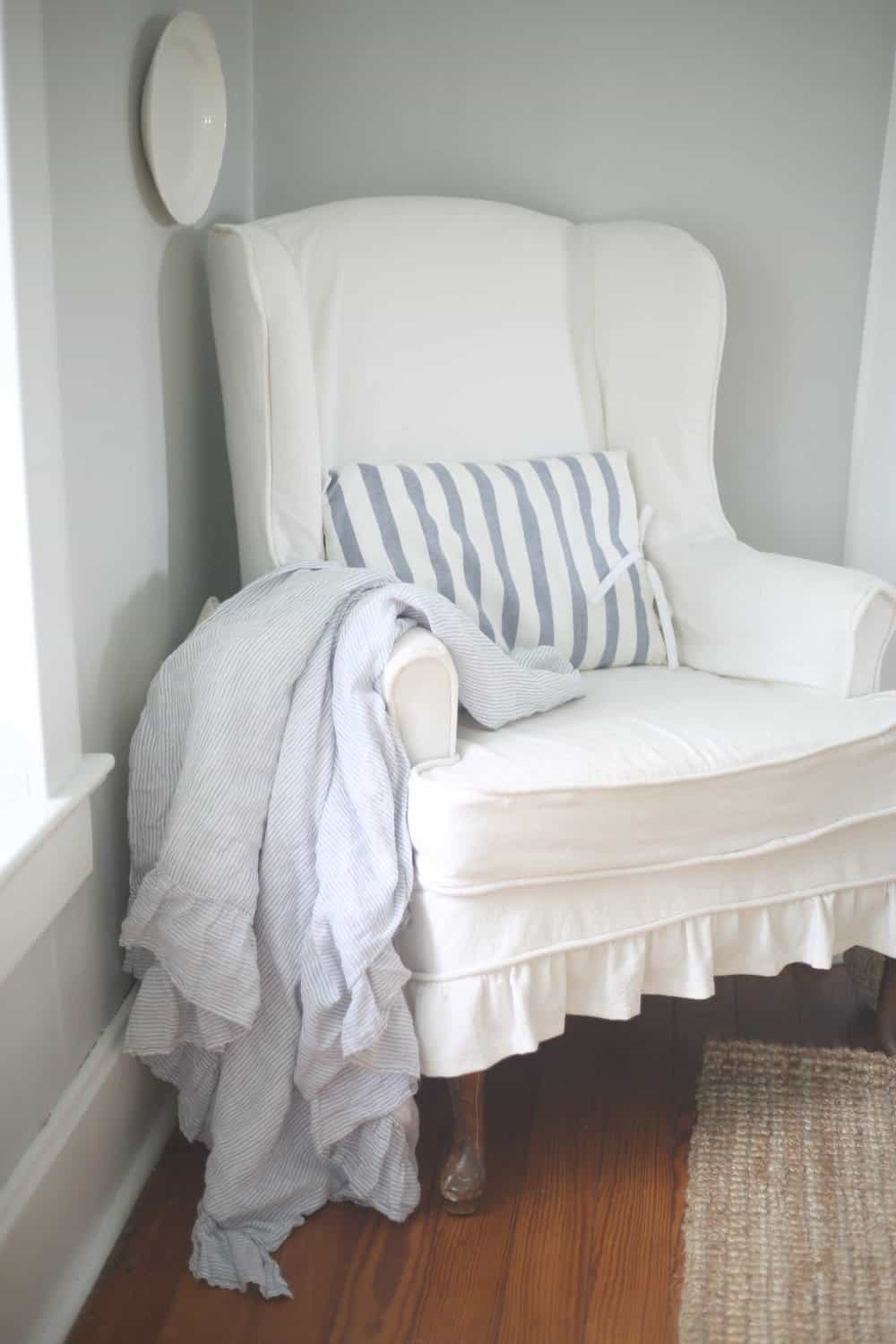 Kitchen
For the kitchen, I just added fresh herbs, greenery and sunflowers.
Soon our big farm sink will be full of garden vegetables.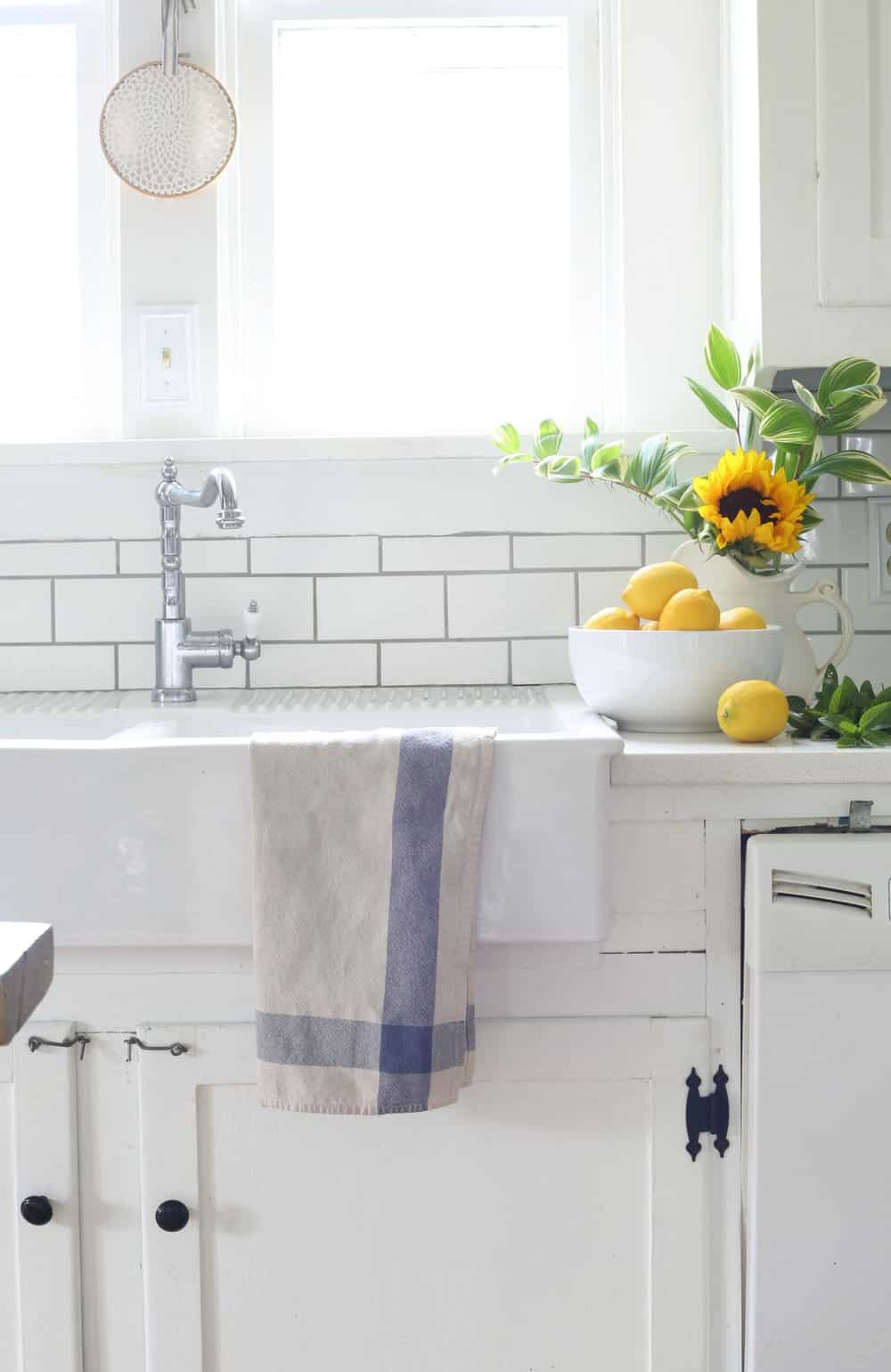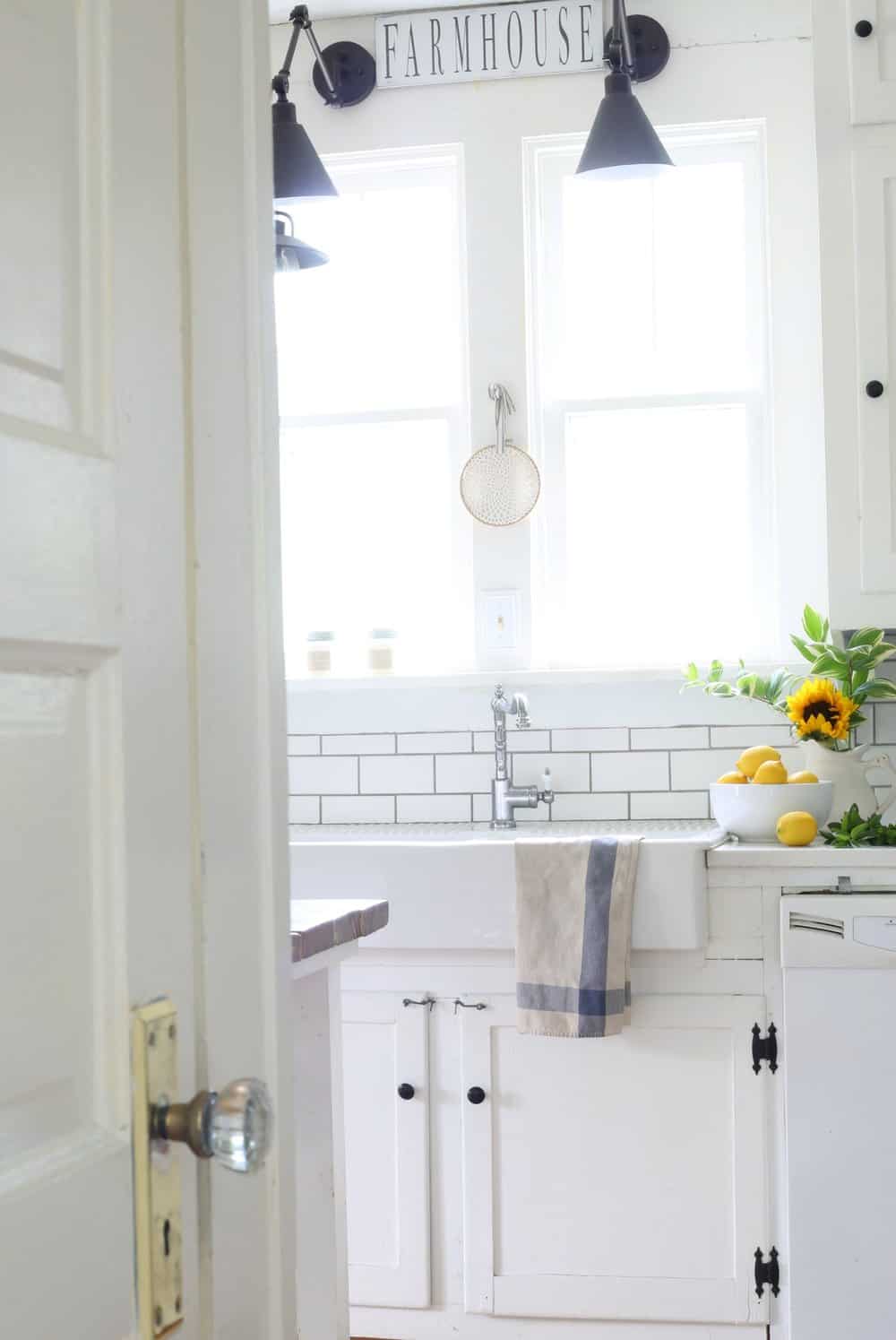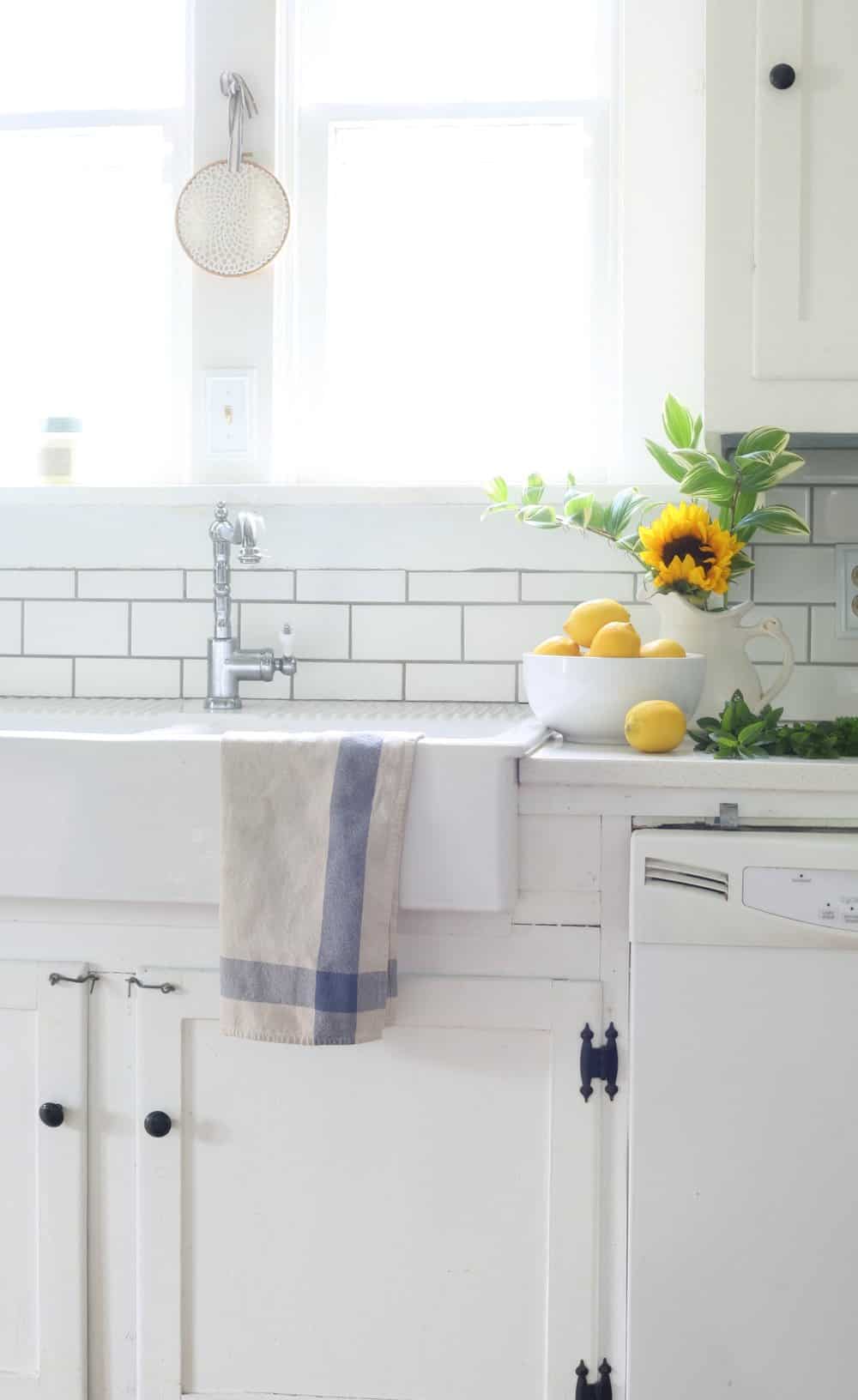 Normally I clear my counters completely off for pictures, but the reality is I always have a few things sitting out, bubbling and fermenting.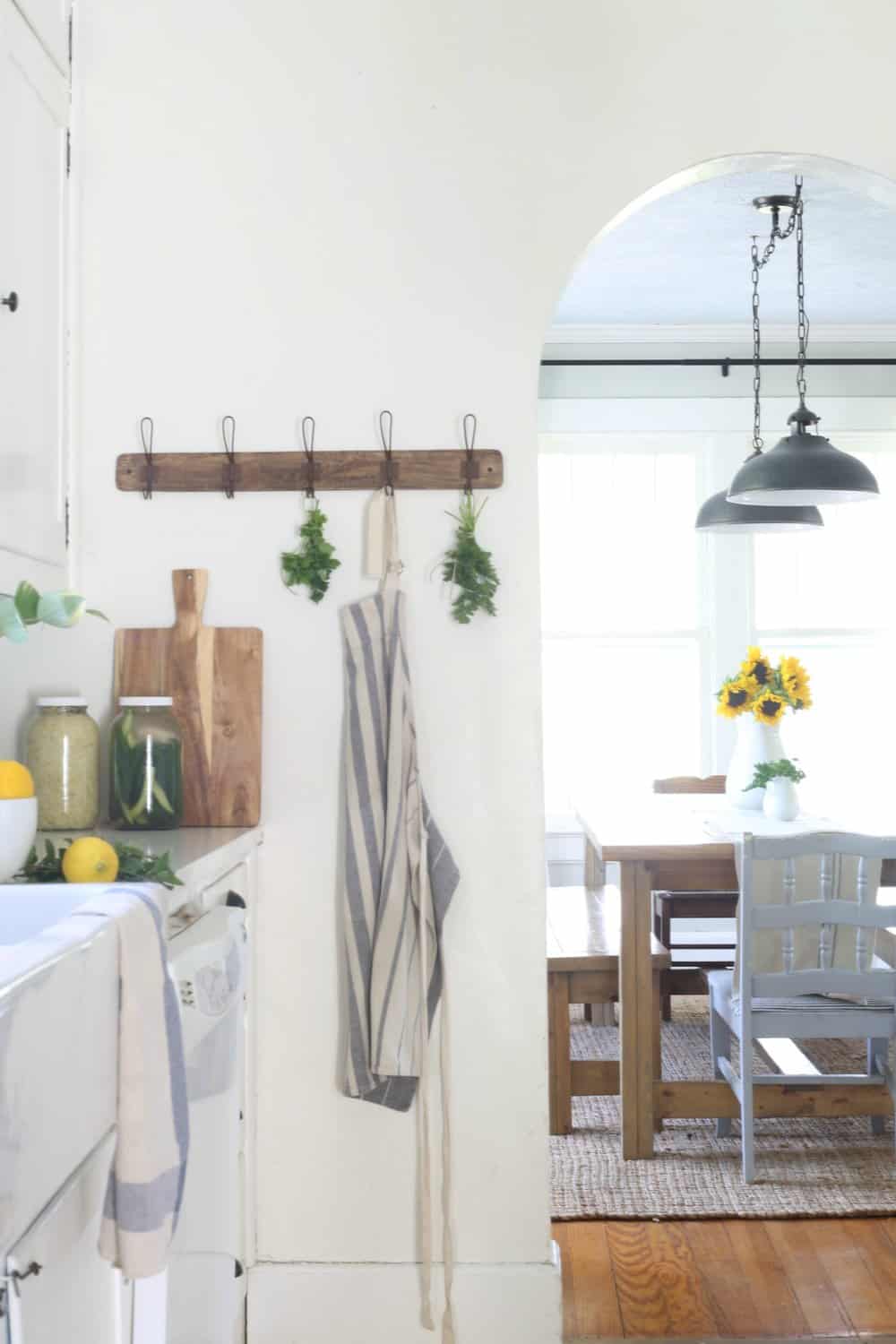 Bedroom
For the bedroom, I added my new striped grain sack pillow from the shop.
My lightweight blanket from Hayneedle is perfect for cool summer nights. It pairs perfectly with our farmhouse iron bed.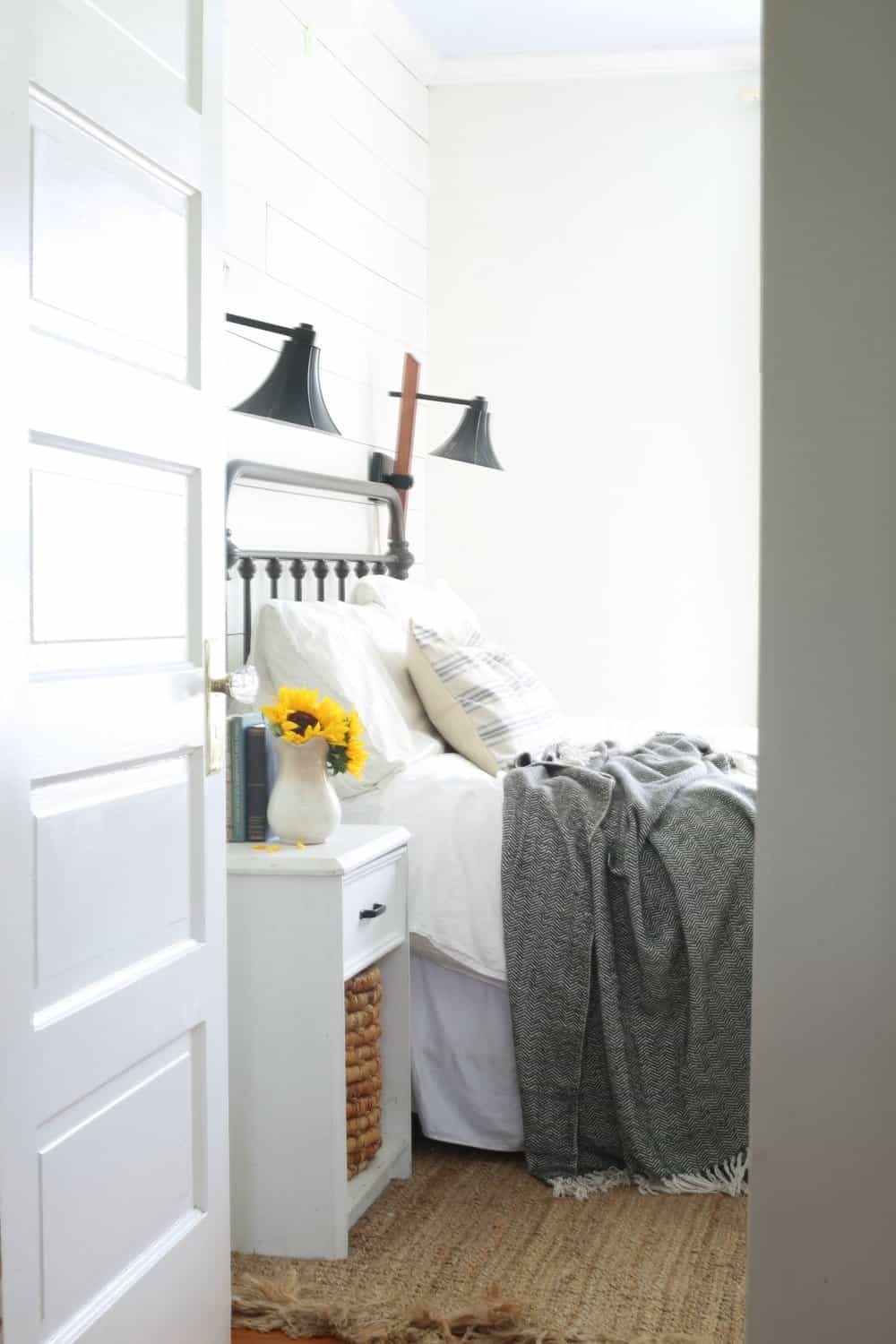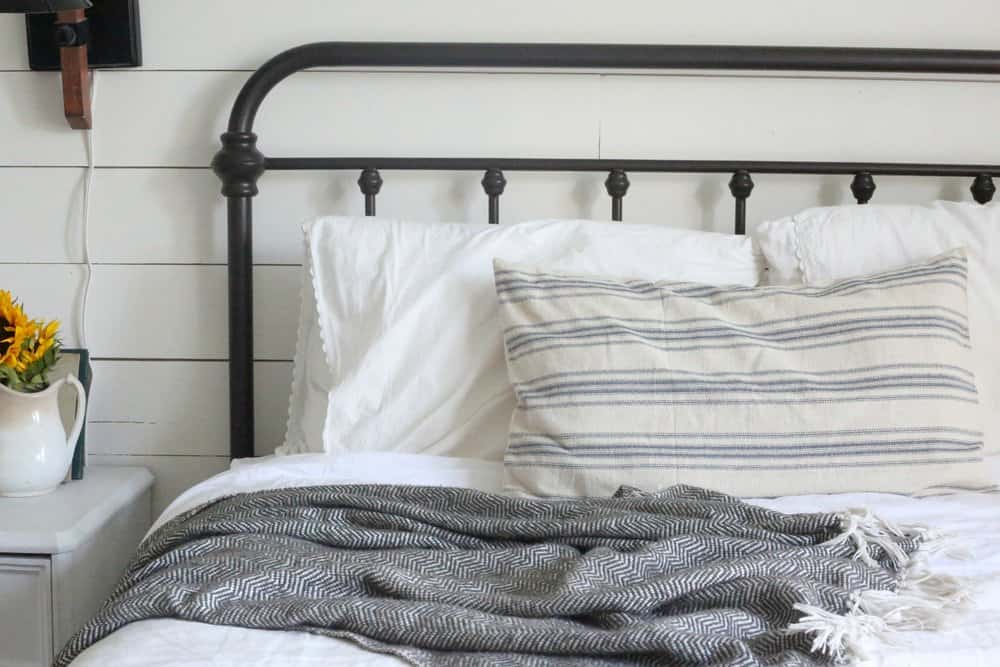 Shop my home:
Sources:
Dining room paint color is Benjamin Moore Gray Owl.
Kitchen and bedroom paint color is Benjamin Moore White Dove.
Thank you so much for stopping by, friends!
Be sure to check out all the other homes on the tour for some serious summer inspiration!
Wednesday, May 31st
Natalie- My Vintage Porch
Thursday, June 1st
Friday, June 2nd
Pin it for later: