Hi Friends! Just when I thought the crisp cool days had settled in, the heat is back out in full force. I took advantage of it today, though, and took the kids to a friend's pool that is still open. I know there will be plenty of cool weather ahead, so I want to enjoy the heat while we can.
Today I want to share a room that I don't often share. It may not be the most exciting room in the house, but It does serve many purposes.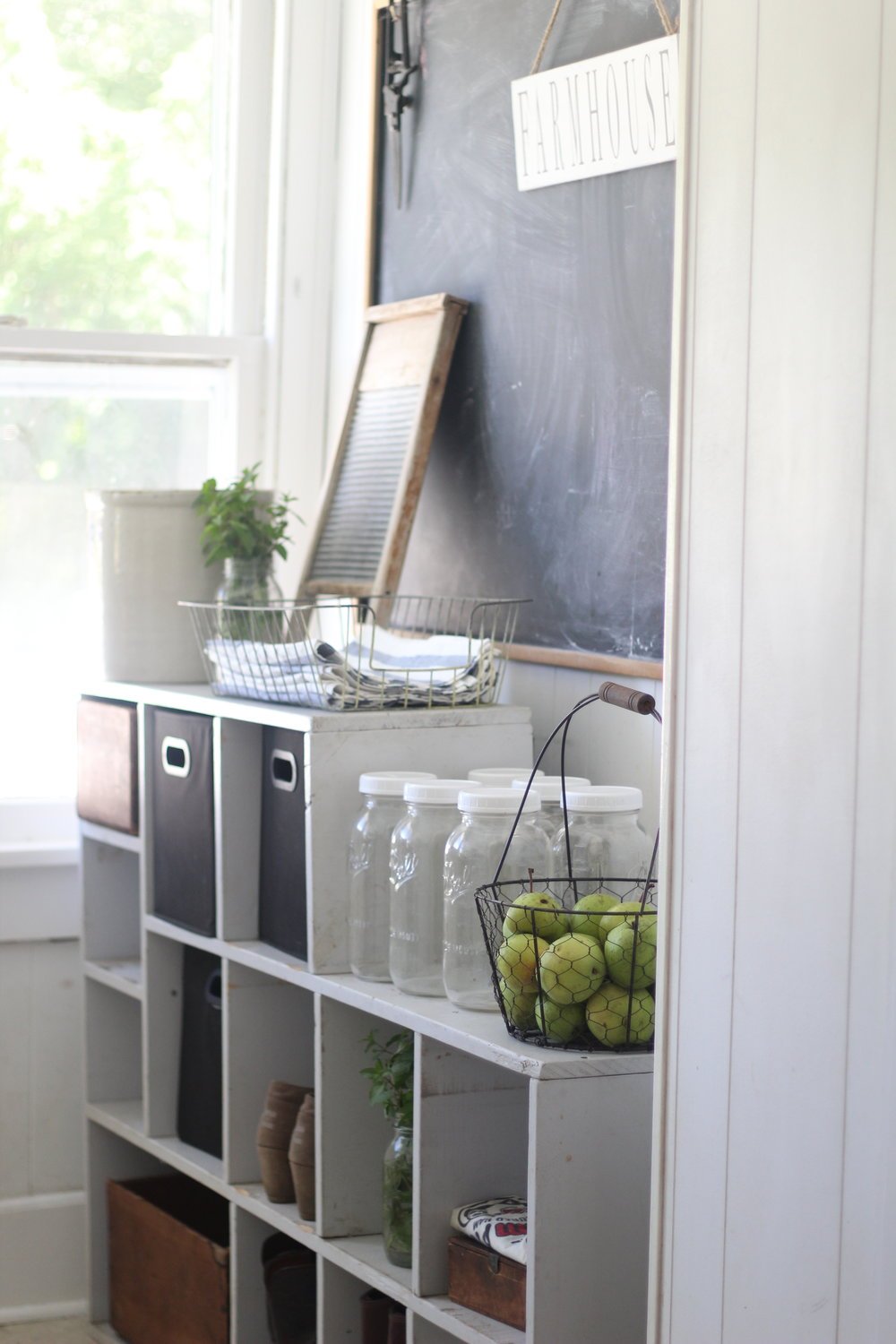 When you walk in the back door of our house, which is the door we walk through every day, this is the room you walk into. It houses the washer and dryer, a laundry sorter and this storage piece, where we keep shoes, shopping bags and our milk jars. Directly off of this room is also the guest bathroom. This space was, apparently, an addition to the house at some point, because the basement doesn't extend below it.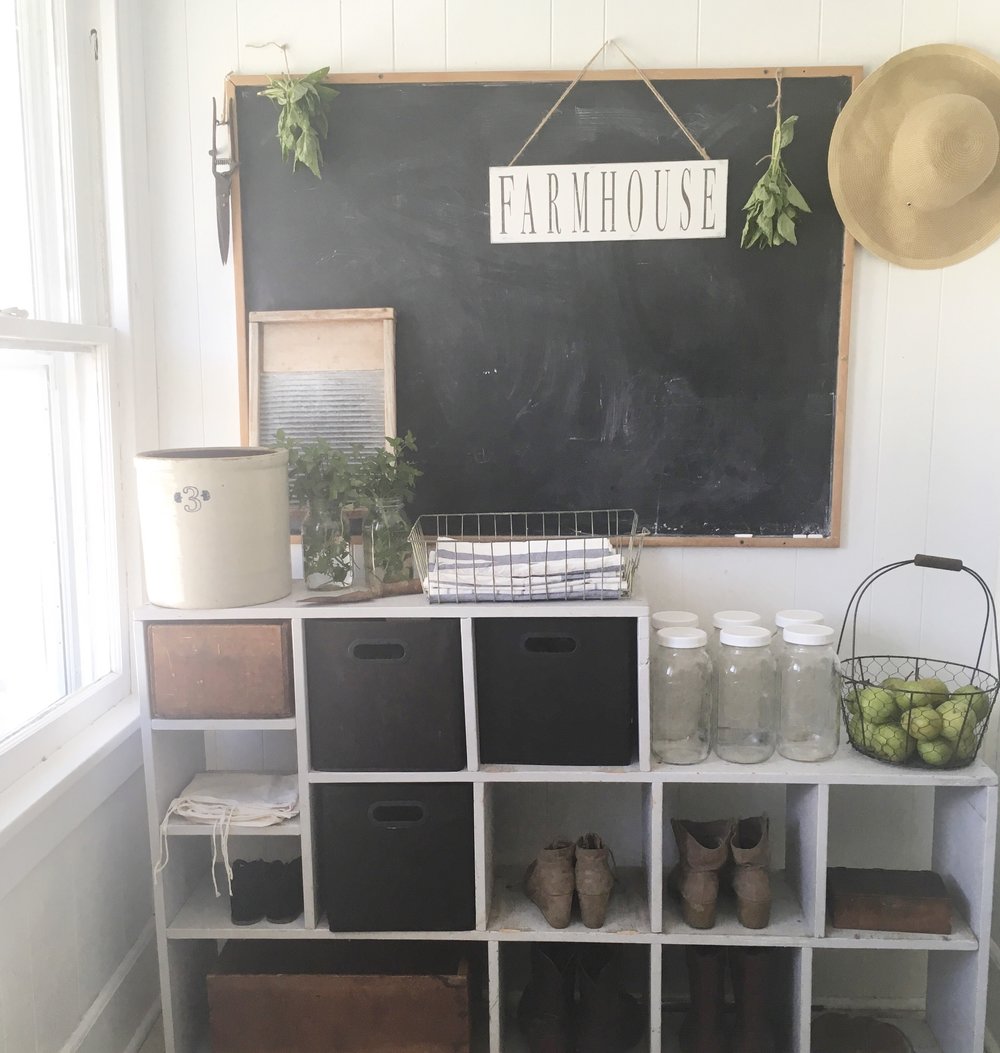 When we moved into our house eight years ago, this room was covered with some ugly wood paneling. I wasn't sure how hard it would be to take down, and we already had so many other projects in queue, so I decided to just cover it in white paint. I actually love the texture that the paneling adds.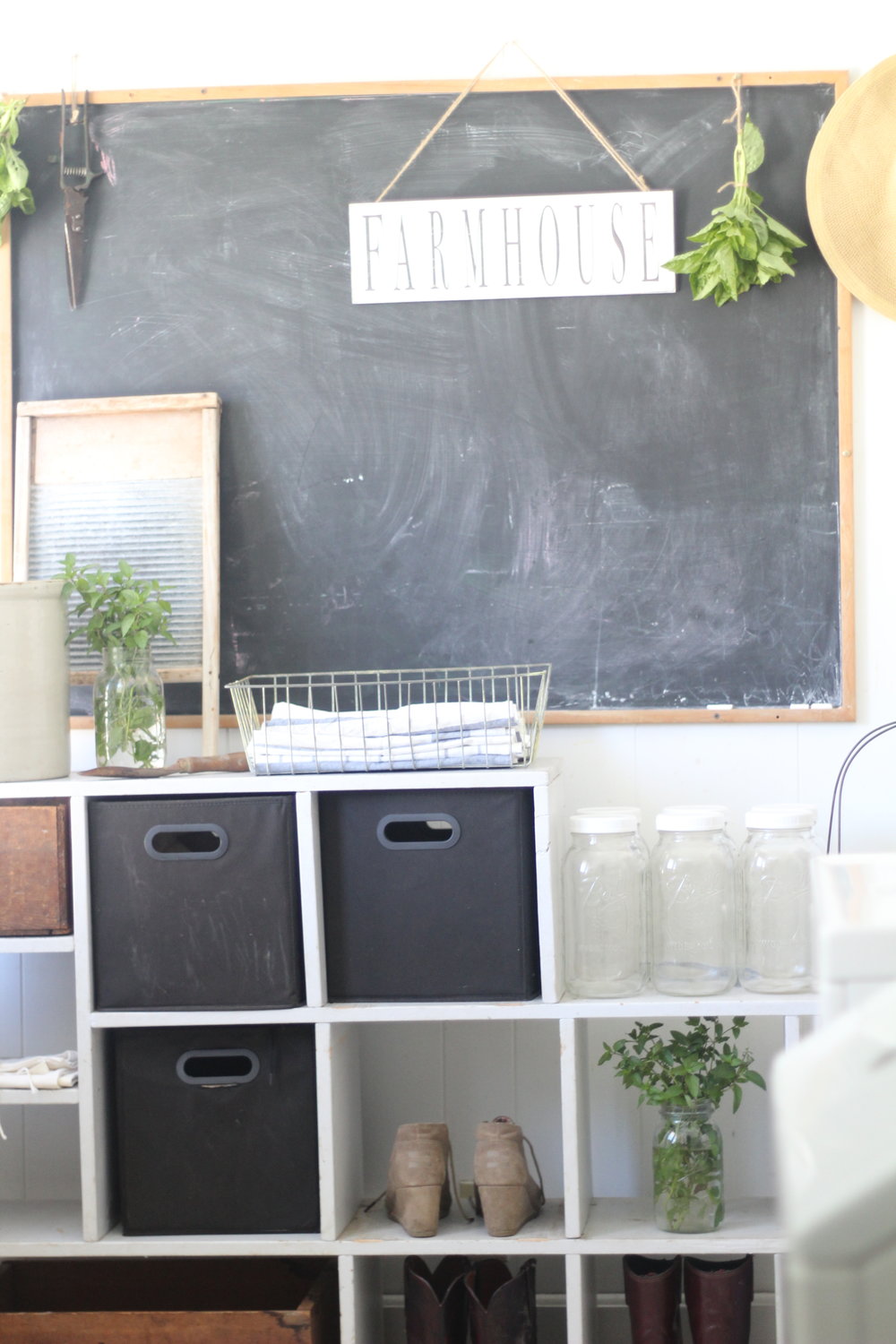 I know I have mentioned this in previous posts, but my favorite way to decorate is to collect pieces over time. There is no instant way to create a space I love. Yes, I could go to home goods and pottery barn and buy everything in a day to decorate my home, but then it wouldn't have a story to tell. It would be too boring and too perfect. Almost every piece in our home was either handmade or found at a thrift shop, antique store, garage sale or dumpster. It ends up taking me forever to get rooms together, but it is such a thrill when I find that perfect item.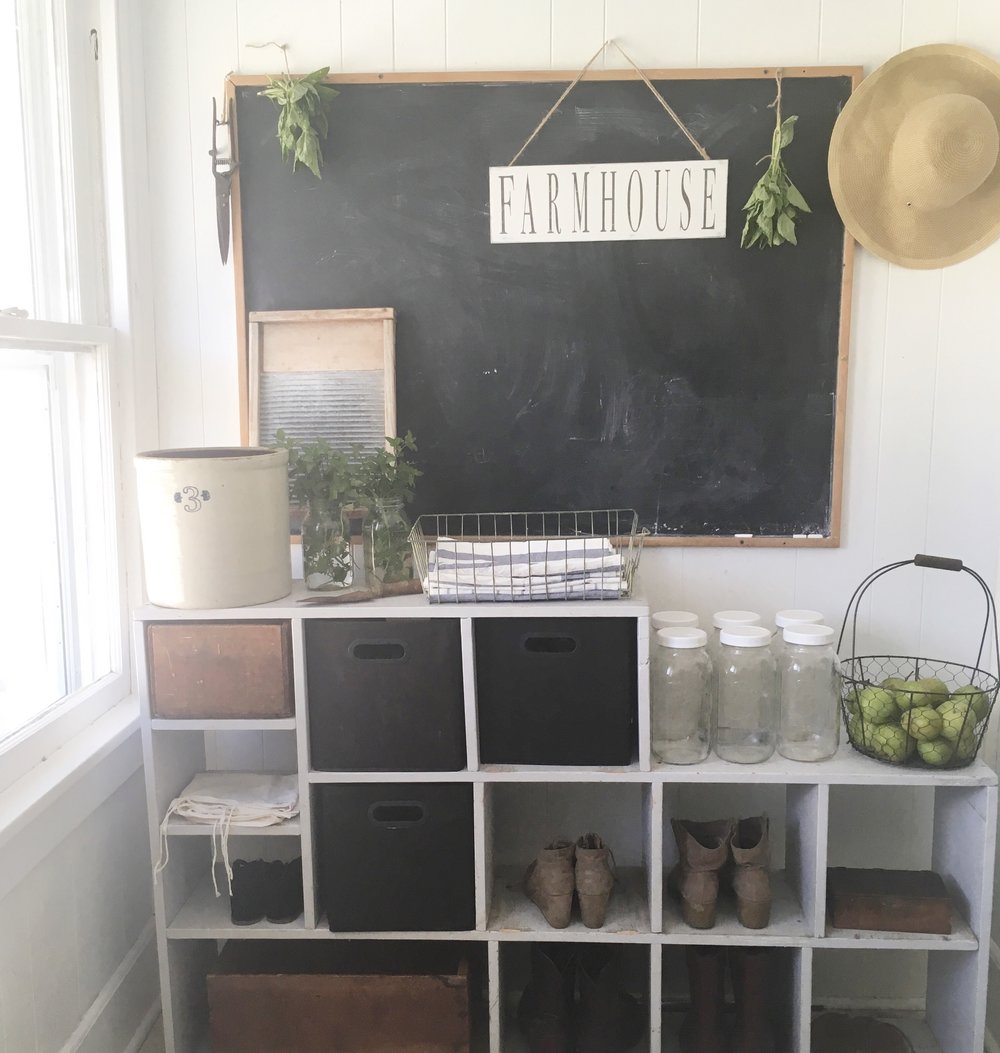 The shoe sorter was built by a friend. I found the wooden crates, sun hat, antique garden sheers, crock, wash board, linen pillowcase, shovel and wire crate at various shops. My husband found the chalkboard in a roadside pile and the farmhouse sign was made by a little shop on etsy.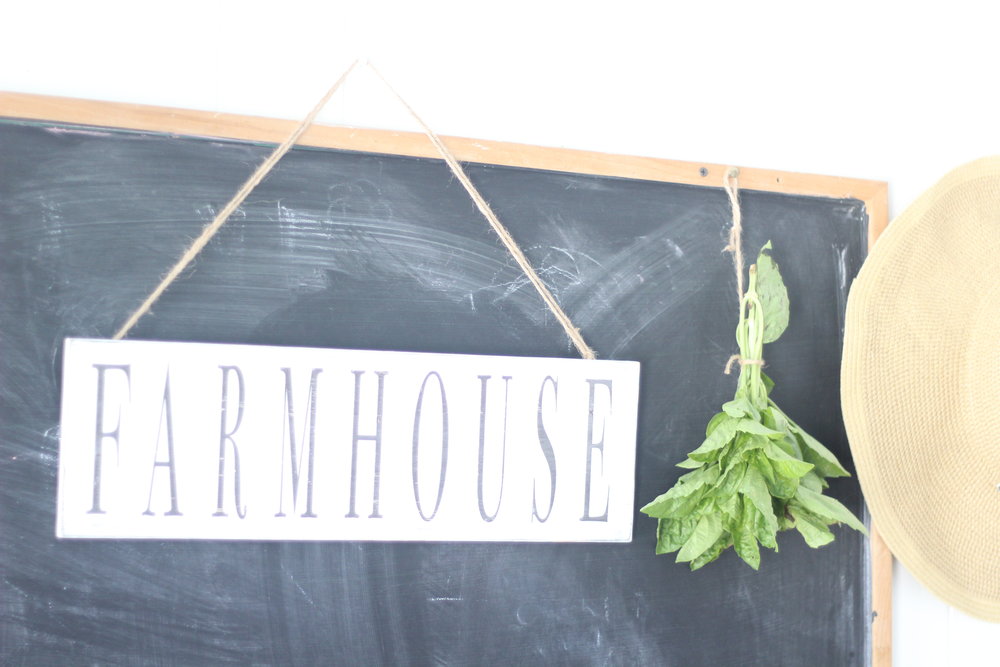 I love to add natural elements to my home, like this basil and mint from my garden and the freshly picked pears. I think it gives my home that cozy farmhouse feel that I am going for.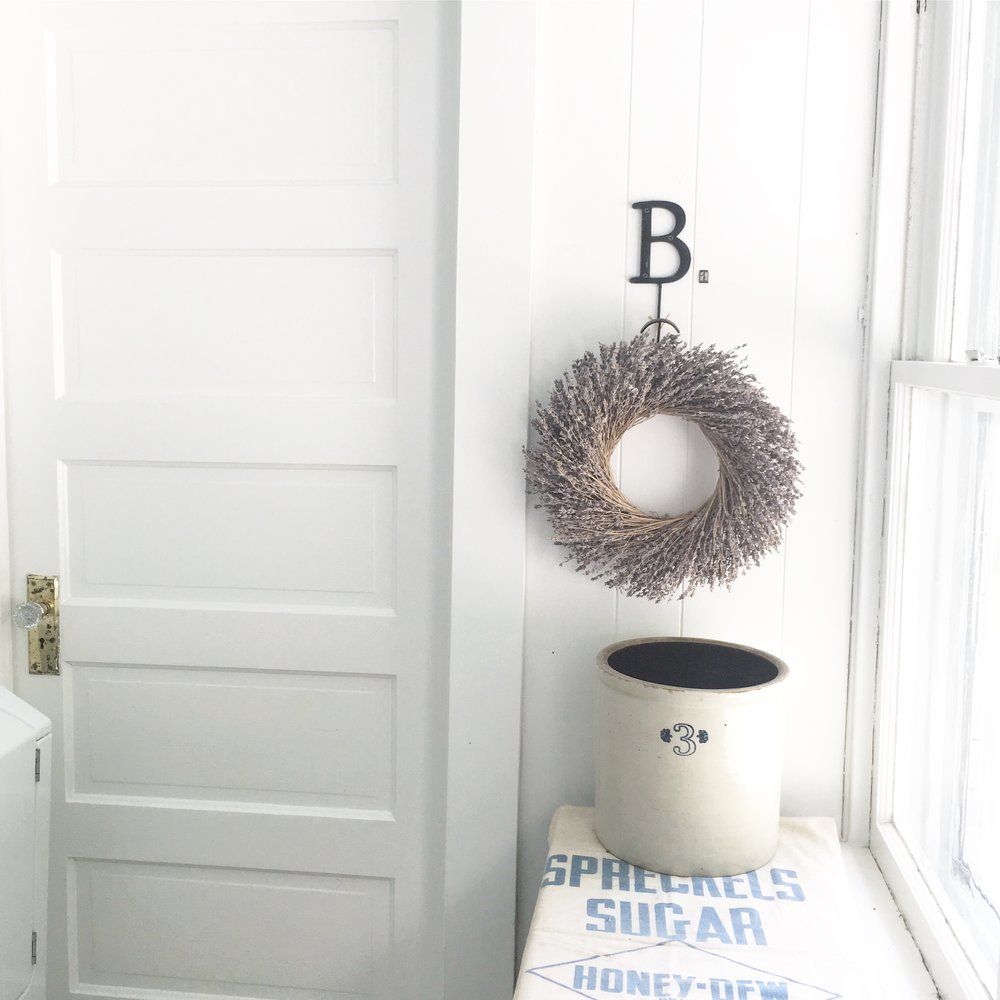 My husband found the antique grain sack, that sits on top of my laundry sorter, at an antique shop and gave it to me for Christmas. I found the lavender wreath at Target. It has lasted several years and is still going strong.
One day I hope to add some open shelving above the washer and dryer, instead of cabinets. I also hope to swap out the flooring for something a little tougher, like ceramic tile.
All in all, I absolutely love this room. The three windows allow the natural light to constantly flood the room, and the location of the washer and bathroom is key. Whenever my kids come in from rolling around in the mud and splashing in puddles, I throw their clothes straight into the washer and stick them in the shower, all without them ever making their way into the main part of our home. I love containing the mess to this little area of our home. If we ever move, I feel like some kind of mud room will be a non-negotiable.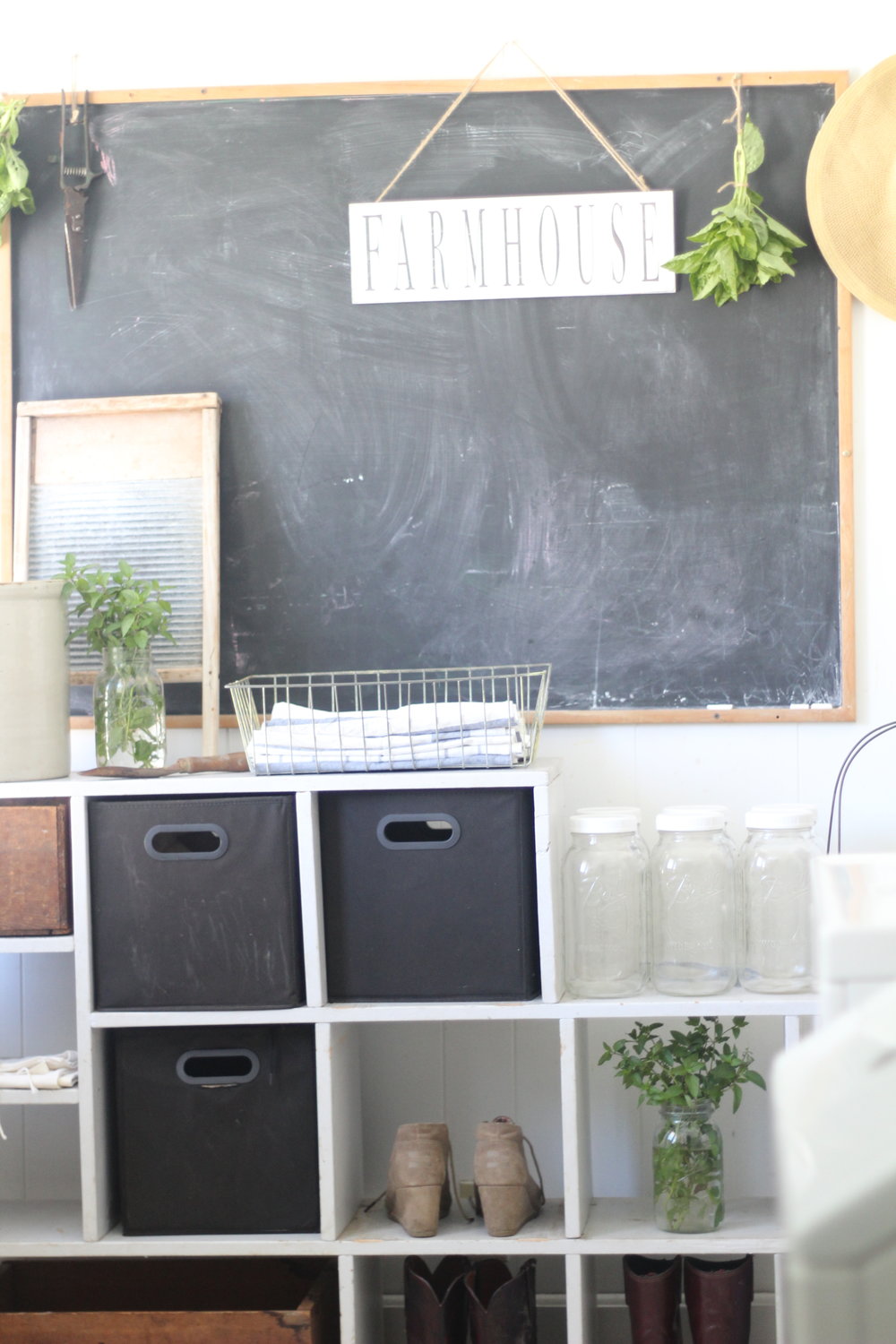 I hope you enjoyed this little peek into a room in our home that is almost all function. Thank you for reading along!
Read on friends: