Last year, we started the process of renovating our very outdated kitchen. We had laminate countertops, an aluminum sink, vinyl flooring, and the most awful bathroom light fixture

above

the sink. Today, we have hardware floors, quartz counter tops, IKEA Domsjo double bowl farmhouse sink, new hardware on the

cabinets

, and a fresh coat of paint. Read on the see how we

gave

our 20th-century kitchen a modern farmhouse update from beginning to end.
We have been living in our early 20th century home for over seven years now. So far, we have painted every surface, including doors, windows, baseboards, crown molding, cabinets, and even tiles. This place was CRAZY when we first moved in.
See what our 20th century home looked like before we renovated it and what we did to give it a farmhouse style makeover.
We also ripped up the blue carpet that was on the stairs and the entire upper level and refinished the wood floors. So, although those simple changes made a dramatic improvement in our home, we have never actually done an official renovation.
Well, I can finally say we changed that!
First, for our farmhouse kitchen renovation, we replaced the cheap aluminum sink for a heavy-duty ceramic apron front farmhouse sink from Ikea and we also traded out the laminate counters for light-colored stone tops.
We riped up the laminate tile and backing board to expose the original hardwood floors that are installed throughout the rest of the house.
Our refrigerator currently stands alone against a wall since, apparently, the average person didn't own one when our house was built nearly 100 years ago. Someday, we will be adding shelving around our refrigerator so it looks more intentional and less like an afterthought.
Here are the design elements I used
I added a ticking stripe curtain to hide our trash can and a few kitchen gadgets, like our waffle iron, juicer and crockpot. The need for this curtain is the result of a slightly awkward old house kitchen layout, but we are working with it, so we don't have to get into anything too major.
I added several green herbs and succulents to contribute to the simple, organic feel I love.
I used Benjamin Moore White Dove paint for a simple, clean palette on the walls.
The cabinets and baseboards throughout the whole house are already painted in Benjamin Moore's Ivory Tusk.
We refinished the kitchen flooring to match the rest of the wood flooring on the main level. Before, the hardwood floors were covered with laminate tile.
Glass jars on open shelving will store dried goods like beans, rice, quinoa, popcorn, and flour.
We already have an Allen and Roth pendant light hanging over our kitchen island, so that will stay.
We installed these quartz countertops from Ikea, in the color ocean foam.
We painted the small wall that surrounds the opening between the kitchen and laundry room in chalkboard paint, for lists, notes, and messages.
We used the chrome Glittran kitchen faucet from Ikea.
Every farmhouse kitchen needs an apron front sink and we are finally got ours! This is the Domsjo double bowl sink from Ikea.
How our farmhouse looked seven years ago
When we first walked into our kitchen over seven years ago, we weren't exactly impressed with the color choices. The floor to ceiling cabinets and baseboards had been sponge painted in several shades of blue, and the walls were orange.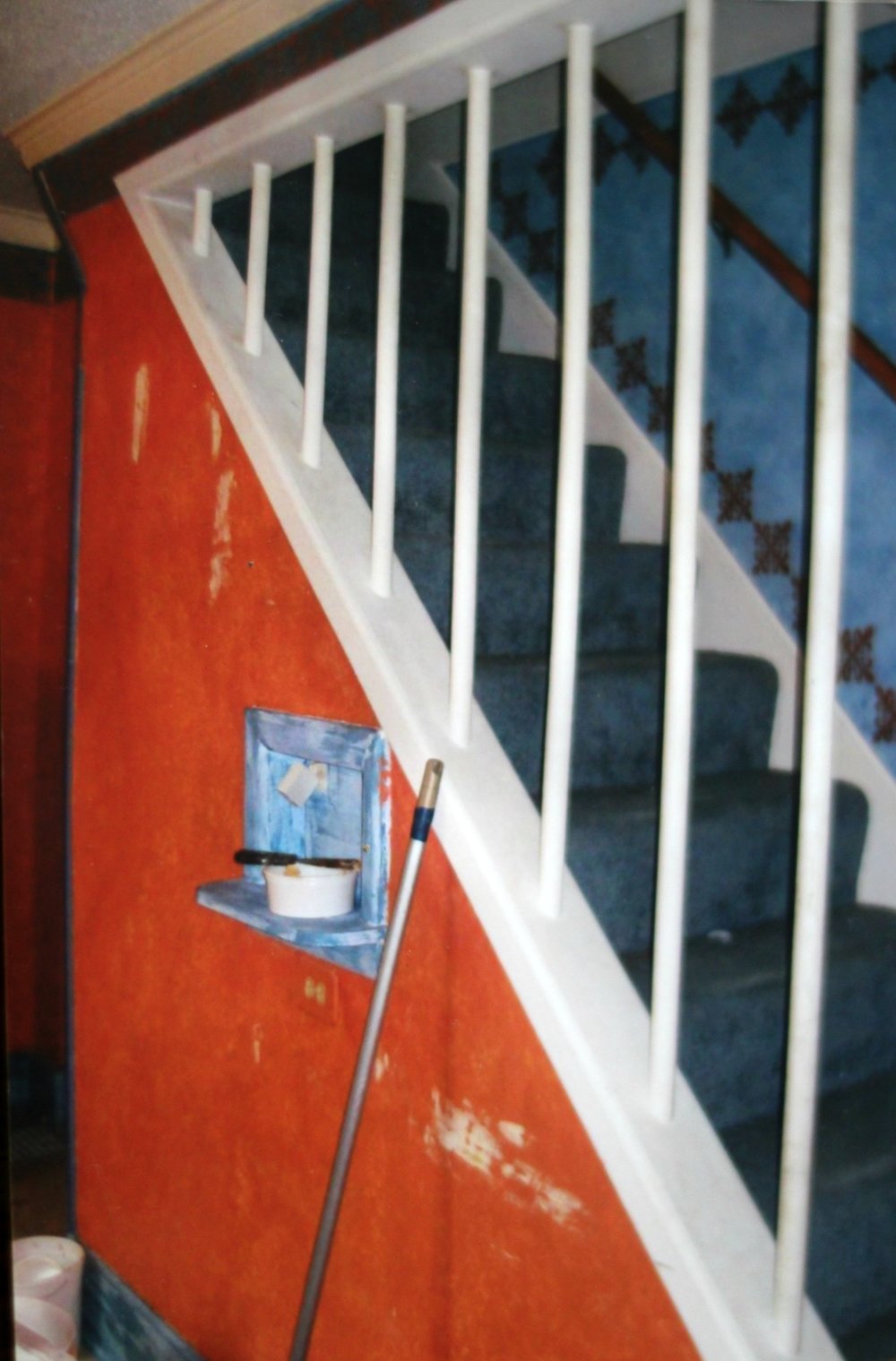 Before we even were settled in I painted the cabinets in Benjamin Moore Ivory Tusk and the walls a soft shade of yellow. Although that softened the room up quite a bit, not much has changed since then.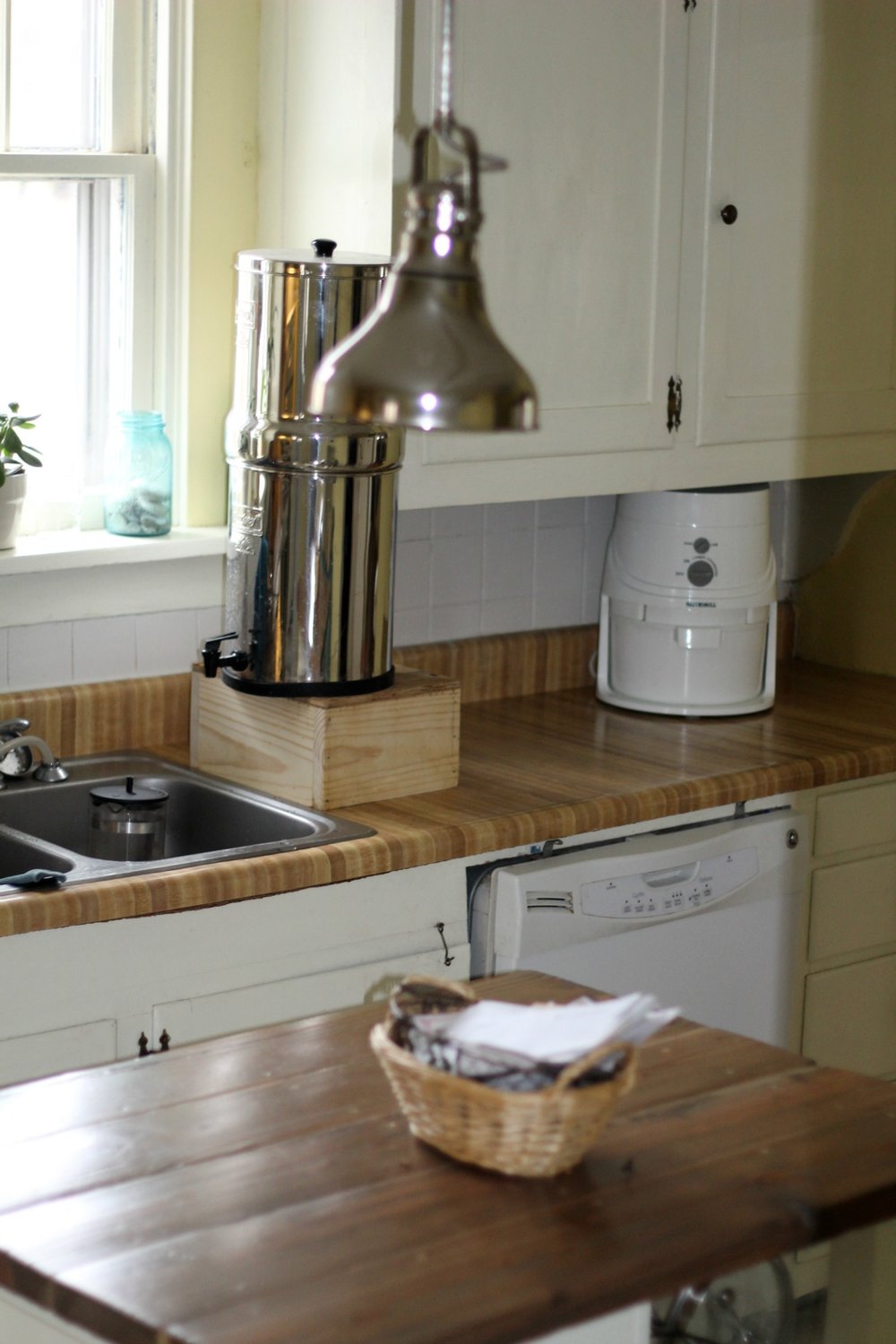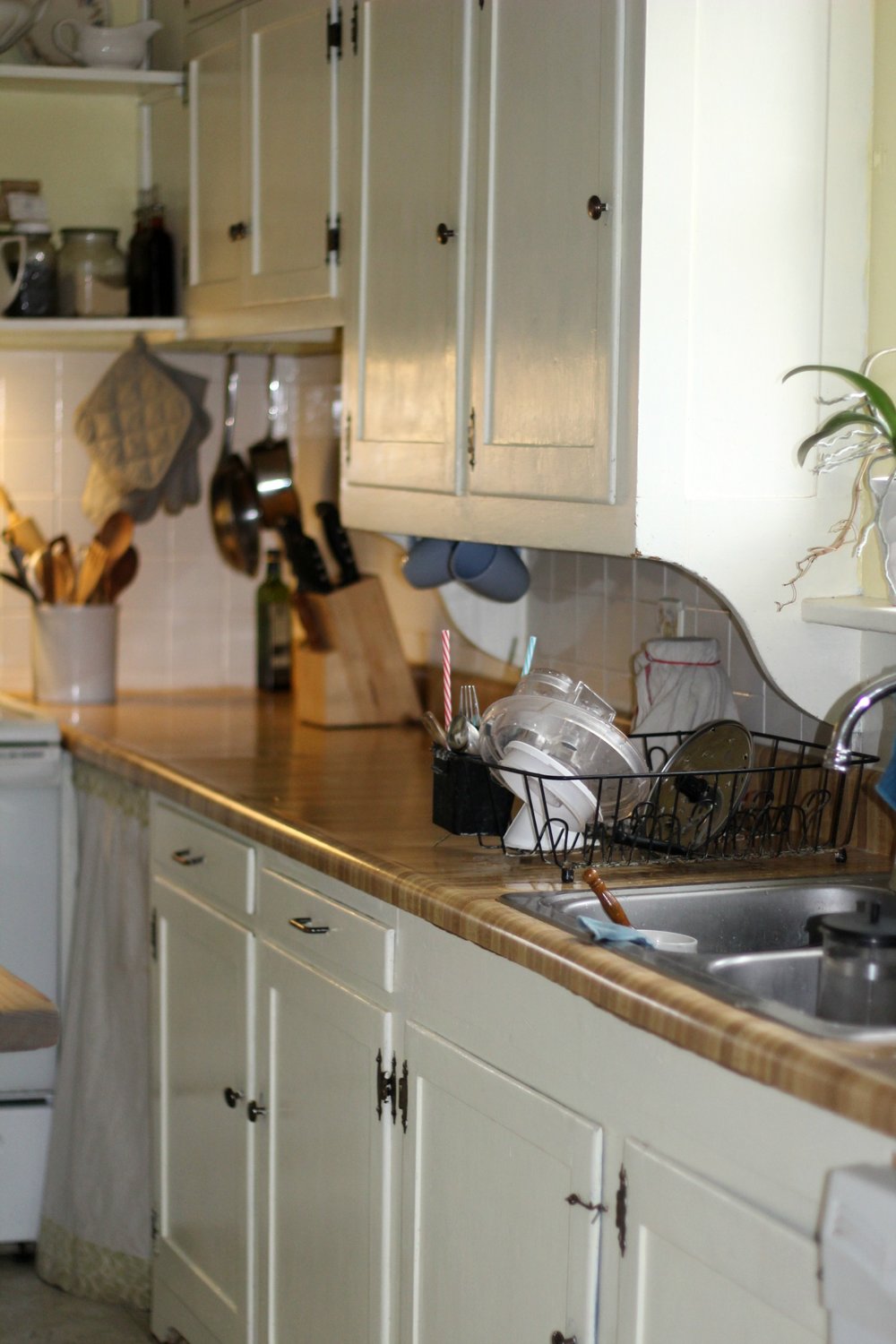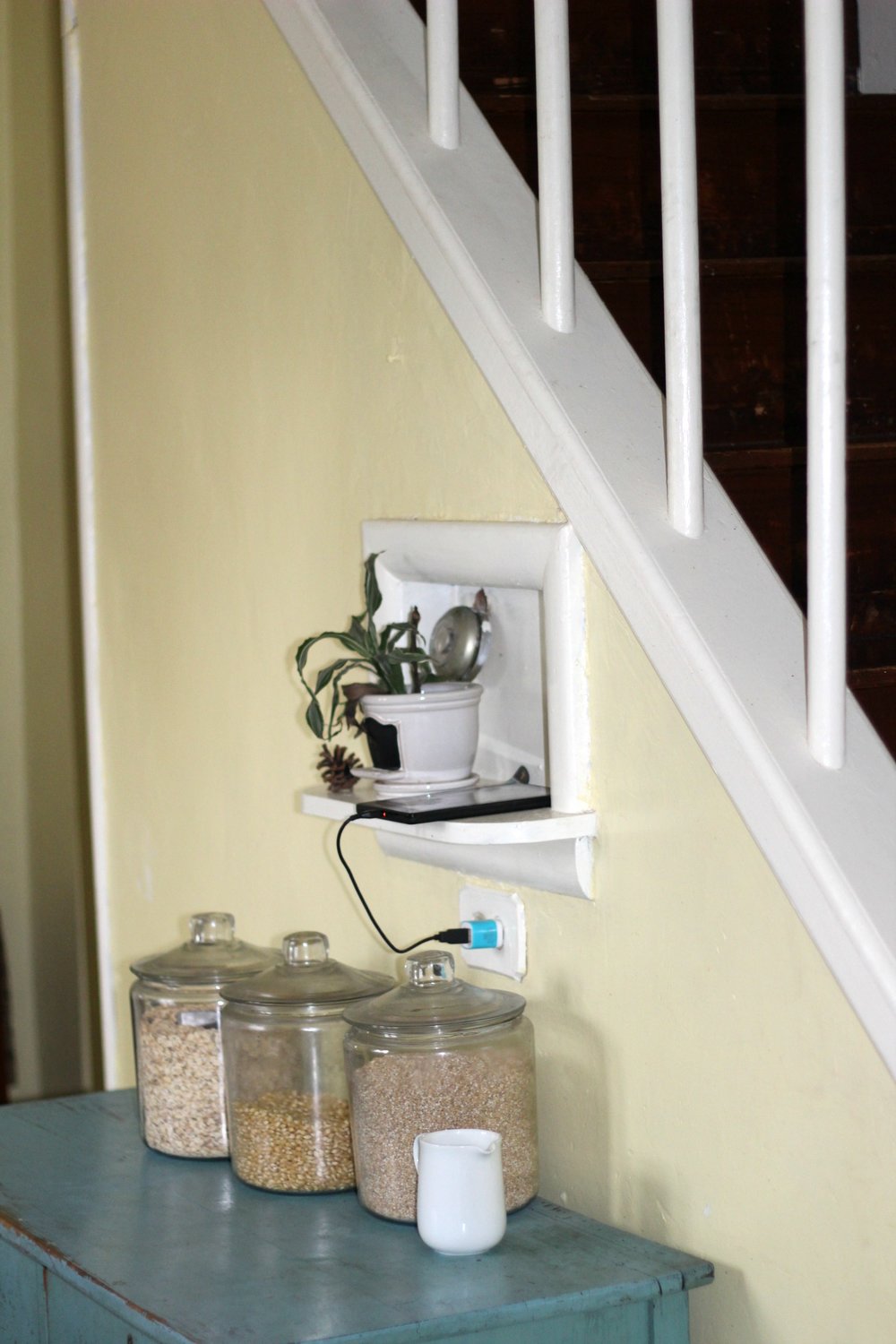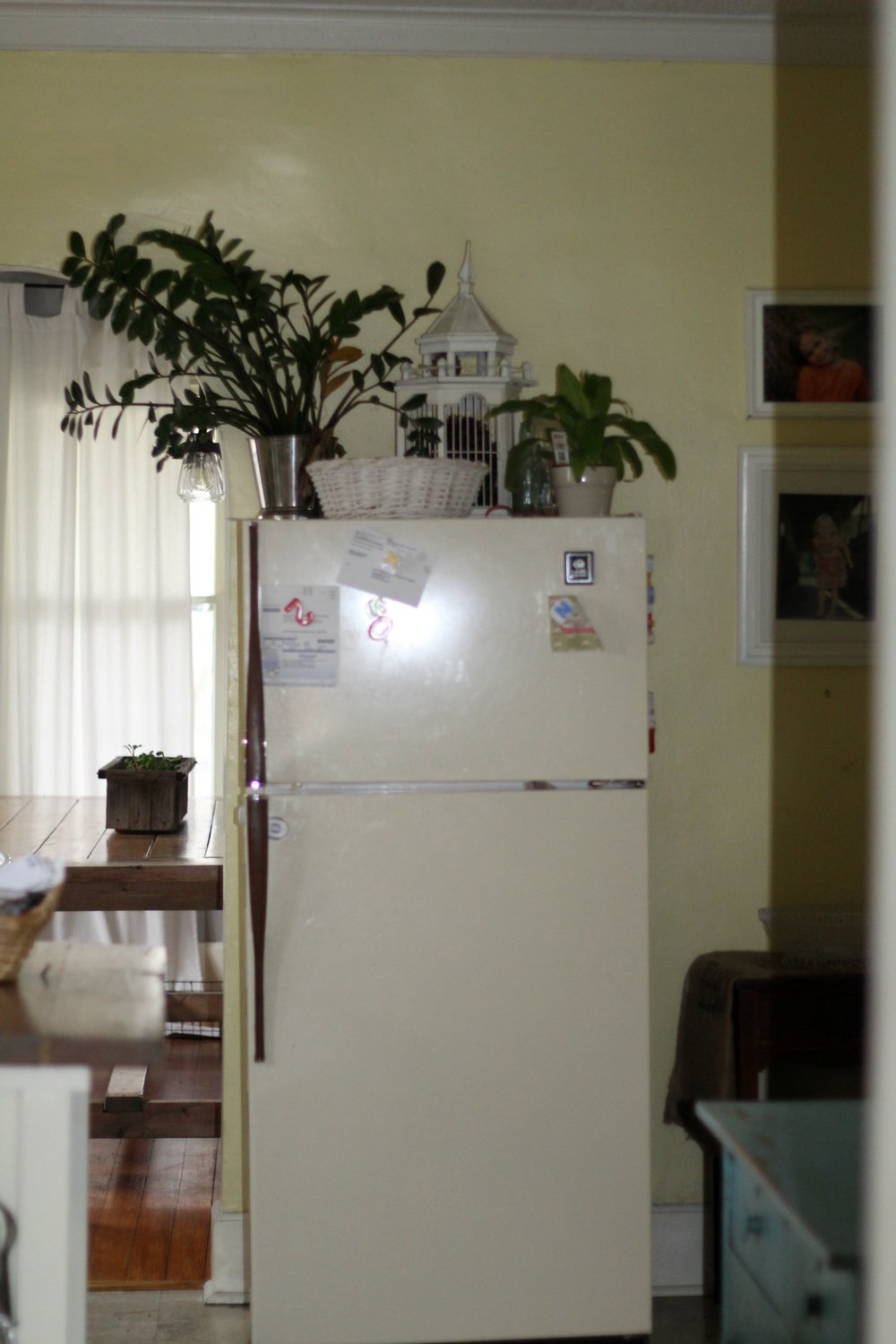 The first thing we did was remove the backsplash, take out the old countertops, and remove the sink.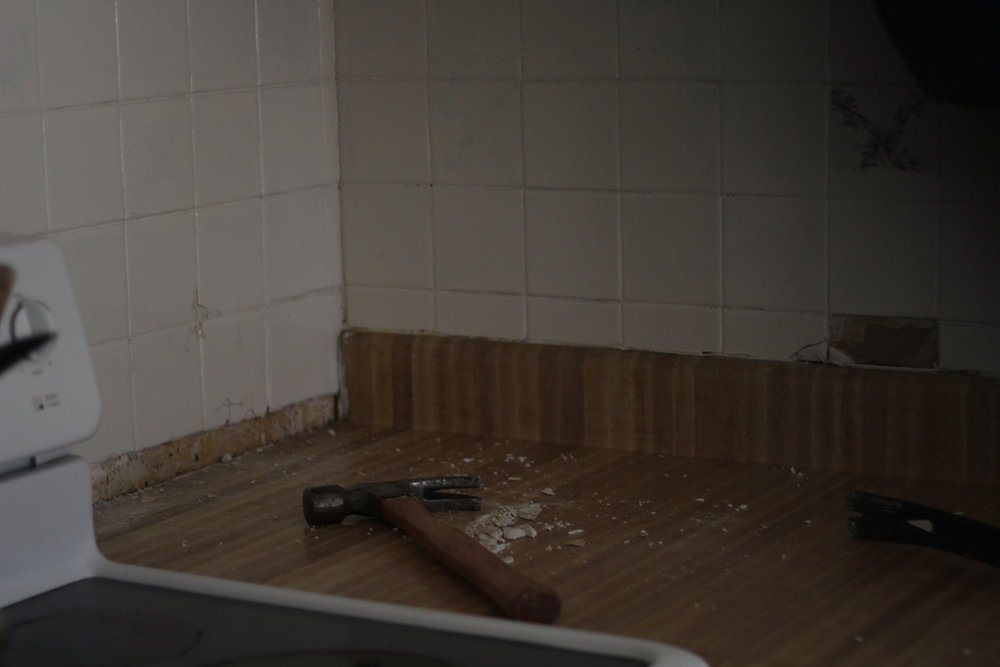 Before our new countertops could be installed, we had to remove the old ones. In order to get those out, the sink also had to be removed. Because we have old house plumbing and no water shutoffs below the sink, this means all the water in the entire house had to be off for 24 hours, or until we got the new counters, sink and plumbing finished.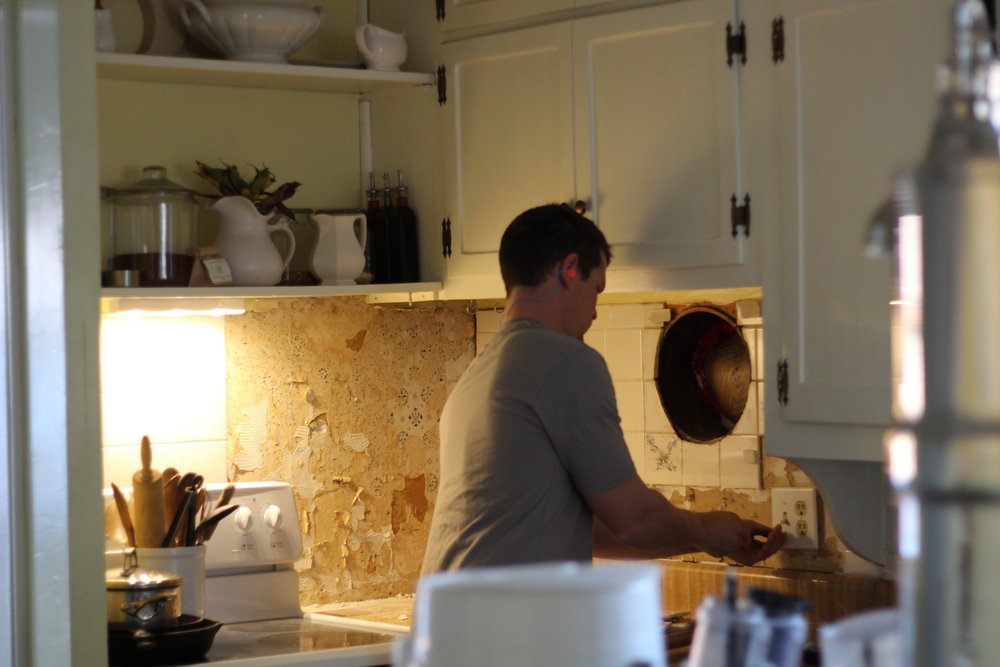 Since I couldn't do the dishes, we went out to eat as much as possible until the water was turned back on.
At the same time, we also removed the backsplash and the laminate tiling on the floors.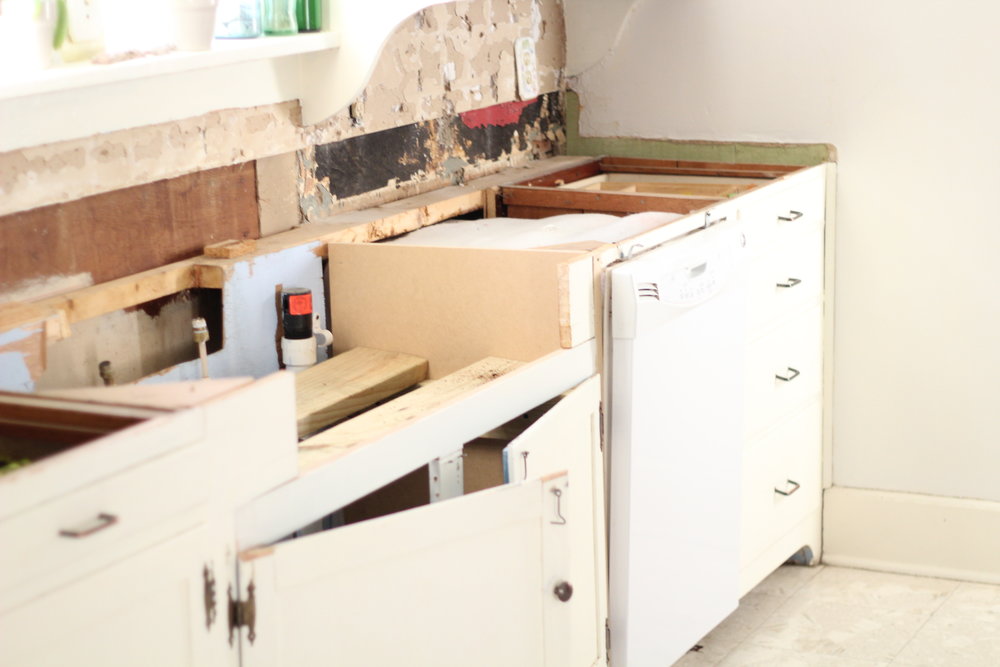 We have a confirmed 5 layers of wallpaper and tiles on the backsplash. I wonder how the kitchen looked when it was rocking the orange and yellow flowers?!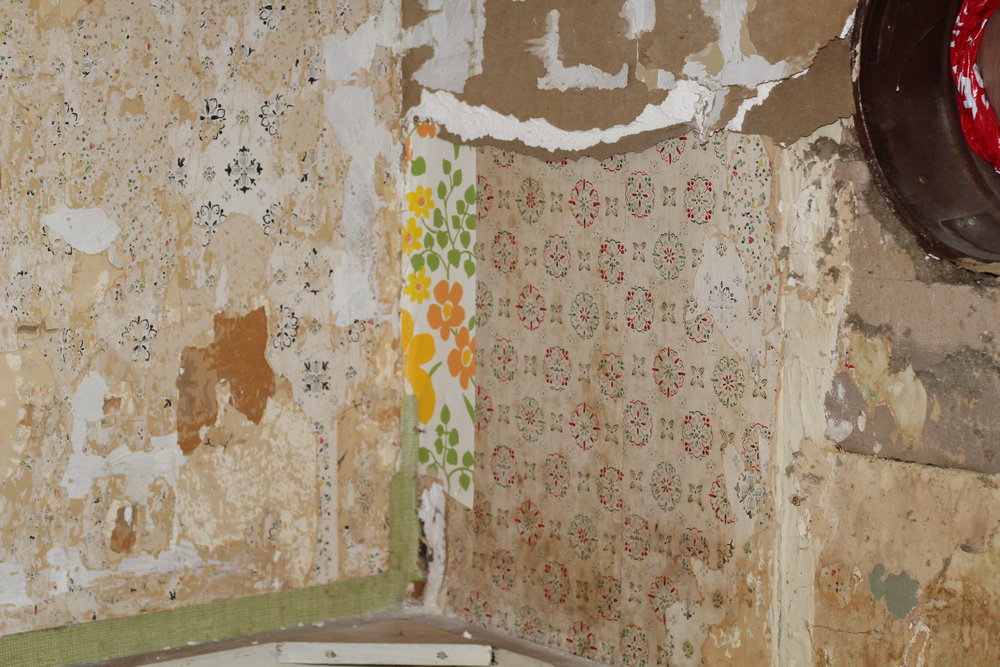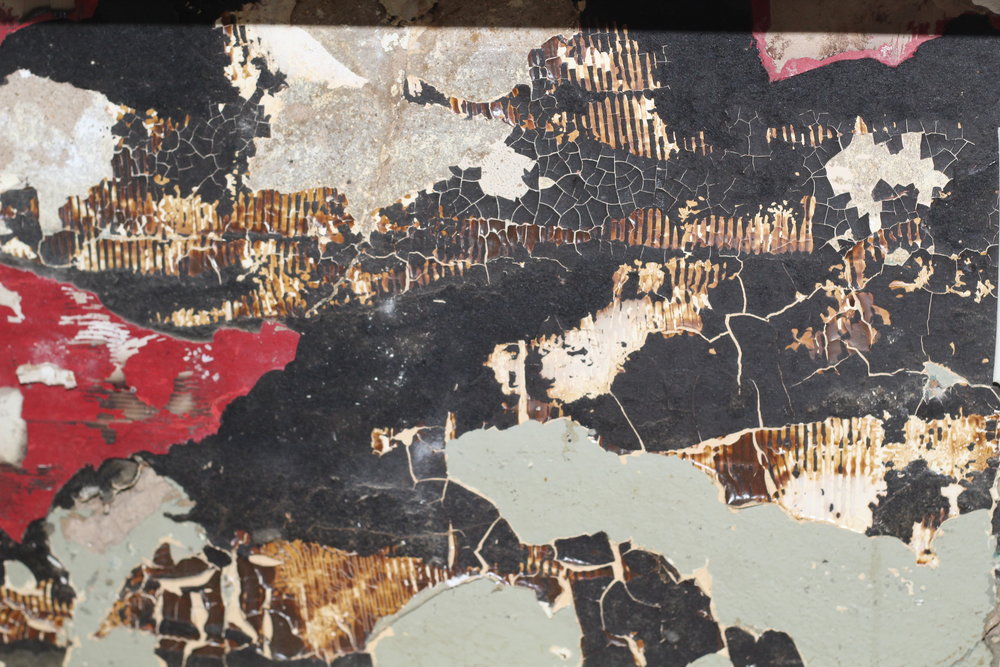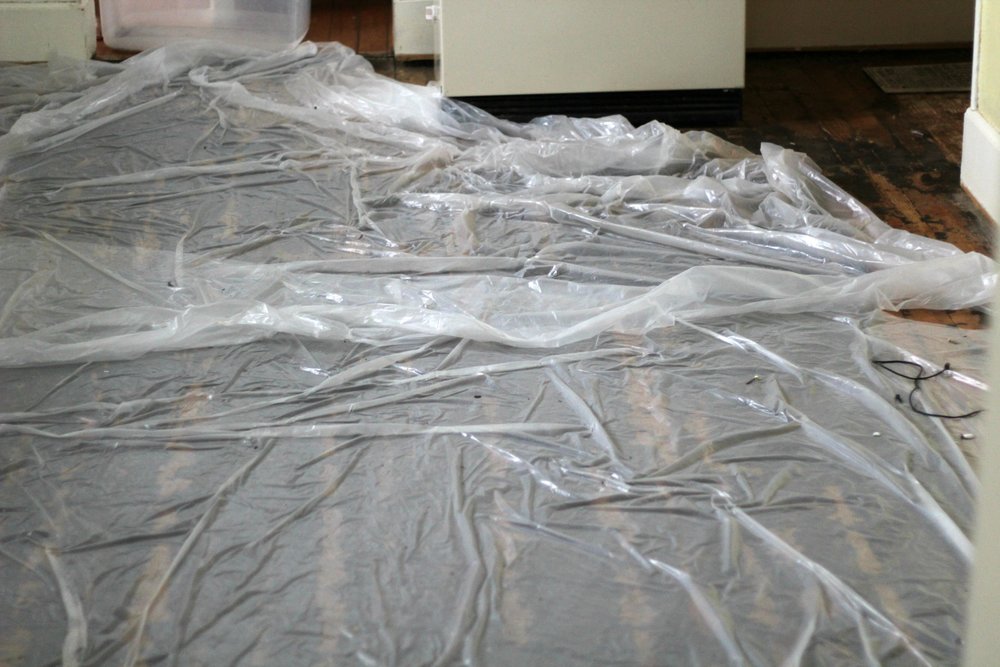 To think at some point it was in style to throw a piece of cheap sheet linoleum over heart pine wood floors!
We hired in experts to finish the floor since the condition of it is a little beyond our comfort level for DIY.
Our new countertops and sink were installed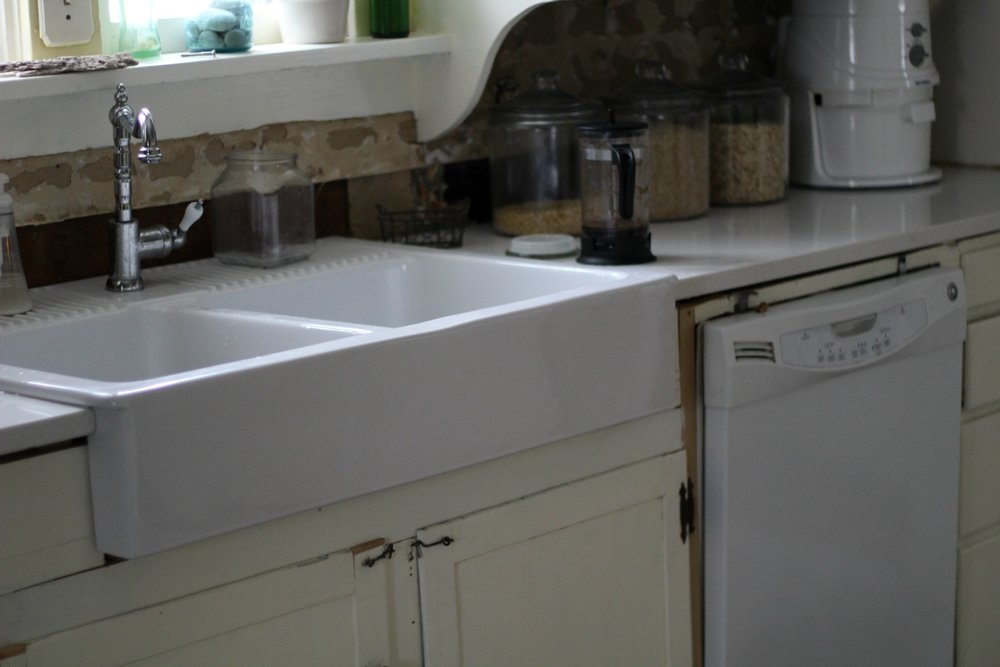 The guys that installed our new quartz countertops had to place shims along the way to level them out. They were about an inch off from one side to the other. That is something we expected out of our 100+-year-old house.
Some trim to bridge the gap between the cabinets and countertops will need to be added later.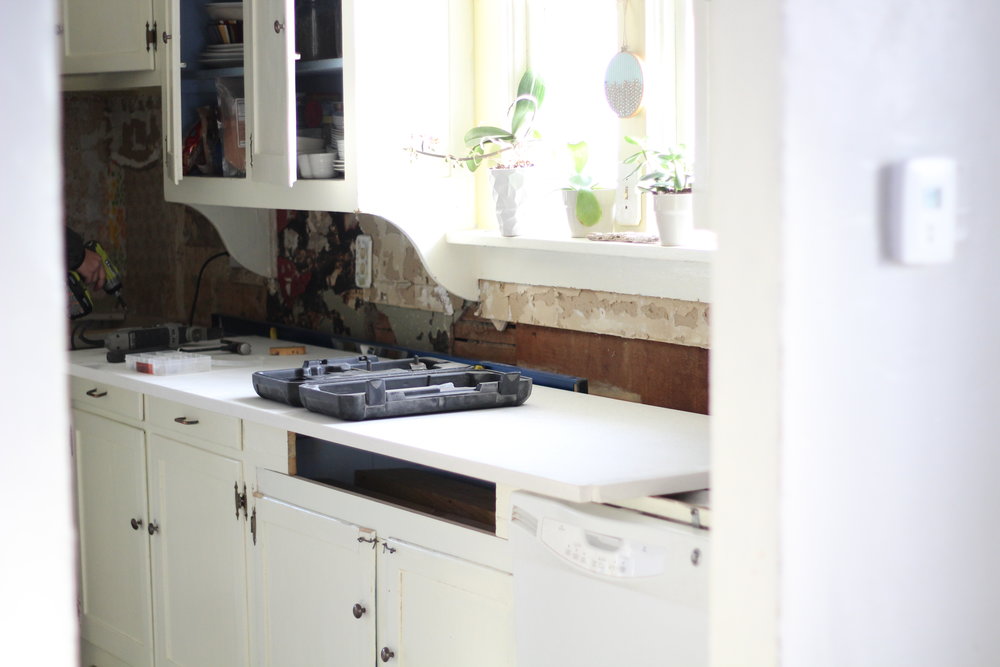 We hired my cousin to build a special shelf to support the 105 pound Ikea farmhouse sink. He also had to rebuild the cabinet doors, since they were too tall for the apron front. We still need to do a little adjusting so the hardware lines up.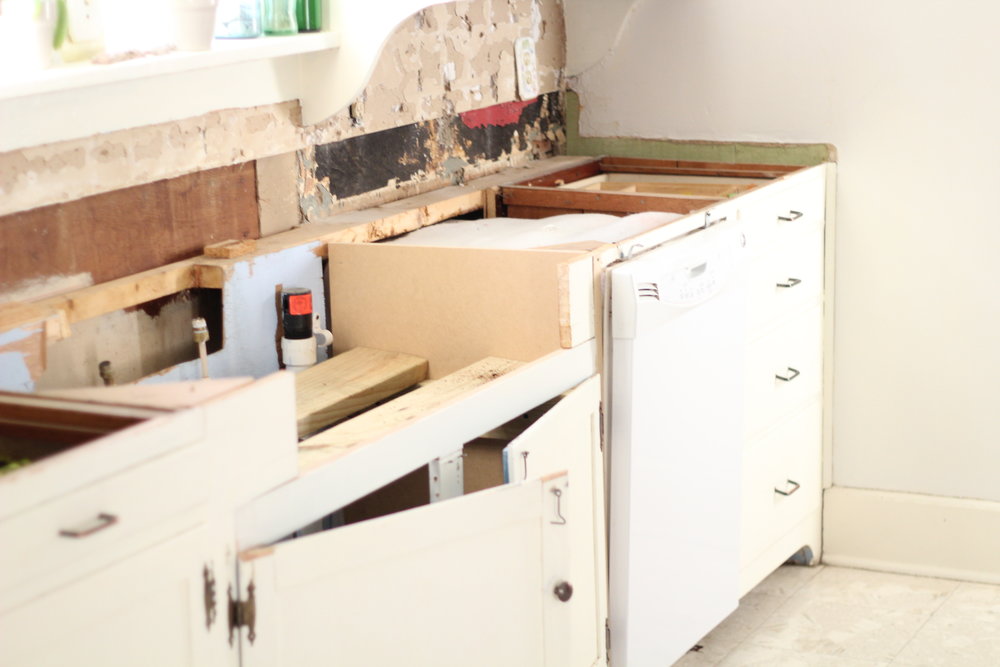 We still need to install a rectangular, subway tile backslash, refinish the hardwood floors, build in the refrigerator, paint the cabinets white, and add new hardware for the cabinets before our renovation is complete.
We are 75% of the way there!
We are almost finished!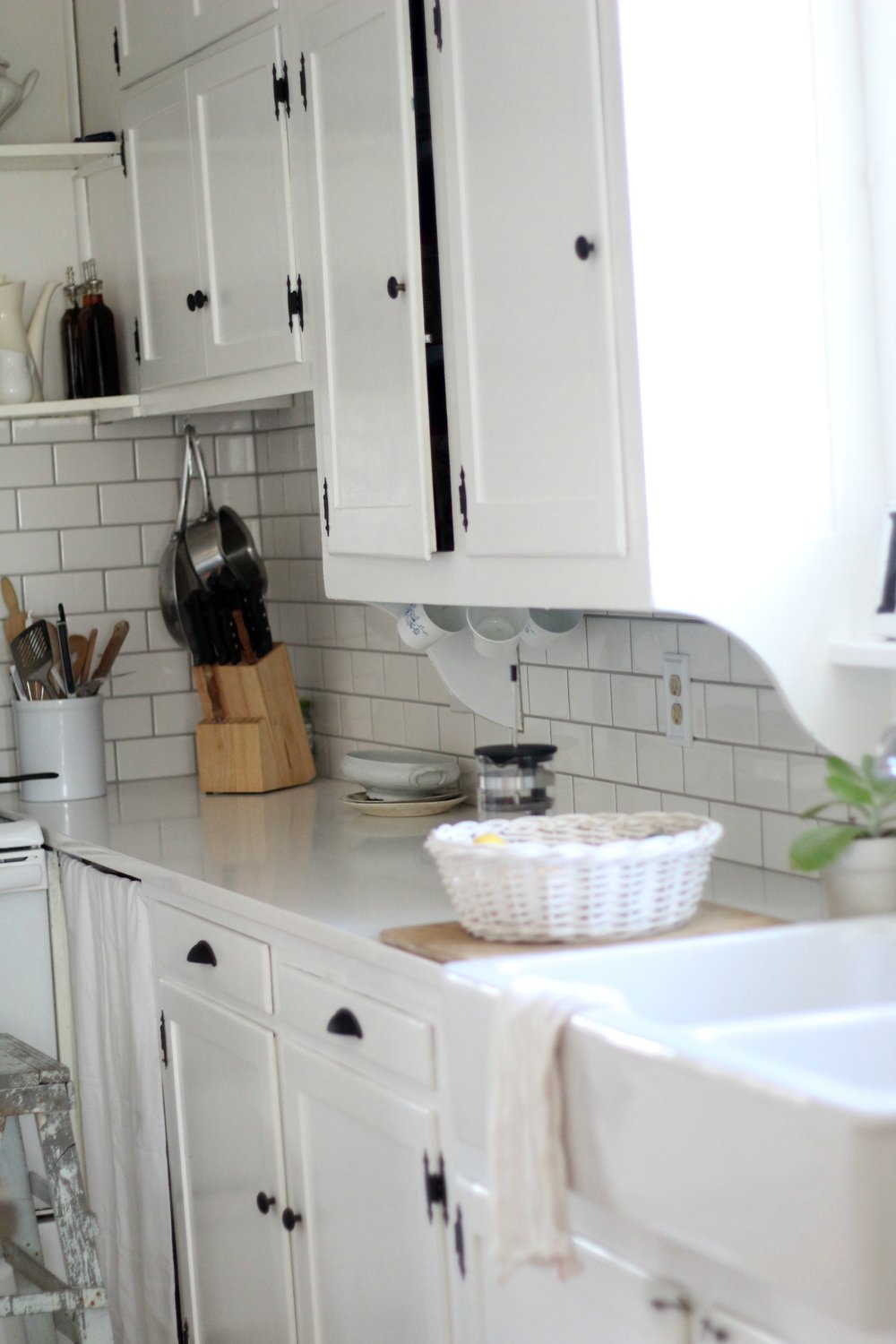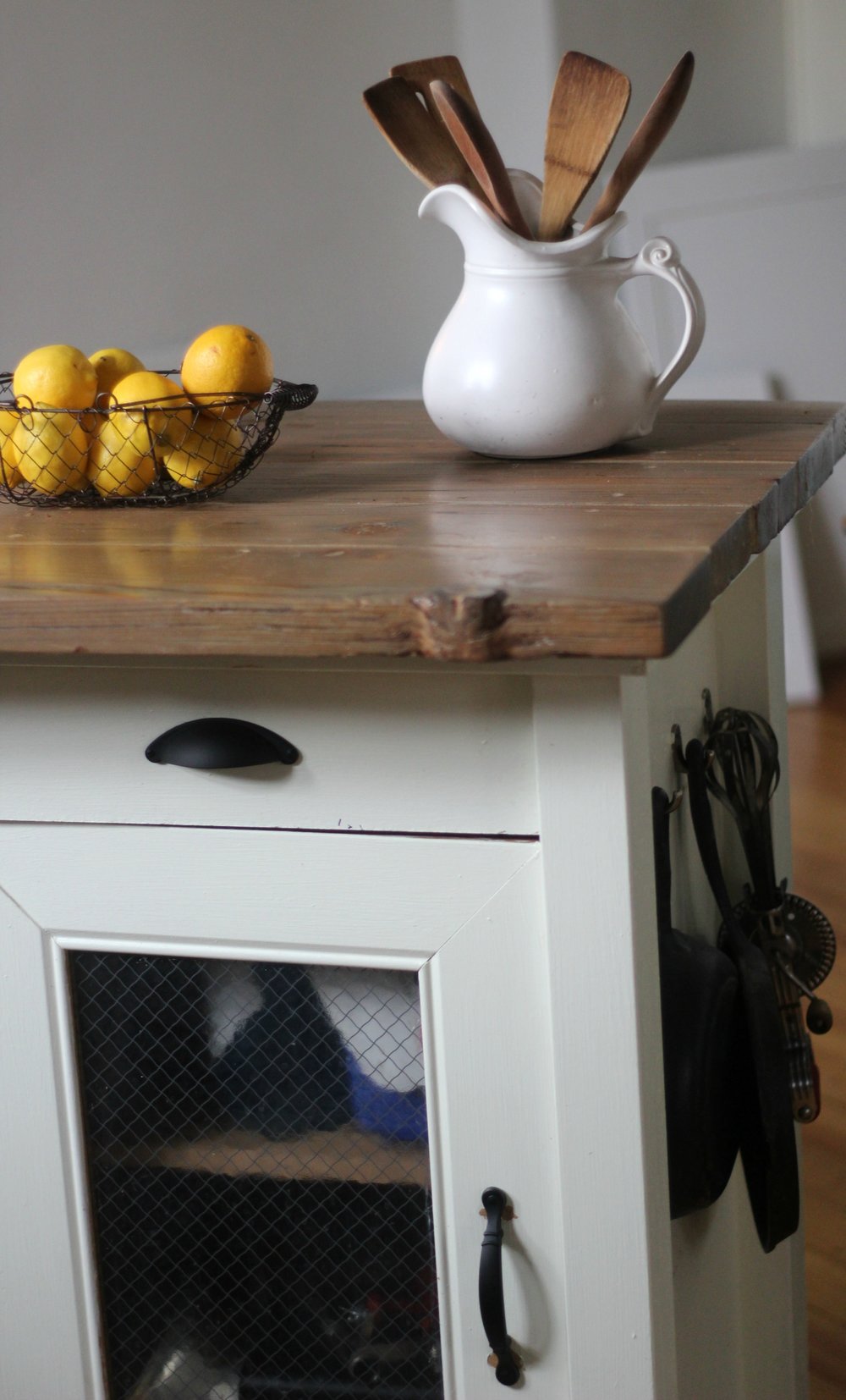 We finished the subway tile with gray grout backslash over a weekend. My husband and I tag-teamed painting the cabinet doors throughout the week. We also decided to spray paint the hinges and knobs black to match the new drawer pulls.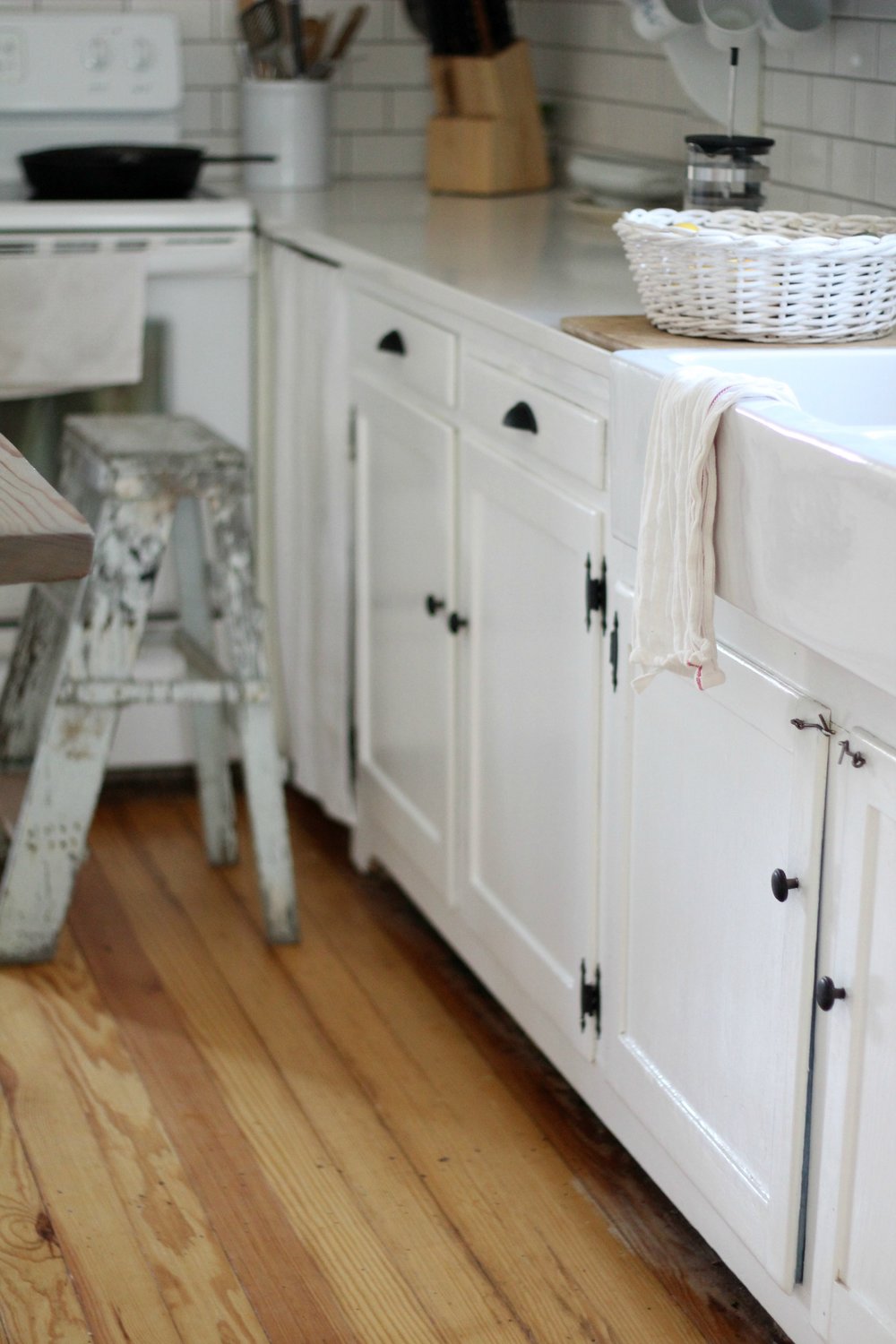 I found this little step ladder at a resale shop. It is perfect for reaching our very tall top cabinets. Although now my two-year-old has full access to everything in the cupboards. I'm not so sure that is such a great idea, so it may not find a permanent home in the kitchen.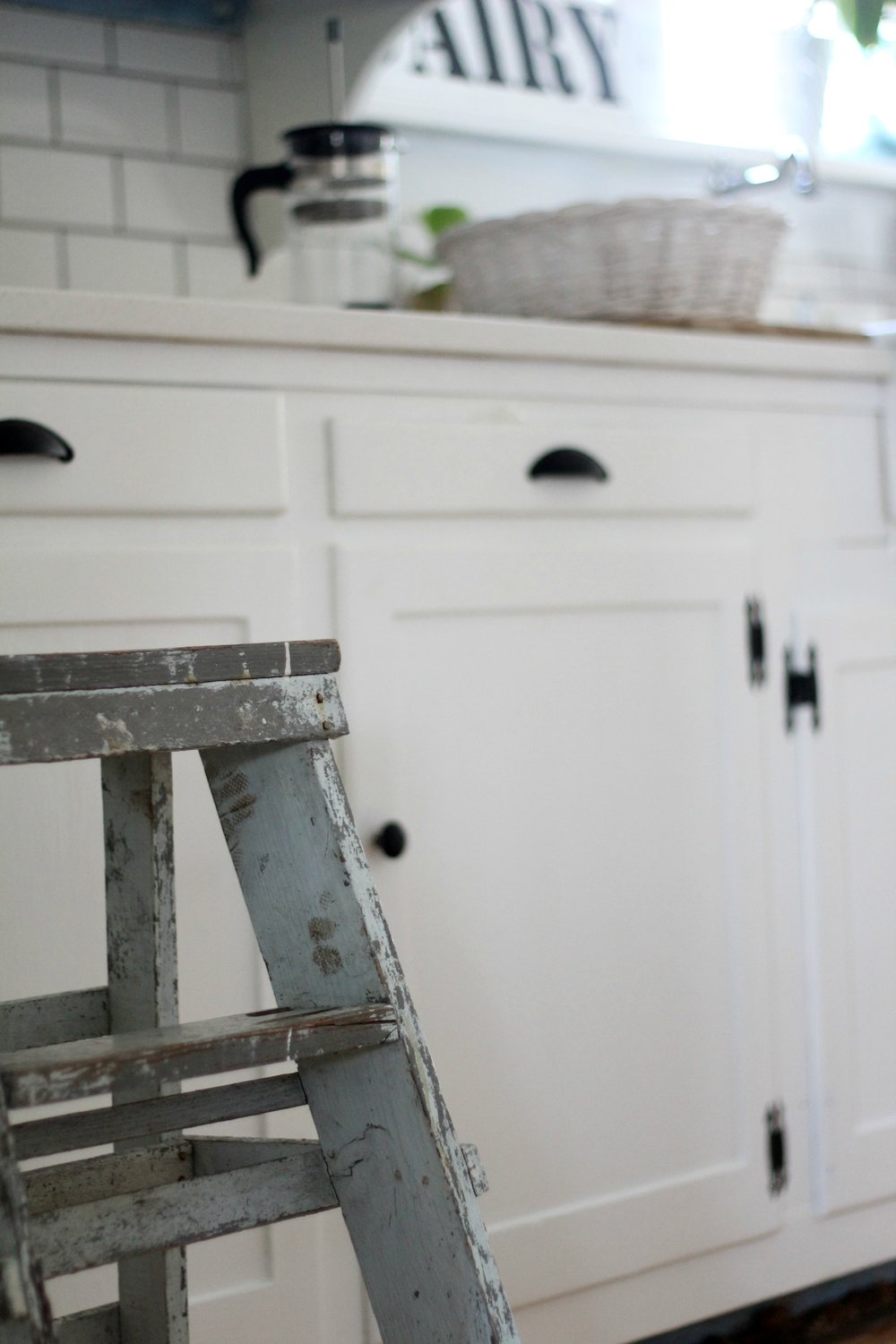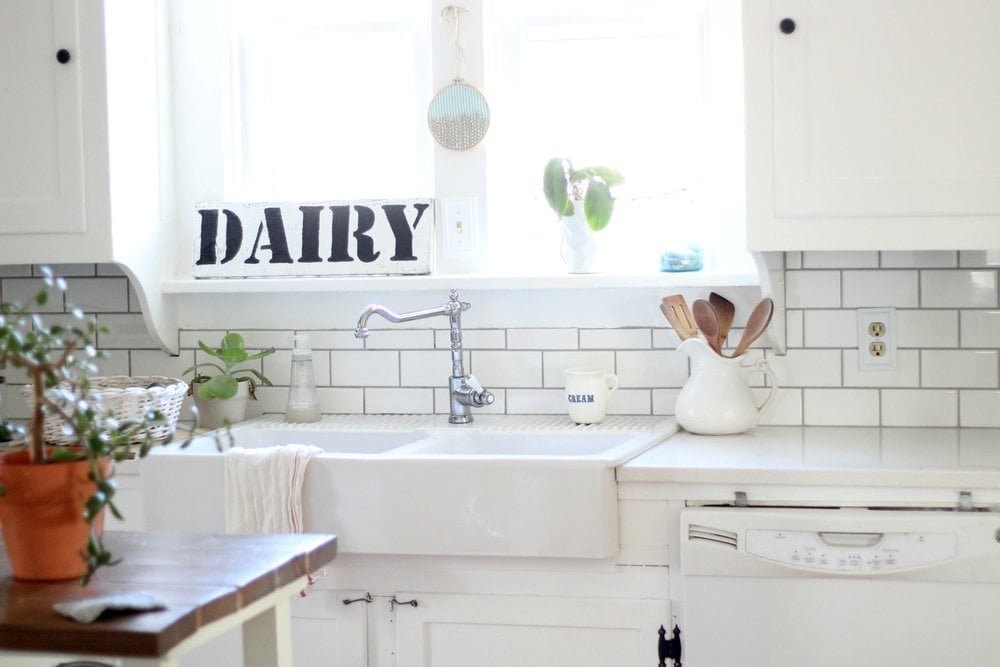 We still need to do the built-ins around the fridge and a few odds and ends things, like add flooring thresholds, put the trim back on and touch up some paint on the cabinet hinges, but I feel like we are in the home stretch.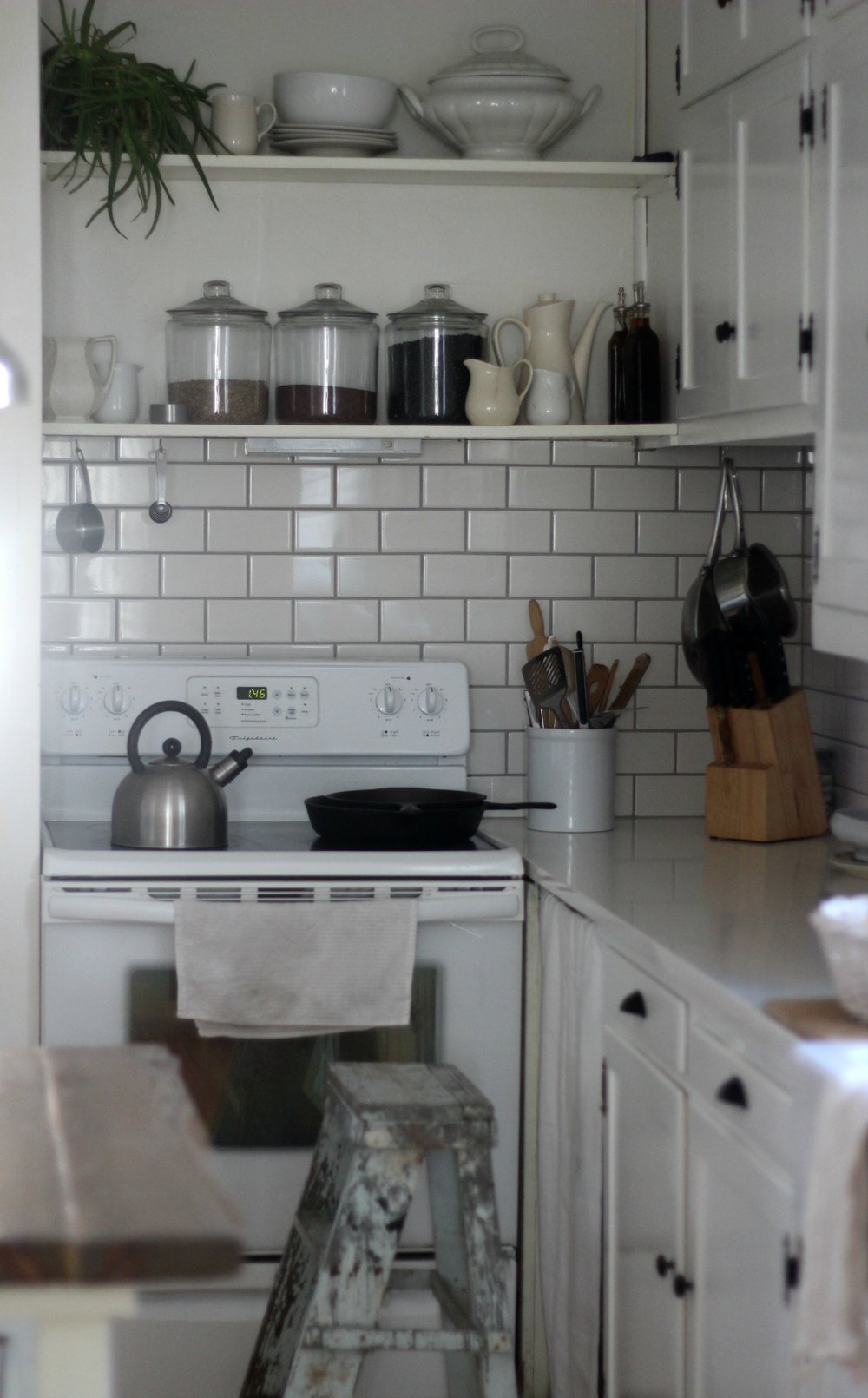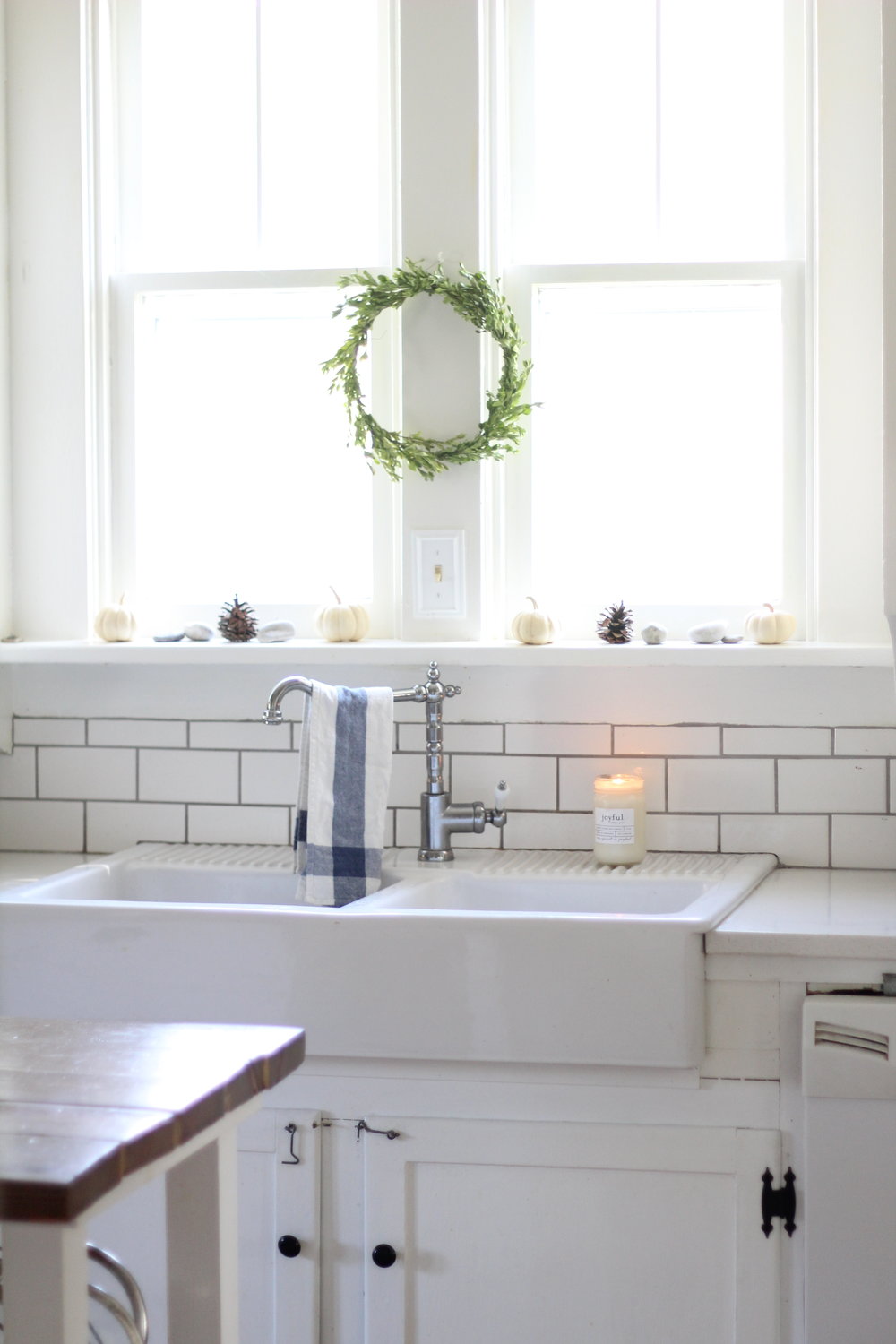 The last finishing touches
We worked hard, and quickly, to replace the laminate counters with quartz, swap the aluminum sink for a ceramic farm sink, paint the yellowish off-white cabinets white, paint the yellow walls white and add a subway tile backsplash. We even ripped up four layers of old flooring to expose the original hardwood underneath. All of that was done in less than three months.
We only had to put the trim back on the baseboards and replace the ugly light above the sink.
But, when our place was looking good enough to live with, the momentum completely fizzled out. Tell me I'm not the only one who experiences this. I wanted to finish the last details of the kitchen, but you know how life gets in the way. And with all the new improvements, I was pretty pleased the way the kitchen was looking already.
Well, after almost a year without any updates, we finally finished our kitchen! YESSSS!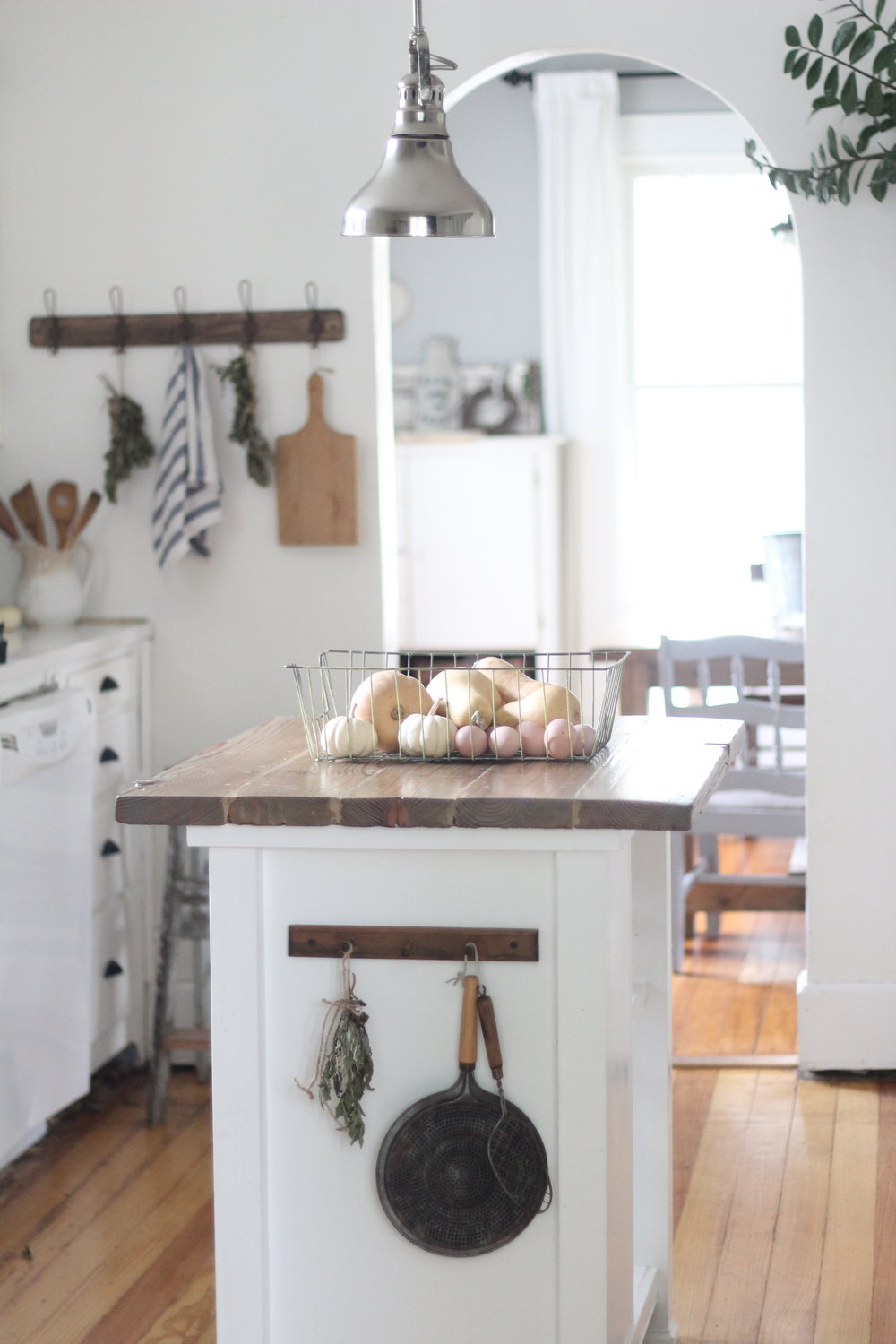 Although we hadn't done anything to the kitchen for almost a year, it had definitely been on my mind quite a bit! I was being super indecisive about the light above the kitchen sink. I wasn't sure if I should do a pendant, some kind of three bulb wall light fixture or two separate lights. Quite honestly, the whole thing really stumped me. That's probably why the previous owners just threw a bathroom fixture up there.
Well, I finally decided on something, and I absolutely love the way it turned out.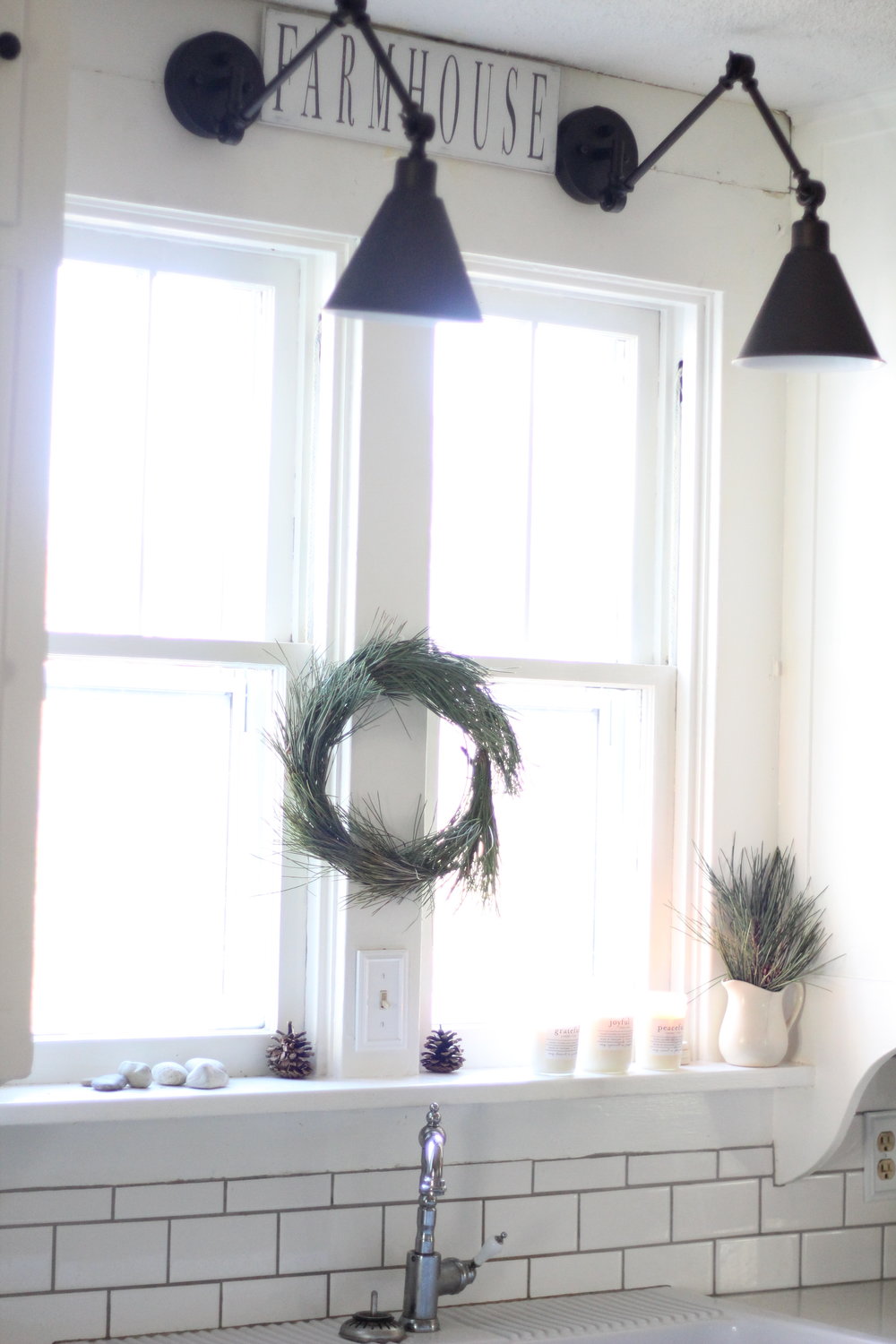 I can't believe I waited so long to add new light fixtures to this area! I was so excited when I found these Bronze Metal Swing Arm Lamps from Amazon. They are absolutely perfect for the area. I had known for a while that I wanted something in this style, but all the fixtures I kept seeing online were around $400 each. Pretty, but sorry, not in the budget.
This set was $99! For both. No kidding.
I figured, if I didn't like them, it wouldn't hurt to try them for under 50 bucks each.
They were actually both plug-in lamps, but my handy cousin cut the cords and hard wired them in. The whole job took less than an hour. We actually had to install them upside down to create more of a bend. When they were right side up, there wasn't enough room between the tops of the windows and the ceiling to bend them as I wanted. They are completely adjustable, so I fiddled with them a bit to get them bent as I envisioned.
Instead of patching the wall where the original fixture was, I made the quick decision to throw my farmhouse sign from Fourth and Maple up there. It fit in between the two lights just perfectly! Bam. Done.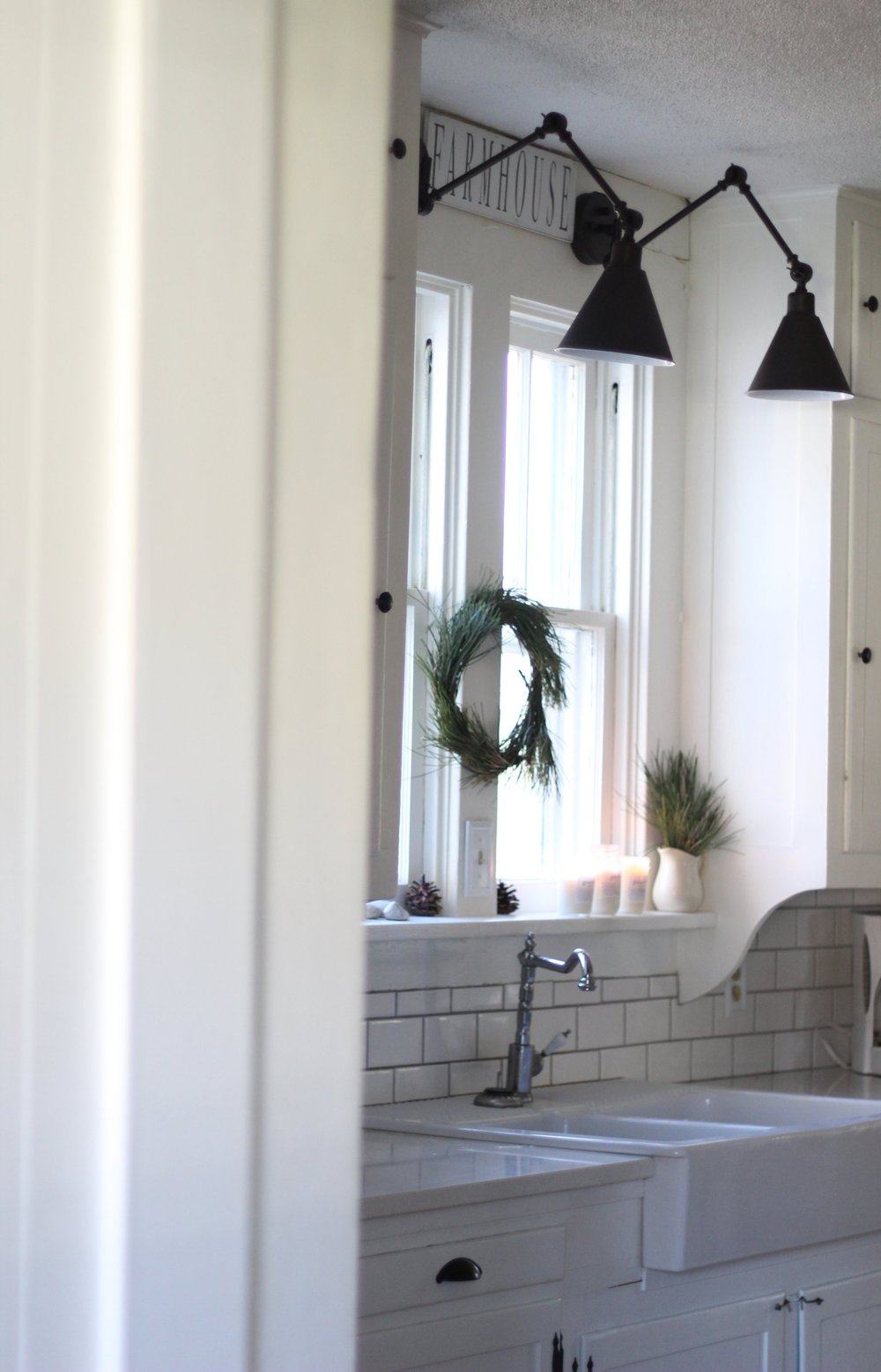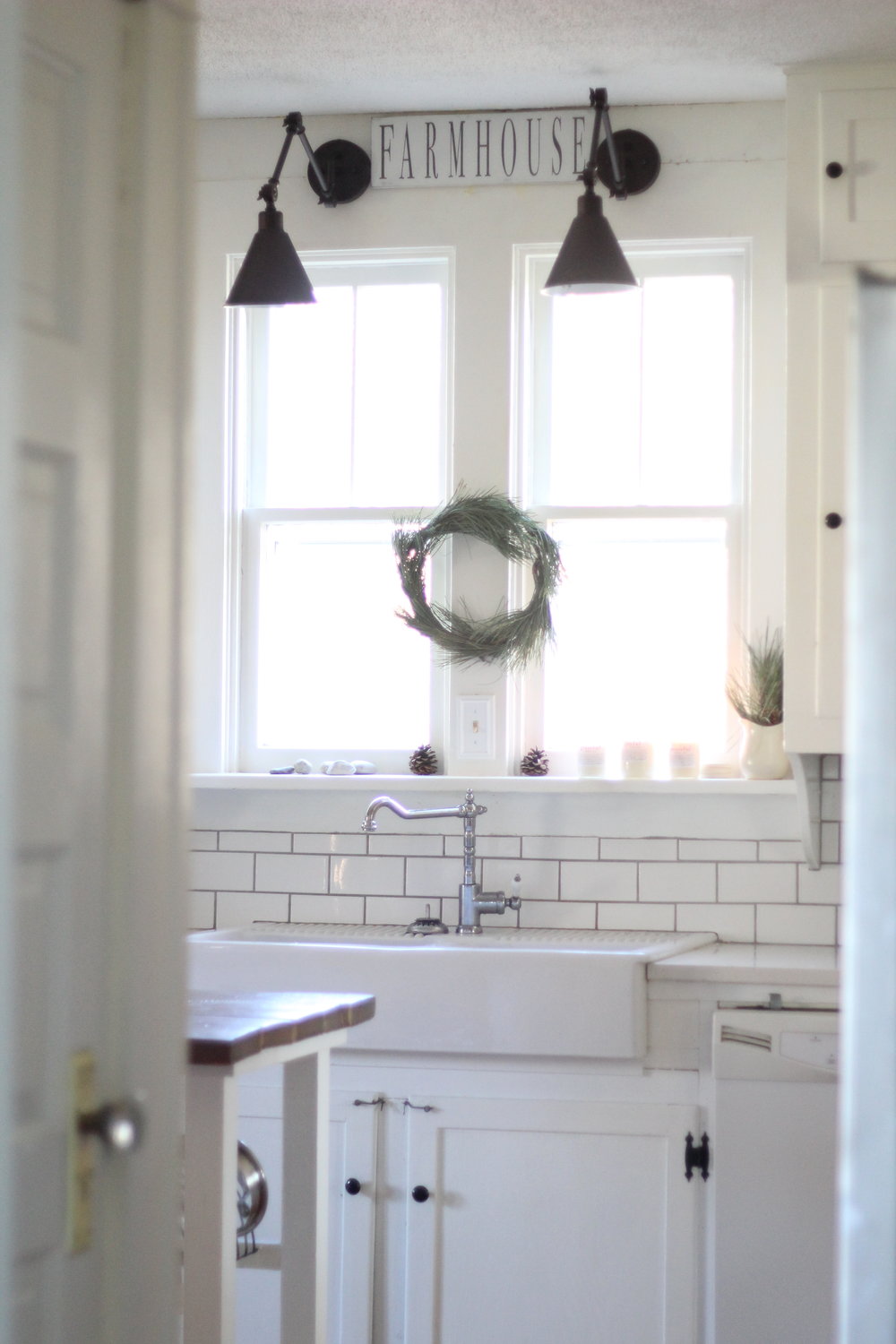 We replaced our refrigerator from at least 20 years ago with a brand new stainless steel one. I didn't realize what a difference that would make, but it sure did!
We also had some recessed lighting installed, as our kitchen was super dark at night. Without it, we have only three bulbs. That definitely made evening cooking in the winter super challenging. The recessed lighting made a huge improvement. It's night and day.
We still need to finish the trim around the baseboards, but I am holding off on that until we can refinish the wood floors. The person who originally did them didn't do a very good job at all. That will probably be a summer project. I actually want to sand and refinish the entire bottom floor.
We still have our popcorn ceiling, but I am too afraid to remove them, in case they have asbestos. I couldn't live with knowing we scraped asbestos off into our house. I may blank the ceilings someday, but for now popcorn they will remain.
I also plan to add something different above the kitchen island. The silver metal fixture just doesn't fit my style anymore.
I will keep you posted.
I am so glad our kitchen is complete
It is at least done enough that I can live normally in my kitchen.
No more of these doors off cabinets, tiles off the backslash, and half the floor ripped up business.
The kitchen feels done and I can use it normally again, any sense of urgency to get it done is gone.
I am super happy with the way our kitchen turned out! It is just how I have dreamed my farmhouse kitchen would look like!
Shop this look:
Thank you so much for stopping by!
This post contains affiliate links. See my full disclosure HERE.
Read on friends:
A Review Of Our IKEA Quartz Countertops

Our Experience With The IKEA Domsjo Double Bowl Farmhouse Sink