Come see our a frame chicken tractor that we built with Green Willow Homestead plans. It is complete with nesting boxes, a ramp and plenty of space to roam for fresh grass and bugs.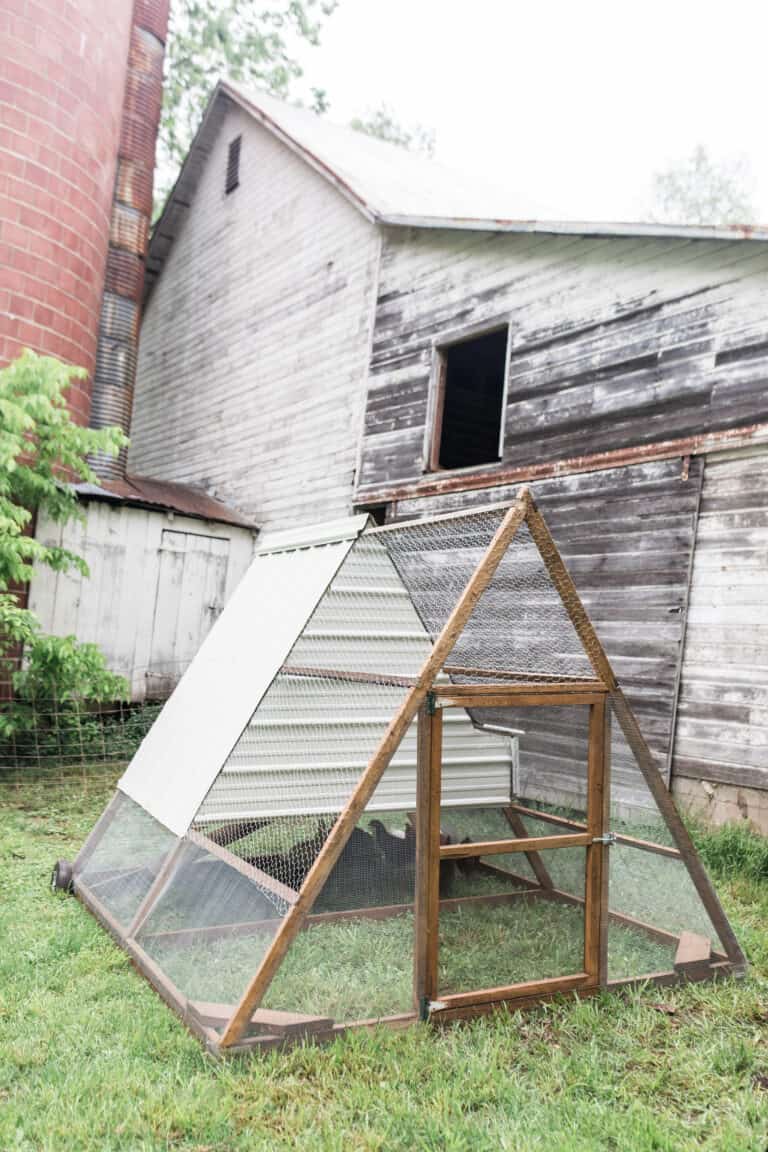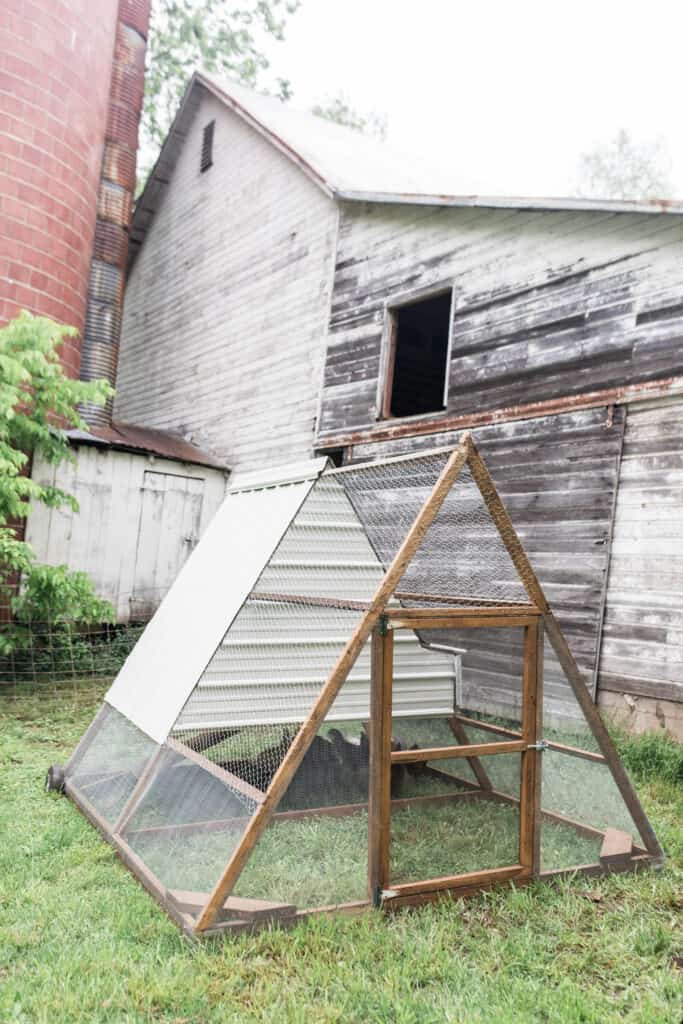 This little a frame chicken tractor here is a long time coming. A good month ago now, back in April, I shared with you some tips on how to care for backyard chickens. I talked about feed, water, breeds, needs, and shelter.
Oh yeah, shelter. The one thing we didn't have yet when we purchased our fresh little chickys.
Not to worry, I had already purchased some a frame coop build plans and all the supplies needed to build our very own coop. (You can use code: boonebuds15 to get 15%off of this plan.)
Well, as projects always do, this thing took us at least twice the amount of time to build as I expected. It's not that it was particularly difficult, but Luke and I aren't carpenters.
We built our farmhouse coffee table, 9-foot dining room table and our front porch swing (all featured in Do it Yourself magazine, which you can read about our story here). But all of those projects were soo easy. We chose a not-so-quick-and-easy chicken coop plan for several reasons.
Reasons we chose this particular chicken tractor plan
Size– This thing can hold up to 20 hens! We didn't want 5 backyard chickens on our new 7-acre homestead. We wanted more.
5 kids and one on the way= substantial egg consumption. We need more birds!
Plus, this coop allows for the birds to peck around a whole lot of fresh grass and bugs. The bottom run area is massive, especially when moved daily for a fresh patch.
Nesting boxes– The plan detailed how to make nesting boxes, so we didn't need to find an alternate solution for that.
Doors everywhere– There are three doors total in this a frame chicken tractor build plan.
One to gather the eggs from the nesting box, one larger door in the front, and one square door in the back to access the ramp.
Cool looking– I mean the shelter area is covered in white metal.
Wheels– We knew we wanted something mobile (aka chicken tractor, more on that later) so the birds could get fresh bugs and grass every day without roaming free around our yard.
Predator safe– At our last house in town, the biggest threat was the occasional neighborhood dog. We never saw coyotes, foxes, raccoons, opossums, or any other chicken predators. We are definitely more "out in the country" now, so we liked that this coop is super secure.
Come see our A-frame chicken tractor | CHICKEN COOP TOUR YOUTUBE VIDEO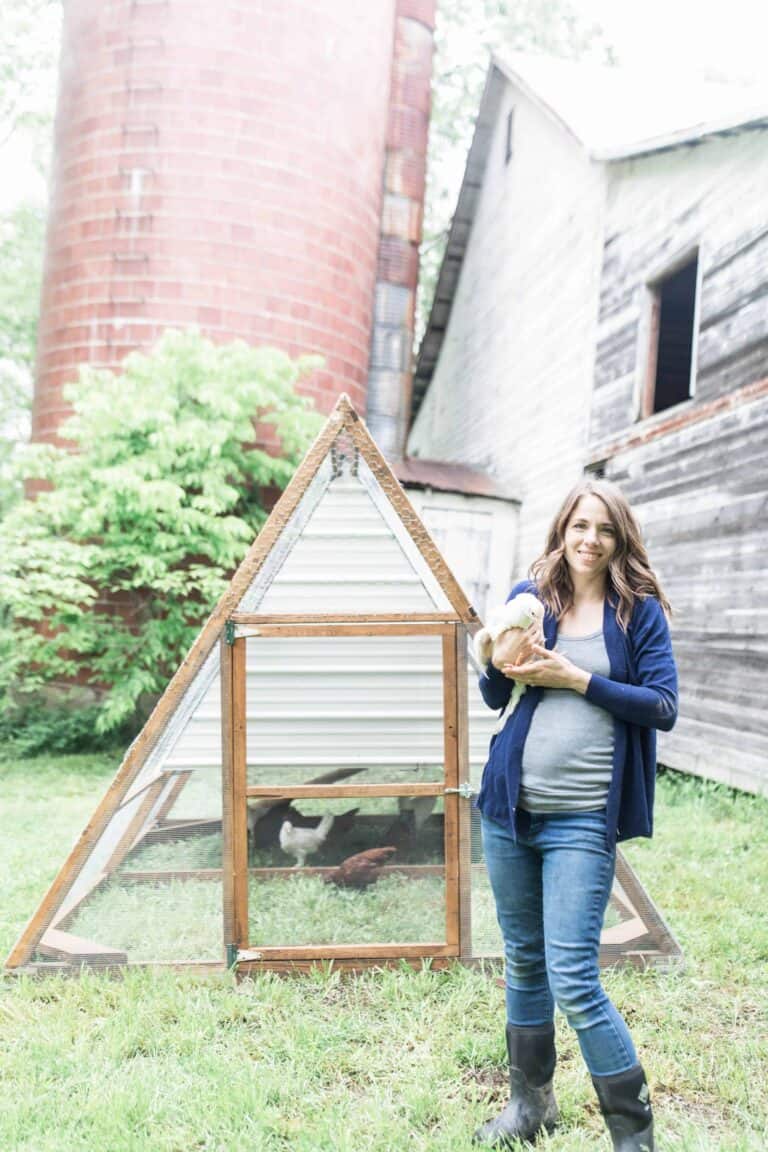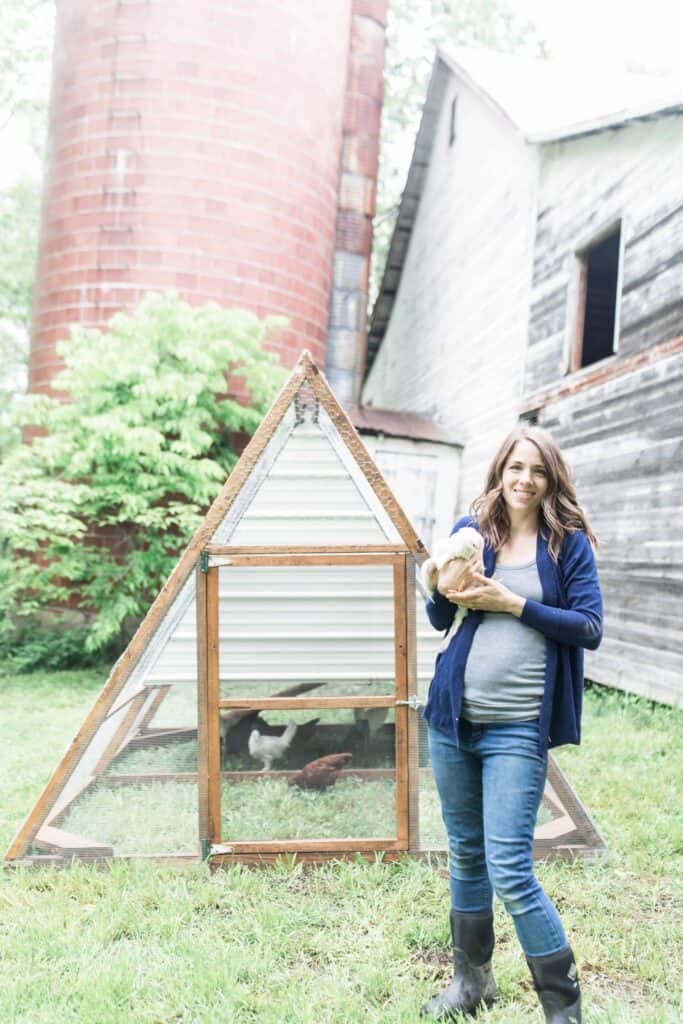 A chicken coop with all the bells and whistles
So, as you can see, this thing has ALL the bells and whistles.
So, with that, we found ourselves building a project slightly beyond our skill level. With many many hours of putting our two heads together to figure this thing out, we finally have the exact coop we want.
It was definitely worth sticking it out!
Now maybe someday I could convince Luke we need another, but I know that day is waaay far off and down on the ever-growing priority list of homestead to-do's!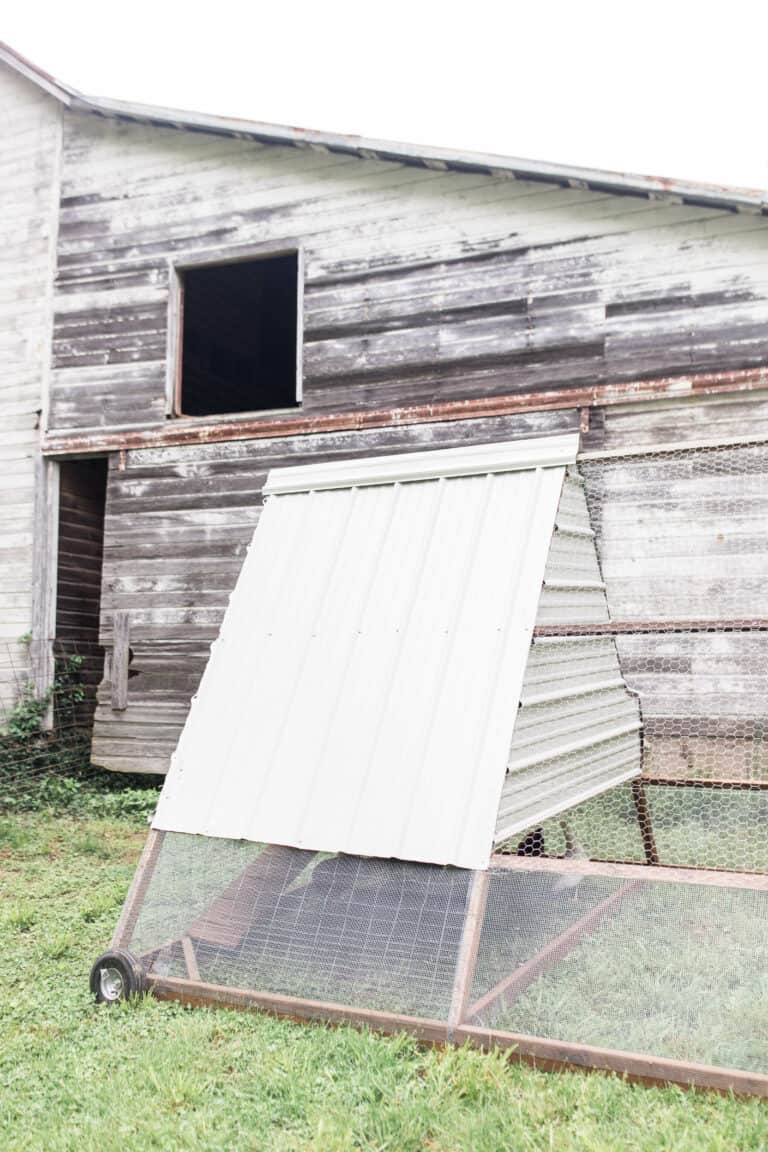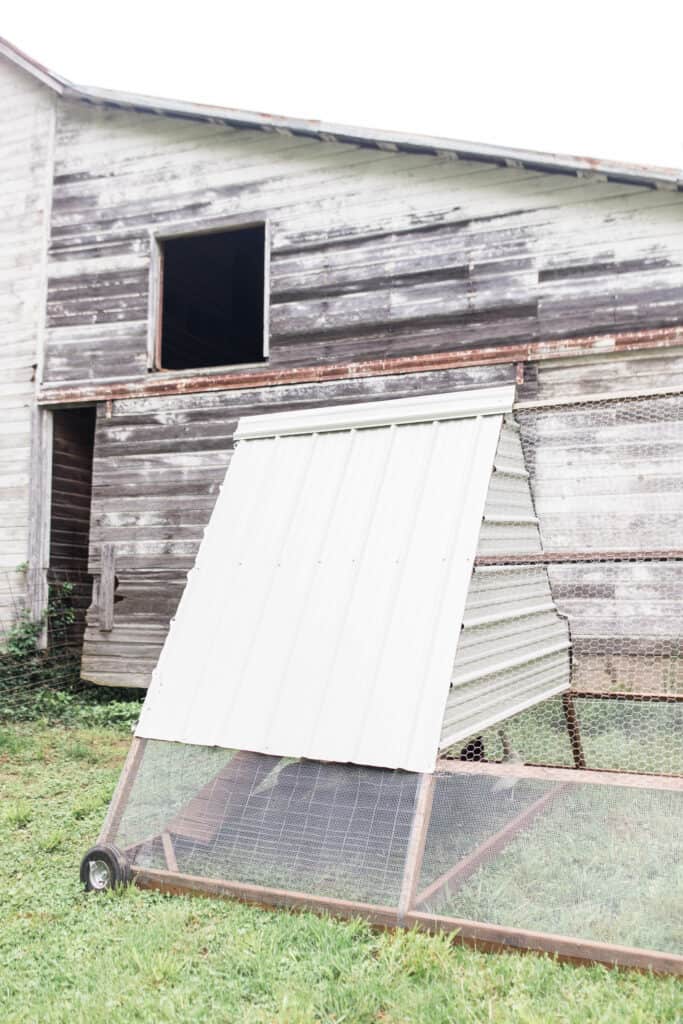 What is a chicken tractor?
A chicken tractor is a mobile chicken coop. It can be moved around each day so that poultry has access to fresh grass and bugs.
Why use a chicken tractor over a chicken coop?
If chickens are left in one area, such as a coop and run scenario, they will quickly peck up all of the grass and leave a dusty barren area behind. A tractor allows birds to get fresh pasture daily, while never leaving them in one area very long. It is also great for yard and garden fertilizer, as they leave their manure behind. Since they are moved daily, no area ever gets too much fertilizer.
We used this same method for our five backyard chickens when we lived on a quarter acre in town.
You can see more on our small chicken tractor on our tiny homestead in this post: 7 Essentials for a Backyard Chicken Coop
We were able to raise five chickens on only a quarter acre, with plenty of access to bugs and grass.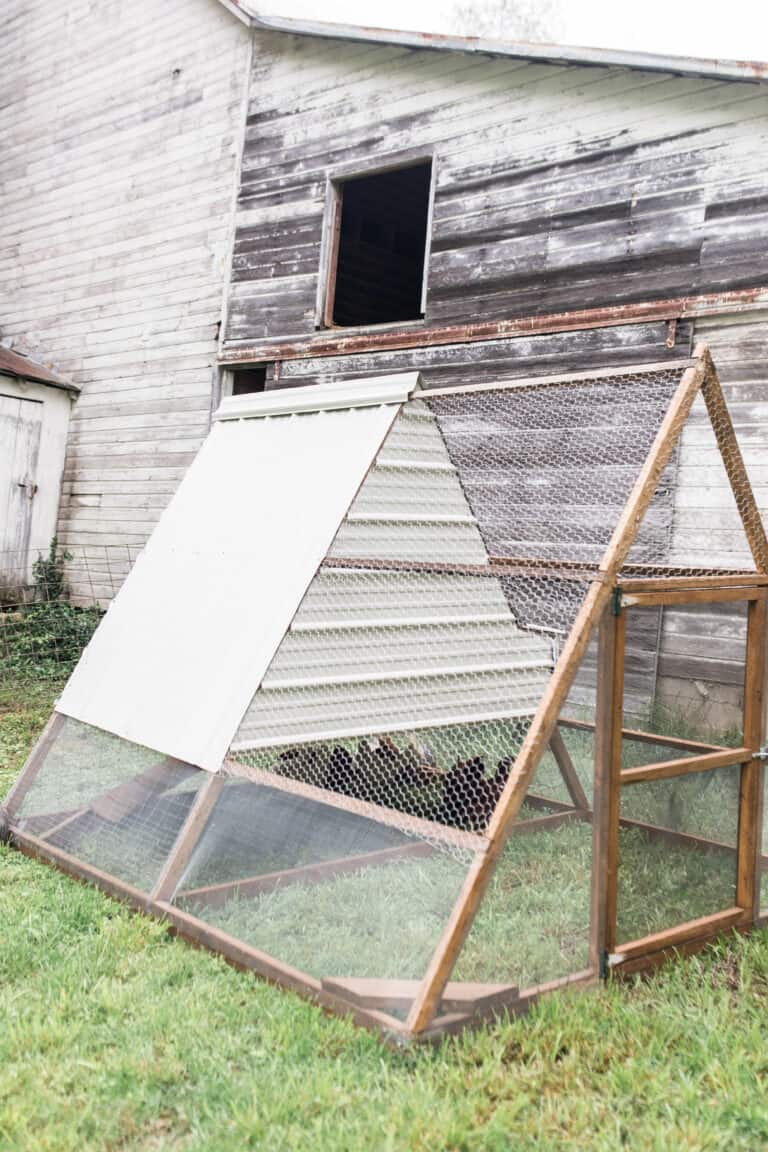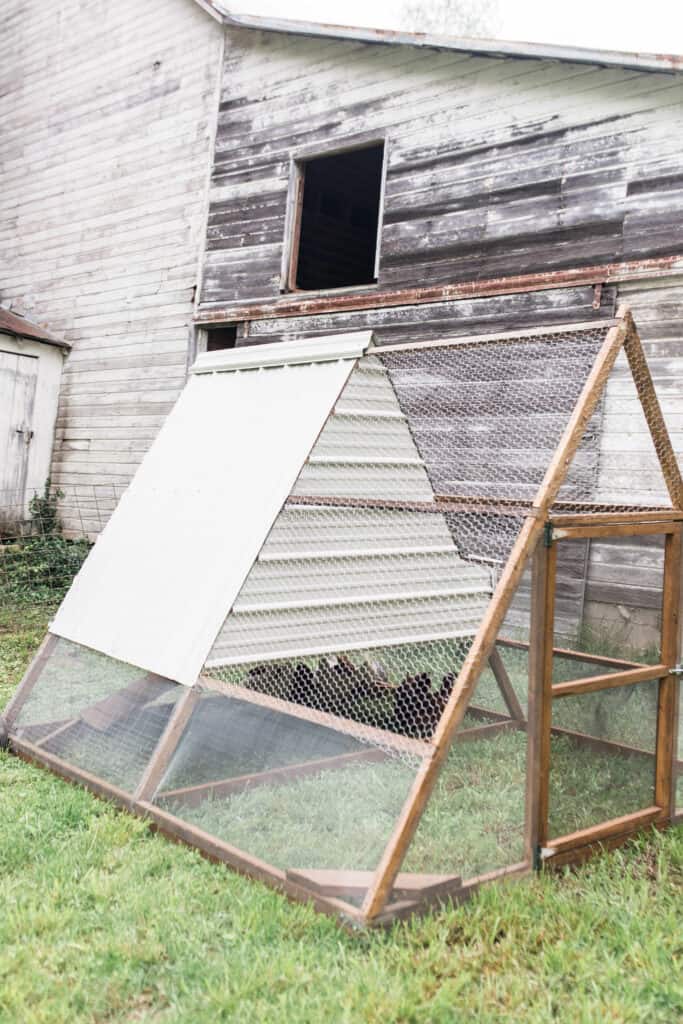 Get the A-frame chicken tractor plans
We purchased the plans for this chicken tractor build from Green Will Homestead. You can find them here: Mobile Chicken Tractor Build Plans (You can use code: boonebuds15 to get 15%off of this plan.)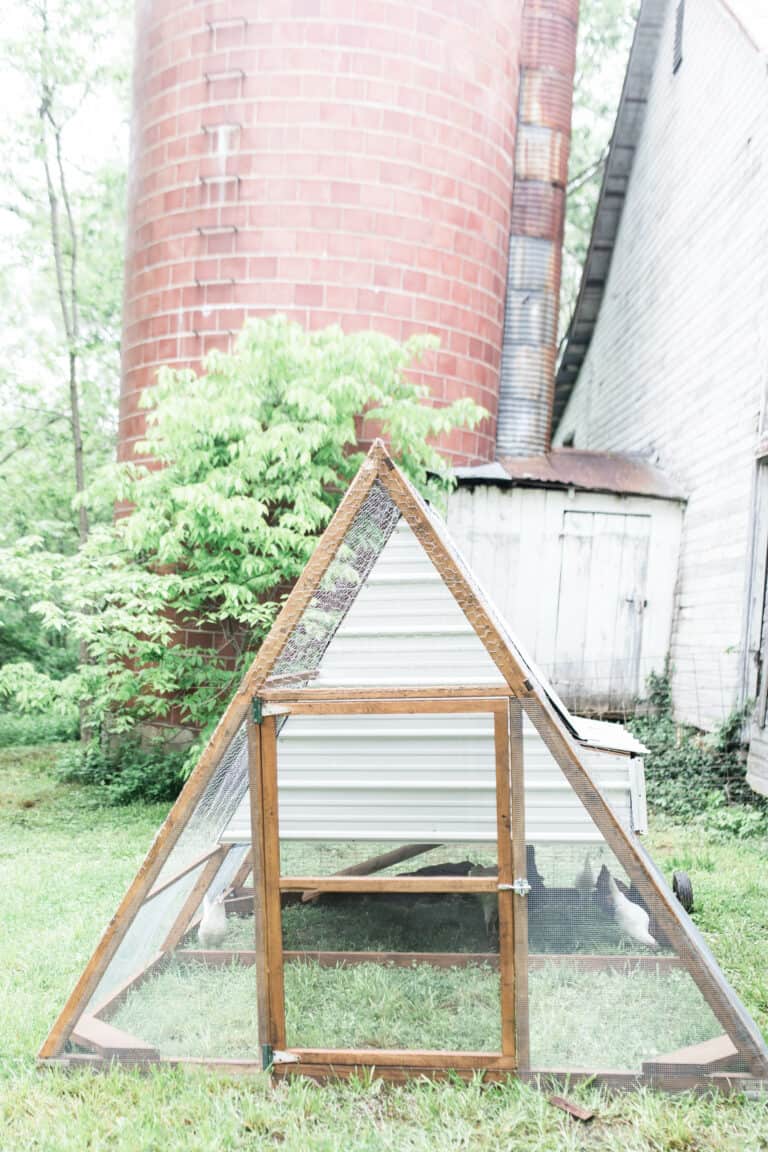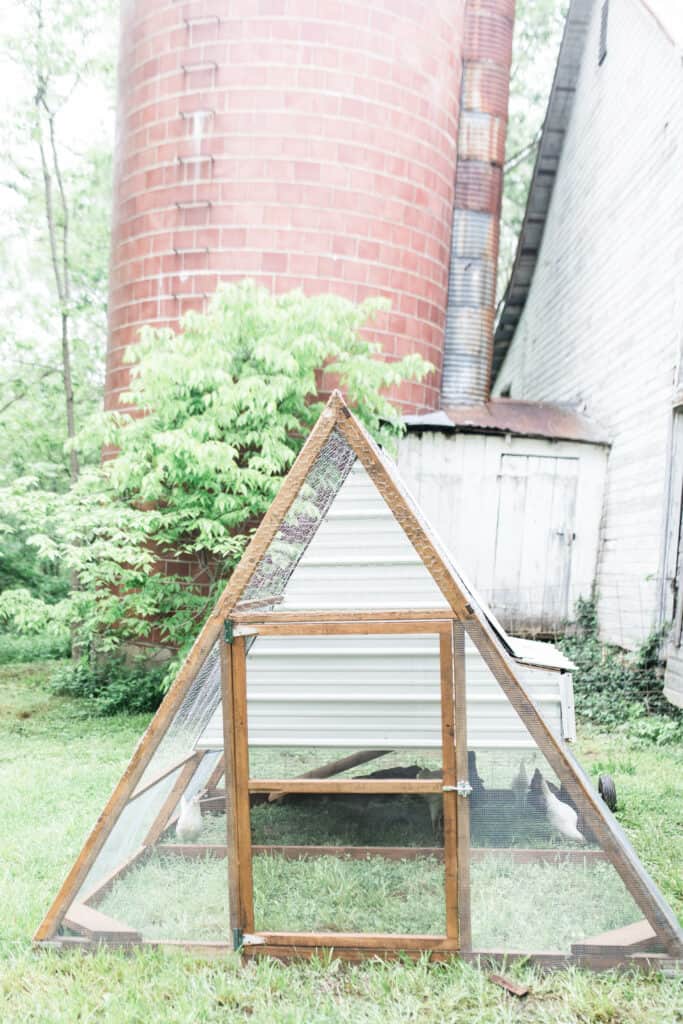 Make sure to watch the video to get a full tour and hear a little more about our new A-frame chicken tractor!
Did you miss the tour of our new homestead and farmhouse restoration? Catch up here:
Next up on the list is the garden. Stay tuned for our garden cottage tour.
Happy Homesteading!
Pin it for later