If you've been reading my blog for a little while, you know that we renovated our kitchen earlier this year. When I wrote the first post about the makeover, I wasn't sure if I wanted to paint the cabinets gray or white. I was throwing around the idea of a bead board back splash and I wasn't sure if I would do butcher block counter tops or some kind of stone.
A lot about that original design plan changed, but one thing I knew I wanted from the very beginning, was a farmhouse sink.
Rewind back a few years ago, when I started thinking about redoing the whole kitchen. I wasn't sure if the money was in the budget, but I justified that maybe it would add value to the house. I started looking at all the farmhouse sink options. I quickly found that my beloved apron front sink wasn't going to be cheap. It seemed the average price for a nice, heavy ceramic sink was around $700! That just seemed like a little too much for a sink.
That is until I found out about the IKEA farmhouse sink. It looked beautiful and was less than $300. I heard that a new IKEA was coming to St. Louis, so I was determined that as soon as it opened I would be there to buy my new sink.
In the meantime, I started researching how to install it and other specifics. The whole process wasn't too reassuring. I found out we would definitely have to do some cabinet and countertop modifications to house the new sink. I knew it was a little beyond our DIY capabilities, so when the store finally opened and I bought my new farmhouse sink, in late 2015, I called an experienced carpenter (my cousin) to help us do the job.
We ordered our quartz counter tops, which I wrote a review about, from IKEA. The purchase included free installation, so that part was all taken care of.
Before they came to install the IKEA quartz countertops, my cousin measured the area where the farmhouse sink would sit, and cut the front of the cabinets to size. The doors were too tall, so he had to remove the top trim on them, cut them to size and then add the trim back on. If you live in a house where the cabinets are relatively new, I imagine you could find shorter doors that are a similar style. Rebuilding the doors was the only option in our 1920s farmhouse. I'm pretty sure the cabinets are original to the house.
He also built supports for the farmhouse sink to sit on. He basically just built a little table out of 2 by 4's. Maybe some modern houses would have the structural support necessary to hold the sink, but ours wasn't sturdy enough, especially after cutting the front. Plus, the IKEA Domsjo double bowl sink is super heavy!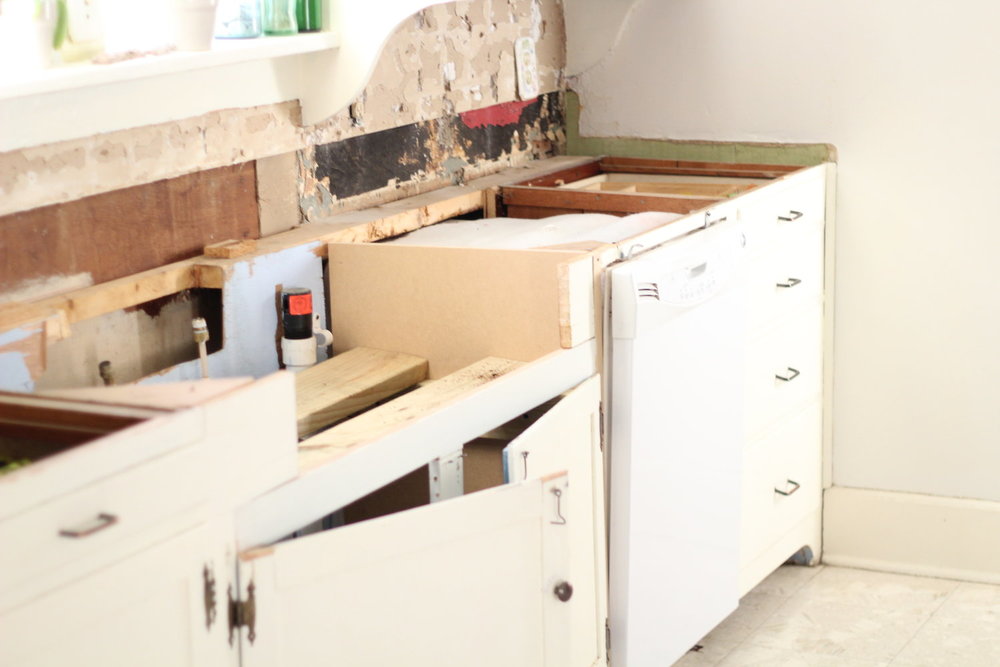 Everything was definitely pretty wonky for a while. We had to move the hardware on the doors, because they no longer lined up. We also had to add trim to the front of the cabinets in several places, because the counter tops had to be shimmed to be level. Old house charm, friends.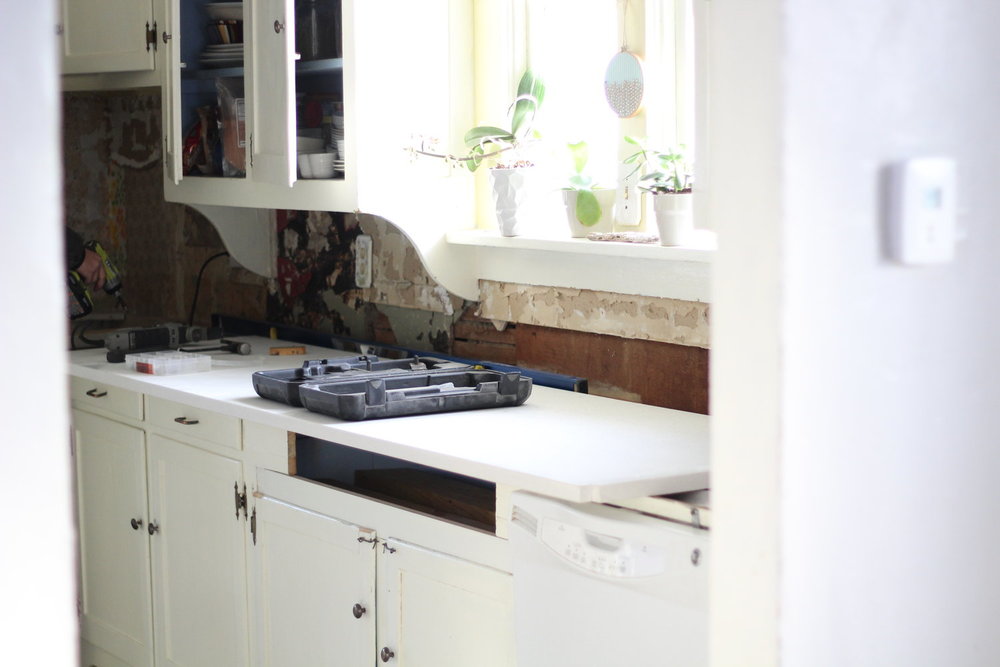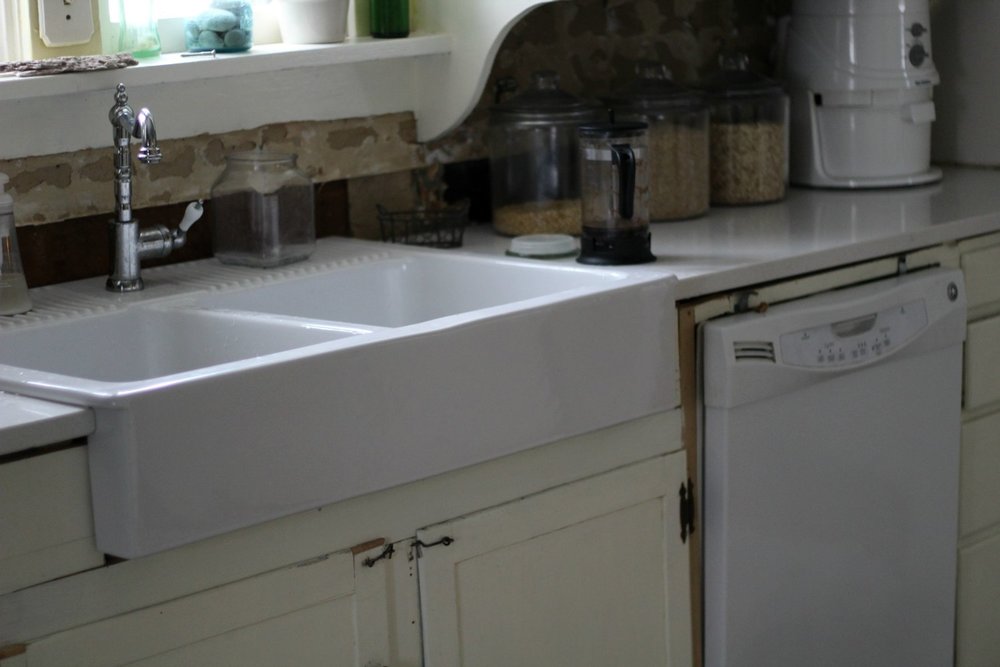 After a little trim, paint and a whole lot of fananglin, we had our new sink lookin pretty.
So now for some of the details of how we actually like our IKEA farmhouse sink!
Some common questions I get are:
Is the sink hard to keep clean?
In short, no, not really. I just wipe it out with a Norwex cloth every day after I do dishes. About once a month, I break out the big guns to get off any tougher stains. I use Soft Scrub cleaner with Bleach, which I wrote about in our IKEA quartz counter top review post. It works perfectly to get it back to its original bright white.
I will say the only thing that makes it slightly more difficult to clean, than our old sink, is the grooves in the drain board. I go through them with my Norwex cloth, one by one, fairly regularly. It isn't a huge task at all, just something I do on the regular.
Is it difficult to clean the counters now that you can't wipe everything into the sink?
This question is in regard to the sink being overmount, instead of an undermount sink. You can't wipe things straight from the counter into the sink. Honestly, I don't notice it at all. I never had an undermount sink, so this isn't an issue for me.
Do you miss having a sprayer?
I really really thought I would. I was worried about it. But, no, I don't.
If I have something that needs some water pressure, I usually just add soapy water and a lid and give it a good shake.
Which faucet did you choose?
We went with the chrome plated Glittran kitchen faucet. It wasn't the cheapest faucet on the market, but what's an extra 50 bucks when you're going to have something for the next 20 years? I think it is beautiful. Just sayin.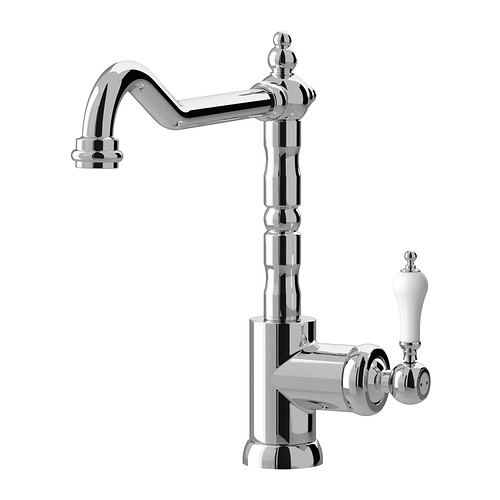 Some questions I don't get, but I think people should be asking:
Do you break things a lot because the sink is so hard?
So glad you asked! Why, yes I do! Being a previous owner of laminate counters and an aluminum sink, this is not something I anticipated. Ceramic is very hard. If you buy this sink, don't task your kids with putting dishes in it. Also, be very careful with your glass blender. The hidden cost of owning this sink and my new quartz counter tops is several shattered mason jars. I can definitely say it happens way less now that we are all aware of it.
Did you have to modify your cabinets to fit the sink?
I answered this question above. It took a lot more modifying than I expected, which is typical for me to think things will be easier than they actually are. It was outside the scope of our DIY abilities, but a skilled carpenter was able to handle the job lickety split. It was totally worth a couple hundred bucks to have it done right.
Would I buy the IKEA Farmhouse sink again?
Yes, I definitely would! I love our sink. It is so white and bright. I also love that it is HUGE. It definitely gives our kitchen the farmhouse feel I was going for. If I could do the whole remodel all over again I would still choose the double bowl Domsjo IKEA farmhouse sink.
If you want to know about our kitchen renovation check out the rest HERE.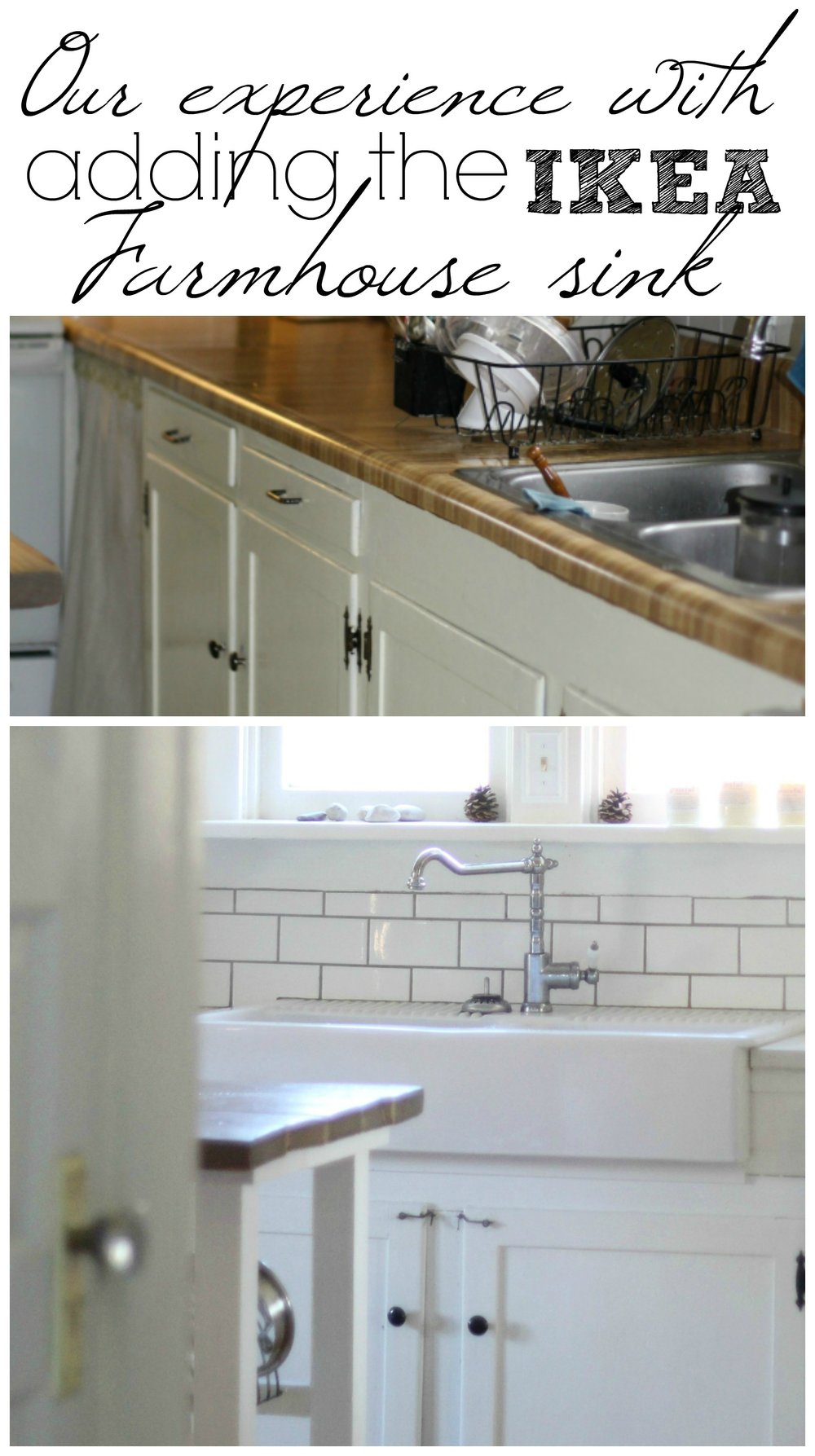 Read a review of our IKEA quartz countertops here.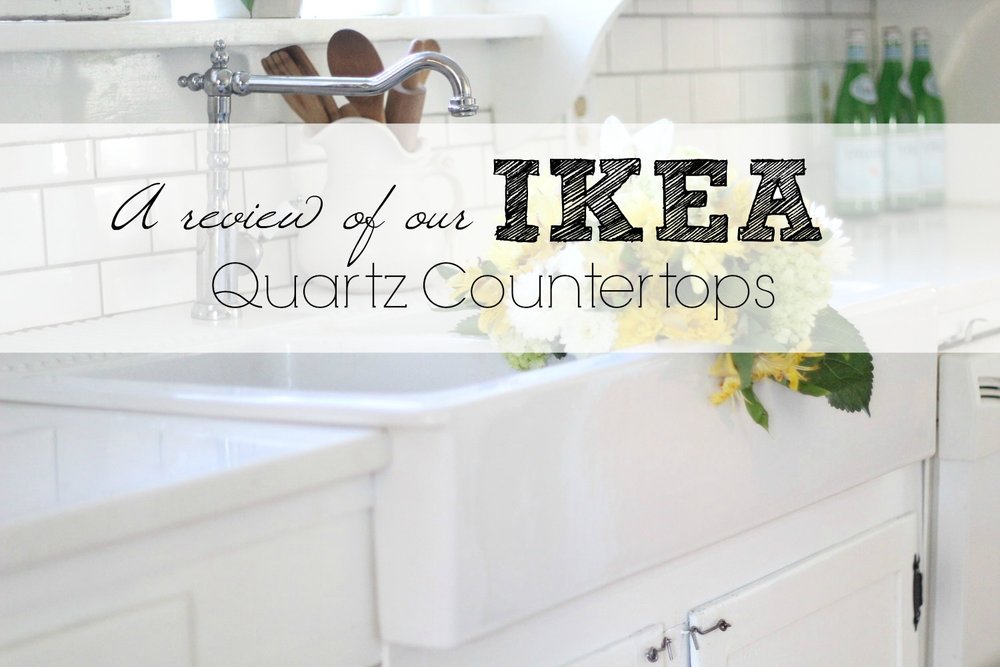 Thanks for stopping by friends!