Check out these summer meal ideas that are quick, easy, and made from whole foods. These healthy, made-from-scratch summer recipes will fill your family's bellies with nutritious foods. Follow my tips below to make summer meals easy.
Today I'm going to share with you 5 healthy summer meal ideas. This goes along with my healthy meals in a week series that I've done on YouTube, but since they can be challenging to make and shoot, I naturally put it off. But I have it for your today, and I'm going to try to do it more often to give you more lunch, dinner, and breakfast ideas.
I know how helpful they can be, since it is really nice to take a peek into other families' menus and see what they make. It can also help others gather some new ideas and gain a fresh perspective when it comes to summer meal ideas.
Personally, we tend to make a lot of the same thing over and over again.
Since it is summer, these meals will include a lot of fresh herbs, tomatoes, zucchini, greens, and other fresh ingredients you can find easily at the farmers markets or in your own gardens. It's very different from winter time, when the meals are more centered around the fall harvest and heartier root vegetables, like carrots, potatoes, squashes and pumpkins.
That is how meals usually flow in our house: meals usually consist of meats, vegetables, fruits, and then we throw in some grains with sourdough recipes.
I don't love making recipes; as you'll see in this meal plan, I'm more of a throw-it-together kind of girl.
If you are an on-the-go person, many of these summer recipes can be adapted for you. Make some sourdough English muffins in advance, and use them to top a lot of the recipes.
You will notice a pattern in these recipes. If we purchase a pack of lemons, or get lot of zucchini or cucumbers at the farmers market, then those ingredients will be seen a lot throughout that week's meals.
Summer Meal Ideas – Easy Side Dishes
One of our favorite, easy side dishes that basically takes no extra work is sauerkraut. You have to make it in advance, but you can make a huge amount of it, and then just pull it out every time you need it. This also works great with fermented pickles. You never have to think of what side dish to make; it is in the fridge, ready to eat.
Sliced avocado is also an easy side dish we eat at almost all meals, and it can help bulk up the meal.
Fresh salad can go with anything.
Sourdough English muffins is a simple side, or to use instead of sandwich bread.
Fruit – summer is full of delicious fruit.
This post contains affiliate links, which means I make a small commission at no extra cost to you. See my full disclosure here.
Tips For Summer Meals
Make things ahead of time and reuse throughout the week.
Use fresh, in-season fruits and vegetables as much as possible.
Make quick sides like the ones listed above for really simple meals.
Add fresh herbs and lemon juice to flavor dishes.
What We Eat In A Week – Healthy Summer Meal Ideas Video
5 Healthy Summer Meal Ideas
Day 1: Southwest Chicken Salad On Sourdough English Muffins Served With A Side Salad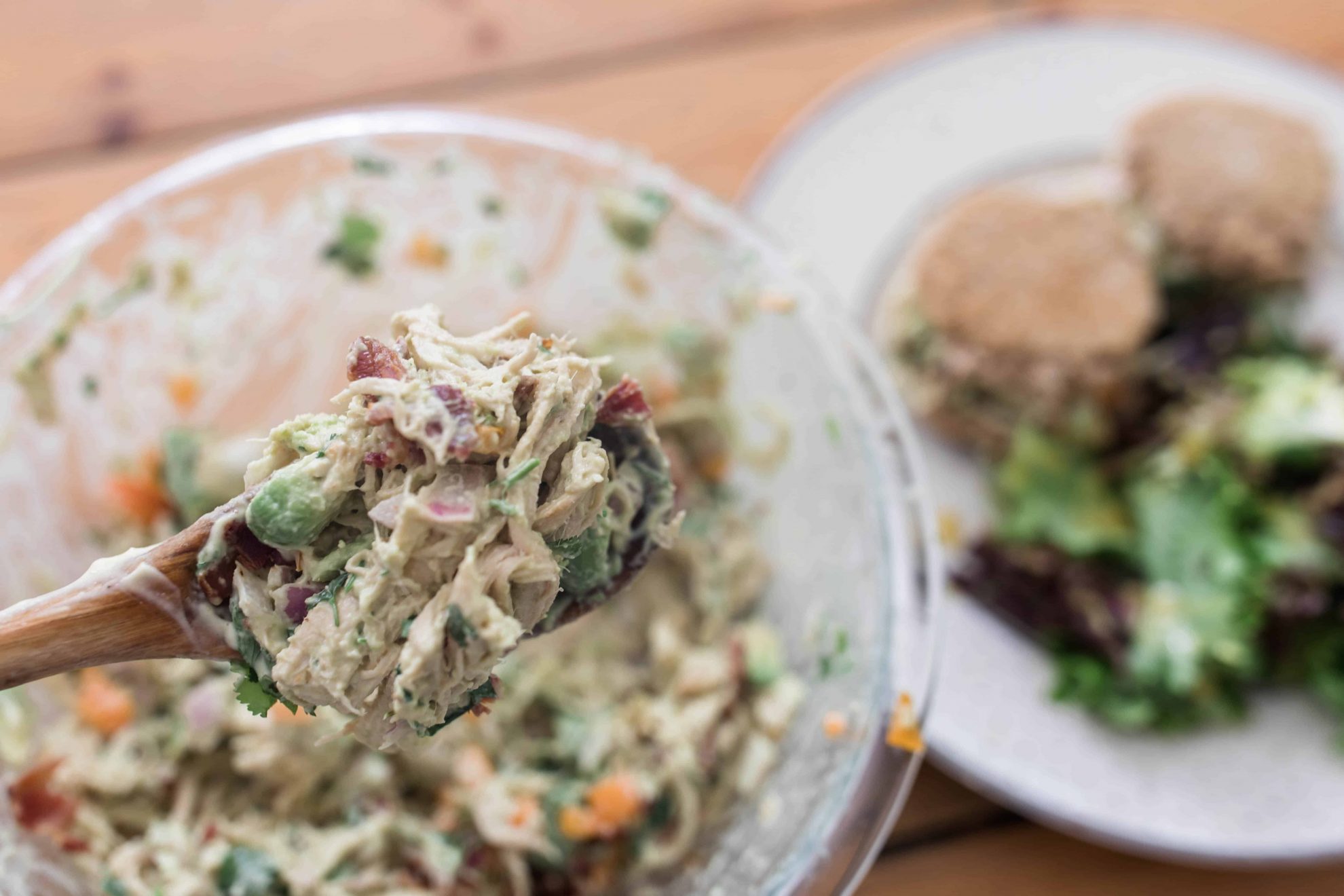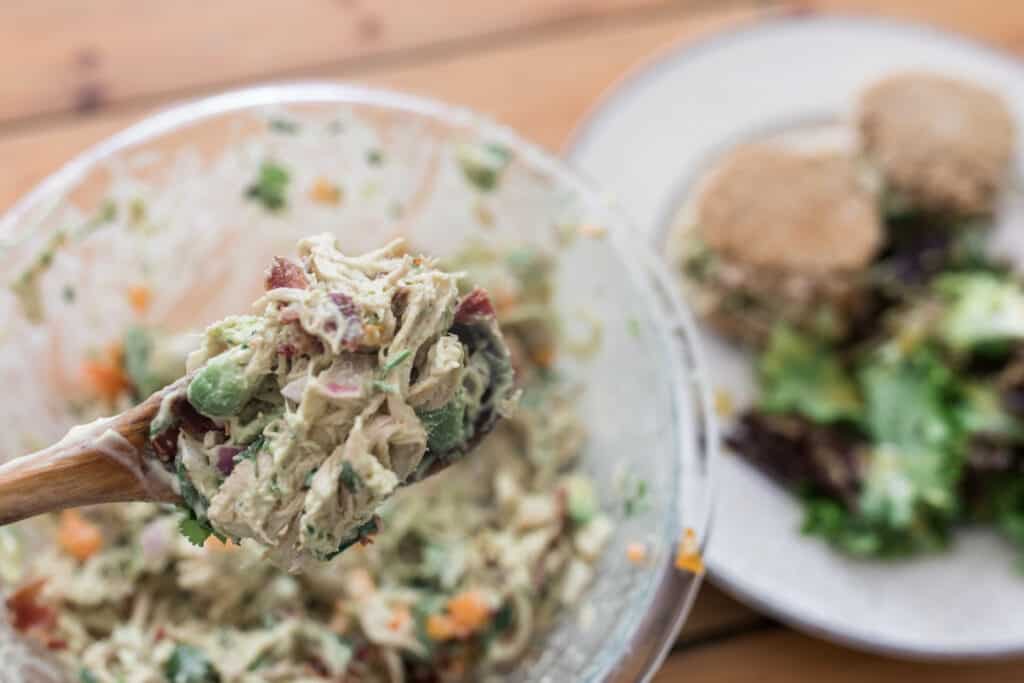 Whole Chicken In The Instant Pot
Make the chicken in advance, and then use the chicken in 4 other meals.
Directions: Put the chicken in the Instant Pot with 1 cup of water. Cook it for 60 minutes if it's fresh, and 90 minutes if the chicken is frozen.
Southwest Chicken Salad
Fresh bell peppers- diced
Red onions – diced
Avocado- diced
Fresh cilantro
Garlic powder
Salt
Avocado mayo
Cooked shredded chicken – use chicken made in the Instant Pot
Crumbled bacon – I cooked bacon and used some for this recipe, and then will use the rest later in the week for another recipe, or to throw in eggs to make them more tasty.
Serve on top of sourdough English muffins. I do have a sourdough bread recipe, but I almost always go with the English muffins because they are faster. The bread takes days to make, but the sourdough English muffins just need to be started the day before.
Side: fresh greens with homemade honey mustard dressing.
Homemade Honey Mustard Dressing: equal parts of mayo, mustard, and a little less than equal parts of honey, and a drop of lemon essential oil. Add salt, pepper, and garlic powder to taste.
Homemade Broth
Make the broth right after the chicken so you don't have to clean the Instant Pot. I threw in the bones from another chicken I had in the freezer, added the bones of the chicken I had just cooked and then filled it with filtered water.
Day 2: Baked Salmon Topped with Lemon Dill Sauce Served with Side Salad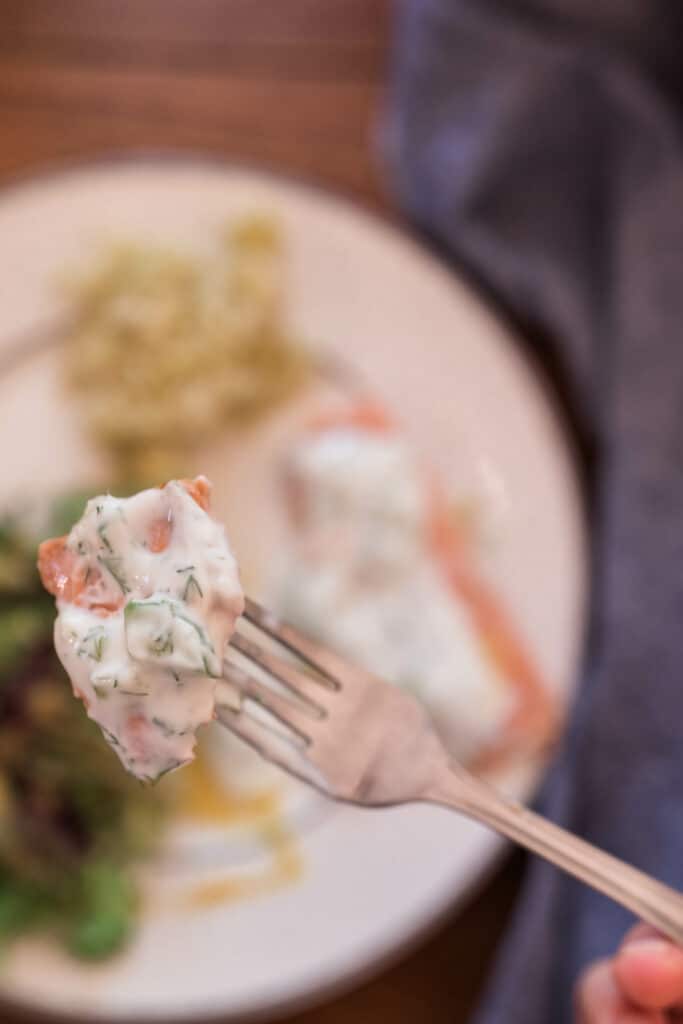 Baked Salmon
Bake salmon in a glass baking dish at 400 degrees for 15 minutes. Just sprinkle it with some salt, avocado oil, and lemon juice. I like to use avocado oil, butter, or coconut oil in baking, because they have a higher smoke point than olive oil.
I topped the salmon with some lemon dill yogurt sauce. To make it, mix together plain yogurt with salt pepper, garlic powder, lemon juice, chopped fresh dill (or dried if you don't have access to fresh), and chopped up cucumbers (chop up super small if your kids aren't huge cucumber fans).
Served with salad with honey mustard and sauerkraut.
Day 3: Mexican Beef And Sweet Potato Skillet Served Over Lettuce Greens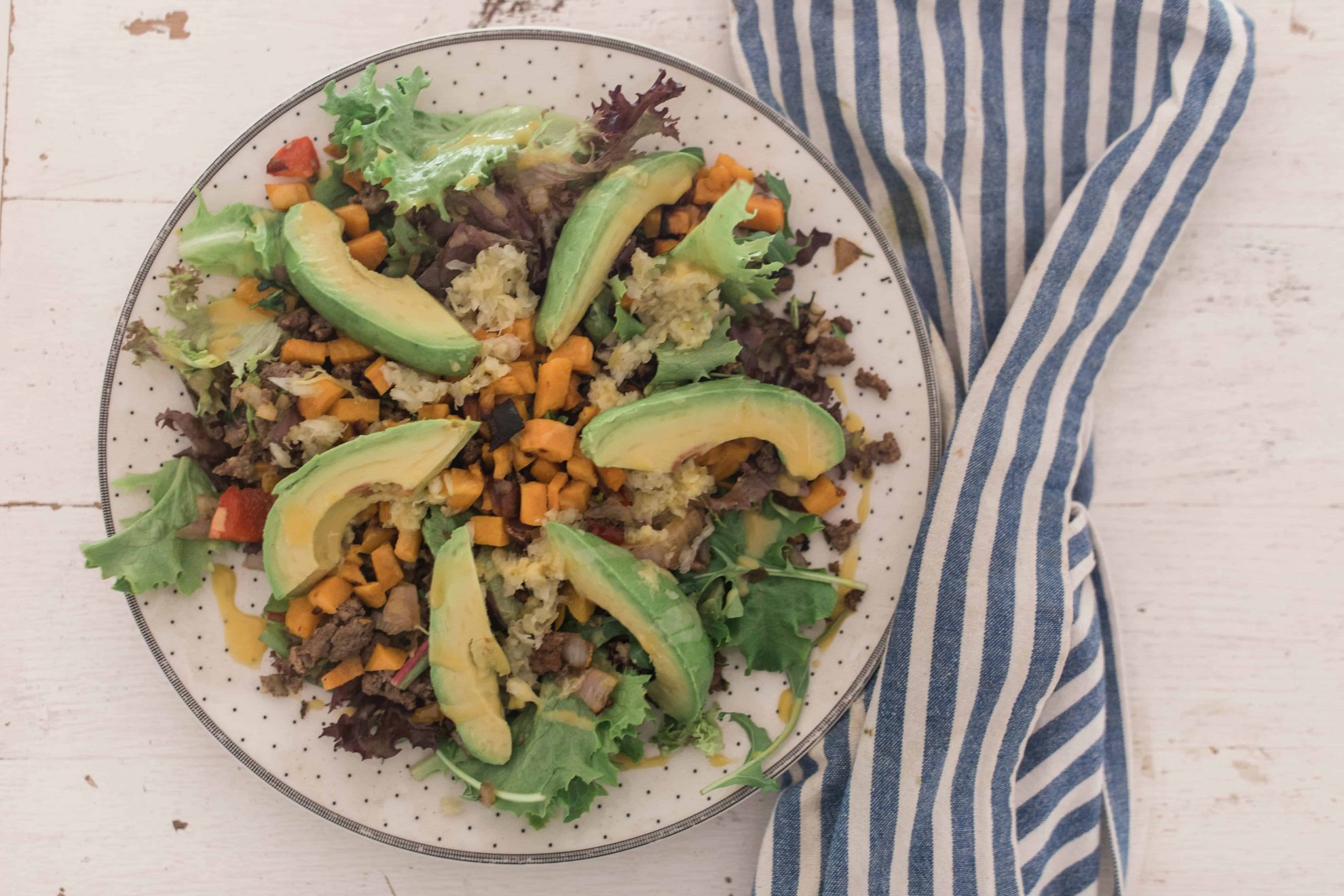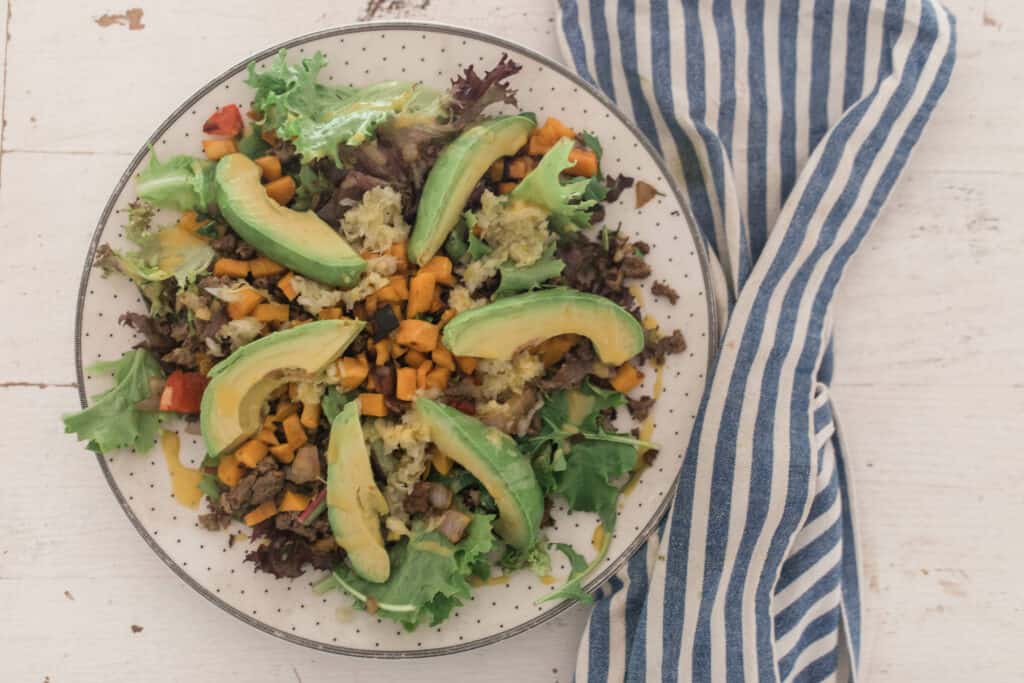 Something I just whipped up, hadn't given it a lot of thought before. My daughter had the main idea for it. I was going to do meatloaf but she suggested something Mexican.
Mexican Beef
I cut up some onions and peppers and saute them. Then I take the vegetables out of the pan and add ground beef with minced garlic, which I find cooks better than if you add it to the veggies to cook. Add salt and pepper. I may add some lime juice or lemon juice if I have it on hand. Top with cilantro.
For a side, I diced up some sweet potatoes and cooked them with coconut oil in a cast iron skillet.
To serve, I started with a bed of lettuce drizzled with honey mustard dressing. Then I topped it with the sweet potatoes, peppers, onions, and beef. Then I added some fresh avocado slices and a side of sauerkraut. Kids don't like that combined, so I served this meal to them separated
Day 4: Quick & Easy Tuna Salad With Fruit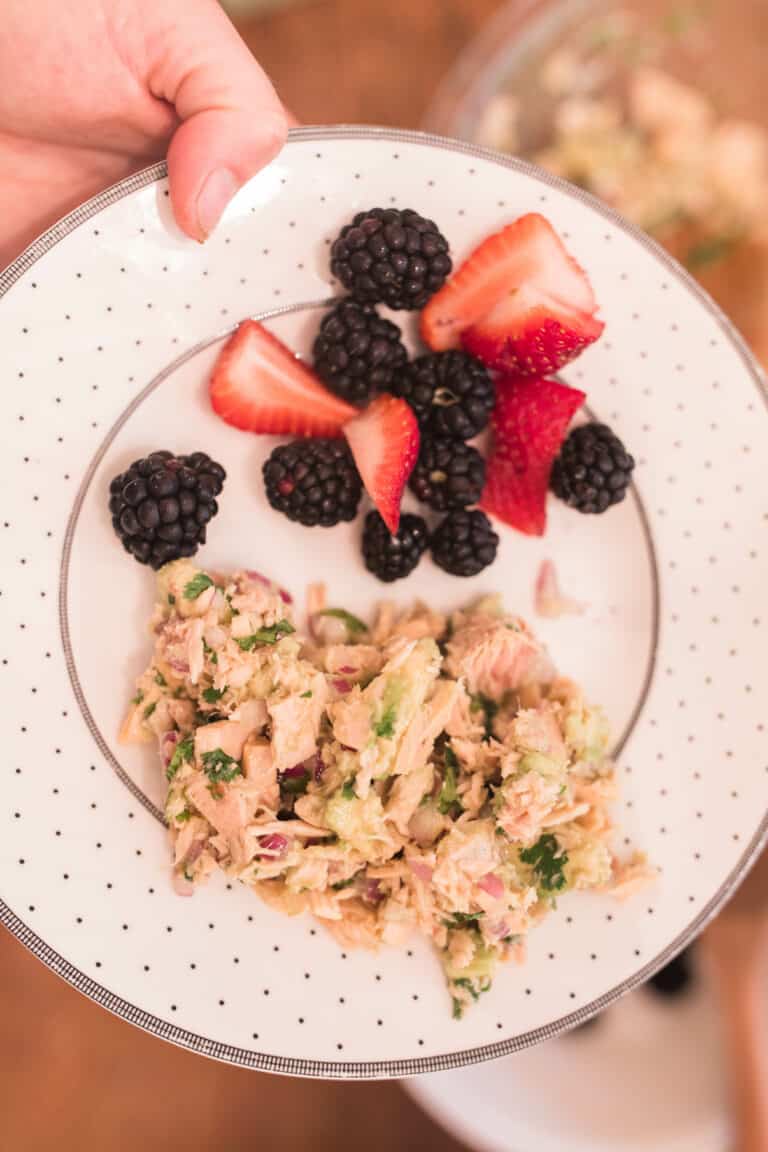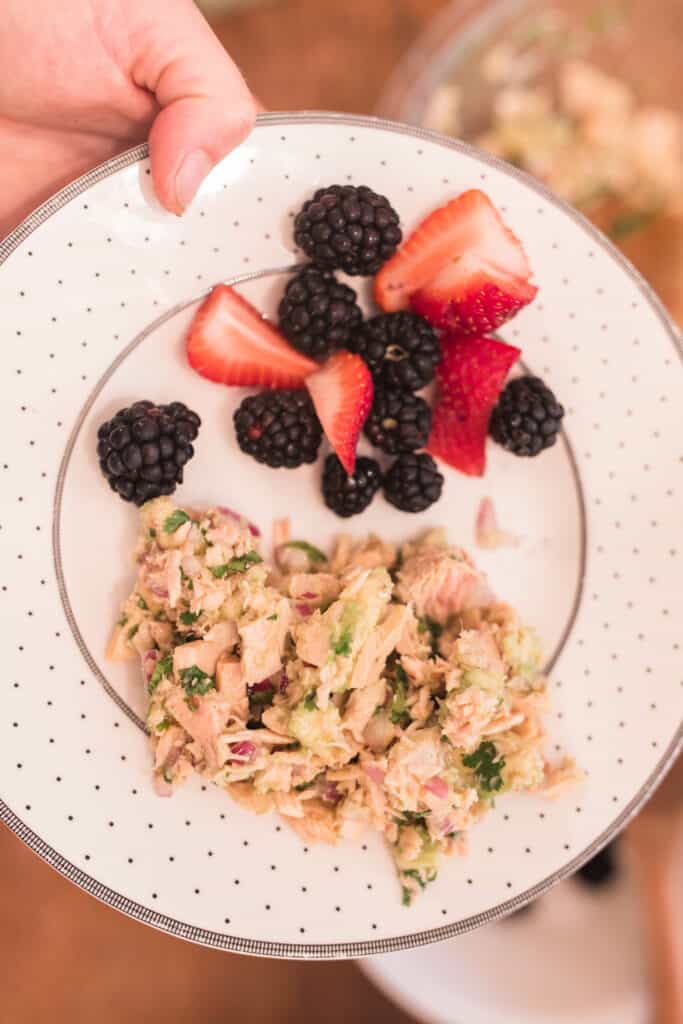 This is a great, light dish. You can serve it along with some fresh fruit, and it's a great thing to whip up if you've been out of the house all day and you have nothing planned: you can just pull that canned tuna out of the pantry and whip it together. You can mix this up even if you don't have all the ingredients on hand.
For example, I've used celery instead of cucumber, lime juice instead of lemon juice, etc. Play around with what you have and what your family likes. We actually got burnt out on this recipe, because we made it so many times and loved it for so long.
We used the Wild Planet tuna. I did a lot of research for the best one available, and this is the one I chose. You can get it off Amazon here.
Tuna Salad Recipe
Wild Planet Tuna mixed up with some red onions, fresh cilantro, lemon juice, olive oil, salt, pepper, garlic powder, avocado, and cucumber.
Served with fruit.
Would be great on a sourdough English muffin or a sourdough tortilla for a lunch on the go.
Day 5: Creamy Chicken Soup With Avocado Served With Salad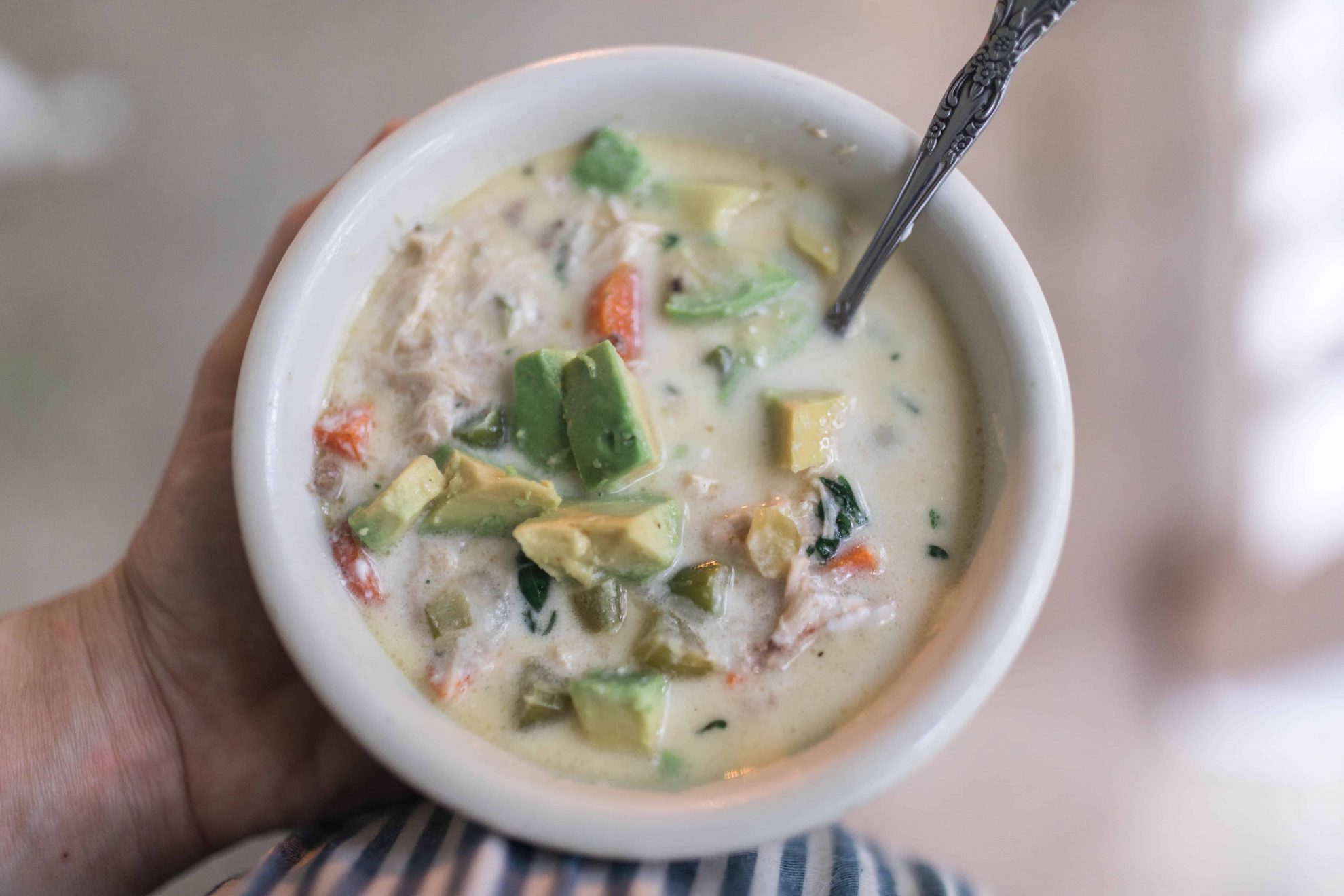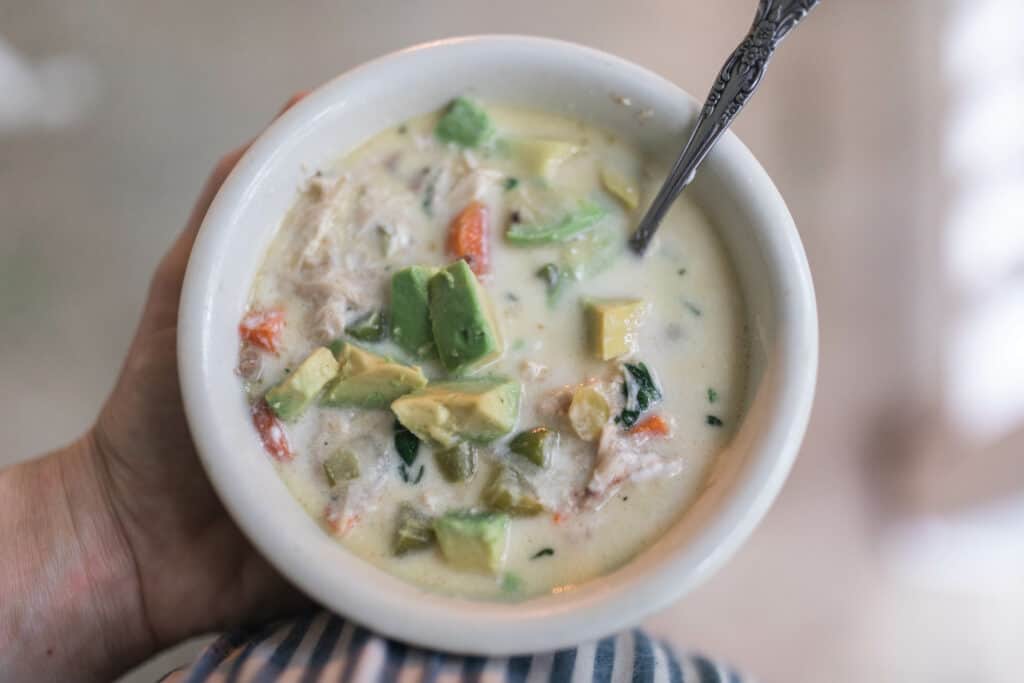 This won't seem like a summer meal because it is not a summer meal. It's soup. However, we like to continue consuming homemade bone broth, even in the summer months, and this is the best way to get it done. .
Creamy Chicken Soup
I made our favorite chicken soup with all the veggies: carrots, celery, onions, fresh garlic, fresh herbs, frozen green beans, simmered in homemade bone broth.
Once it is all cooked and everything is nice and soft, at the very end I will add in the chicken from earlier in the week with some salt, pepper, some fresh herbs, and allow it to cook a little longer.
Then I spoon it into bowls and add in a bunch of sour cream and cheddar cheese, and serve it with some leftover crumbled bacon. Top it with some avocados, and when it cools down, you can even add in some sauerkraut.
You could make it a little lighter without adding the sour cream, bacon, and cheese, but my kids absolutely devour it. This also helps it cool down to serve it to the kids.
Serve it with salad.
Check out some other family meal ideas:
5 Tips for Having Healthy Meals Every Night Without Meal Planning
Thanks so much for checking out our summer meal ideas and what we eat in a week. Let me know in the comments below if you want to see more ideas.
Pin It For Later