I was on the look out for the perfect dresser, but the one I found needed a makeover. Learn how to use linen white chalk paint to give a bedroom dresser a makeover.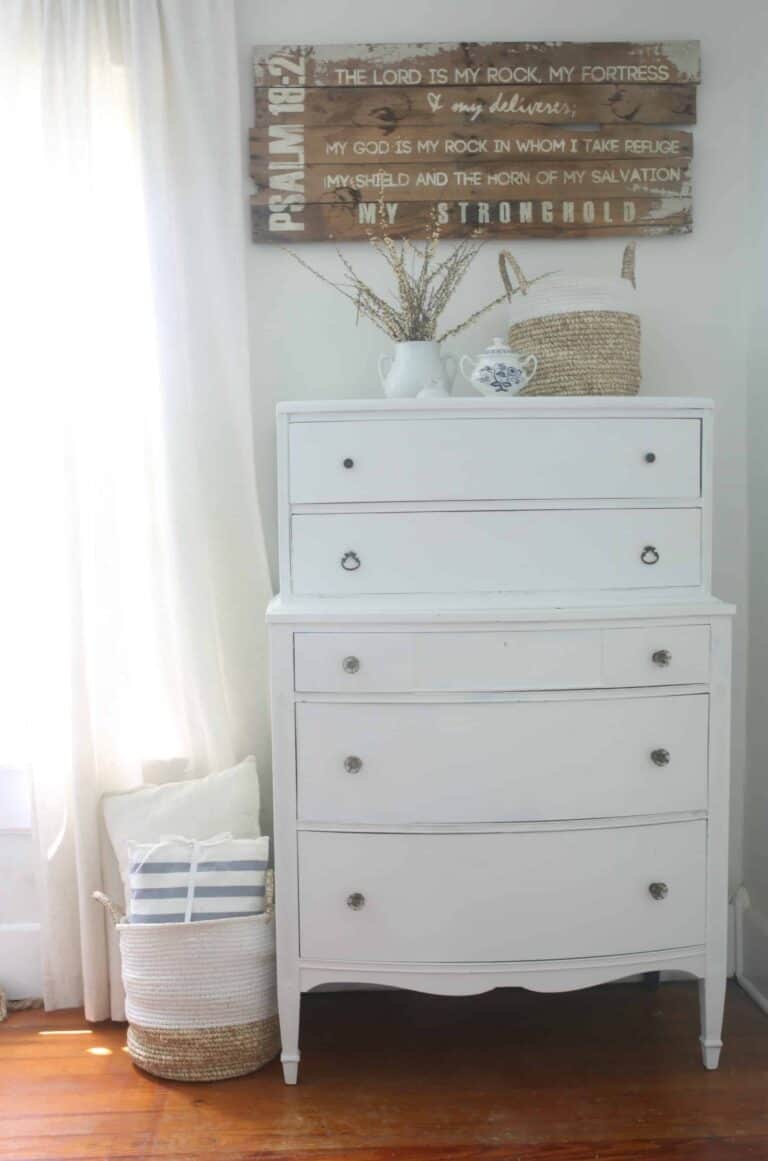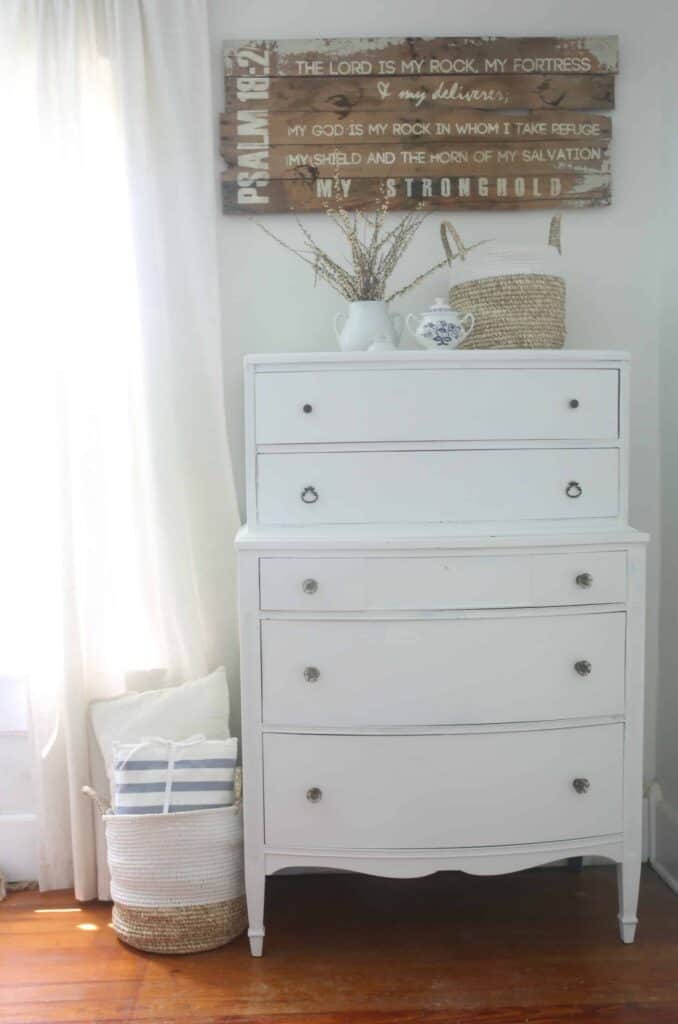 This post contain affiliate links. See my full disclosure HERE.
New, Bright Furniture
A year ago, almost to the day, we started our farmhouse bedroom makeover.
I was so tired of looking at the dark wood Ashley furniture set that came with the sleigh bed, chest of drawers, dresser and night stand to match. It was a nice set, but didn't fit in with my style anymore.
I wanted something with a little more charm, a bedroom suite that would look collected, and mostly made of antiques.
I sold off all our furniture, without any real backups ready to transfer all our things to.
We may or may not have slept on our mattress on the floor for a minute.
Our clothes lay piled in the closet, until I would come across the perfect antique dresser and beautiful wooden armoire.
I found a dresser right away for 50 bucks on Craigslist that was perfect for my husband. I painted it with Miss Mustard Seed milk paint in Shutter Gray, and filled it with my husband's clothes.
Meanwhile, my clothes still sat piled in a basket, in the floor of our closet….for an entire year.
I was still waiting to find that perfect antique wooden armoire that I had my heart so set on.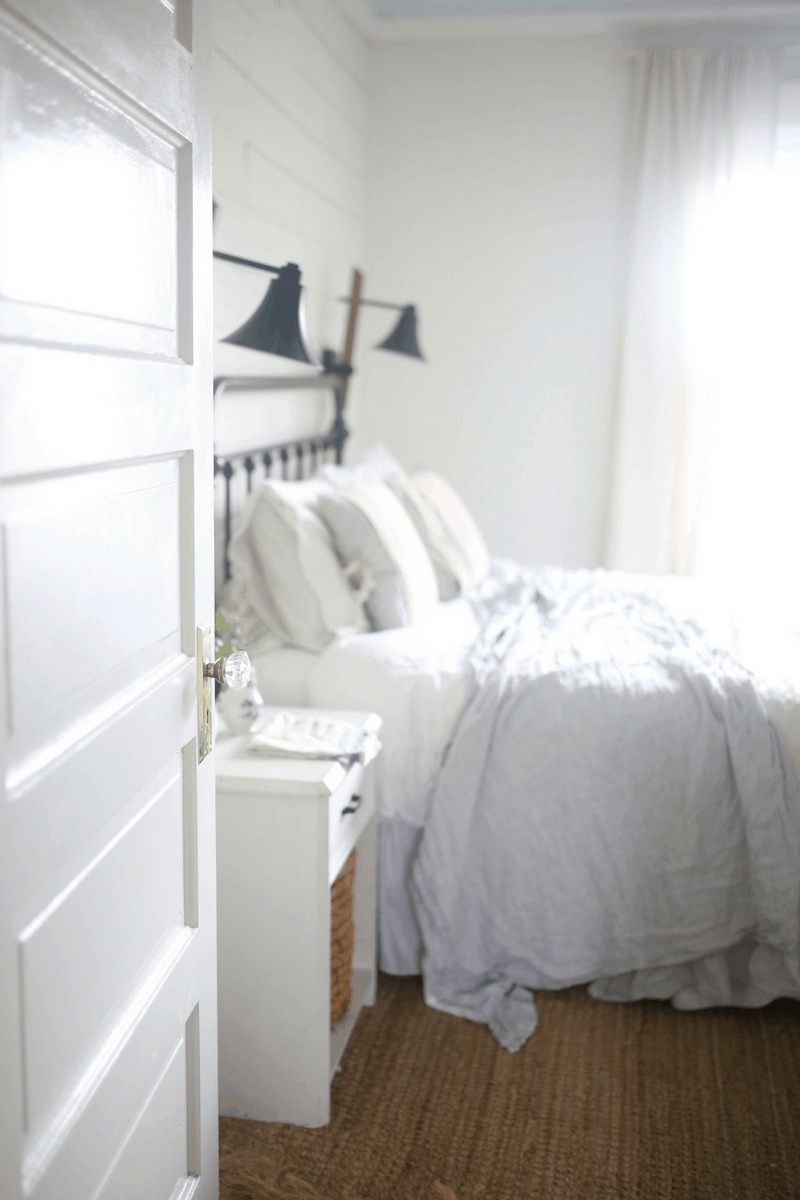 A Real Find
Last week, on our way out to a farmer's market (side note: I always find my best garage sale finds when I am not actually out garage sailing) we spotted a garage sale sign.
I almost told my husband to keep driving, but I decided instead to take a quick peak.
There sat this dresser…..
For 35 BUCKS!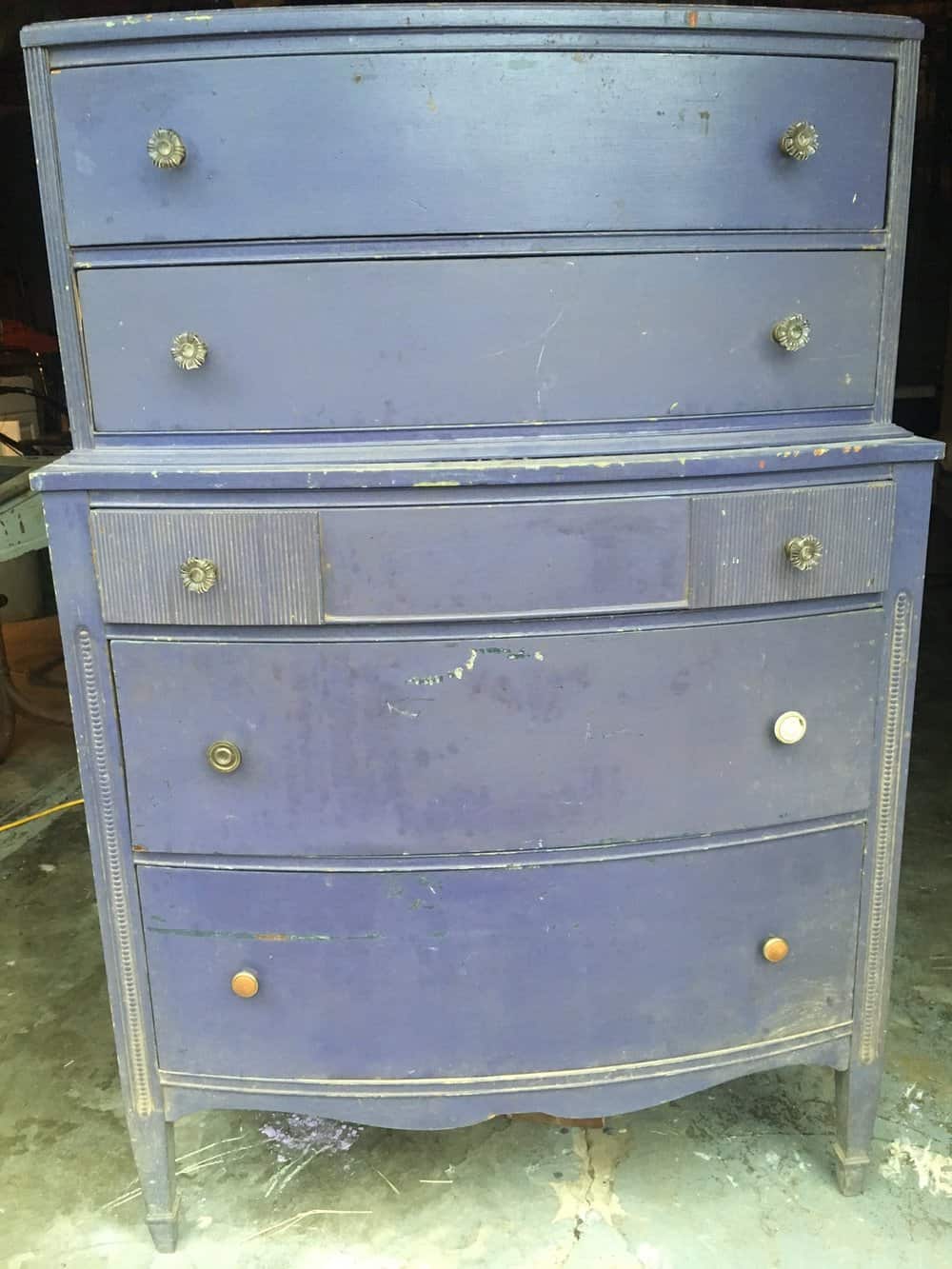 Ummm, yes please!
Ok, it wasn't my farmhouse armoire, but it would definitely fill in the blank spot in the corner where my clothes were supposed to be neatly stored and sorted.
No more closet floor!
The Makeover
After we hauled it home, I went right up to my local hardware store and grabbed some Rustoleum Chalked Paint in Linen White.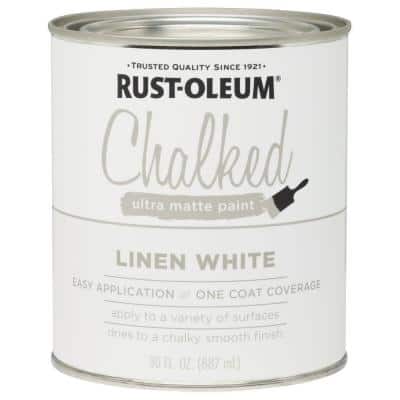 I've used this brand before, and love that it goes over basically anything.
I never was one to spend any extra time sanding something down.
My husband cleaned the dresser up really well with bleach, and some old rags, because it kind of had a mildew smell to it.
He took out all the drawers and removed the hardware.
After a few coats of paint, it was looking like a new dresser!
I put the six crystal knobs that it came with, on the three bottom drawers.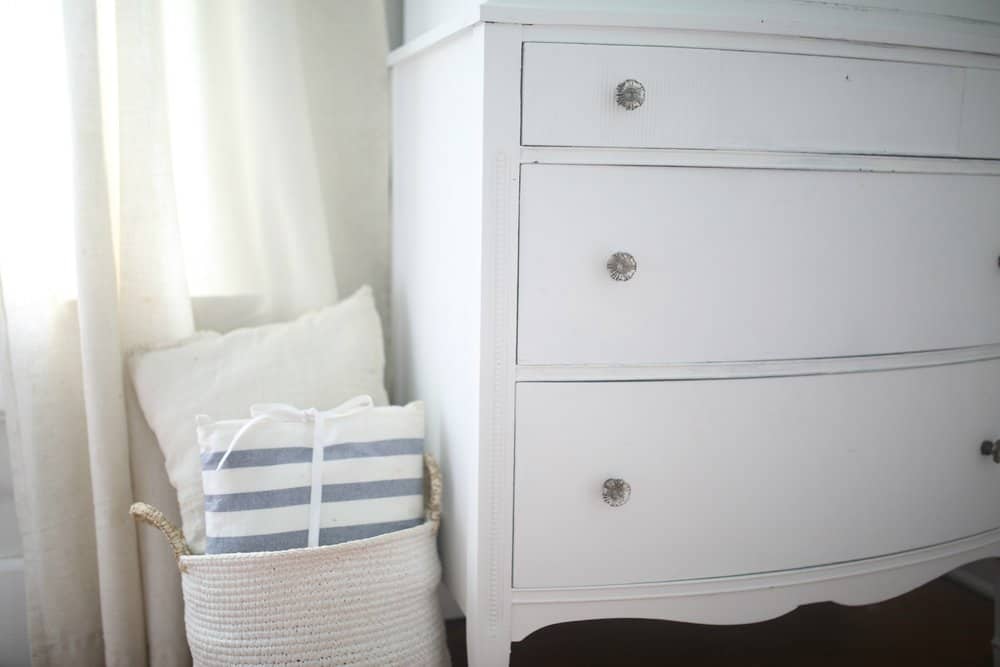 For the top two drawers, I used some antique hardware that we had laying around in the basement.
I wish we would have had four of the small knobs, that I have on the top drawer, but the other pulls that we did have will do for now.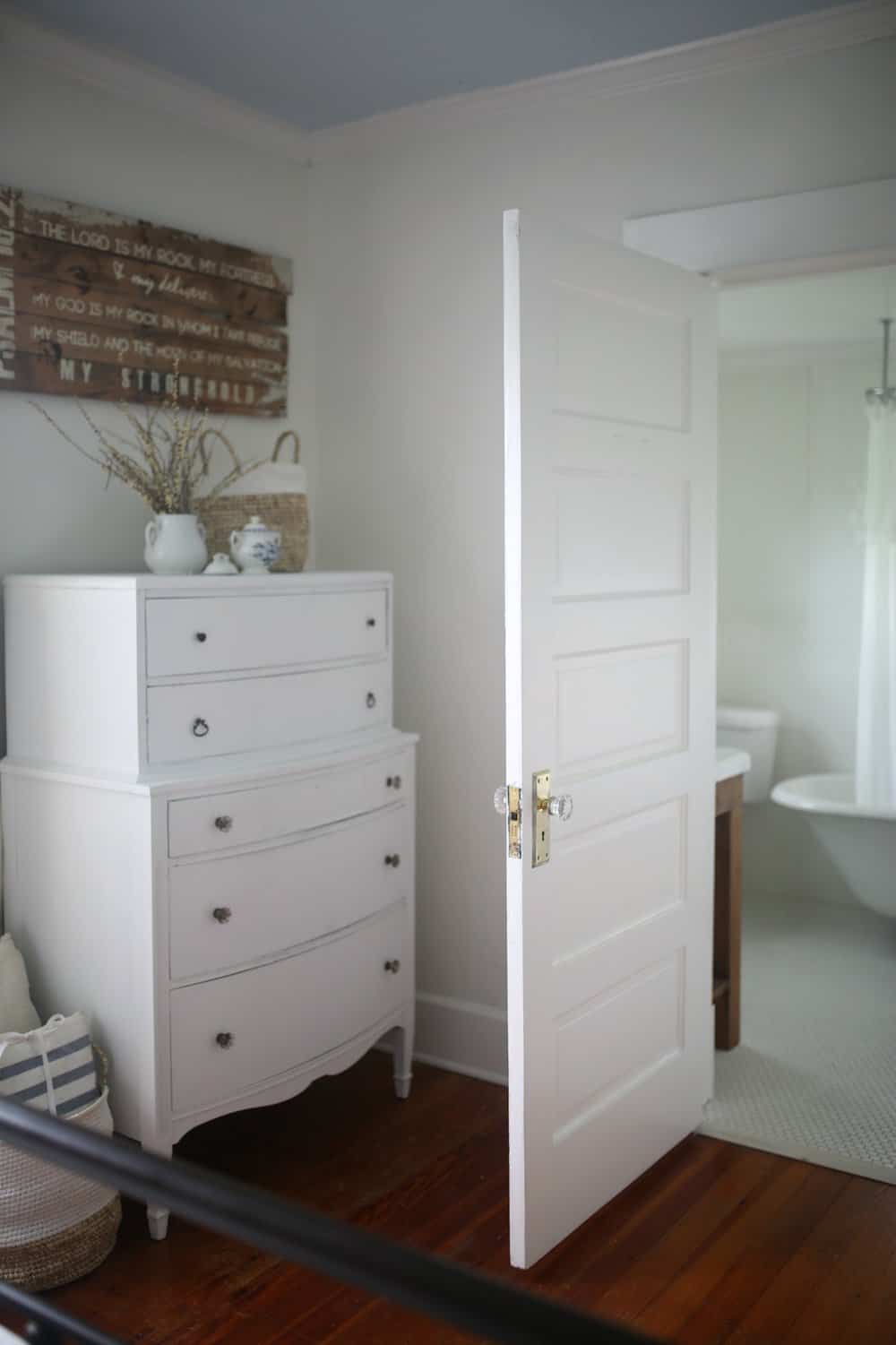 Ahh, finally that corner has something in it!
And something beautiful, I might add 😉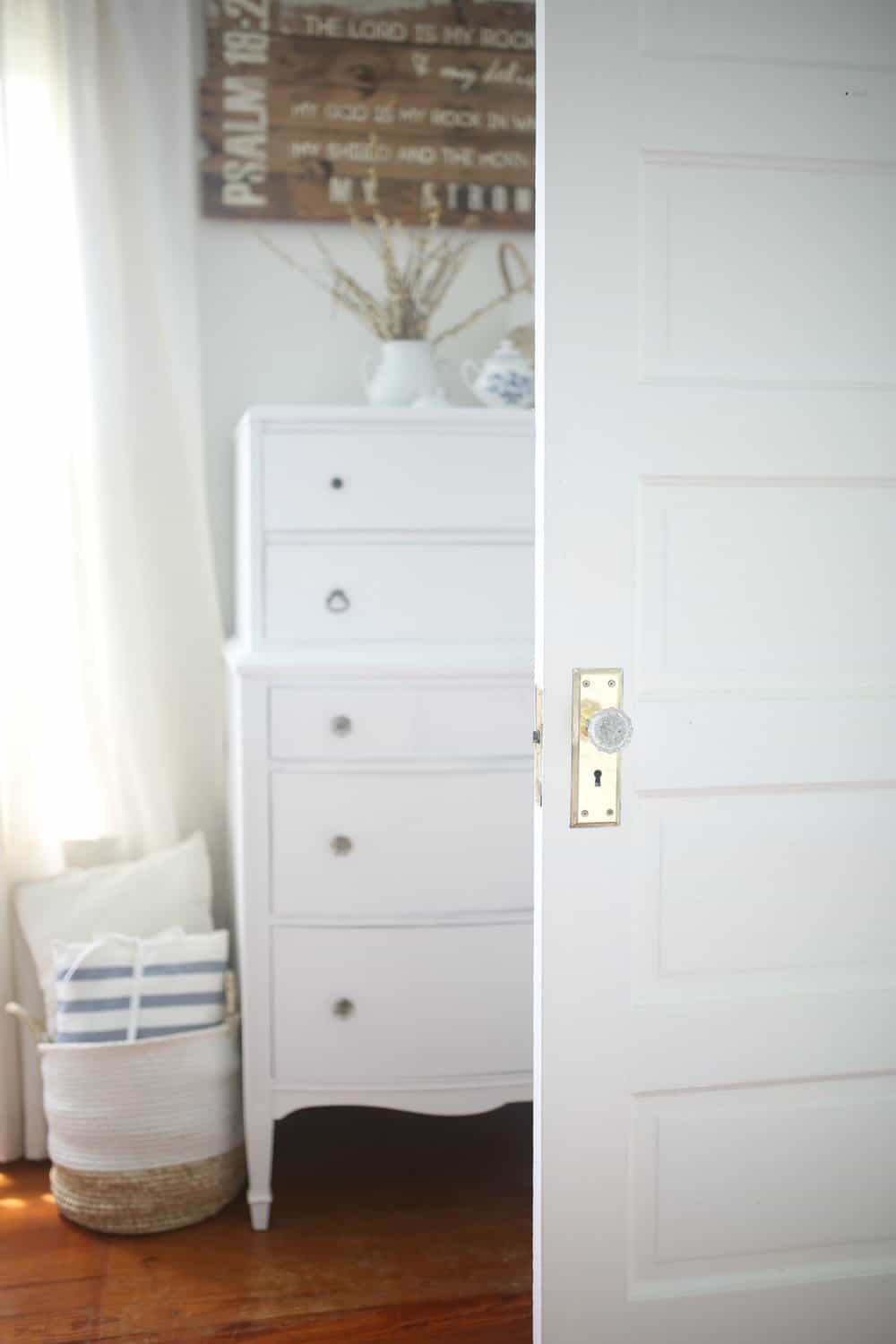 I have a lot of white going on in here, but can you ever really go wrong with white?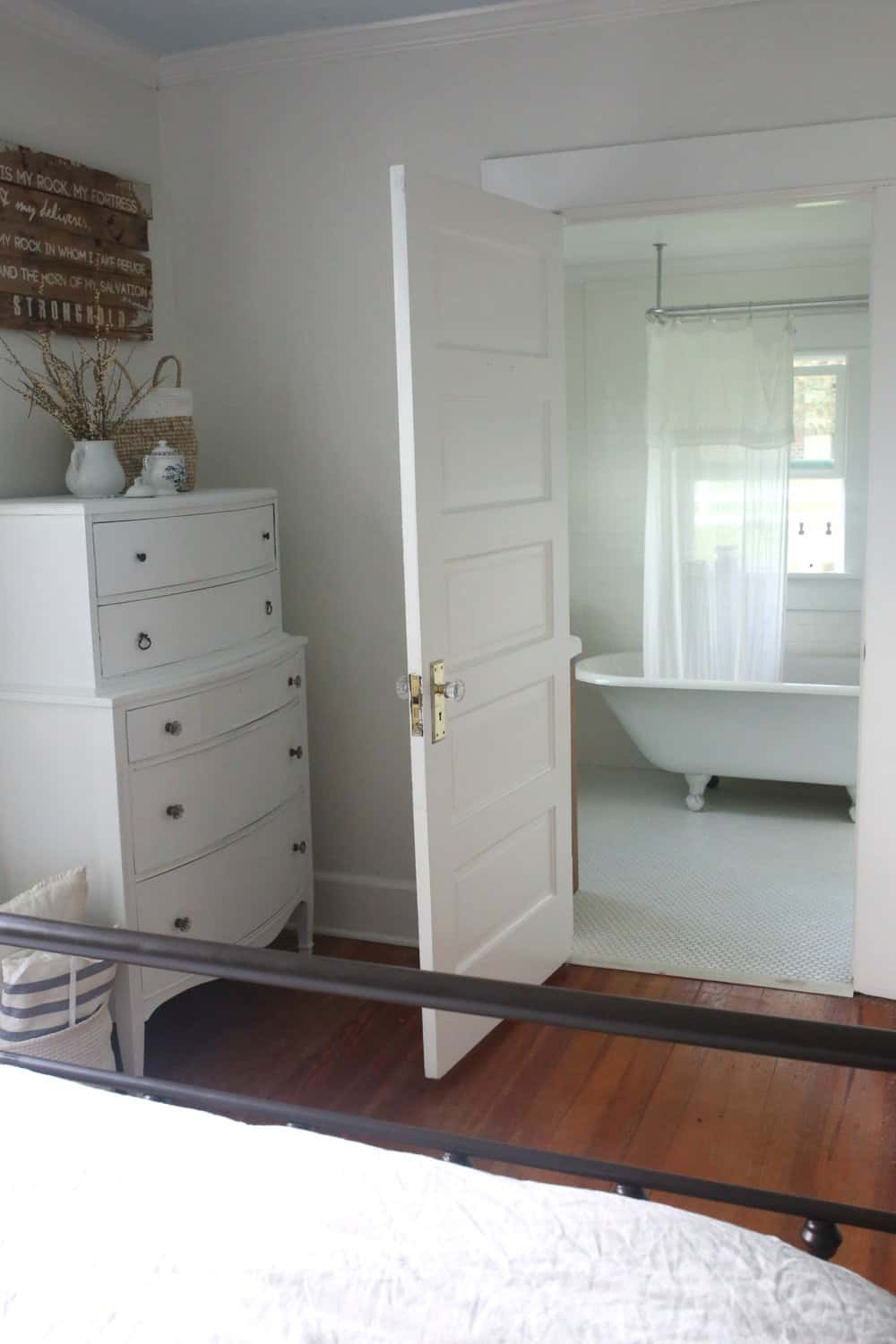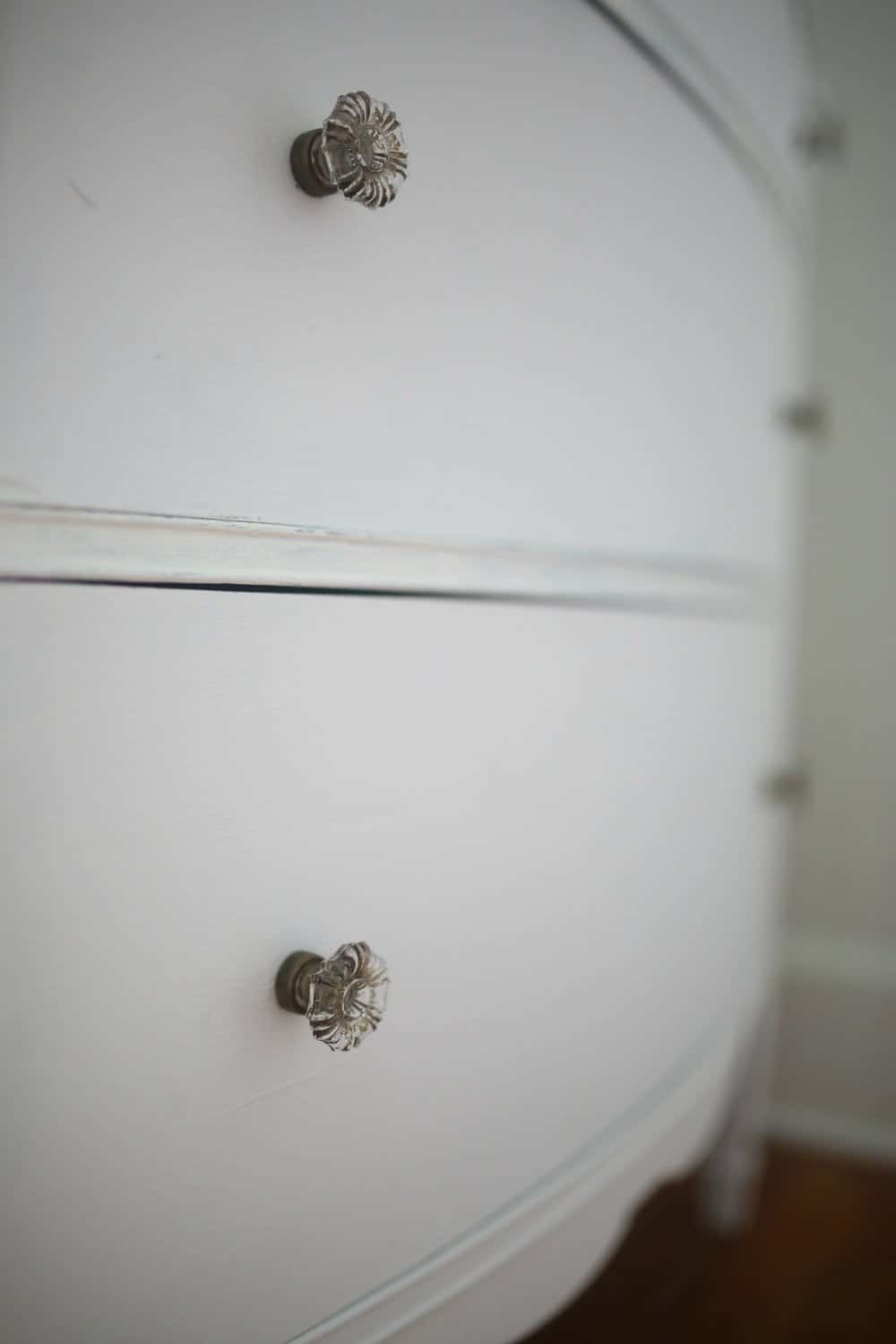 I added my basket from Hayneedle, and some pieces from my antique ironstone collection, to style the top of the dresser.
The Psalms 18:2 pallet sign was a Christmas gift, from my sister-in-law, a few years ago.
When I was in labor with my fourth child, who I had right here in this bedroom, I remember glancing up at that sign in the most difficult moments, and feeling comforted by it.
You know how  when you're used to seeing something all the time you kind of look past it without noticing it?
That's how this sign normally is.
But, not in that moment.
I looked up, and it was all I saw.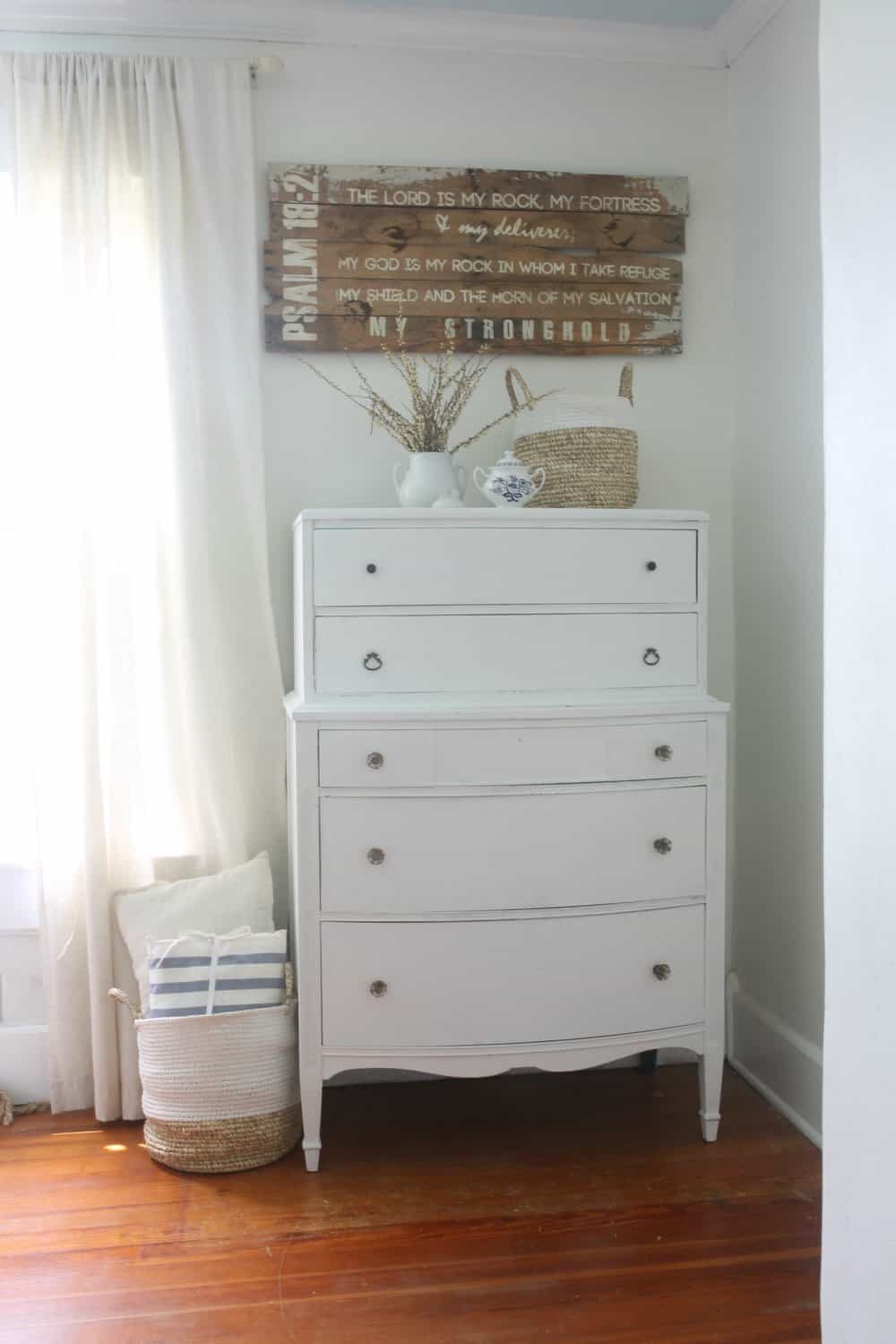 Thank you so much for stopping by the farmhouse, my friends!
Pin it for later: