Join me as I transition our farmhouse living room from Christmas to winter, with cozy textures and neutral colors.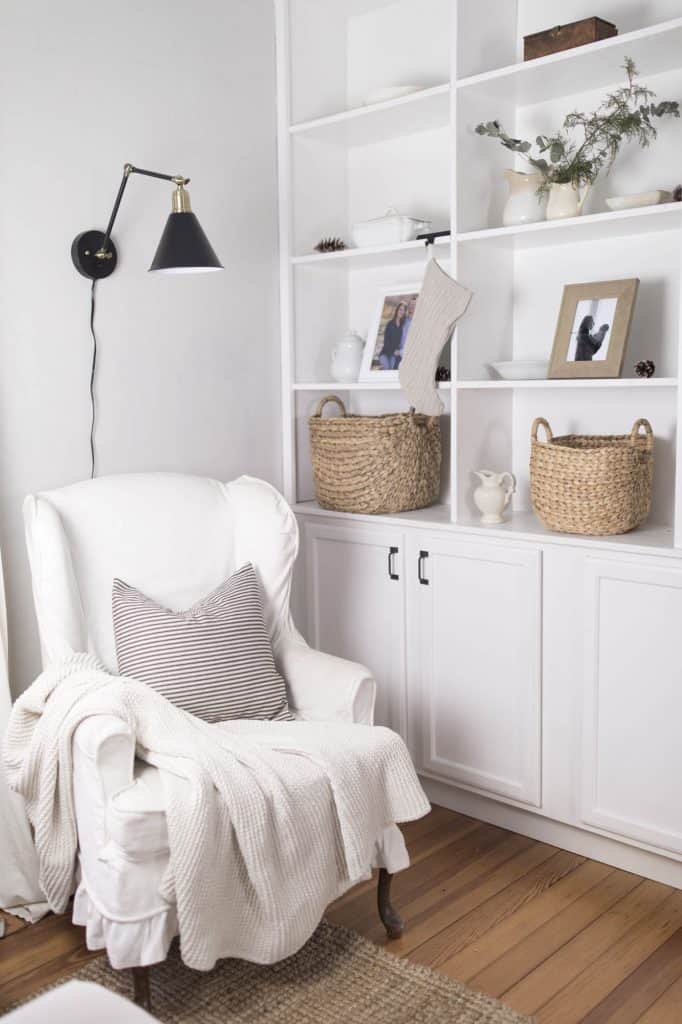 I'm usually one to get Christmas decor down ASAP. I took the tree down on December 26th, and put a few other little things away. It all just starts to feel like clutter to me, especially since I'm a blogger and have to start decorating around Halloween.
But, although Christmas is already a distant memory, the cold weather remains. I had a few people request to see how I decorate my home in this dreary time between Christmas and Springtime. Not a whole lot changes,  but let me show you how I keep this part of our home cozy until the warmer weather returns.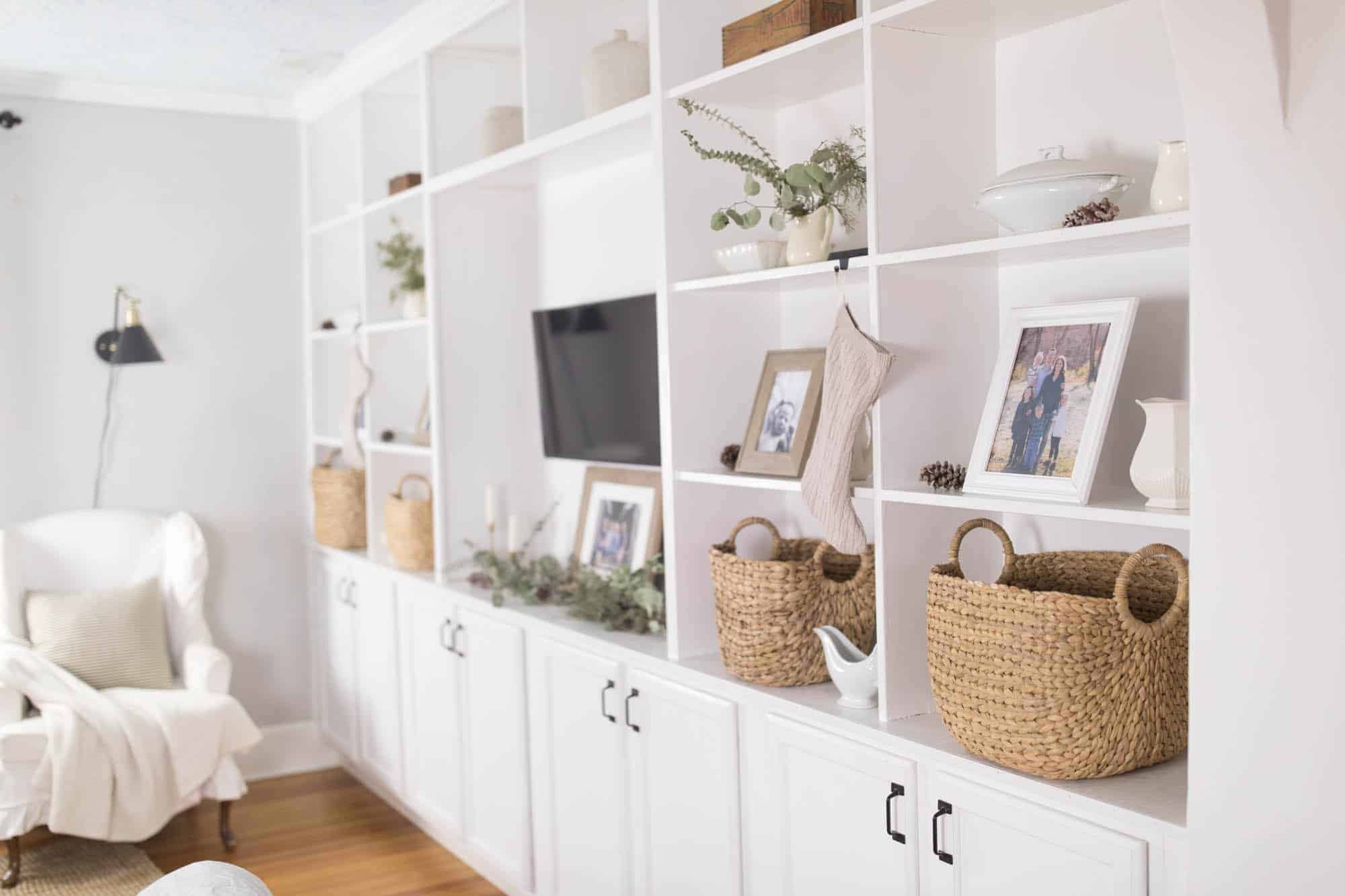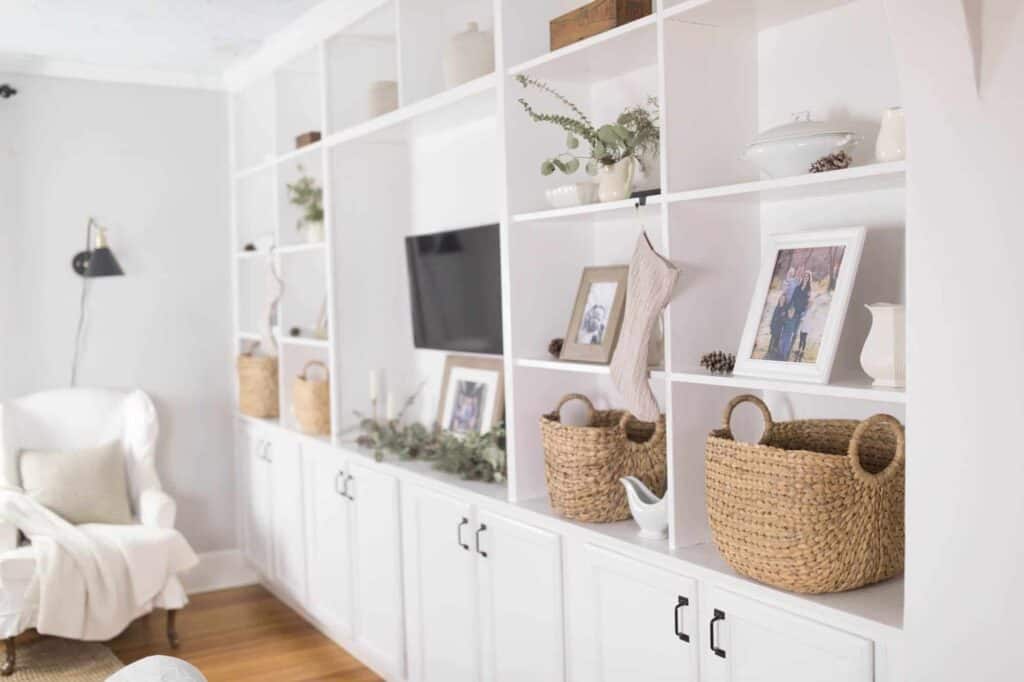 Farmhouse Winter Decor
I like to keep my home decor simple, natural and minimal. In this room, I did a lot of black and white, wood tones, jute and wicker for the winter season.
I also left out the greenery that I brought in for Christmas.
People asked me, when I put it out, if it would last through the season. It certainly did! It is definitely crispy, but still has that gorgeous green color.
Bringing in natural elements from the outside is my favorite way to decorate seasonally. Get ready for lots of flowers in the spring and summer!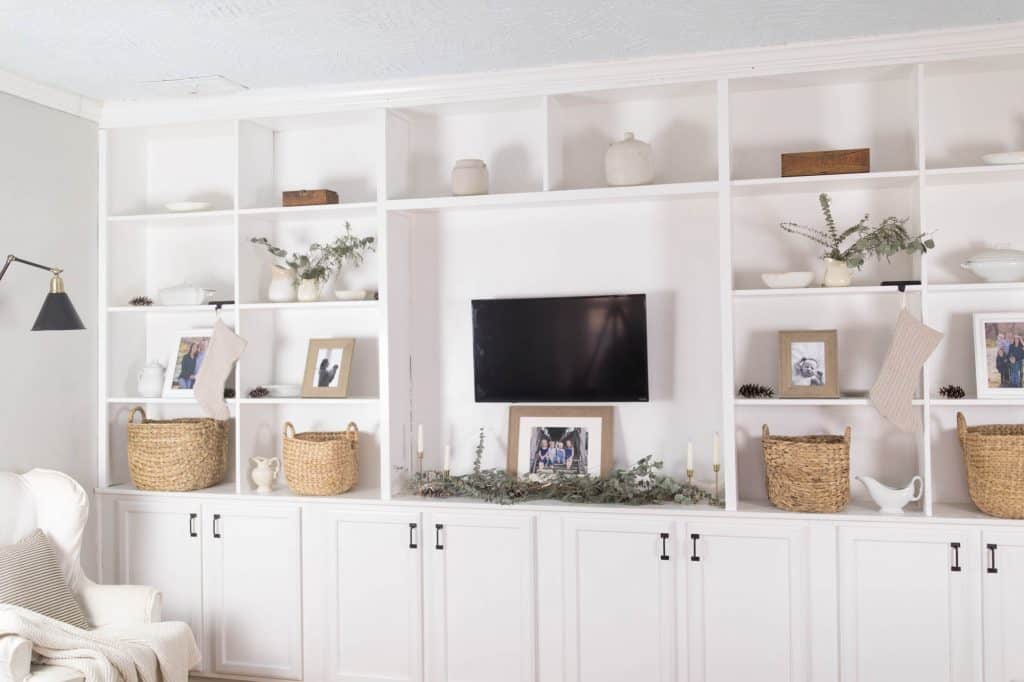 I also brought in some black and white ticking stripe pillow covers. It's definitely one of the advantages of having an online store, to switch out pillows on a whim! I like the touches of black for the winter season. They complement the green and wood tones nicely, I think.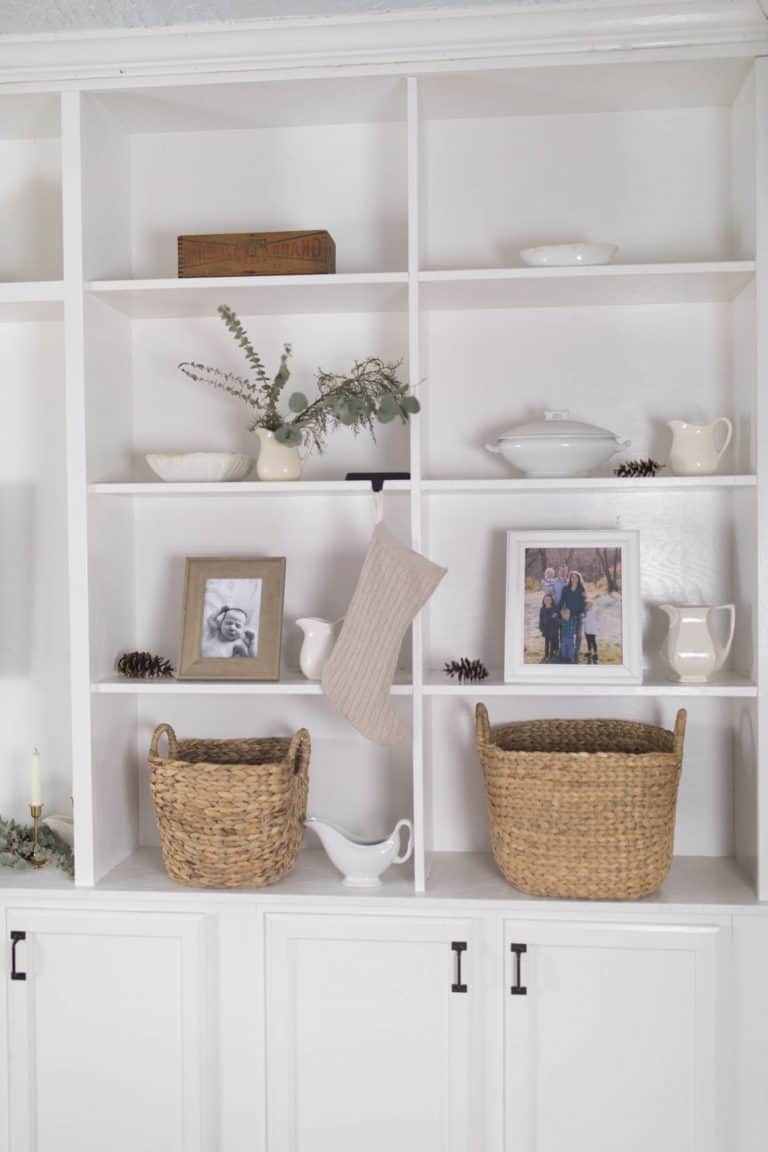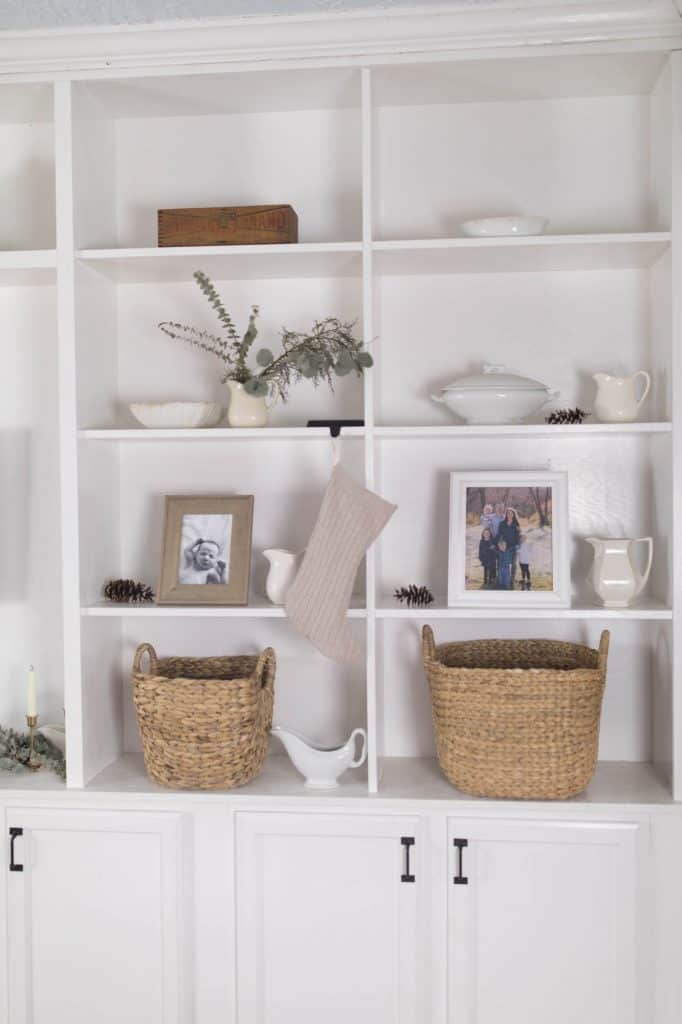 I also added some picture frames to the built-ins, not something I have ever done before. My daughters went with my mom to get a Christmas present for me, and they picked out a white picture frame. It made me think how nice they would look on the shelves. Can't believe I never thought of it before. Duh! So, I went and grabbed one more matching white one and a few wooden ones.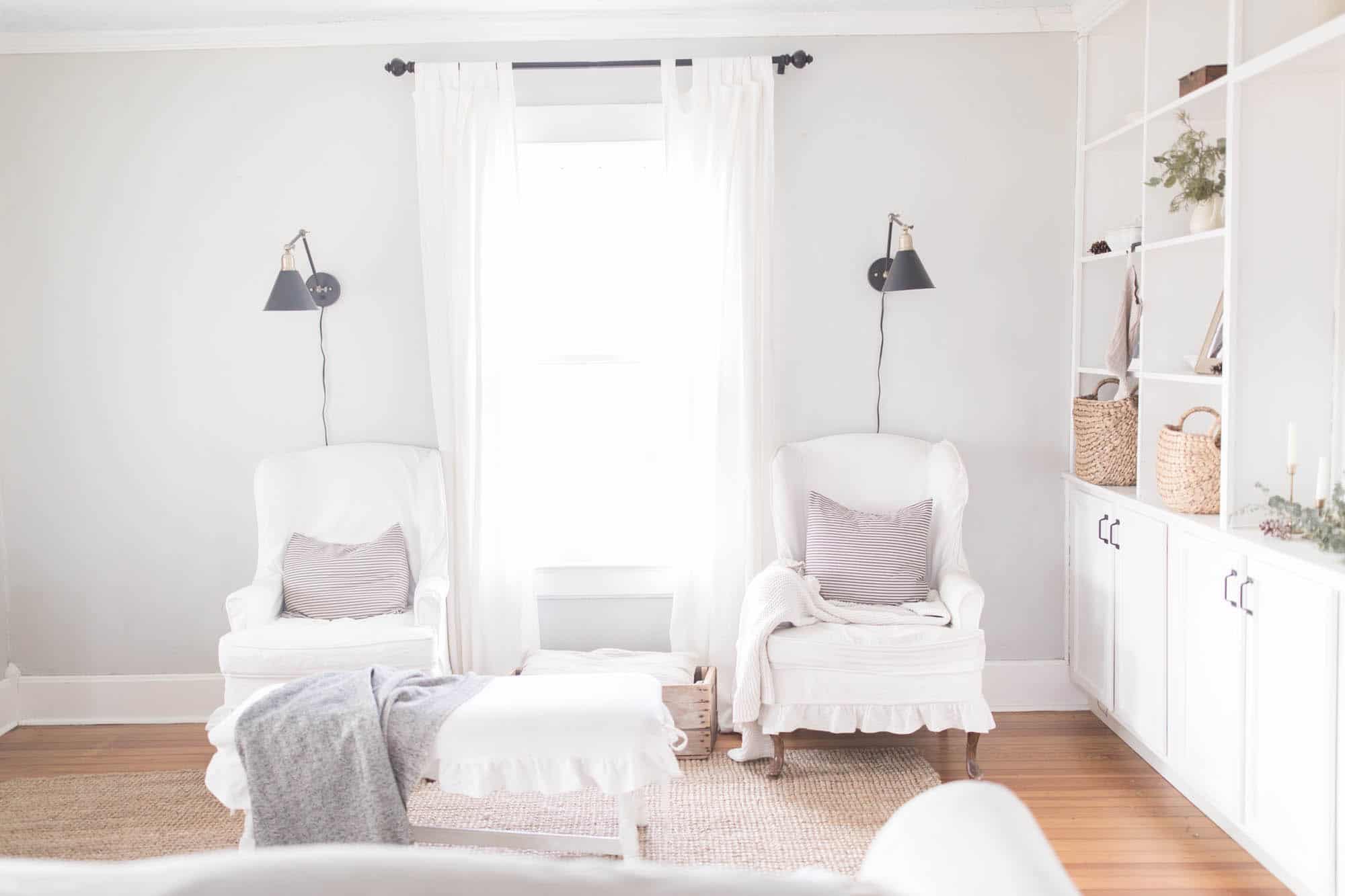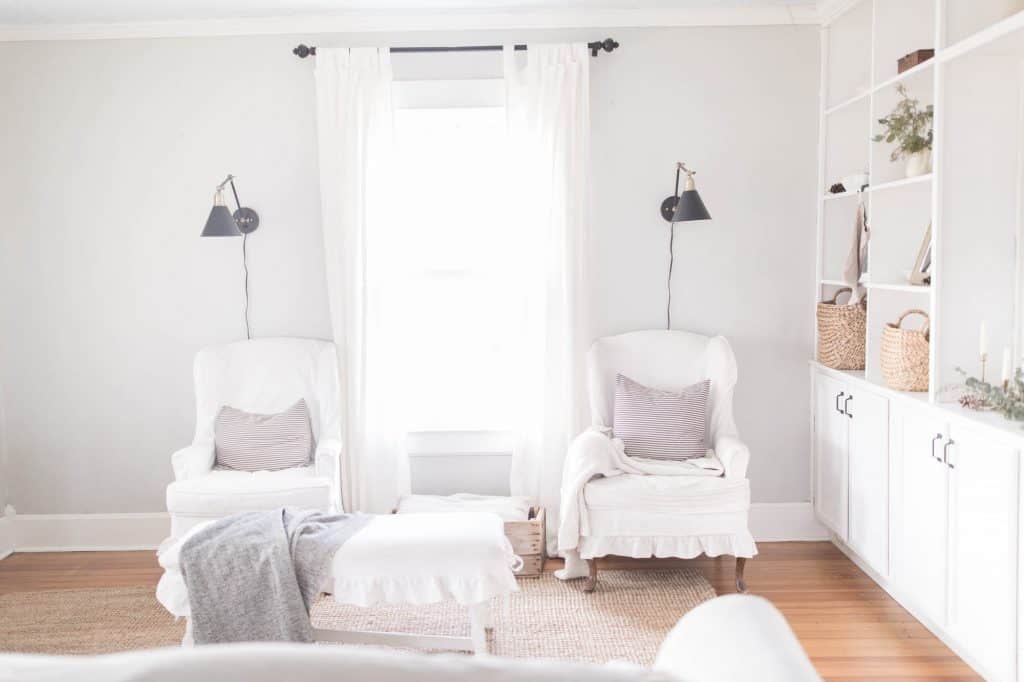 I also left out the DIY Stockings Made from Thrift Shop Sweaters. The tan color isn't overly offensive past the Christmas season, and I couldn't get over their coziness. I'll put them away in March, but not a moment sooner!
A cozy knit blanket, thrifted pottery and pine cones round out the decor for my winter farmhouse living room.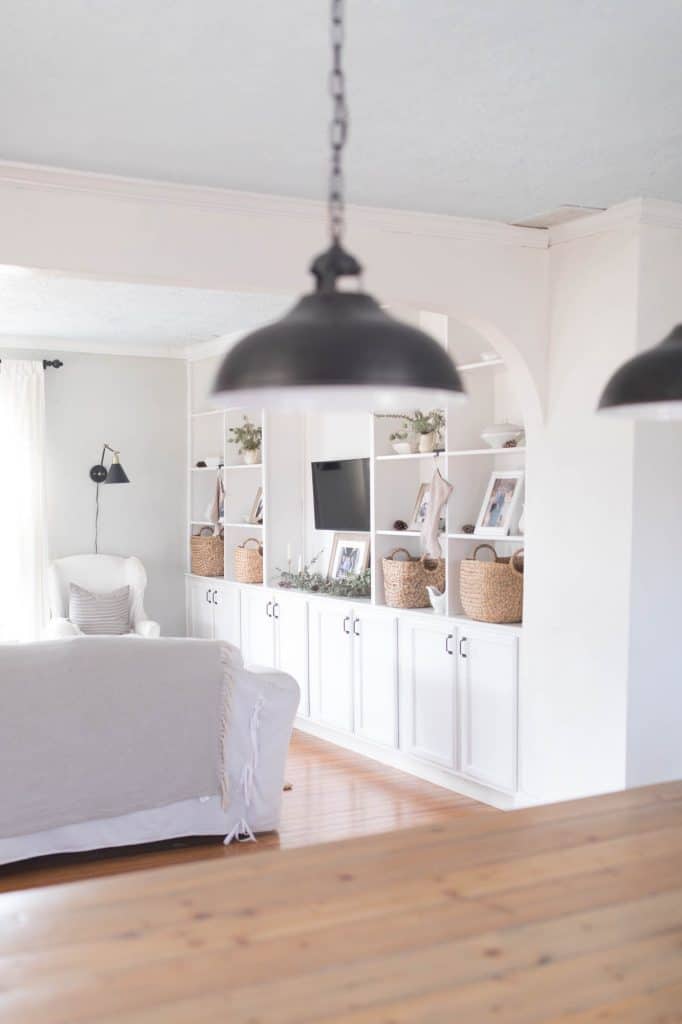 winter farmhouse living room decorate with me video
What do y'all think? Do you spruce things up for the winter season, or skip it entirely?
Video tutorials from my winter farmhouse living room
How to Slipcover a Wingback Chair
DIY Fresh Greenery Wreath
How to Find Farmhouse Decor at the Thrift Shop
Blog posts from my winter farmhouse living room
How to Strip Paint from an Antique Dresser
Farmhouse Living Room Built Ins
Ruffle Bench Slipcover Tutorial
Shop my farmhouse living room
For paint color and all sources visit this post.
This post may contain affiliate links, which means I make a small commission at no extra cost to you ?
Thank you so much for stopping by the farmhouse!