The easiest breakfast pizza is made with super quick sourdough crust, melted cheese, crispy bacon, veggies, and perfectly cooked eggs, and baked to perfection. Your mornings just got really delicious.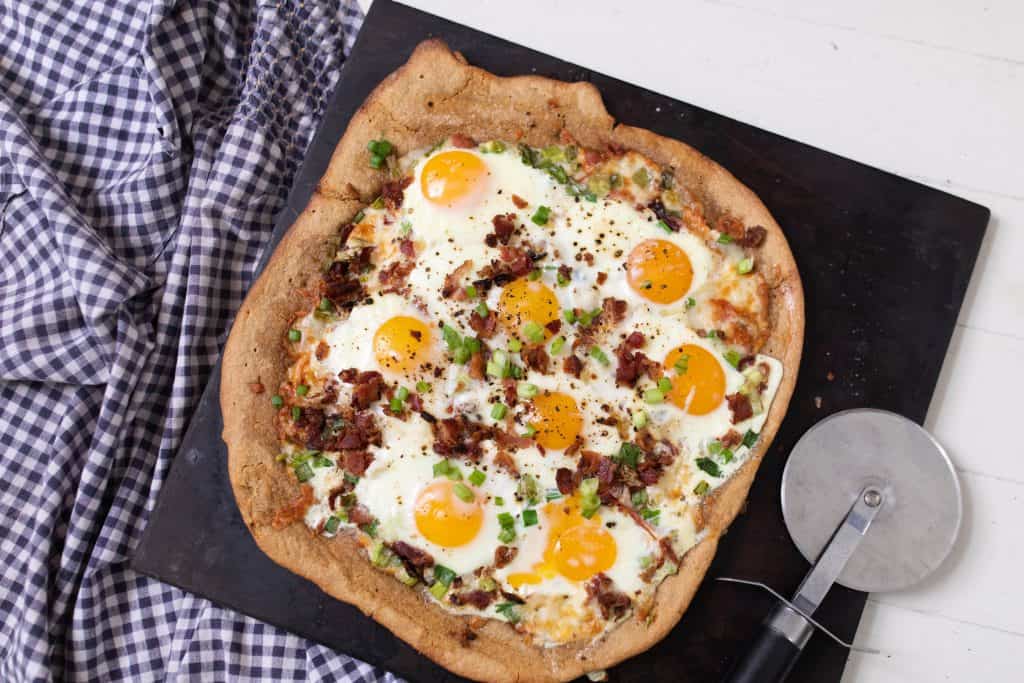 I love this recipe. For one, it includes sourdough, which… if you've been around here for a quick minute, you know that I love sourdough!
We ferment all of our grains. From breakfast, to dessert, we use sourdough to reap the health benefits of fermented grains.
This sourdough breakfast pizza utilizes my favorite sourdough pizza crust. It is 'hands down' the easiest crust you will ever make in your life.
Best part is, there really isn't any prep work, because it utilizes sourdough starter. No mixing up any dough or waiting for it to rise.
The only thing you really need to do is feed your starter the day before. If you have no idea what I'm talking about, check out out my post all about creating and keeping a sourdough starter here.
Not only does this add a fun mix to our typical breakfast, but it's great for utilizing leftovers or veggies that need to be used up.
Plus, who ever said no to pizza for breakfast? My kids have yet to.
Why Sourdough Pizza Crust?
Sourdough starter is a water-flour combination that has captured wild yeast in the air, and then is used to help naturally raise grain products. In many sourdough recipes, you combine sourdough starter with flour, and a few other ingredients, allow it to ferment for 8-24 hours, and then bake it.
During the fermentation process, phytic acid is broken down. This helps the nutrients in grains become more bioavailable, which helps your body to absorb the nutrients better and can also make them easier to digest. Sourdough products may contain lower amounts of gluten. (source)
Those who have gluten sensitivity may be able to tolerate gluten that has been fermented for 24-48 hours.
If you have celiac disease, then unfortunately you can not tolerate any gluten whatsoever- even fermented grains.
Since this recipe just utilizes the sourdough starter, the fermentation process takes place after the starter has been fed and left to ferment. You can see the fermentation take place as the starter gets all bubbly and rises.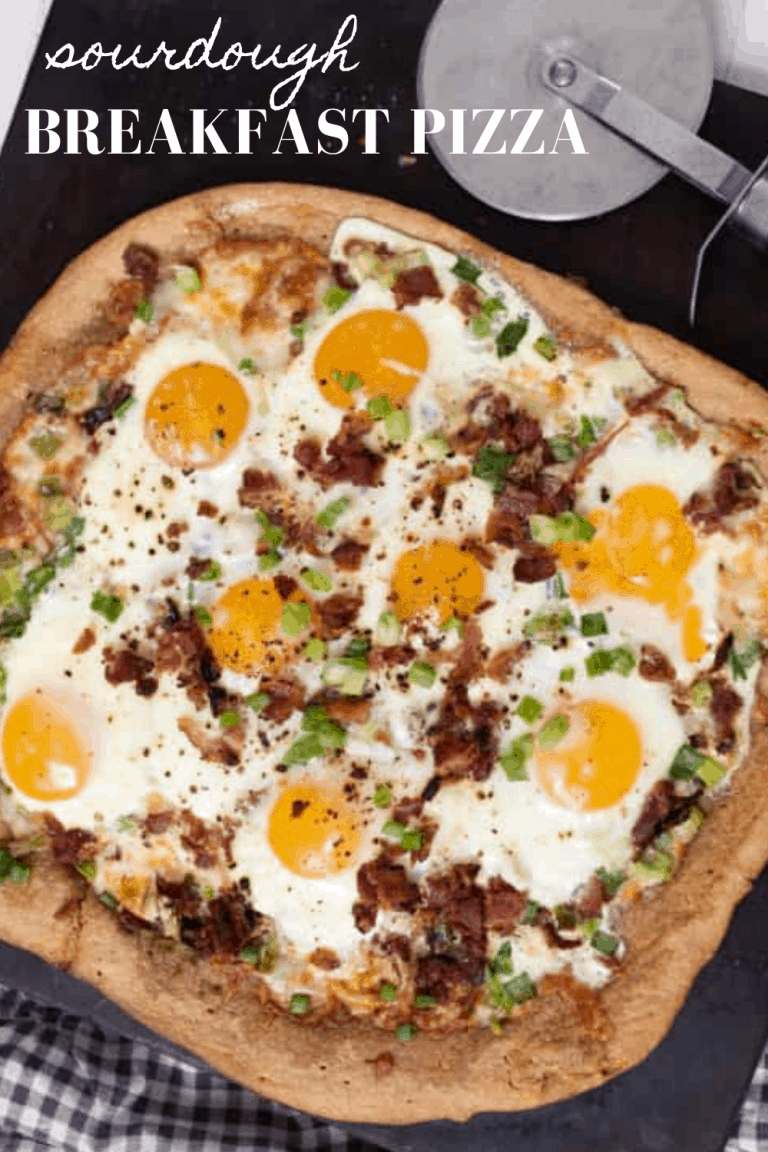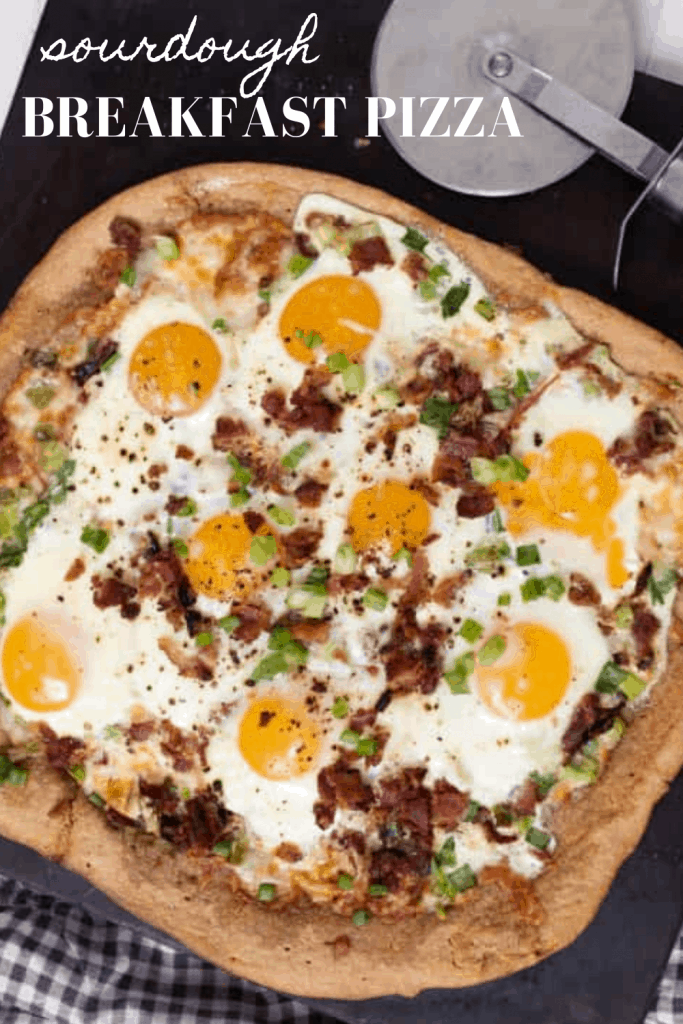 Tips For Making Breakfast Pizza
You need to have a pizza stone or well seasoned cast iron skillet to make this pizza, because you need to preheat the stone or cast iron in the oven.
Grate your own cheese. It is cheaper and healthier. Avoid all the extra ingredients that are added to keep pre-shredded cheese from clumping.
When you bake this with eggs on top and look in the oven, it will look like they are not cooked – even when they are. Poke them to see if they are cooked all the way through, or if they are still a little runny (which is how I like them).
I included the pizza toppings we used for this recipe, but if you love peppers, add some diced peppers. Make it your own.
You can double or triple this recipe to make more than one pizza.
This post contains affiliate links, which means I make a small commission at no extra cost to you. See my full disclosure here.
Tools you may need:
Pizza stone or cast iron skillet
Knife
Cutting board
Cheese grater
Berkey Water Filter: we love this must-have kitchen tool. We use filtered water when feeding the sourdough starter.
Should bacon be cooked before putting it on pizza?
Yes! Cooking it first gives it a delicious crispiness that bacon is known for. Also, it wouldn't be cooked all the way through if you just added it raw to the pizza.
Trust me on this, it is worth the extra step to cook it up before adding it to the pizza.
What cheese is used for pizza?
For this recipe, I used a blend of mozzarella and sharp cheddar. I love the sharpness the cheddar adds, while the classic mozzarella gives it that yummy gooeyness.
Can this recipe be made gluten free?
Yes! Use your favorite gluten-free pizza crust recipe, follow the instructions on the recipe for pre-baking, and then add the breakfast pizza ingredients.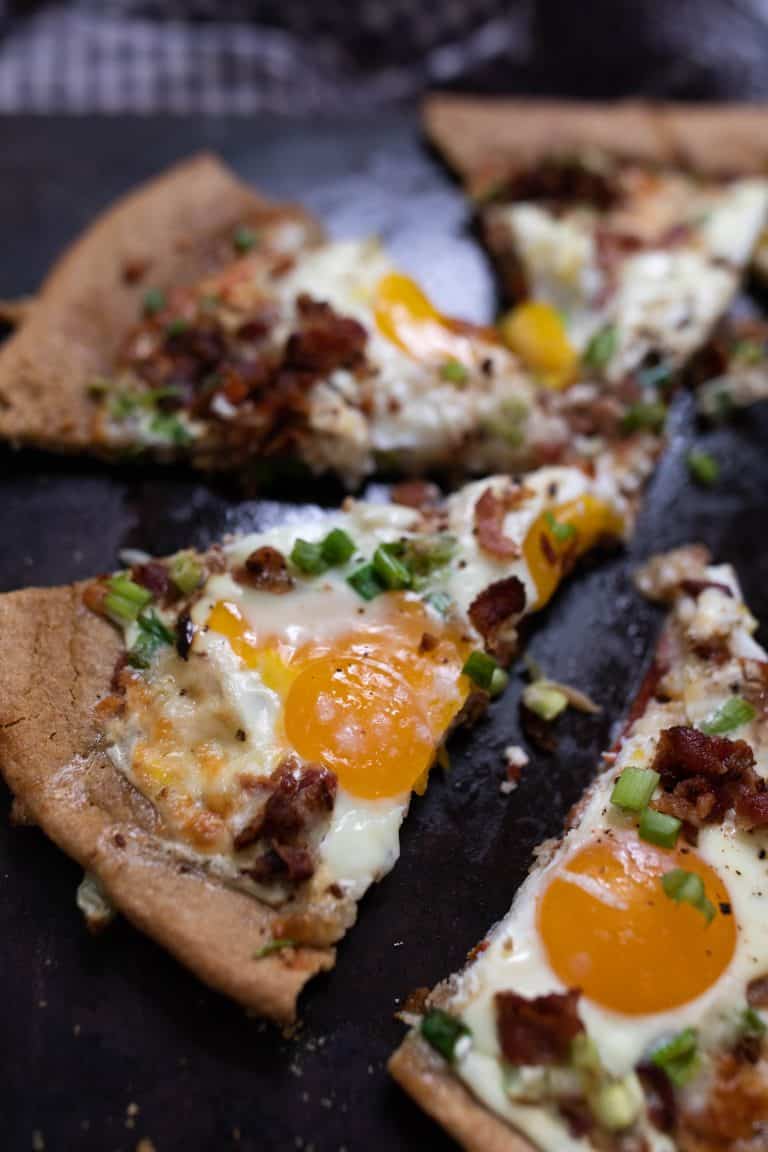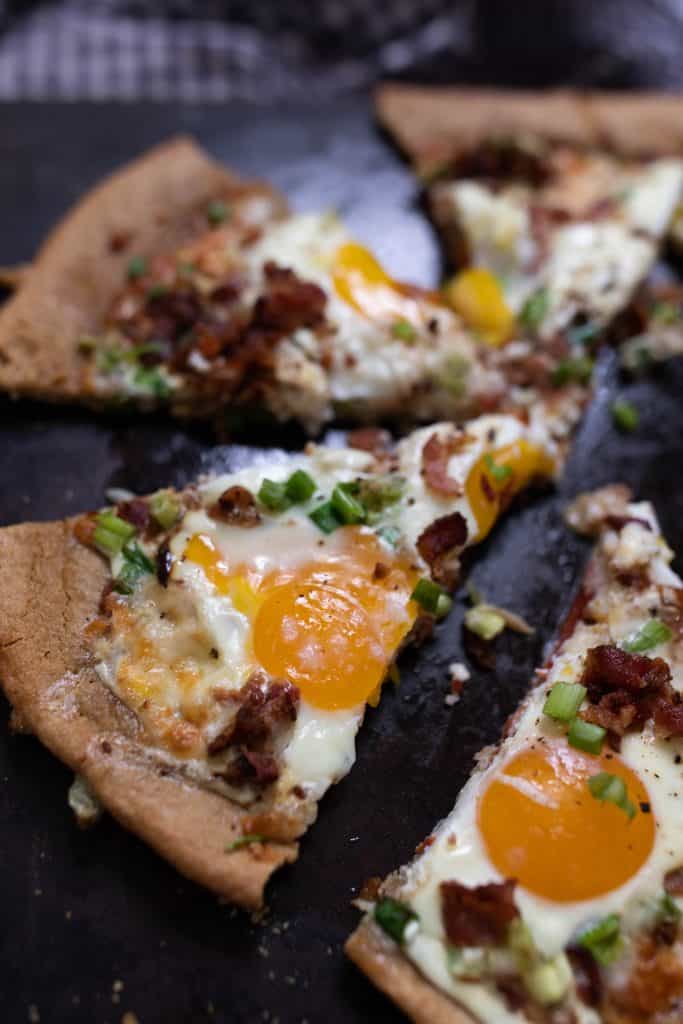 How To Make Sourdough Breakfast Pizza
Feed your sourdough starter the night before you plan on making this recipe – or a minimum of 4 hours before.
Preheat the oven to 425 and place pizza stone or cast iron skillet into the oven until piping hot.
Spoon sourdough starter onto hot pizza stone or skillet and spread it into a 14″ circle, being careful not to spread it too thinly.

Just eyeball how much starter you use, but typically I use about 2 cups of starter.
I like to spoon it thinner on the inside and leave a thicker ring towards the edge.

Thinly slice some tomatoes and lay them on top of the crust.
Drizzle with about 2 tbsp of olive oil all over the pizza. Make sure to get it all over the tomatoes and the crust.
Sprinkle salt all over.
Bake for 15 minutes.
Pull it out of the oven and top with cheese. I use a total of 12 oz of mozzarella and sharp cheddar cheese.
Top with chopped bacon and finely sliced green onions.
Crack eggs over pizza.
Sprinkle with another 1/2 tsp of salt and some fresh cracked pepper.
Place back into the 425 oven for 10 minutes. If you want the yolks to be a little runny, only do about 8 minutes.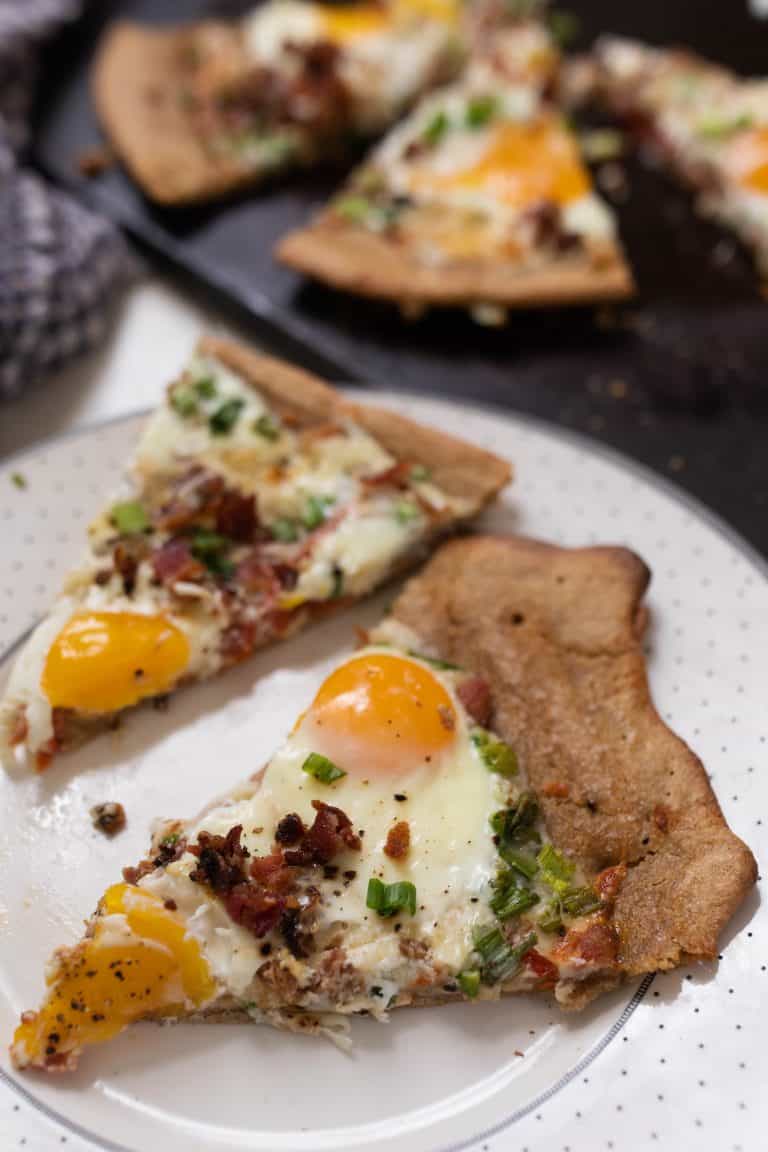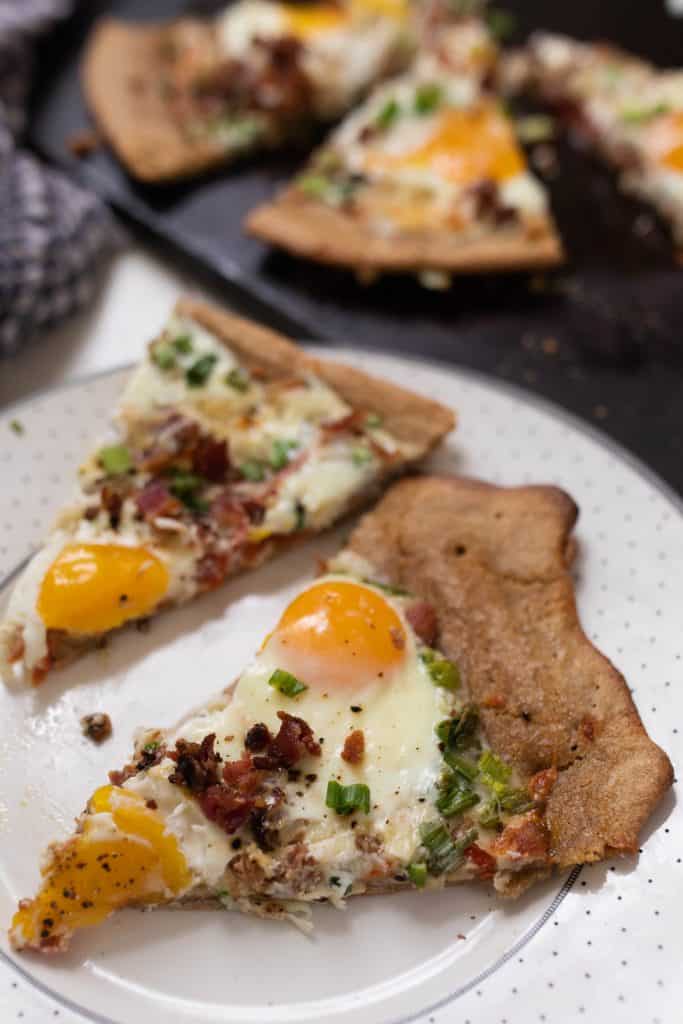 Breakfast Pizza Toppings
Eggs – use farm fresh pastured raised.
Bacon – pre-fry or bake the bacon. You could also use cooked breakfast sausage.
Olives
Tomatoes
Other topping ideas:
Corn
Greens – spinach or kale
Peppers
Onions
Mushrooms
Breakfast sausage – pre-cooked.
Find more of our favorite breakfast recipes straight from the farmhouse:
Shop this post

Sourdough Breakfast Pizza Recipe
If you try this recipe and love it, I would love if you came back, left a comment, and gave it 5 stars! Thank you!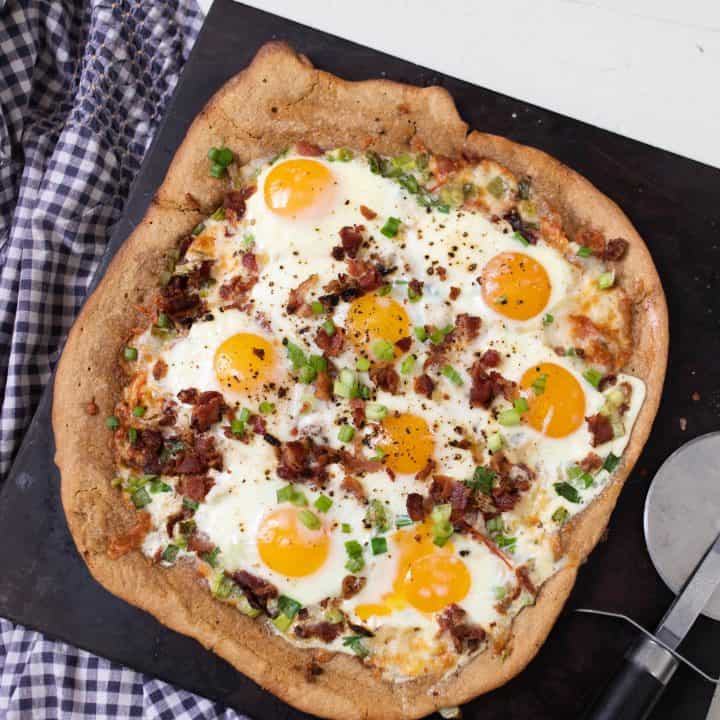 Breakfast Pizza Recipe With Sourdough Crust
Ingredients
Sourdough Pizza Crust
Fed sourdough starter
Olive Oil
2 Tomatoes
8 Eggs
12 oz of cheese - I like Mozzarella and cheddar cheese
2 green onions
1 tsp salt
1/4 cup cooked chopped bacon
Instructions
For the crust:

Preheat a pizza stone, or cast iron skillet, on 425 degrees.

When the oven is preheated, and the pans are scorching hot, take them out of the oven.

Pour sourdough pizza crust onto a pizza stone or cast iron skillet.

Slice tomatoes really thin and place them on the crust.

Drizzle the pizza with olive oil all over, including the edges, and sprinkle with salt.

Bake for 15 minutes.

Top with freshly shredded mozzarella and cheddar cheese, cooked and chopped bacon, eggs (raw cracked on top), salt, freshly cracked black pepper, and green onions.

Bake for 10 minutes until eggs set.

Enjoy
Pin It For Later