Try our very favorite chicken alfredo sourdough pizza recipe, made with homemade cream sauce.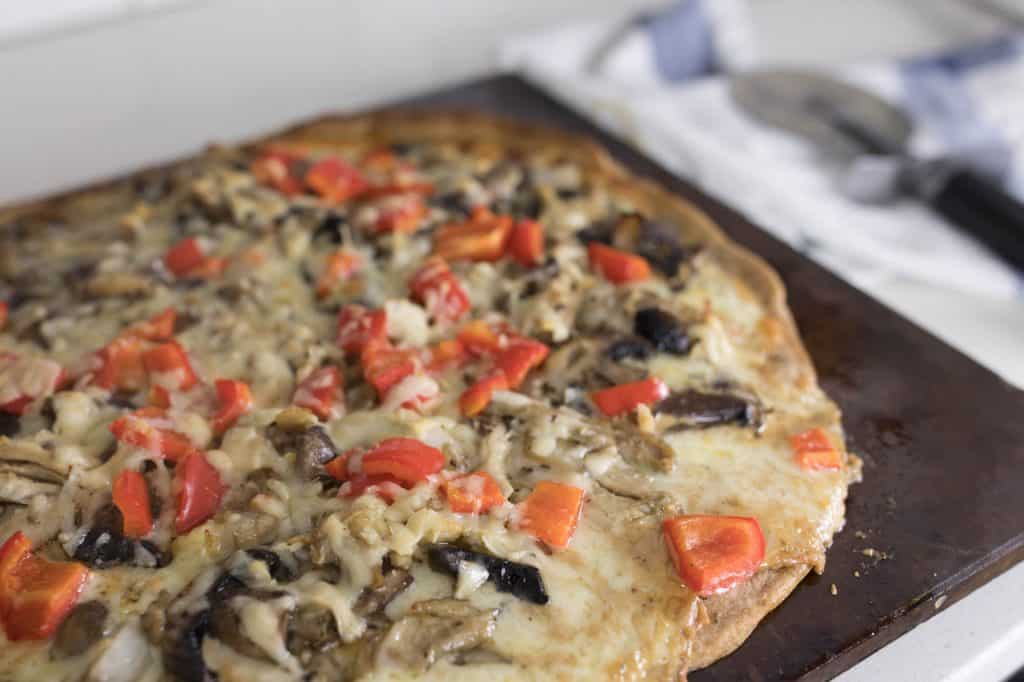 The beauty of this chicken alfredo sourdough pizza recipe is that it can be whipped up completely from scratch in less than an hour. All you need on hand is some fed sourdough starter, a couple blocks of cheeses, some leftover chicken, and seasonings.
If you haven't read my post on why we love sourdough starter, and how you can make one from scratch, you can get that here. Also, make sure to check out the super simple sourdough pizza crust recipe I posted about last week. You can find that here.
I have made this recipe a lot of different ways over the years. Sometimes I use mozzarella cheese and sometimes cheddar or parmesan. I have even used a block of cream cheese. The main premise behind the sauce is: a lot of fresh garlic, cheese, and something to thin it all down with, whether that is milk, cream, or water.
Add a little salt and pepper, and you're off to the beginnings of a tasty pizza with homemade cream sauce.
I wanted to make an official recipe for my "by the book" blog readers, but if you're more of the "winging it" type, feel free to be a rebel and use whatever cheese you have on hand. Throw it in to melt with some sautéed garlic, add salt and blend it up. Add fresh herbs, or something, if you're feeling adventurous.
When you get fresh garlic, cream, and cheese together, you just can't go wrong.
Same goes for the toppings. Use whatever is fresh and in season. In the spring and summer, we love to forage for fresh morels or chanterelles. That takes the pizza to a whole 'nother level, my friends.
Served alongside a fresh salad and sliced avocados, this is a perfect meal.
Chicken Alfredo Sourdough Pizza Recipe
The Ingredients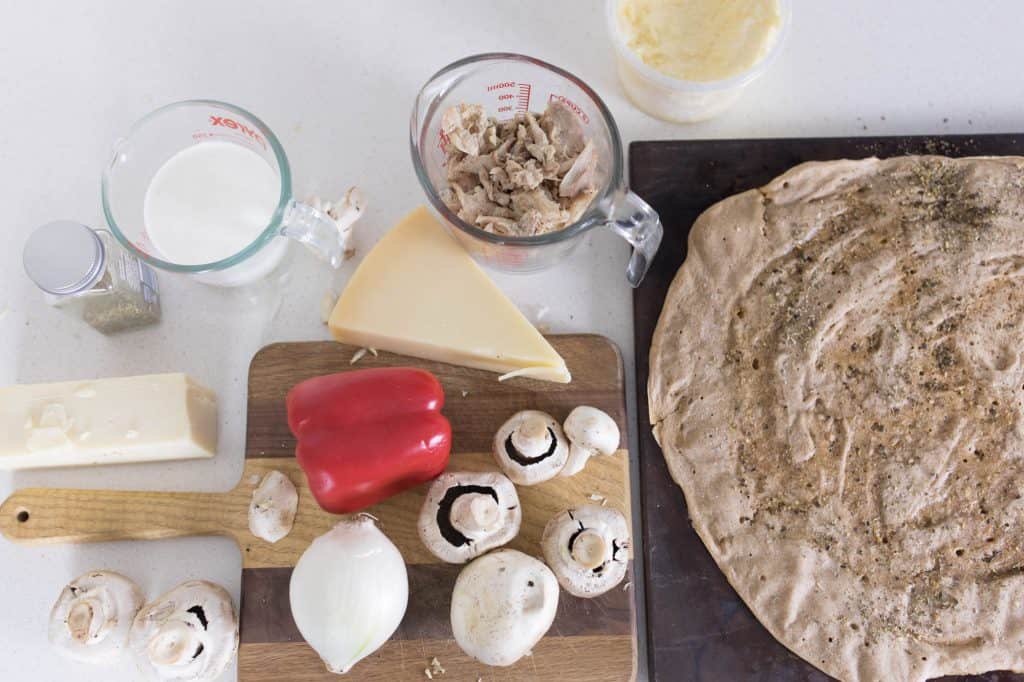 One sourdough pizza crust- Use this recipe from the blog. The best part about it is, there is no kneading, proofing, or rising required!
2 cups leftover chicken, chopped
10 ounce block of chedder
8 ounce wedge of parmesan
One Cup Cream
One Red Bell Pepper, chopped
A Package of Mushrooms, sliced
One Small Onion, chopped
One Bulb Garlic
Three tablespoons butter
Salt
Pepper
Italian Seasoning Blend
The Process
Start by mincing an entire bulb of fresh garlic. Think I'm getting a little carried away? You can never have too much garlic. 😉 I use a garlic press that I bought at a Pampered Chef party, but I bet you could get away with a cheaper one from Amazon.
These things are life changing. I can't believe I lived 31.5 years without one. My sister told me I had to purchase it and I obliged. So glad I did. It makes garlic chopping so much easier. Now almost everything I make gets several cloves.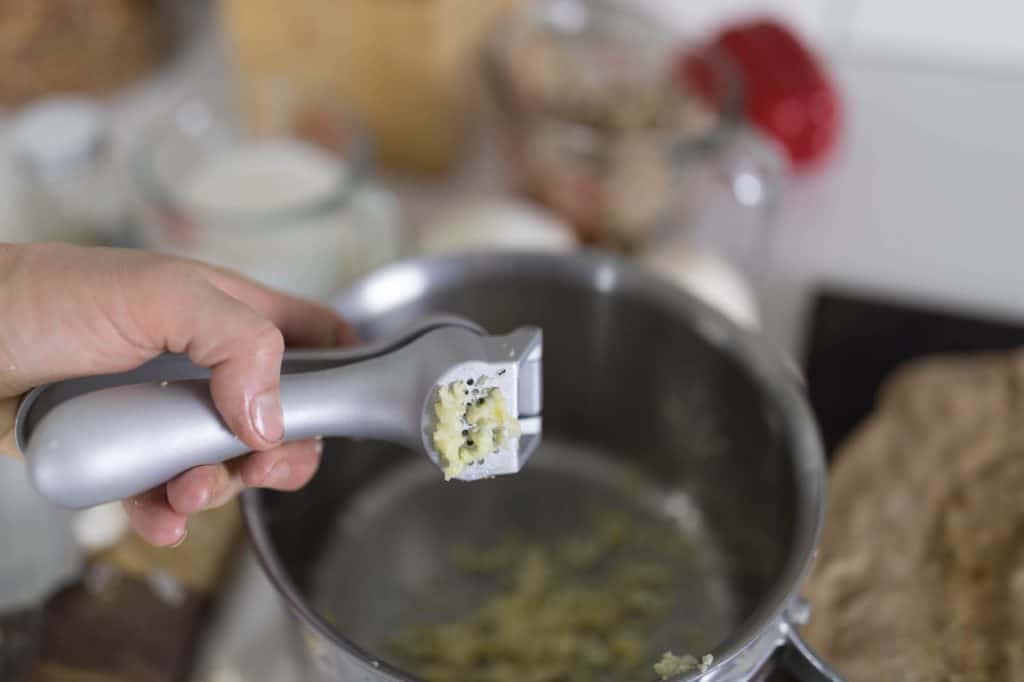 Get the minced garlic going in a tablespoon of butter. Make sure to keep the heat pretty low, or the garlic will get crispy instead of soft. If it does, don't worry, it will still blend into the sauce just fine.
Meanwhile, get your chopped onions and sliced mushrooms going in a skillet on medium. I wrote two tablespoons of butter in the recipe, so you all wouldn't judge me, but I always throw in at least three or four. If you are reckless with fat and calories, like myself, join me in this tasty endeavor. Otherwise just stick to one.
While all the veggies and garlic are getting nice and soft, shred your cheeses. If I am shredding a lot of cheese at once, I may use my food processor. This time I just stuck to the hand grater.
Add your leftover chicken to the sautéed veggies. Sprinkle on salt to taste, about one teaspoon, plus pepper and Italian seasonings.
Making the sauce
After the garlic has had a chance to get soft, throw in one cup each of shredded parmesan and cheddar, and one cup of cream. Cook the mixture on low until it is all melted.
Once the cheeses are melted, blend the sauce ingredients together with an immersion blender, like this one. If you don't have one, you can also just use a regular blender. This is what I used to do and it worked just fine. Only problem is you end up with a few more dishes.
Putting it all together
Spoon the cream sauce onto the crust. (Depending on how big your crust is, you may have a little leftover. Just add it to some veggies or pasta later in the week.) Top with the rest of the shredded cheddar, sautéed veggies and chicken, and chopped red bell peppers.
I like to leave the peppers out when I am softening the mushrooms and onions. I think they taste better crisp and fresh. If you prefer them soft, throw them in with the sautéing veggies earlier.
Sprinkle the top the of the pizza with a little more of the freshly shredded parmesan.
Bake on 400 degrees for about 10 minutes, or until the cheese is melted.
Since the crust and veggies are already cooked, melting the cheese is the only objective here. Sometimes I just broil it for 5 minutes.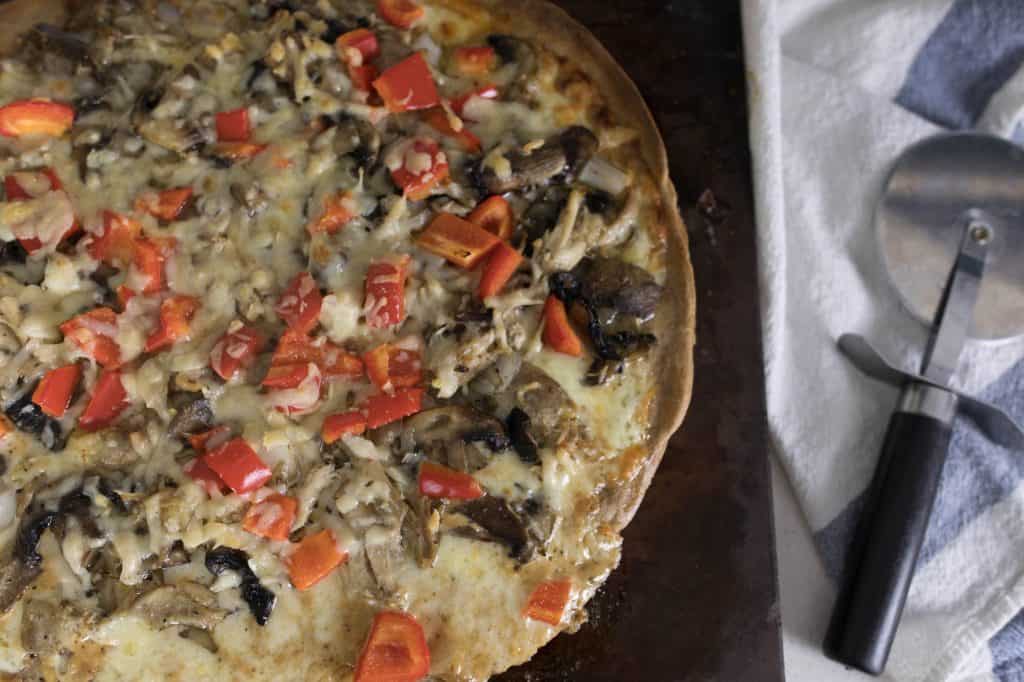 Enjoy!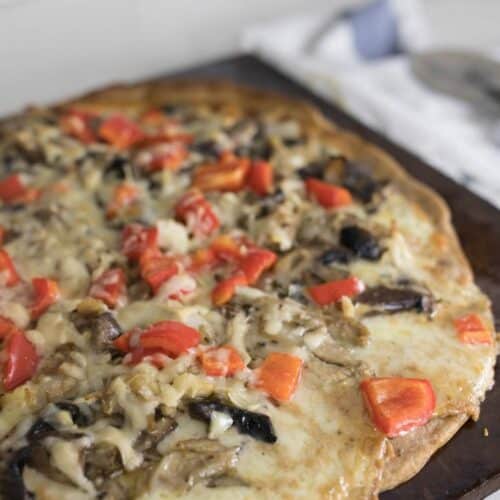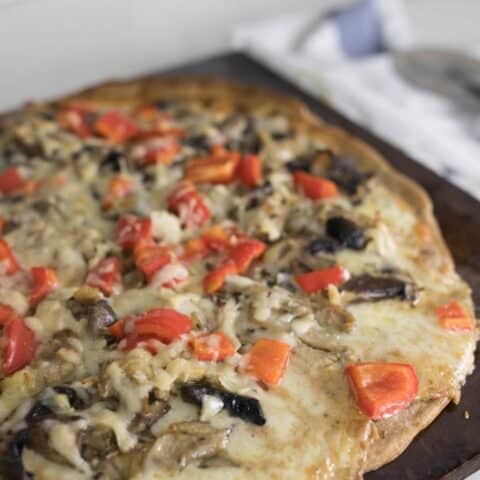 Chicken Alfredo Sourdough Pizza
Try our very favorite chicken alfredo sourdough pizza recipe, made with homemade cream sauce and a homemade sourdough pizza crust
Ingredients
1 sourdough pizza crust (recipe on the blog)
2 cups leftover chicken , chopped
10 ounces cheddar, shredded
8 ounces parmesan , shredded
1 red bell pepper, chopped
1 package mushrooms , sliced
1 onion, chopped
1 bulb garlic, minced
3 tablespoons butter
1.5 teaspoons salt
fresh black pepper, ground
1 teaspoon Italian Seasoning Blend
Instructions
Mince Garlic and add it to one tablespoon butter. Cook in a saucepan on low until soft.
Add the chopped onions and sliced mushrooms to two tablespoons of butter. Cook in a skillet on medium-low until soft.
After the garlic is soft, add one cup each of shredded cheddar and parmesan, and one cup cream, to the saucepan. Cook on low until the cheeses are melted. Add 1/2 teaspoon salt and several grindings of fresh pepper. Blend the garlic, cream and melted cheese together with an immersion blender.
Once the onions and mushrooms are soft, add the leftover chicken to the skillet. Top with one teaspoon salt, fresh pepper and one teaspoon of Italian seasoning blend.
Ladle cream sauce onto the prepared sourdough pizza crust. Top with the rest of the shredded cheddar cheese. Spoon on the sautéed veggies and chicken. Top with chopped red bell pepper and a little more shredded parmesan.
Bake in a 400 degree oven for 10 minutes, or until the cheese is melted.
Notes
Find the recipe for the sourdough pizza crust HERE.
Shop the supplies
The Immersion Blender I have
Pampered Chef Garlic Press
Pizza Stone
Lodge Cast Iron Skillet
Chicken Alfredo Sourdough pizza Recipe Video
Pin it for later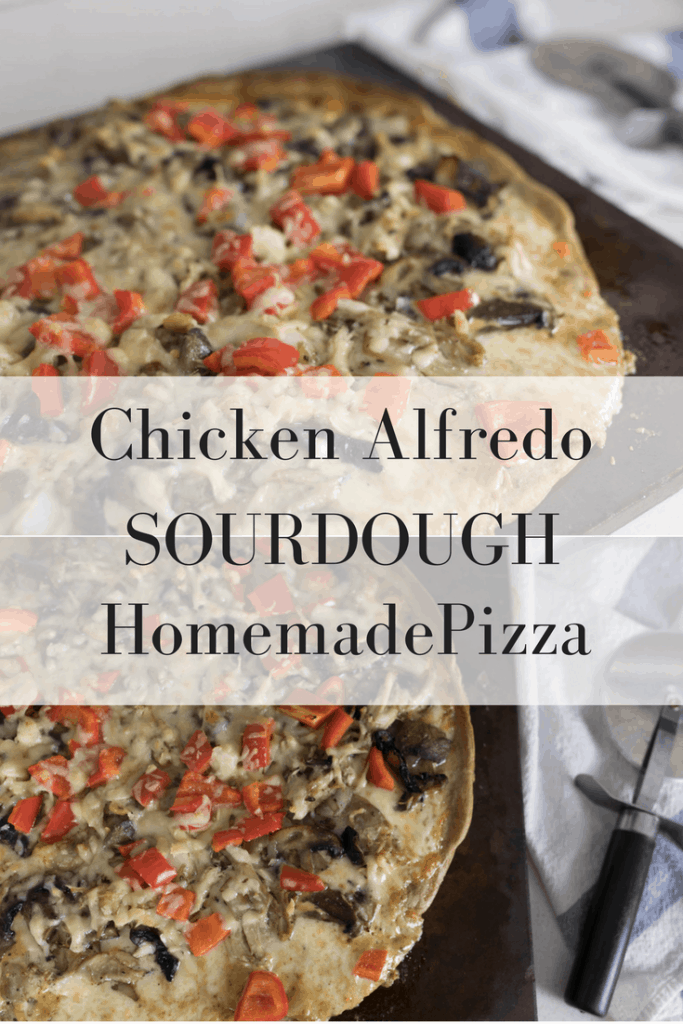 Thank you so much for stopping by the farmhouse!