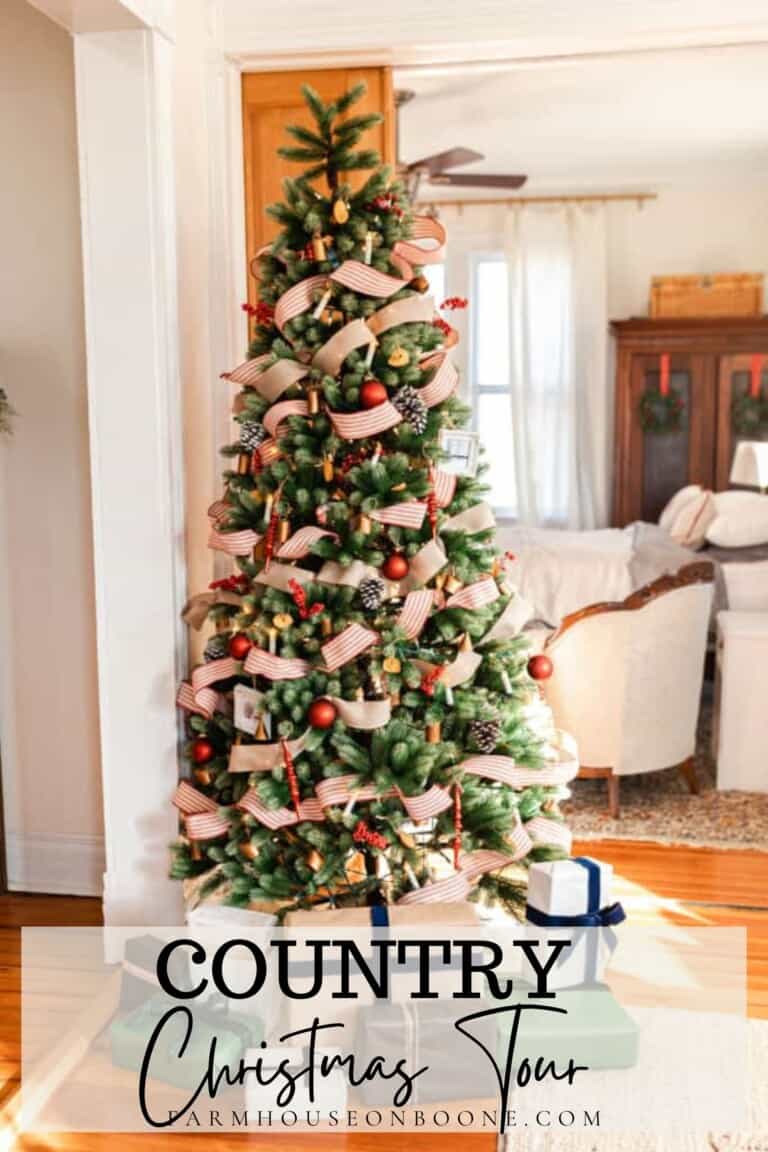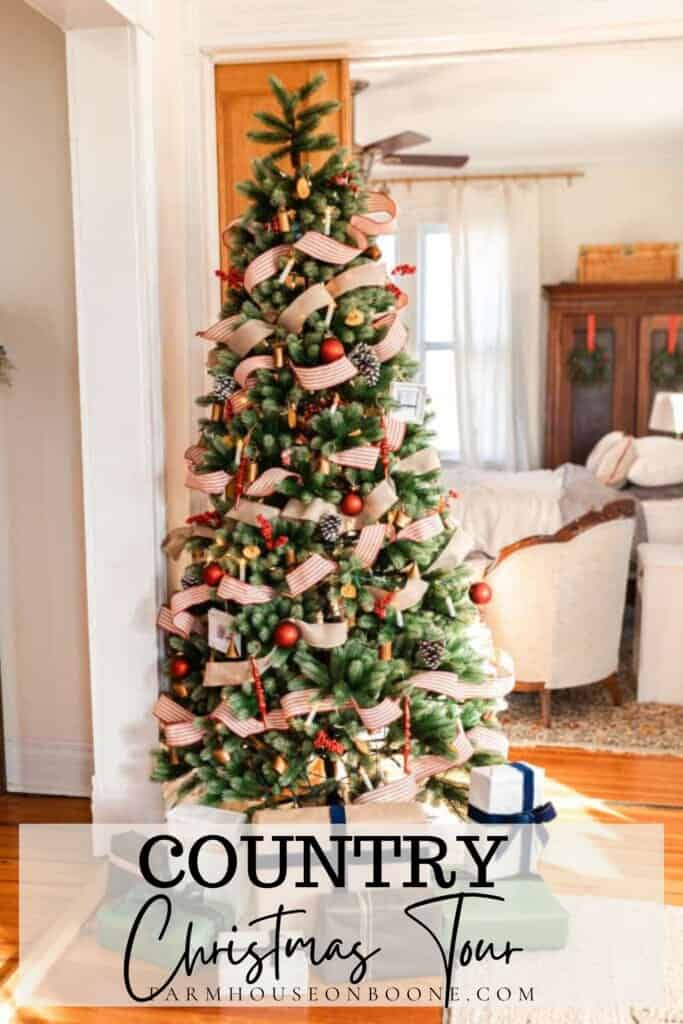 Grab a warm cup of tea and join me as we begin our country Christmas home tour filled with greenery, candles, pops of red, and warm textures and tones.
This year, I did a lot of the same things I usually do, which is a lot of natural elements like dried orange slices, greenery, berries, and pine cones from around the property.
The theme this year was a traditional red and green Christmas. In years past, I incorporated lots of blues, which is an absolutely beautiful theme. This year, however, I really just wanted to do a very traditional Christmas in our 1860's Victorian farmhouse.
This post contains affiliate links, which means I make a small commission at no extra cost to you. See my full disclosure here.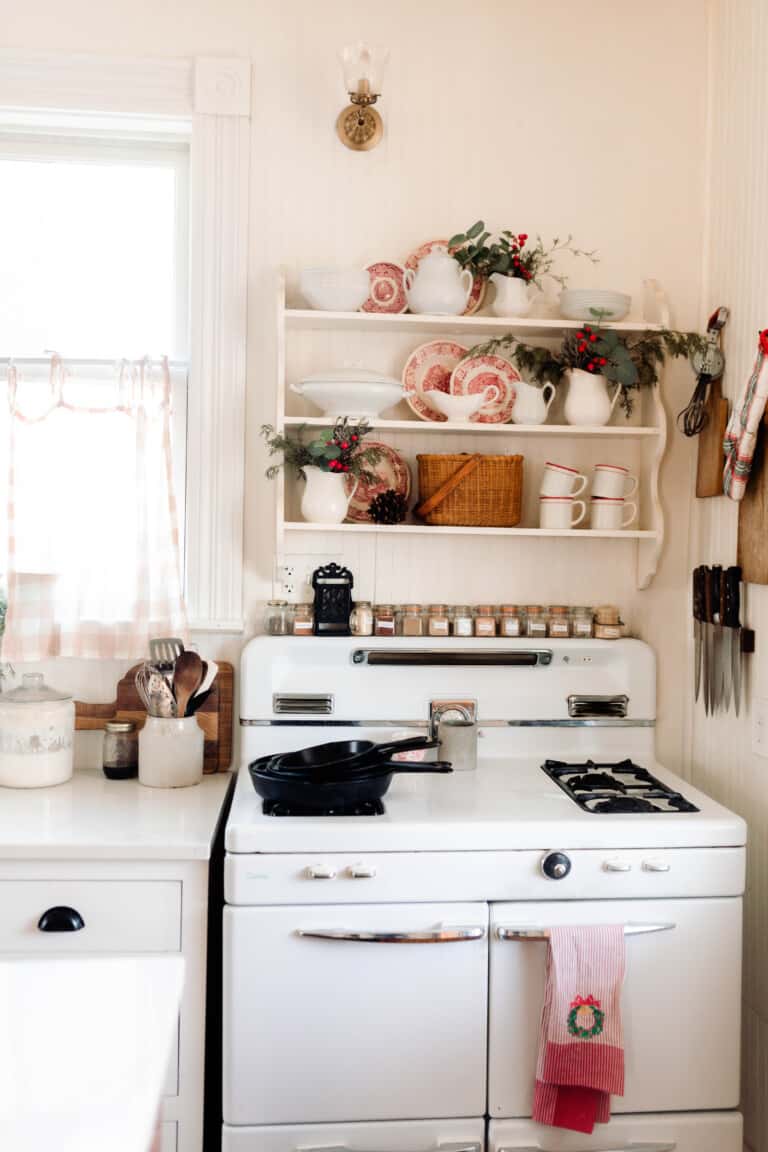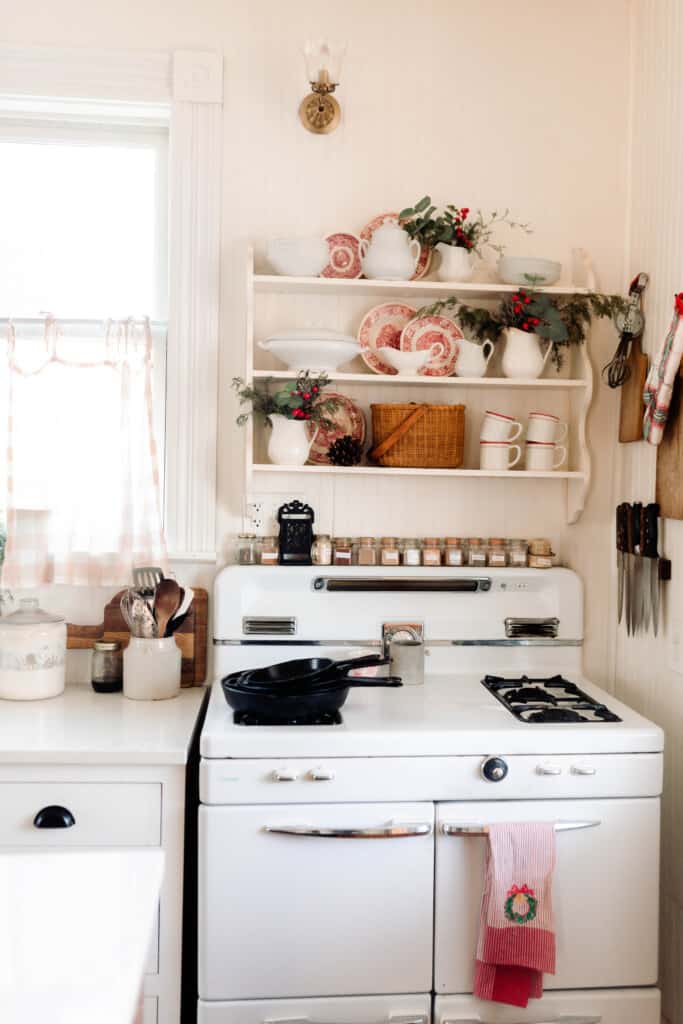 The Kitchen
Starting in the kitchen, I brought some Christmas cheer to the shelves above our vintage stove by adding greenery, faux berries in white ironstone pitchers, replacing my blue plates with red transfer ware, and adding some white and red vintage mugs.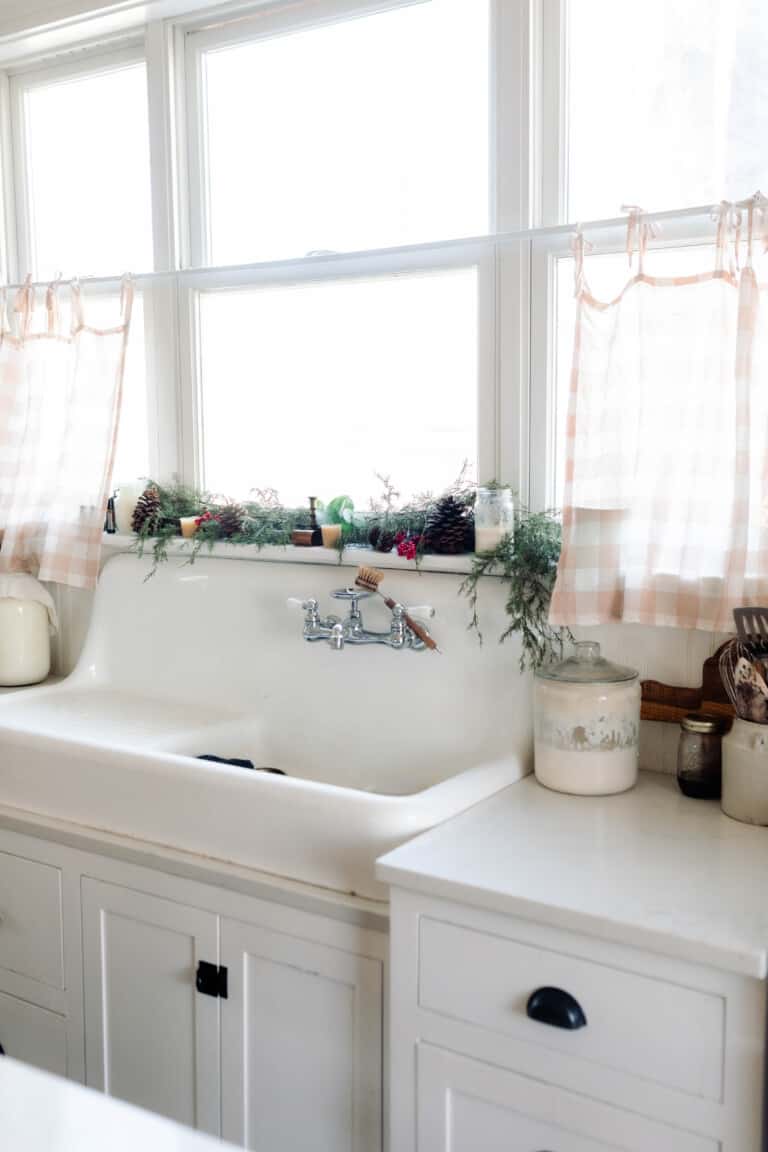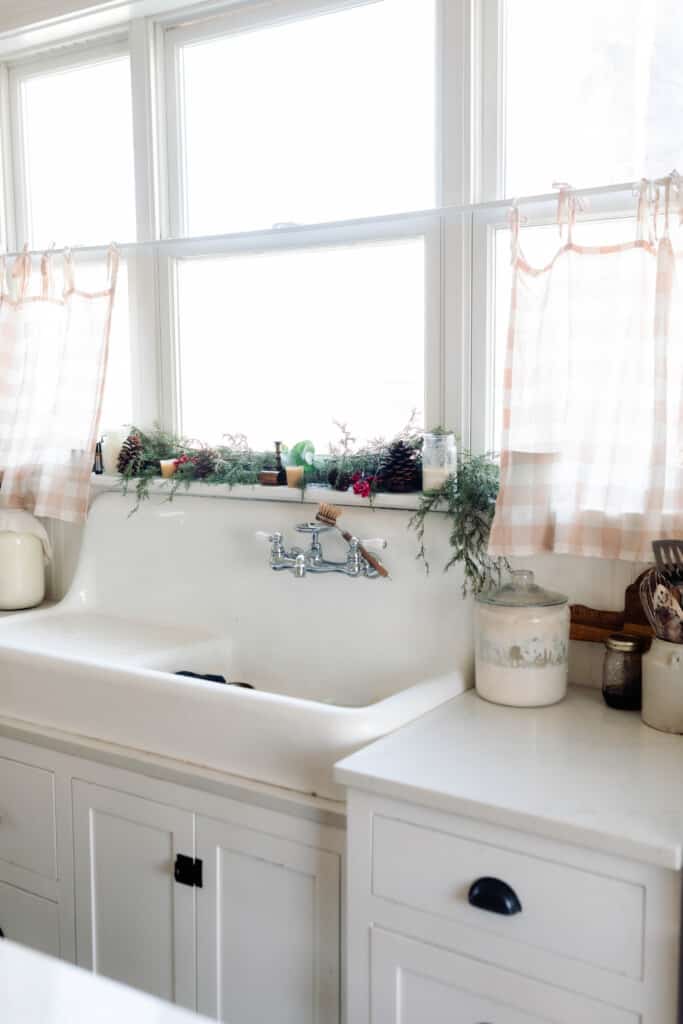 On the windowsill, I moved the plants to the bathroom and replaced them with fresh greenery, candles, faux berries, pine cones, and vintage inspired bells.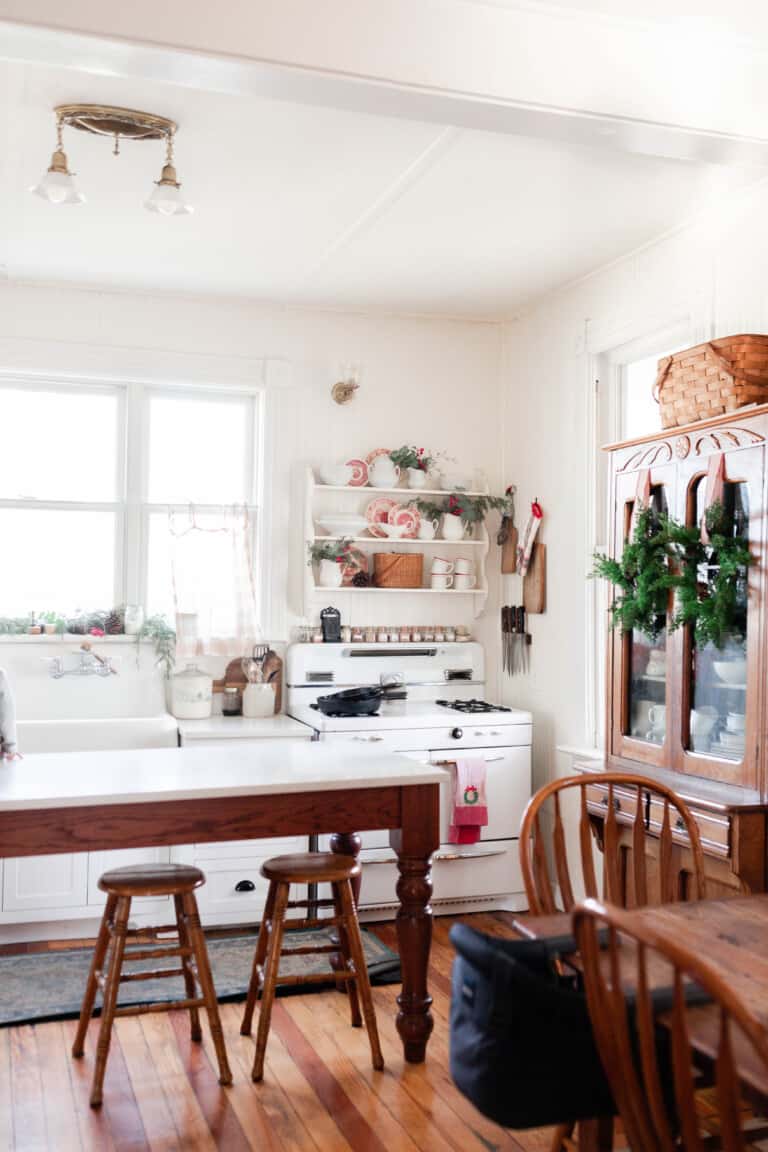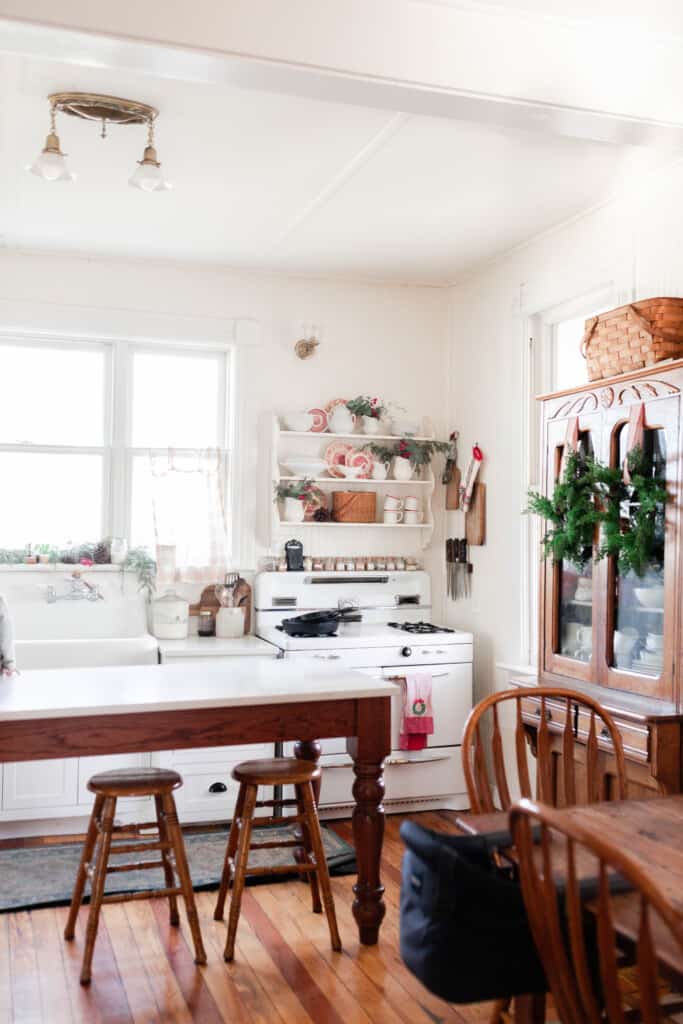 The hutch got jazzed up with some greenery wreaths that were hung with ribbon. Right next to the hutch, I replaced my apron with a red one. Seems like such a silly swap, but these simple things really make a big difference with their warm, holiday touches.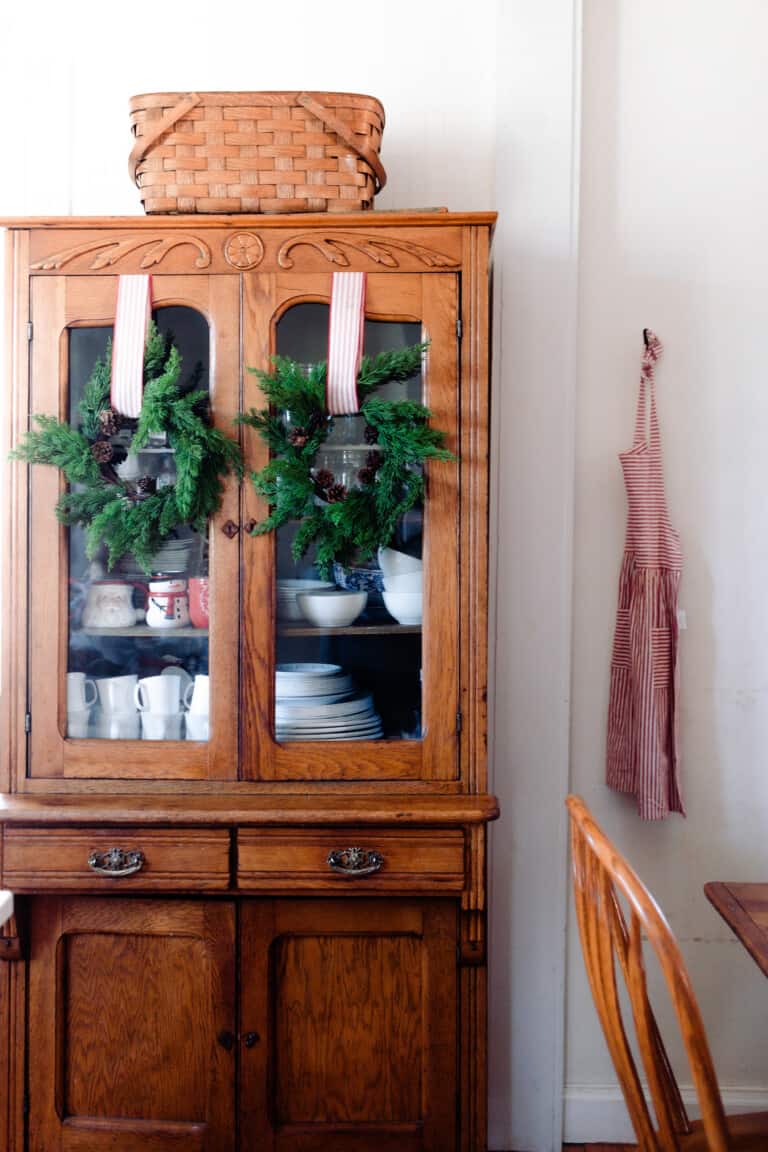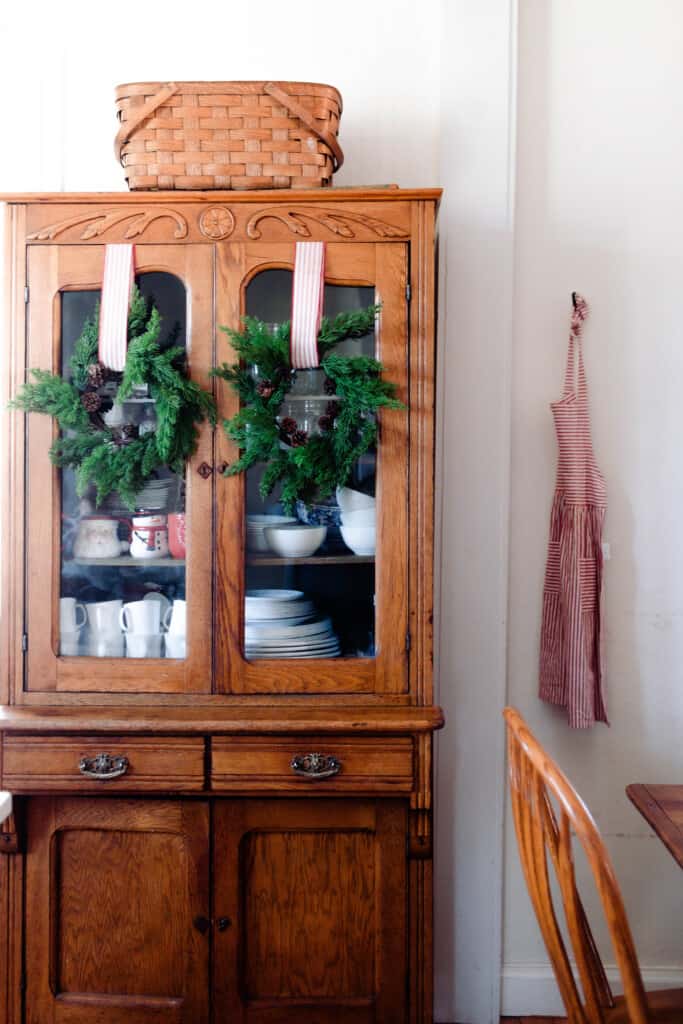 Entryway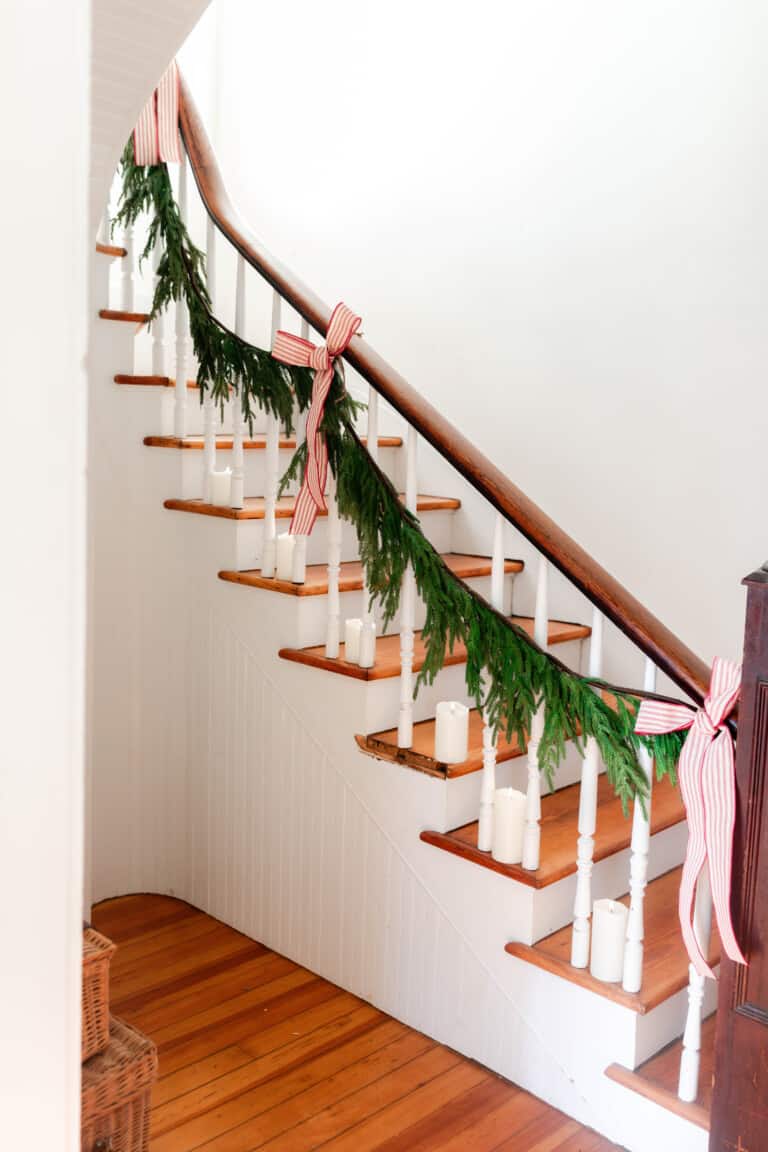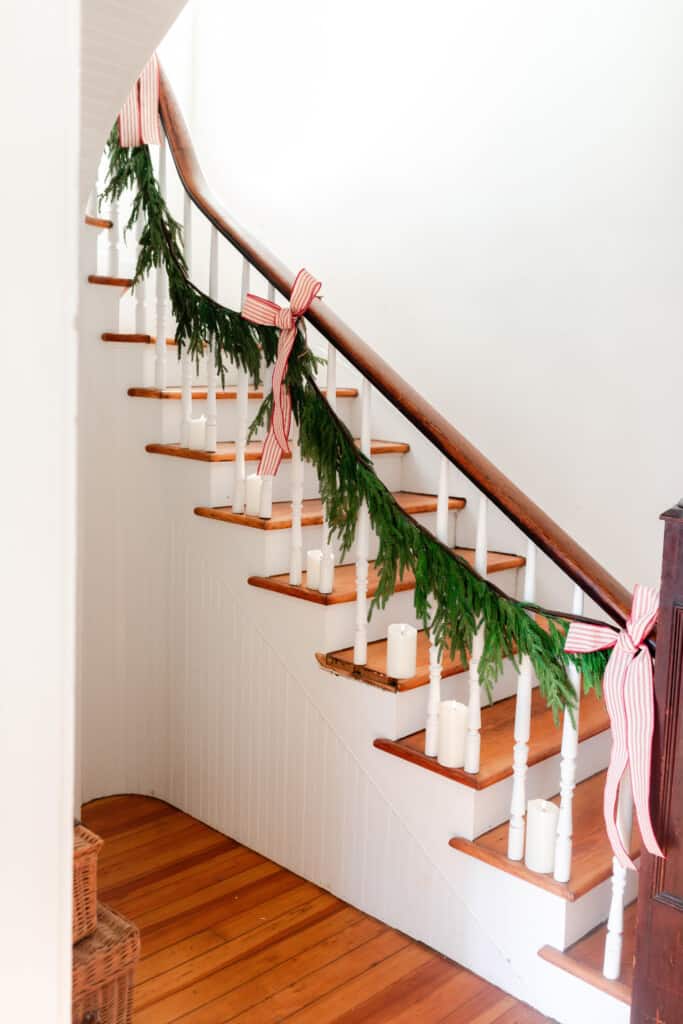 For the entryway, I didn't do a whole lot. I brought in a small flocked Christmas tree. I had ordered some cute gingerbread ornaments that ended up being much smaller than I thought, so I let the little boys decorate the small tree because it seemed like the perfect scale.
A large vintage crate was brought in to store the firewood that we use to heat the house. Not only is it beautiful, but it is also very practical. The entryway armoire that stores all of my sewing things got a few green wreaths hung with bow on the doors.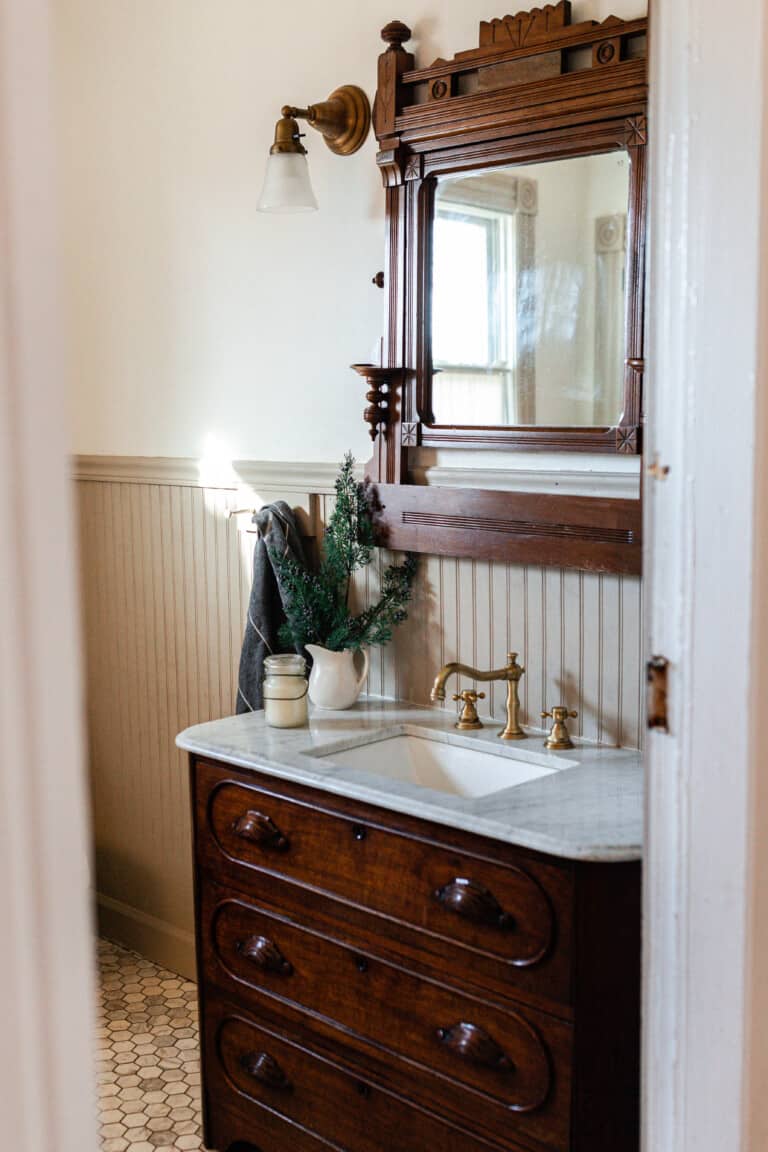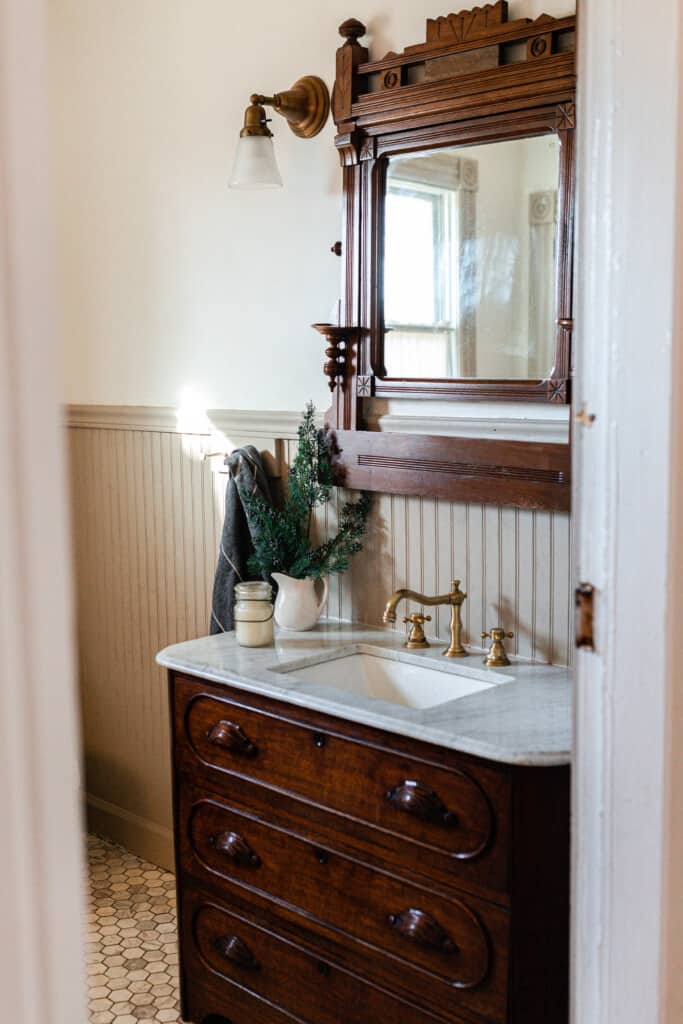 I normally don't add much to the bathrooms, so I just brought in some fresh greenery in an ironstone pitcher for the marble vanity.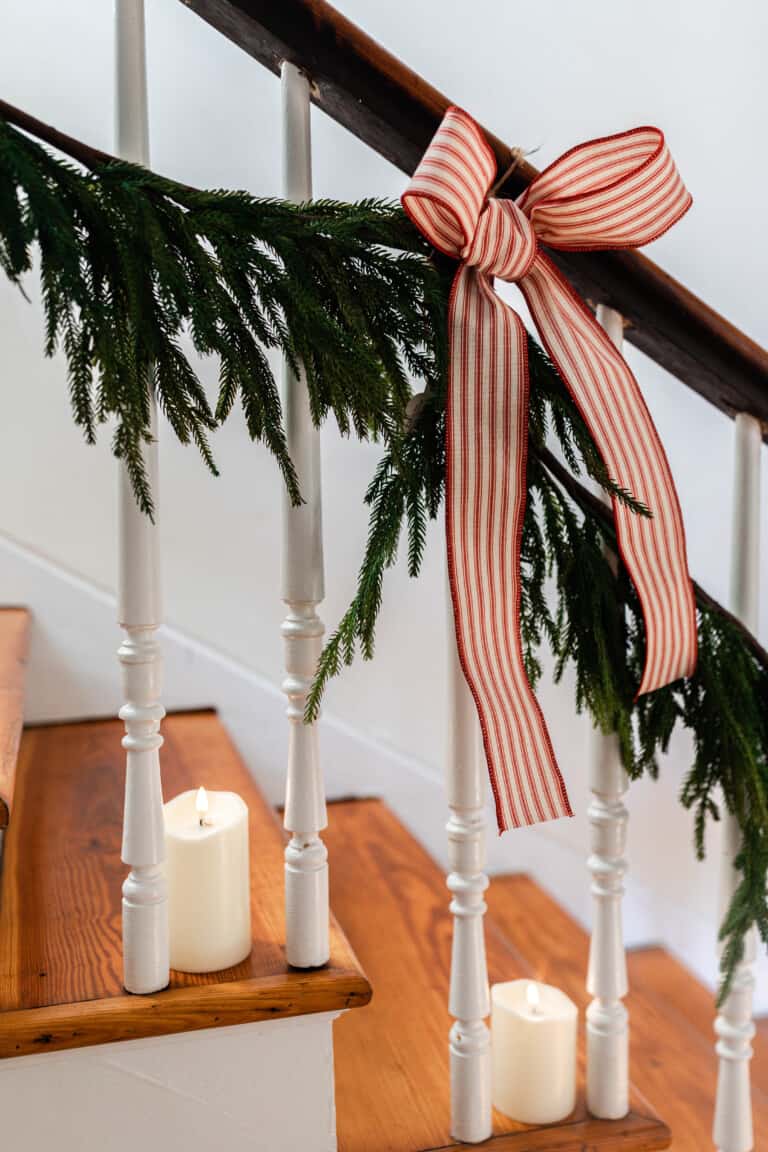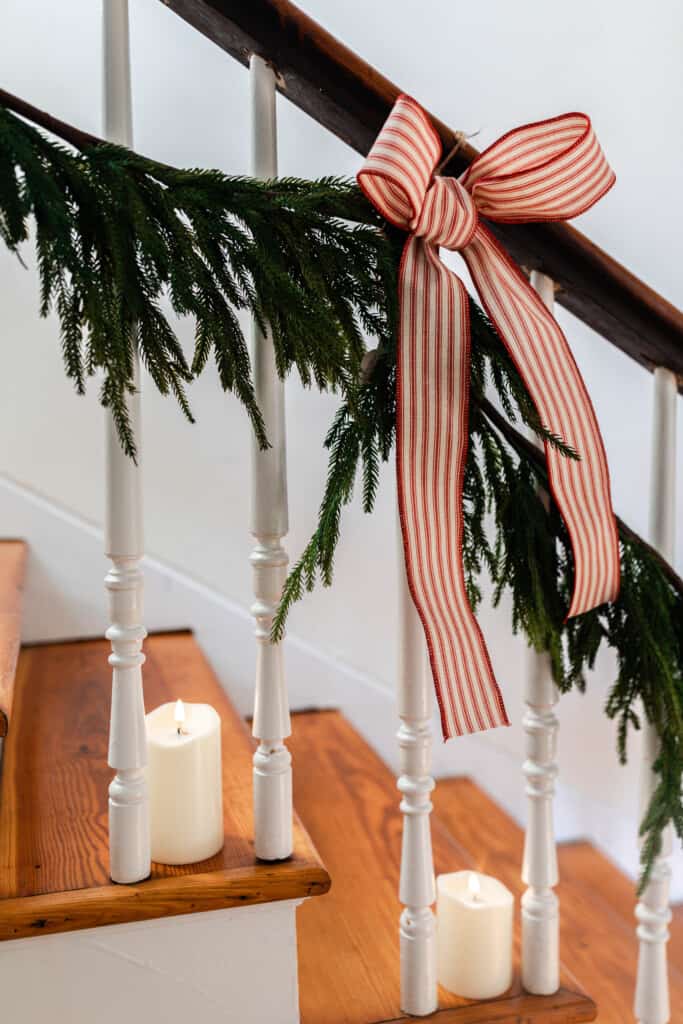 The stairs were draped with very natural-looking greenery and tied with more of the red and cream ticking stripe ribbons. This greenery looks so real, my kids even thought it was. I also ran faux candles up the stairs that are controlled by a remote. Every night at the press of the button, instant ambiance.
The Living Room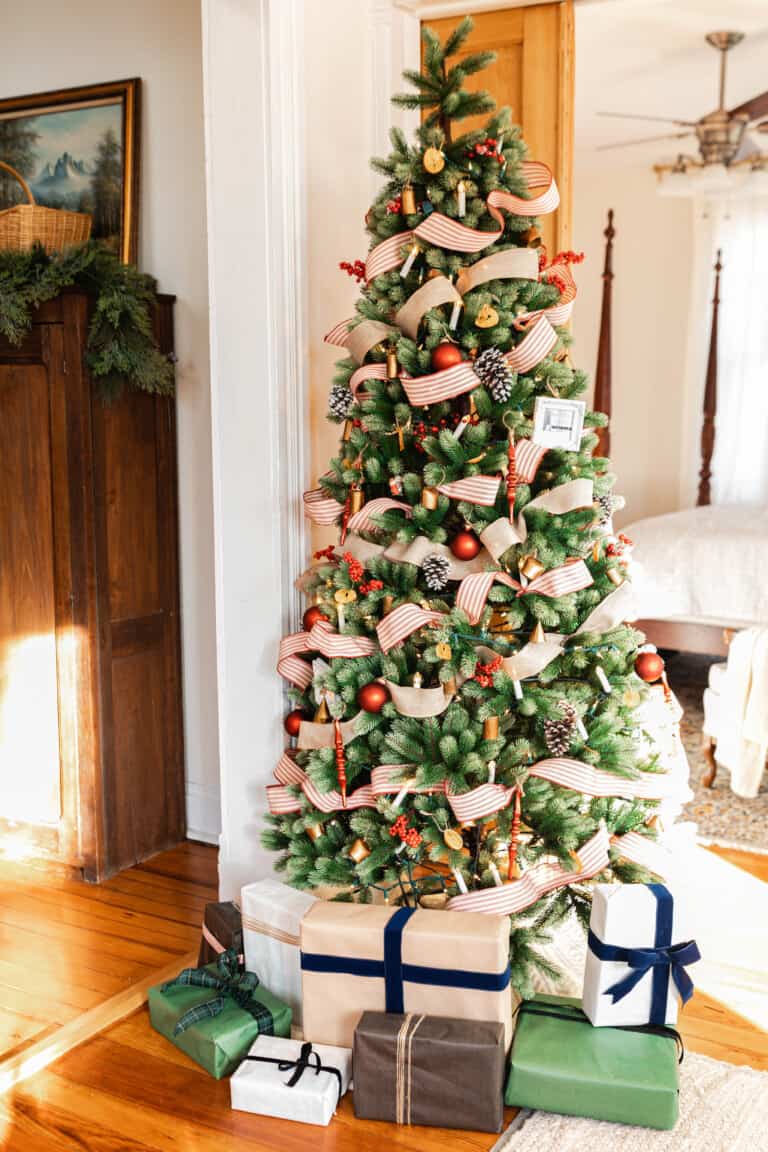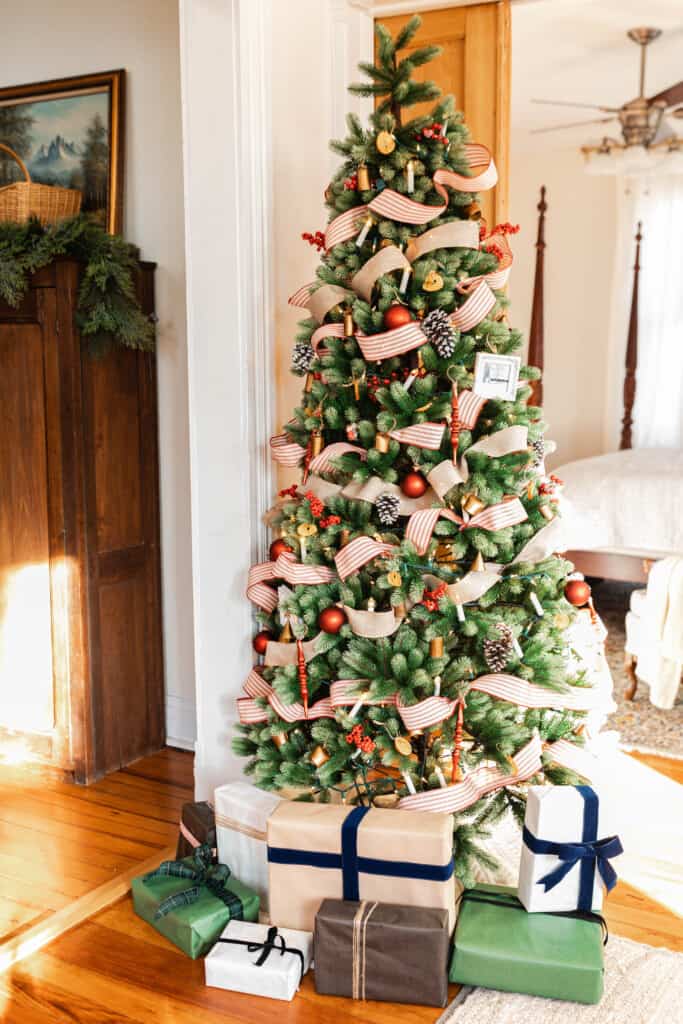 The hutch in the living room was redone to include some more of the red transfer ware, a little red house, and then eucalyptus wreaths hanging with ribbon from the top of the hutch. I love leaving the hutch doors open, because I think you can see inside it better.
For the main Christmas tree, I actually decorated it one way and then completely switched it up. I used tan ribbon and red and cream ticking stripe ribbon to wrap around the tree. Then I added red ornaments, pinecones, dried orange slices, my favorite candle lights, faux berries, and lots of bells. Bells are probably my favorite Christmas decoration.
Lastly, I wrapped some presents with natural-looking wrapping paper and velvet bows and twine.
I brought in a couple of red and cream colored pillows for the couch and hung some knit stockings to the pie safe.
The Master Bedroom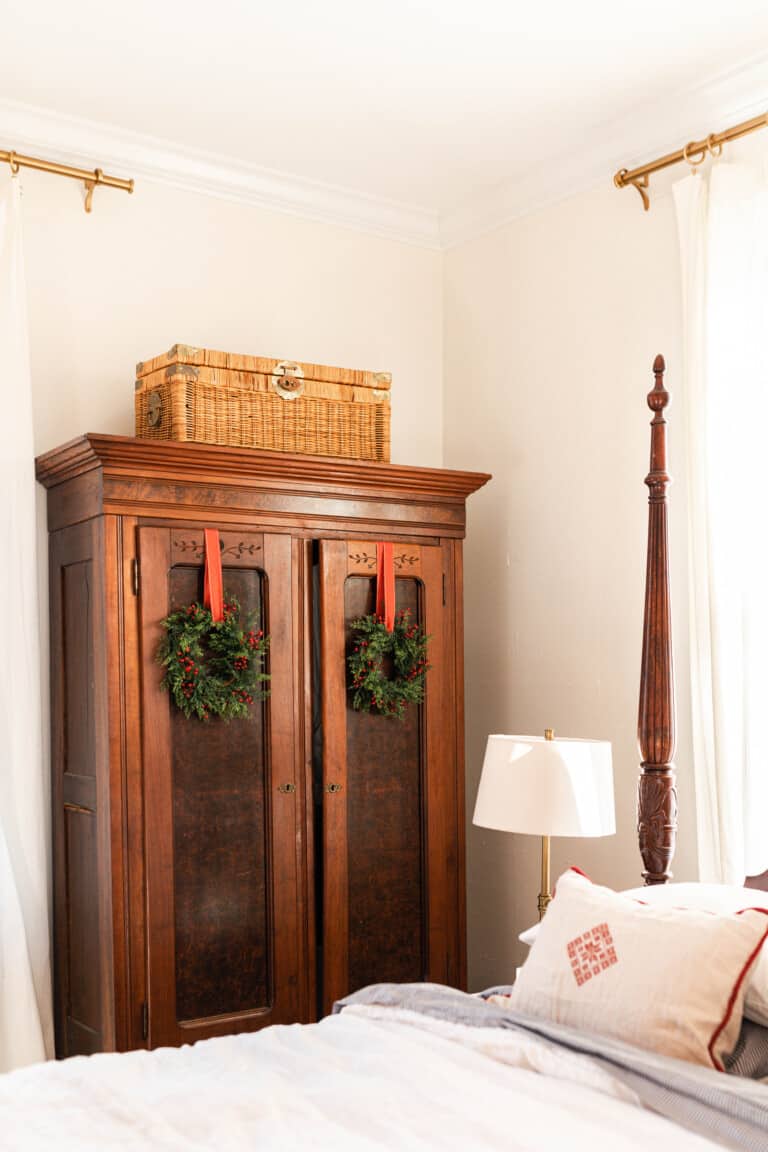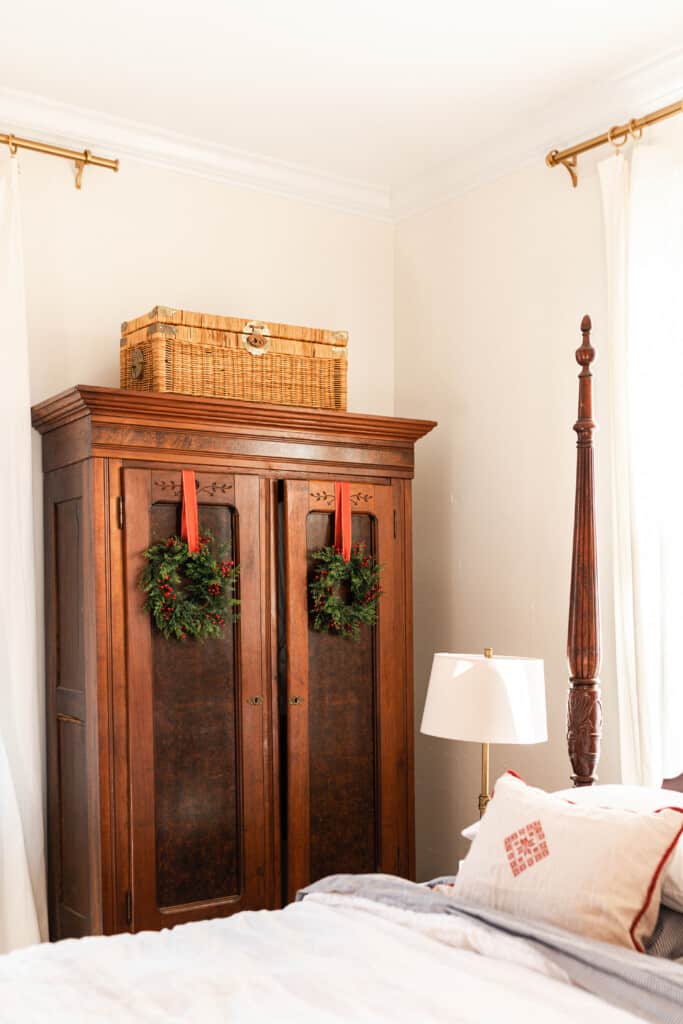 Wreaths were added to our armoire, which is where we keep our clothes, because we have no closets in this old farmhouse. To the faux mantle, I draped orange slices on some jute twine, brought in some cream knit stockings, and layered in a variety of greeneries so it would be nice and full. I added in some eucalyptus branches, bells, berries, and some beeswax tapered candles in candlesticks.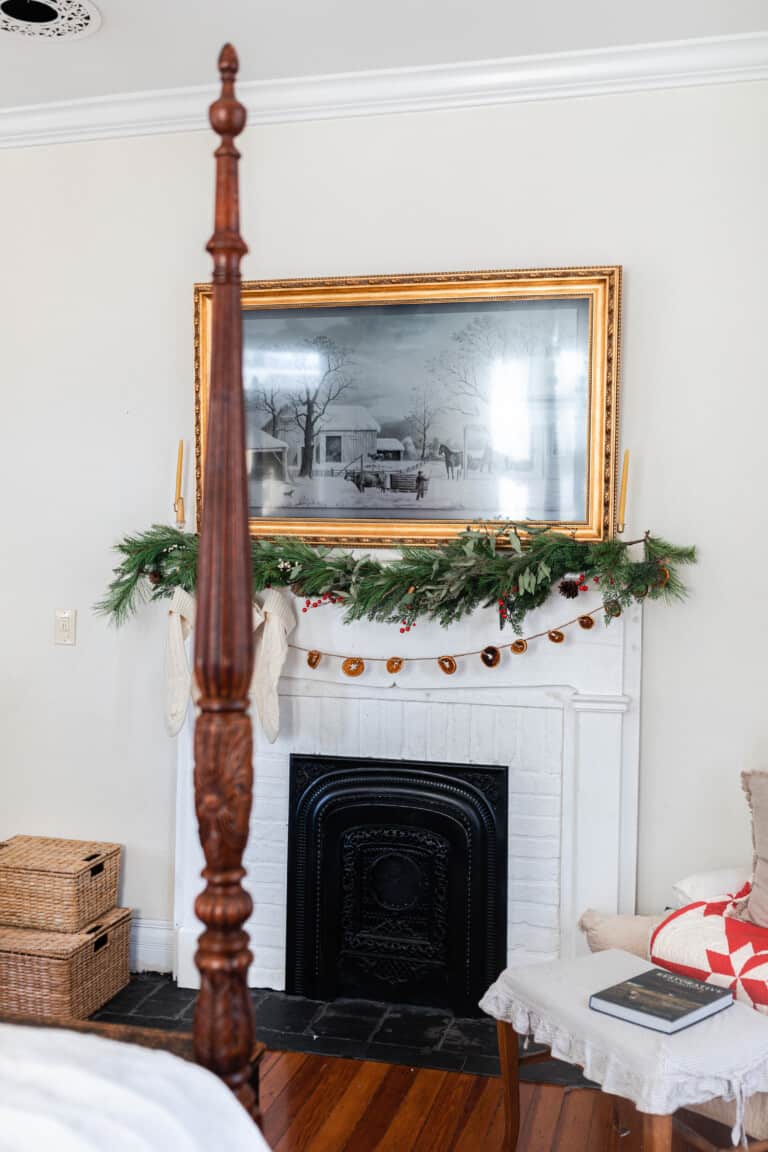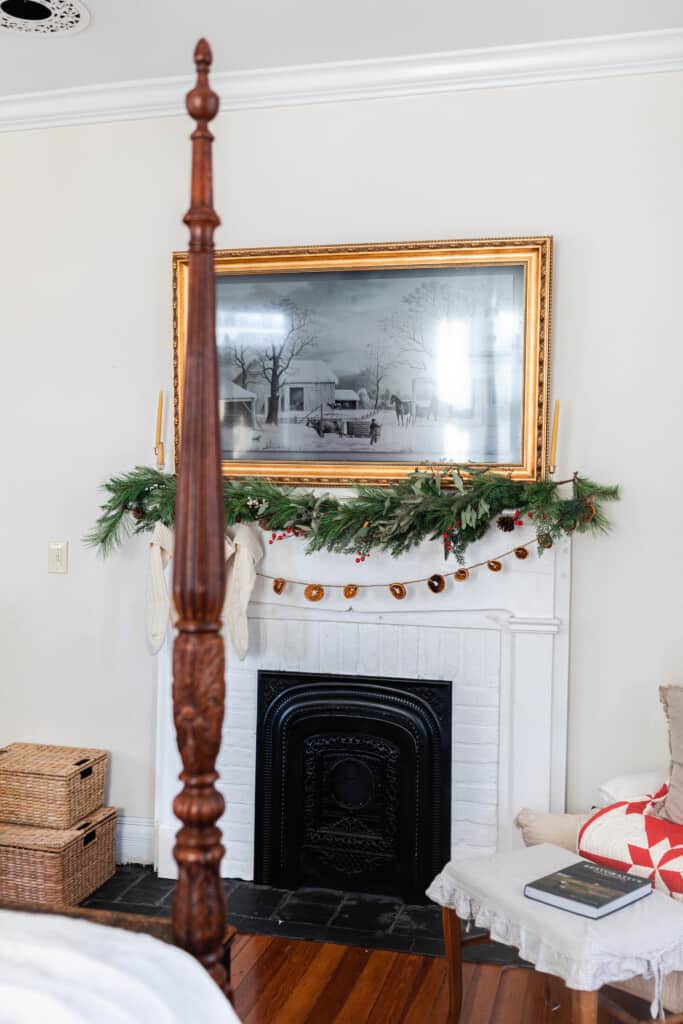 A red and white quilt is draped over the chair to add some more color. I added a greenery wreath with a large bell on the porch door and swapped out the picture next to the bed for a Christmas-inspired theme.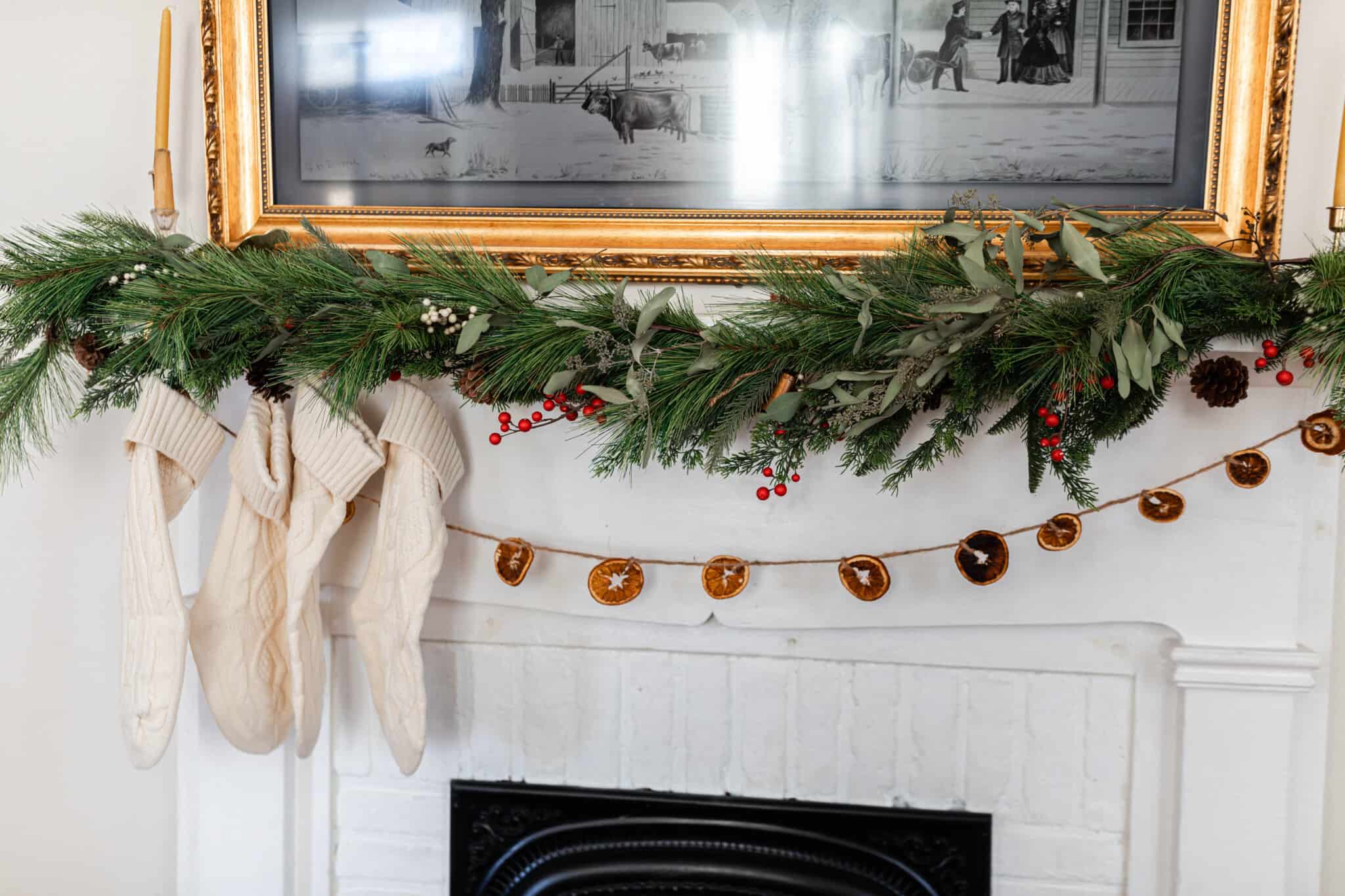 Lastly, I made two linen pillows with red piping and embroidered them with a red, winter-inspired design that dressed up the bed a bit.
The Front Porch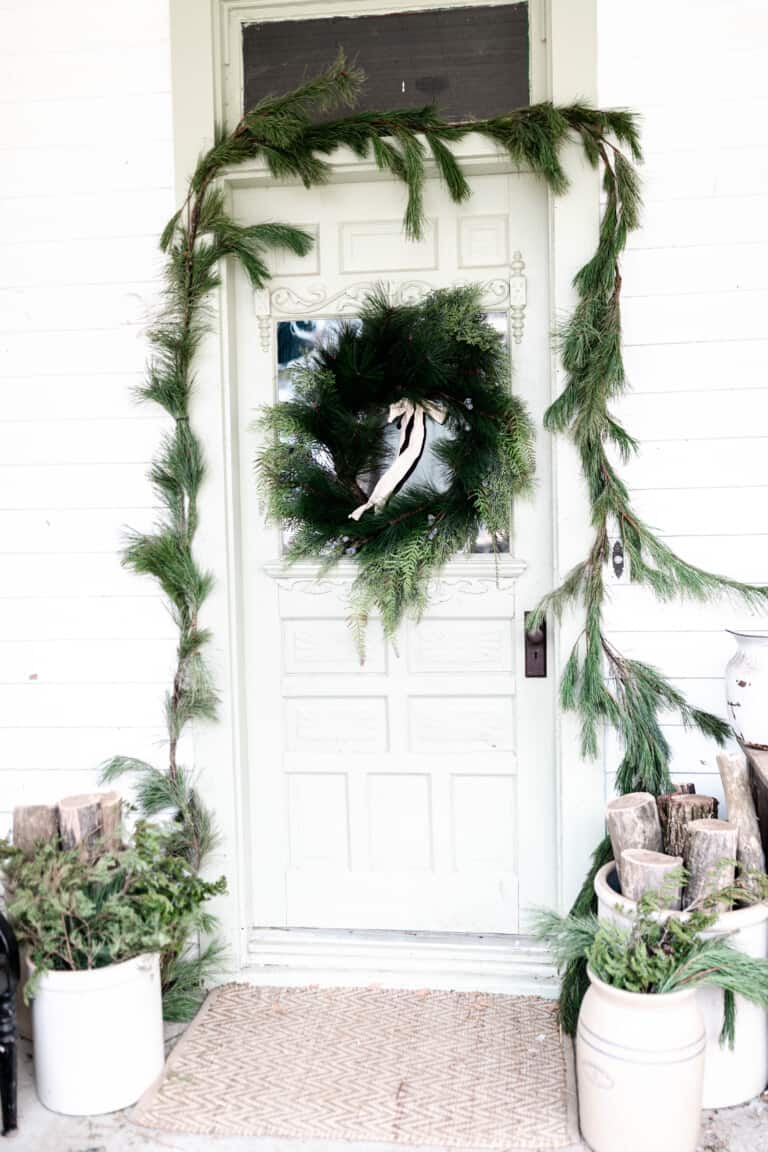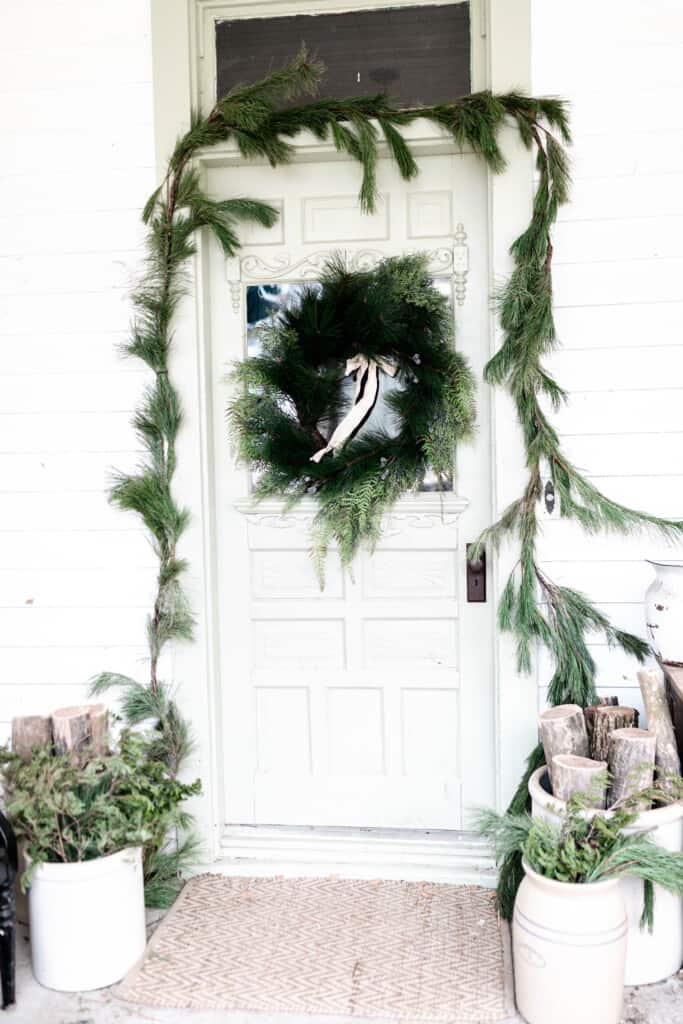 I kept this really simple by adding fresh greenery around the door trim and fresh greenery and pine cones in the crocks. And I think we will just leave it at that. No extra lights or anything. Just pretty and simple.
I hope you enjoyed this year's country Christmas tour. You can find my previous tours here and here.