Come take a little tour of our farmhouse decorated simply this Christmas. We kept things minimal this year, with fresh greenery and simple colors. Our Christmas farmhouse is full of DIY tutorials.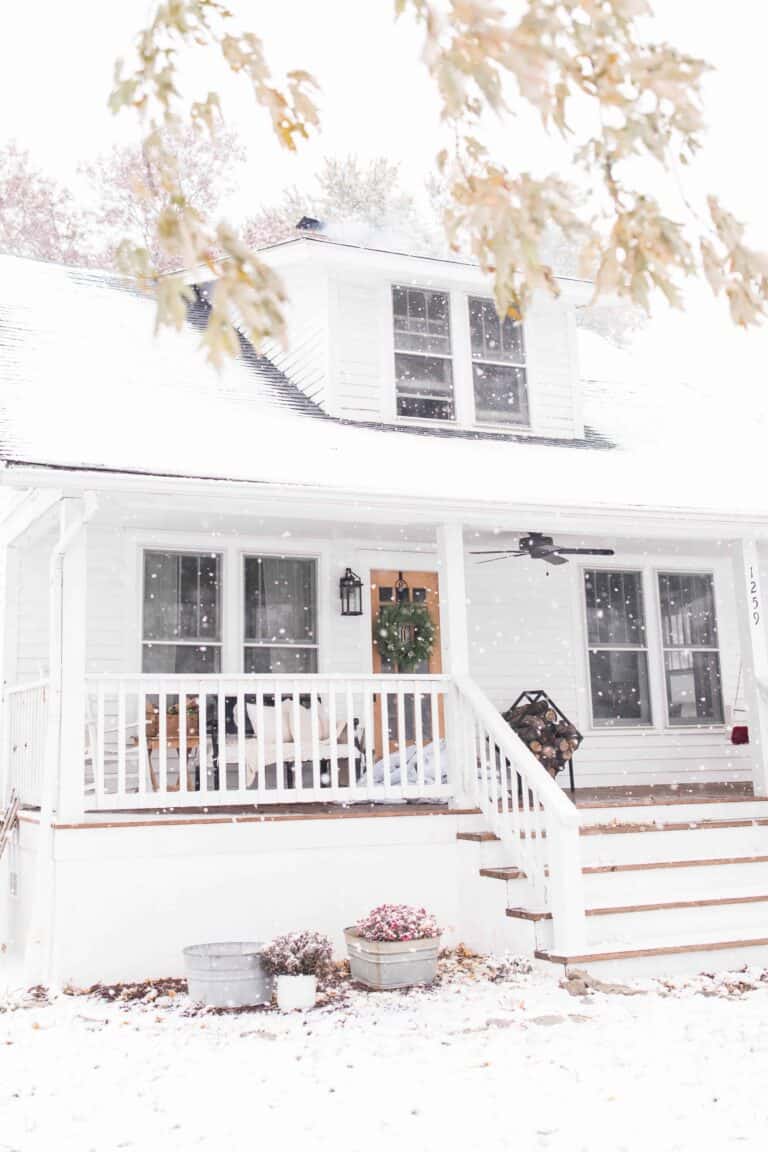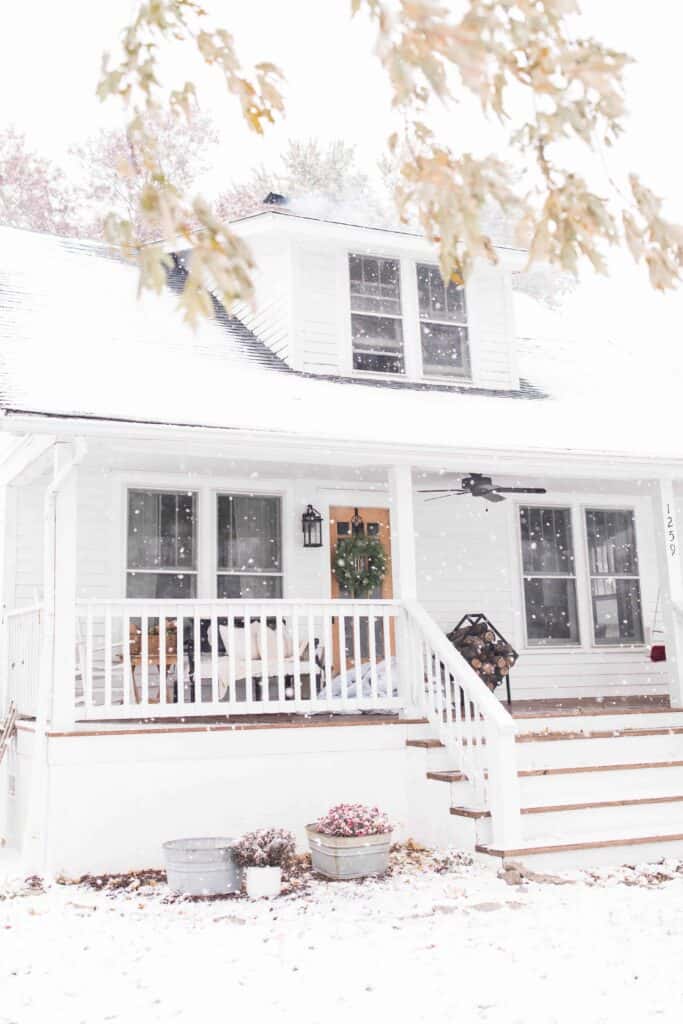 This post contains affiliate links, which means I make a small commission at no extra cost to you. See my full disclosure here. 
The post is in collaboration with my other blogger friends and we are all going to be showing our homes all decked out for Christmas. Read all the way to end to see the other Christmas home tours.
I am so excited to bring you around our home for Christmas 2018.
Our Last FOB Christmas
So… what I am calling this Christmas tour is a Minimalist Last Minute Christmas  Tour. I am calling it that for a very simple reason; we are selling our home. If you follow along with my YouTube vlogs, you probably already know that. We are buying a new farmhouse and selling ours, and so we have had about 20 house showings in the last week and a half. Which has meant a mad dash for stashing dishes in the basement, laundry in the drier, getting the beds all made, getting out all the evidence that five children and two adults live in this crazy little home.
With that in mind, I decided to go with some simple touches to go throughout our home.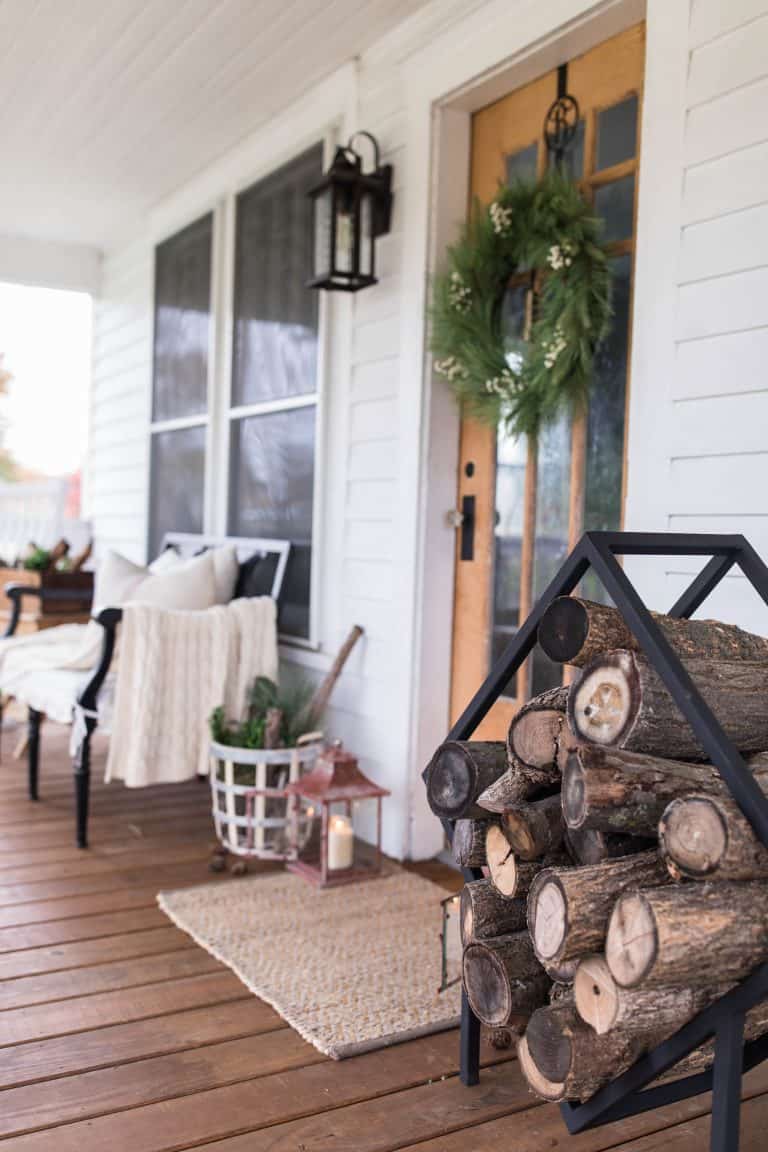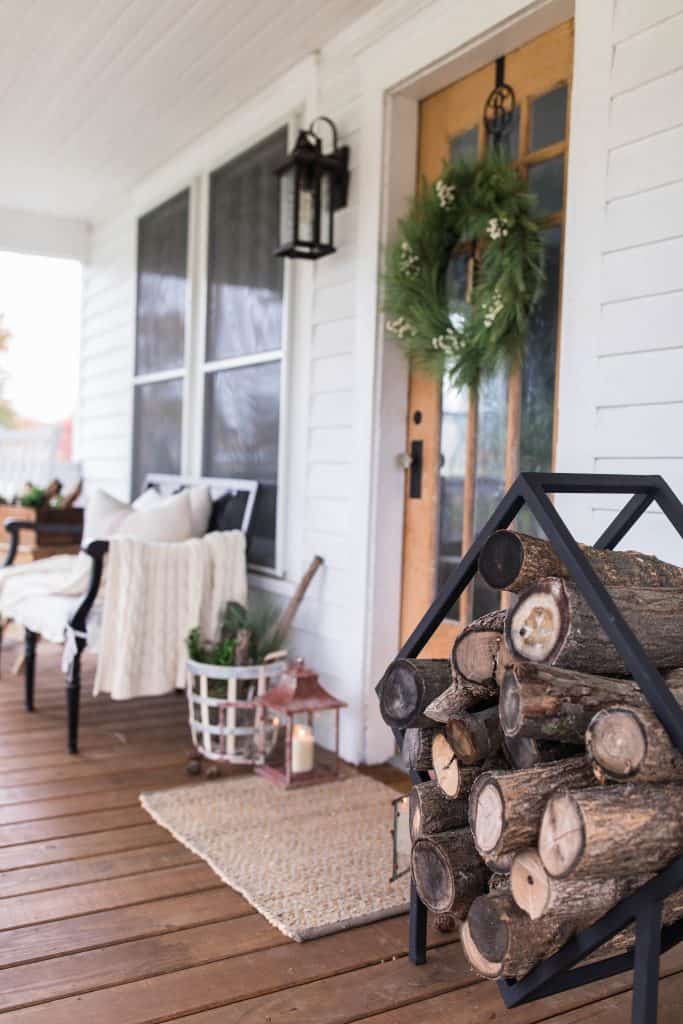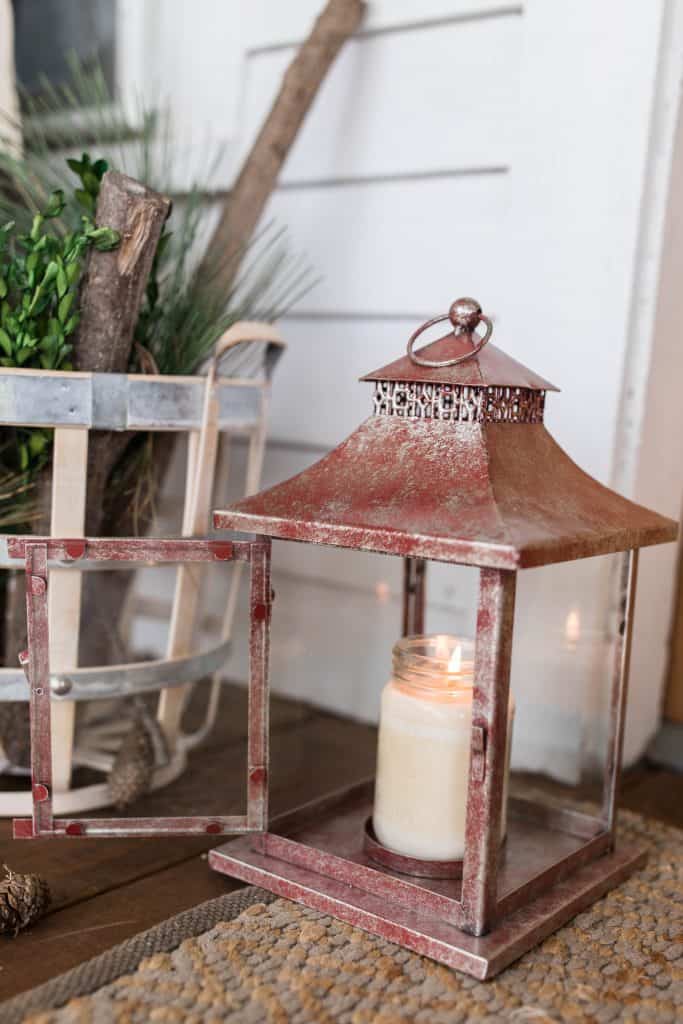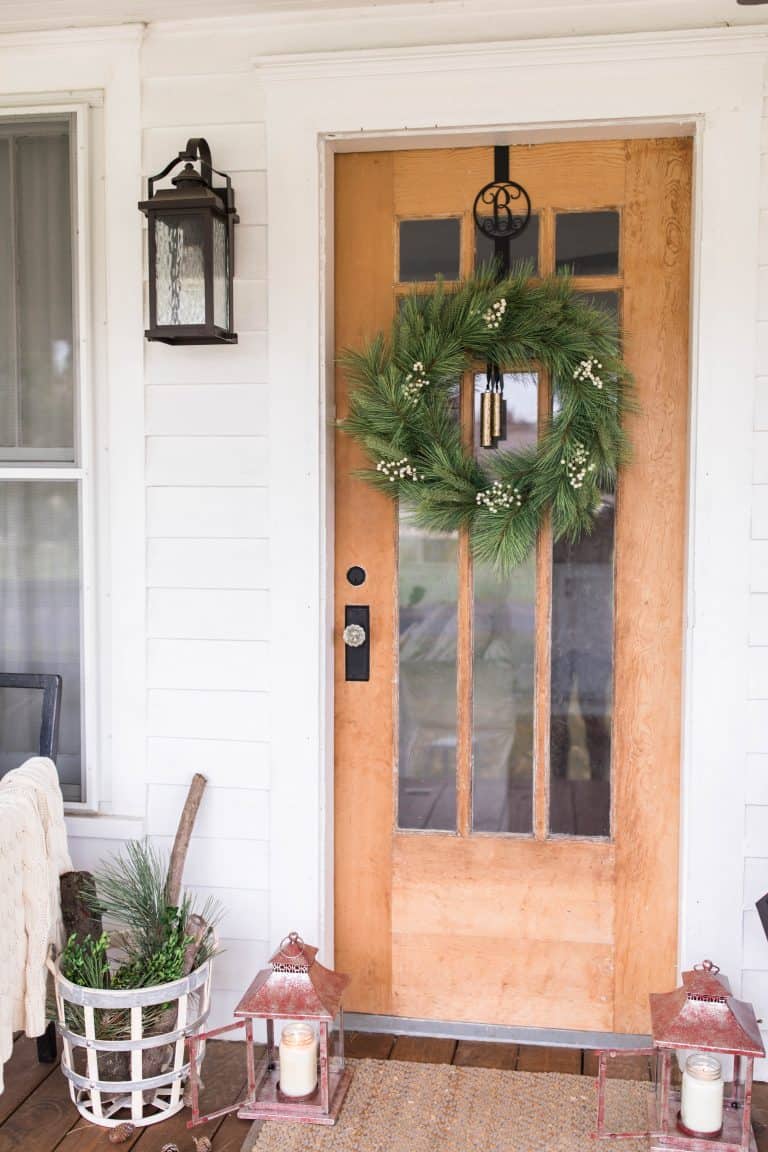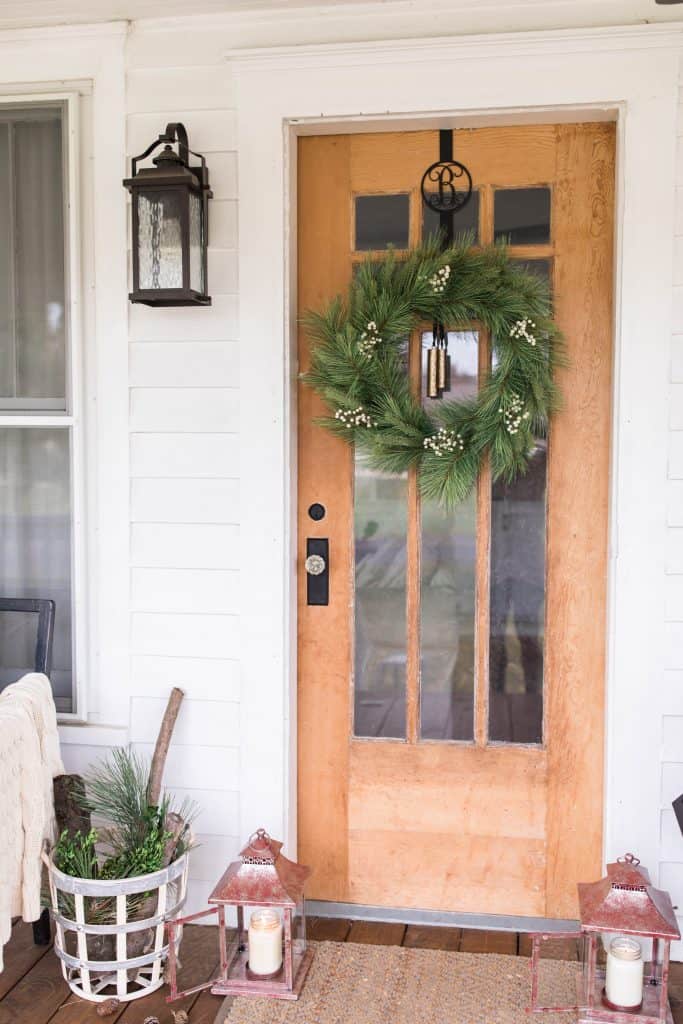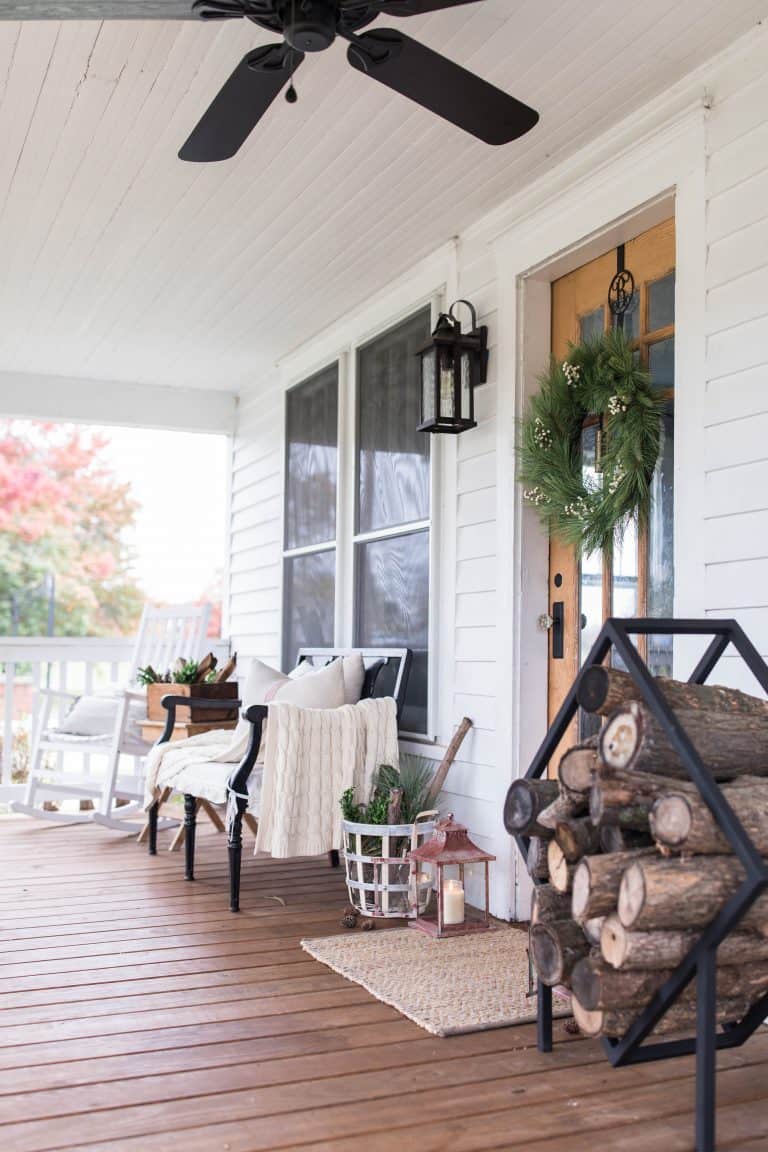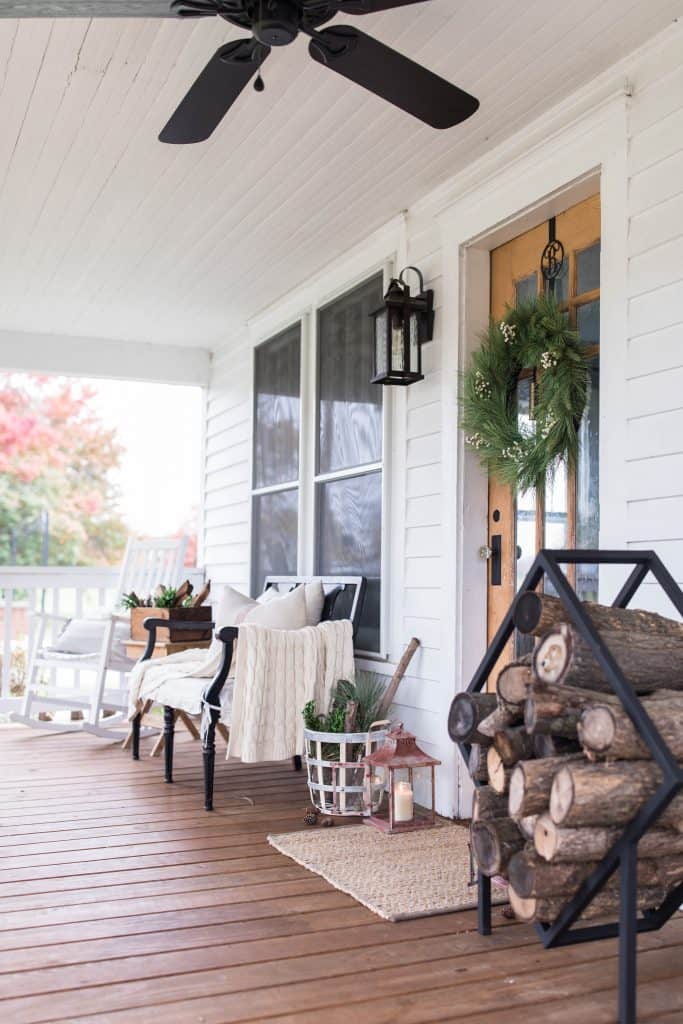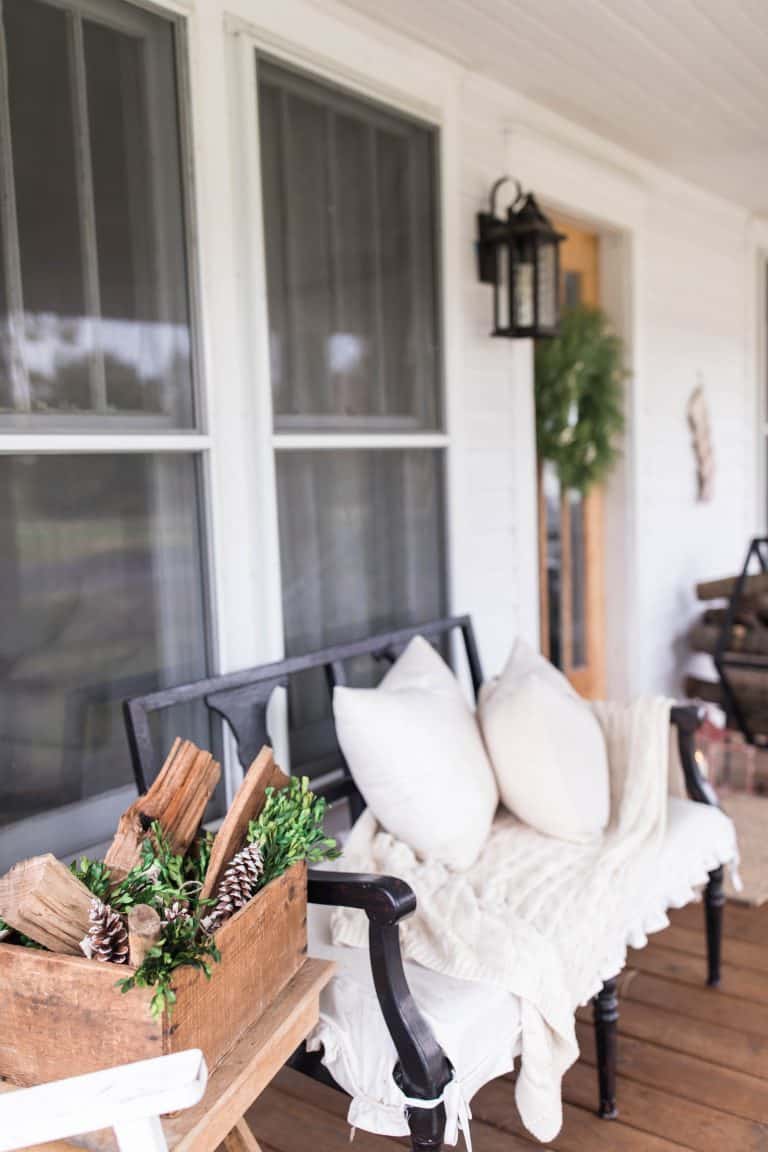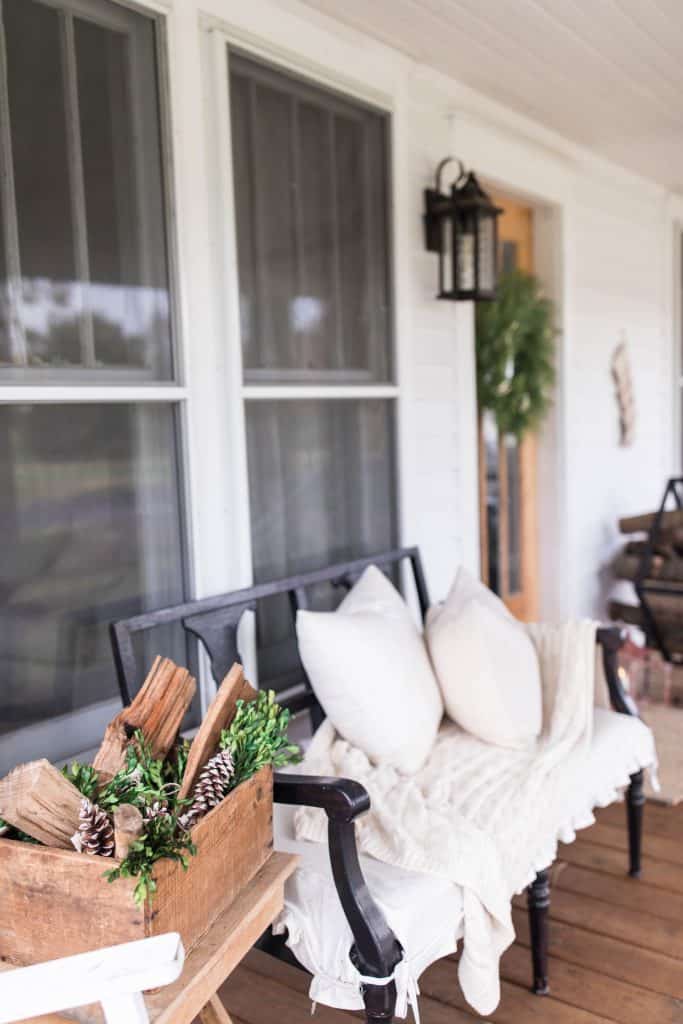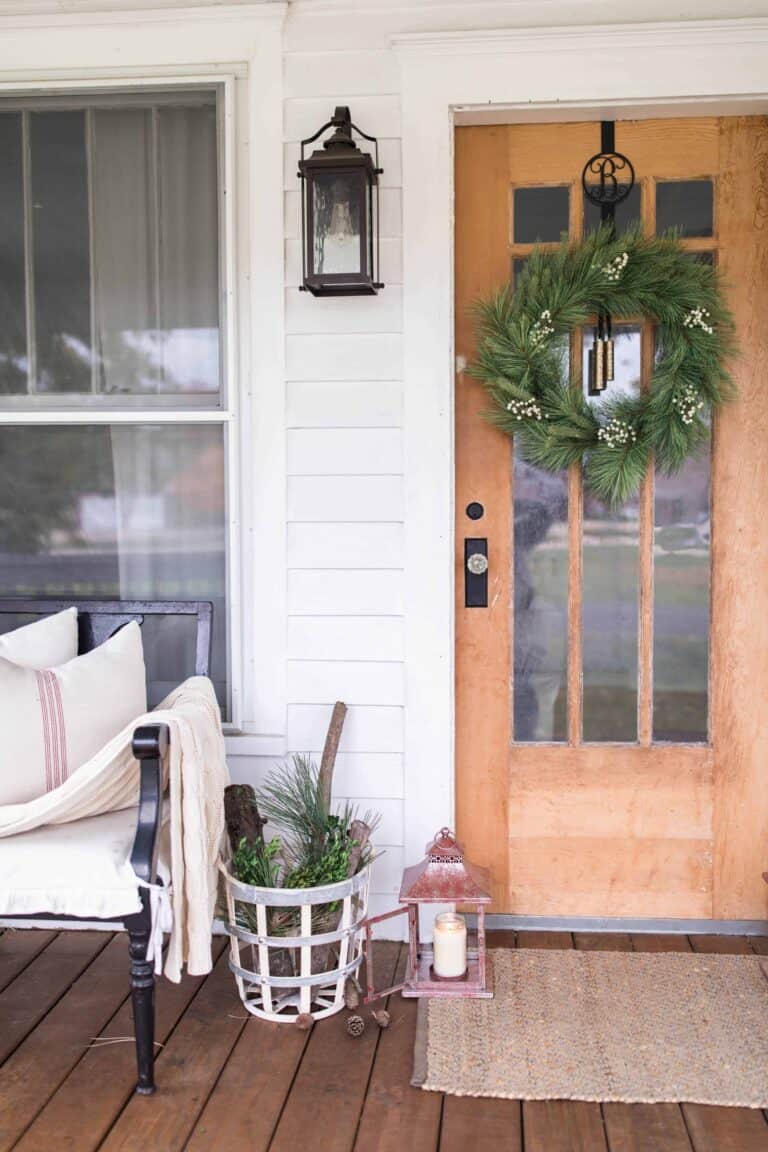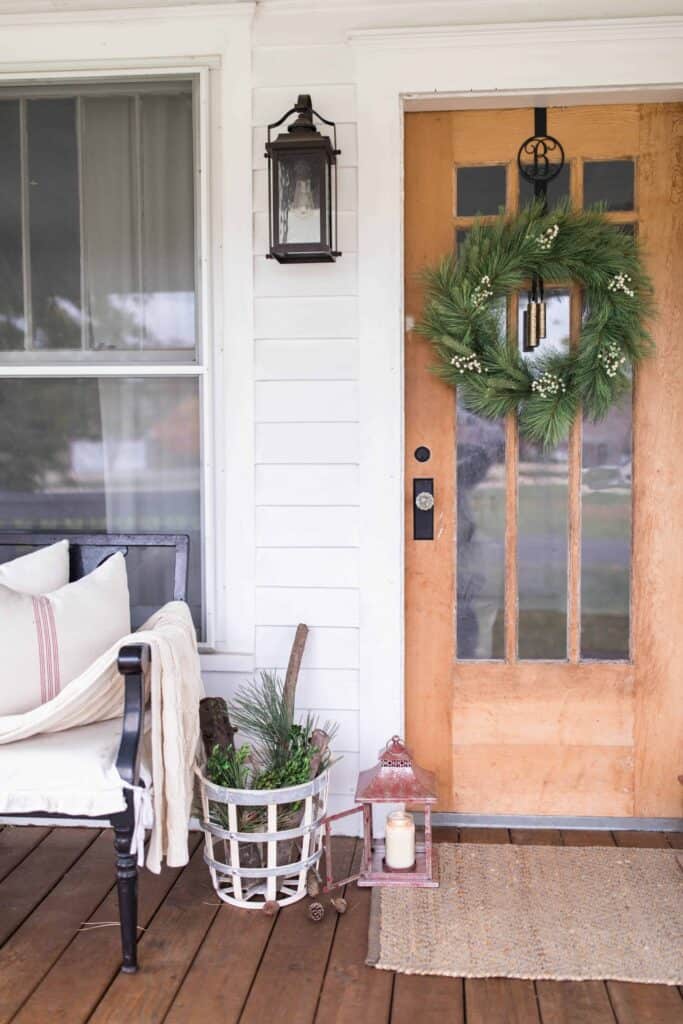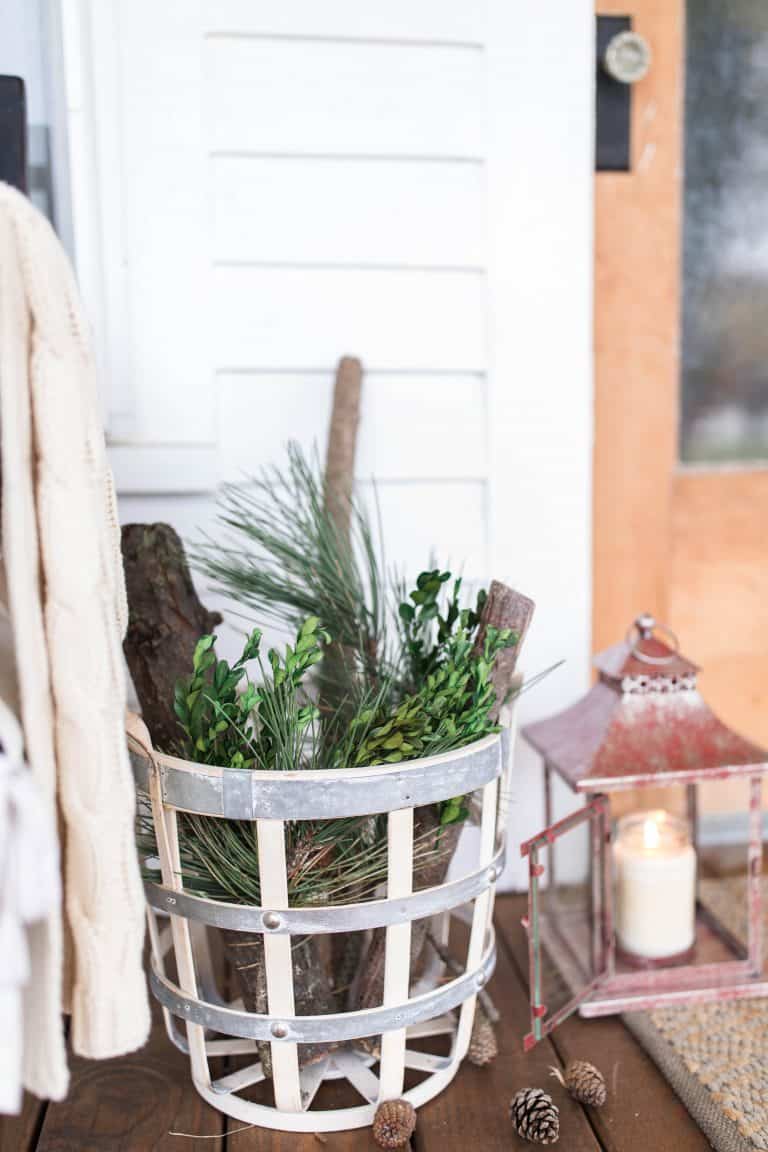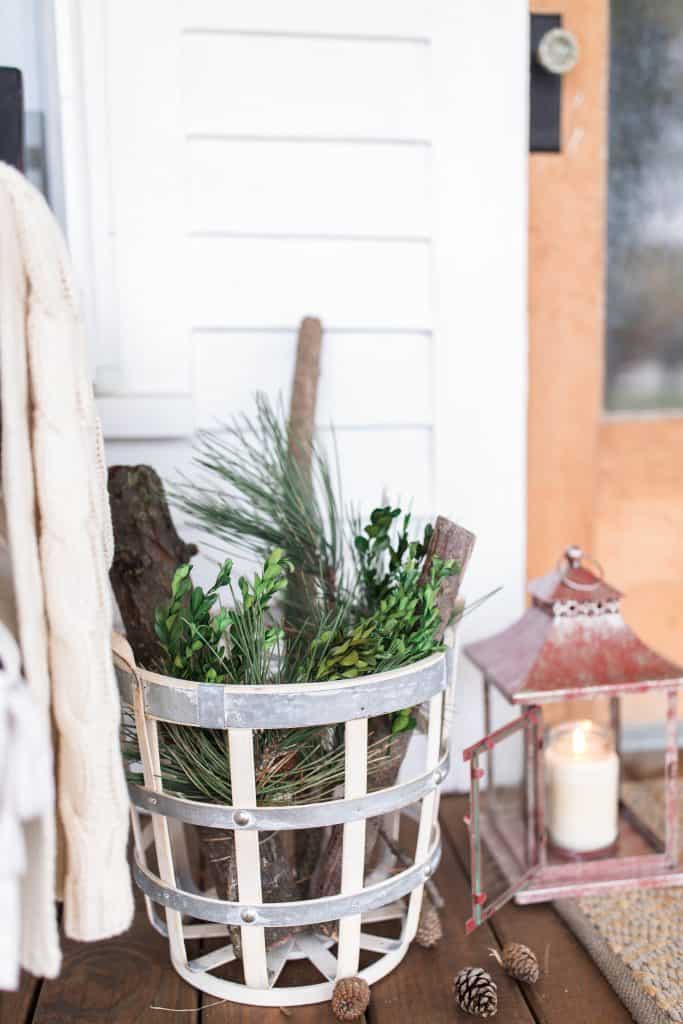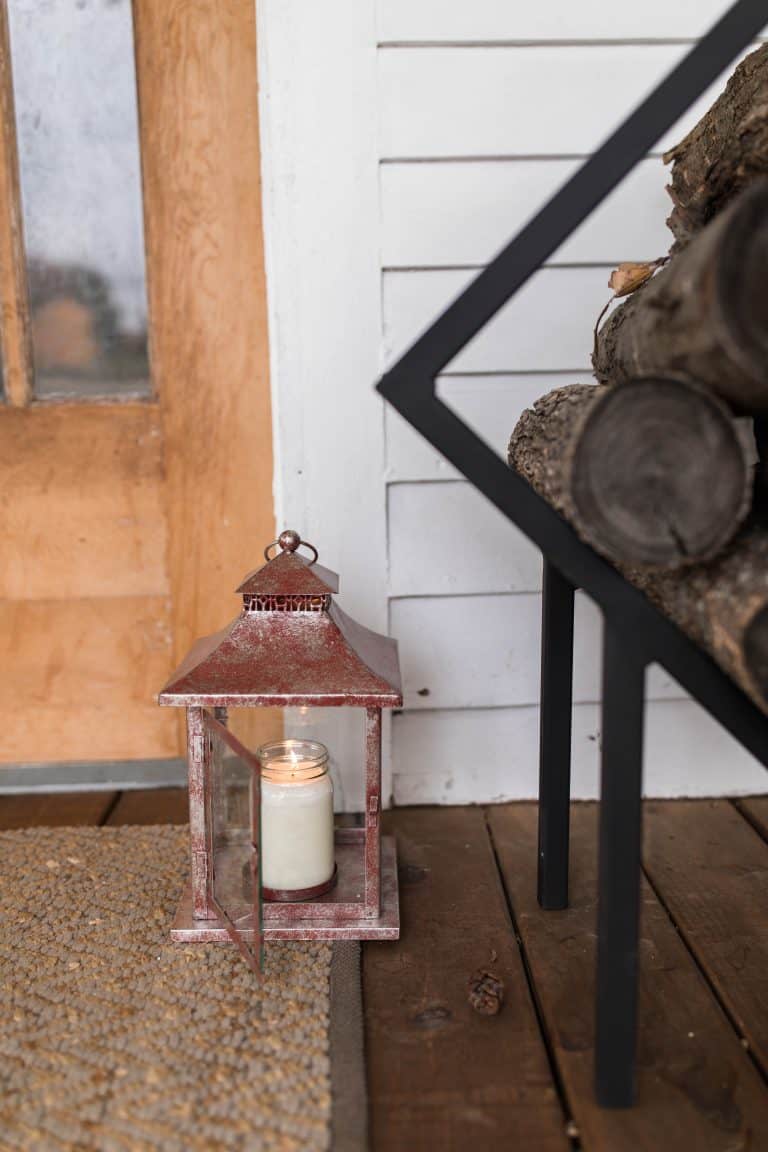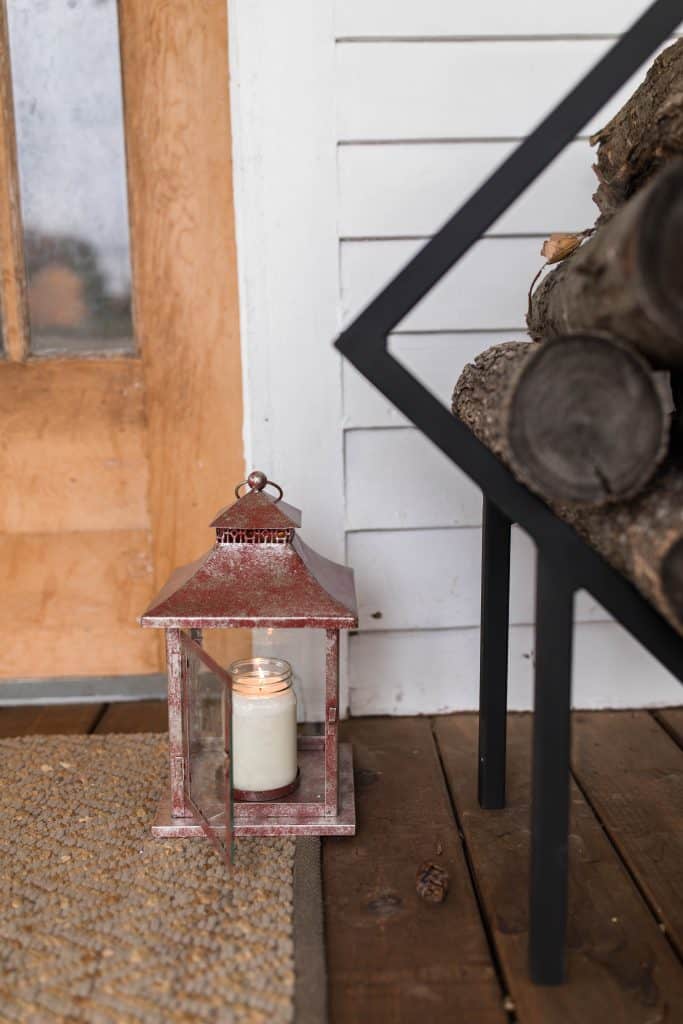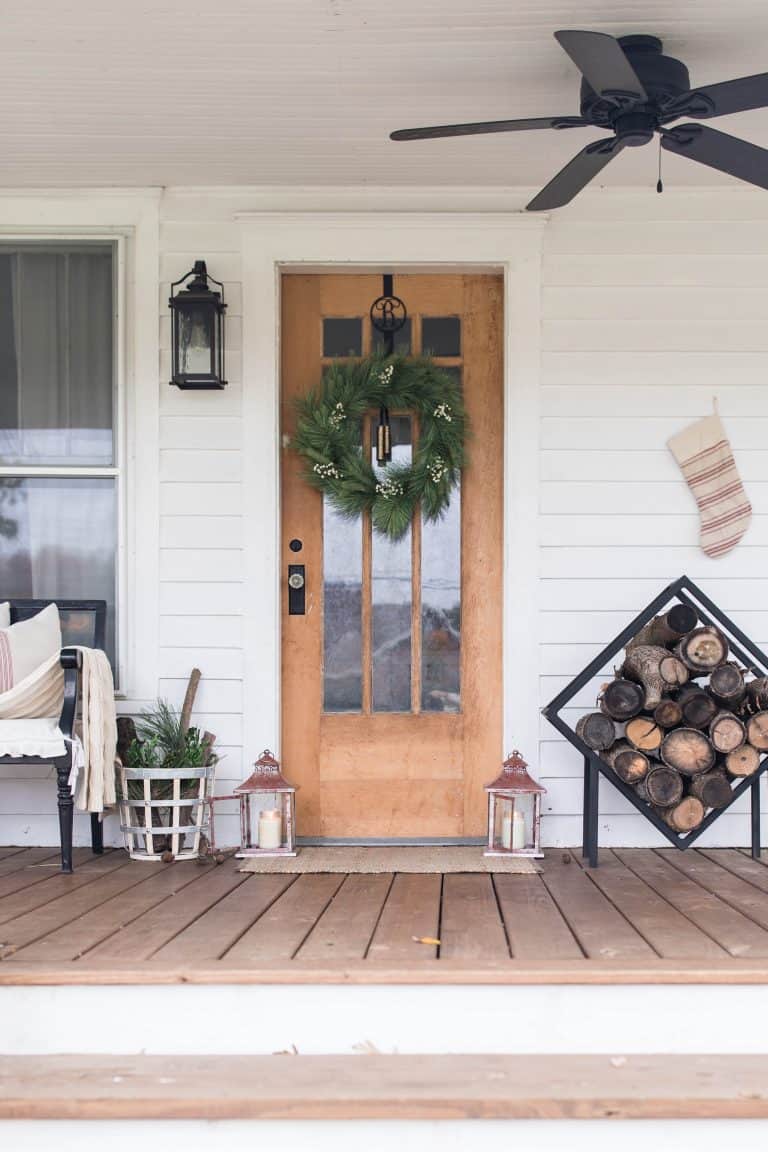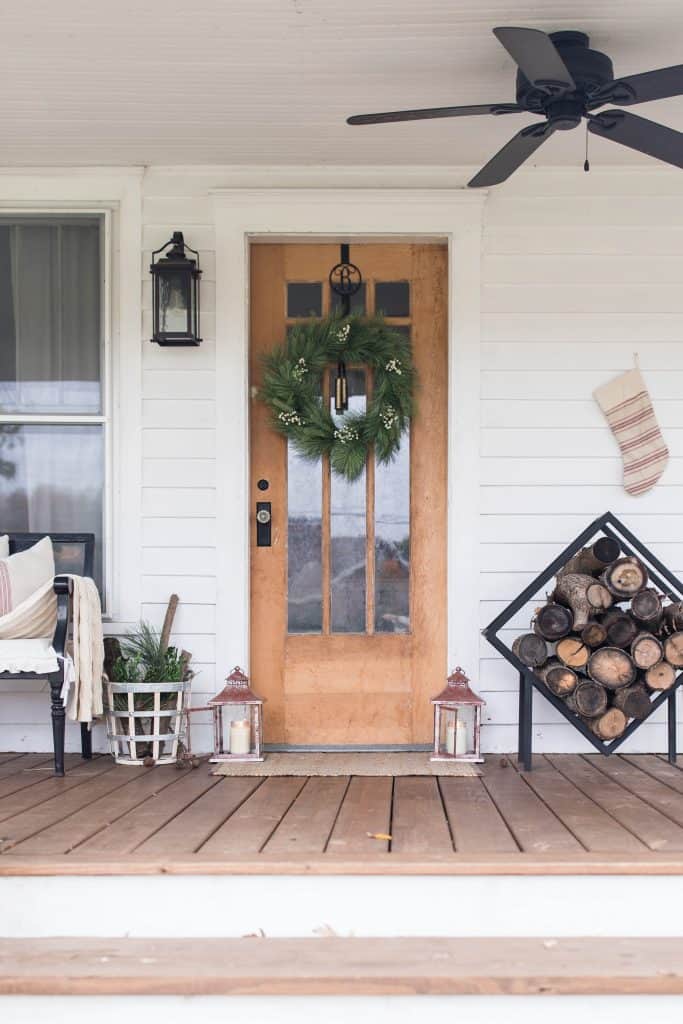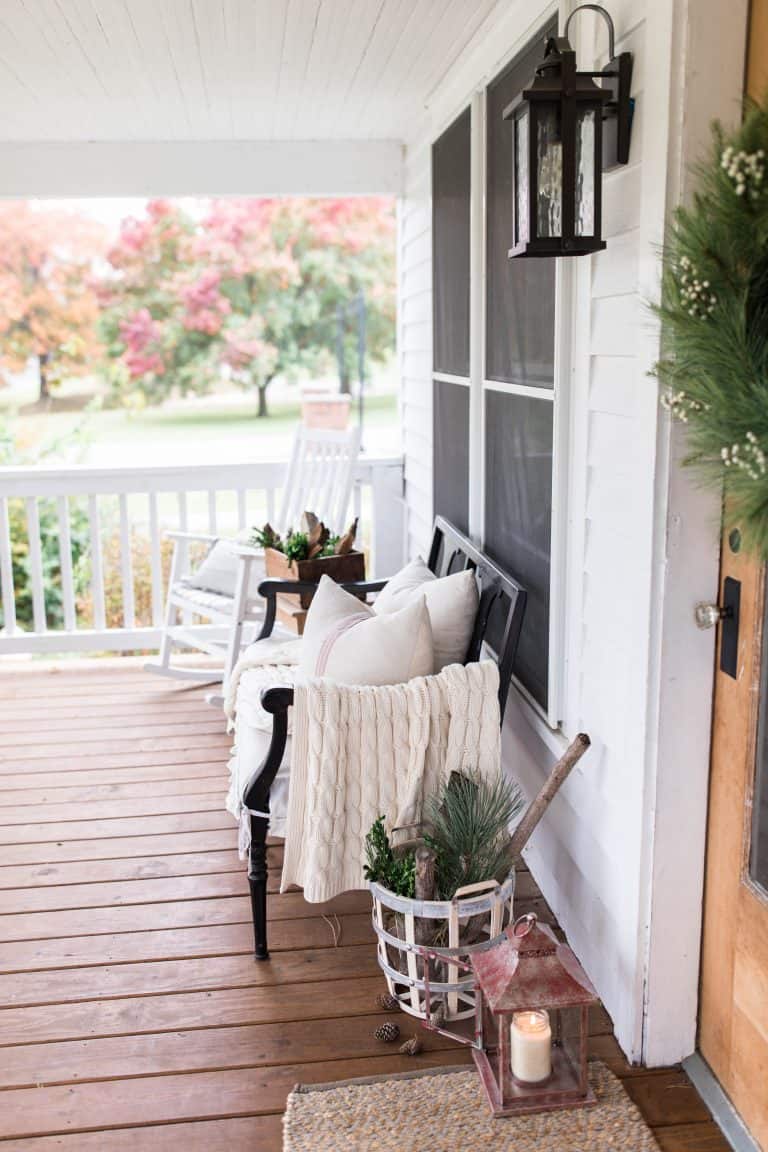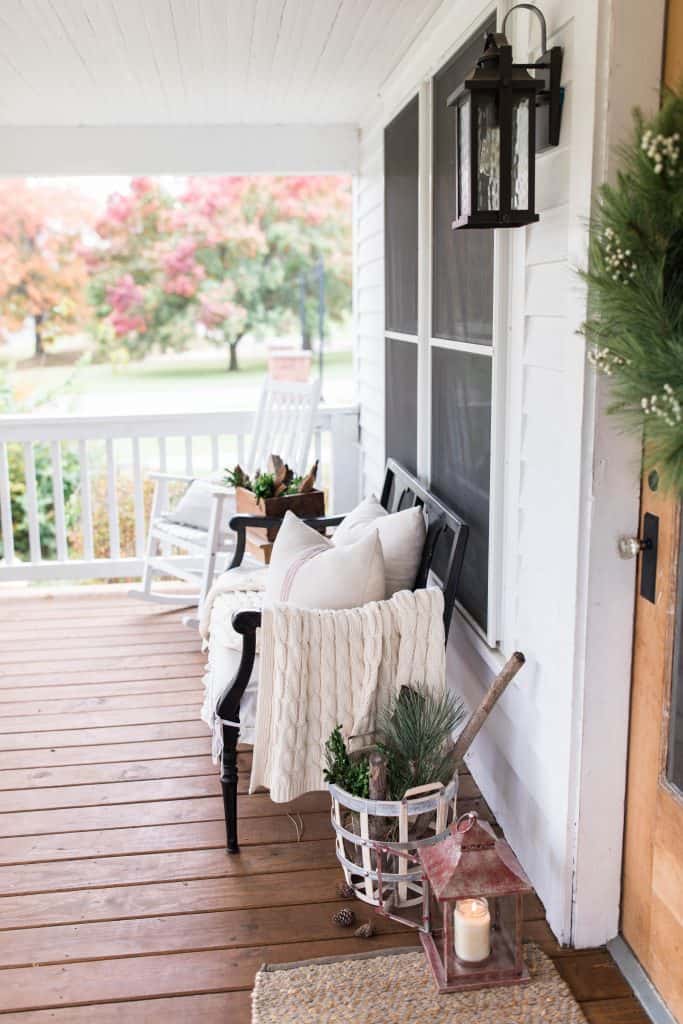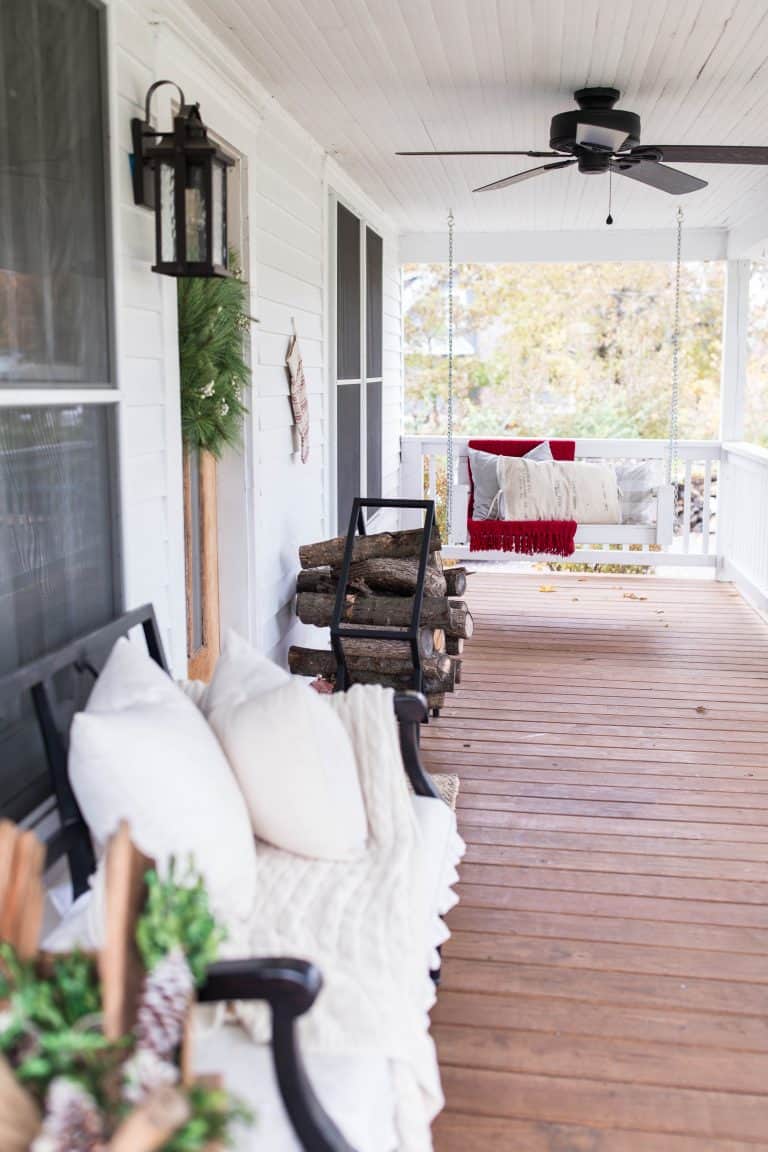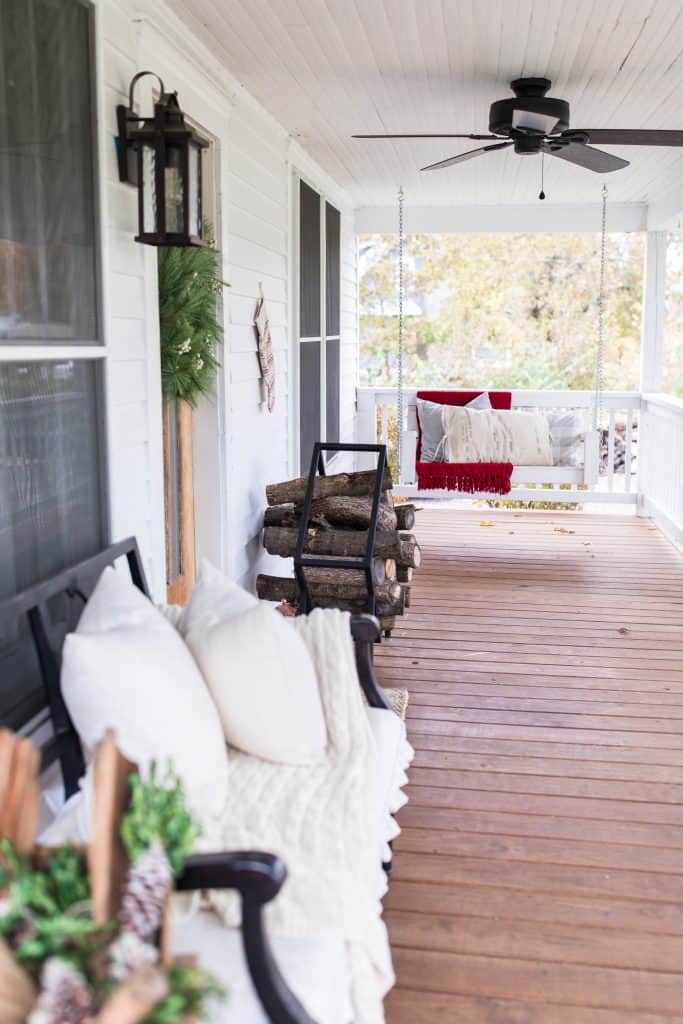 Our Christmas Front Porch
This year on the front porch, I bought a greenery wreath for the front door from Target. I like to make my own greenery wreaths. I shared a tutorial last year about how to make a fresh greenery wreath, but as I previously mentioned life has just been a little bit beyond crazy right now.
I snagged some lanterns from Tractor Supply (Sorry! I can't find the link to them.) and this iron wood holder. My friend and her husband actually made them for me. She just opened her Etsy shop. I just love it and I think it looks so pretty on our front porch. It adds a little curb appeal while we are selling it.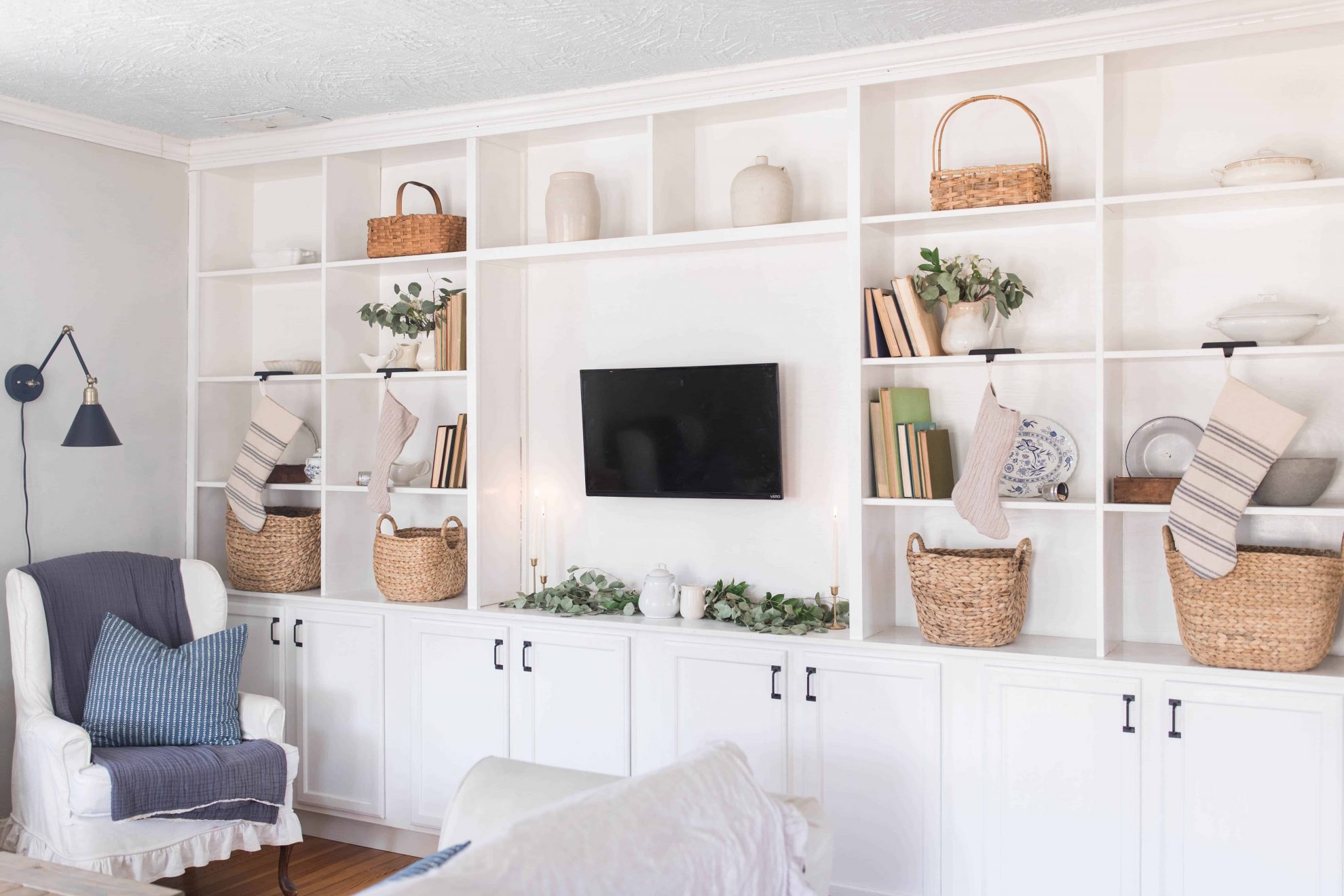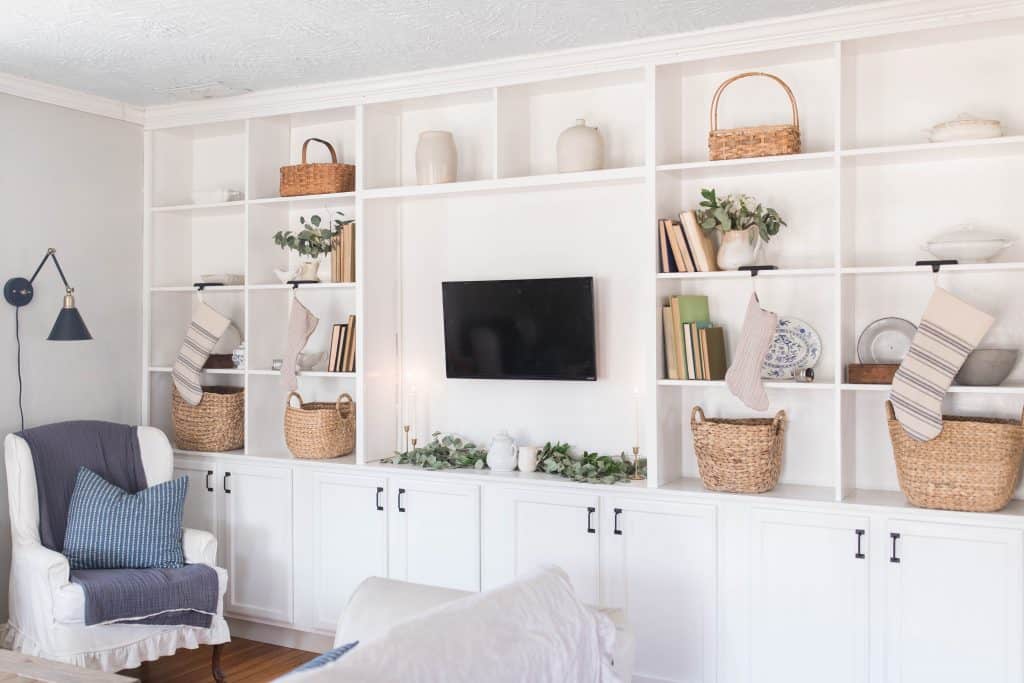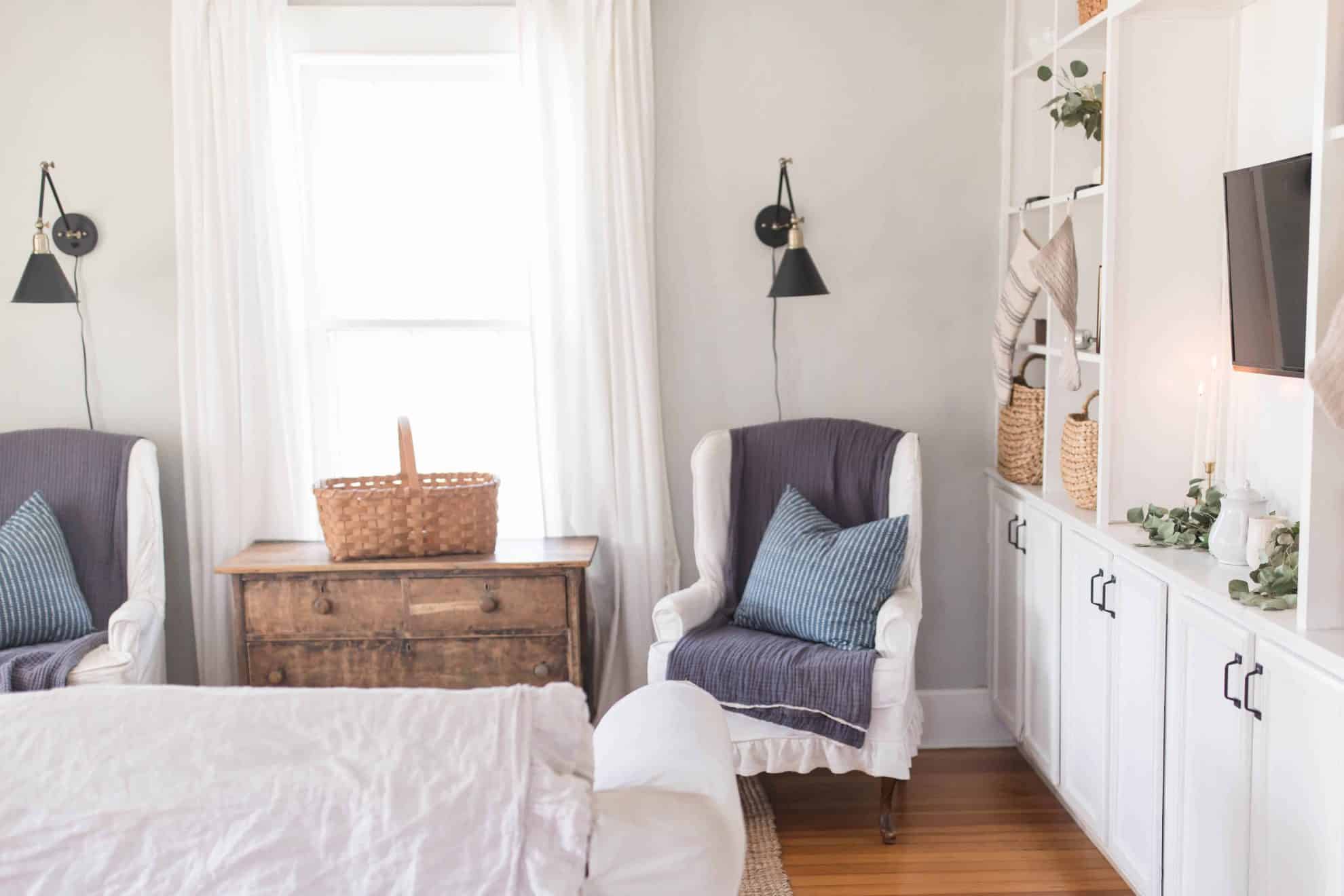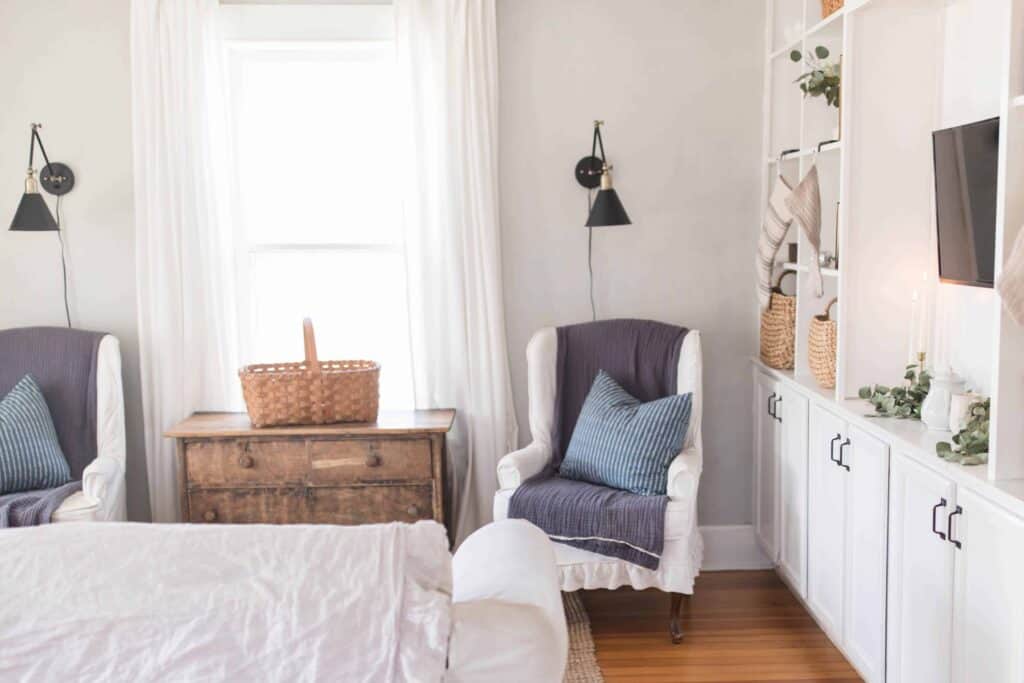 Our Christmas Living Room
You probably notice that our living room is not completely finished. There are still a few stockings I need to hang up and I plan to make some. I made the tan stockings from a sweater I bought at a thrift shop and I shared the tutorial on the blog.
The built ins are slightly incomplete, but at least they are festive with some fresh eucalyptus and my antique brass candlesticks.
I get a lot of questions about the lamps that hang over the chairs in our living room so click HERE to find out where I bought them. These lamps are also the same ones I have over my kitchen sink.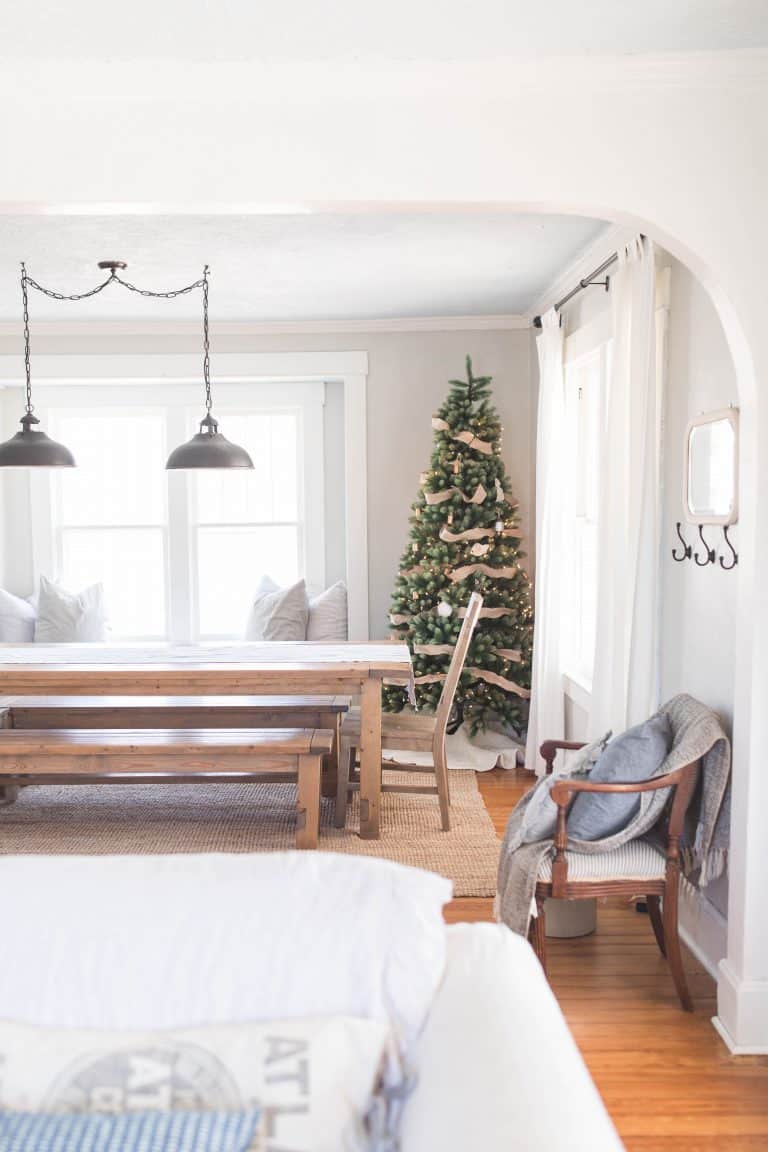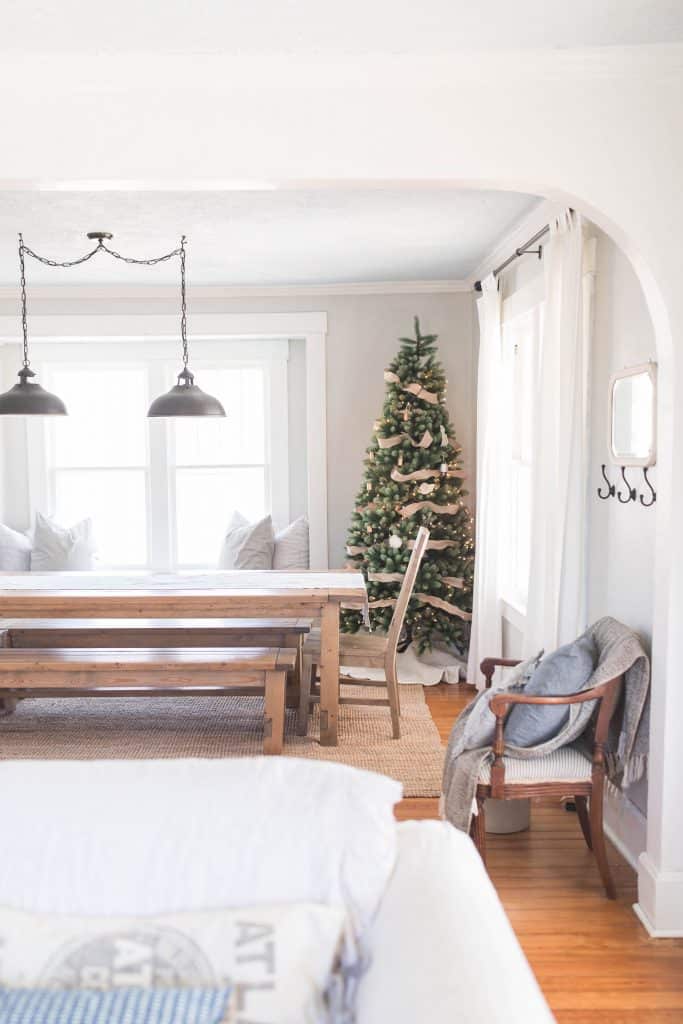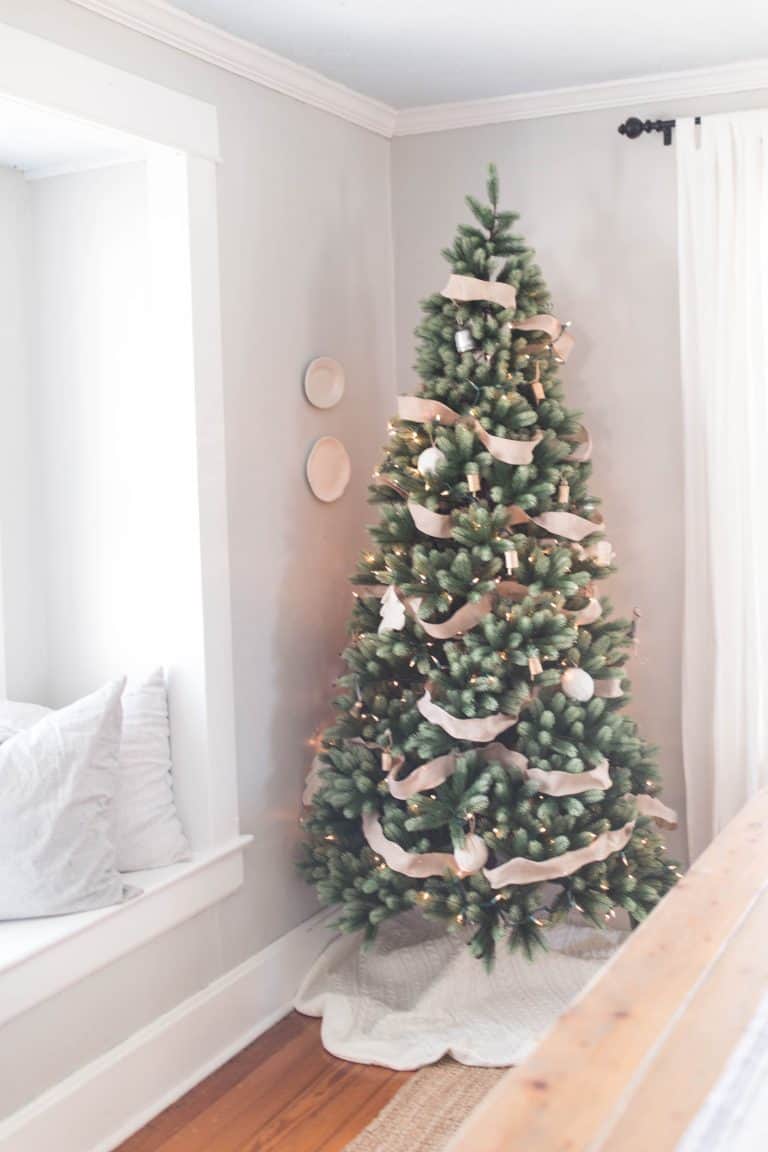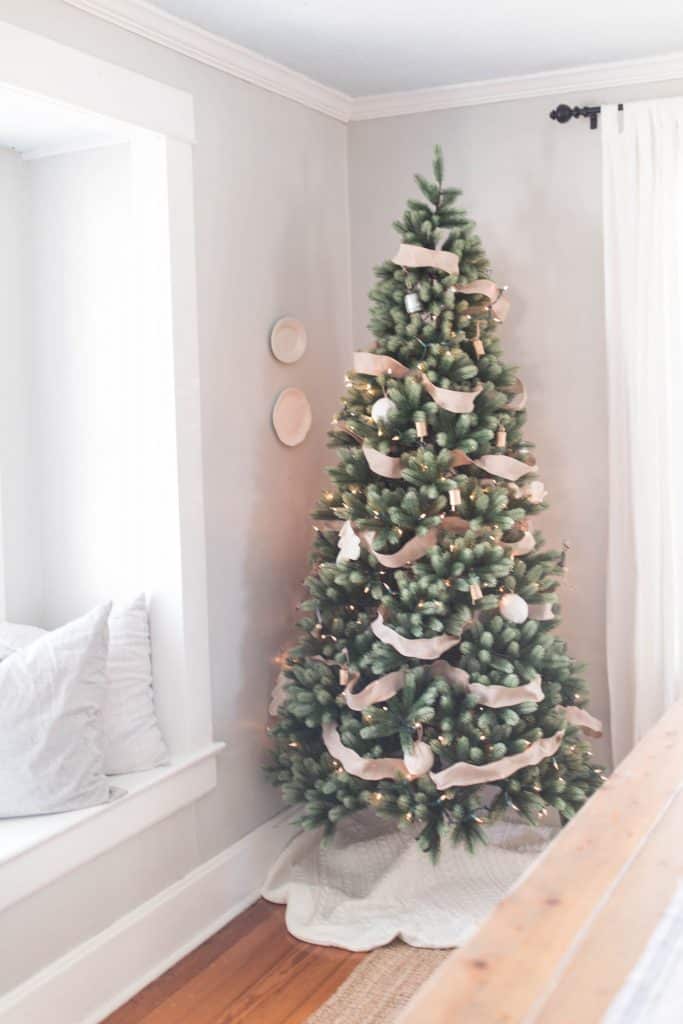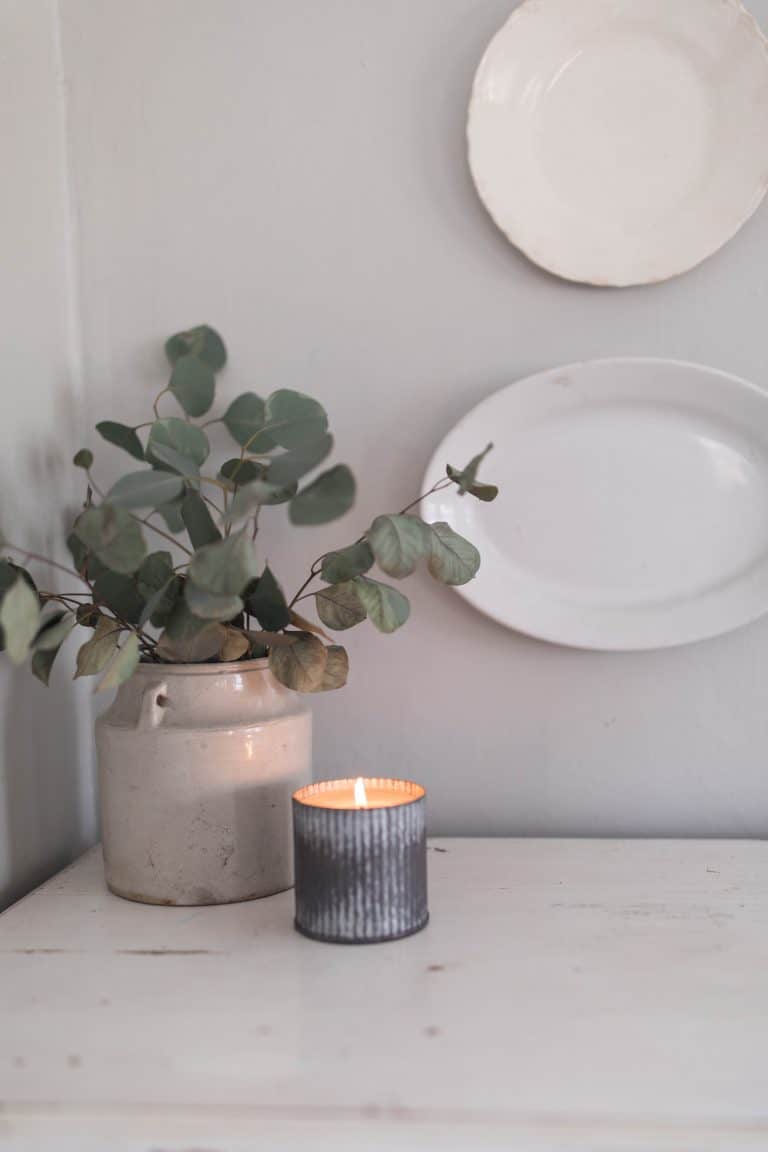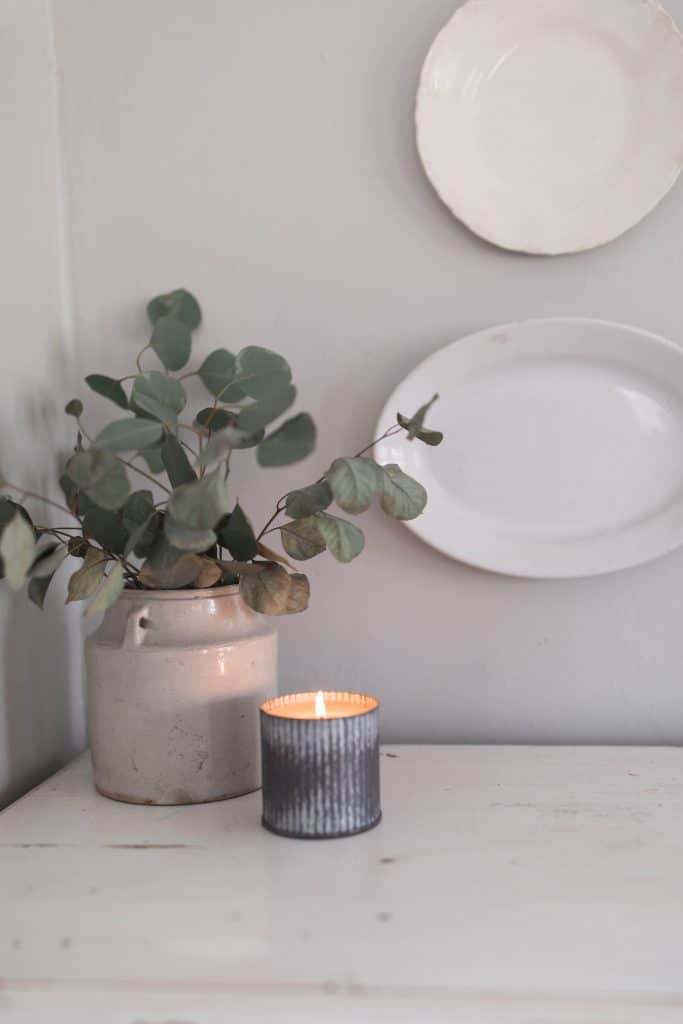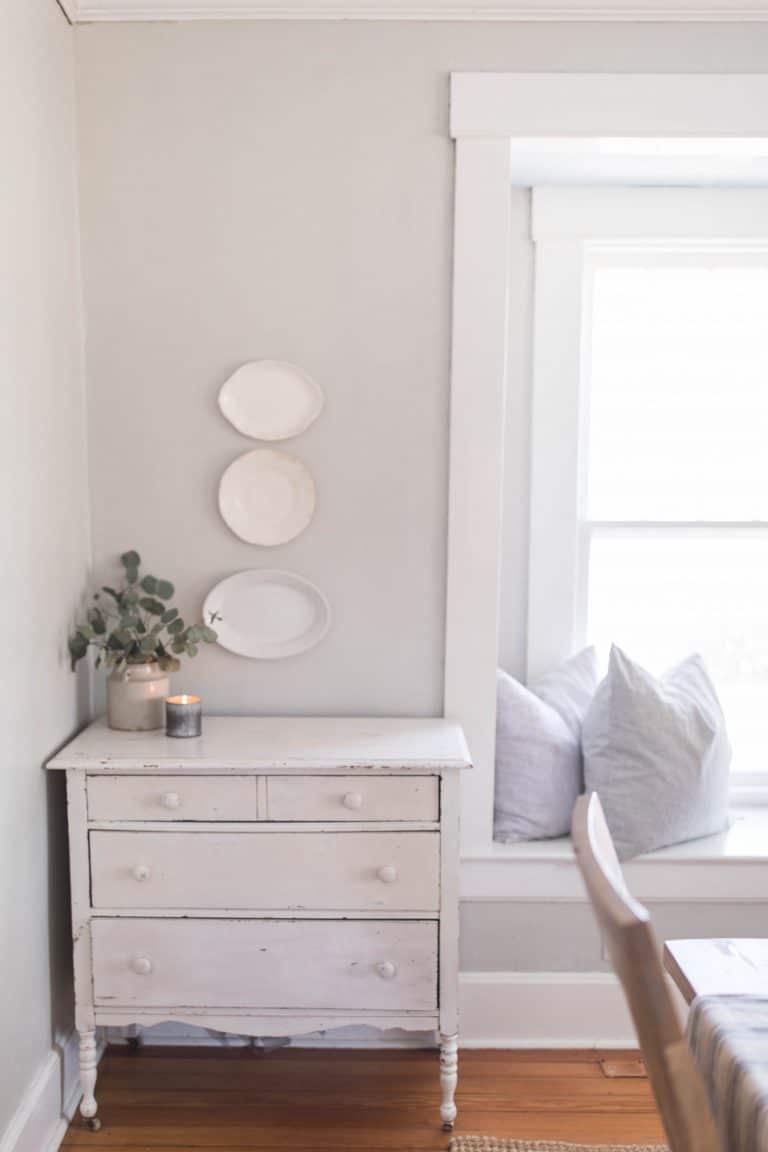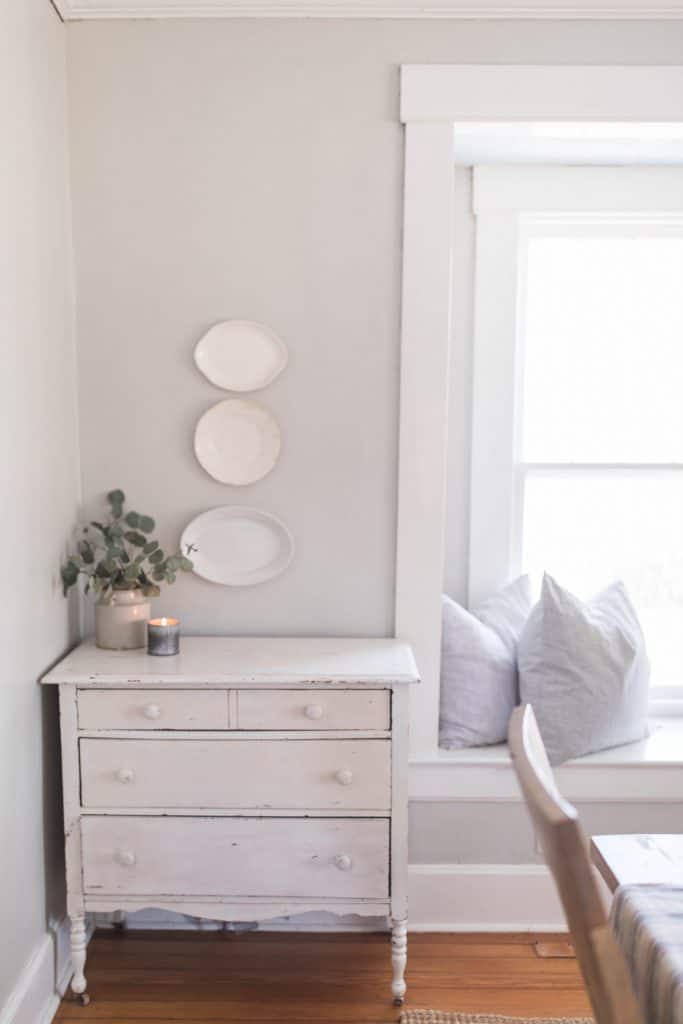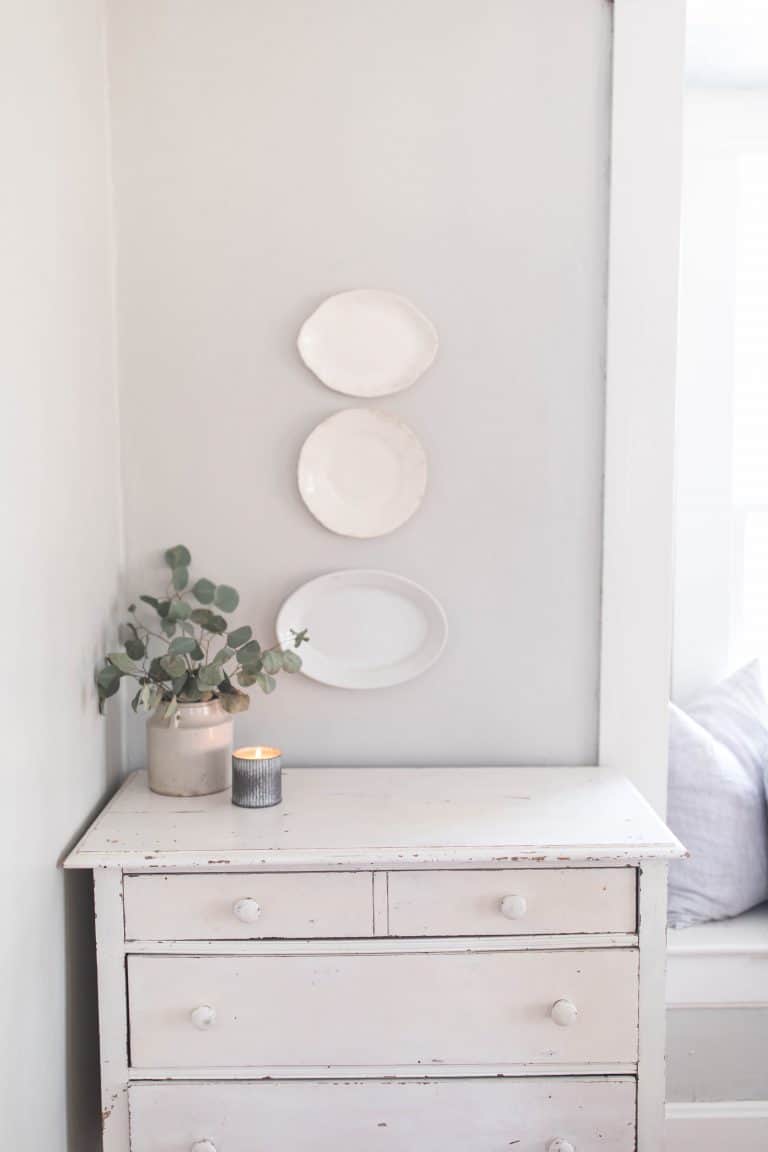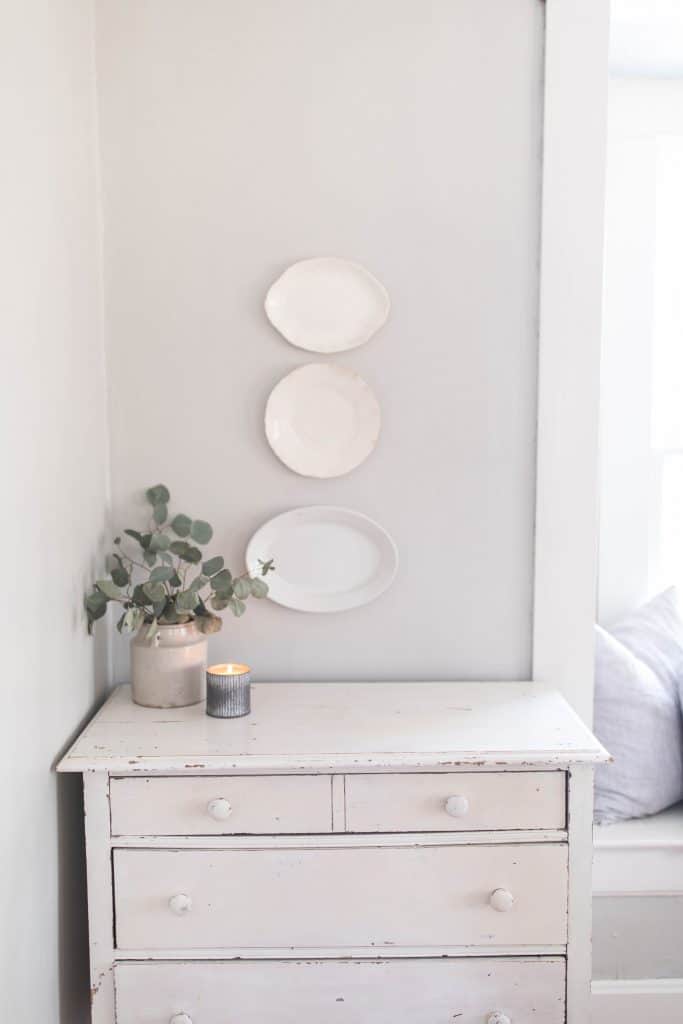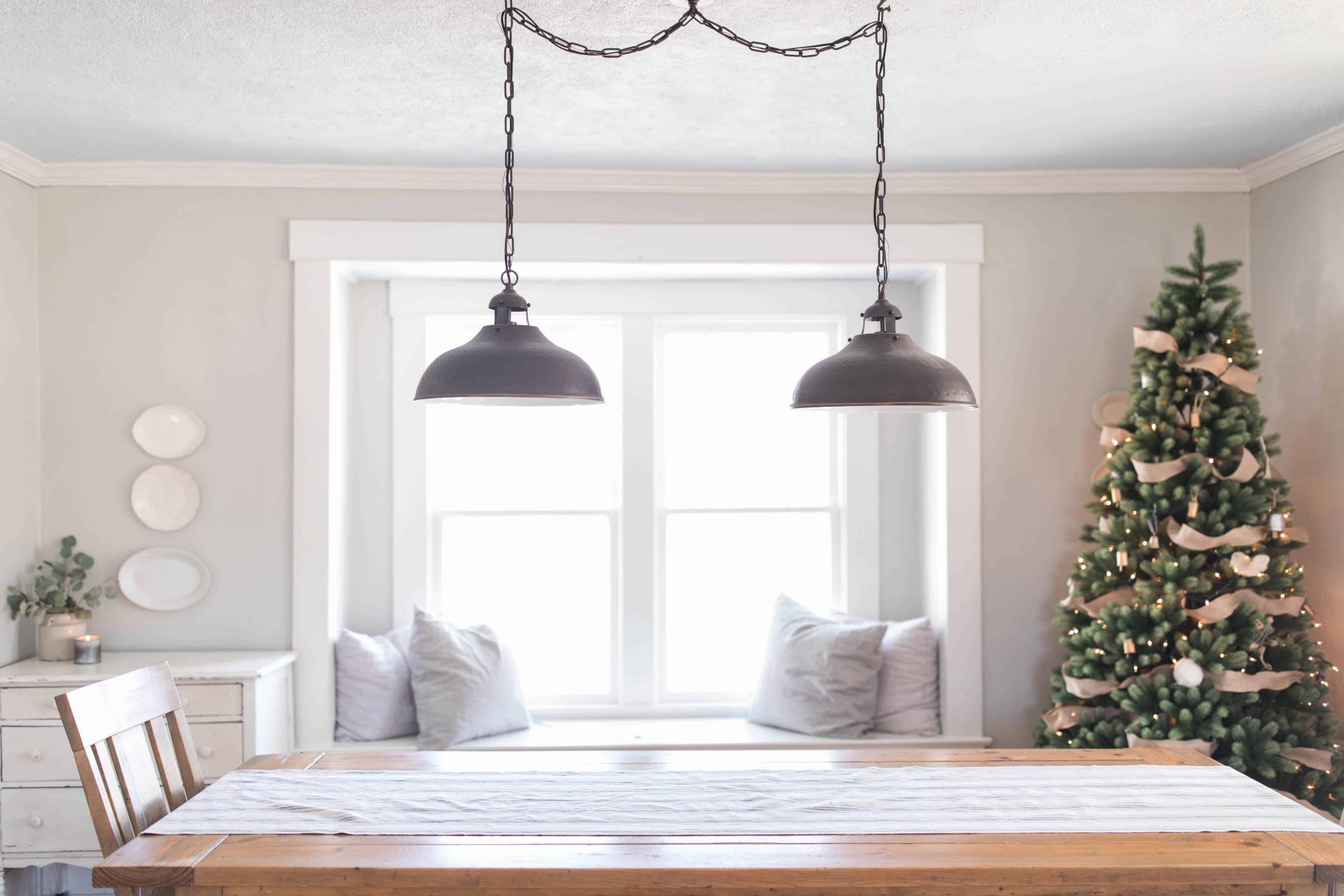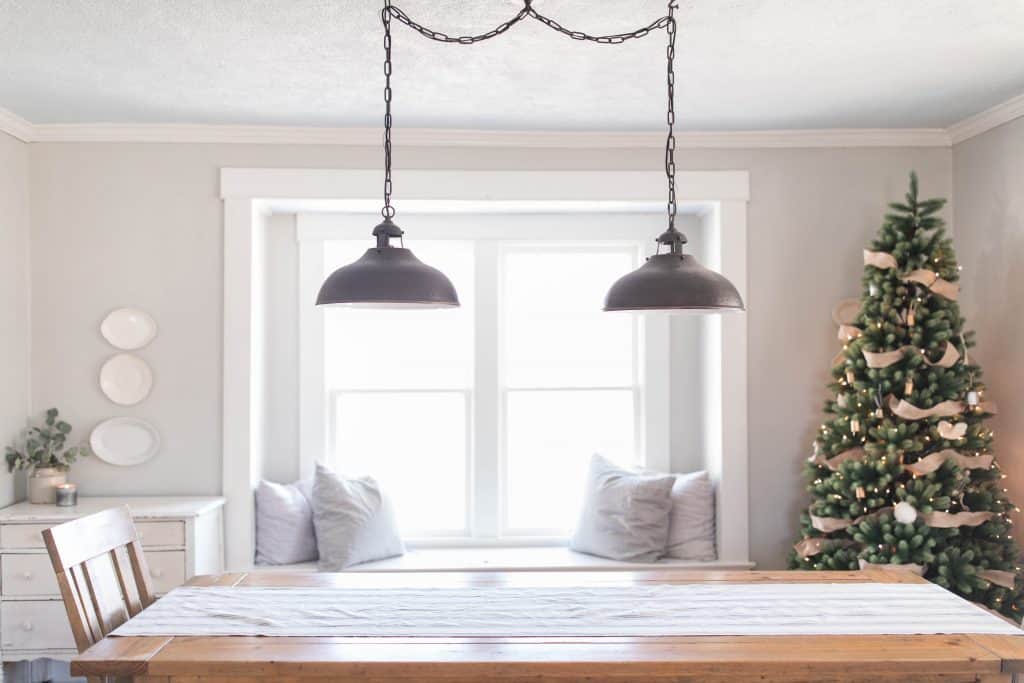 Our Christmas Dining Room
I kept our dining room pretty simple. I laid out a blue striped grain sack table runner on our farmhouse dining room table. I get a lot of questions about where we bought our farmhouse table. My husband actually built it from plans by Ana White and he used Minwax Weathered Oak to stain it.
Our Farmhouse Christmas Tree
For the Christmas tree I used a big roll of ribbon and wrapped is loosely around the tree. Afterwards, I also strung some Christmas lights around tree. For decorations, I hung some bells I found at World Market. I cut the cluster of bells to make them individual bells and hung them on the tree with some burlap string. I also added some rag ball ornaments that I made last year.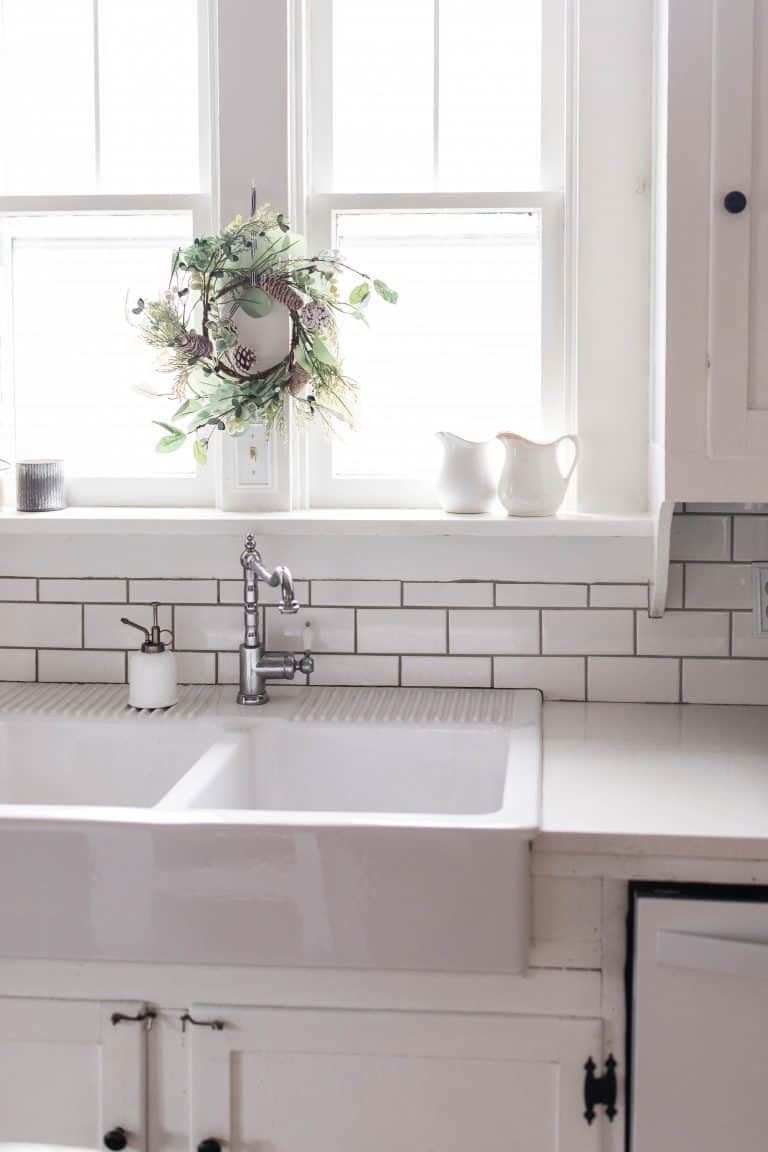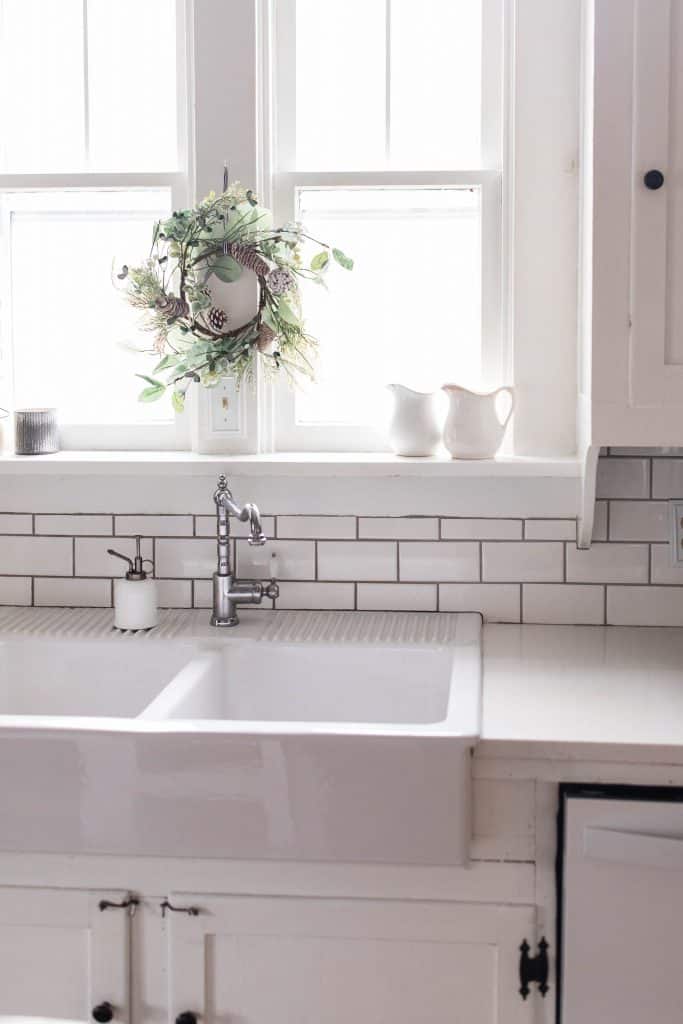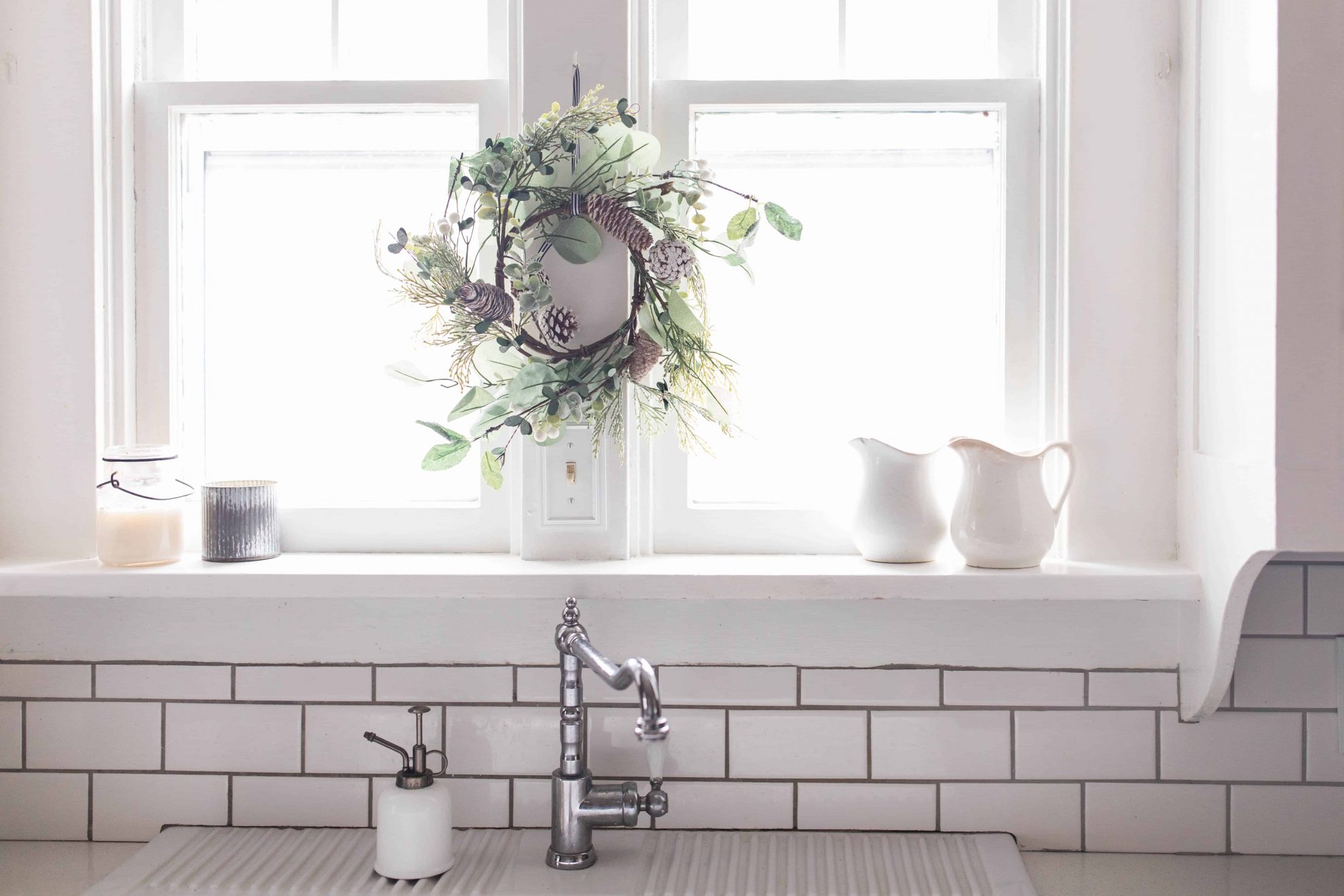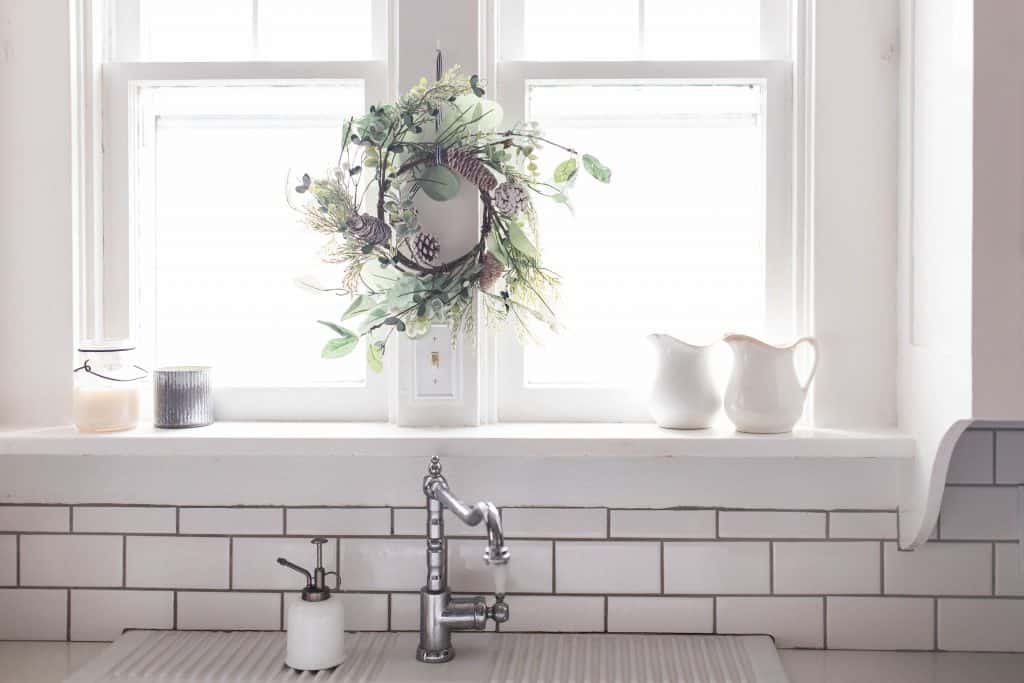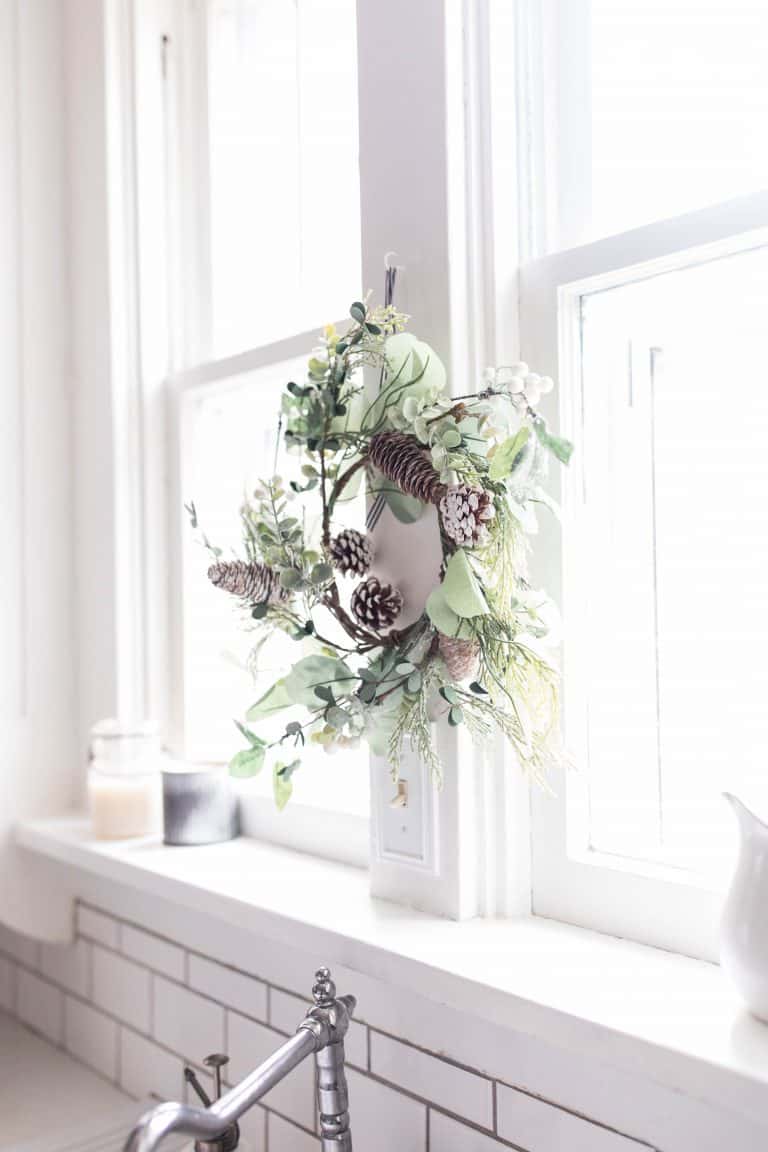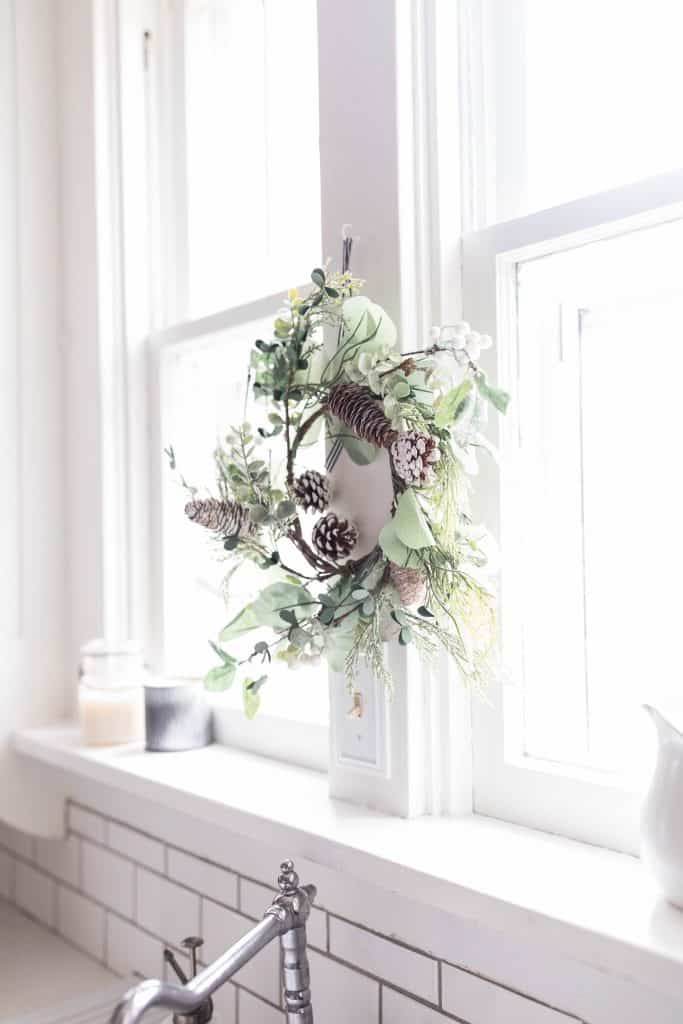 Our Christmas Kitchen
I leave my essential diffuser on the counter with my called Holiday Joy blending going all day. It really smells wonderful. Over the sink, I hung a eucalyptus wreath a friend from Instagram sent me.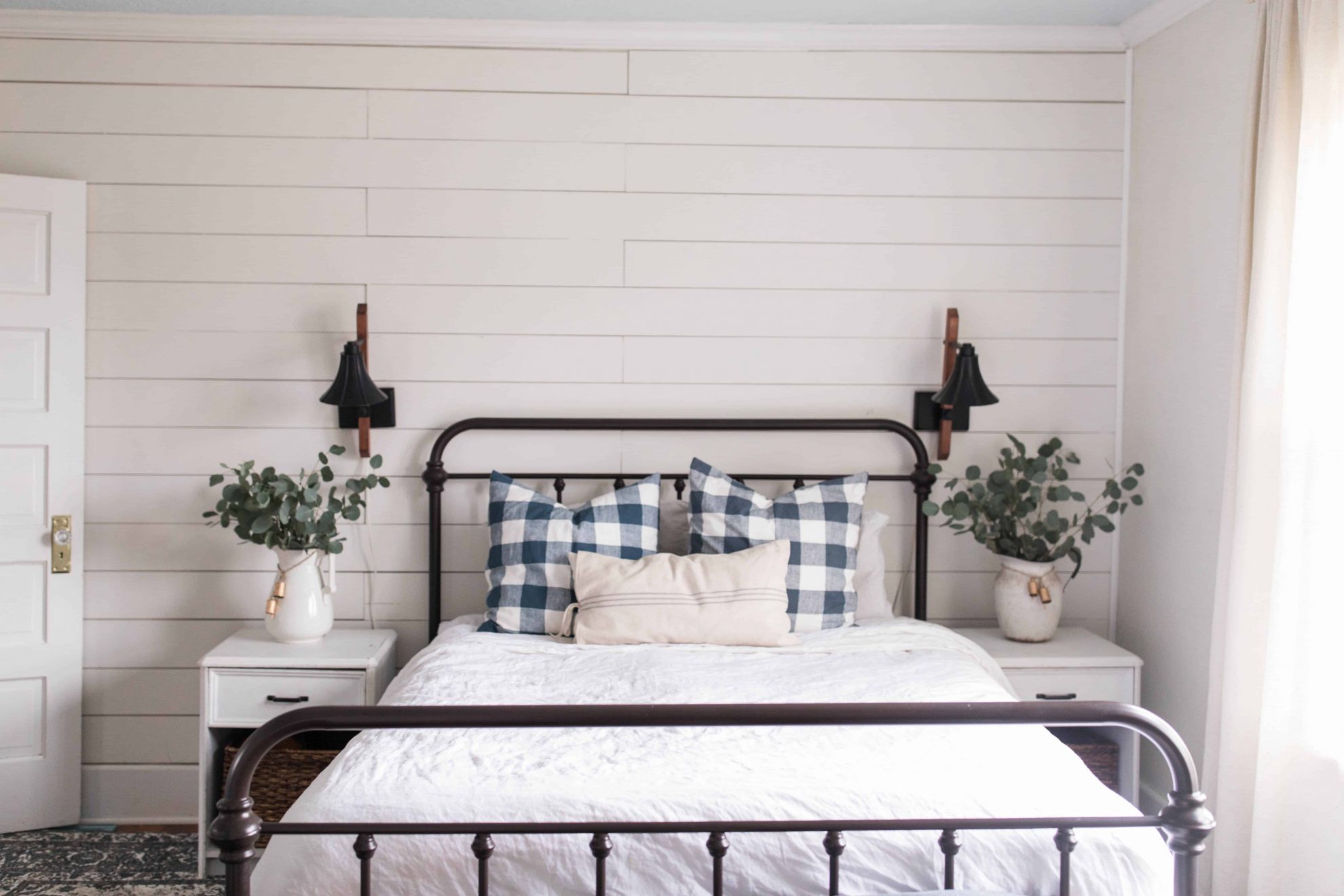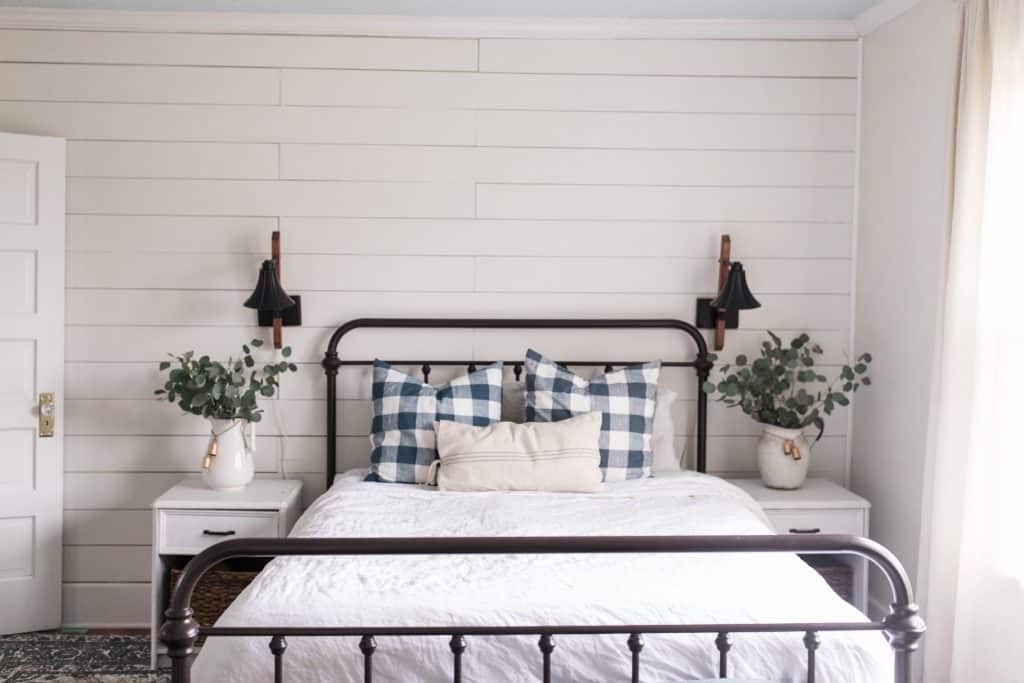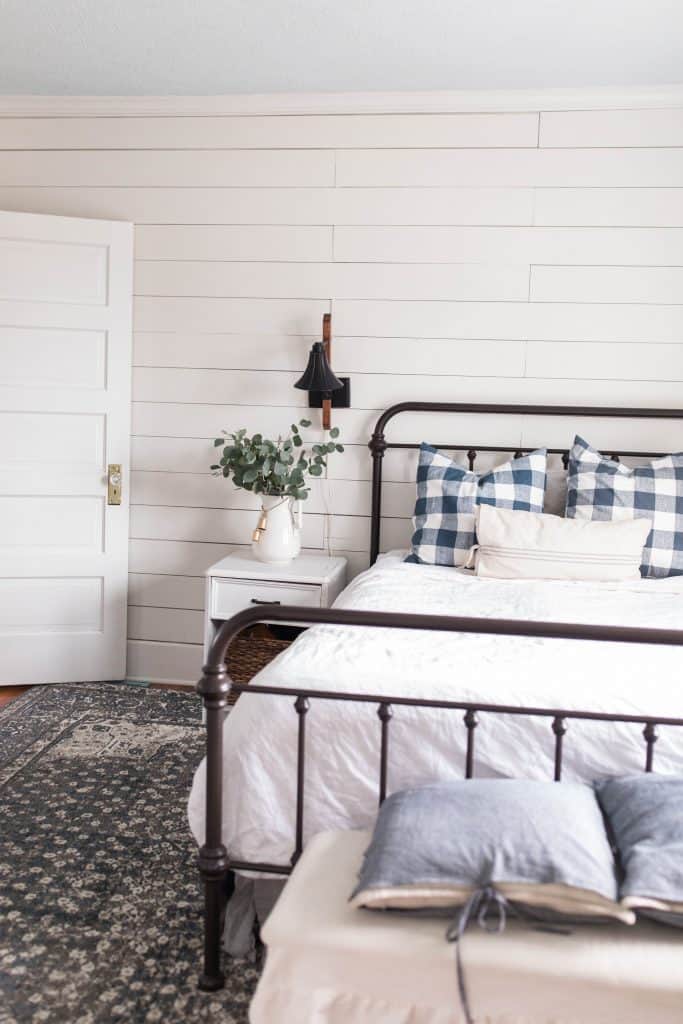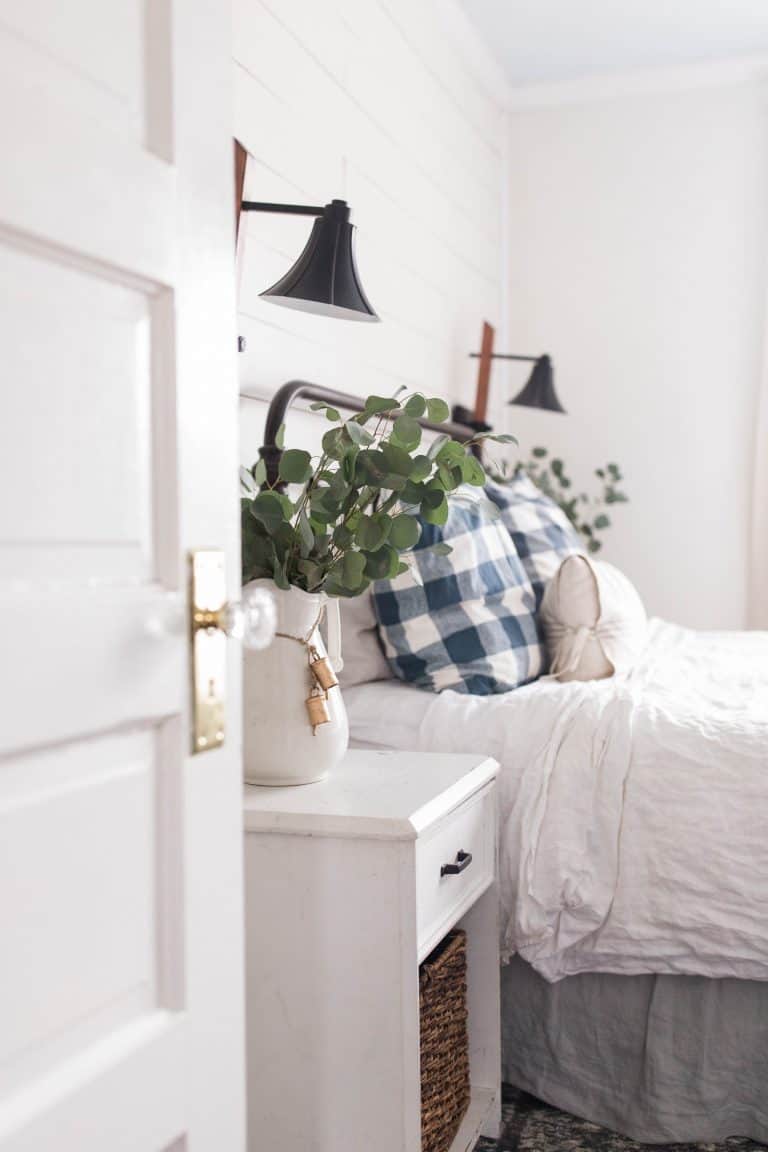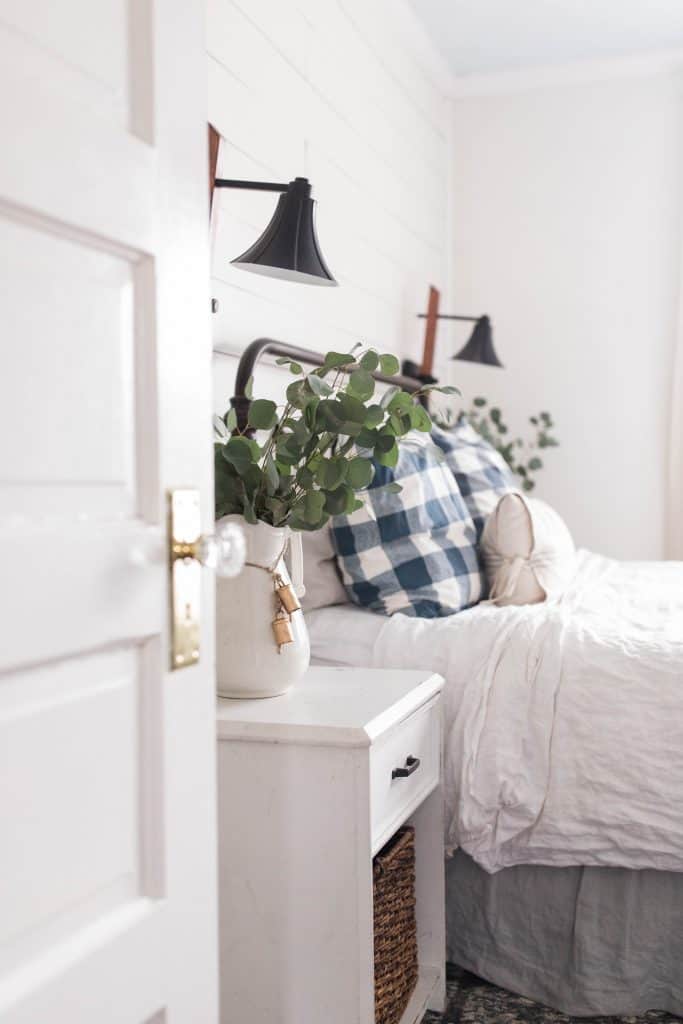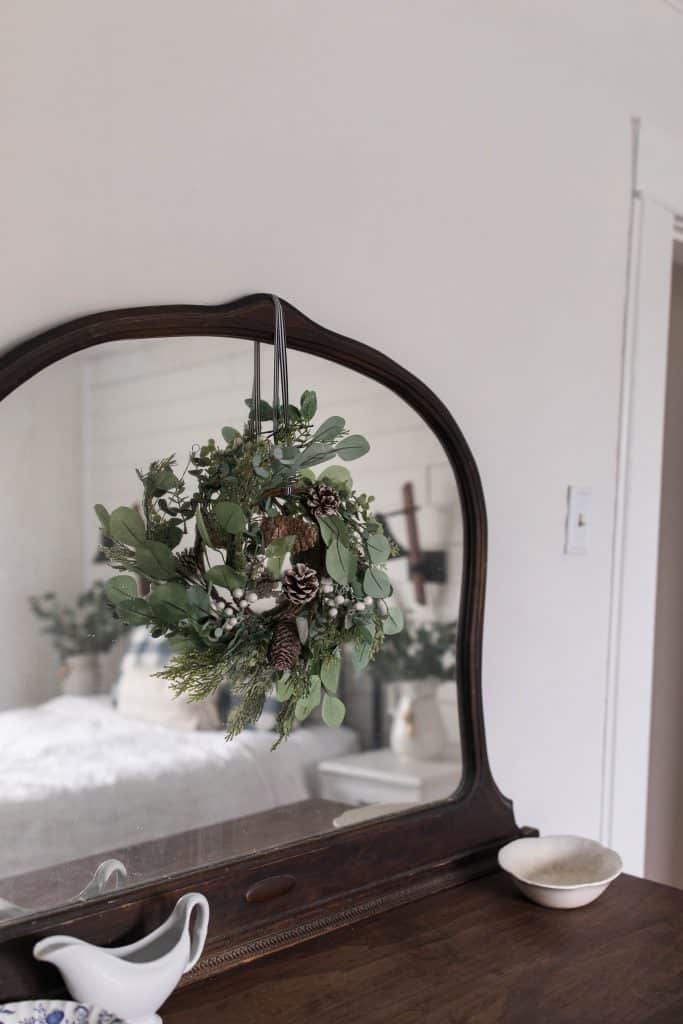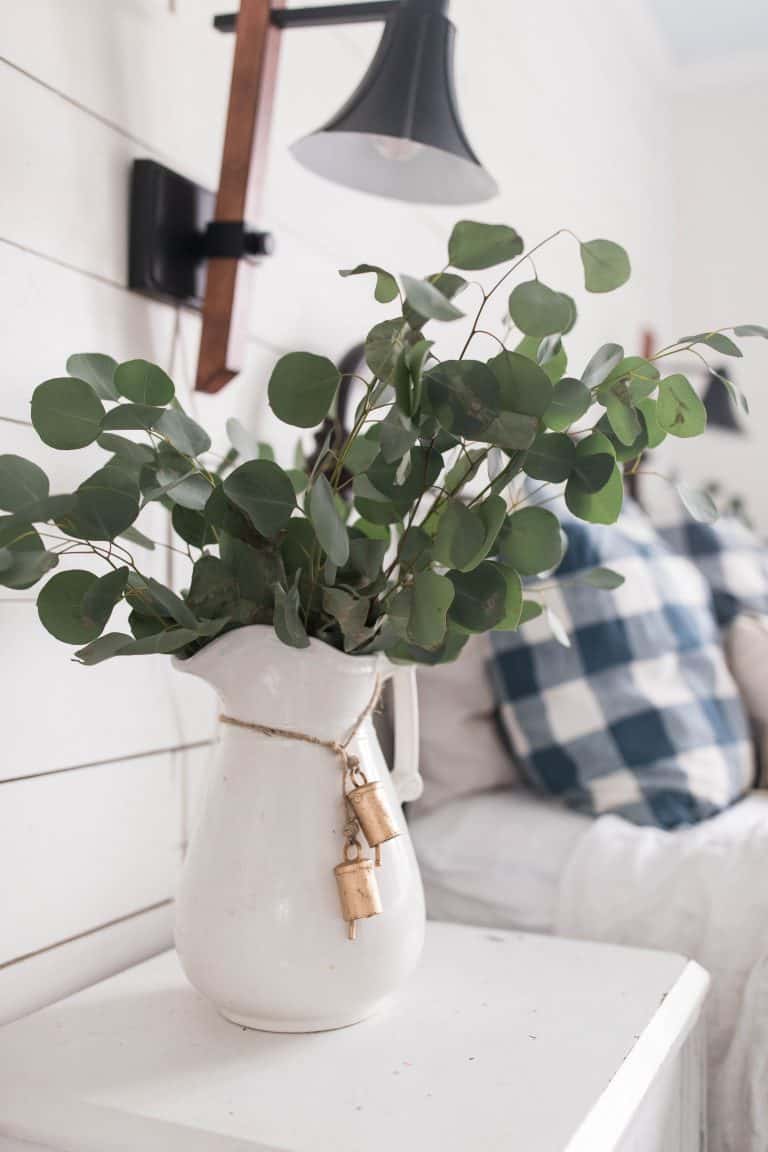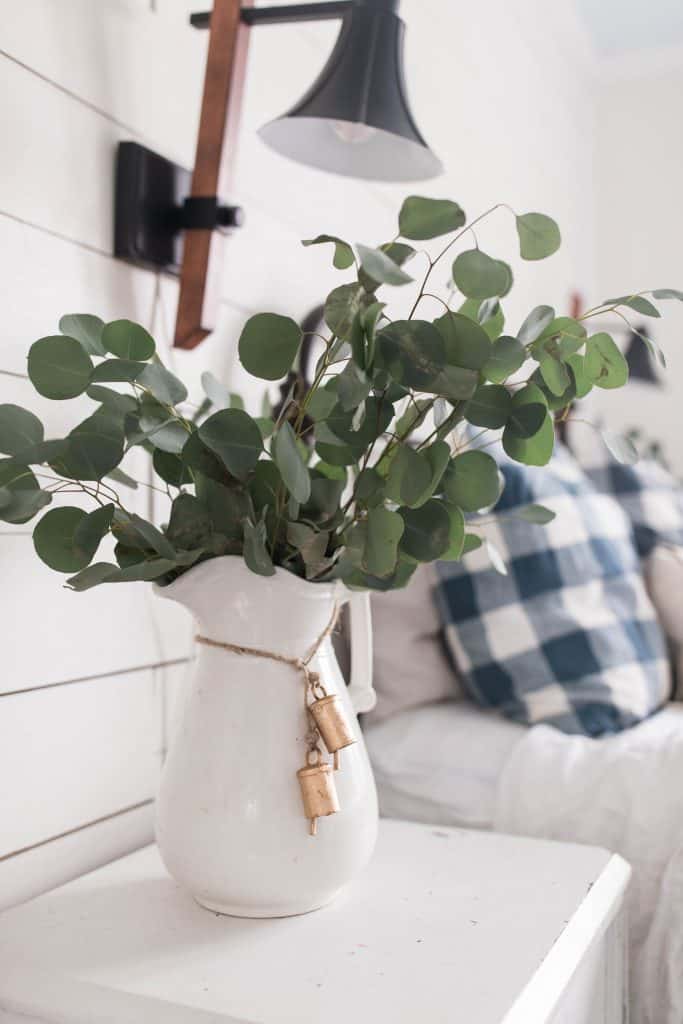 Our Christmas Master Bedroom
In our bedroom, I filled a few more of my white, chippy pitchers with eucalyptus and strung some bells around it on both night stands. Other than that, I kept it exactly like I had it for fall. On the milk painted dresser, I hung another eucalyptus wreath.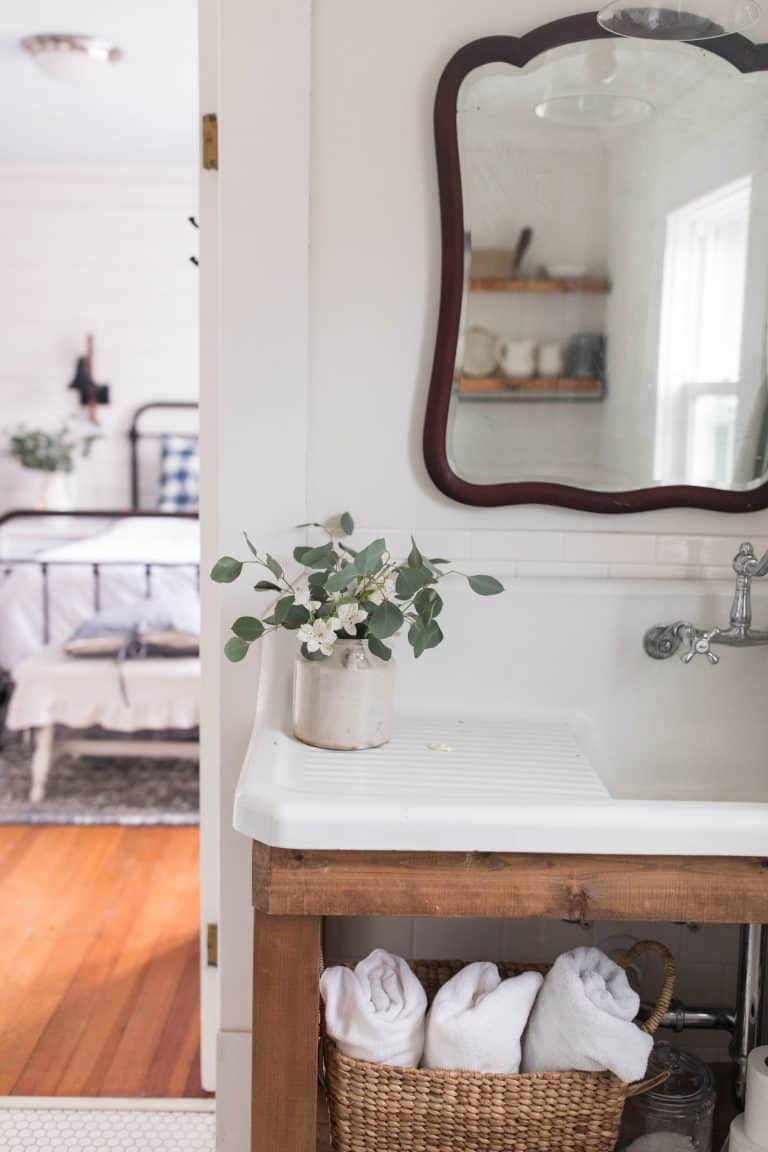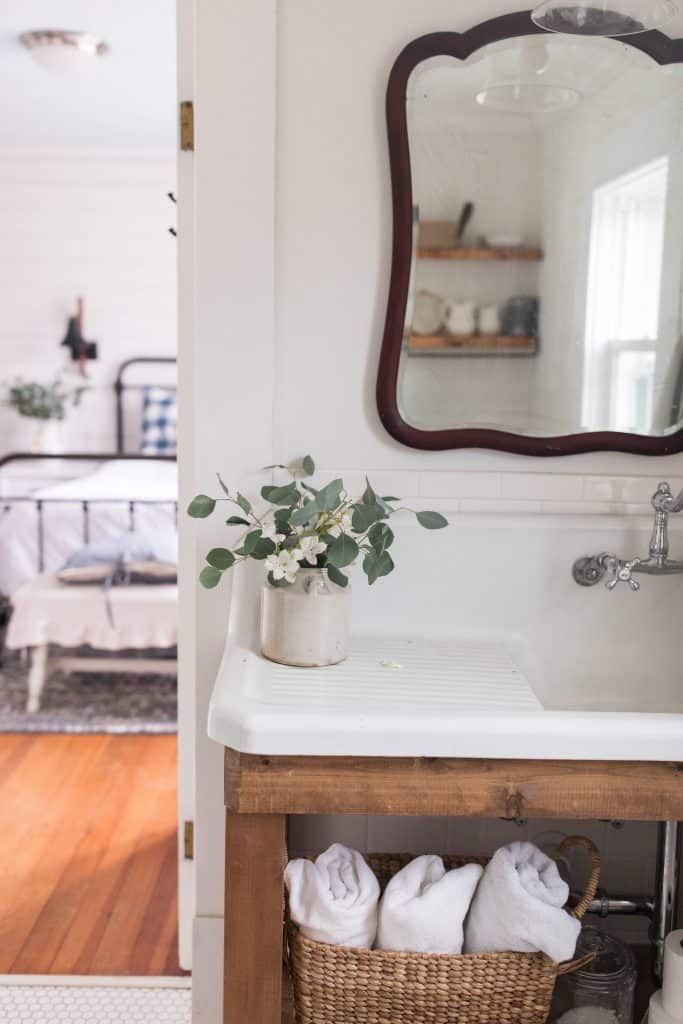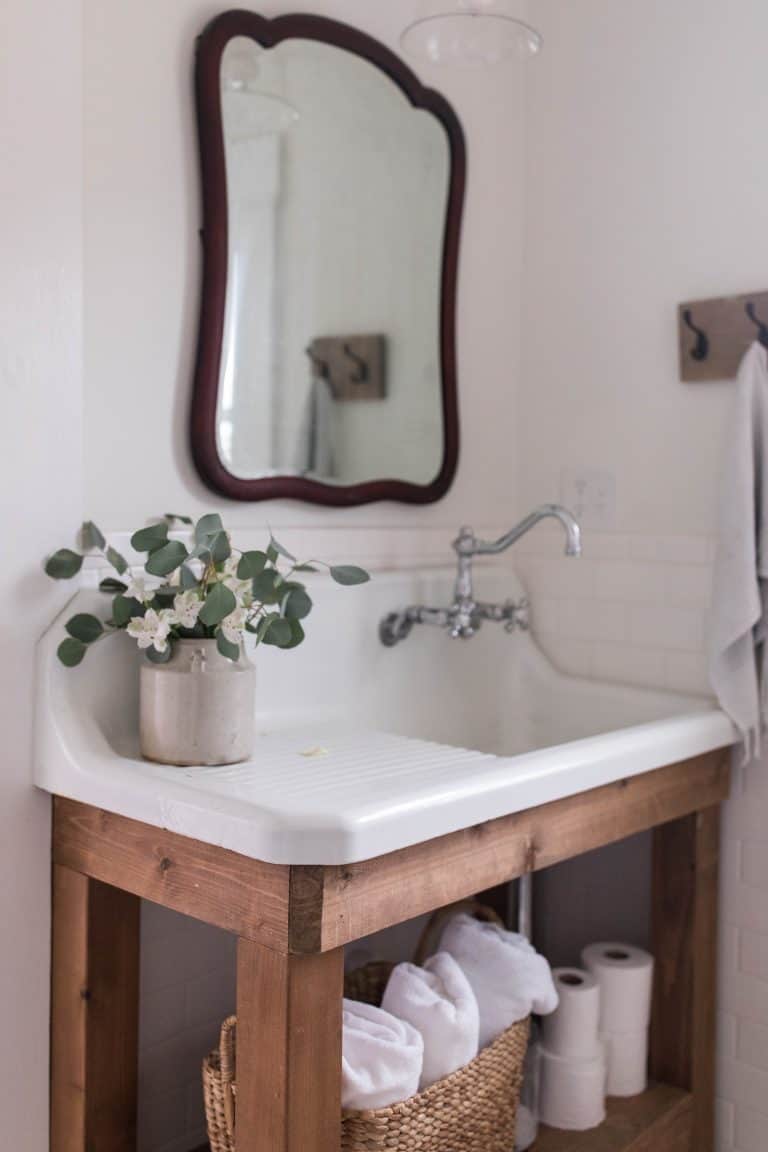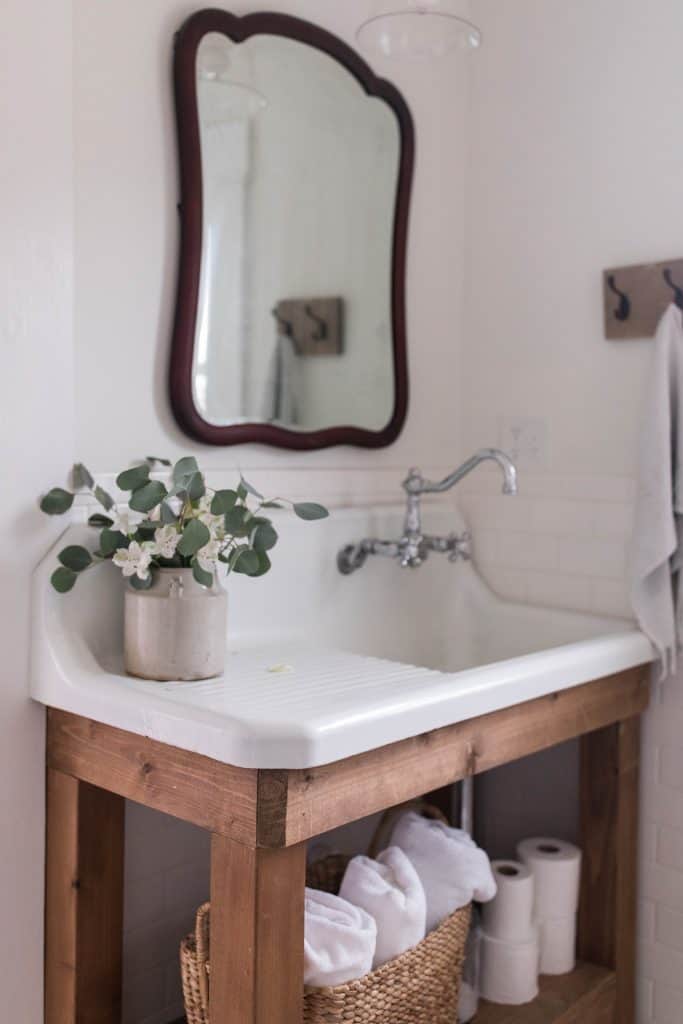 Our Christmas Master Bathroom
Off of our master bedroom, is our master bathroom of course. In the master bathroom I did nothing more that add some eucalyptus and a few of the flowers I had from my home staging. And that is my extent of decorating in there. I don't usually go to wild in the bathroom for Christmas anyway.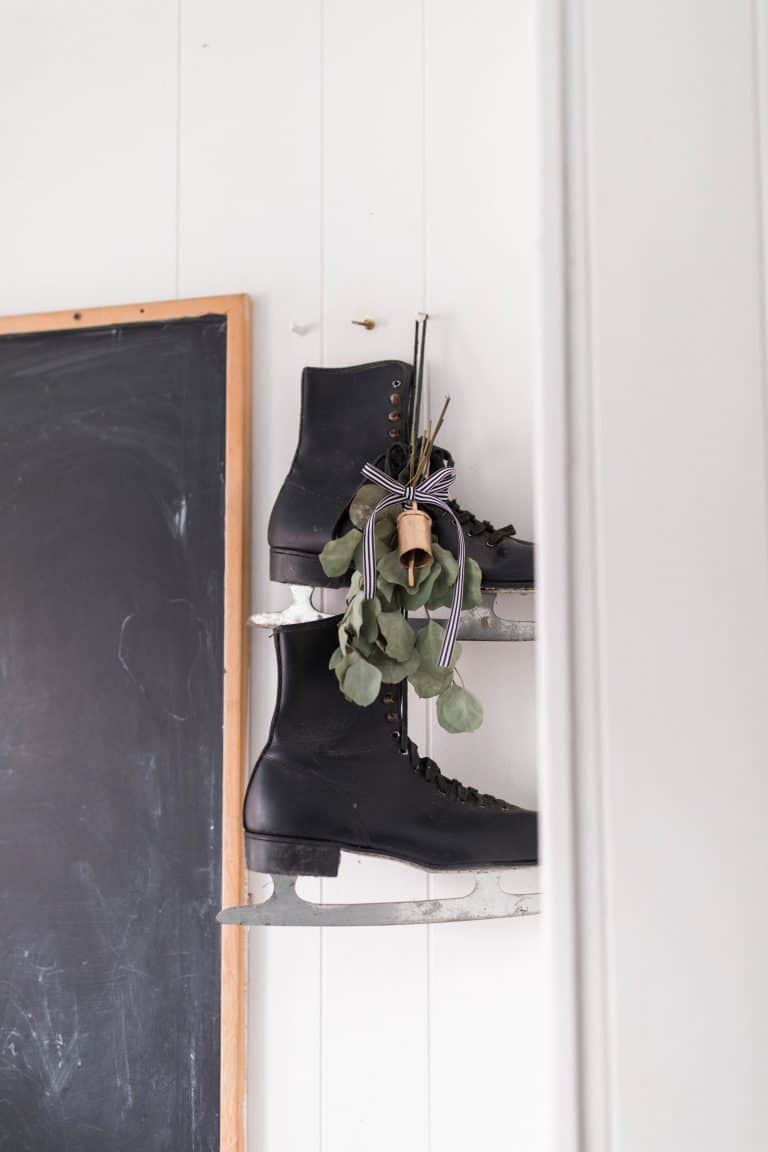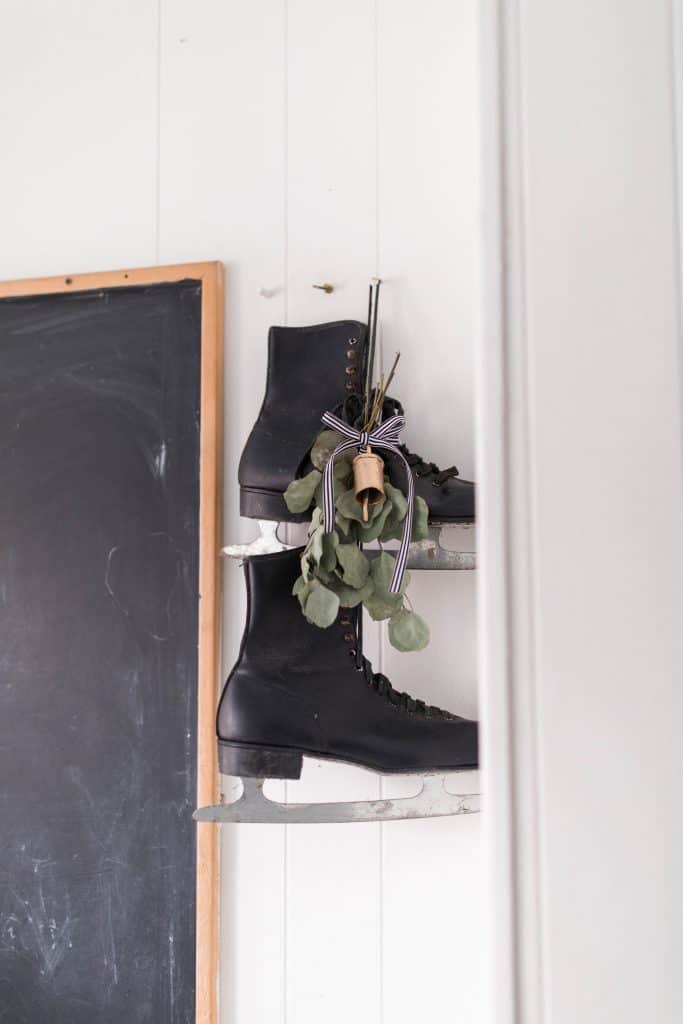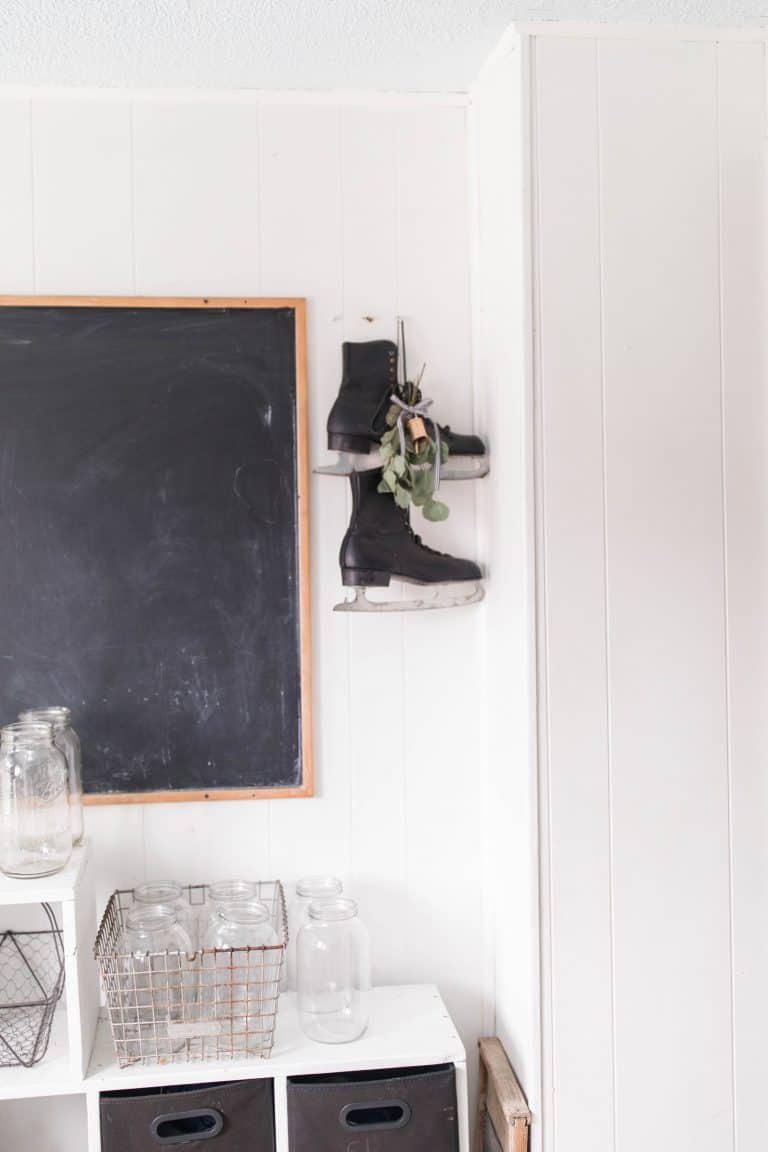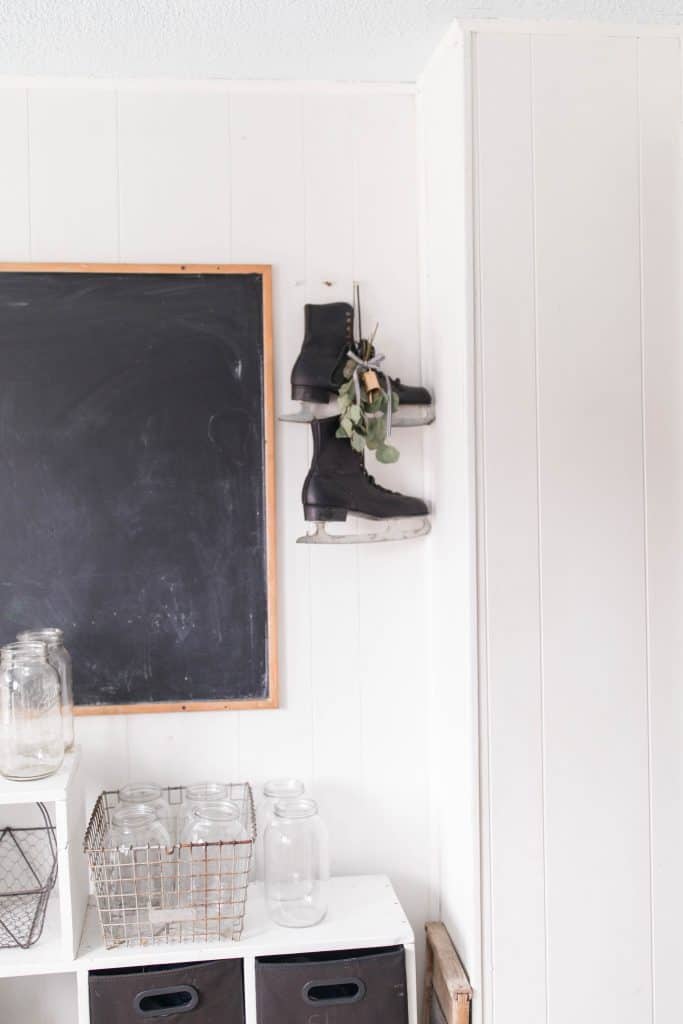 Our Christmas Mudroom
In the mudroom, I added a little bit of festivity with some ice skates to which I added a bell, some eucalyptus, and ribbon. I actually found those last year at a thrift shop and thought they would be fun to hang somewhere in the Christmas and Winter season.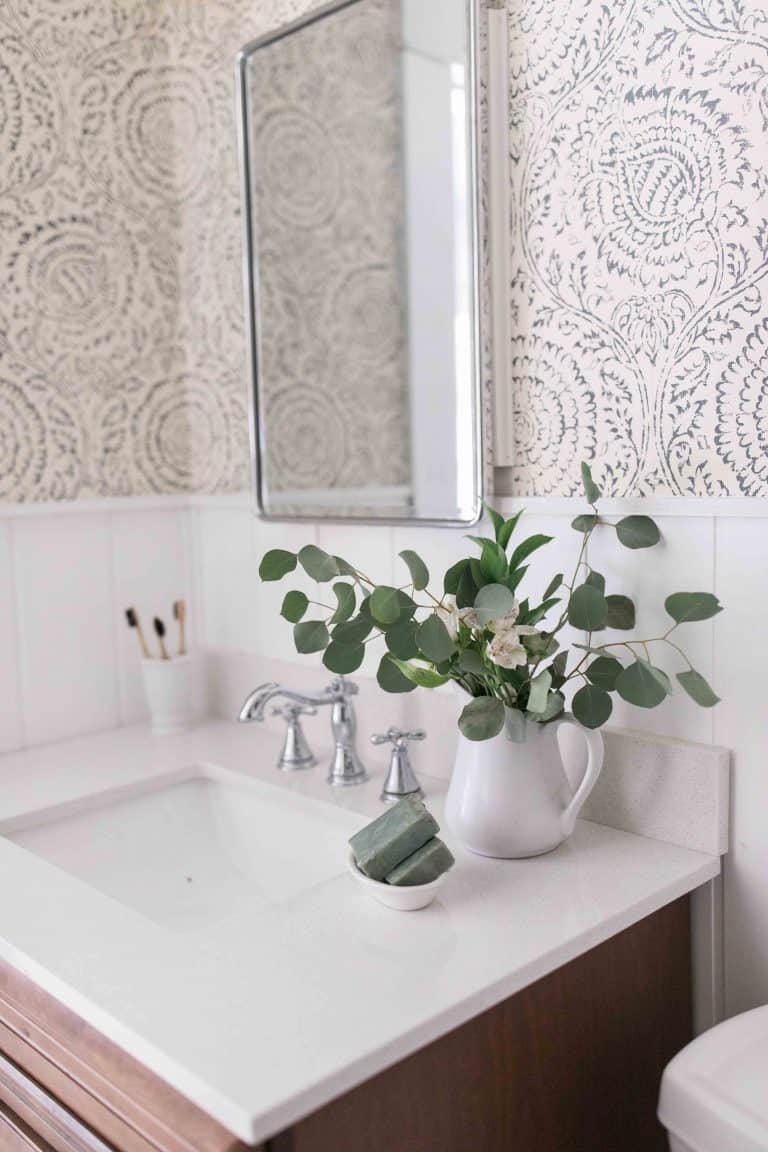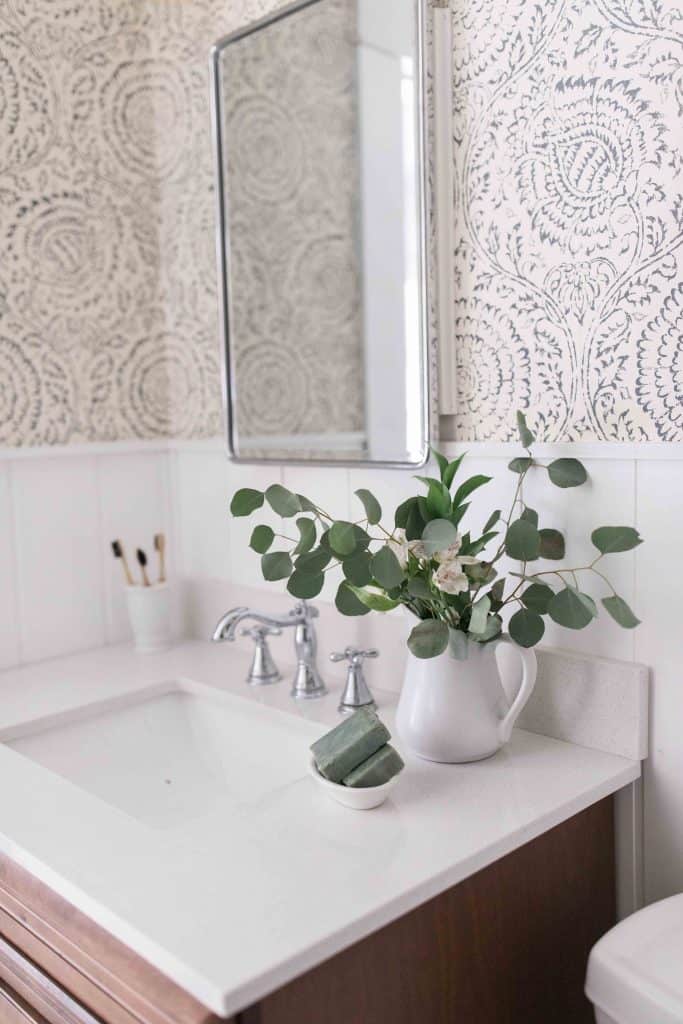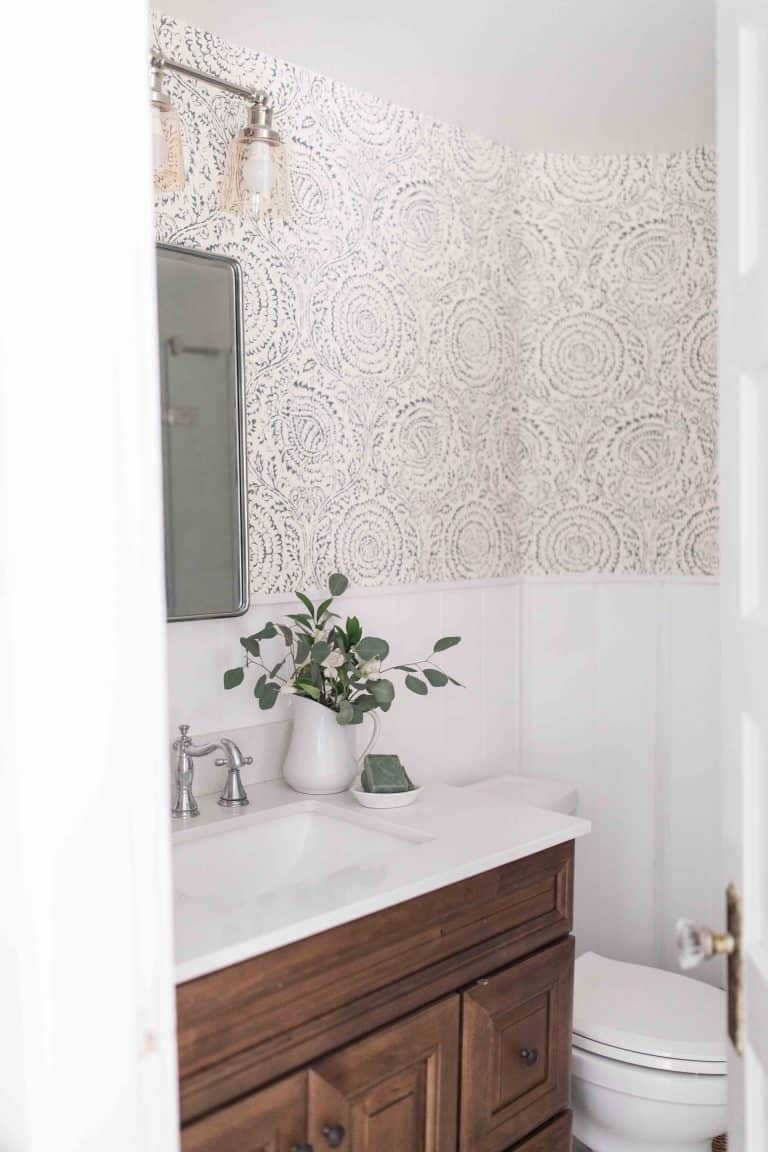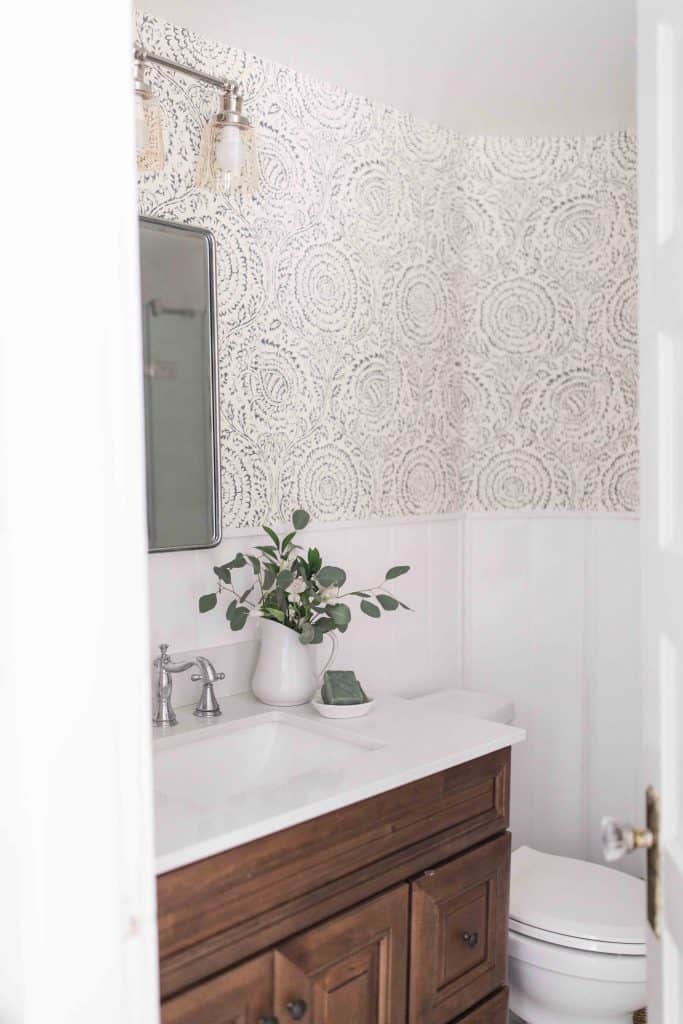 Our Christmas Guest Bathroom
In our newly renovated bathroom, again I just added a pitcher of eucalyptus with some leftover flowers from our home stagings while we are selling our house.
Get Some Inspiration
I hoped you enjoyed this minimalist last minute Christmas tour and that you are encouraged. If you don't have a lot of time this Christmas season, or if it feels overwhelming to decorate, just bringing in a little bit of fresh greenery and a couple minimal things, you can have a nice Christmas cheery home. You definitely don't have to spend a lot of time and definitely not a lot of money.
Make sure to check out all the other homes on this Christmas tour at the bottom of this post!
Shop this post:
Porch
Greenery wreath
Log holder
Candles
Sweater blanket
Living Room/Dining Room
World Market bells
Lamps behind the wingback chairs
Holiday Joy Essential Oil
Eucalyptus wreath
Kitchen
Eucalyptus Wreath
Master Bedroom
Our iron bed
Linen duvet
Linen sheets
Rug
Buffalo check pillow cover
Bathroom
Ticking stripe shower curtain
Shelves
Turkish towels
Bathroom
Stockings from thrifted sweaters
Drop Cloth Rag Ball Ornaments
DIY Pine Cone Ornaments
Vintage Cookie Cutter Ornaments
How to make a fresh greenery wreath
How to slipcover a wingback chair
Plans to build farmhouse table
Linen White Chalk Paint Dresser Makeover
Milk paint dresser
How we DIY'ed our shiplap wall
Ruffle bench slipcover tutorial
Farmhouse Christmas Home Tour 2018 Video
Pin it for later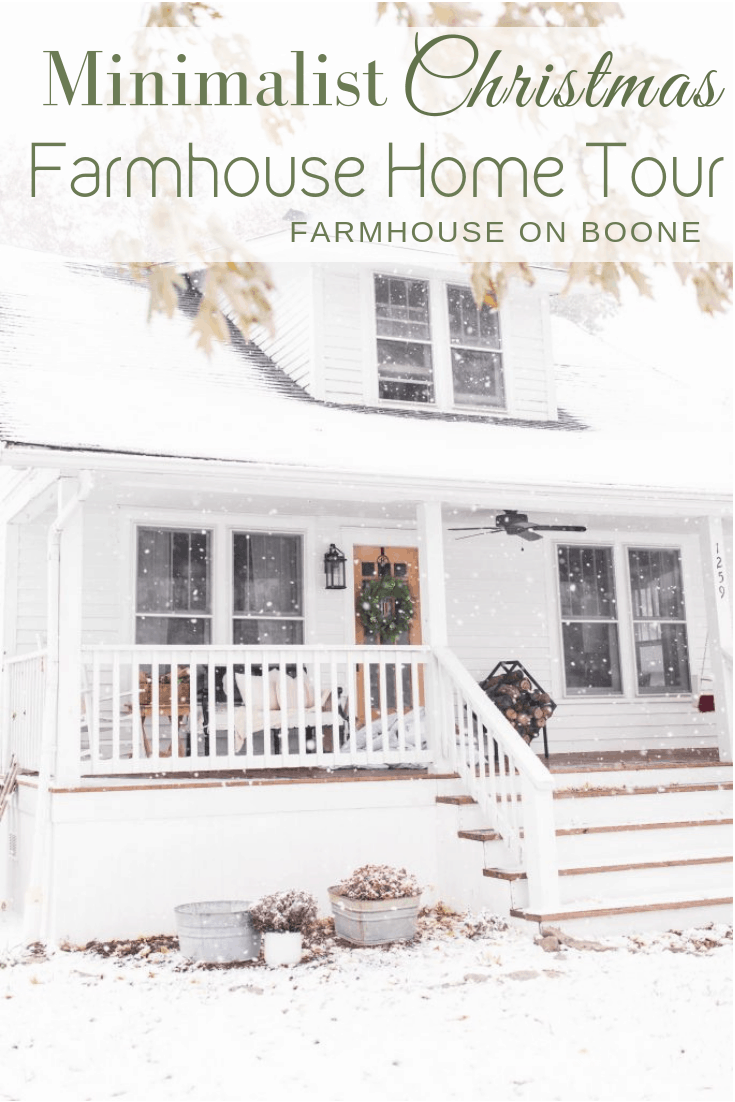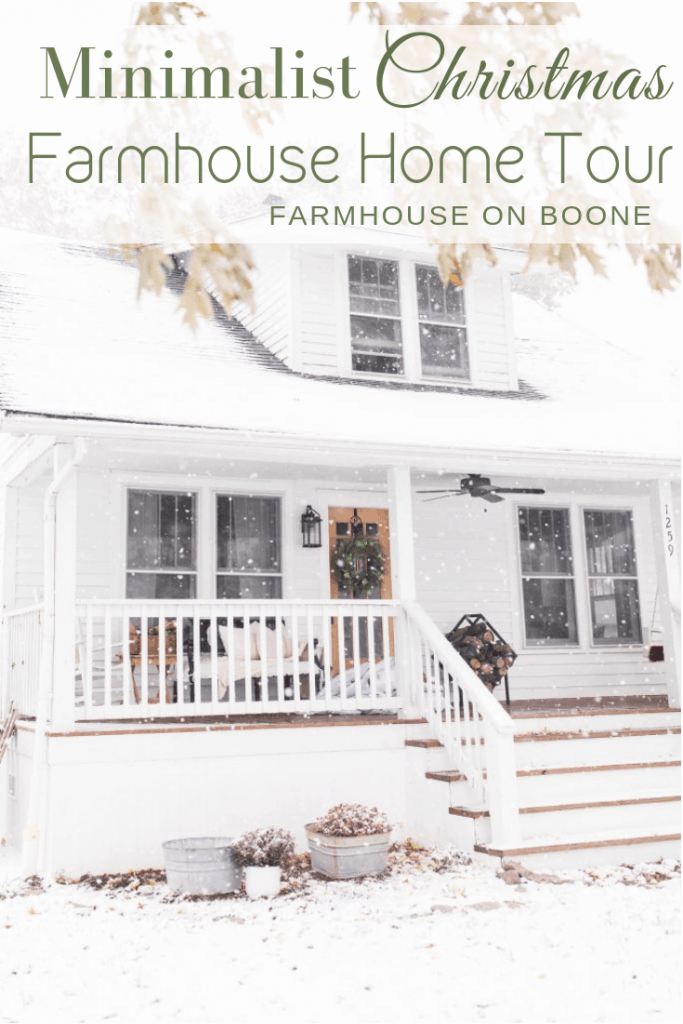 Monday's Posts: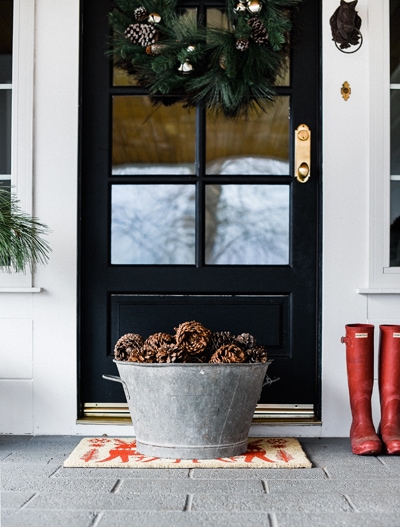 Boxwood Avenue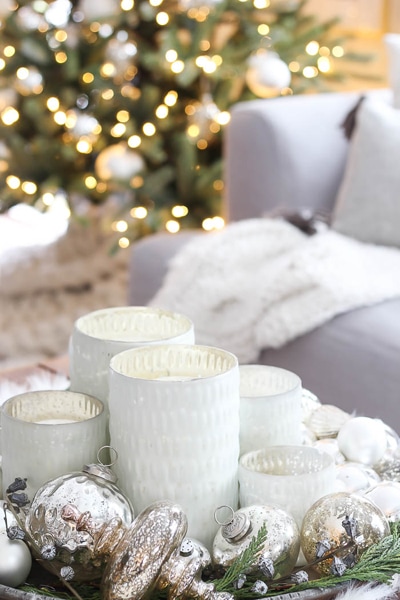 Rooms for Rent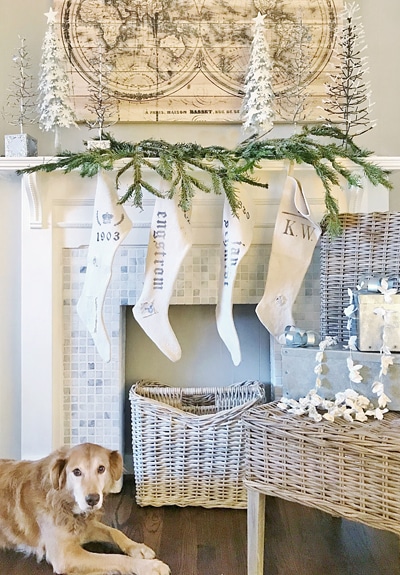 Thistlewood Farms
Thursday's Posts:
Maison de Cinq | Boxwood Avenue | Ella Claire | Rooms for Rent | Maison de Pax | Farmhouse on Boone | Thistlewood Farms
Friday's Posts:

Miss Mustard Seed | Love Grows Wild | Tidbits | Liz Marie Blog | So Much Better with Age | Mountain View Cottage | Lauren McBride