Learn how to plank a popcorn ceiling the easy way with this planked ceiling tutorial.
When we moved into our 1920's home, every ceiling in our house was covered with texture. We fixed this problem easily and inexpensively, starting with our girls' room.
Learn how to plank a popcorn ceiling the easy way with planked plywood.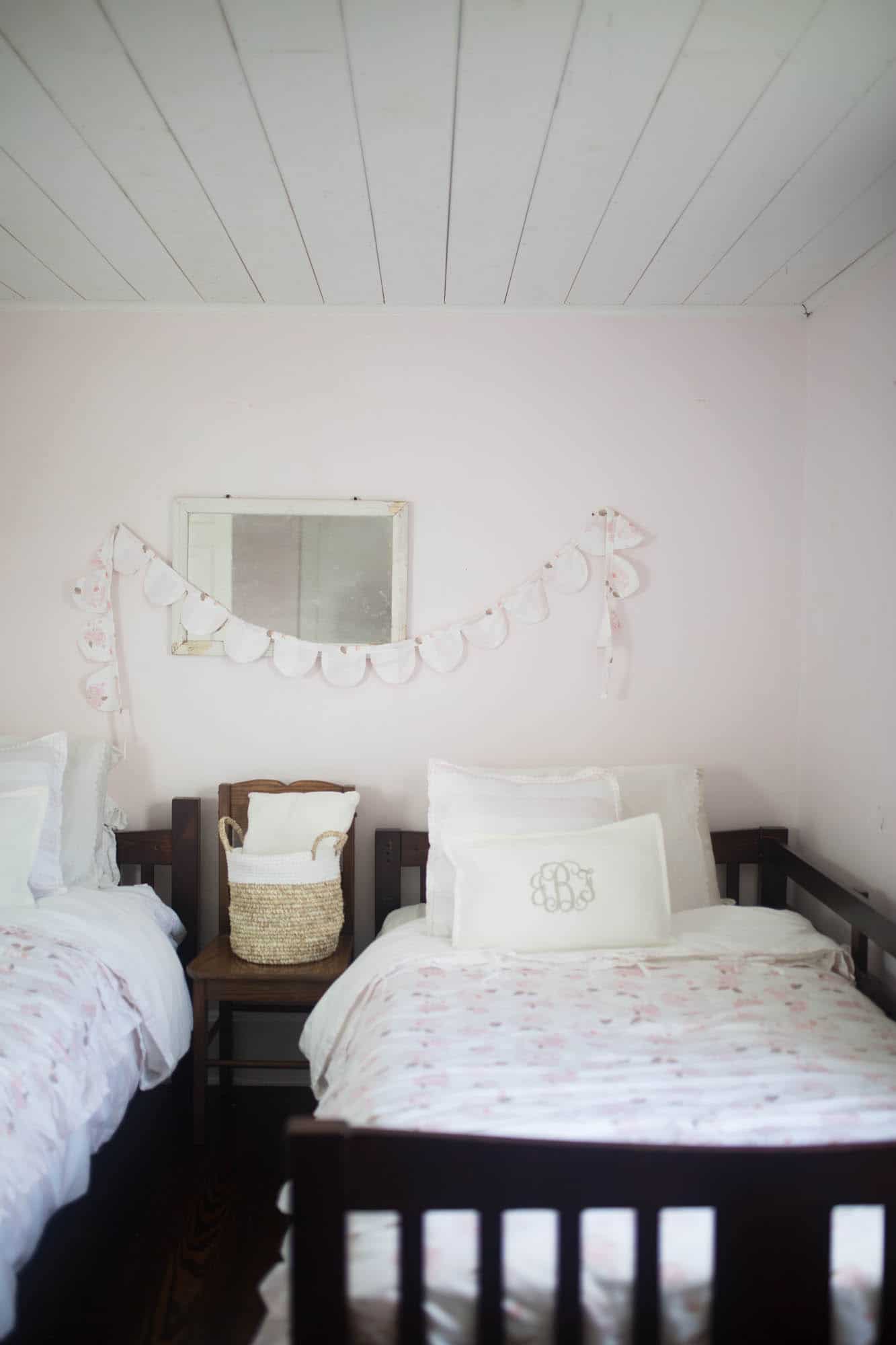 How to plank a popcorn ceiling video tutorial
Old house ownership comes with many benefits. Crown molding, five panel doors with glass door knobs, original heart pine flooring, to name a few.
But, it also comes with a few drawbacks. Squeaky floors, outdated electrical and plumbing, and, the dreaded, dealing with renovations done through some less fashionable time periods. Linoleum floors, blue carpet, and my favorite, textured ceilings.
Please tell me, when were popcorn ceilings cool? Apparently they were so desirable that, at some point, someone took the effort to cover every ceiling in our house with the stuff. And since, I'm guessing, it wasn't hip in the 1920's, someone probably added the lovely texture in less romantic times, like the 80's, for example.
We decided to cover up this ugly trend, starting with our girls' room.
We covered this ceiling with the exact same process as we did for the shiplap wall in the master bedroom makeover.
The Supplies
Four sheets 4′ by 8′ sanded plywood at 11/32″ thickness, cut into 6″ strips
Air compressor and nail gun
Nickel for a spacer
White Paint
We started by purchasing four sheets of 4′ by 8′ sanded plywood at 11/32″ thickness from Lowe's.
We had them cut it into 6″ strips.
The workers will do this for 25 cents per cut. In my opinion, the convenience of this is totally worth a little added cost.
The Process
We basically planked this ceiling the exact same way we planked our shiplap wall in the master bedroom.
Since our ceiling measured 156″ by 104″, we ran the planks parallel between the door and window (long ways), as opposed to perpendicular to the door. On each line we had a short board that was 60″ and a long board that was 96″. We alternated them, so every other board was a long board and a short board.
Since we were working on the ceiling, we decided to paint the board prior to putting them up. It was so much easier than reaching up with all that paint.
We used a Bostitch air compressor and nail gun and 1 and 3/8 inch 18 gauge nails to nail the plywood planks into the ceiling. It made for a very speedy job.
Between each row, we used a nickel for a spacer. This created just a small line between the planks to make them more visible, yet not allow any of the popcorn texture to show through.
I suggest having 10 nickels on hand. We just kept losing them!
After every few rows, we measured from the start of the planks to the current plank we were working on, to see if they came out evenly. This helped to ensure nothing was getting too far off. On our shiplap wall we used a level, but we couldn't do that when working on the ceiling.
To go around the light fixture, we notched the boards, to allow enough room for the wires to hang down.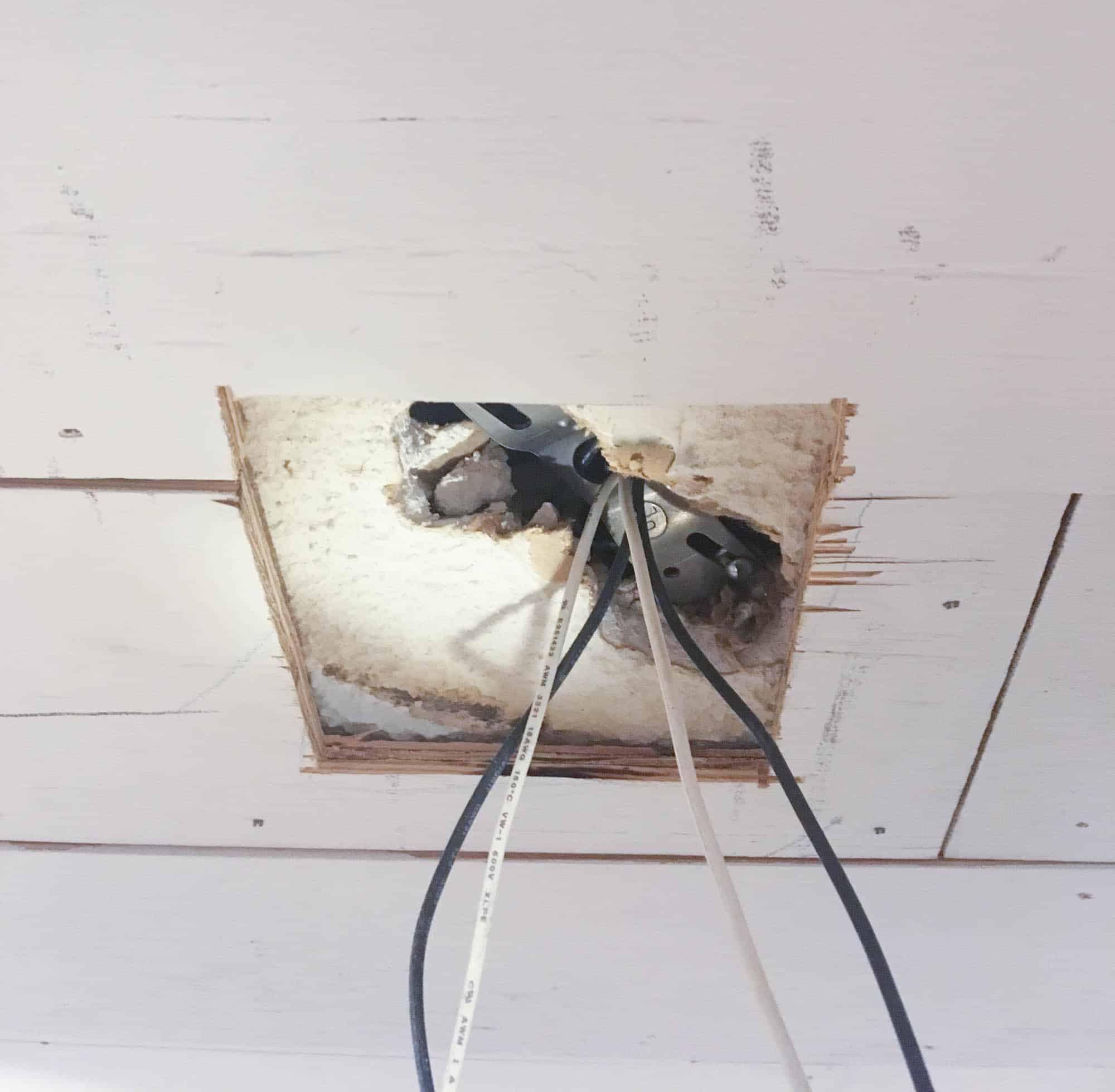 When we reached the last row, on other side of the room with the planks, we had to cut them thinner to make them fit.
Wouldn't it be great if we lived in a perfect world where ceilings were perfectly divisible by six, and no modifications would be needed to squeeze the last planks in? Unfortunately, that isn't what we found.
Why didn't we scrape the popcorn ceilings?
The main reason we didn't scrape the popcorn ceiling is the asbestos risk. According to the EPA, asbestos was banned in 1977. Since our home was built well before that, I am not willing to take the risk of my family breathing in asbestos. This is why most of the ceilings in our home remain untouched, and probably always will. I could test them all for asbestos, and maybe will eventually, but right now that isn't a high priority.
The second reason is I love the added farmhouse style. The planked ceiling looks adorable in my farmhouse girls' room. I hope to add it to the boys' room next!
[thrive_lead_lock id='10866′]Hidden Content[/thrive_lead_lock]
Pin it for later