Try a bowl of this einkorn breakfast porridge for a hearty and filling way to start the morning. Freshly milled einkorn berries are simmered with milk and sweetened with a touch of honey to make an einkorn 'cream of wheat'.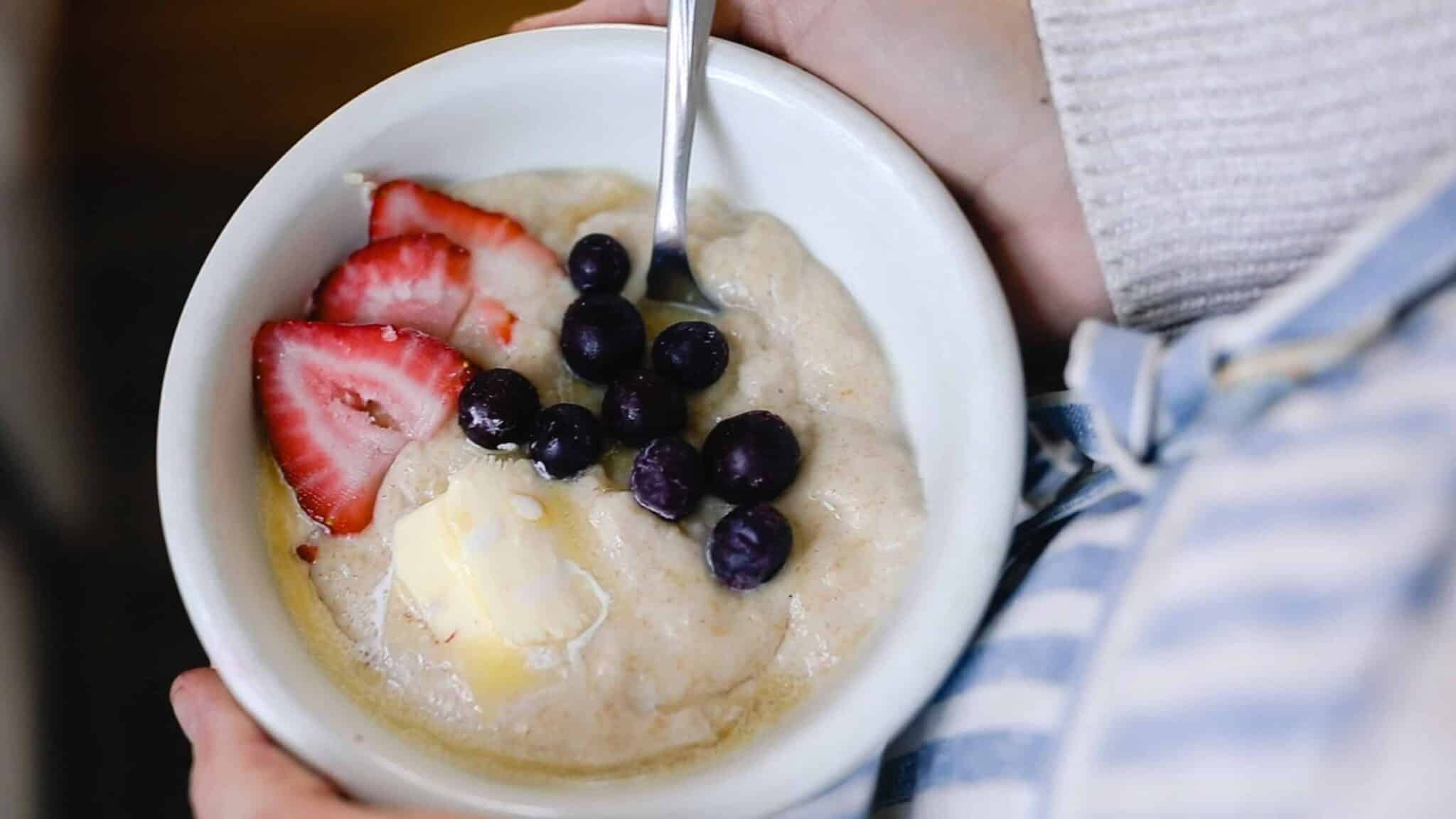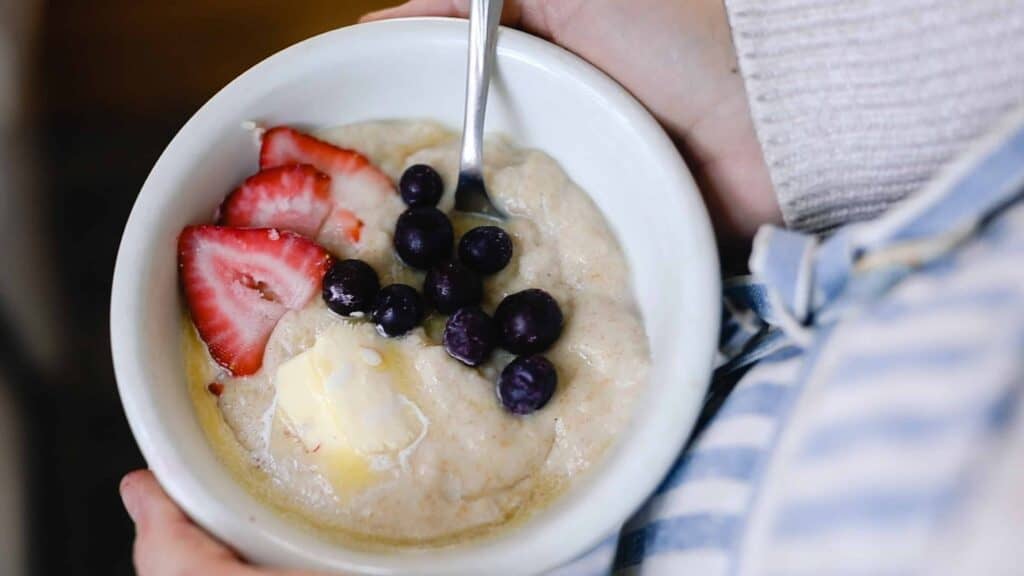 In our house, we love oatmeal, but there comes a time when everyone is ready for a change. This recipe is the perfect alternative.
During the winter months, we all bundle up and head outside for our morning chores. The goats get milked and fed, the chicken tractor gets moved, and then we all hurry back inside to fill our bellies with this warm and delicious breakfast.
It is so simple to make and literally only takes a few ingredients. I love to get extra fancy and make my own berry syrup (recipe and directions are below) to drizzle on top with some raw cream.
Seriously good, very satisfying, and quite filling.
You may know we are serious sourdough fanatics around here, but when there is a recipe I want to make that can't be fermented, then I will use einkorn flour. This is because einkorn is much easier to digest than traditional wheat.
So, I tried to make a traditional cream of wheat recipe with my all-time favorite grain, einkorn, and it turned out absolutely delicious.
It's one of those yummy, not so fancy, humble foods.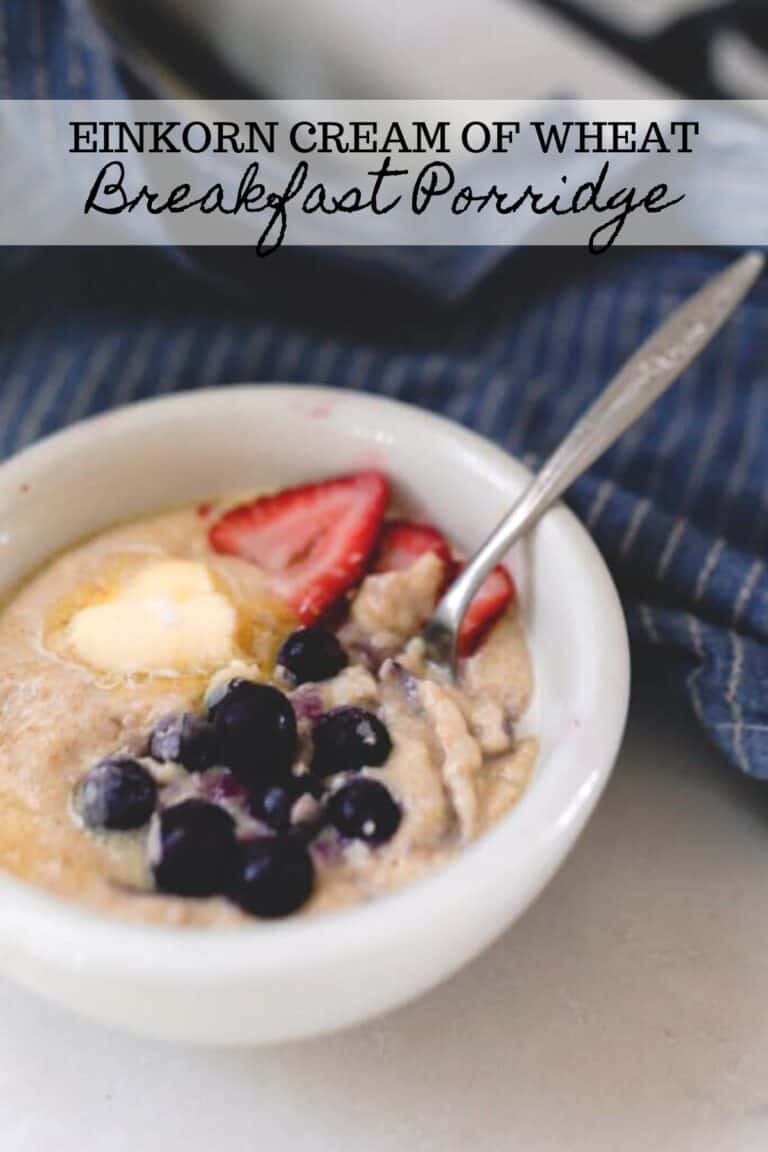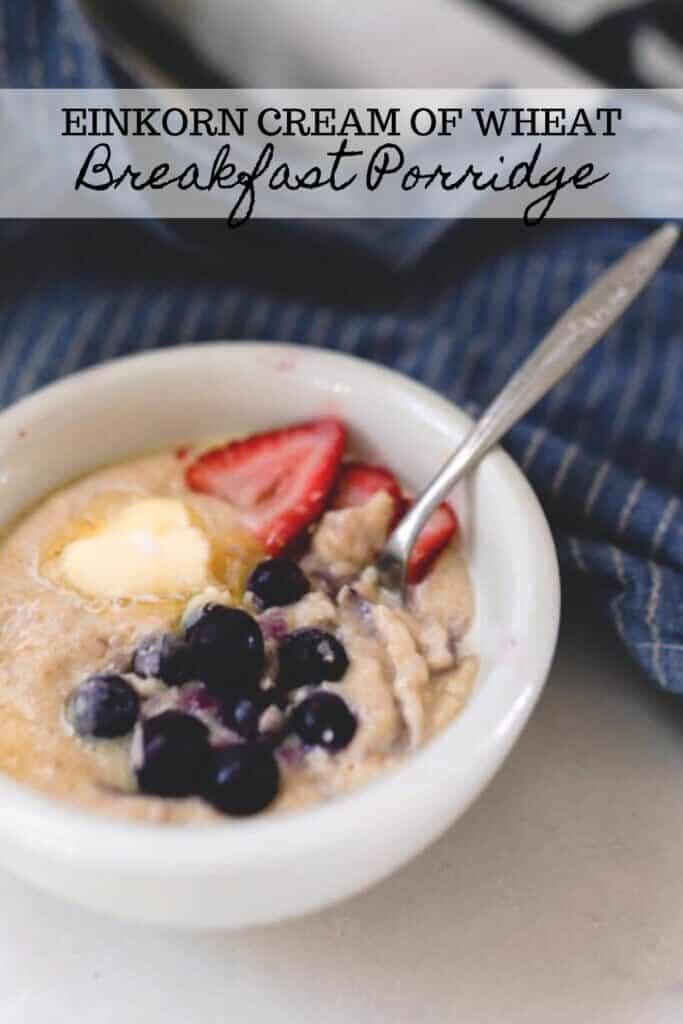 Tips For Making Einkorn Cream Of Wheat
You can use whatever milk you have on hand: dairy or plant-based. Or you can just use water. I use goat milk, since we milk our goats every morning.
To prevent this recipe from sticking to the pan, you have to stir constantly as soon as you add the einkorn flour.
This recipe is a great 'jumping off point' and you can fancy it up however you please. See below for variation ideas.
Sweeten it naturally with honey, maple syrup, or coconut sugar.
This post contains affiliate links, which means I make a small commission at no extra cost to you. See my full disclosure here.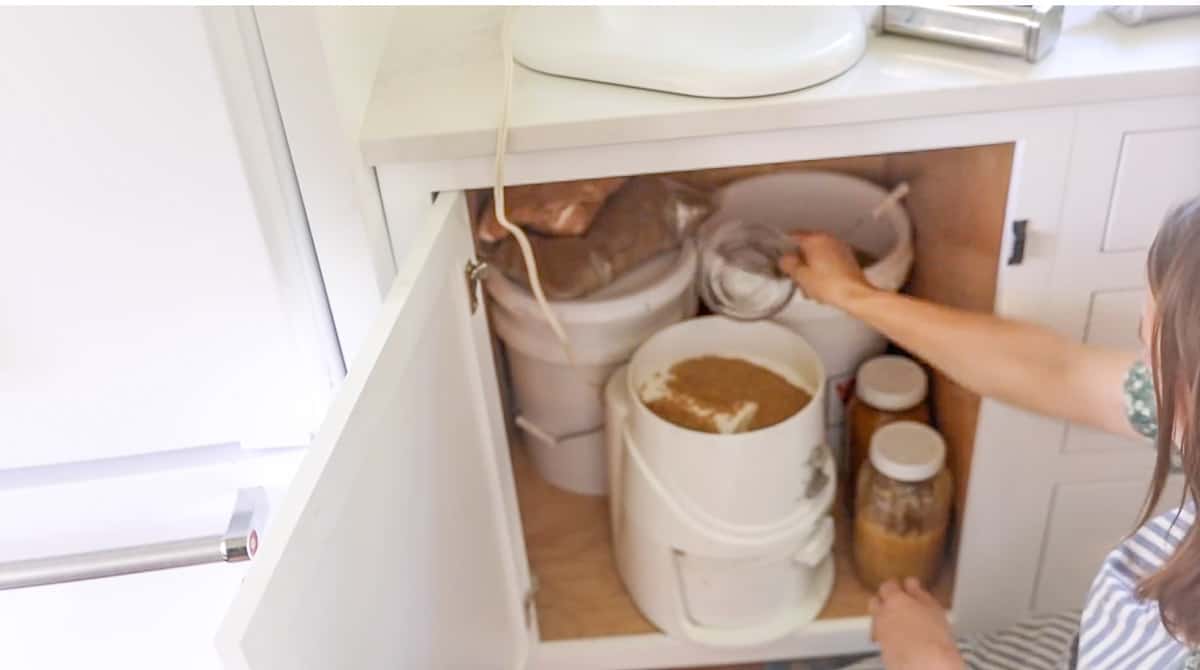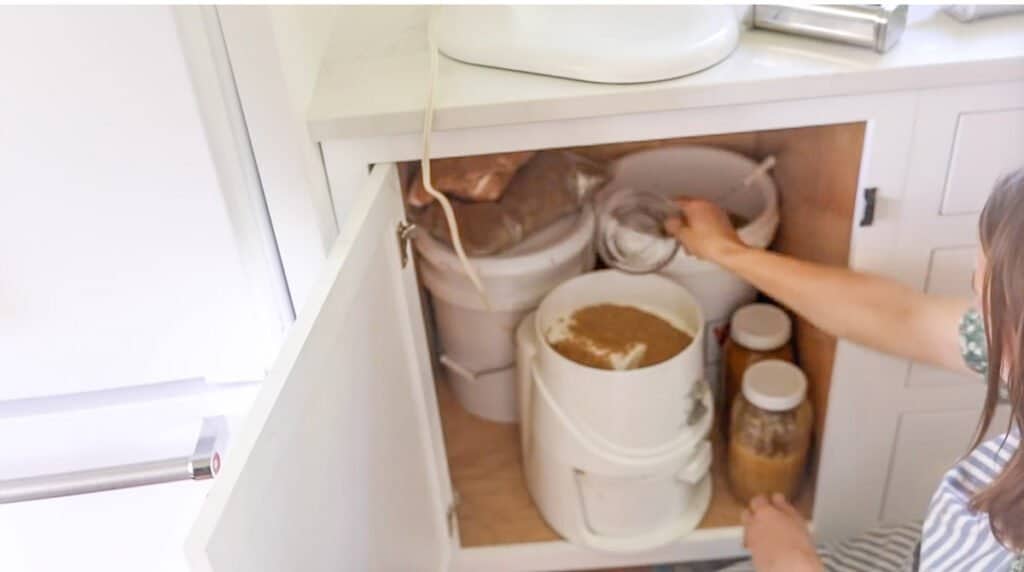 Is einkorn wheat better for you?
Yes. Not only is it easier to digest due to a different type of gluten, but it has a better nutrient profile compared to modern wheat. It is high in carotenoids, contains more protein, and has less phytic acid (the anti-nutrient that blocks mineral absorption) compared to regular wheat. 
Is einkorn the same as wheat berries?
There are many types of wheat berries, and einkorn is one type. It grows with an outer protective husk that needs to be removed, unlike modern wheat, but still contains the bran, germ, and endosperm. (Source)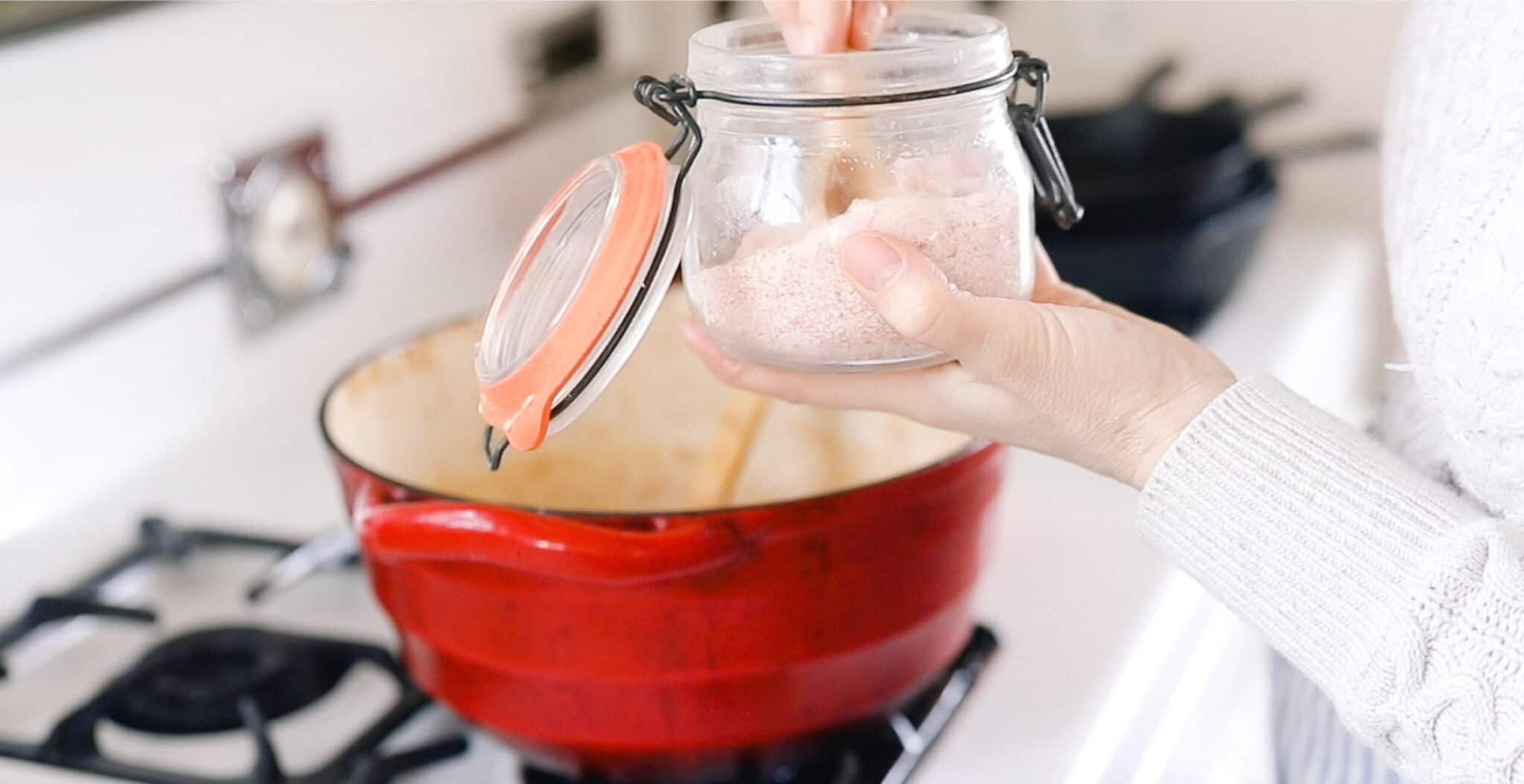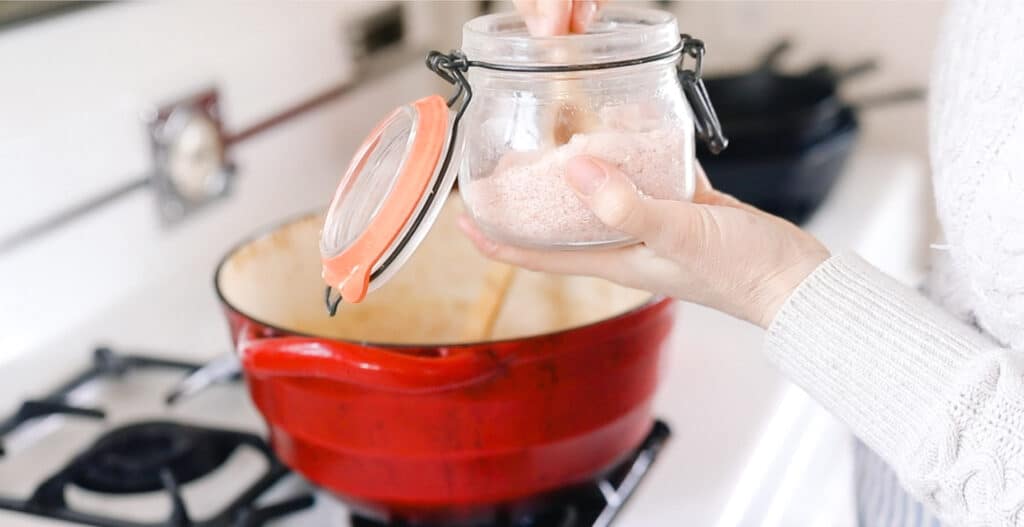 Tools you will need:
Large pot or Dutch Oven
Measuring cups
Whisk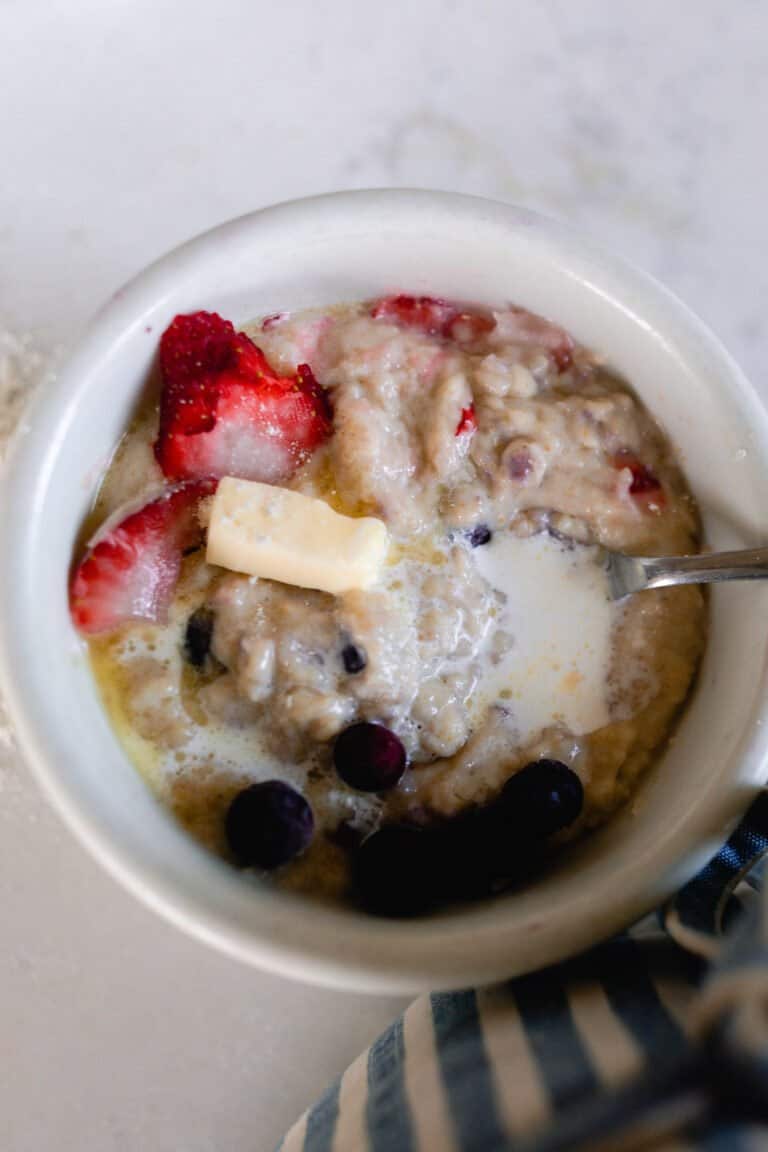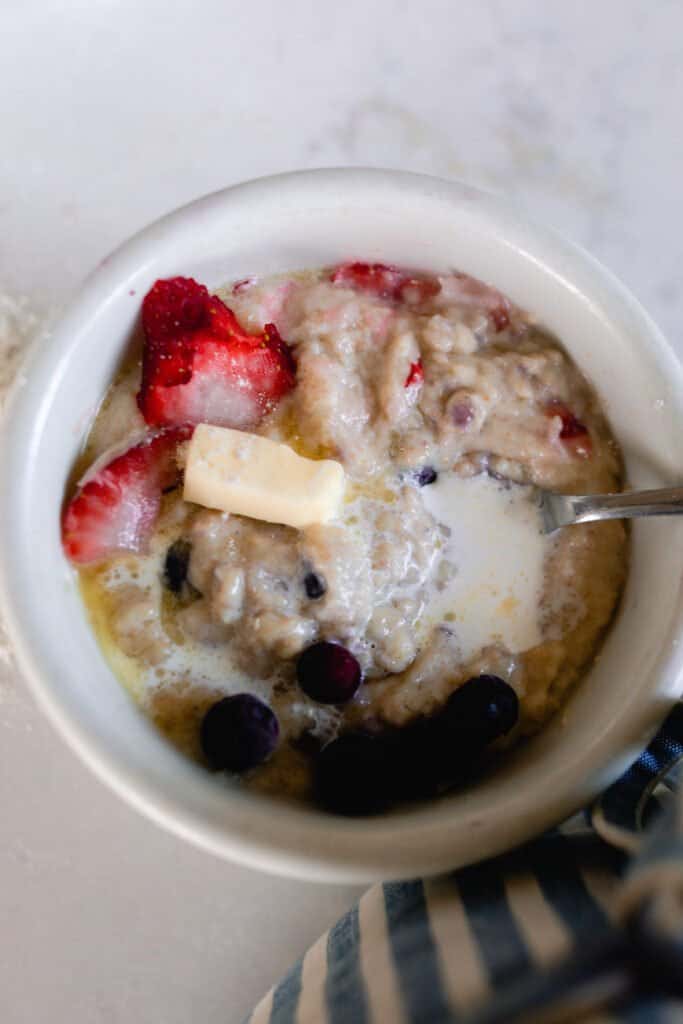 How To Make Einkorn Cream Of Wheat Breakfast Porridge
Grind einkorn berries on the coarse setting on your grain mill. If you don't have a grain mill, you could just use einkorn flour. I do like to grind it myself on the coarse setting, to give the hot cereal more texture.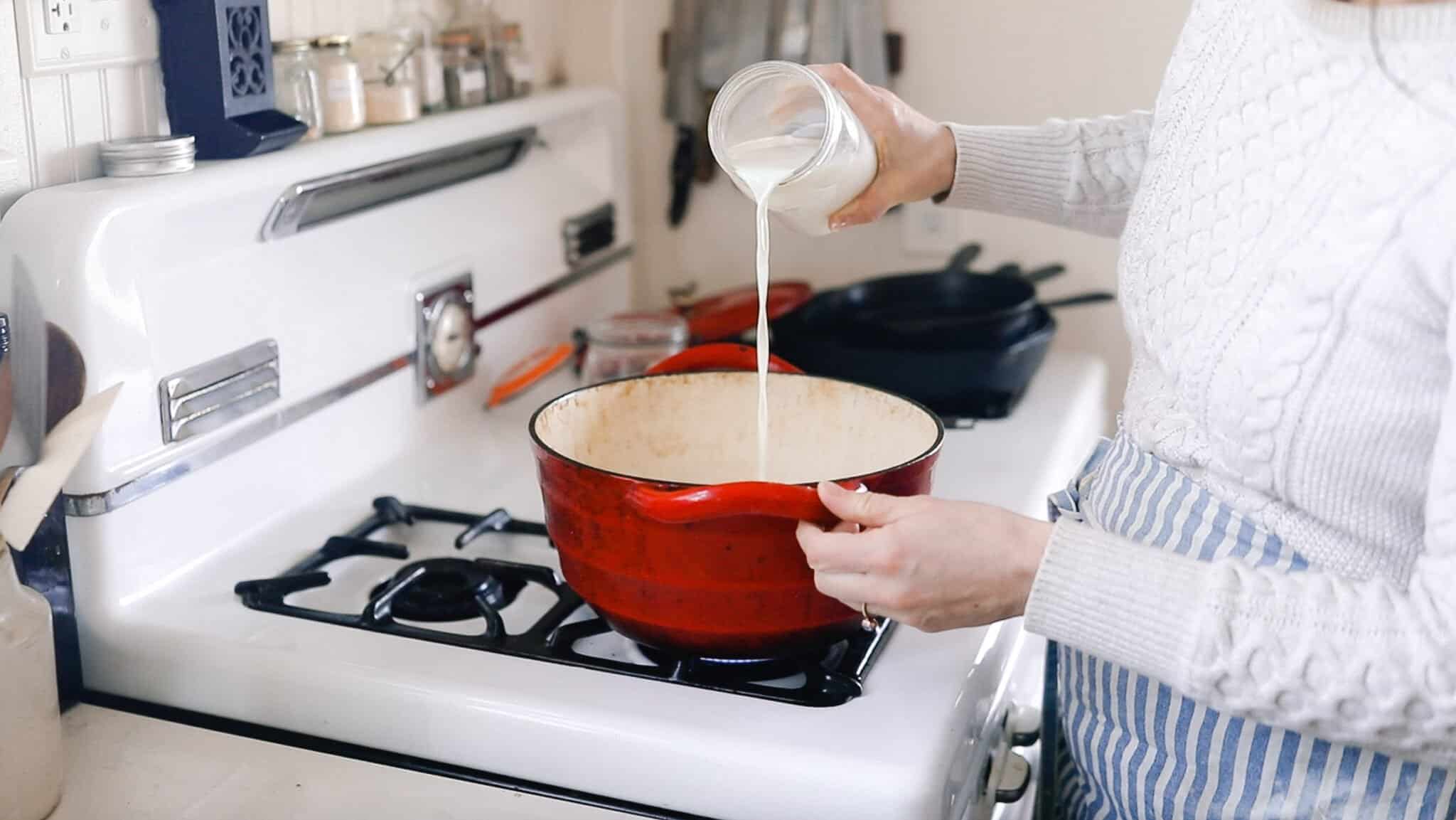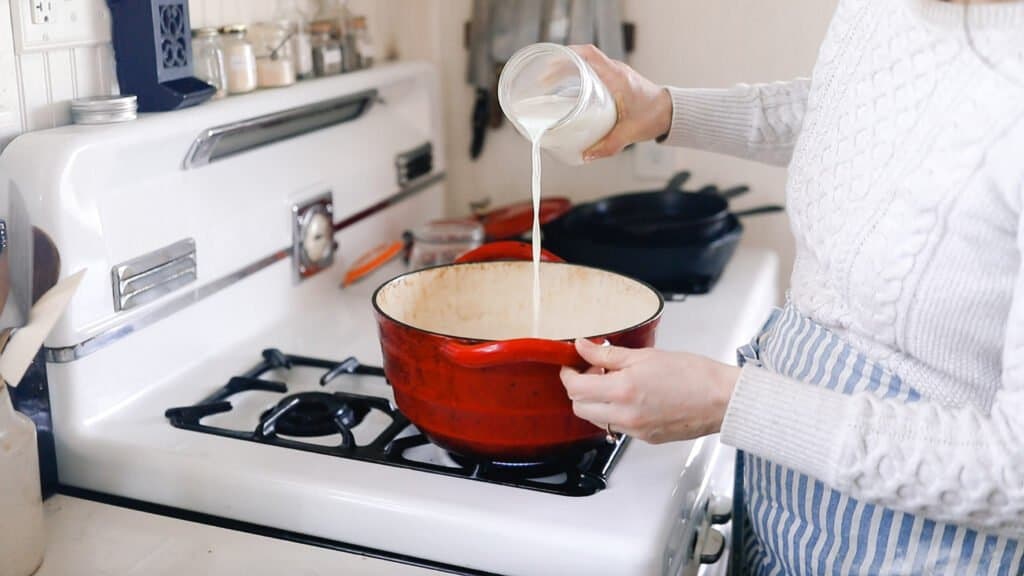 To a pot, add milk of choice or water (I use raw goat milk from our farm) and cream.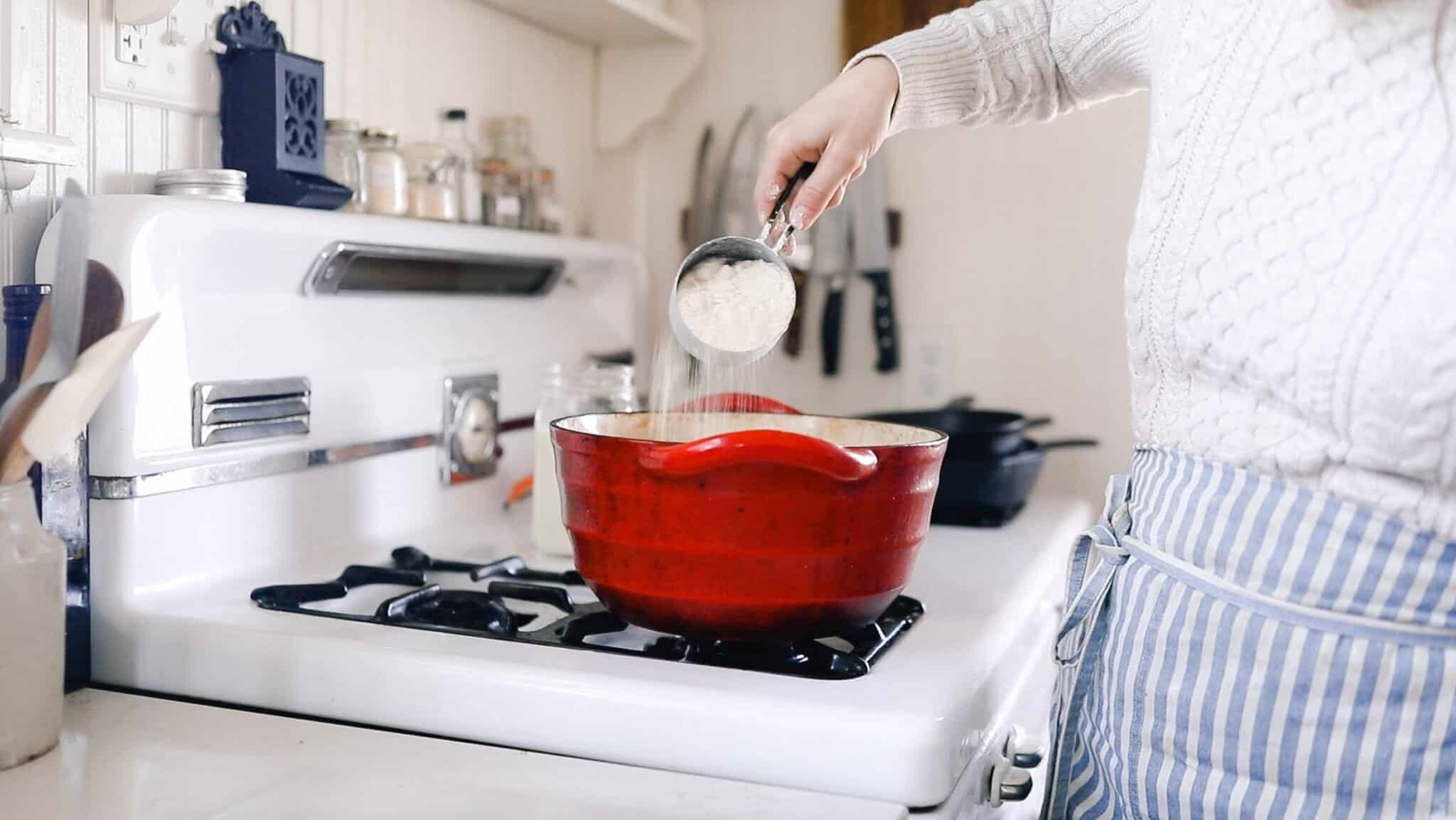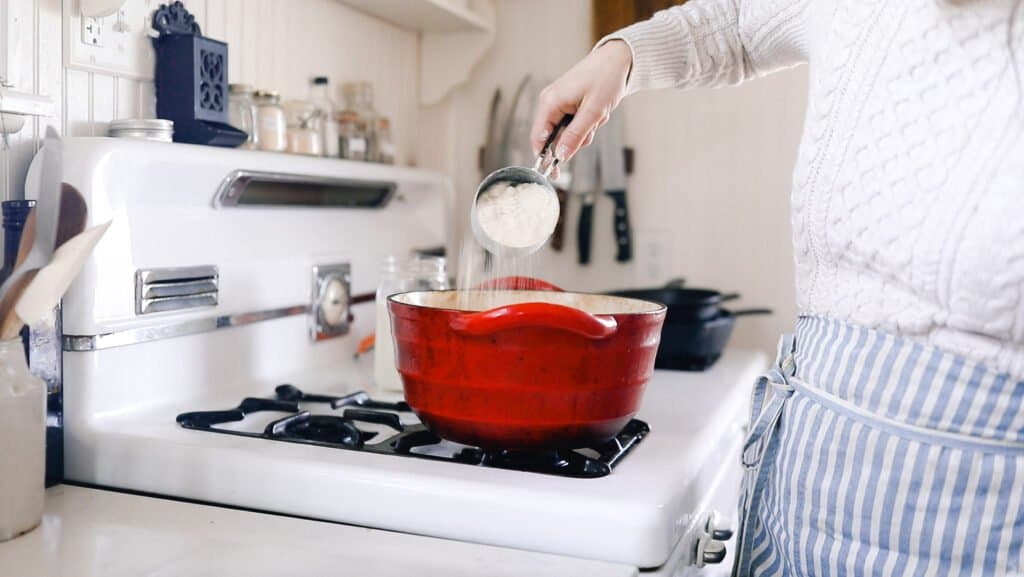 Whisk in coarsely milled einkorn flour.
Place the pot over medium heat and whisk together constantly. This is something that will stick to the pan if you stop stirring.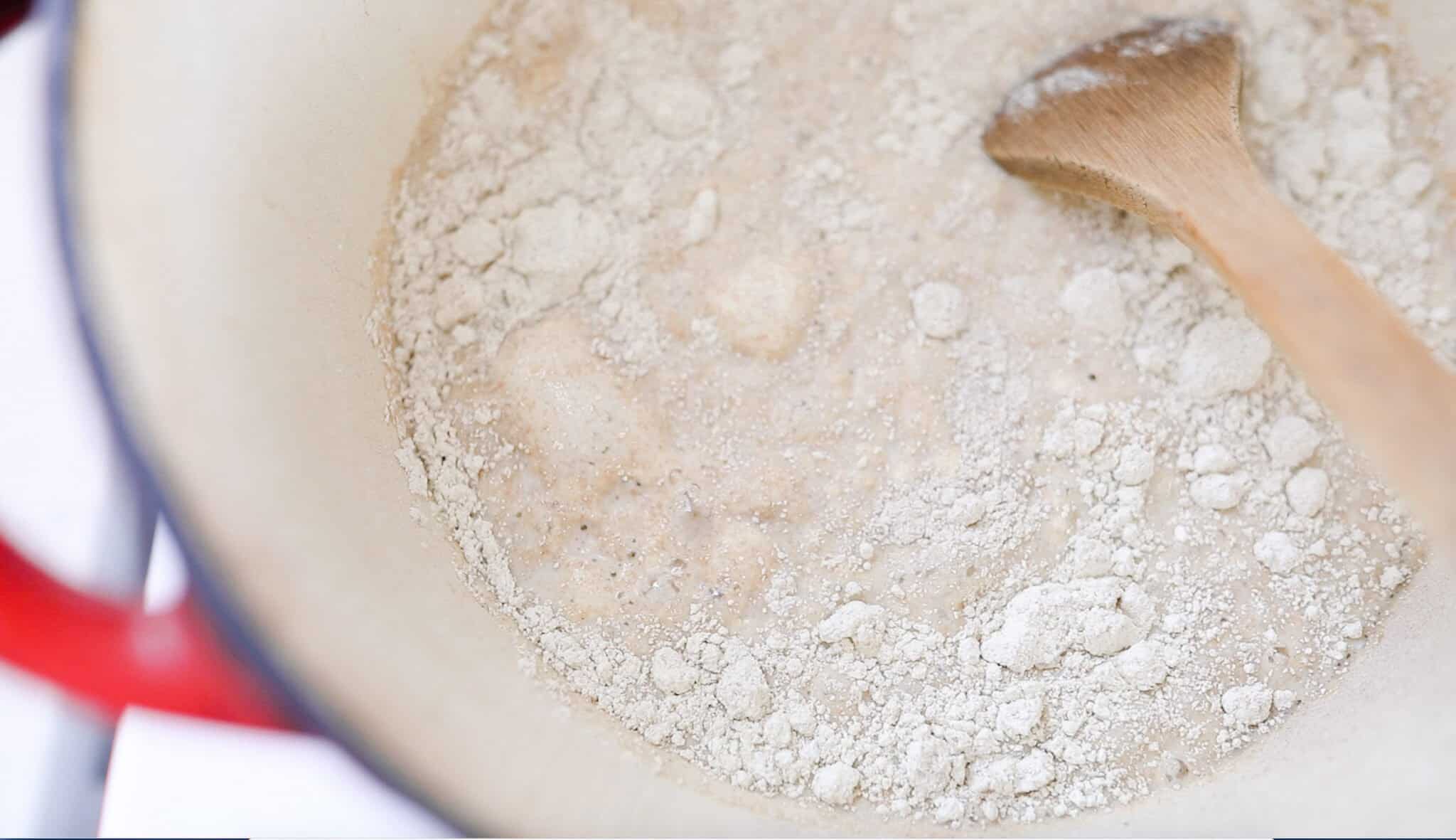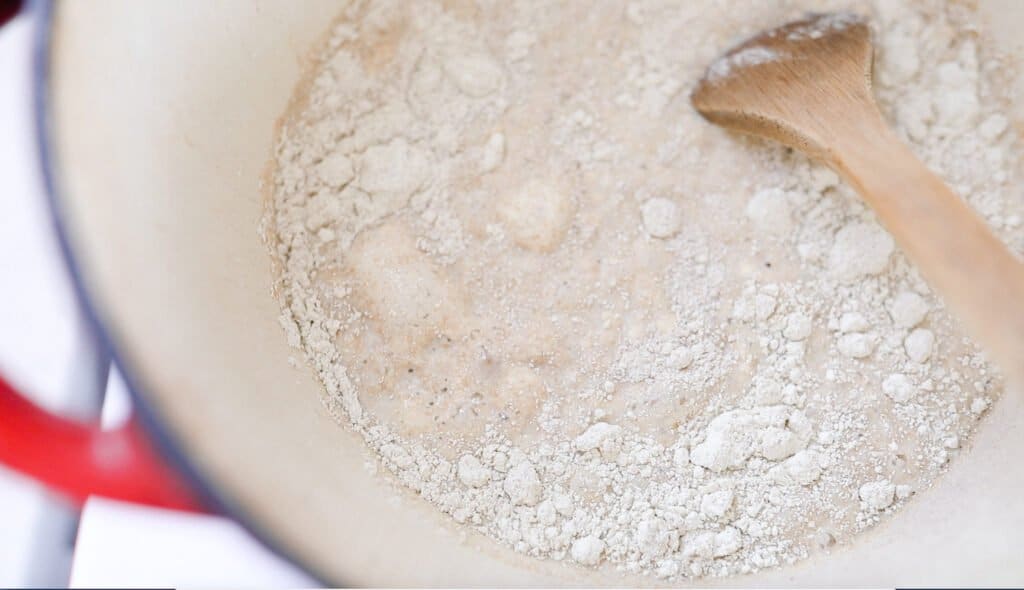 Whisk until it has a nice, thick consistency.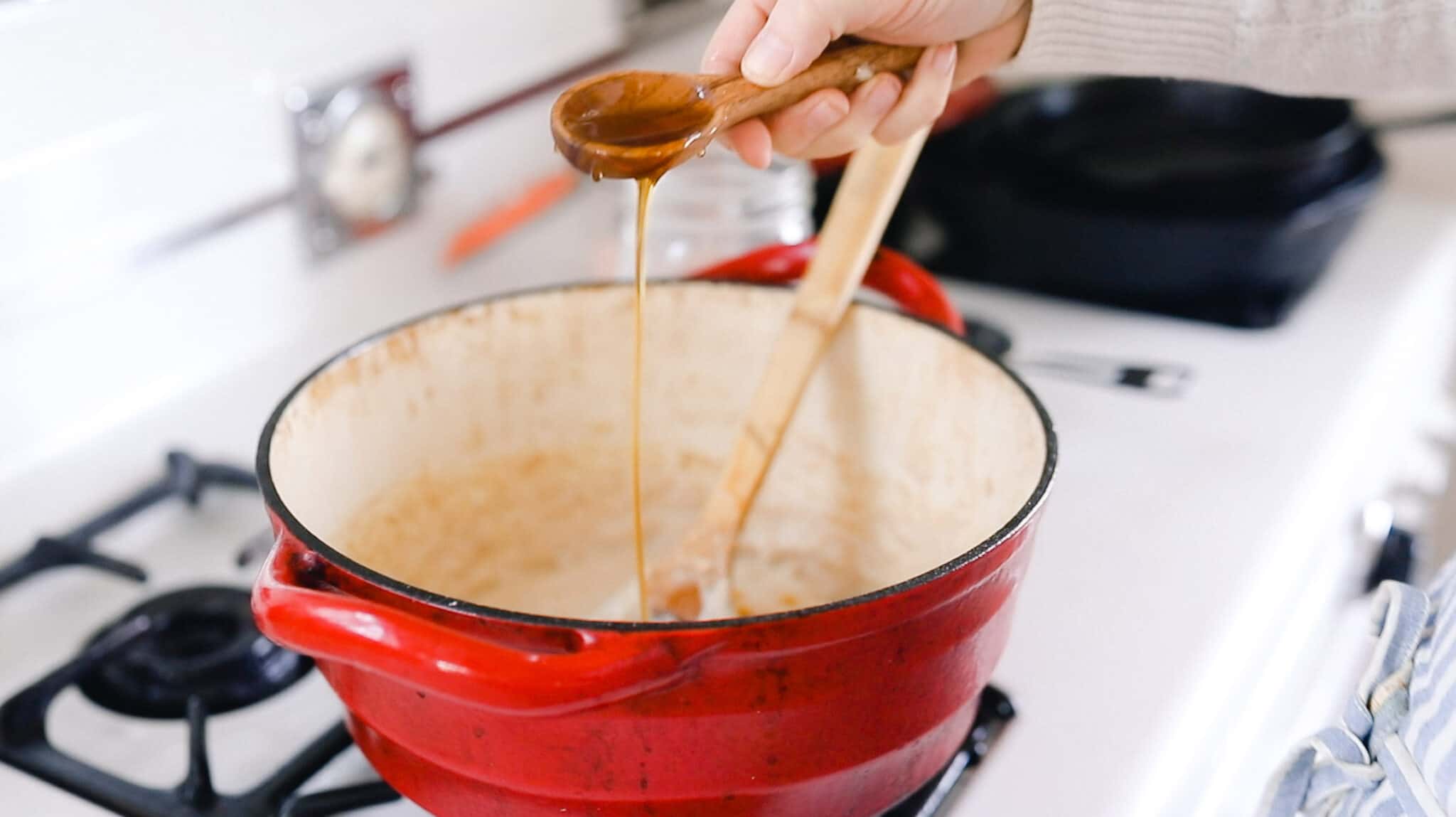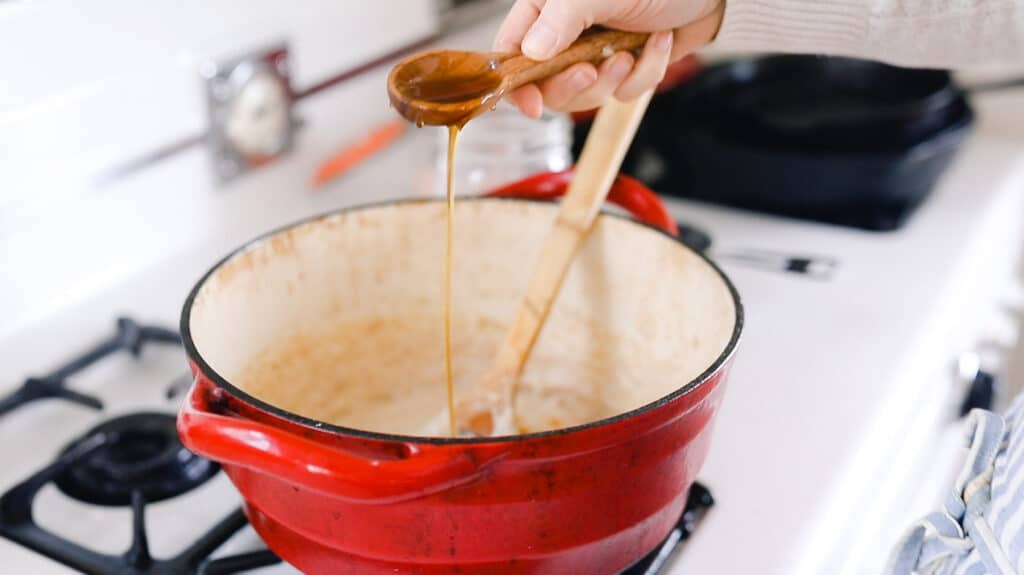 Add a dash of salt and honey to taste. I love to add a berry syrup in place of honey.
Place cream of wheat in a bowl and add your favorite toppings. Personally, I love to serve this with berry syrup and heavy whipping cream.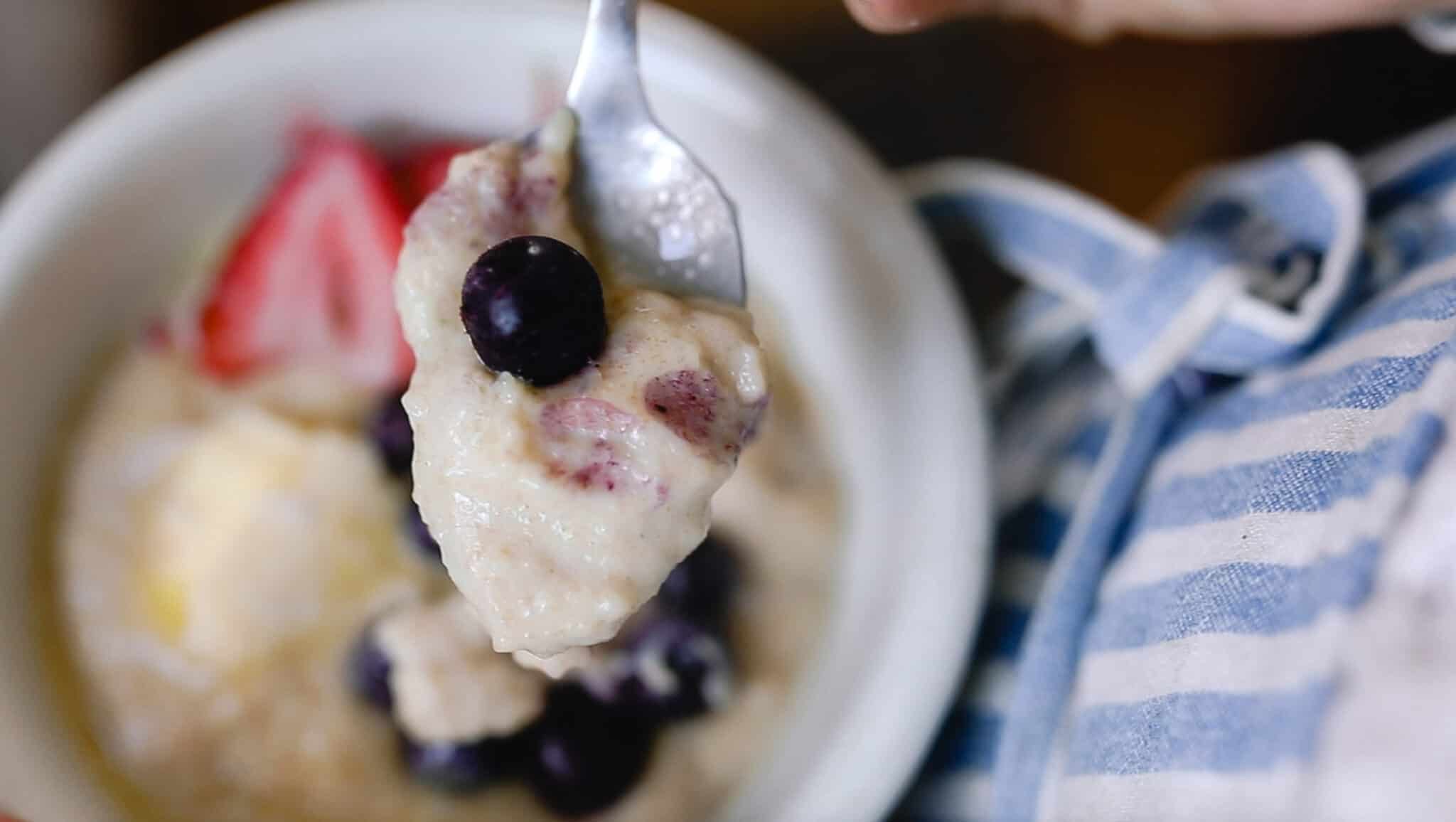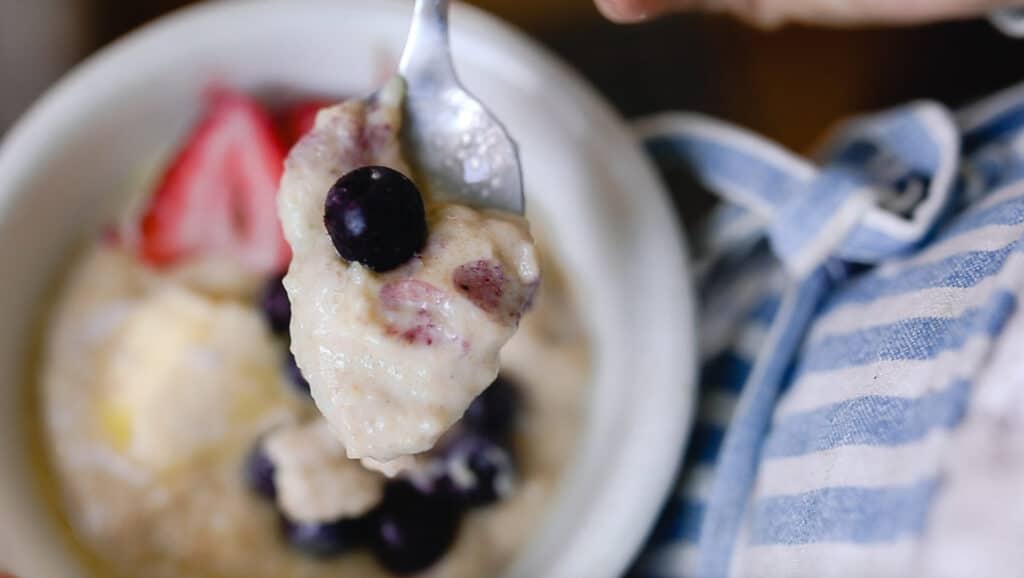 How To Make Berry Syrup
To a stainless saucepan, add frozen mixed berries and a splash of water.
Heat over medium heat with a lid and allow to simmer until the berries are soft.
Once the berries are soft, add honey and allow it to simmer until it thickens.
Blend using an immersion blender.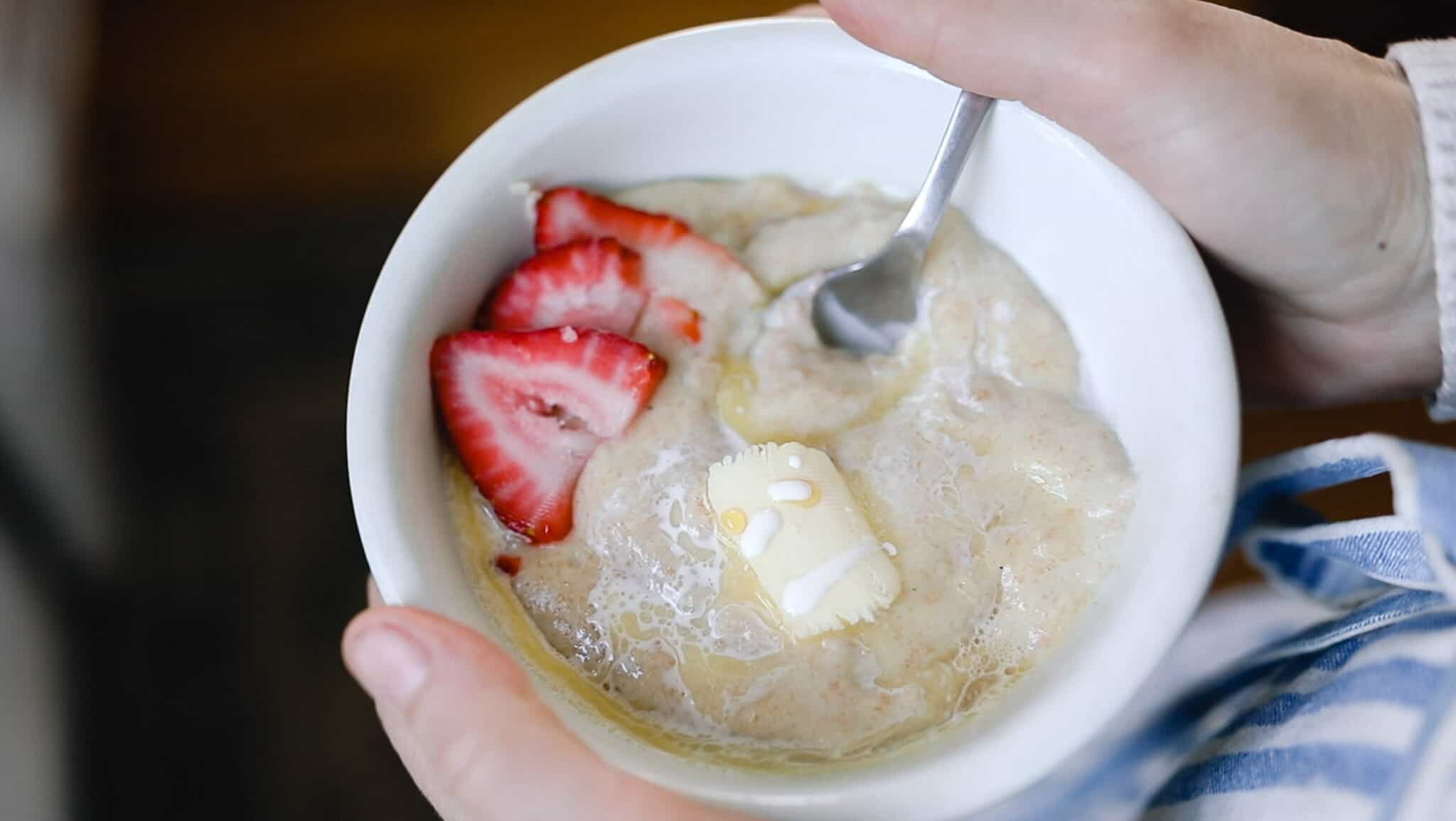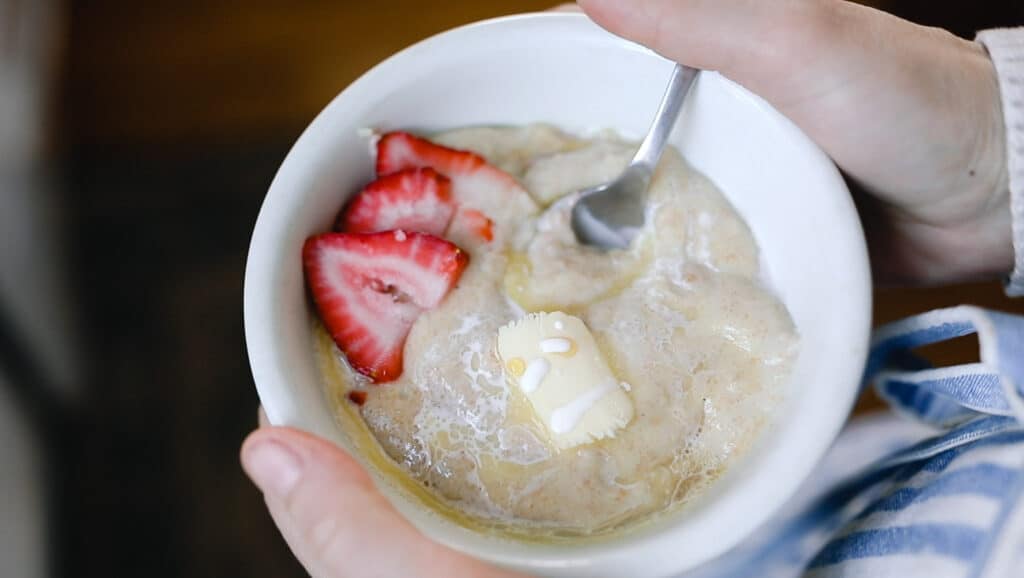 Variations:
This recipe is a great base. Here are a few more ideas to switch things up:
For more protein, crack an egg or two into the porridge while cooking and whisk fervently to prevent the egg from curdling.
Top with nuts, seeds, or coconut.
Add fresh or dried fruit.
You could also make a banana bread version with overripe bananas and cinnamon.
Try a savory porridge with crispy bacon and spinach, topped with a fried egg and sliced avocado.
Find More Delicious Breakfast Ideas:
If you try this recipe and love it, I would love if you could come back and give it 5 stars!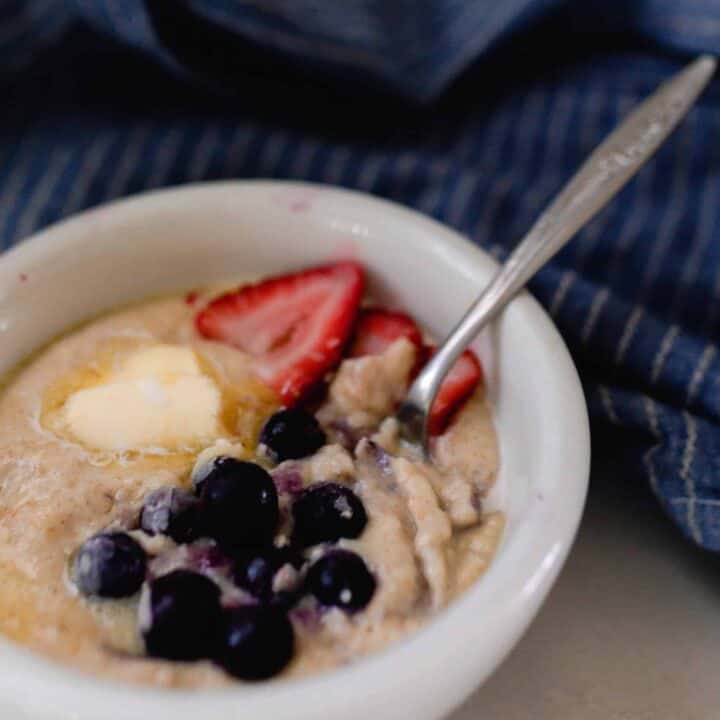 Einkorn Cream of Wheat Breakfast Porridge
Try a bowl of this einkorn cream of wheat for a hearty and filling breakfast porridge. Freshly milled einkorn is simmered with milk and sweetened with a touch of honey. It's yummy and quick to make.
Ingredients
1 cup coarsely ground einkorn flour
3 cups filtered water or milk
1/8 teaspoon salt
3 tablespoons butter
3 tablespoons maple syrup (or honey)
1/2 cup cream
Instructions
Over high heat, bring flour, water, and salt to a boil. Whisk constantly.

Turn down the heat and continue to cook and stir until it thickens.

Add in sweetener, butter, and cream.

Drizzle with berry syrup and cream- optional but delicious!
Notes
You could also just use pre-ground einkorn flour, but if you are milling it yourself, use the coarsest setting.
If you are using conventional wheat, you will need 4 cups of milk or water, rather than 3.
Nutrition Information:
Yield:

4
Serving Size:

1
Amount Per Serving:
Calories:

247
Total Fat:

21g
Saturated Fat:

13g
Trans Fat:

1g
Unsaturated Fat:

6g
Cholesterol:

61mg
Sodium:

181mg
Carbohydrates:

14g
Fiber:

0g
Sugar:

10g
Protein:

3g