See our simple fall farmhouse front porch. I went with natural touches. Pumpkins, mums and a small stack of firewood complete this look.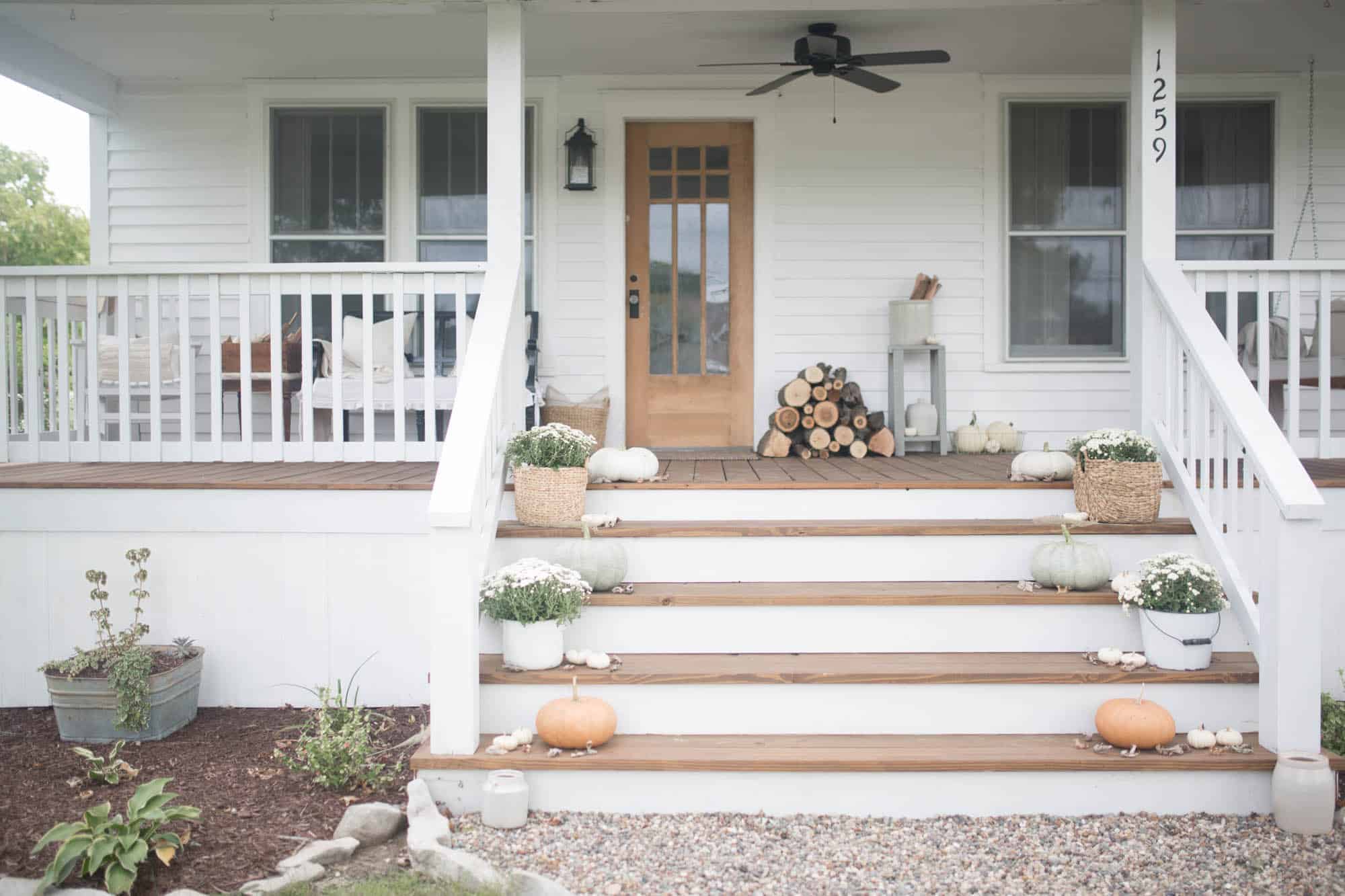 For our fall farmhouse front porch this year, I kept it simple.
I don't like to store a bunch of decor in the basement, so I always reach for natural things. Pumpkins, mums and firewood are my mainstays this year.
I added in cozy fall textures, like wool, jute and wicker.
From the Youtube Channel
Natural Fall Touches
I snagged the jarrahdale pumpkins from a local pumpkin patch. I love them for their flat shape and pretty blue hue. When we were picking them out, I told my husband and kids to pick out the most whimsical ones they could find. 😉
Up until yesterday, it was slim pickins around here for pretty pastel pumpkins. All the stores only had the bright orange kind.
Not that there is anything wrong with those. I have bought and cooked many. But, I wanted the heirloom varieties this year.
Plus, I heard Alton Brown say, in an episode of "Good Eats" that jarrahdales are the tastiest breed of pumpkin on the market. I can't wait to test that out!
I added in a few white mums in enamel pitchers and wicker baskets.
My daughter sprinkled the porch with dried leaves from the yard. I thought it was cute. So, I let them stay. 😉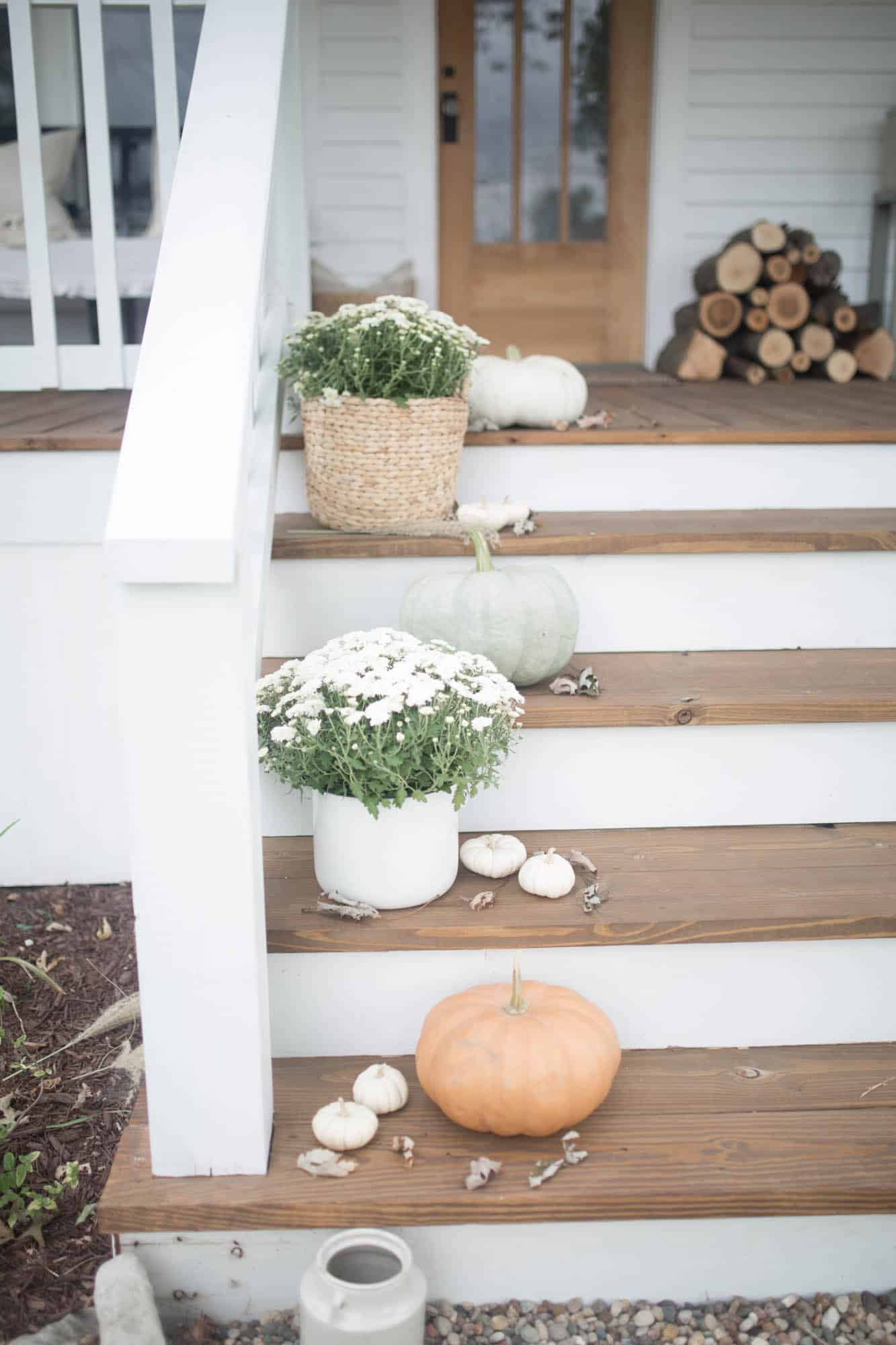 Bring on the cozy
I struggled to pull out the prettiest pieces of wood from the wood pile.
What says cozy like a stack of firewood?
To bring in a little more natural texture, I brought out this jute and chenille rug from Finishing Touches Home.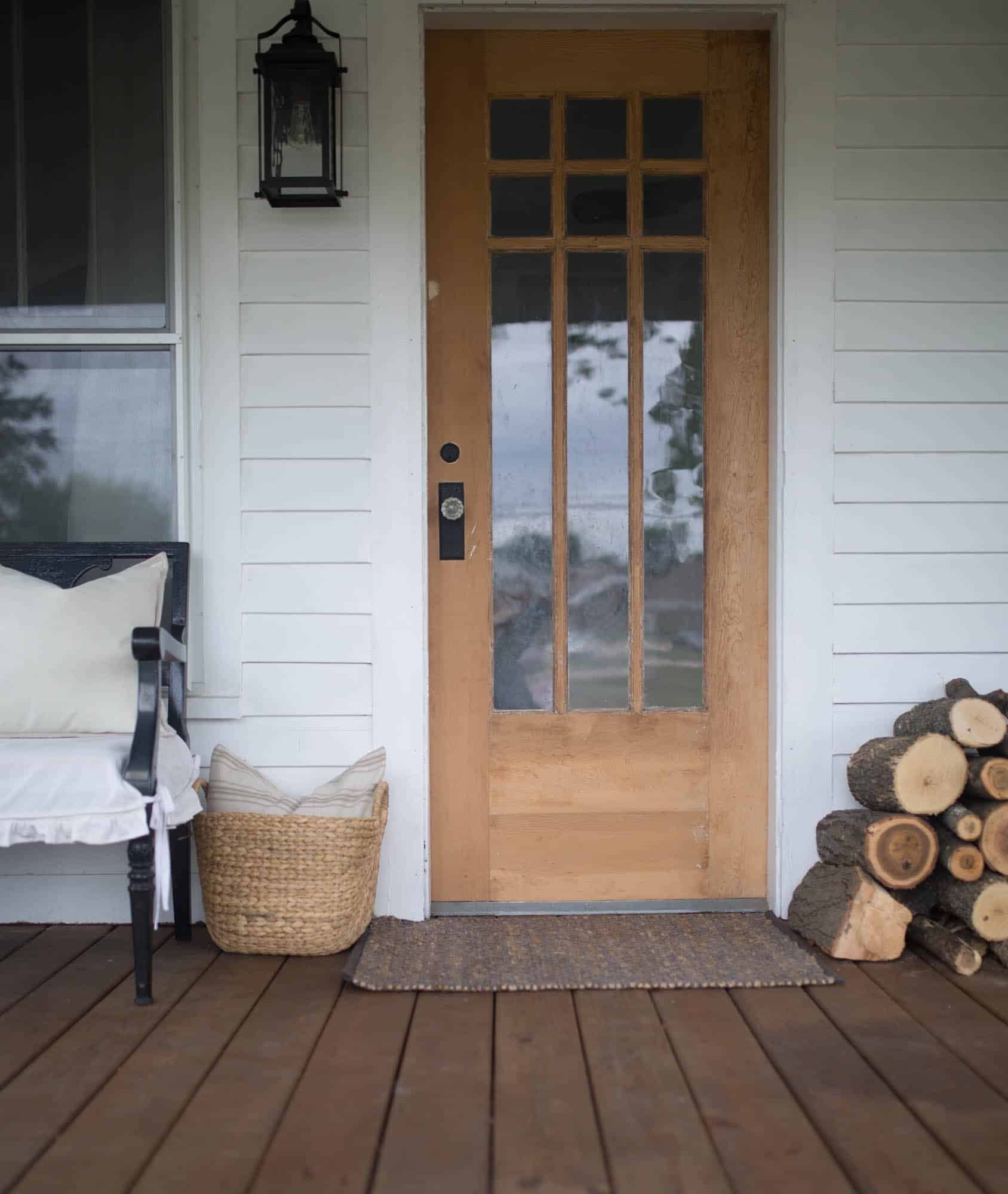 A crock full of kindling adds to the coziness of the firewood pile.
We restored our front door to its original wood a few months ago. I think the color fits in perfectly with the simple fall decor.
A ticking stripe pillow, and a wicker basket, soften this front door area up a bit.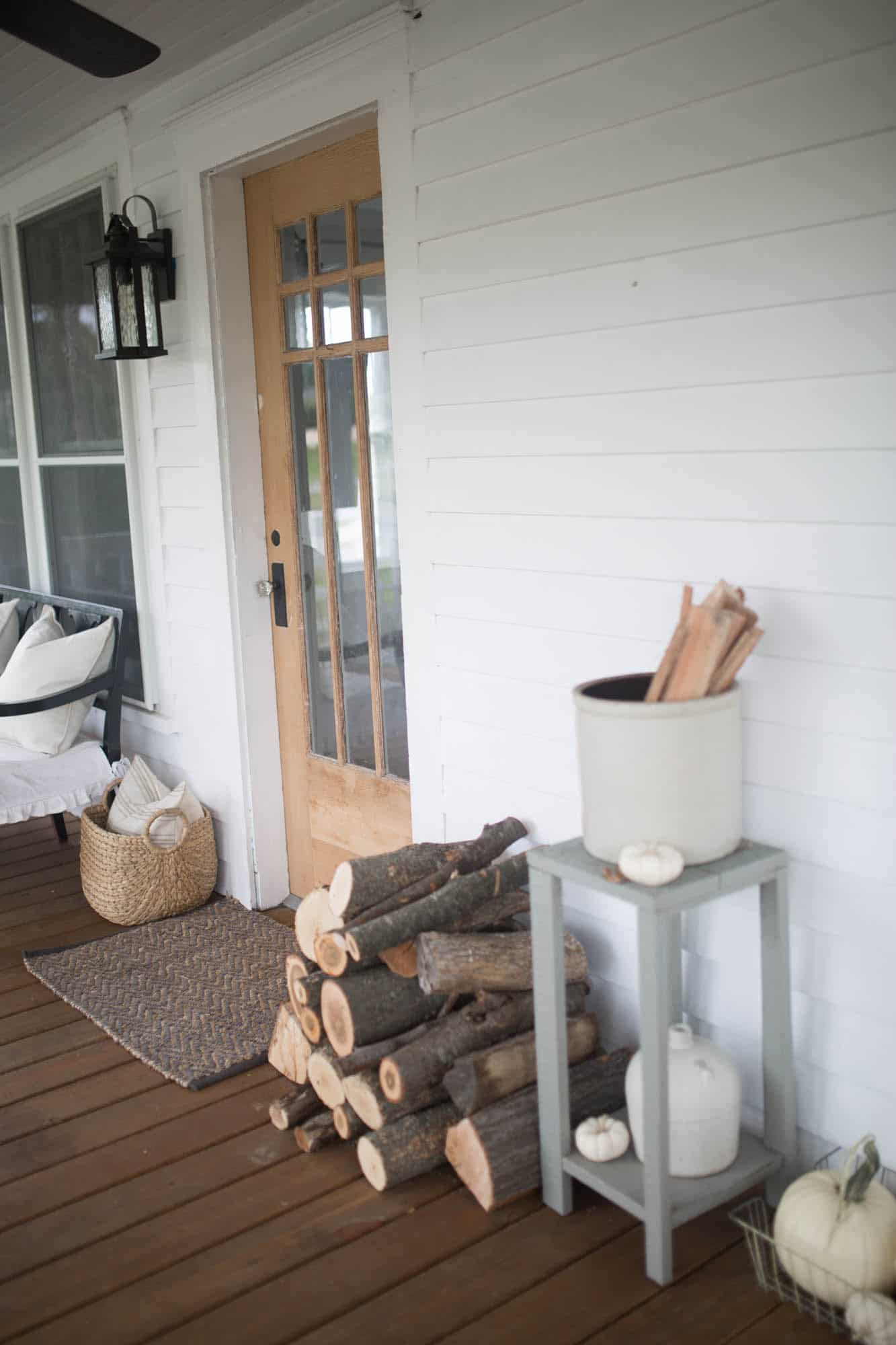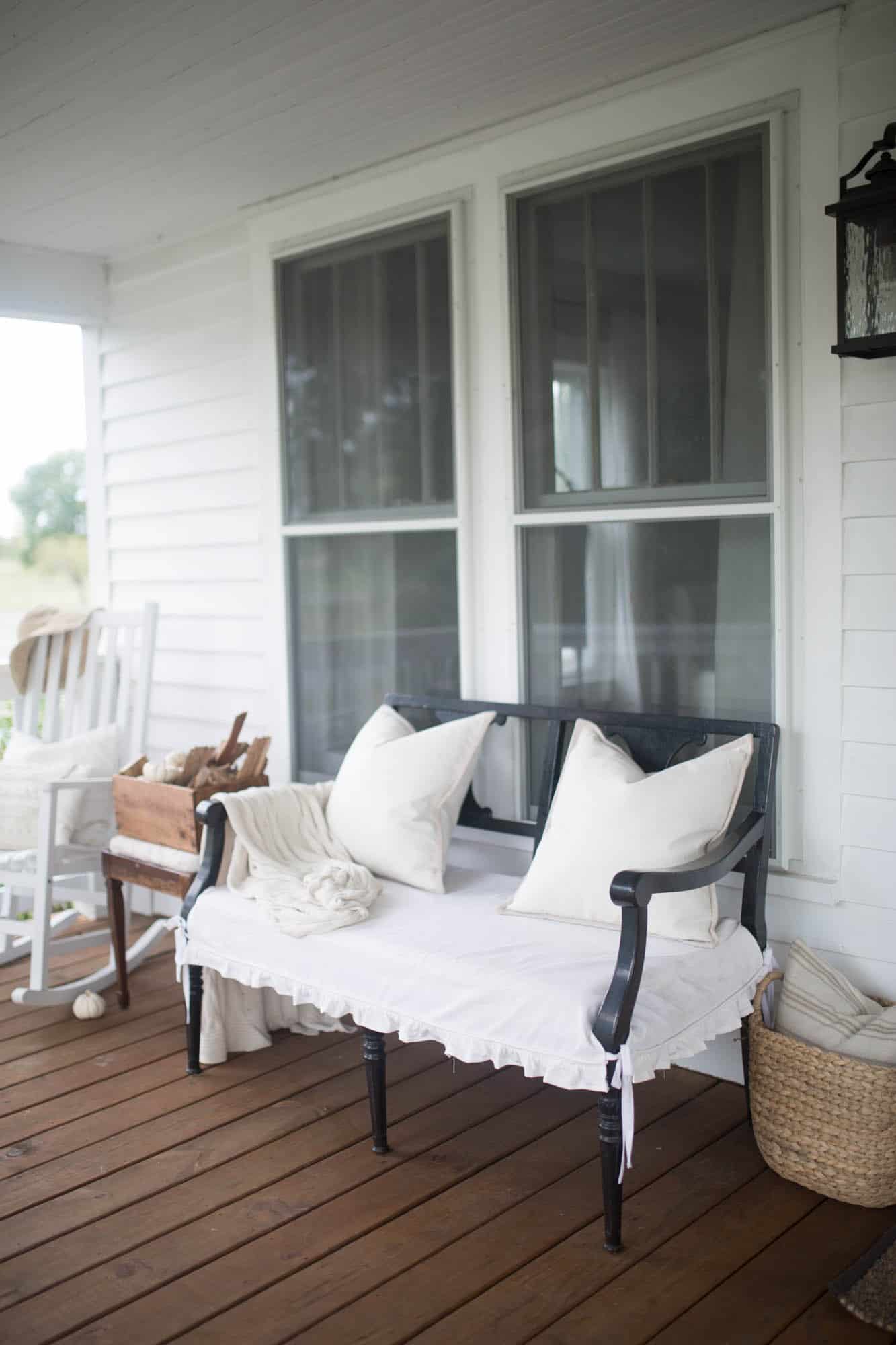 I left the handmade white ruffle slipcover on the bench. A few neutral pillows, and a cozy blanket, bring in warm textures.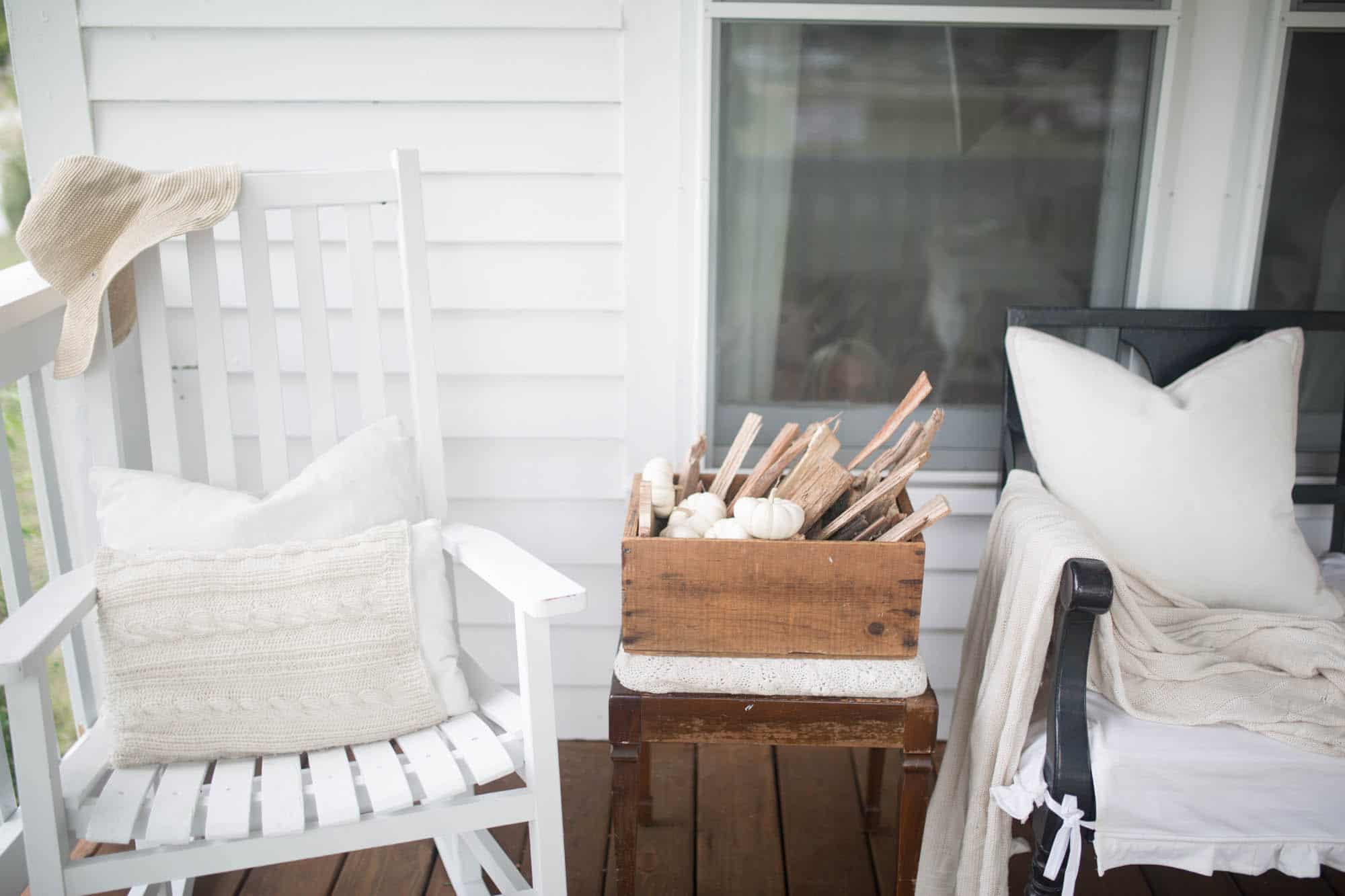 An antique box full of kindling adds a little warmth to this side of the porch.
Cable knit pillows and throw blankets are my favorite way to add coziness in the cooler months.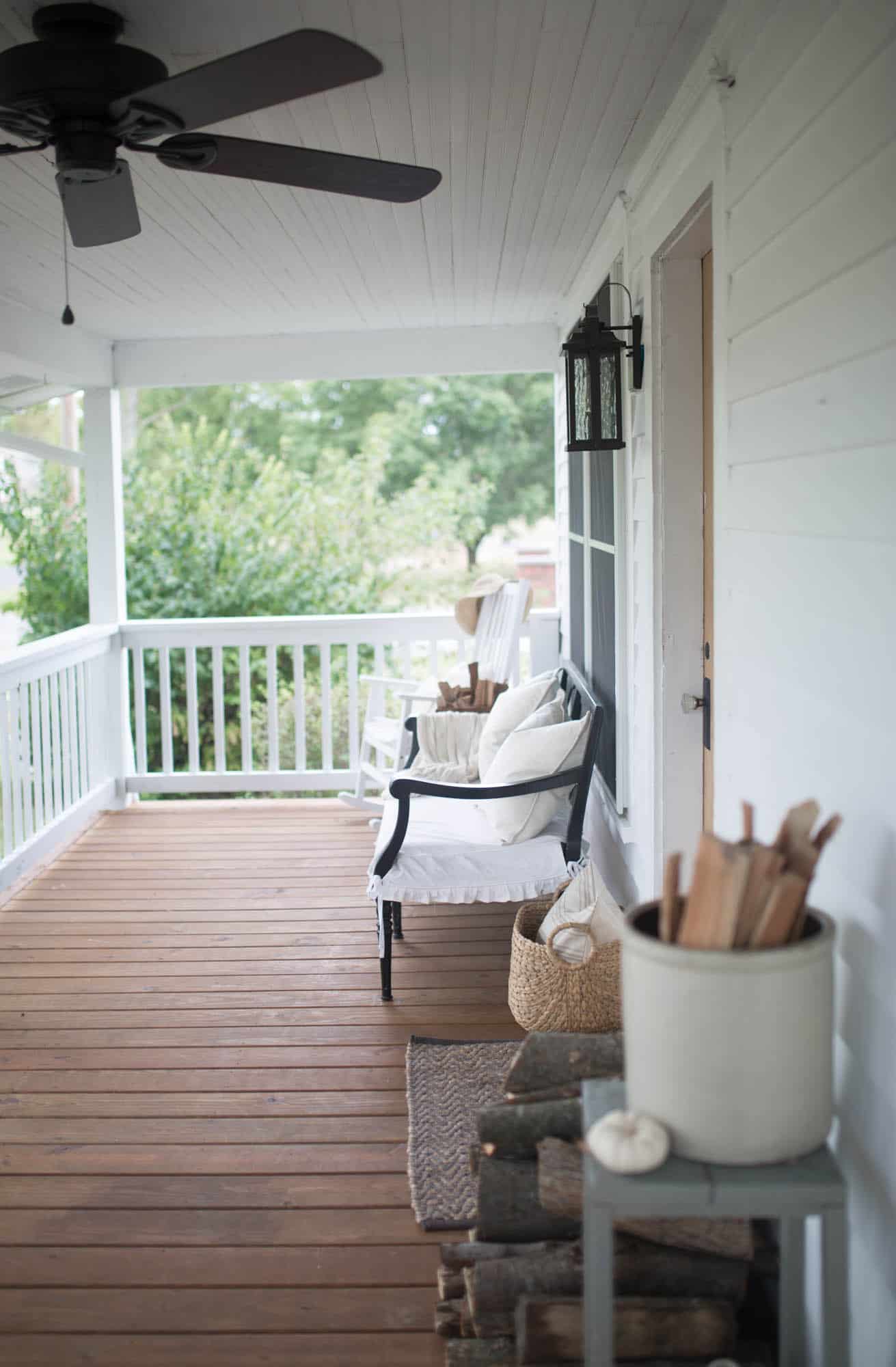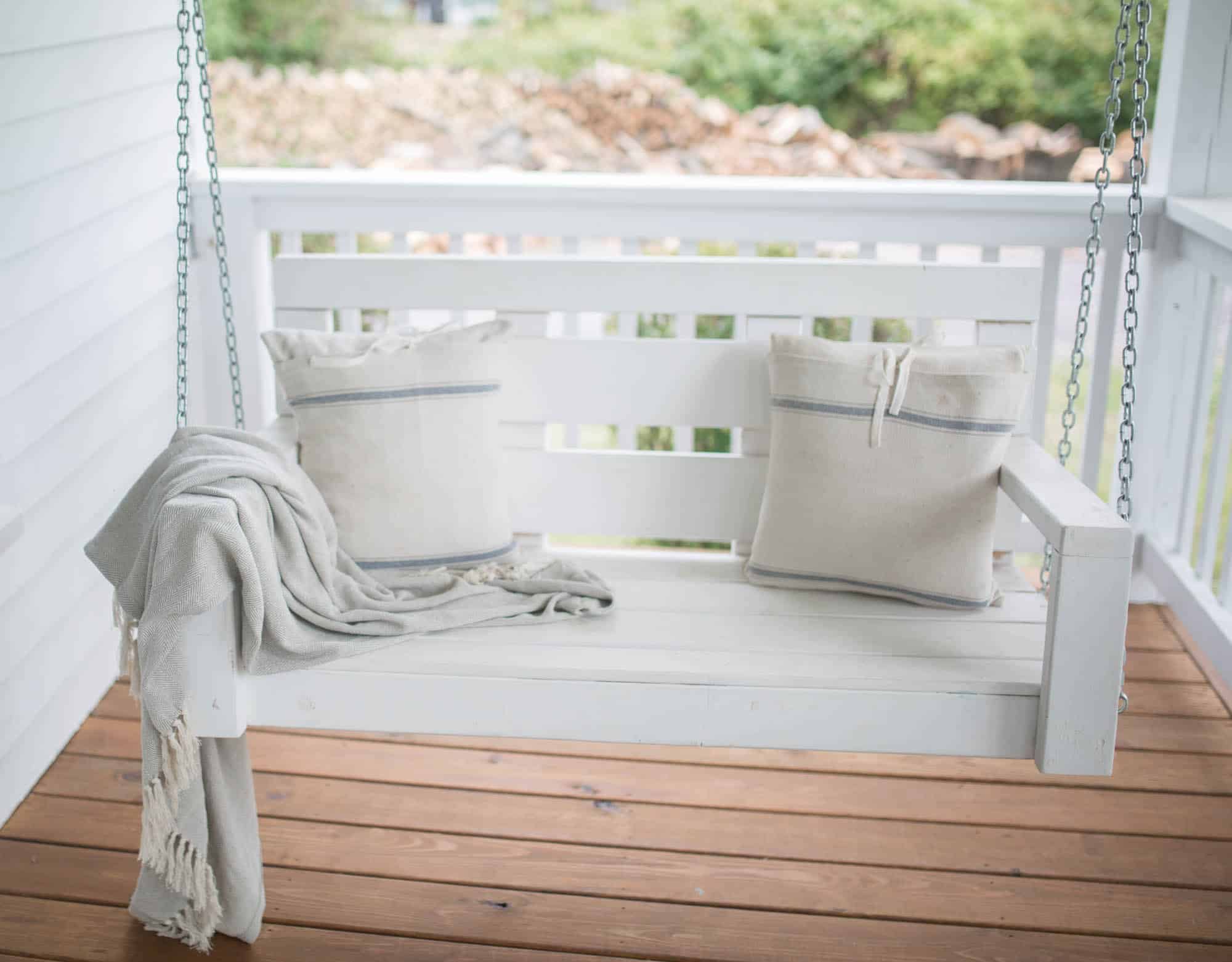 I put grain sack pillows on the porch swing. This cotton blanket with tassels has the perfect soft shade of gray.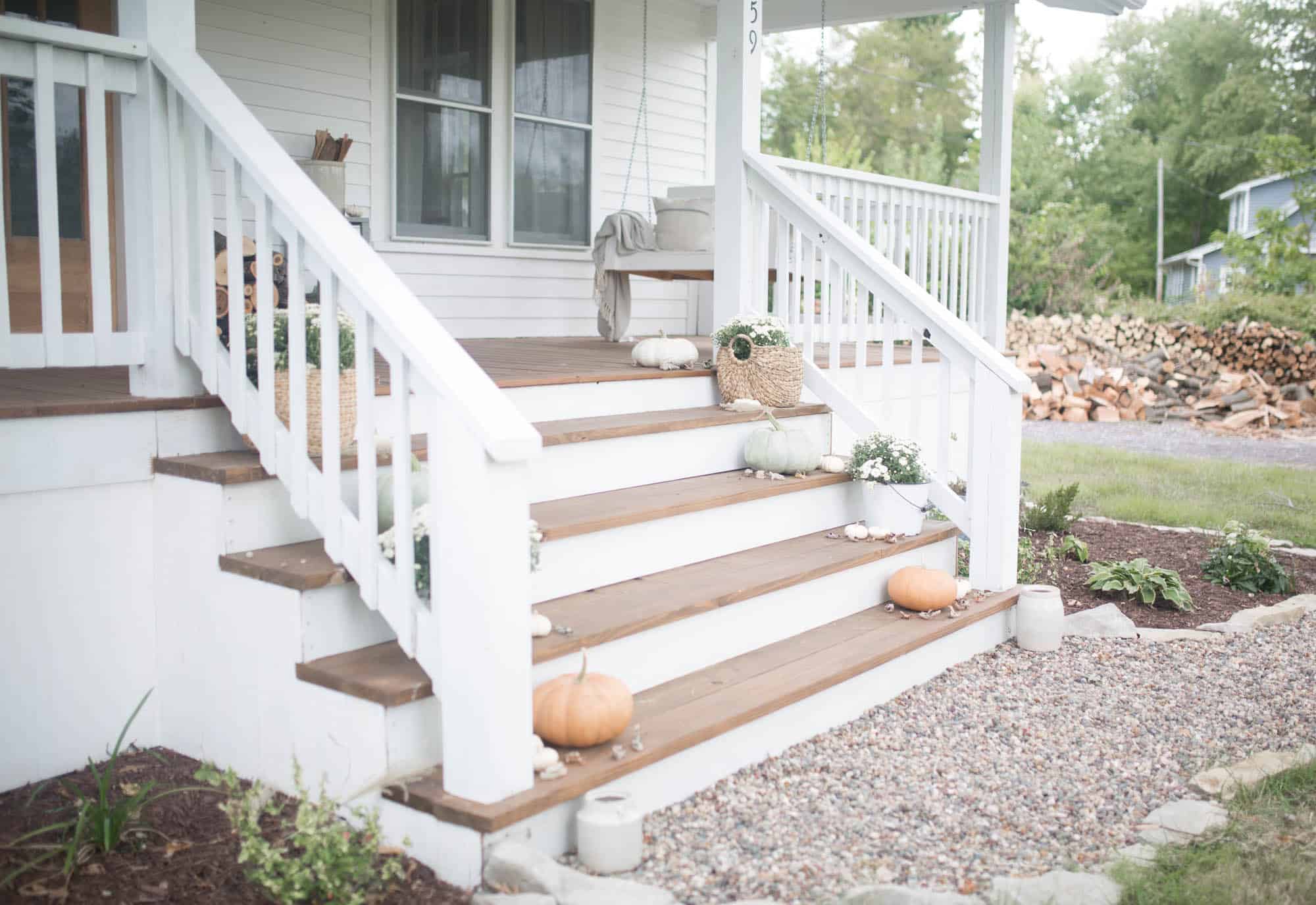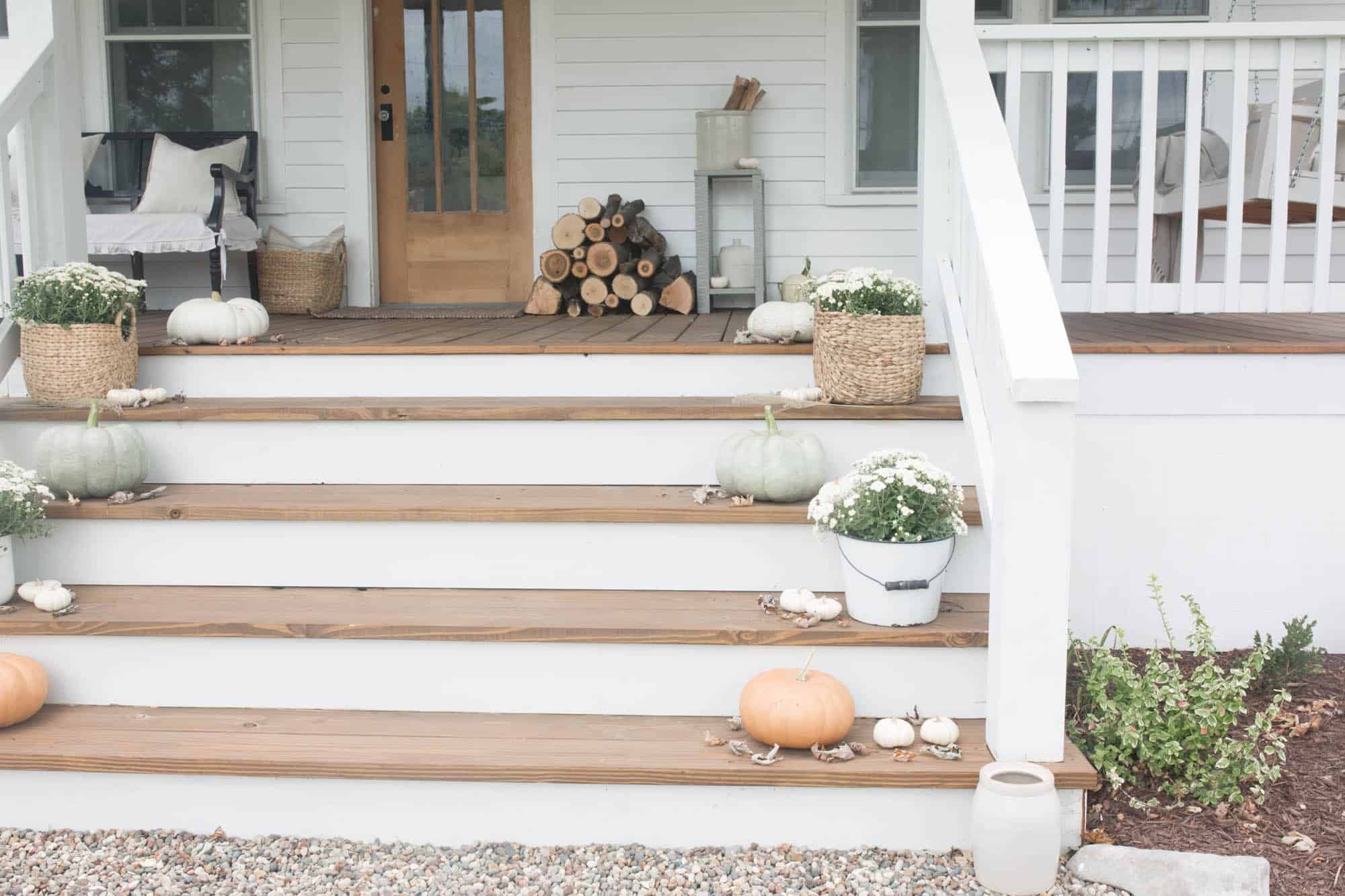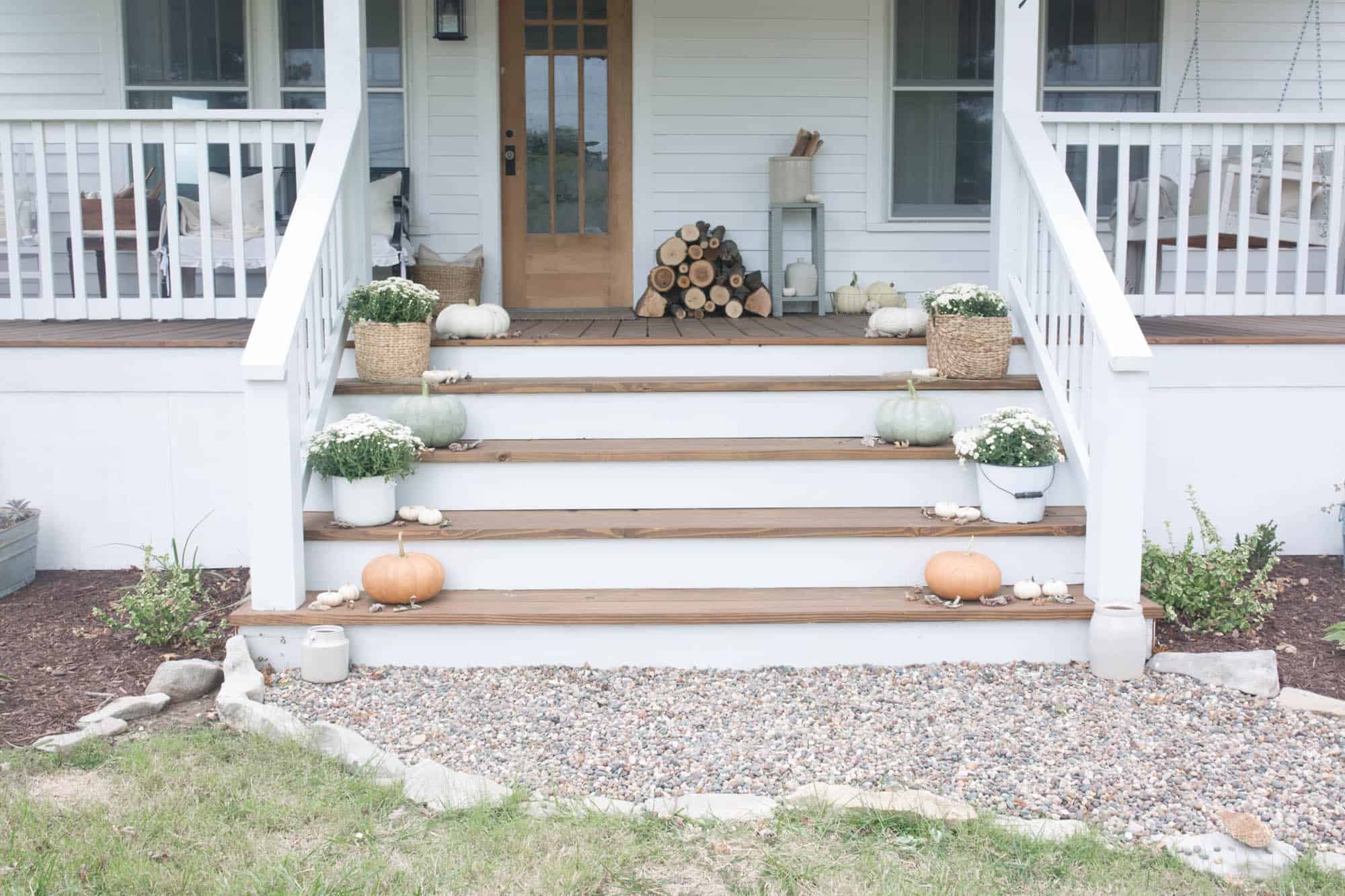 Our whole front porch is newly renovated. You can read all about the transformation HERE.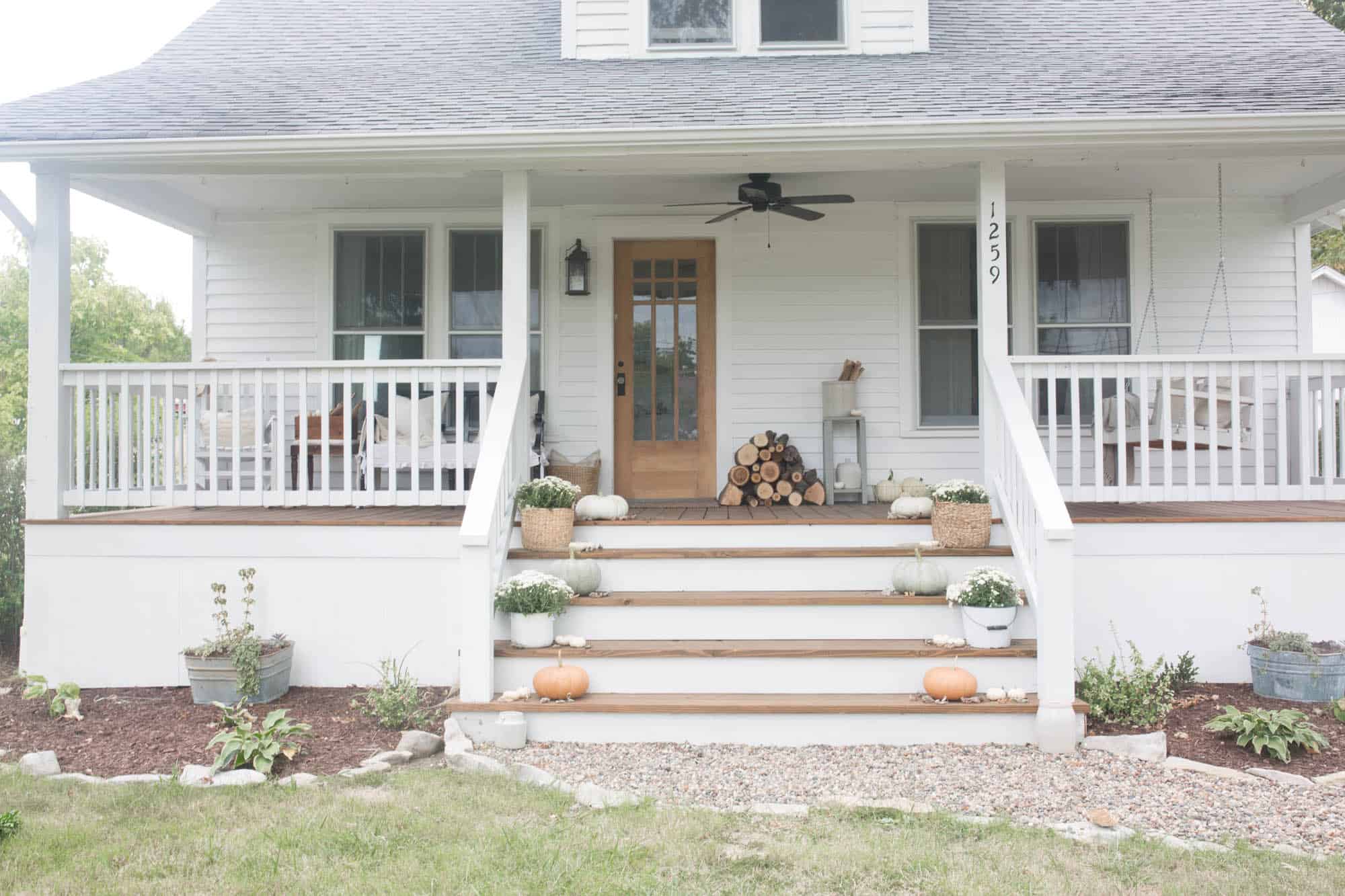 I hope you enjoyed this little tour of our farmhouse front porch in the fall.
This post contains affiliate links for your shopping convenience. See my full disclosure HERE.
Shop this post:

Be sure to check out the lovely homes below to see their porches all spruced up for autumn!
1915 House | Little by Little Farmhouse | Farmhouse Made
The Purple Hydrangea | Flat Creek Farmhouse | Farmhouse on Boone