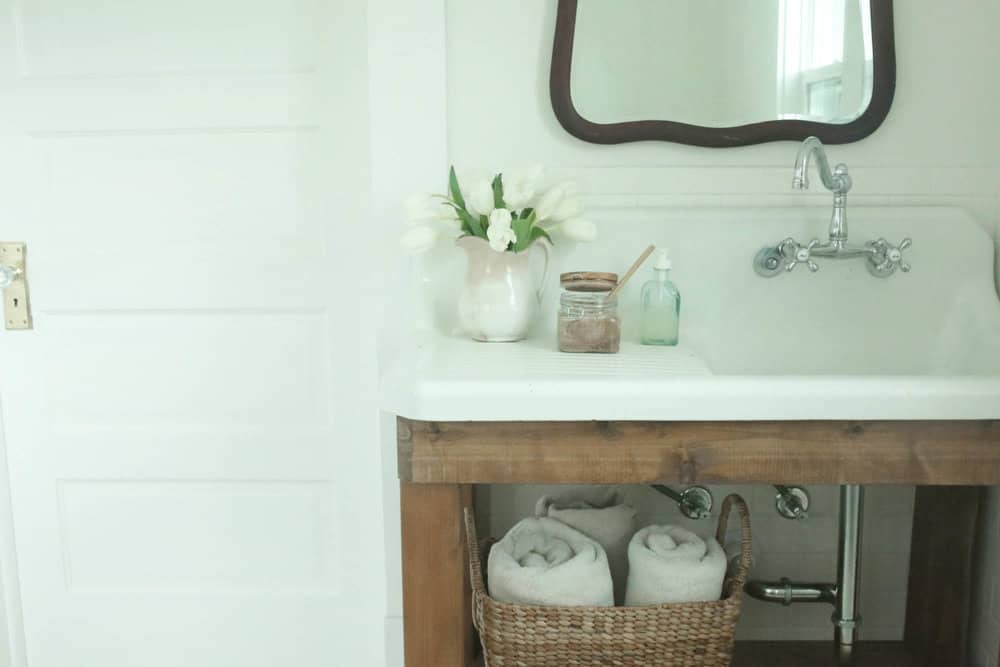 Some links in this post are affiliate links, which means I make a small commission at no cost to you. See my full disclosure here. 
Our Master Bathroom Before
I am so excited to finally be sharing pictures from our full bathroom remodel.
We started working on this back in January, when we literally ripped everything out down to the studs.
We had to rework the plumbing to allow for a better layout.
Just a little recap of the bathroom before.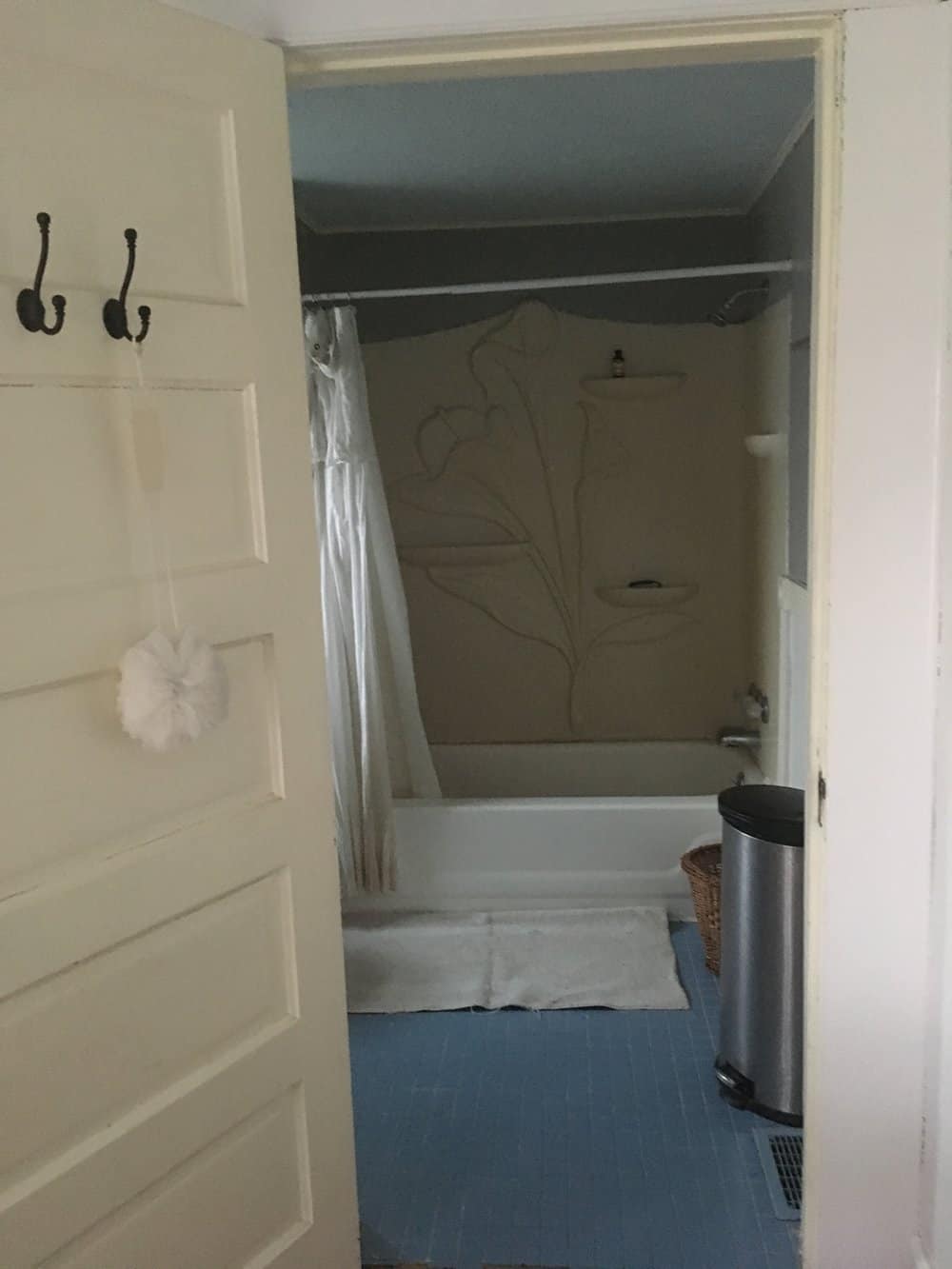 Let me tell you, from my experience over the last eight years, it's pretty impossible to decorate around bright blue tile.
The awkward closet in the corner wasted a ton of space, so it had to go.
And, sorry to the lady who lived here before us, we had to remove the lovely smudged up fake stained glass window.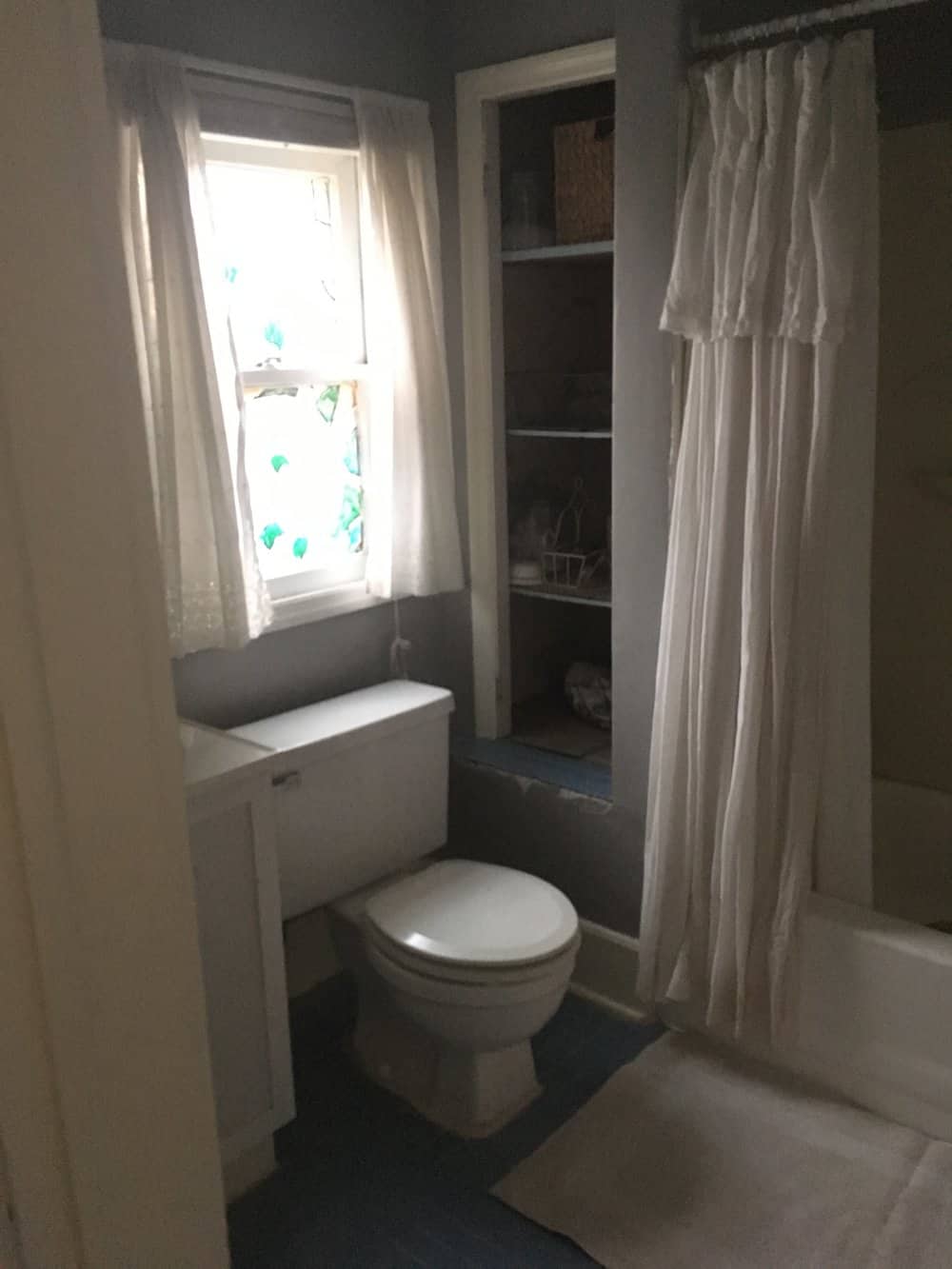 Our Master Bathroom Makeover
And now for a few images of our fresh new space!
I promise that this really is the same room!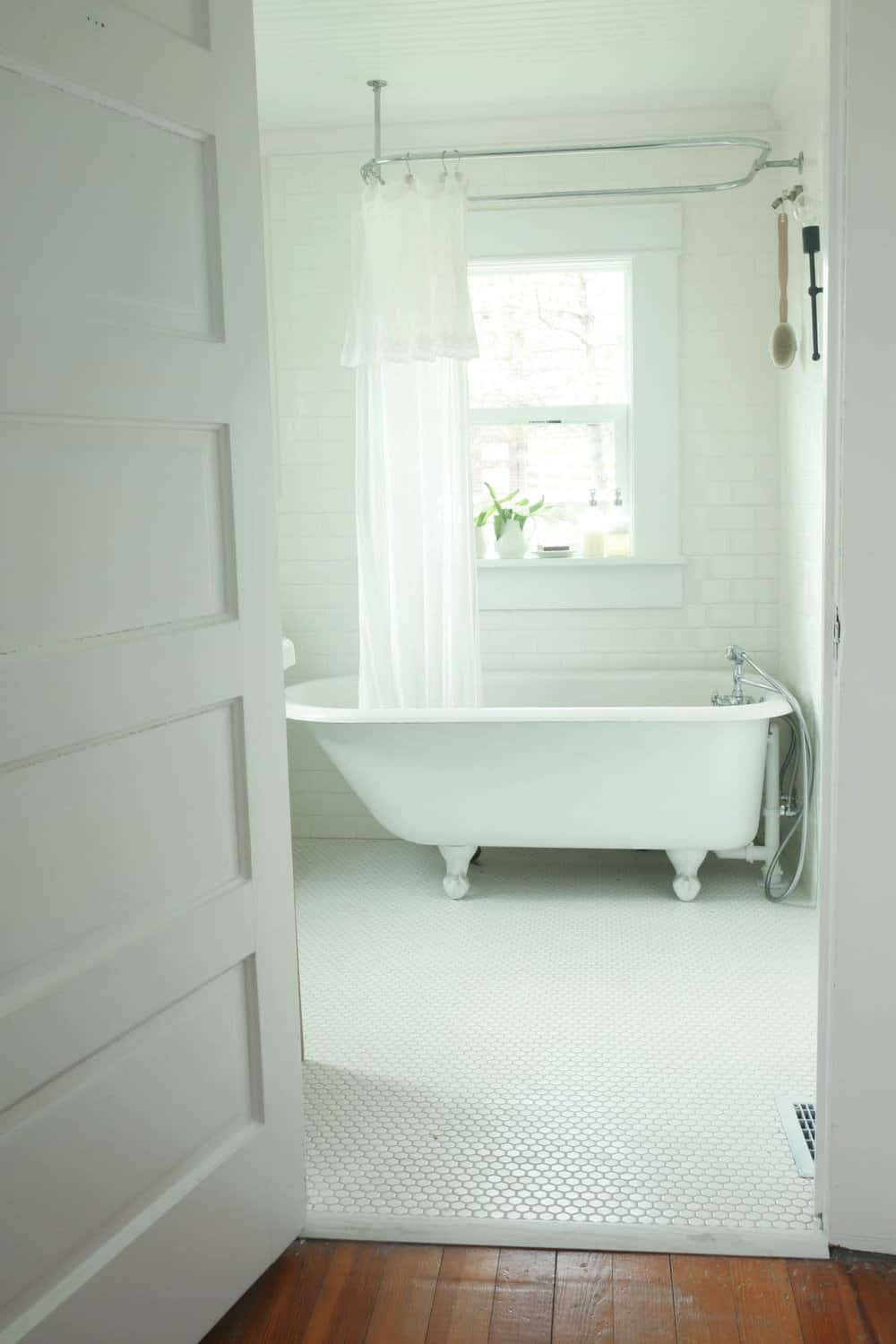 I just want to say Ahhhh every time I walk into this space.
It is so fresh and full of light.
We went with this White One Inch Hexagon Mosaic Tile, and gray grout, for the floors.
I partnered with Joss and Main for some the accessories for this bathroom remodel.
The black lights on the wall to the right are the Mariah Sconces.
Now, I planned to have some kind of shelf, or storage piece, before doing this reveal. But, that will have to be just be a later update, since I still can't totally decide what I want.
I don't like to rush things like this. Plus, I am loving the bathroom right now just as it is!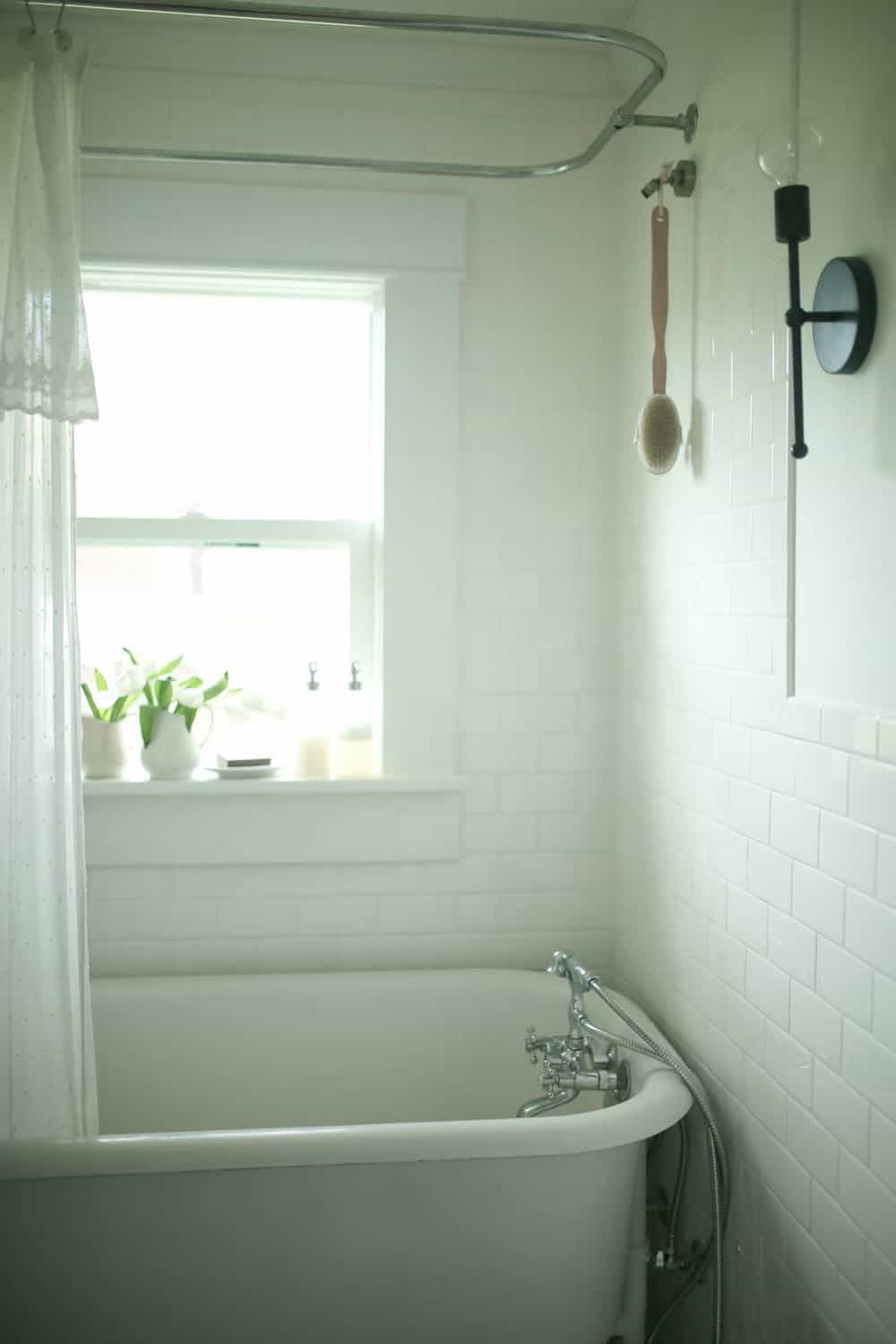 Clawfoot Tub
We found the antique tub on Craigslist, and refinished it. It also came with the shower curtain ring.
We decided to go with plain white subway tile, with white grout, all the way around the bathroom, halfway up.
Around the claw foot tub, we carried the tile all the way to the ceiling.
We covered the old popcorn ceilings with bead board and added crown molding.
We added thick farmhouse trim around the new window, to match all the other windows in our 1922 Craftsmen.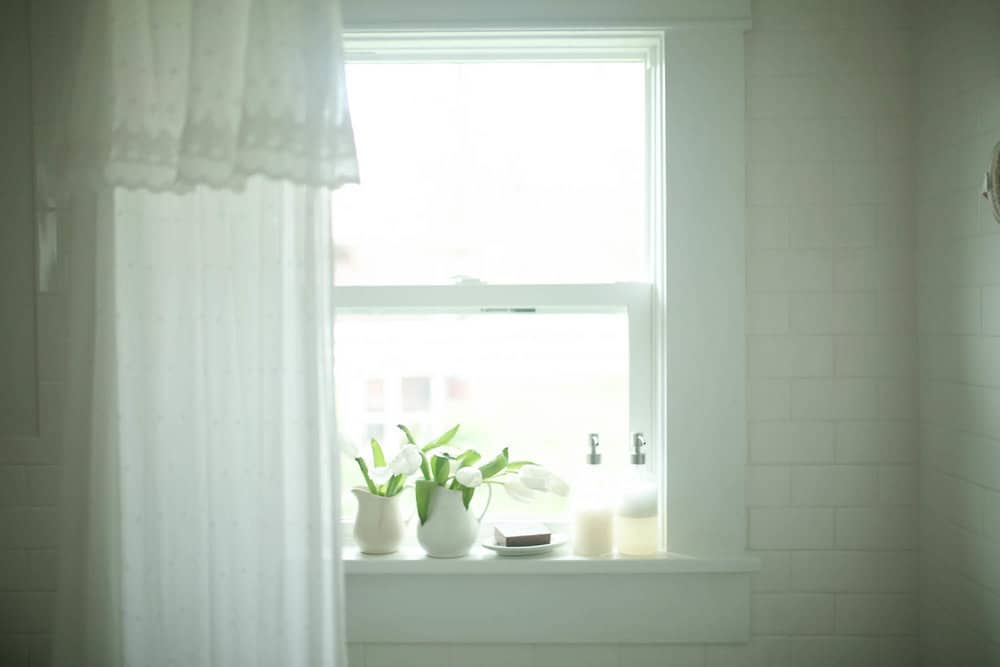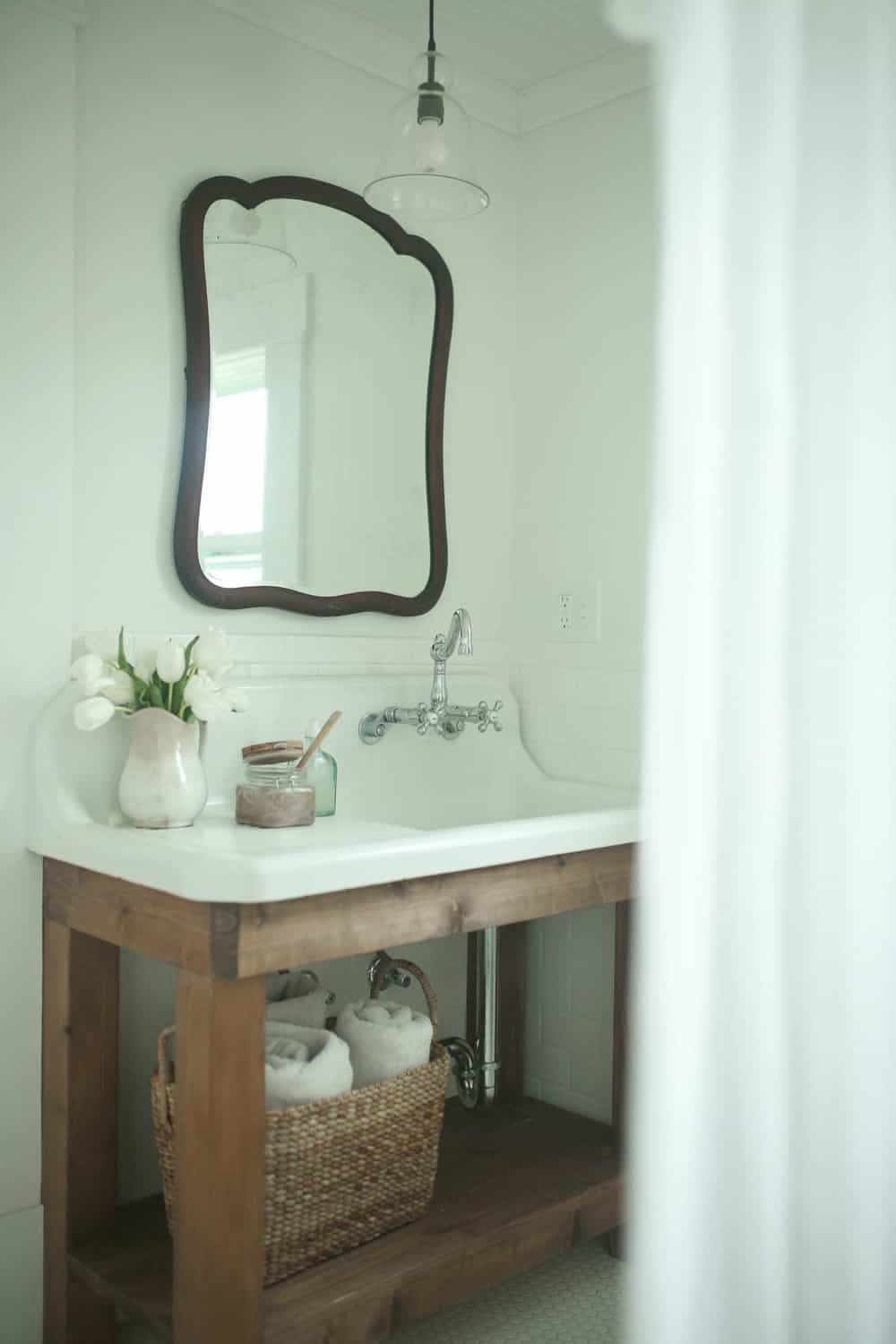 New Sink and Vanity
My favorite part of this whole remodel has to be the new sink and vanity!
About a year ago, i found this old sink at a garage sale for $35. I totally couldn't believe my eyes when I saw it!
My cousin built a custom vanity for it, out of cedar. We stained it with Minwax Early American.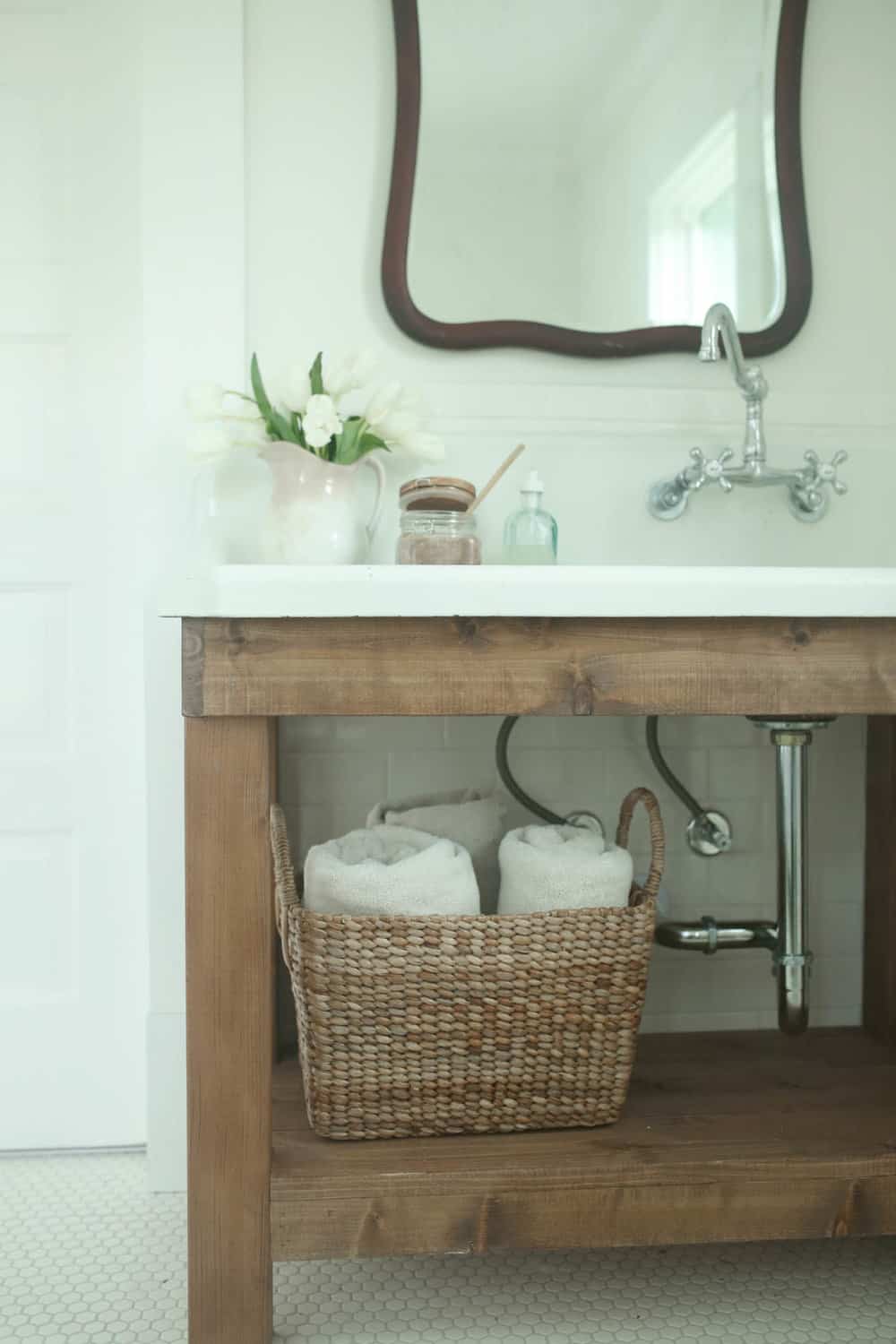 I loved the idea of having the exposed chrome plumbing underneath, so that's why we left it open.
Decor
I added the Yuma Wicker Basket, from Joss and Main, under the sink, to hold towels.
The antique mirror over the sink was a Craigslist score.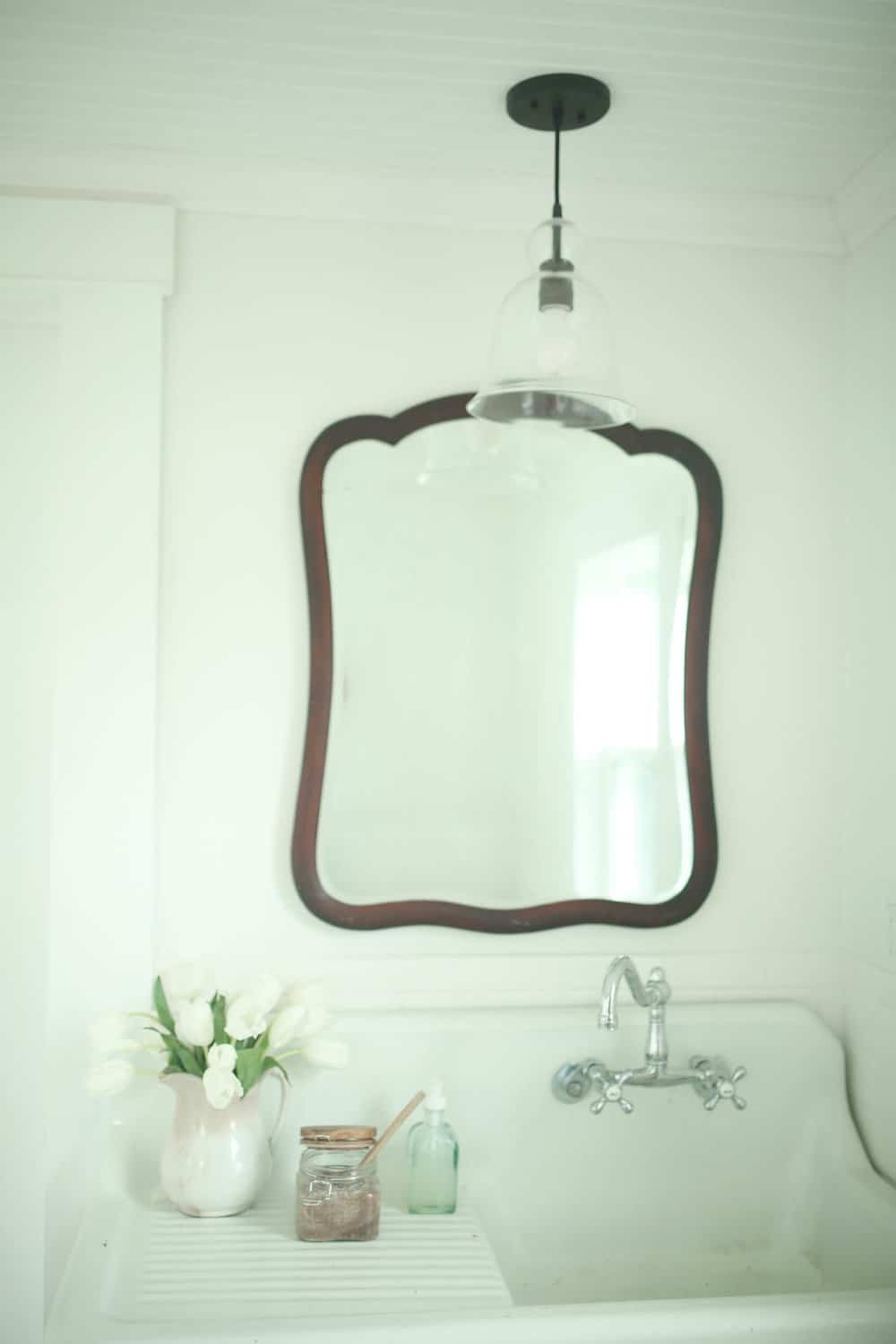 I added the Austin Mini Pendant, from Joss and Main, over the vanity.
The antique faucets, from the both the sink, and the tub, needed to replaced, so I snagged those on Amazon.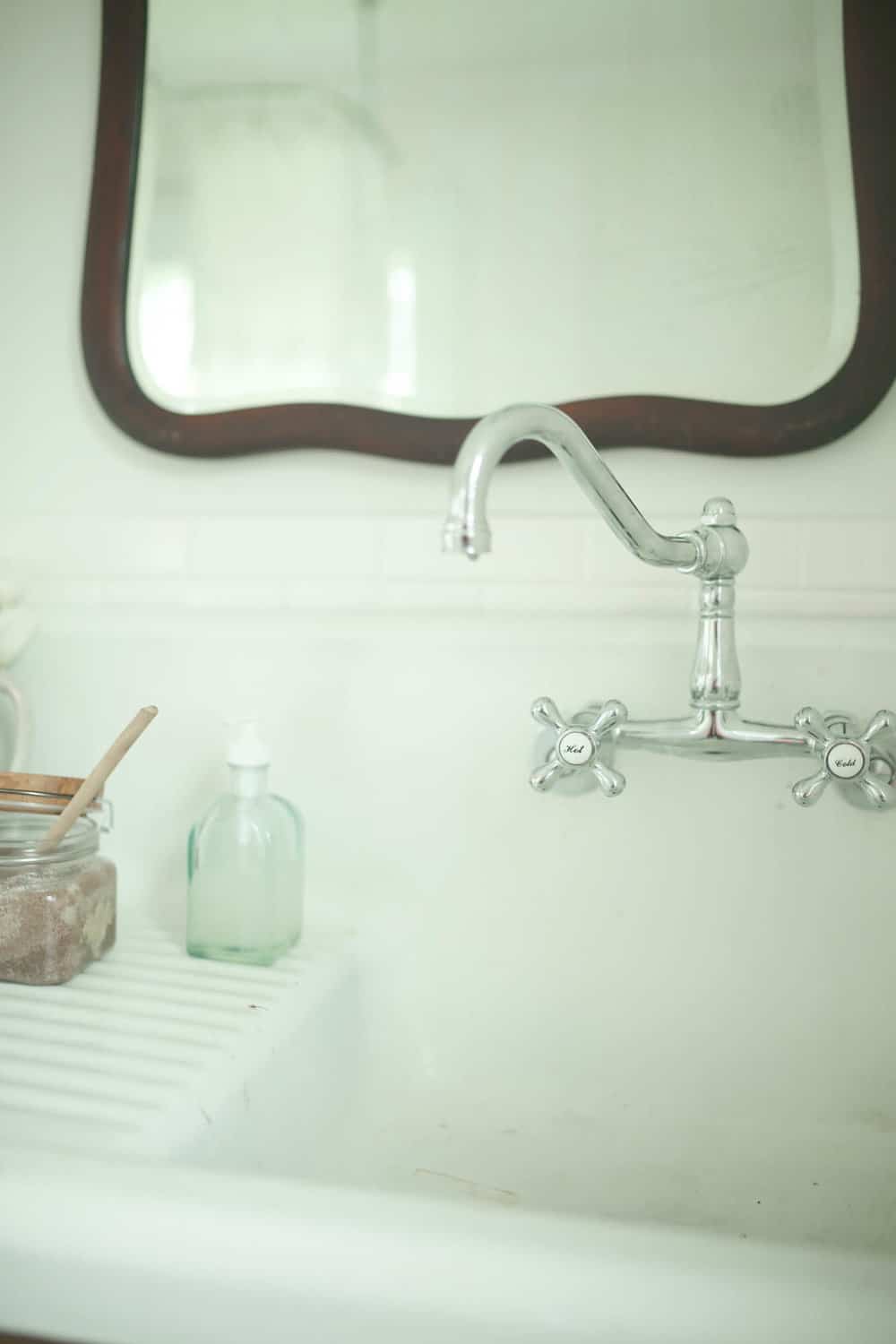 I have my soap in the Betty Soap Dispenser from Joss and Main.
I also made a sugar scrub for the vanity, that I put in a jar I found at World Market.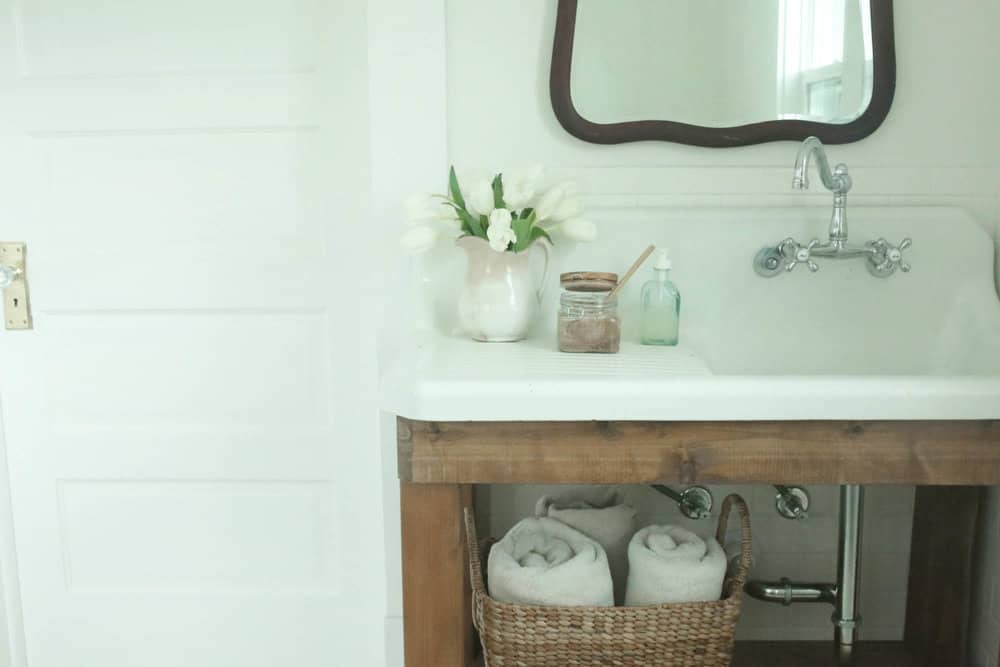 I added some tulips, in antique ironstone, to top it all off.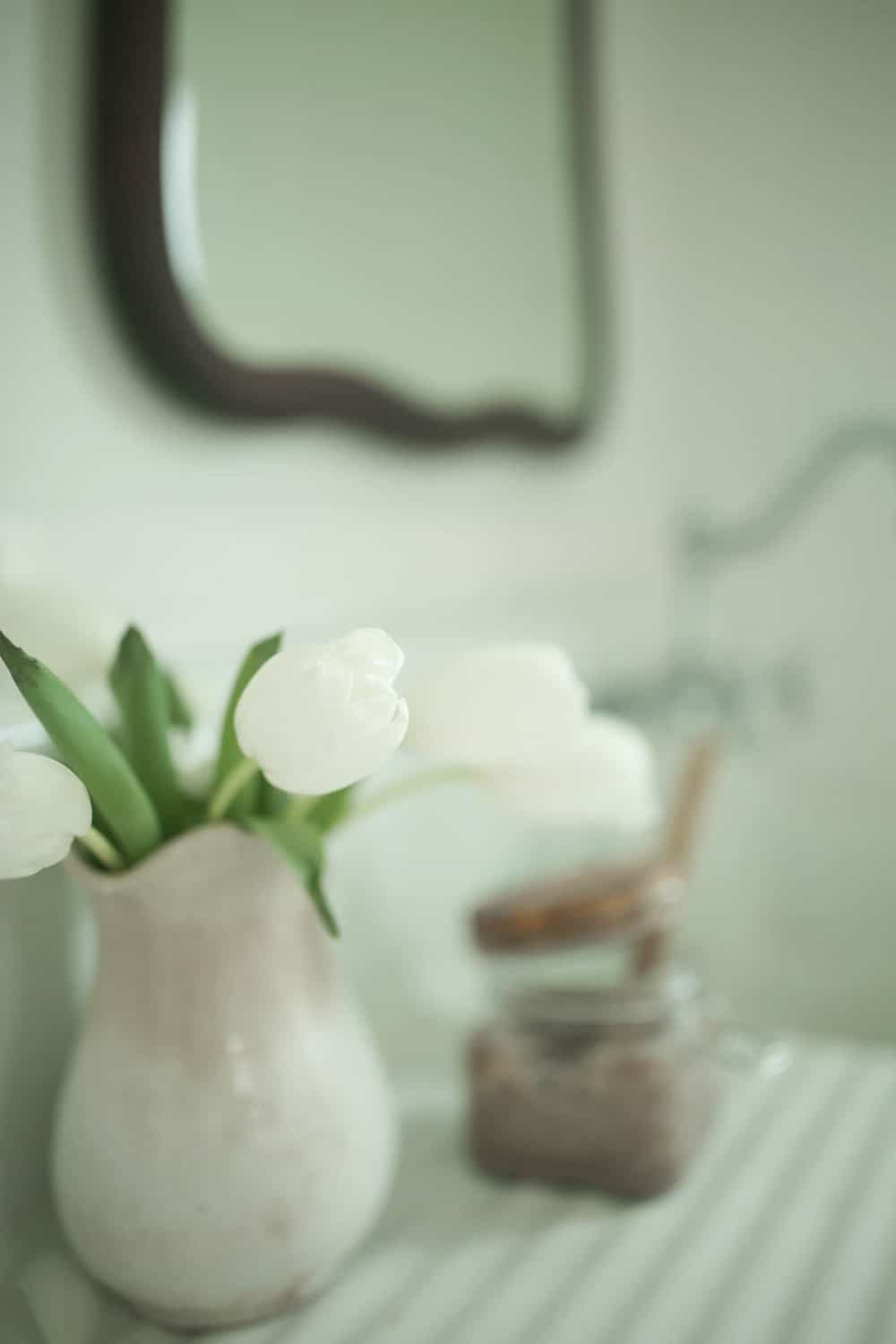 There are a few little things I still want to add to this room, but I decided if I waited until any room was ever completely down, I would never share them!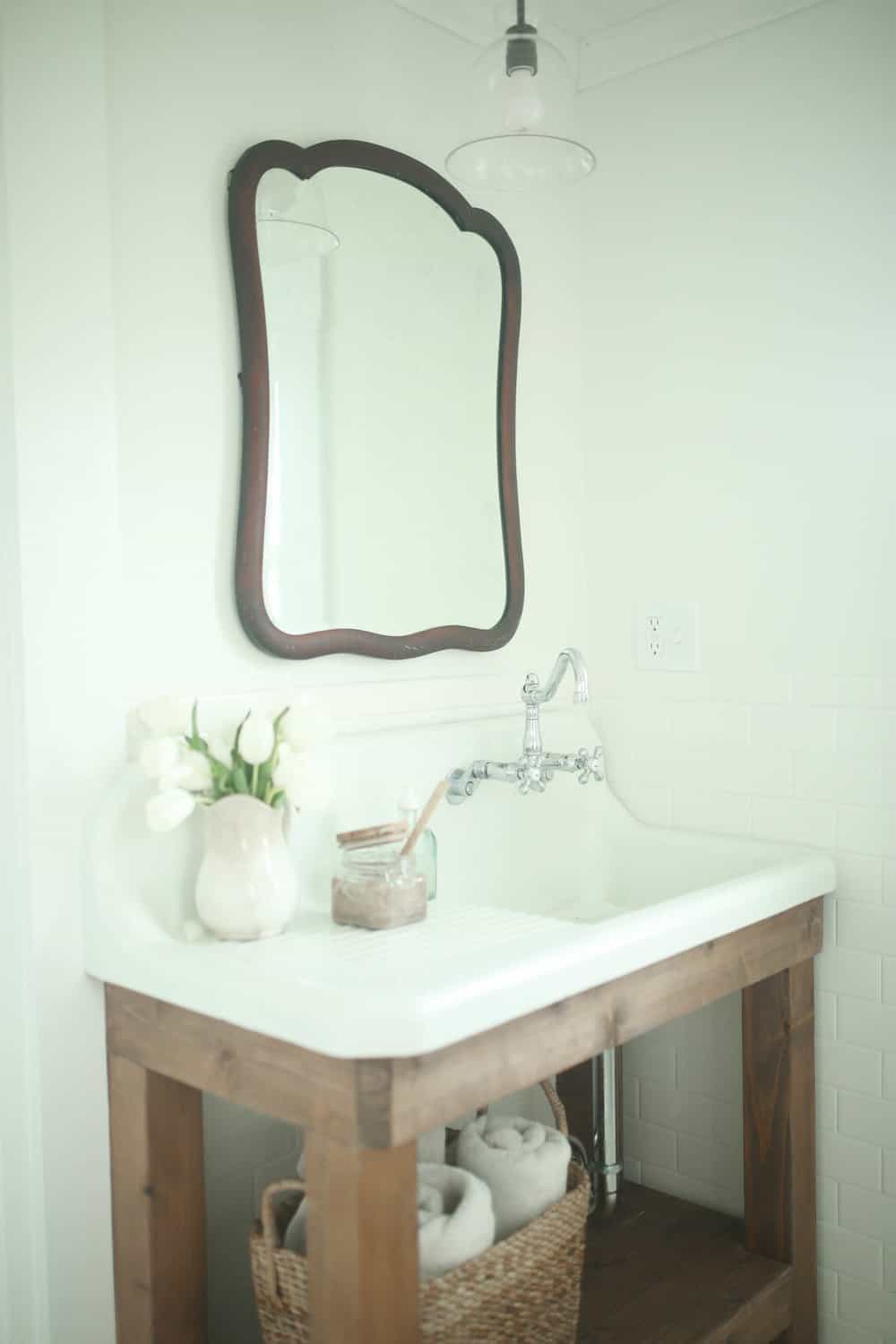 Thank you so much for stopping by the farmhouse to see our brand new bathroom!
I'm pretty sure I have spent a combined total of 10 hours in the tub already. I'm enjoying every minute!
Shop our bathroom

Pin it for later