We are finally ready to share our farmhouse boy's room makeover reveal. Iron beds, ticking stripe, planked ceilings and a soft neutral paint color make the room seem more calm and organized.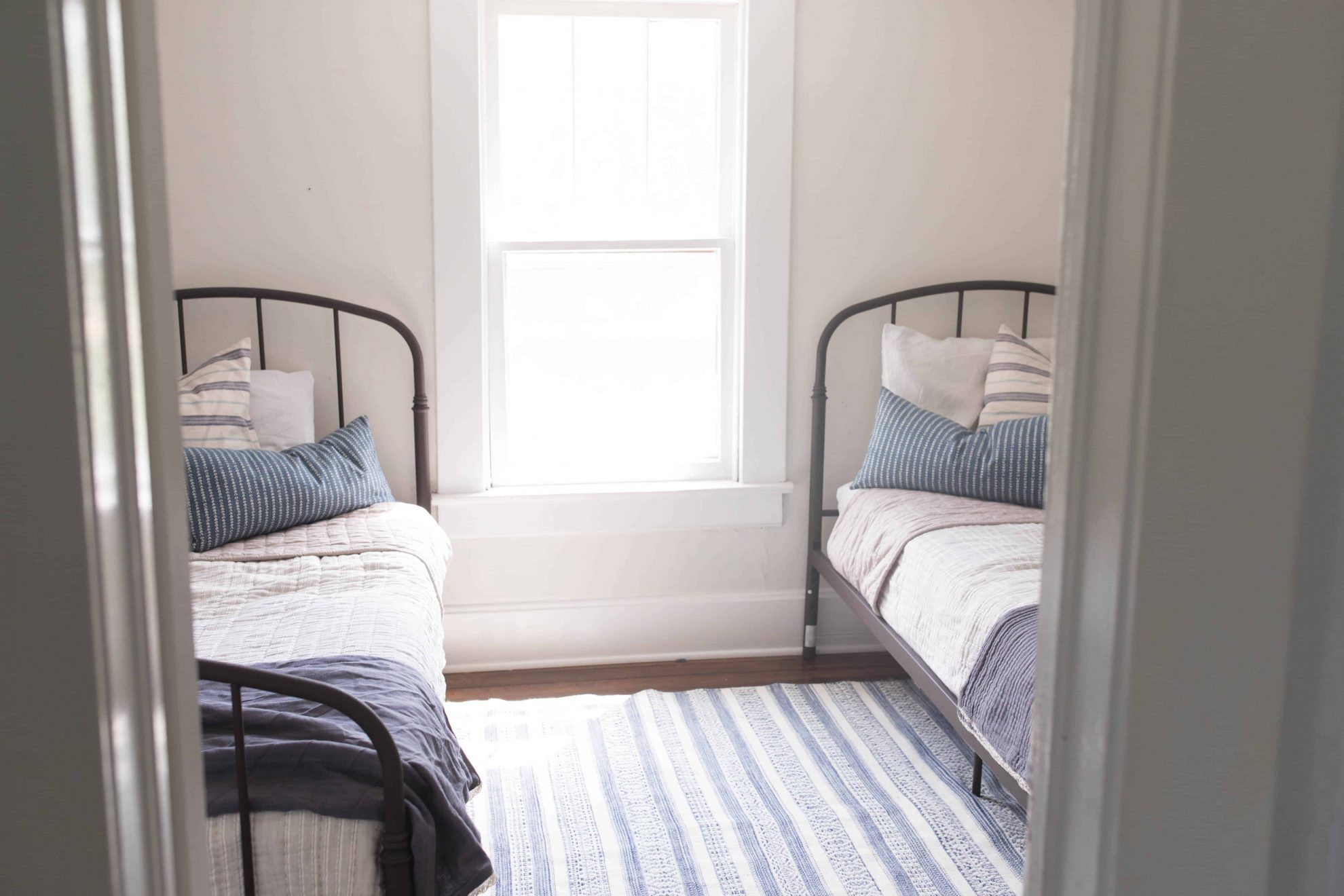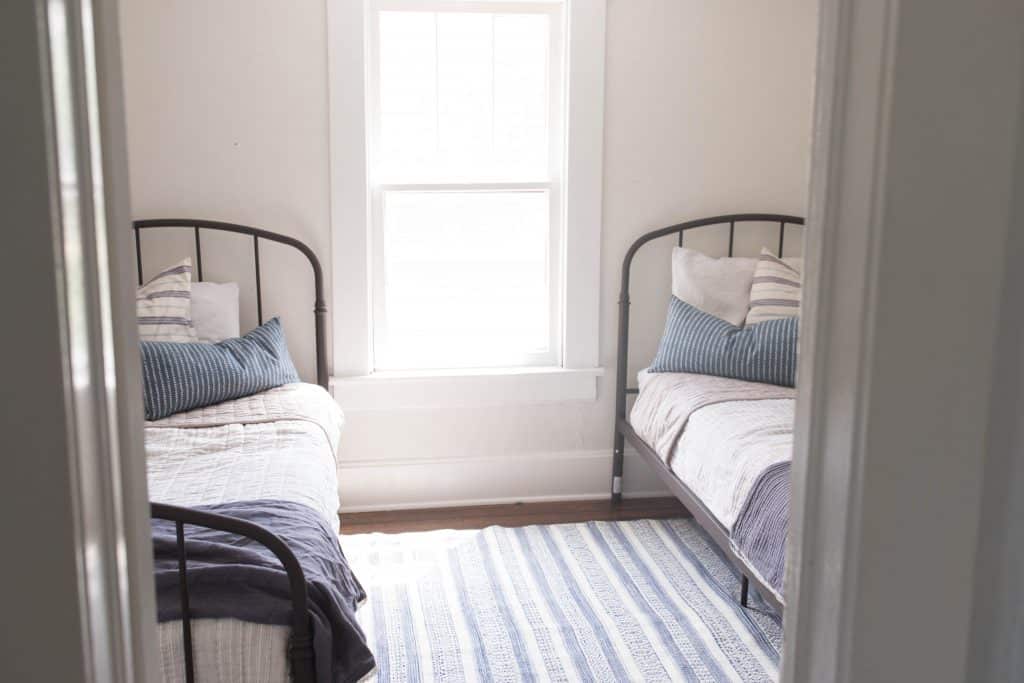 This post contains affiliate links, which means I make a small commission at no extra cost to you. 
The boys room bedroom in our home has needed a makeover for several years now. I gave it a colorful makeover when my oldest son was a baby, but it just never fit in with the style of our home. Plus, it was too baby-ish for my growing boys.
I always wanted that soft and vintage farmhouse vibe, with planked ceilings, iron beds and ticking stripe.
I even though about adding board and batten.
The room already has some inherent farmhouse charm, with the hardwood floors and bulky window and closet trim. We just needed a neutral paint color and shades of blue to complement what the 1920's built into our craftsmen home.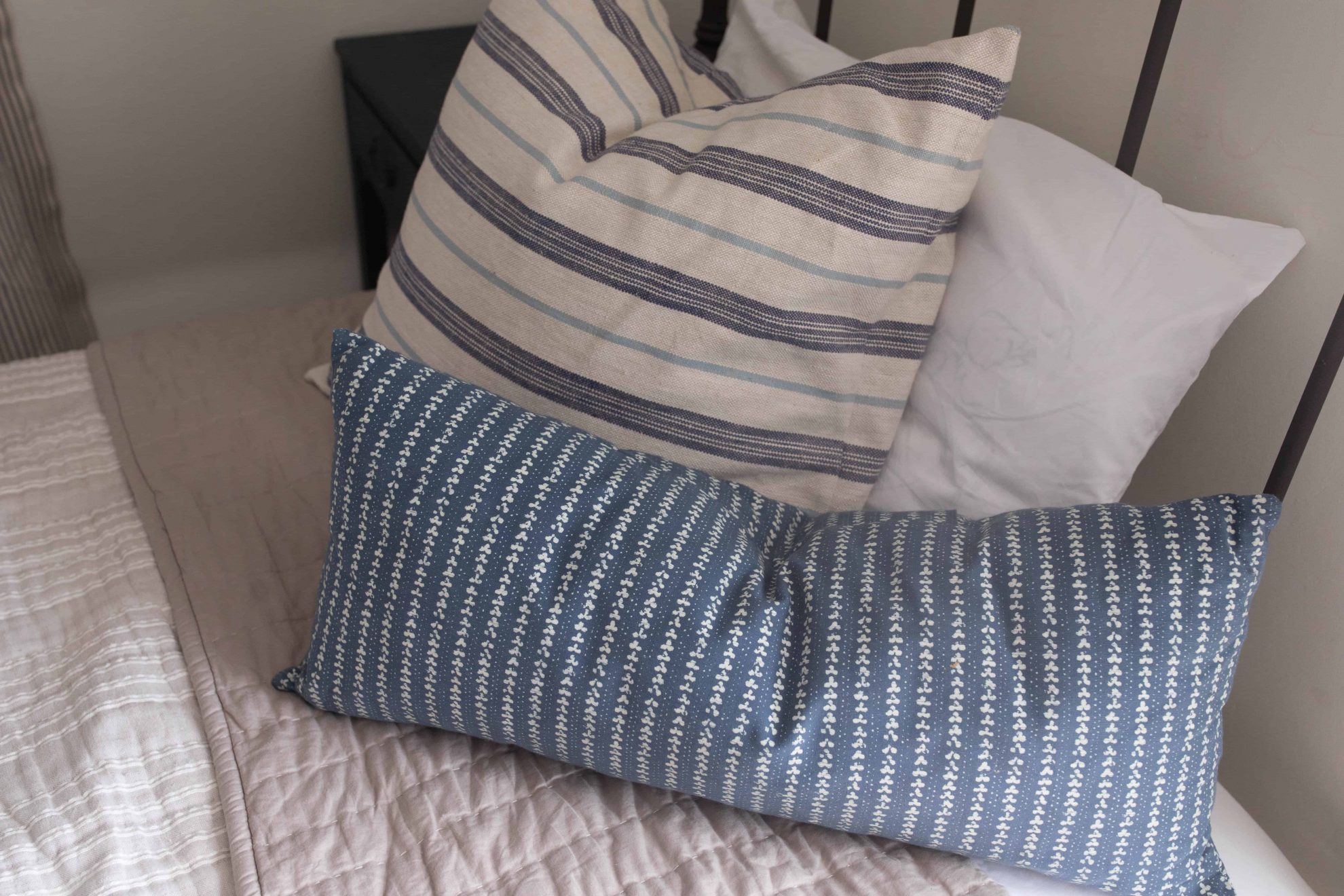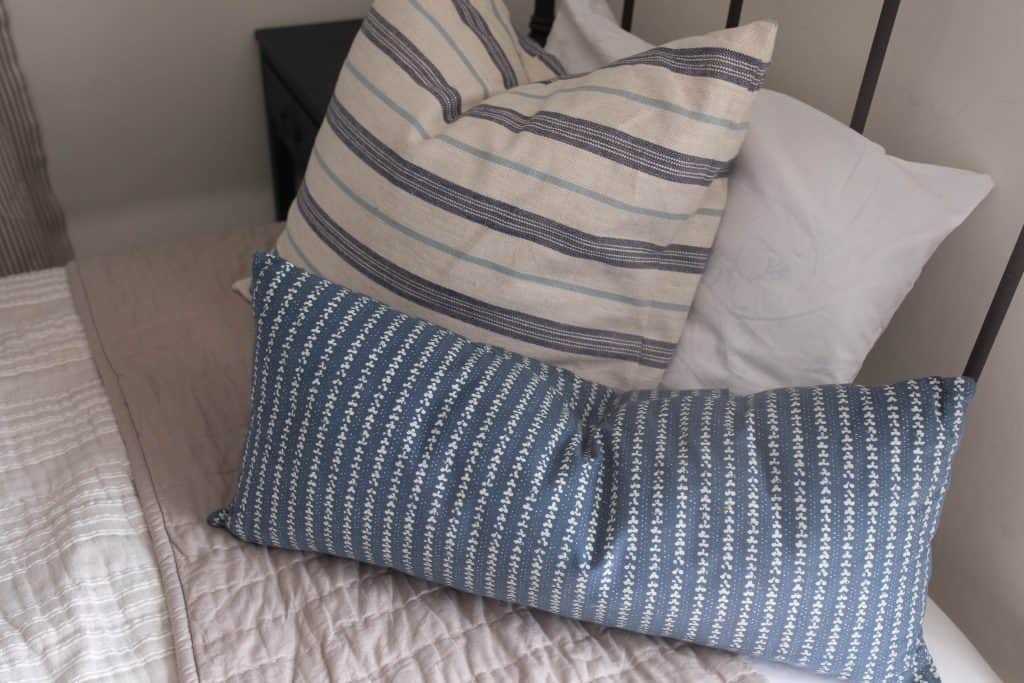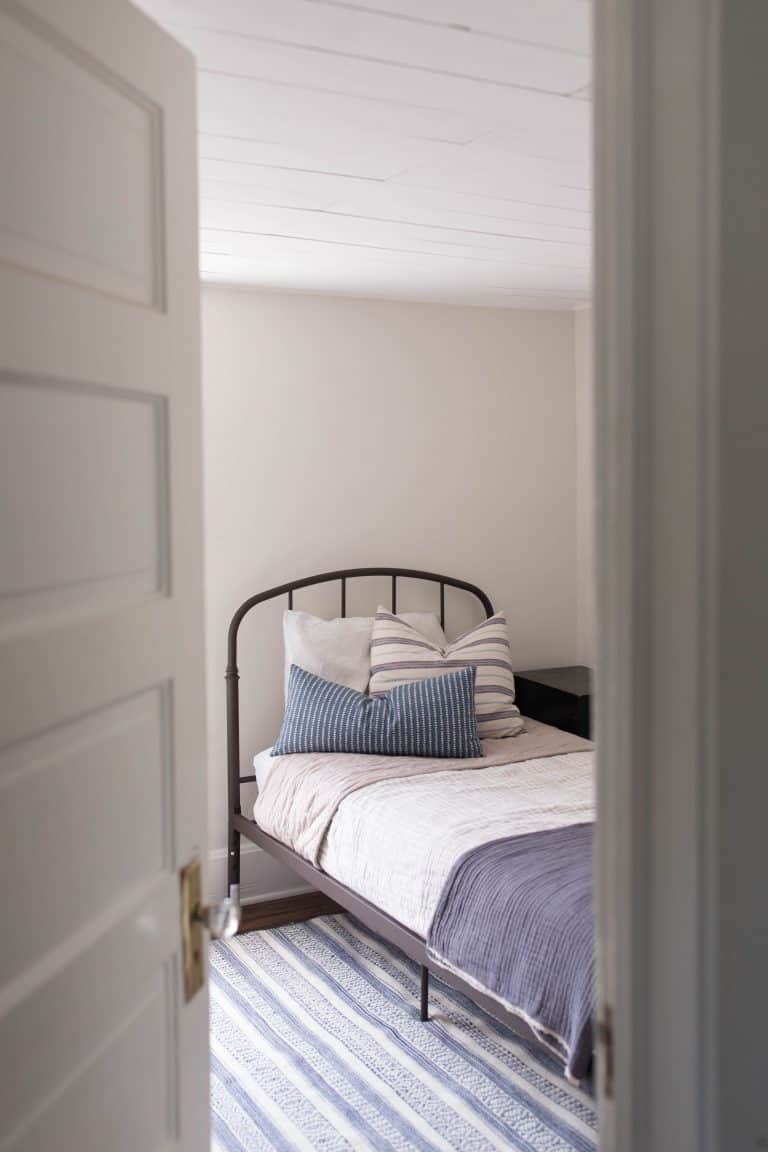 Farmhouse Boys Room Makeover Reveal Video
I finally got my iron beds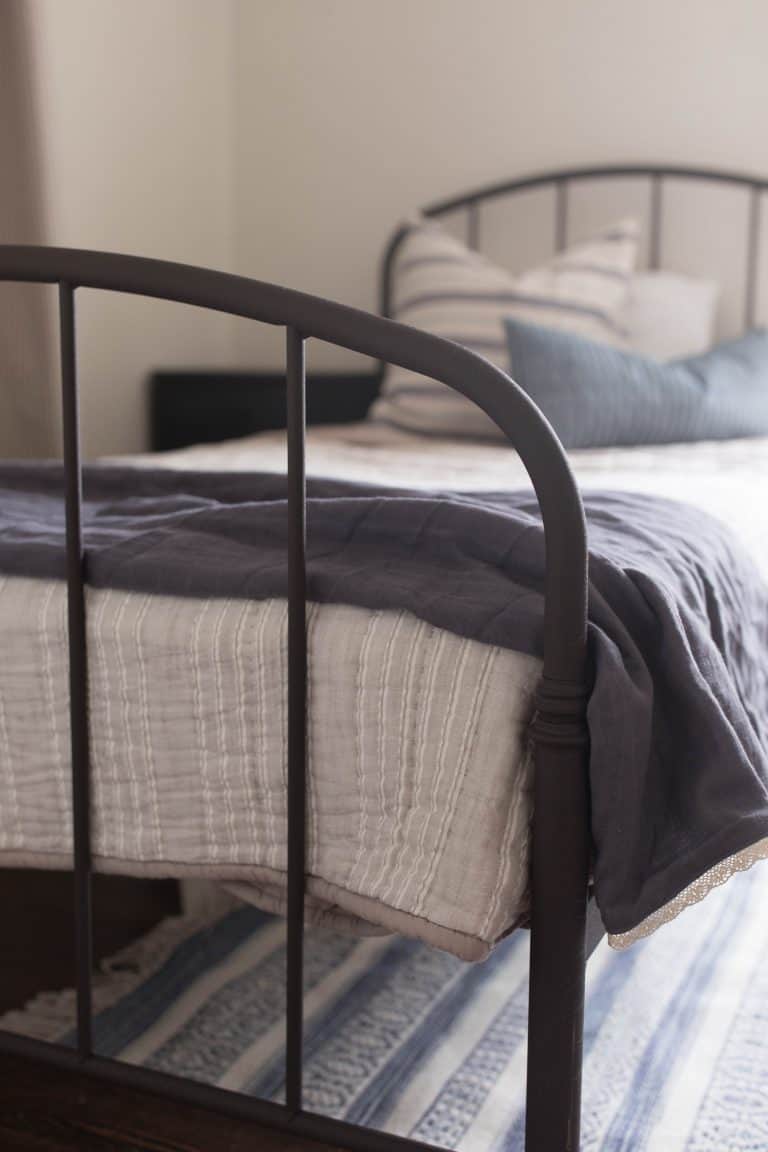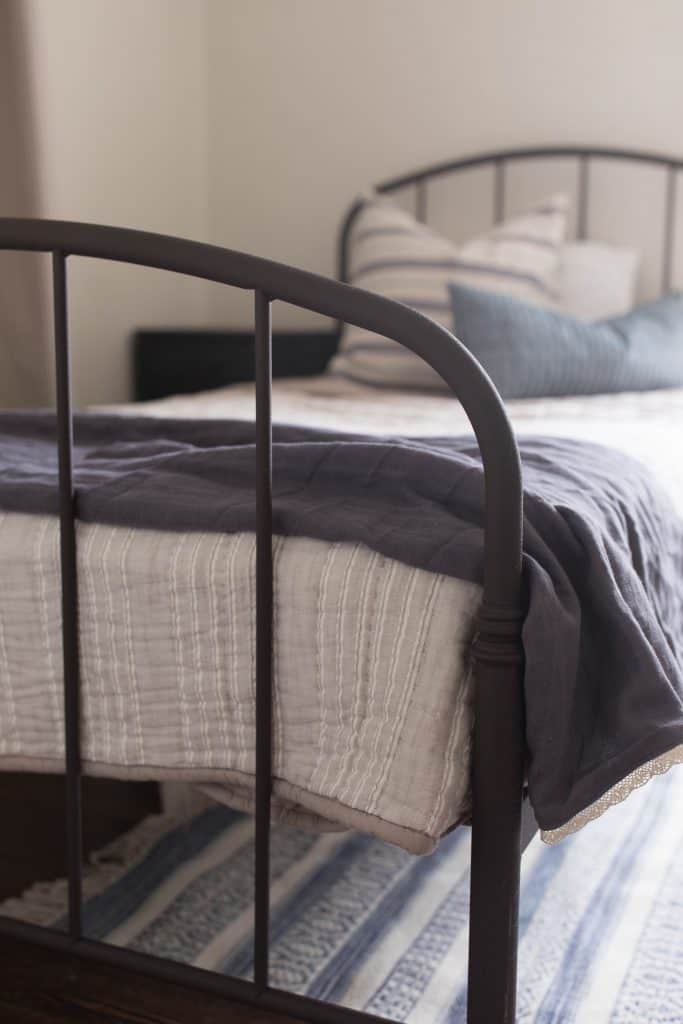 The bunk beds always drove me crazy because its just so hard to make them pretty. Who wants to climb the bed every time you want the bed to be made? And you can't even see the pillows on the top bunk.
I studied the room for hours, trying to figure out how I could fit more than one bed in the space. If they were on the bunk bed wall, the bedroom door would be in the way. If they went on the window wall, the closet door would be blocked.
I resigned myself to bunk beds, so I searched high and low for a cuter option. I thought about building these beds from my friend Stacy Risenmay. They're adorable, but still wouldn't fit right in the room.
After studying the room for probably the 20th time, it finally occurred to me that the biggest obstacle to getting my two adorable iron beds was the closet door.
And then I thought, why not add a curtain instead?! It not only takes up less space, but also gives me another excuse to add some pretty fabrics. Plus, the closet has original shiplap. Now, I can leave the curtain open to show off that pretty farmhouse feature.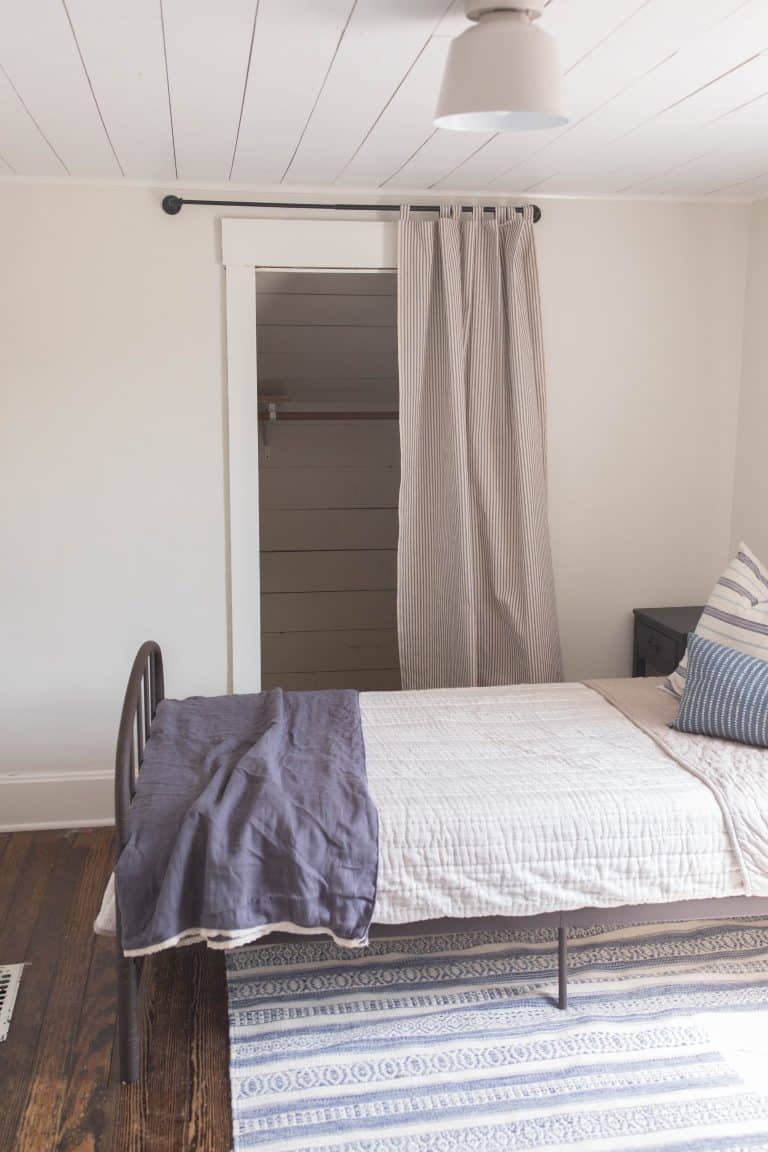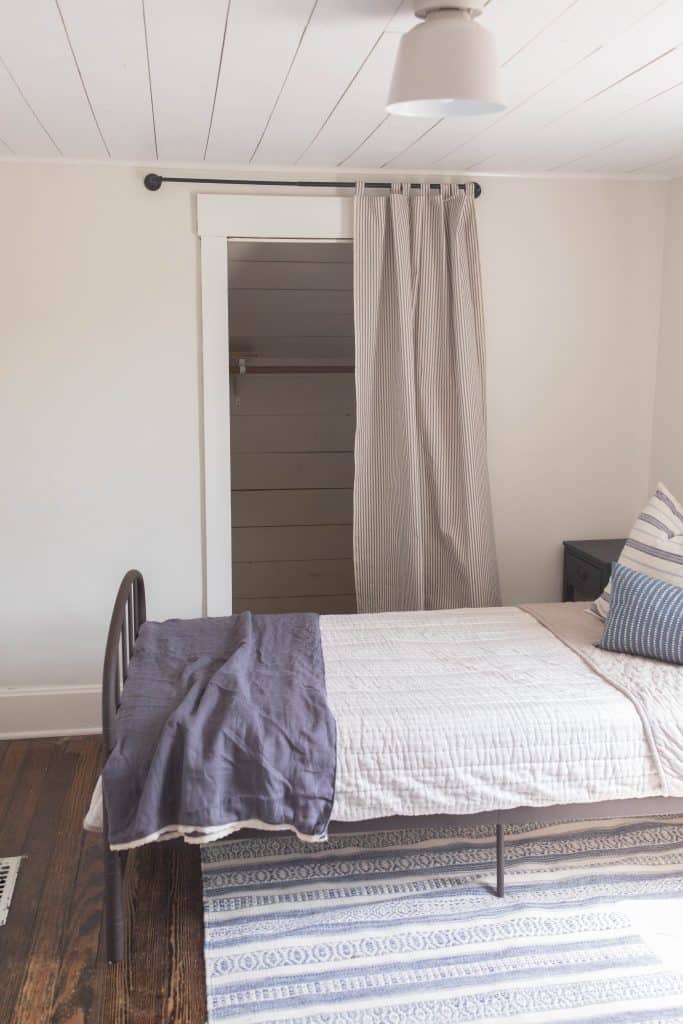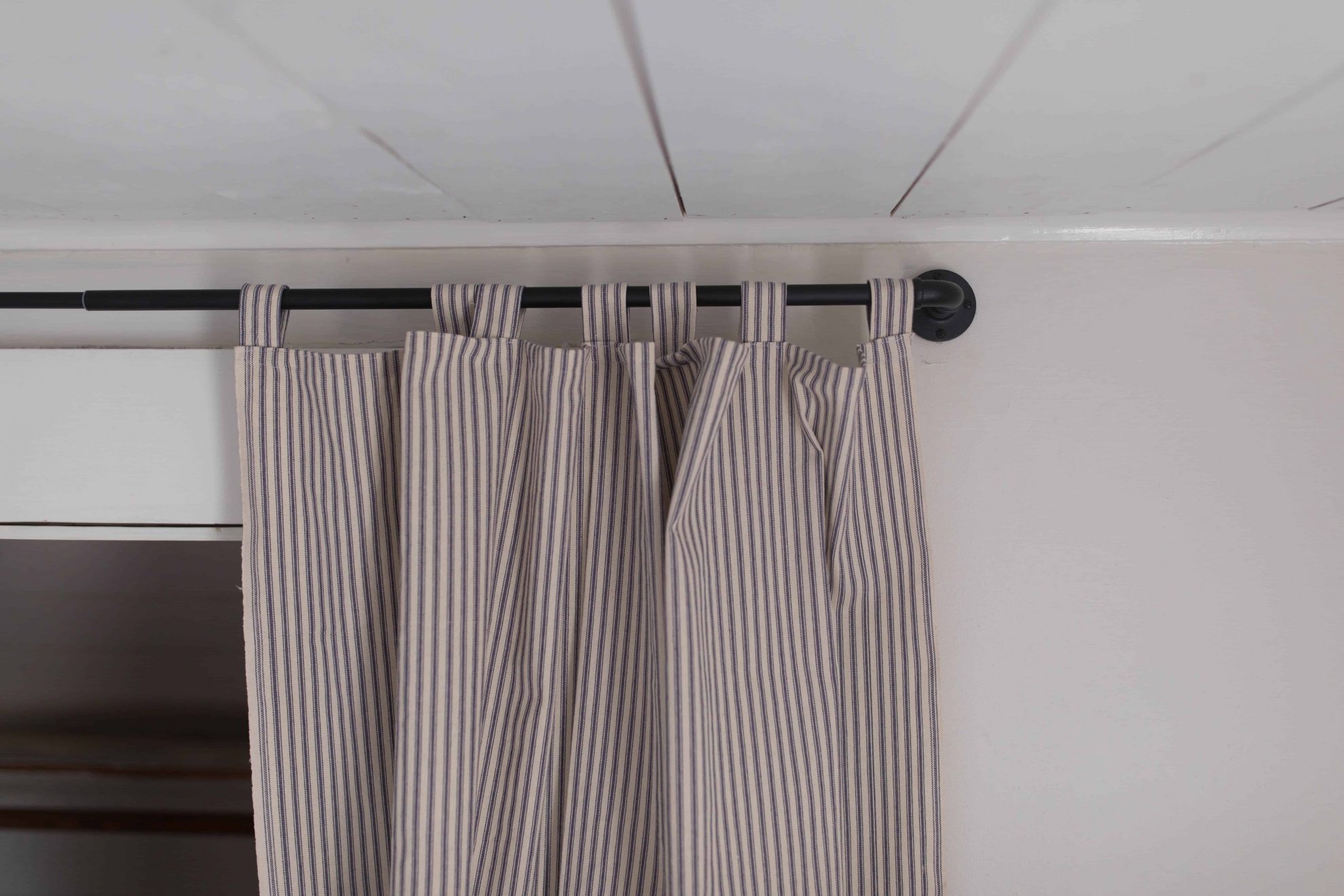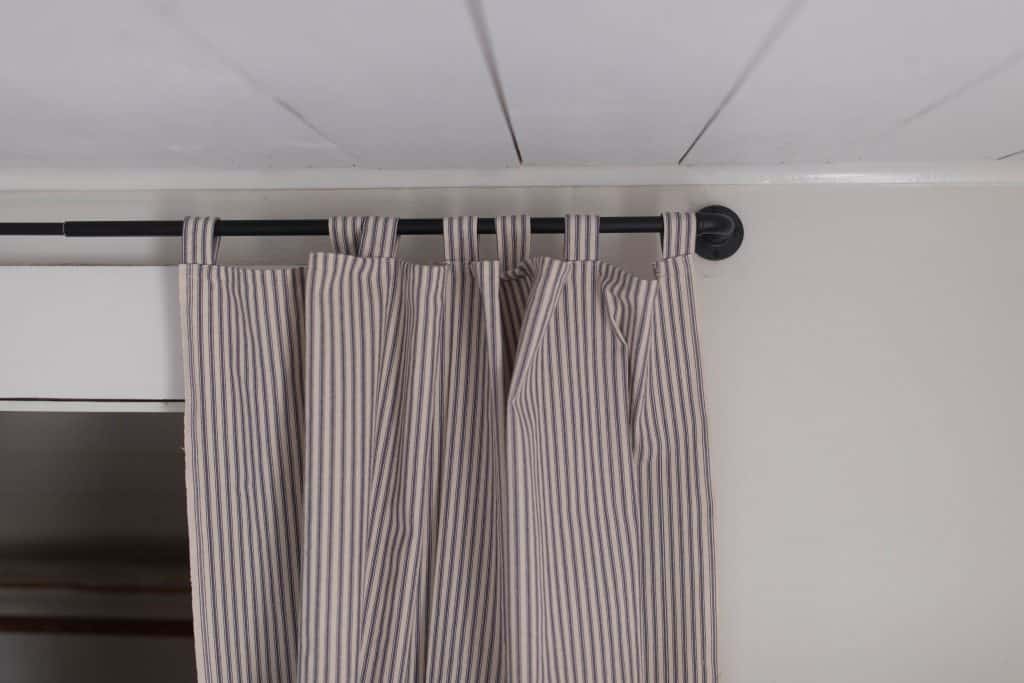 I found an iron curtain rod on Amazon and went to work making a ticking stripe curtain with ties at the top.
We got rid of the boys' French Provincial style dresser that I bought and refinished years ago. The shape was never quite right for the style I was going for. We moved a small chest into the closet, to make space for the beds. So, now, all the clothes and toys are in the closet. The size of the kids room closets are about the only large thing in this old house!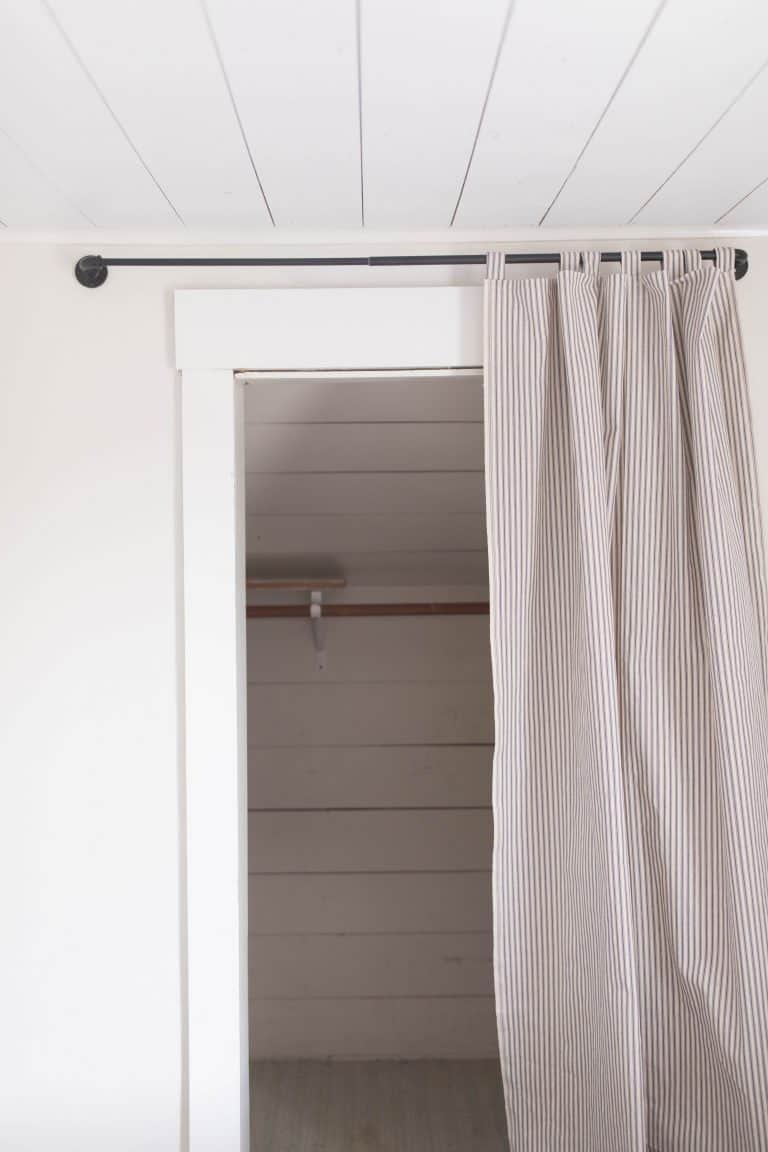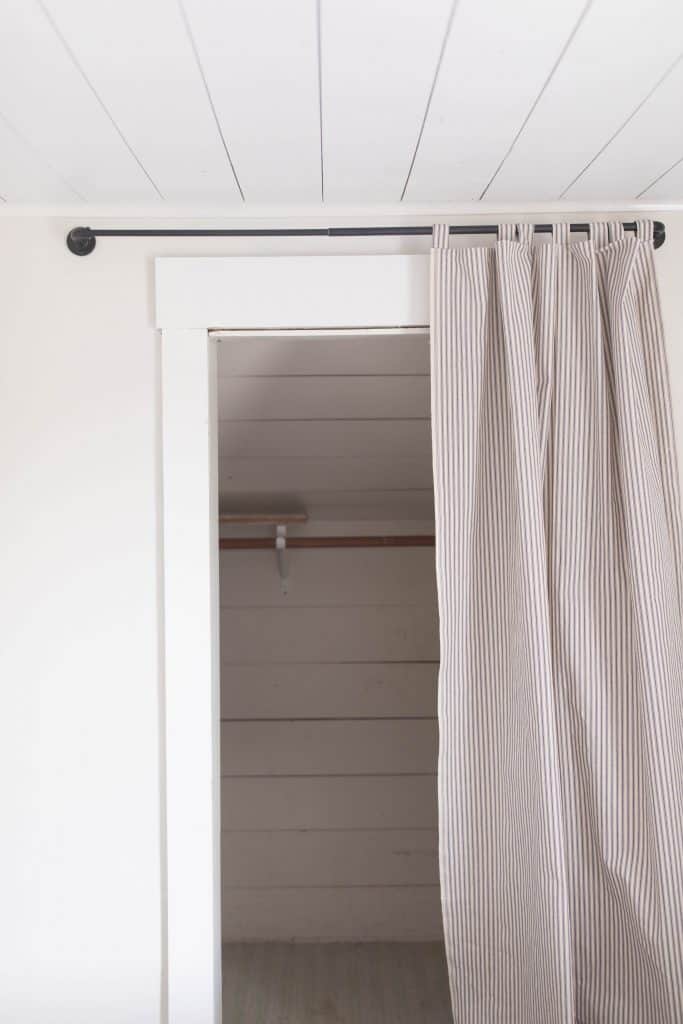 Farmhouse bedding
The only thing I knew for sure I wanted in the bedding was mostly neutral colors, a little bit of pattern, like stripe or plaid, and no duvet covers. I love the idea of duvet covers, I really do. In fact, we have one in our bedroom and two in the girls bedroom that I sewed myself. They're easy to make, and you can just stuff them with a nice comforter. The problem is all the time it takes to put them back together after every wash. I don't mind it for our room, but my kids don't seem to care that they're apart. So, they mostly just lay in a heap on their beds.
Yes, I know I could enforce this better, but I have five kids and not enough mental space to worry about who is making their beds properly.
I opted for simple striped quilts in the boys room.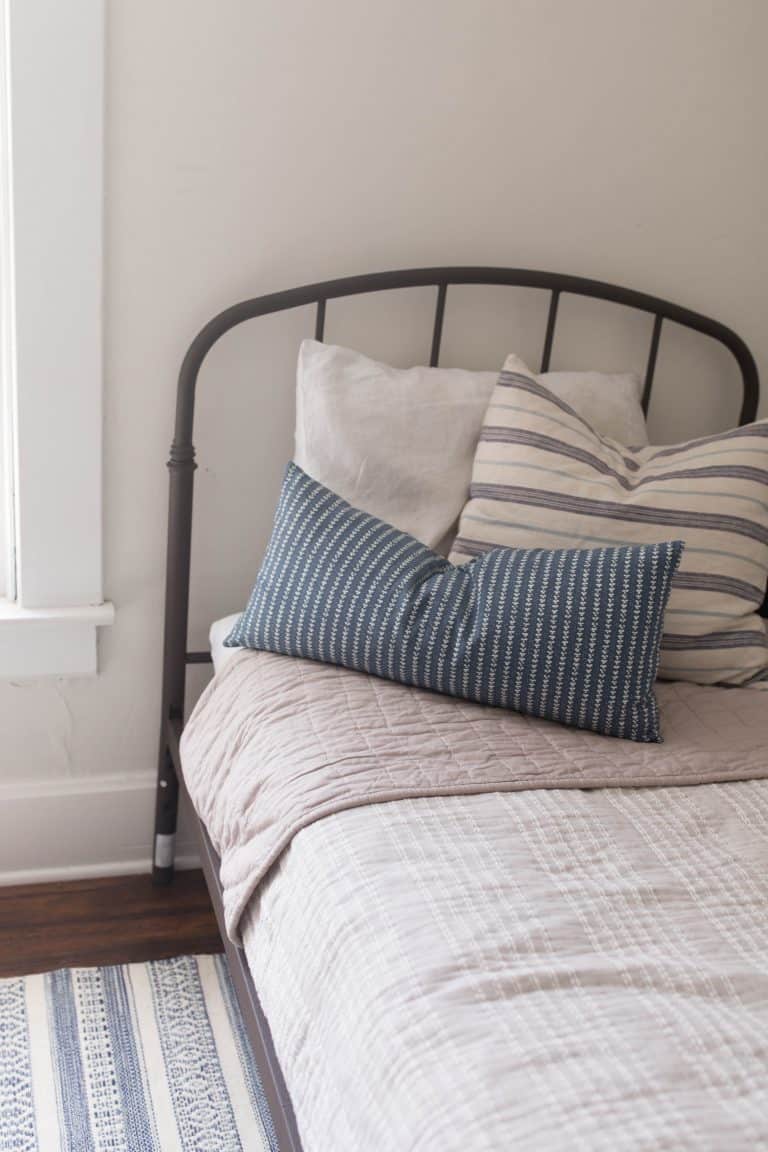 I walked into Target with the intention of getting something neutral and subtle, and I actually found it. On the first try.
That never happens.
I ended up getting two gray striped quilts by Threshold. They have a subtle stripe, and look more grey than tan in real life. I knew they would be the perfect backdrop for cozy layers.
I added a couple of these gauze blankets with crochet trim. They are in the slate gray color, which really looks more navy in my opinion.
I added a couple handmade striped pillows with the fabrics leftover from the magazine photo shoot.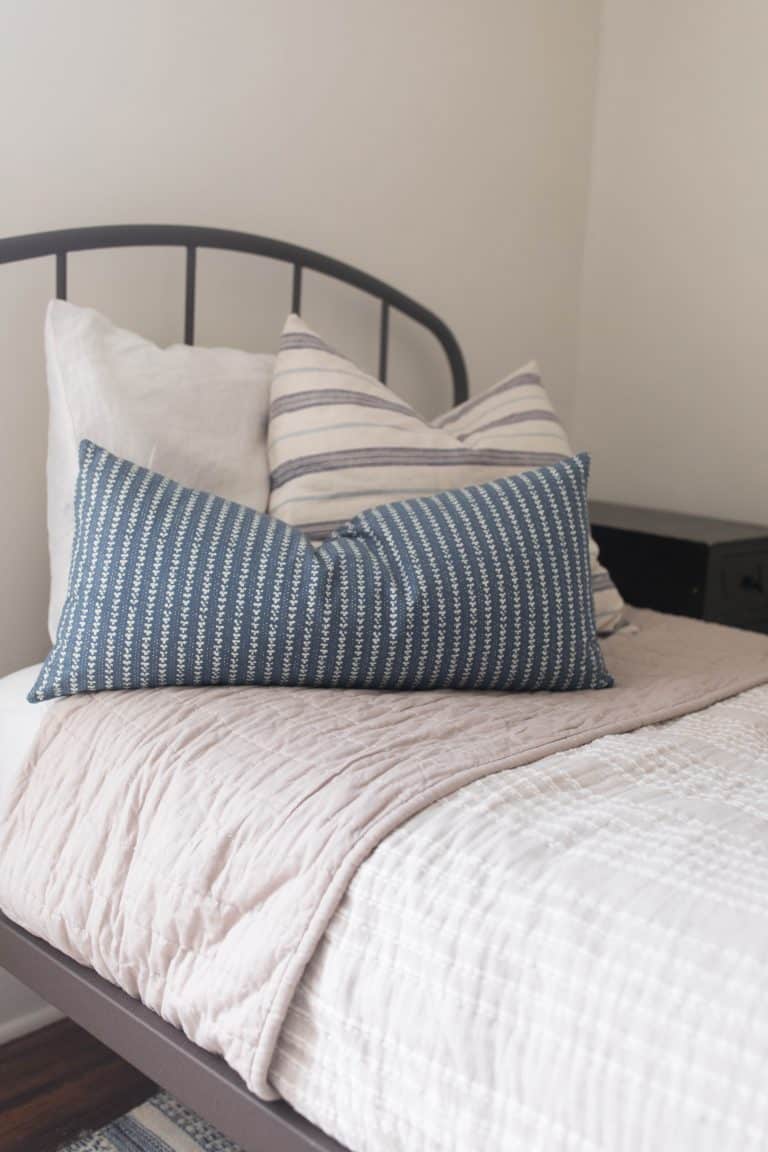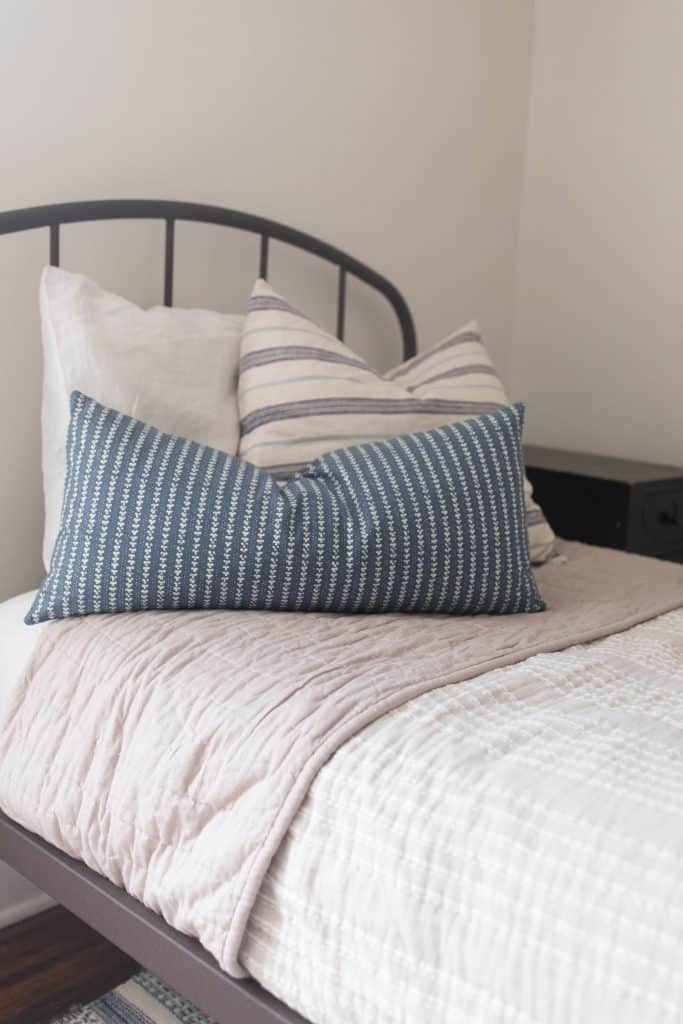 The Sawyer Rug
I actually found the rug for this room makeover several months ago. I just left it rolled up in the boys closet, until we finally completed all the other components.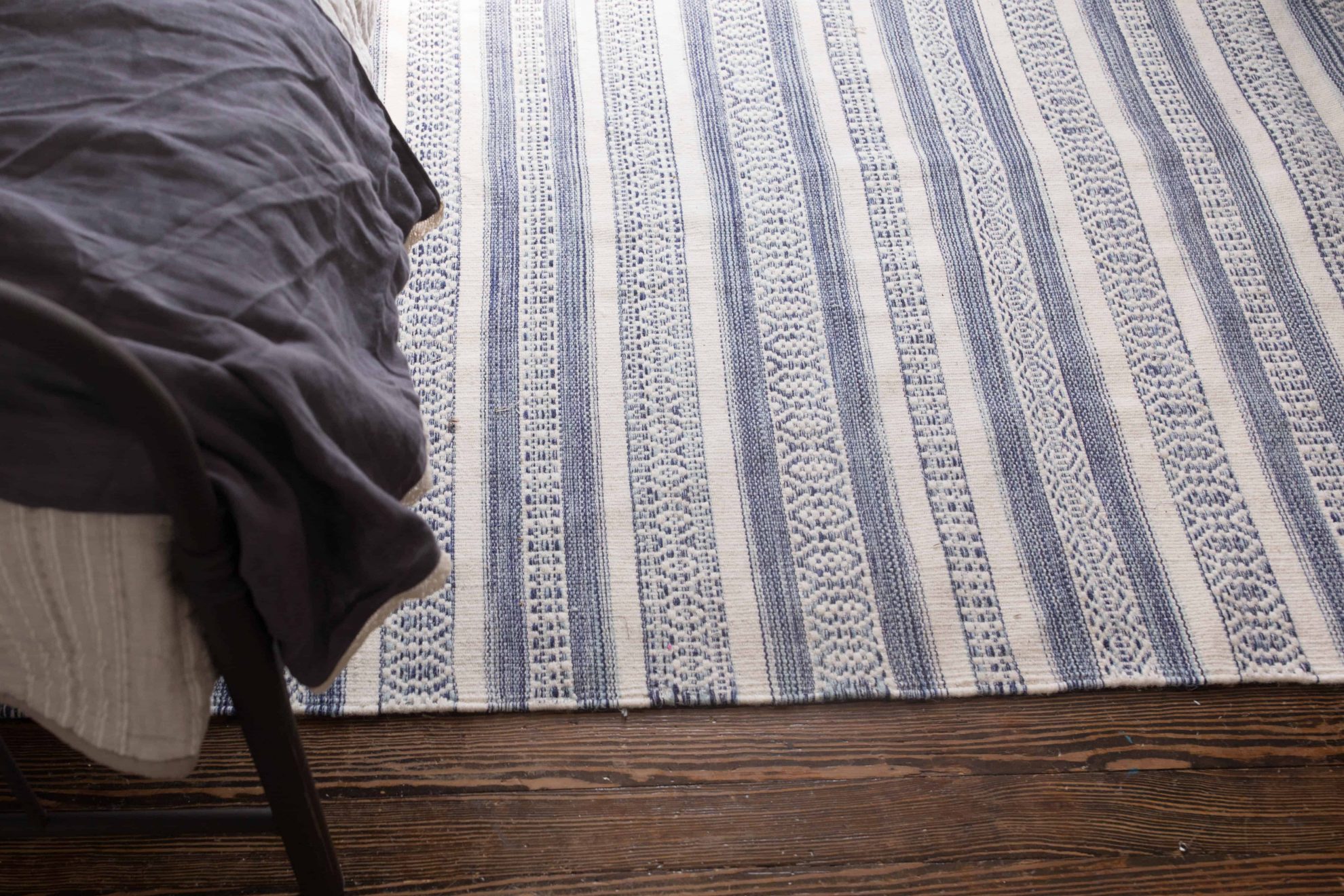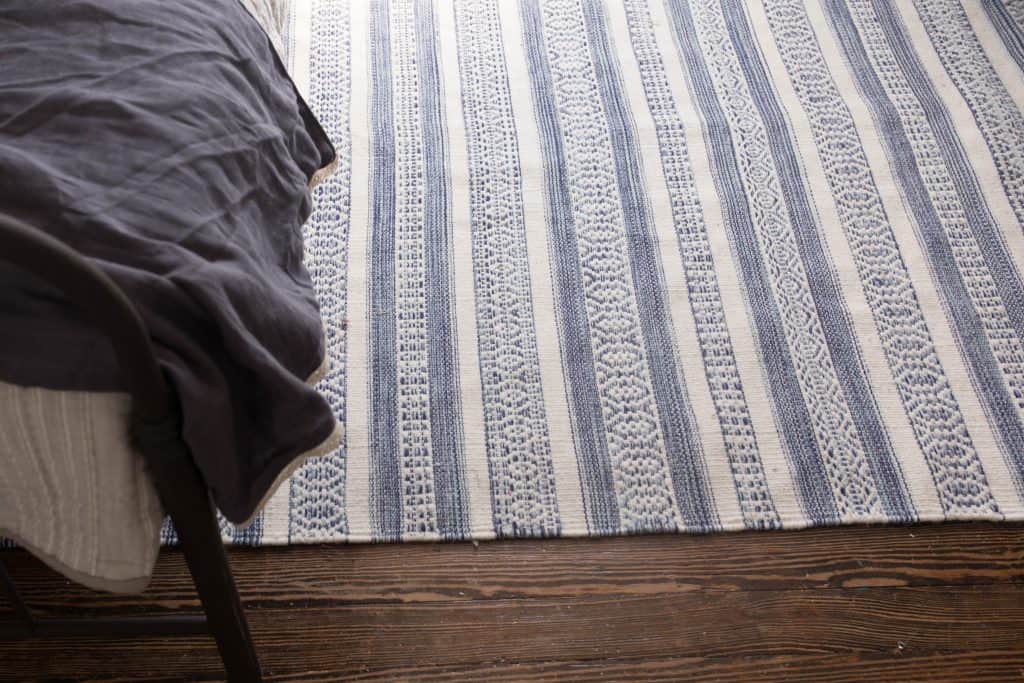 I saw it on a friend's Instagram story, and loved the color and pattern. We have so many jute rugs in our home, and I love them, but wanted to try something different this time. I love the shades of blue and the cream backdrop.
The hardwood floors in the boys room are dark. When my husband went to tear out the blue carpet left here by the previous residents, the hardwoods below weren't in the best shape. Even after sanding them quite a bit, we still had to go with a pretty dark stain to cover up the imperfections.
I love the way the light rug brightens everything up.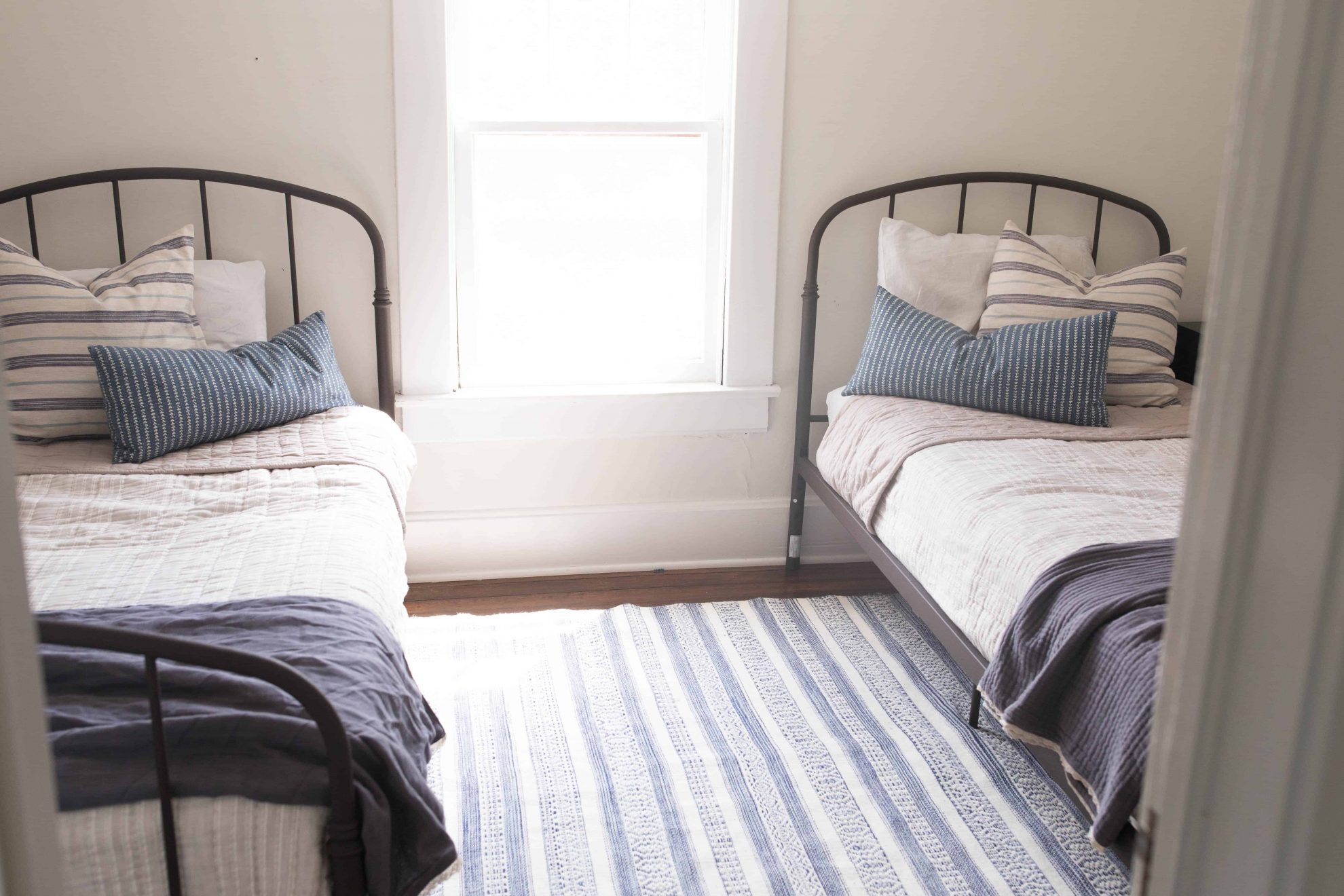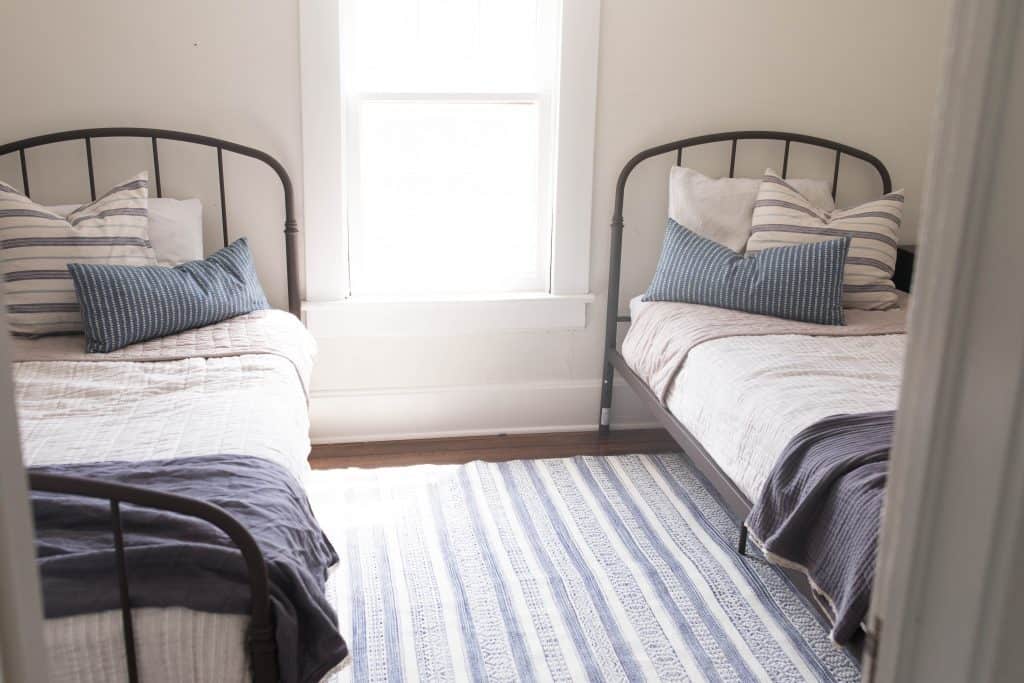 Planked Ceilings
All the ceilings in our home are covered with that lovely popcorn texture. Why was this ever a thing?? When we did the makeover in our girls room we covered it up with plywood planks.
We decided to do the same in our boys room. My husband and I even made a video this time to show you all the process.
Its super simple and I love the charm it adds. Its especially obvious in rooms that only have seven foot tall ceilings.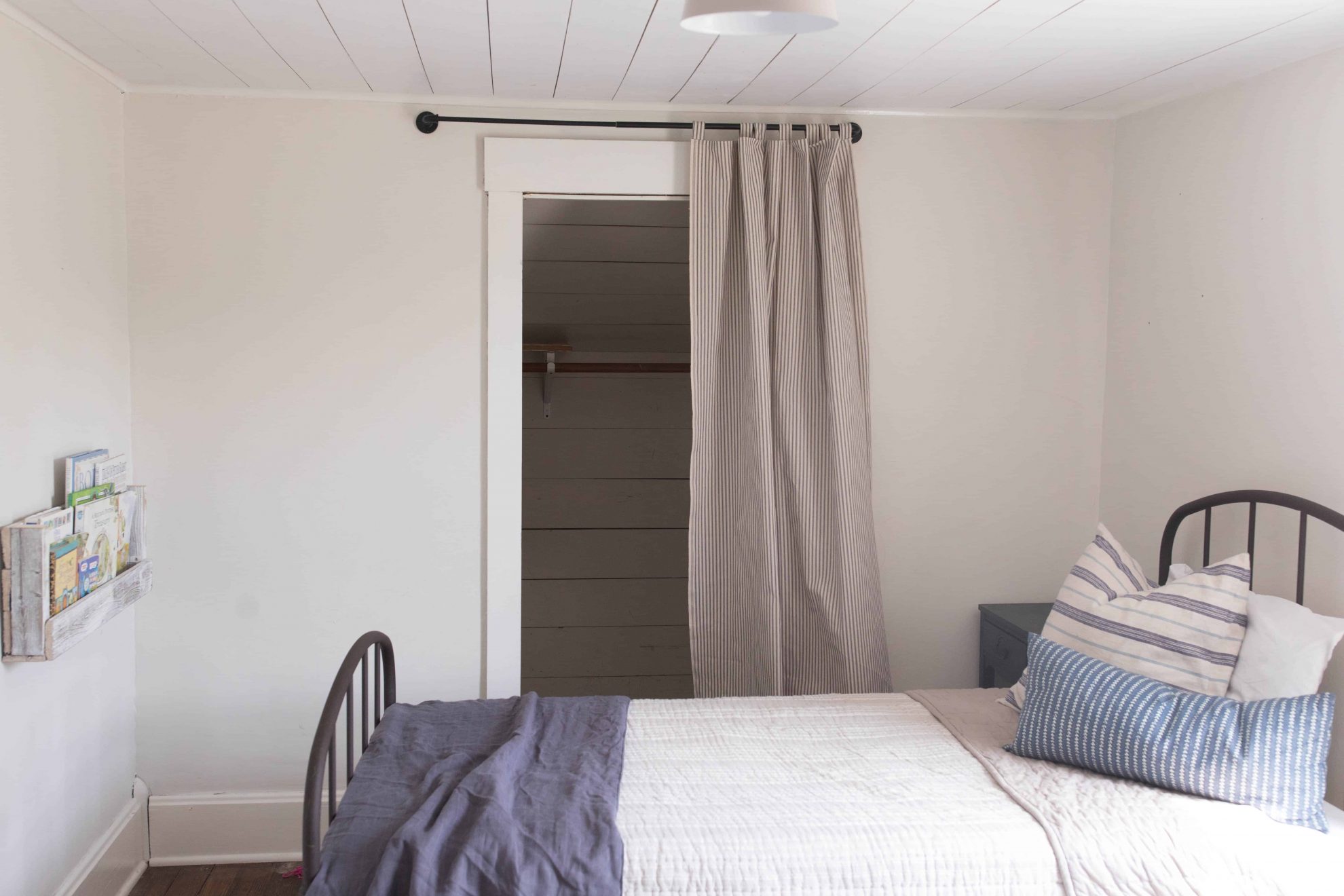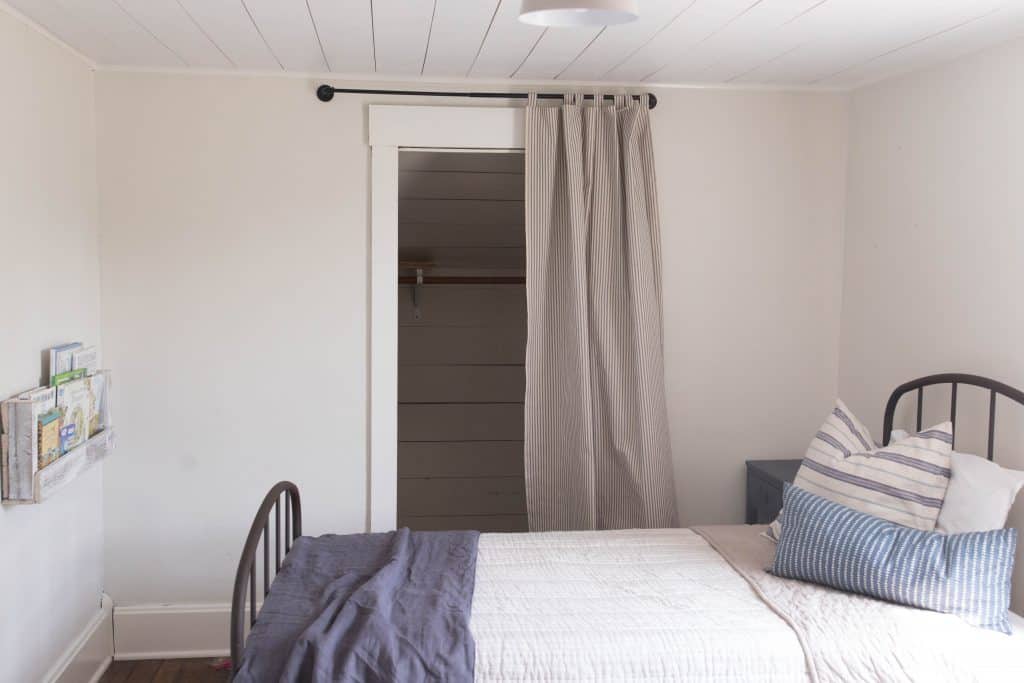 Paint Color
I tossed around a lot of ideas for the paint color. I knew I wanted something neutral that would coordinate well with the creams in the rug. We ended up going with Benjamin Moore Soft Chamois. The boys room is one of the more dimly lit rooms in our home, so I knew I didn't want anything too dark.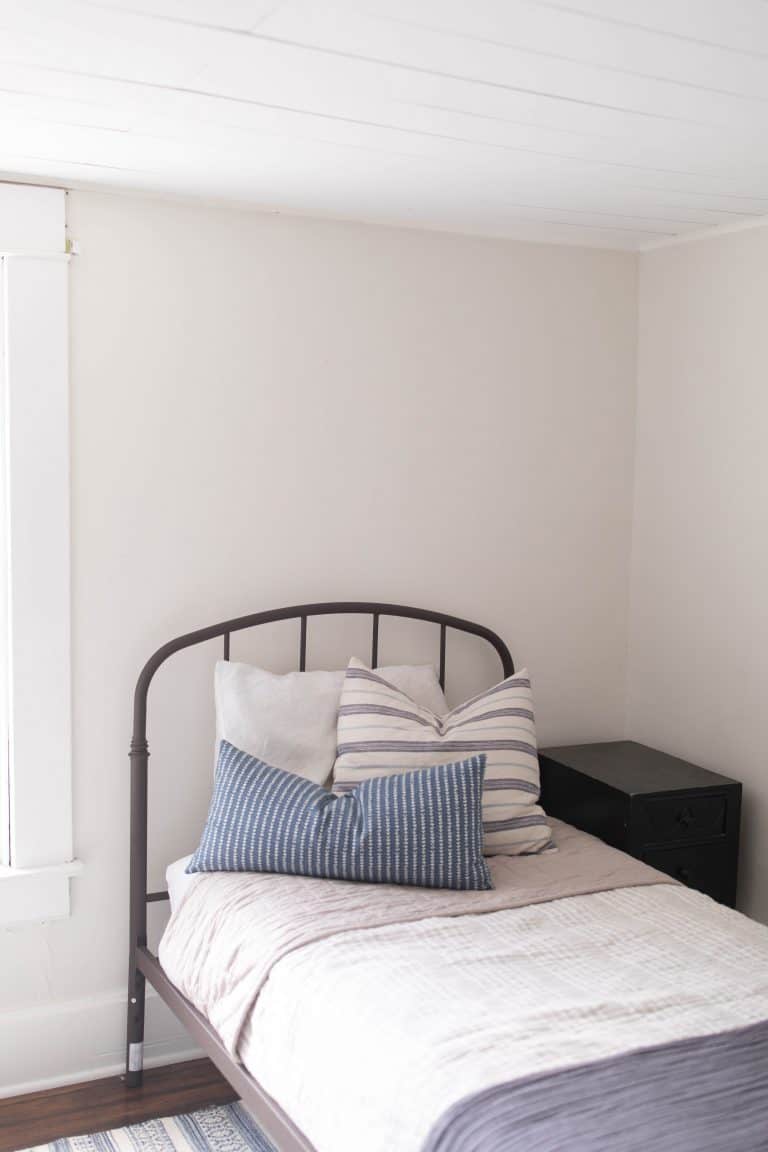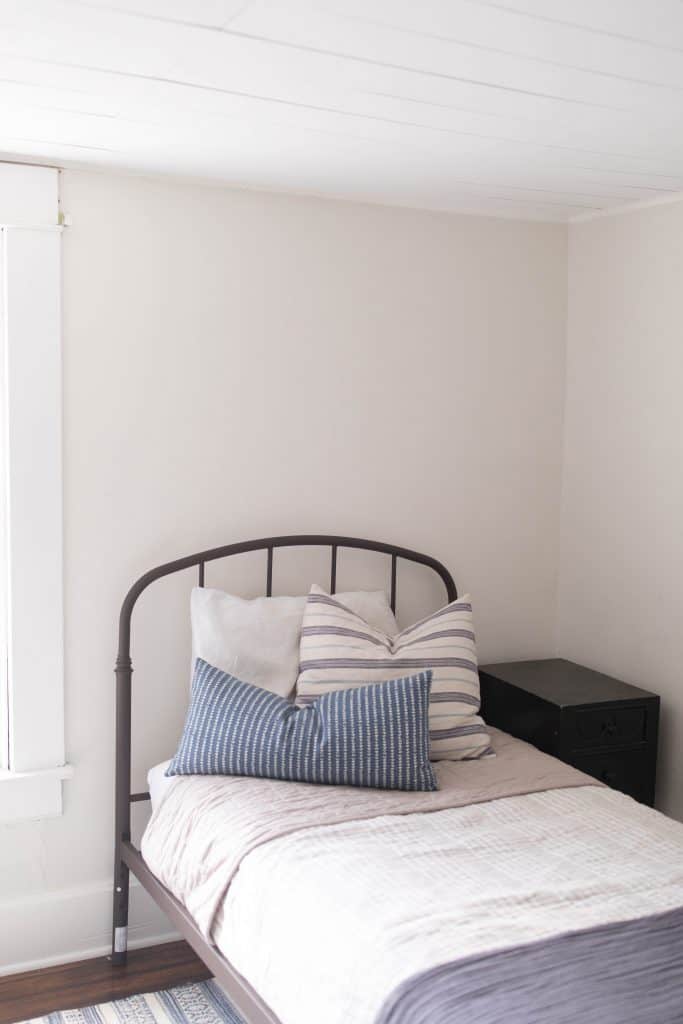 The gray we had before was definitely a few shades too dark.
I love the way the new paint color looks in their room. It doesn't have any funny undertones, and it definitely brightens up the space.
Semi Flush Mount Light fixture
I kept the process of making the light fixture decision super simple. I just went and bought the exact same fixture that I picked out for the girls room makeover.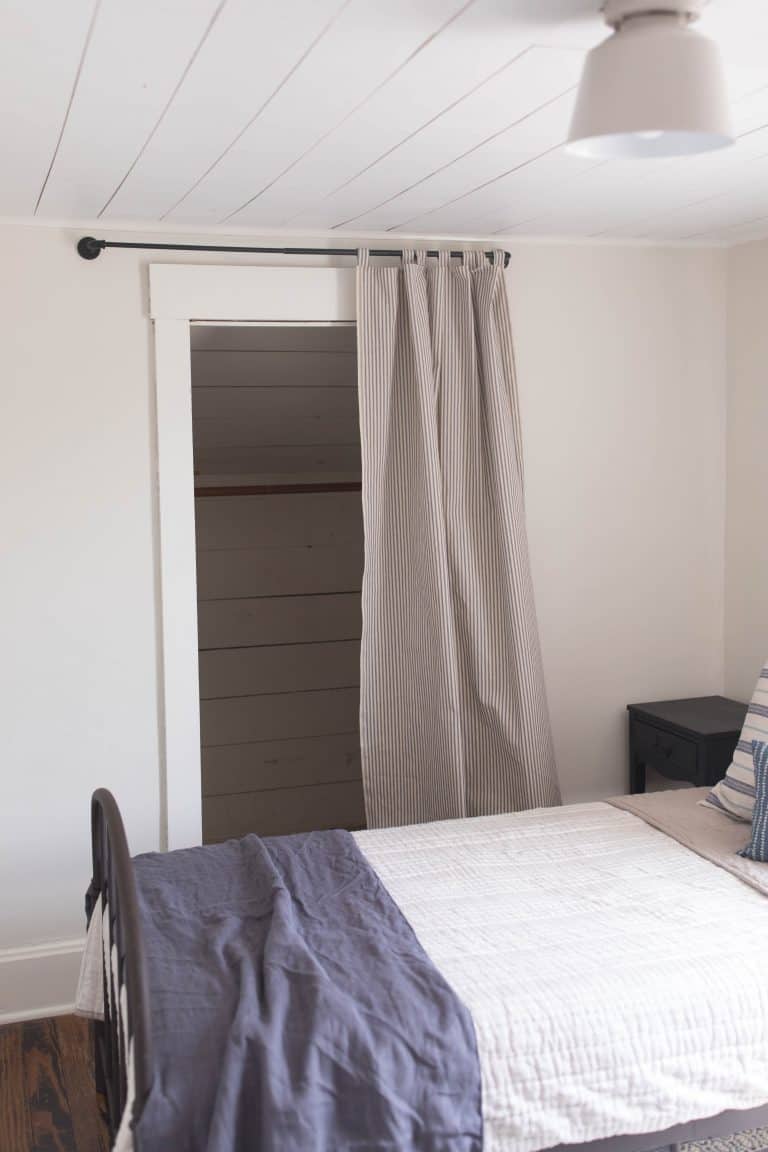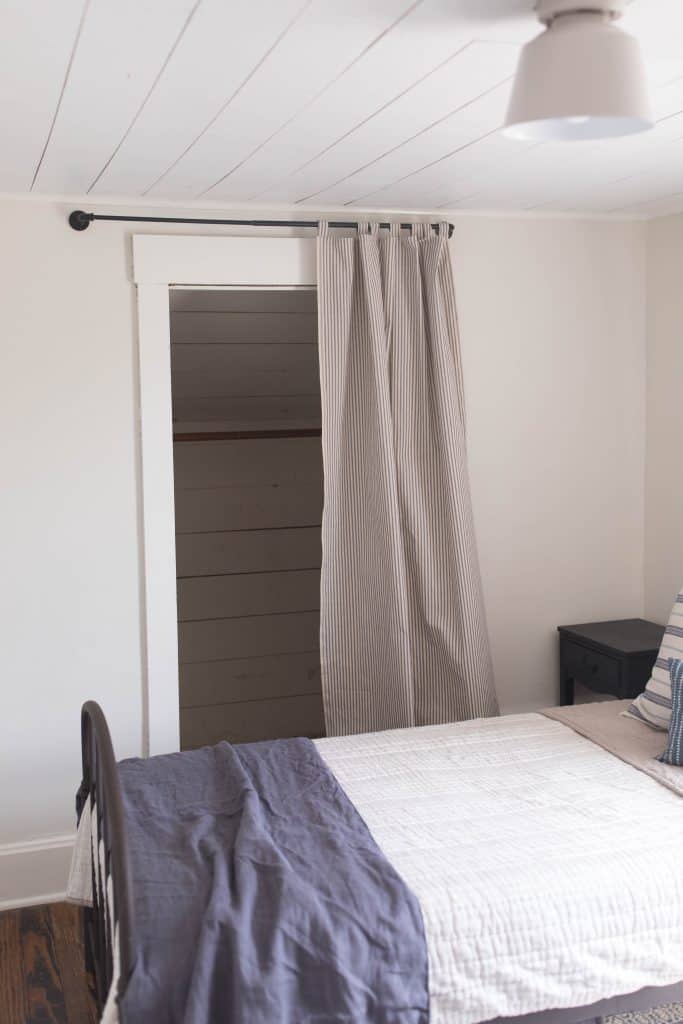 The two rooms are right across from each other, and both have planked ceilings, so it seams only fitting the light fixture should match.
Plus, there aren't very many cute options for semi flush mount fixtures.
I would love to have something fancy, but again, the low ceilings.
These gray semi flush mount fixtures suit me just fine. Simple and neutral.
Pallet bookshelves
My husband loves to read to our boys. Every night before bed he spends almost an hour reading "just one more book, daddy"! Up until now, the books went in plastic tubs under my two year old's crib. But, they never really got put back away. I found these distressed pallet shelves and thought they would make great space savers. We put two on one side of the door and one on the other, smaller, side.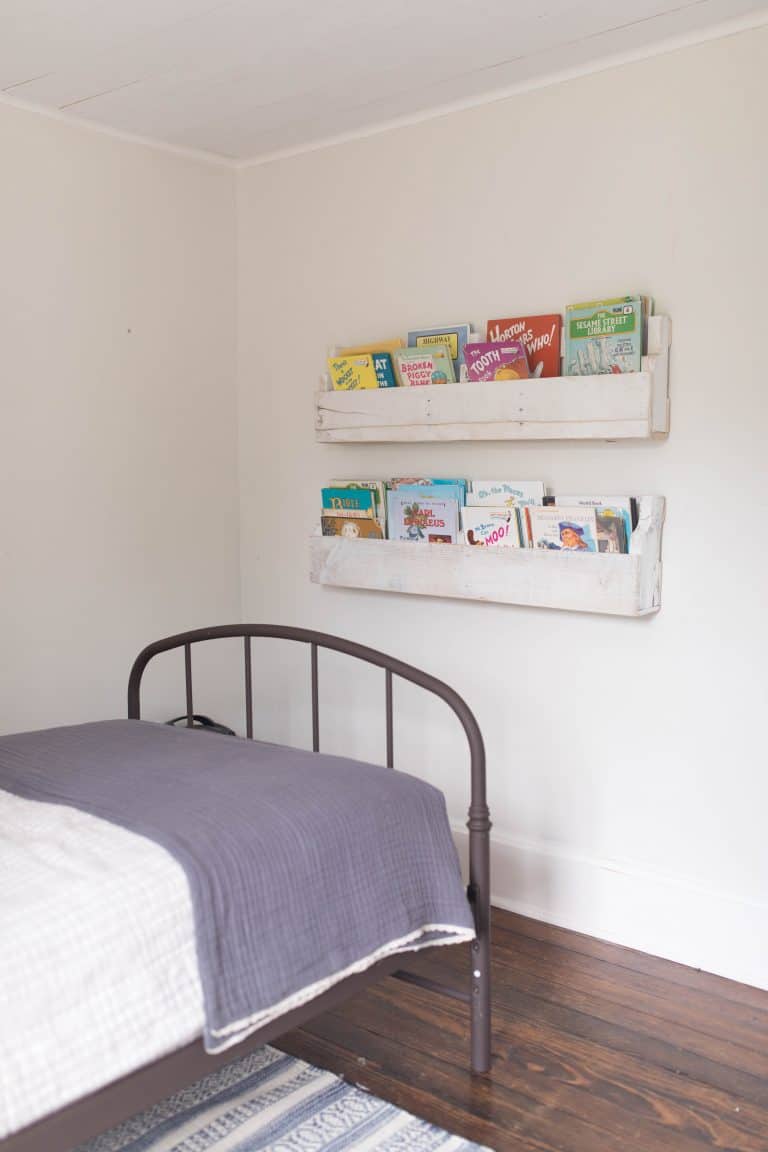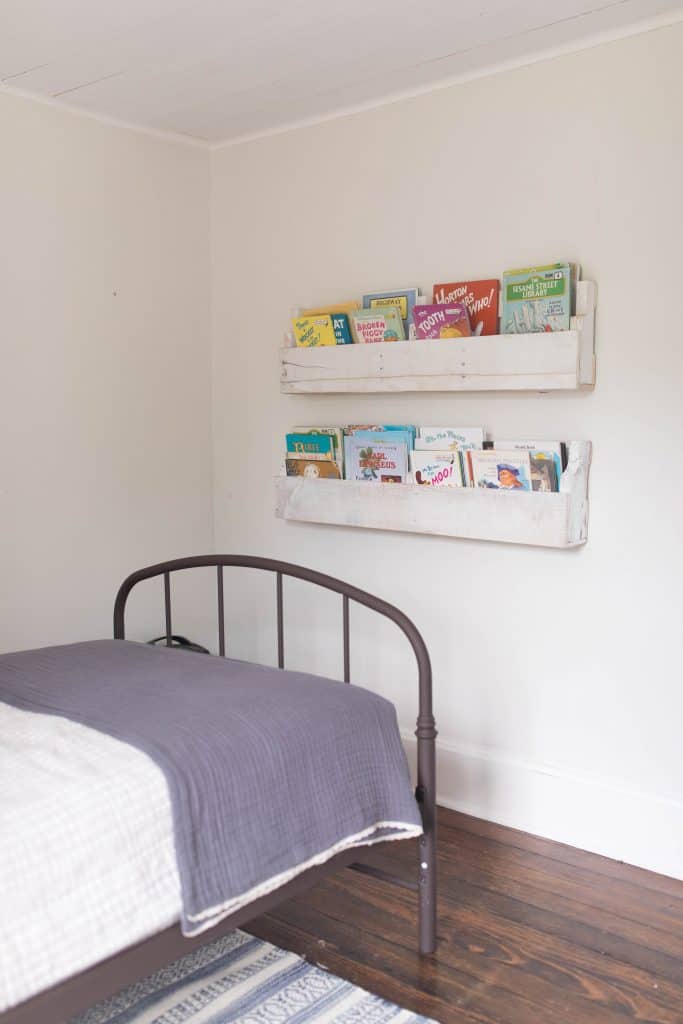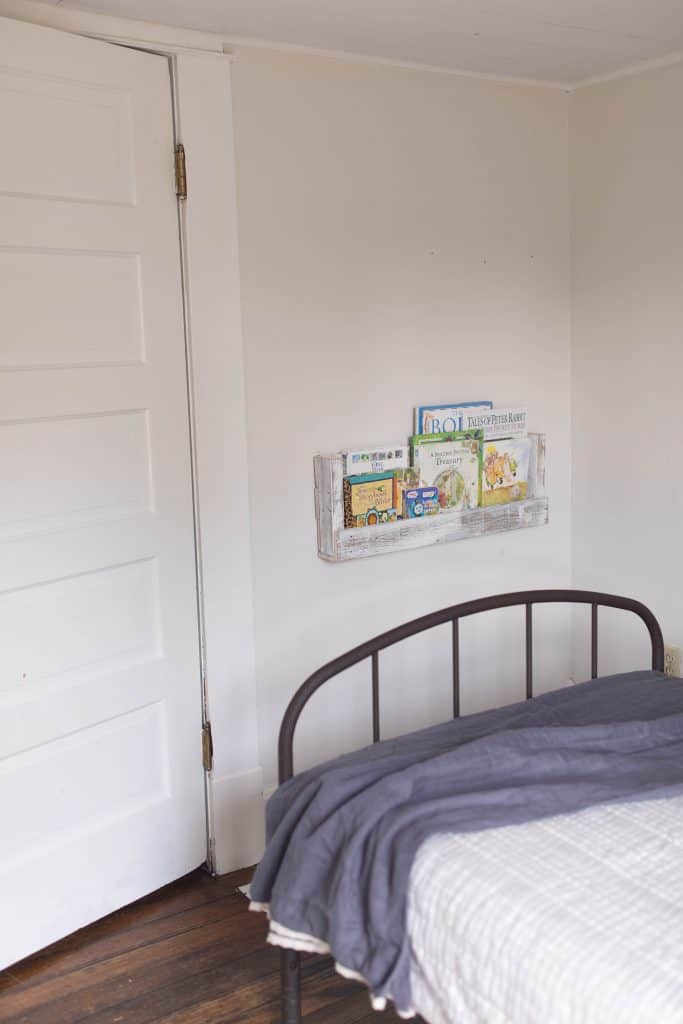 Get the look farmhouse boys room
Twin Iron Beds
Sawyer Slate Rug
Curtain Rod over closet
Semi Flush Mount Grey Light
Reclaimed Pallet Bookshelves
Gray Stitched Stripe Quilt
Paint Color- Benjamin Moore Soft Chamois
Thank you so much for stopping by the farmhouse!
Pin it for later