Come on over and join us for the reveal of our farmhouse eat-in kitchen. This space has been lightened, brightened, and given some lovely farmhouse charm. Check out the details I added to help pull this space together!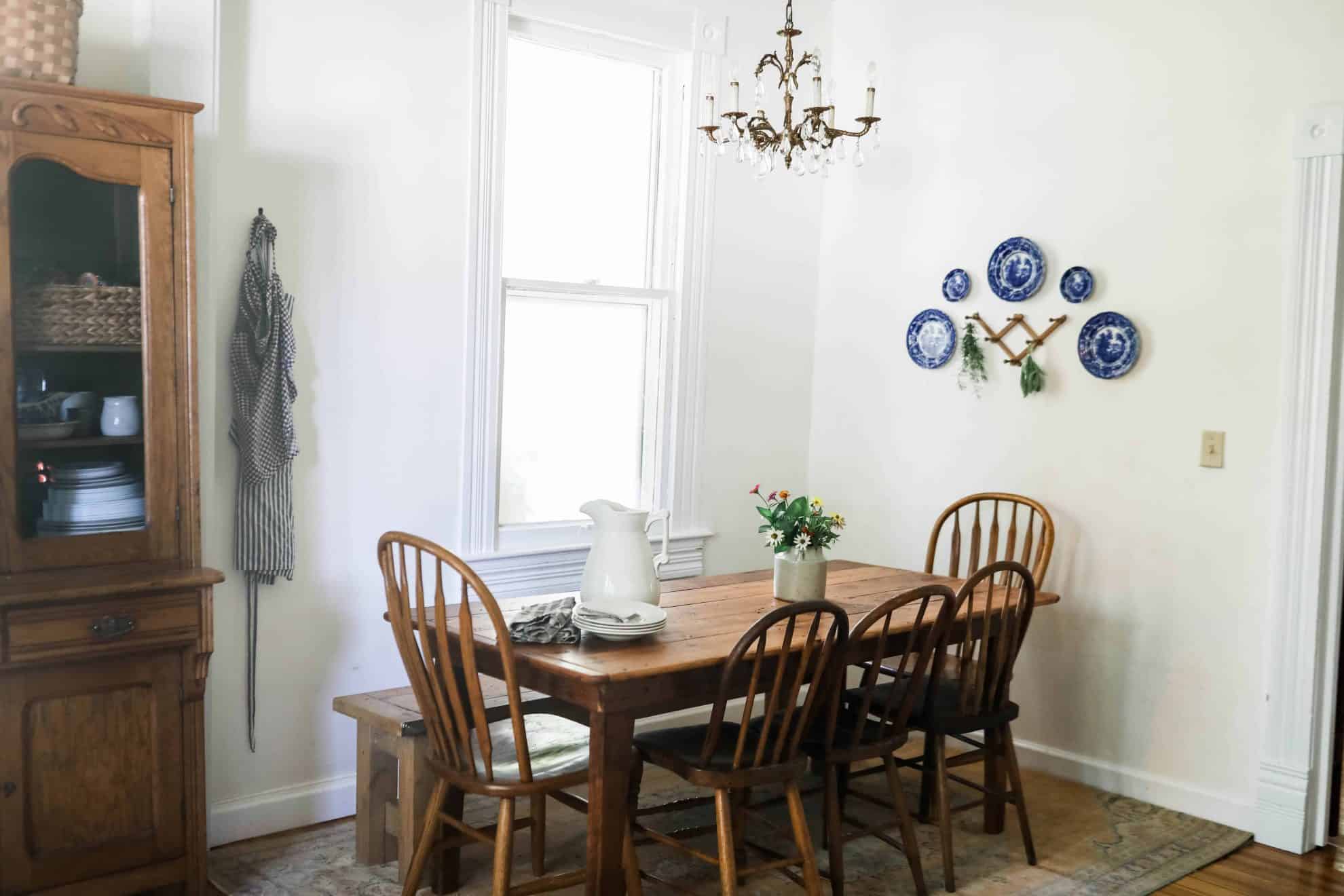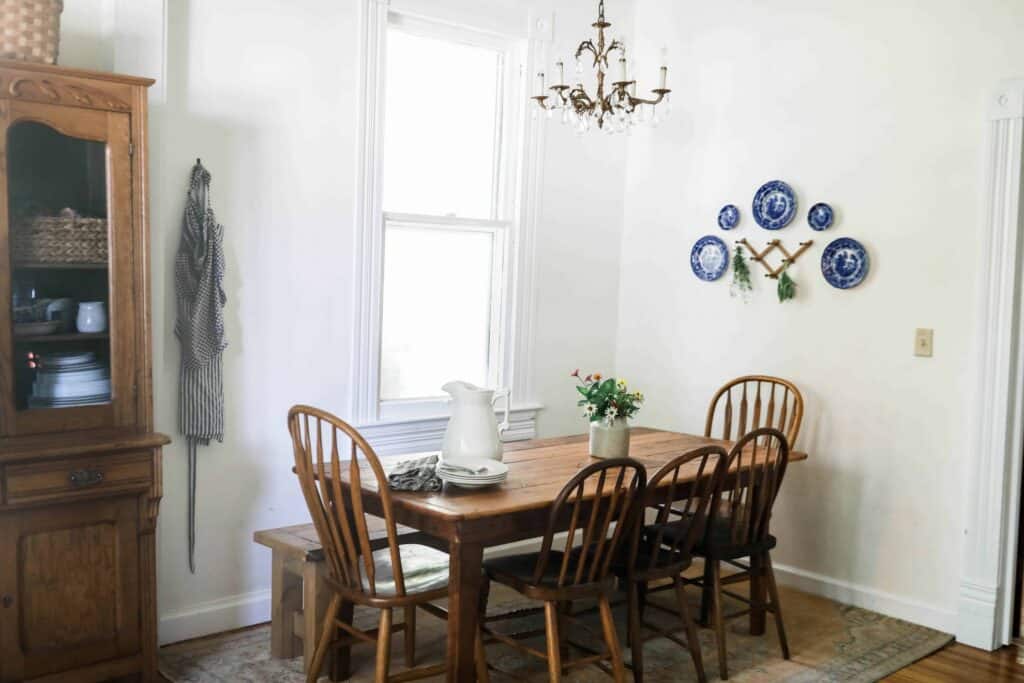 Today, I want to share with you an update on our farmhouse dining space.
If you have been following along on our farmhouse restoration, you know that we sold our last farmhouse that was completely done and started over in one that needs work in every single area.
We have been chipping away, little by little, in different areas of of our home. And while there are some rooms that are done (thank goodness), the kitchen is not one of them.
Right now, the kitchen is completely torn apart, so I wanted to turn my attention to the dining area, because that area is an easy re-do: we don't need cabinets, sink, or plumbing over there.
We can just knock it out with a little elbow grease and an eye for keeping it consistent with the rest of the house.
It's hard to believe we have already been in our house for 6 months. You can find the 6-month tour here.
Our current kitchen may be in shambles, but at least the farmhouse eat-in kitchen looks great. So come take a little tour.
Farmhouse Eat-In Kitchen Video
Farmhouse Eat-In Kitchen Spaces
Eat-In Kitchen Table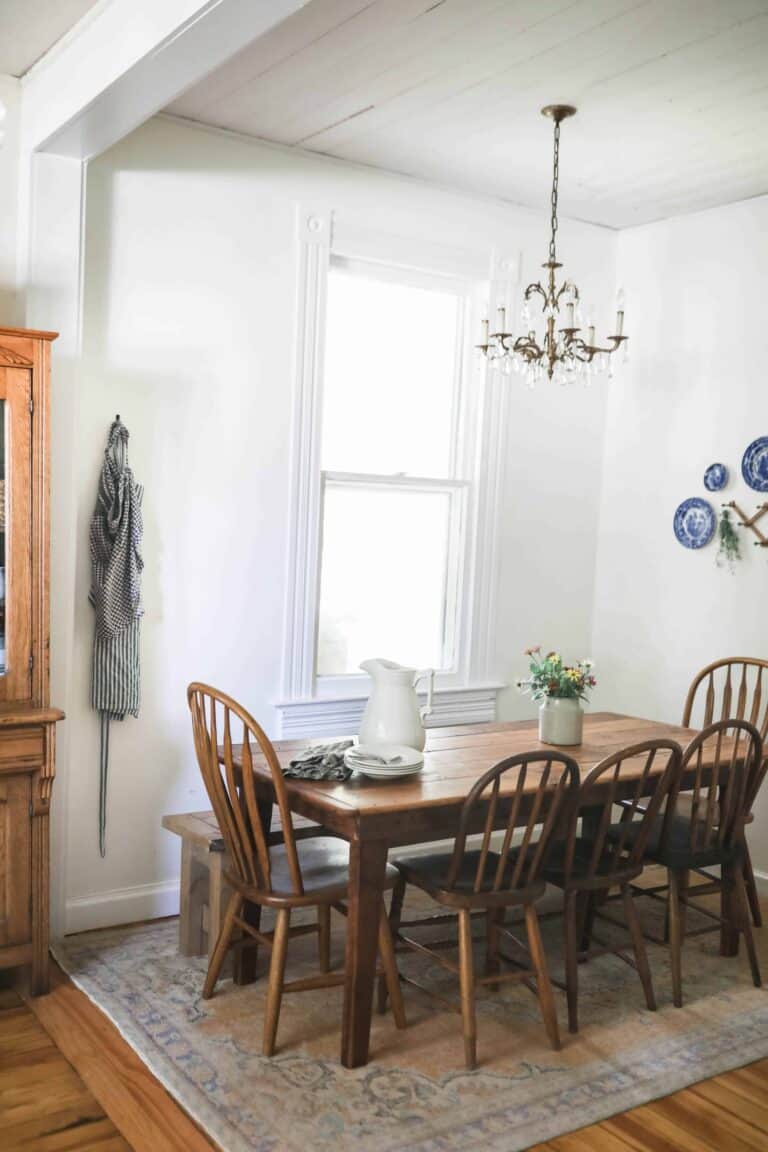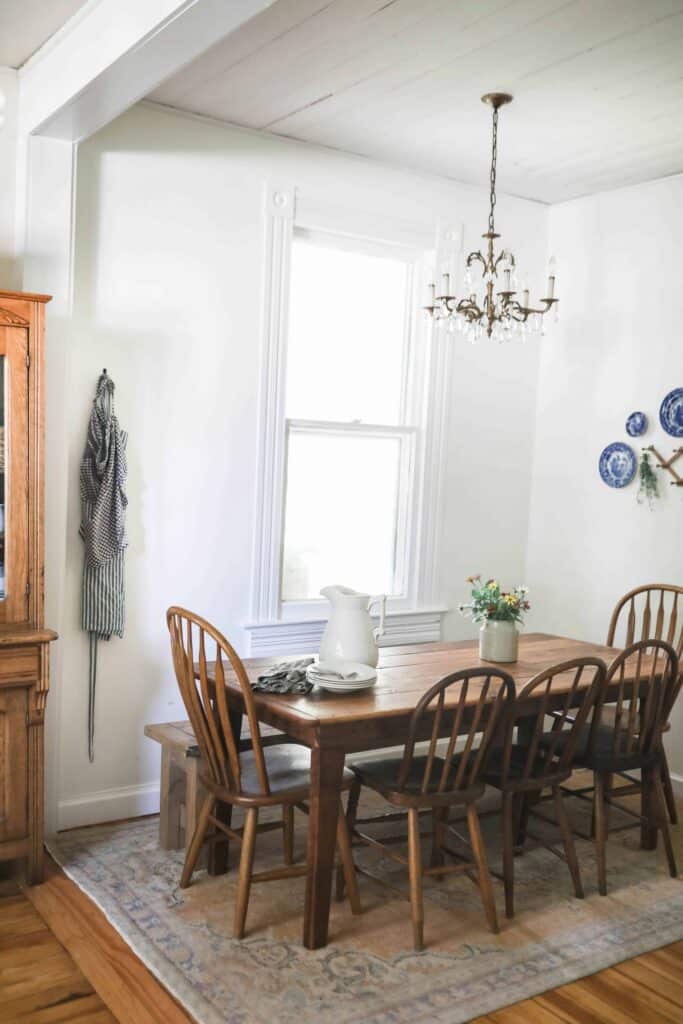 The previous owners had left a table when they moved out that I loved, but it just didn't work for the area and our large family. We basically needed the biggest table we could fit in this space.
We do have a large, dedicated dining room in this house with the old table that we built from our last house that has tons of space for dining.
The only problem is it is way across the house, so it will mostly be used for homeschool and other things. Honestly, it's more of a living area unless we have guests or something.
A few weeks ago, I went antique shopping and found this perfect table. My only hesitation with buying large antiques is you love it at the store, but when you bring it home, it just doesn't work, or it isn't the right size.
My one tip to combat this is I keep notes in my phone of the measurements of areas or of furniture that you are looking for. That way, you can do some measuring on the spot instead of eyeballing it and hoping for the best.
I'm so glad I found the perfect table for our space!
The table came with 4 chairs, and if you saw my previous antiquing video, you know that I already purchased some chairs for this. It actually worked out great, because we need more than 4 chairs. The ones I had previously purchased were small enough to fit three on one side, and then I used two of the ones that came with it for the ends, so they still match.
Farmhouse Vintage Rug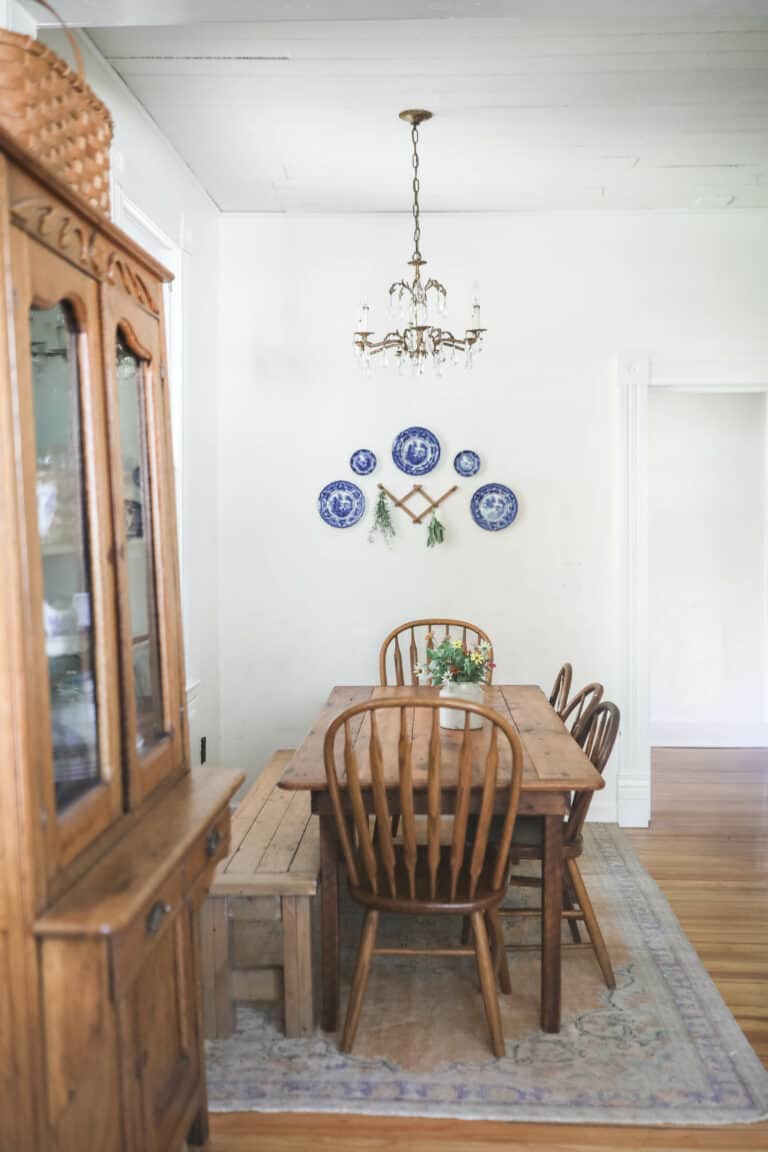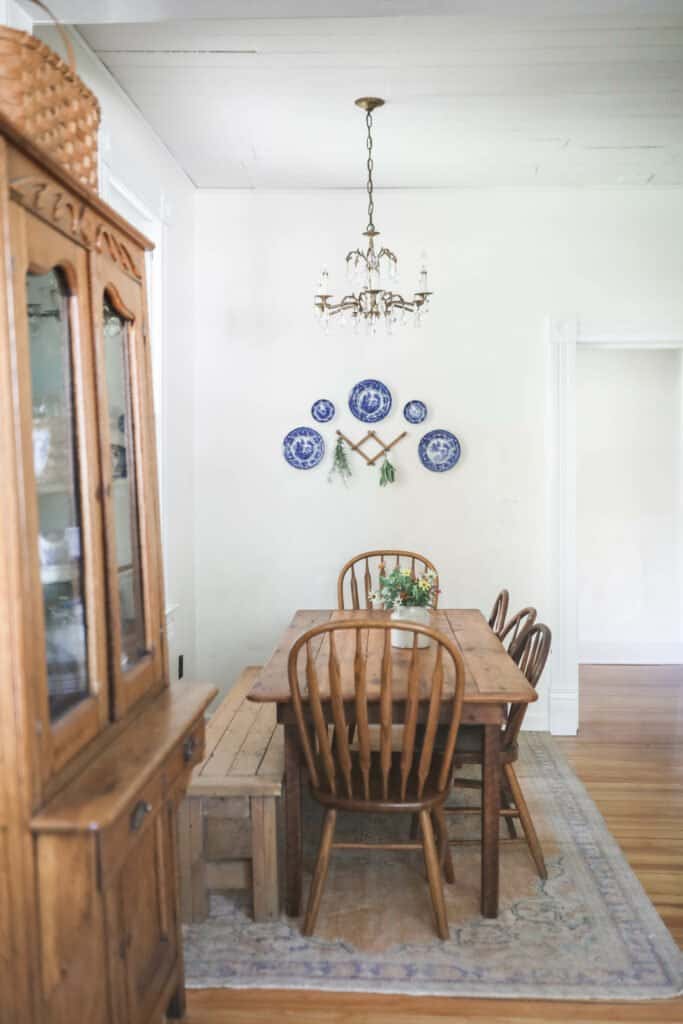 People always think I'm crazy for wanting a rug in my kitchen eat-in area, but in our last house, we always had a natural fiber jute rug under our table, and I remember thinking when I was putting it in there how dumb of an idea it was and that it would only last like, a week.
But what I found is that certain fabrics really hide stains, and let's be real, also hide crumbs. Which sounds gross, I know, and I promise we do sweep, but if we don't have a rug under the table, I find that there are so many more crumbs and I need to clean after every single meal.
This rug is a vintage Turkish rug I found off of Etsy, and it was a great price because it had a stain on it. Which is one reason I wanted it. The stain is hidden way under the table where you can't see it anyway.
So far, with the pattern, and the muted color of the rug, we haven't had any issues with staining.
It is a little too large, but I just folded it under on one side.
Farmhouse Dining Room Lighting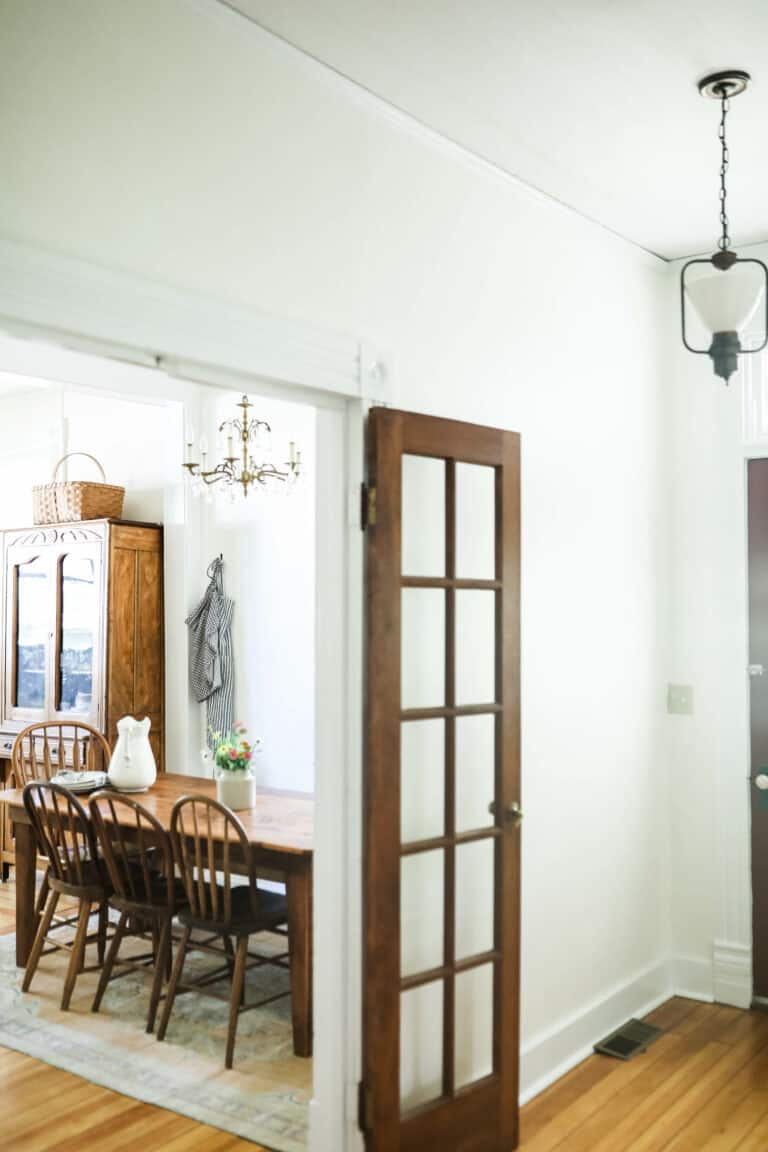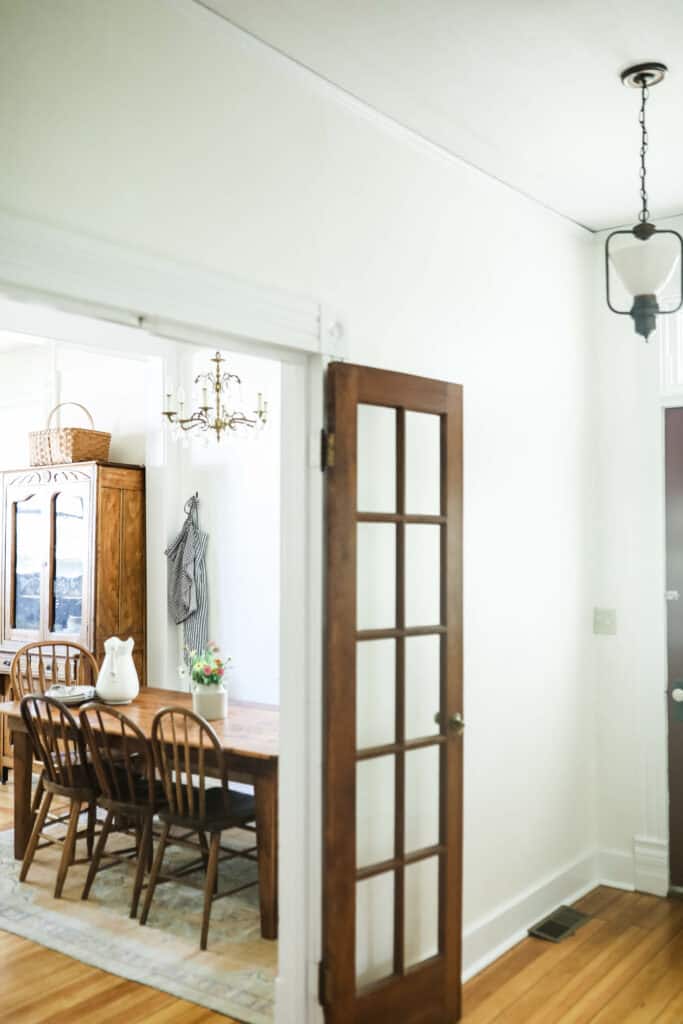 This vintage chandelier was found at an antique store a long time ago, and I wanted to install it but I just put it off and put it off. Finally, I hired an electrician to rewire it and hang it. We had three other vintage light fixtures for him to do also. It took him three hours' time, so that is definitely the way to go.
I love how the vintage chandelier looks in here. It almost adds a French feeling to the room, and I love how it meshes with the rustic straight lines of the wood. It just looks so pretty.
Plate Wall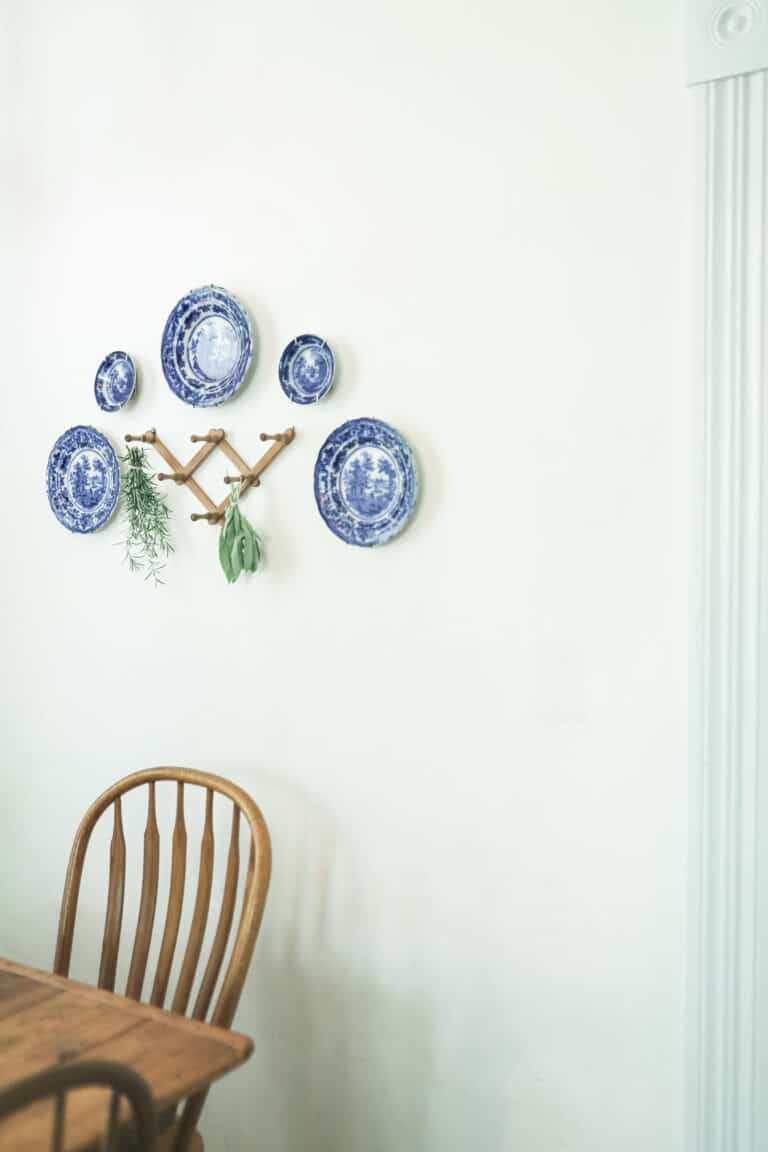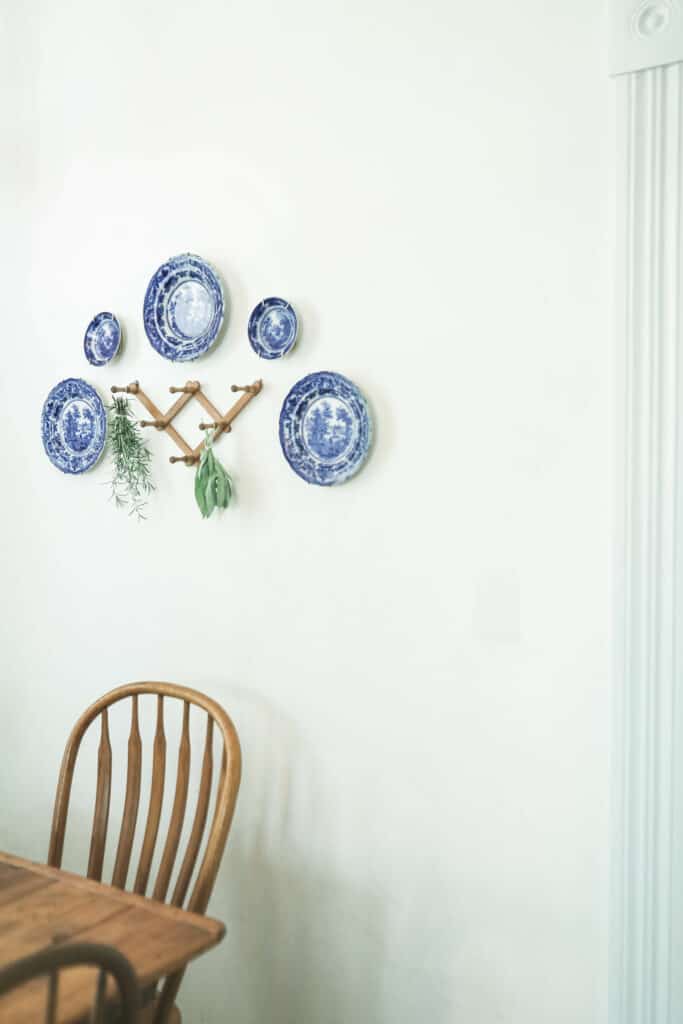 I hung some of my flow blue collection that I found on Facebook Marketplace for $30. We have another plate wall in the dining room, and a bunch more displayed in a cabinet with my other stoneware in my hutch. Definitely got my $30 worth.
You can find my easy tutorial on how to hang a plate wall here.
Also, we hung a little peg shelf that we found at a thrift shop for $2. It looks broken, but it is actually not. That is how it is supposed to be, and I just hung some fresh herbs up there to dry. I could always hang a cutting board, an apron, or really anything kitchen related.
Useful Farmhouse Style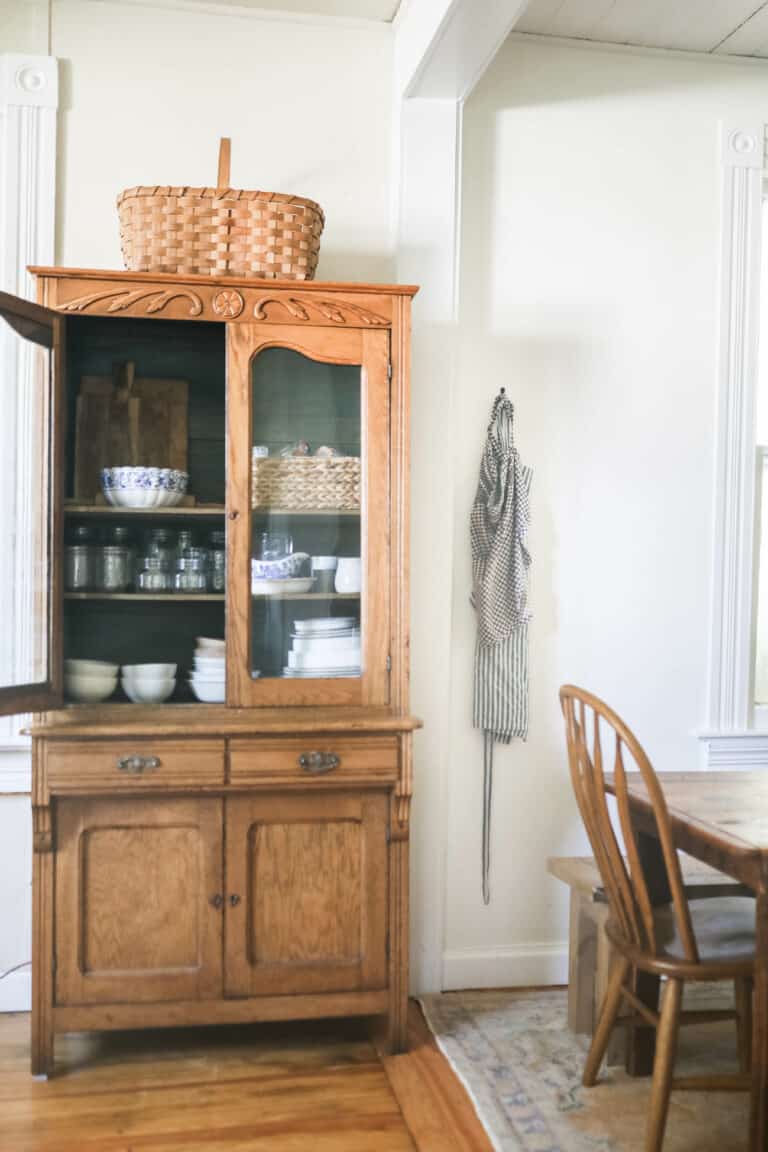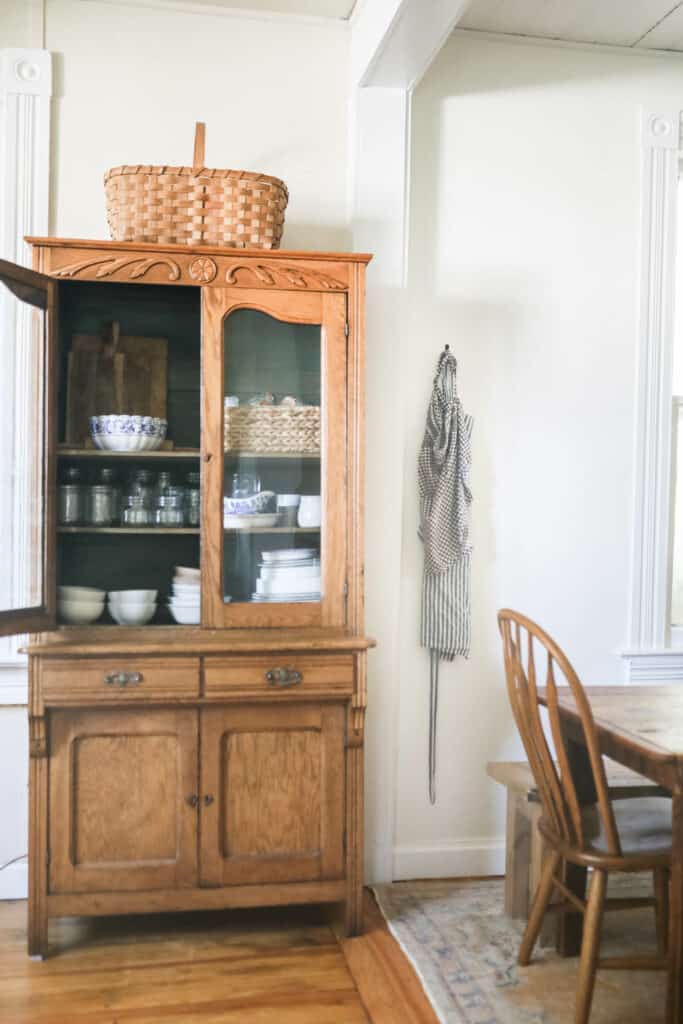 Our family is pretty minimalist when it comes to stuff, but I love useful and beautiful things, and I love displaying those things. So I added a hook next to the hutch to hang aprons on. Useful and beautiful is why we decided to go with some open shelving in our kitchen.
Beautiful and functional items and furniture is what I like about farmhouse style so much.
Collecting Useful Items
For the table, I added some plates, napkins, silverware I've collected over the years, a pitcher, and a vase full of zinnias and herbs from the garden. Everything I've acquired in the hutch and in our home has been collected over the years from antiquing and thrifting.

For me, I love how everything comes together to look collected and curated without looking like I just went to a big box store and purchased everything brand new.
I hope you enjoyed our farmhouse eat-in kitchen tour.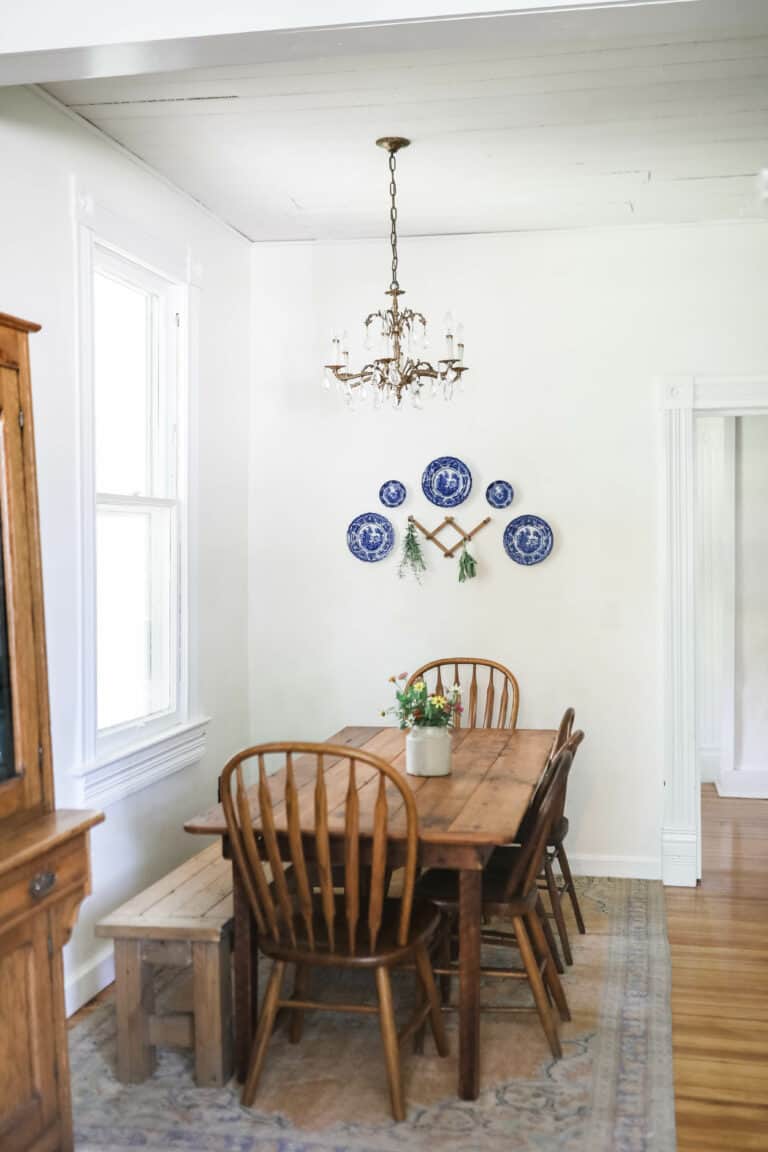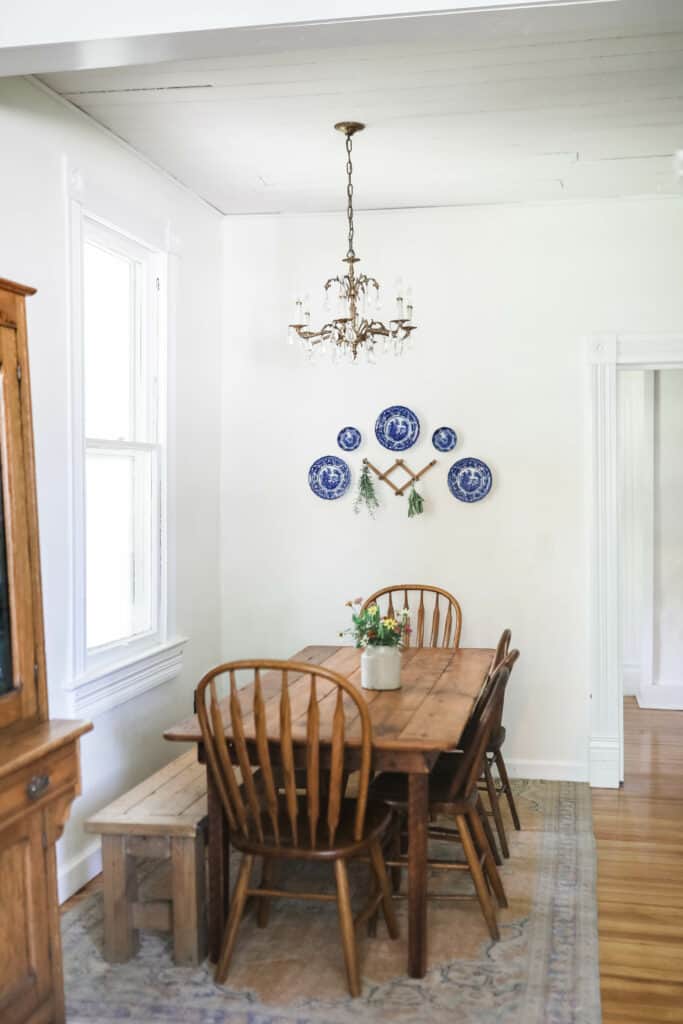 Find more of our new farmhouse renovation projects here:
Pin It For Later