Take a tour of our farmhouse in Spring. This year our farmhouse in Spring is filled with fresh tulips, bright green plants, lovely tableware, wicker baskets, and tons of DIY projects.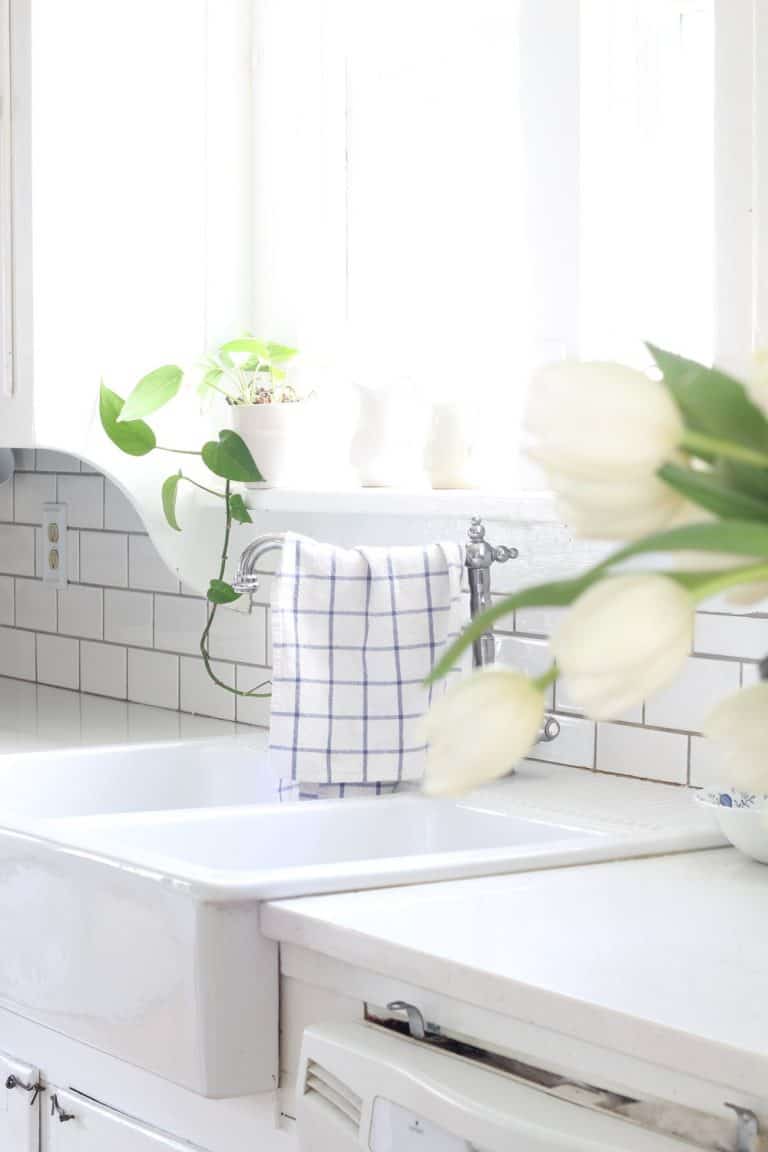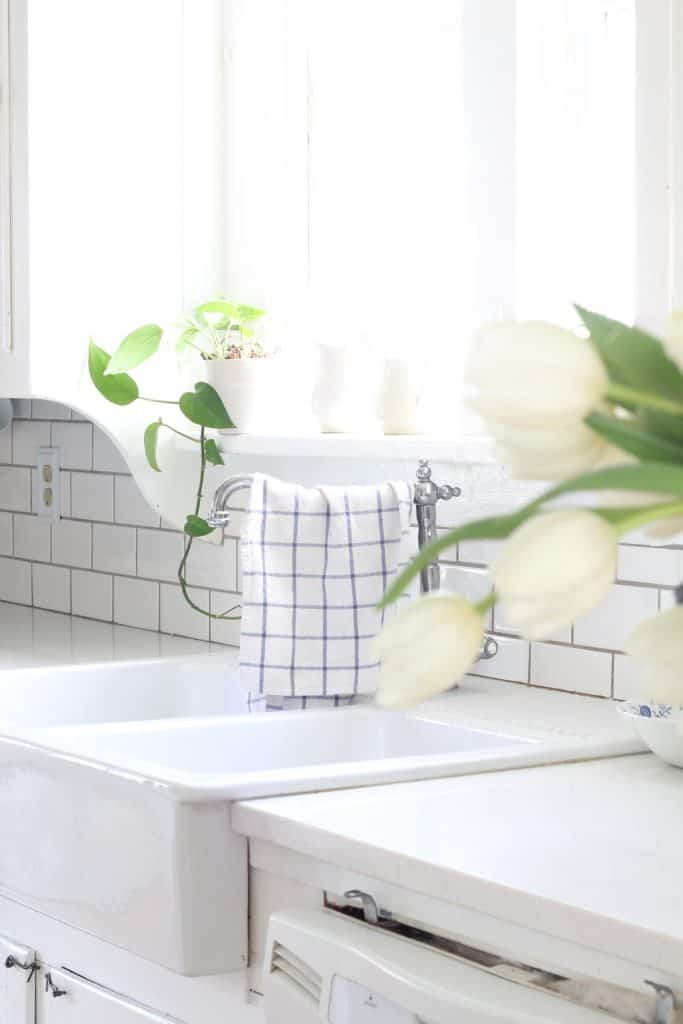 Some links in this post are affiliate links, which means I make a small commission at no cost to you. See my full disclosure here. 
A Cheerful Spring
Although it was a mild winter, springtime always makes me cheerful.
Longer days, bird chirping and full days spent outside in the warm sunshine can put a smile on anyone's face.
I know we have so many months ahead where we will be playing in the creek and pulling fresh herbs out of the garden.
The Dogwood trees, forsythia bushes and daffodils have already bloomed and soon my peonies will begin to pop up.
The chickens have started laying more and it won't be long before we can begin harvesting spinach, kale, parsley and cilantro.
To reflect the changes outside, I have made a few changes in our home. I am never one to go all out for seasonal decorating and spring is no exception.
Join me and 13 other bloggers as we take you through our homes at springtime.
Thank you to Hayneedle for providing products for this tour.
Family Room
This year I have made our home light and cheerful by adding some fresh flowers, wicker and touches of blue.
Of course, I have stuck with my neutral color scheme of white and gray, which lends itself well to all seasons.
When you first walk through the front door of our home the built ins fill the whole wall of the living room.
The green plants, fresh tulips and light bright color scheme make them ready for spring.
I left the blue grain sack and ticking stripe pillows on the slipcovered love seat and added the farmhouse pillow I made from an IKEA tea towel.
The throw blanket that is draped over the couch came from Hayneedle. I had heavy cable knit blankets on the couches all winter, so I wanted something a little lighter for spring.
I made this white ruffle slipcover to cover a stained up bench. I feel like you can never go wrong with white!
Shop the family room

Dining Room
For our dining room, I hung two plate arrangments from some ironstone plates I have been collecting for a few years now.
I kept the window seat simple with a few 18″ blue ticking stripe pillows and grain sack accent pillows. 
I slipcovered an old wingback chair that I found at a resale shop for 5 bucks. Bleached drop cloth for the win!
I love my new Shoelace and Raffia Woven Baskets from Hayneedle. I feel like this medium one looks pretty paired up with my new chair.
For the table settings I used my Nordic Blue Ironstone Plates, antique crocheted linens and vintage clothes pins to hold them together with the silverware inside.
I added some blue to my slipcovered chair with my farmhouse pillow made from an IKEA tea towel.
I have been wanting to make the area to the right of the door when you first walk in sort of an entryway.
There really isn't space for a bench or table, so I just added a vintage mirror, a few hooks and old stool that I recovered with striped linen.
I also added the small Shoelace and Raffia Woven Basket from Hayneedle.
Shop the dining room

Kitchen
The kitchen is my favorite room in the house. Good thing, because I am positive I spend most of my time here.
This room sits right off the dining room and when you first walk in the sink is to the right.
I kept this room simple, with fresh white tulips and blue accents.
I found a whole set of Nordic Blue English Ironstone at a resale shop last year.
I love seeing my collection grow over the years.
The stairs are situated right off the kitchen. We recently gave them a total makeover.
Shop our kitchen:

Master Bedroom
Our master bedroom sits right off the kitchen.
I carried the white, blue and green color scheme into our room.
I dressed the bed with my white linen duvet from IKEA and some antique crochet linens that I found at a resale shop.
I also added my DIY Linen throw blanket and pillow make from an IKEA tea towel.
I wrote about these $5 garage sale lamps in my farmhouse bedroom makeover post.
I added a boxwood wreath to my vintage milk paint dresser.
Shop the bedroom

Thank you so much for stopping by our farmhouse!
Pin it for later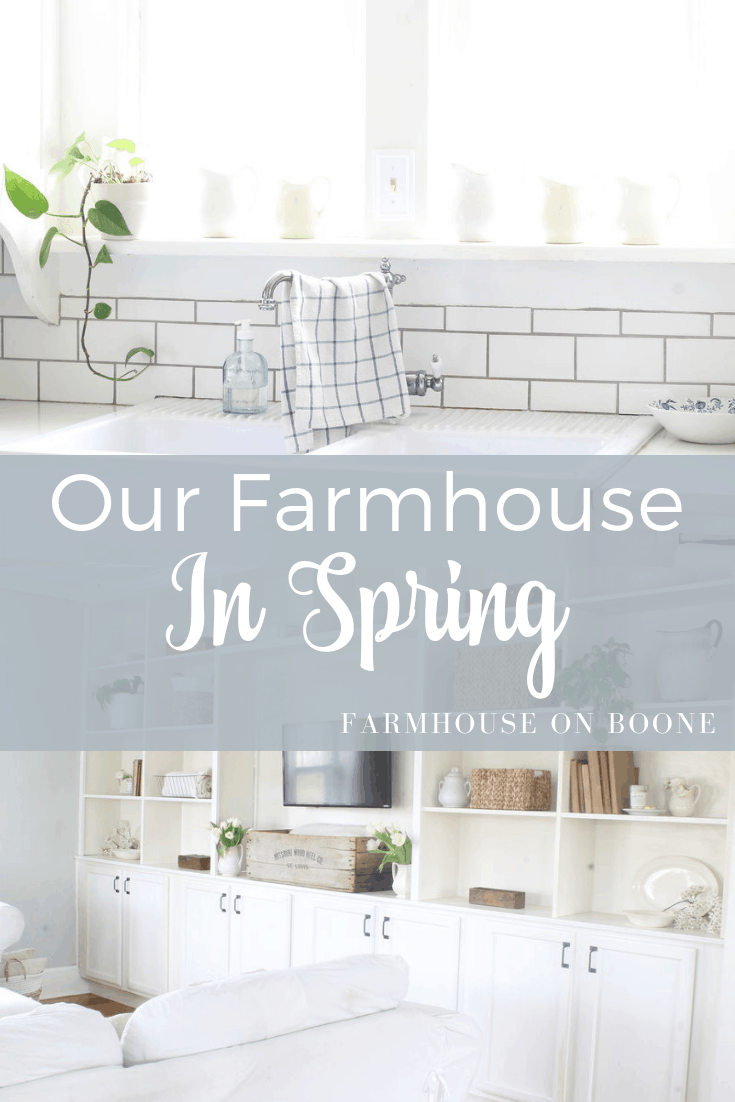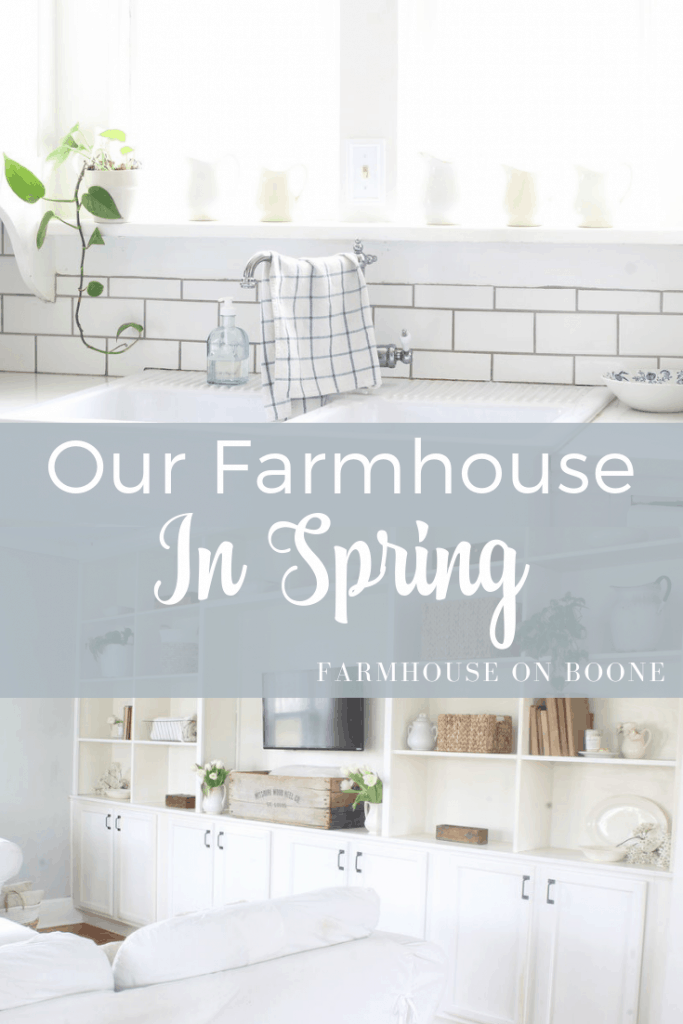 Check out all the beautiful homes on the Joyful Spring Home Tour:
Tour Schedule
Monday March 13
Maison de Pax | Lemons to Lovelys | TIDBITS | Belle Amour Blog
Tuesday March 14
The Mountain View Cottage | Kim Power Style | Meaningful Spaces | My Vintage Porch
Wednesday March 15
The Porch Light Cottage | White Lane Decor | Delightfully Noted
March 16
JorDecor | Farmhouse On Boone | A House With Books