We worked so hard on this farmhouse porch curb appeal makeover. I am so pleased to say it is finally finished!
We've worked so hard to completely transform the outdated exterior of our nearly 100 year old home. We brought the dilapidated porch on our 1920's bungalow back to life, and added some much needed curb appeal.
I don't know if I have ever been more excited to publish a post than this one right here! I can't believe the difference this project has made for our old farmhouse.
Farmhouse Porch Curb Appeal Makeover
Just a review of where we started: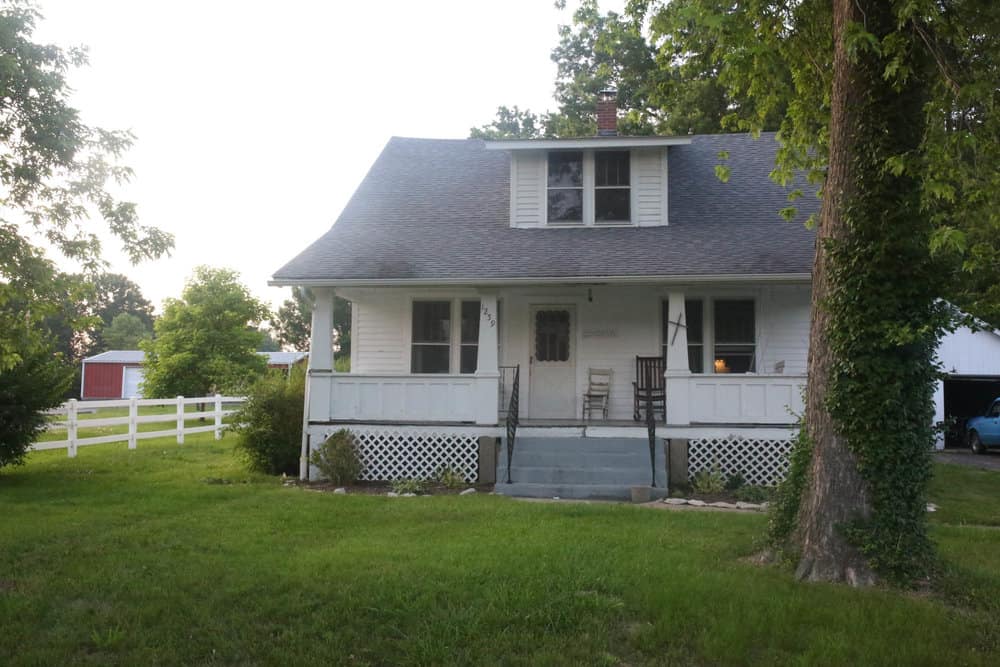 I've partnered up with Lowe's Home Improvement for this project. See my full disclosure HERE.
There is nothing totally offensive about the state of our home these last 10 plus years, but I think we can all agree it had very little in the way of curb appeal.
Get all the before photos HERE.
Being the DIY and decor lover that I am, you may wonder how I could let this go on for so long.
Well, the simple answer is, I didn't even know where to begin.
I mean, the boards were rotting, the lattice would come off if one of the kids just pulled on it slightly, and a good storm would blow the pillars, that supported the overhang, to the ground.
The floor boards were beyond refinishing, and the fixtures and screen door were outdated.
Putting pretty plants and rocking chairs on such a porch seemed almost futile.
This thing needed a total overhaul.
It's hard to believe that less than $3,000 could make such a difference for the exterior of our home!
We did have the help of my cousin to do some building and electrical, but we DIY'ed as much as possible.
SO, for the list of projects we tackled with this makeover: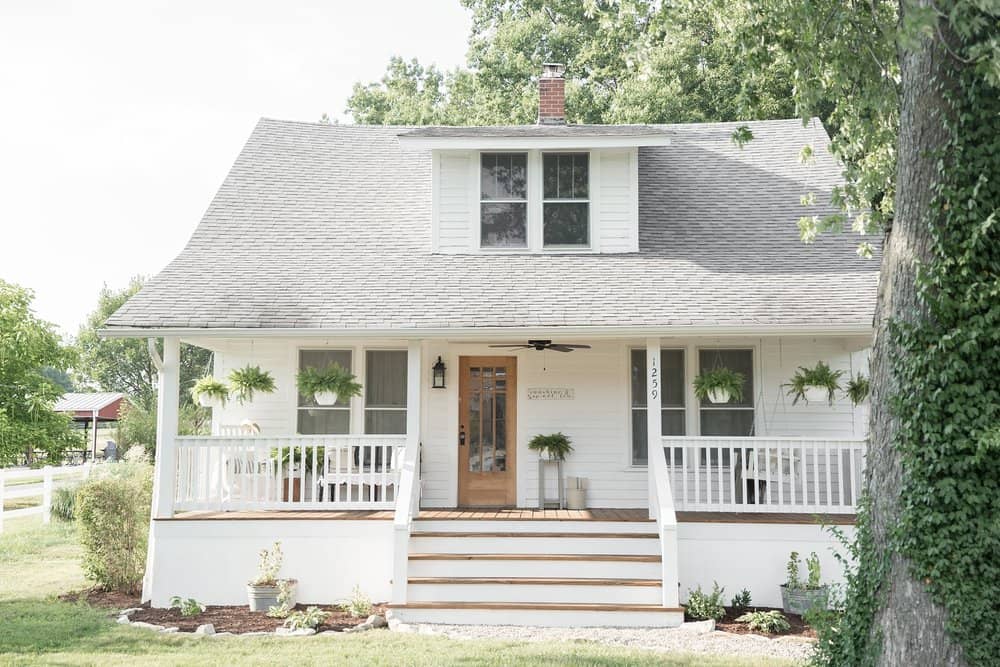 We decided to stain the floors, so they would stand out against the white house.
Stripping the paint from our antique front door makes it stand out from the road, and adds in another wood tone.
We chose to go with black accents, like we did with our new farmhouse porch fan, lantern style light, bench and house numbers.
We covered the existing concrete steps with wood.  We stained the stair treads to match our farmhouse porch flooring.
In my last post for this curb appeal makeover, I confessed my dilemma over which direction to lay the porch floors.
We ended up going the more traditional route, running the porch perpendicular to the house.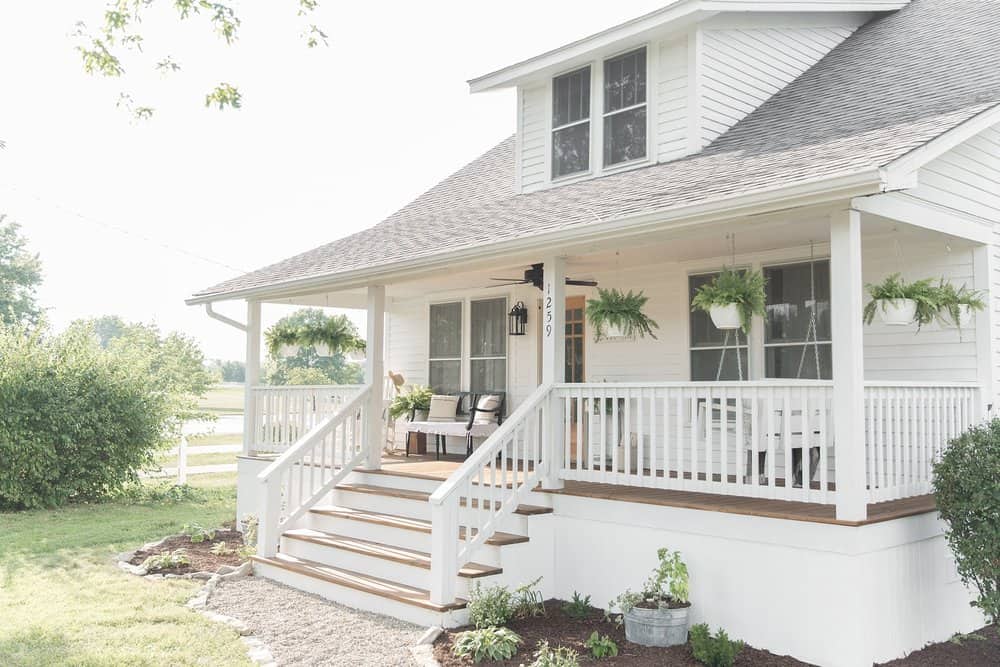 To spruce up the cracking driveway, we did a simple pebble path.
I will be doing another separate post on that process, but I love dramatic difference it made for minimal effort and money.
UPDATE: You can find that post HERE.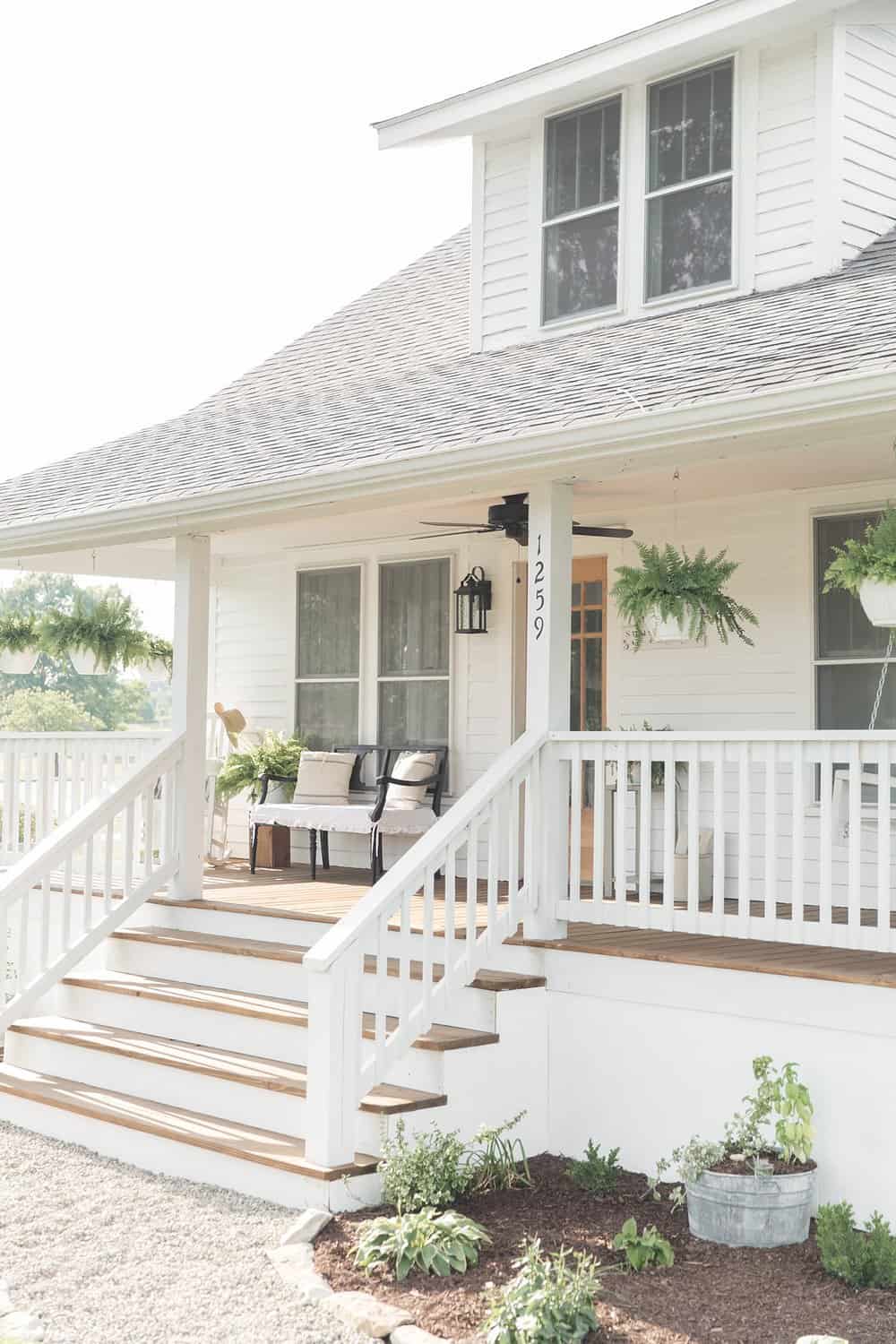 Ferns and Hostas add in color, while still keeping everything really natural and neutral.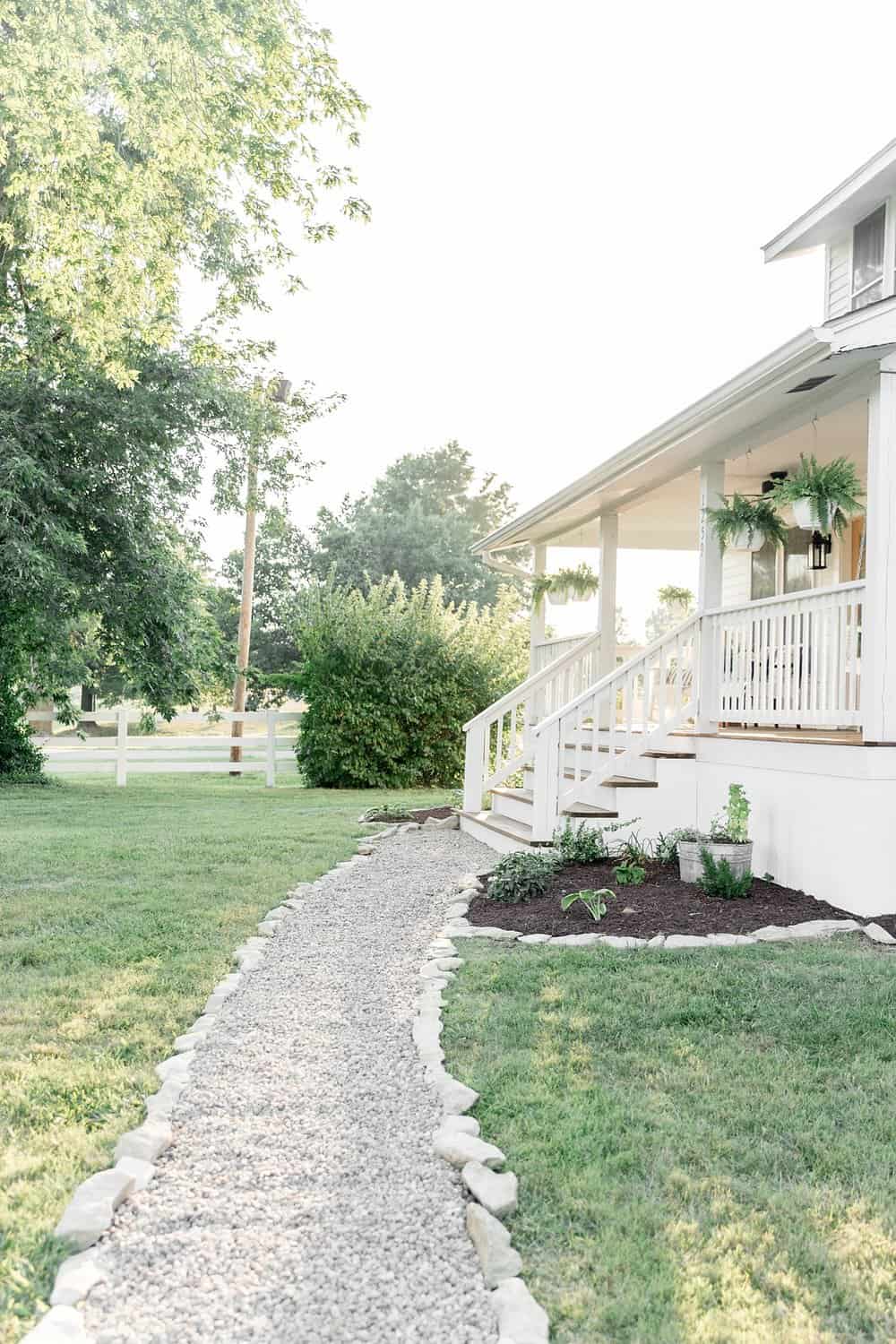 I've been hoarding these vintage galvanized tubs, because I always thought they would look pretty in my farmhouse porch landscaping.
But, they actually just sat on my porch for years collecting recycling, because I couldn't decide what to do with them.
Remember my problem earlier with trying to add pretty farmhouse touches to an old dilapidated porch. Why bother?
After my porch was no longer in shambles, I put one on either side of the steps and filled them with herbs, succulents and coleus. Next year, I will probably use them as a container garden and plant rosemary, thyme and basil.
My little mini potager!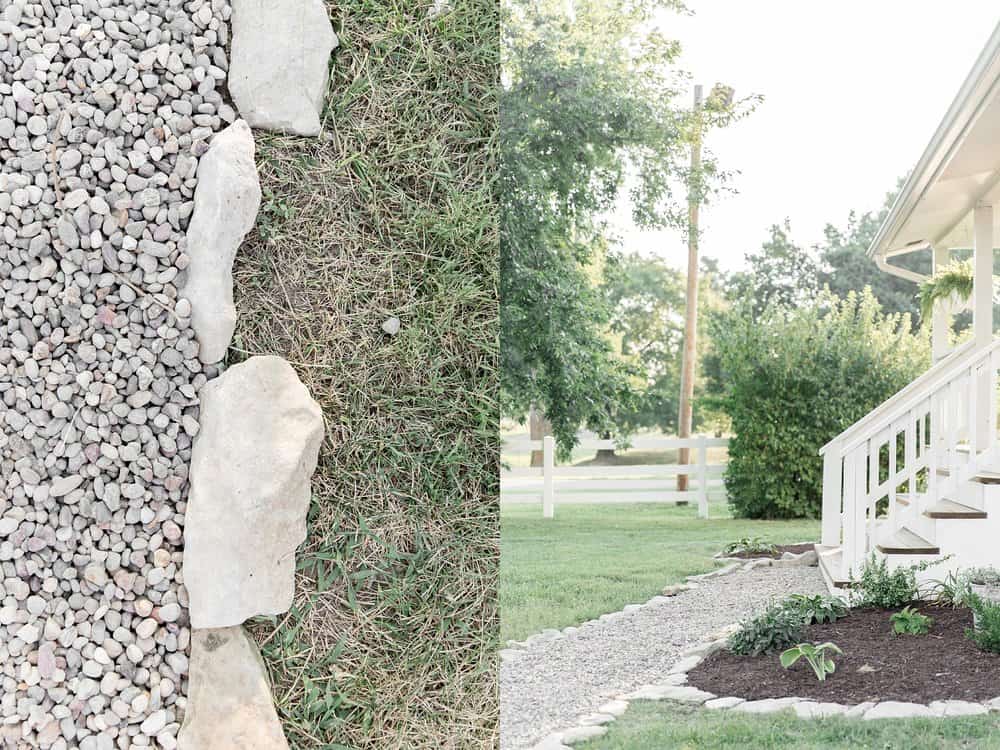 To add in a little more subtle color, I brought out my DIY IKEA tea towel farmhouse pillow, my blue ticking stripe and grain sack pillows and my DIY buffalo check pillows.
Tutorials and shopping links for those pillows are linked above!
I stayed in my usual neutral color palette of white, wood, black, green and blue. I always know I can hardly go wrong when I pair those together.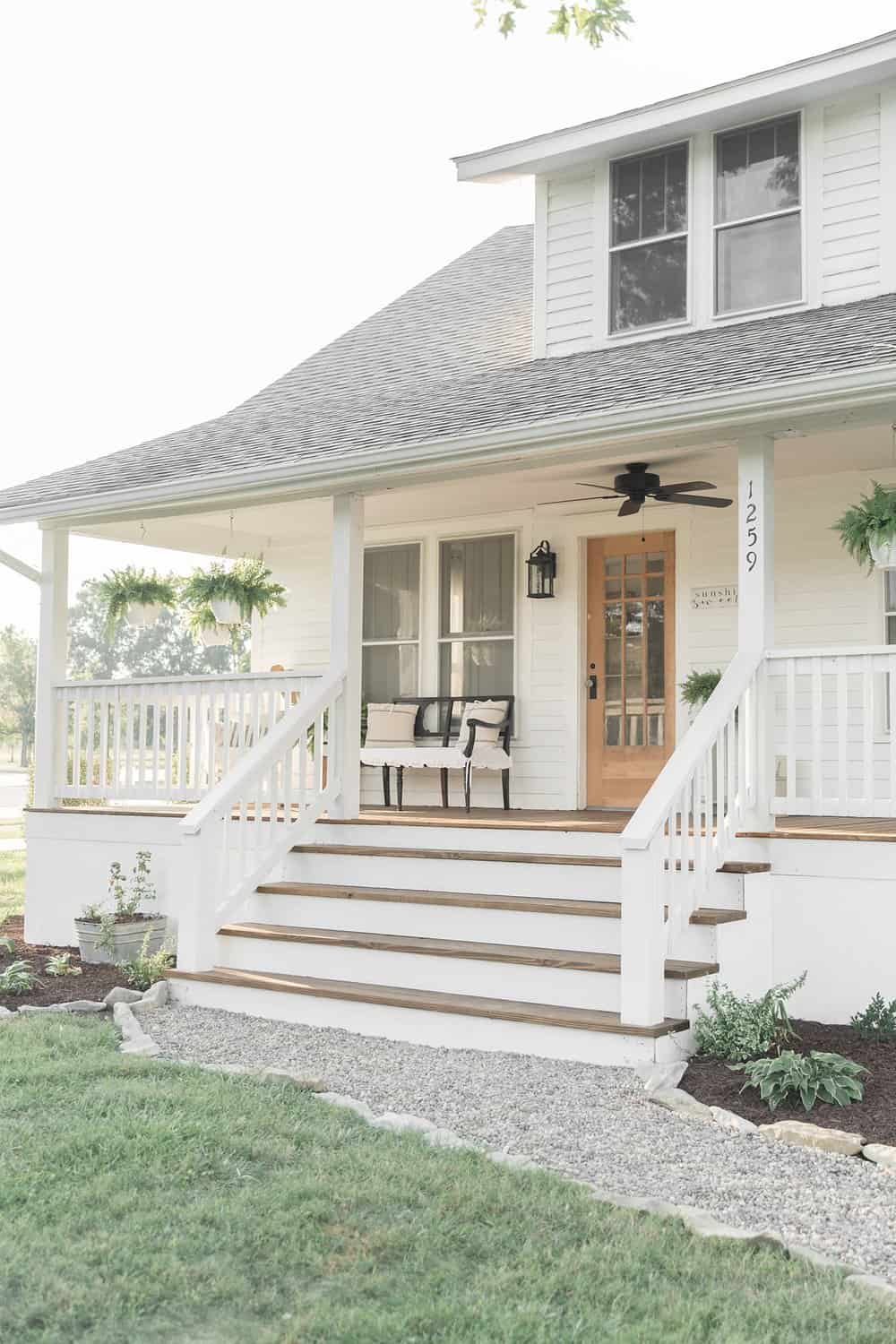 The new slated porch railing really opens everything and makes the porch seem so much bigger.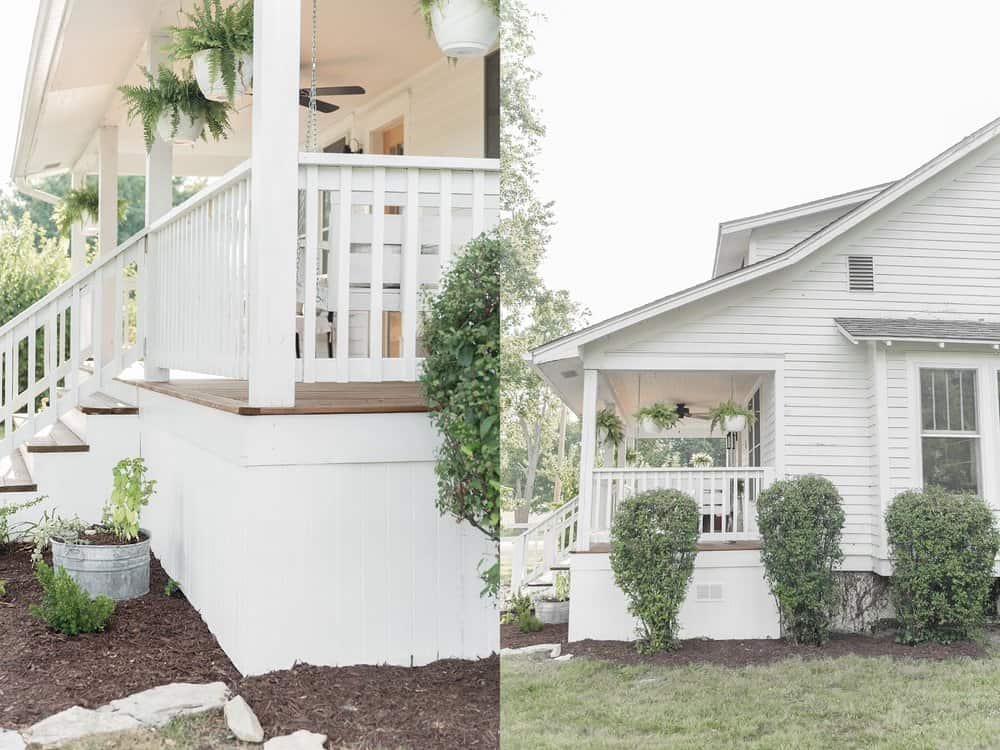 We added some vents to the sides of the solid porch skirt, to provide ventilation, and keep moisture from building up under a completely enclosed porch.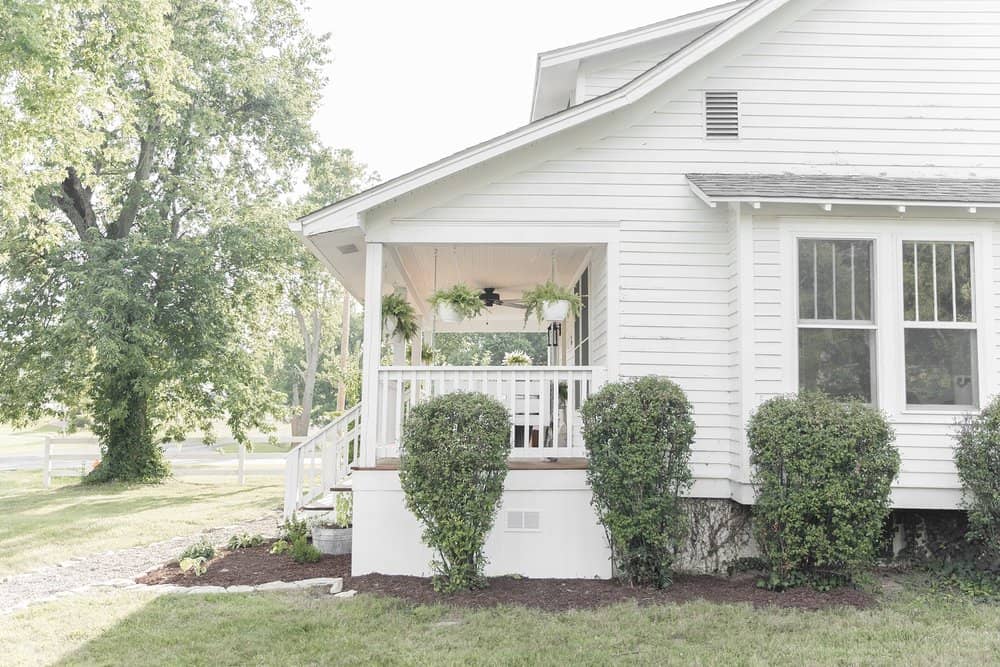 To spruce up the landscaping on both sides of the house, we trimmed the bushes and added some fresh mulch.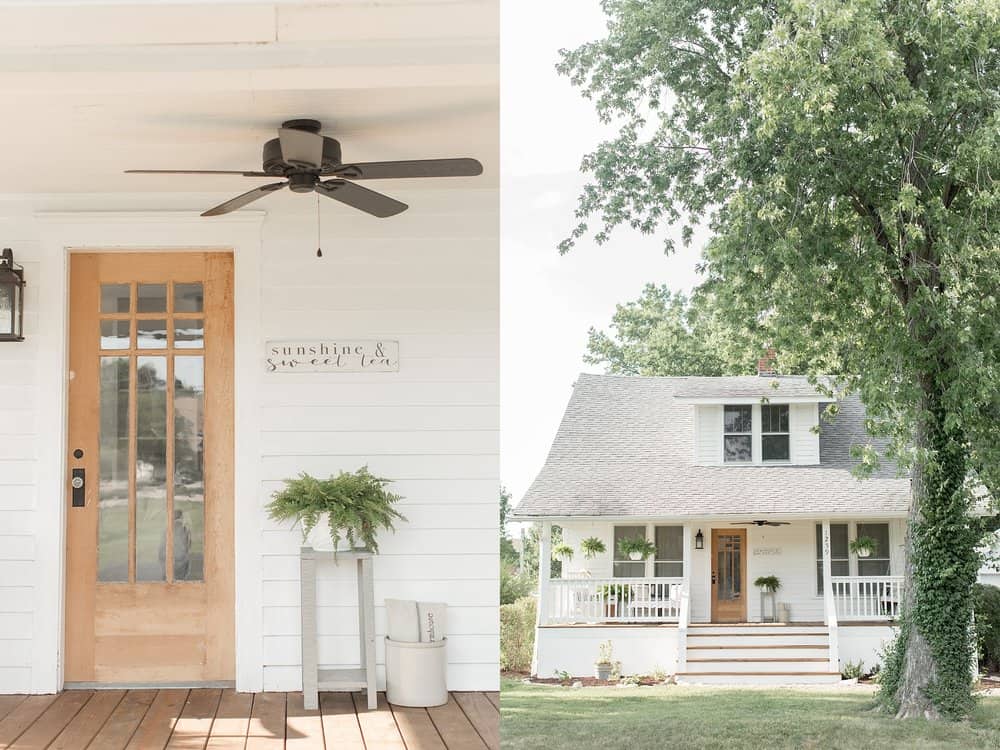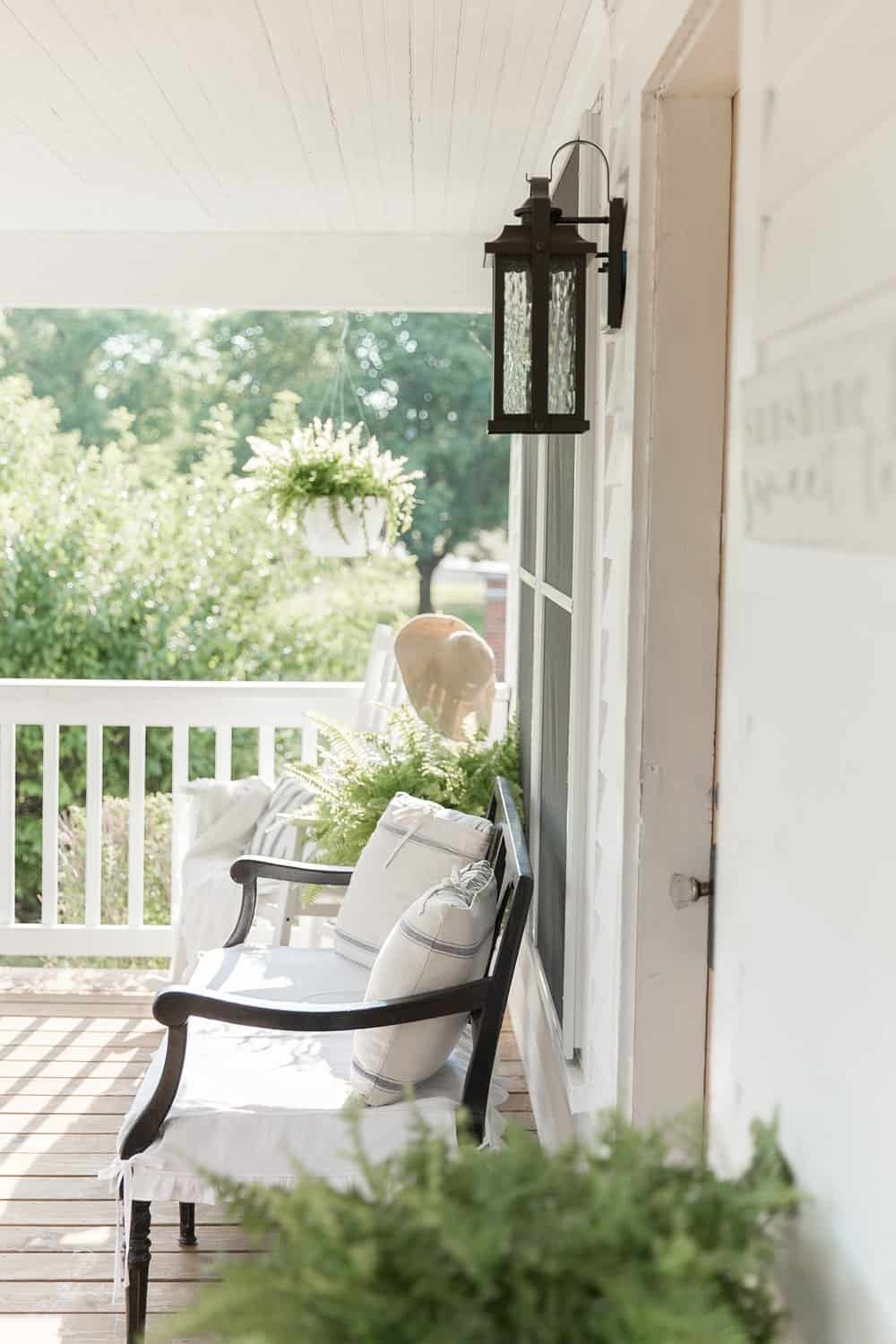 The only thing we left with our original porch, other than the floor joists, was the white beadboard ceiling.
I love that it runs the entire length of the porch and adds to its farmhouse charm.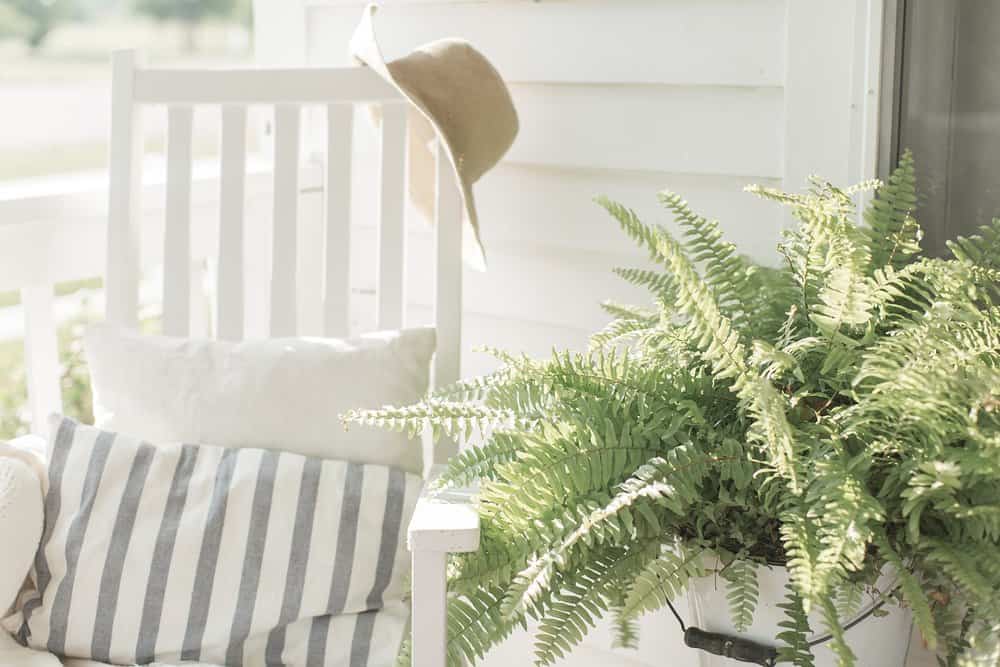 I think farmhouse porch furniture should be kept simple and minimal.
I decorated this white rocking chair with a few simple pillows, a white vintage blanket and a straw hat.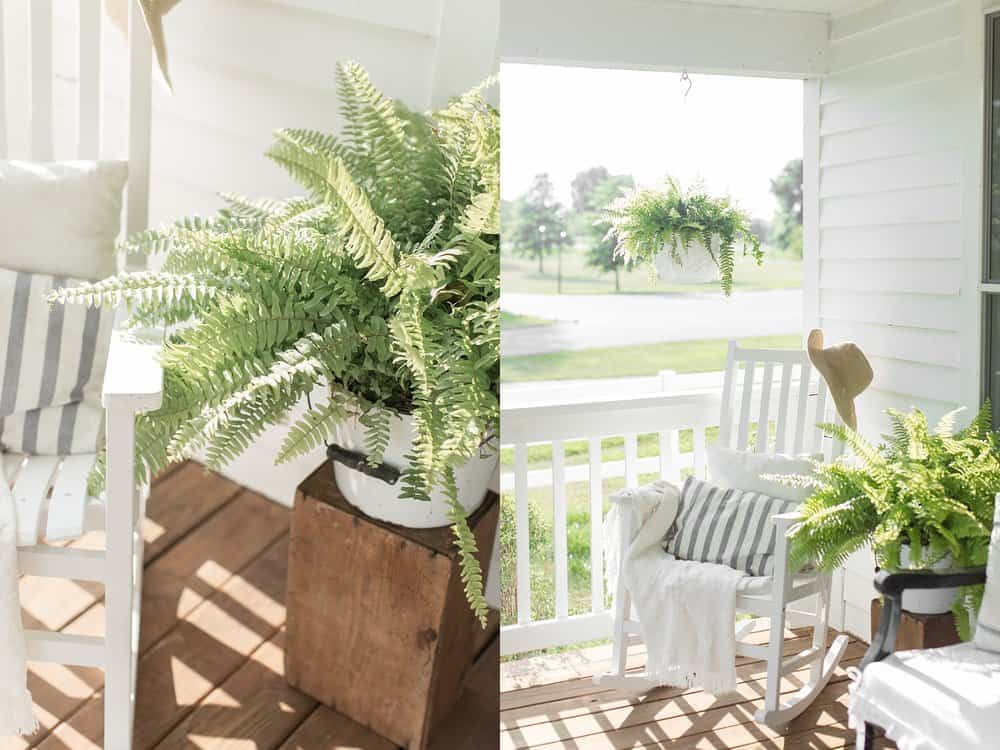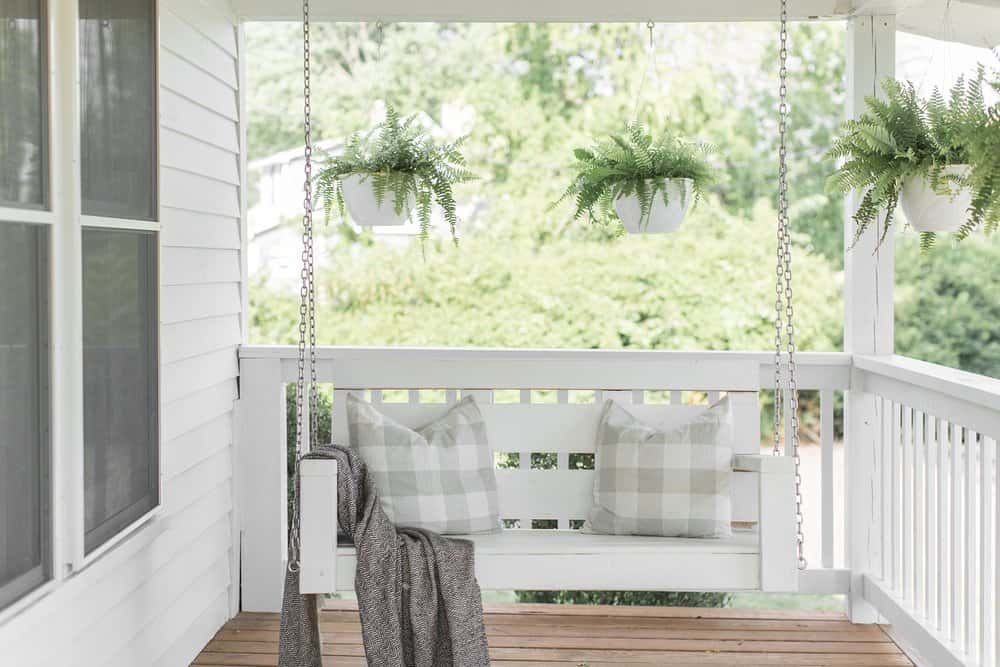 My husband built this white farmhouse porch swing.
I kept the styling minimal, with a few gray buffalo check pillows, and this simple blanket, to tie in a little more black, on this side of the porch.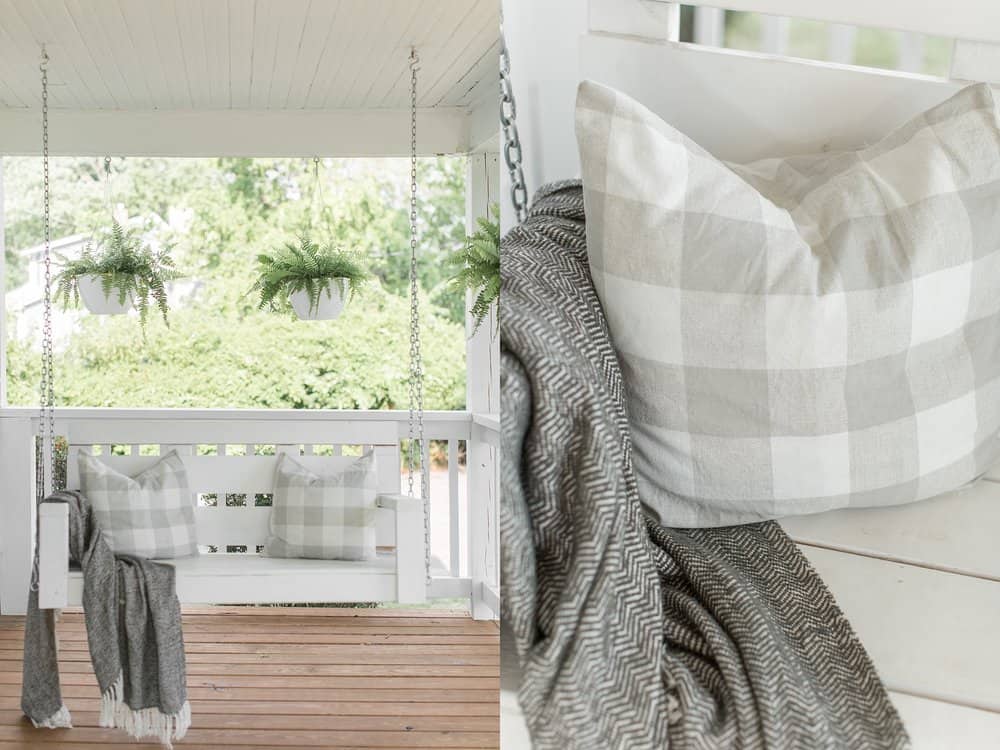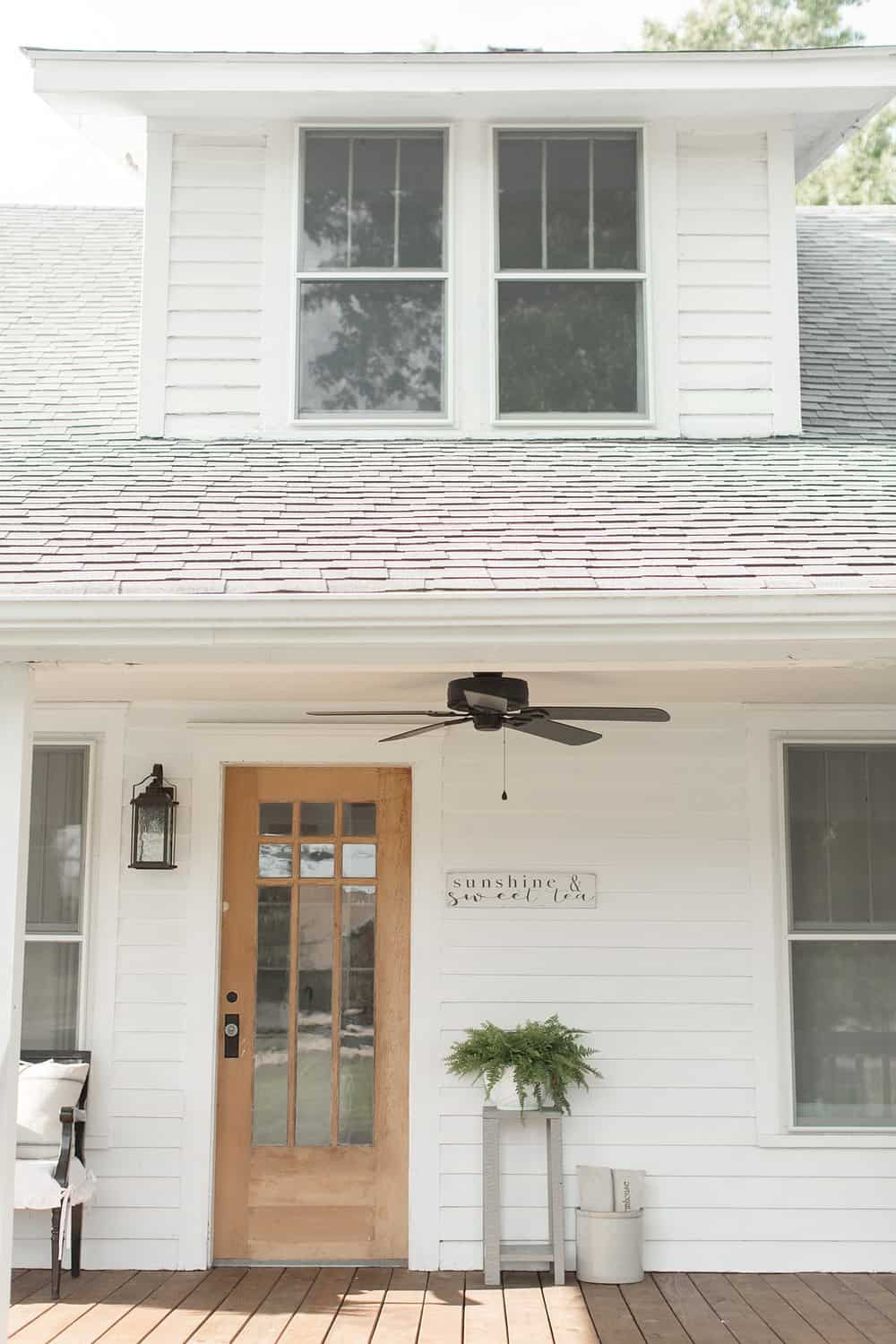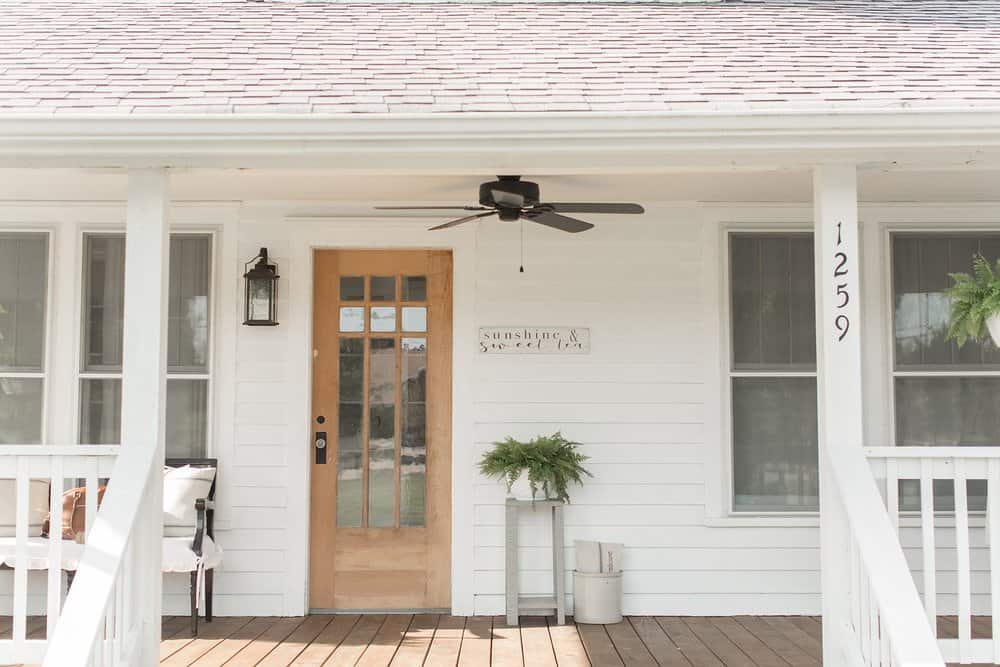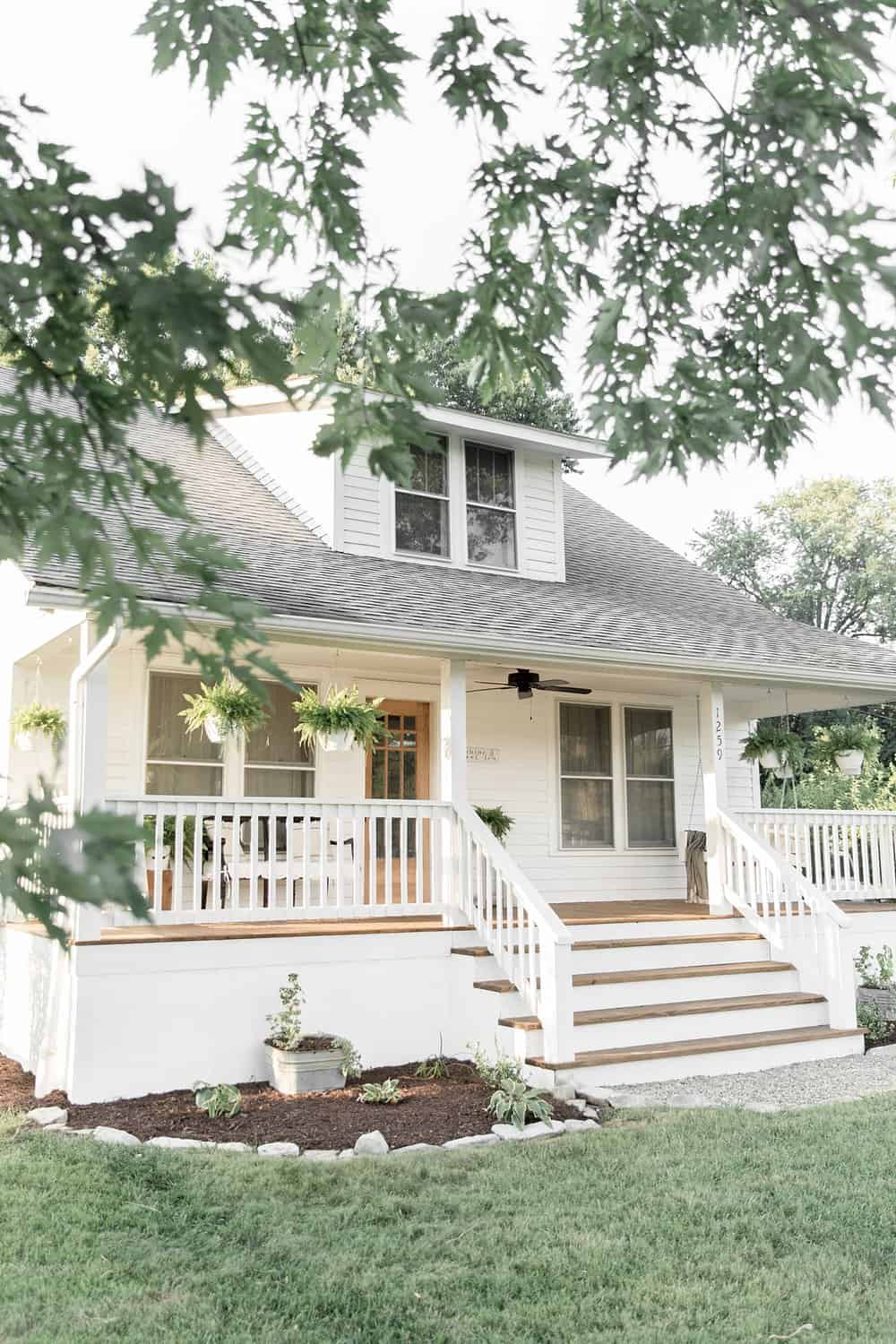 I love this new space so much!
I think it completely transforms our entire house, and gives it more of the simple farmhouse character from the outside, that we already have going on inside.
I can't wait to fill it with pumpkins this fall, and spend cozy evenings on the porch swing with warm  blankets.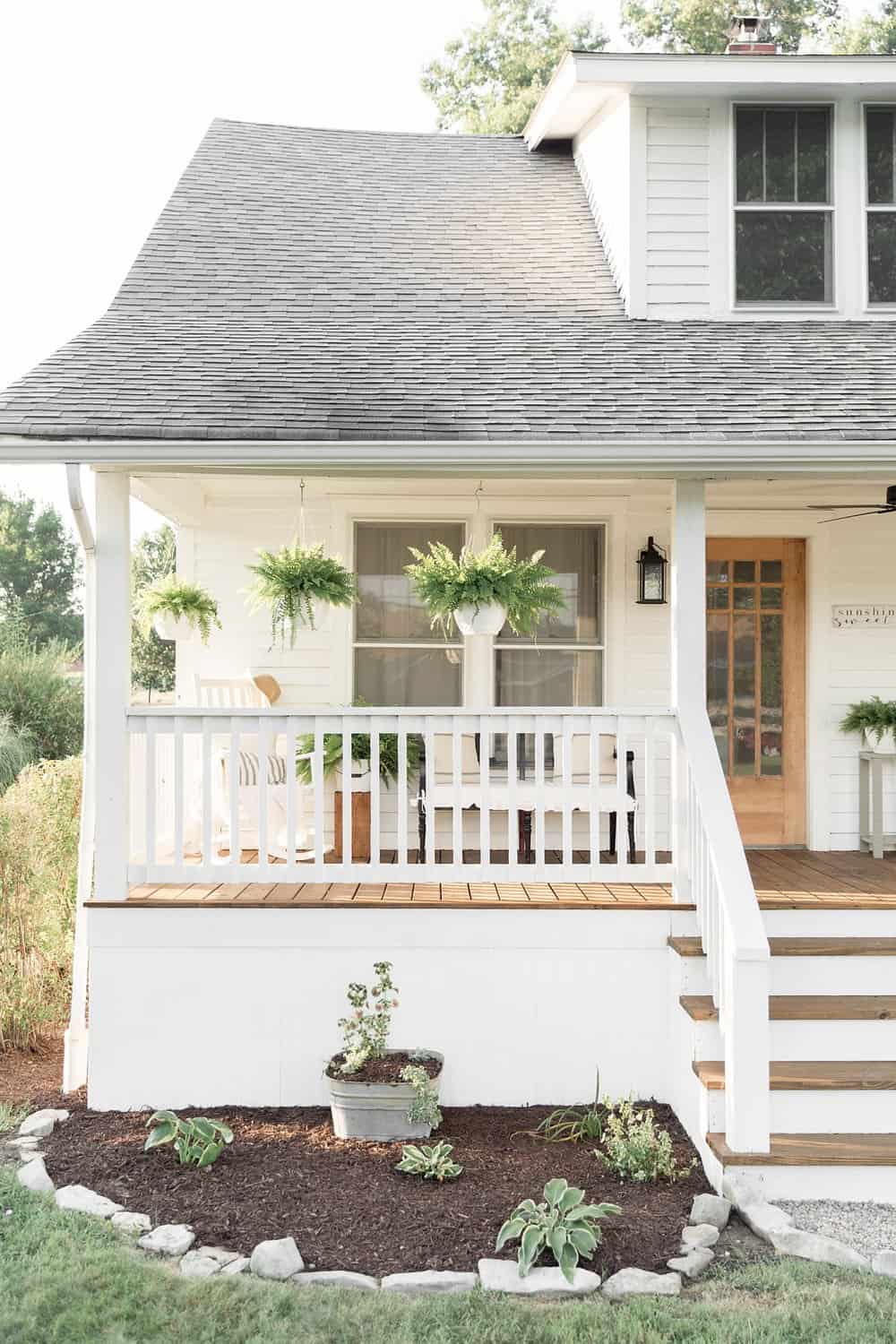 This is definitely a place I am proud to call home!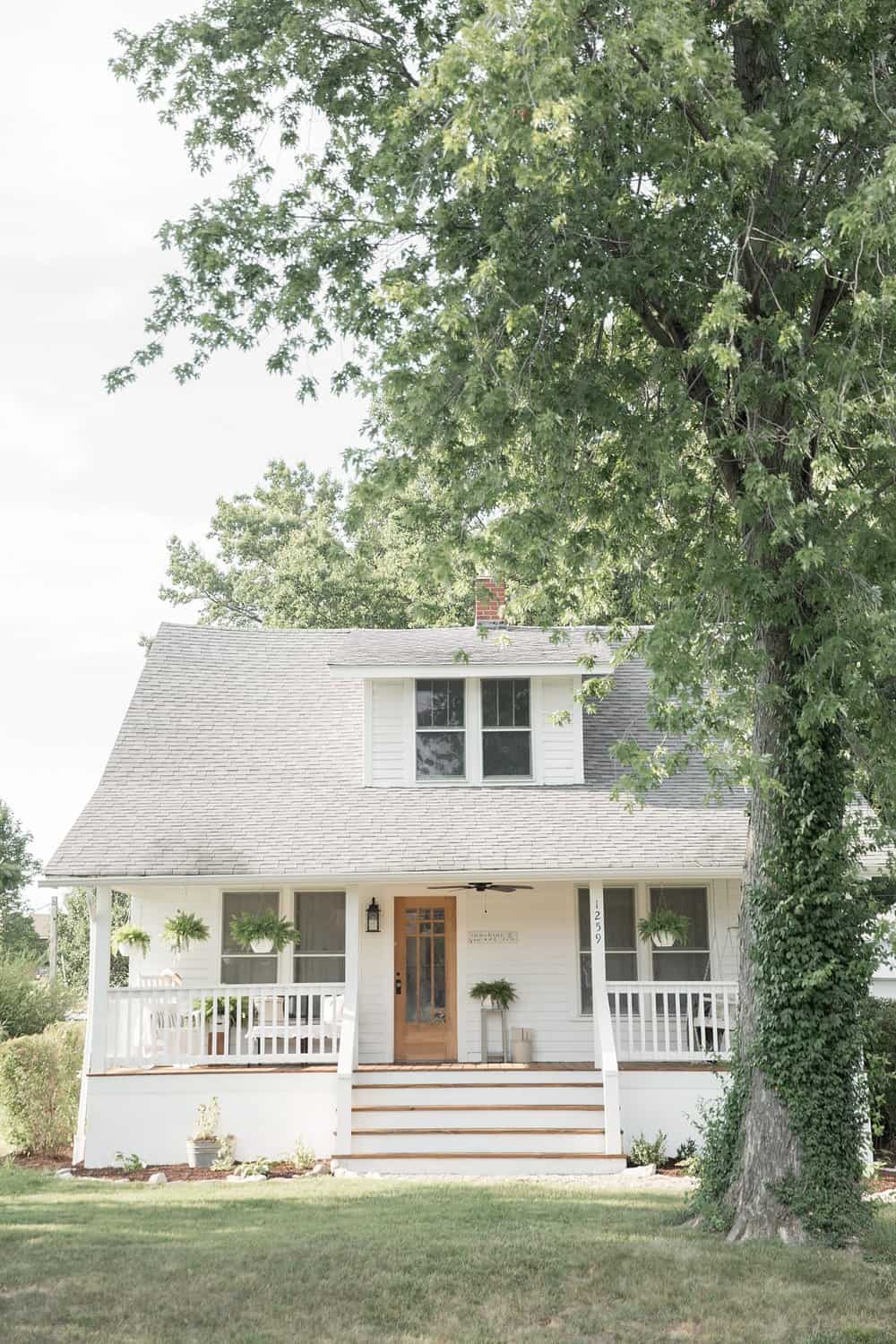 Links to projects in this post:
How To Update A Cracked Sidewalk With A DIY Gravel Path
How To Cover Concrete Steps With Wood
How To Strip Paint Off An Antique Wood Farmhouse Front Door
DIY Grain Sack And Ticking Stripe Pillows
Simple Buffalo Check Pillow Covers
Pin it for later:
This post was sponsored by Lowe's. See my full disclosure HERE.