Learn how to make bone broth in the instant pot with this simple tutorial.
Bone broth is nourishing, gut healing and the perfect liquid, in which to simmer away vegetables and meat into a delicious homemade soup.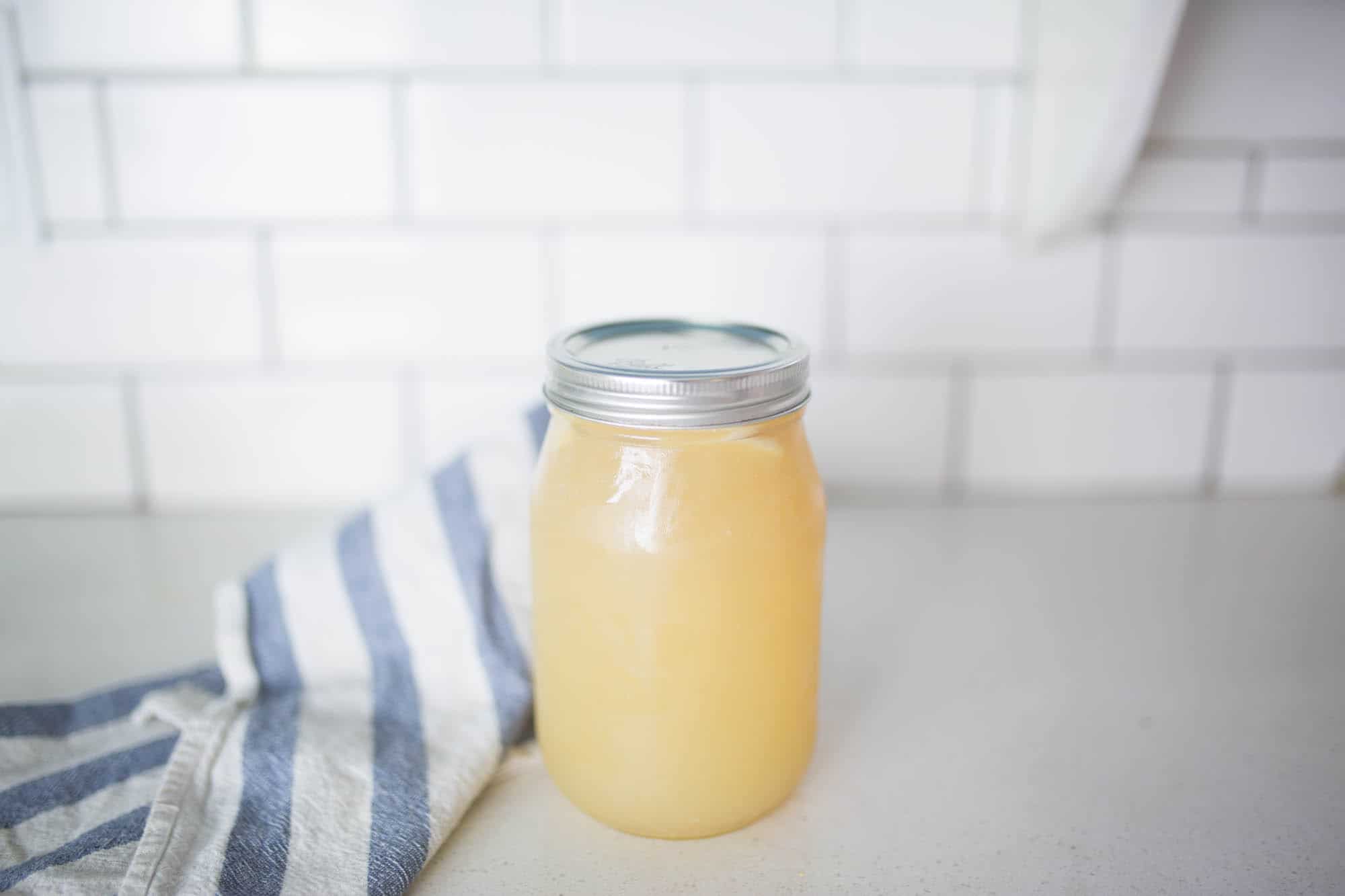 It is known to be an effective immune booster, which is the mom reached for the chicken noodle soup when you were sick as a kid.
Read more about the benefits here.
Learn how to make bone broth in the instant pot that has all these amazing healing properties.
Real Bone Broth is Solid When Refrigerated
Homemade bone broth is not liquid when made properly.
Unfortunately, the liquid chicken broth you find in boxes on grocery store shelves, doesn't have the same healing properties as homemade bone broth.
When bones are simmered for long periods of time, gelatin is pulled from them, causing the jello like consistency. The stuff you find in the grocery store simply isn't made with the health benefits in mind.
Bone broth has a special place in the meal rotation here at the farmhouse. I love the simplicity of a homemade soup. Packing so many vegetables and homemade bone broth into a cozy, nourishing one-pot meal is a no-brainer for me. Less dishes. More nutrition. I'm all there.
Plus, I love being able to use every part of the chicken. I pay good money for organic, pasture raised chickens. The last thing I want to do is throw away the leftovers bits of meat and bones, when they are still packed with nutrition.
Why Make Bone Broth in the Instant Pot
I have been making homemade bone broth on the stovetop for years now. The process is simple. Simmer bones in water for at least 24 hours.
The problem is I always need all my stovetop space.
As a family of 6, it isn't practical to have one large stock pot and burner constantly occupied with simmering broth.
Also, I didn't really like leaving the burner on at all times. It was on while we left the house and overnight. It felt like the fire hazard.
I just started using the Instant Pot to make bone broth recently. It gets it done in way less time and I get my burner back.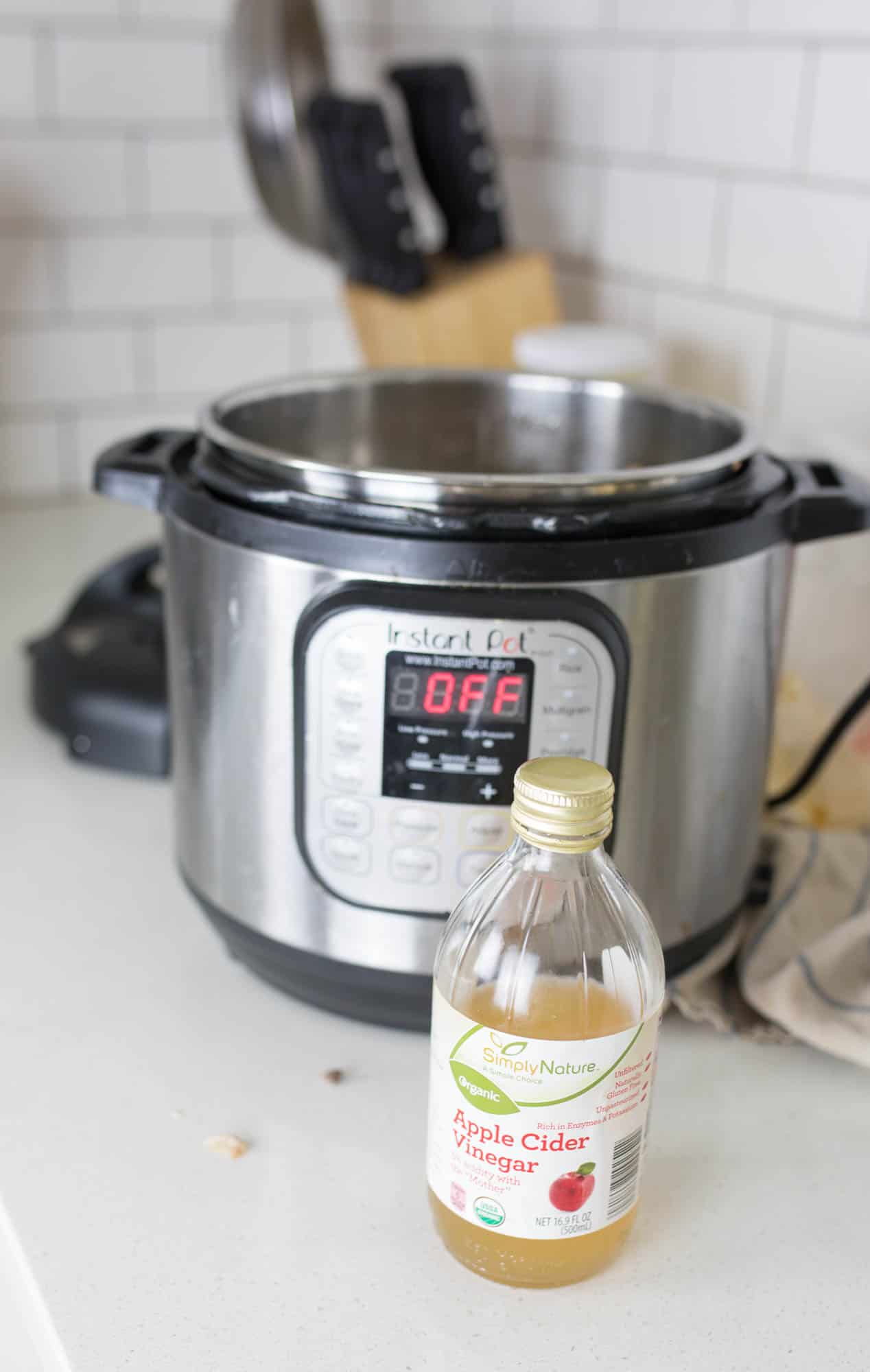 Supplies Needed for Homemade Bone Broth
Chicken or Beef Bones
Filtered Water
Optional: Apple cider vinegar
Optional: vegetable scraps, like celery leaves and carrot peels
Instant Pot
Half gallon jars for storage
Watch me make homemade bone broth in the instant pot
The Process
Fill the Instant Pot with your bones of choice. I fill the stainless steel pot about 3/4 of the way up with bones. A good example of bones used in this scenario is approximately two chicken carcasses.
You can also use bones from legs only, thighs only, etc. If you made barbecue chicken legs, when you are done eating, throw the bones in a ziplock bag and into the freezer. Any bones you can add to the pot will work great.
It is also ok to mix bones from different animals in the same pot. No harm, no foul.
Cover the bones with water. Make sure the water isn't too high above the bones. For the broth to gel, it is important to have a water to bone ratio that isn't too high.
Watch the video to see how many bones and water I add for bone broth that effectively gels.
Add a few tablespoons of apple cider vinegar. The acidic vinegar pulls nutrients from the bones into the broth water.
Press the soup button on the Instant Pot. Set it to low pressure and the maximum cooking time of 120 minutes.
The first time I made bone broth in the Instant Pot it didn't gel. I was disappointed. Turns out it just needs more time. Repeat the low pressure soup button two more times. Run it through the cycle a total of three times.
If a cycle happens to finish while you are sleeping or out and about, no worries. It will just go to warm. Sometimes I get through the whole process in six hours.
Sometimes I let it sit on warm between cycles and the process is stretched out for 24 hours.
Straining it off
Take the lid off the Instant Pot and press the cancel button to turn it off. Allow it to cool slightly before straining it off. Just be sure to put it in a place on your counter where you won't forget about it. Not that I've done that….twice.
Once the broth is cool enough to work with, place a stainless steel strainer over a large bowl. Strain off the bones.
If you have chickens, they love to eat whats left. Little cannibals.
Pour the broth into half gallon jars. I find a funnel is helpful for this.
Store them in the refrigerator for up to one week.
I usually make one gallon at a time.
Which bones are best for homemade bone broth?
I like the taste of chicken broth best. Any bones will work.
Beef soup bones usually have more fat. There will be a thick layer of tallow at the top of the jar, after it is refrigerated.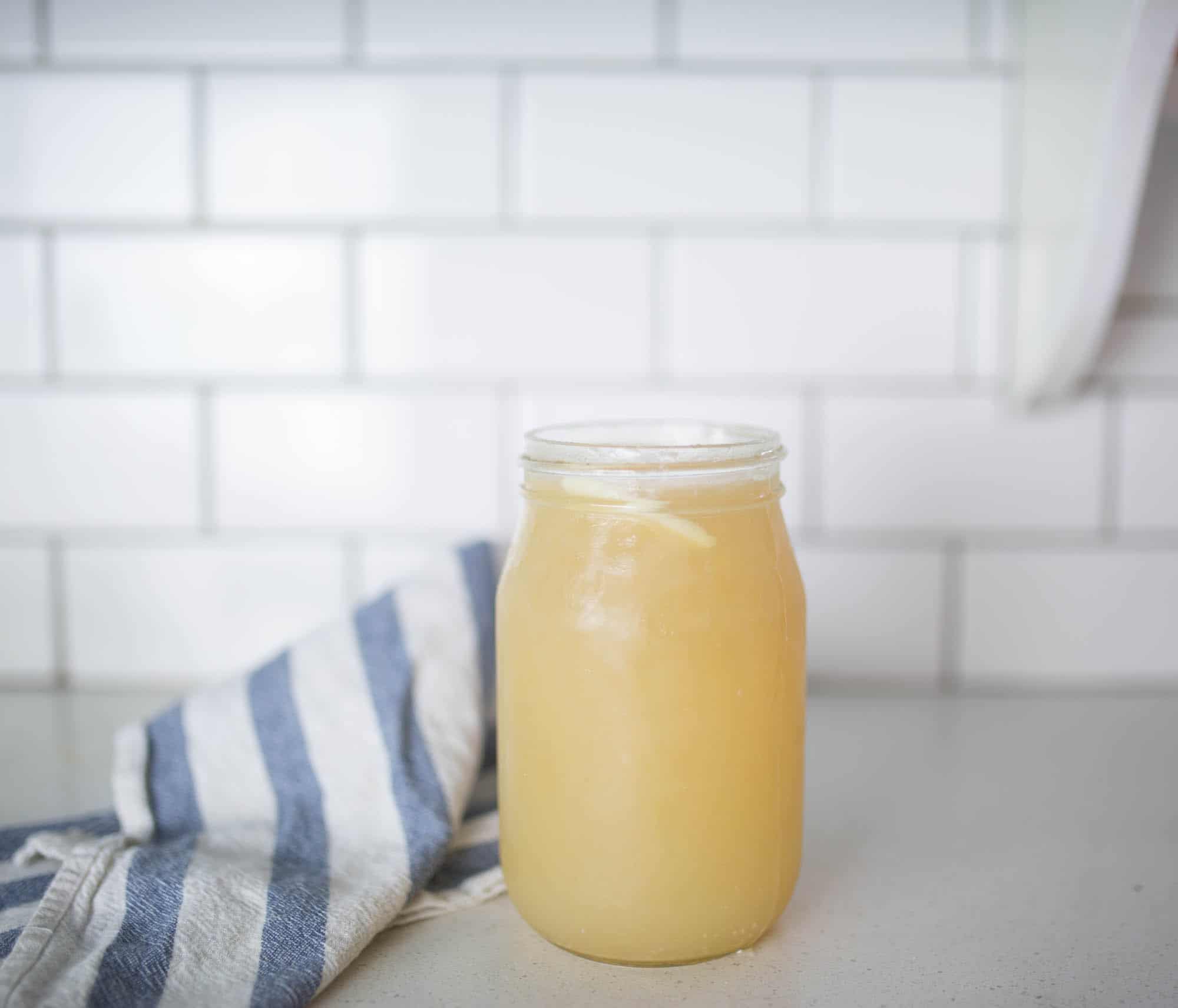 How to get bones for bone broth
Always eat meat with bones. Don't buy boneless skinless chicken breasts. They are all white meat and pretty flavorless. Plus, they won't give you any bones for homemade bone broth. I make a whole chicken a couple times a week. That provides most the bones I need for bone broth.
Find a local farmer who you can purchase meat from. My sister and I usually split a whole cow a couple times per year. The meat processor charges a very small amount to throw in the bones.
Ask local farmers what they do with the extra bones that people don't want.
I hear Whole Foods sells bones in the freezer section. I'd be willing to bet they will cost you an arm and a leg.
Some of my favorite soup recipes
Roasted Garlic and Butternut Squash
Roasted Pumpkin and Acorn Squash
Thank you for stopping by the farmhouse! Enjoy your homemade bone broth.
Pin it for later: