Delicious and hearty cheeseburger soup is a cheesy and veggie-packed soup, filled with all the best parts of the classic cheeseburger. This healthy cheeseburger soup recipe will become a family favorite. Follow my tips below for making this easy weeknight meal.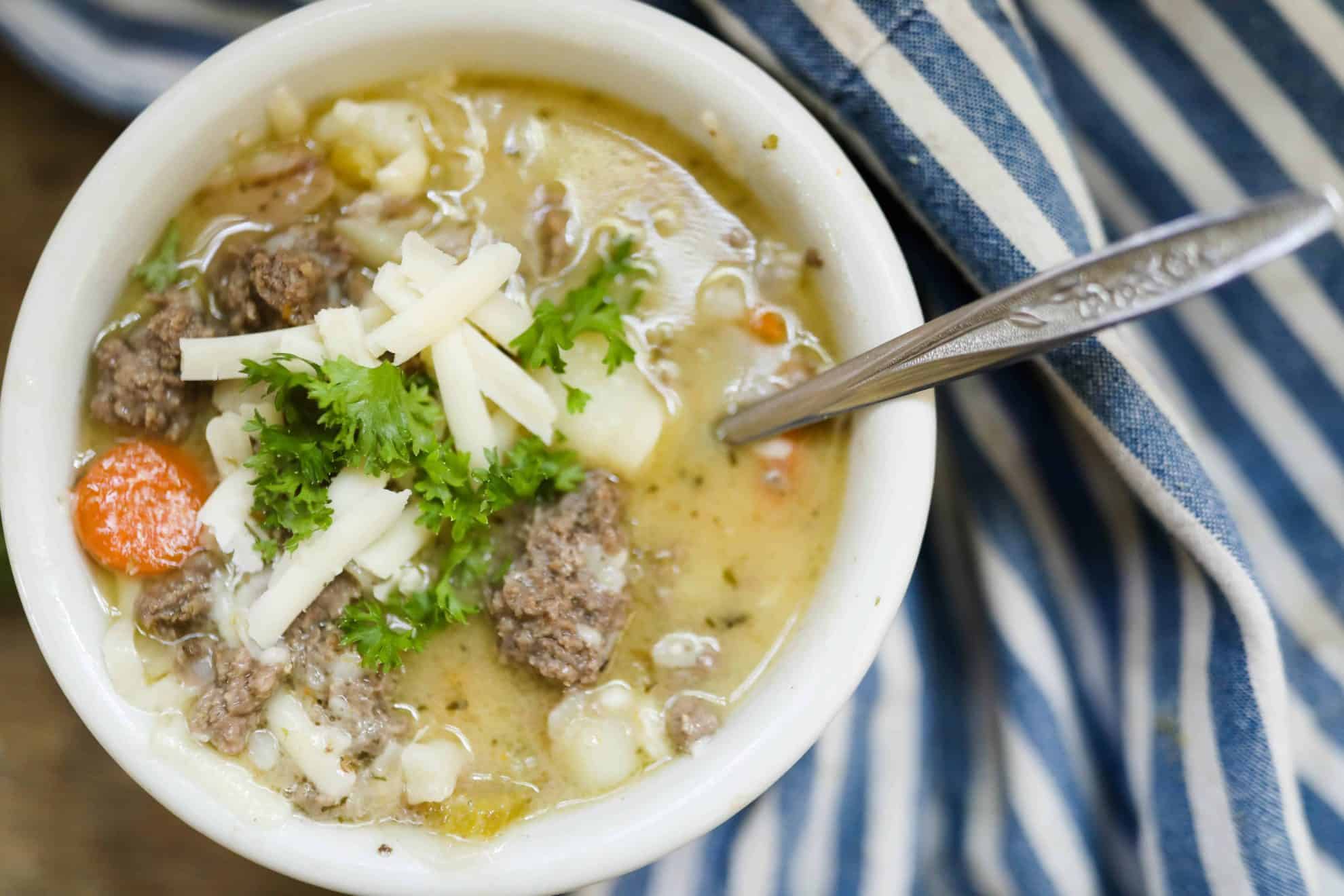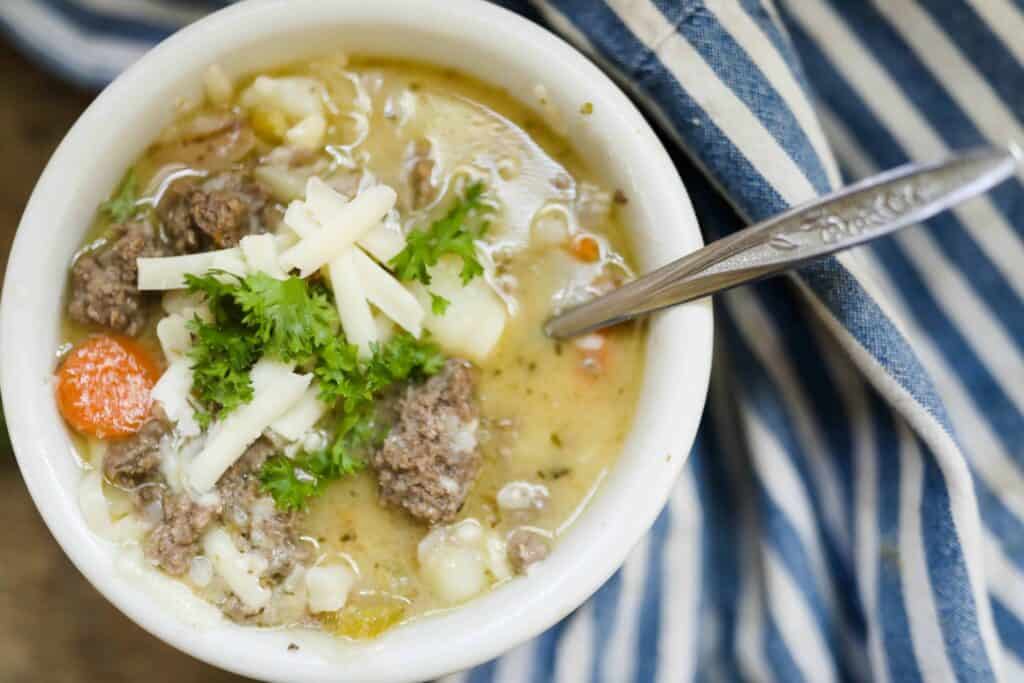 Come make dinner with us tonight and make some cheeseburger soup.
We need to leave here in about 20 minutes or so to go to my midwife appointment, which is about an hour away, and I need to bring my lens to the camera store since it has been really acting up.
It is just one of those days where the evenings are super busy, and it is really important to get ahead on dinner before we go, so I prepared ahead this morning by putting bones and water in my Instant Pot to make bone broth.
Check out the tutorial and YouTube video to see just how simple it is. It is really easy to make and creates a really healthy base for a great dinner.
Cheeseburger soup is something we make a lot at our house, and is probably one of our family's favorite soups to make, though my daughter says potato soup is her absolute favorite.
We are going to get this going so when we get home at 6 or 7 tonight, it will be ready.
Of course, it's summer, and soup usually isn't a summer thing, but we like to keep eating bone broth all all year long. Cheeseburger soup is a really simple and delicious meal.
This recipe is really casual, which you will see in the YouTube video; we normally don't really measure, but there is a printable recipe card below.
The burger, cheese, salt and broth are really what makes this soup, and you can add as many vegetables as you want.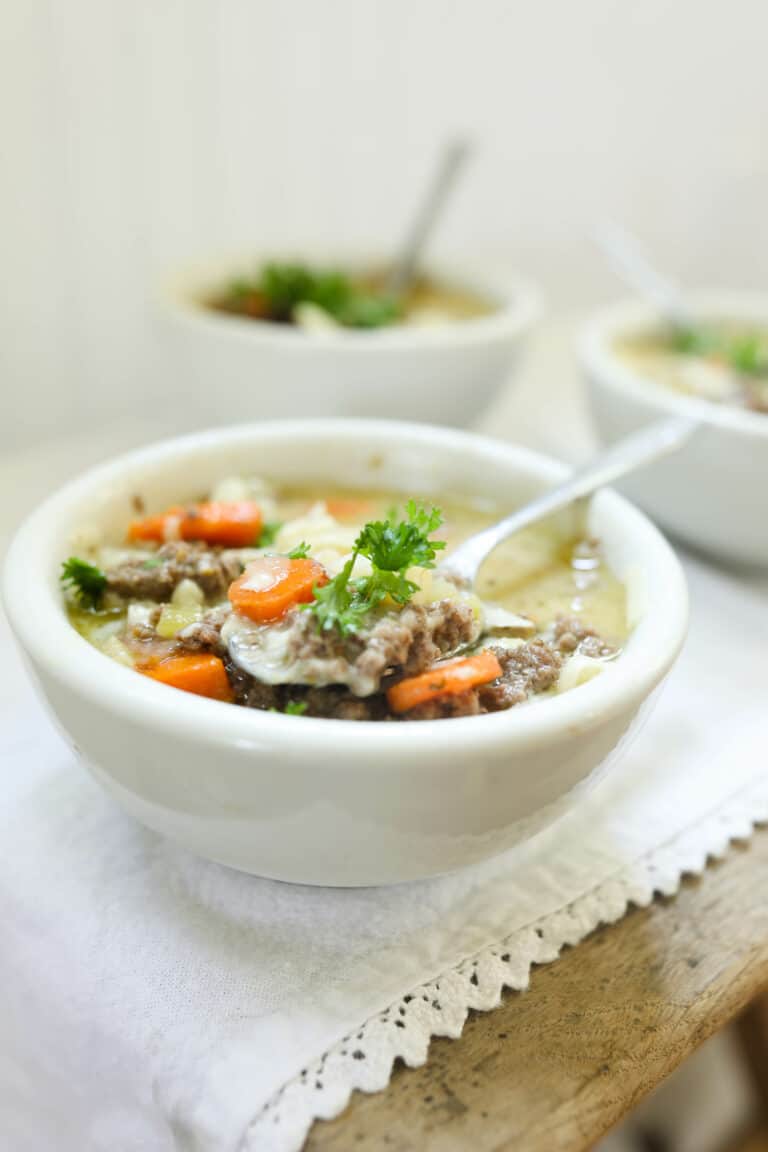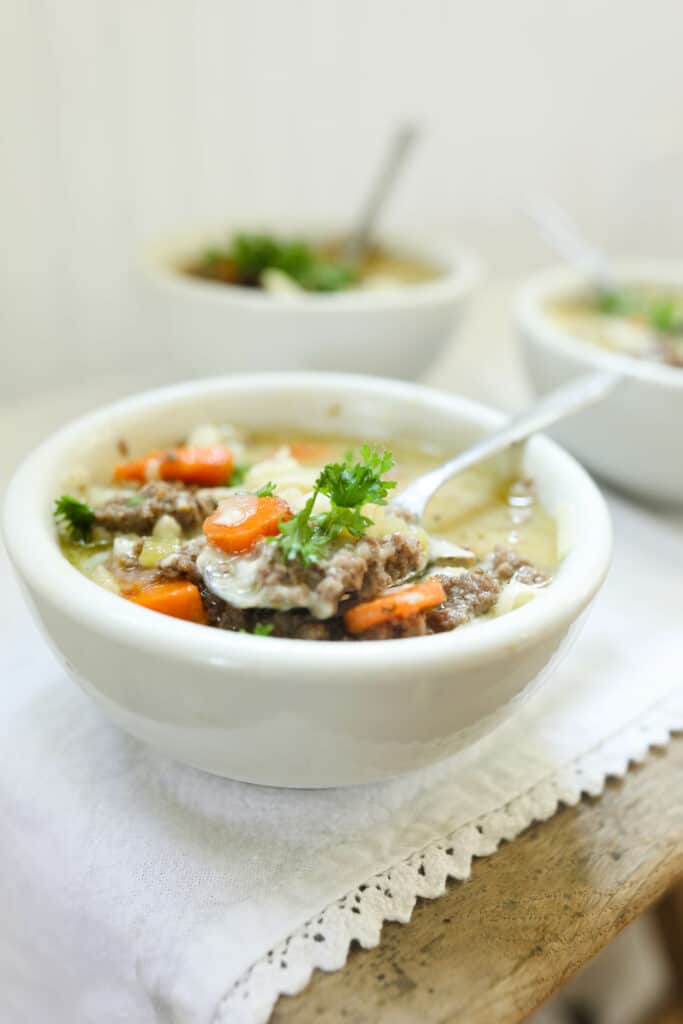 Tips For Making Cheeseburger Soup:
Make less dishes by reusing your pots/IP. I like to go straight from making a whole chicken in the Instant Pot, to making bone broth, and then straight to making soup.
Brown the ground beef before adding it to the pot for a much more delicious and flavorful meal.
Add some frozen peas or green beans to the hot soup to help cool it down enough while also cooking the veggies before serving.
Use a garlic mincer to get the garlic nice and tiny. No giant chunks of garlic makes the kids happier.
Tools you may need:
Instant Pot for homemade broth if making it.
Cast iron skillet
Measuring spoons
Garlic mincer
Knife
Cutting board
Large pot
Cheeseburger Soup Recipe – Video
How To Make Cheeseburger Soup
If you are making homemade broth, start by making that in the Instant Pot. You can find that tutorial here.
Strain bones into a pot. I like to do this directly into the pot in which I'm going to be making the soup; that way, there are fewer dishes.
Chop celery, onion carrots, and potatoes.
Mince garlic.
Add all the veggies to the pot of bone broth, and allow it to simmer for about 20 minutes
In a skillet, brown the ground beef and add to the pot.
Add dried or fresh parsley to the simmering soup.
To the soup, add salt and pepper to taste. I usually like to taste it, add salt and pepper, then give it another taste and adjust the seasoning if need be.
Shred cheese and add to the pot.
Add toppings. Our favorites include: avocado, sour cream, fresh herbs, croutons, or even some fermented pickles… what is a cheeseburger without pickles?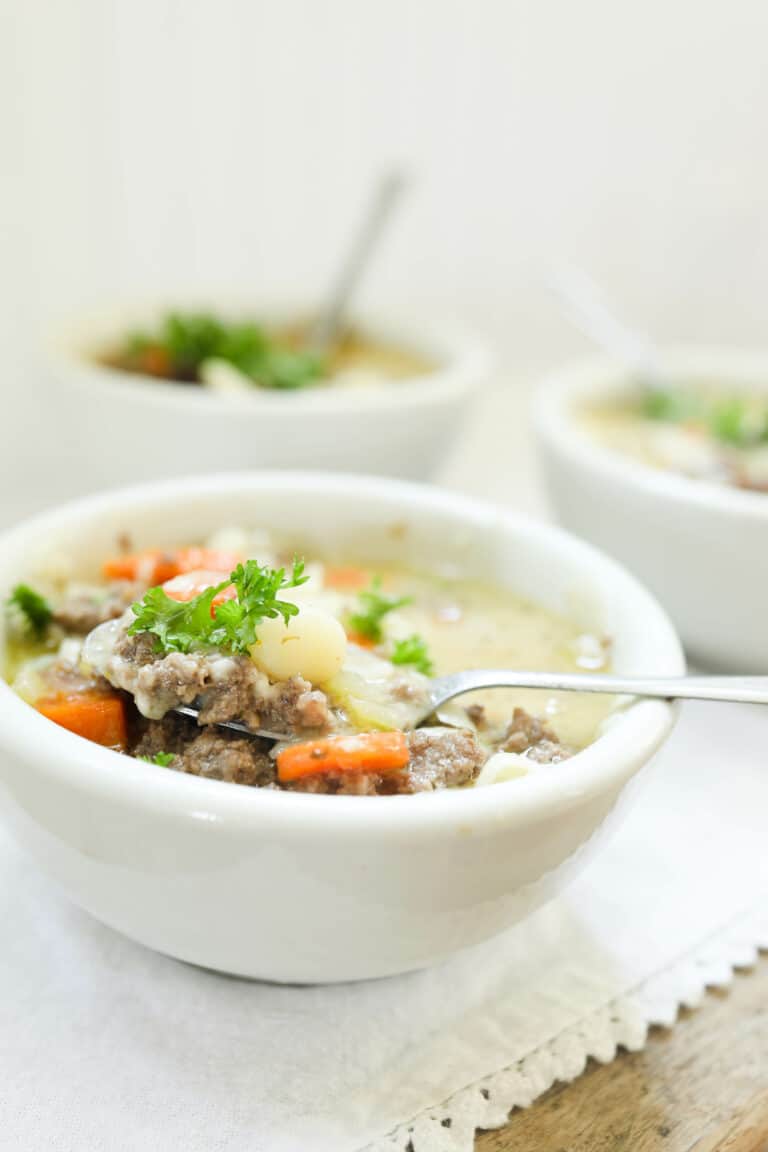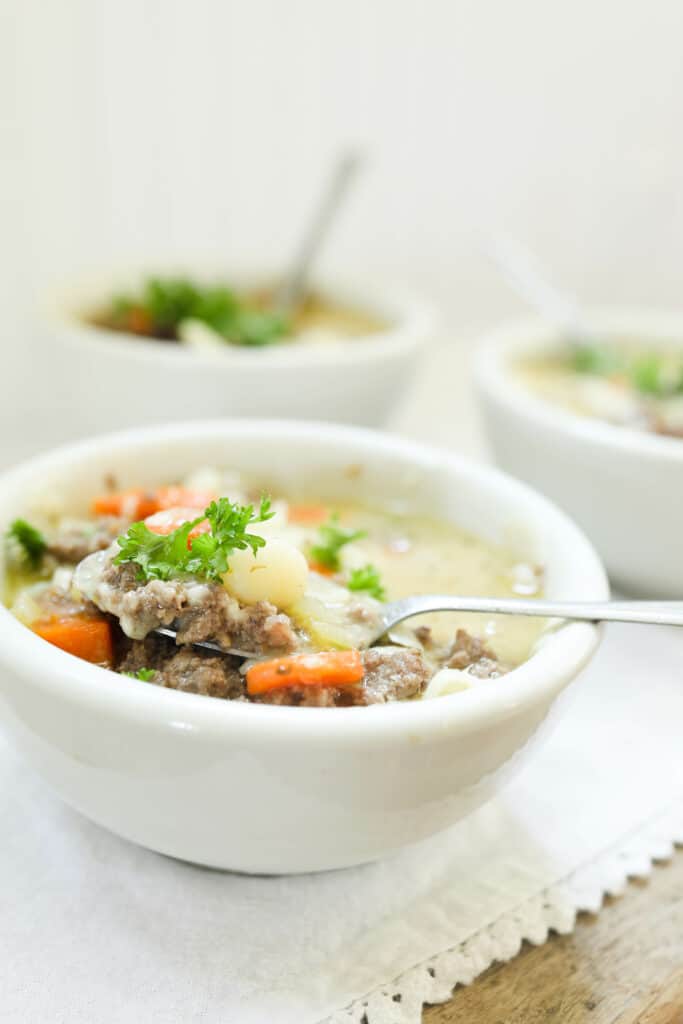 Can you freeze cheeseburger soup?
Potatoes don't freeze well, so I wouldn't recommend this as a freezer meal. Store in the fridge up to 4 days and reheat.
This soup is great to make ahead and reheat for dinner.
What are the best toppings to add?
You can add any toppings you would find on a cheeseburger: cheese, diced tomato, diced onion, pickles, etc.
We usually add avocado and a dollop of homemade sour creamto make this soup extra thick and creamy.
Is cheeseburger soup healthy?
This recipe is very healthy, since it is packed with veggies, meat, and cheese. To make this meal healthier, try to get pastured meats whenever possible, use homemade bone broth, and organic vegetables.
Check out our family's favorite farmhouse soups:
Roasted Pumpkin And Acorn Squash Soup
Hearty Homemade Healthy Potato Soup
Roasted Red Pepper and Tomato Soup
White Chicken Chili from Dried Beans
Roasted Garlic and Butternut Squash Soup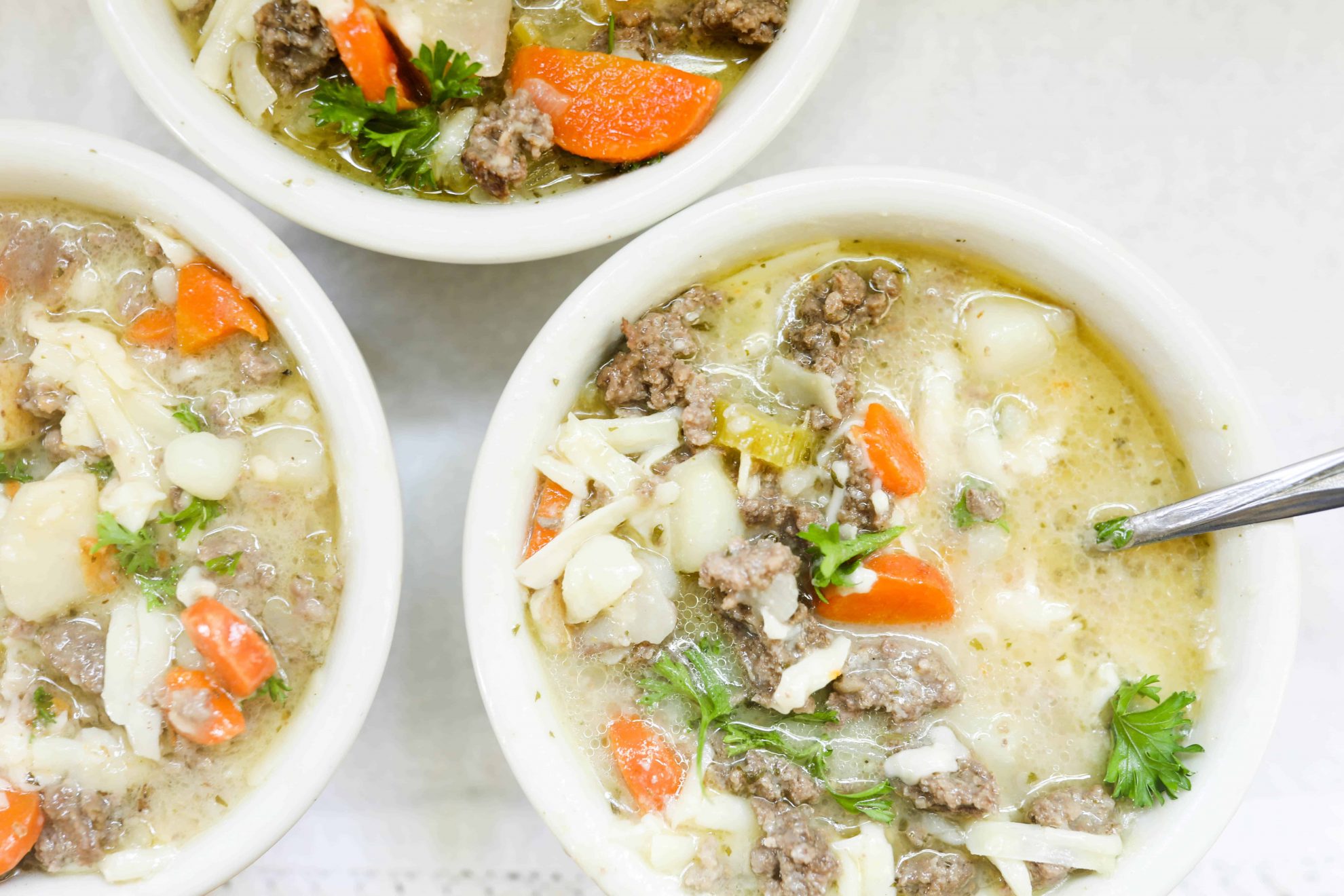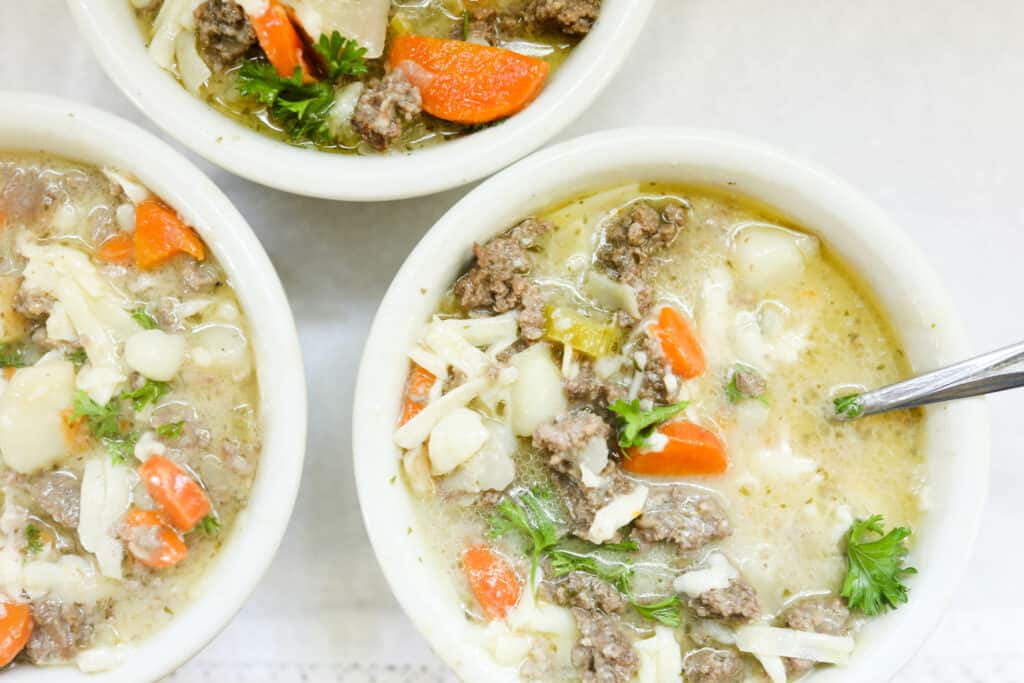 Cheeseburger Soup Recipe Card
Cheeseburger Soup
Ingredients
5 large potatoes, chopped
5 carrots, diced
2 onions, diced
5 stalks celery, diced
5 cloves garlic, minced
6 cups chicken broth
3 teaspoons salt
2 pounds ground beef, browned
10 ounces cheddar cheese, shredded
2 teaspoons dried parsley
several grindings fresh black pepper
Instructions
Add broth to a large pot.
Chop celery, onion carrots, and potatoes.
Mince garlic.
Add all the veggies to the pot of bone broth and allow to simmer for about 20 minutes
While that is simmer, brown ground beef in a skillet.
Add dried or fresh parsley.
To the soup, add salt and pepper to taste.
Add ground beef to the pot.
Shred cheese and add to the pot.
Add toppings. Our favorites include: avocado, sour cream, and fresh herbs.
Pin It For Later