Learn all about newborn cloth diapers, beginning with what you need, how to prep them, and all the basic essentials to start your journey.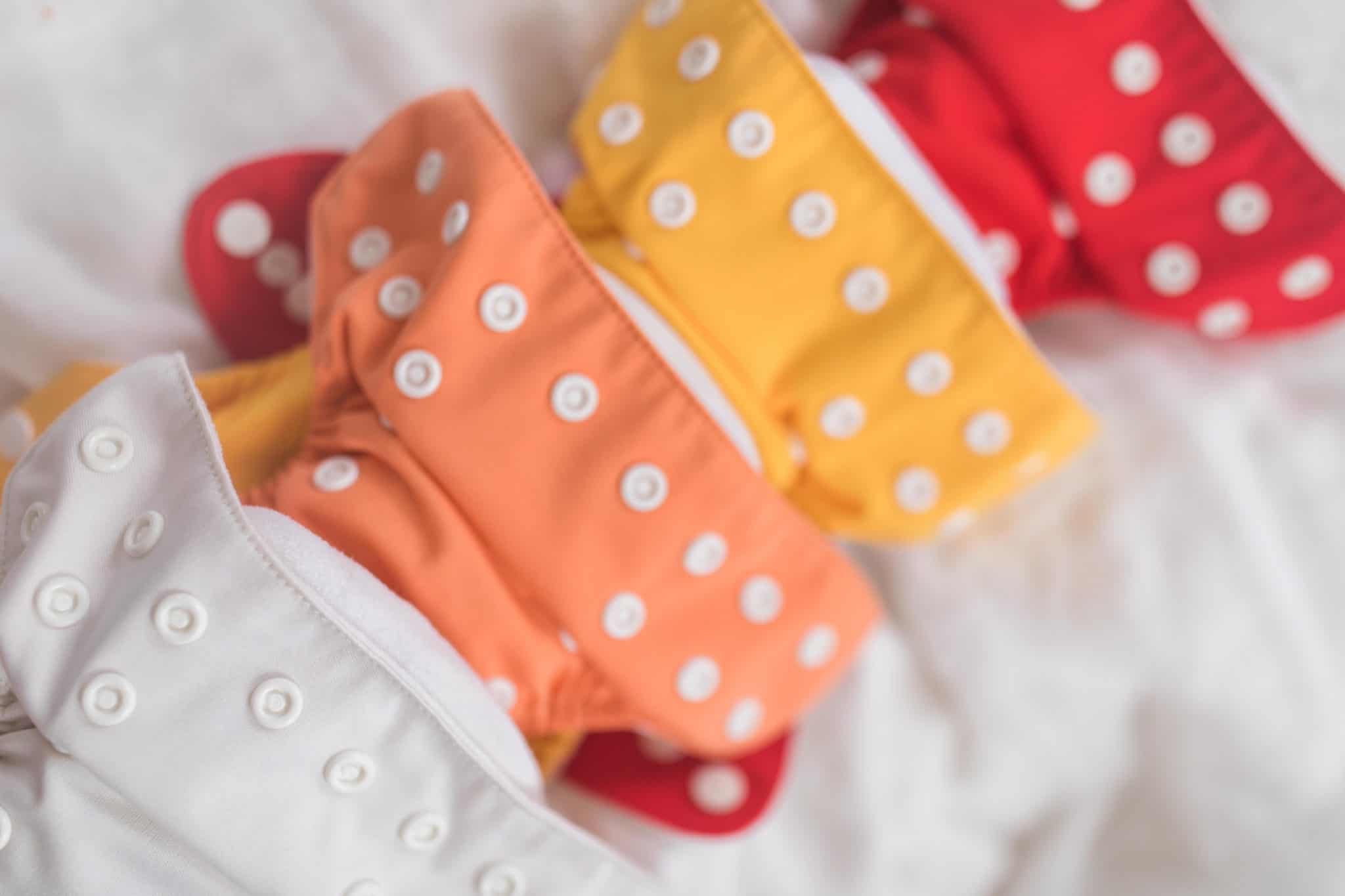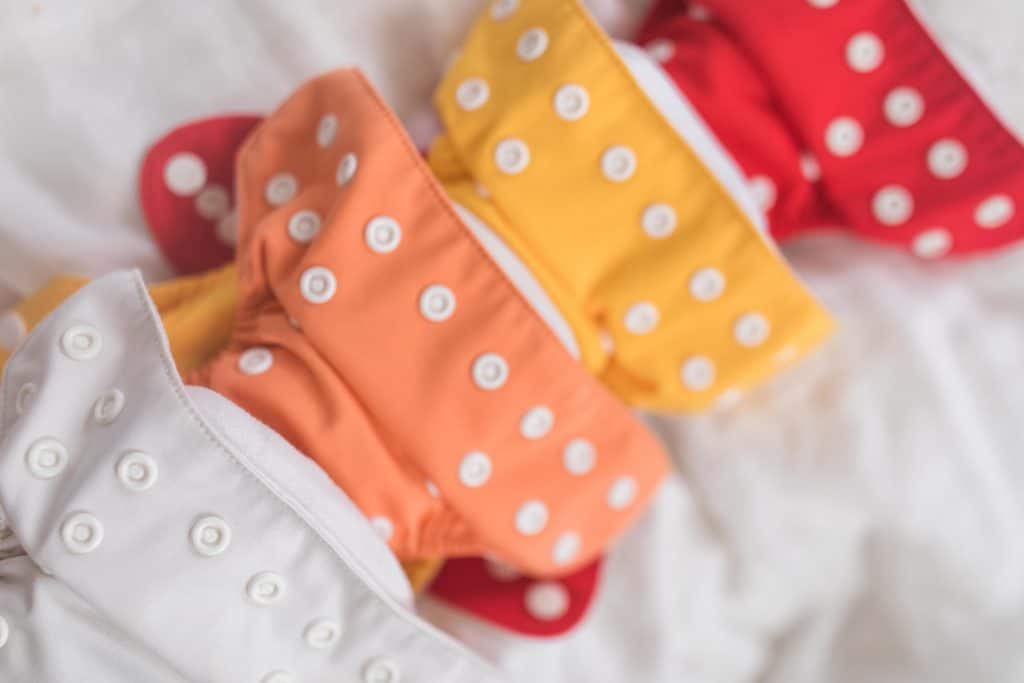 I am asked all the time what cloth diapers are best for newborns, as well as what we currently use for diapering, washing, etc.
After having six kids in cloth, I feel as though I am basically an expert.
Just think about how many diaper changes there have been! Plus, how much money we have saved by using cloth!
I've tried many different types of cloth diapers, and when we first started over ten years ago, there weren't too many options out there. We would try to get out of the house and would constantly deal with leakage. Not really ideal.
But after honing my skills and changing up the type we use, we don't have those same challenges anymore.
Natural motherhood, saving money, and living a simpler life are my passions. Being able to cloth diaper from the beginning essentially hits all those points and is something I'm thankful we can do.
Parenting can be complicated at times, but cloth diapering shouldn't be. So, let's dive in to all the newborn cloth diapering essentials.
This post contains affiliate links, which means I make a small commission at no extra cost to you. See my full disclosure here.
Benefits Of Cloth Diapering
Eco-friendly:  They are much better for the environment as less trash is going into landfills, and you are reducing your carbon footprint. It is estimated that over 27 billion diapers end up in landfills each year.
Babies are less likely to struggle with diaper rash: This is because they are usually changed more often, and cloth diapers contains far fewer chemicals to irritate the skin.
Save money: This is a huge one. According to multiple reports, disposable diapers are going to cost you approximately $800-$900 during your first year. If you choose more natural disposables, then that number is most likely going to increase. On the other hand, you can create a cloth stash costing a few hundred dollars, and it will serve you a number of years and even through multiple children.
Easier to potty train: The sensation of wetness that babies feel with cloth is slightly more than disposables, making them more aware and more likely to potty train sooner.
More natural: Regular disposables can contain a lot of chemicals, fragrances, and other things you may not want to be putting on your baby's skin.
There are so many more benefits, but these are just a few of my favorites.
When Do You Start Cloth Diapering Newborns?
This is entirely up to you and totally a personal preference. Some people start cloth diapering from day one, while others like to wait until the meconium has passed before beginning.
Personally, I typically use natural disposables for about the first week before switching to cloth. I do this primarily to give everyone time to adjust to the new baby before picking up another new routine.
I also know people who wait to cloth diaper until baby will fit into the regular sized cloth diapers, bypassing the newborn cloth diapers altogether. You get to choose what is right for your family.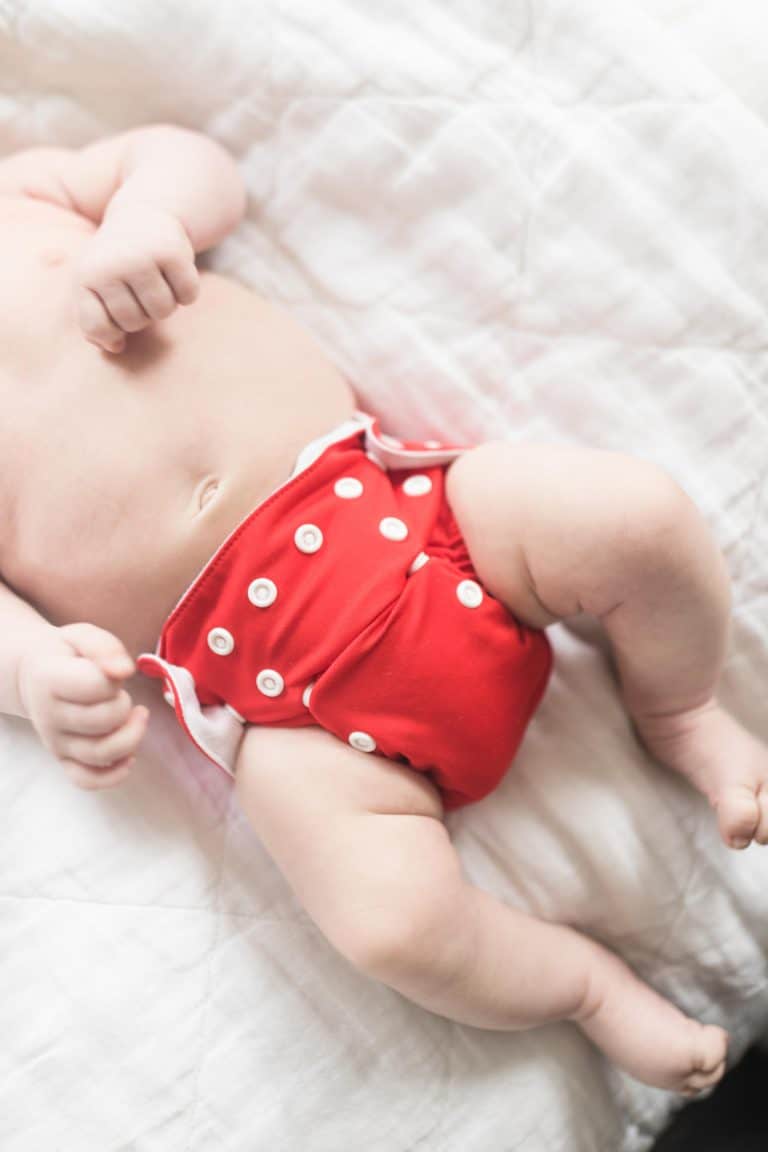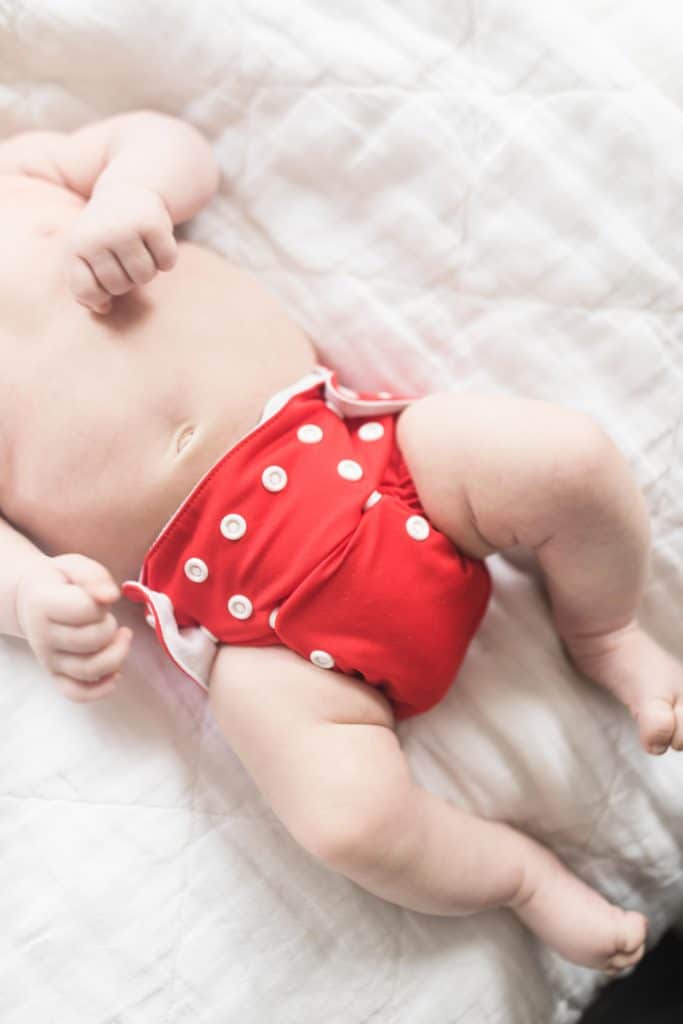 How Many Diapers Will I Need For My Newborn?
This will depend on the type that you choose, and whether or not you plan to exclusively use cloth or supplement with disposables at night.
Most newborns will go through 8-12 diapers per day, and it is recommended that you wash cloth diapers every 2-3 days. If you are going with that standard, then you will need roughly 12-24 newborn diapers.
Now, if you are using a diaper cover, you could get 6-8 covers and 2-3 dozen newborn pre-folds.
Can you use cloth diapers before the cord falls off?
Yes. Some are designed specifically with a snap down for the cord, while others can be made small enough to sit below the umbilical cord.
Will one-size cloth diapers fit newborns?
Unfortunately, no. It will depend on the size of your baby, but usually the one-size diapers fit babies around 10 pounds. Even labels that say 7 or 9 pounds may not be able to fit your newborn.
The first cloth diapers I ever had said they could fit babies around 7-8 pounds, and because my daughter had thinner legs, they could not fit her until she was at least 2 months old.
How Long Can Newborns Wear Cloth Diapers?
This just depends on the diaper, the fit, and the size of your baby. Larger newborns may only wear them for a few weeks, whereas petite babies, or even premature newborns, may get much more use out of them.
Some newborn cloth diapers only go to 12 pounds, where other brands may go up to 15 pounds.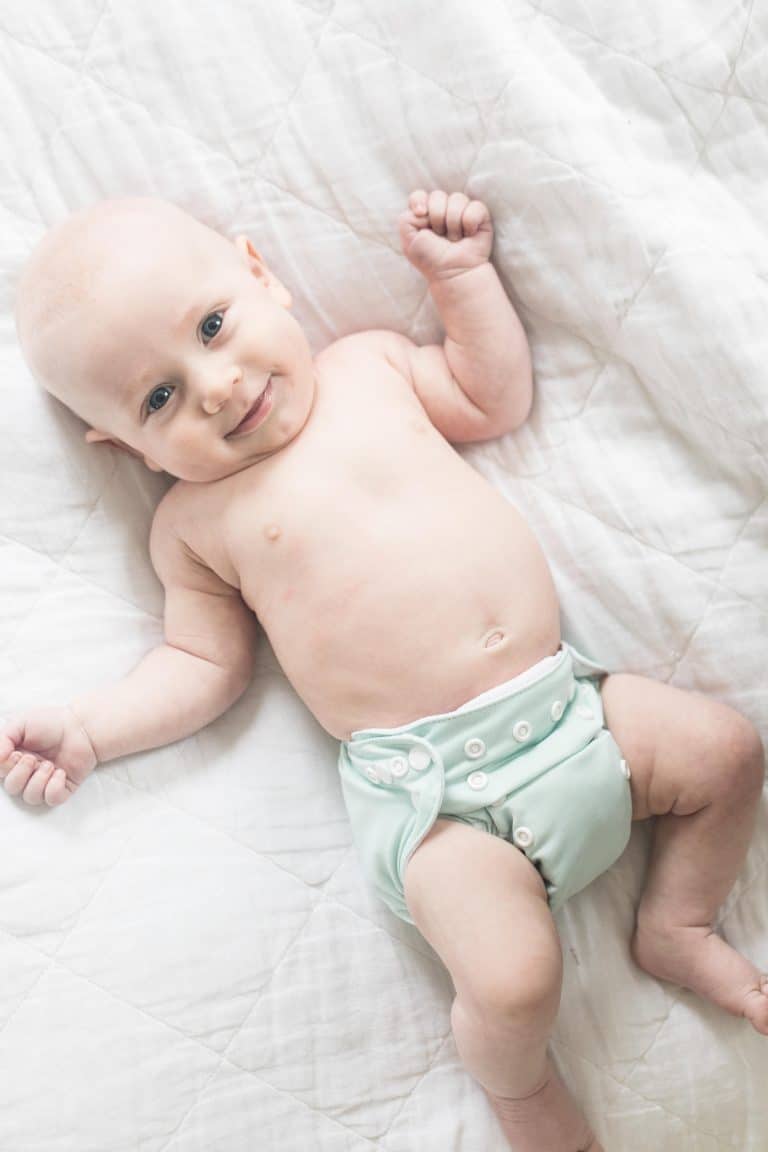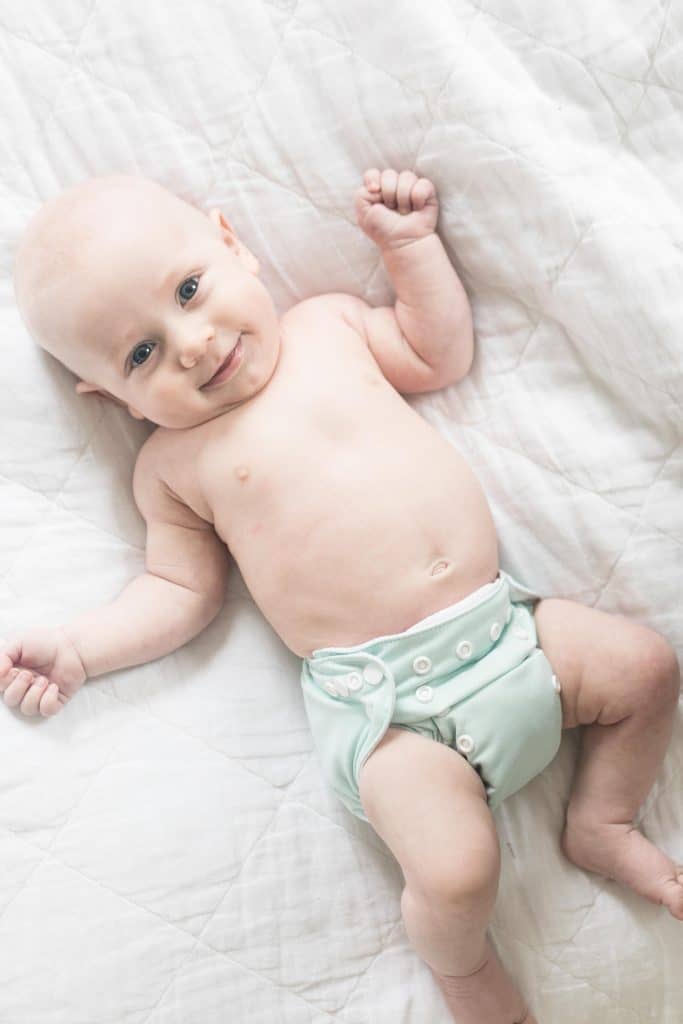 How Do You Prep Cloth Diapers?
This is an important step that can't be overlooked. Prepping the diapers will rinse any natural residue from the fibers and ensure they will reach their full absorbency, preventing leakage.
Each diaper generally comes with instructions on how to prep.
No matter what the type of diaper, they should be washed separately and not with other clothes.
Some diapers can be tumble dried on low without fabric softeners, but that may wear them out more quickly.
Generally, it is recommended to hang-dry the shells (if using pocket-style or covers) and tumble dry inserts without fabric softener.
Prepping natural fiber and organic diapers:
Natural fiber diapers can take 6-8 washes before they reach their full absorbency and shouldn't be washed with non-natural fiber diapers to begin with. Wash and dry diapers using detergent, and repeat 6 times or more.
Prepping Non-Natural Fibers:
Non-natural fibers, like microfiber, generally can be washed and dried one time before they are ready to use. Always check with the brand's instructions.
How To Wash Newborn Cloth Diapers:
The are washed just like regular ones. You can find my whole post on how to wash cloth diapers here.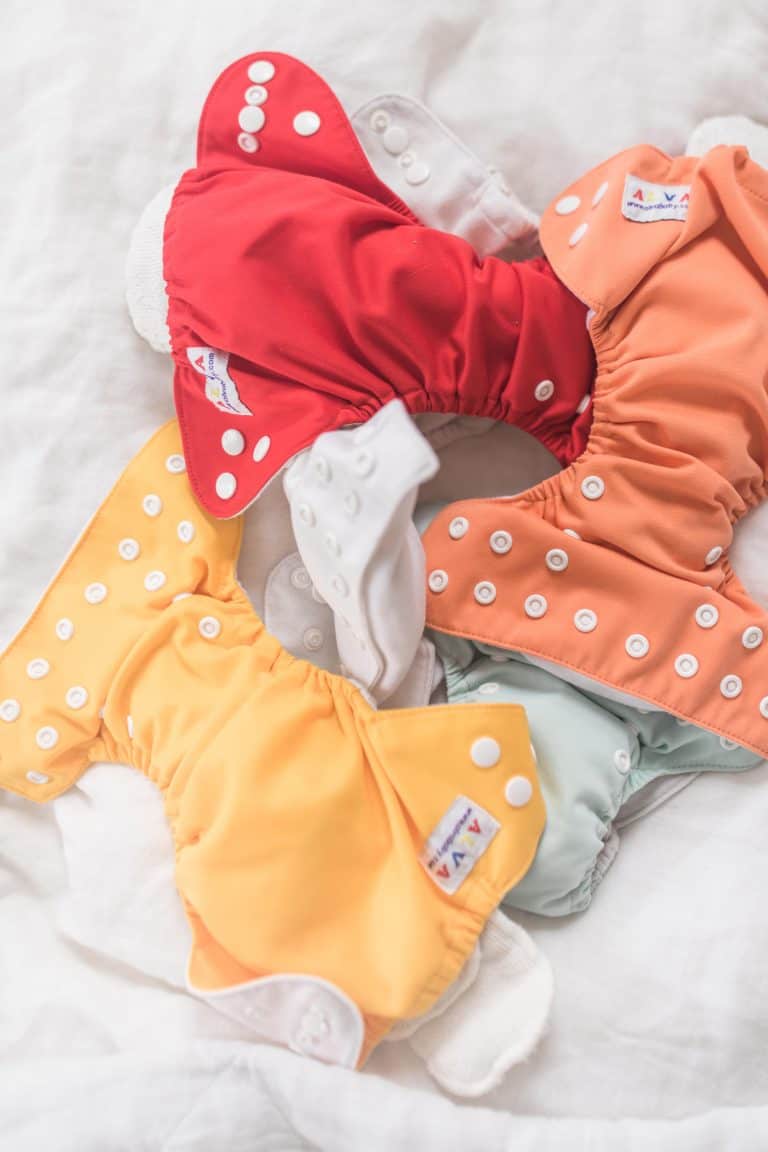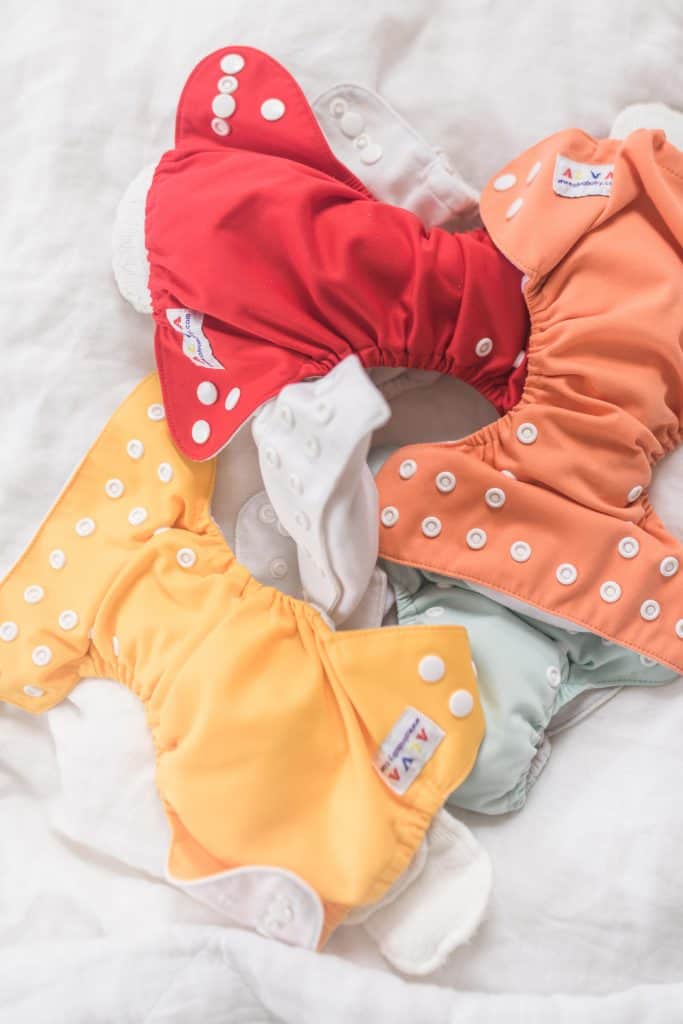 The Best Newborn Cloth Diaper Option
Most Affordable Options
Alva: These are the ones I exclusively use for my newborns. They are an inexpensive, pocket-style diaper costing around $5 each, and they are suitable for babies 12 pounds and under. Using these diapers over the years, I have gotten my money's worth.
Glangals: These have great reviews and are similar to the Lil Joeys. They are soft bamboo diapers, they have snaps to grow with baby, can fit babies 4-12 pounds, and are more cost-effective, coming in at a little over $7 a diaper.
Rumparooz Newborn Diaper Cover: These are a great, budget-friendly option. This is a diaper cover that can be used multiple times before washing, unless soiled. You pair these with pre-folds or fitted newborn diapers (more expensive). You will need 6-8 covers, plus the pre-folds, to exclusively cloth diaper. Covers will run you about $10 each plus you will need to buy pre-folds.
More Expensive Options
Lil Joey: These can accommodate a baby as small as 4 pounds and up to 12 pounds. They have snaps, making it easy to grow with baby, while also snapping down in the front for the umbilical cord. This is a complete all-in-one diaper, so you don't have to worry about taking inserts in and out. All-in-ones are the simplest type of cloth diaper, as there is no changing out the insert or stuffing the inserts into pockets.
Grovia: These are a cotton/hemp and microfleece all-in-one that are a little bit on the pricier side (about $14-$16 per diaper, depending on the amount you purchase). They are really soft and no cover is needed. You simply wash these all together, and they can be tumble dried.
Thirsties: These are an all-in-one diaper with a microfiber fleece absorbent interior. They are another more expensive option, coming in at over $16 per diaper. They do include a snap down for the umbilical cord. Thirsties also offers an even pricier option: fitted bamboo diapers made with natural bamboo cotton which you would pair with a diaper cover.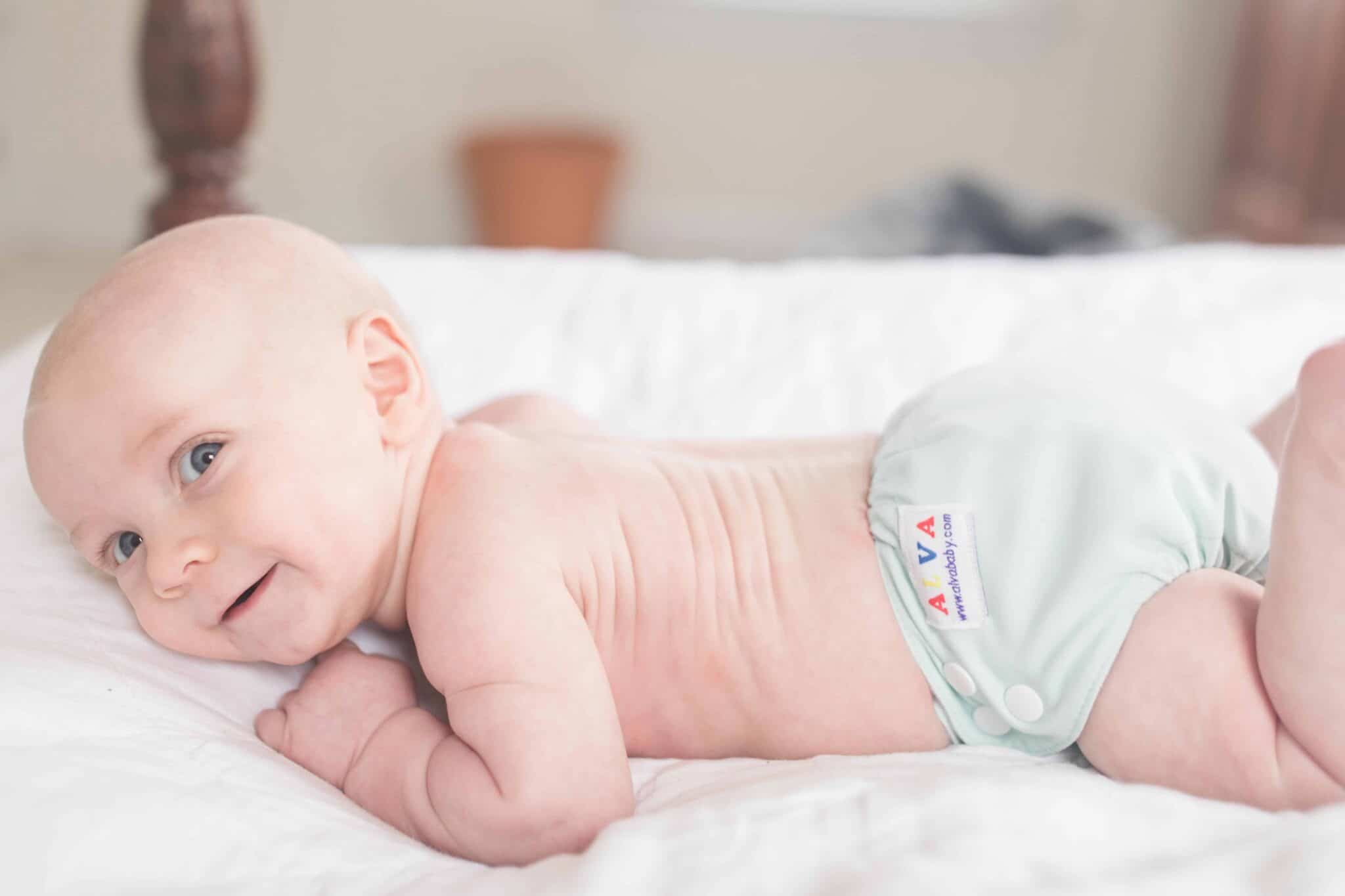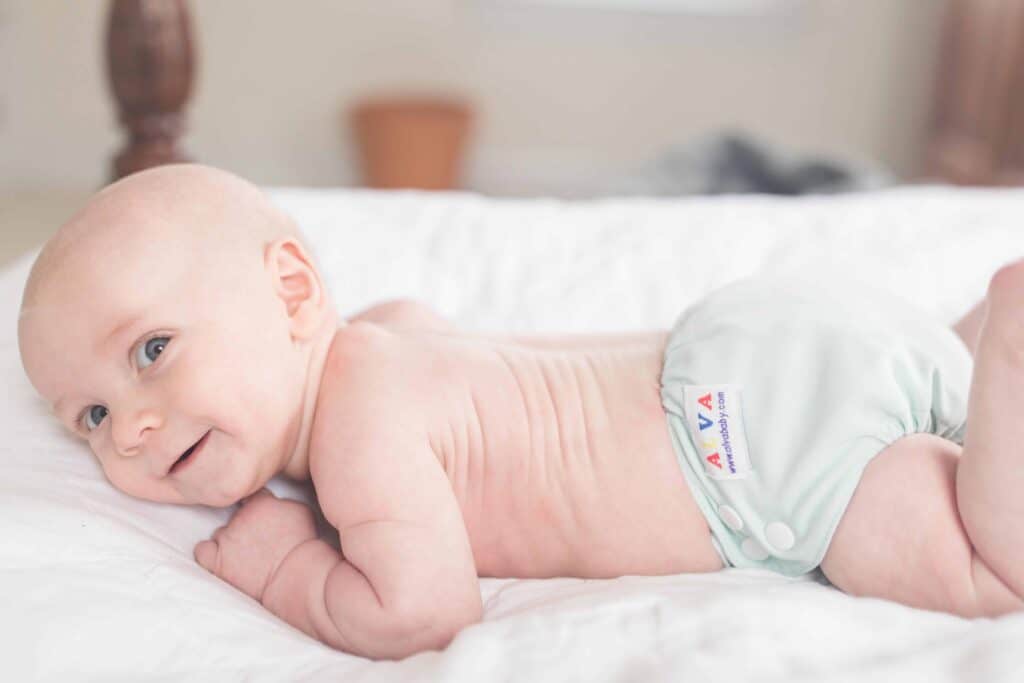 How To Save Money With Newborn Cloth Diapers:
The upfront cost of cloth diapering can seem high, especially when you are planning to do cloth with a newborn that won't be in them a long time. If you are planning to have more children in the future, consider it an investment. The same ones can be used for multiple children.
Buy used: Diaper swaps and trades are a thing. You can usually find a Facebook group of people selling their cloth diapers.
Pre-folds with covers: This is a great way to save money. Pre-folds are generally pretty inexpensive, and you only need a few of the covers. You can purchase around 4 diaper covers, 15-20 pre-folds, and a diaper clip. You only need to wash the covers about every 3-4 times, unless soiled. Just allow them to air dry between uses.
One-size newborn diapers: These will get you through the newborn stage longer, as you can adjust the size of the diapers to make them bigger or smaller. This is one reason why I love the Alva diapers so much.
Other Essentials You May Need:
Diaper pail
Pail liner – I like to have two of these so one can be in the wash and I have an extra for the diaper pail.
Detergent – You can find my inexpensive, natural routine and recipe here.
Wipes – Reusable cloth wipes are an easy addition to your stash. You can also make disposable wipes with paper towels and a DIY wipe solution. There are also some great, natural disposable options out there.
Pin It For Later